IKEA Furniture Update (and fall plans)
This post may contain affiliate links. Please see disclosures here.
I'm giving a fun update on our IKEA furniture we've had for 4 years and sharing a little fall plans!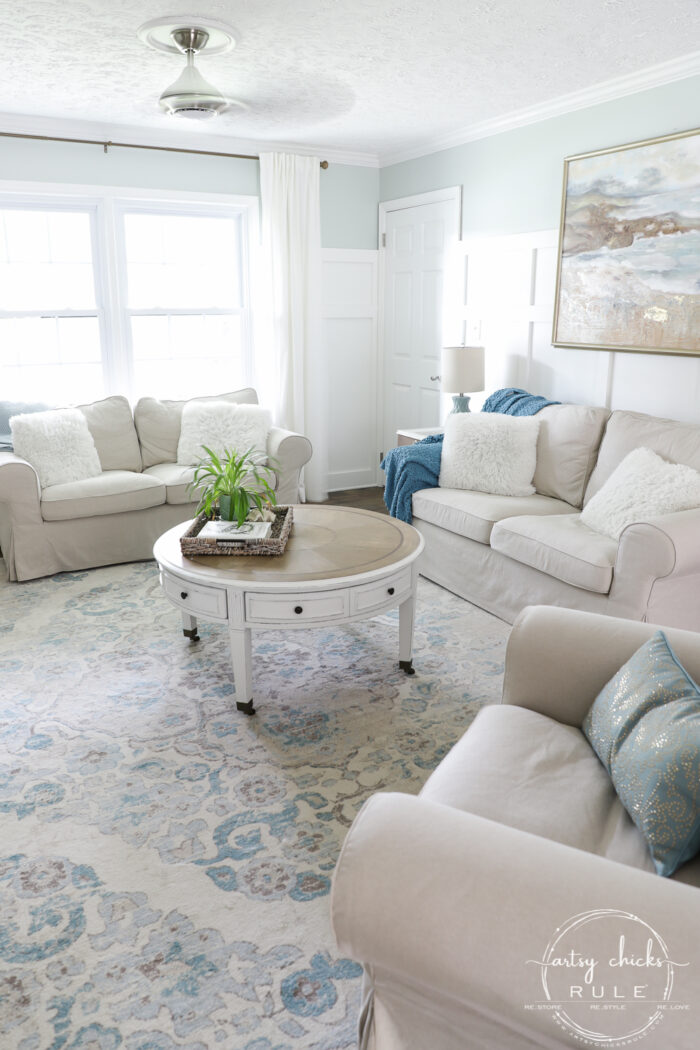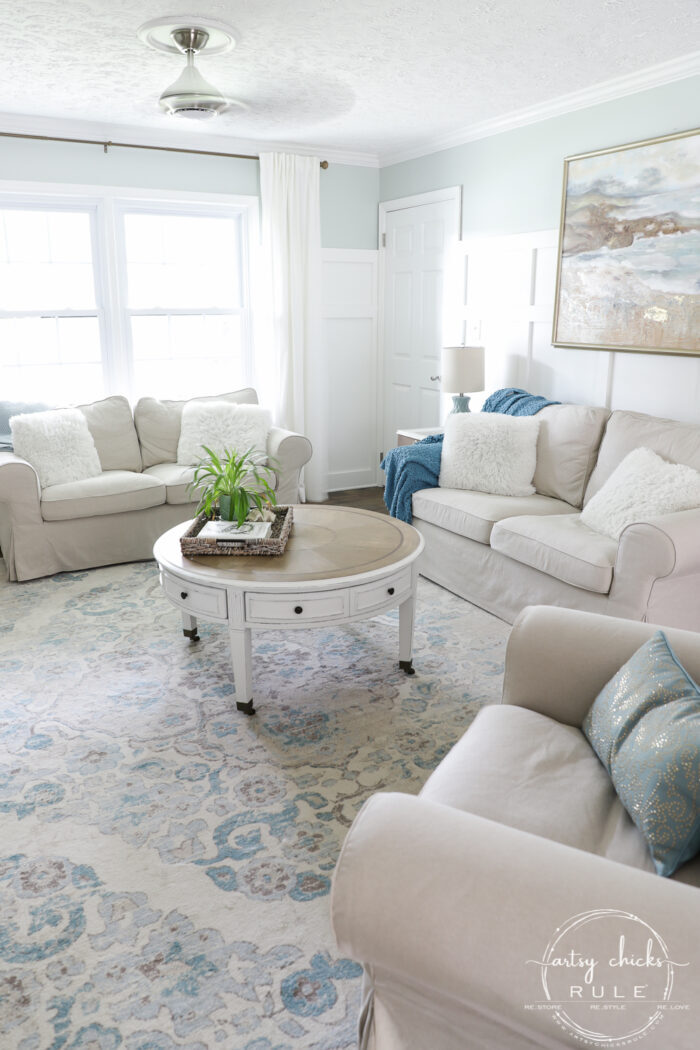 Hello friends!
Have y'all entered my latest giveaway yet? There are going to be 3 winners so hop on over, if you haven't already >>> here.
………………………………………………………………………………………………………………
I thought I'd give a little update today on our IKEA furniture. We have the Ektorp series (which I am told is being discontinued) and have really enjoyed it.
We have had it for 4 years and used it all those years with the Vittaryd White color. That was great for a long while but I really tired of it. It was just time for a change. And of course, when I decided this, I also found out the line was being discontinued.
I have been trying to get all these covers for our living room here for months. I wanted to switch to the Lofallet Beige.
I should mention that I also wanted to get the Ektorp sectional for our beach house because it was about the only one I could find that would fit. And don't you know, I almost missed out on getting one!! Thankfully, so thankfully, I managed to get the very last one our store (Norfolk, VA) had. Happy dancing all the way out of the store that day, don't ya know?! haha
And in the color I wanted, the Lofallet Beige. Yippee.
Here is a random shot I took of it in our beach house…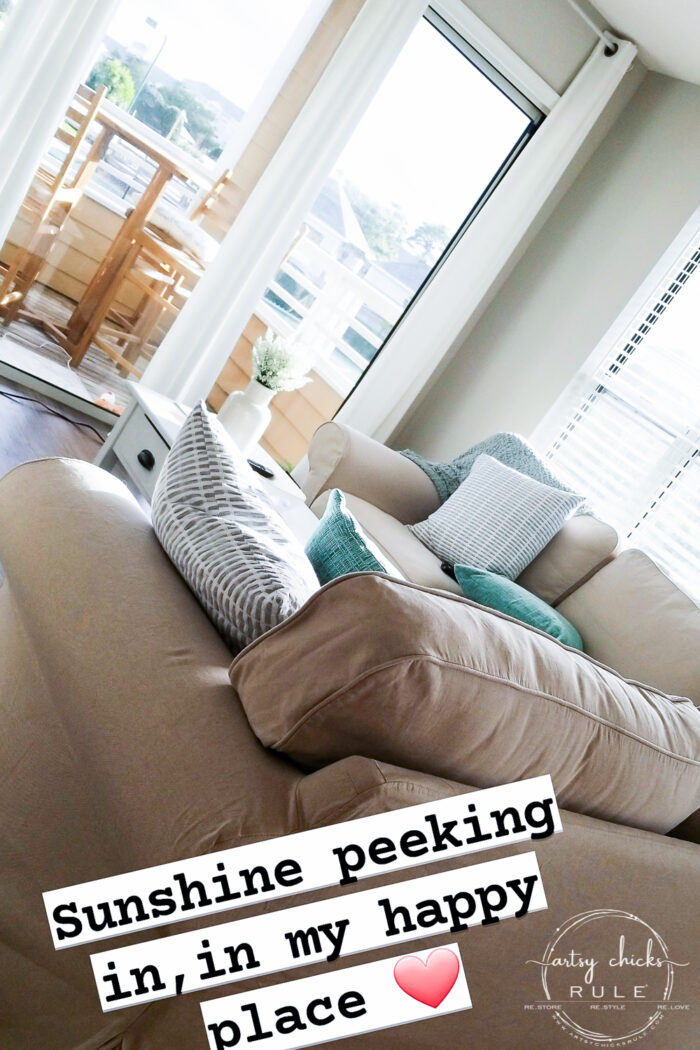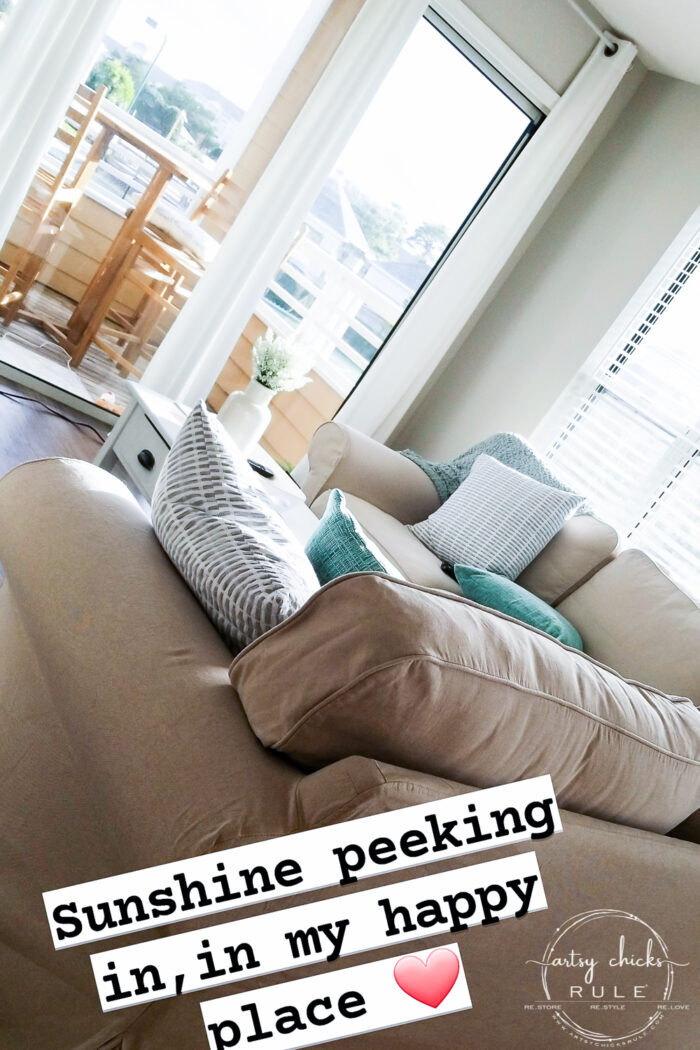 We really love it! (by the way, that was a photo I shared on my Instagram stories)
You can also see a peek of my teak set I made over there on our deck. (missed that makeover? you can see it, here)
We have some exciting plans coming up soon for the beach house so stay tuned. I can't wait to share more. :)
So, back to me trying to get the covers in this same color for our living room. What a mess!
I found them all at the store except for one loveseat. Darn.
I kept checking for over a month online because they thought they may get a few more in that were in warehouses, etc.
No luck at all.
I was bummed because I really wanted to change the covers (and they were SO inexpensive for the beige color) but didn't really want to buy new furniture right now. We've had one crazy expense after another this year. It's been ridiculous!! lol (it's almost comical and have to laugh at this point) If you follow along on Instagram, you might have seen that our HVAC also just went out. So that just got finished being replaced today.
Anyway, I wasn't about to try to create any other expenses like new furniture right now. No way!
But I really wanted those covers.
So I started looking on the FB marketplace and Ebay. I found a new one on Ebay but they wanted $150 for it (it was $39 at IKEA, for reference) so I made an offer of $60. They didn't accept it. So I then found a brand new one about 2 hours south of me on FB marketplace for $29! The lady was going to check pricing to ship to me and get back. Apparently she had a few issues with a new phone and told me she wouldn't be able to ship to me. Long story short (yikes, sorry) I turned around and made another offer on the Ebay one. They counter offered and I accepted. I ended up paying just over $100 with shipping. THEN the FB lady got back and said she was just frustrated with her new phone and that she could send it to me in a couple of days. hahaha…story of my life!
Anyway, at the end of the day, I got my cover. I spent more than I wanted but it was still cheaper than new furniture and I am SO happy with how it looks (and feels) in our room. Did I mention this fabric is so much softer than the white I had on there? Don't know why it's so different but we love it.
I wish I could change out the white covers in the morning room too but heck no am I going through all that and trying to find those 3 pieces.
So here are a few photos of our IKEA furniture update: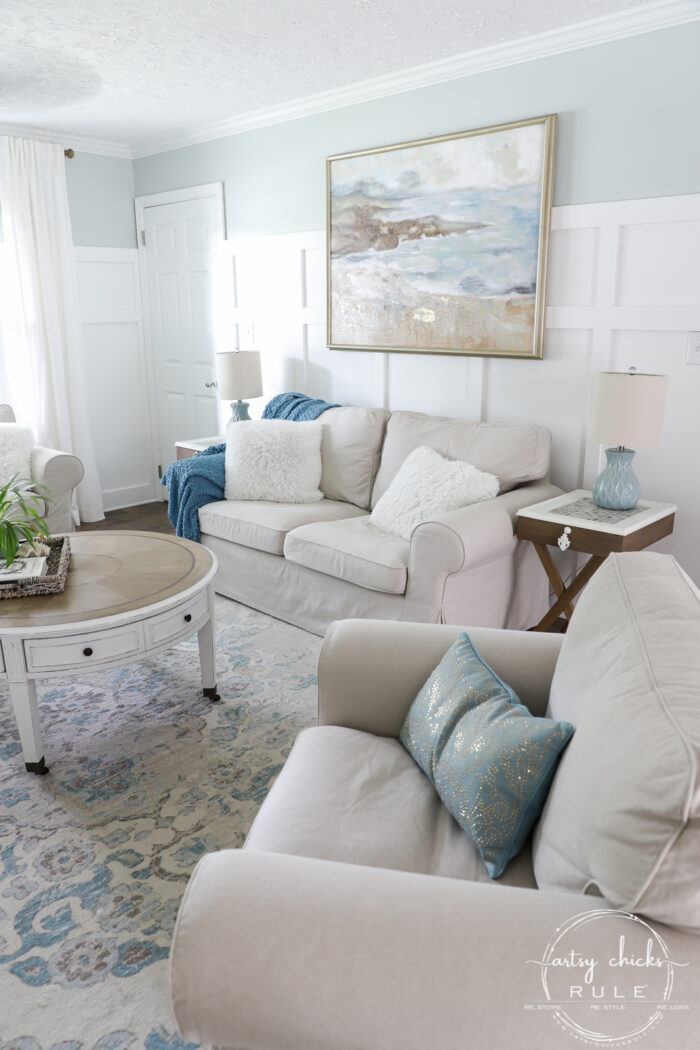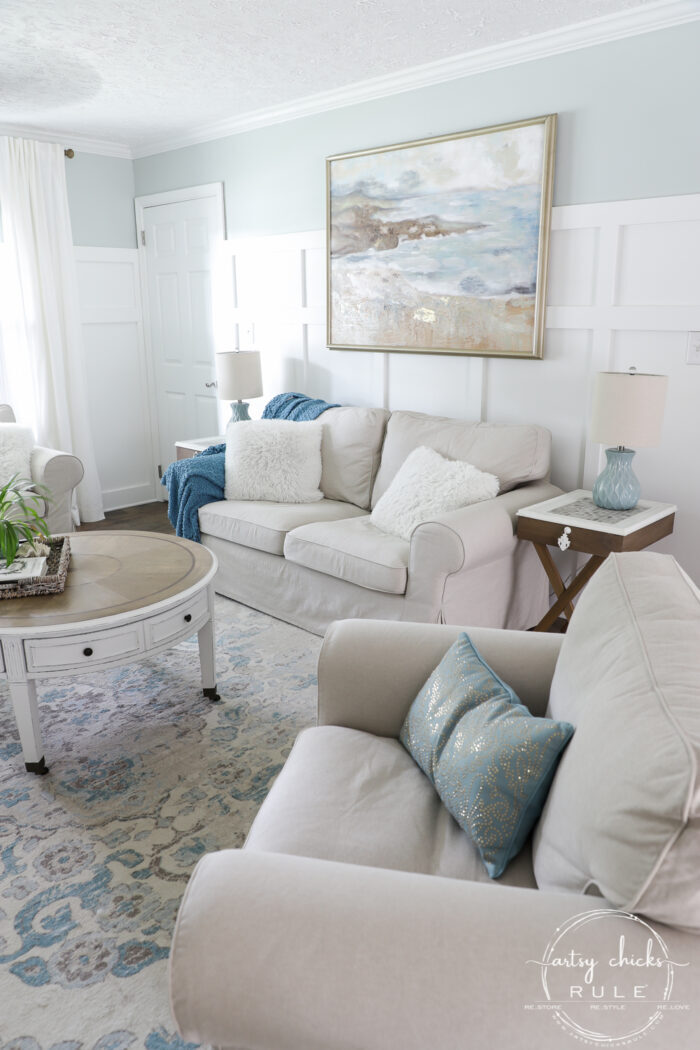 It's really the perfect shade. I'm sad they discontinued it and the Ektorp series but I was told something new was taking its place.
This has held up great so far but I do look forward to seeing what is coming in new.
A little different reflection now.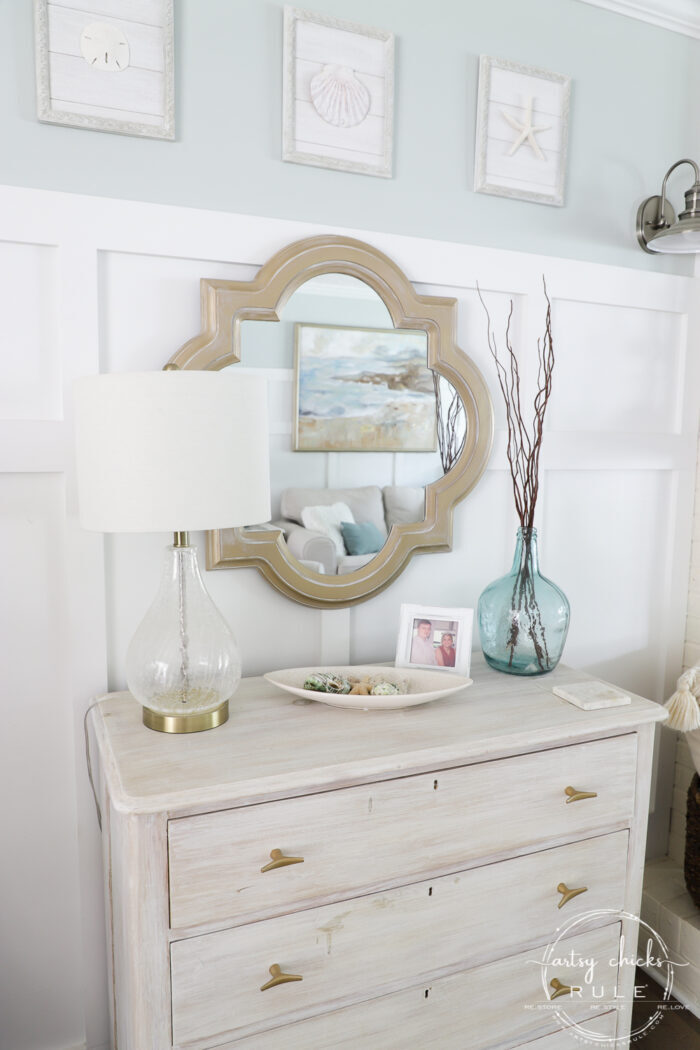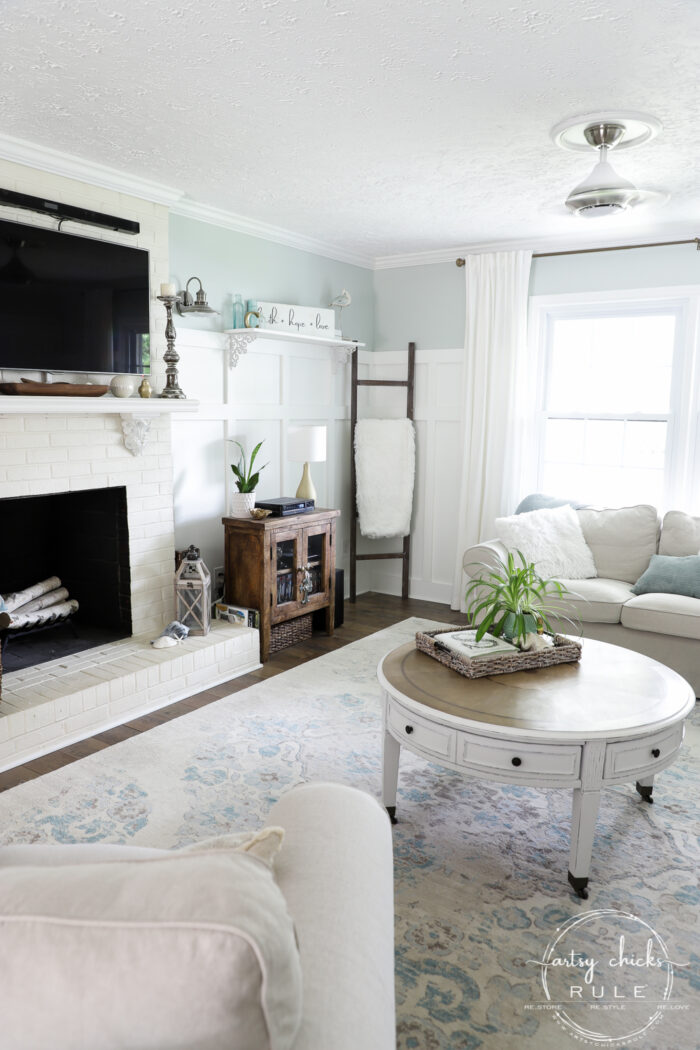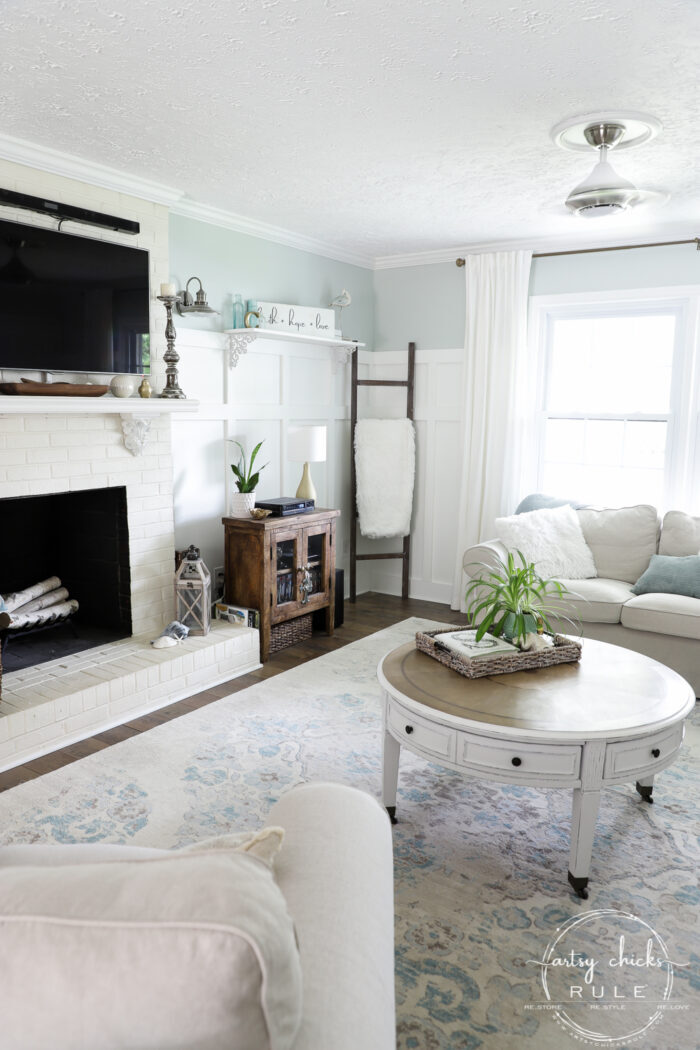 I need some new pillows but haven't shopped any yet. Soon!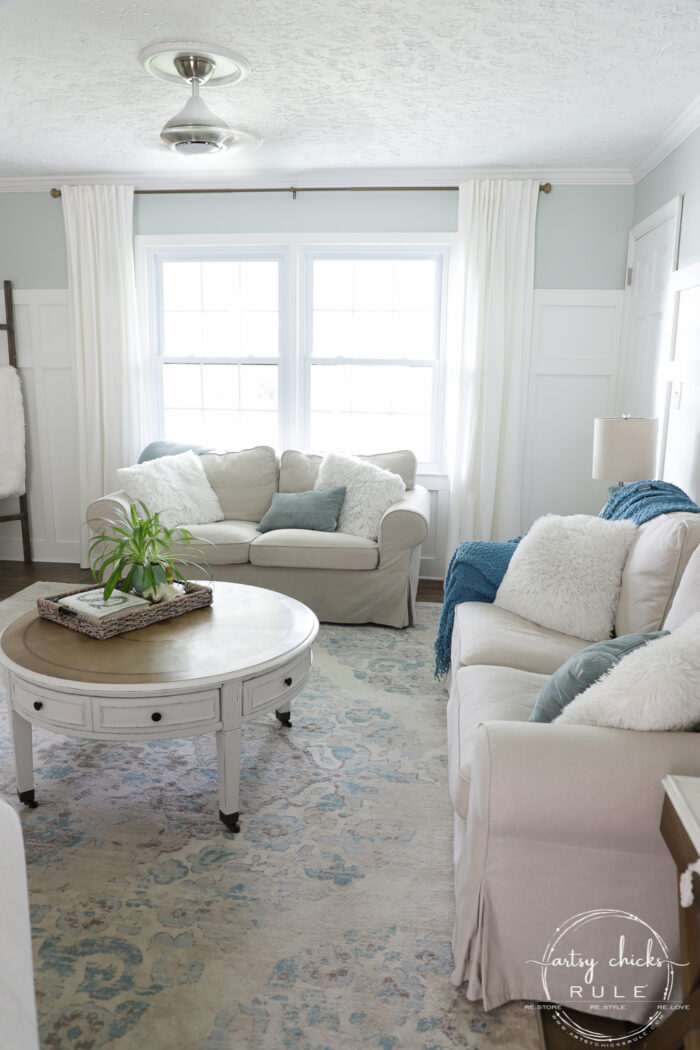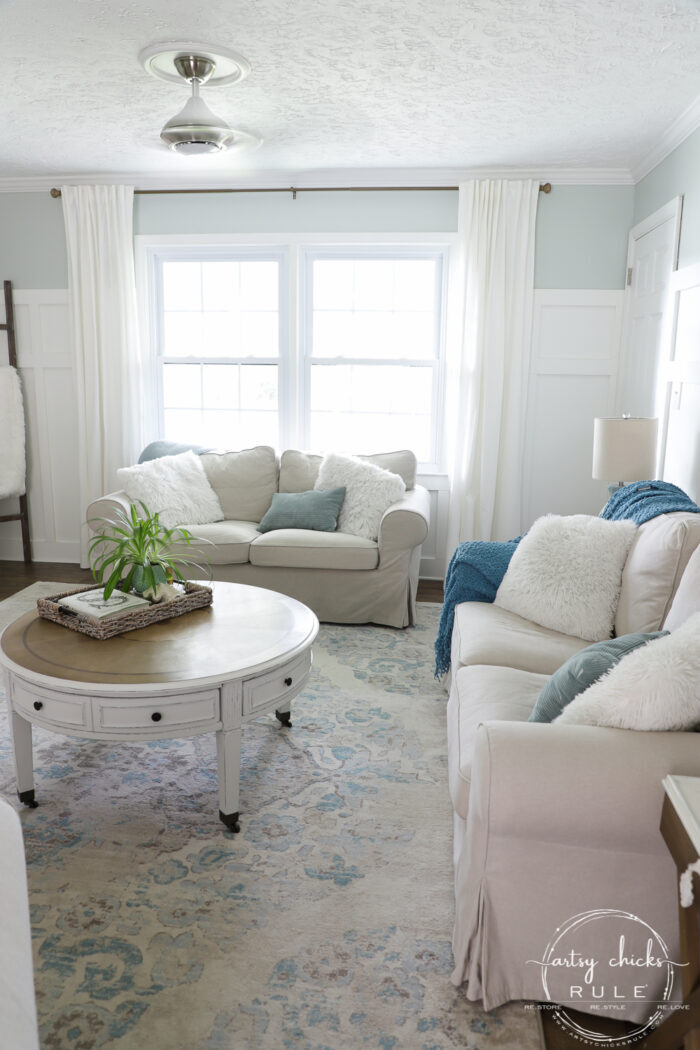 Oh! And we also put in new windows in this room and the morning room. I am SO (so,so,so) happy to finally be wrapping up the new windows. Only a few more to go. Our windows were original to the house and many wouldn't even open. It is amazing the small things you take for granted! Like being able to open your windows and let the fresh air in. I'm just thrilled.
And since we installed replacement windows, they for some reason don't leave much room to hang any kind of window shade/blind, etc. So we will have to be creative. For the downstairs, we have decided to use our curtains as privacy and just pull them over at night. I love the clean look of the windows without shades or blinds. (you might notice we had to replace the rod as I had two short rods on each side originally, we had to put in a long one going all the way across so we can slide the curtains over)
Here is the rod I bought >>> new curtain rod. I found it at The Home Depot. I loved the sort of weathered wood look it had and thought it would go well in here with our coastal decor.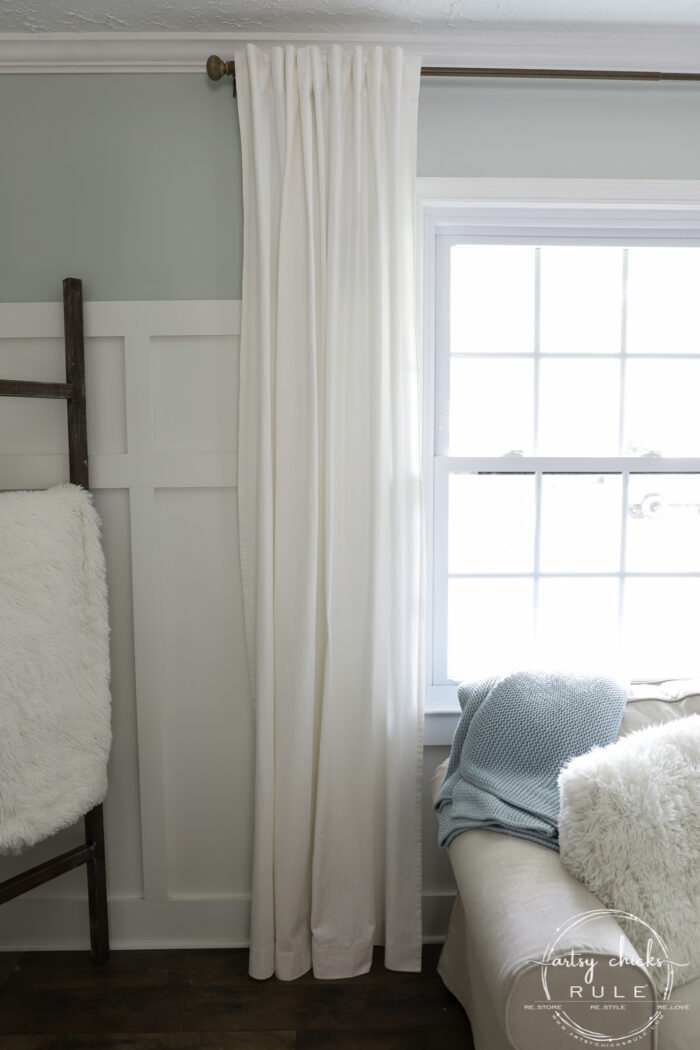 Someone always asks me about the rug, so here are the details on it >>> rug.
Anything else you might see in our home, you can check my "Shop Our Home" page and find most of it there.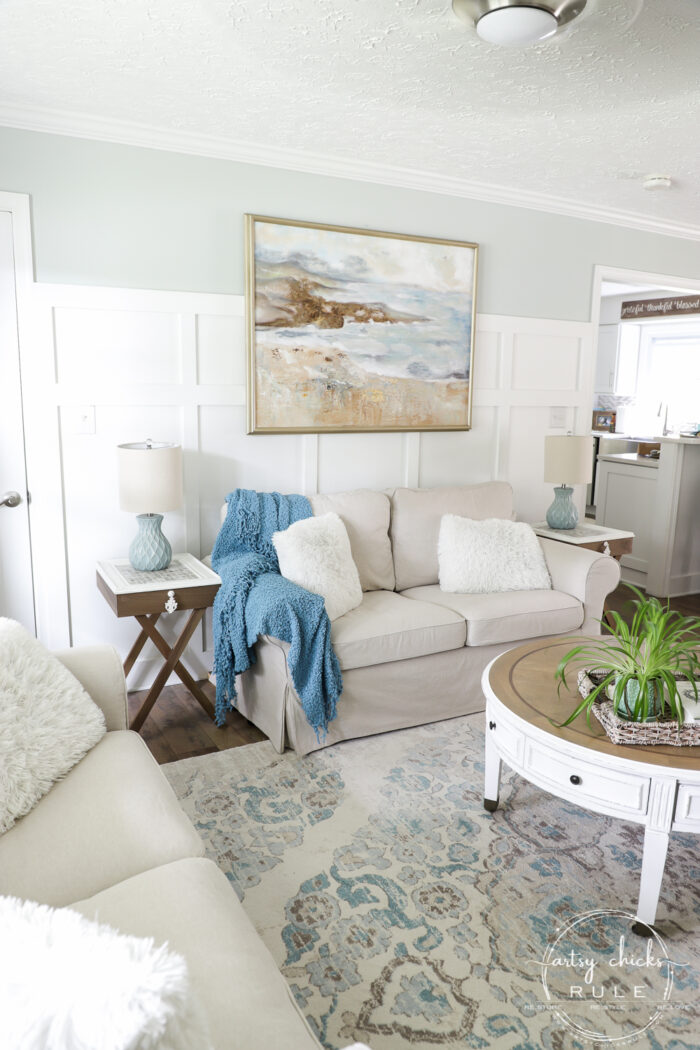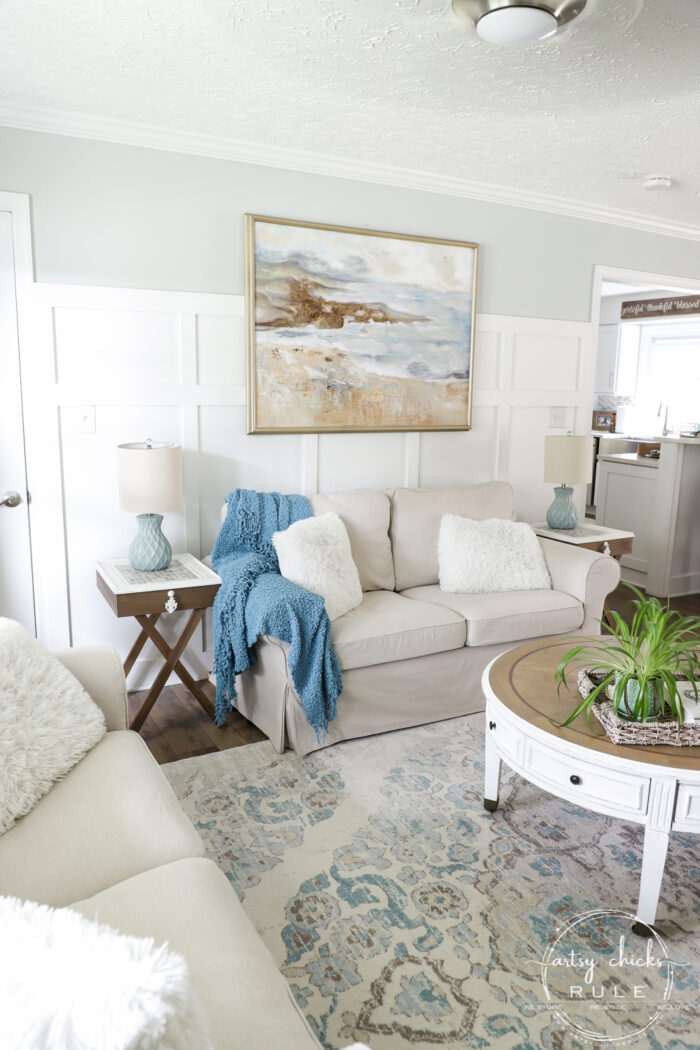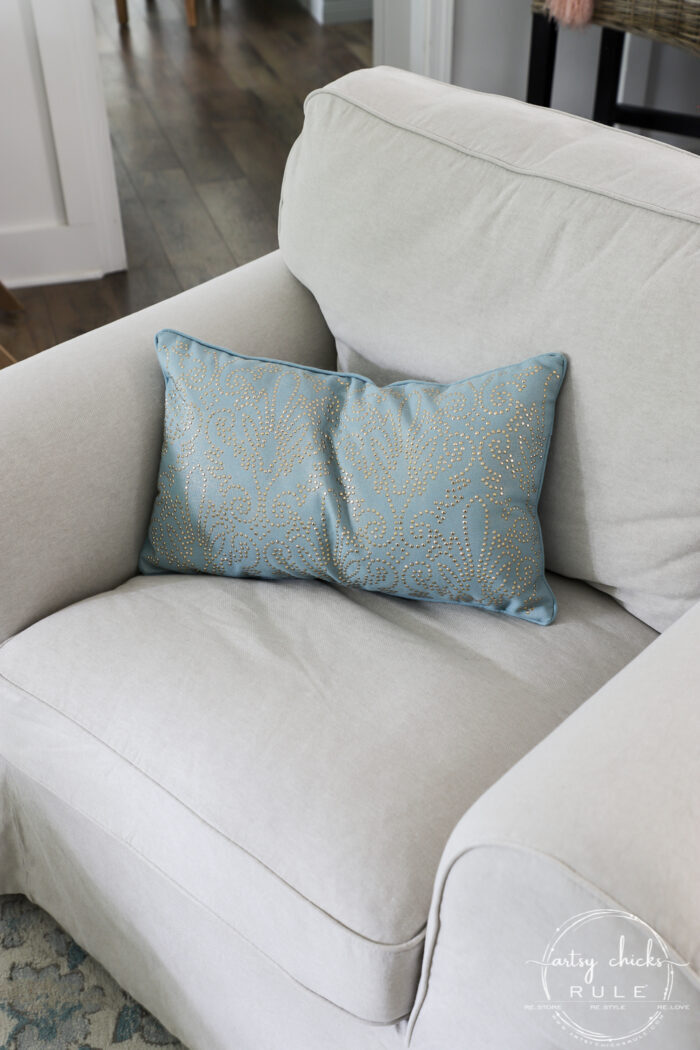 I highly recommend both these covers (they are beautiful) and the Ektorp line. Even though they are being discontinued, you may come across them on the marketplace, or maybe may even be able to get them in your local stores as they finish out the line.
Like I mentioned though, I will definitely be keeping an eye out for their replacement for this!
Another update for you all, I have finished painting our master bedroom…trim and walls!!
I shared some snippets over on Instagram stories so follow along there if you don't already. I'll be sharing lots with the upcoming beach condo renovations too.
But my husband is almost done with his built in closet too. I have to find some nightstands (I'm looking for wood, not painted) and some pretty artwork that will tie in all my colors in the room among a few other small things. Then I will be able to share that too.
We hope to wrap it up soon so we can begin on the beach condo. Stay tuned!
And since I painted one of our master bedroom walls NAVY, I'll be sharing some pretty navy inspiration next week on the blog. If you love navy or are interested in maybe painting a room navy, etc, keep an eye out for it.
Lastly, here's what else I'm up to…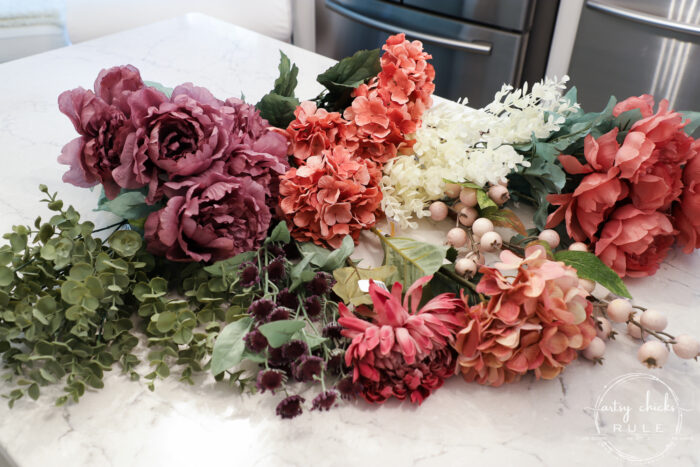 I went to Michael's and snagged a bunch of goodies for fall at 40% off. I am loving these colors.
They are fall-ish without being too well, fall-ish if you know what I mean.
I love the blues and rusts I've done in the past but this year I'm going plum and … orange-y pink.
I'm going to try to make two different fall pretties with the bunch above.
One of the things I'm using with them is this box from my latest haul.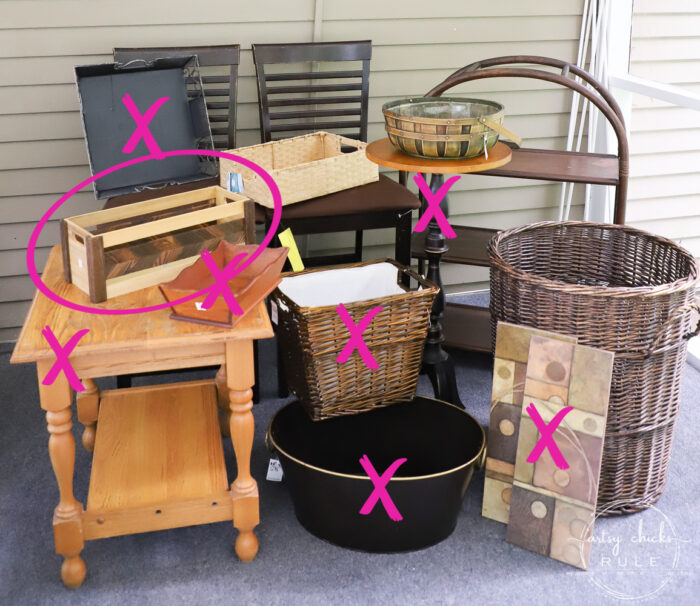 I'm going to make some kind of arrangement in that for our dining table.
I can wait to see what I can pull together with those beautiful flowers I found.
Keep an eye out over on Insta…I'll try to video or at least share photos of what I do. :)
Have a wonderful weekend! (the temps have finally started getting a bit cooler around here…it's actually beginning to feel like fall so I may start decorating our porch this weekend!)
Have you decorated for fall yet?
xoxo