DIY Shiplap Headboard ($10 Restore Find)
This post may contain affiliate links. Please see disclosures here.
This $10 ReStore find got a brand new look… DIY Shiplap Headboard, so simple to create this look!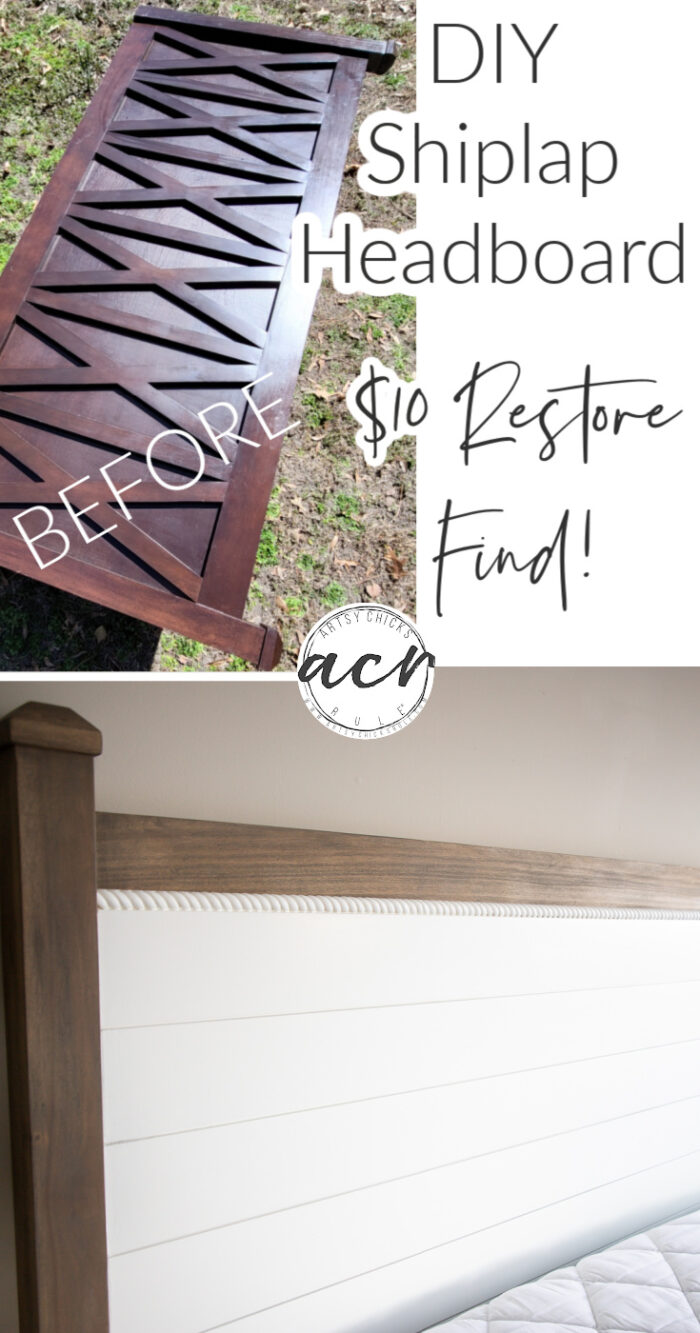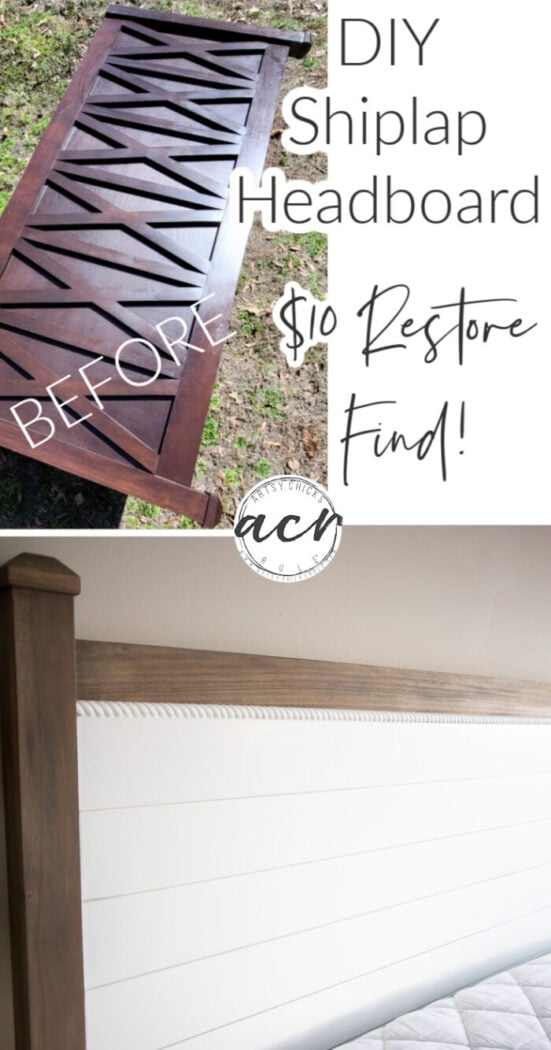 Hello, my wonderful friends!
I'm coming at ya on a Friday, what the what? Just trying to keep y'all on your toes! ;)
I hope you have been having an amazing summer so far. If you follow along with me on Instagram you know that we just spent a whole week at our beach condo. Yippee!!
It finally felt like a vacation… sort of… because you know that we are gonna do some work…always!! Haha
I started decorating a little putting things on the wall, we also put the new rug down in the bedroom plus finished up this headboard and put it up. And we added a bunch of decorative hooks for things like towels, beach towels, etc., in the bunk room and bathroom. We are going to add two more in the master to hang things too. As well as getting the toilet roll holder and hand towel hook up.
AND 2 shelves in the bathroom. Yay! Did you catch those stories on Insta? They were dark brown stained shelves that I bought and decided to "whitewash". Well, the stain mixed with the white paint and turned into a gray wash which was actually perfect for the bathroom. (gray cabinet and mirror frame in there) So I let it roll!
The other two shelves I bought I took back home to sand and then I'm going to use the same Driftwood stain that I used on this headboard project (and on this dresser) so they will go nicely in the living area.
But we also had a little fun too. Both of our kids came down so we had a full house. We did a lot of eating, visiting, beach-ing, pool-ing and more!
I can't wait to get back down there and finish up the decorating and things. (we still have the kitchen to redo and our master ceiling — covering the popcorn we couldn't remove easily) But those are getting tackled in the winter months.
DIY Shiplap Headboard
Okay, let's talk about this $10 headboard makeover. If you remember, I found 2 headboards at the ReStore for $10 each. Solid wood even.
I bought them and proceeded to make the first one over, you can see it here >>> $10 ReStore Headboard Makeover (MCM style)
I gave them two completely different looks!
Here is how they both started out…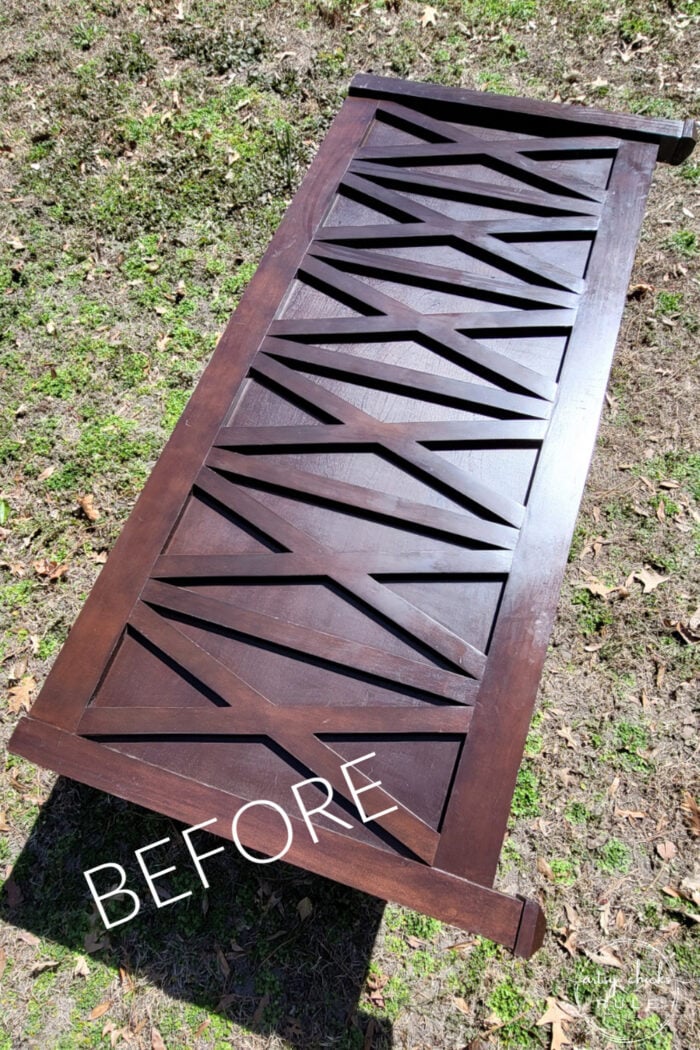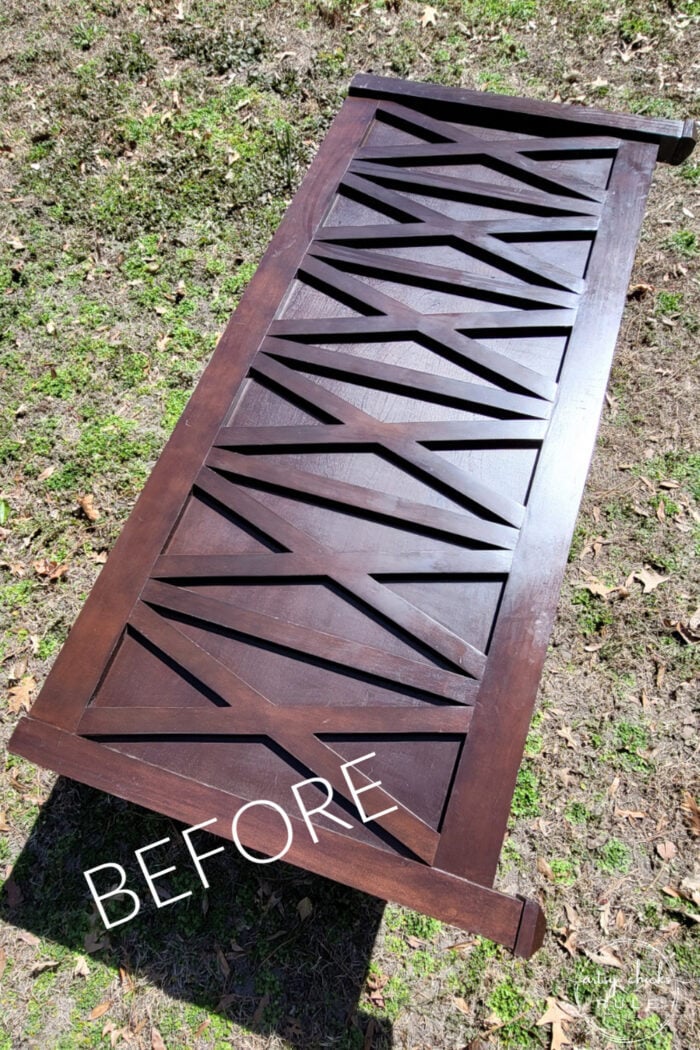 Dark brown stain, sort of farmhouse style. Not bad at all.
But not the look I was after…or color of stain either.
So for this one, I decided to remove the stain around the sides and top and put shiplap in the middle.
Sort of coastal in style for the beach condo.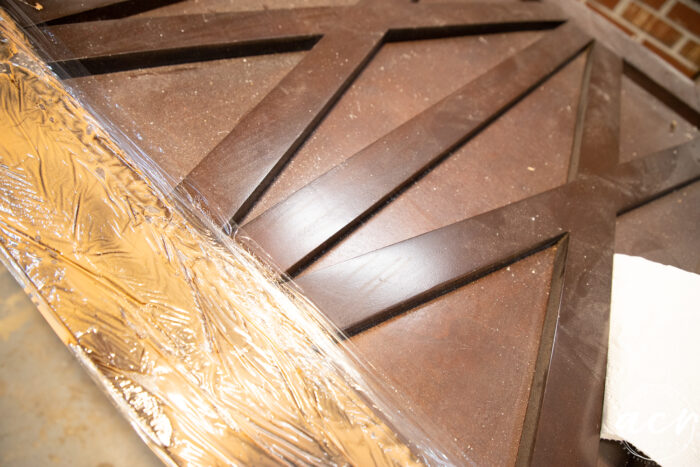 I applied Citristrip (still don't love the new version of this) and wrapped it with plastic wrap.
I let it sit overnight and it removed a slight amount of the stain. I cleaned it up and sanded the rest away.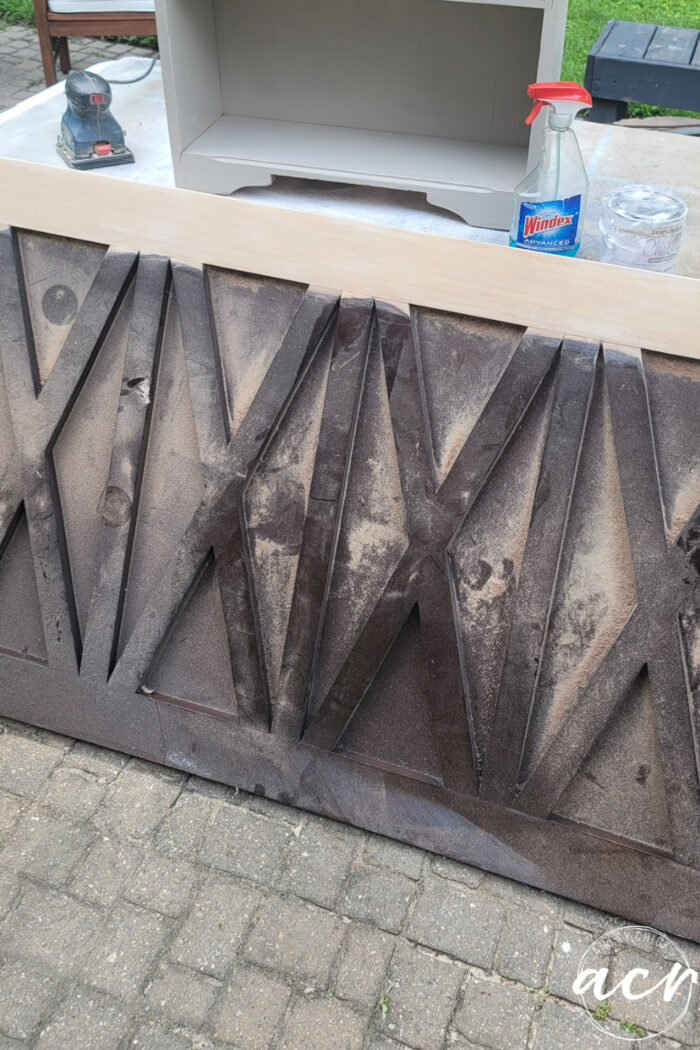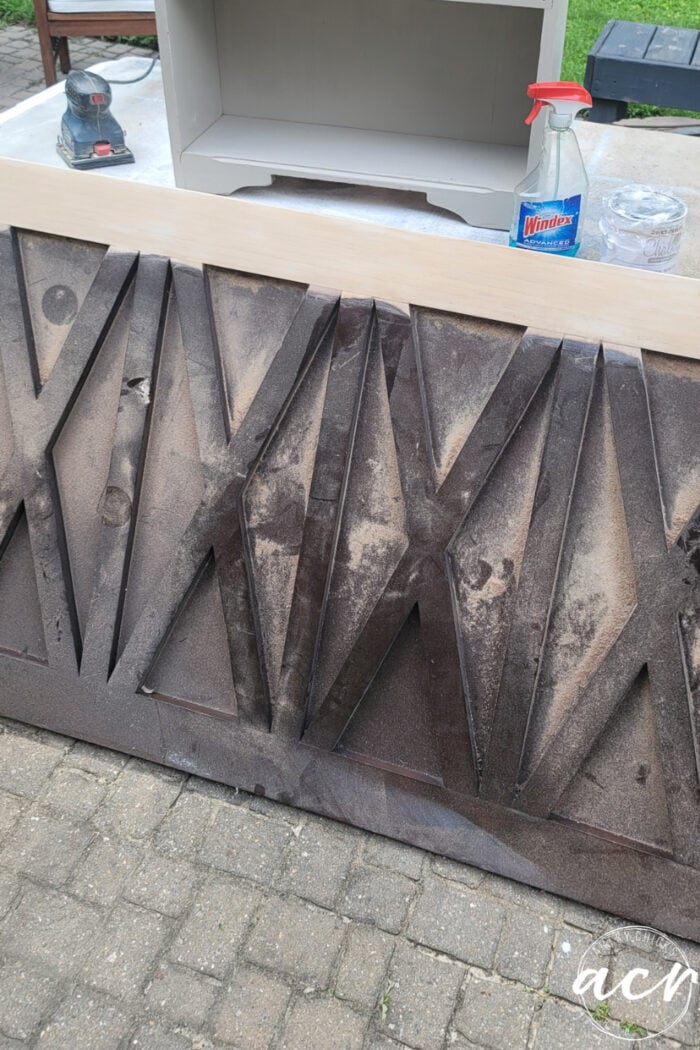 Just look at that beautiful wood under all that dark stain.
I hate sanding but honestly I should've skipped the Citristrip and just went right to sanding. The Citristrip didn't do much in the way of helping since I had to sand anyway.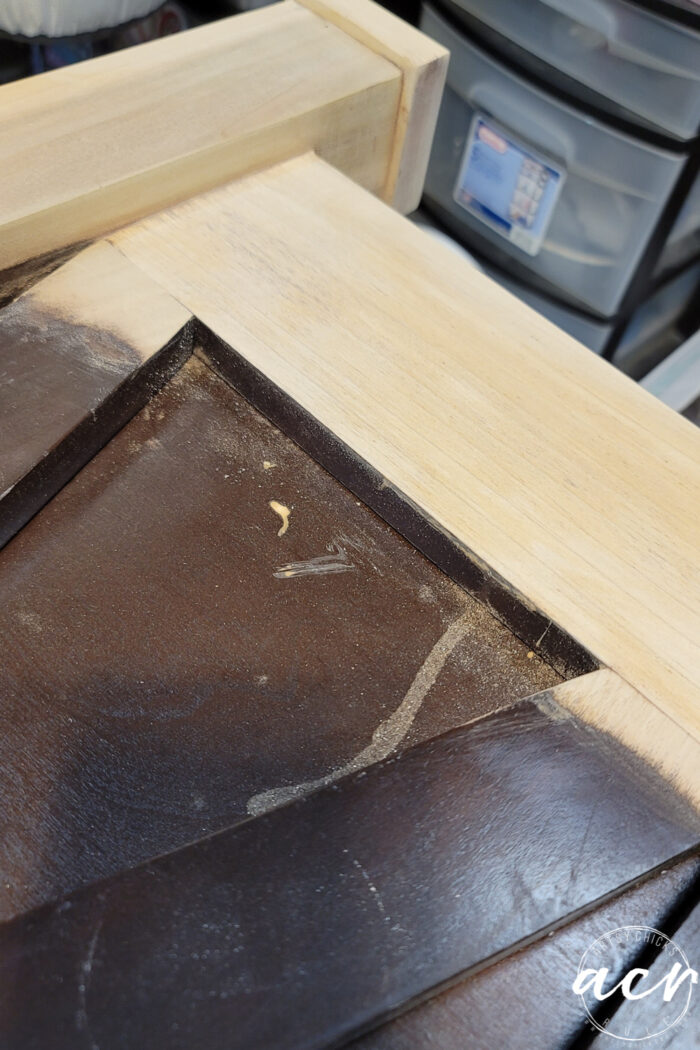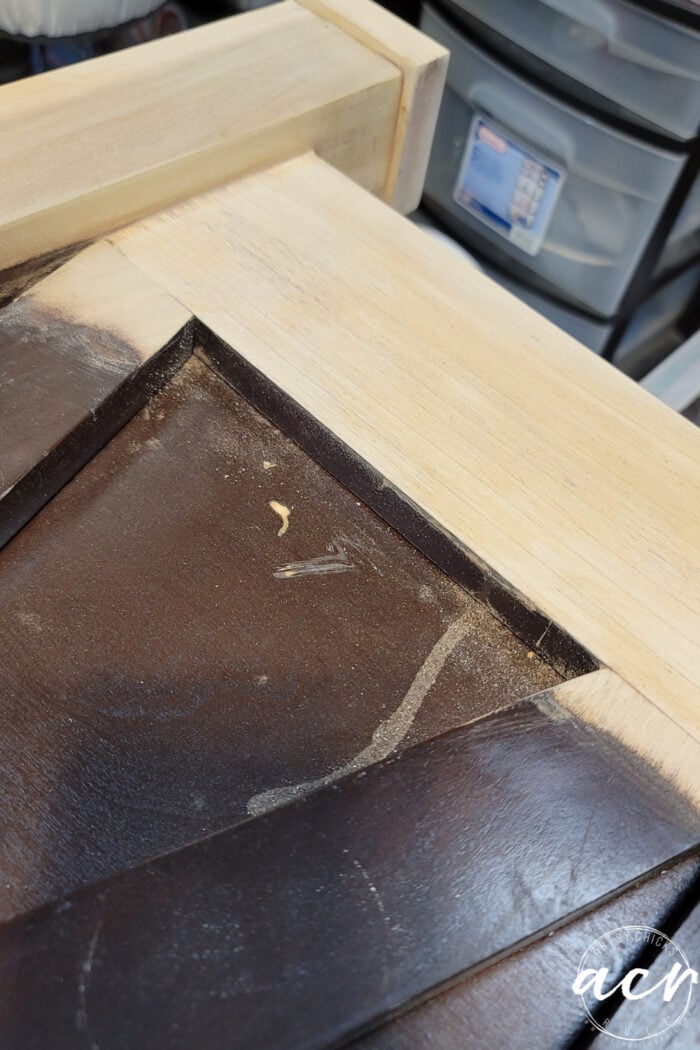 The area of the headboard with the criss-cross wood pieces doesn't matter as they are going to get covered up.
By the way, I sanded with 120, then 220 before adding the Driftwood stain below.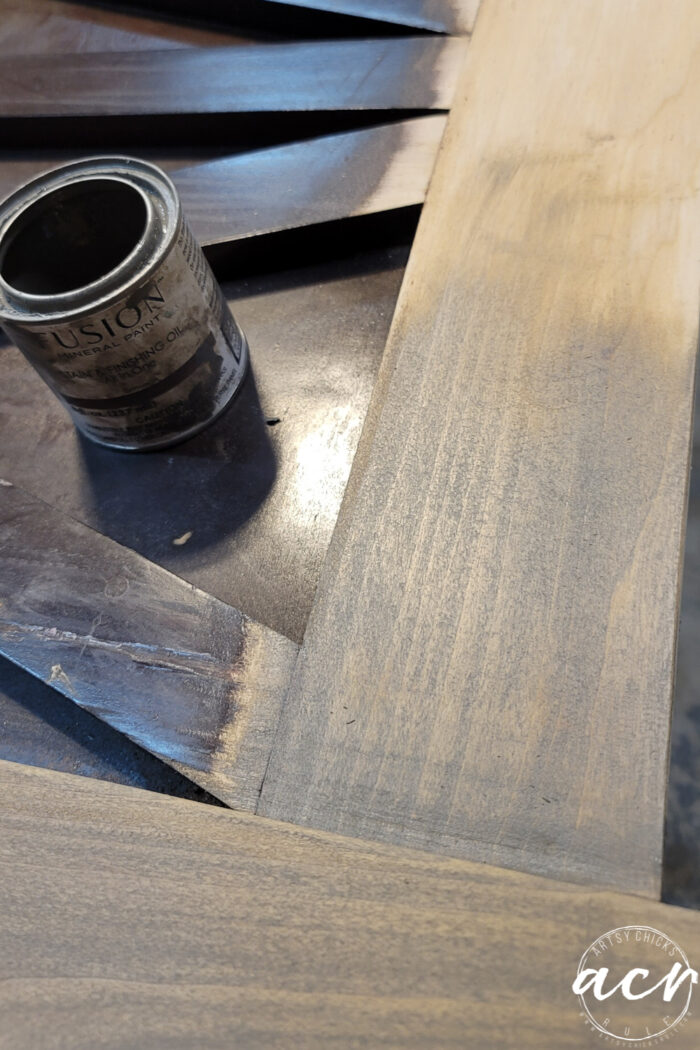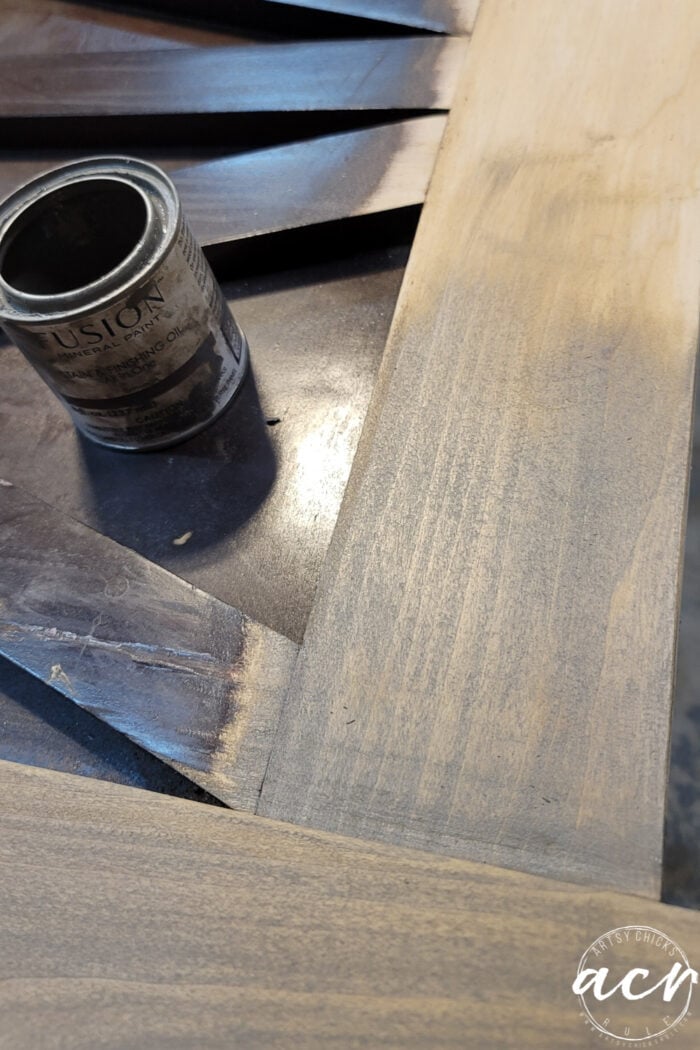 You can find this Driftwood Stain in my online shop, right here. (and other colors too!)
I love this shade so much. It's the perfect coastal wood look to me.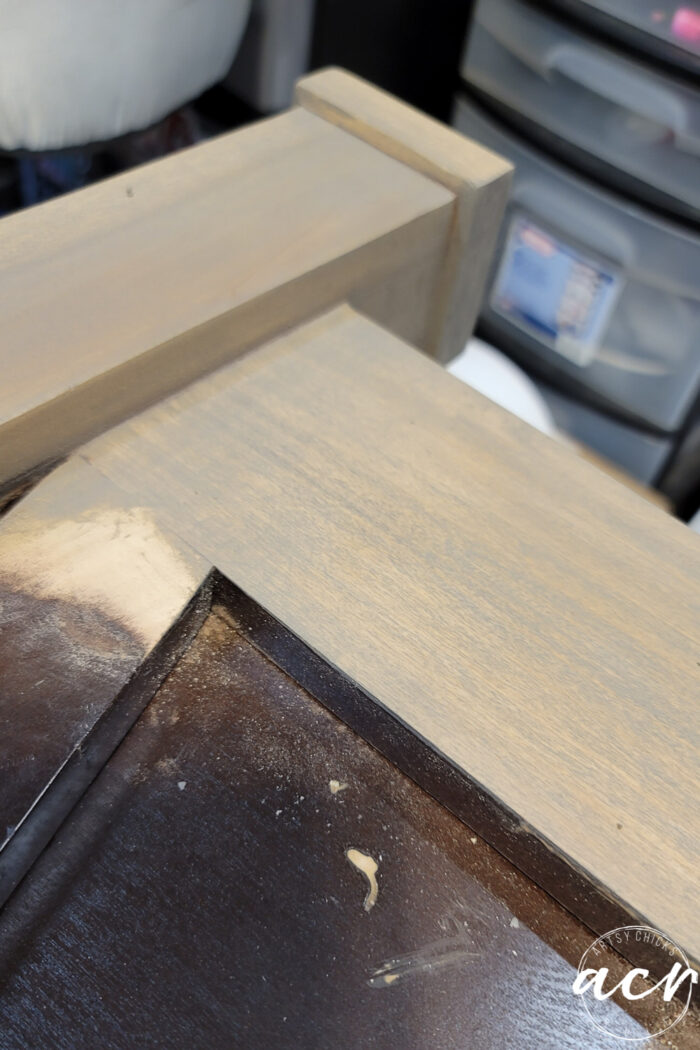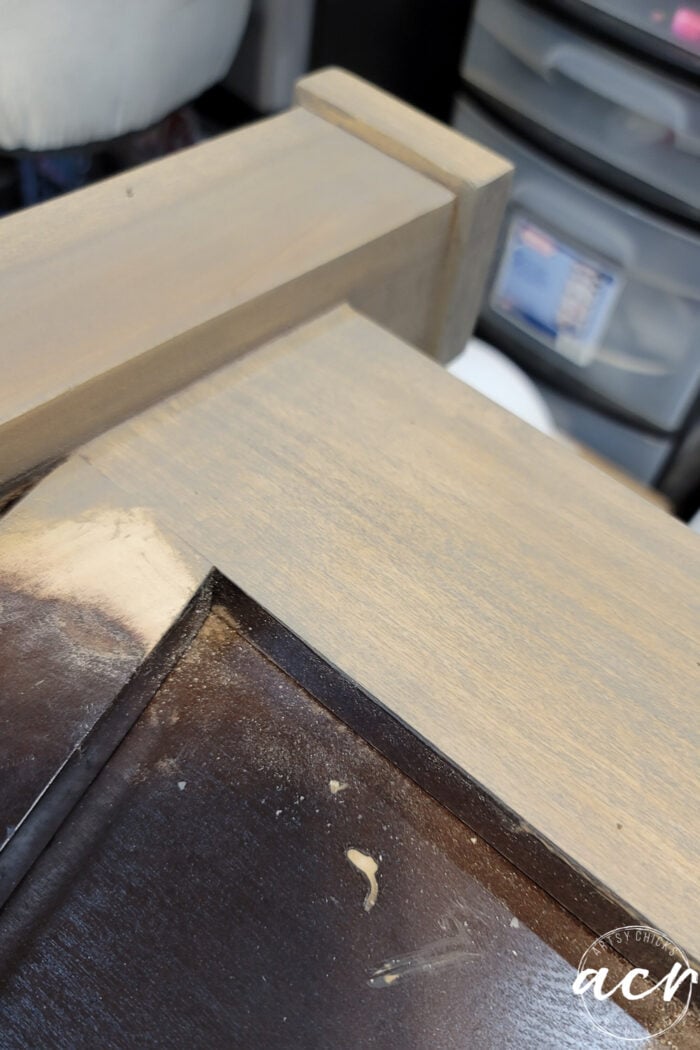 Once that was done, I left it as-is for now. We decided to take it down to the beach unfinished and finish it on the wall.
So below you see the French cleat that we put on the wall. (just like our other headboard) Both of these headboards already had it on the back so all we had to do was make one for the wall and done! Easy!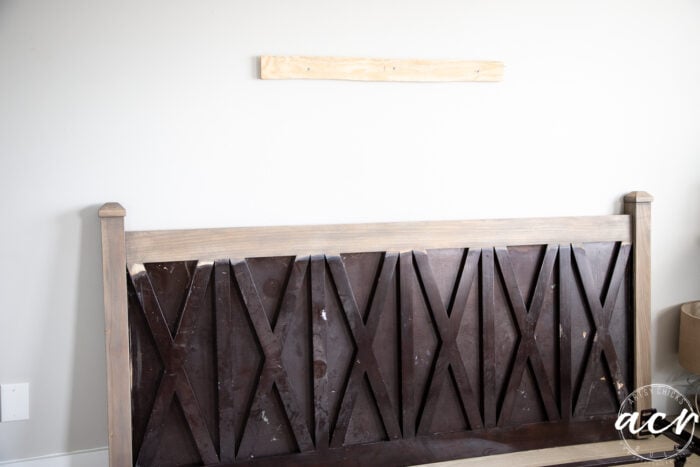 Not too pretty right now, huh? lol
But just wait…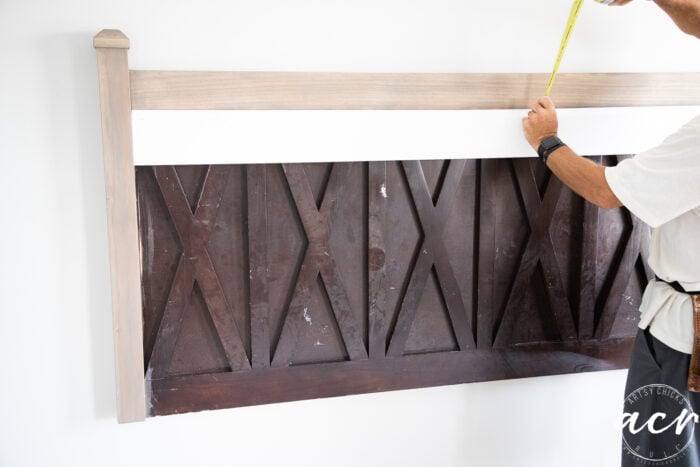 Measuring things out.
I actually filmed him putting the shiplap up onto the headboard. You can see my Reel over on Instagram (I'll add it here or the link anyway once I post over there, check back here later today or over on Instagram)
And just like magic…it's done! haha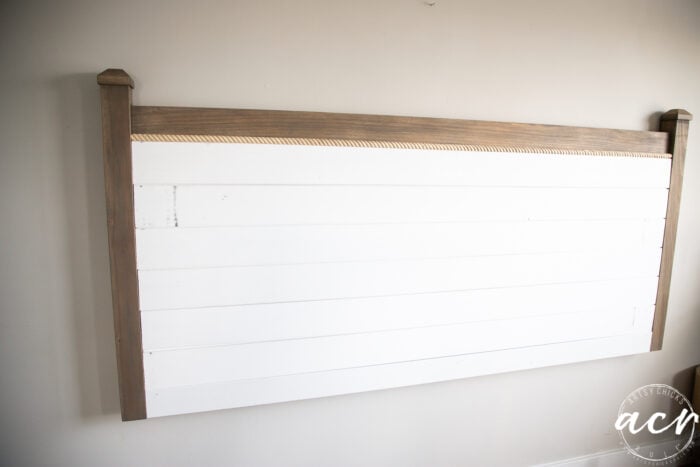 Well, all except for caulk and paint.
Let me tell you about this rope trim at the top.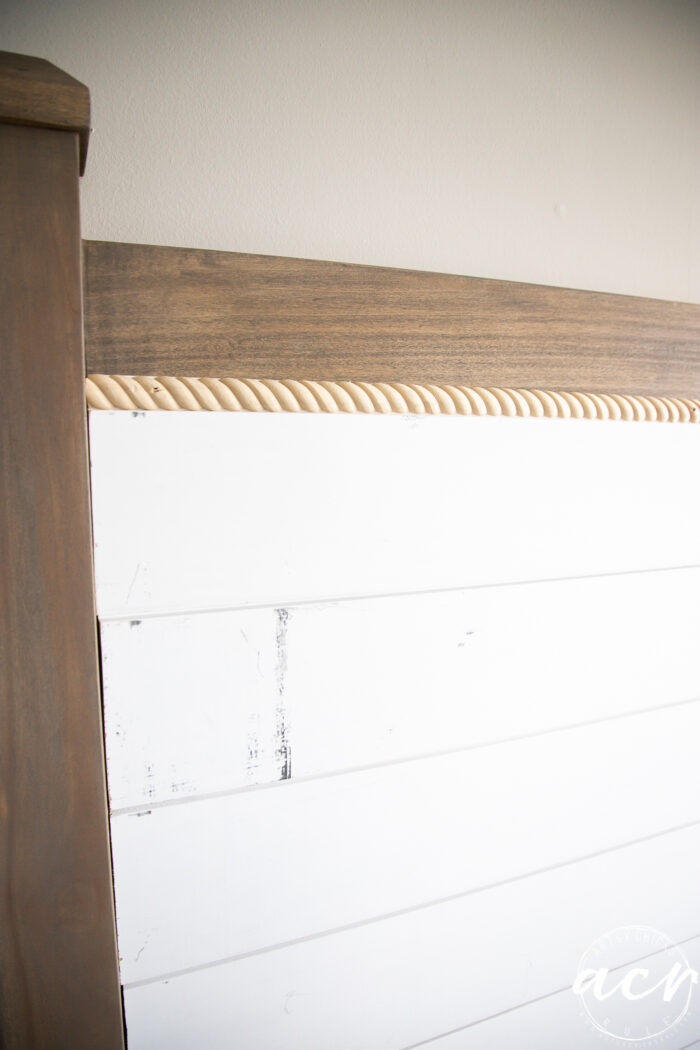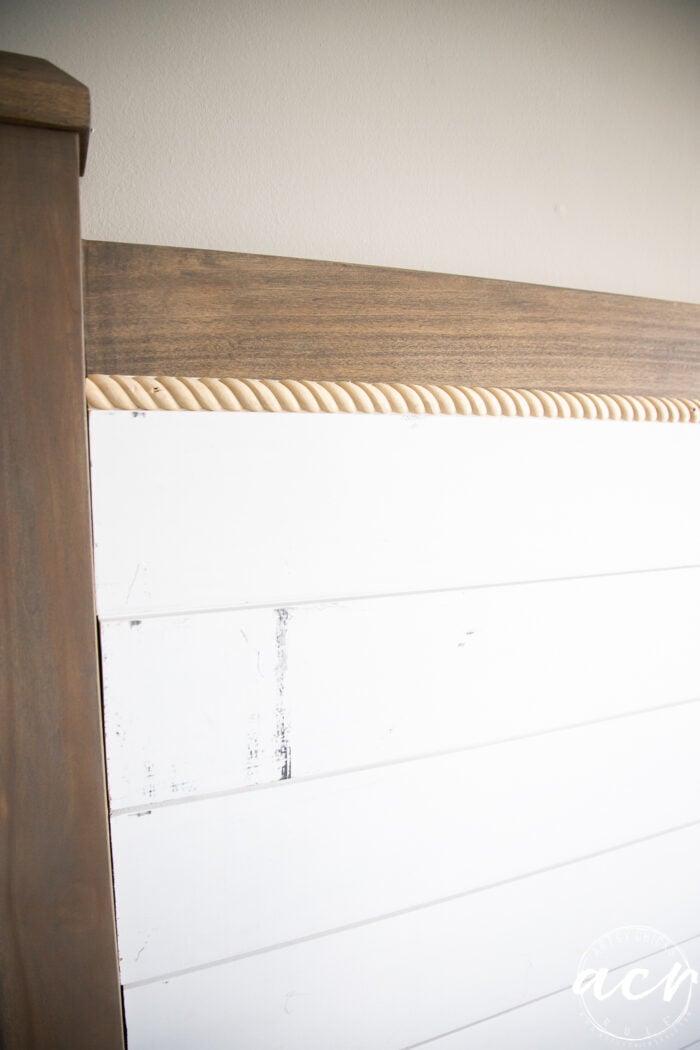 The shiplap has a little lip where it meets the next piece so we ended up with that lip at the top.
Instead of cutting it off or putting some other kind of trim there to cover it, I decided to add a rope-style wood trim.
I figured it's in a coastal condo at the beach so, perfect, right?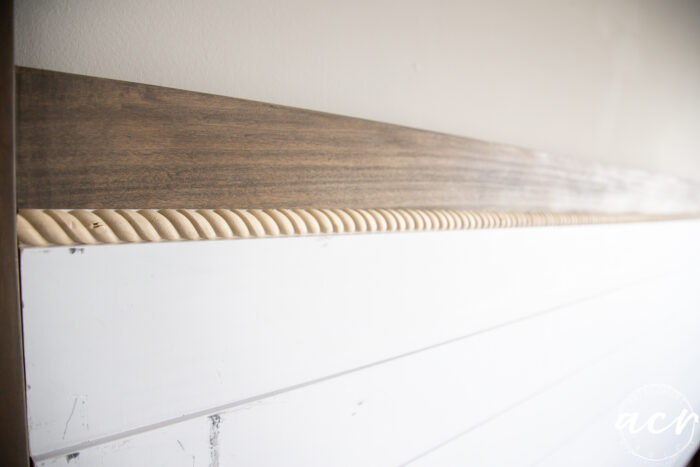 It adds style and serves a purpose, love that.
I caulked and filled holes, then taped and painted.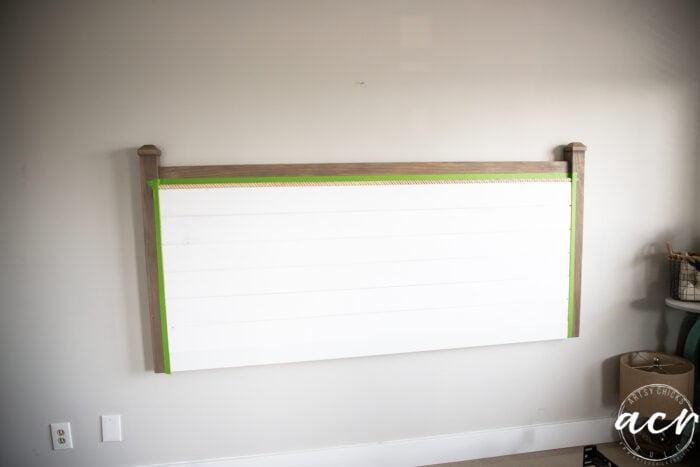 I used the same white paint that I used on all of our trim/doors throughout the condo.
And done!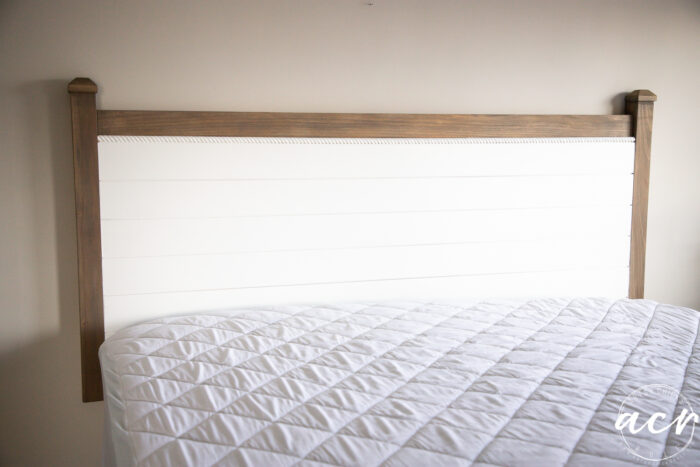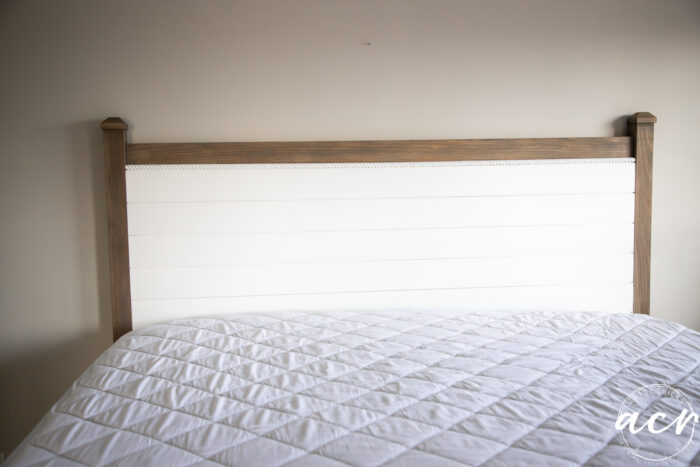 I love it and think it goes so well here.
And perfectly with our Driftwood stain dresser too.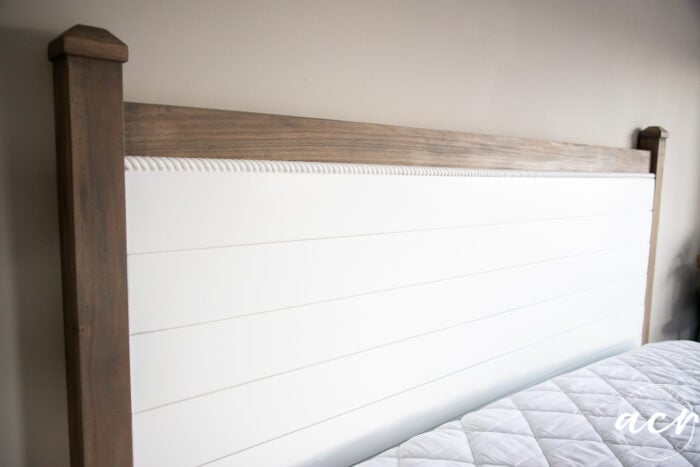 I love the added detail the rope trim gives it too.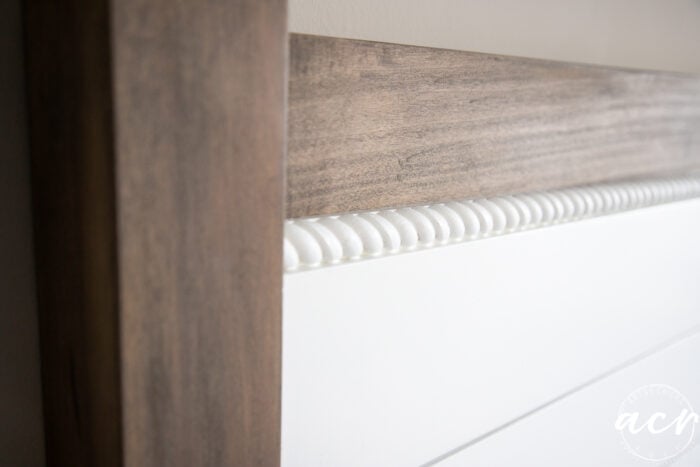 That worked out perfectly.
I shopped Home Goods in the Outer Banks last week and found these pillows…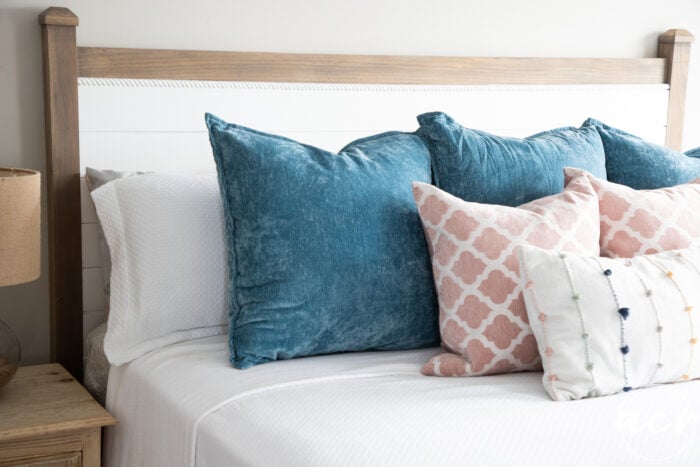 …to go with the new rug we also put down.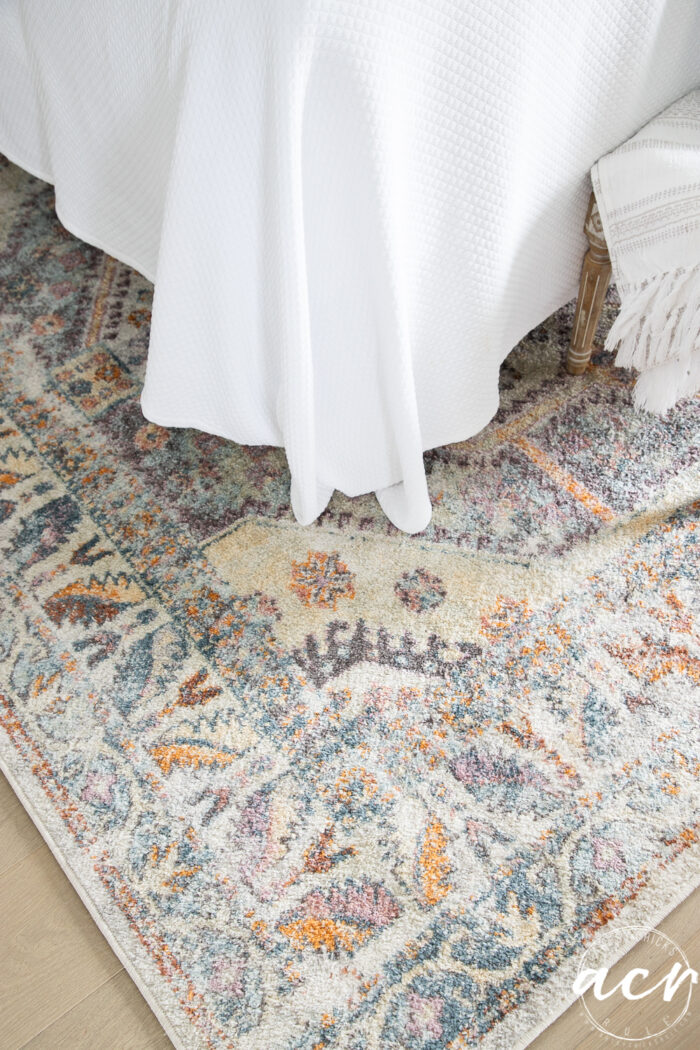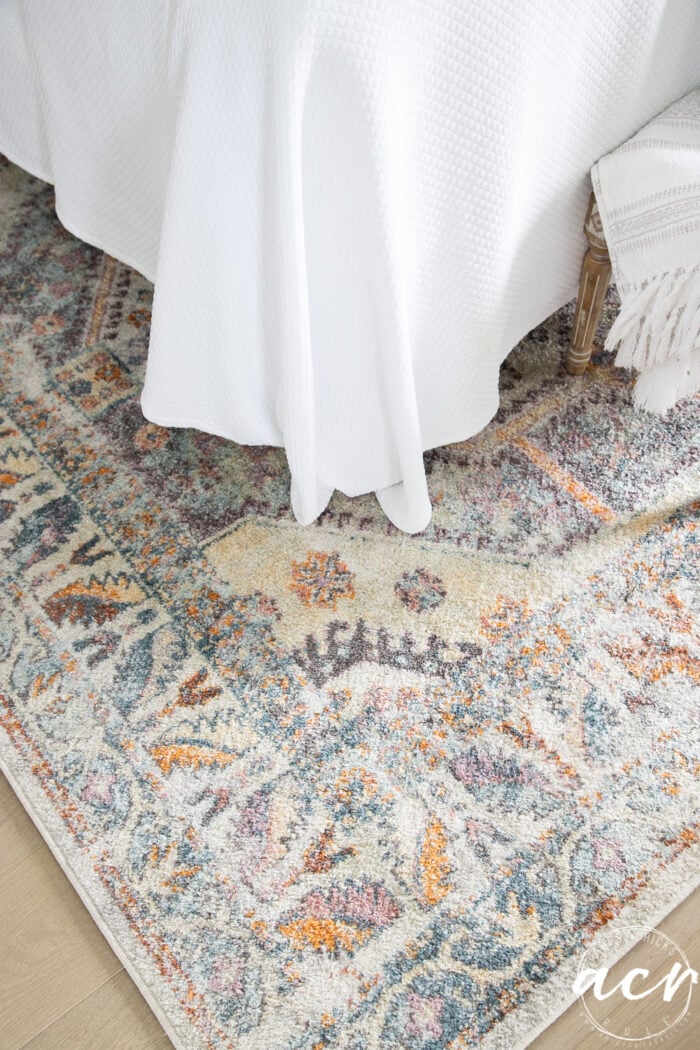 It's coming together in here.
I found an art print I'm putting over the bed and also have two gold starburst mirrors going over the end tables. (of which I still need to find 2 for in here)
That light fixture is actually going over the dining table. We are putting a fan over the bed.
So excited to get all the things done! Soon! And oh so happy to mark this one off the list.
PIN it to save it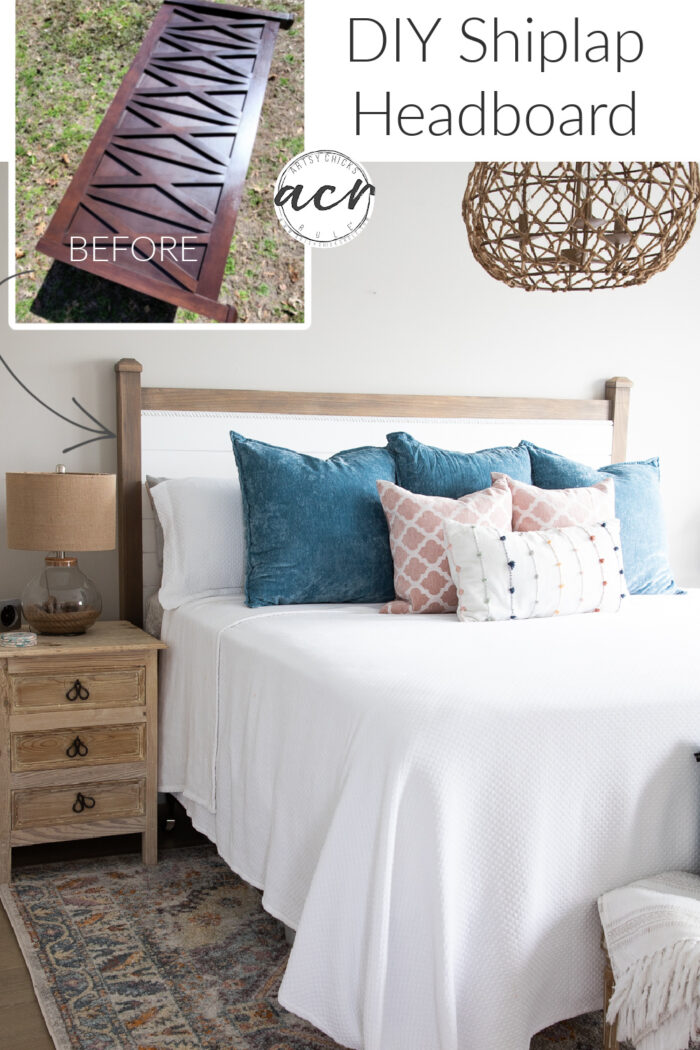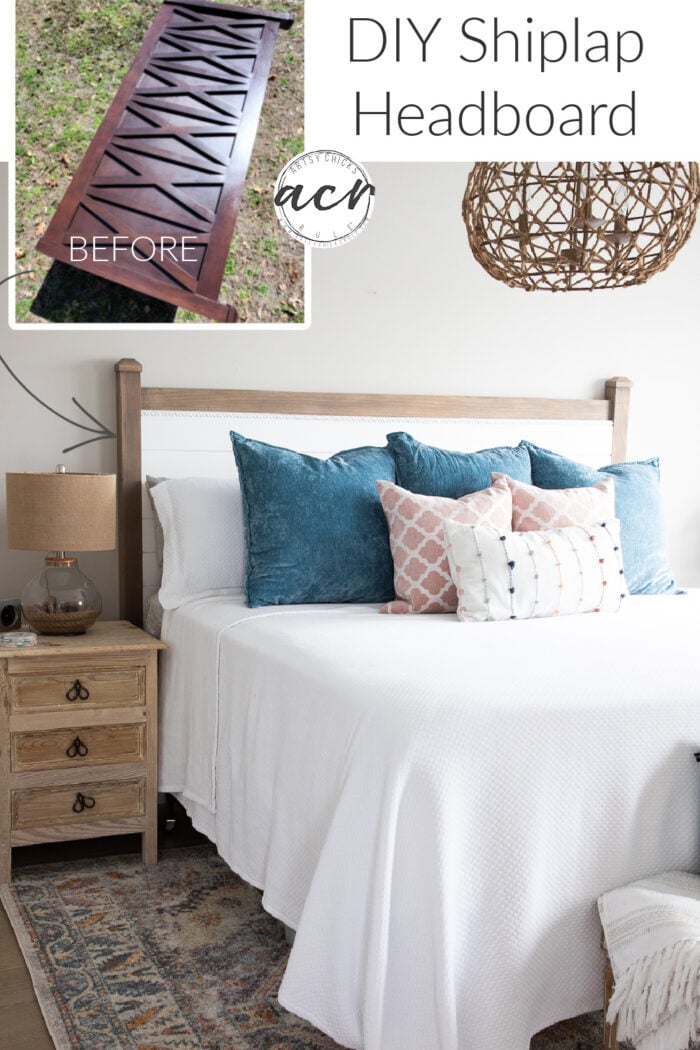 Have a wonderful weekend, friends! See you next time with this!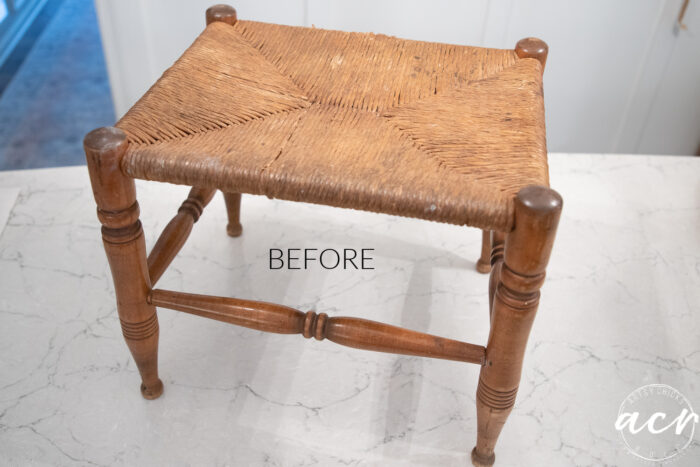 UPDATE!! See it now here!
xoxo