$10 ReStore Headboard Makeover
This post may contain affiliate links. Please see disclosures here.
Plywood and paint…totally transform this $10 ReStore find! This headboard makeover was simple to do too!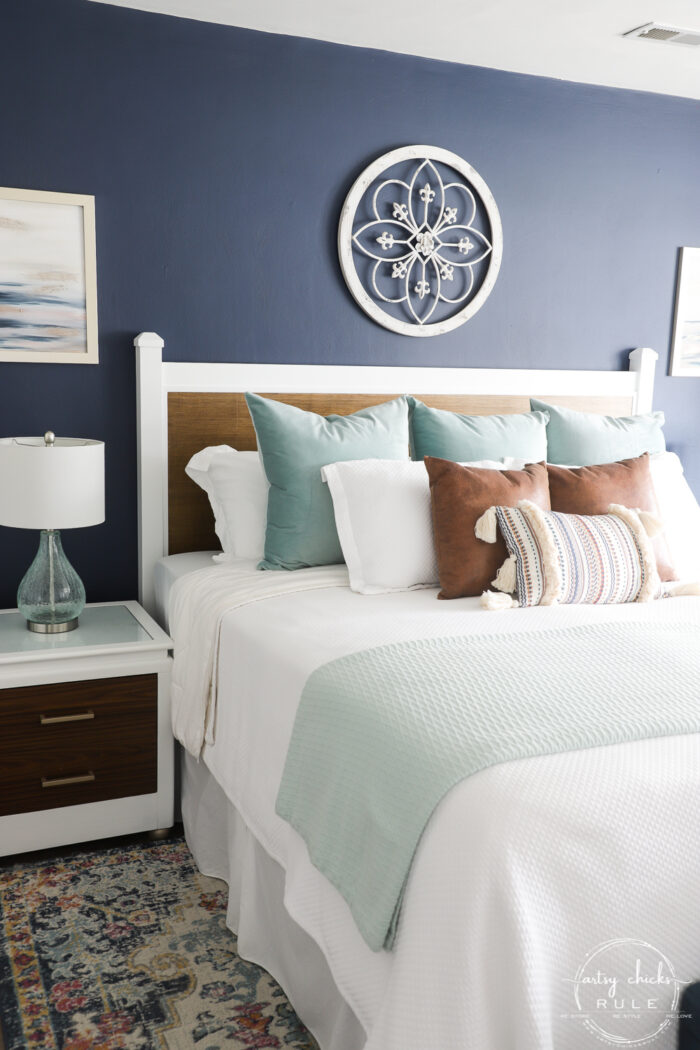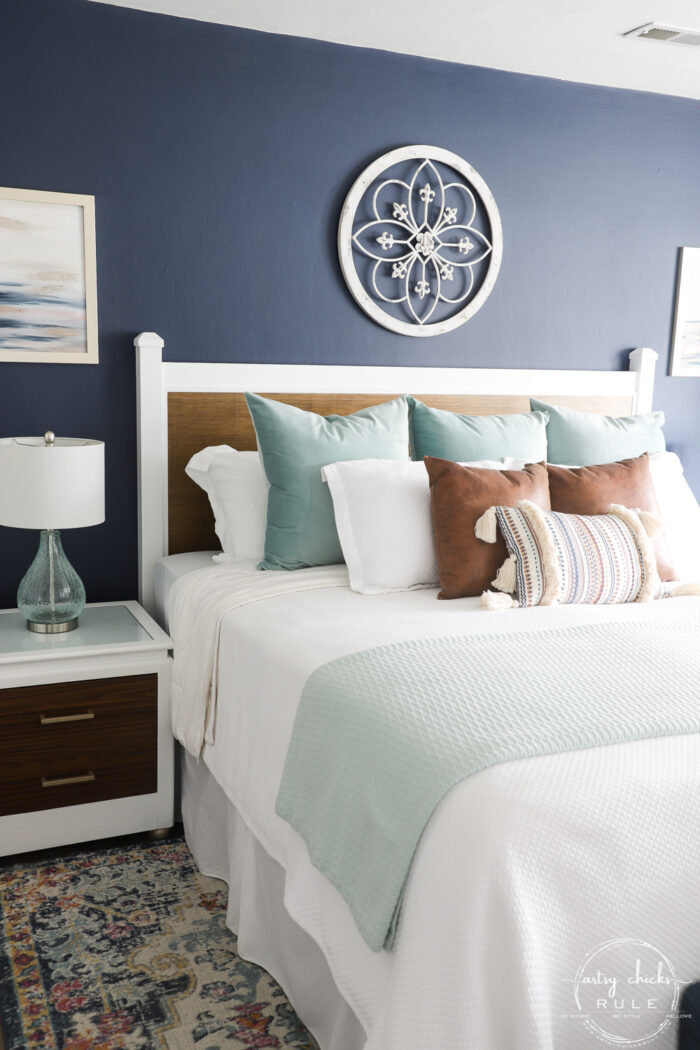 Hello beautiful friends!
Did you love the DIY wall treatments I shared on Tuesday?? SO many amazing ones! I am hankering for a pretty wall treatment now.
And I might just do one at the beach. We'll see. ;)
But guess what? Did you catch my sneak peek over on my Instagram stories yesterday?
I finished the headboard makeover!! Woohoo! Finally.
We are almost finished with the master bedroom redo. The only thing left (for the most part) is putting new doors (decorative) over the drawers on the IKEA PAX that we built for the mister.
We haven't ordered them yet because…well, I'll tell you soon. I know, that's not nice, haha, but that's all I'm gonna tell you for now. ;)
But I am gonna share this pretty headboard that I got for TEN dollars at the ReStore a while back. I mean for real…ten bucks, solid wood. What?!
I bought two, one for here and one for the beach. And since it is lovely solid wood, I am going to remove the dark finish on the second one and do something completely different than what I did on this one. Stay tuned, I'm working on that one next.
Oh! And I have 3 winners for my March giveaway and will be emailing them today so keep an eye for an email from me! It could be YOU! :)
$10 ReStore Headboard Makeover
Here's how it started…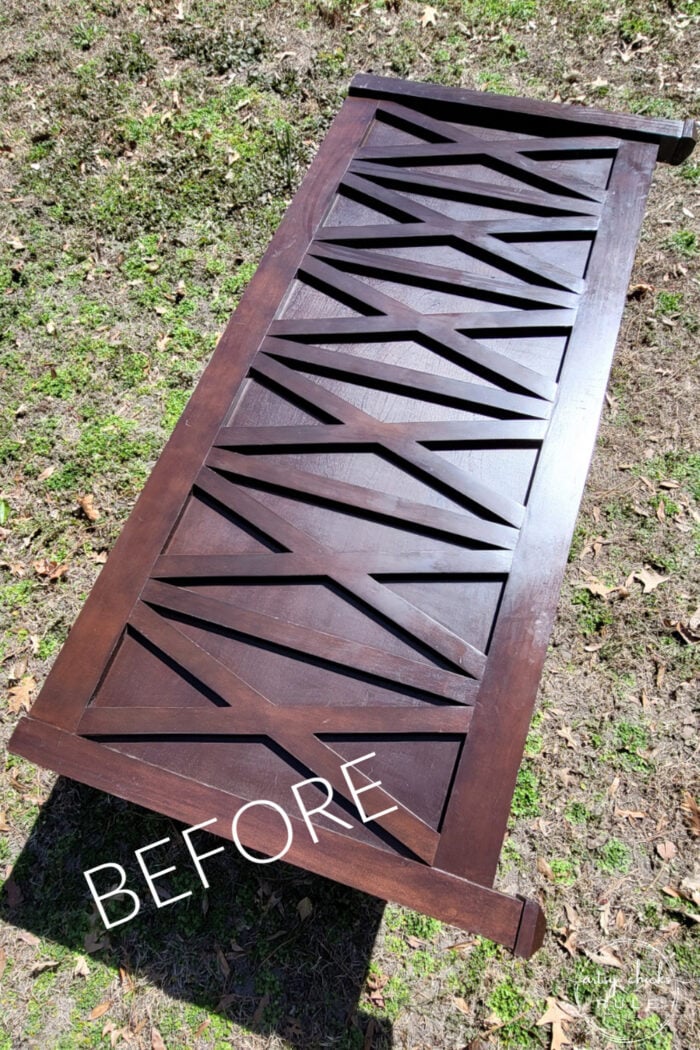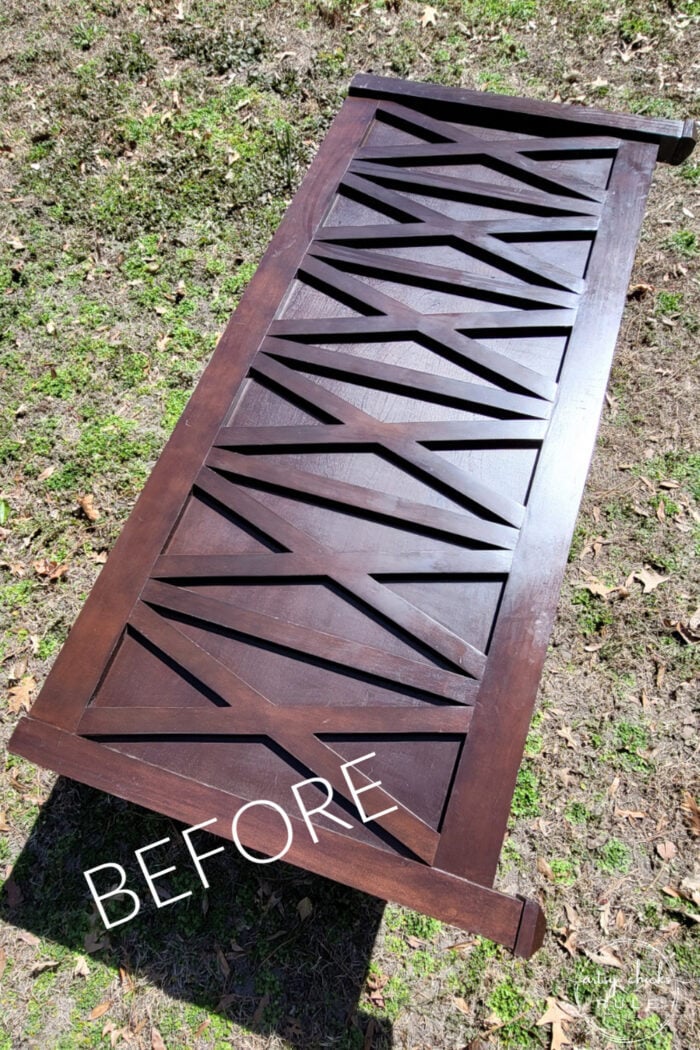 Eh.
But ten dollars for a heavy, solid wood headboard, well, absolutely!
I cleaned it up and lightly sanded it by hand to remove the shine and get it ready for paint. (I didn't sand or try to paint the x's because I'm covering that part)
And since I was already painting trim (for the beach, we decided to spray and take it back to the beach from here….instead of painting crown on a ladder) I went ahead and painted this headboard with the same paint. (which is Sherwin Williams, Urethane Trim Enamel)
I sprayed them all with my HomeRight paint sprayer. (linked below)
Once it was done and dry, we brought it into the garage for me to finish the makeover.
I found this thin plywood and loved it! I love the way the wood looked, sort of lined.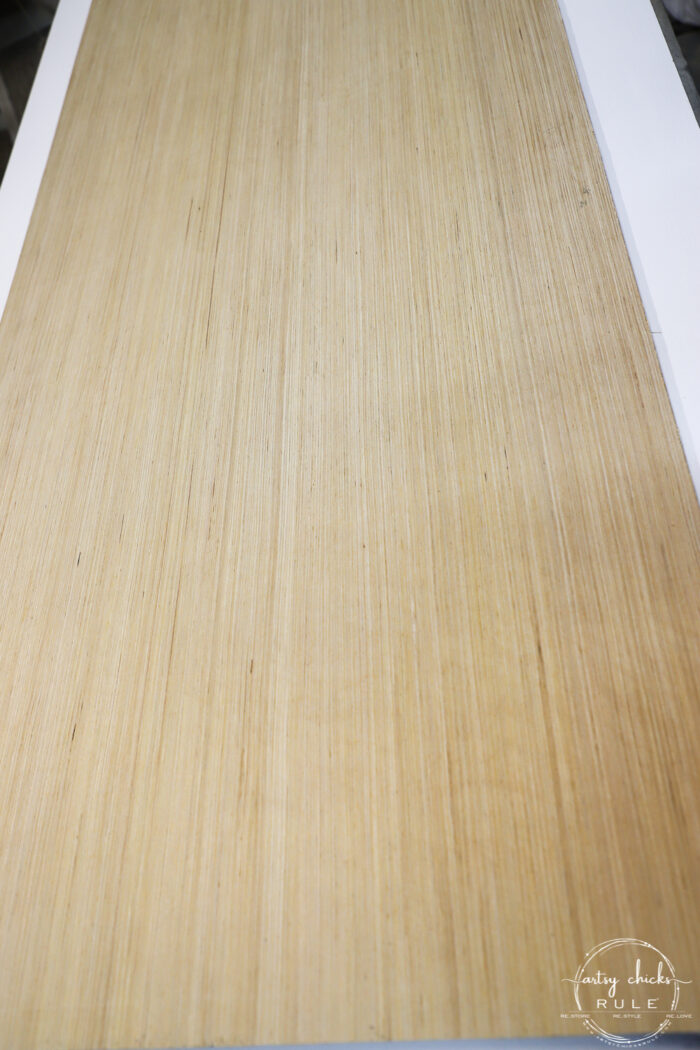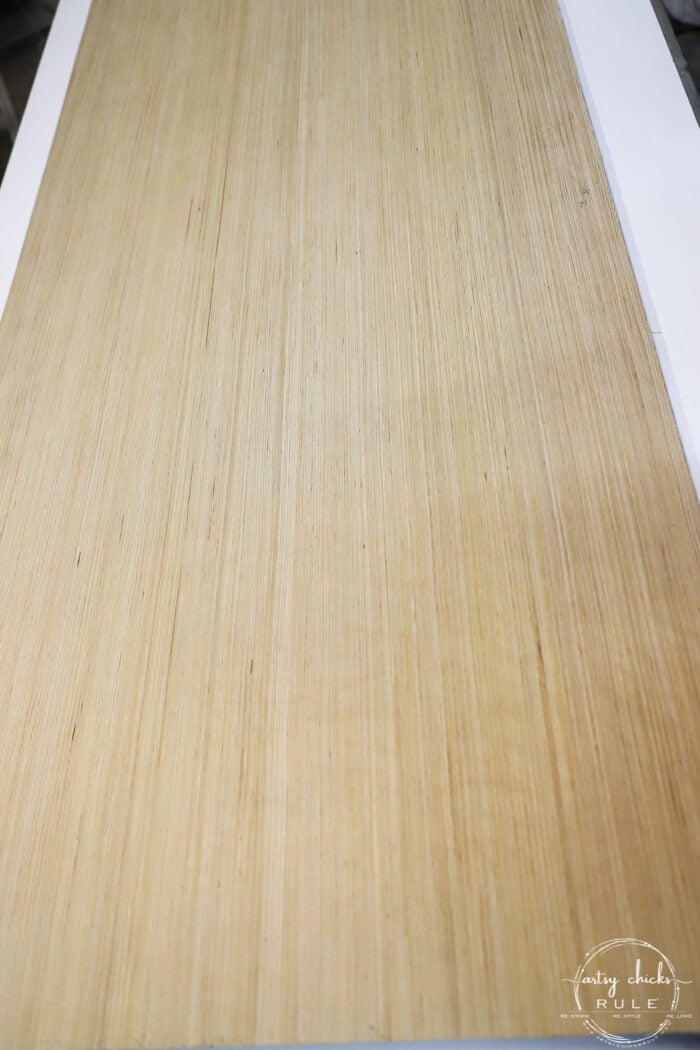 And I should say here, that my $10 headboard did end up costing more because I bought a $25 board (still have pieces leftover for other projects though) and a few pieces of trim. I'm still coming in around $45 so that's pretty cheap!
I lightly sanded it (it was already smooth but wanted to go over it) and then applied this pre-stain.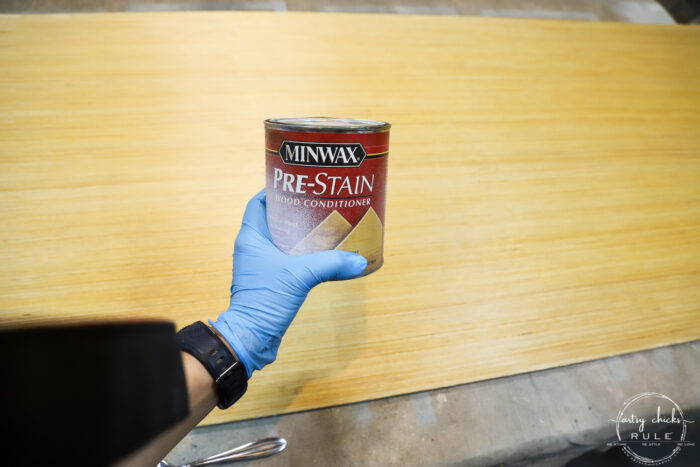 I ended up mixing 2 colors together to get the shade I wanted (all linked below). AND I also ended up using Polyshades.
I hadn't planned to but the regular stain I was planning to use was too dark.
But the Polyshades ended up doing the job well.
MATERIALS SOURCE LIST
Sherwin Williams Urethane Trim Enamel
So, not ideal but it worked out just fine. Hey, I have to use what I have on hand right? I've already got a garage full of products.
I mixed these two (the espresso and antique walnut) about half and half. (I didn't measure because I wasn't sure I was going to even love it…then I did)
And it was the perfect shade.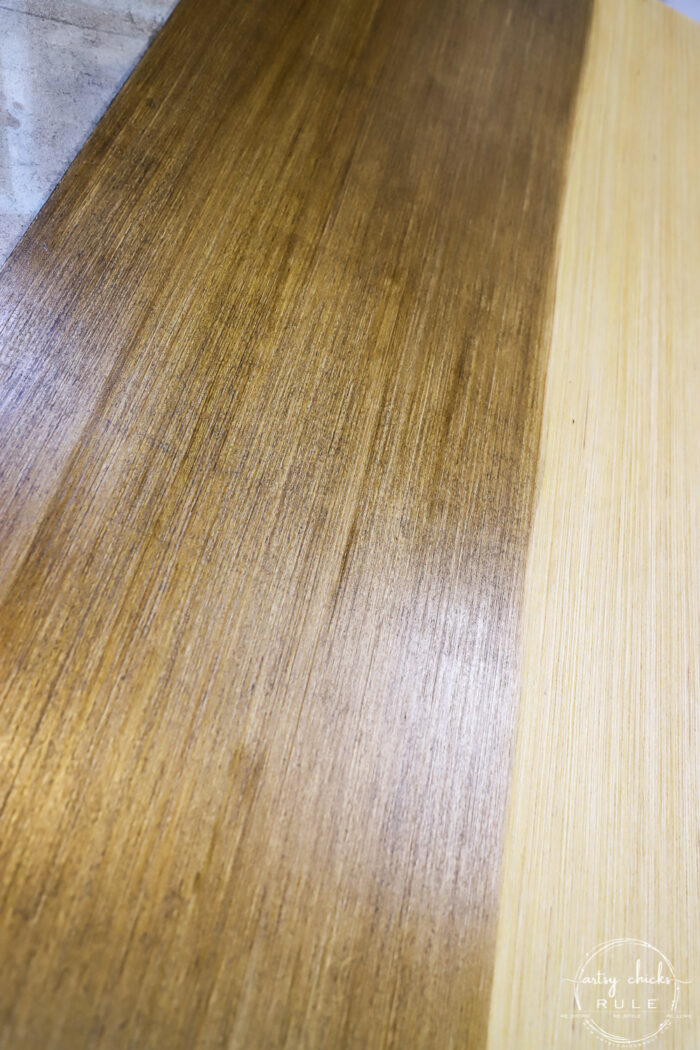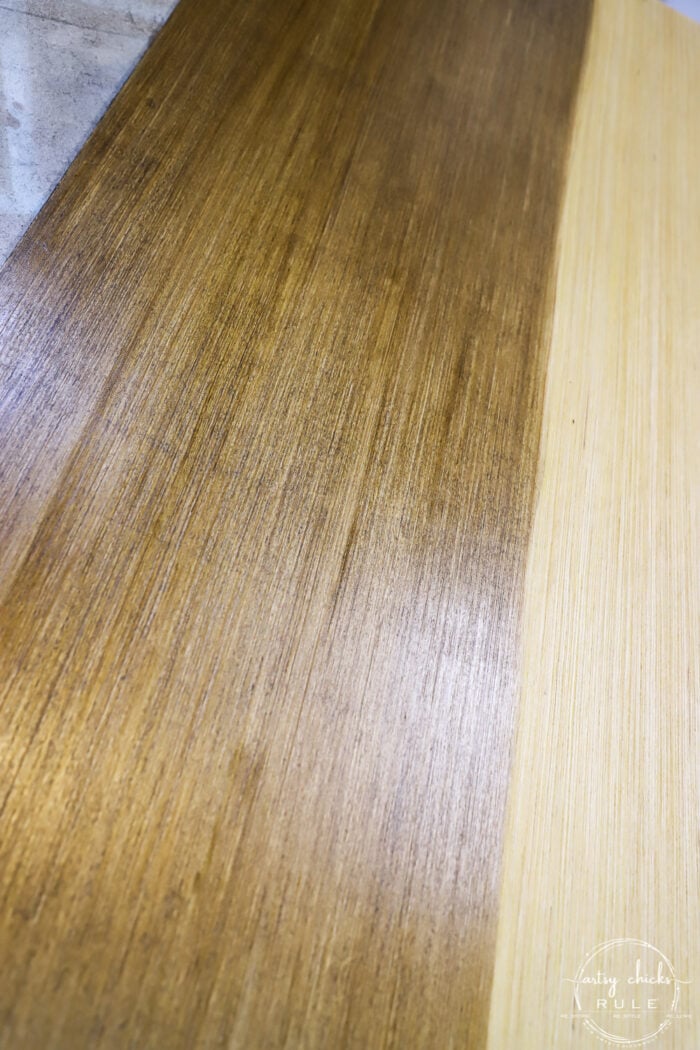 Now, remember, Polyshades is stain and poly in one. So technically there is no need for poly topcoat.
However, I didn't apply this like I normally would apply Polyshades, I used a chip brush and didn't apply a lot.
Once it was dry, I lightly sanded it with 220 grit sandpaper to remove the raised grain and put one coat of the Minwax fast-drying poly. (in Satin)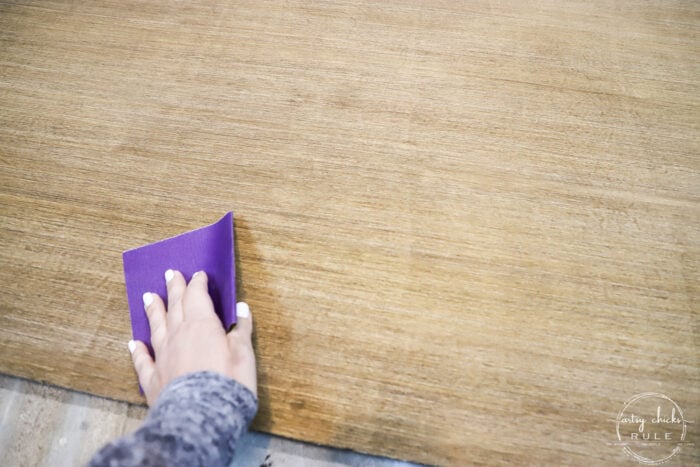 I actually need to do one more coat but I went ahead and put it together and up on the wall so I could share it today.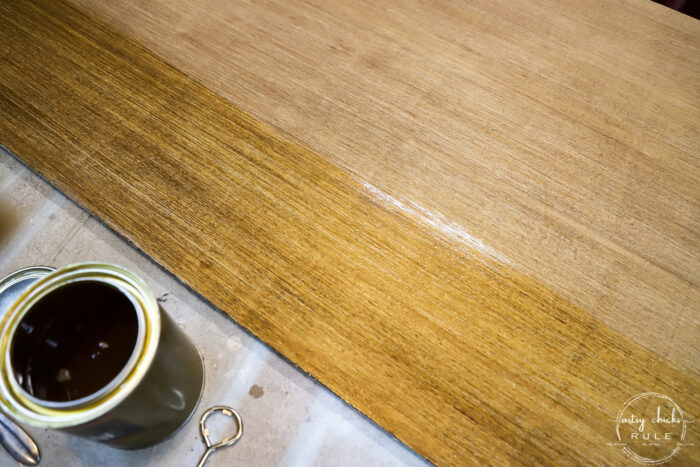 I will just put the final coat of poly on while it's up. No biggie!
I love how the stain/color turned out. And isn't it amazing how it really comes to life with the poly?
Once it was dry, I glued it to the headboard with the wood glue.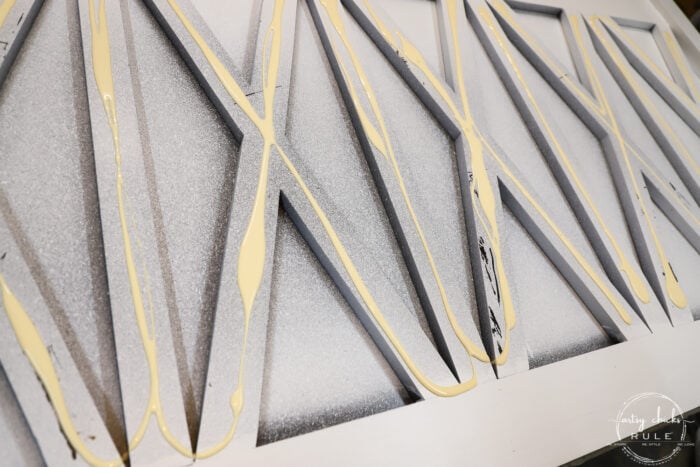 I let it sit overnight (clamped and weighted) and then glued the small wood trim pieces the next day…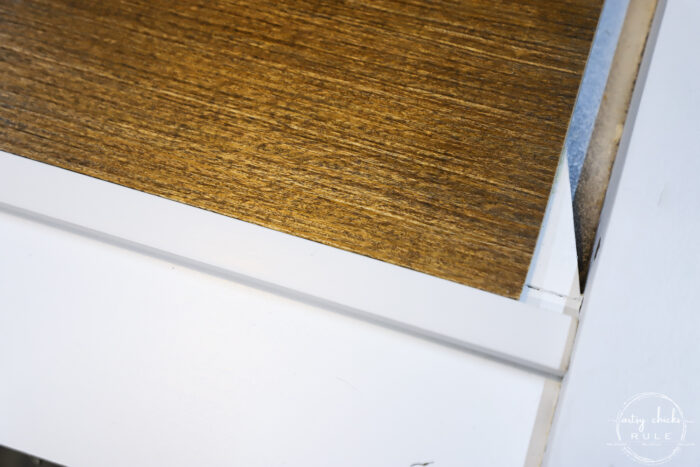 They just go all the way around to create a finished edge.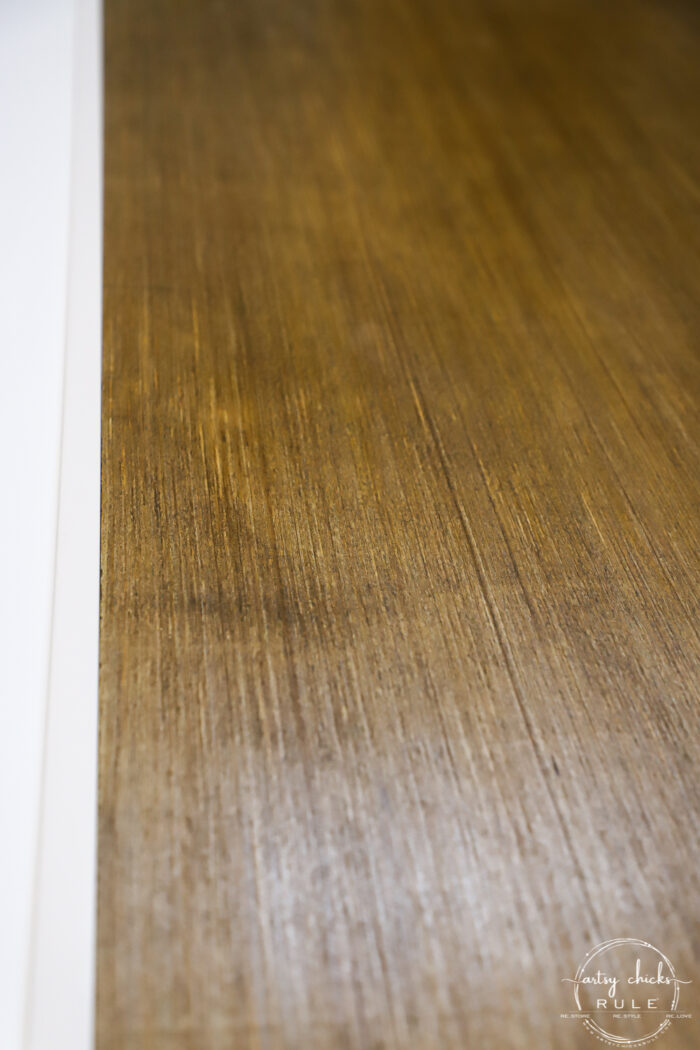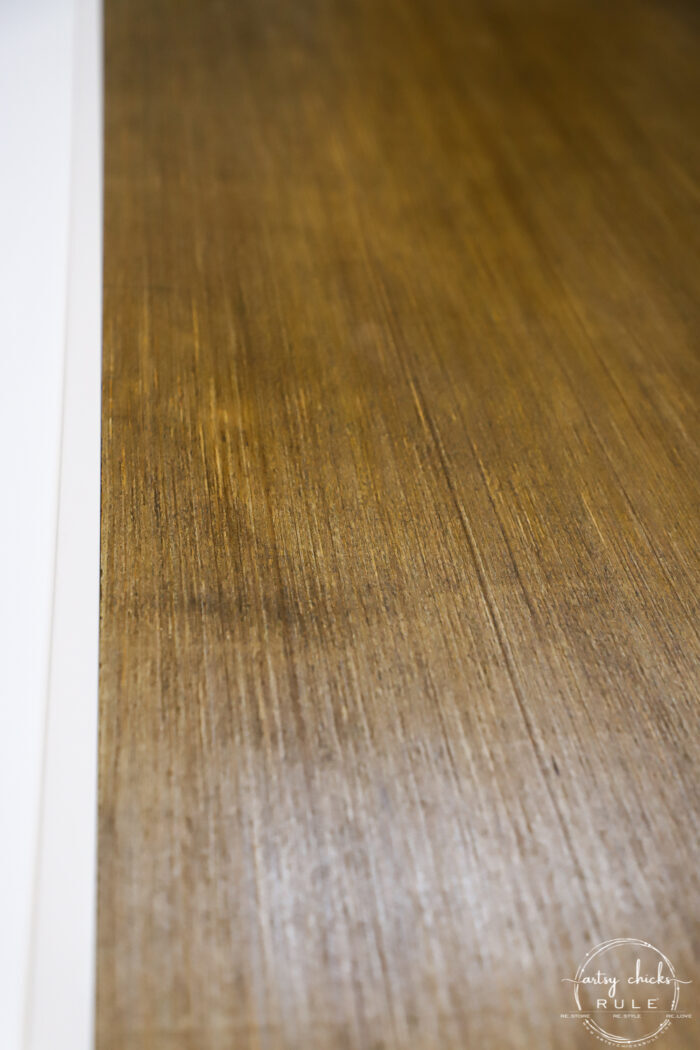 Once that was dry, I taped up my wood panel and gave everything one more coat of white paint. (the small trim pieces are white but weren't painted and didn't match)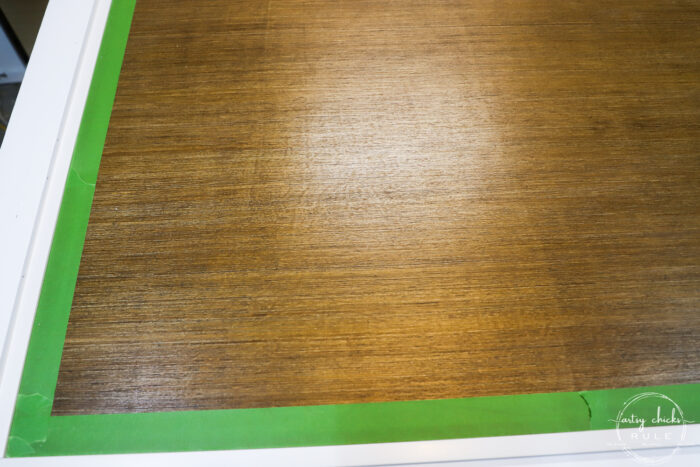 And that's it! Done! (well, except for the second coat of poly I still need to give it)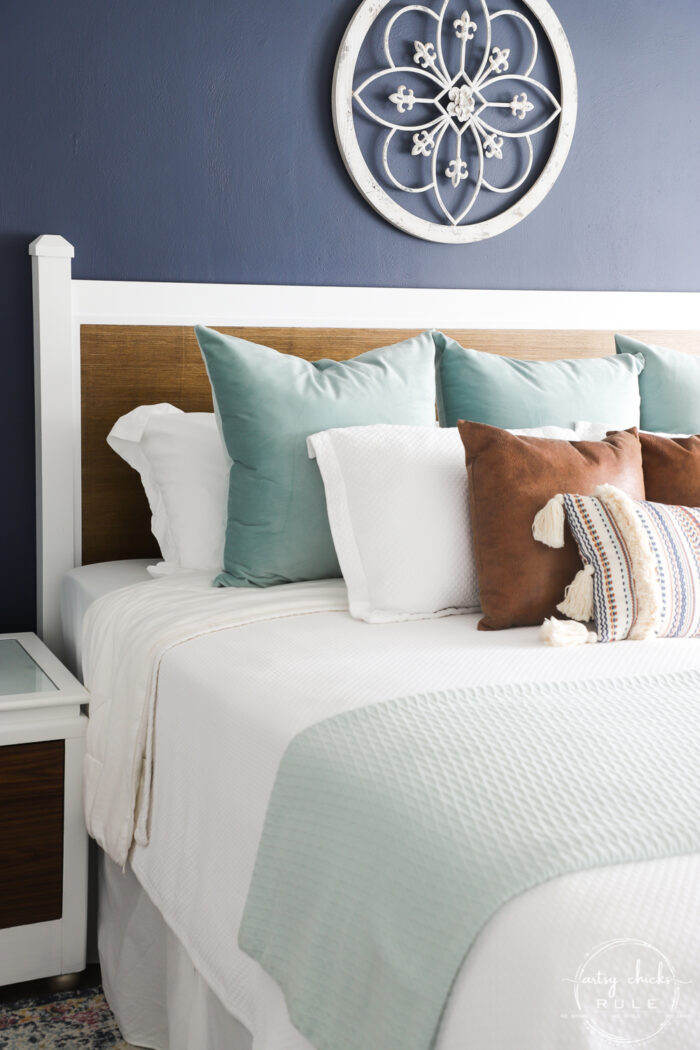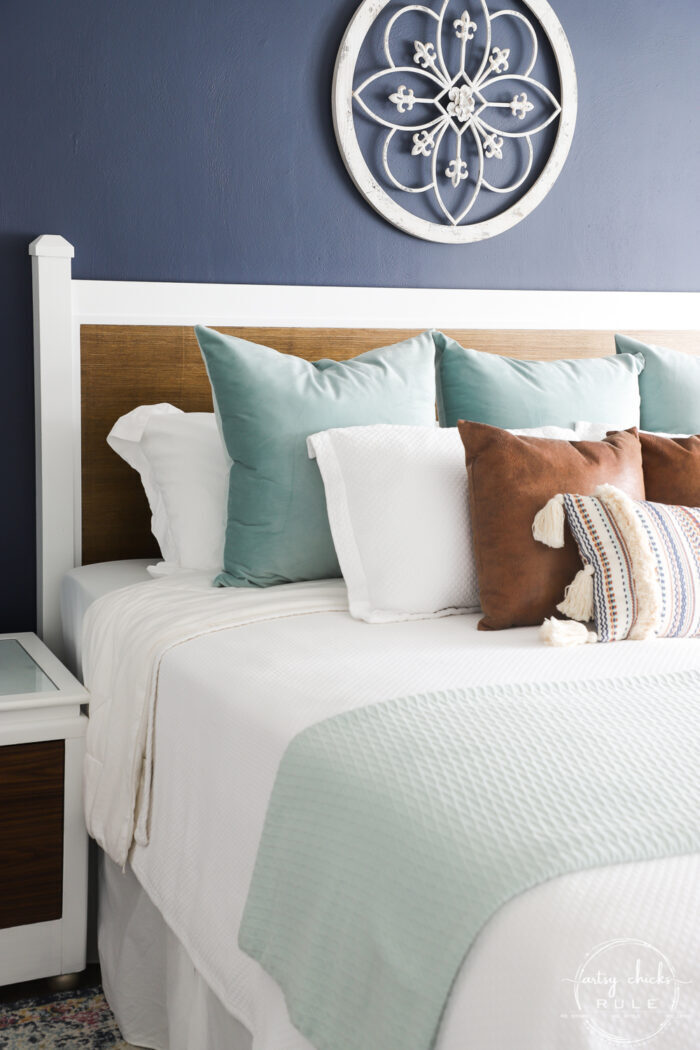 I'm so happy with how it turned out.
OH! And here is how we hung it.
It already had a French cleat type of thing on the back of the headboard so we put one up on the wall in our room.
The tape was just there to mark where the studs are and center, etc.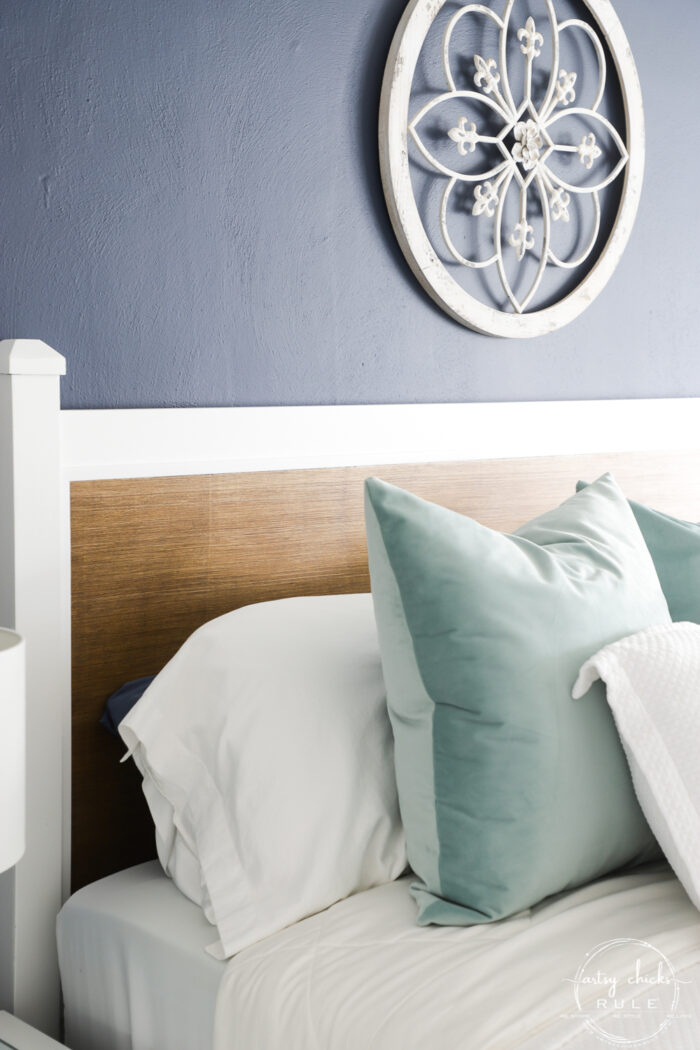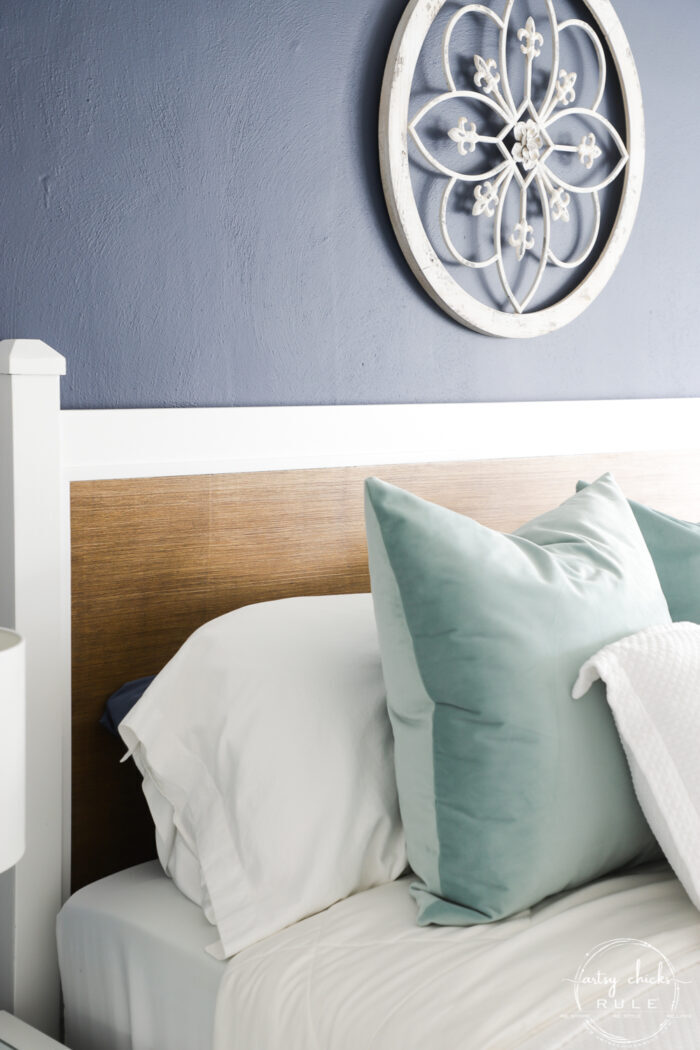 Easiest way to hang a headboard…or something heavy like this.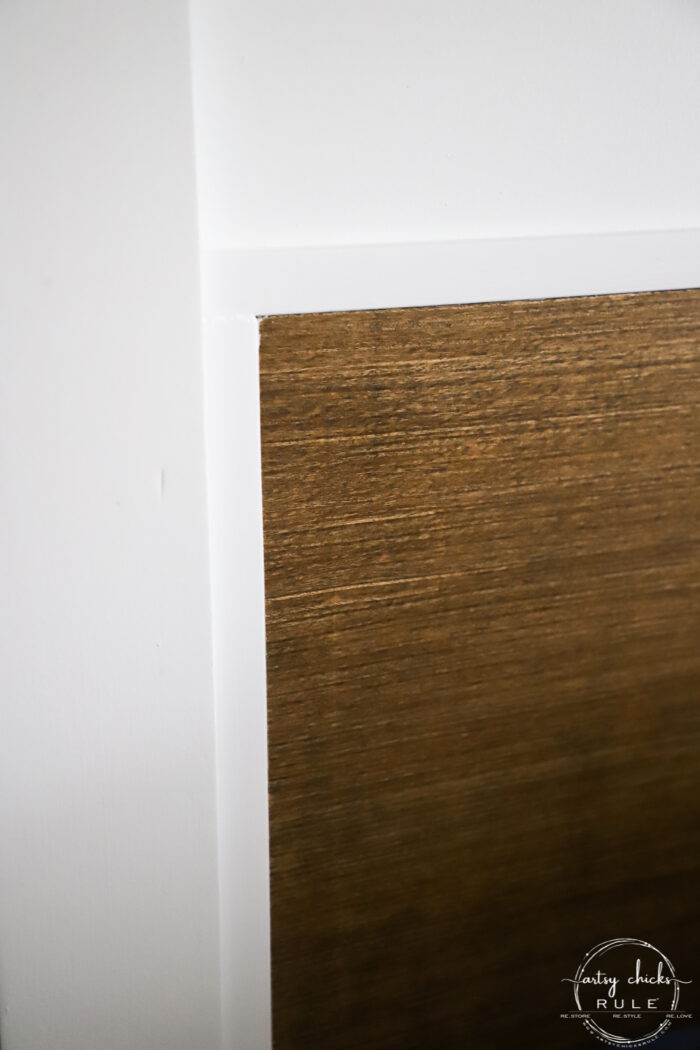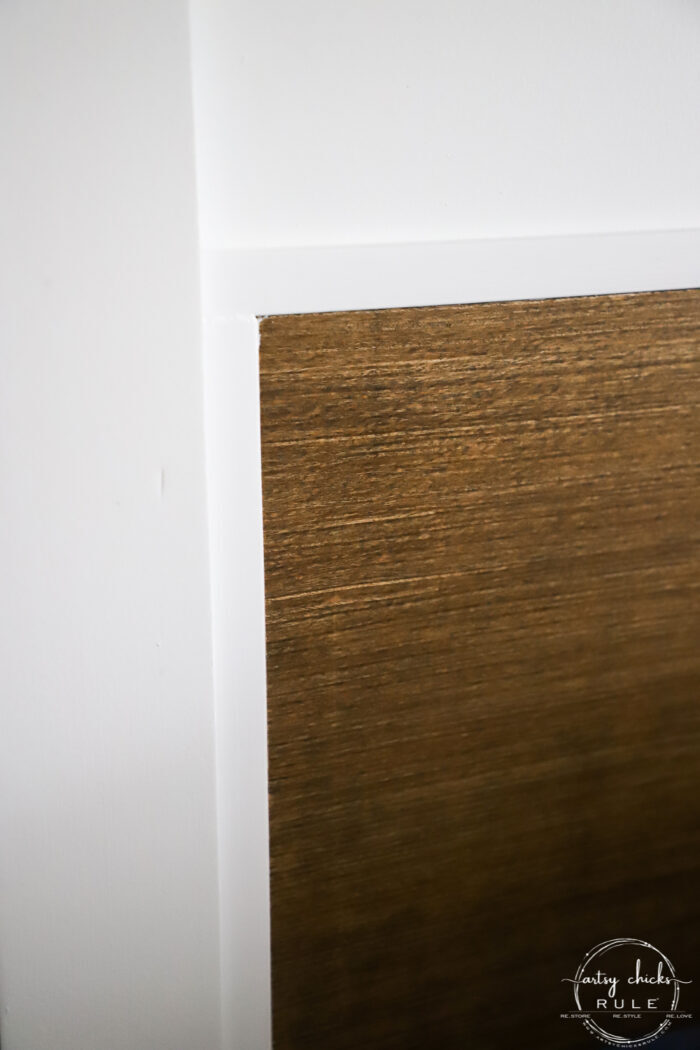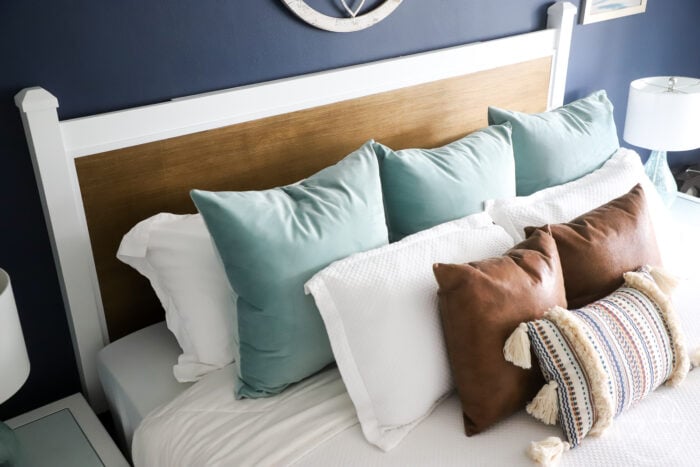 Up close of that wood grain.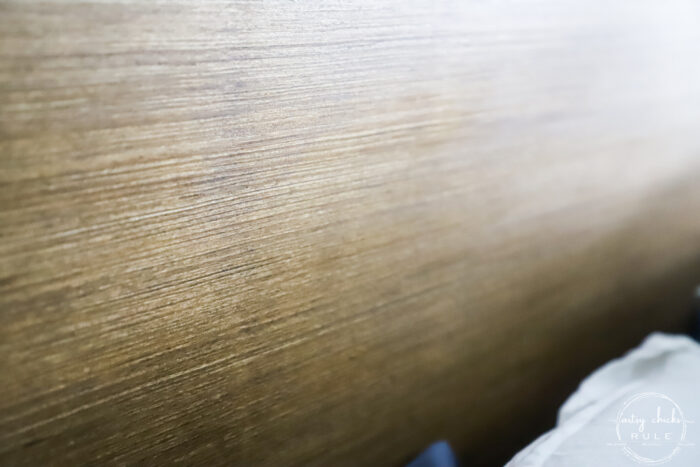 So cool, it almost has a grasscloth look.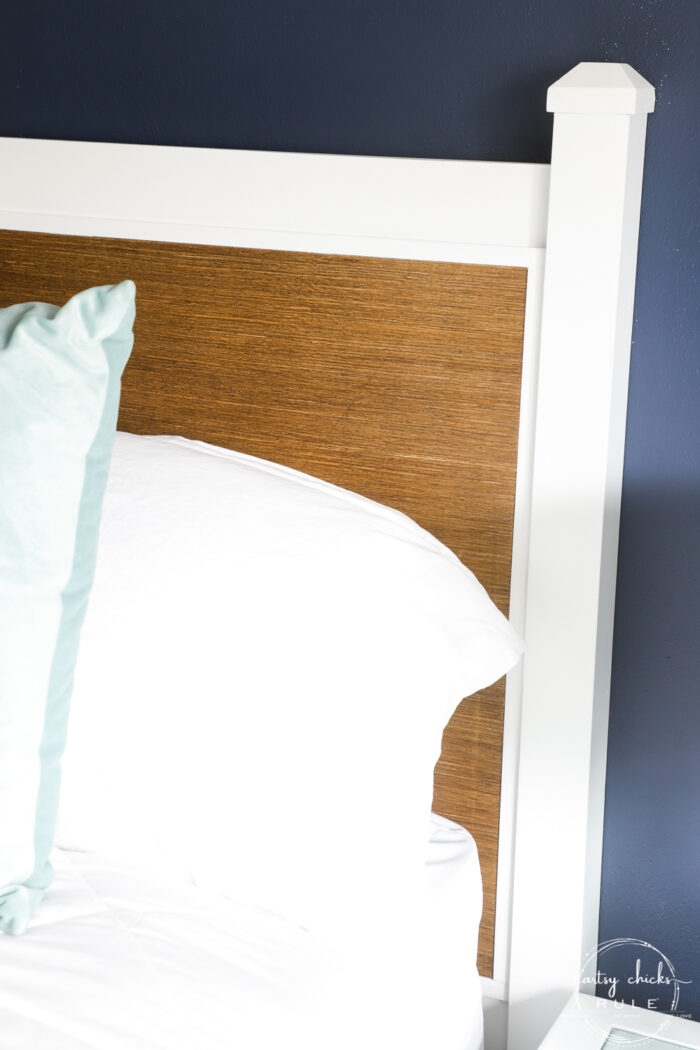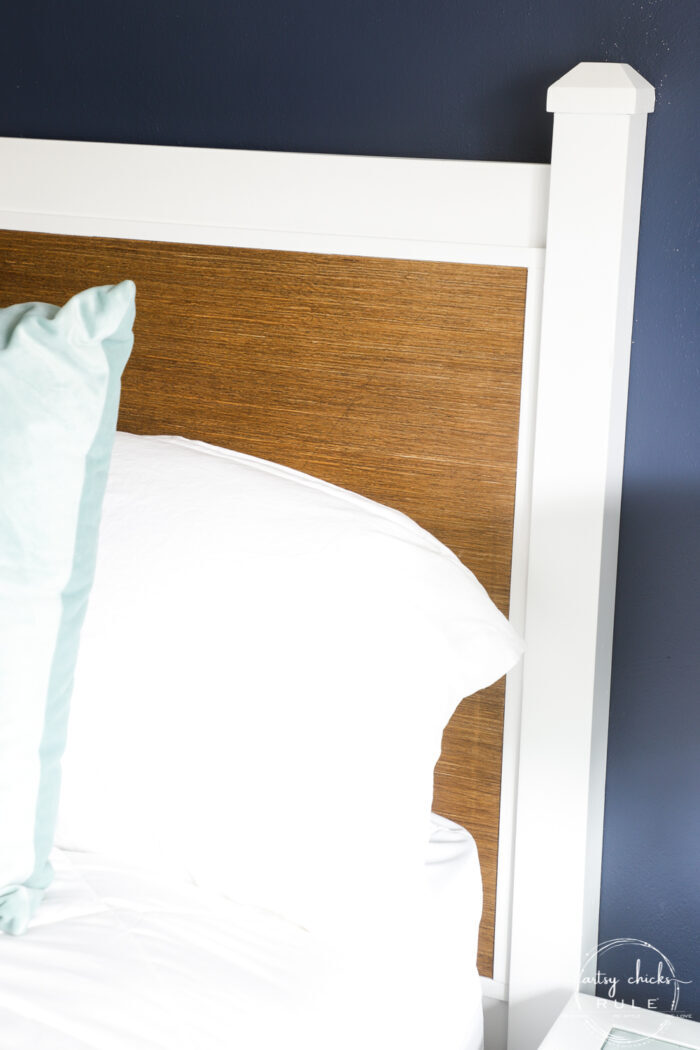 And one without the pillows in the way.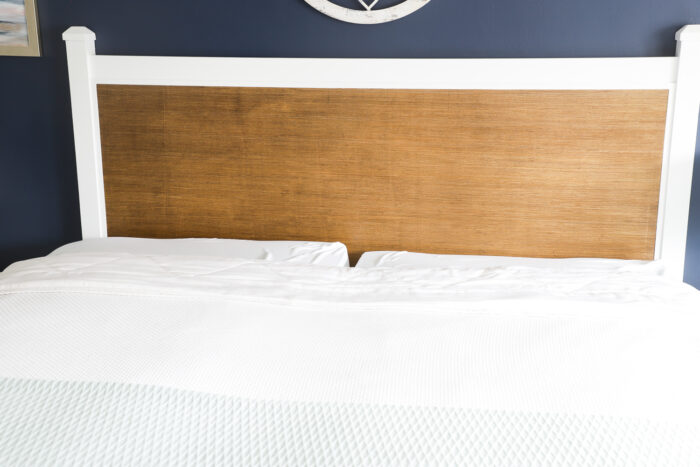 Not bad for a $10 ReStore find, huh?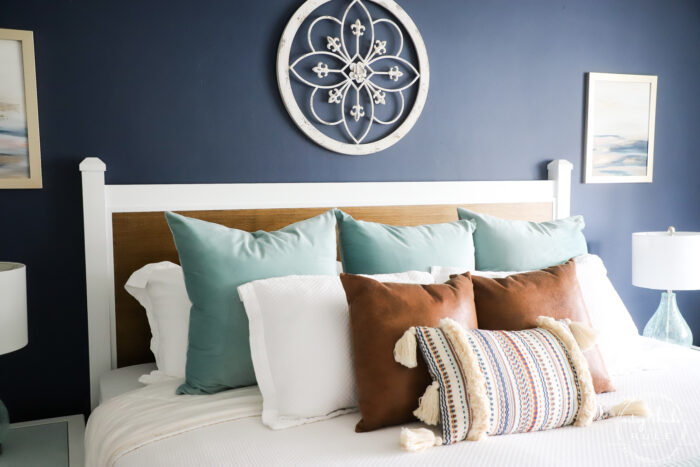 Oh, and I am moving the two abstract paintings I made down a little to hang two small decorative things I found over top.
I'll share that when I reveal the room makeover.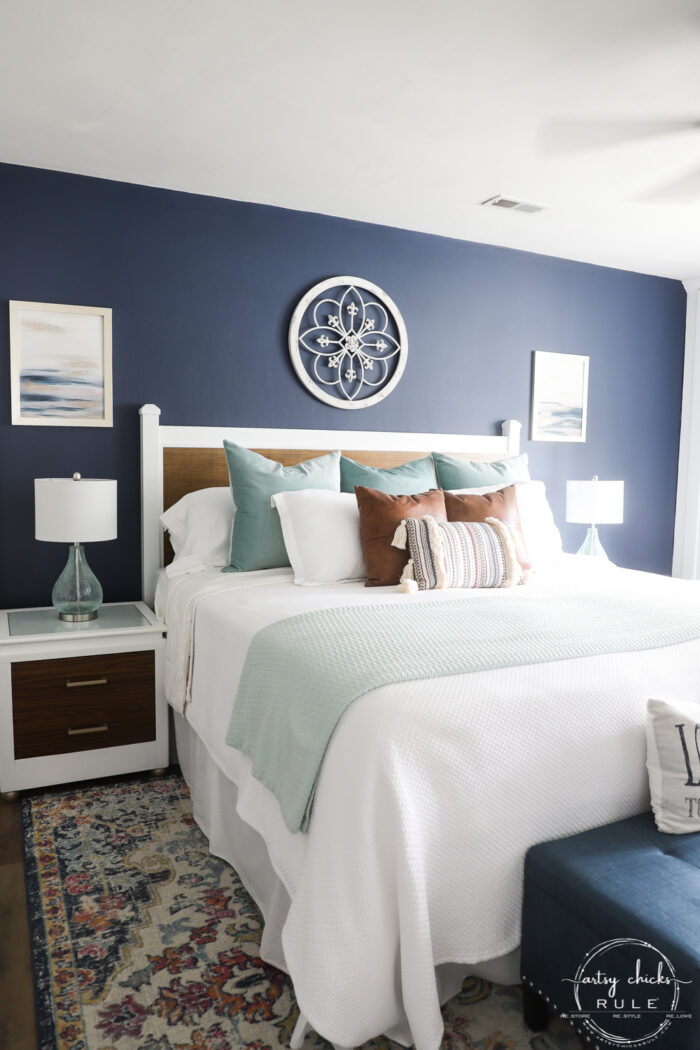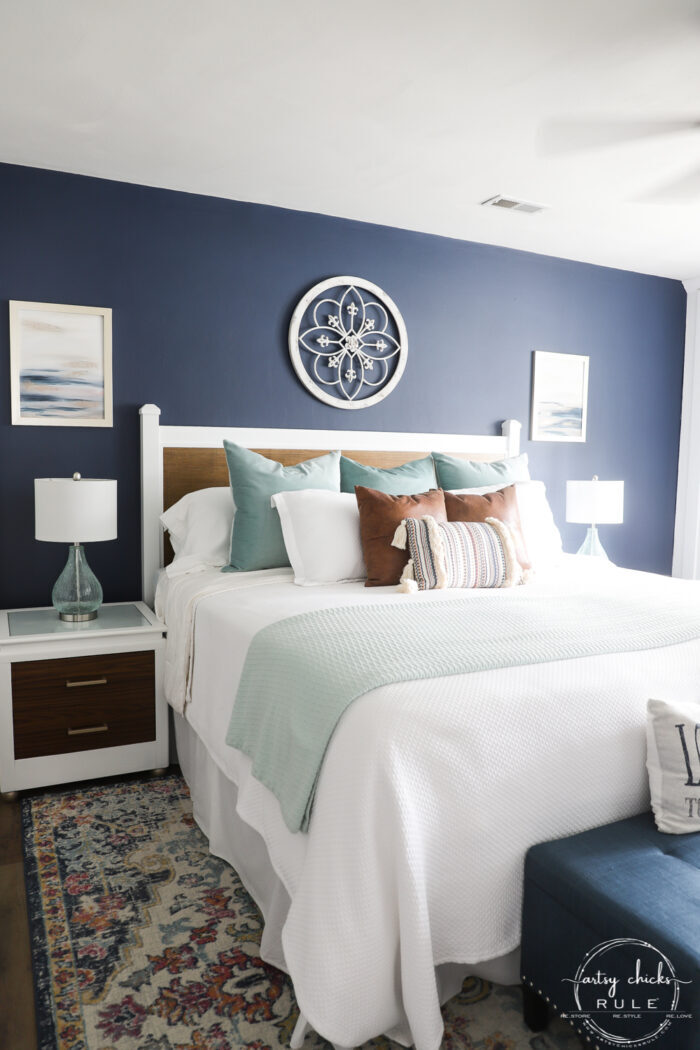 So happy to mark this one off the list!
PIN it to save it!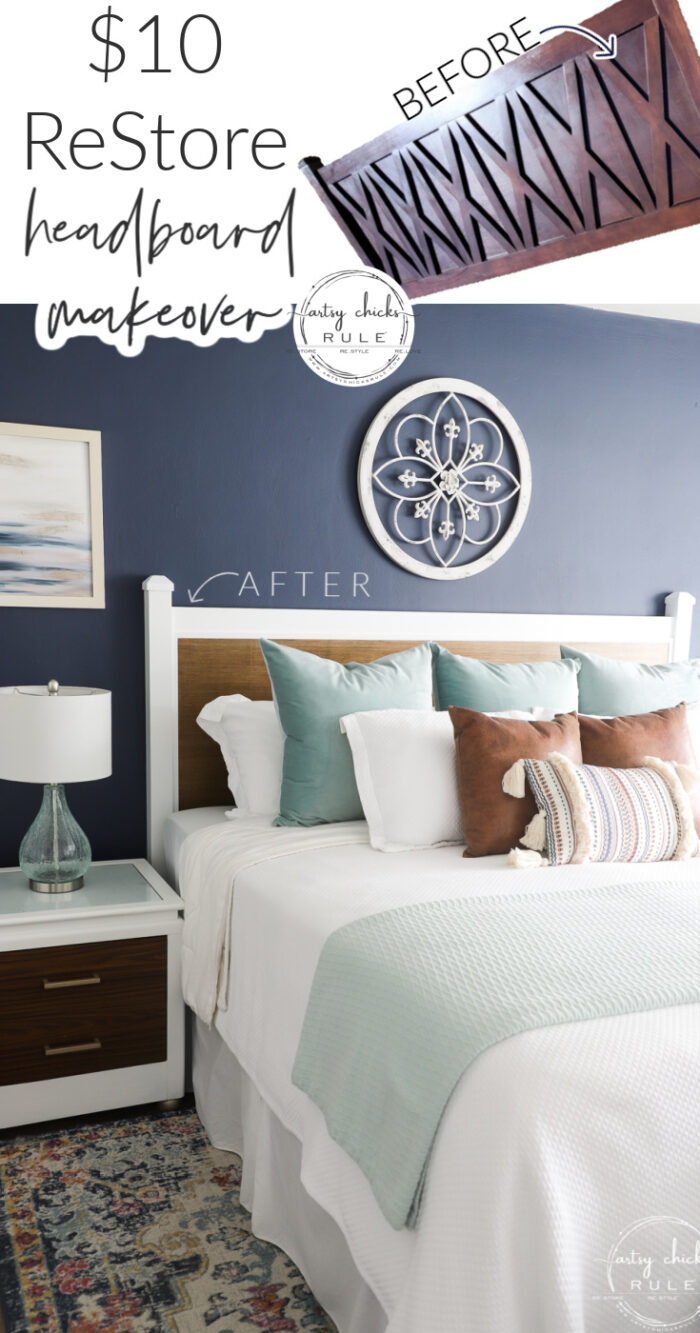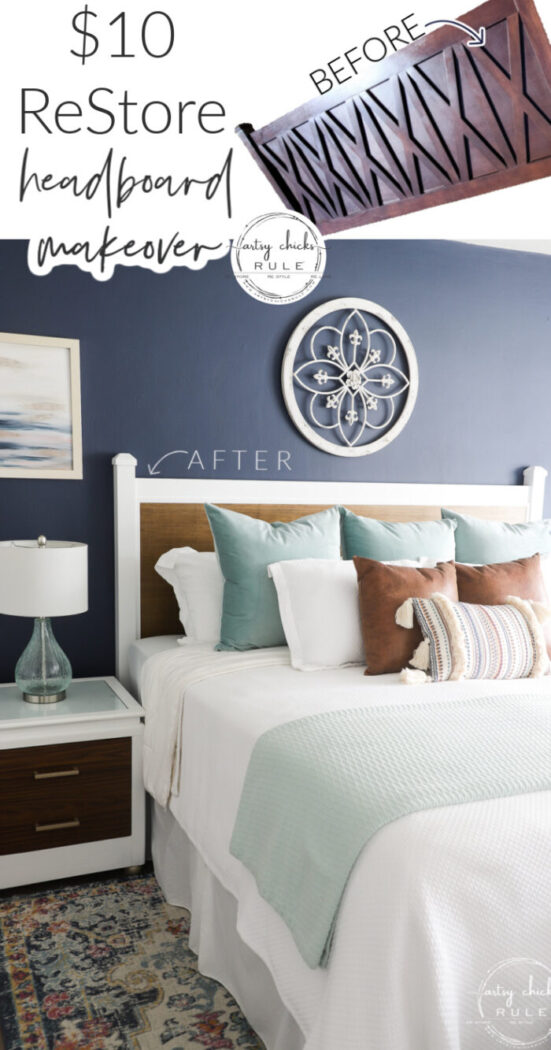 I haven't hit up our ReStore lately, might have to make a run this weekend to see what I can find. If I do, I'll share it on my Instagram stories.
Maybe we can find some new goodies to play with!
And it's getting to be yard sale time too…fun, fun.
I did a little bleaching of the wood on this next one coming up…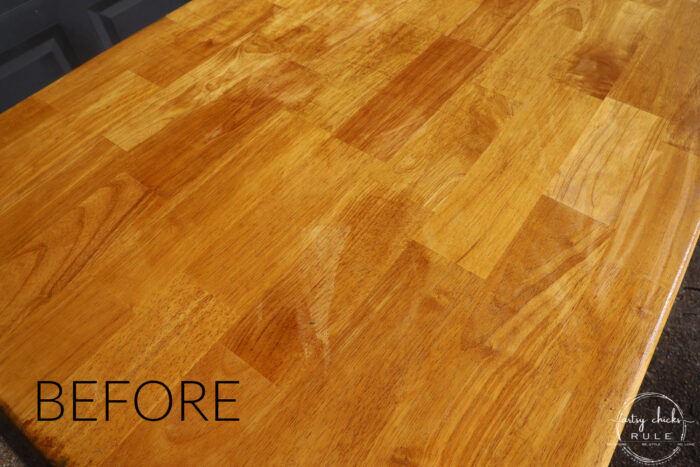 UPDATE!! See it now, here!
Have a wonderful weekend, friends!
xoxo