Paint Your Front Door (with this paint!)
This post may contain affiliate links. Please see disclosures here.
Front door looking tired? Paint your front door…with this paint. So quick and easy!
Hello friends!
I finally got around to finishing up our front door area. Not sure if you remember but I've been working on updating and refreshing the whole front door space. We had originally thought we'd replace the door and sidelights but decided not to.
If we were staying in this house, we would definitely do so but since we are actively looking it doesn't really make sense. So it got some paint and updating.
We did, however, put on a new storm door. The old one was showing age and was here when we moved in almost 17 years ago. It was ivory/cream-colored and I painted it black right after we moved in thinking it would not hold up long and we'd have to replace it soon. NOPE!
The paint held up amazingly well and we never had to.
But all these years later it was really showing its age and so it was time.
So today I'm going to tell you what paint I used on our newly painted front door and maybe you should consider it if your front door is in need of a refresh.
You might already know if you caught my Instagram stories over the weekend. I shared it over there.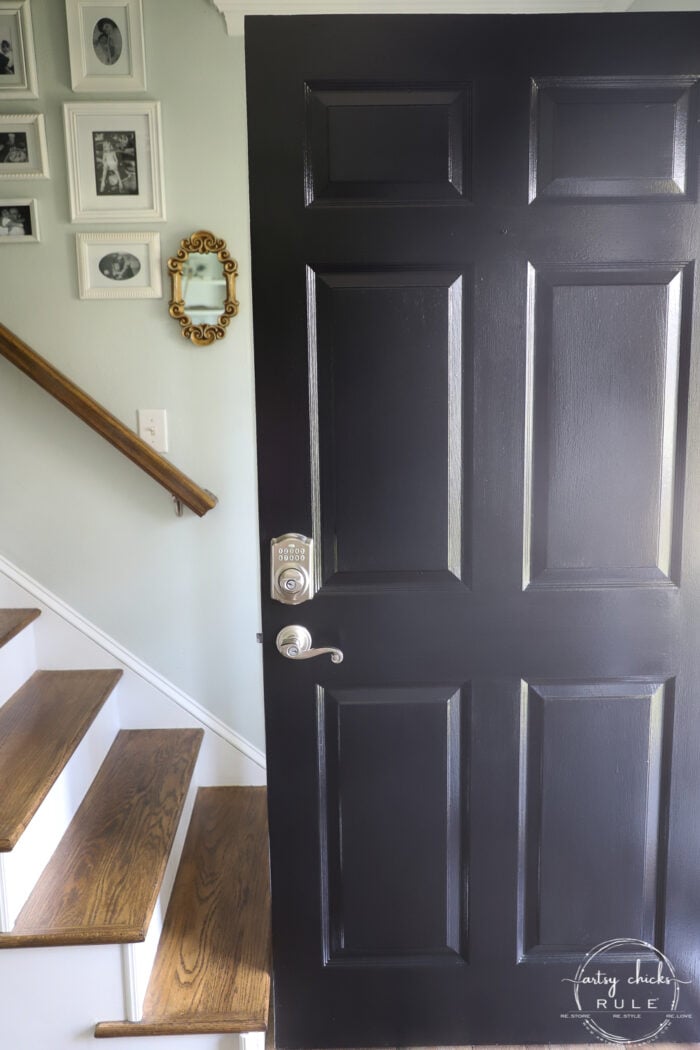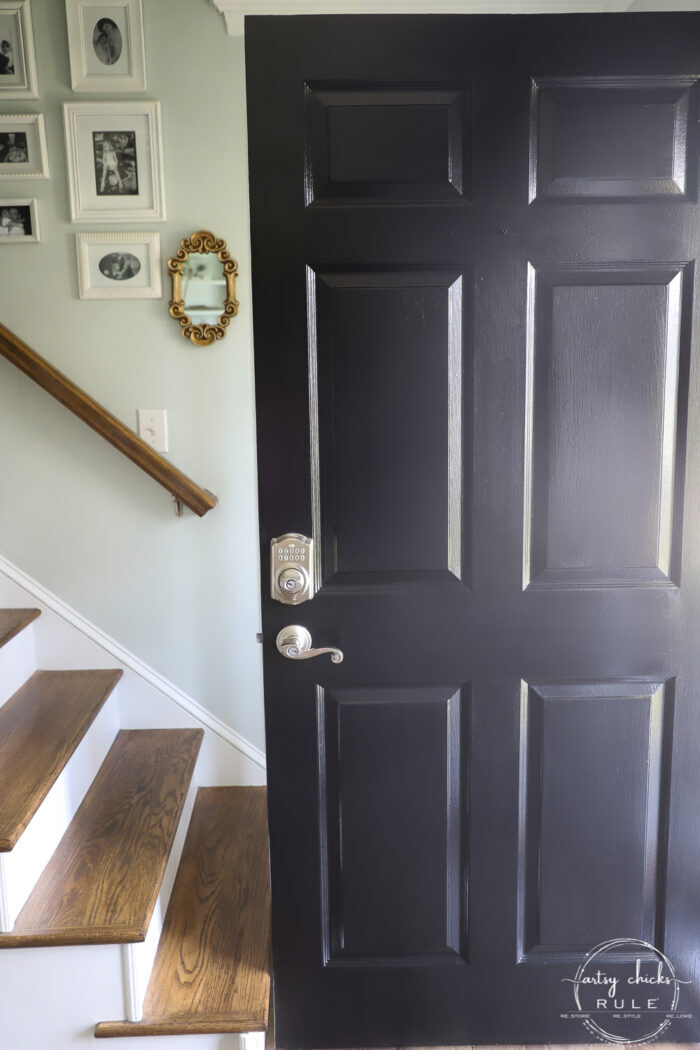 This is not a sponsored post, just something I found and enjoyed and wanted to share with you.
And just a side note…do you see how very close the front door is to the steps?? (isn't that crazy?) That is why we removed the railing on the left side when we replaced those stair treads.
It was just so tight, ugh.
MUCH better with it gone. And we still have the handrail on the wall so you are covered going up and down. (and only 3 or 4 steps are open without a wall)
Paint Your Front Door
Here is the paint I used…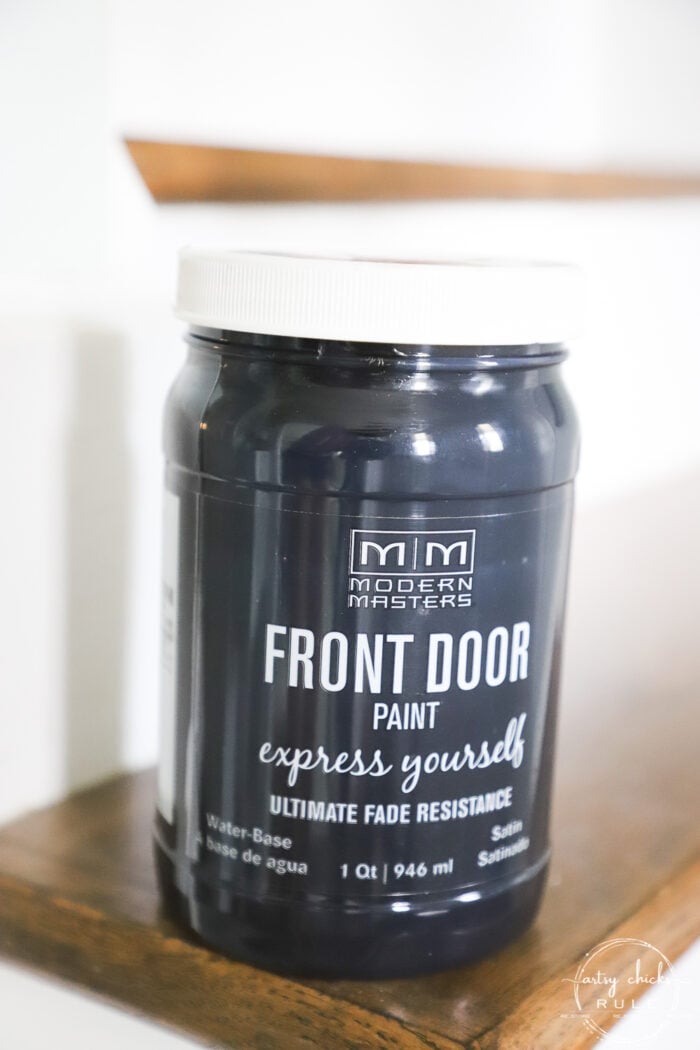 I had known about it but never used it before so it was my first "go-to".
I figured hey, it's called "front door paint" so it must be good, right?
Right.
It's pretty good!
I wouldn't say it's perfect but what I will say is it was easy…and quick.
Surprisingly quick. Dry time is amazing with this paint and that is a huge plus since you've got to close your door at some point in the day! lol
So it wins big points for that.
Our door had not been painted since we moved in almost 17 years ago. It was reddish when we moved in and I painted it black.
But that black paint was now tired seventeen years later and in need of love.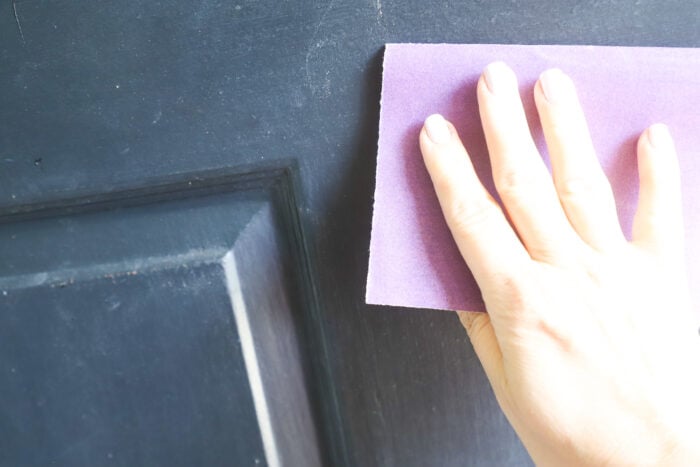 I sanded to smooth and remove the shine.
Then cleaned it up well before beginning to paint.
NOTE: If you suspect or know that your door has been painted previously with oil-based paint, you should use a primer beforehand. Something like Zinsser 123 water-based primer is a good choice.
Be sure to tape your handle/metal doorknob areas first.
You know I love Frogtape.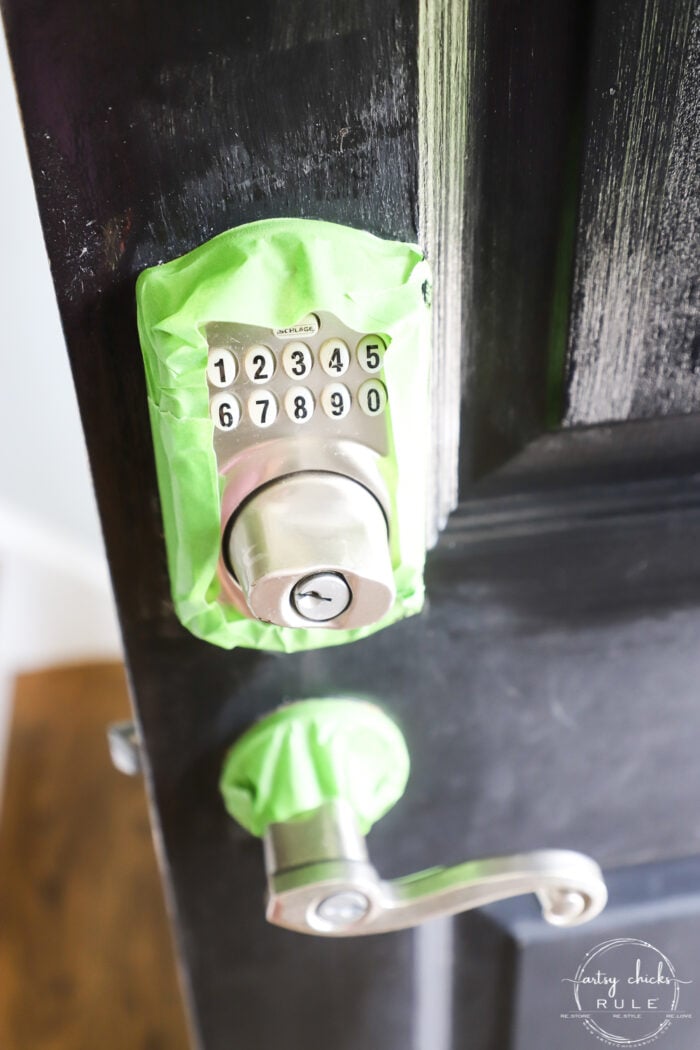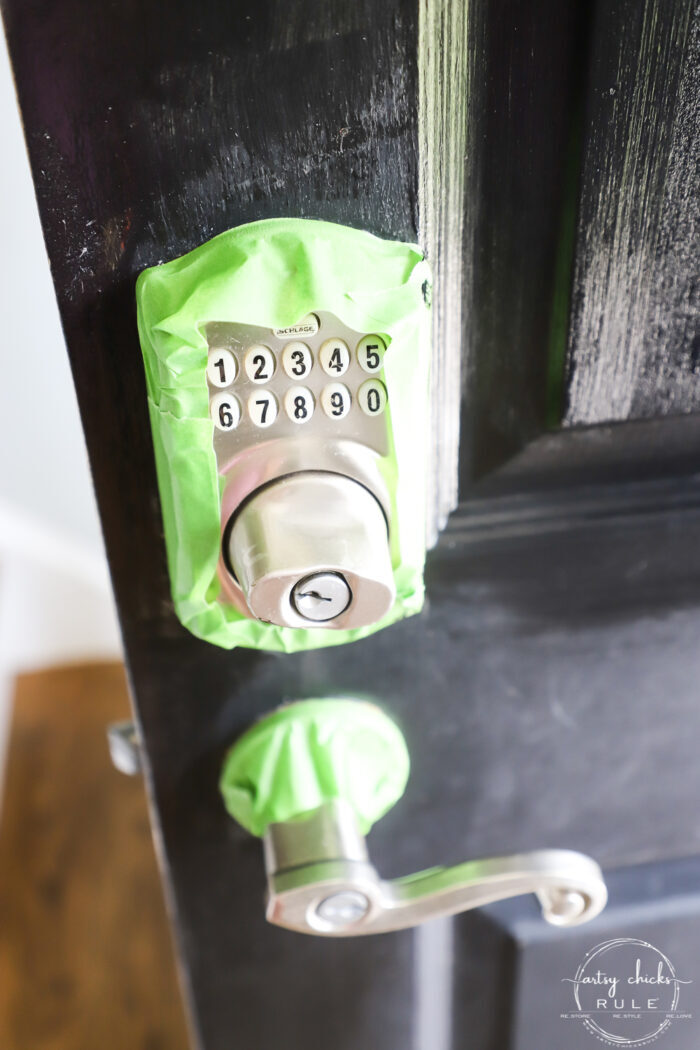 You can use a roller or paintbrush to apply. (or both)
I used a brush. (a large angled one)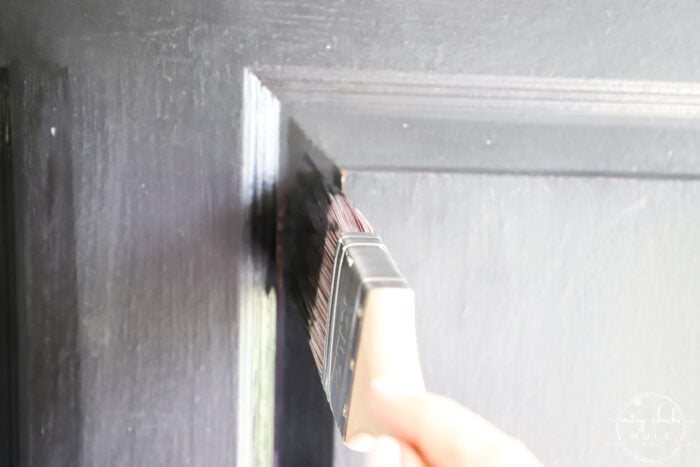 I always paint in the box panels first then paint the flat areas next.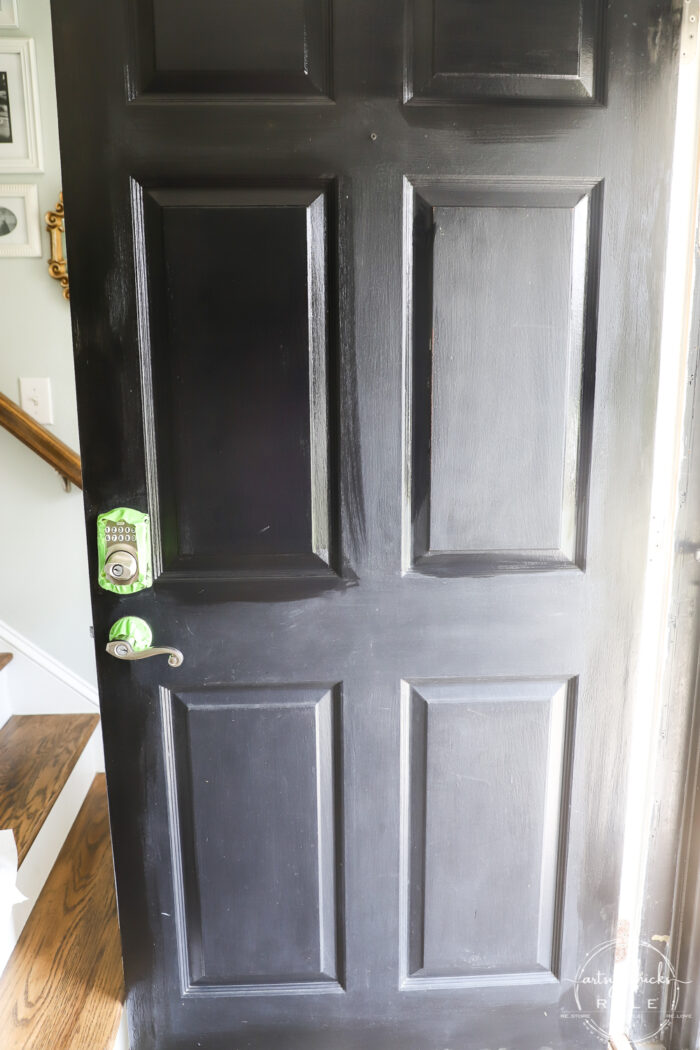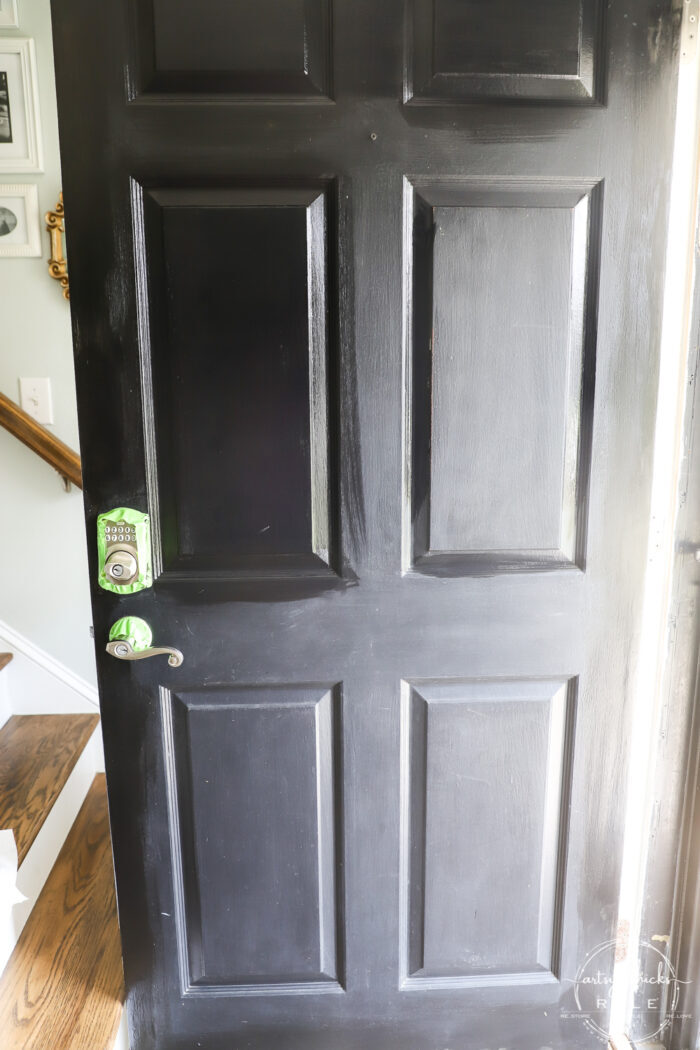 If I were rolling and brushing, I would paint in these sections with the brush and then roll the flat areas with the roller.
That's just a personal preference. (brush and/or roller)
It says to use 2 coats, possibly 3 for full coverage. Since my door was already black, I only needed 2 coats.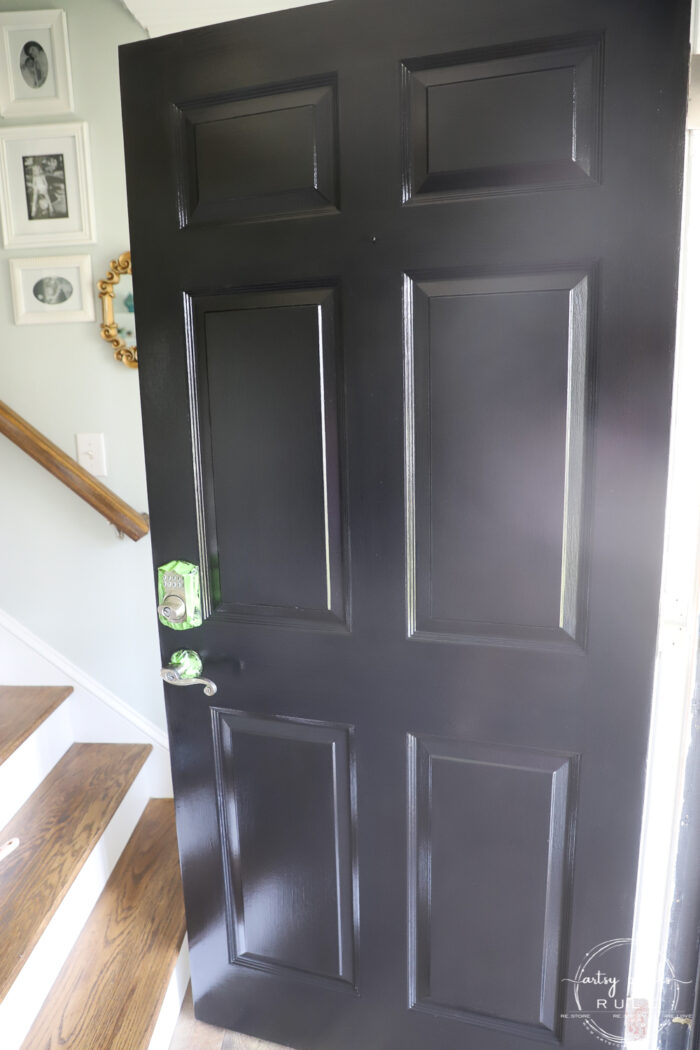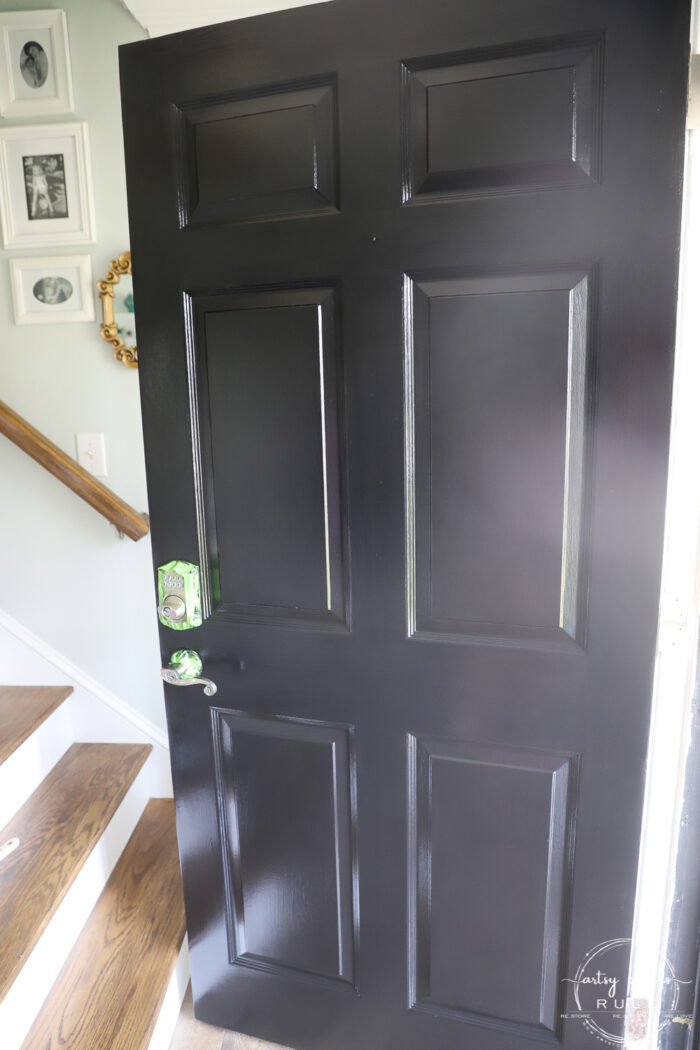 Recoating time was quick and again, it dried FAST.
It does have a different consistency than regular paint but that may be why it was so great in these areas.
Also, there was not much of a smell which was nice. The tiny bit of smell it had dissipated very quickly.
I had a terrible glare from the sun streaming in, sorry, hopefully, you get the idea.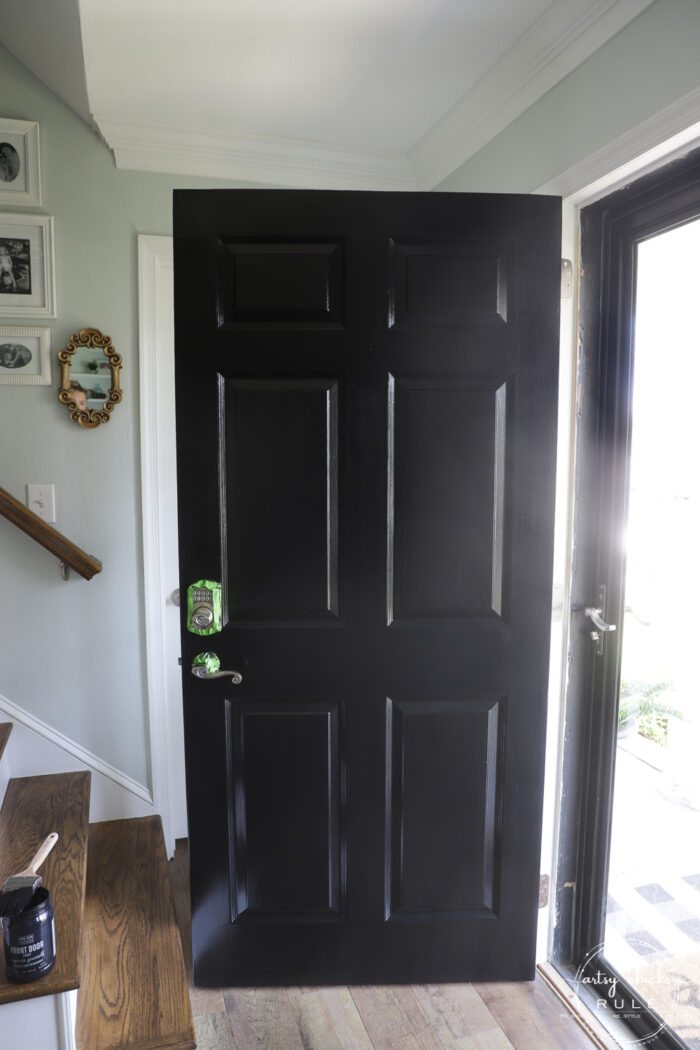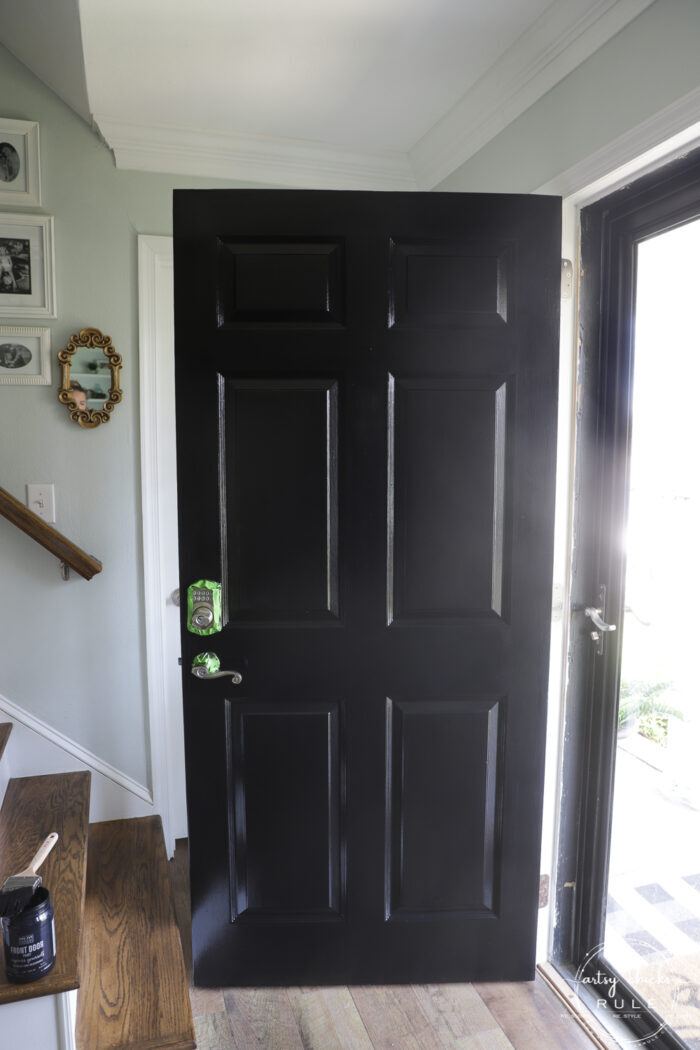 We still need to replace the weather stripping inside the door opening. (that's why it looks sorta rough around that)
And we also put in a new threshold which looks so much better too. This house is almost 43 years old so there was age showing there too.
But look…now we also have a gorgeous "new" front door!
Now it is a Satin finish. That may not be to your liking or it may.
But I am okay with it. Satin is a nice middle way between super shiny and matte.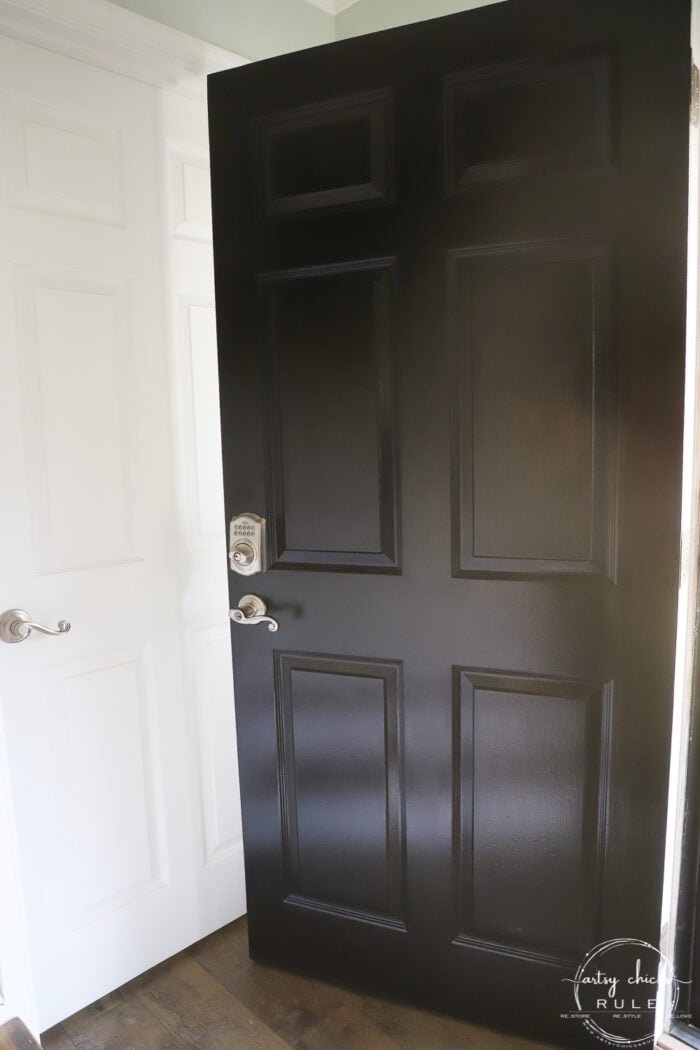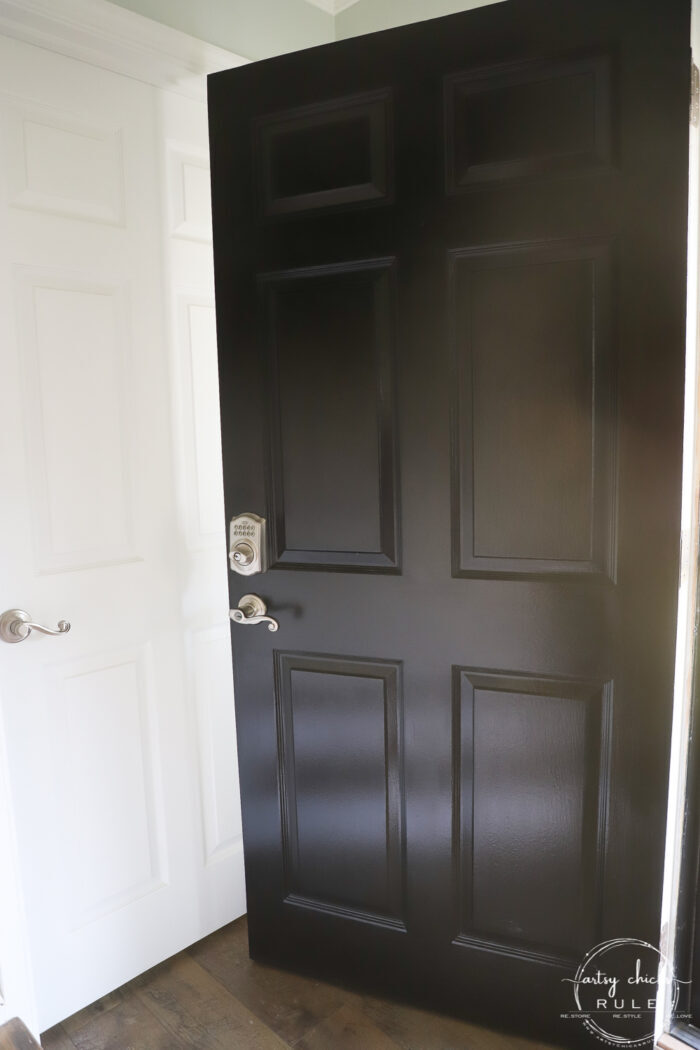 Looks so good, yippee.
And our new storm door looks so nice too.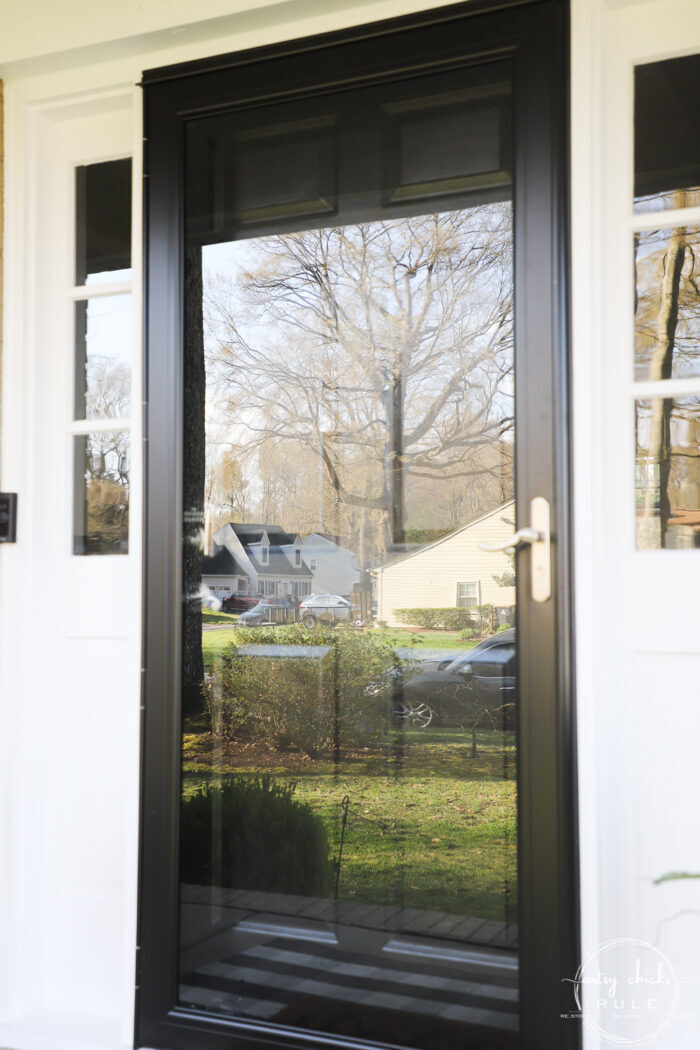 I painted all the white woodwork before Christmas. It was in major need too.
SO much better.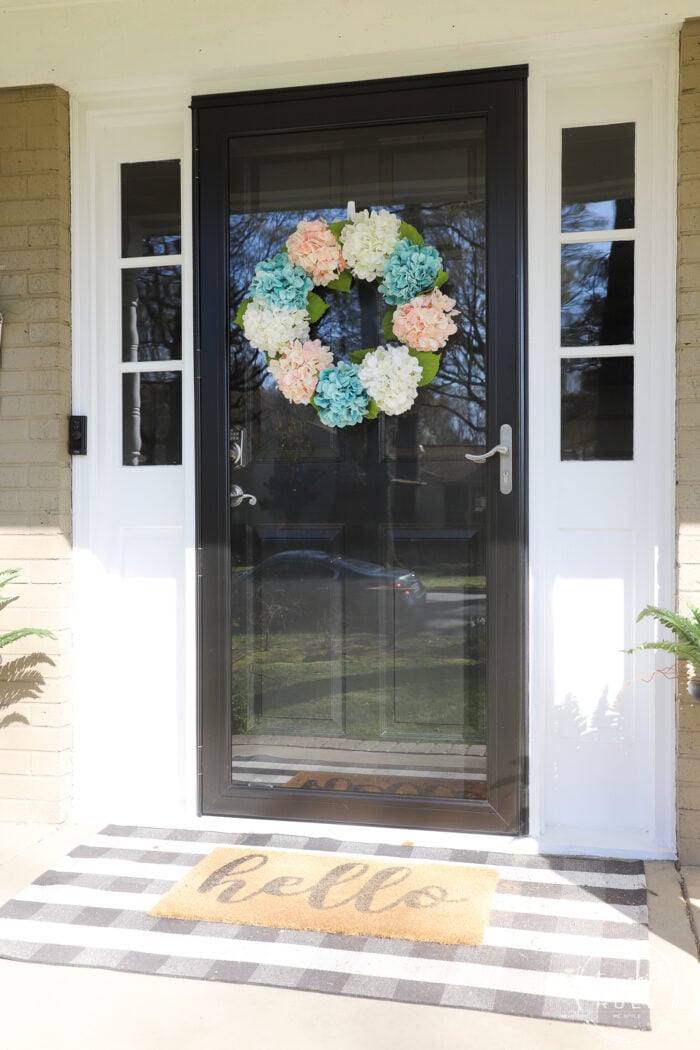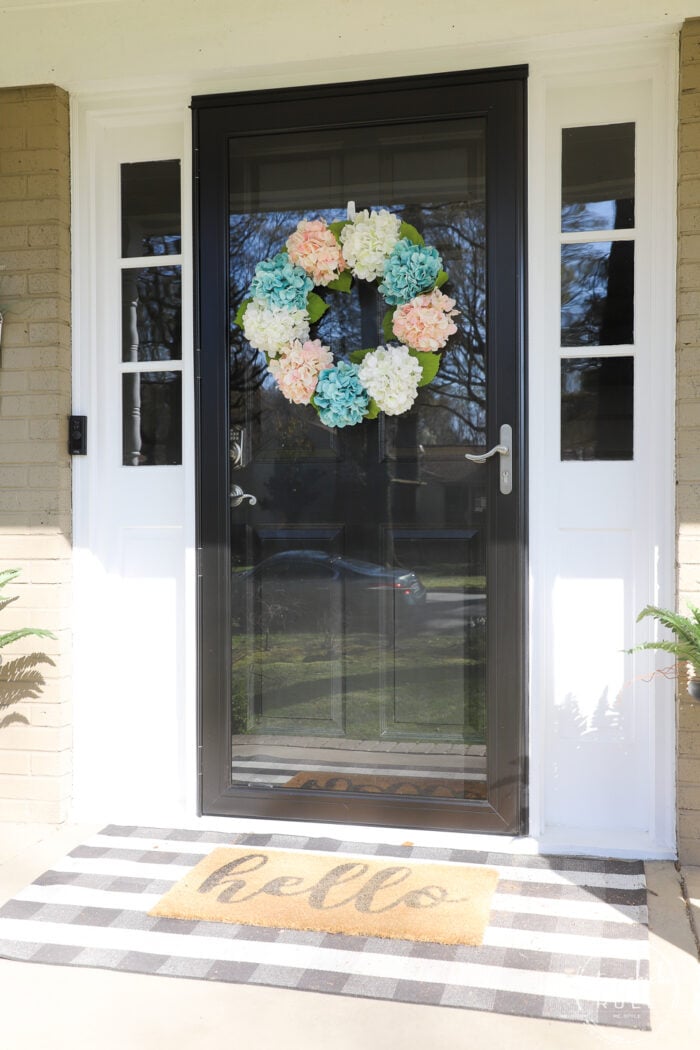 Looks pretty decent now.
A major improvement over what it was.
Love the wreath? You can make one just like it! See how here >>> DIY Hydrangea Wreath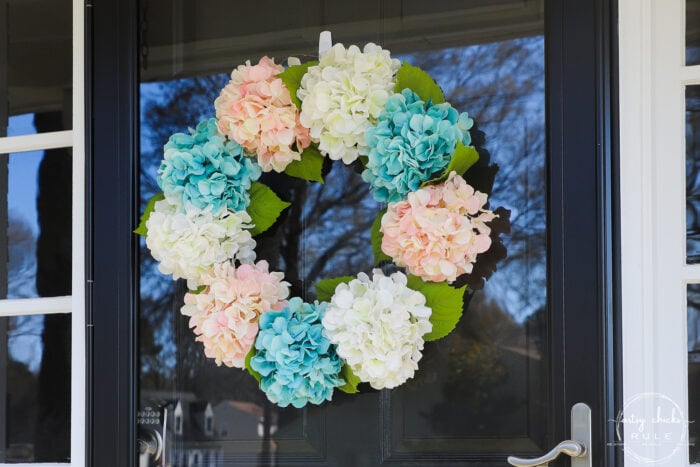 This Modern Masters Front Door paint also comes in quite a few colors. (I've linked it above in the gray box) So you should be covered!
Anyway, again, this is in no way sponsored by them, I just bought it, used it, and wanted to share it with all of you. :)
Need to paint your front door? Give this paint a try!
PIN it to save it!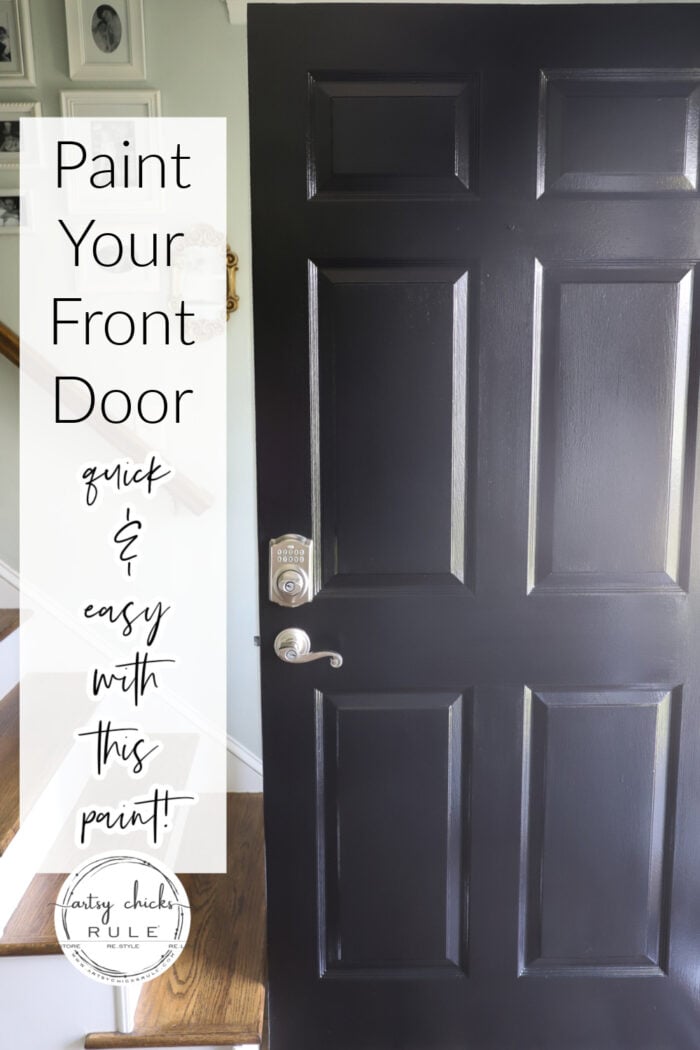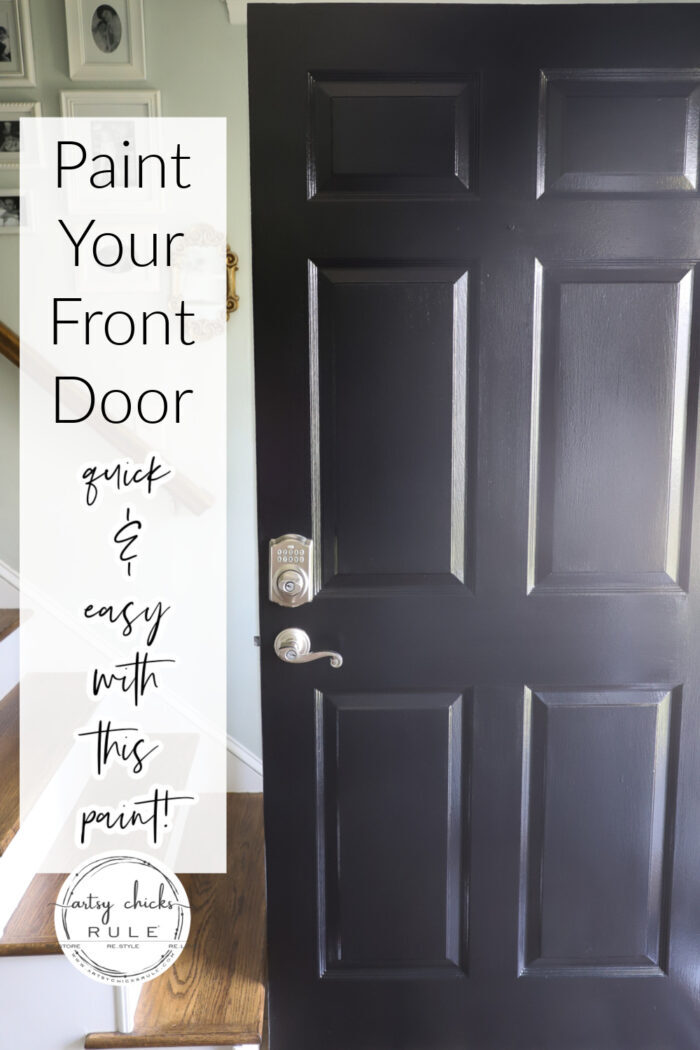 Got a fun little project for you on Thursday! See you then!
xo