Bleaching Wood For A New Look
This post may contain affiliate links. Please see disclosures here.
Bleaching wood (orangey, yellowish or dark) for a brand new look! Simpler than you think…you can do this.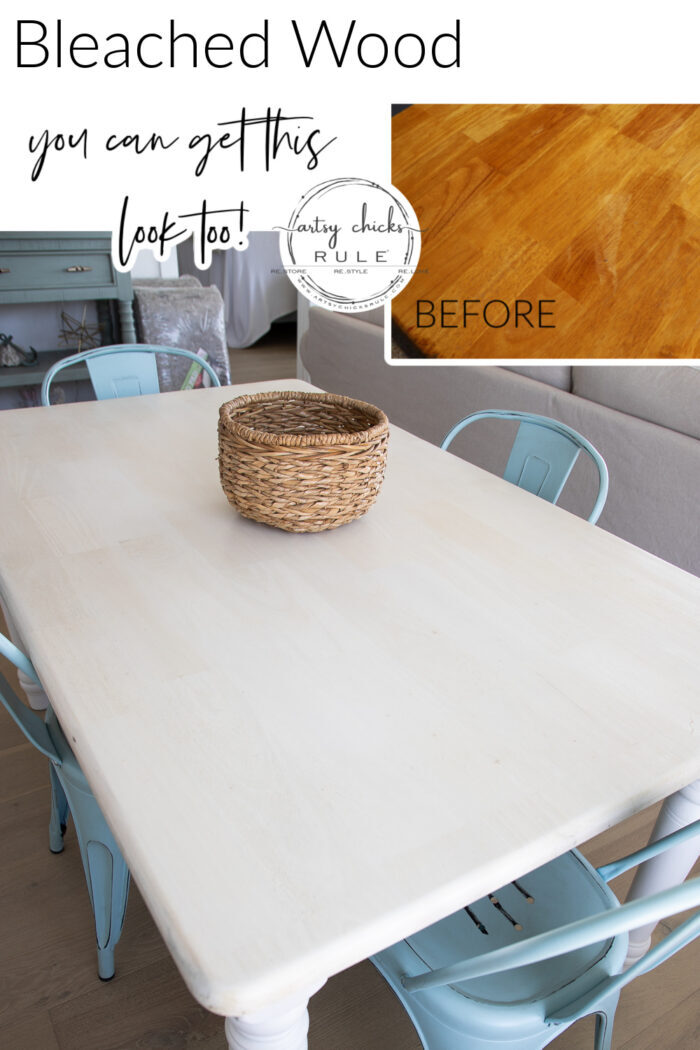 Hello and happy Thursday my beautiful friends!
I hope you are having a blessed week so far. Today I'm sharing some I refinished/made over for the beach condo.
It was a true labor of love.
Why?
Well, firstly, because I painted the top…then decided, nope! haha So I stripped it back off and began again. That's what I'm showing y'all today.
That process…which is bleaching wood for a new look.
And secondly, because my husband gifted me this table when we bought our first house (just before we married) and we didn't have a dining table yet.
The chairs have been long gone but I've been using this table as my "desk" in my office for 10 years. So I didn't really want (or need) to get rid of it.
Remember my office makeover recently??
This is the before shot AND the shot of this table/desk that I made over for the beach house.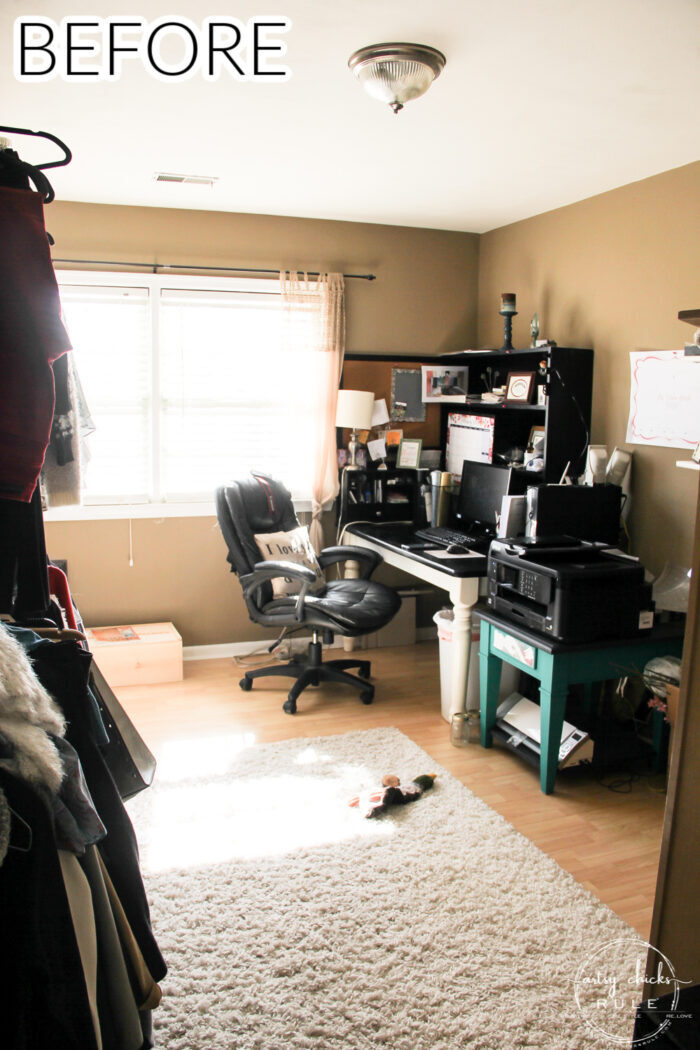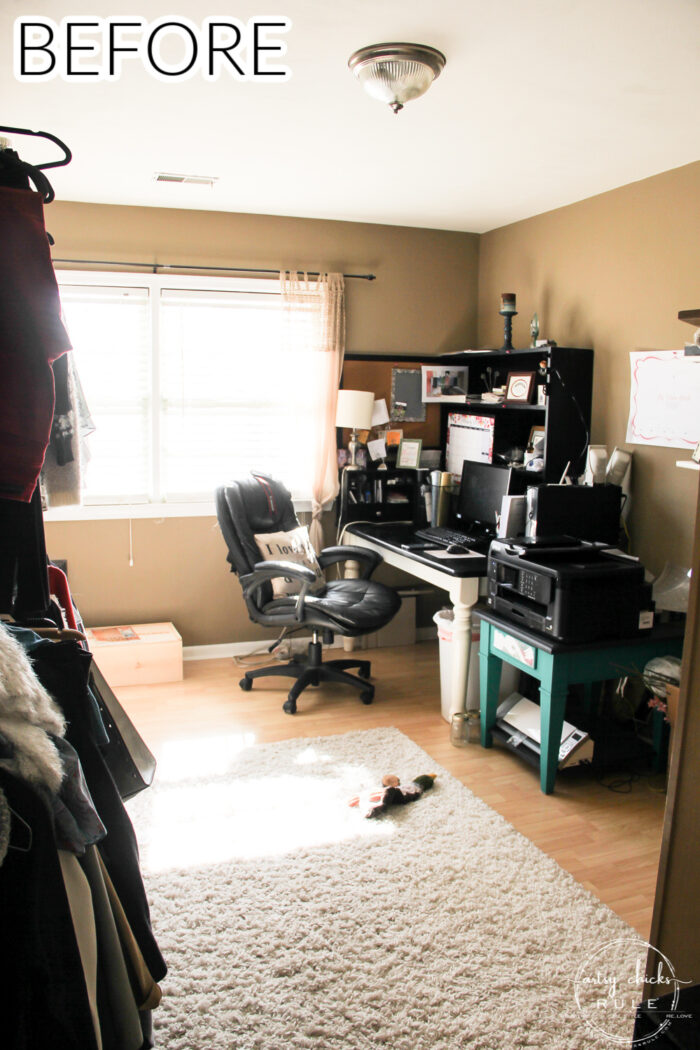 Ugh…if you haven't seen the AFTER, well, after seeing this photo you MUST go check it out!! lol
It's a requirement of being able to see this shot. ;)
No, seriously, if you haven't seen it, hop on over here >>> Colorful Mid Century Modern Office Makeover
As you can see above, I painted the tabletop black. It started out as a natural wood top with a white base, farmhouse-style chairs that had spindles. (also wood and white)
I tried to shortcut and just paint over the top of the black my faux weathered look. (you can see an example of that here)
But I just did not love it on this table. Boo.
Hey, it happens. So you don't throw the towel in, you just get busy and begin again. Or remove and then begin again. hee hee ugh
And that is exactly what I did.
Here is an "in-process" photo of that in case you are curious.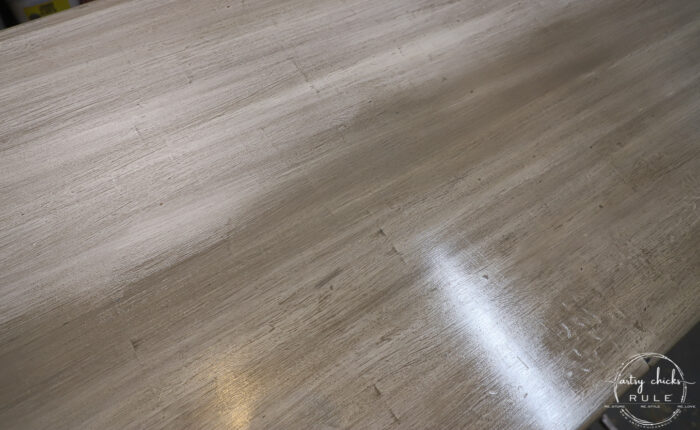 I didn't really hate it…but I didn't really love it either. (by the way, the side that's darker is the final finish look)
It just wasn't really what I was going for.
With that said, I don't really love how this bleached one turned out either!! oy!
I mean the bleaching of the wood worked amazingly well, but I'm not sure "bleached wood" is exactly what I want either.
So, it may change yet.
I'm living with it for a little while to see.
So as you probably imagine there are more than a few layers of paint on there that now needed to be removed.
Here are a few of my other "light" wood projects to check out:
Bleaching Wood For a New Look
I began by using Citristrip to remove as much of it as I could.  (I still truly dislike the new formula but haven't really found a good replacement)
I applied it and wrapped it with plastic wrap, left it for a few hours, and came back and scraped the paint off.
I did this twice.
And ended up with this…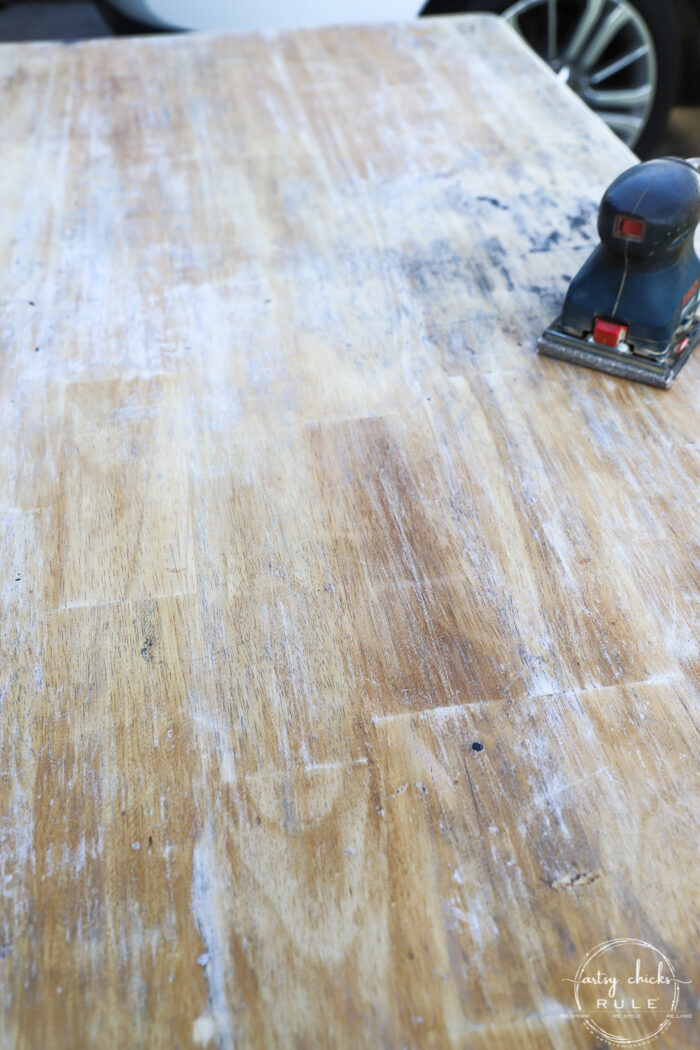 Then I got to sanding.
And then I got my husband to sanding. haha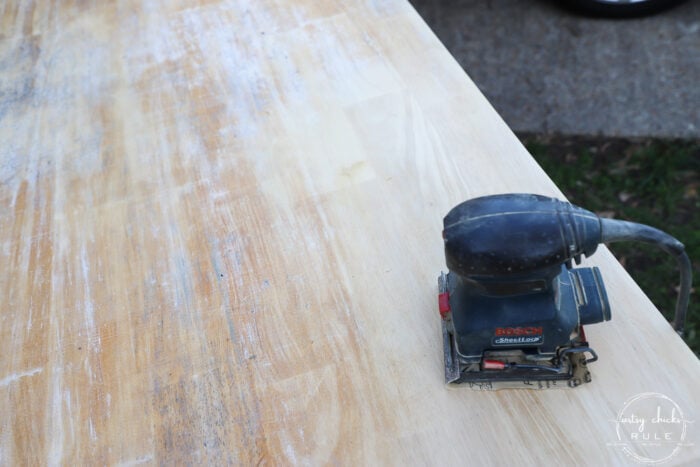 I did the majority but my hand was vibrating and my arm was sore so he finished up the last bit for me.
(I was still sanding myself in the above photo ;) )
He's a keeper.
So here's the actual "BEFORE" and how it looked after all the sanding was done. (when wet)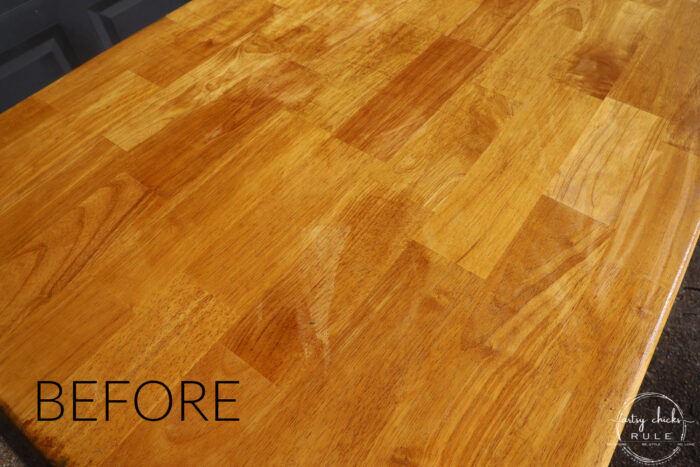 And after the first two applications of the wood bleach.
Each time I applied it just got lighter and lighter. I did let it sit out in the sun the first two applications.
Not sure if that helped or not but figured it wouldn't hurt.
I did one more application while it was back in the garage.
I also used this same bleach product on this table >>> Coastal Console Table Makeover
It really worked very well, as you can see.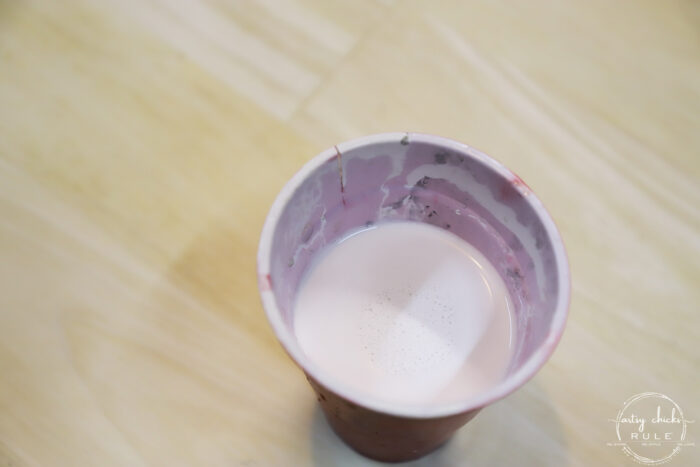 It was very bleached out in most areas. Some pieces of wood in the table were still a tiny bit yellowish so I whipped up a quick whitewash using white chalk-style paint and water.
Very watery, less painty.
And used an old t-shirt and wiped it all over the table. It soaked right in and gave me this, once dry.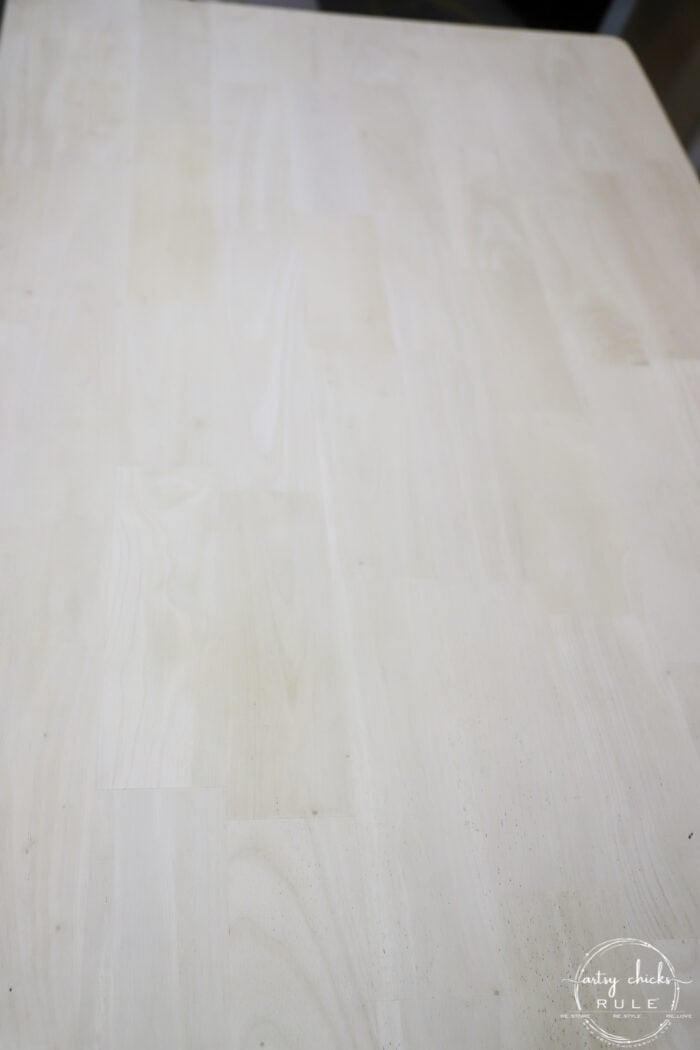 A little trick bump up the "bleached" look.
I sealed it up with two coats of high-performance topcoat once that was dry.
We reattached the legs (which got a fresh coat of white paint) and done!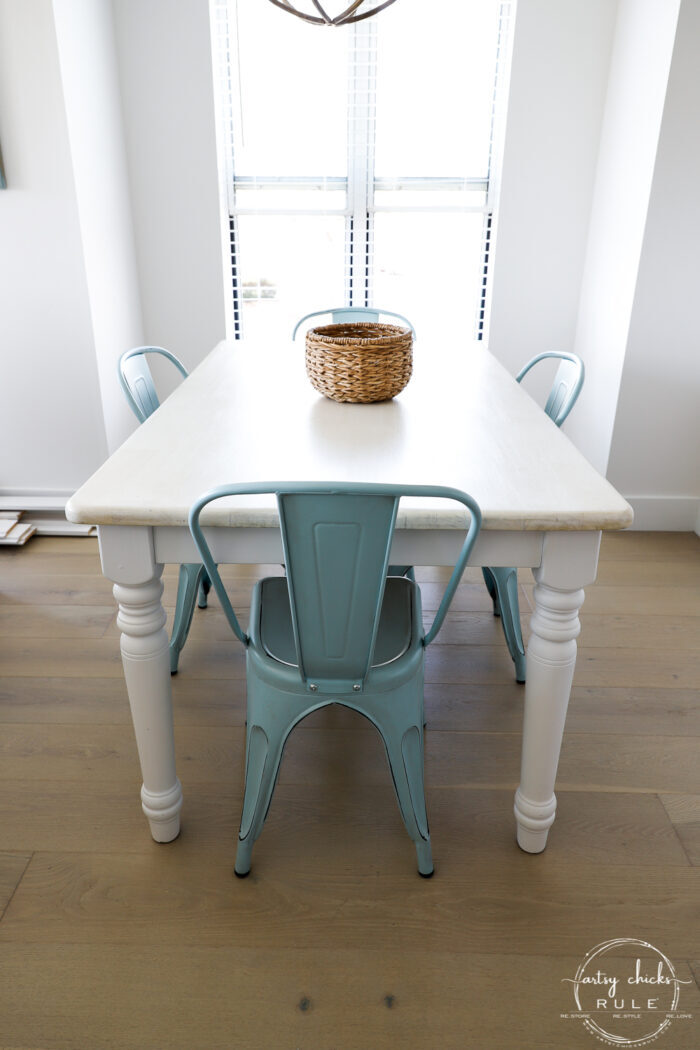 (and there's that gorgeous waterproof hardwood of ours…we just love it…you can read all about it right here >>> Waterproof Hardwood Flooring Reveal)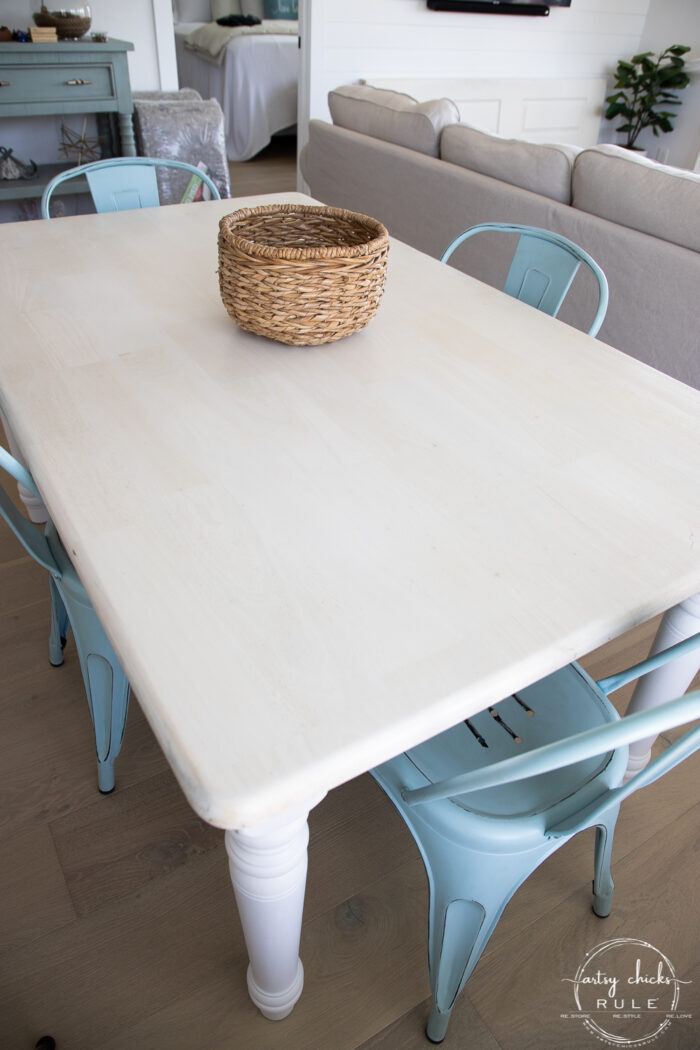 Up close…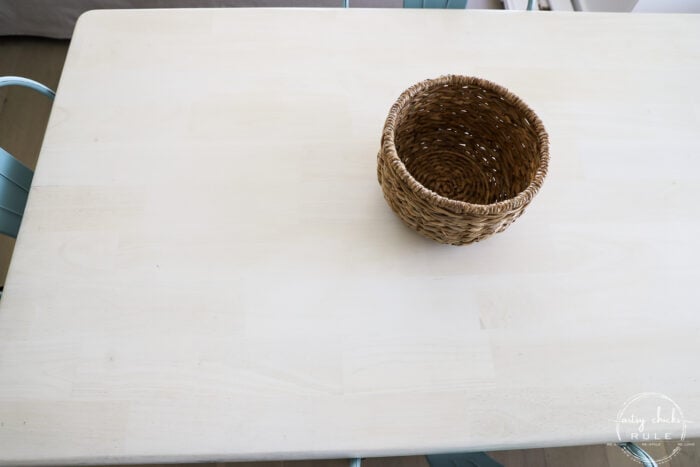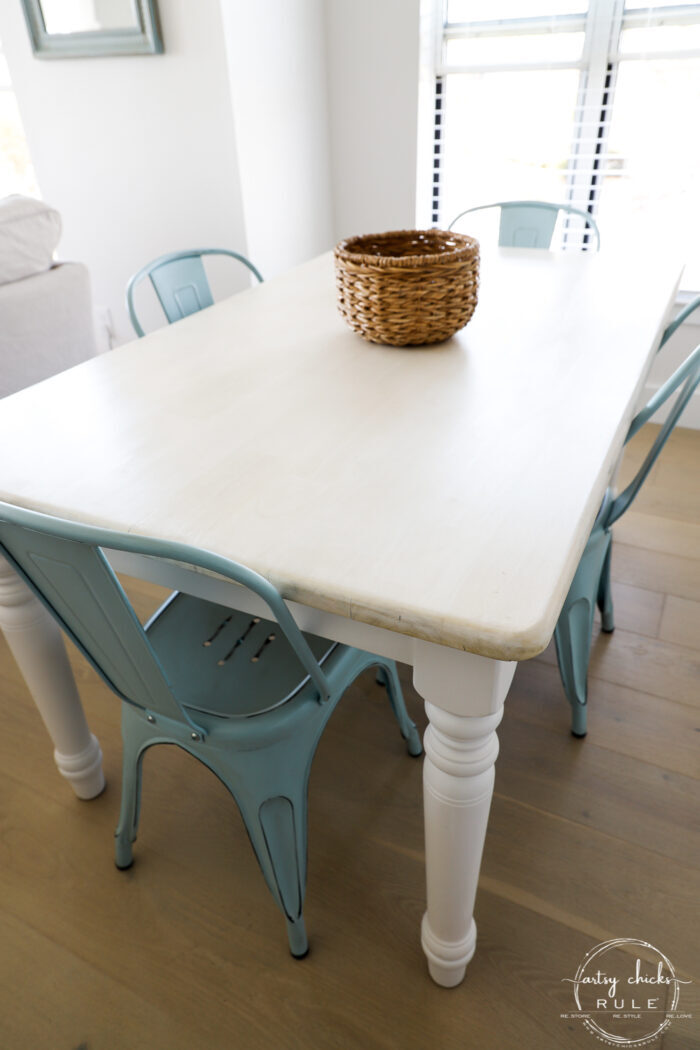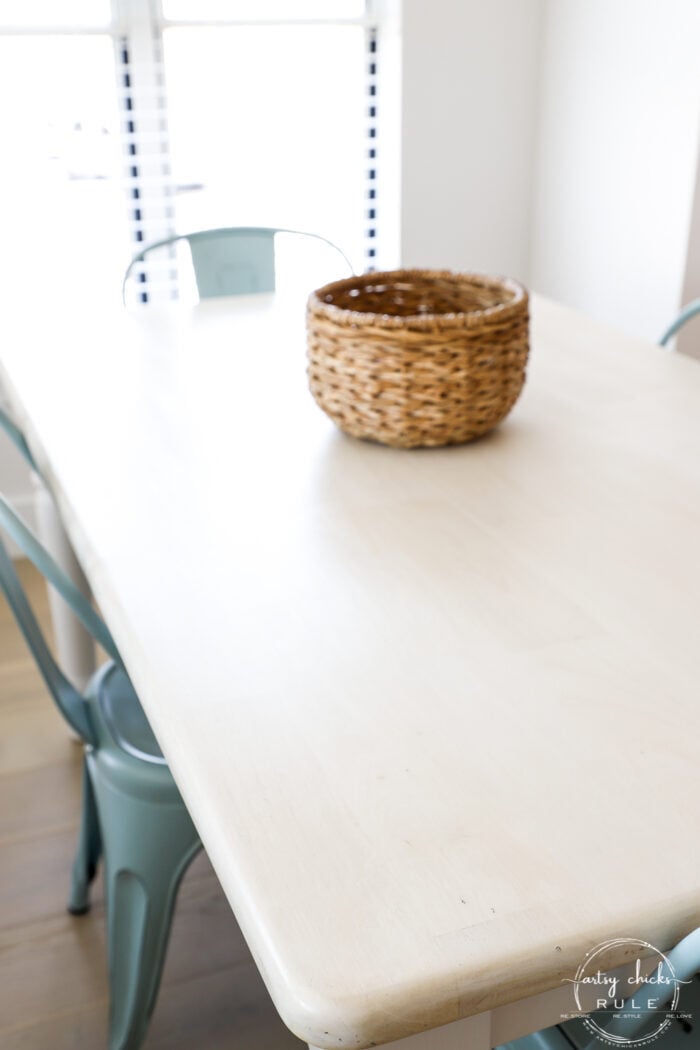 So generally I am very happy with how it turned out.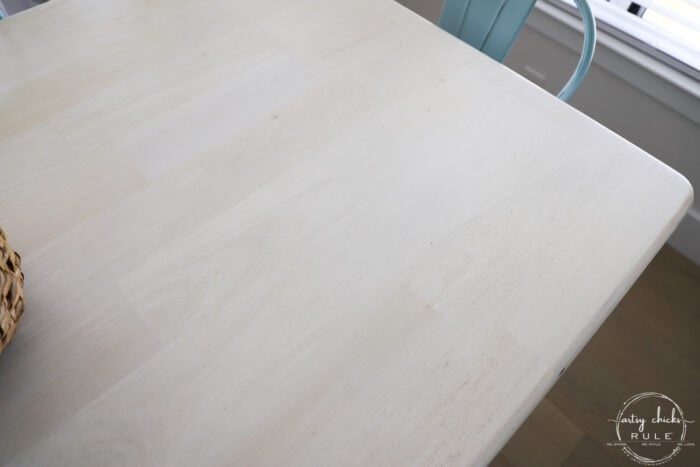 But we'll see if it stays this color.
(to note, I'm considering using the same driftwood stain that I used on this dresser recently)
Now let's talk about the chairs I decided to pair up with the table.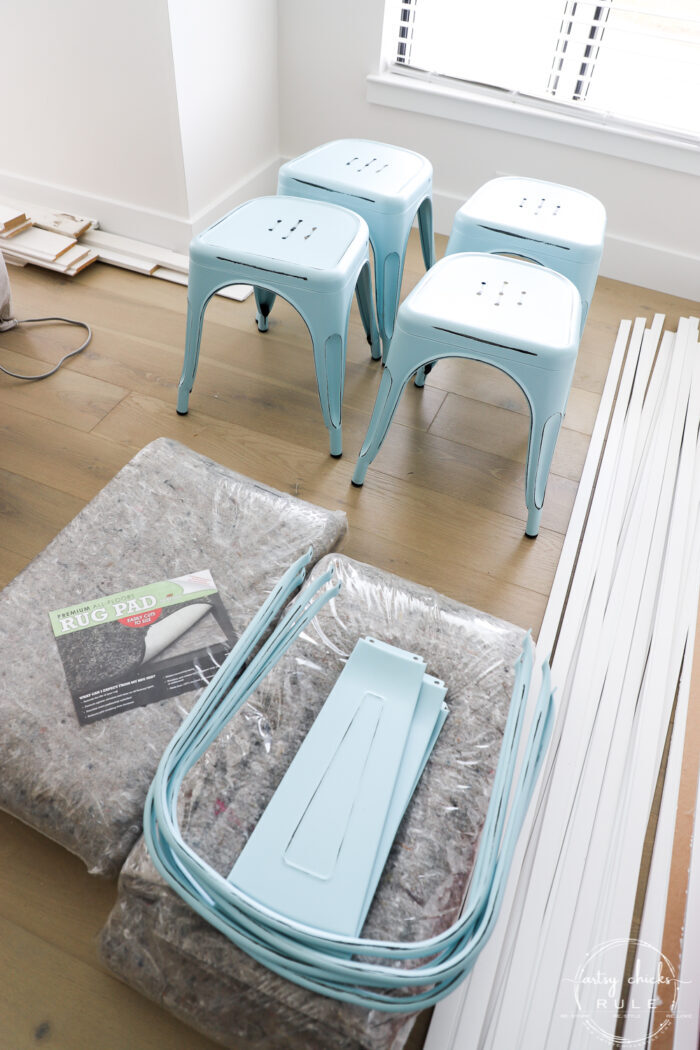 Ignore all the rest.
We are waiting to finish up all the trim before we lay the rugs I bought for the living and bedroom areas.
And all those trim pieces to the right are for our "crown" molding.
If you follow along on Instagram, you saw a sneak peek of it up and finished this past weekend.
It's hard to tell in the photo but they were a little brighter than I wanted with the rest of the room. (especially the console table I recently painted adjacent to them)
So I decided to apply the same driftwood stain I used on the console table to tone it down a bit. Worked great!
Look…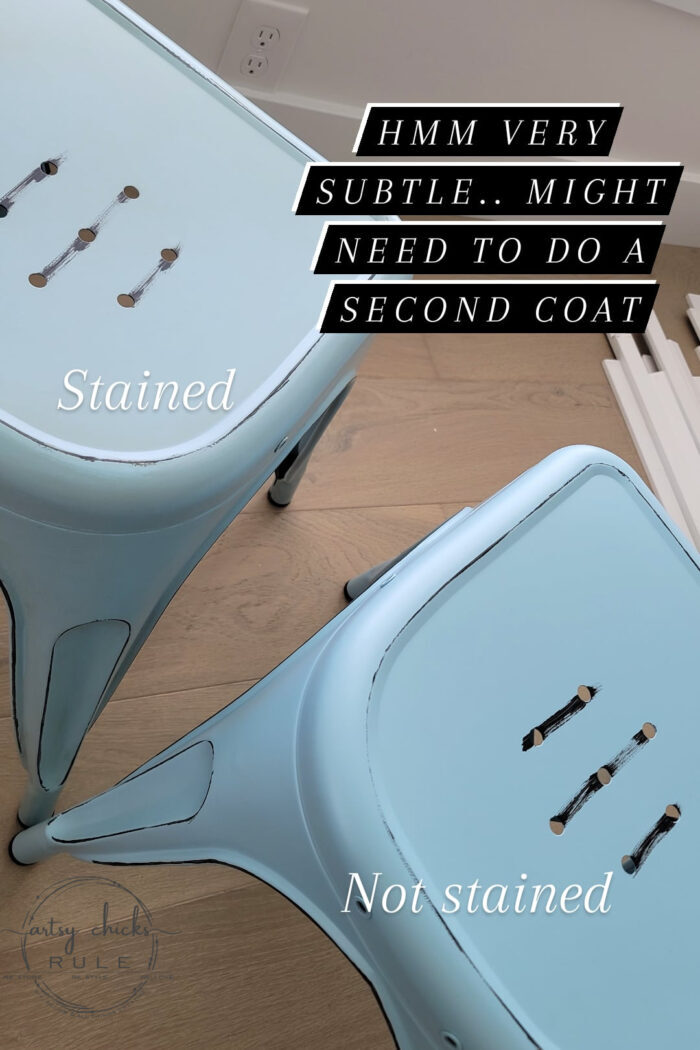 You can see the difference a little better here…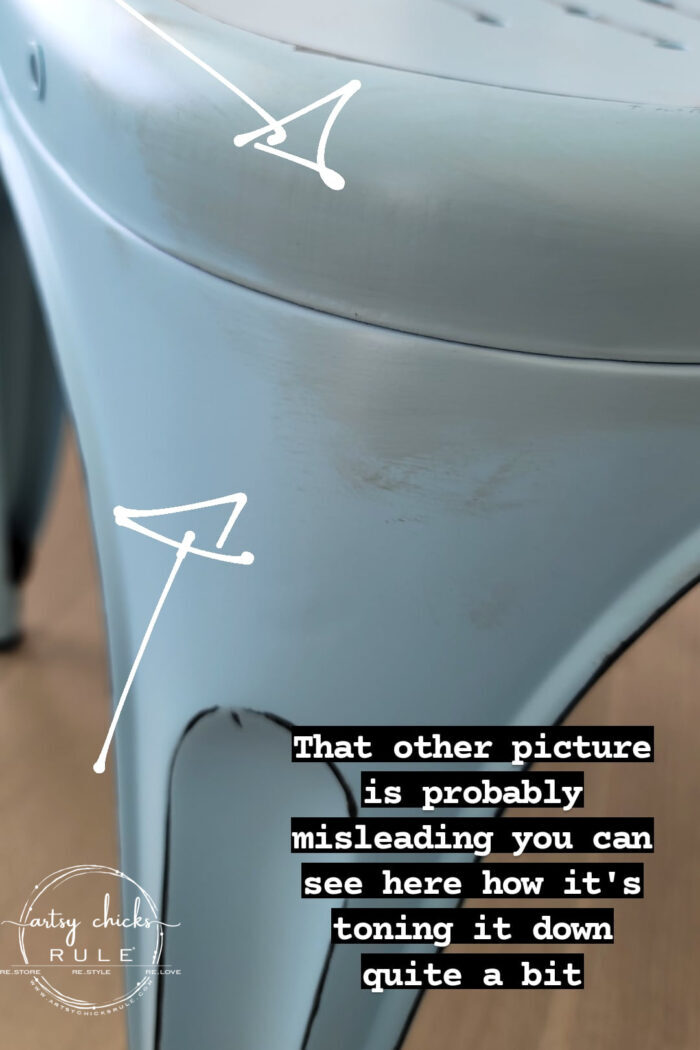 Toned it down nicely.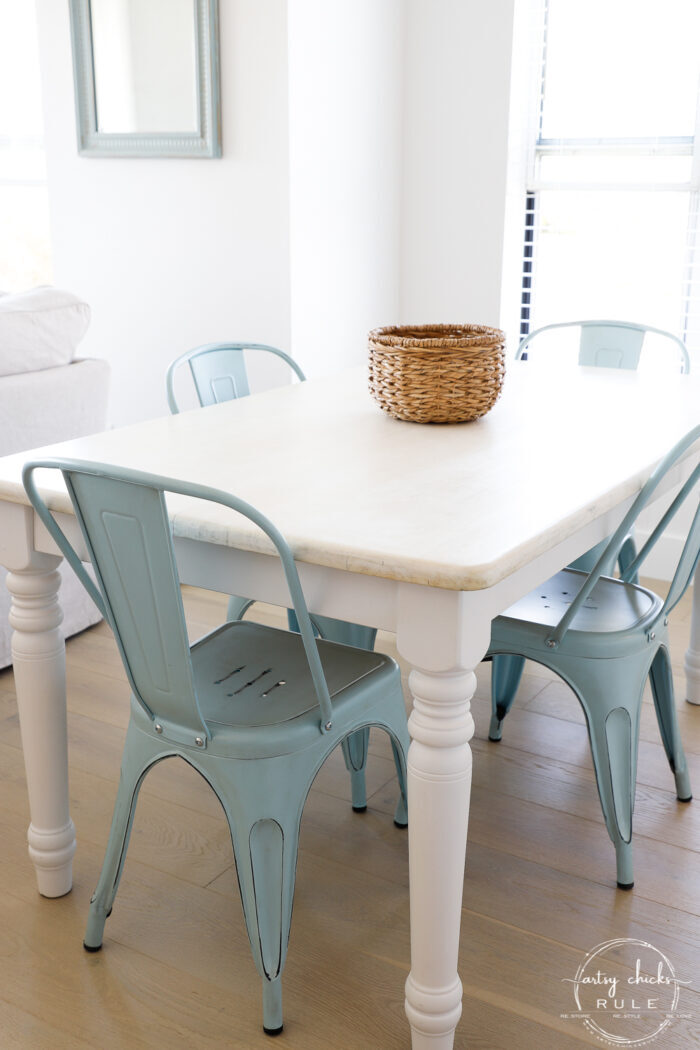 I feel like this style is sort of farmhouse but also has a coastal feel so thought they'd be perfect for here.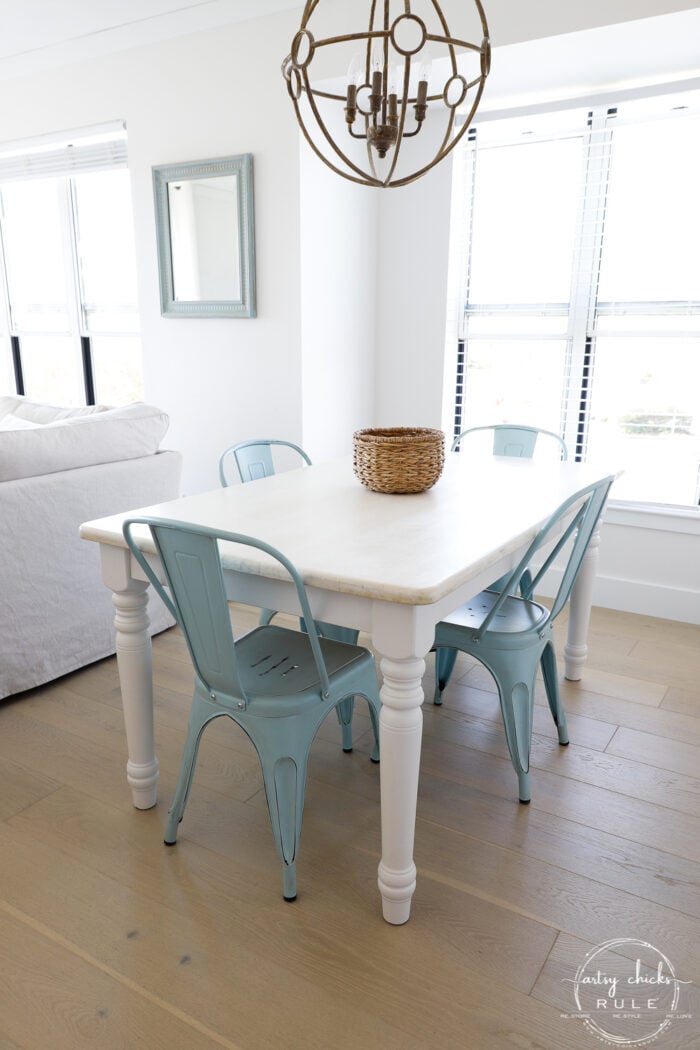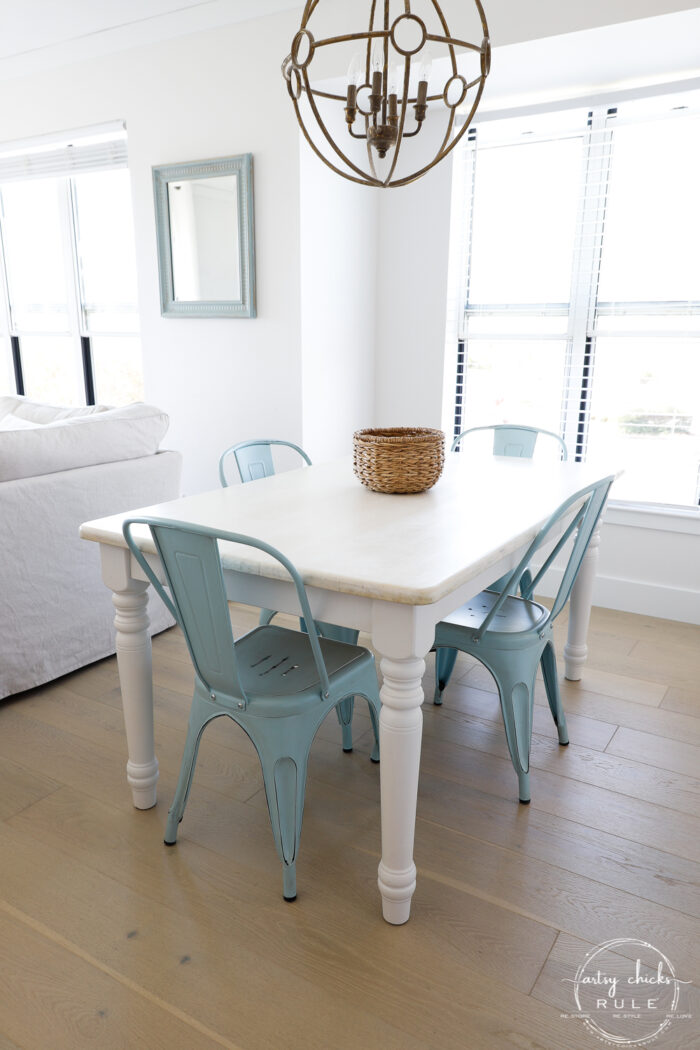 We are getting there with the condo. Wrapping up the crown molding and then we are onto the kitchen makeover (and decorating…wahoo!!)
So, tell me, do you think I should leave the tabletop as-is OR lightly sand and apply the Driftwood stain (same as the dresser in the bedroom linked above)??
Watcha think? I'm torn.
PIN it to save it!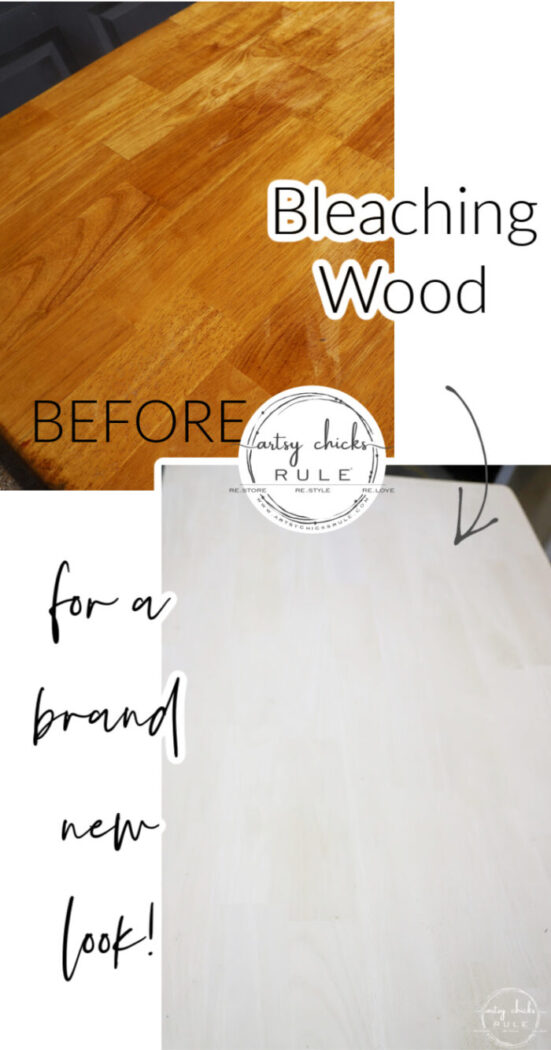 Well, guess what I did to this?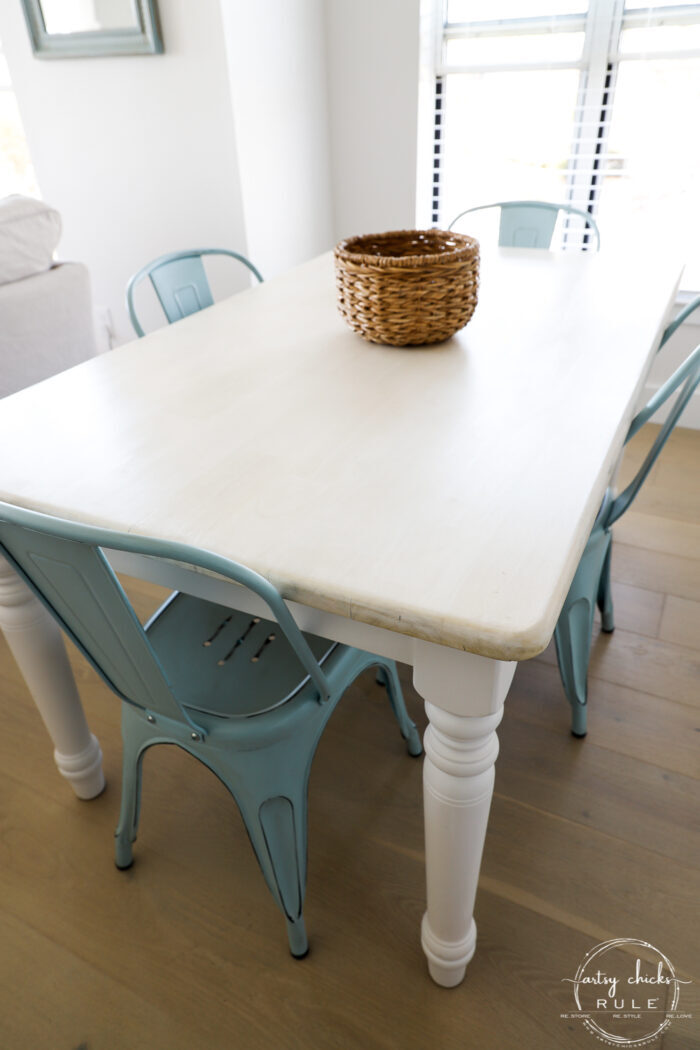 UPDATE!! See how I changed it, here!
I hope you have an amazing weekend! Get out and enjoy the warmer weather. It's going to be 60's and sunny here.
We are staying home this weekend because we are cleaning out a spare room for something big I am working on (the first of several things I have planned)…for all of you!
I'm such a tease, I know, but I'll be sharing more very soon! ;)
xoxo