How To Make Orange Wood Look Bleached (without harsh chemicals)
This post may contain affiliate links. Please see disclosures here.
How to make orange wood look bleached with this simple method!! (AND without harsh chemicals)
Updated Sept/2023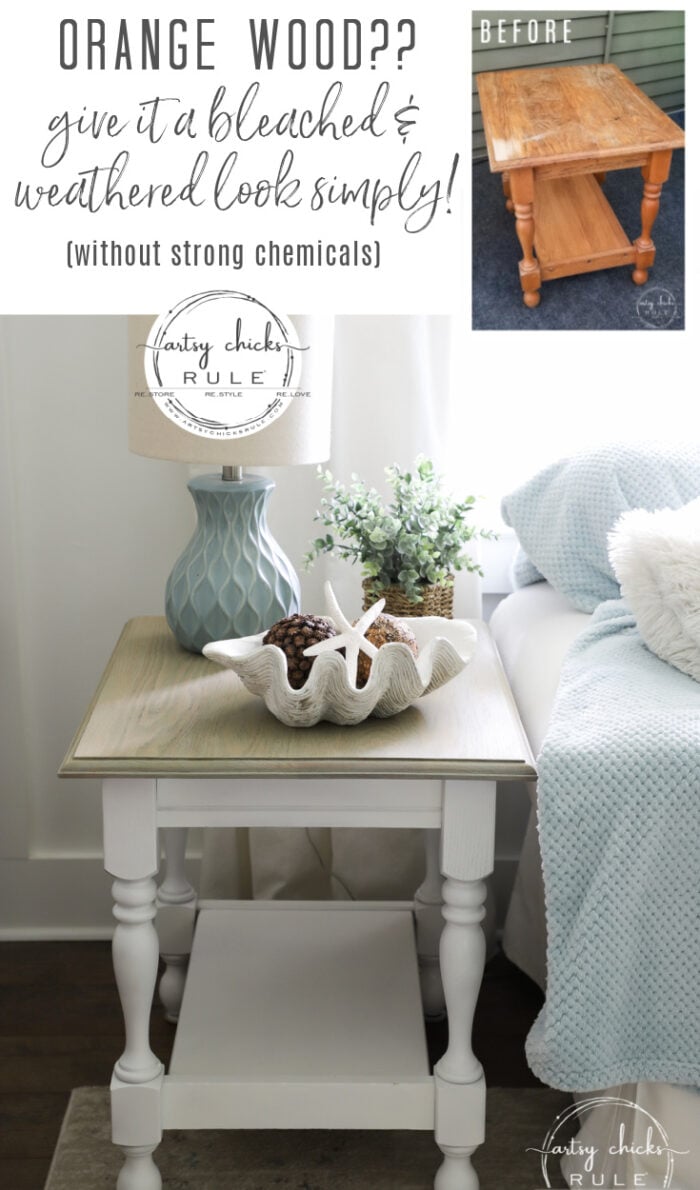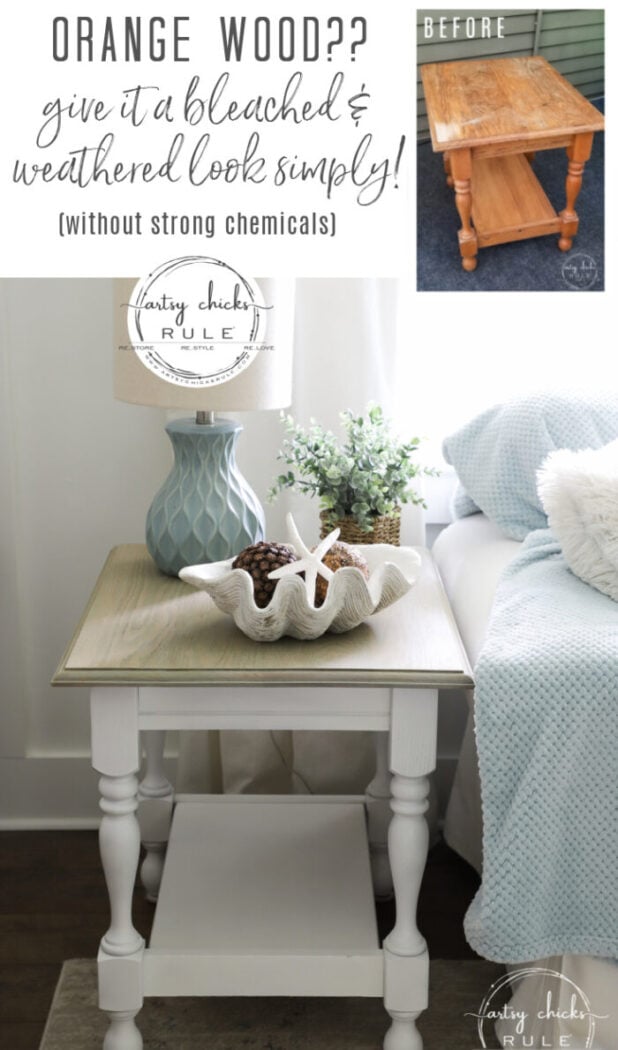 Hello sweet friends!
Guess what? I have finished the oak table and chairs set and hope to share it soon. Trying to get that back porch finished too. (that's where it's going to live)
UPDATE: You can see the oak table and chairs >>> here.
And see the back porch redo >>> here.
AND, I also finished this pretty little oak end table from my recent haul too.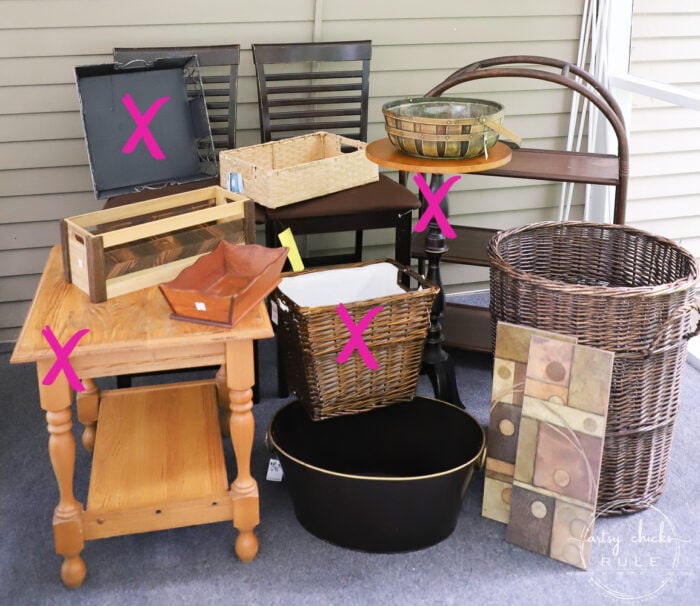 It was very orange.
But SOLID! And for $10 how can you beat that? Plus, I needed a little end table just like this for our beach house.
Win-win!
So, since it's going to live at the beach, I knew I was going to make it "beachy" with a weathered, bleach-looking top.
I actually worked on it at the same time I finished up the oak table this weekend. If you follow along on Instagram, you might have seen some sneak peek photos I shared of both. I love sharing as I'm doing my makeovers so keep an eye out in my stories over there.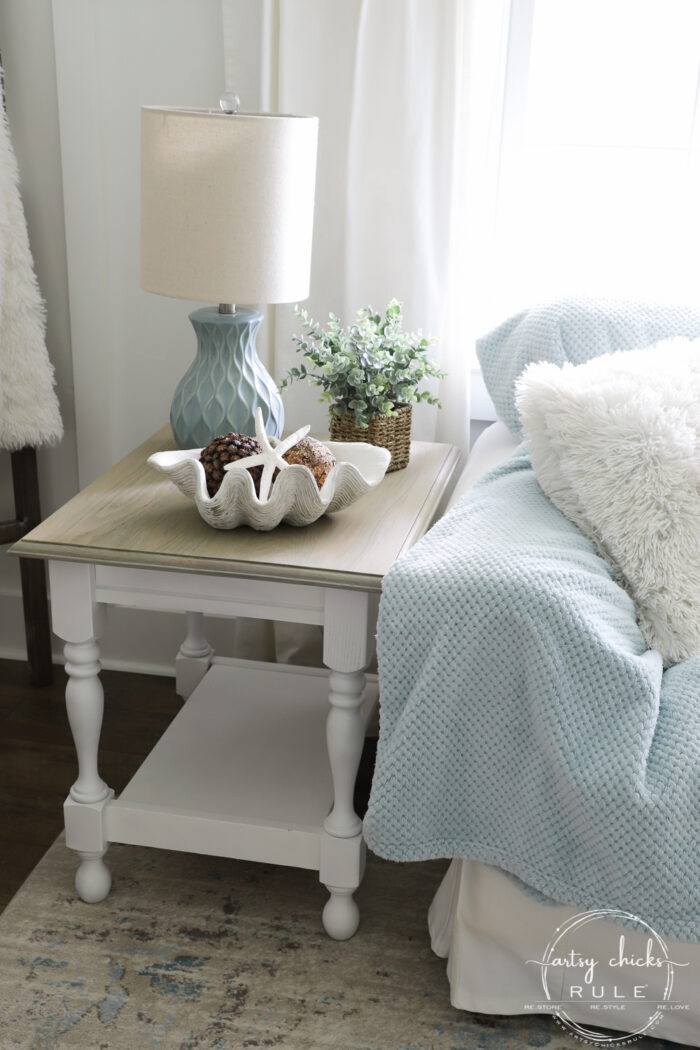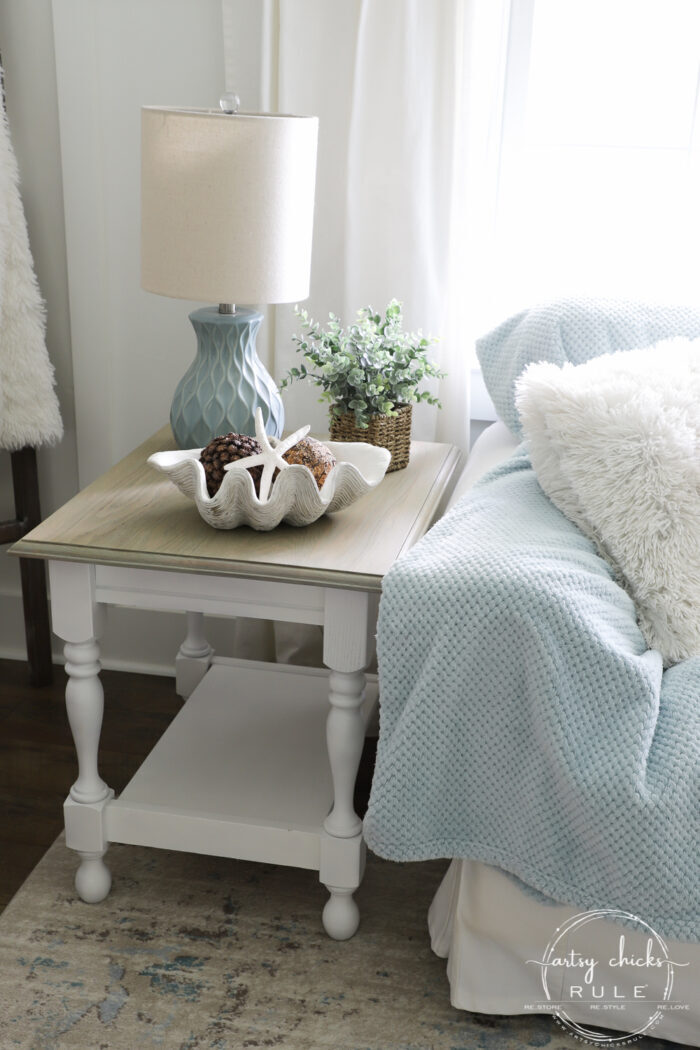 Here are a few of my other "light" wood projects to check out:
How To Make Orange Wood Look Bleached (and/or weathered, without harsh chemicals)
Here's how this one looked to start…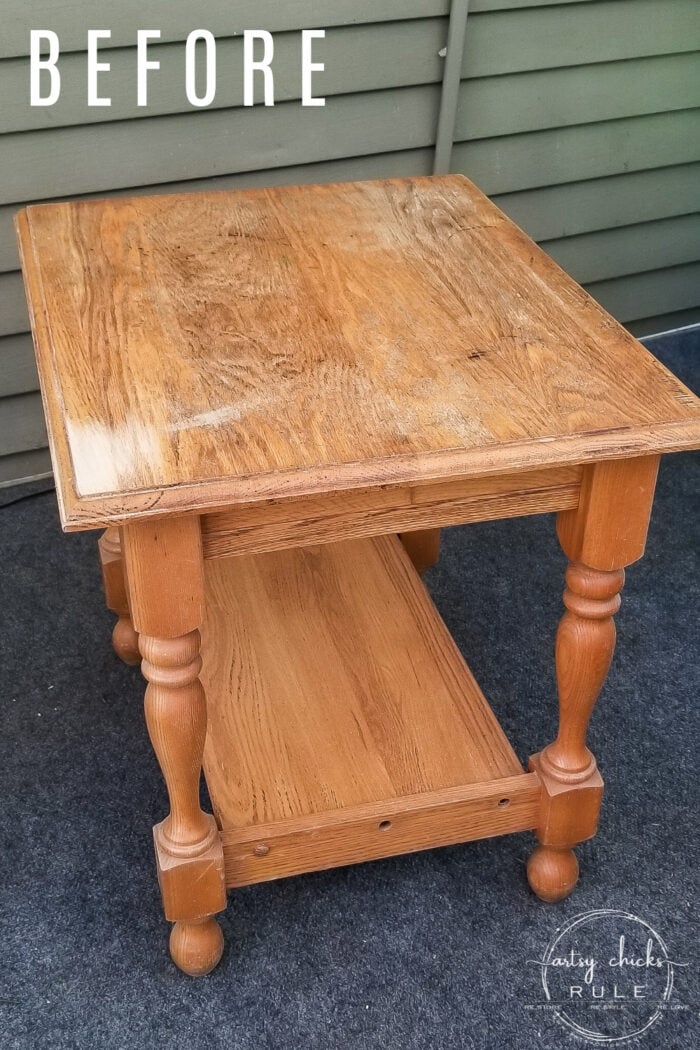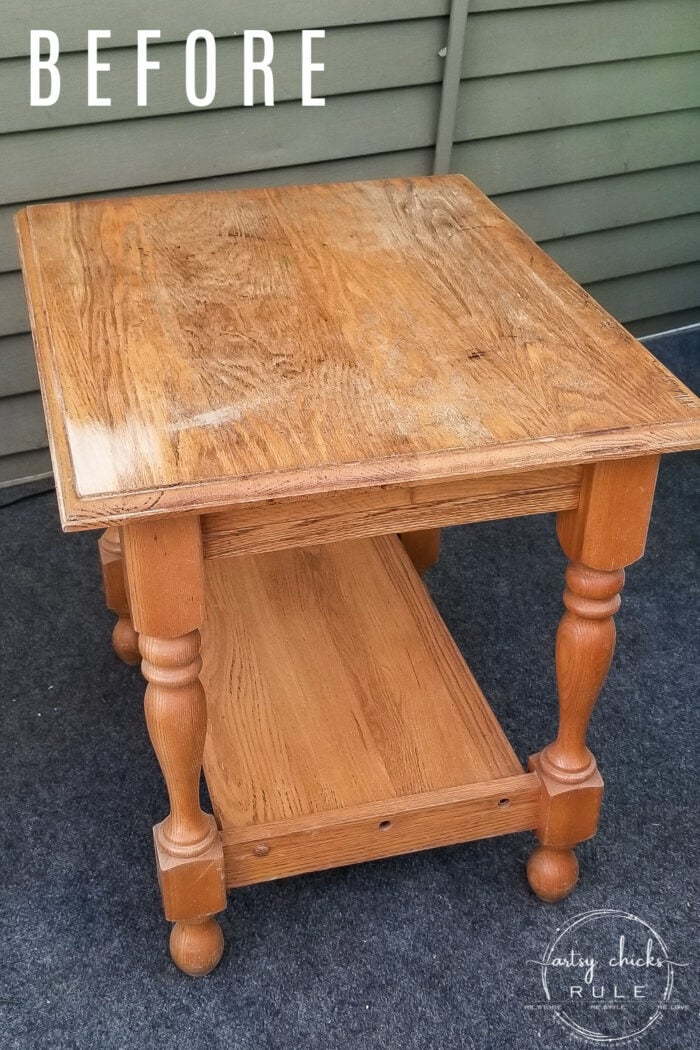 Minus that little corner where I started sanding. Oops.
SAND
But just look at what's underneath all that orange.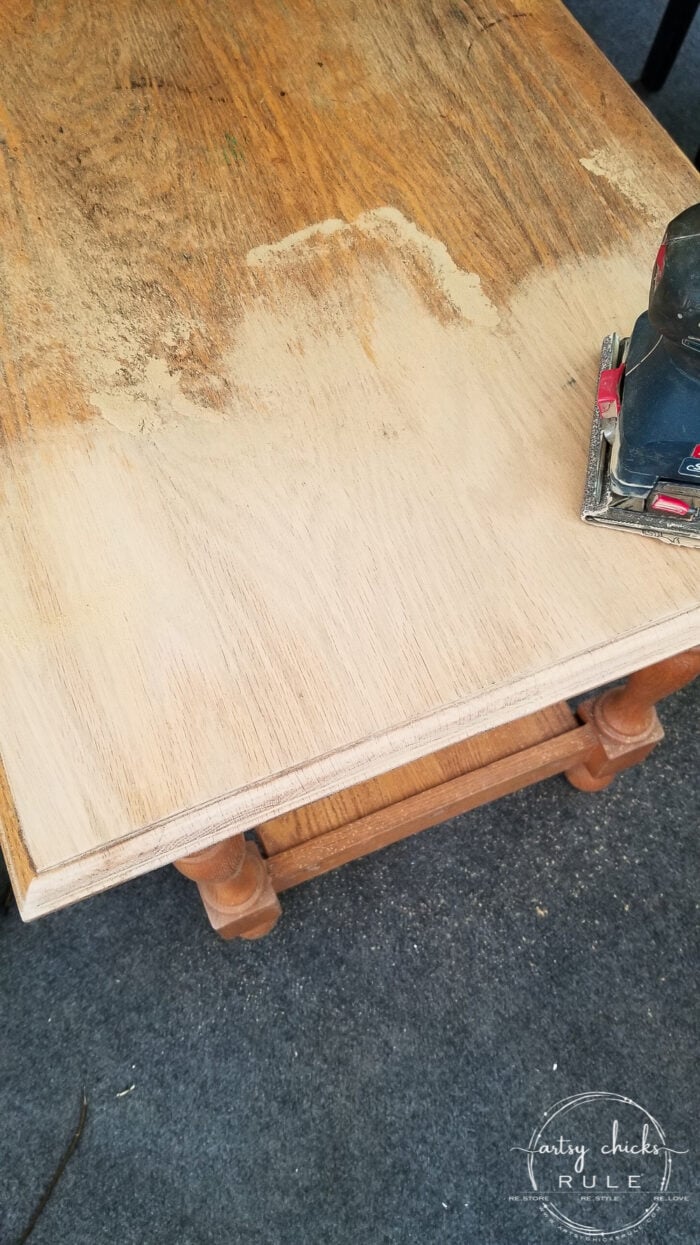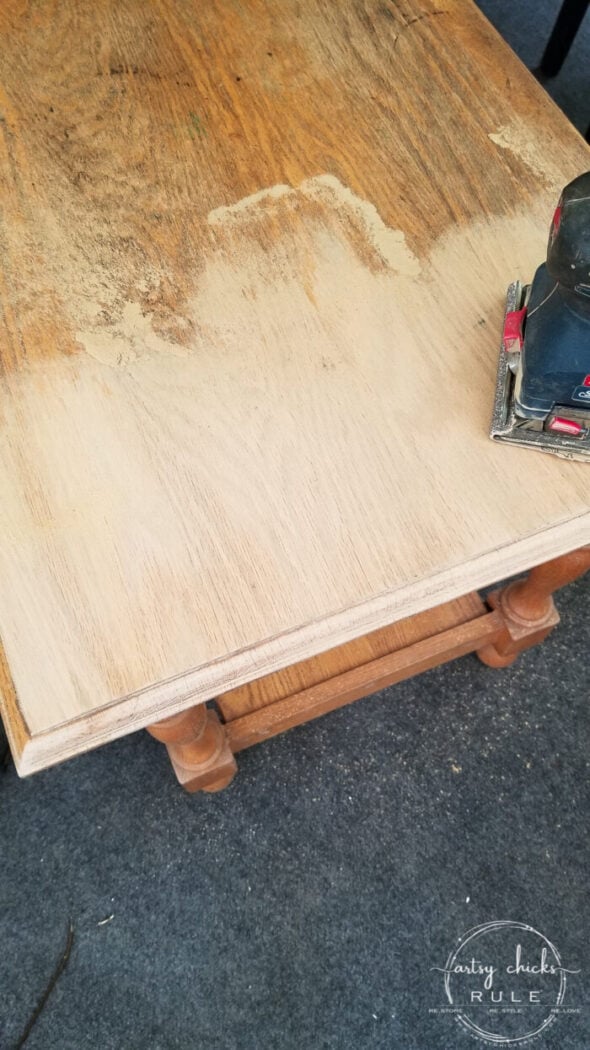 Yes, yes, yes.
I don't love sanding but you sure can't beat revealing that gorgeous wood underneath.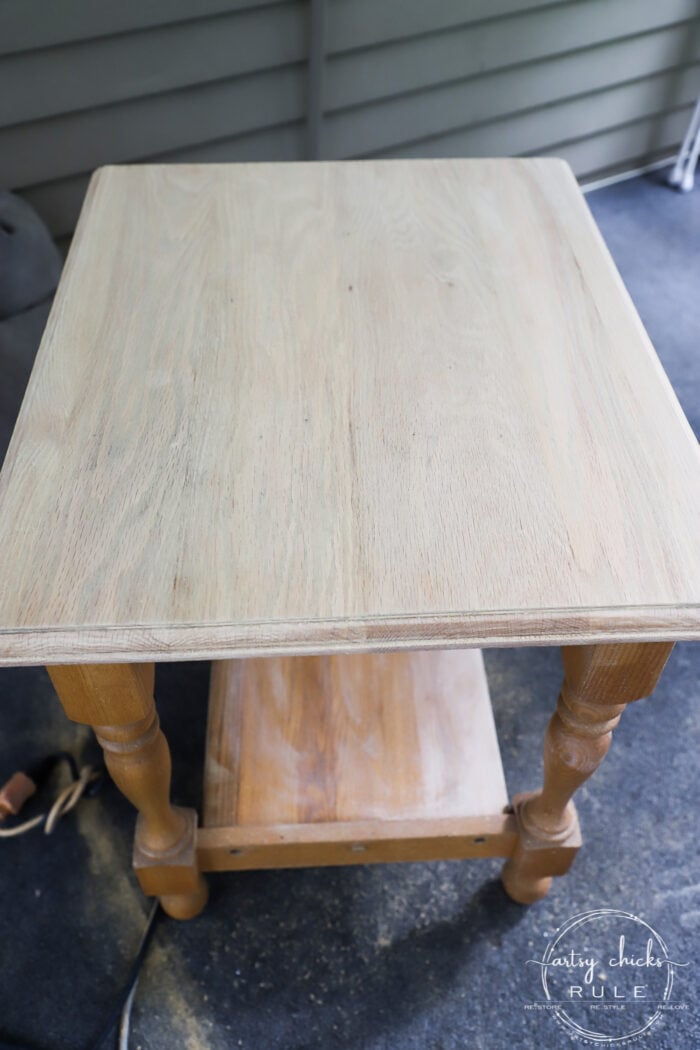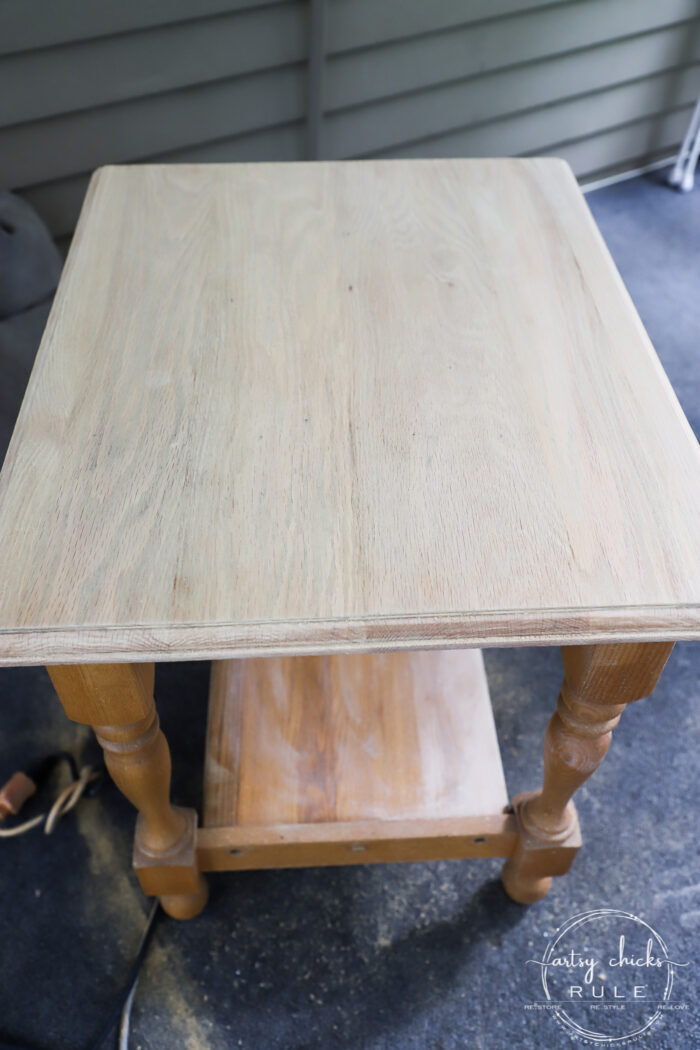 Before we get too far ahead let me first mention that I did a similar project that you can see here >>> How To Get The Bleached Wood Look
But I did change a tiny bit this go-round. One thing that's different is I ended up using the stain almost full strength (because the wood was more orange in color), I used paint to create the "white" instead of white wax and I finished up with poly instead of wax.
MATERIALS LIST
Sander
Water-Based Stain (in the color Riverbed) (<<<appears to no longer be available, >>>here and here are two substitutes that should work similarly)
Poly Topcoat (Flat Out Flat)
White Spray Paint (Satin finish)
Fine grit sandpaper
Soft rag
STAIN (to neutralize the orange)
I used a lower grit to remove the finish and then finished up with a finer grit to smooth it out. Once that was done, I watered down a bit of the stain color, Riverbed (see the "Materials List" box above), and applied it with a chip brush.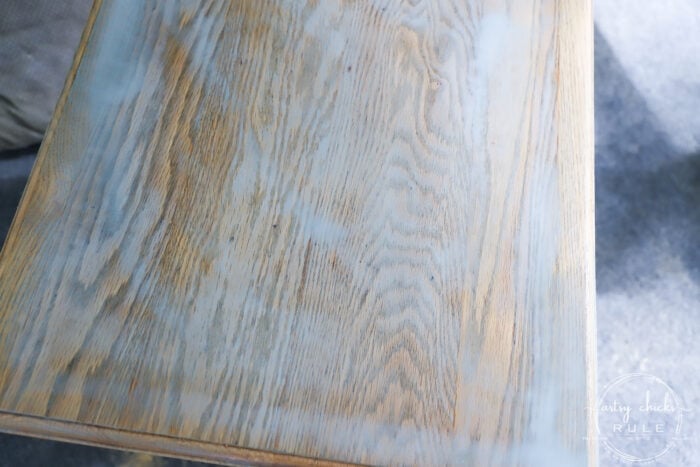 Oak will always look more orange when wet.
For this particular piece of wood, I ended up going back over it with an almost full-strength stain but wiping it away almost immediately.
That worked very well to neutralize those orange wood hues. (the green will neutralize reds/greens) Remember, as I learned from my old hairstylist days (and hair color specifically), green neutralizes red (orange). The same thing applies here.
Here it is wet after applying the stain and wiping it away…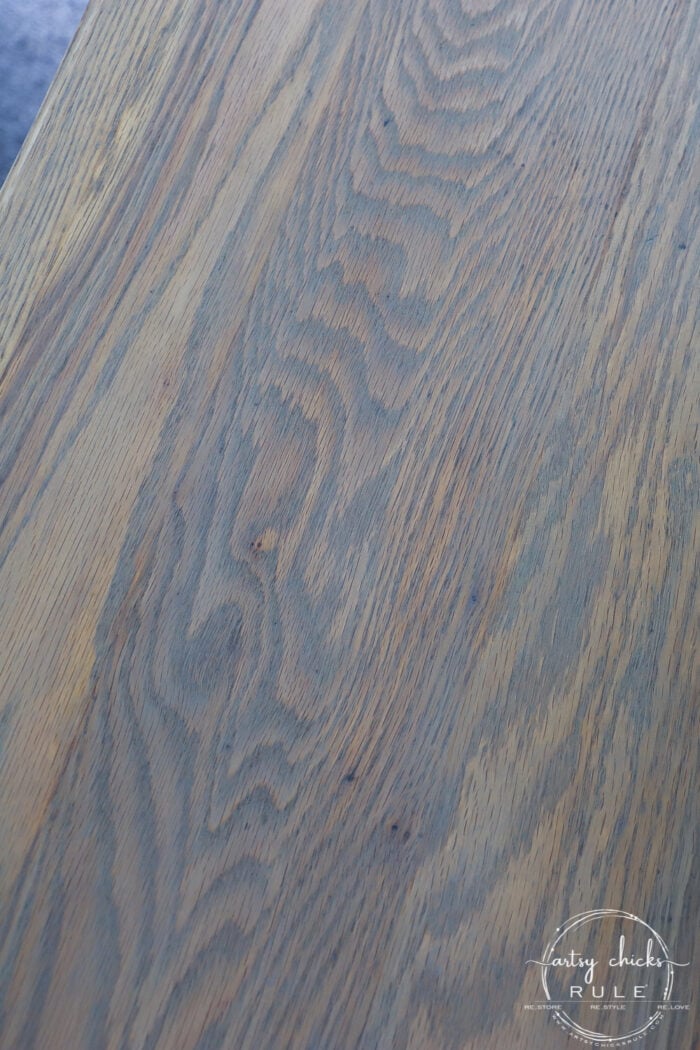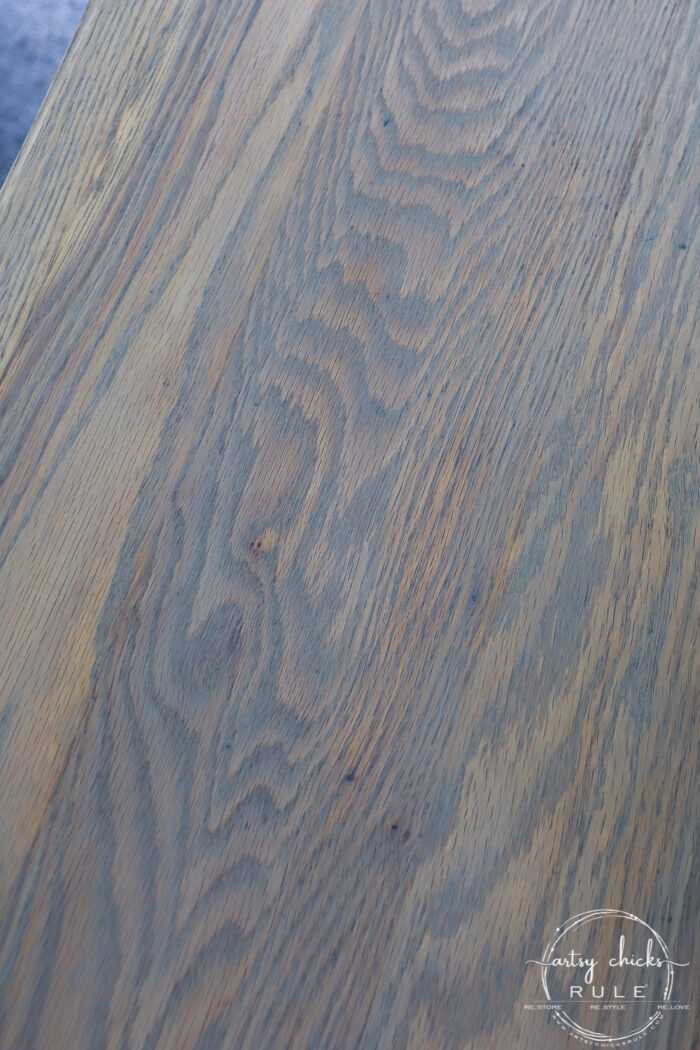 White WASH (to give it the bleached look)
Once it was fully dry, I mixed up a little water/white paint mixture and applied it with a soft rag. (I used a baby washcloth)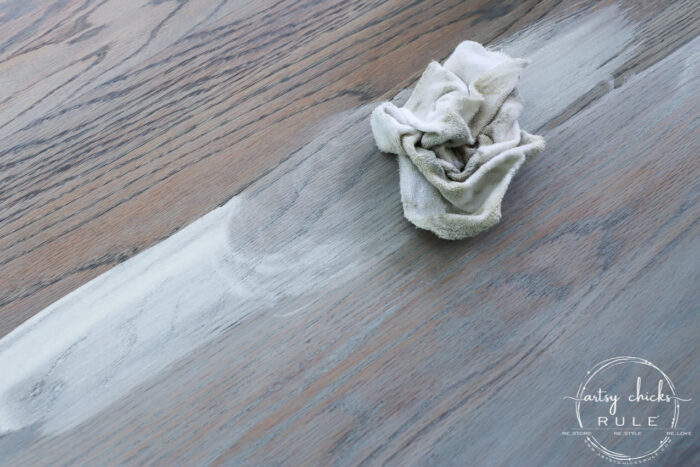 Simply wipe it on and then lightly wipe away the excess. You need to do this part fairly quickly.
But once you are done and it is dry (remember the oak will "whiten" as it dries), you are left with this…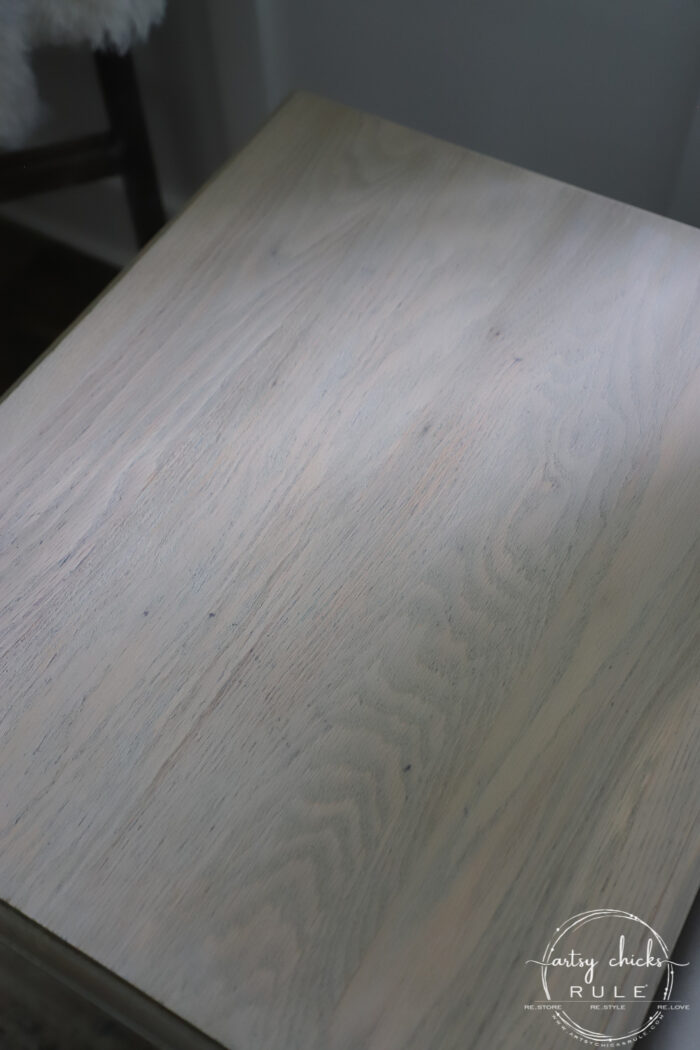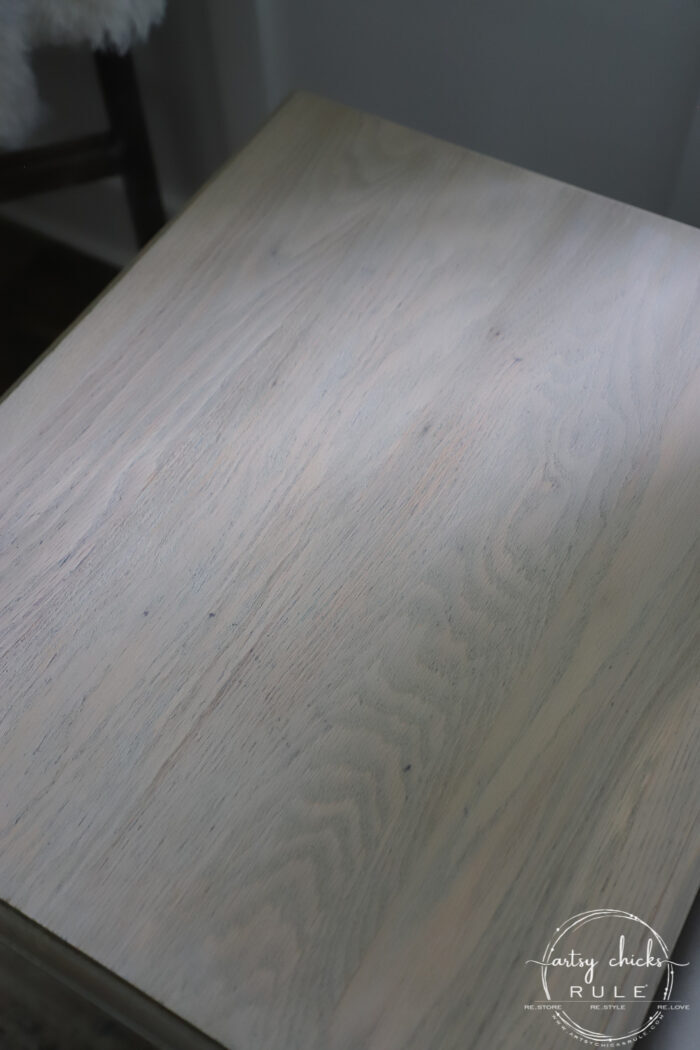 Isn't that the coolest?
I do think the key is using the "green" stain to help counteract all of that orange.
That's it! That's all there is to this process and no harsh, bleachy dangerous chemicals. Yuck.
SEAL – TOPCOAT
Once it was dry I finished up with two coats of Flat Out Flat (linked above in the box), sanding lightly in between with a fine-grit sandpaper. (I used 220)
Up close…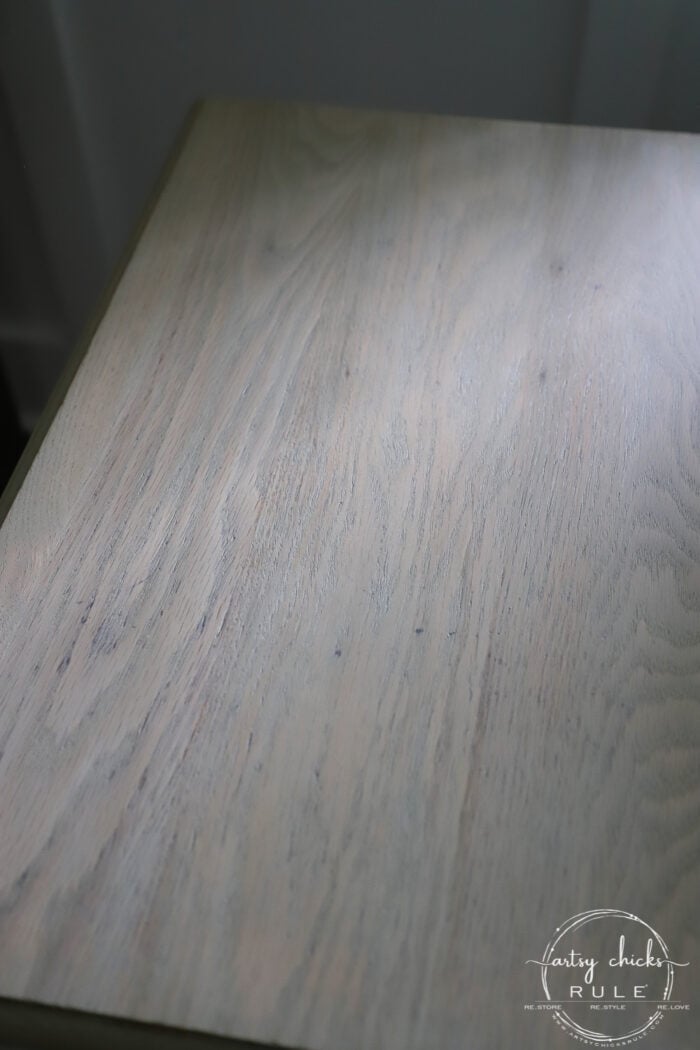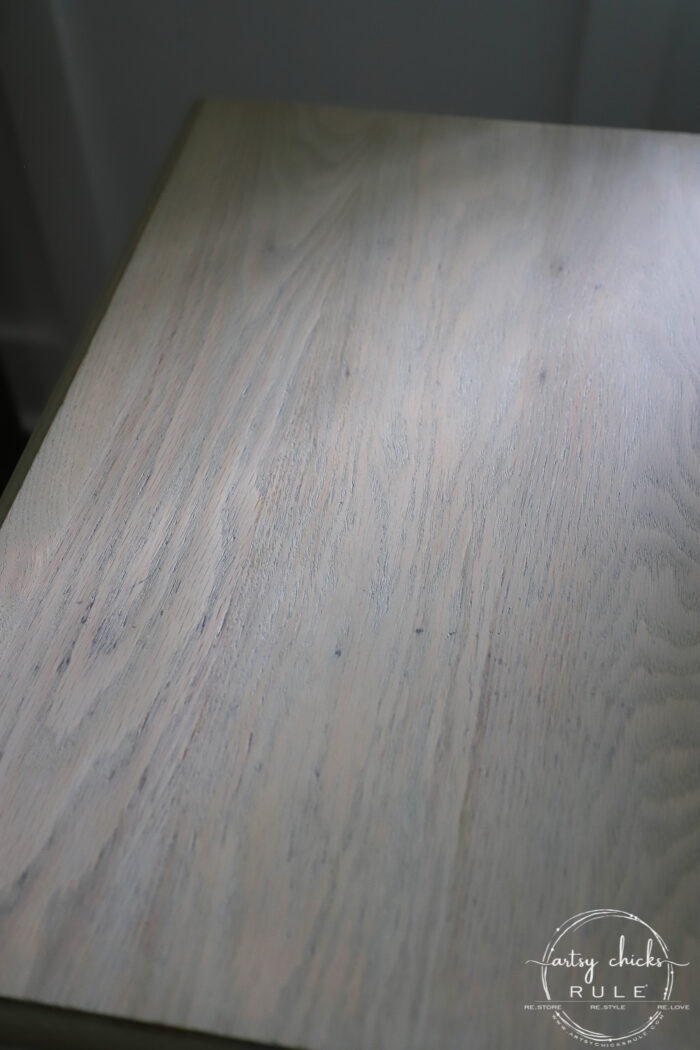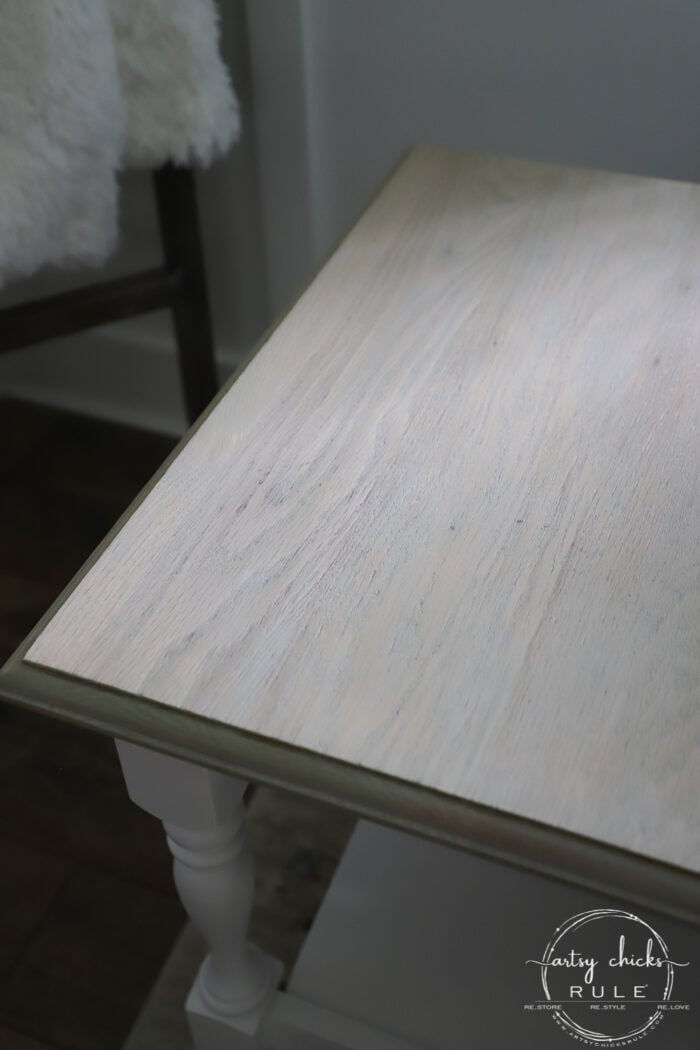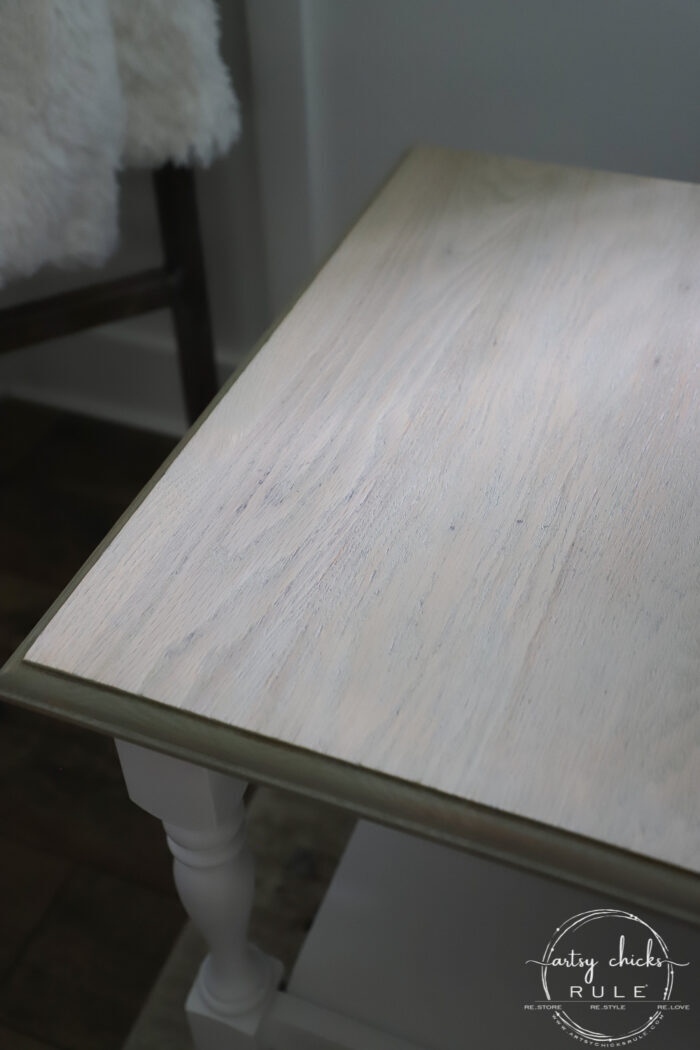 For the bottom, I simply sprayed it white with a satin finish spray paint. Easy!
Oh, and I also filled in these…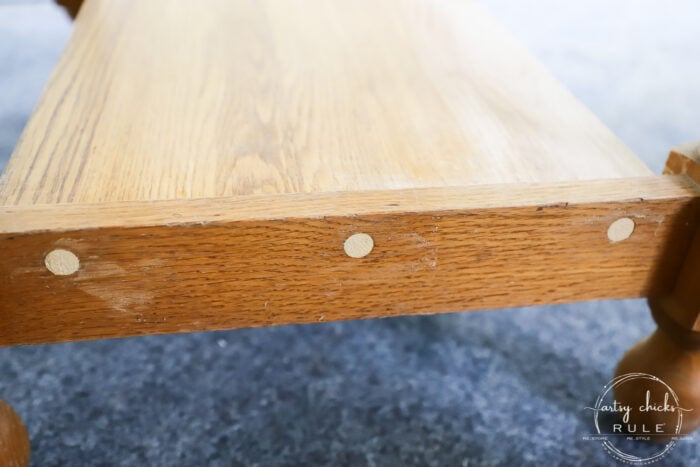 Much better…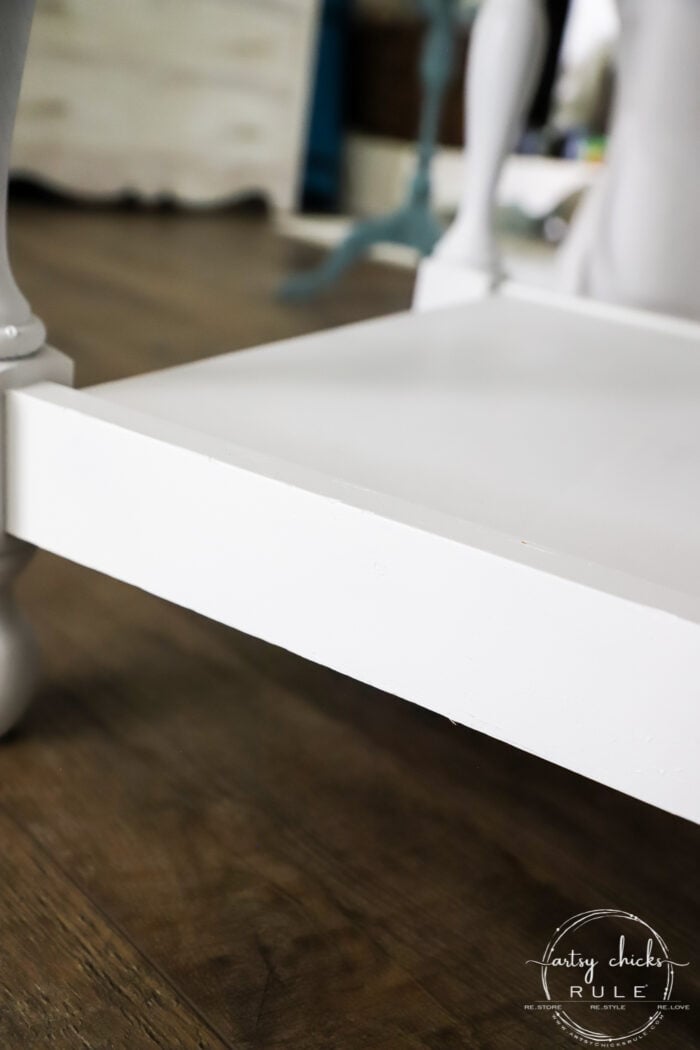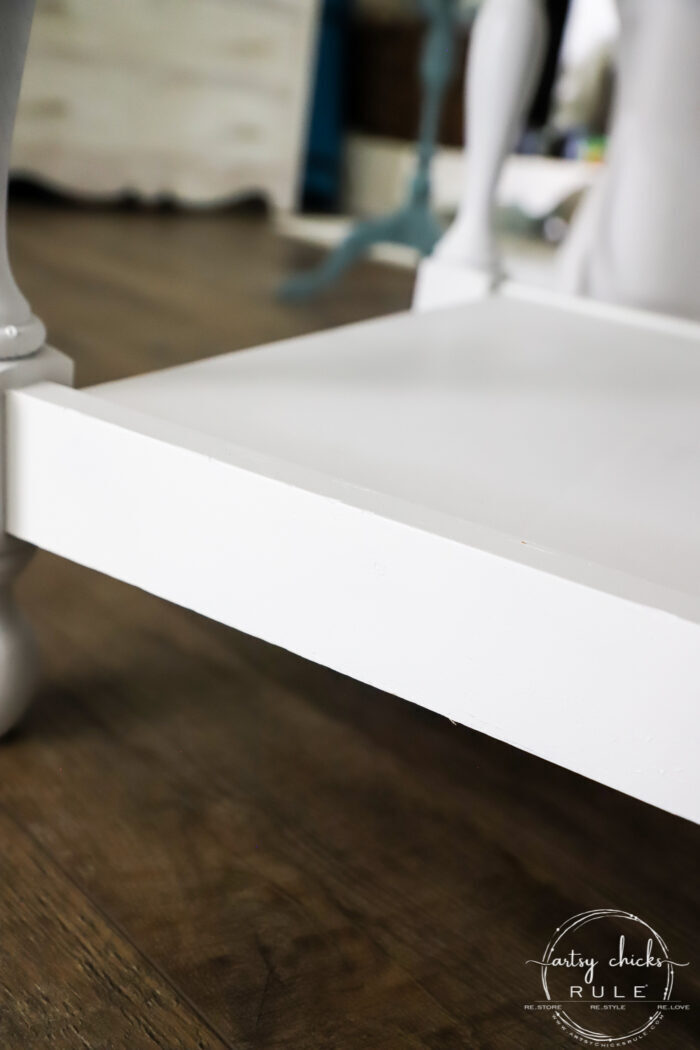 I love that this table has that bottom shelf. It's great for baskets and such.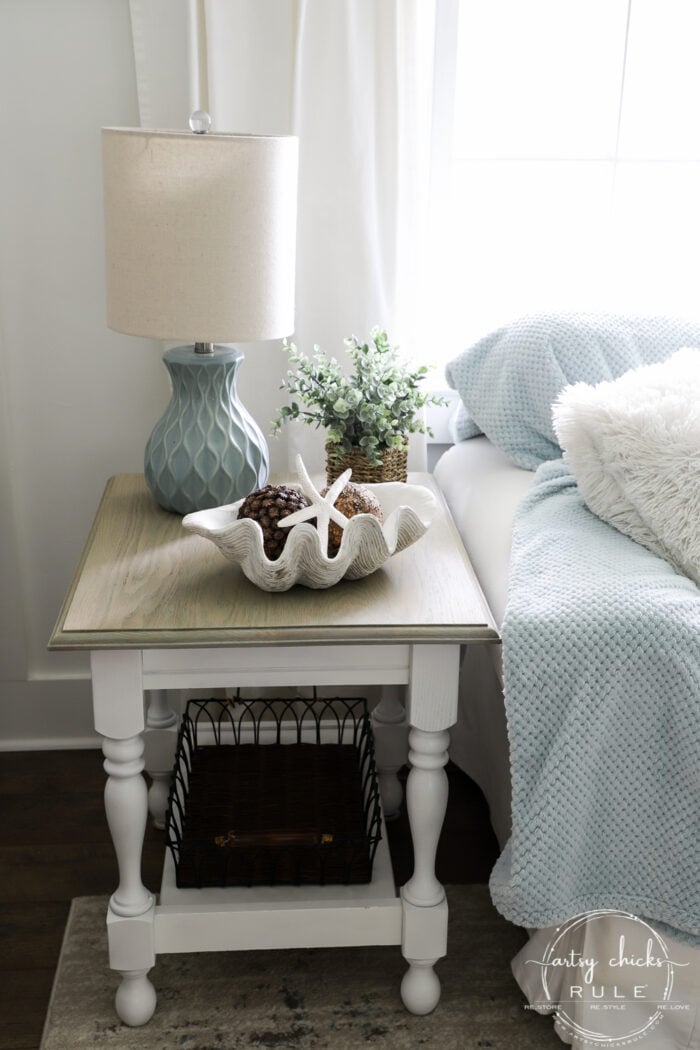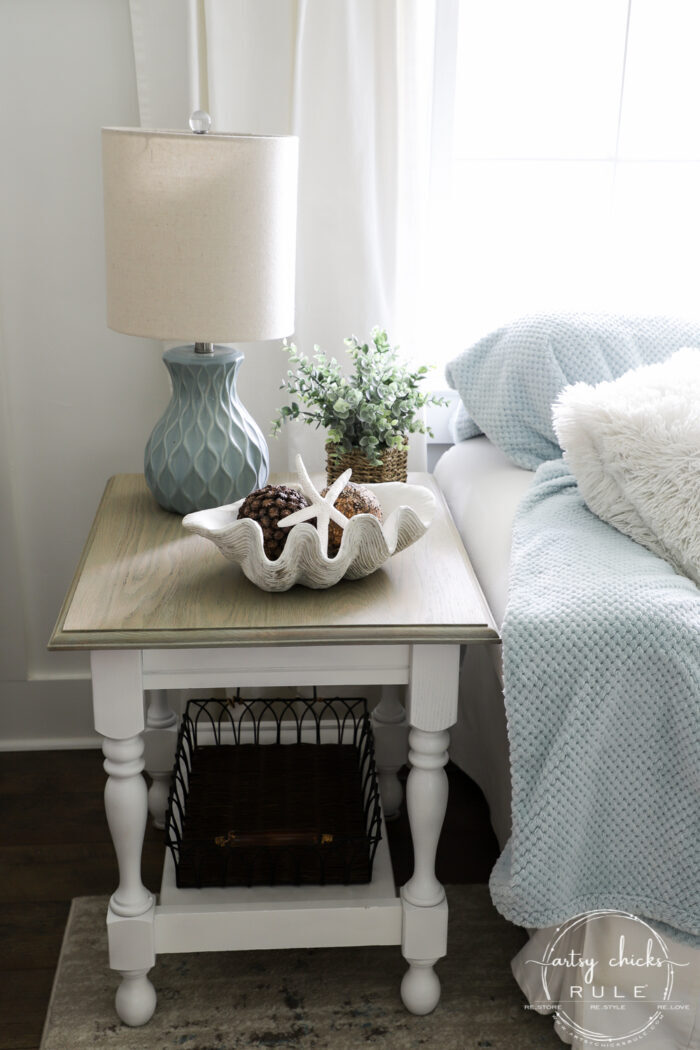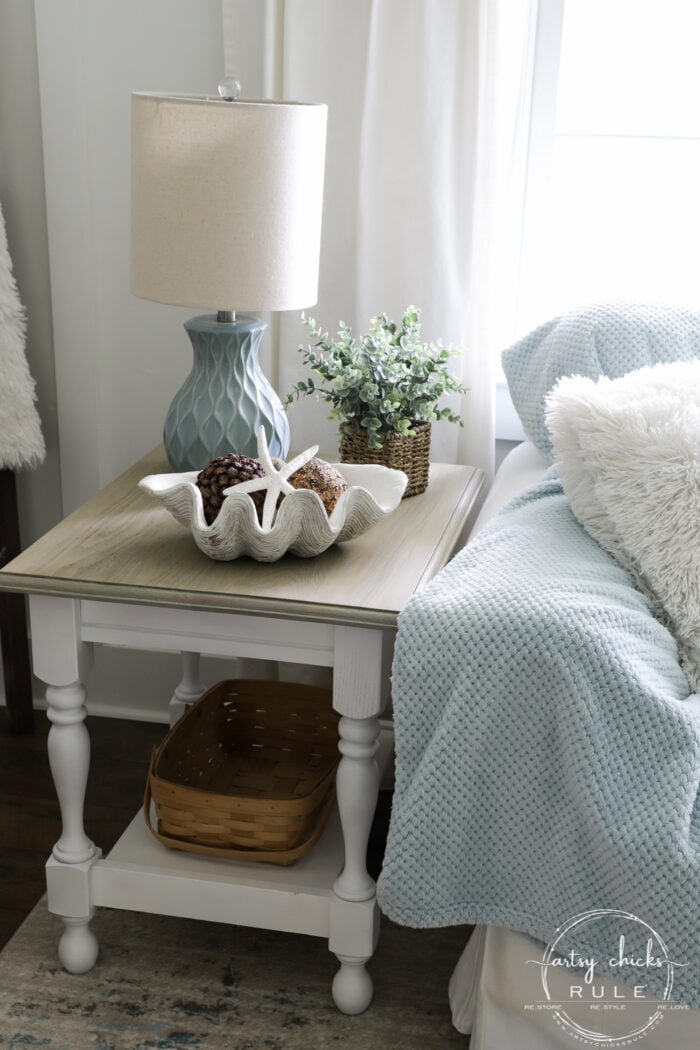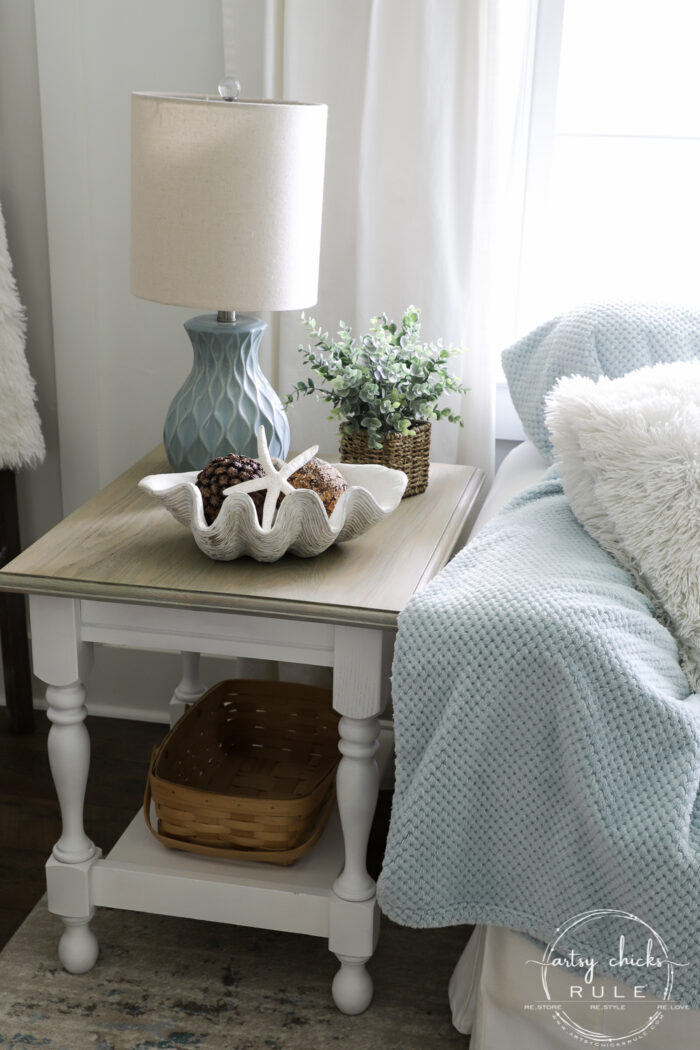 But especially great for our purposes because we are putting this on one end of our sectional at the beach house.
And that happens to be where the modem, etc., equipment is currently sitting on the floor. The bottom shelf will be the perfect spot to hold those items.
Update… you can see it here doing just that in our beach condo!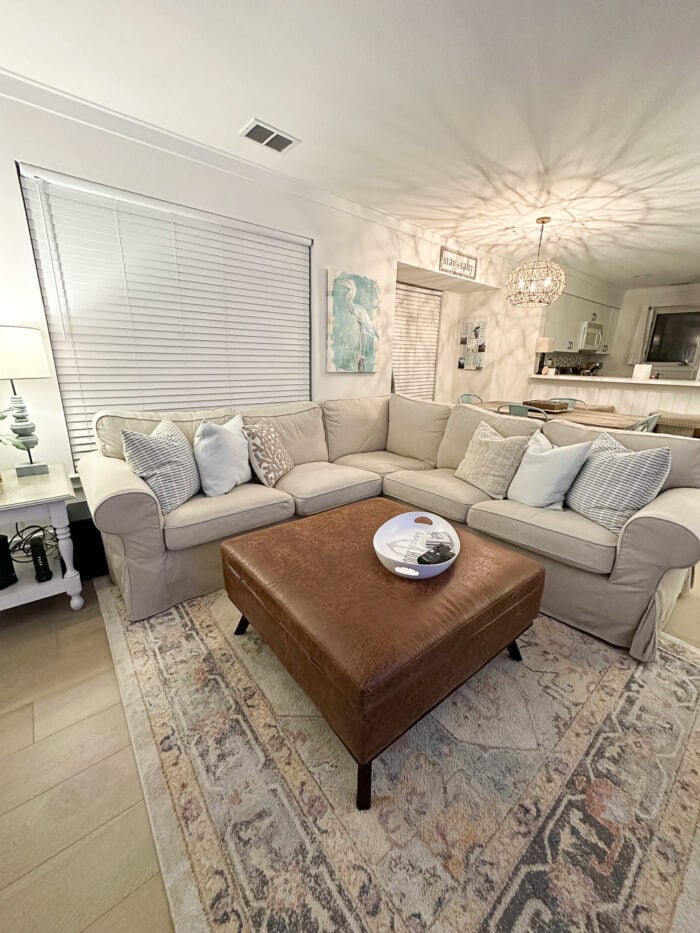 You can find this rug, here.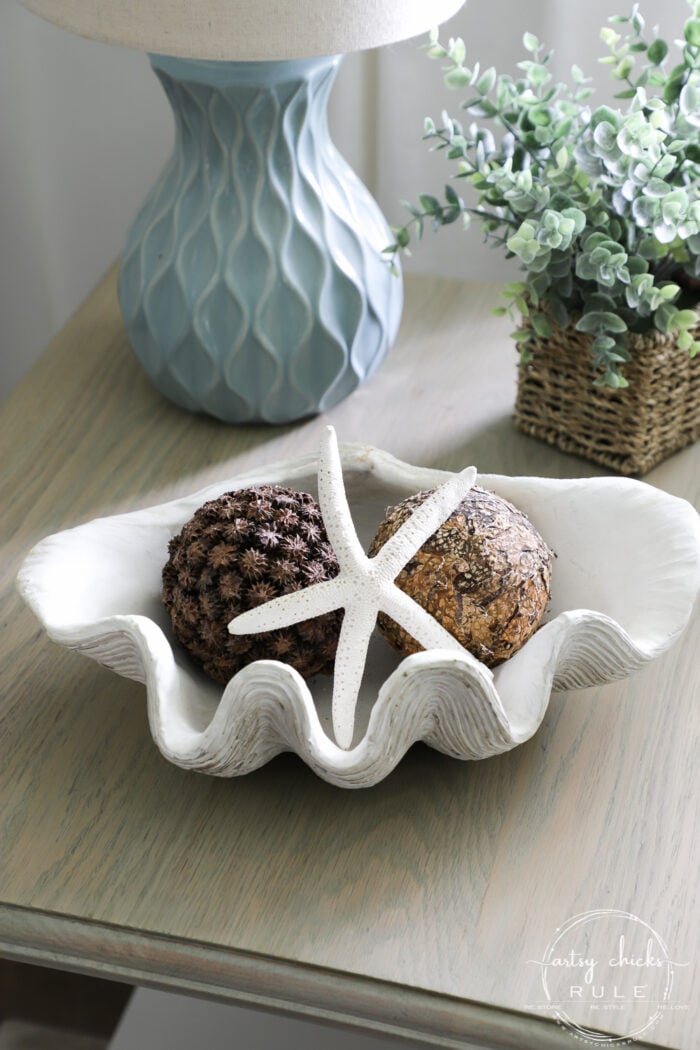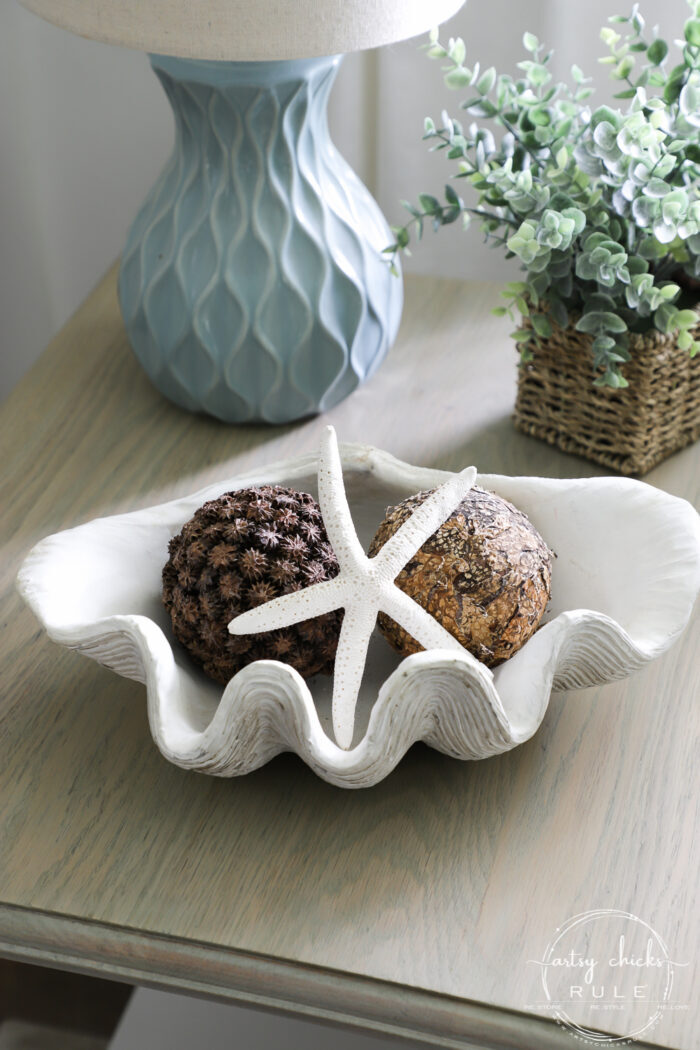 I can't wait to get it over there.
Watch for my Insta Stories because I'll be sharing a picture or two of how it looks in its new home. (see above!)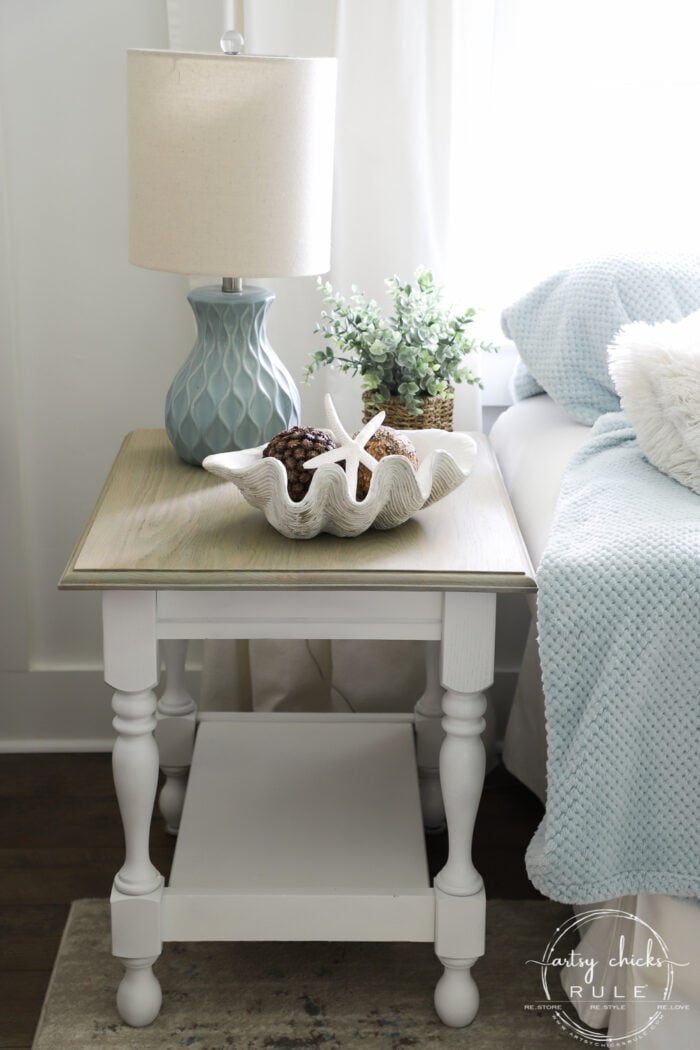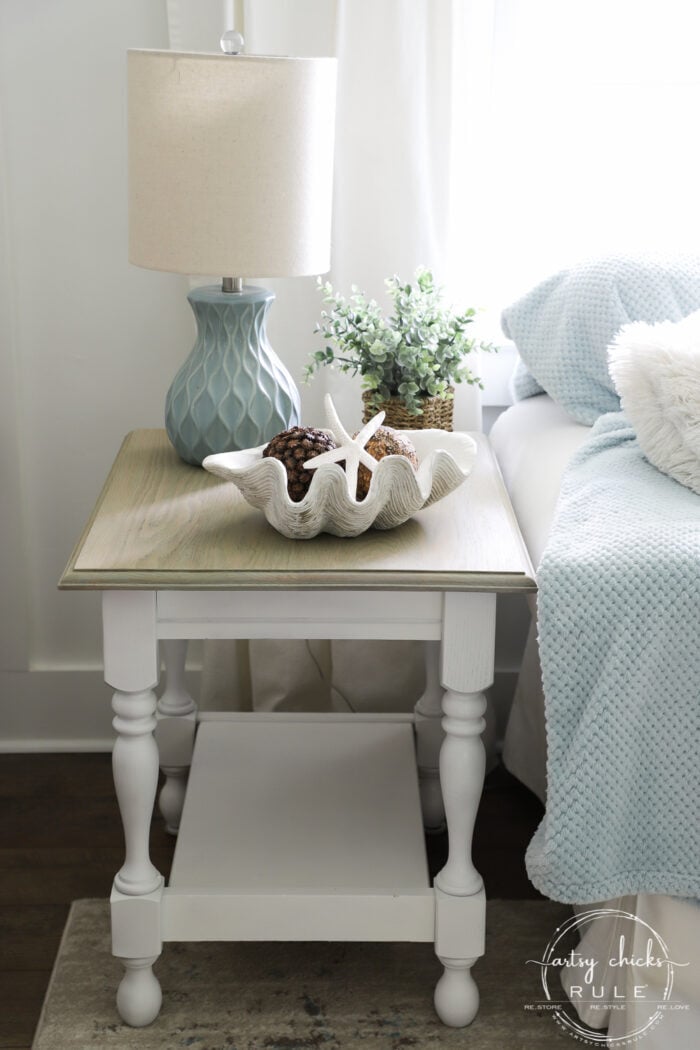 Have you considered trying "bleaching" wood furniture to give its old orange wood a new look?
Let me know! I'd love to hear about it.
More posts in the "back to basics" series:
PIN it to save it!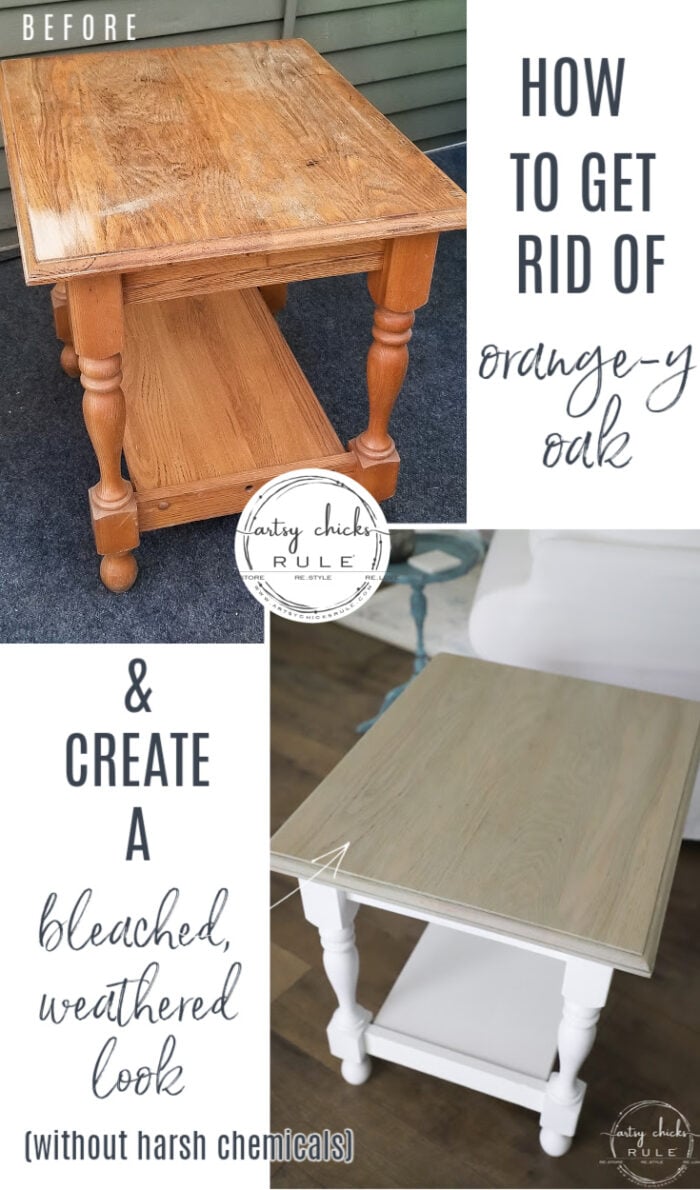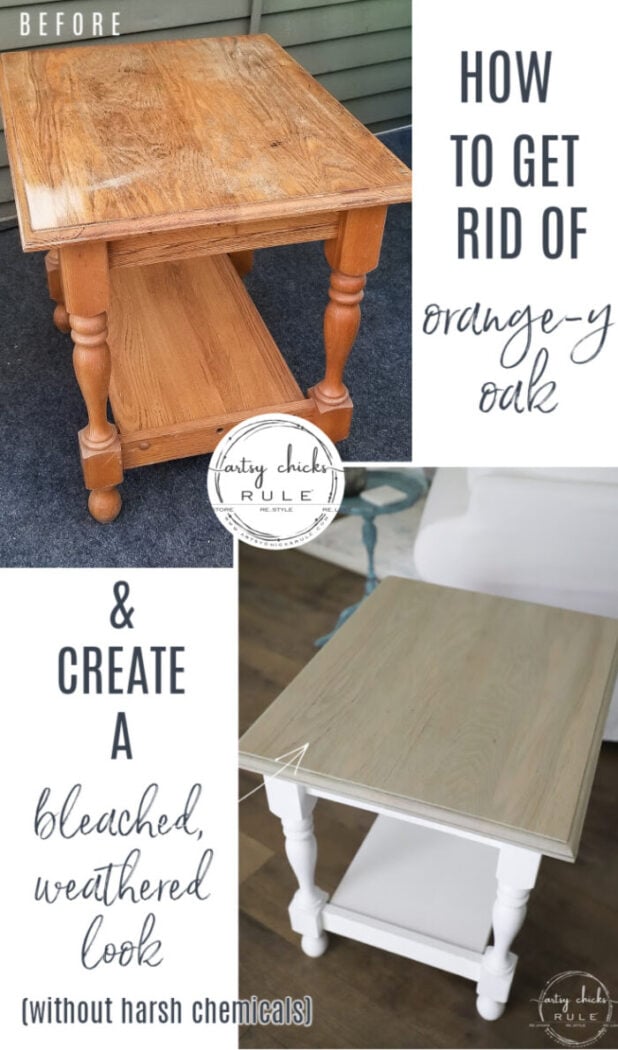 Missed any of the rest of the haul's makeovers? Check them out here:
Stay tuned for this one next…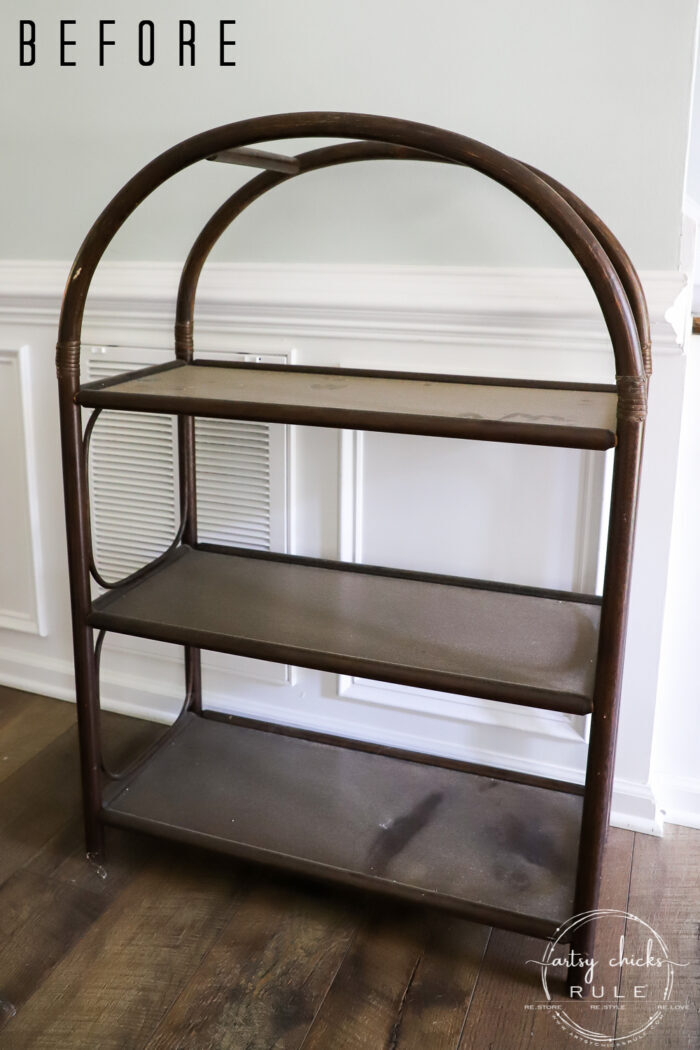 UPDATE!! See it now, here!
Hope you all have a wonderful weekend!
xoxo