Pink Rose Tray Makeover (with Prima transfer)
This post may contain affiliate links. Please see disclosures here.
What a difference a little paint and a gorgeous Prima transfer make! This pink rose tray is a stunner now.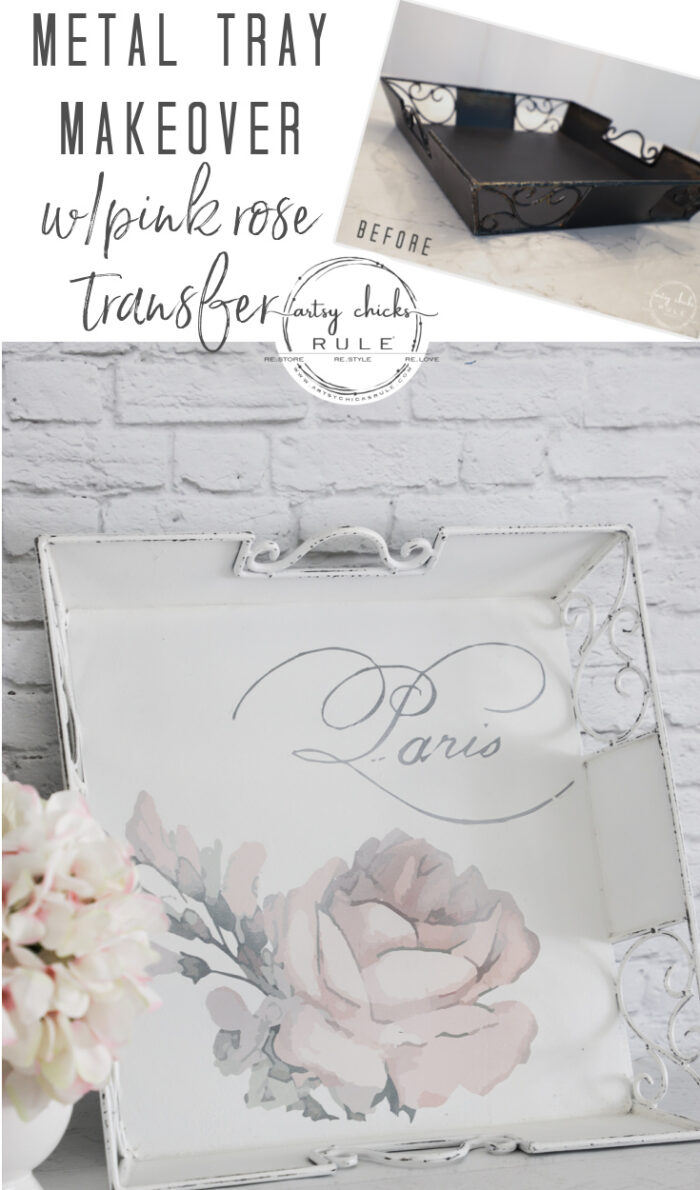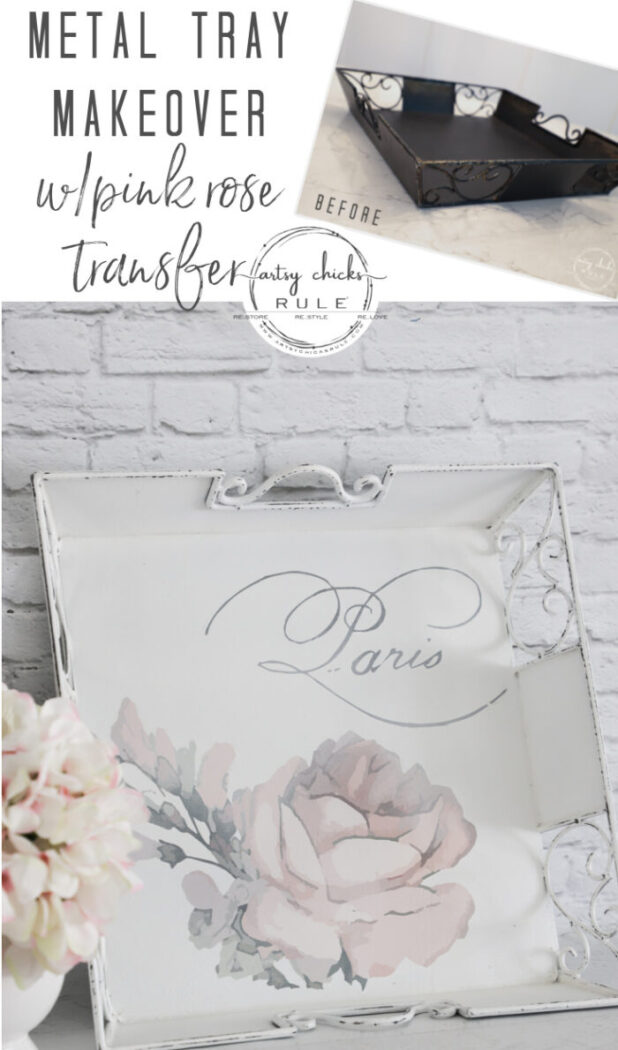 Hello friends! Happy trash to treasure Tuesday. :)
If you are new around here, a few friends and I get together every month to bring you our most recent "trash to treasure" projects.
So be sure to scroll all the way to the bottom to see everyones!
I hope you had a wonderful weekend. My husband and I hadn't been to our beach house for about a month so made a quick trip down to do a few things. Thankfully we did because we had a little water leakage out of the HVAC unit. And thank goodness is was just a clogged drainpipe. So…easy fix! Whew!
While we were there we went over some things we want to do (again, lol) and even a few things we've decided not to do. But more on that later. We are still going to put in a new kitchen and new flooring though. The newest "thing" we've pretty much decided to do is…well…you'll just have to go over and watch my stories on Instagram to find out!! haha (click here and then click the tab named "beach condo" to watch…it's all the way at the end of those so click through if you've already watched the older ones) THEN…leave a comment below here to tell me what you think, good idea or no?! ;)
Okay, so you guys know I went thrift store shopping last week and put together a brand new haul.
This one…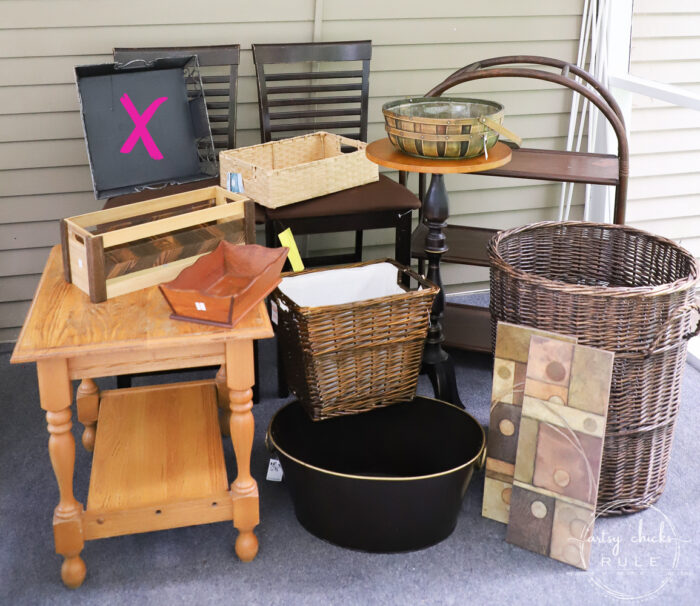 I actually got FOUR bar stools but just didn't put them all in the picture.
Plus lots of baskets, a super solid wood end table, plant stand, shelf, wood boxes, metal bucket, wall hangings, and a metal tray.
Today I'm making over the metal tray.
Pink Rose Tray Makeover (with Prima transfer)
Here is how it began…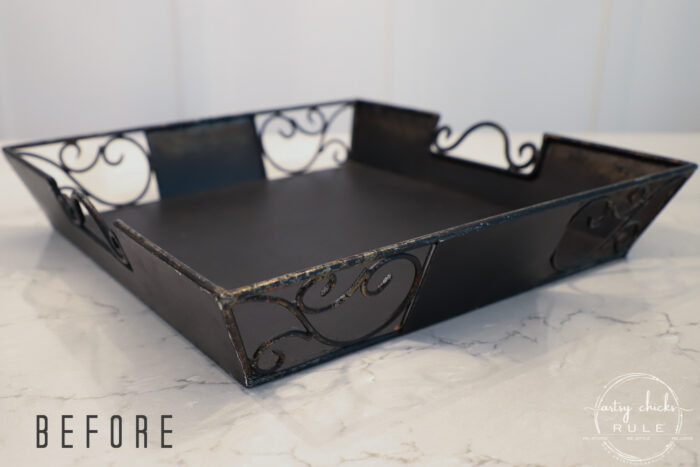 I cleaned it up and painted it white with white satin spray paint.
Then I filled in all the cracks with white caulk.
Simple!
Next, I pulled out what I had left of this Prima graphic. (also linked in the Materials List above) and cut apart the rose and the word "Paris"…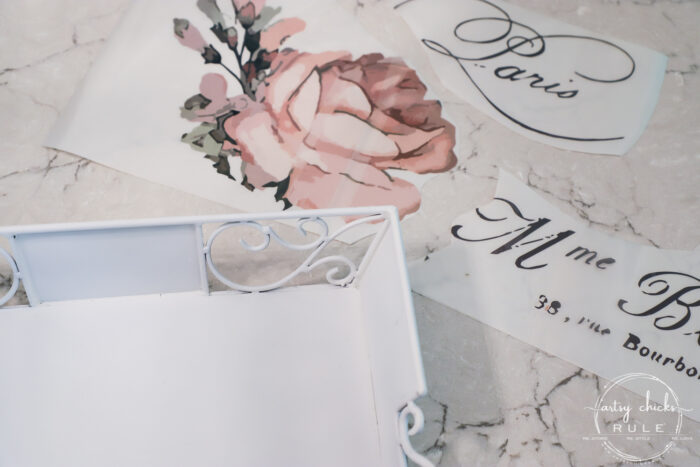 See how much better the seams look once caulked? When it's black you really can't tell but once you paint something lighter, like white, you really should consider it.
You might remember I used the rest of this transfer on these two projects:
Then I applied the transfers to the bottom of the tray.
I decided to soften this one up a little. I pulled out an old, shimmery spray paint I have had for years. (it's discontinued but I put a similar on in the materials list box)
Then I lightly sanded all the edges to bring the black underneath through for a slightly distressed look.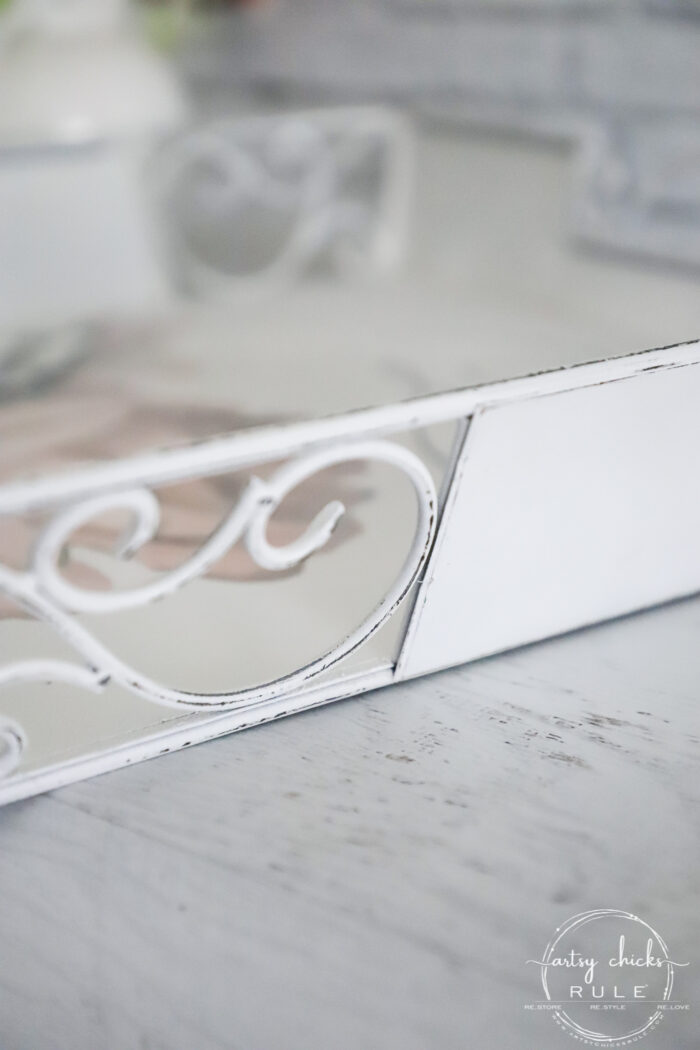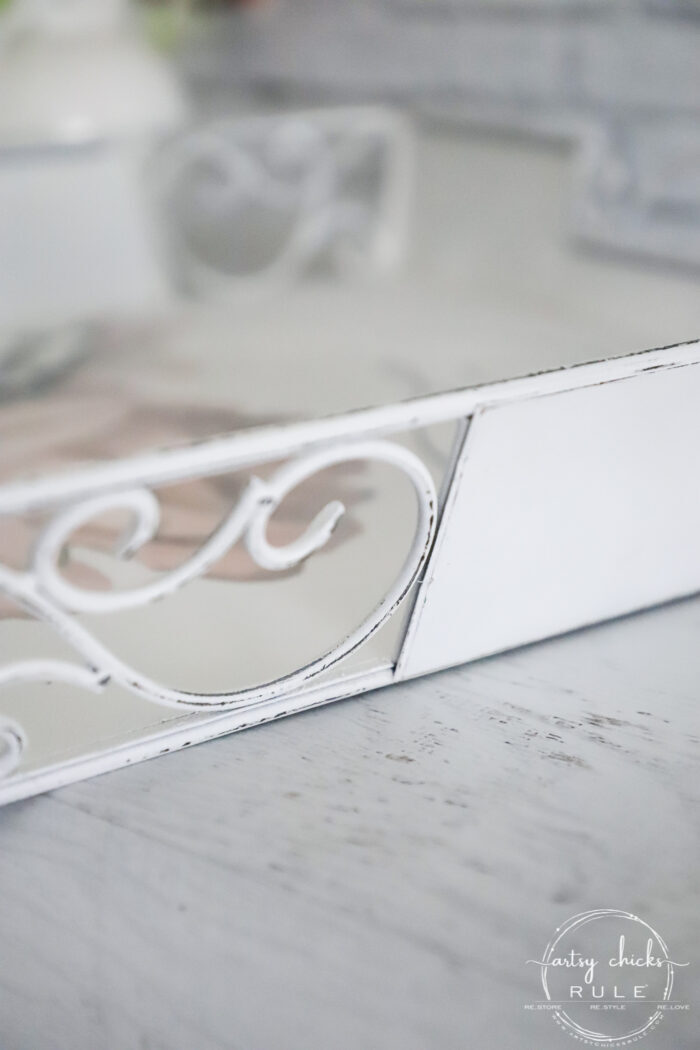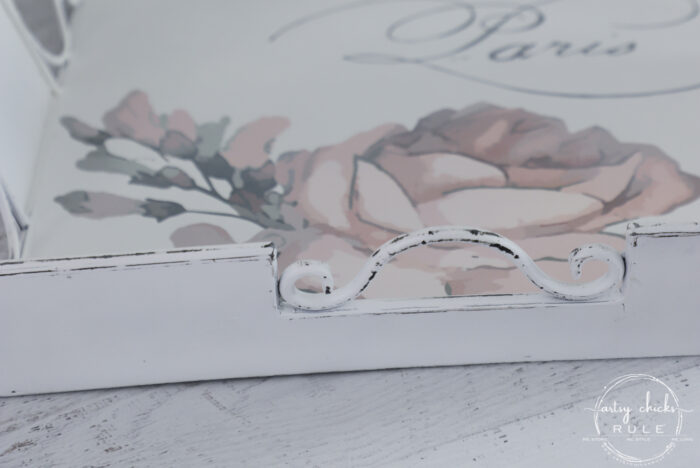 And finally, I sprayed it evenly over the whole thing to give it some shimmer and to make it a little more opaque.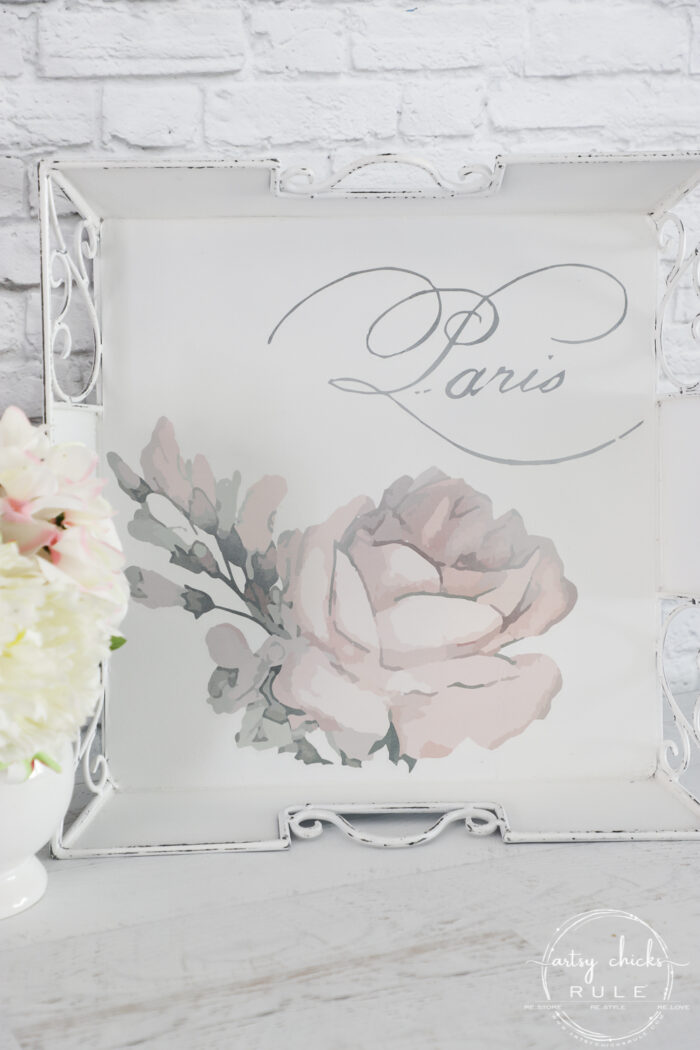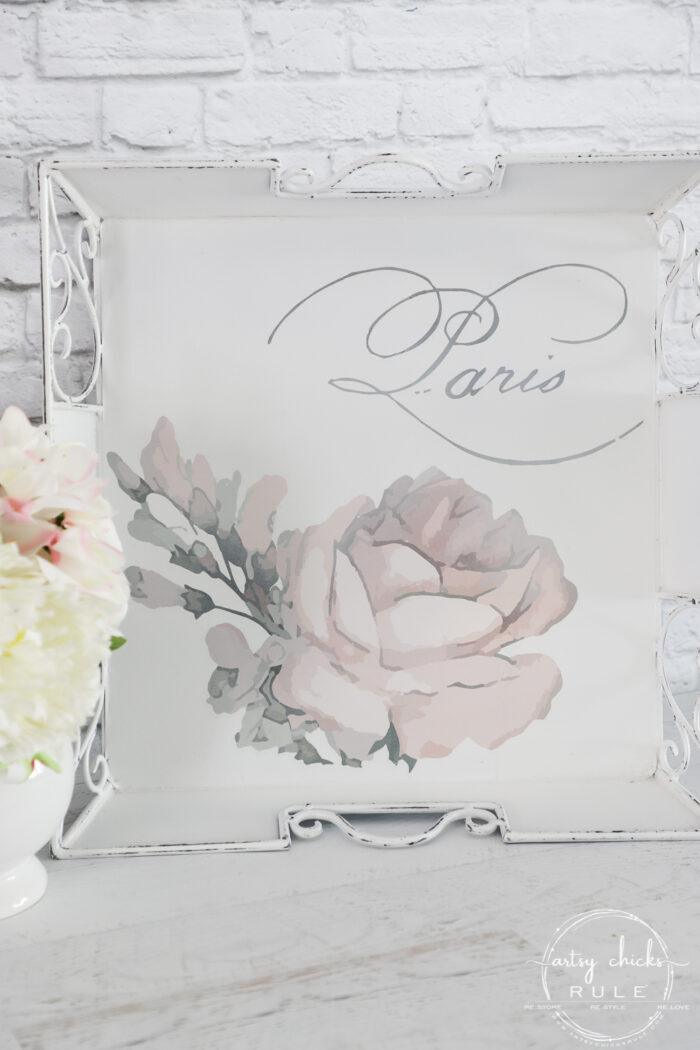 It really softened the look of that transfer.
I like it both ways but this is just something a little different this time.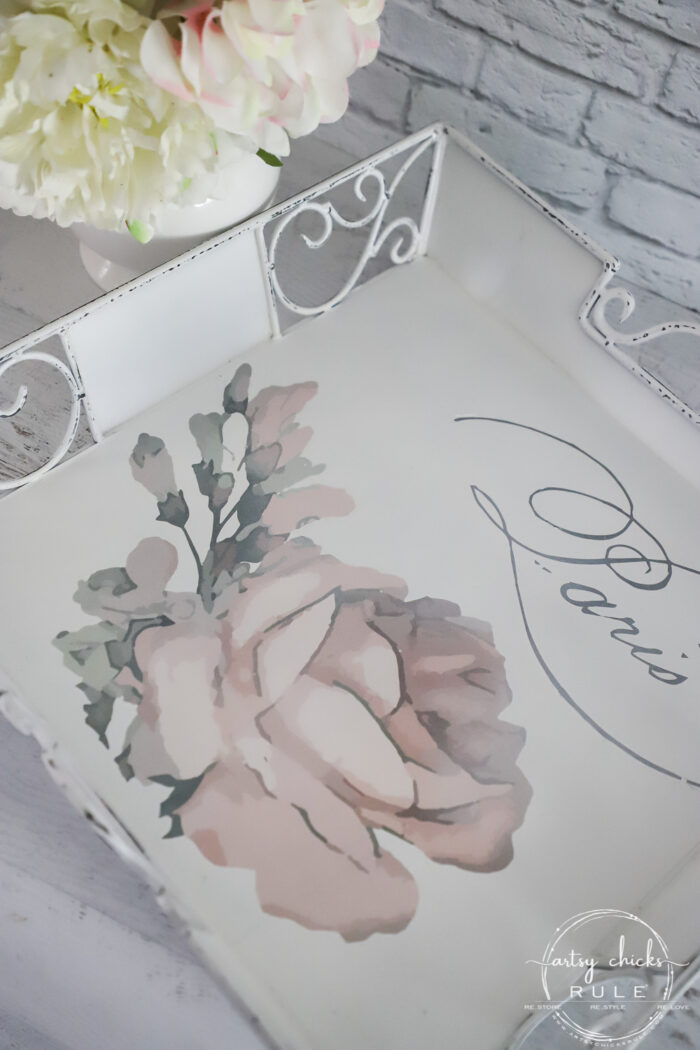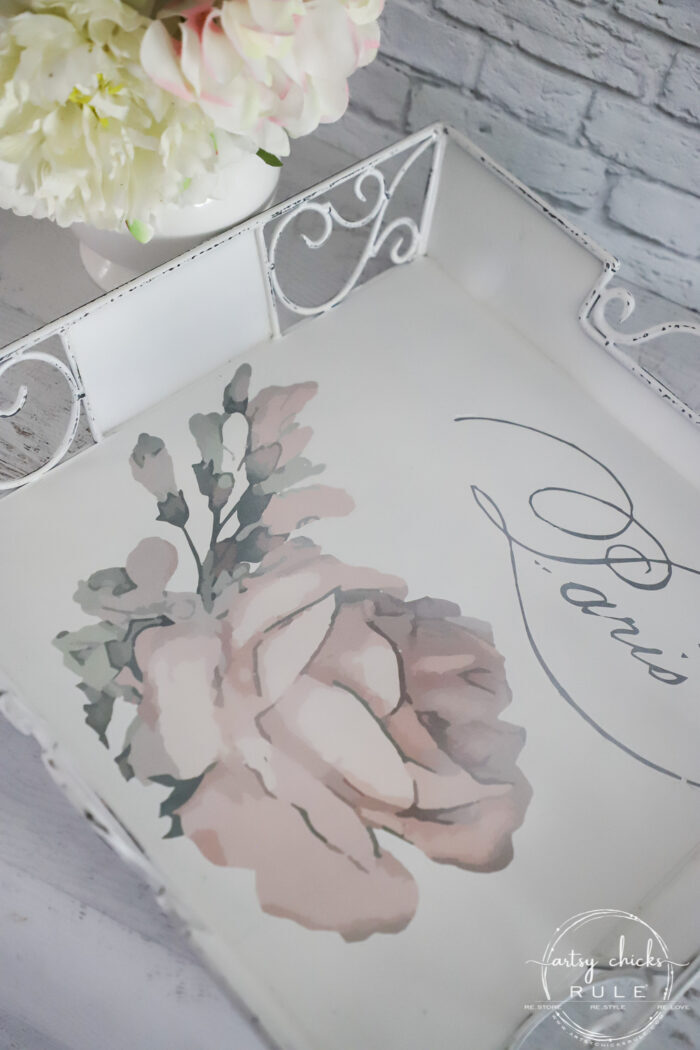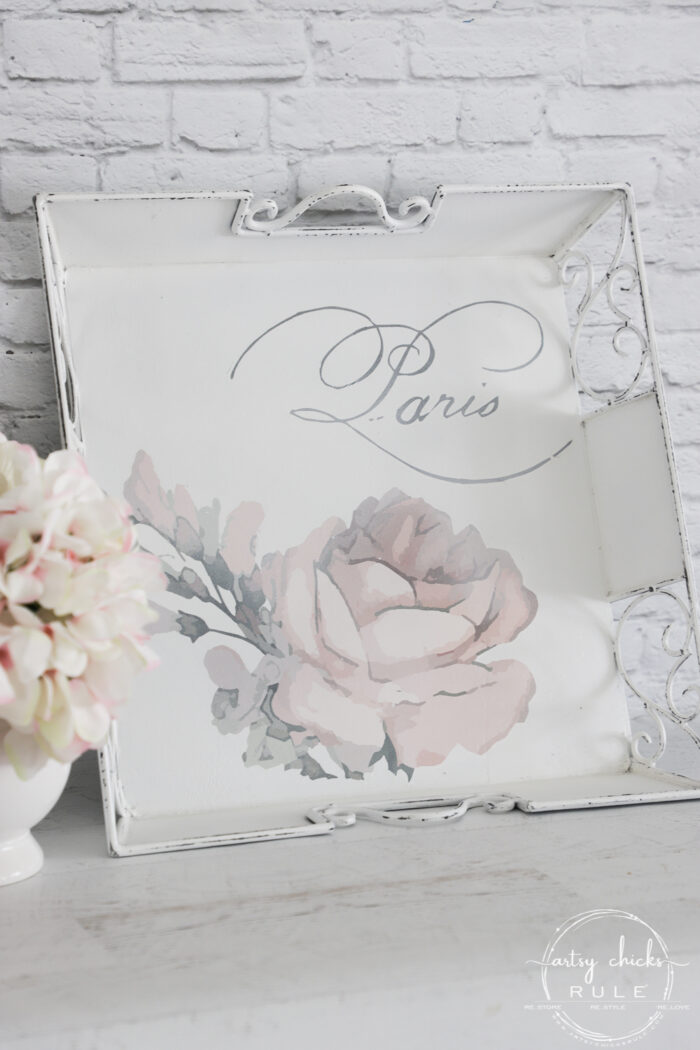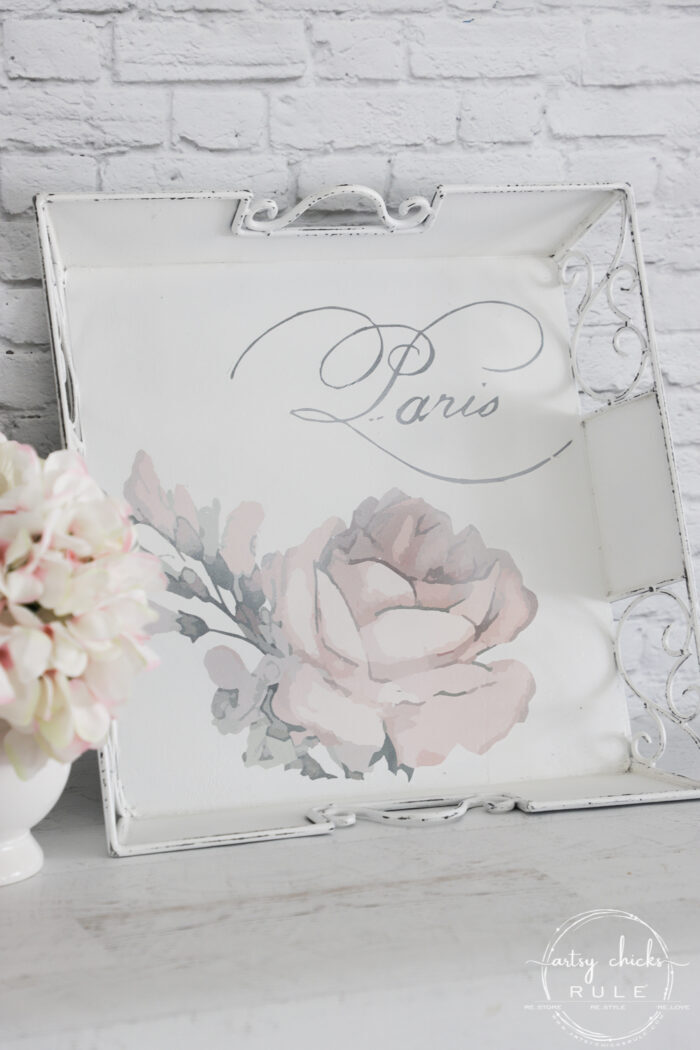 Simple is the name of the game today! This one certainly was. Prima transfers really transformed this old metal tray turned pink rose tray stunner.
PIN it to save it!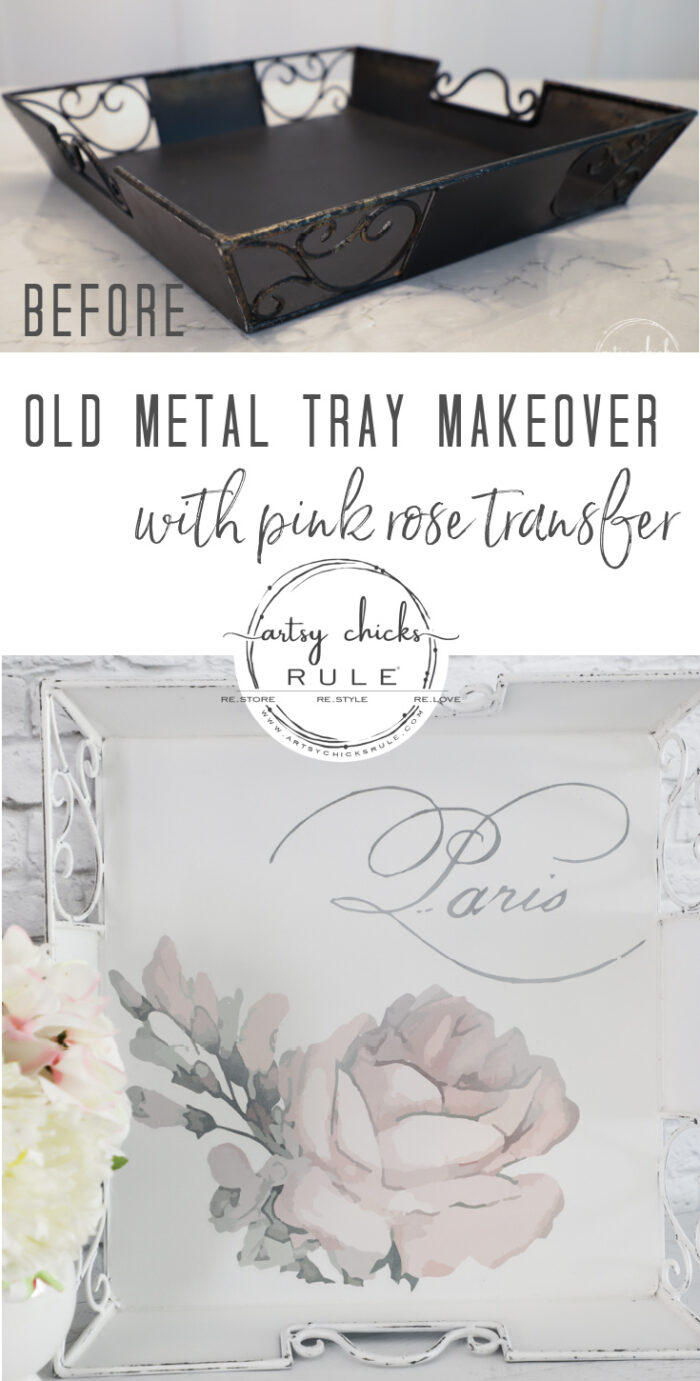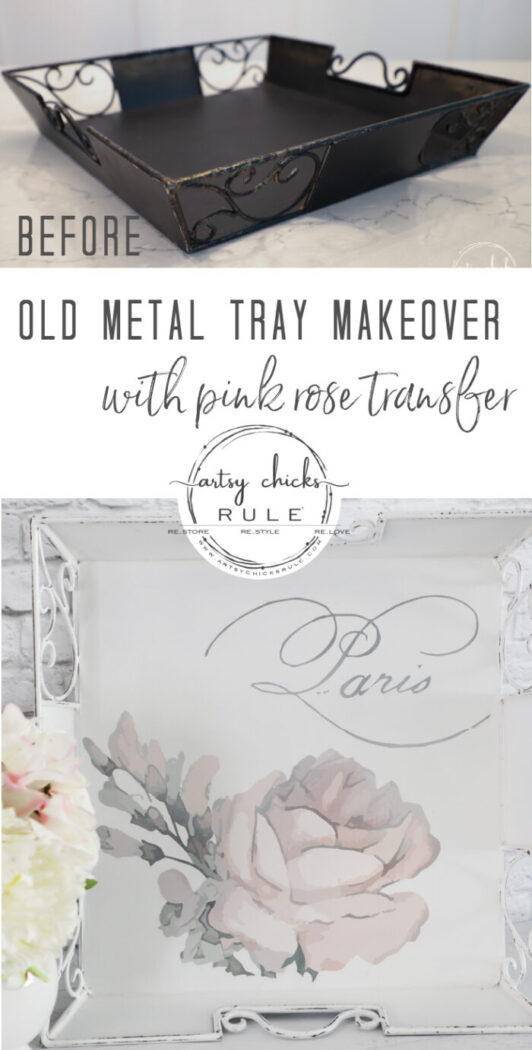 Don't run off just yet! Check out what my friends did with their trash to treasure makeovers this month: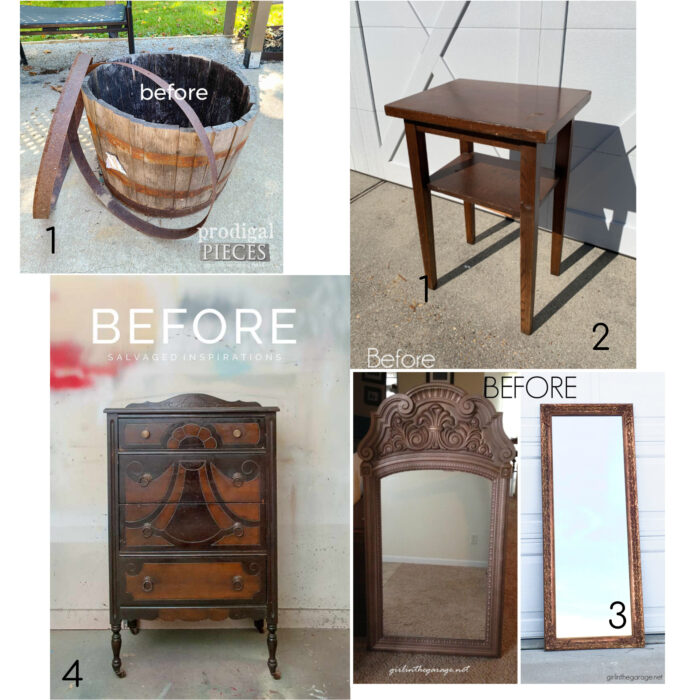 I hope you enjoyed these fun new makeovers today. I plan to be back on Thursday with this oak table set from my previous haul…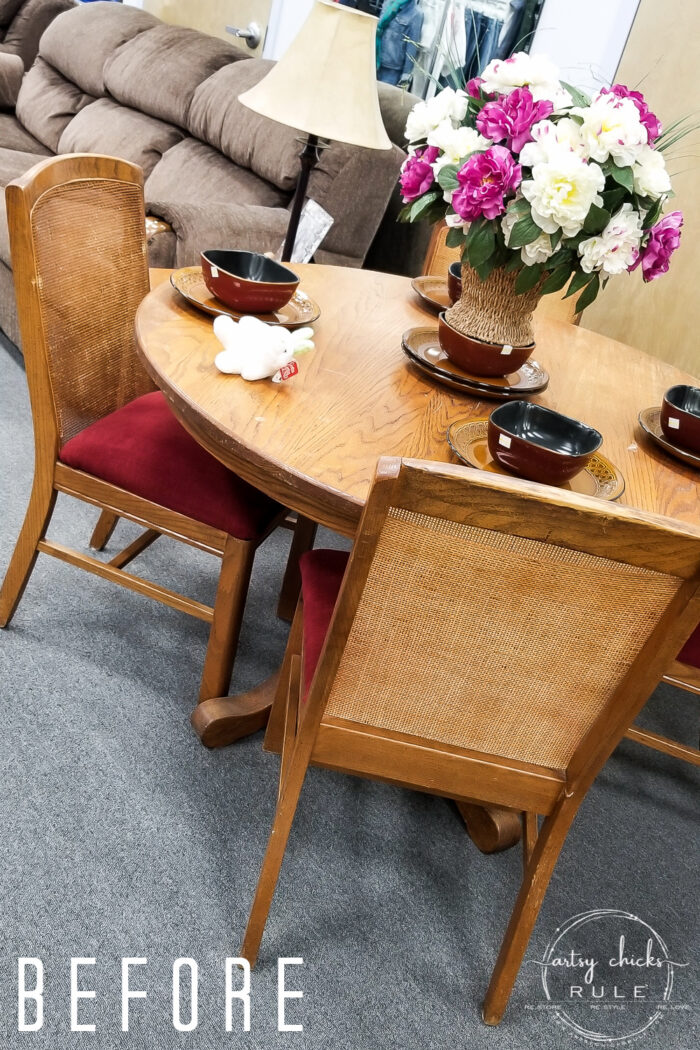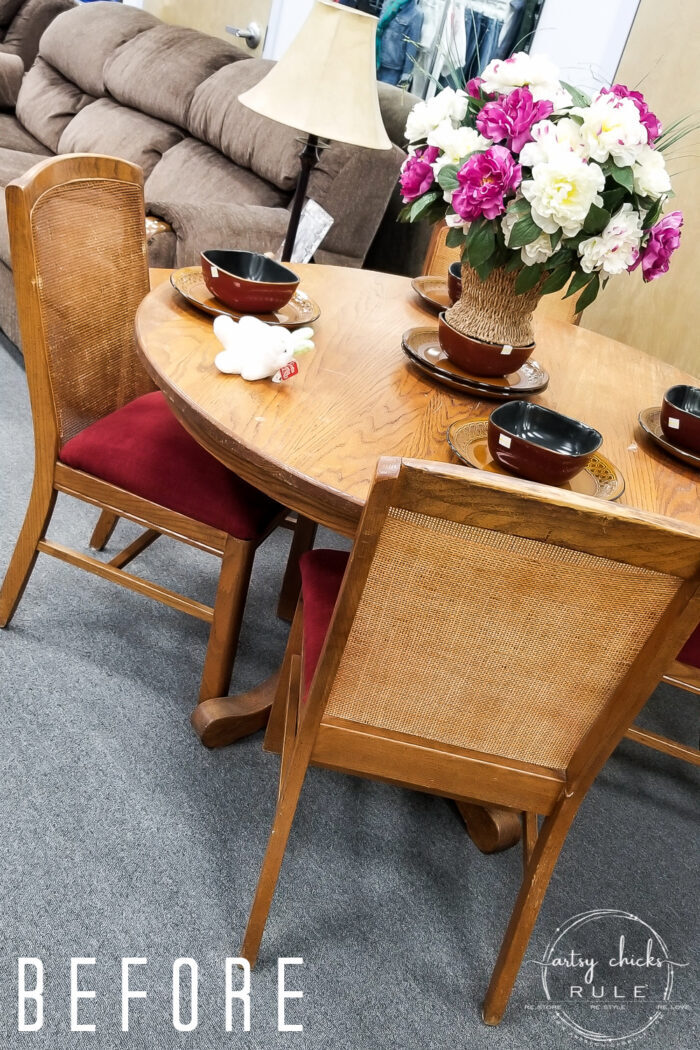 …crossing my fingers I can get it done in time!
Missed any of the rest of the haul's makeovers? Check them out here:
xo