Aqua Plant Stand Makeover
This post may contain affiliate links. Please see disclosures here.
This $10 thrift store aqua plant stand got a brand new look in a really simple way! A small change in color with paint makes all the difference.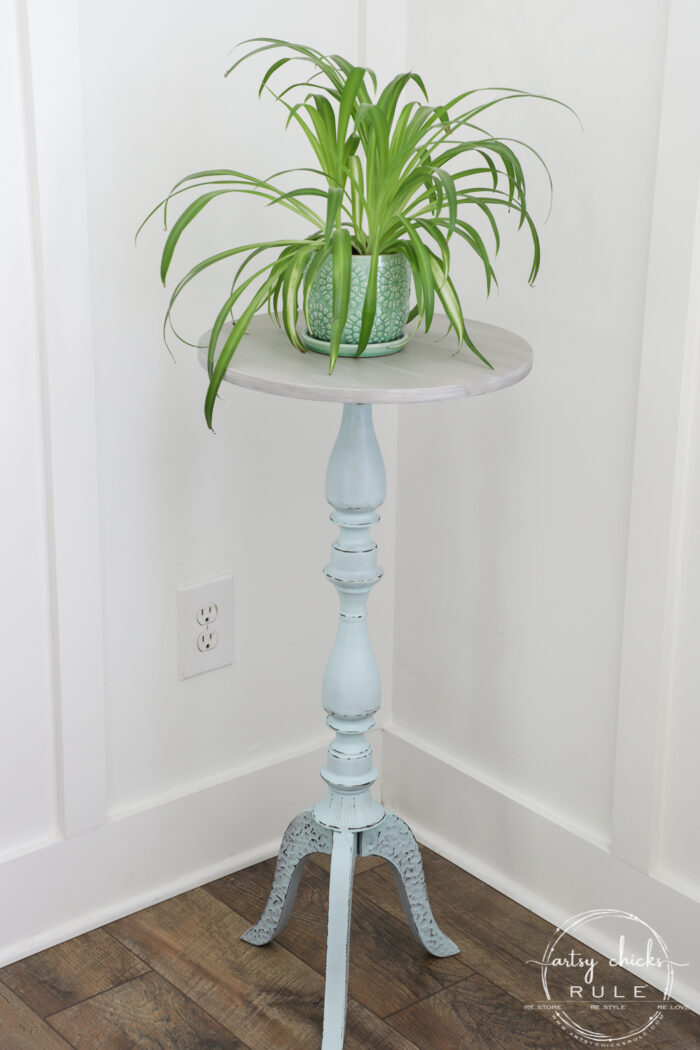 Hello beautiful friends!
I know, I know, that is not an oak table set. Sorry!! I tried, I really and truly tried. AND if you watched any of my Instagram stories over the last few days you know this. And you also know my sweet hubby came to the rescue and took over sanding for me. :) It was being a bear!
I knew there was no way I'd be able to get it done without totally rushing through it and I want to get it right. SO…I decided to hop on this other project while my sweet man sanded and got the table ready for me.
And about the table, I *think* I'm going to hold off on sharing it until I get my screened porch cleaned up with its new look. It's so big and heavy I don't really want to have to move it inside to photograph it if I can help it…but I may. We'll see. (by the way, I'm keeping this one and it will stay on our screened porch)
This is the other project that I got to work on…a plant stand I found on my latest thrifting trip.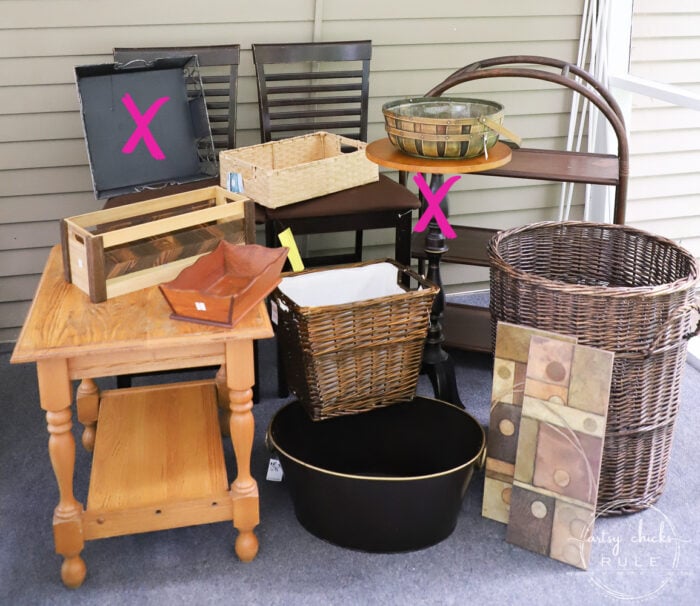 Aqua Plant Stand Makeover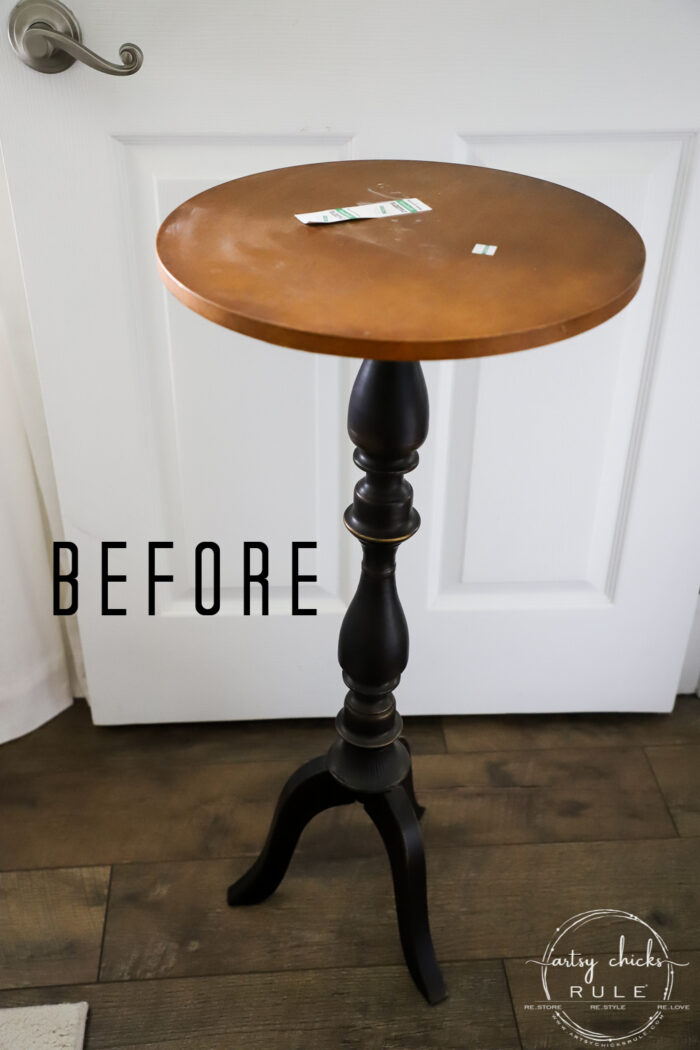 It was $10.
The base is a bronze metal which is pretty and could've been left as is. The top eh, not so much.
For the base, I thought a pale aqua would be really pretty. Especially with that dark bronze showing through.
And I just happened to have picked up a really pretty aqua spray paint last week. (it's linked in the materials box below)
I sprayed two coats and then lightly sanded once it was dry.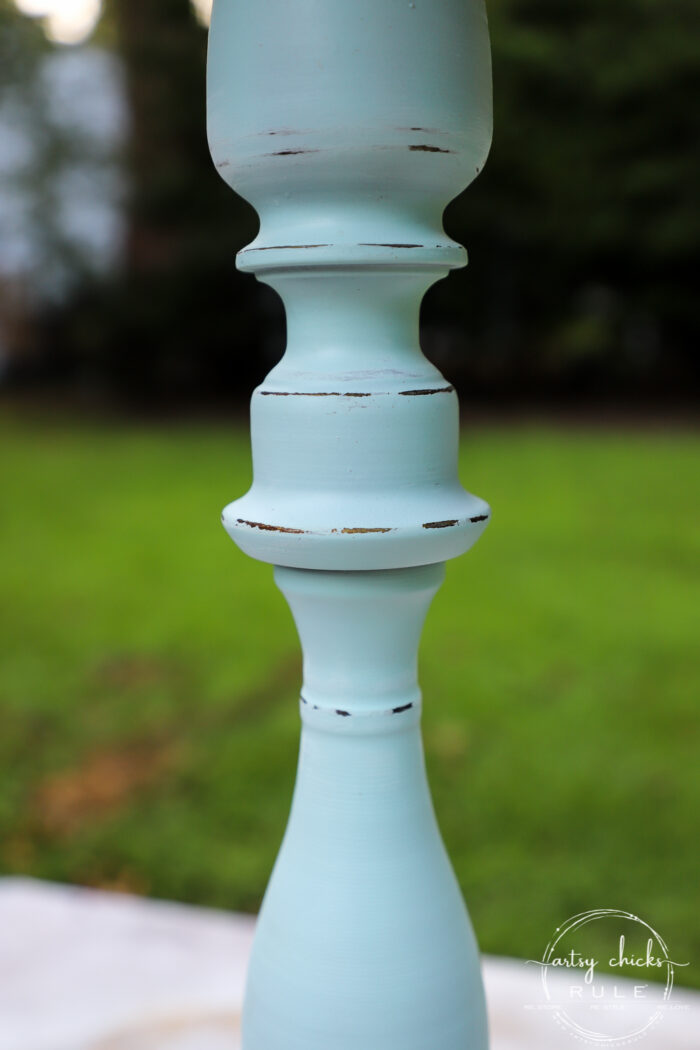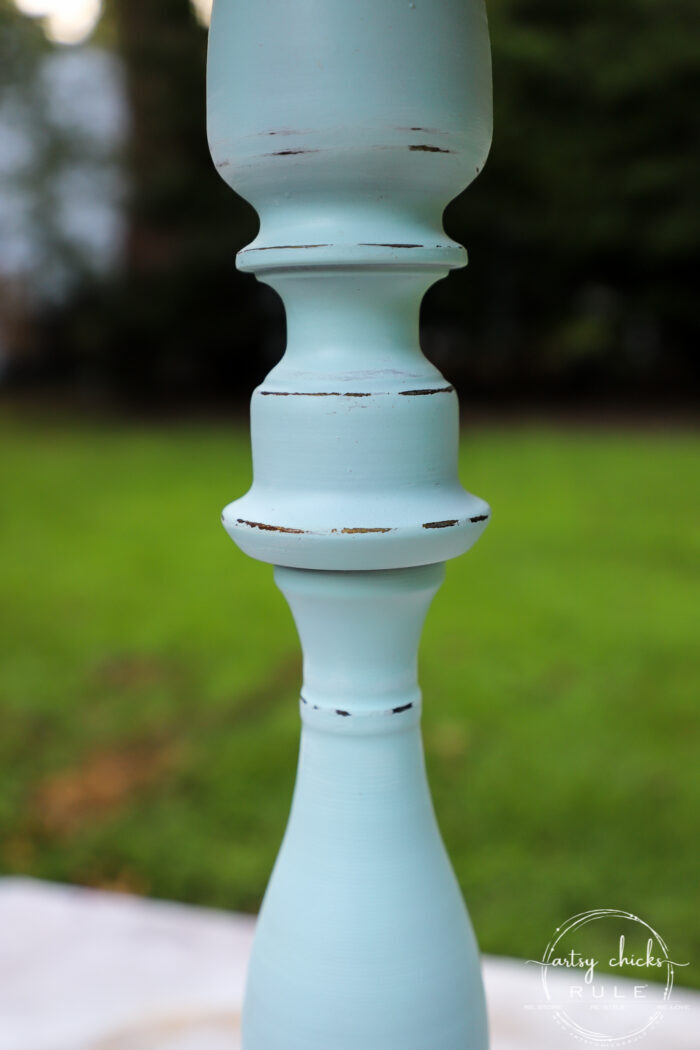 For the top, I cleaned it (and cleaned and cleaned and the orange kept coming off)…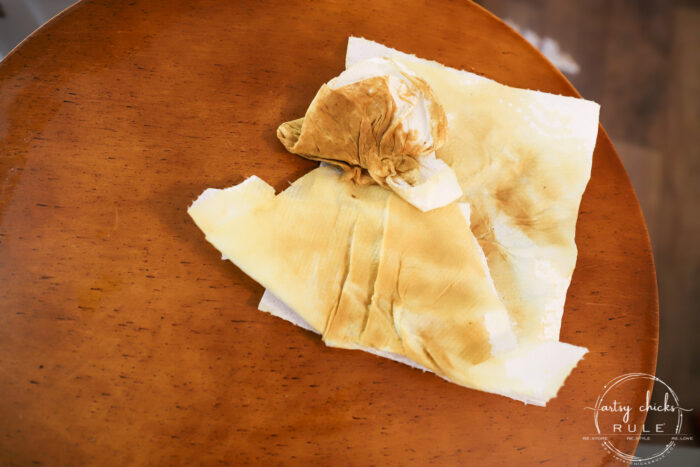 …yuck.
I sprayed it with a light coat of French Beige (it's a good "faux wood" base).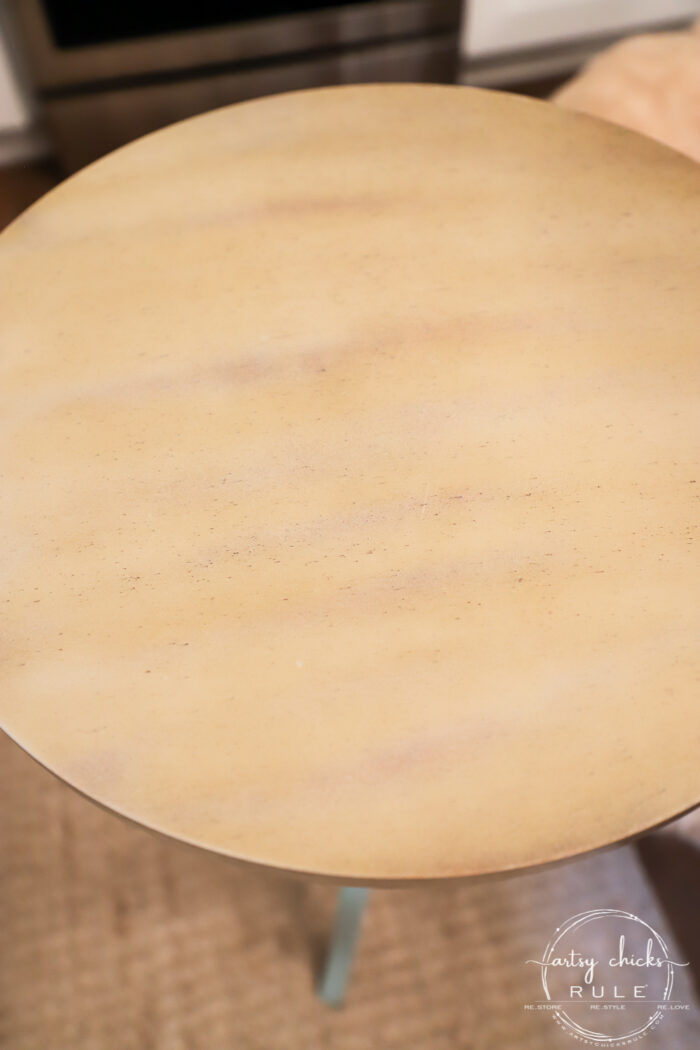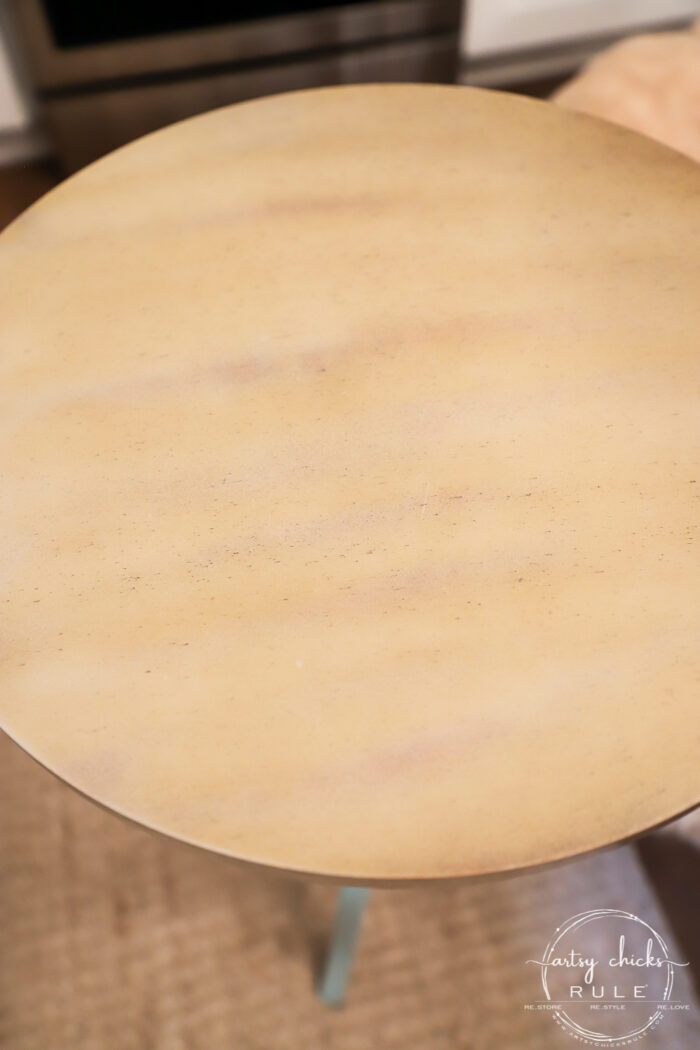 I ran out of that particular spray paint color but kind of liked the not "fully covered" look so went with it. (see above?)
I did, however, noticed the orange bled through a bit. Ugh I hoped it would be okay with more coats of paint that I planned.
So I continued on with my "faux weathered wood" look.
You can see more of how I do this technique in >>> this post.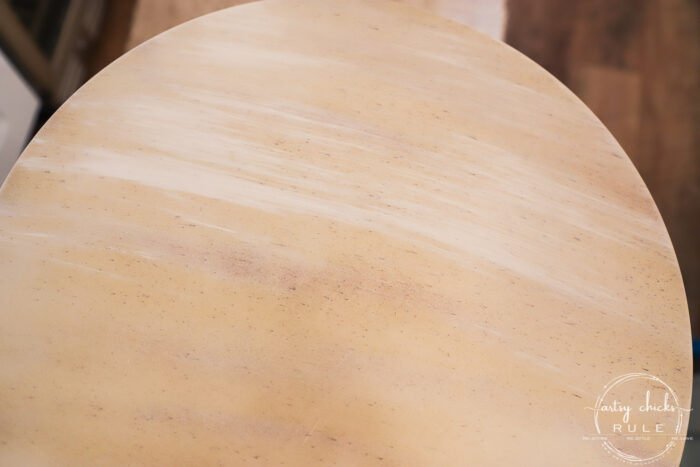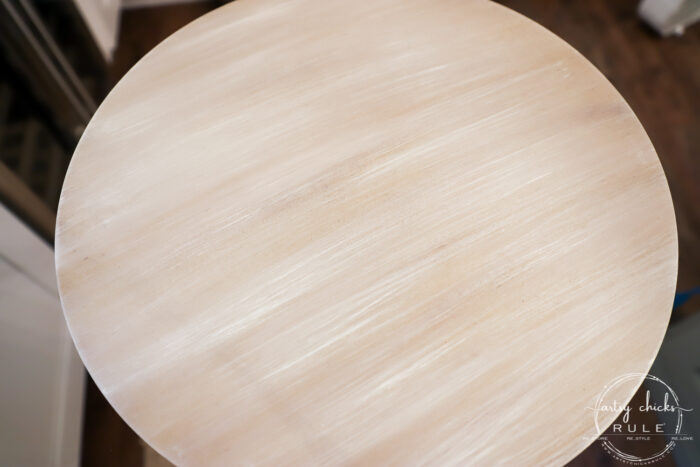 Looking pretty good…until I started spraying on the sealer topcoat.
It turned orange! What a mess.
So I sprayed it with white primer and started all over. Since I didn't have any of the French Beige left, I used the color I mixed up to paint the cane backing on my table set I've been working on. It was the perfect color, sort of like a taupe shade.
Now that it's finally all done…again, I gave it a light spray of a matte topcoat. (that was a little more shiny than matte, in my opinion, but a nice sealer nonetheless)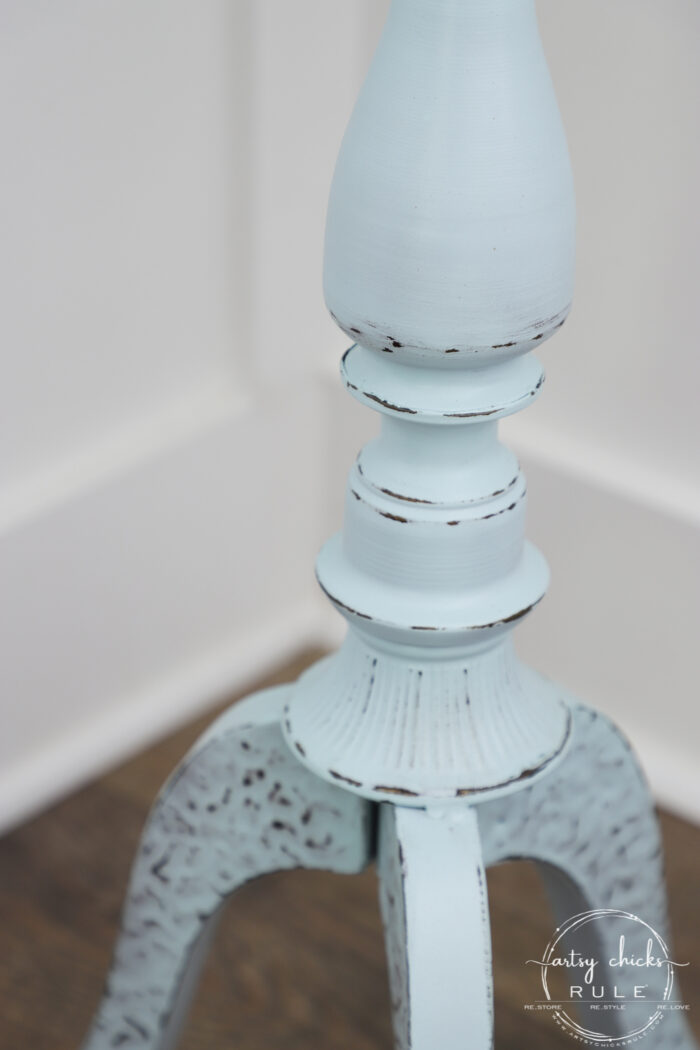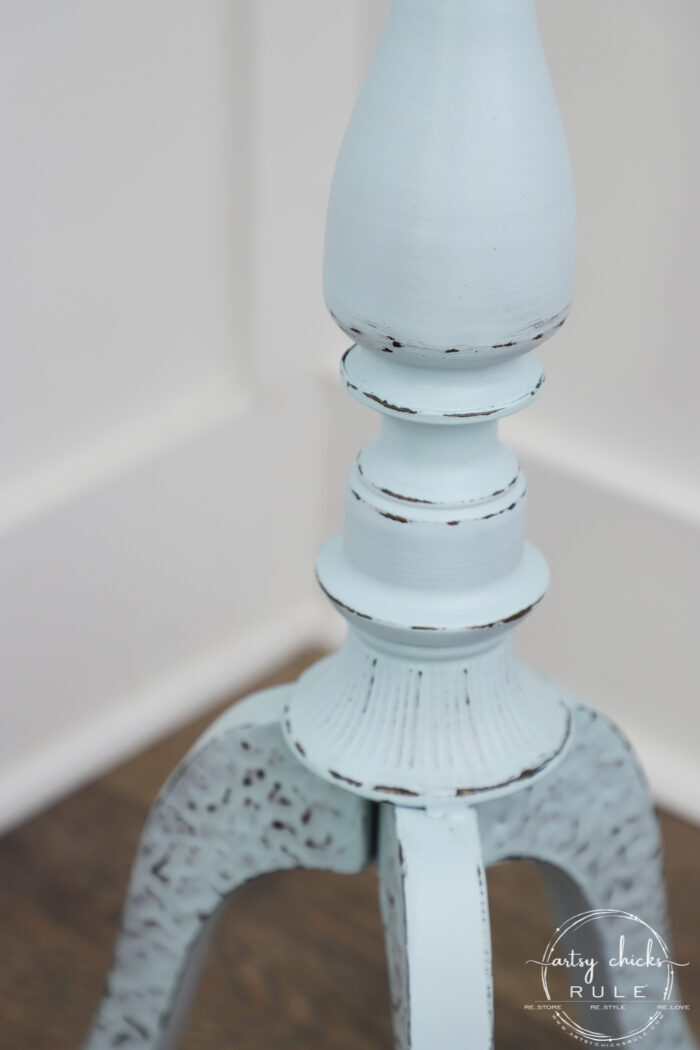 I love how painting and then sanding brought out all these hidden details.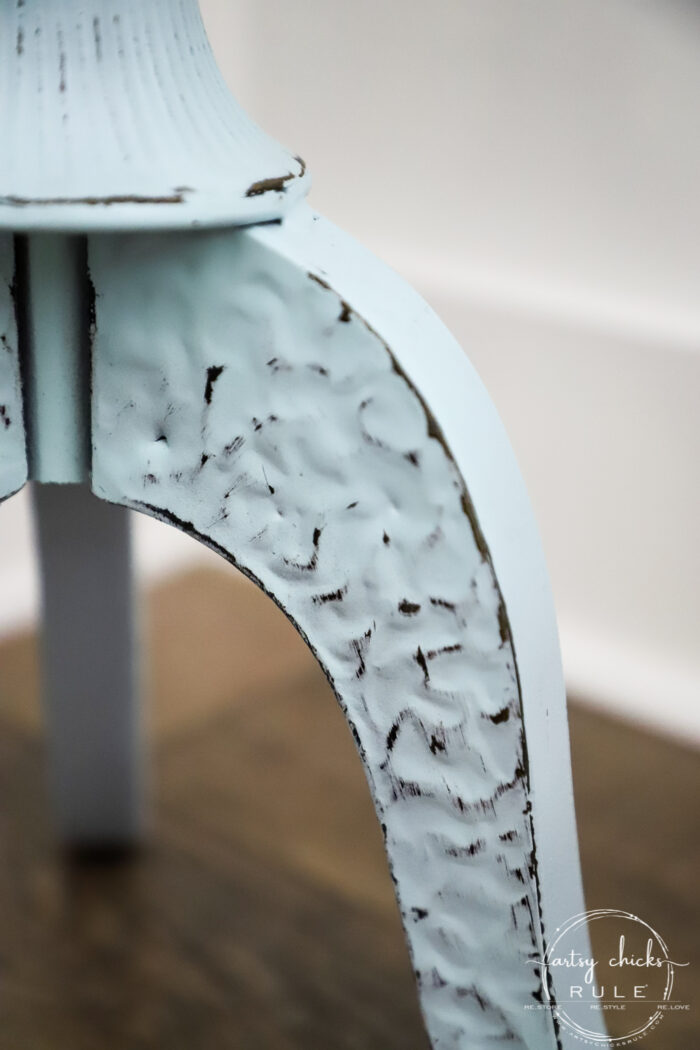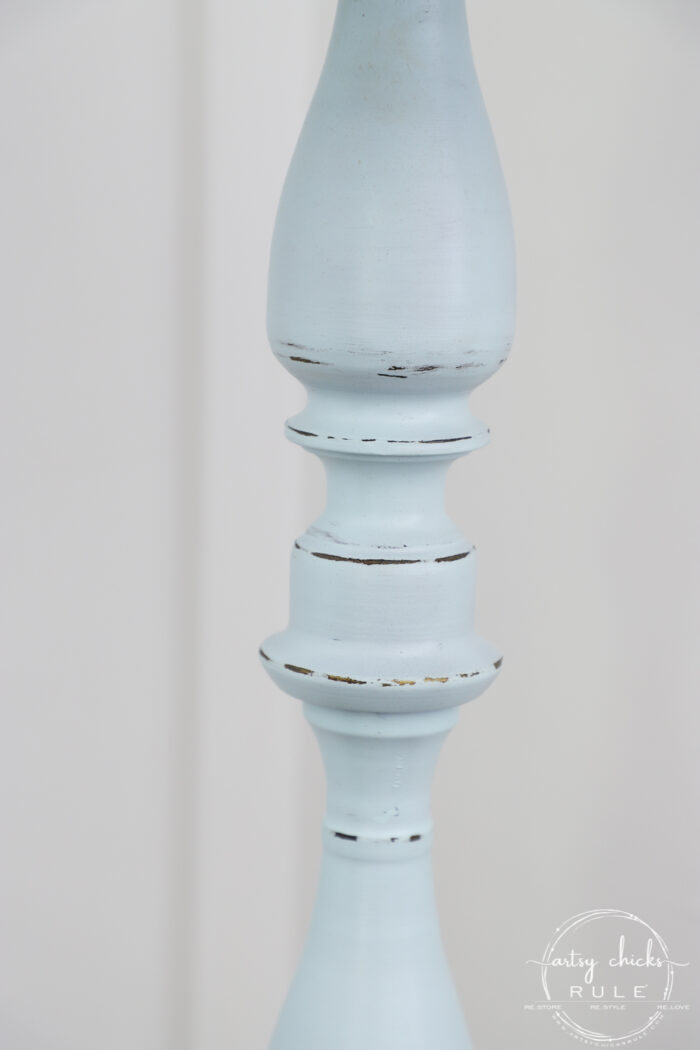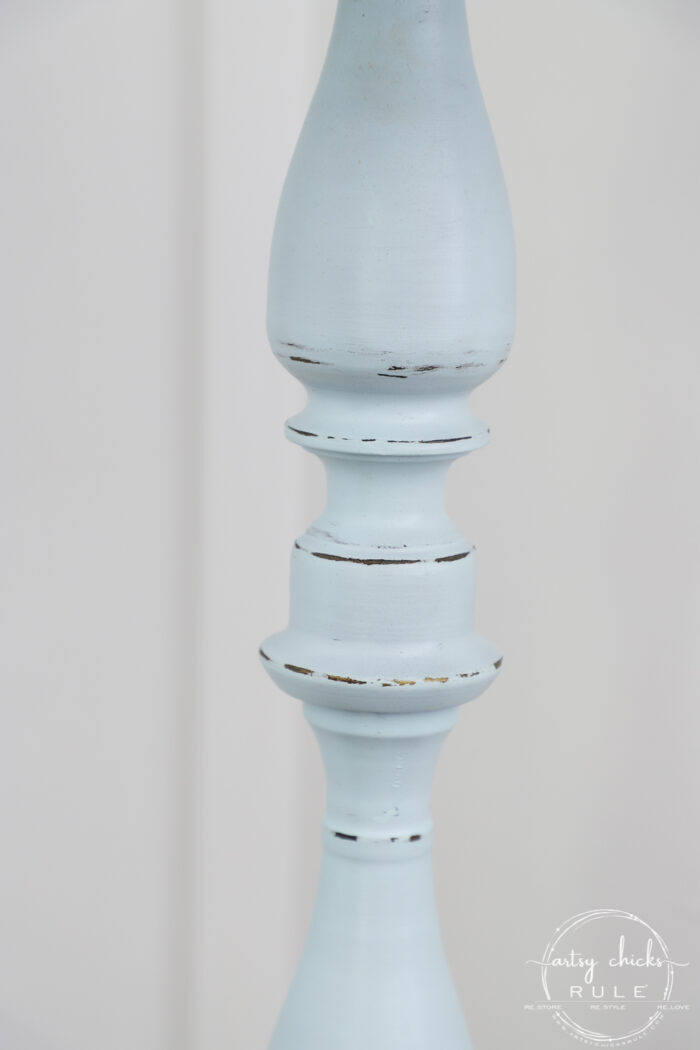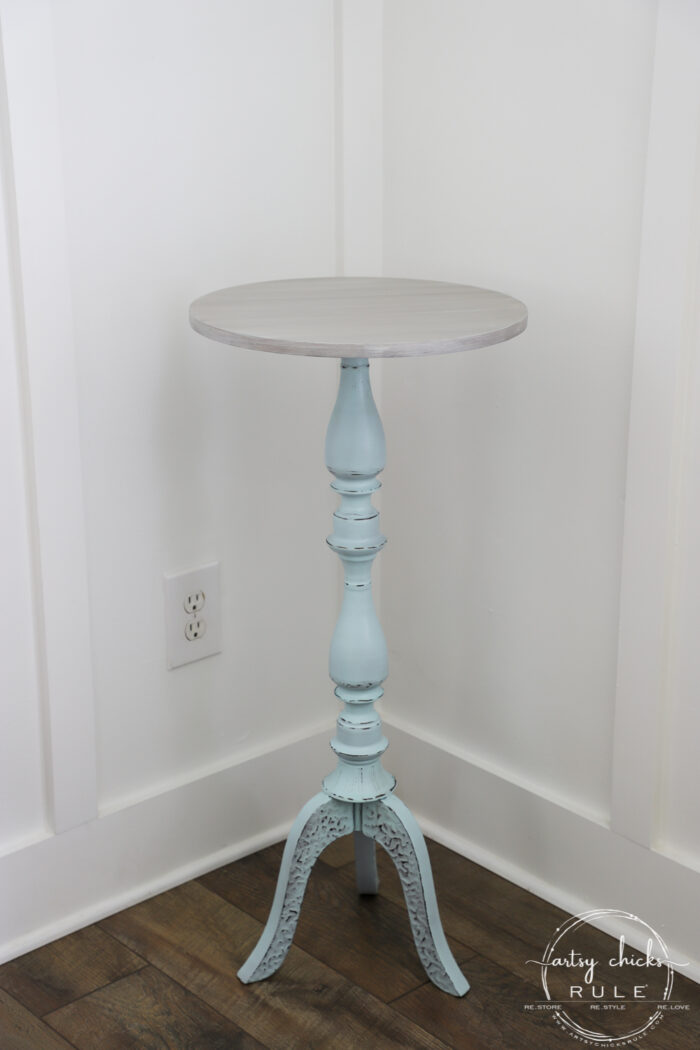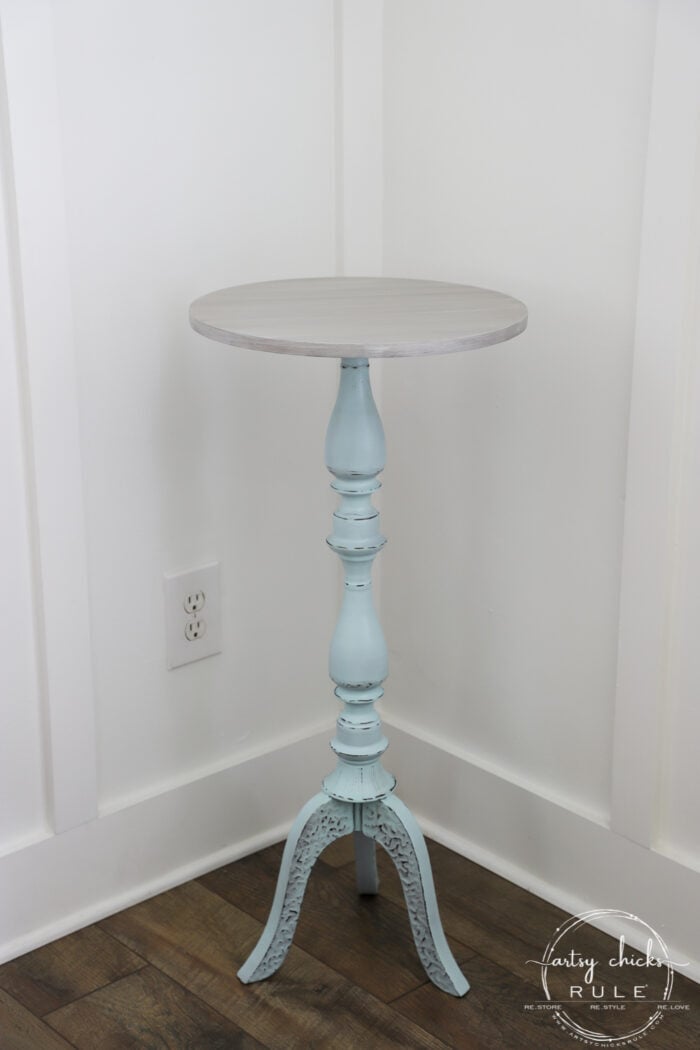 I'm not sure where I'm going to use it but I think I'll keep this one. I might take it to the beach to use there.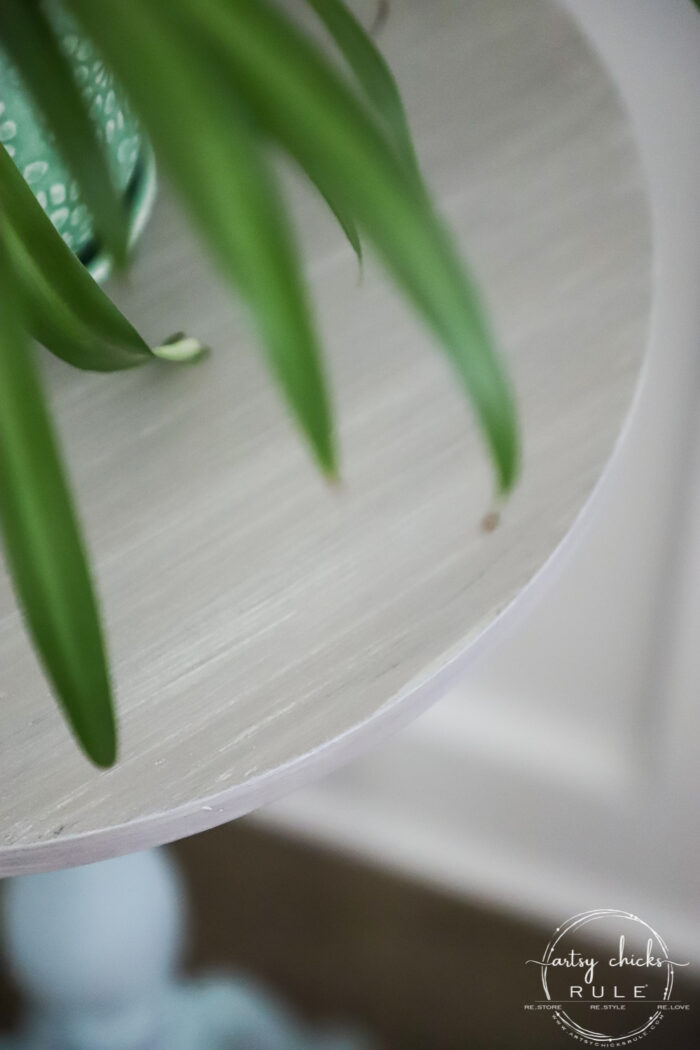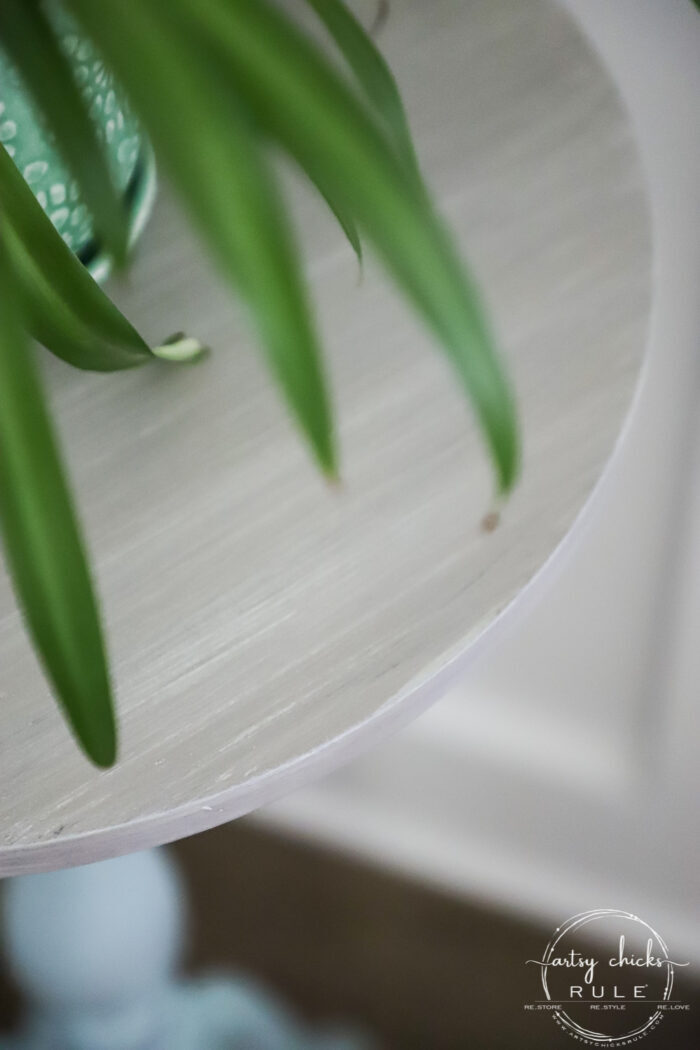 The newly done over top… two times the charm apparently. ;)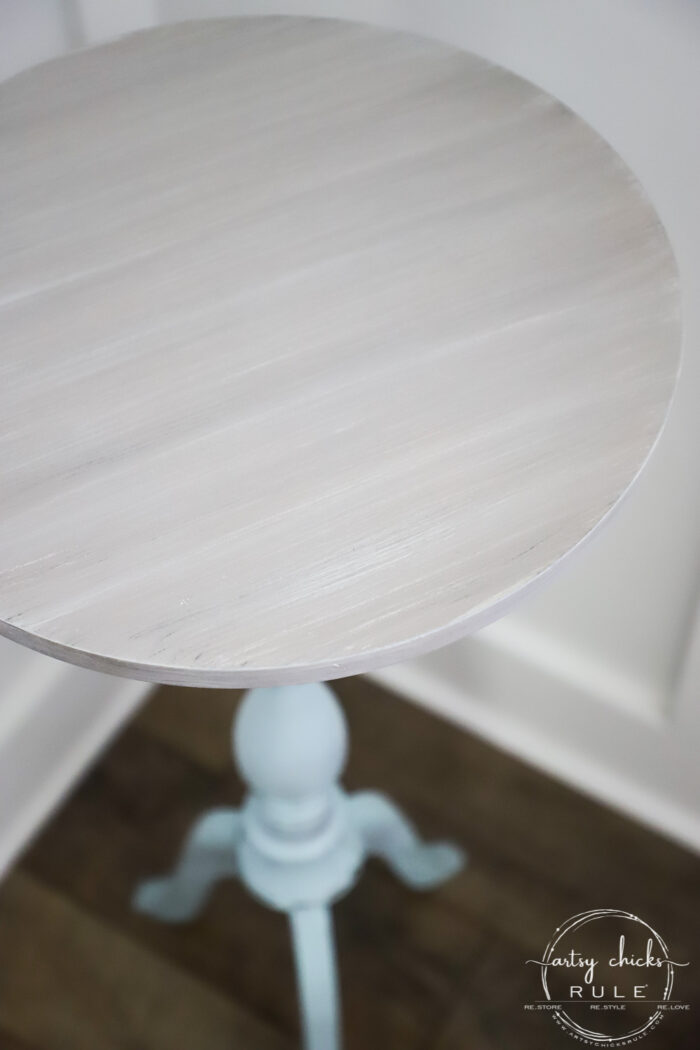 Kind of cute in this little corner…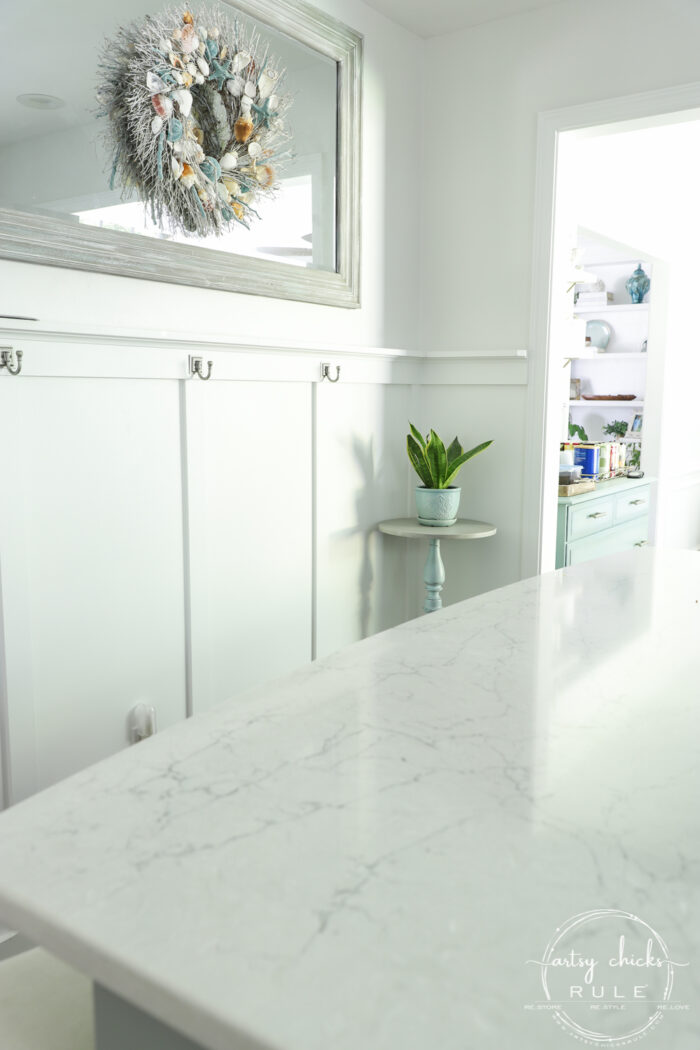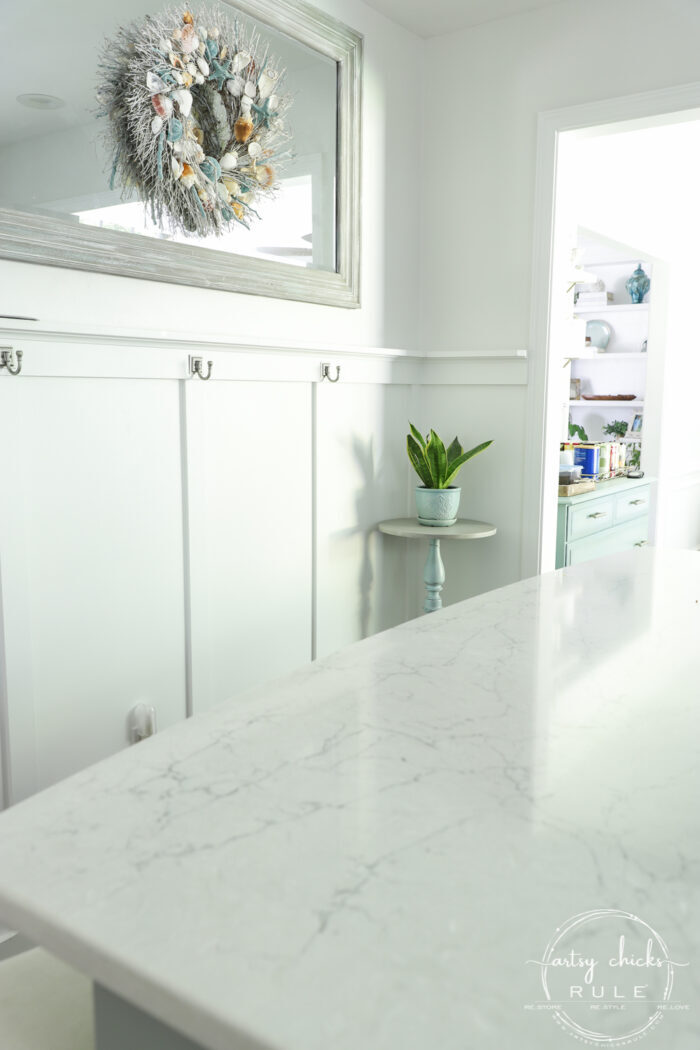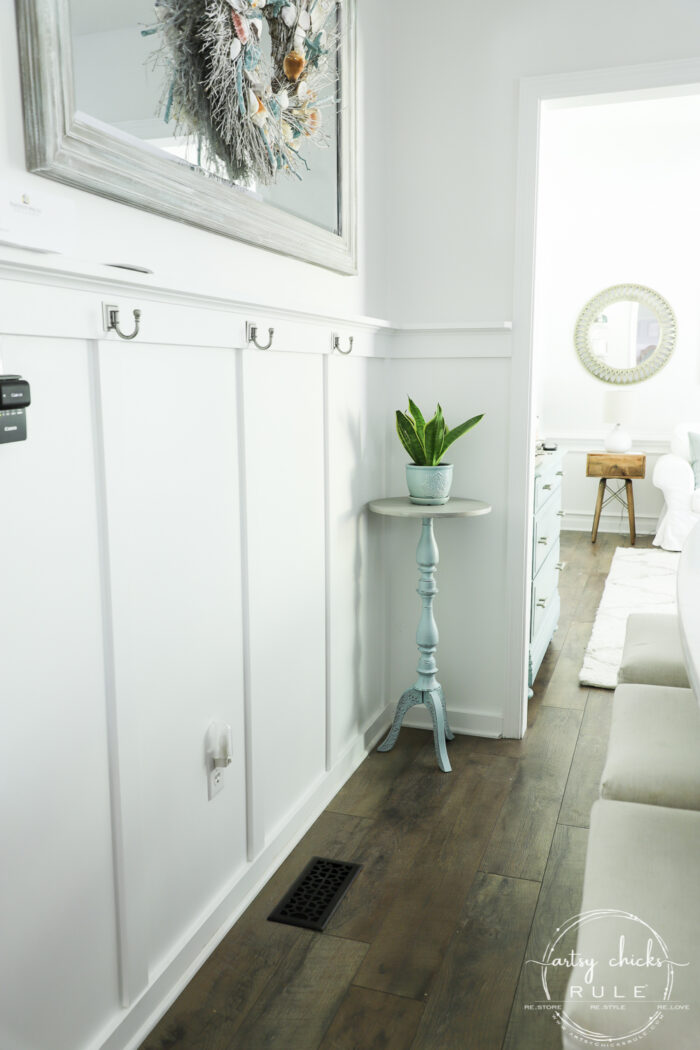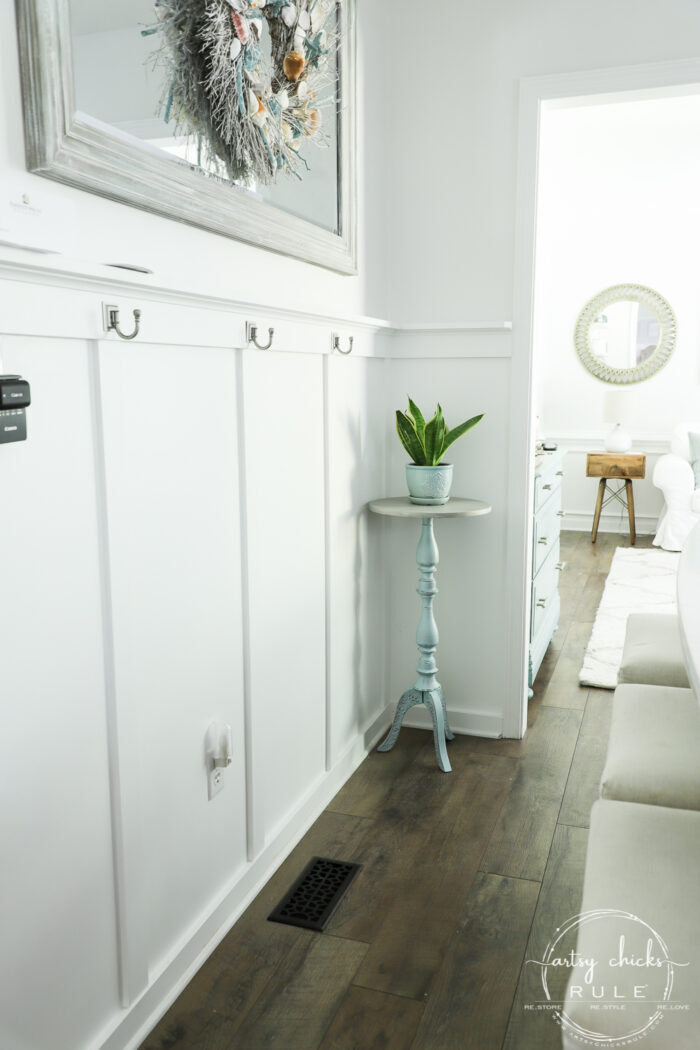 This was a simple makeover with spray paint and a little more paint for the top.
BUT when I sprayed the top white to begin again, I thought to myself that it also looked really nice that color. So if you don't want to do the "faux" top, you could simply paint the top white and done!
PIN it to save it!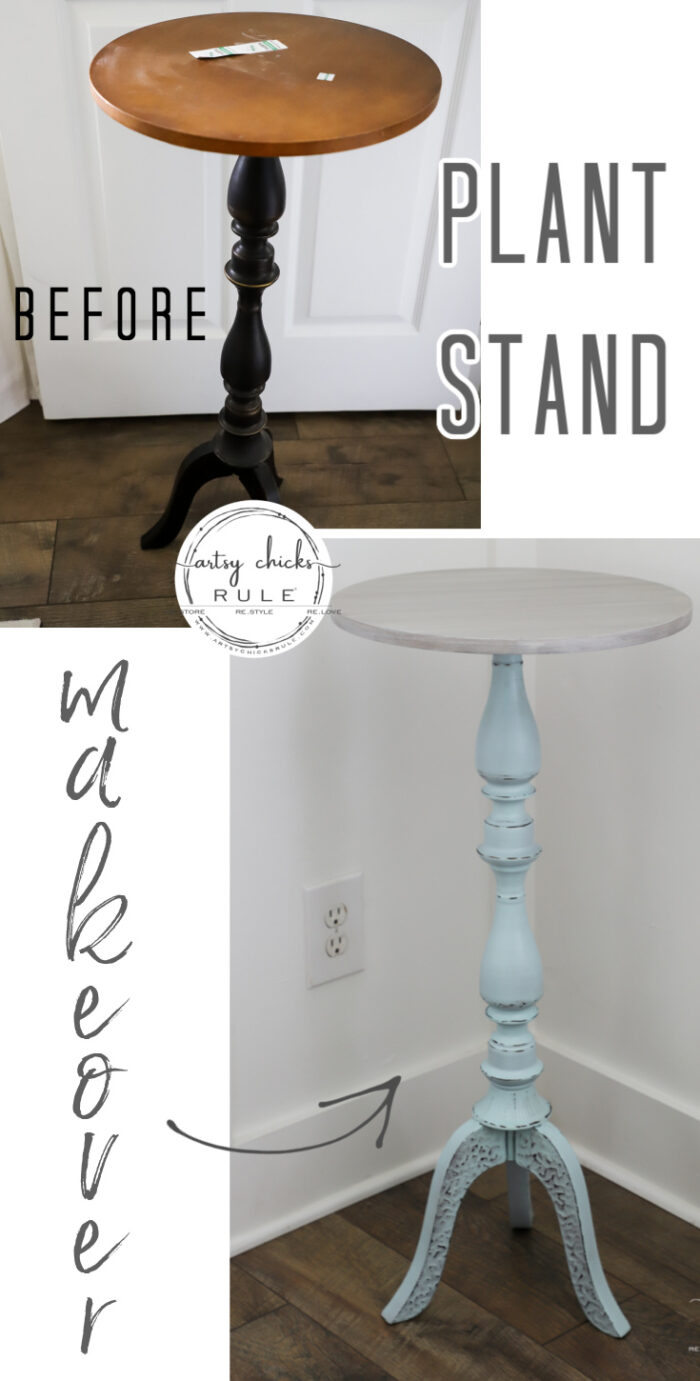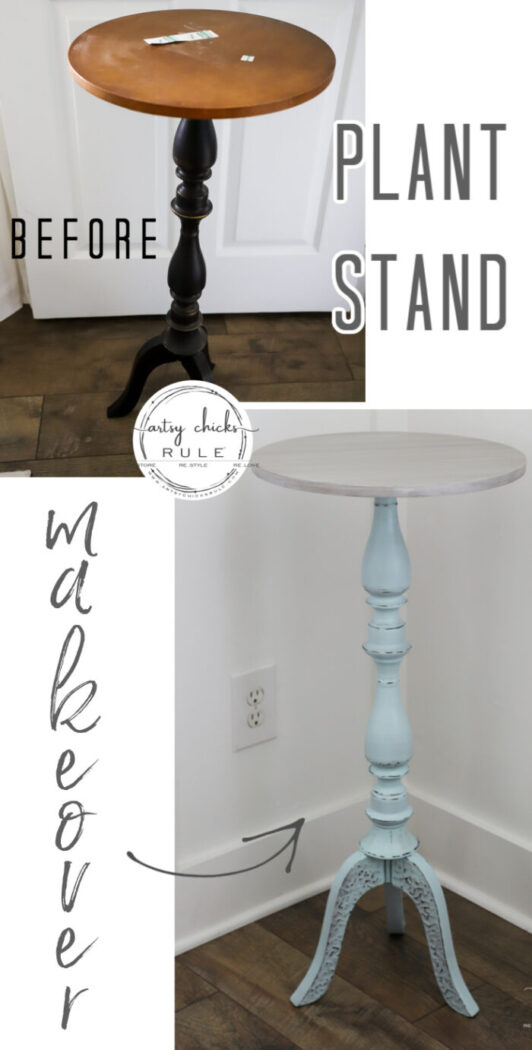 I hope you aren't too disappointed about not seeing the oak table set yet. I promise it will be soon! It's completely done except for the top. I'm very excited to get it done and that screened porch space as well.
Missed any of the rest of the haul's makeovers? Check them out here:
I hope you have a wonderful and safe weekend!
xo