Coastal Style Half Moon Table (faux weathered wood finish)
This post may contain affiliate links. Please see disclosures here.
This $15 thrift store find was a true find! A little paint and some love was all this half moon table needed to make it shine again. And the faux weathered finish is the perfect backdrop for my coastal decor style.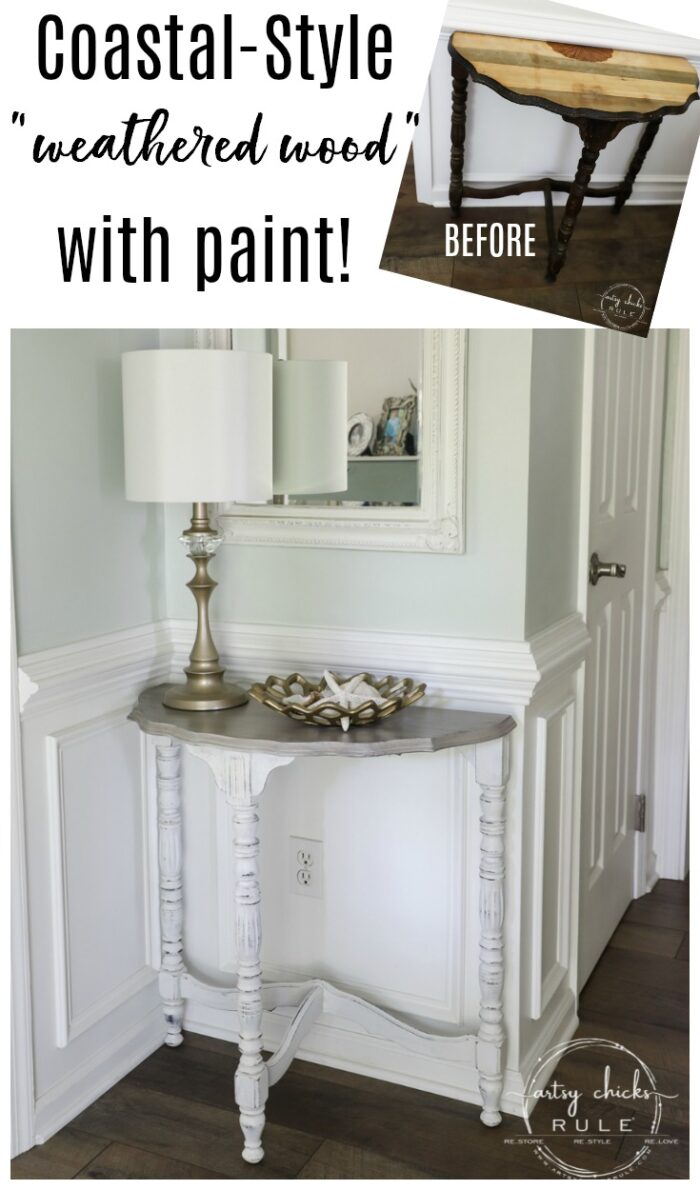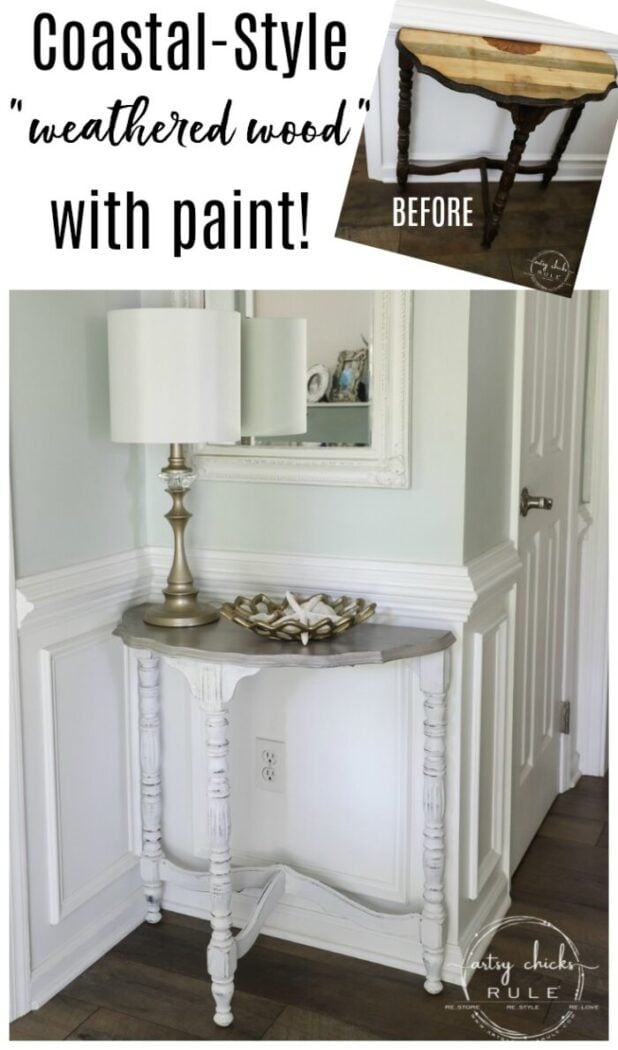 Hey friends and happy Trash to Treasure Transformation Tuesday!
If you are new around here, my friends and I share our trash to treasures on the second Tuesday of every month.
So be sure to scroll all the way to the bottom to see what they are sharing this month. So many goodies you don't want to miss!!
I'm sharing the half moon table you see above.
This sad little table was at a local thrift store and I almost didn't bring it home.
It was quite wonky (wobbly as heck), the finish was badly worn and chipped on the base and someone had chipped all the veneer off the top except for the shell design motif.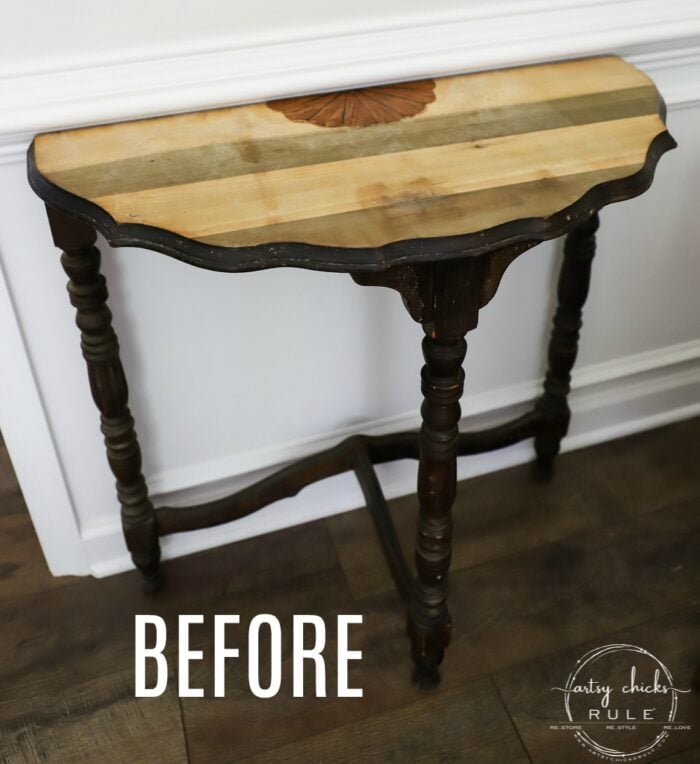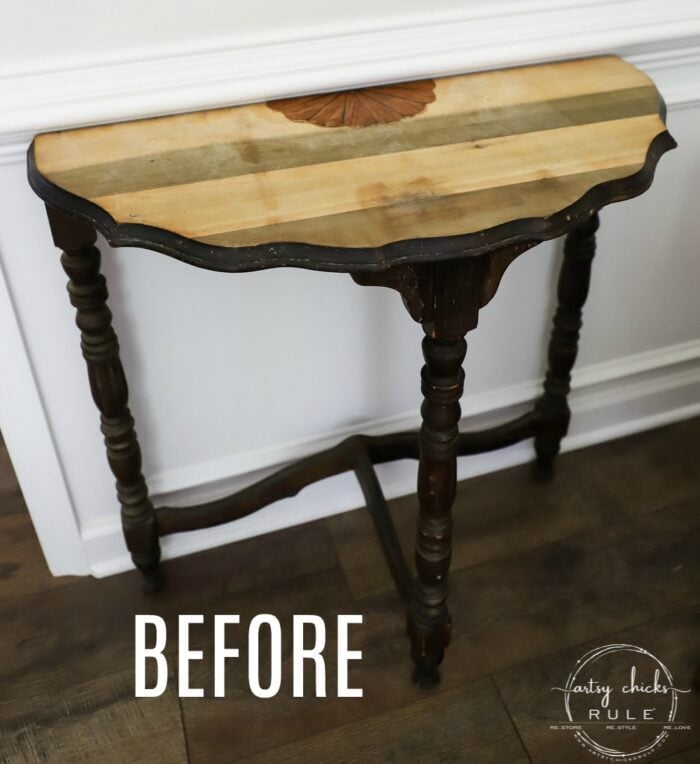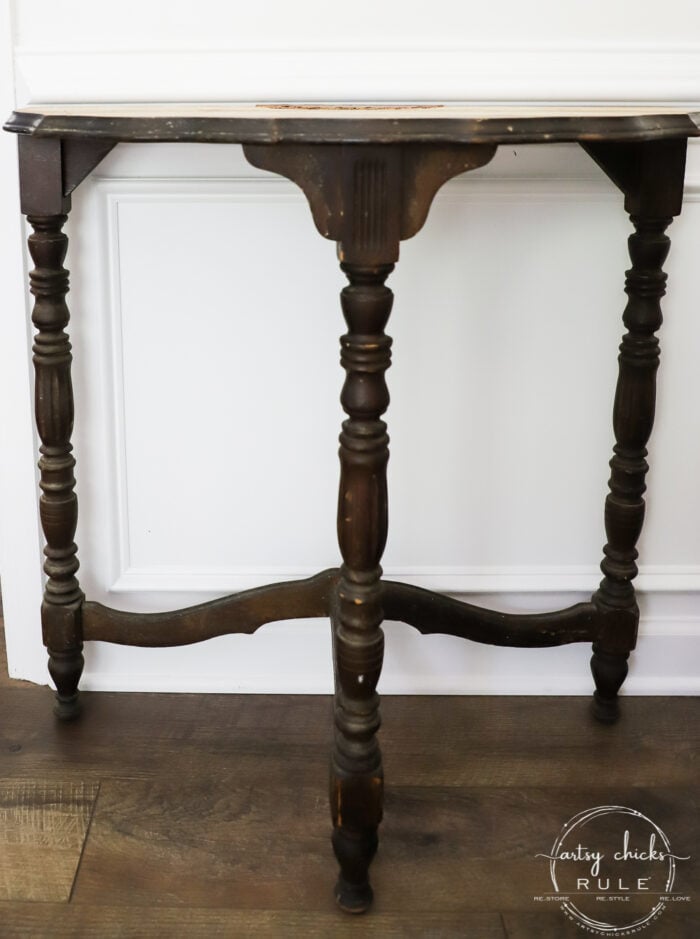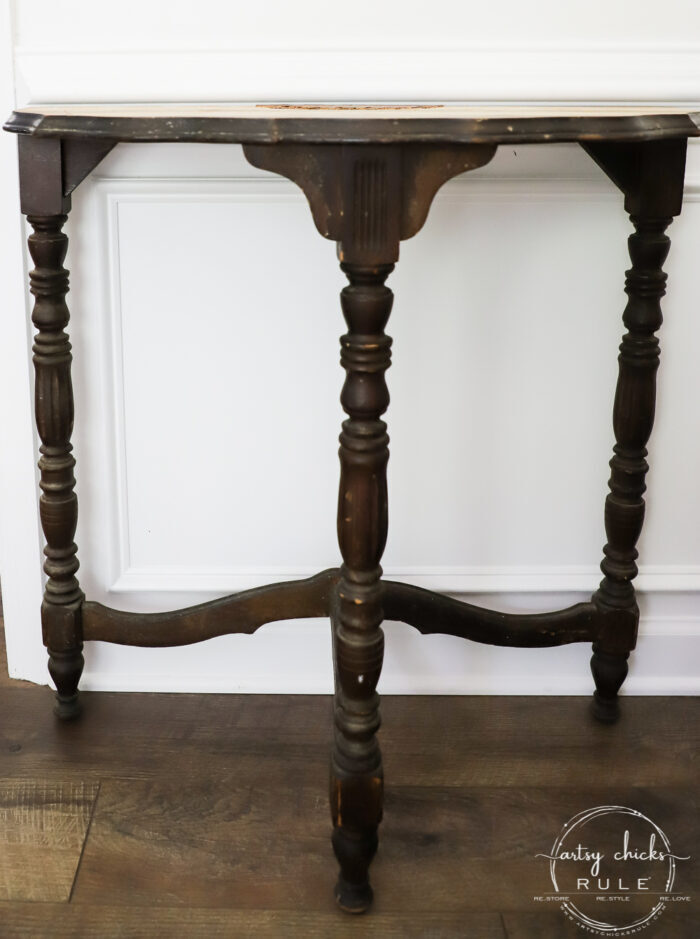 It would need a good bit of work and I've got plenty of furniture pieces around here needing work before I can give them makeovers!
But …. I couldn't resist, so I brought it home anyway. And I'm SO glad I did!
It's an absolute beauty now and I'm so pleased with it. So much so, that I've decided to keep it.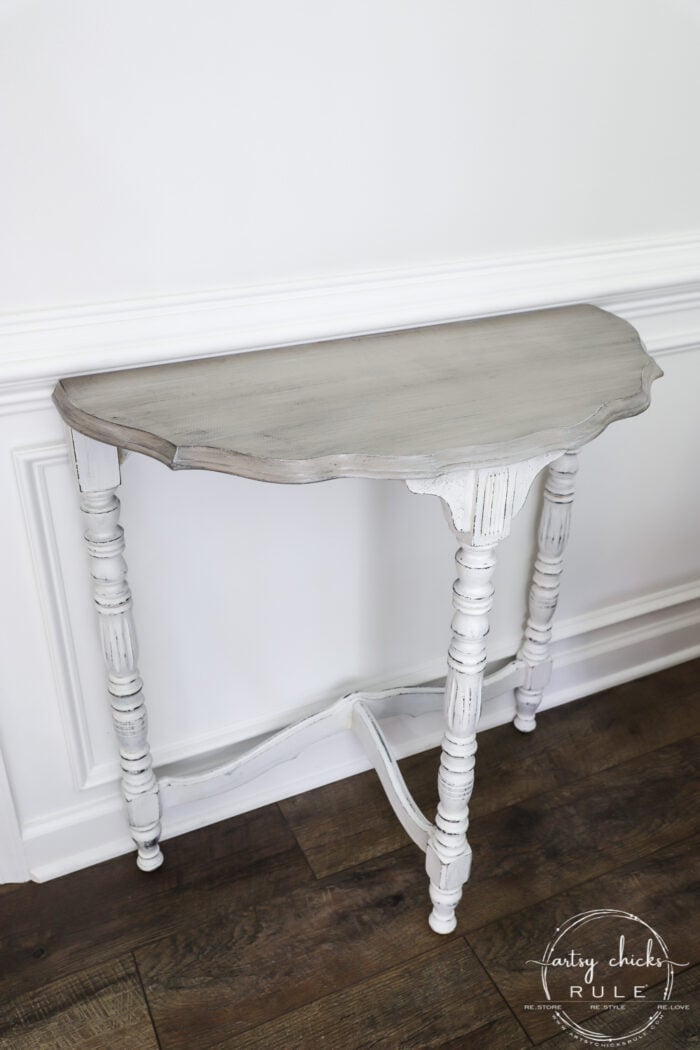 I am saving it for the OBX beach cottage that we will get one of these days. ;)
Along with almost a storage full of other things I'm saving for that purpose.
Coastal Style Half Moon Table
As I mentioned above, this little half moon table was wonky. Really wonky.
No surprise! Look…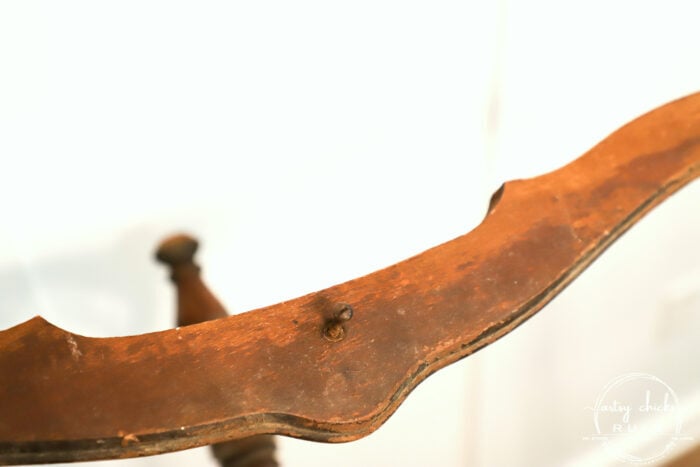 The screw holding the base piece together is almost out.
Not only that…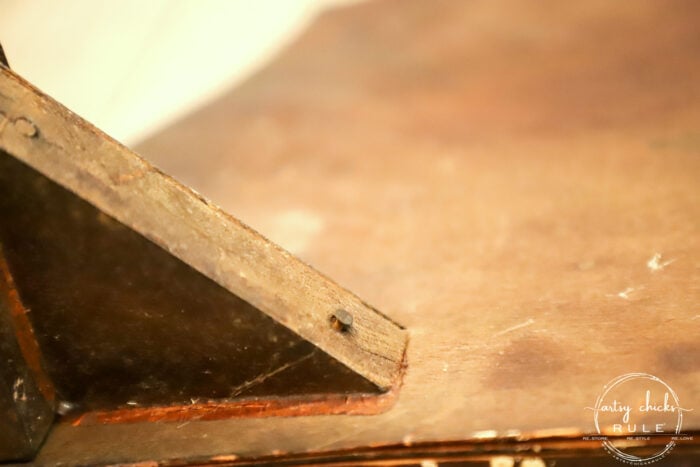 … all the nails were loose.
And you could tell it was glued probably when putting together but the glue had long since broken way.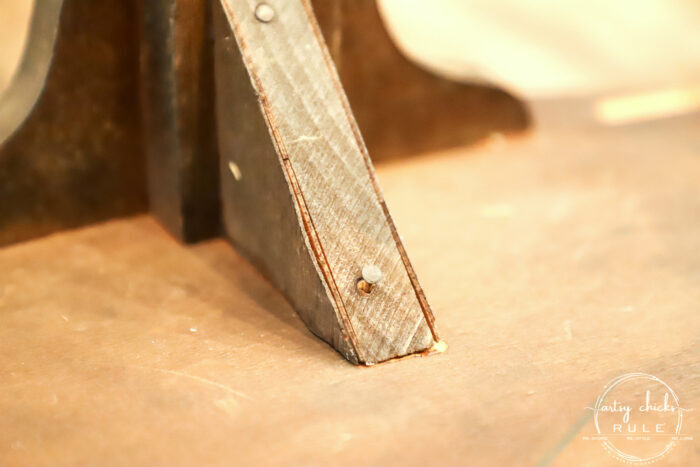 I hammered the nails back in and added a few screws here and there.
Plus, glued all around every single thing underneath, including the bottom that was separating…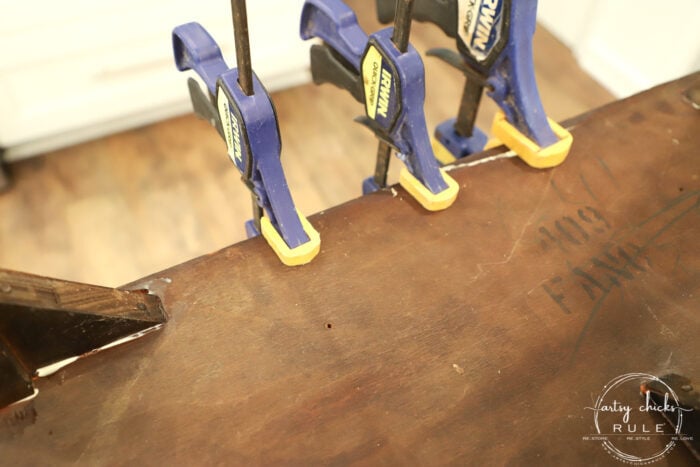 And added some wood filler where it had separated and chipped away on the front side.
I wanted it to look even from the front so filled it in.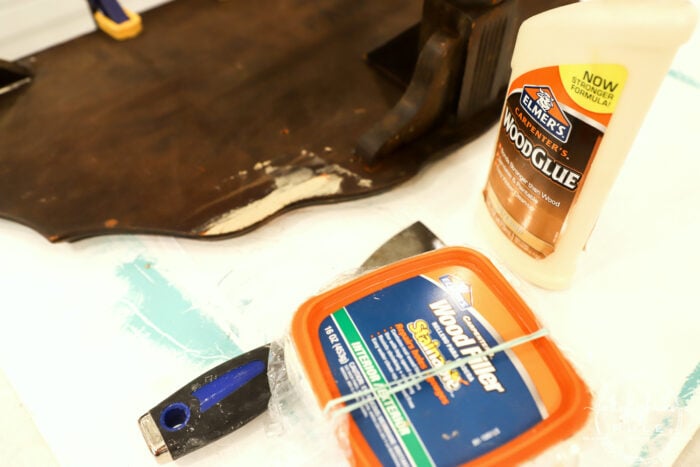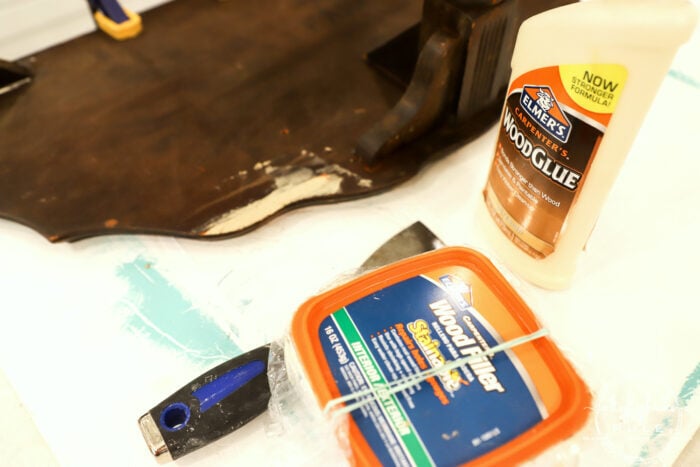 If you follow along with me on Instagram, you saw me working on this one over the weekend. (I shared it in my stories over there)
Be sure to follow along as I share the random day to day PLUS projects I'm working on in real-time!
I was sad to see the shell motif go because I really liked it but I didn't really see a way to make it work…very well, anyway.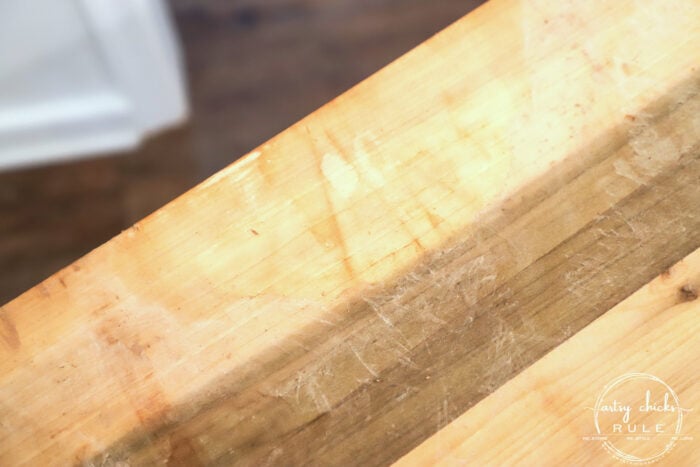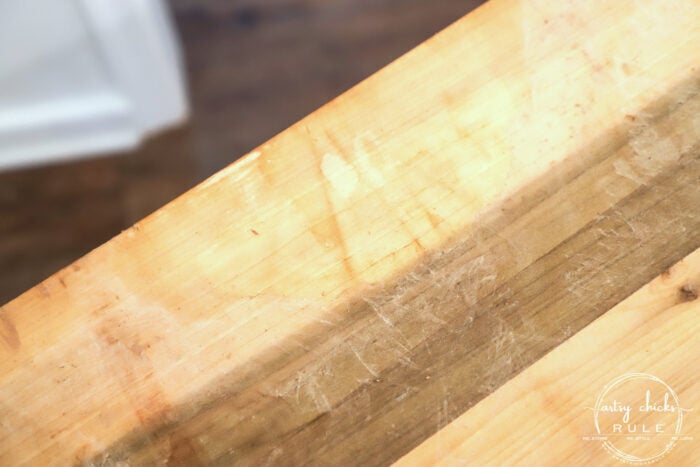 It was bumpy and ragged and wouldn't blend in nicely. I could tell someone was trying to keep it also the way they chipped around it.
I DID save that piece of veneer though (it lifted right off easily!) so you may see it somewhere on a future project around here.
Never know! lol
Once it was off, I lightly sanded the top to smooth things out.
Then I washed and cleaned the base.
Here are the links to the things I used for this project…
I knew I wanted to create a coastal feel with this piece and actually thought this rugged base wear and tear would be great for that look.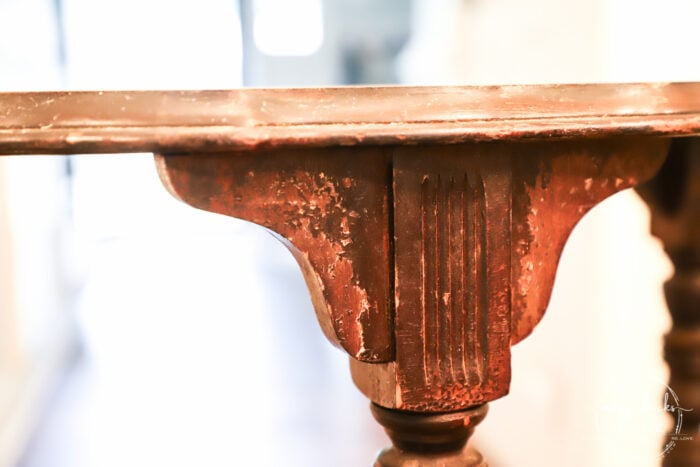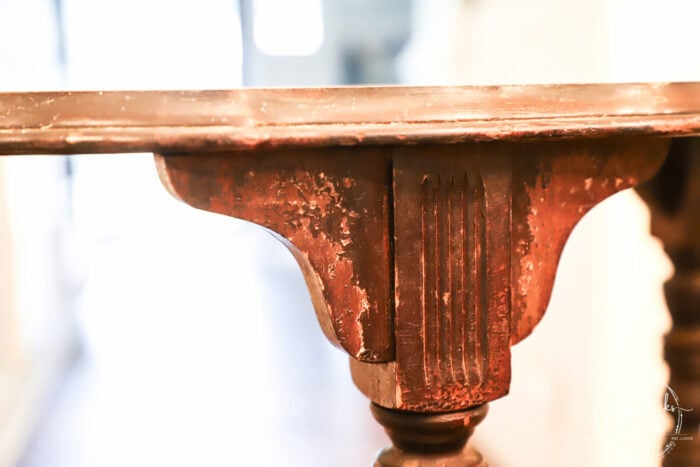 All chippy and worn. Perfect.
The top is going to get a faux weathered finish.
I've done similar finishes on many, many projects around here.
Here are a few:
…and many more than that! Just search "weathered wood or weathered finish" in the search bar.
Are you new to chalk painting?? This post might be helpful to you >>> "How To Chalk Paint Furniture & More (tips & tricks I've learned!)"
So next I used spray paint in this color as a base for the top. It's the perfect color for the weathered finish I wanted to give it.
Sometimes I start with black though. Works well both ways.
I sprayed the leg base with this, one quick coat, to help cover and seal the wood finish that was there. Plus, it really helps to spray paint a lighter color when painting a lighter color onto dark wood, especially spindly legs like these.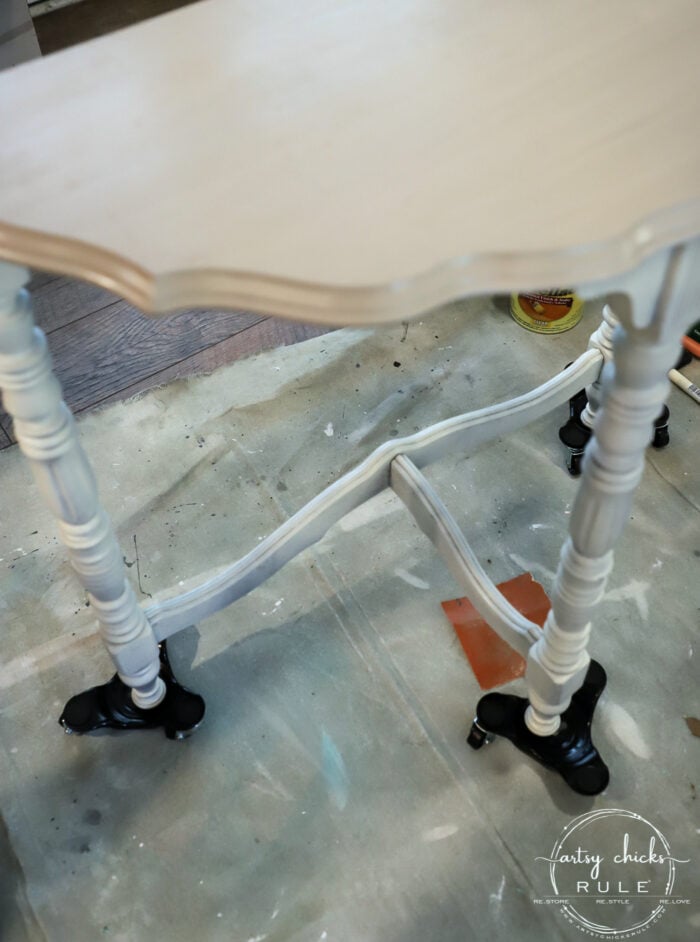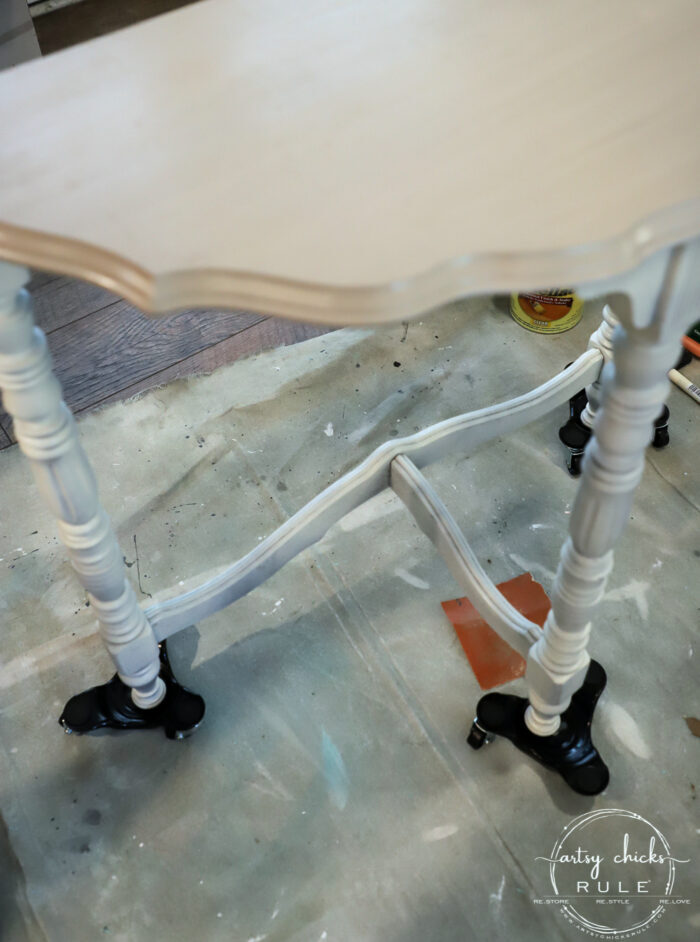 I didn't want a ton of coverage on the base as I wanted it to look old, weathered, worn with a relaxed feel.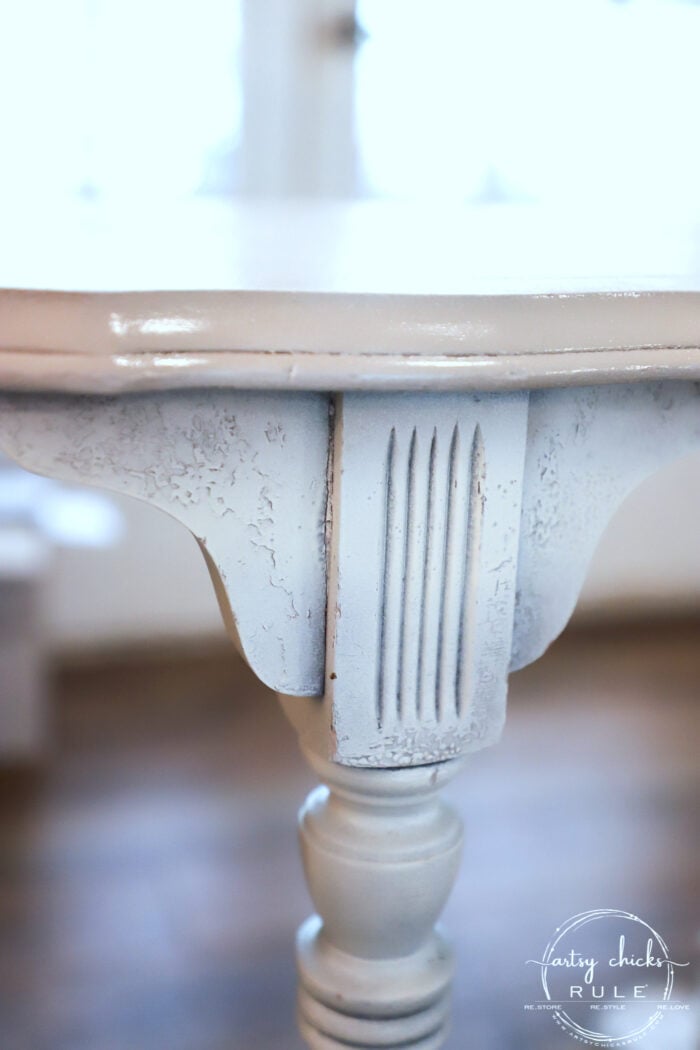 I also didn't want to get rid of all that chippiness, I wanted to add to it.
I created the "weathered wood" top finish first using these two paints. Dixie Belle "Drop Cloth" and Rustoleum "Charcoal". My blogging bestie Christy now sells Dixie Belle and you can find it >>> here. I really like their products and use a bunch of them too.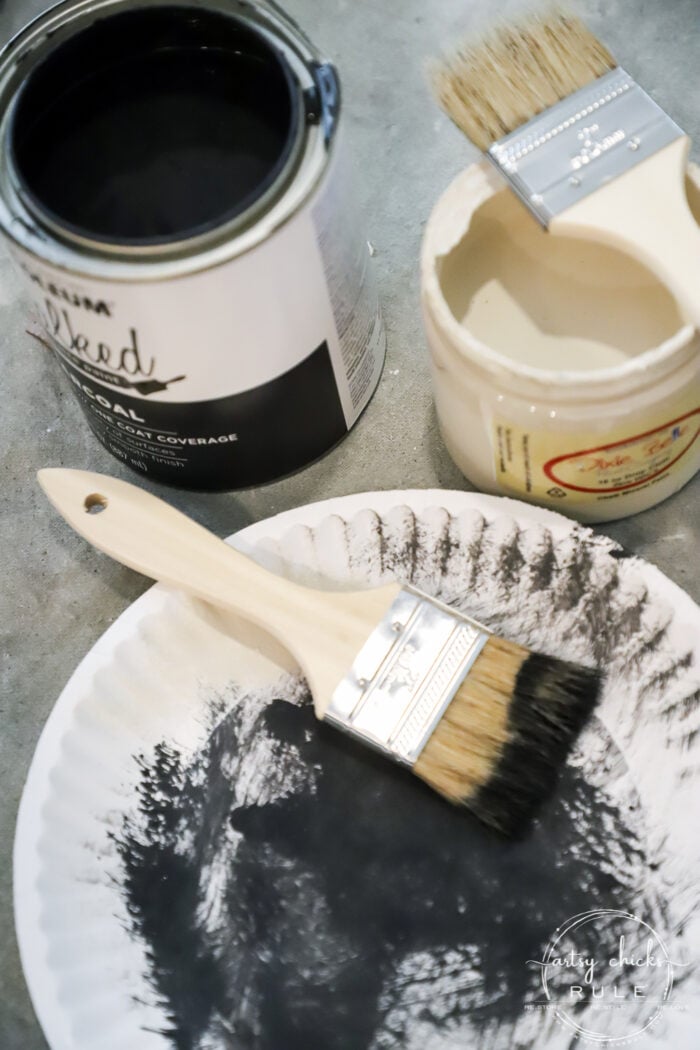 I applied the paint over the previously spray painted top using 2 chip brushes, one for each color in a "dry brush" technique.
You can see the video I made on how to do it, here >>> How To Dry Brush
I started with the Charcoal…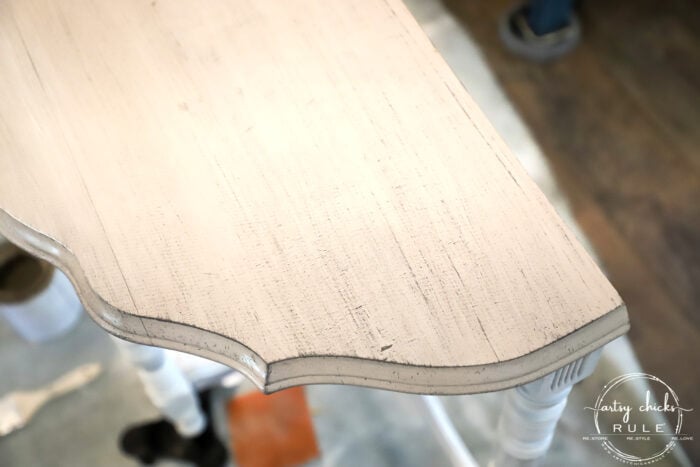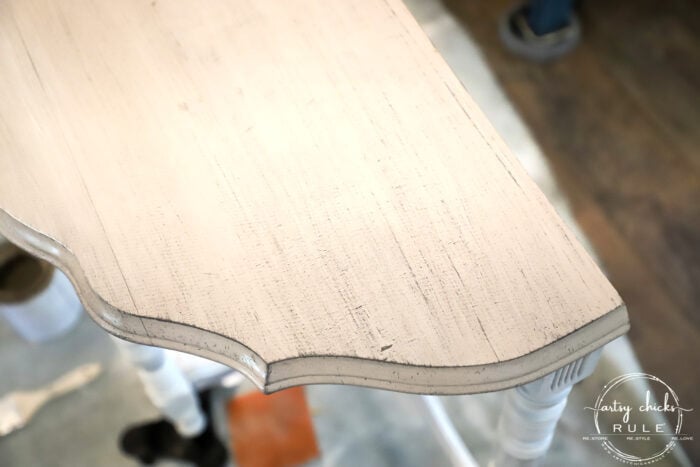 And then added the Drop Cloth.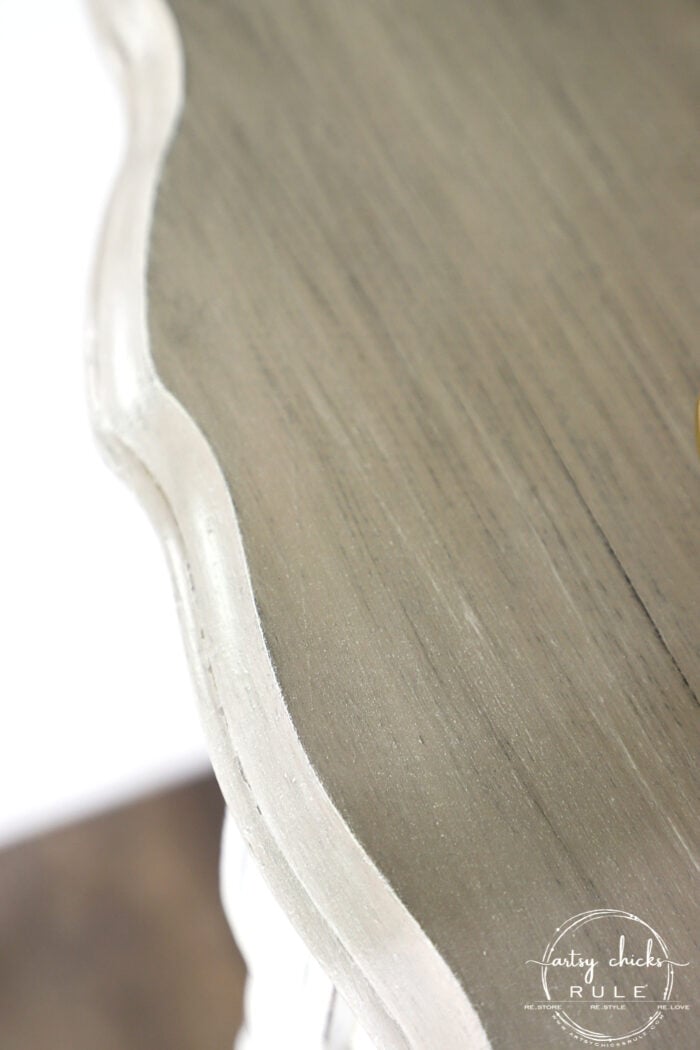 You can see how they subtly mix together above giving it a similar look to old, painted weathered wood.
For the leg base, I used Snow White General Finishes paint (a little watered down), in one light coat.
Like I mentioned above, I wanted that old worn look so I didn't want to cover up too much. (and why I watered it down somewhat)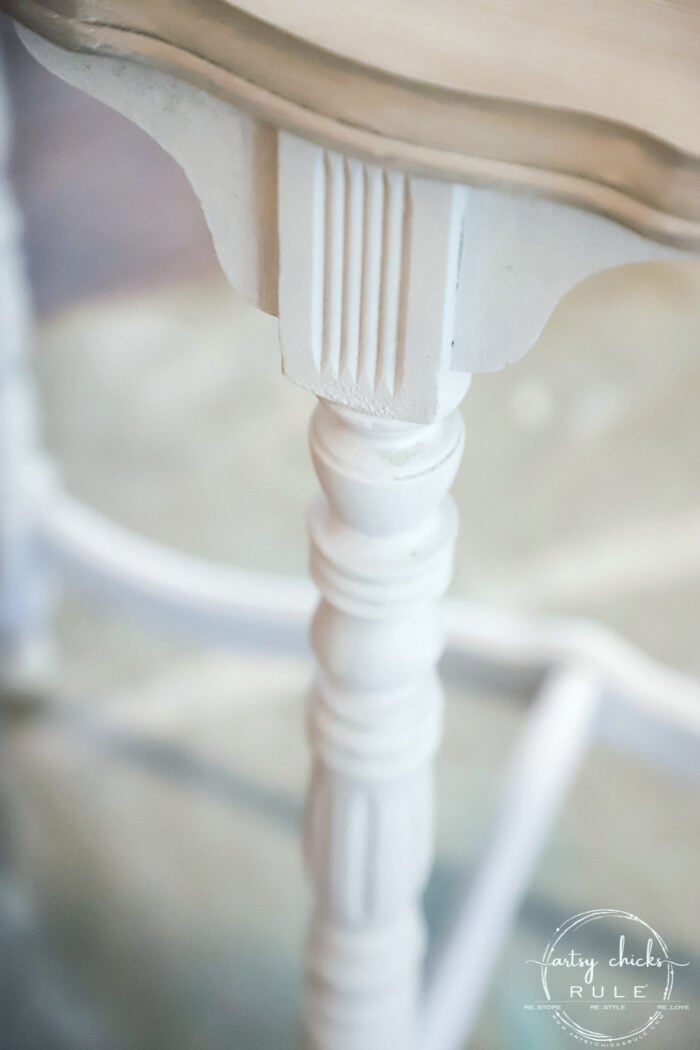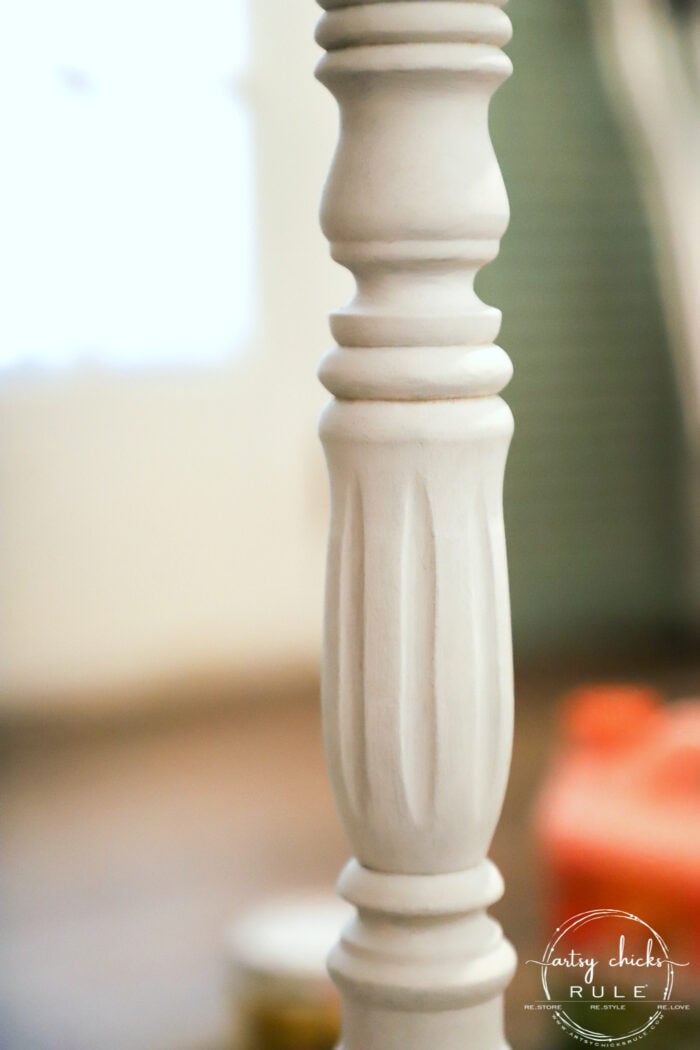 Looks like pretty good coverage in the photos but in real life you could see some of the brown in areas through the paint.
Once it was dry, I lightly sanded the leg base area only to bring all the brown back through.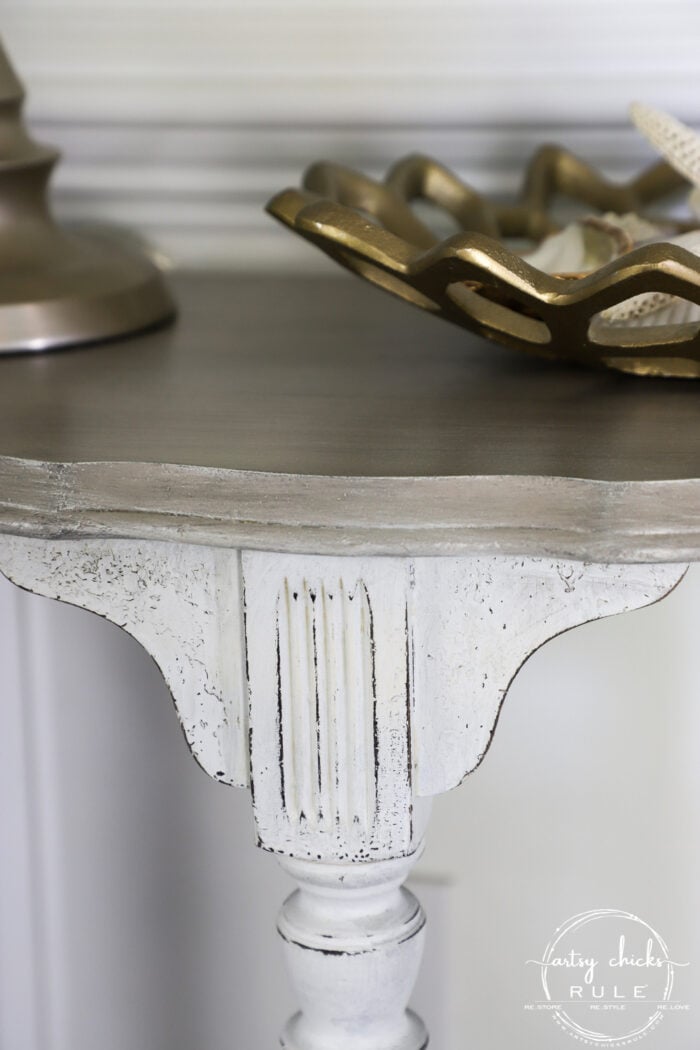 Then I used this sponge to apply my fave sealer (top and bottom). (you can find everything I used is linked in the "Materials List" box above)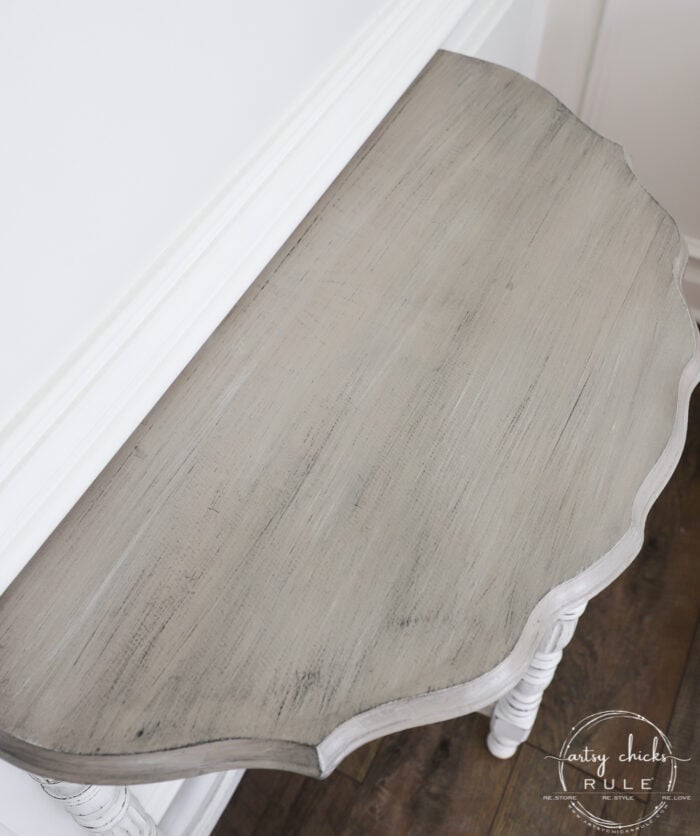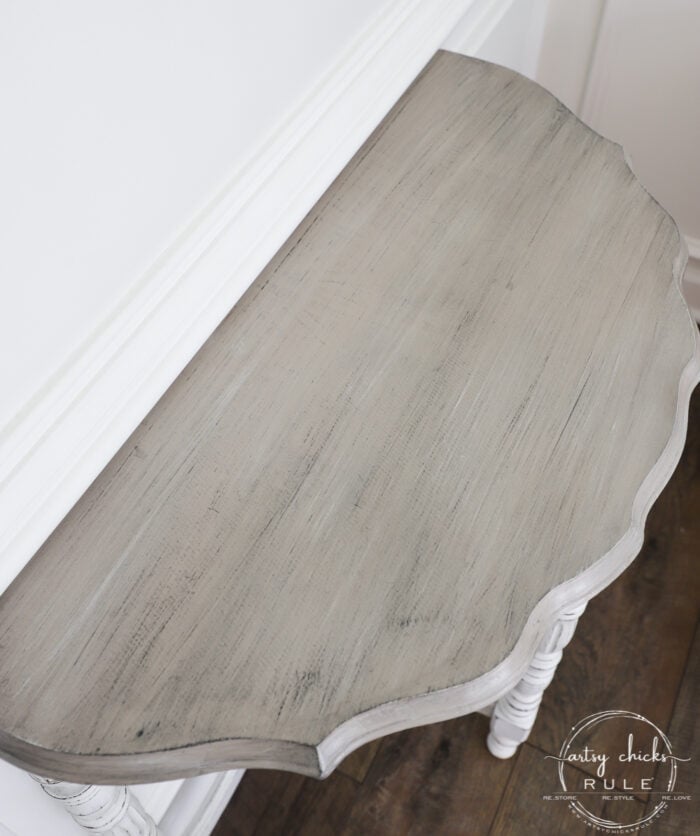 I'm really happy with it!
AND…I'm loving it right here.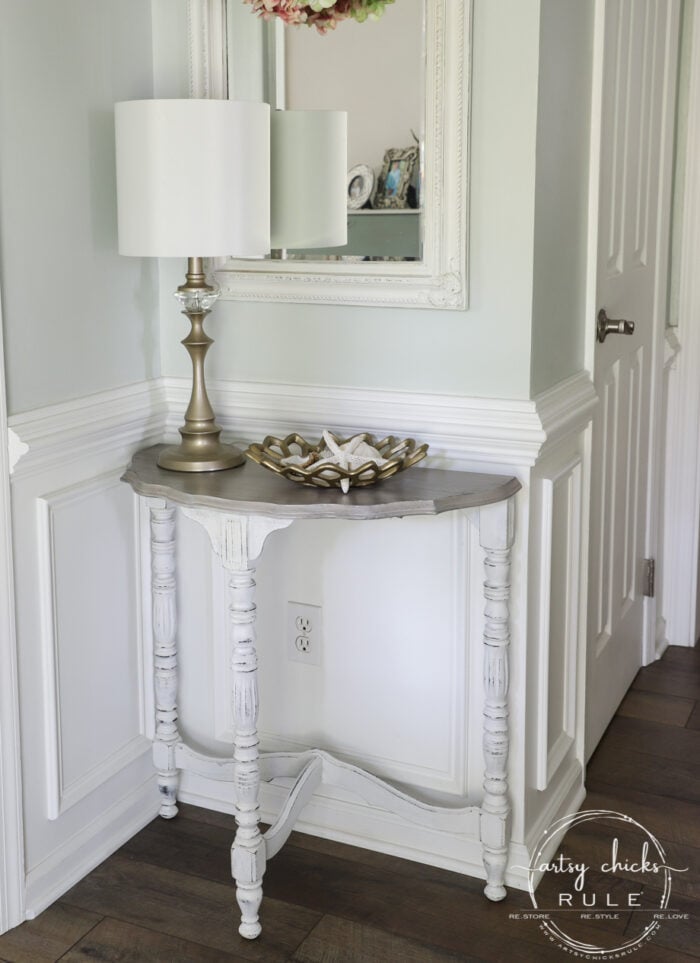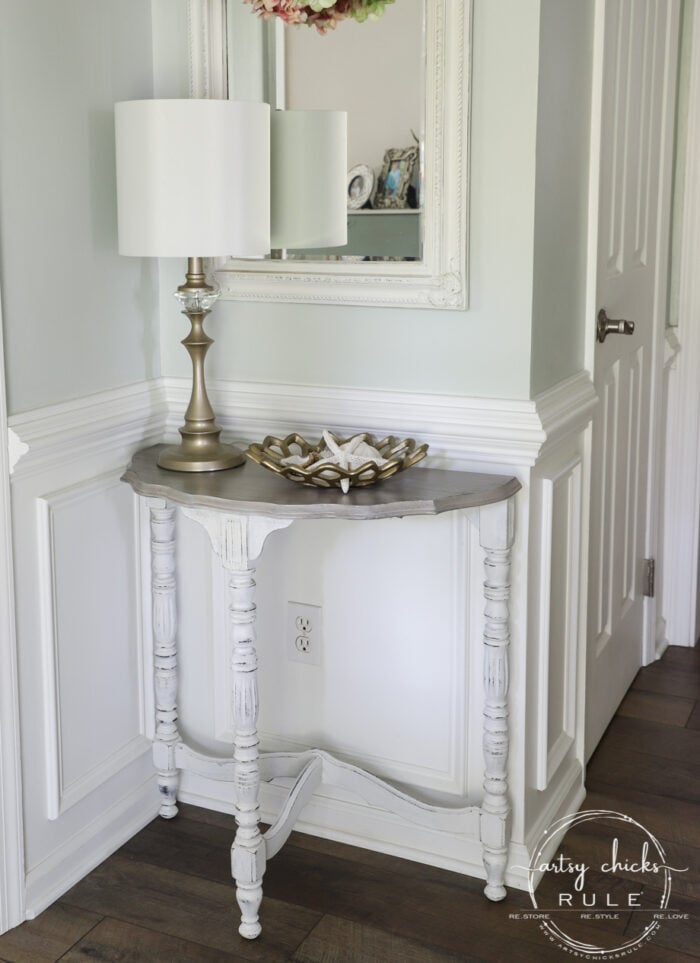 This sweet little half moon table fits perfectly.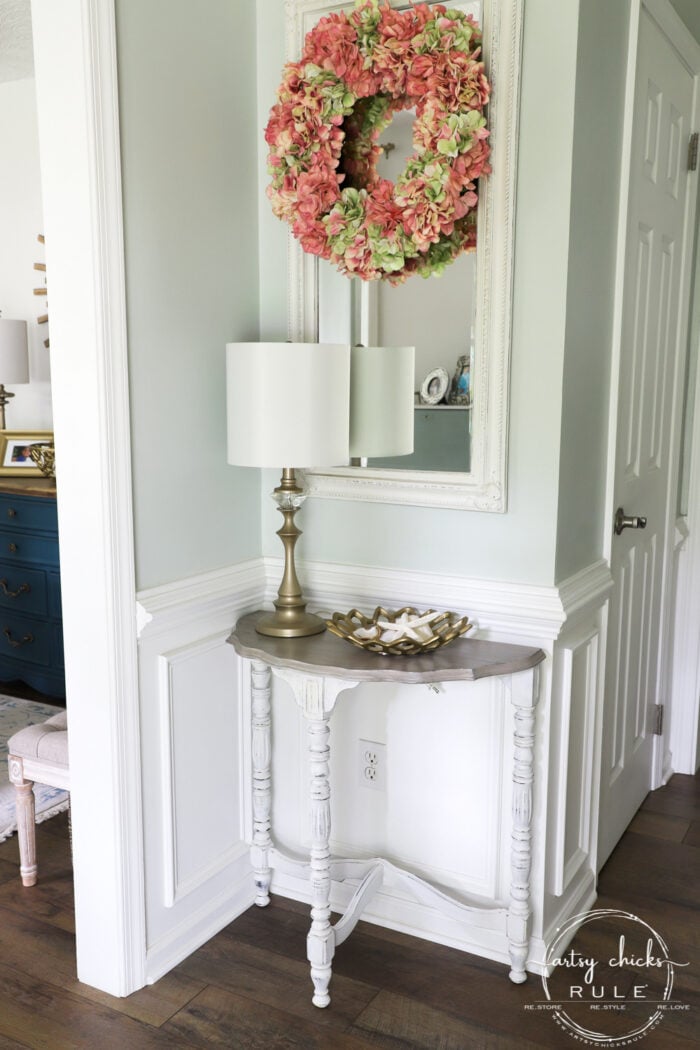 Do y'all remember how long I looked for something that would fit in this space??
A long time! Everything was either way smaller or just a tad too large. (I needed something 28 inches, most everything I found was 30 or above)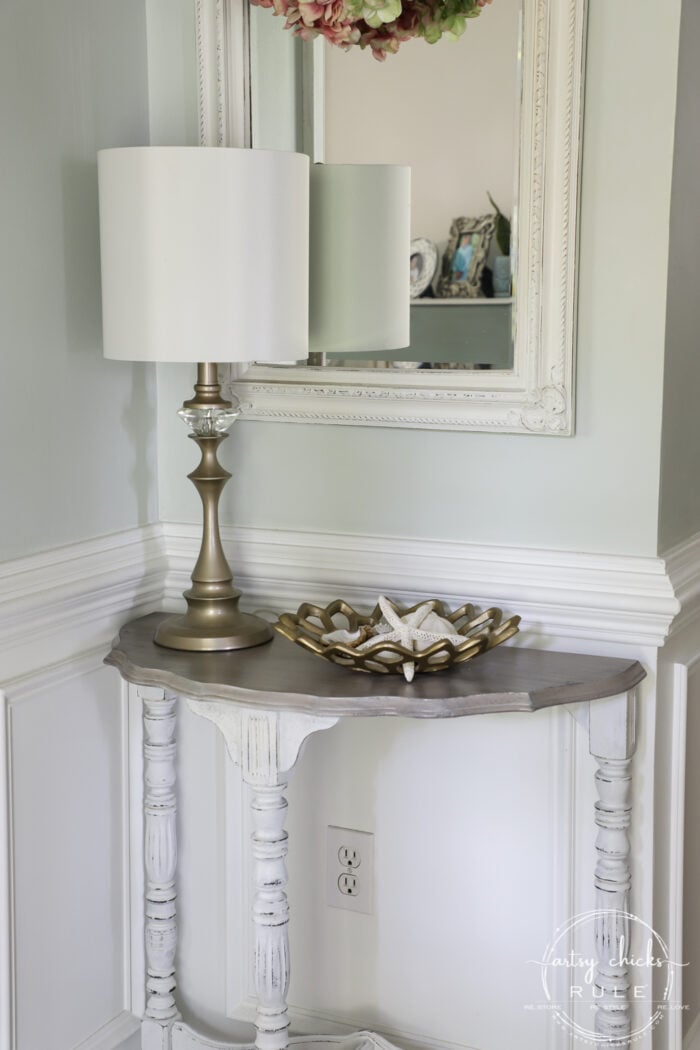 Oh well, I do love the little drawered table I ended up putting here though.
So that one is going to stay put.
Look at that chippy goodness…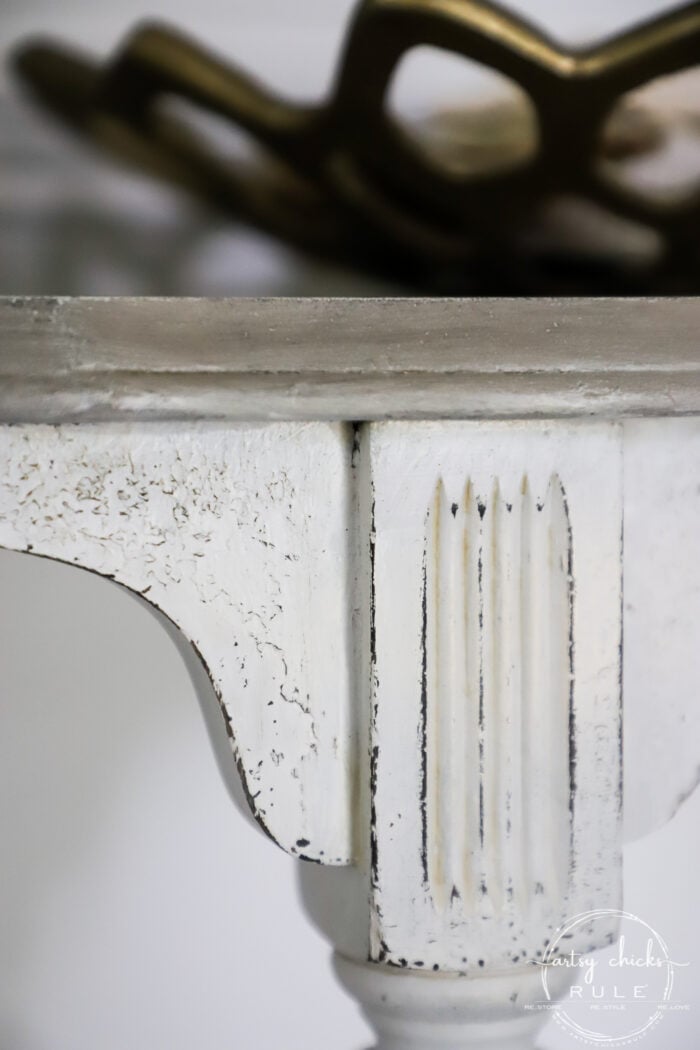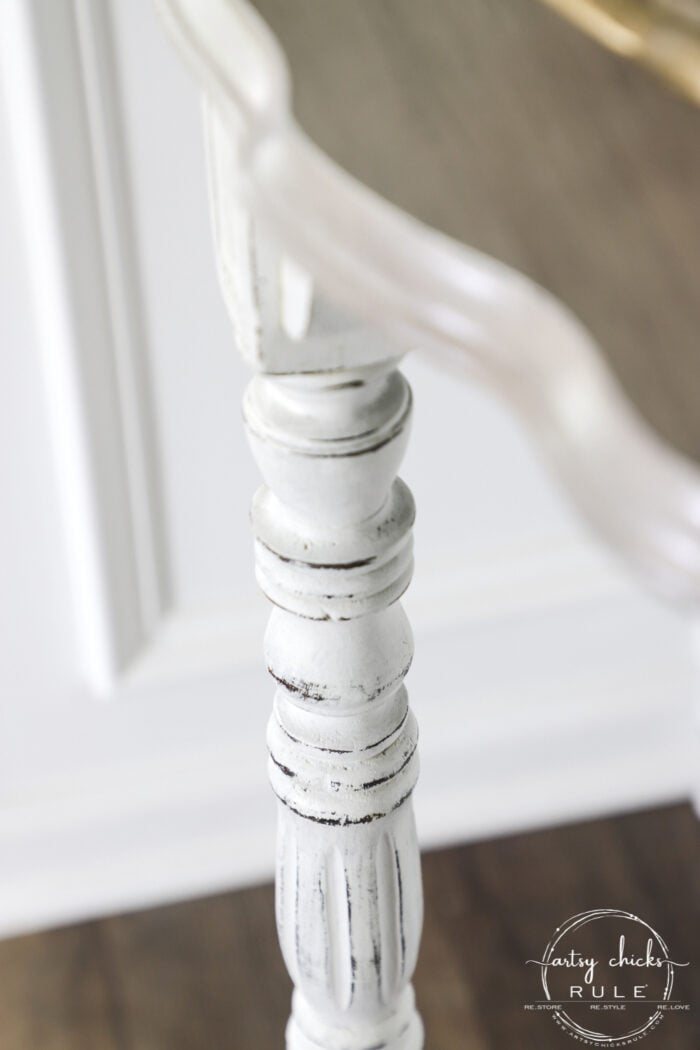 So good.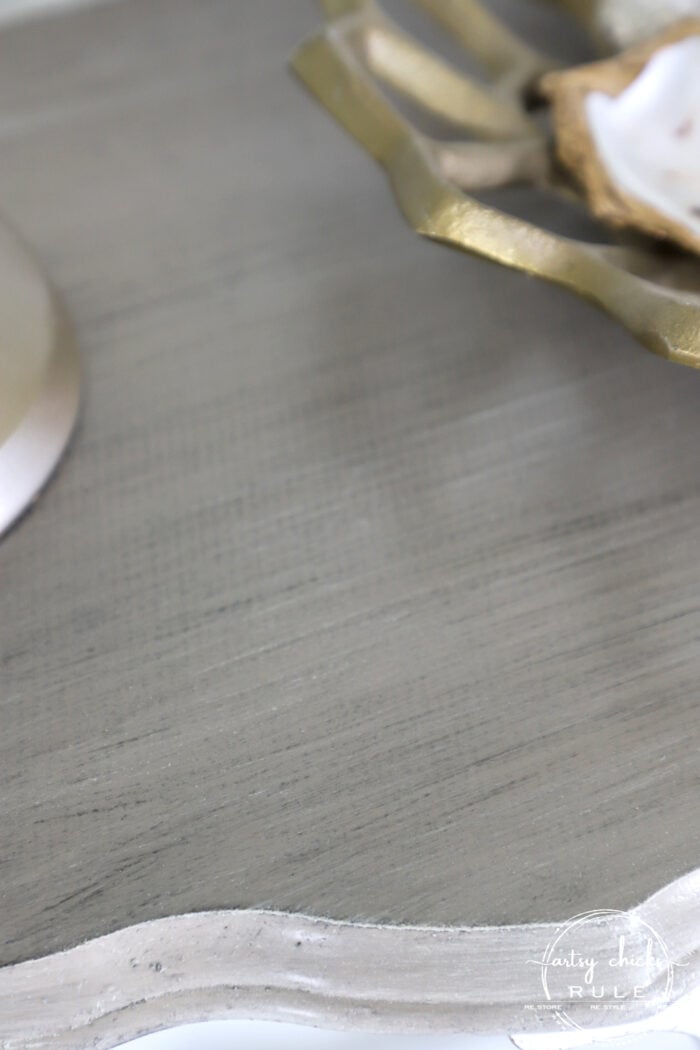 And the finish on top goes perfectly with the relaxed feel of the legs.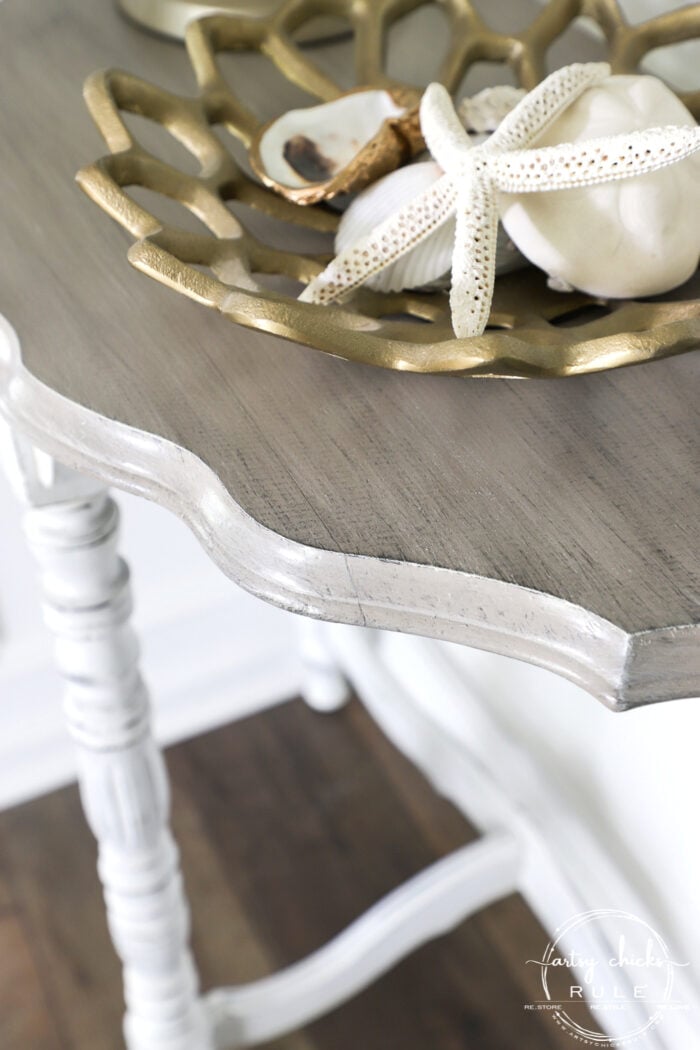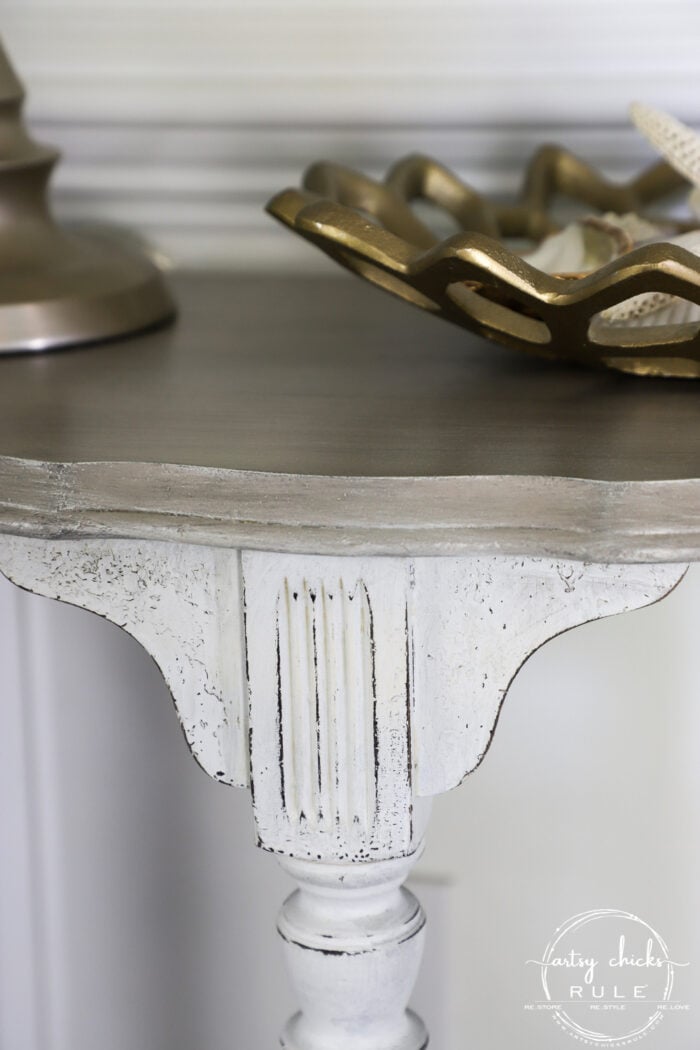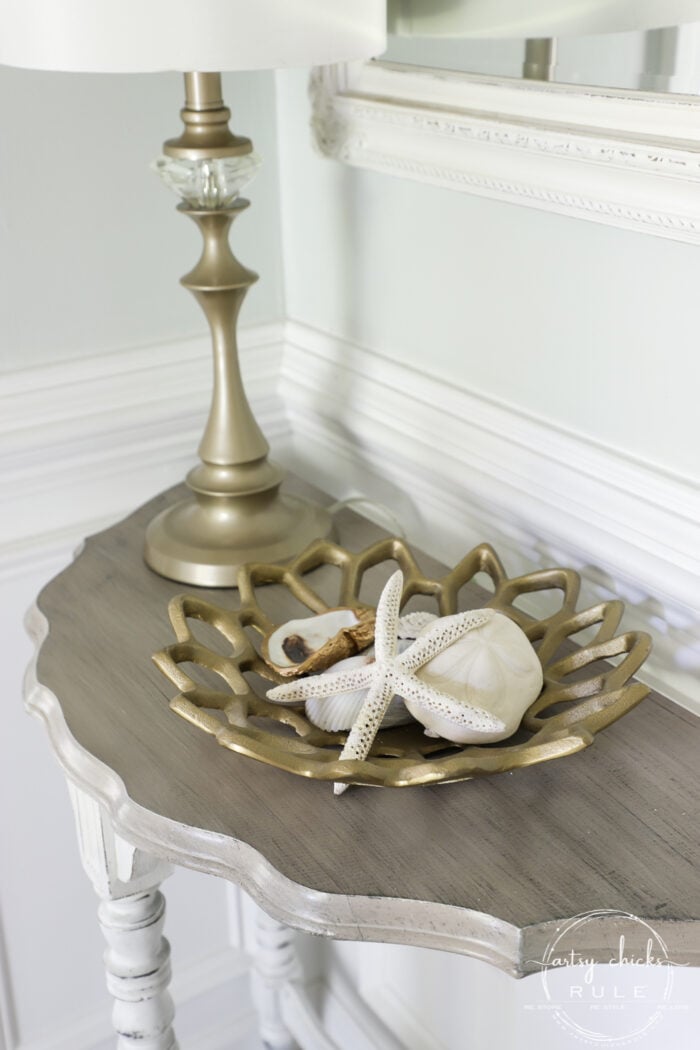 This "brand new" coastal style half moon table is definitely a keeper! :)
PIN it to save it!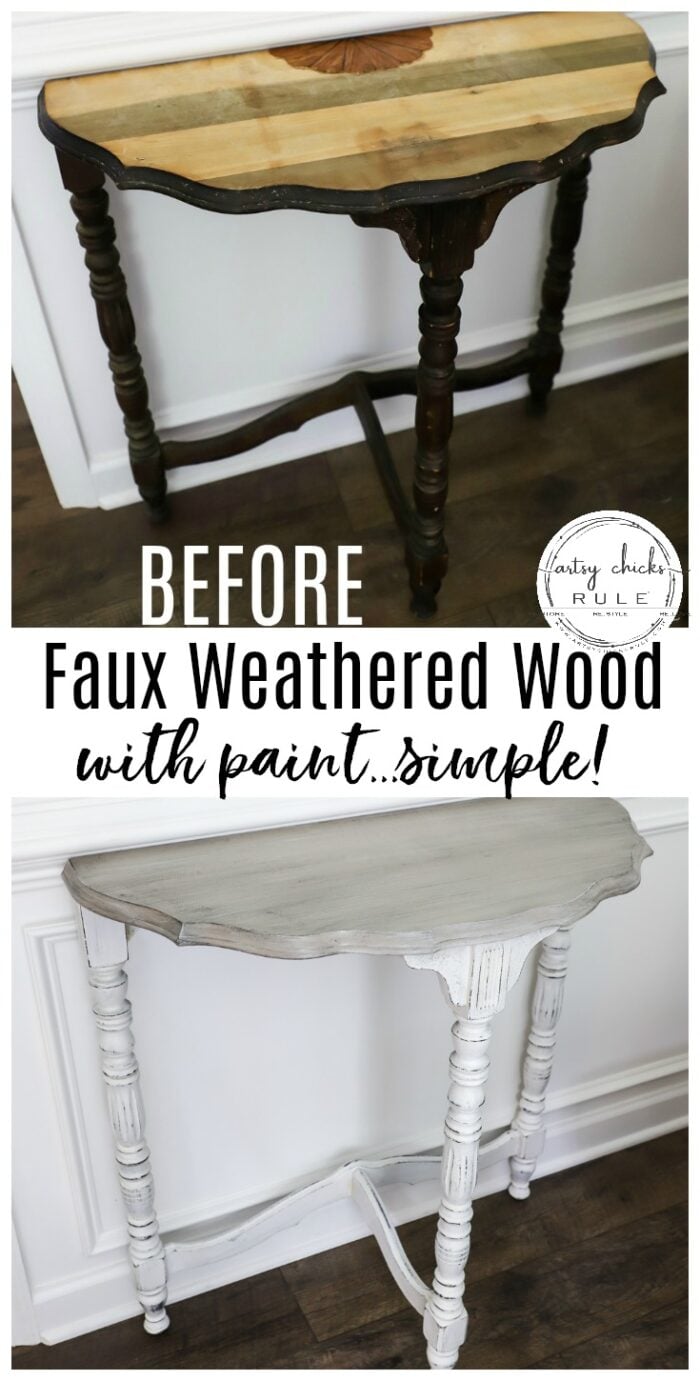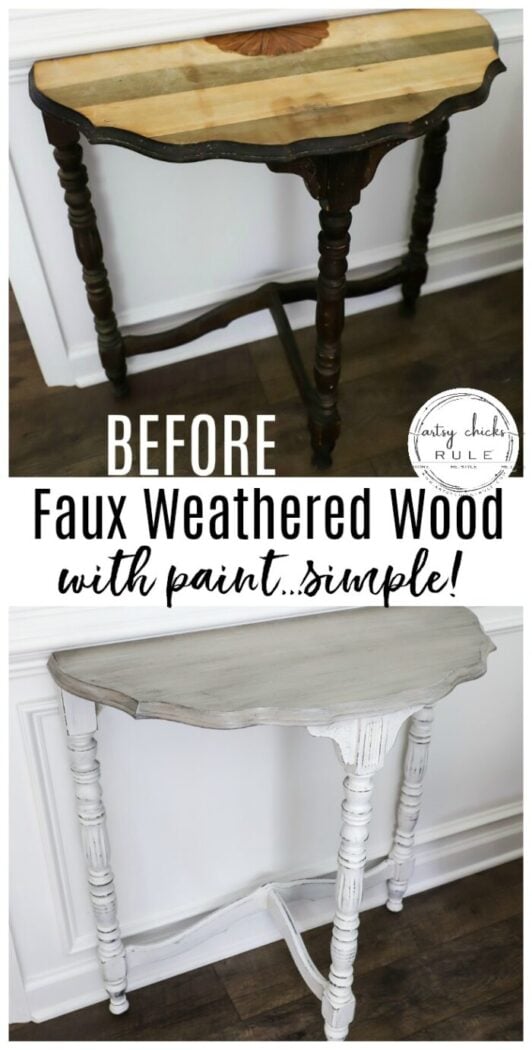 BUT don't go yet! There's more!
Check out these brand new "trash to treasure" beauties. Click the links below to see them now.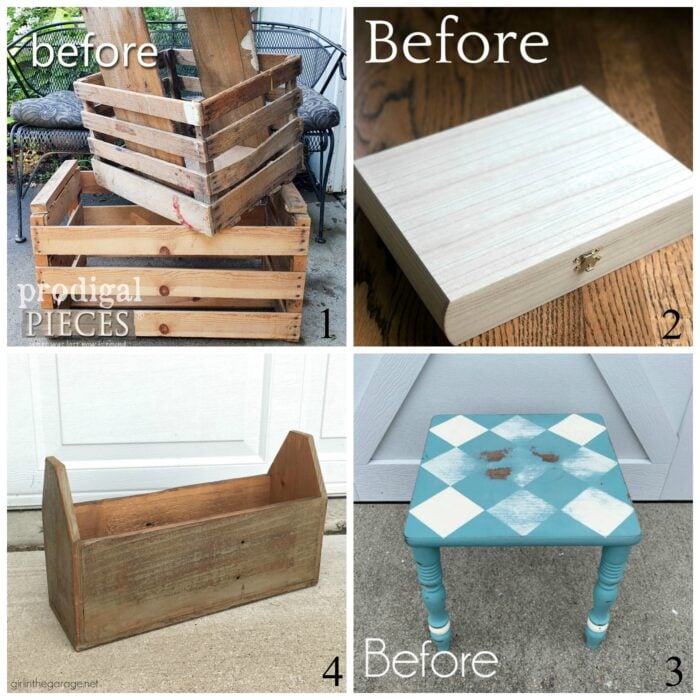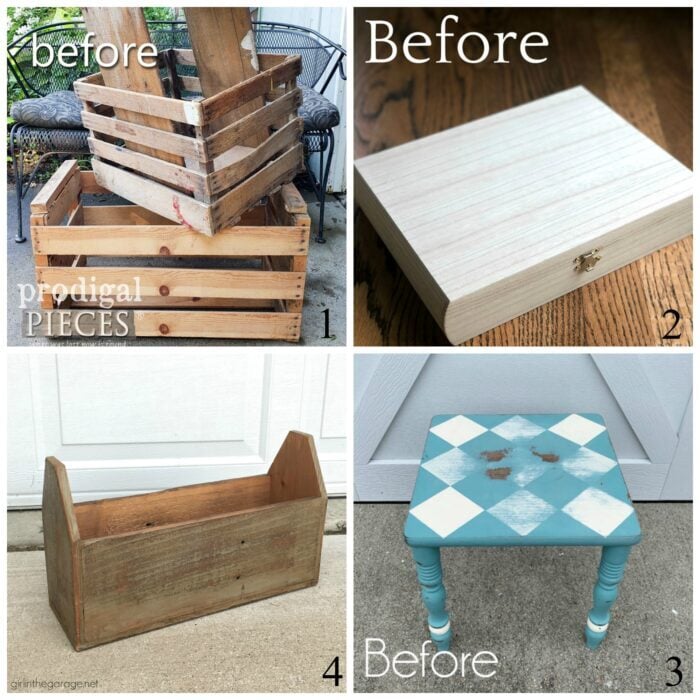 I hope you find some inspiration in these makeovers. So many ideas and so many things you can do with old finds like these.
Create new decor, storage in your home, furniture and more. :)
Want to see more of our past Trash to Treasures?? Click here >>> Trash To Treasure Archive
I'll see you back here on Thursday with another brand new TILED makeover! Can't wait to share it (I've also been sharing this one on Instagram too)!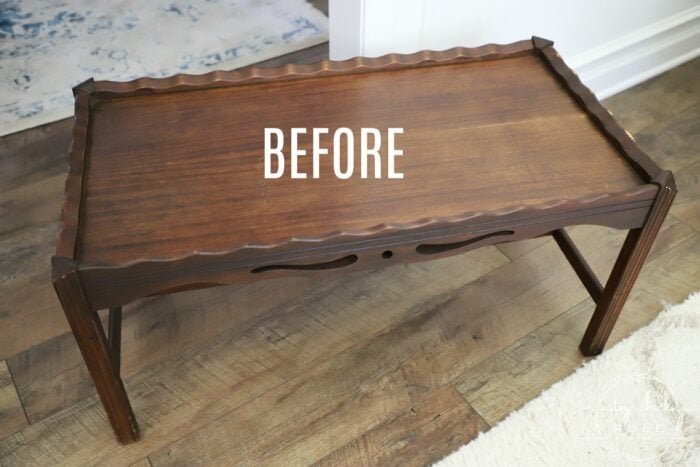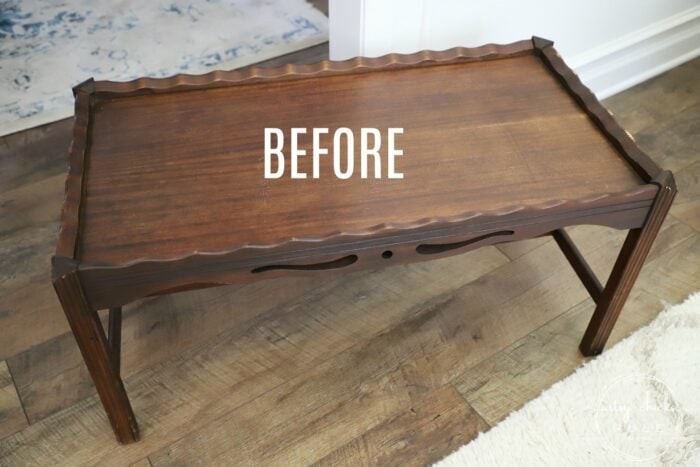 UPDATE!! See it now, here!
xoxo