Simple Thrift Store Tray Makeover With Tile
This post may contain affiliate links. Please see disclosures here.
This simple thrift store tray makeover was a budget-friendly makeover with pretty mosaic tile and a little gold paint!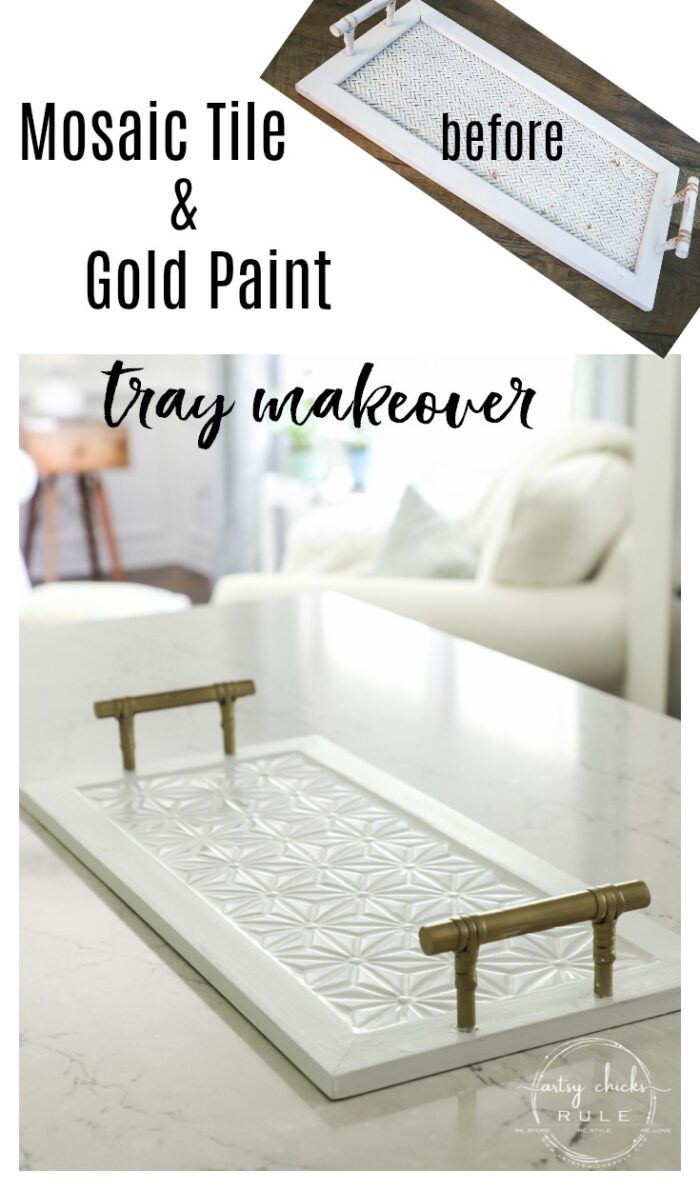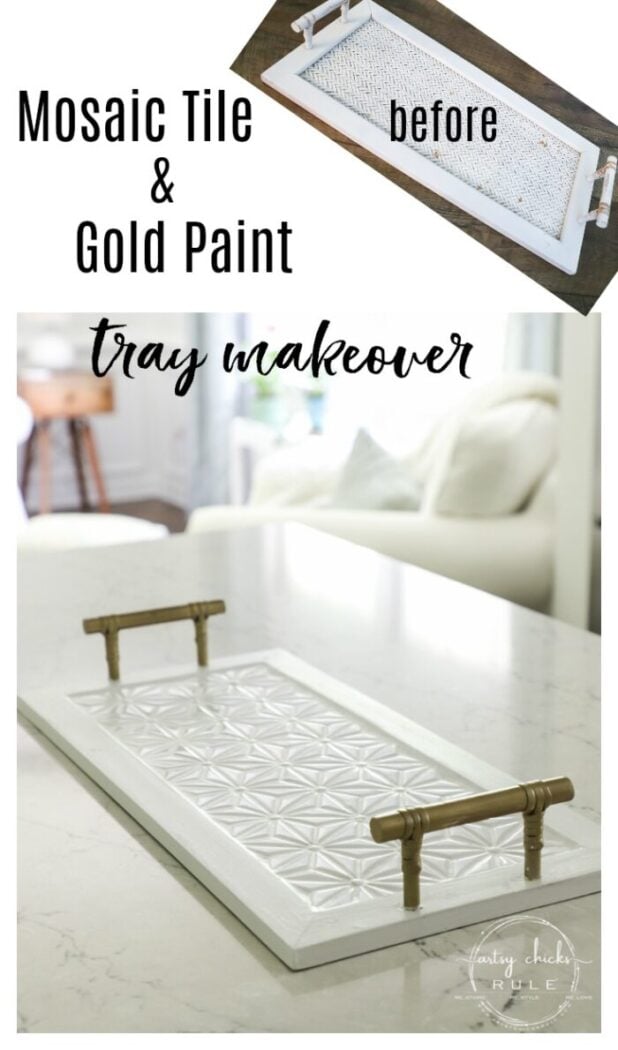 I often look around my home for things that need makeovers, as you know. ;)
Some things I've already given makeovers to. No matter! They may be in need of another, right?
Well, that's the exact case with today's tray makeover.
It was originally a thrifty find that I simply gave a coat of white spray paint to and promptly used it on our screened porch.
You can see it below…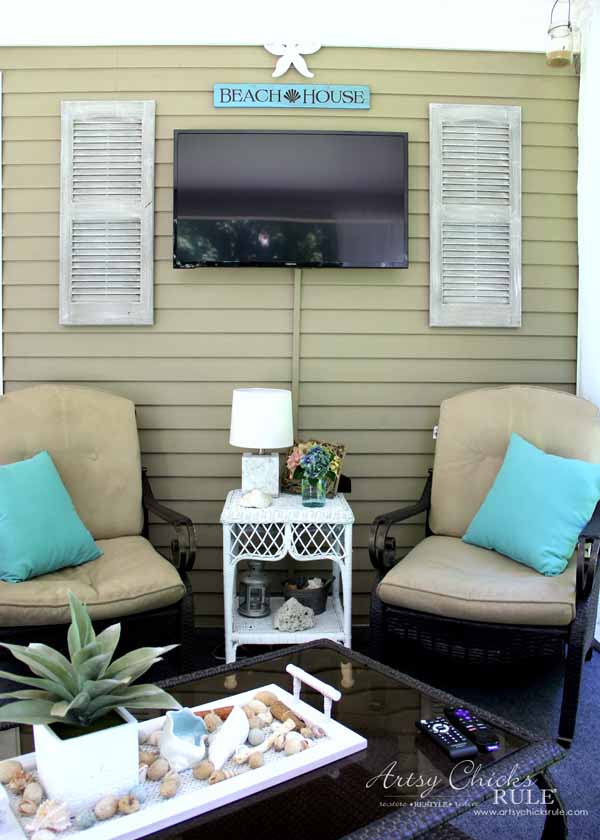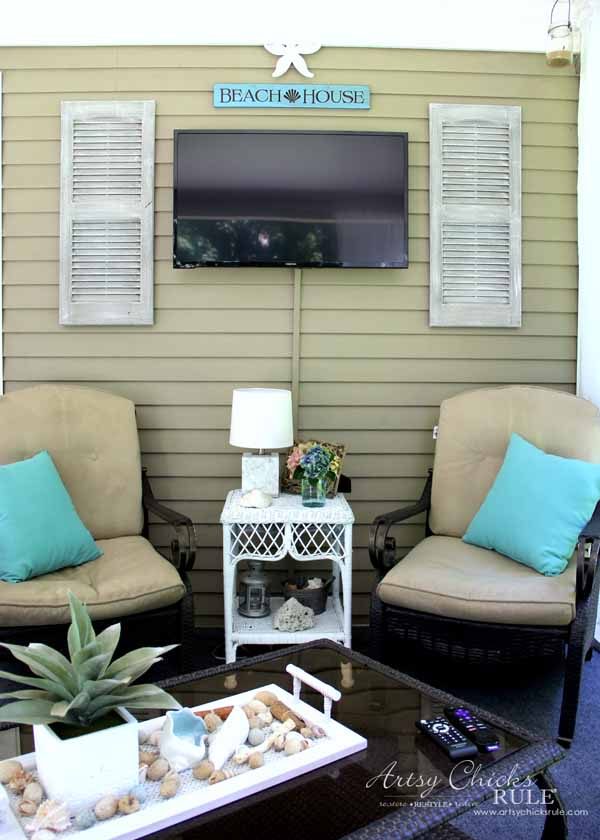 As a matter of fact, you can also see another gold and white tray makeover I recently completed in this same post here >>> Screened Porch & Patio Makeover
(well, it's still coral colored in this post) Remember it?
Anyway, our porch is due for a big overall so all of this is going away…or somewhere else.
So I grabbed up the little tray to give it a brand new look.
Simple Thrift Store Tray Makeover With Tile (and gold paint!)
Here is how it started…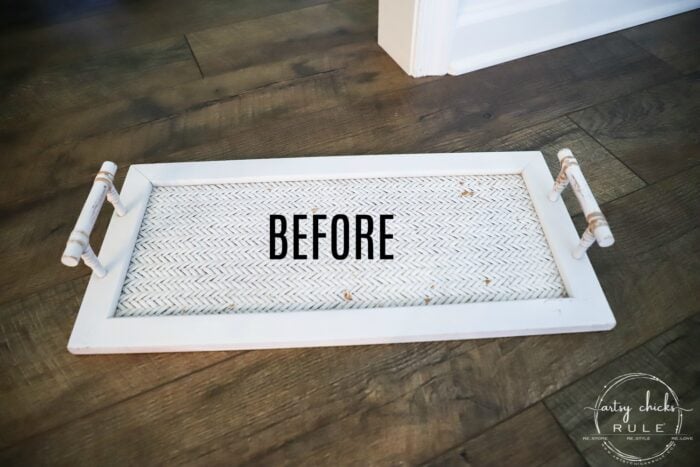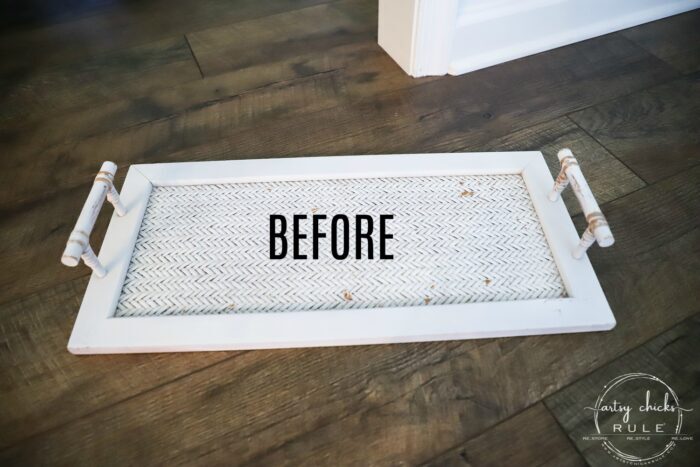 Well, actually, as I mentioned that was after I got ahold of it! lol
Here is the color the whole thing was when I first found it at the thrift store.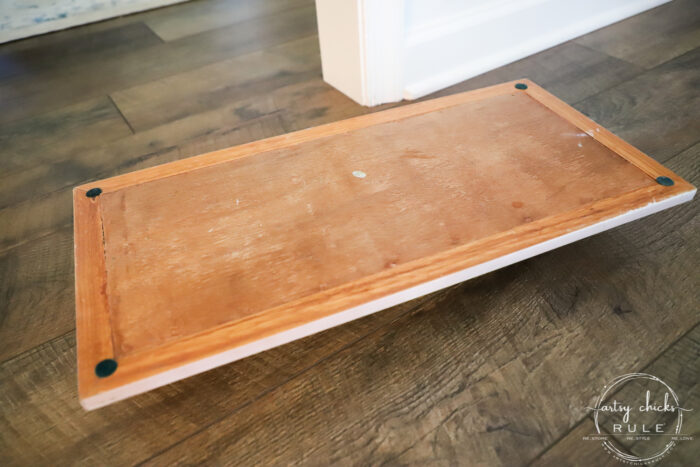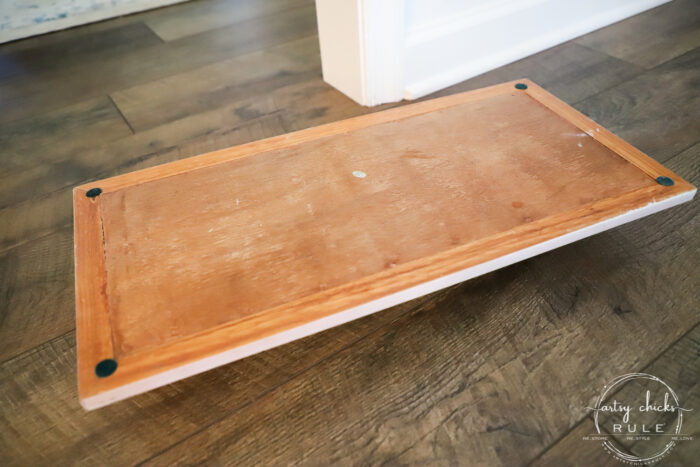 Just picture it that color all over. :)
I wish I'd taken a photo but at the time it wasn't really a blog-worthy post.
Just a budget-friendly decor piece with a simple spray of white for our porch.
I knew I wanted to put tile over that weaving interior section. And I knew exactly which tile, too.
This one…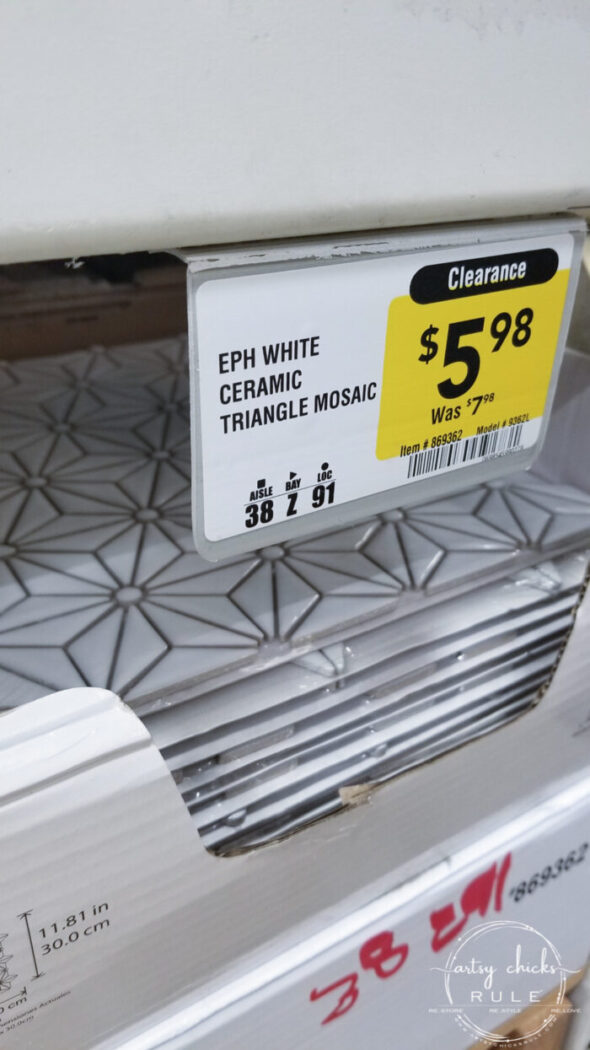 Ack…it's on clearance. Dang.
Great price but boo, I love this tile.
It's the same tile I used on this table I did recently >>> DIY Tiled Table Top
So, yea, that's a bit of bummer but what can you do? Oh, buy it all up!! Haha
Well, no I didn't. ;) But I'd like to.
As a matter of fact, I found another gorgeous tile….also cheap and on clearance… for another project I'm working on.
If you follow along on Instagram with me, you've seen it! ;) I shared it in my stories over the weekend.
Want to see some of these projects in "live" time? Hop on over and follow along with me on INSTAGRAM. I'm always sharing in my stories as I'm doing projects, finding new furniture, fun finds….just all the day to day behind the scenes.
Anyway, moving on.
In order to have it centered and nice looking, I would have to end up cutting both sides of the tile all the way down both sides.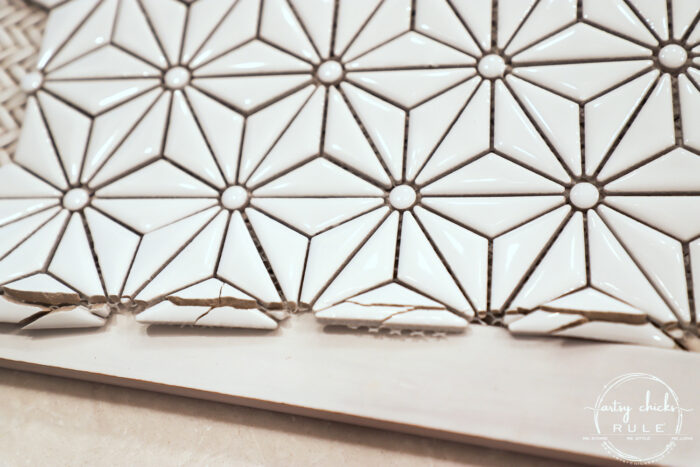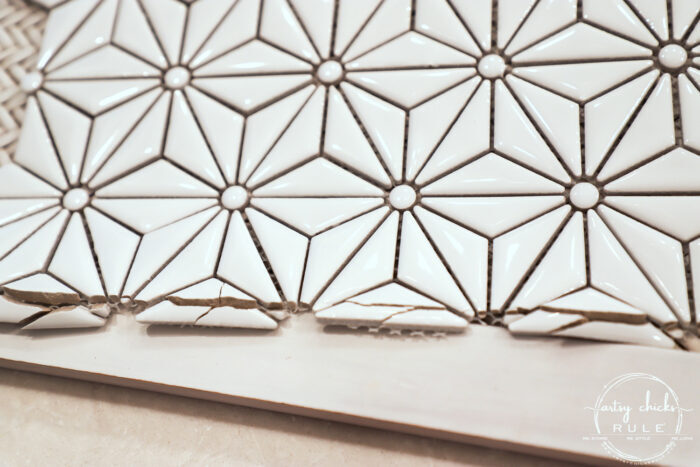 Which was not too much of a problem for the small points.
BUT it was a big problem for the large, flat triangle shaped pieces along the edge there.
So I said, what the heck, those are just coming out. I'm not dealing with all the chippy, crazy mess.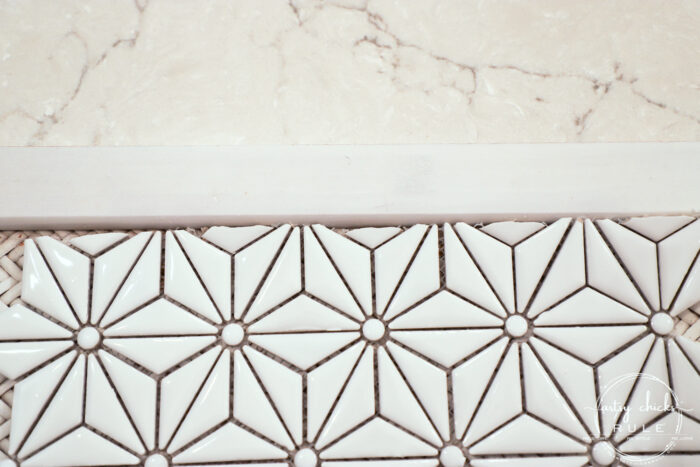 Yuck.
So I cut them out and I'm so glad I did!
Oh yes, so very much better.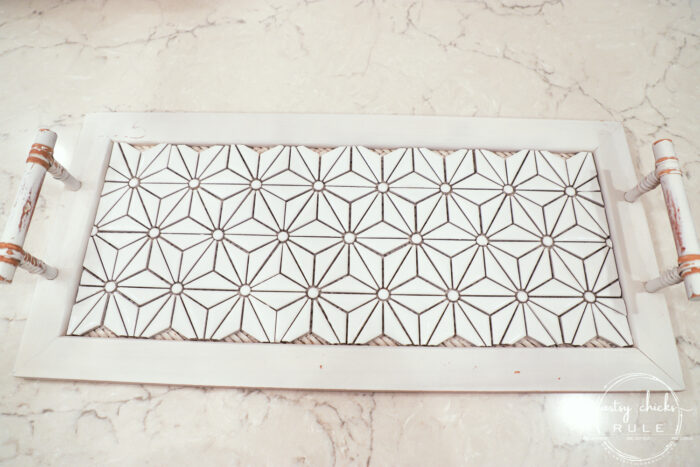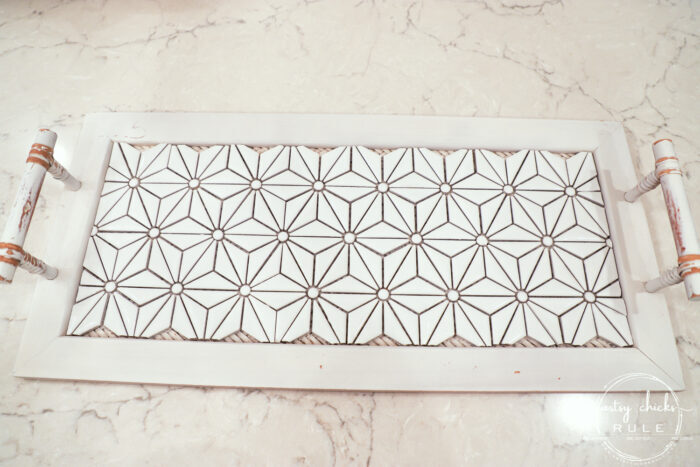 Before we get too far ahead, let me share with you the materials and things I used for this makeover so you can find them for yourself.
After getting the tile all nipped and cut, I laid it out as you see above to make sure it was fitting well.
Then I used the E6000 glue to attach them to the tray. I don't bother with all the typical tile stuff for small projects like this.
I don't feel it's really necessary.
And this glue STICKS. That tile is not moving.
Once that was dry (about 24 hours), I mixed up the grout and applied it to the tiles.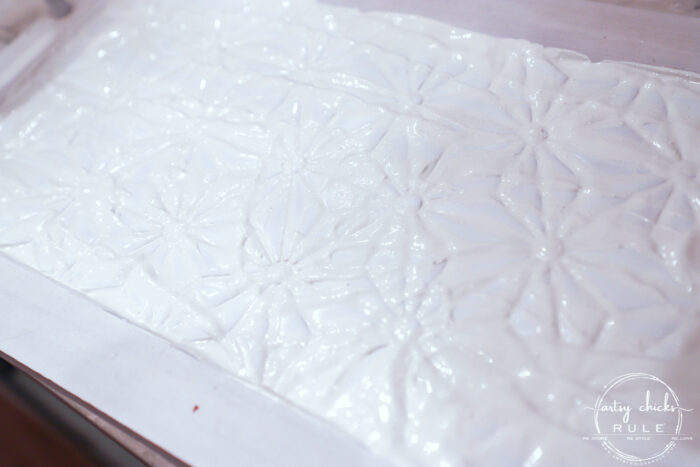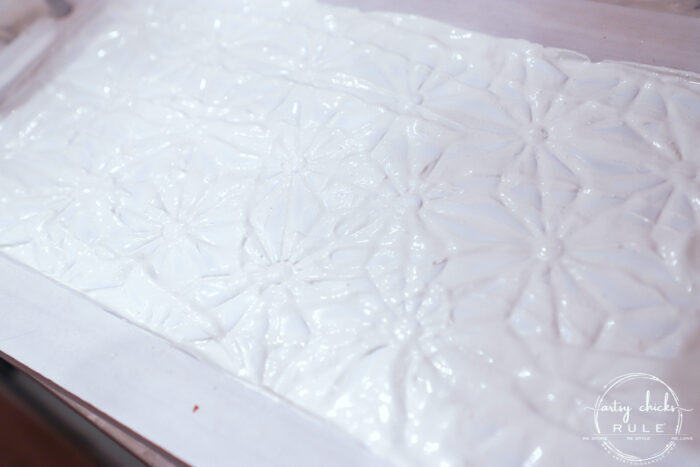 Then I went back over it with a tile float to get it down in the grout lines well and remove excess.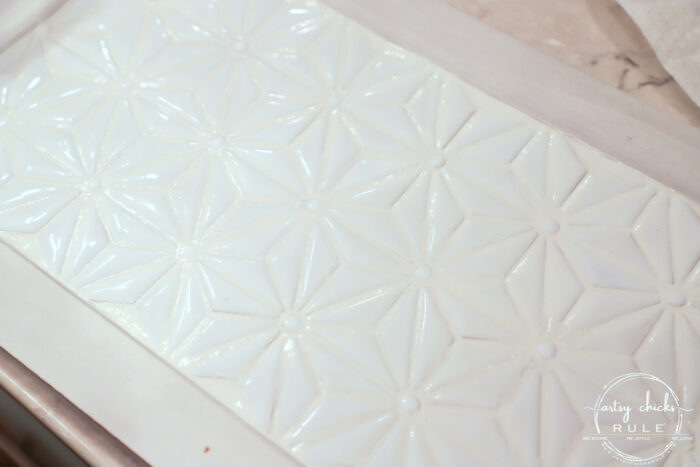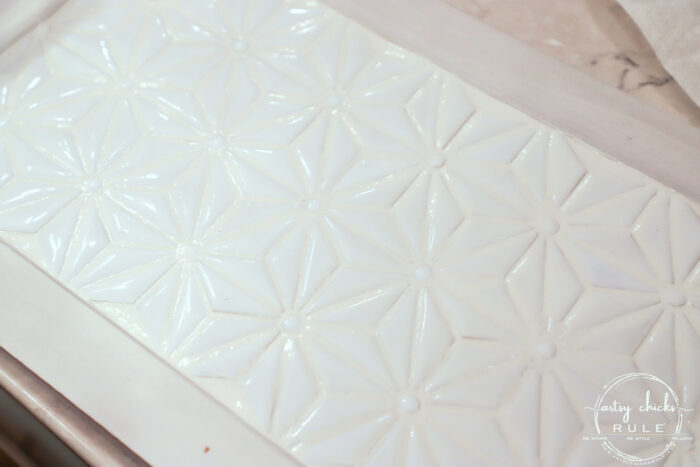 Let it sit for about 15 minutes then go back over it with the sponge. (slightly dampened and wrung out well)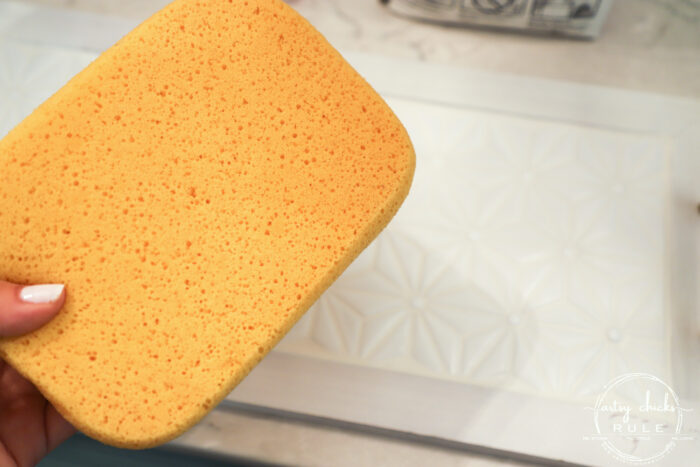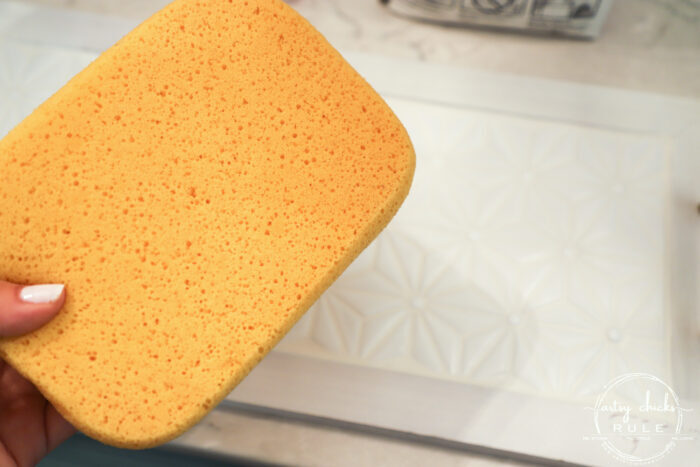 Wait about 2 hours before you come back and wipe the haze away.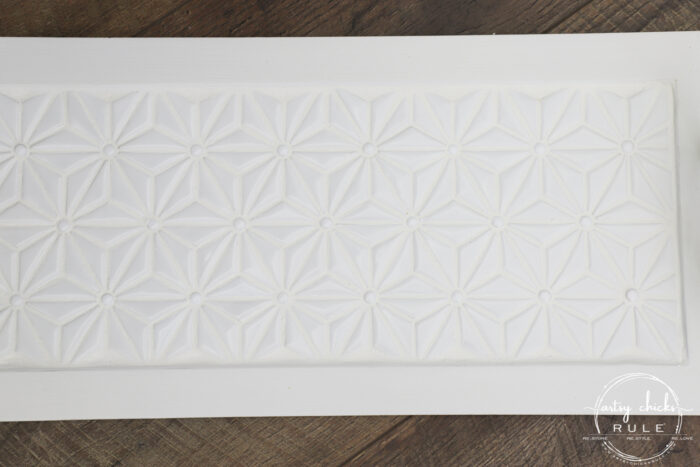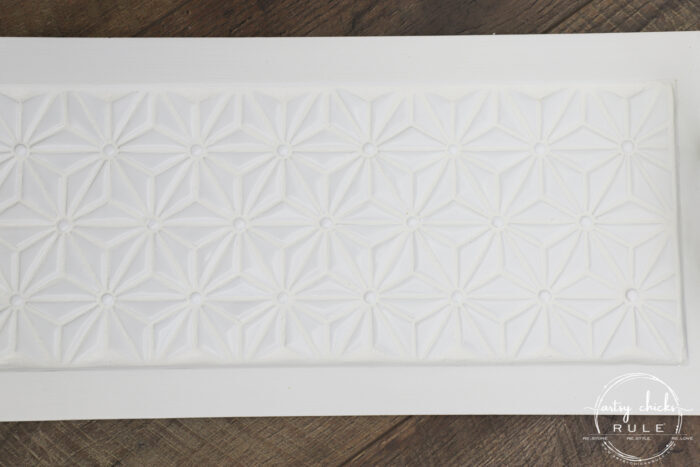 For the handles, I decided to give them a quick spray of gold.
I wrapped up the tray and taped it well first.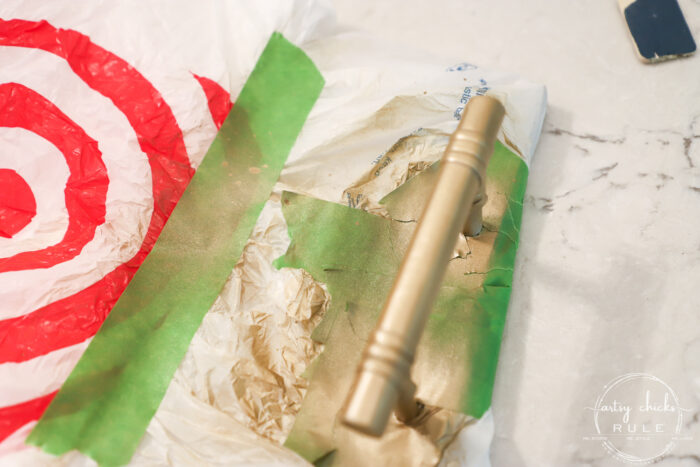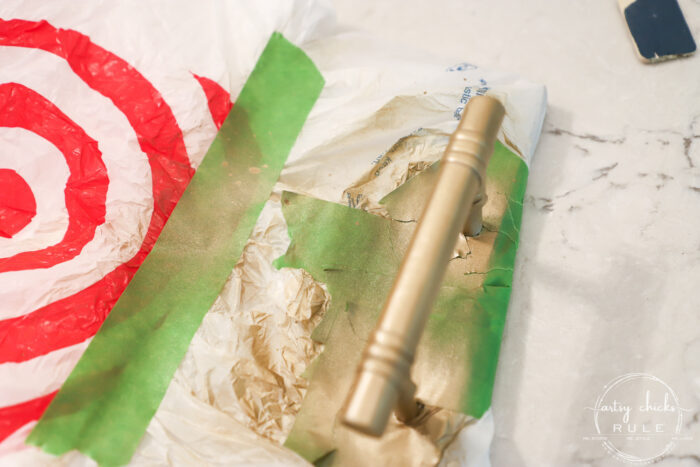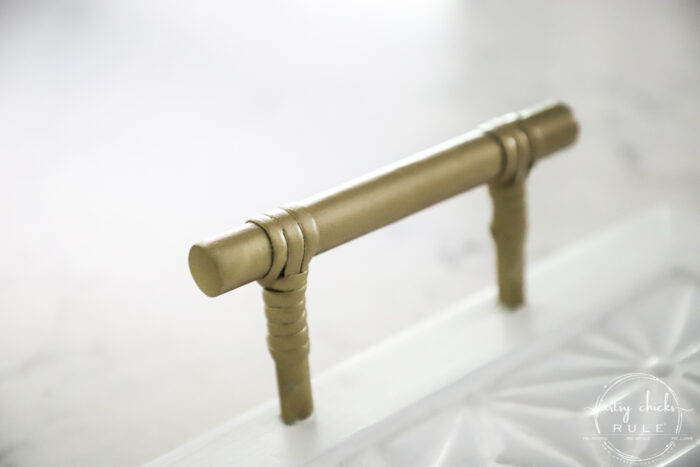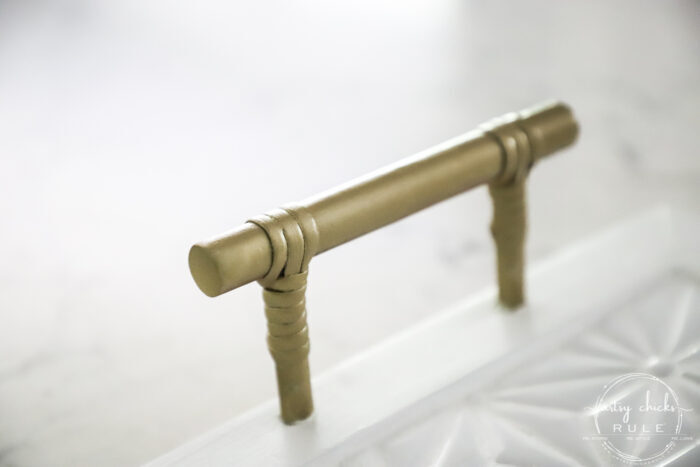 Then I gave the white wood part a coat of white paint.
Once that was dry I used my fave top coat/sealer on the whole thing, even the tile/grout.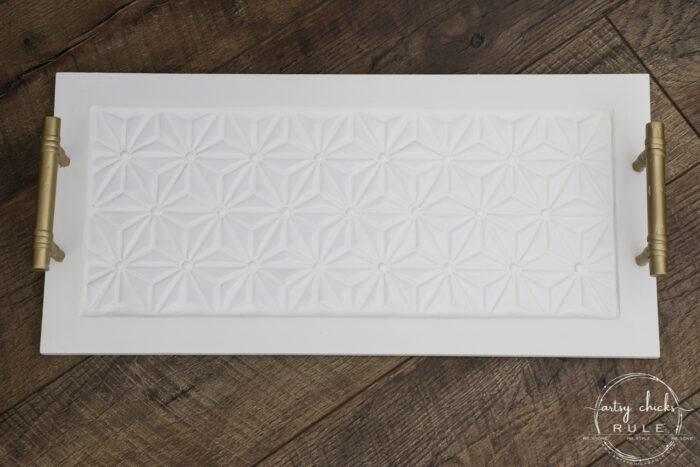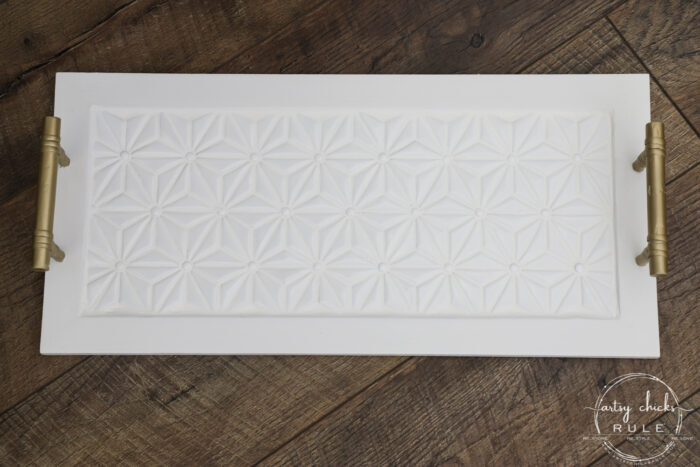 I did take a damp paper towel and immediately went back over the tile to remove it there though.
I only wanted it to settle into the grout to help seal it from spills, etc.
You can see the hint of sheen the grout now has. (it was flat and dry looking before)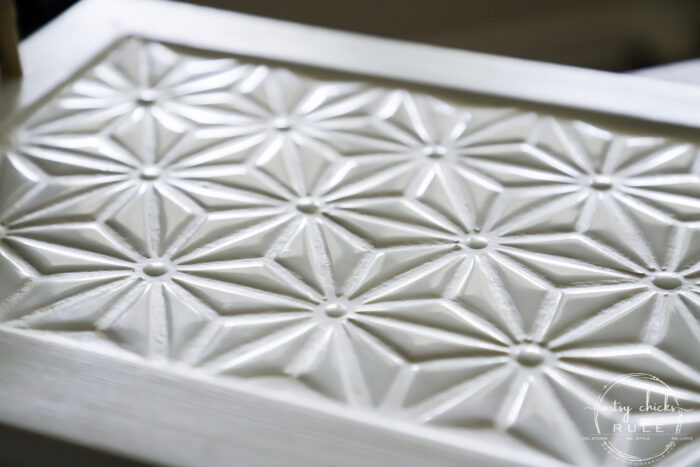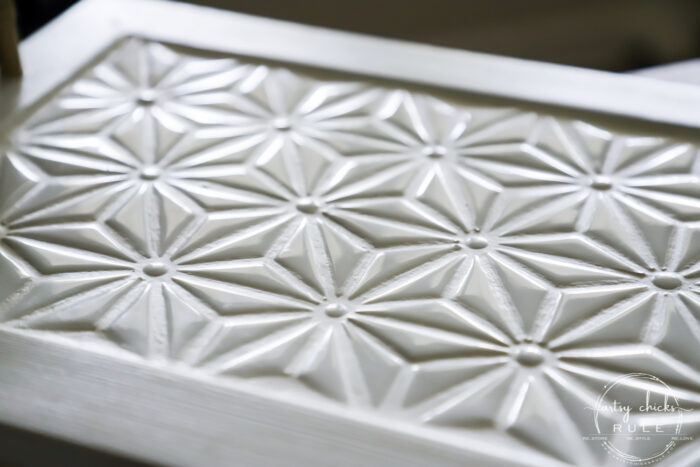 I just love how this tray makeover turned out.
And I'm so, so glad I decided to give it a new look!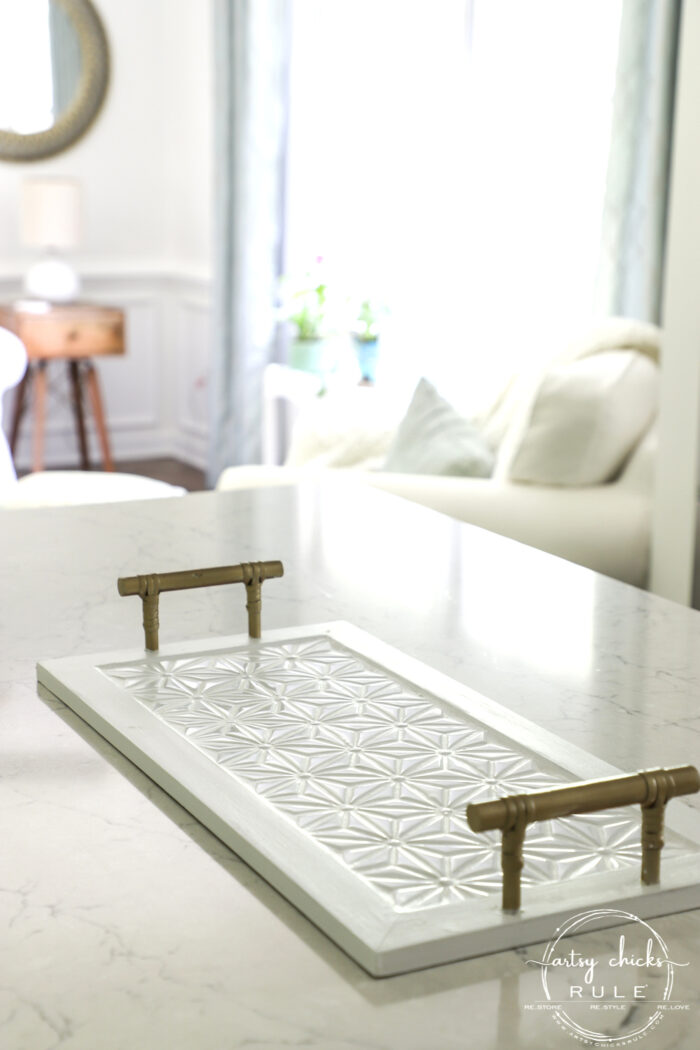 Isn't that tile so pretty??
I love how it looks with the white grout. I used a darker grout the last time I used this tile. (see the link I provided for that further above)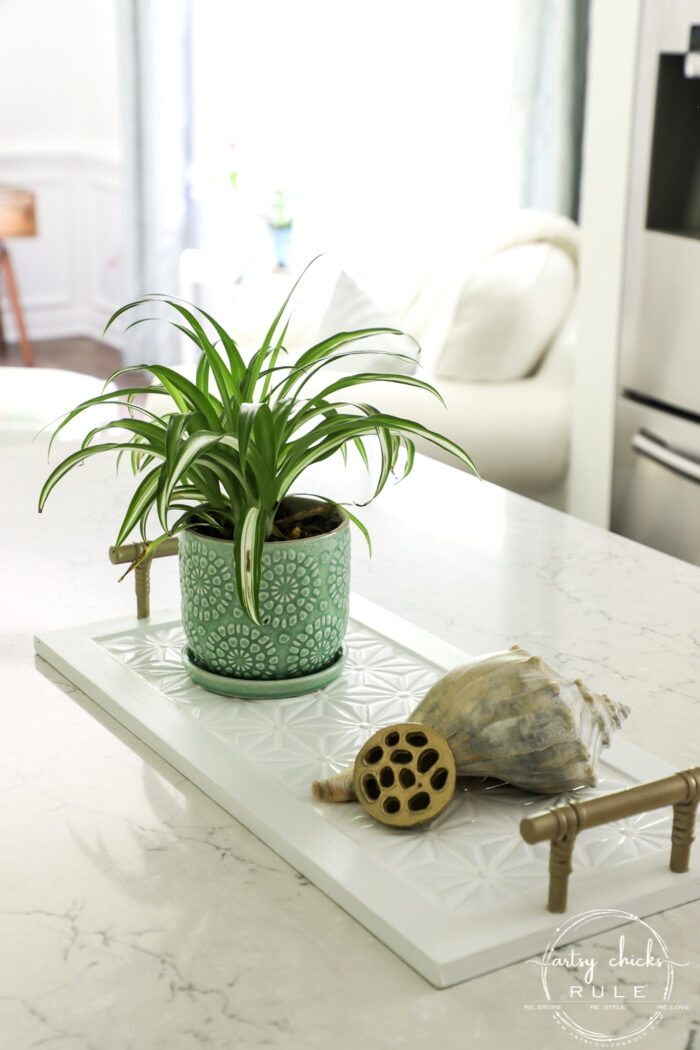 See my other >>> painted tile table over there? Remember I said I was going to use it in front of that window in my morning room for some of my small house plants?
That plant you see there is one my son brought home to me in 3rd grade. Aww.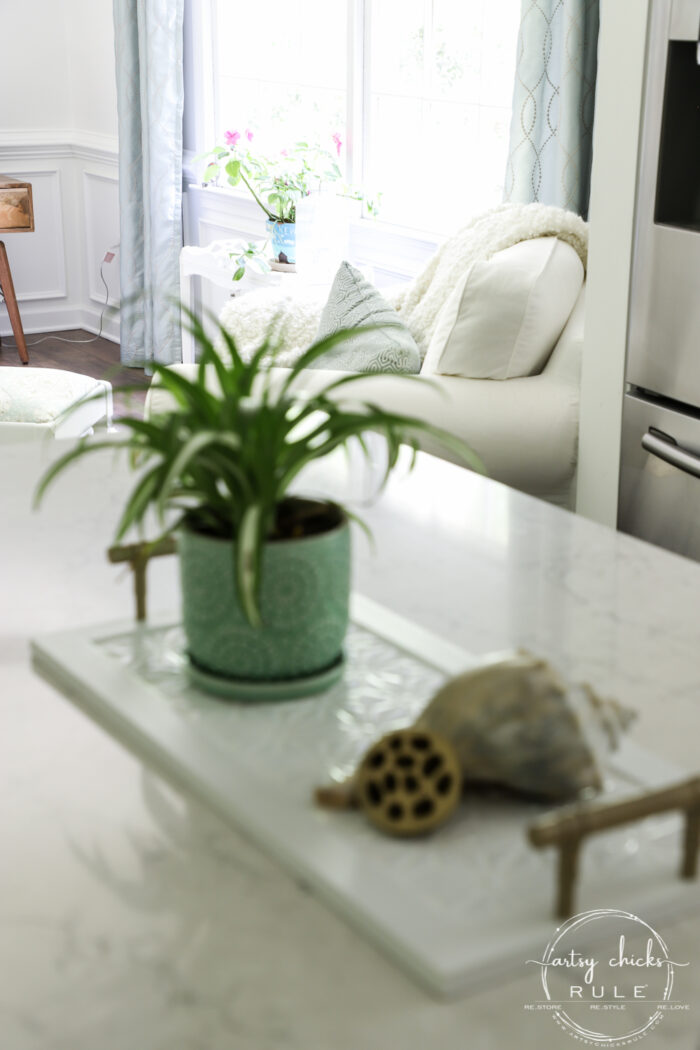 You can see >>> my little "footstool" I shared recently too. It's still tall. ;)
I have not decided yet what I'll do with it.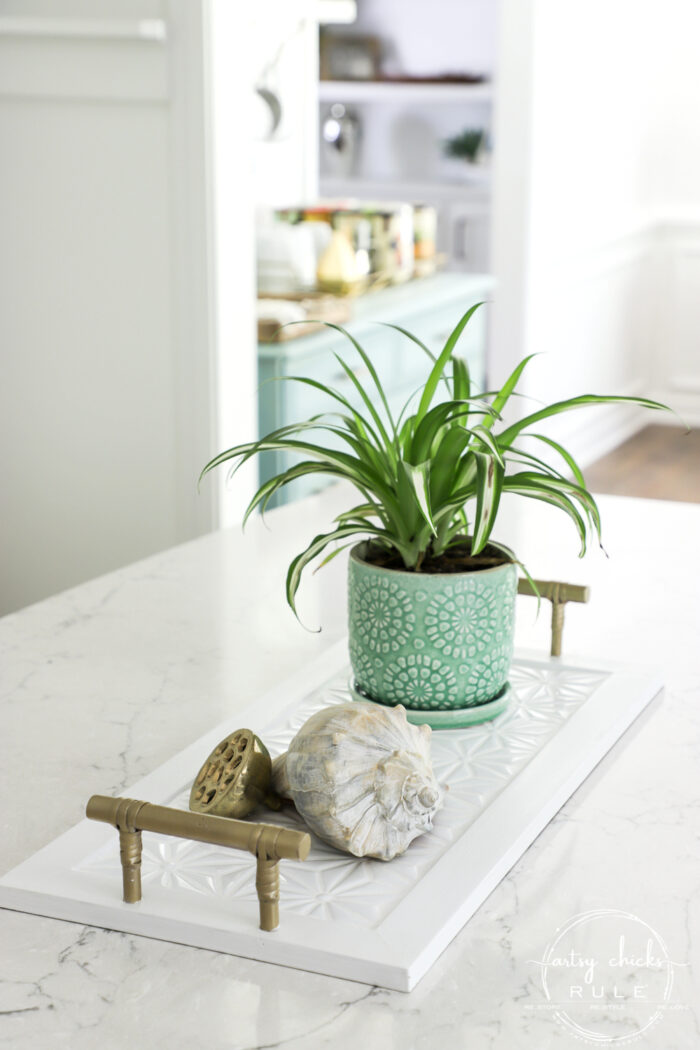 Looks great on my kitchen island too. That's a shell my son found for me on a field trip to the Eastern Shore a few years back.
He actually brought me two, both that big. They are such beauties and treasures.
These kinds of trays can be used in so many ways…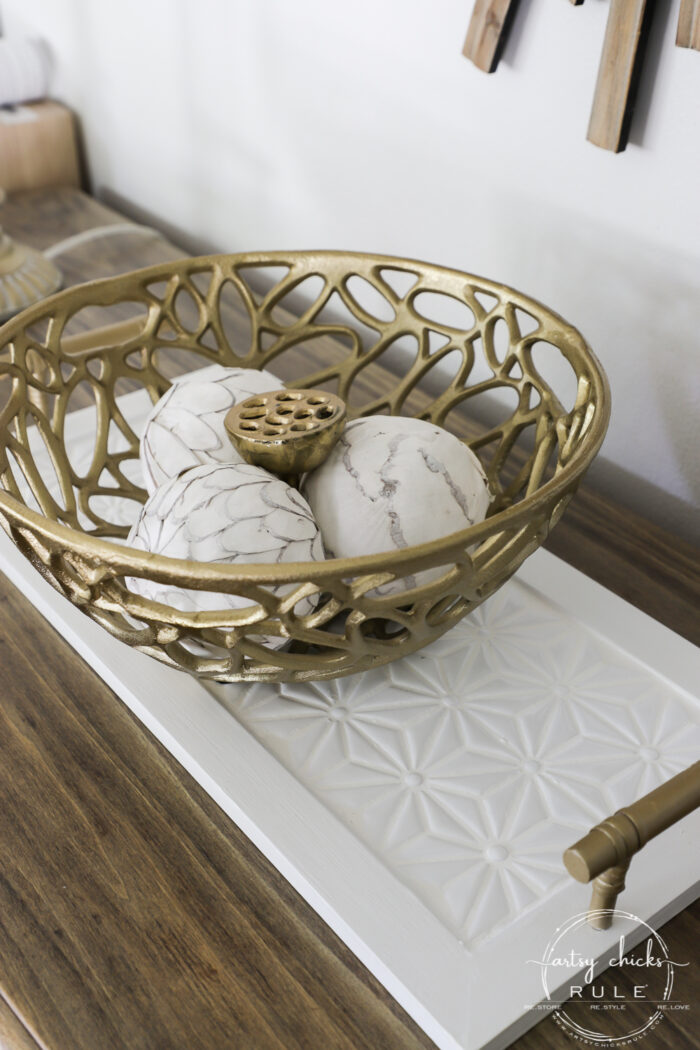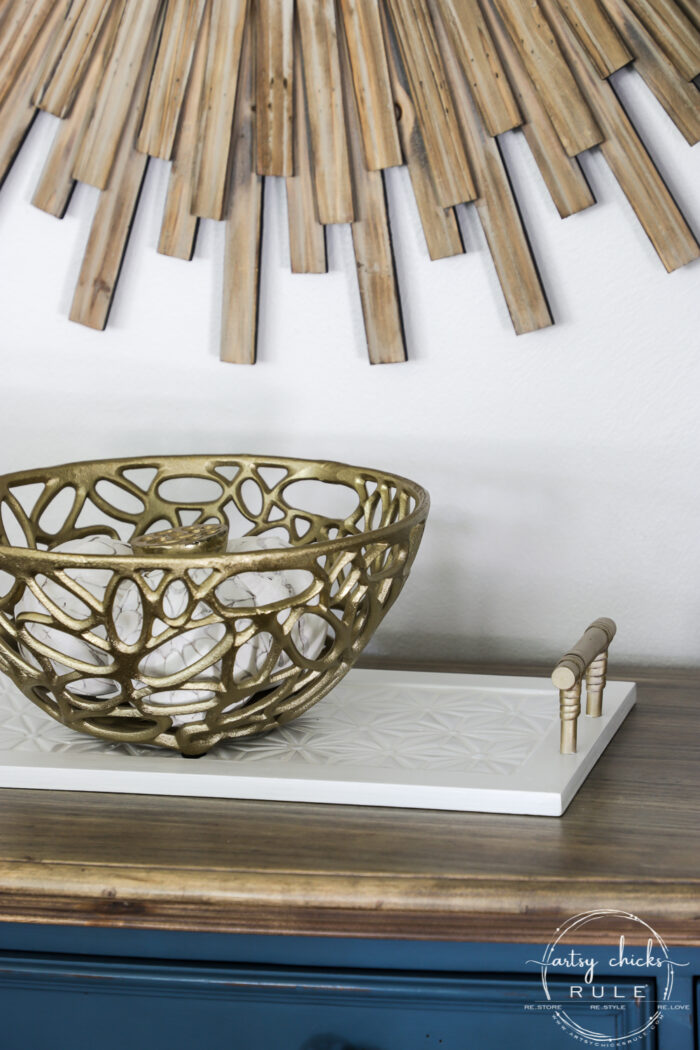 In so many places too.
Goes nicely on my Aubusson Blue dresser.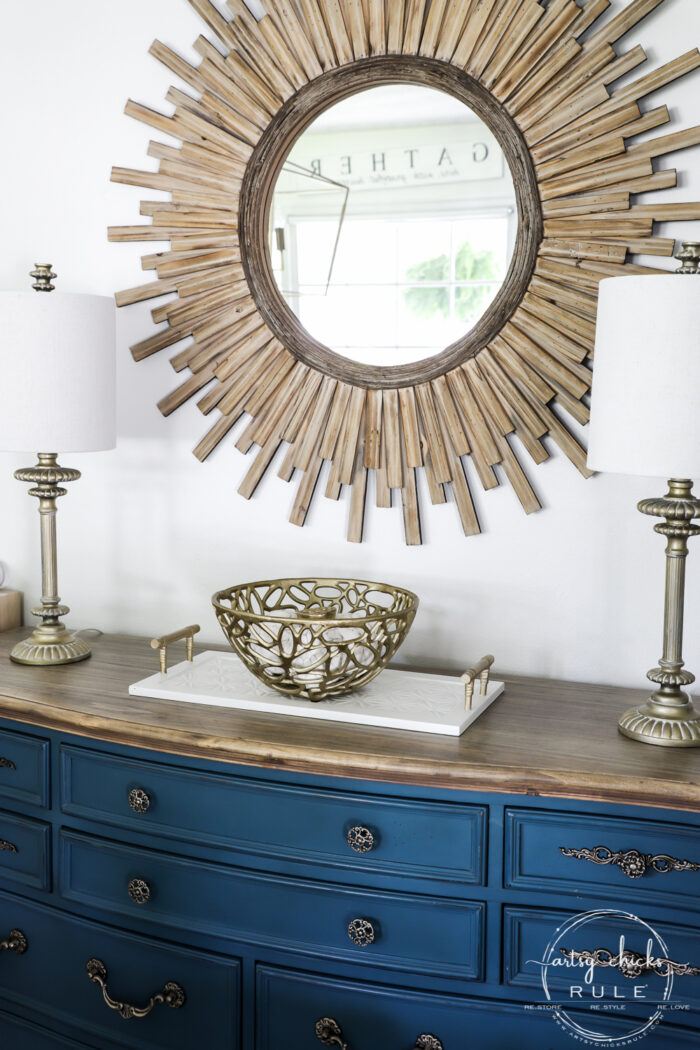 It even looks nice in the family room on the ottoman here…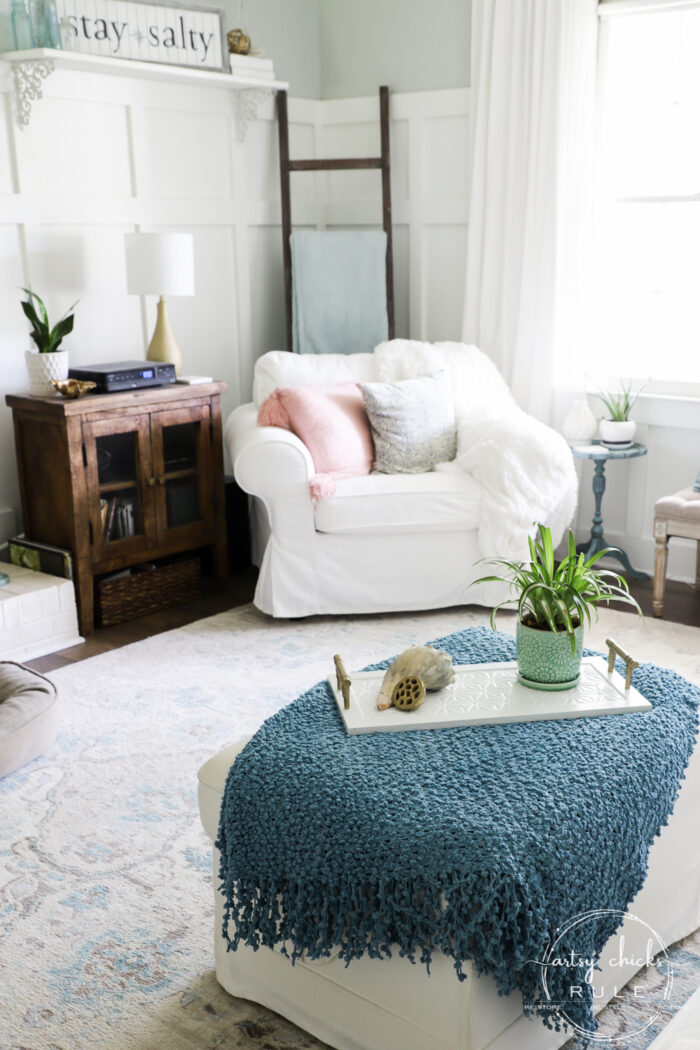 Actually, I really like it there.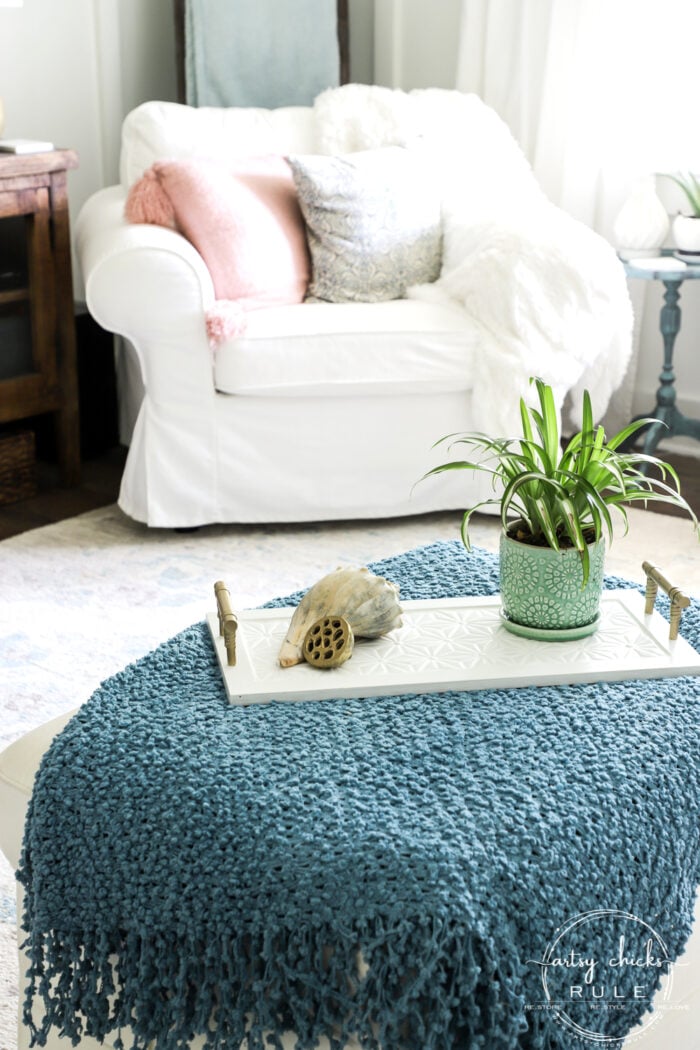 But for the time being, I have decided to use this one here, on >>> my Duck Egg Blue secretary.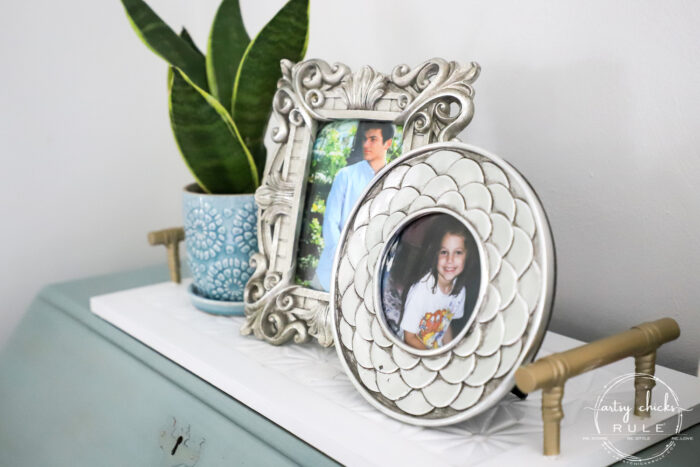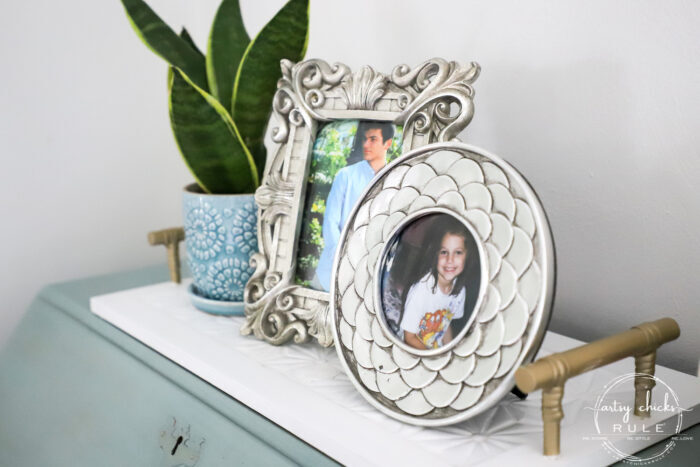 Along with photos of my "babies"….and a plant that tried to mess up the finish on my pretty desk.
And why I'm using it here for now. lol
I was able to fix the mess the plant left underneath that pot though…thank goodness. (all of this was sitting here already, minus the new tray)
I hope you enjoyed seeing this tiled tray makeover today!
It was a fun one to do. I'm finding that I am really enjoying working with tile and creating pretty new makeovers with them.
I can NOT wait to share the one I'm working on now with you guys.
Remember, stay tuned to Instagram, I may share a snippet or two before I post it next week. ;)
PIN it to save it!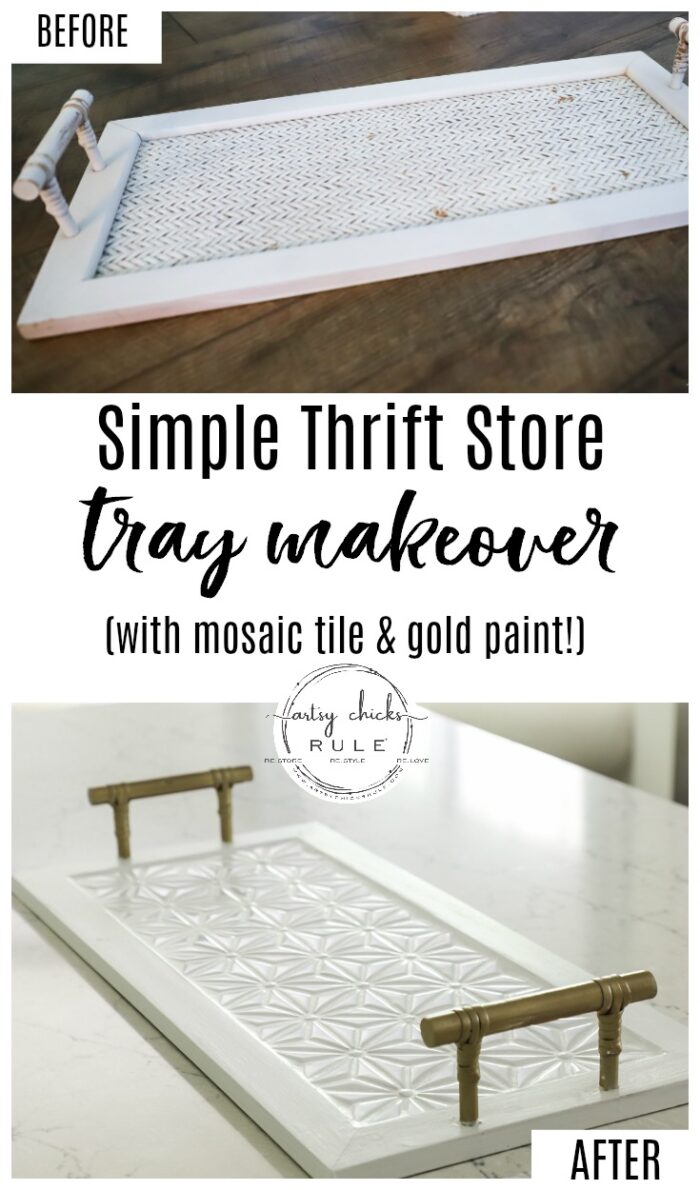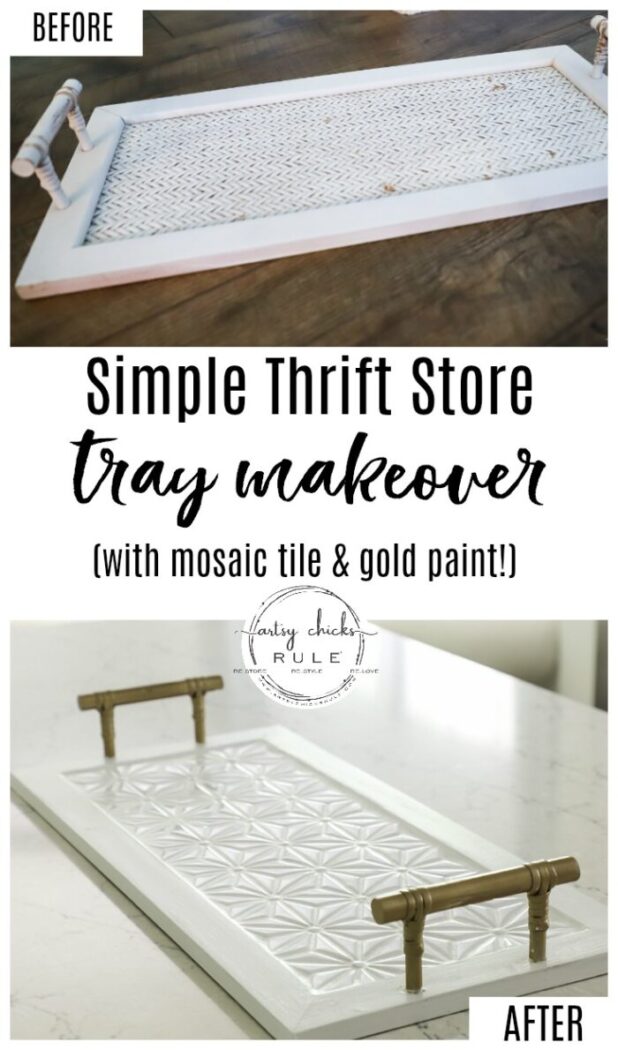 For my American friends, I hope you have a wonderful 4th of July!
Happy week to all!
xoxo