DIY Tiled Table Top (so easy to do!)
This post may contain affiliate links. Please see disclosures here.
This DIY tiled table top was a welcome and refreshing change to this dated thrift store find!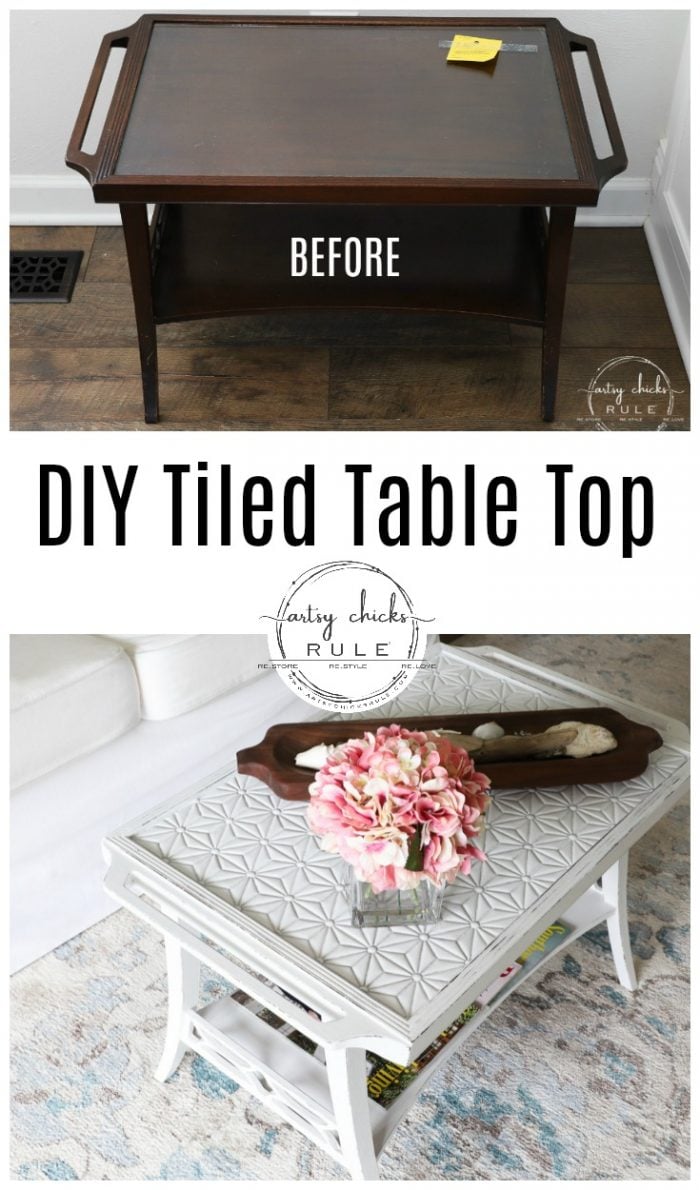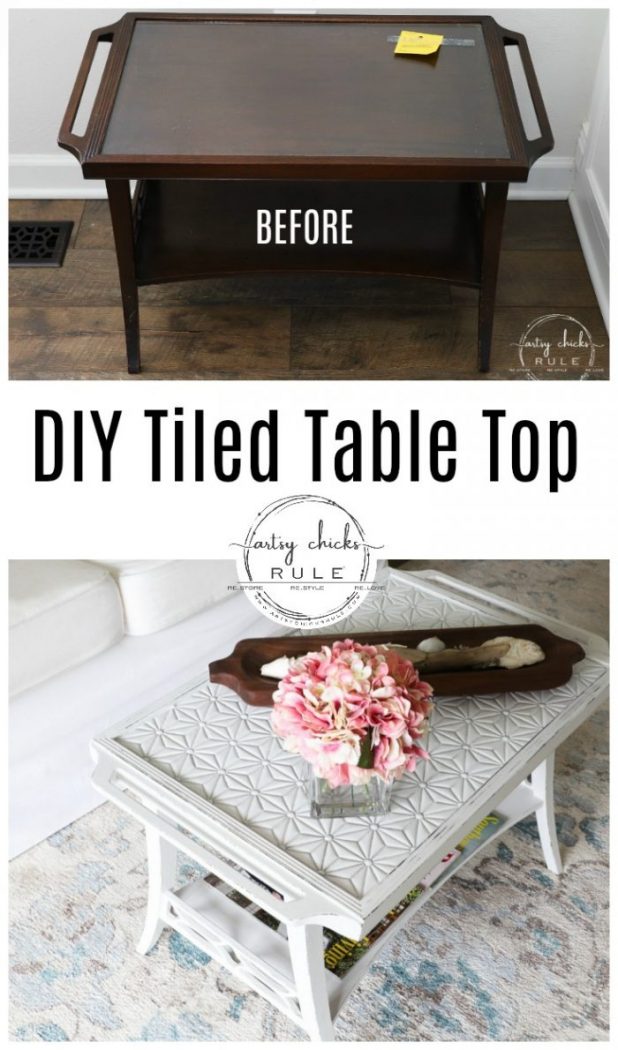 Hello beautiful friends!
I am finally sharing this little table with you guys. I've only been promising it for several posts now.
But it is done!
Yippee!
And I love it.
But I did have a few bumps in the road. What's new?! lol
It's all part of the creative process, right?? Yep.
Before we begin, I can't let this day go by without wishing our beautiful, and so loved, Ryder, a big ole happy birthday!
He is 3 years old today.
How in the world has the time gone so fast?!
I don't know but we love him to pieces. He has been such a blessing to us.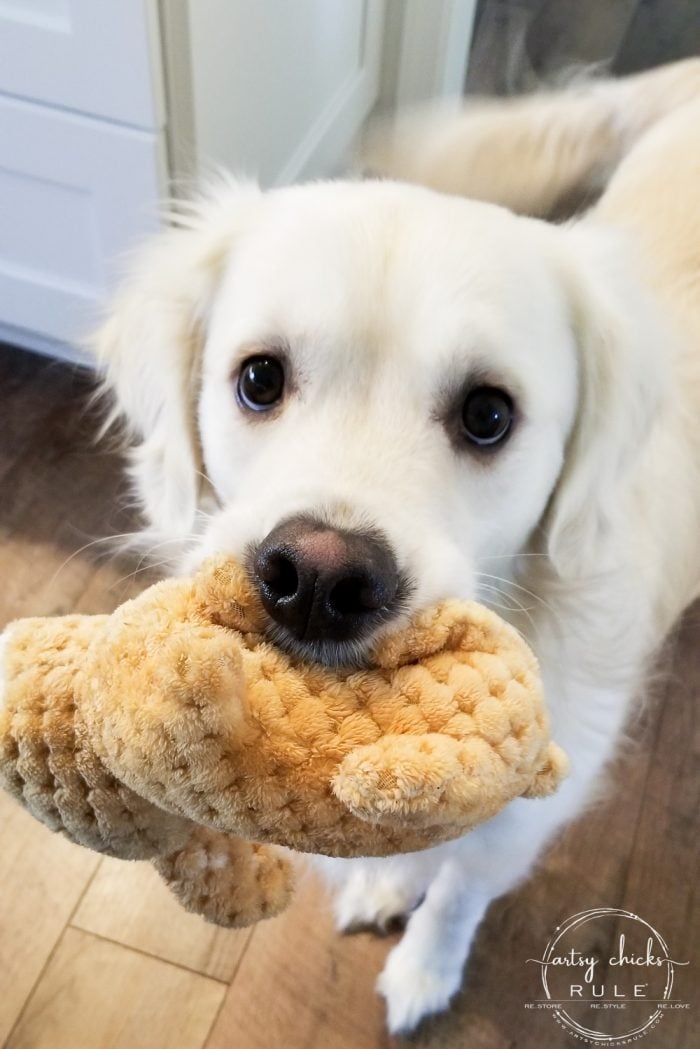 This boy loves his toys!!
It's like living with a toddler again. Toys are everywhere. haha
But that's okay! I am so thankful for him.
He brings so much joy to our lives.
Okay…back to the project!
Remember that thrift store haul I had last month?
This one…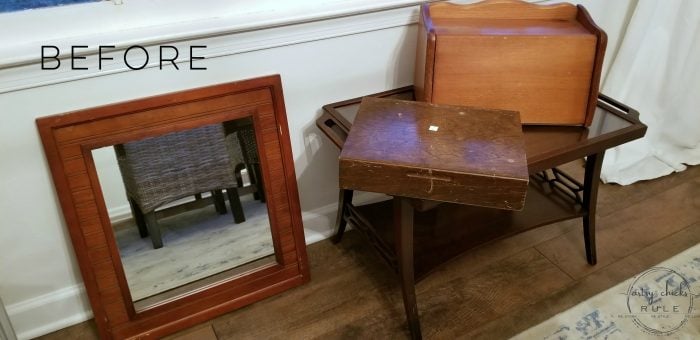 It's a small haul so it didn't take me too long to get through 'em!
If you missed any of the makeovers, you can see them all here:
And today, I am sharing the last one.
DIY Tiled Table Top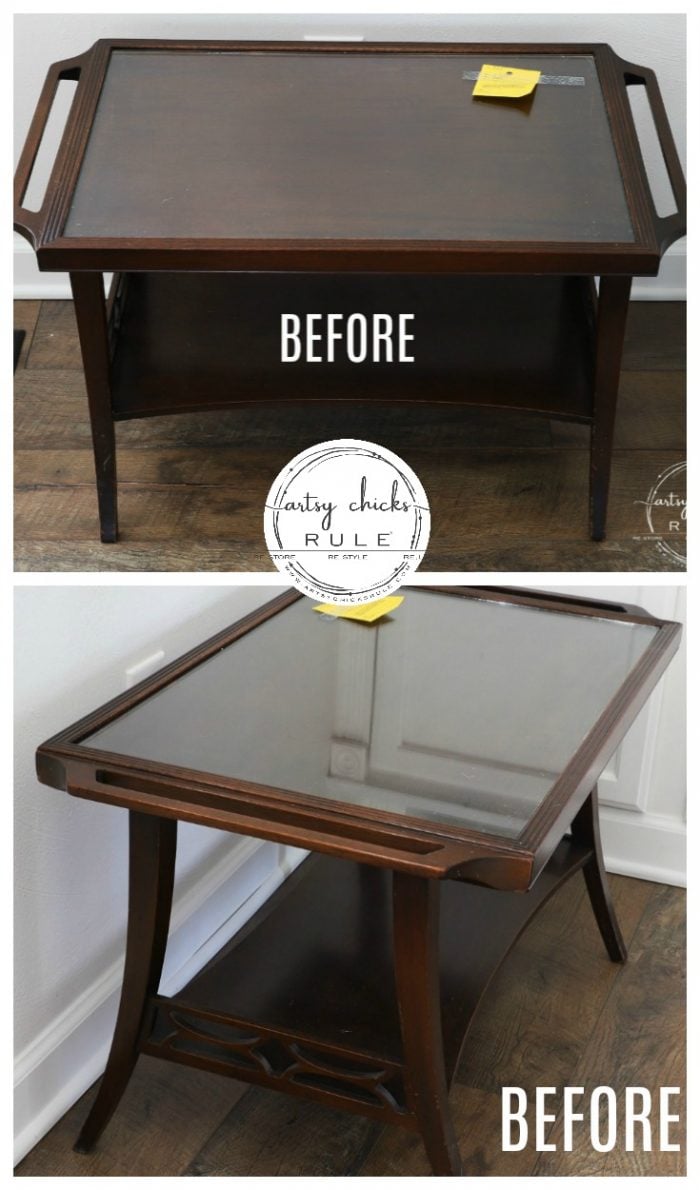 I picked this one up for $14.99.
What a steal, right?
But it had the type of wood that is notorious for "bleeding" through the paint but I really wanted to paint it white.
So I began by cleaning it up, then spraying it with Shellac before I did anything else.
Shellac works great to stop the "bleed thru" on these old pieces.
MATERIALS LIST
Annie Sloan Clear Wax

Tile (this is the one I used – 3 sheets)
Then I gave it a coat of white paint….but after it sat for a day I noticed a couple of tiny spots of "bleed-thru".
Both of them were in the crevices, like this…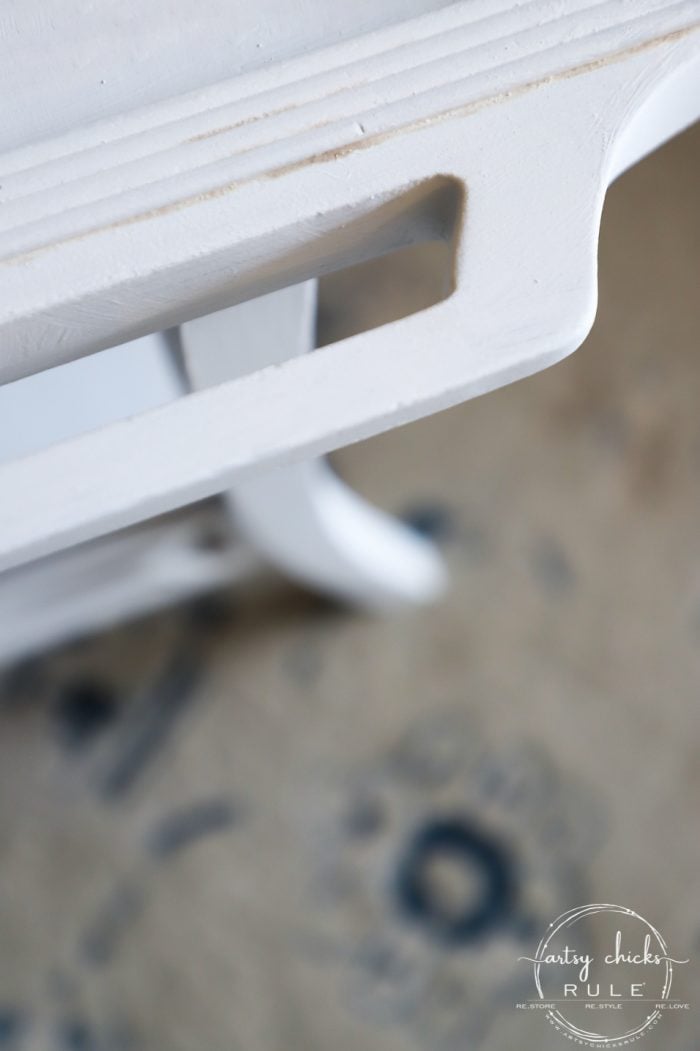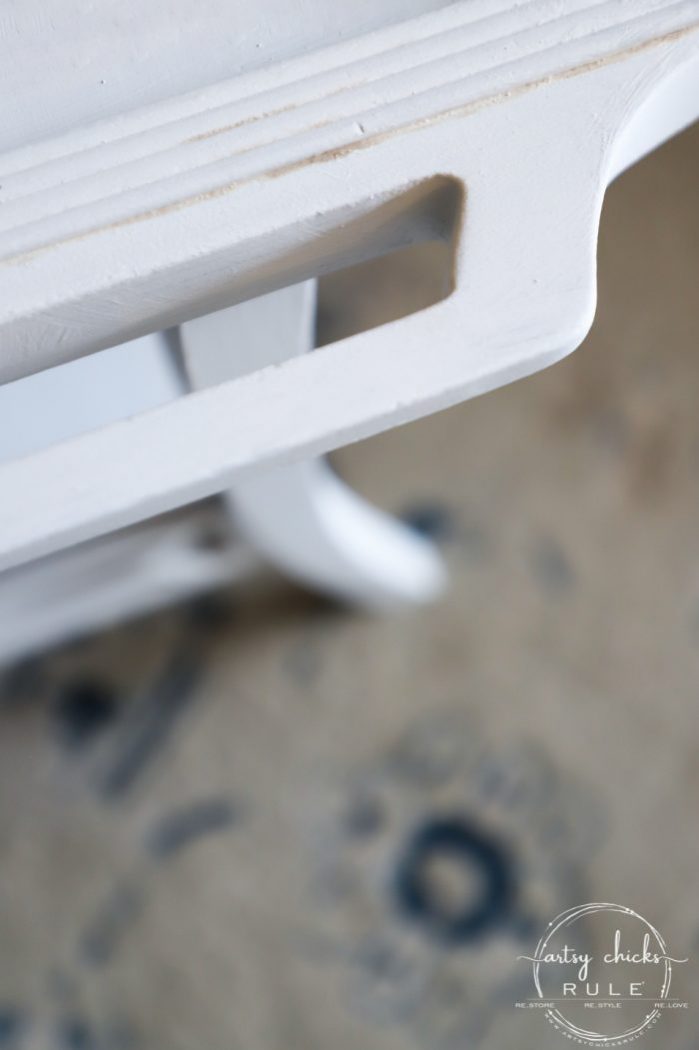 I'm guessing the spray just didn't get down into those crevices well enough.
So I just went back over those areas with liquid Shellac.
Are you new to chalk painting?? This post might be helpful to you >>> "How To Chalk Paint Furniture & More (tips & tricks I've learned!)"
Then I gave it another coat of white. All good now!
I lightly sanded it to distress and gave it all one coat of topcoat.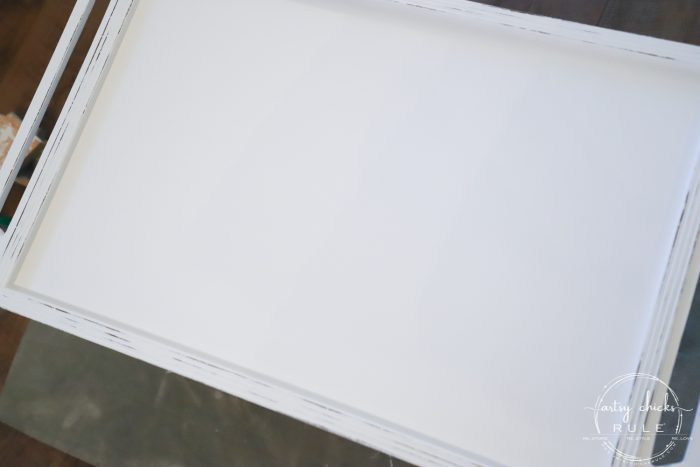 I had originally planned to use a stencil, in a medium blue, on the top of the table for a sort of tile-like look.
Then replace the glass piece back over top.
But…..
If you follow along on Instagram, you might have seen this in my stories the day I was working on the top.
Want to see some of these projects in "live" time? Hop on over and follow along with me on INSTAGRAM. I'm always sharing in my stories as I'm doing projects, finding new furniture, fun finds….just all the day to day behind the scenes.
Me, changing directions?? Nooo! haha You know the right answer there.
Anyway, that was not working for me but I still wanted it to look like tile.
So I thought, why not just add some real tile?? Duh!
I mean, look at that top. It was made for tile the way it's inset like that.
And I found this gorgeous and fun Moroccan-style tile…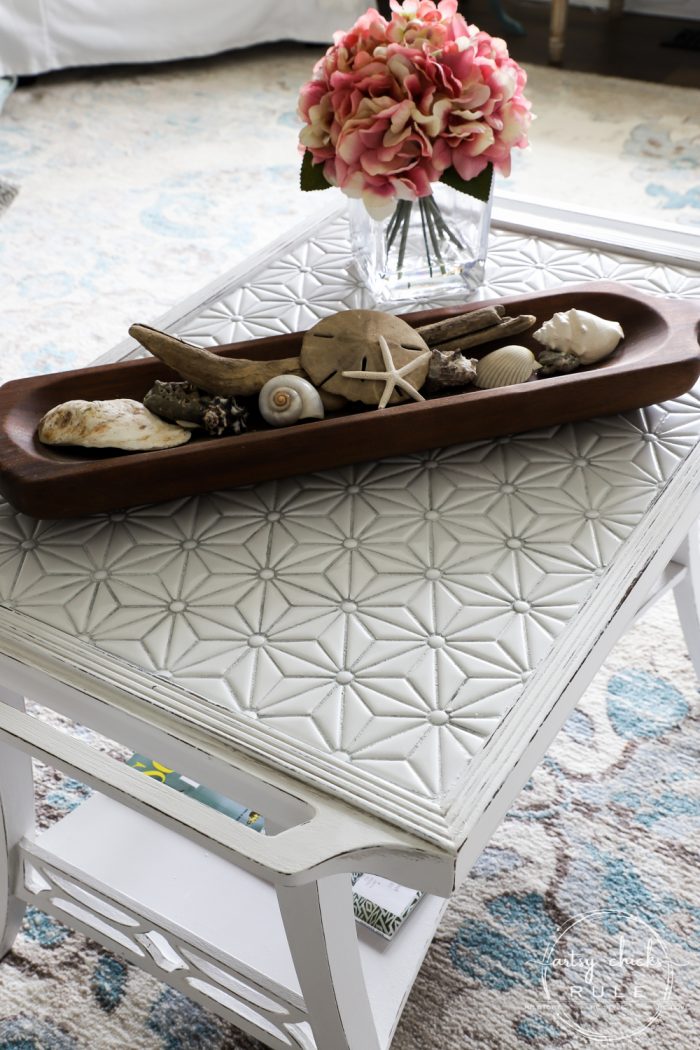 Here's how I did the DIY tiled table top…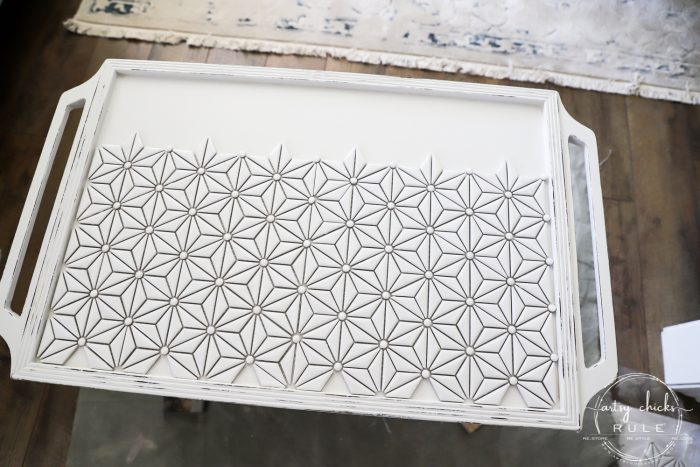 It ended up working out almost perfectly, 2 side by side.
Then I cut another piece to fit above that…. (I used a cutter like this)
And used the other half of that one piece for this side…. (so 3 in total)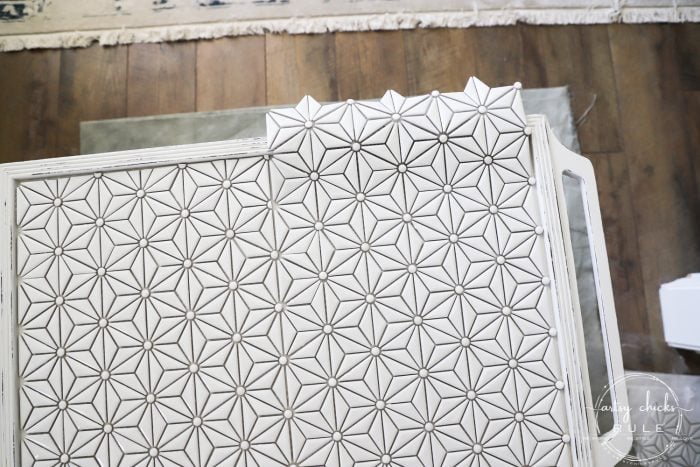 I left this one long so you could see where and how I'd have to cut it.
You can see in the photo below where I had to cut the tiles.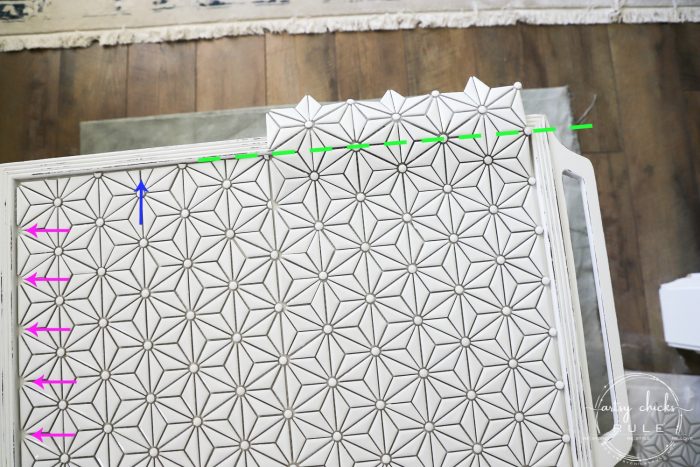 Green line – this is where I cut the tile piece and each set of "triangles" and circles to fit.
Blue arrow – the "triangle" and circle pieces I cut to fit.
Pink arrows – I used the half circles here I cut from the other side. (see below)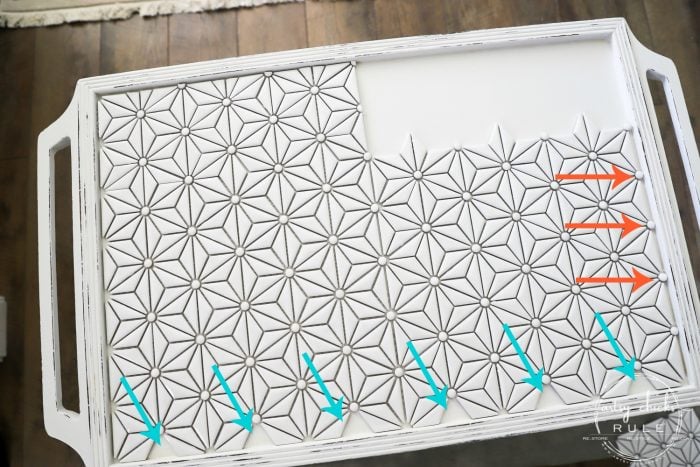 Orange arrows – I had to cut all the round ones in half on this side.
Aqua arrows – I had to add triangle pieces here. I used the ones I cut from the top pieces. (see above)
I hope that makes sense!
It was actually really simple to do.
Once I had it all laid out and cut, I glued the tiles down to the wood. I don't use mortar or any of that on these types of projects.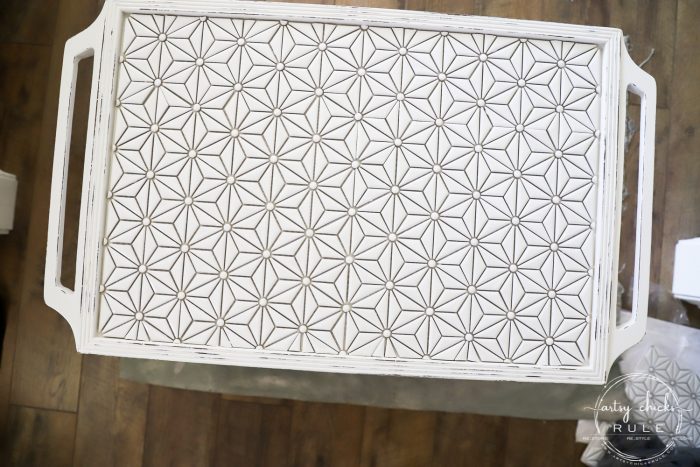 I kind of liked the look it had with the darker lines as it made the design pattern stand out.
So I thought a gray grout would be nice…..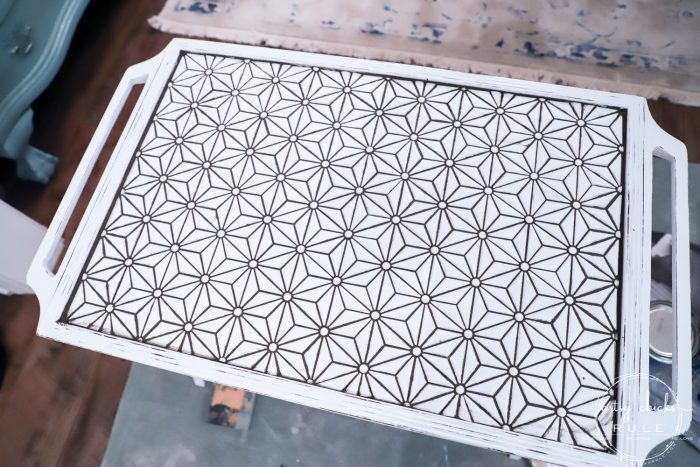 But that was a big fat no, too! Ugh.
Way too dark.
So instead of trying to redo it (which would have been a big ole pain), I just let it dry and gave it a wash the next day with some white chalk paint.
And here's what I ended up with…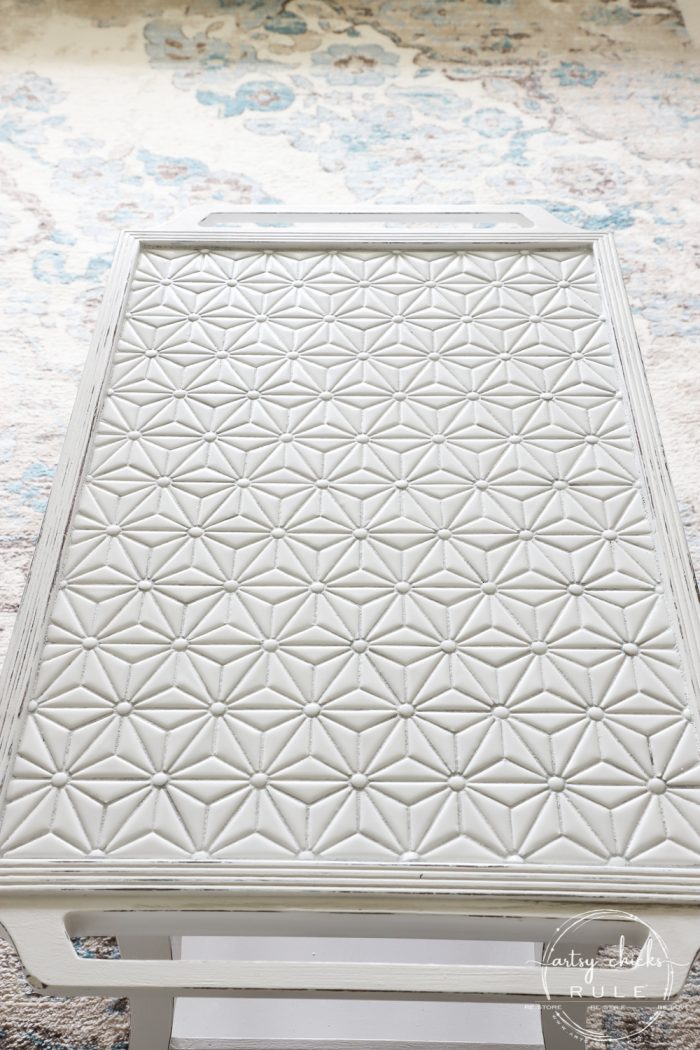 Not exactly the look I was after as it ended up whiter than planned. (the grout)
I was hoping it would only whiten it up a little…but it whitened it up a lot! Oh well.
I wasn't gonna mess with it anymore! lol
I rubbed some clear wax over the top to seal the white that I had just applied and one more coat of poly on the base.
And done!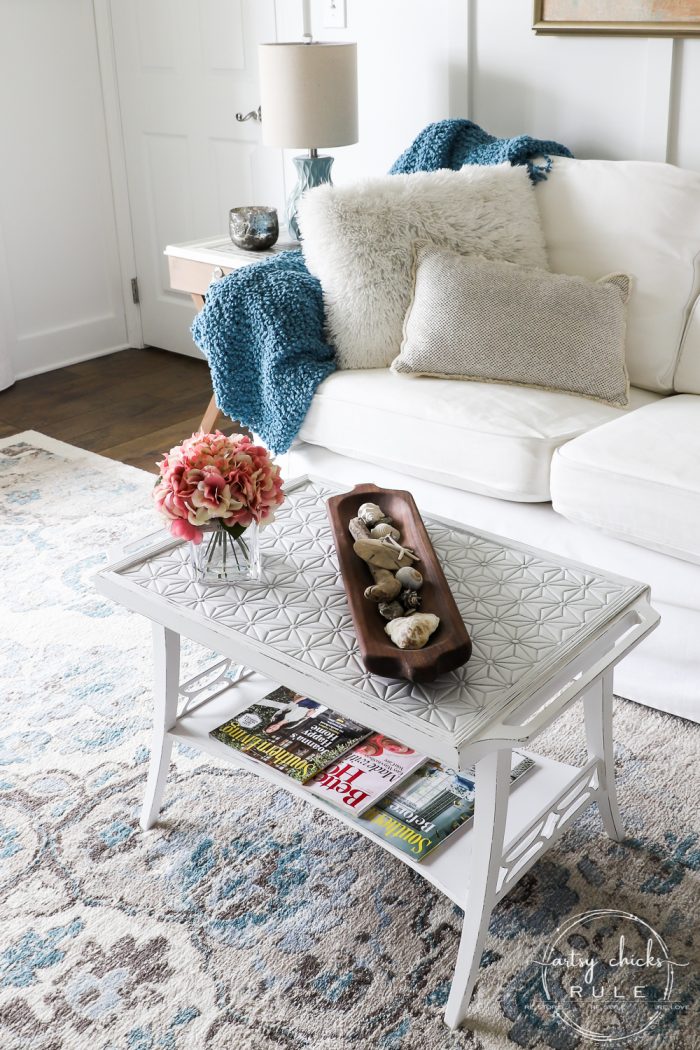 Looks really cute in here but it's not staying. :)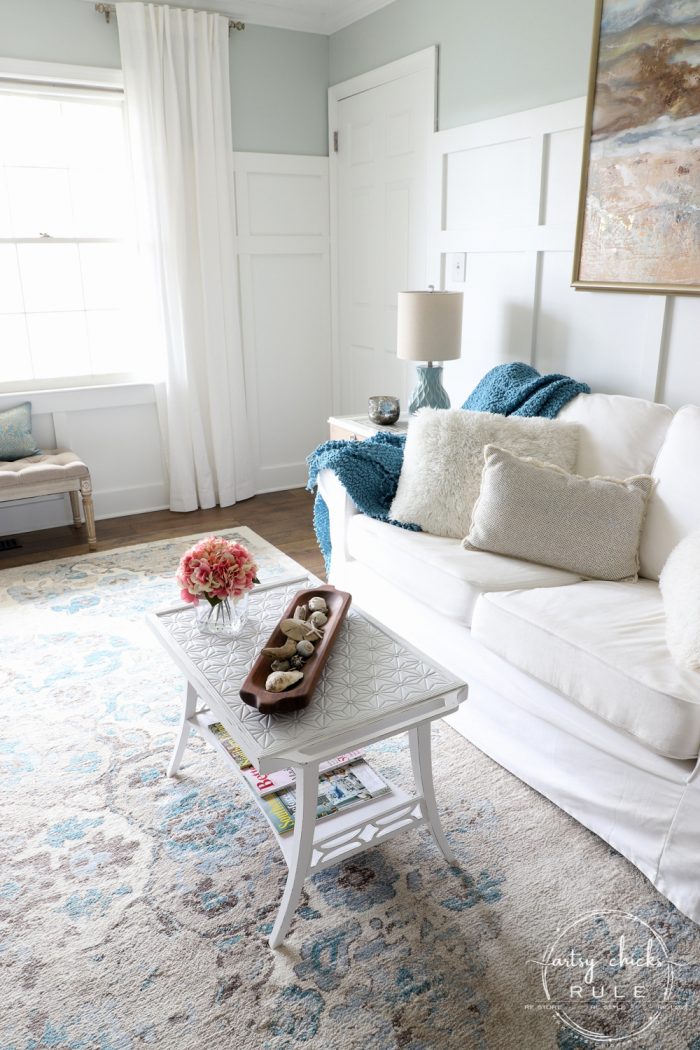 I have tiled top side tables that I did a while back and they don't really go with the new coffee table.
You can read all about them, here. (see one of them back there?)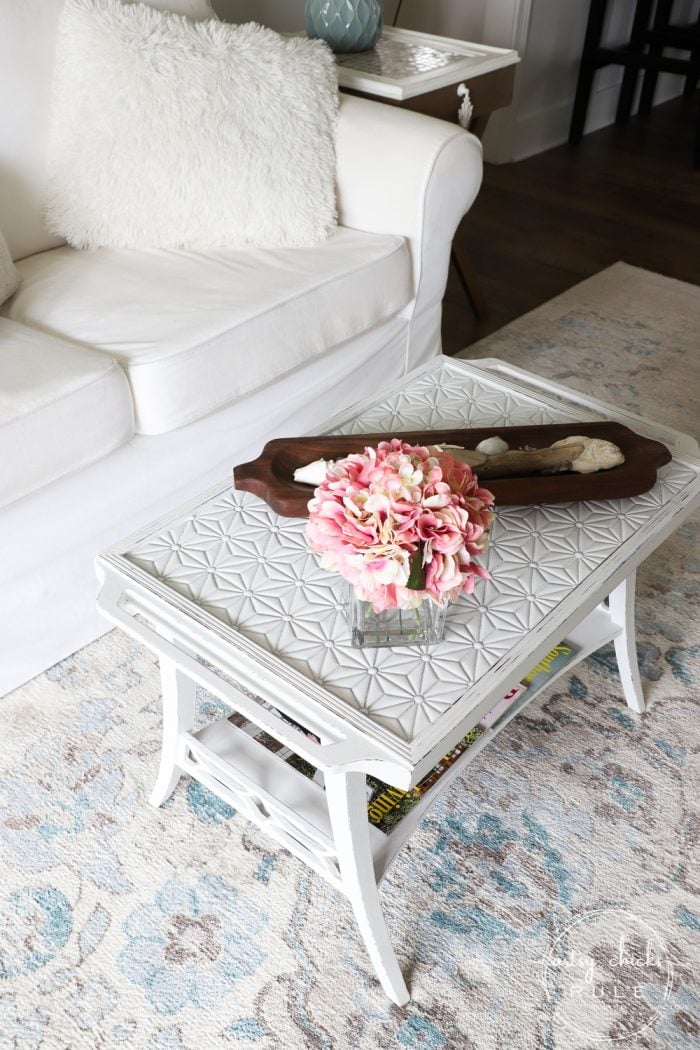 But I can tell you that I'm hankering to use this tile again.
Maybe on new (old!) side tables! Hmm….that might be a thing. Stay tuned.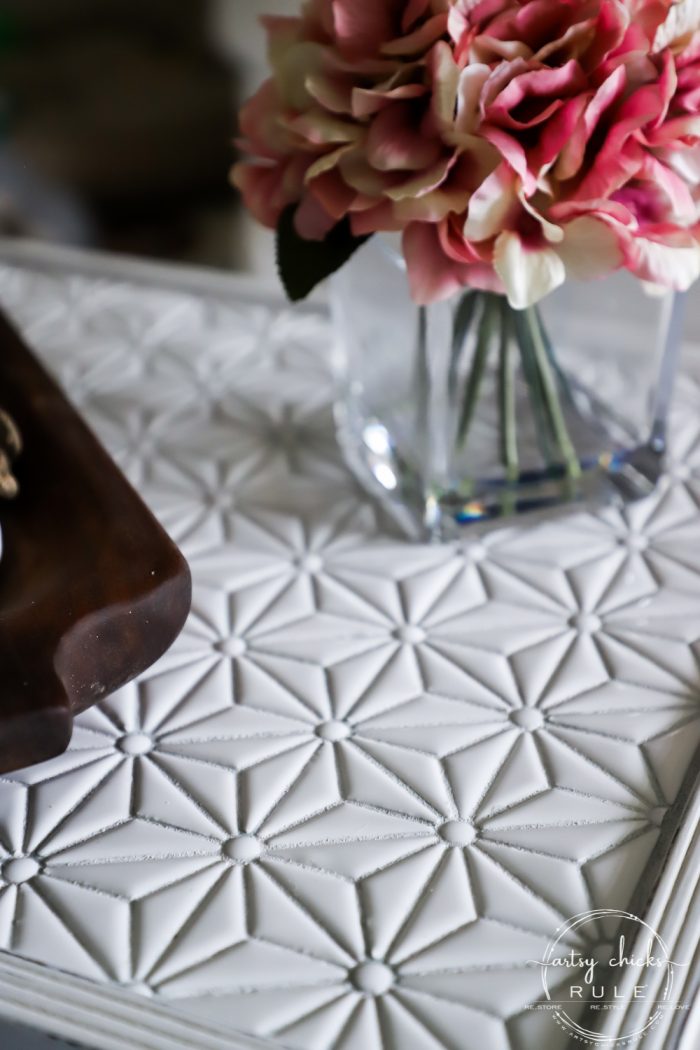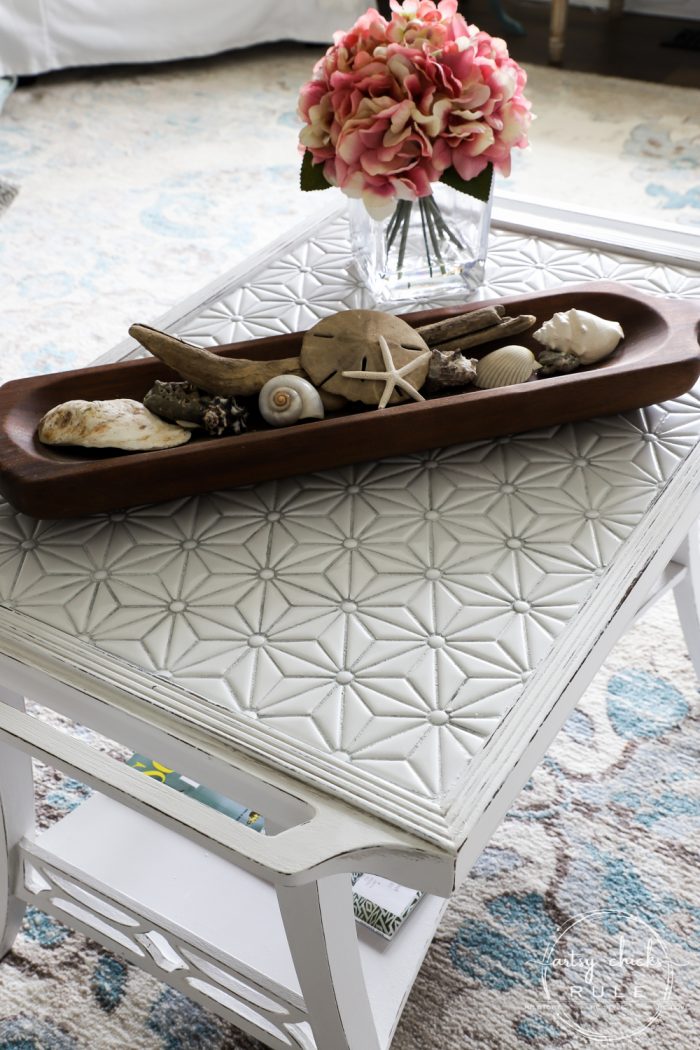 I love the design pattern on the sides and think it's going great with the whimsical feel of the DIY tiled table top.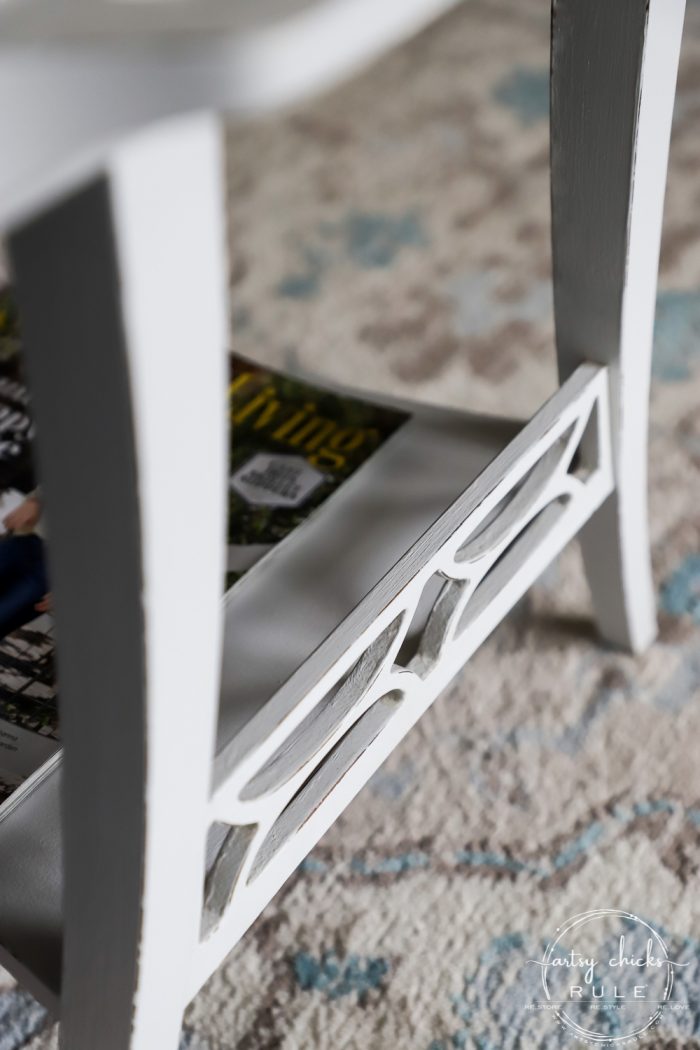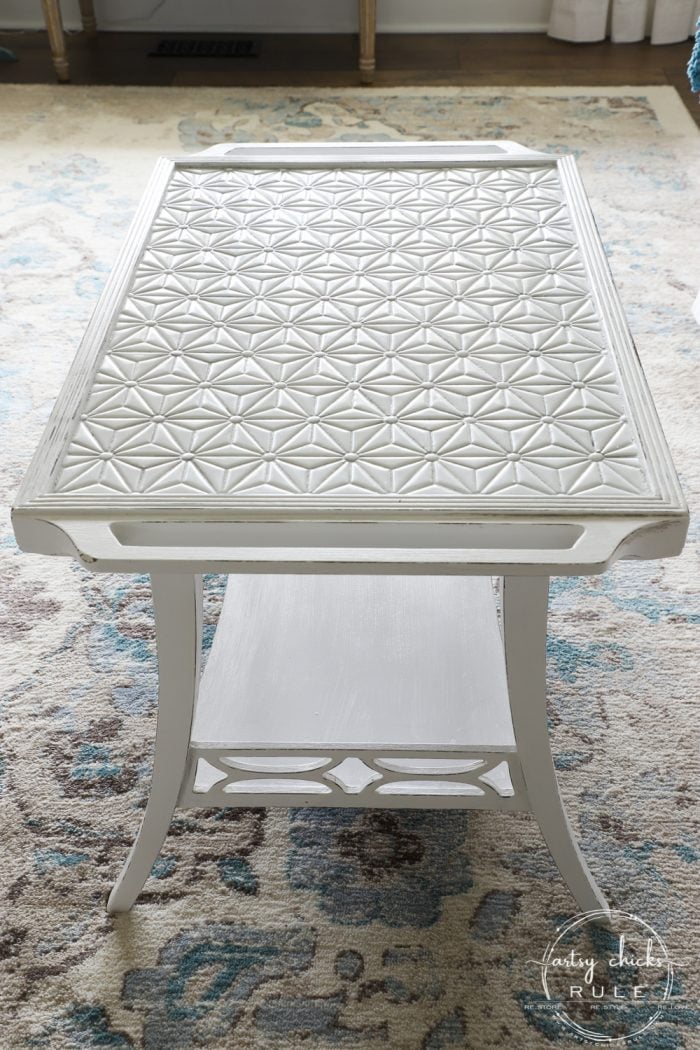 Isn't that tile so pretty?? I just love it!
If you are interested in the rug, or any other item you see in my home, you can "Shop Our Home" >>> here.
It's a page dedicated to all the things I've used here in our home.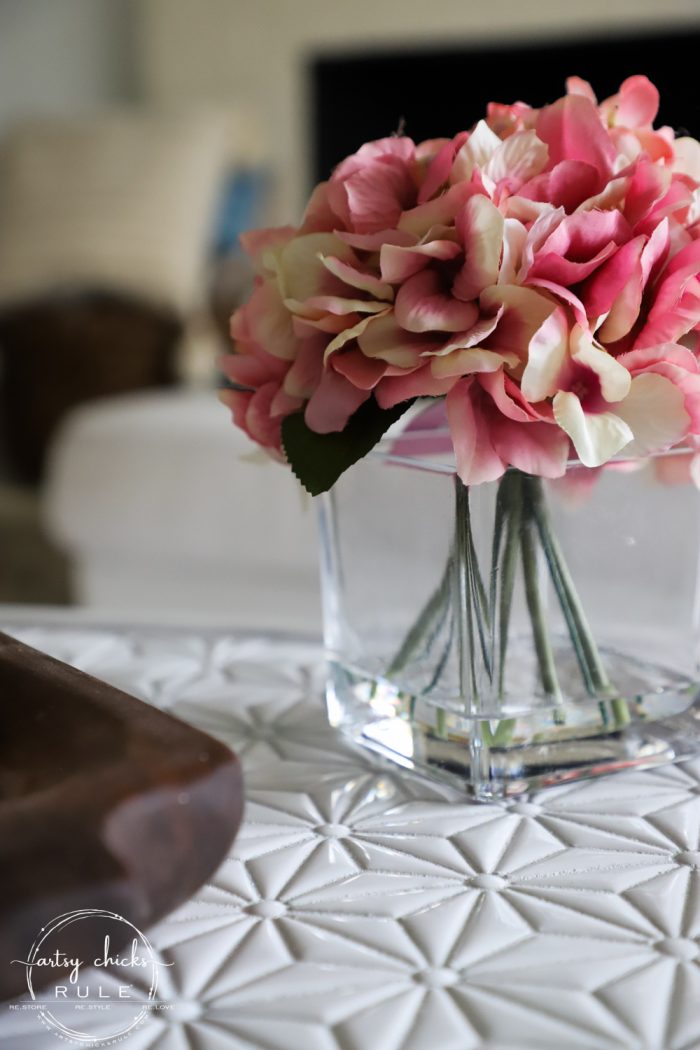 I'm so glad I changed directions on this one.
It's all part of that creative process. Sometimes you just have to!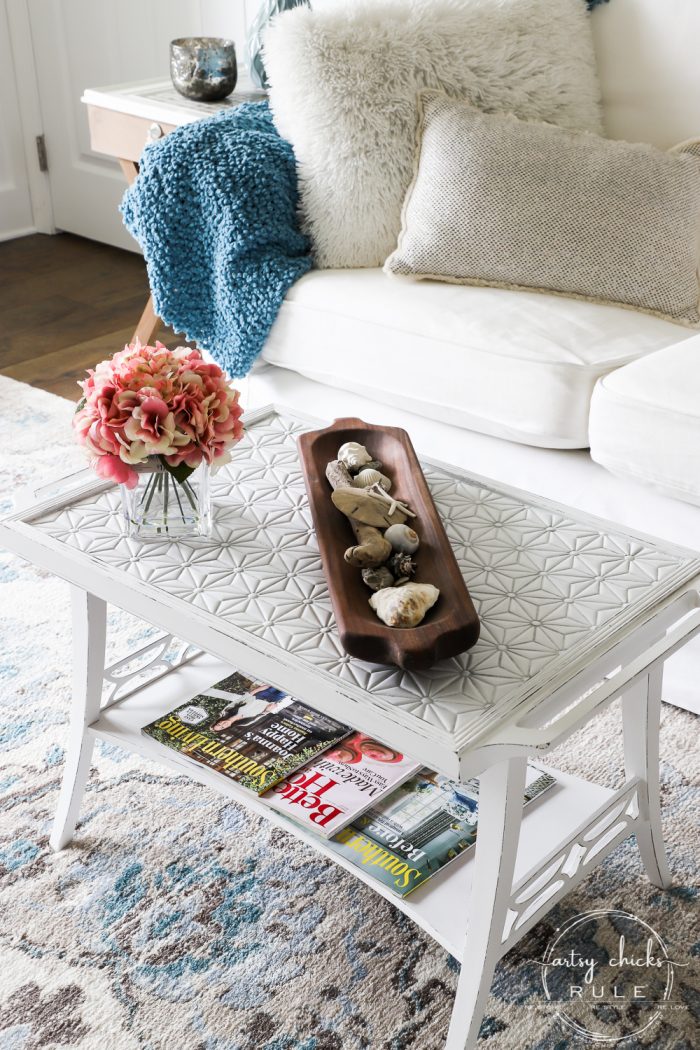 Sweet little table.
I paid $14.99 for it and $7.98 for 3 sheets of tile, so not including paint, etc, the table cost me $39 ish dollars.
Not too bad!
Hope you enjoyed the DIY tiled table top project today.
It took a little longer than expected but I think it was worth it!
I think you might be seeing even more tile goodness around here soon.
PIN it to save it!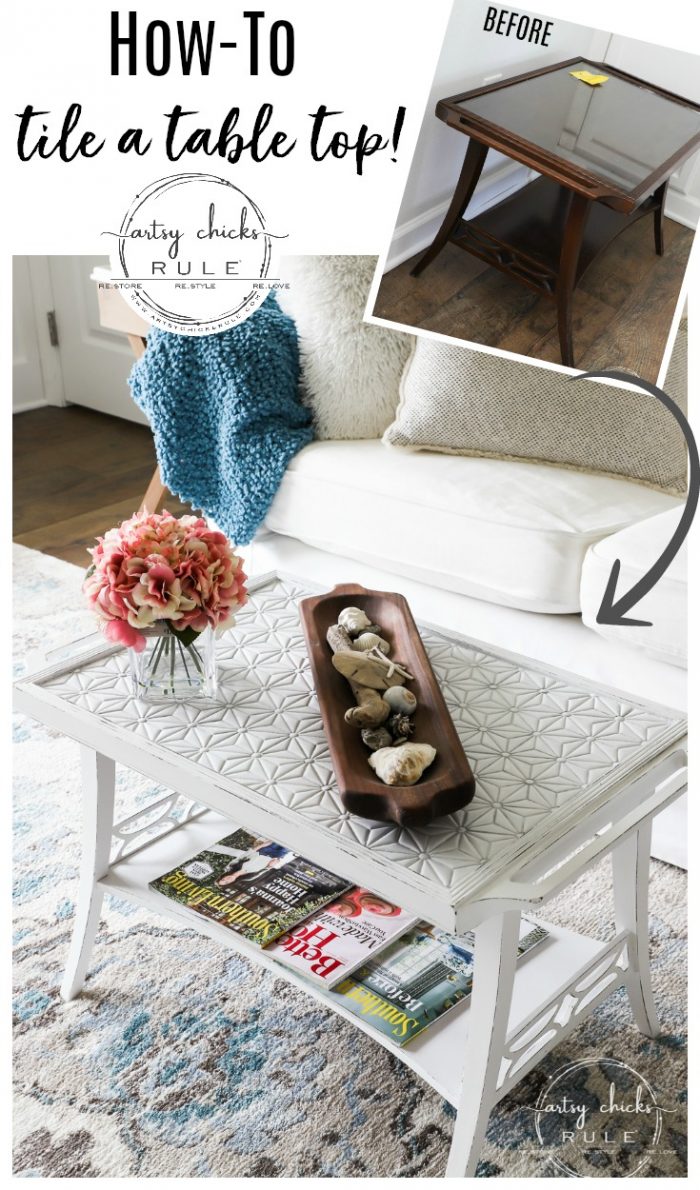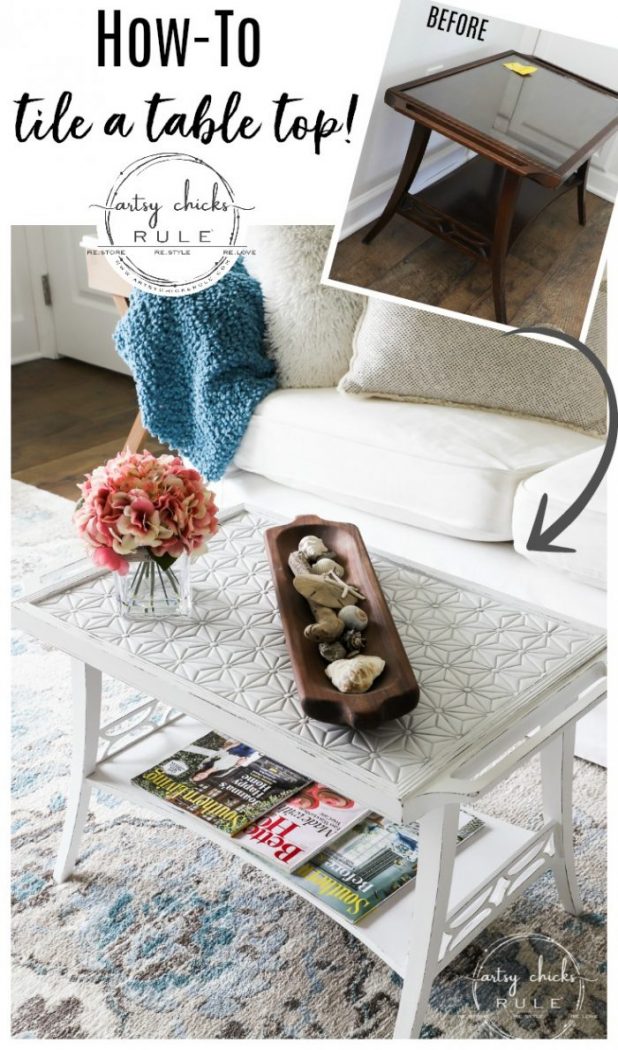 Want to see even more tiled projects here on the blog??
Be sure to stop back in to see what I do with this old thrift store find!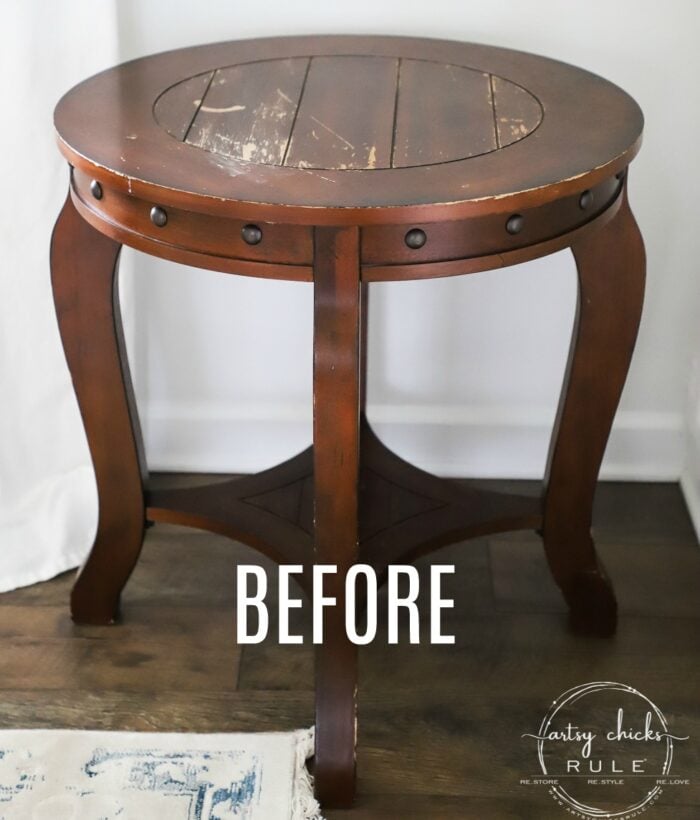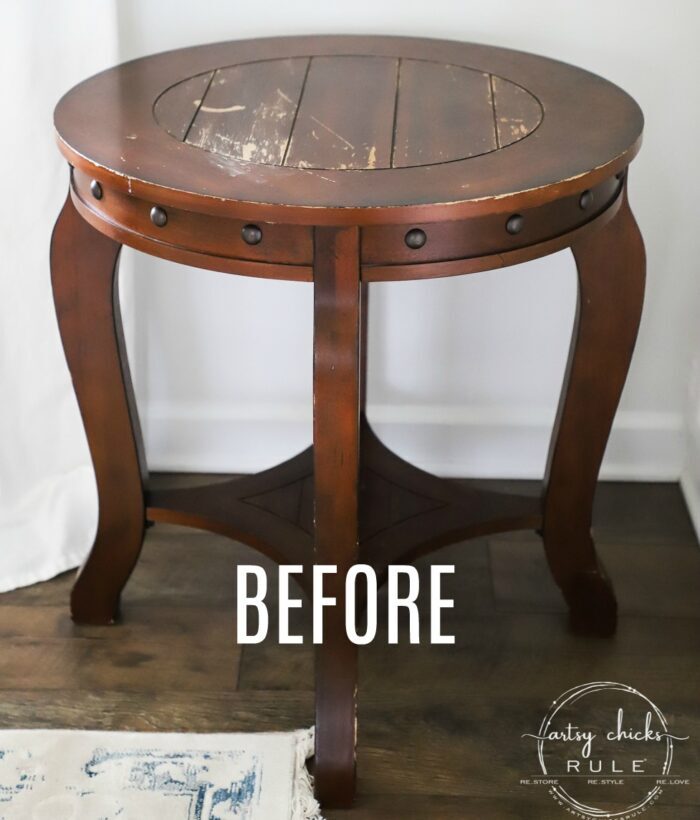 UPDATE!!! See it now, here!
Hope you have a blessed weekend! See you right back here next week with more!
xoxo