DIY Blue and White Tile Tray Makeover
This post may contain affiliate links. Please see disclosures here.
I love the way blue and white always look so lovely together. Navy blue and white, stunning! This blue and white tile thrift store tray makeover is an easy winner!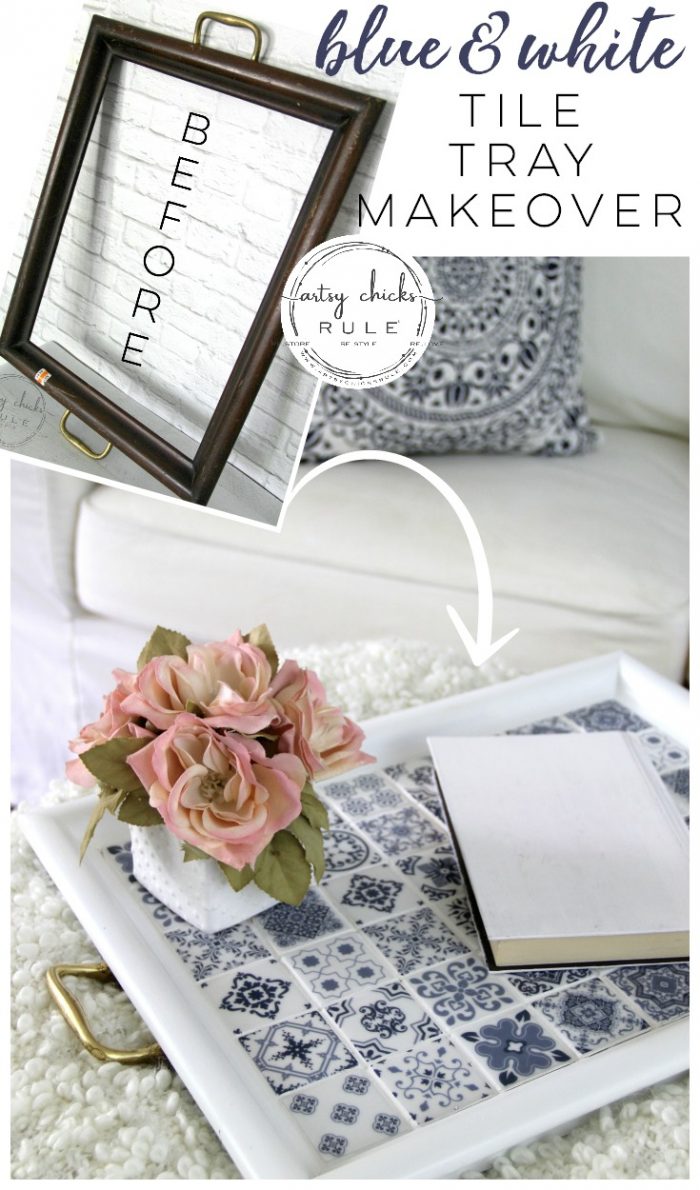 It's Trash to Treasure Transformation Tuesday and my friends and I are sharing our thrifty treasures with you today.
If you are new around here, we get together on the second Tuesday of every month to share old "trash" that we've turned into treasures.
So be sure to scroll all the way to the end to see all the pretty treasures my friends are sharing today too.
I think I might have shared this photo of a few of my finds over on my Facebook page a while back…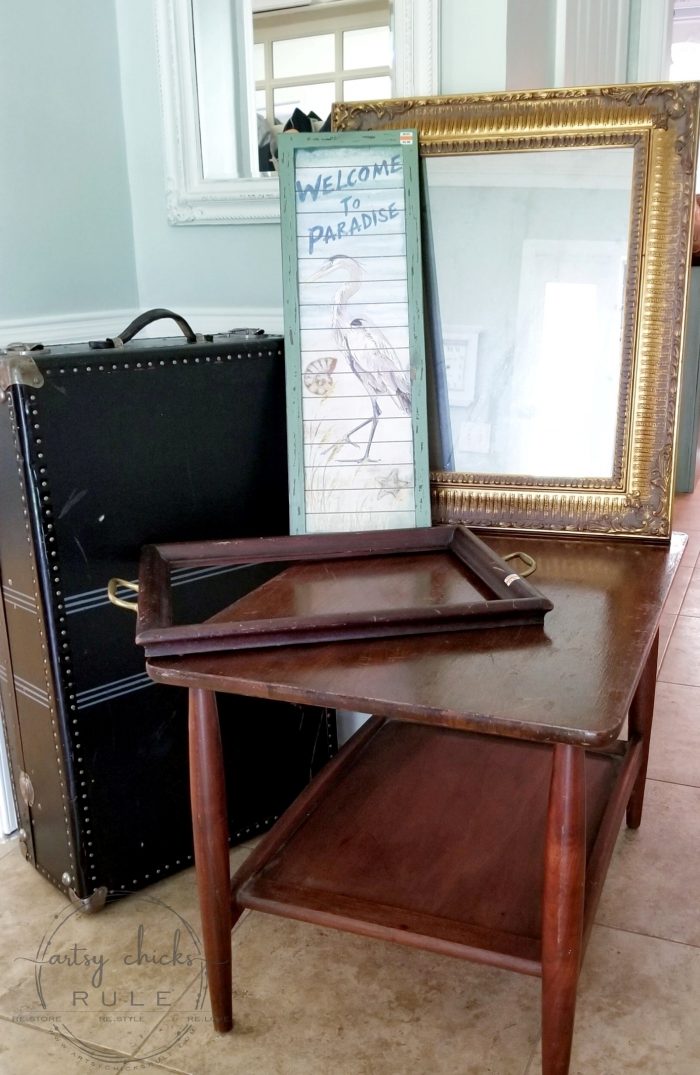 So many goodies. 
Some from the thrift store, garage sales, and a few from my thrift shopping adventure with my girl, Christy.
We'll have a video of that (and our makeovers of what we found) coming soon, so stay tuned!
You might also remember that coffee table pictured above.
I gave it a makeover already and it's >>> here if you want to take a look.  (it was my "Trash to Treasure" a couple of months ago)
But today I'm making over that tray/frame thingy sitting on top of it. (got it for $4.98)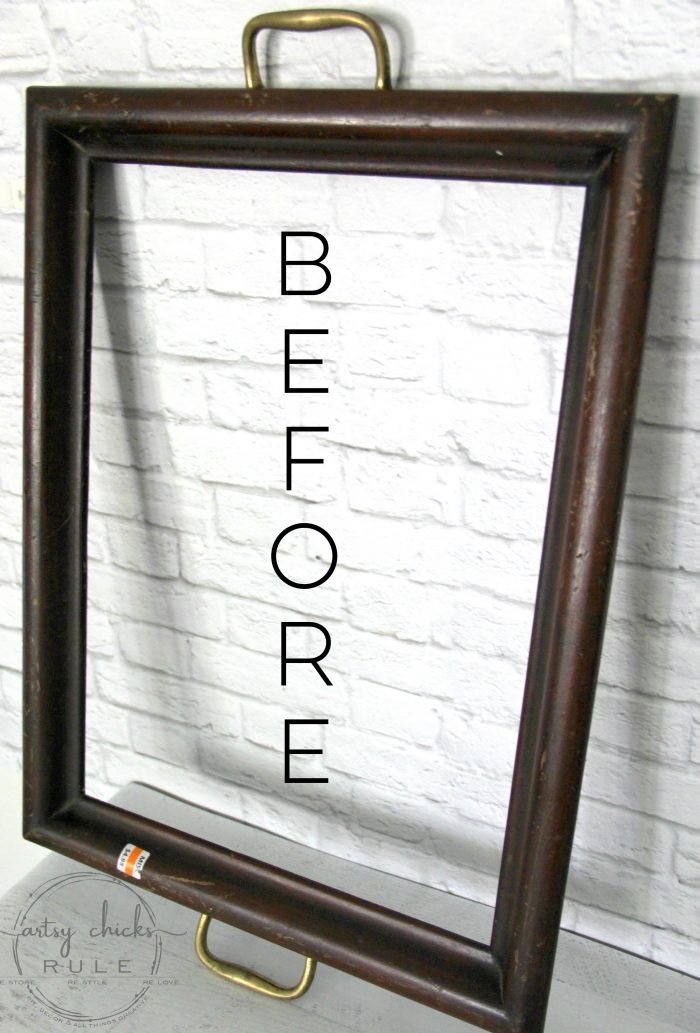 I have no idea what this was. Obviously some sort of tray but I wonder what happened to the bottom?
Plus, it had big holes all over the back where something was attached at some point. I would assume that was the bottom of the tray but wow it must've been heavy or something with all the holes.
Also, the inside top is like a frame and it seems as if something was inset into that as well.
Maybe a pretty print and then a back to hold it secure?
Who knows, but anyway, this is how I found it…empty.
So I filled it up!  
With this pretty blue and white tile I found at Lowe's.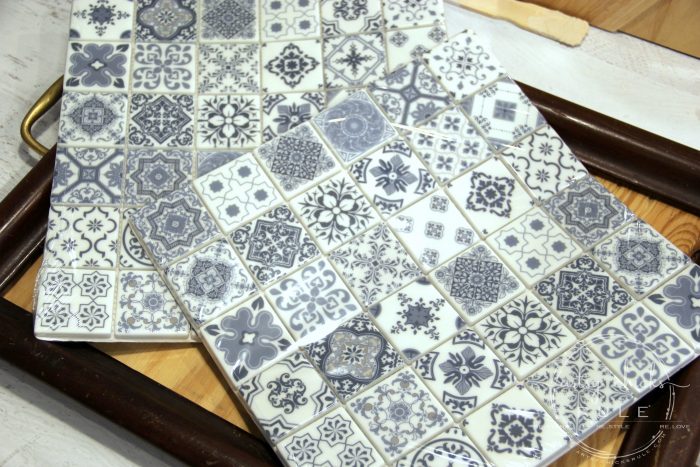 I have made several tiled trays in the past.
and even these old frames tiled for 2 end table tops…
But this blue and white tile tray might be my absolute favorite!
I can't wait to share it with you.
I started out by having my guy cut me a board to fit inside the "frame" on the back.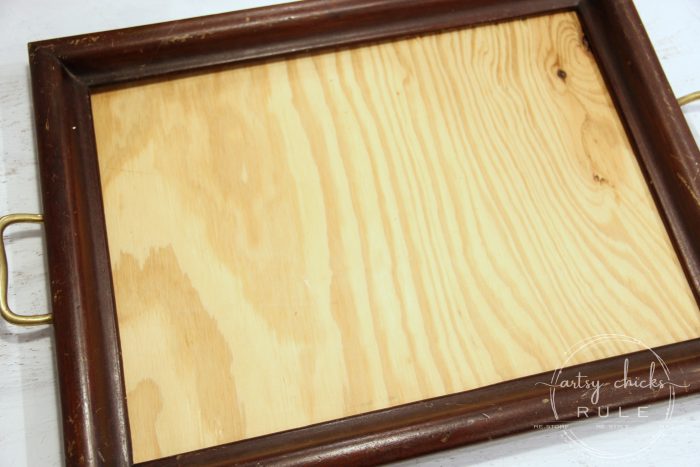 I screwed it in on the back four corners to secure it.
When I consider tiling a tray or frame, I always hope and pray that the tiles will fit nicely without having to be cut.
Because who has time for that?? haha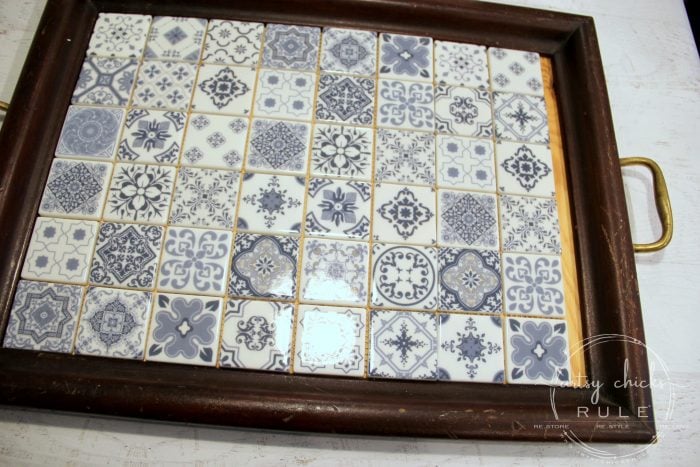 So yea, bummer, not quite right.
But not to worry, I always make it work out somehow without cutting the tiles.
Here's how…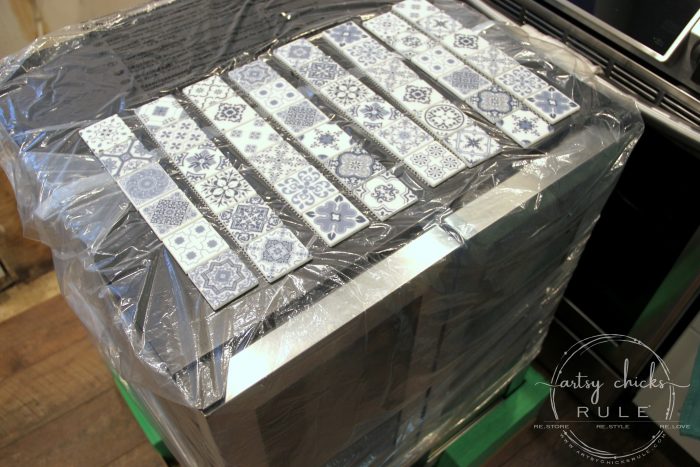 …just cut them into strips and space them a bit further apart to make up the extra space you see at the end of the other photo.
You should see the crazy I'm working in over here! lol I'm at the end of the island working and this is what's behind me at the moment.
Our new wine cooler but hey, it came in handy to set these out on (and was one of the only empty spaces for me to do so!).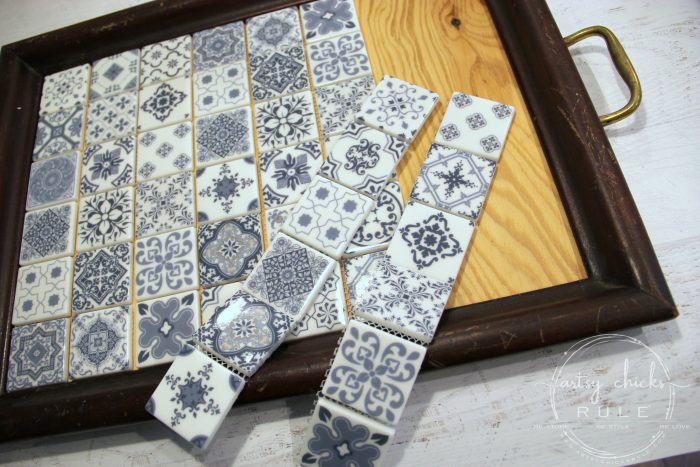 So again, just space them out so they fit.
I like to leave them in place as I attach them. That way you don't get halfway through and realize your spacing is off.
Just lift a row, add glue (or whatever you are using to attach them), and lay them back down in place.
Then move to the next row.
This way they will end up perfectly spaced.
Next, I removed the handles…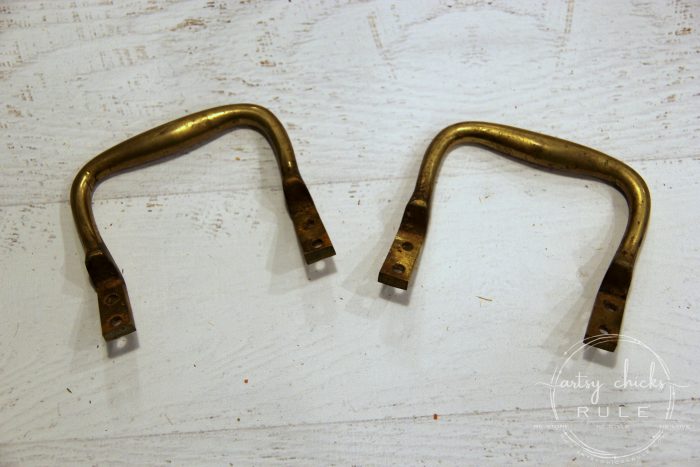 …and cleaned them up with a bit of ketchup.
They are brass and I knew I didn't want to paint them.
Then I painted the frame with this white spray paint. Simple!
I usually use E6000 glue to attach the tiles in my trays but couldn't find my tube of it so I just used wood glue instead.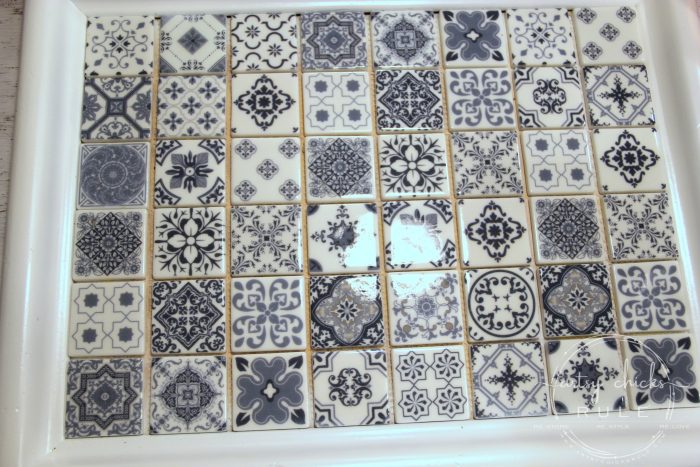 Once that was dry, I used the same grout that I used in our backsplash tile makeover recently.
Attached the handles back and done!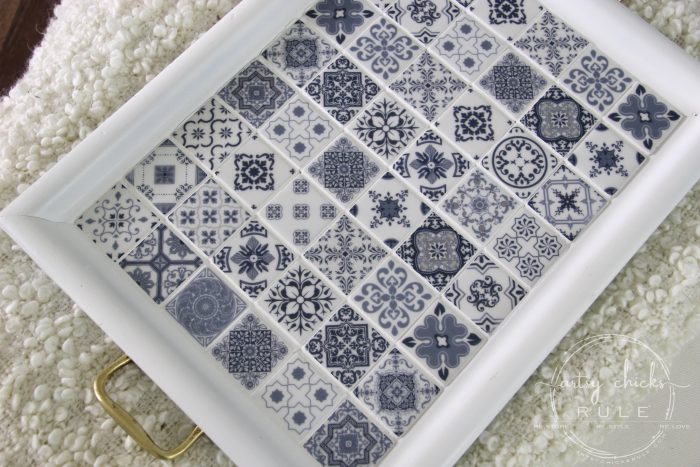 Up close…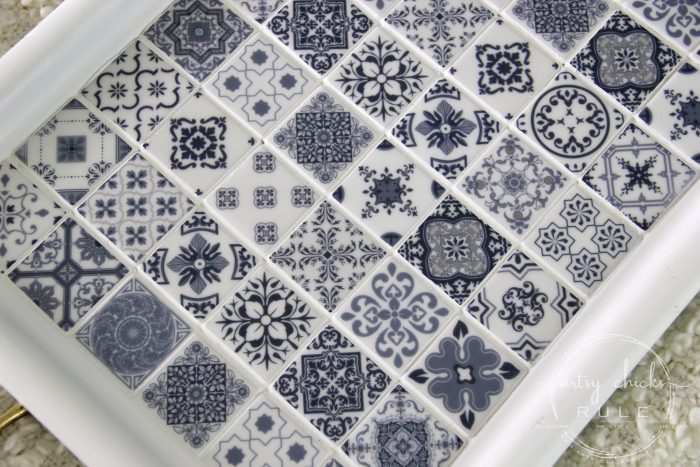 Isn't that blue and white tile just stunning? I absolutely adore it!
And I didn't have to cut a thing! Love that.
Add a touch of pink and even better.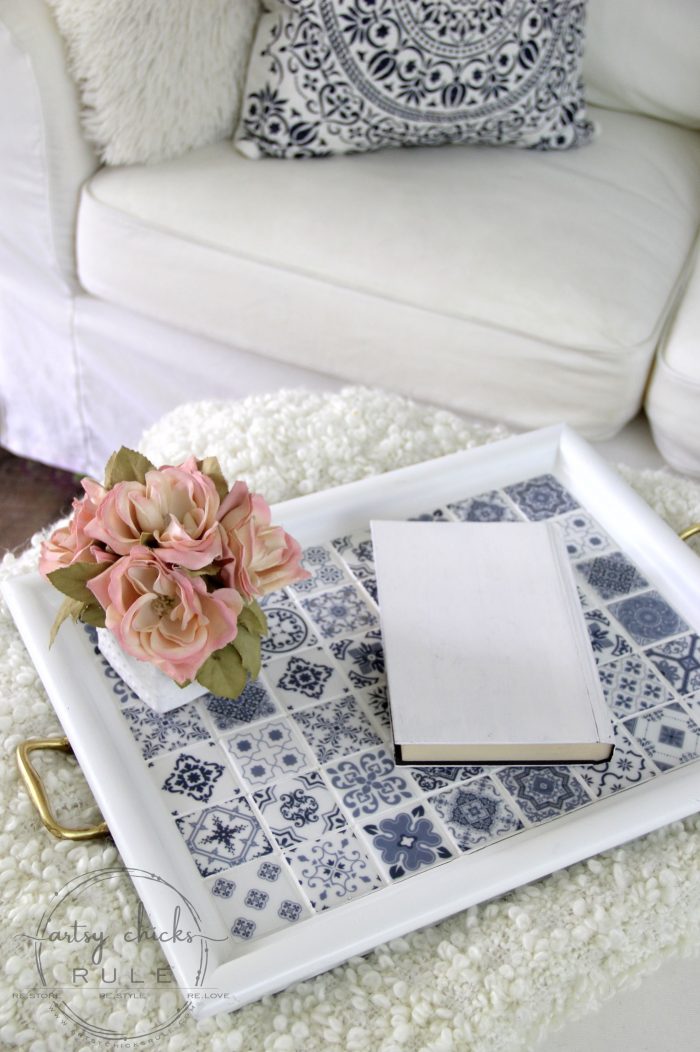 And I have to tell you, I've had those pink flowers for probably 20 years now!
They sure have held up well, huh?
And look at those handles just shine.
I sort of love the slightly aged imperfections in the finish.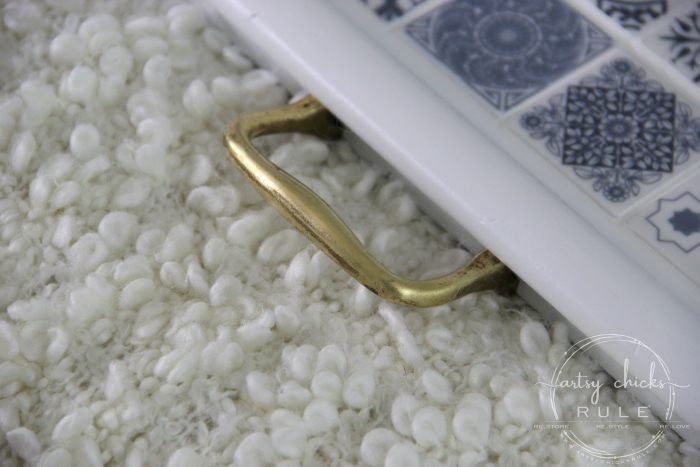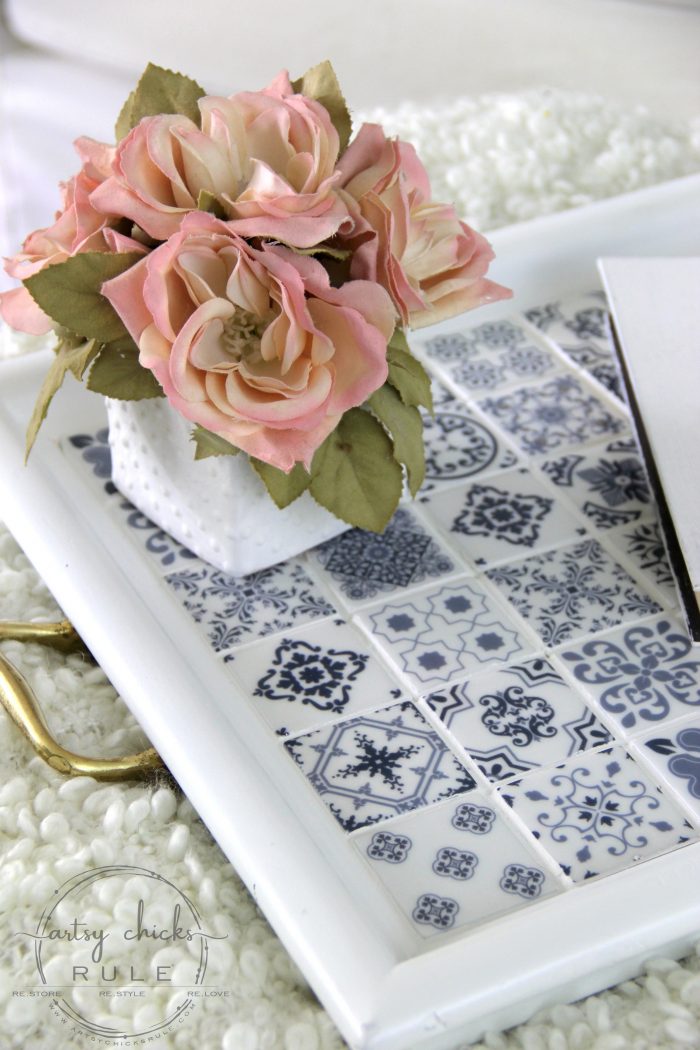 And these are the new blue and white pillows I found in the OBX recently.
I mentioned them in this post >>> here.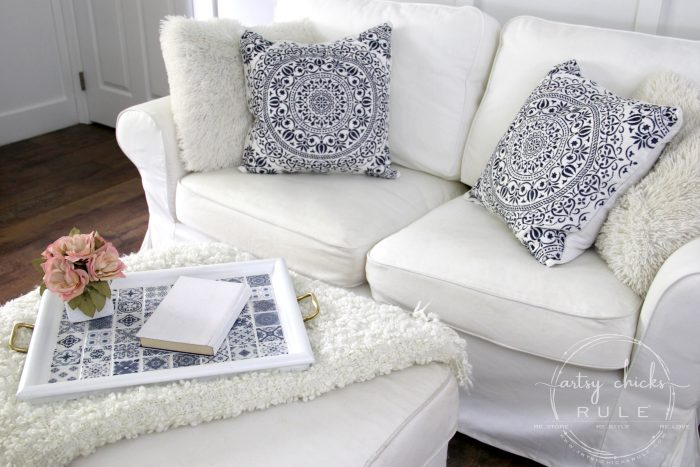 The funny thing about them is I found one the first evening and grabbed it up! I looked ALL OVER for a matching pillow but none was to be found.
I was so bummed but bought the one anyway because I loved it so much.
On a whim, I decided to pop back in the next day, because you know, they might have put another one out. lol
What are the odds of that? Right, exactly, not so good.
But guess what? They had a big rolling cart full of pillows in the pillow aisle and can you guess what was inside?
You got it! One more of these pillows!
It was meant to be!! haha  I was so happy!
I think they look perfect with my new blue and white tile tray, too.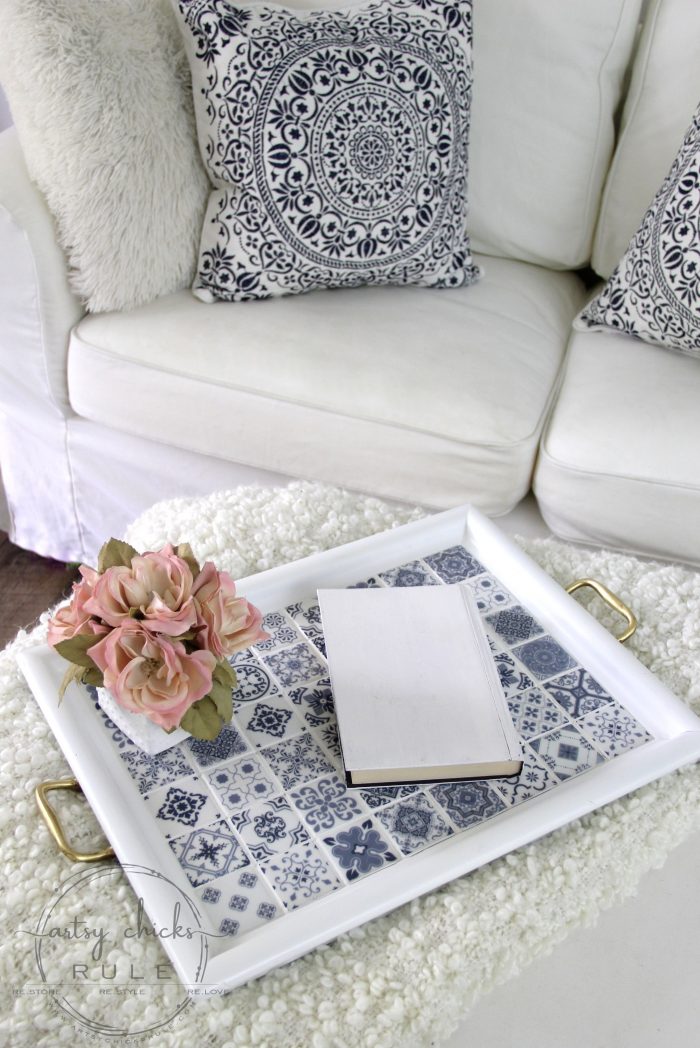 The tray is a keeper, for sure. It's staying right here in this house with me.
Not sure where it's going yet but it's not going out the door!
And lastly, a little sneak peek of our new floor! Yippee!!
I am IN LOVE.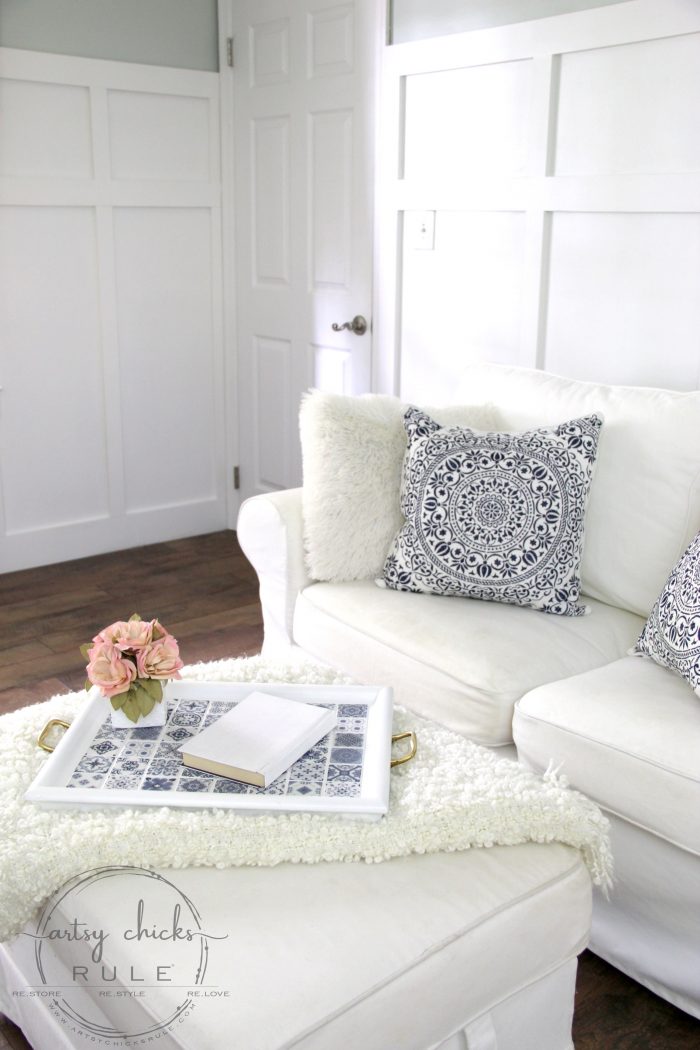 So very happy with it.
I'll be sharing the full details on it soon.
PLUS, check out that white board and batten and trim! ;)
I painted the ceiling and trim and it's amazing what a little white paint will do.
Everything looks so bright and fresh.
Lots of reveals coming soon. Stay tuned.
Be sure to follow along over on Instagram as I share daily everything that's going on in the home remodel.  (in my stories)
It's been a wild ride so far….and thankfully we are seeing a light at the end of the tunnel.  )
PIN it to save it!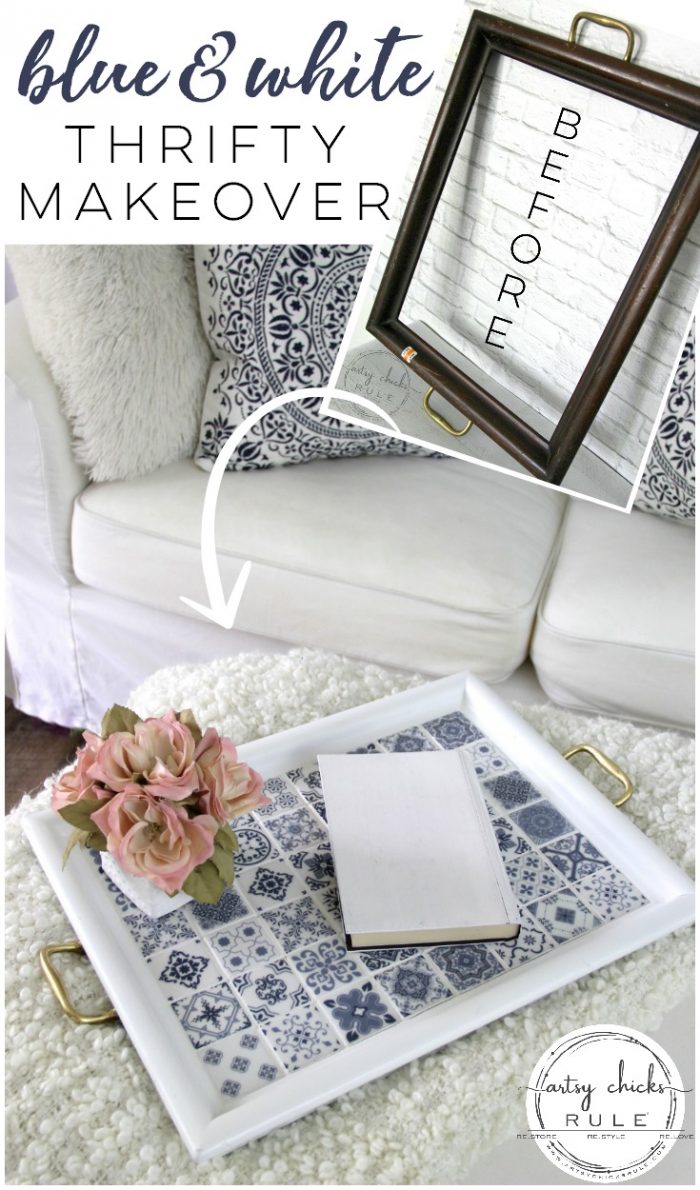 Now let's see what beautiful treasures my friends are sharing today!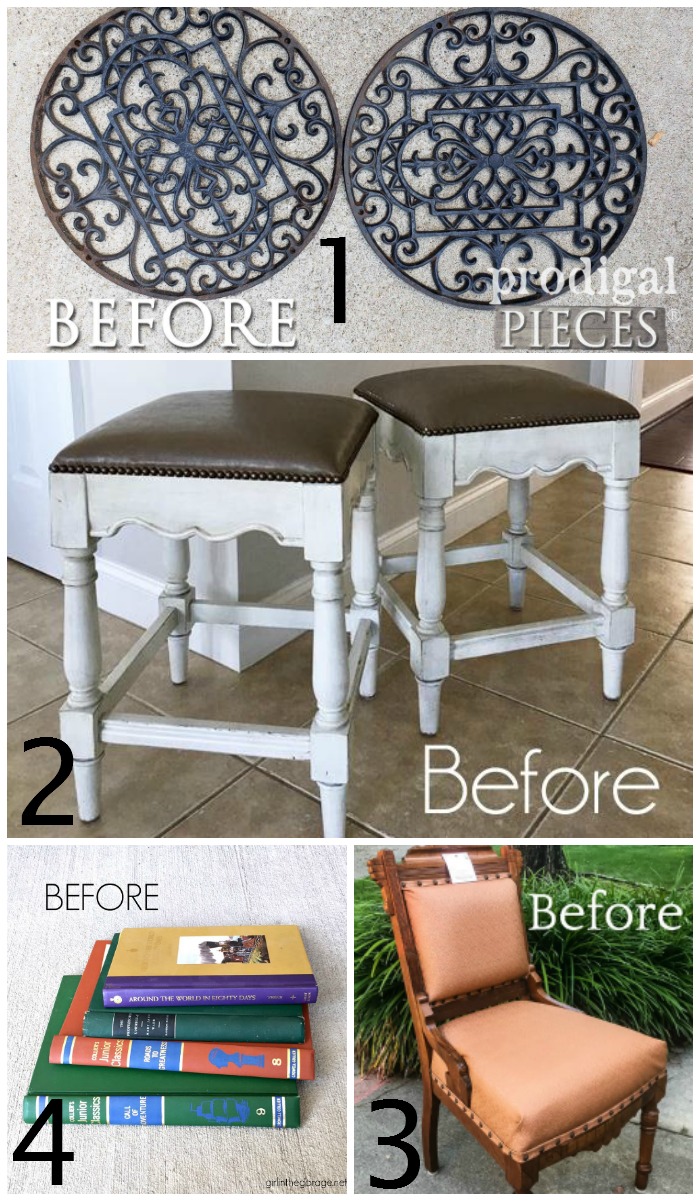 Want to see even more "Trash to Treasure" style posts? Click here to see more.
Hope you enjoyed all the lovely trash to treasure projects today!
I'm trying to get little old stool makeover together by Thursday. We'll see how it goes!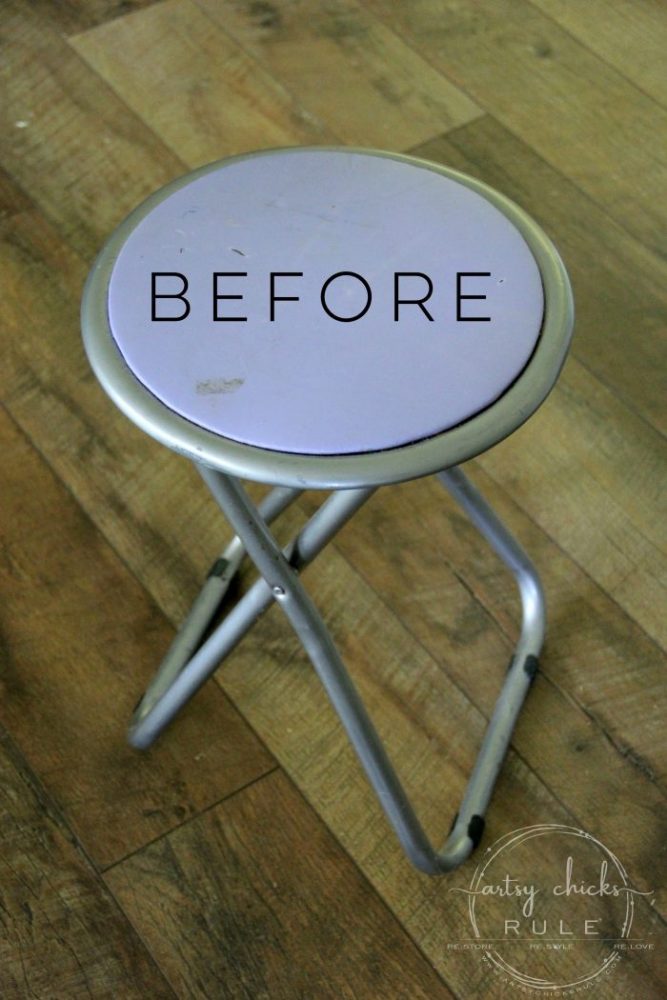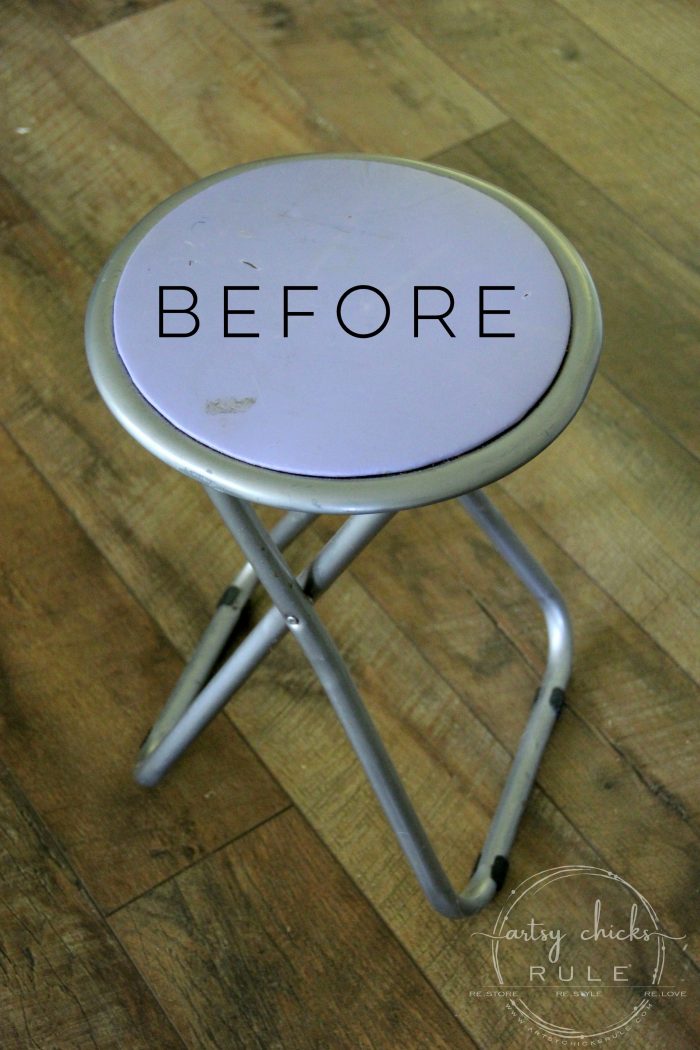 UPDATE!! See it now, here!! (it's a little French-y now)
See you then!
xo