Coastal Inspired DIY Tile Backsplash Tutorial (anyone can do!)
This post may contain affiliate links. Please see disclosures here.
Installing your own tile is simple with the right tools. Let me show you how to create your very own beautiful DIY tile backsplash in a day!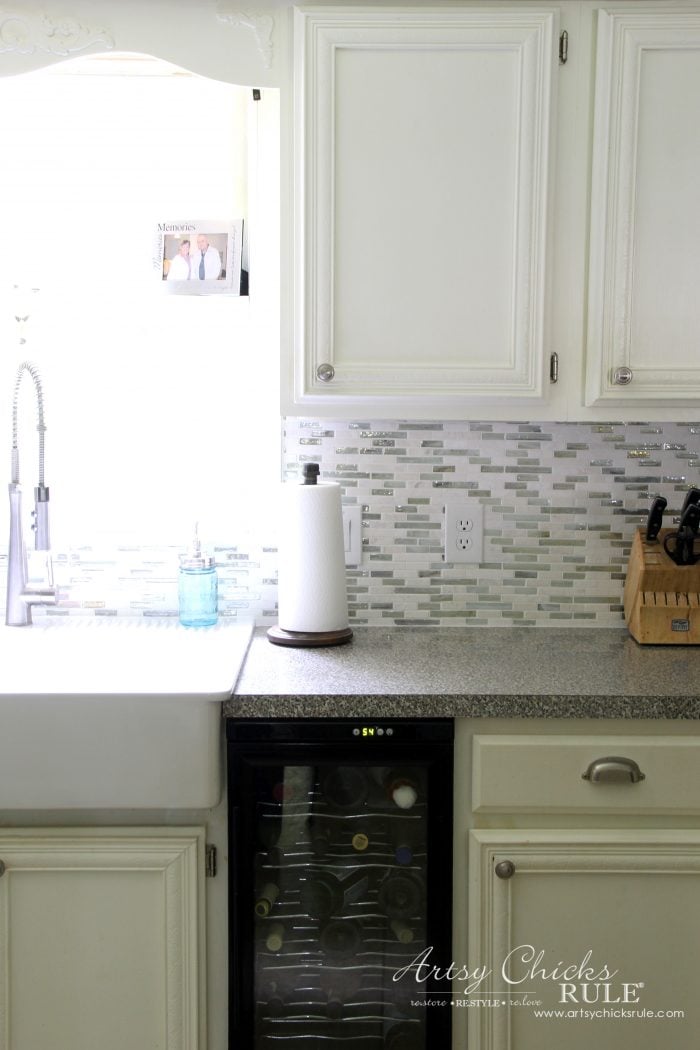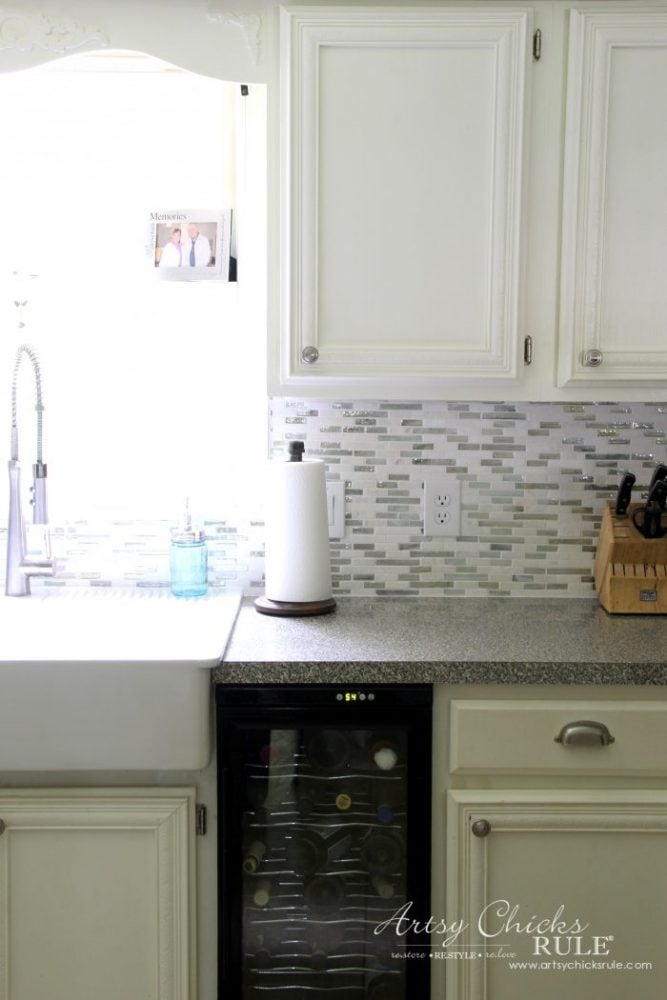 Hello Friends, today I'm sharing my newly installed, coastal inspired, DIY Tile Backsplash.
You might remember I installed a DIY tile backsplash some years ago and shared here on the blog about it.
You can read all about it and see it, here, "Kitchen Tile Backsplash".
I decided to go a different route with application and products this time.
Okay, you ready to read all about the new tile?
I've since painted the the area above the cabinets.
No longer is it dark brown, but instead, a light, soft blue. I'm loving it!
Sea Salt by Sherwin Williams, to be exact. I'll be sharing that soon. :)
It's the same color I used in our Guest Bath and Family Room.
It's so bright and airy feeling in here now.
I can't get over how much brighter it is. Plus, the new lighter paint above really helps too.
I had talked about and shared a different tile but ended up deciding on this one.
I found it online at several places, including The Home Depot.
Sadly my HD didn't carry it so we had to get it from the Richmond, VA store.
My husband happened to be up in Richmond on business that next day so I bought it online and he picked it up for me.
Worked out perfectly….but…. it didn't look quite as "blue" as it did in the photos I saw online, in person.
Even so, I loved it and decided to go with it anyway and I'm SO glad I did. :)
You can find it at The Home Depot, here.
And just as a refresher, here is the tile I had in here before….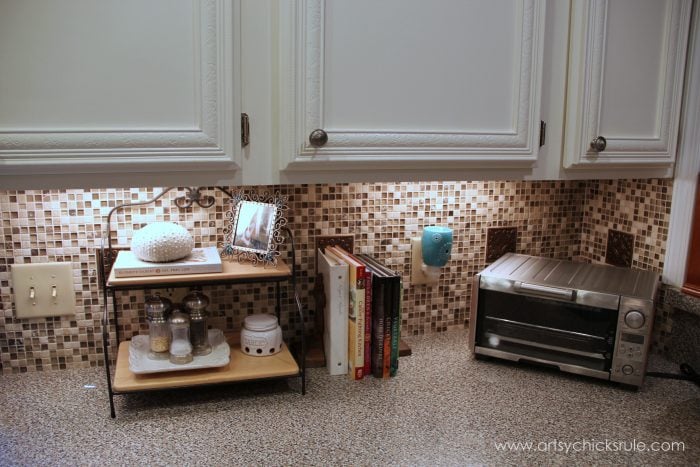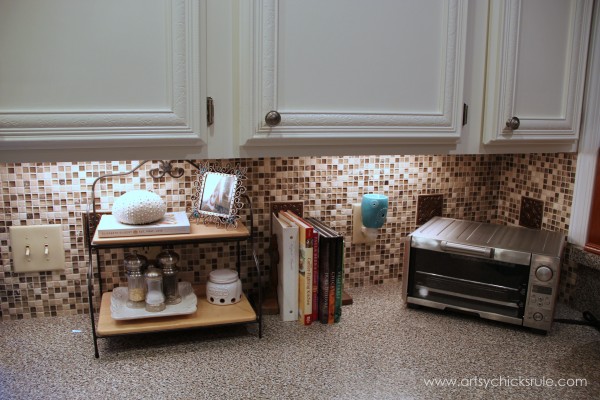 See?
I really loved that old tile but it just didn't match my decor anymore.
The new tile matches so wonderfully.
I love how the glass mimics "sea glass" and the travertine reminds me of "seashells".
Perfect for my coastal home.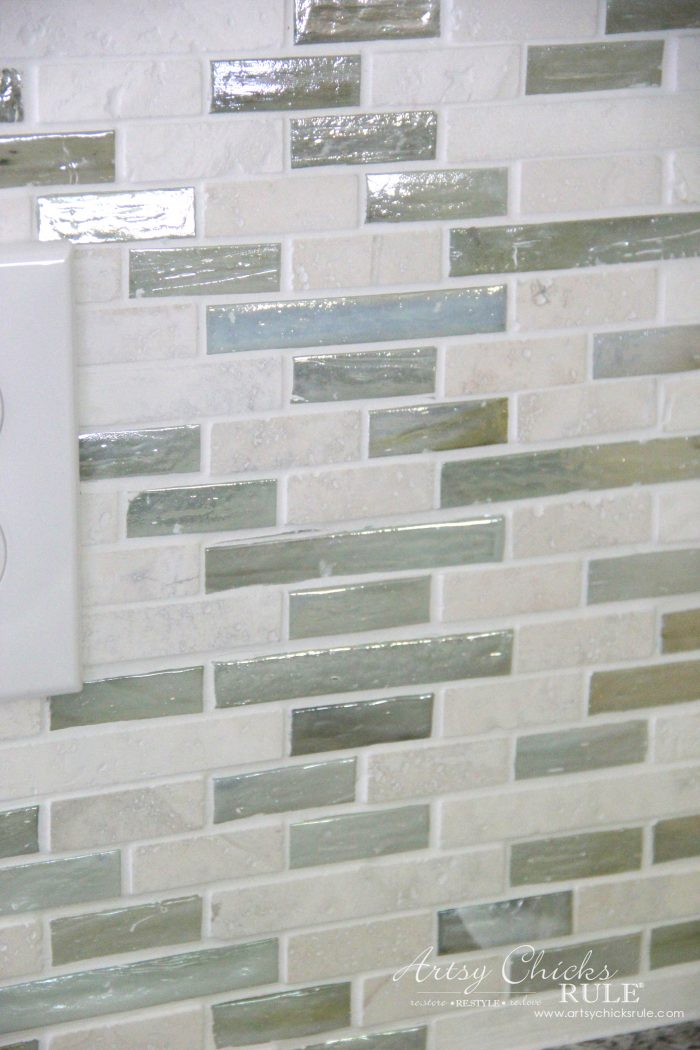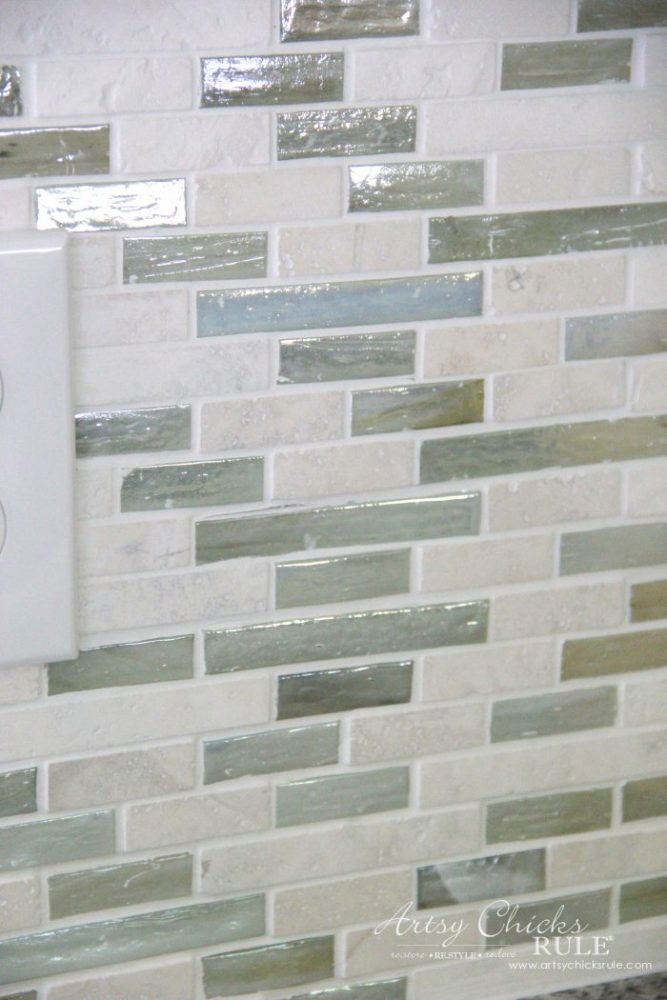 There are subtle blues and greens in the glass tiles.
Alright, let's talk about the actual doing of the DIY tile backsplash.
Here are the items I used…..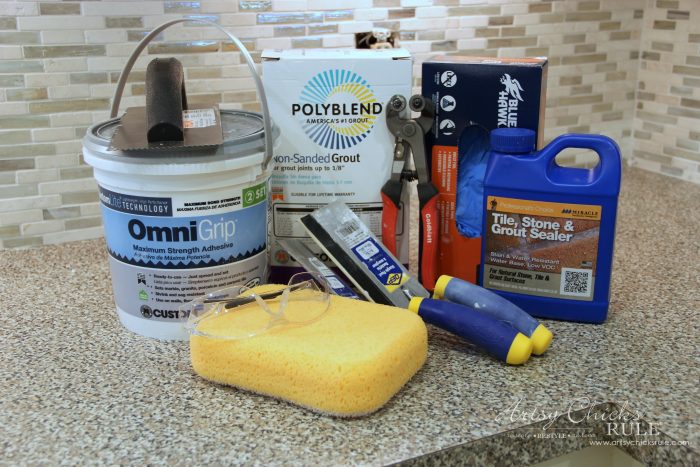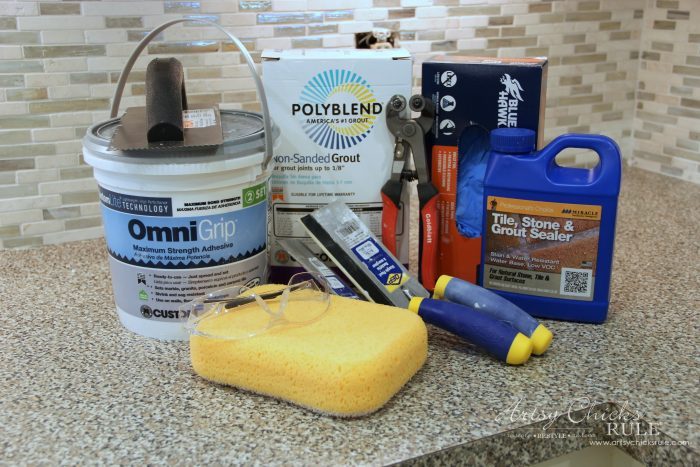 MATERIALS LIST FOR THE DIY TILE BACKSPLASH
Disposable Gloves
Safety Glasses
So let's talk about removing the old tile.
If you took a look at the link I provided above of my previous tile install, you'll know that I used a product called Bondera.
None of the big box stores carry Bondera any longer but they do have a product called Simple Mat that is pretty similar. I considered, for a split second, using the Simple Mat but I had reservations about the tile sticking properly. It didn't seem even half as sticky as the Bondera (which was a beast).
So I shelved that thought. I also considered ordering Bondera from the supplier and going that route again.
I didn't for two reasons.
The Bondera is dark gray in color and would show through in some of the glass tiles I had chosen.
I didn't want that.
And that beast of a stickiness I mentioned? Well, as good as it was, that's the other reason I decided against it. It's great if you never plan on removing it …..ever. Let's just leave it at that. ;)
I did manage to get the old tile off the wall….along with the first layer of paper from the drywall. Ugh.
We considered cutting out the drywall and starting new but in the end, I decided to paint the wall with primer instead.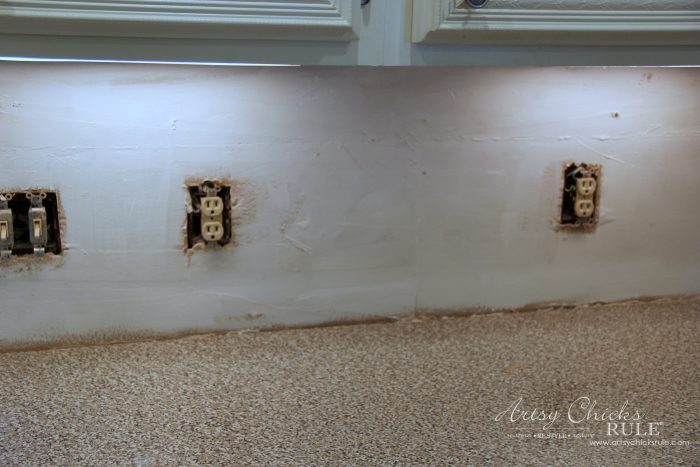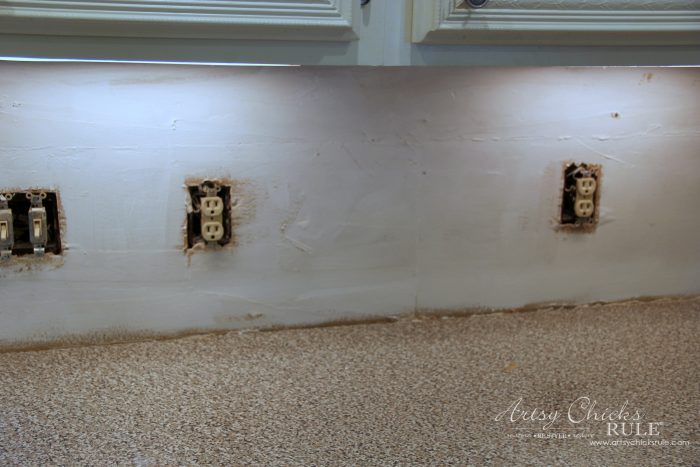 Not so pretty right now, huh? ;)
I was a little apprehensive as I began because the only other tile job I'd done was our upstairs hall bath floor. (with the help of my husband on that one)
And of course not including the previous kitchen tile but I used Bondera, so it was a breeze.
I was worried this would be a mess, honestly! lol
But it wasn't at all. It was just as simple, really, as using the Bondera.
Yep, not even kidding!
The great thing about the tile I used previously is that they were all square and I didn't have to cut one single tile. The way this new tile had staggered tile shapes, I knew I'd be nipping.
That was not a big deal at all either. The glass cutter I linked above did a fabulous job…..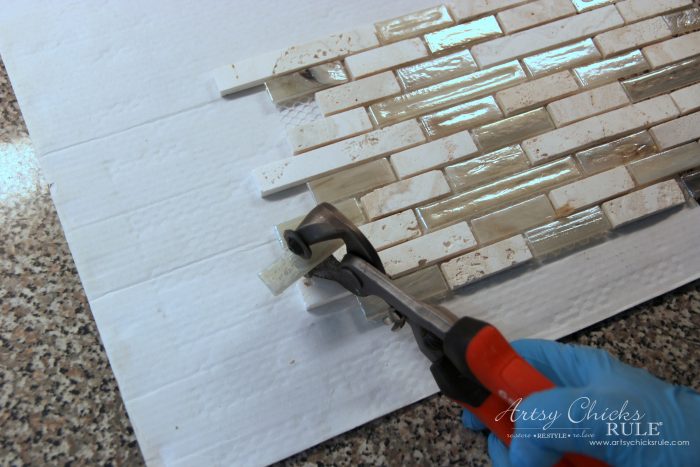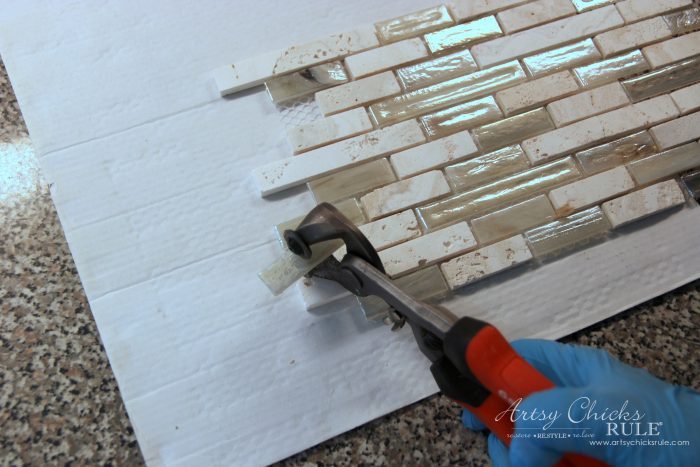 See?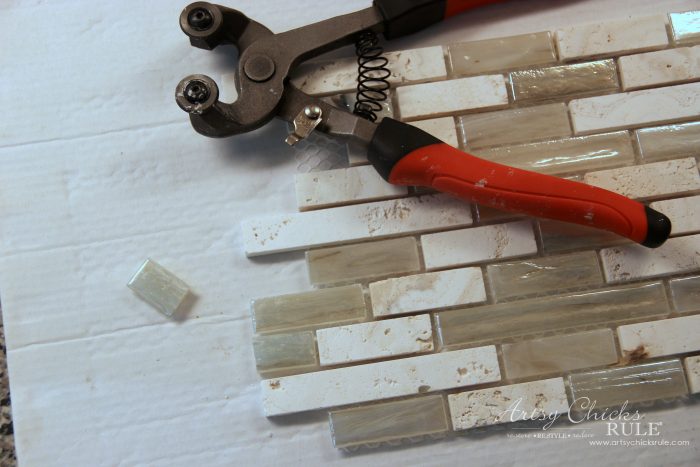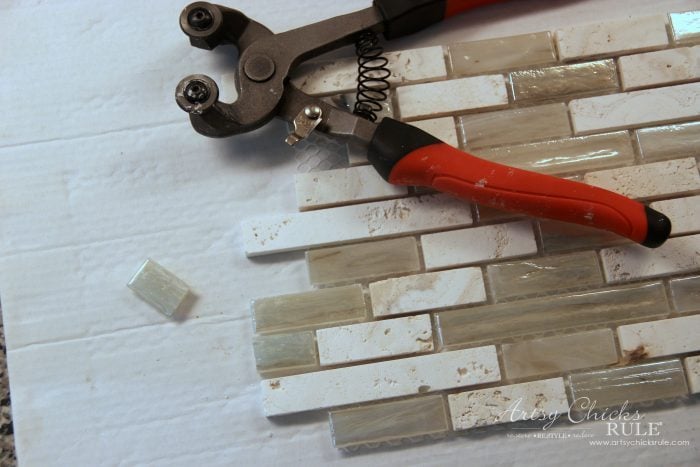 Be sure to wear protective eyewear when cutting glass tiles! You don't want any glass slivers flying up into your eye.
I also wore gloves to protect myself from any chemicals in the products getting onto my skin.
They also helped with keeping little glass pieces from possibly getting into my skin as well.
So instead of Bondera, I used Omnigrip which I highly recommend.
It was so easy to use and held like a champ with no sliding whatsoever.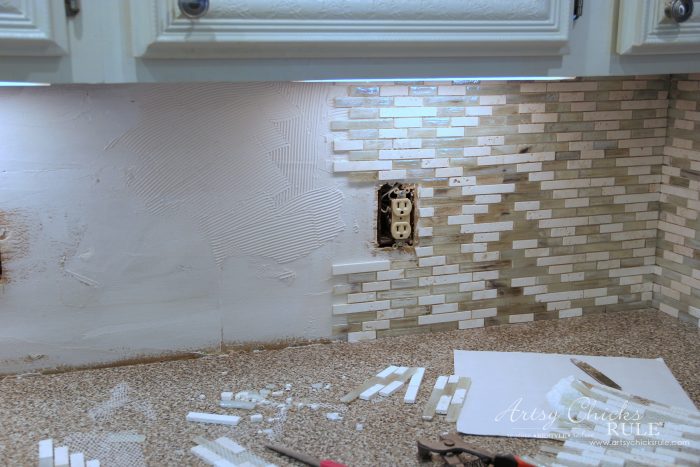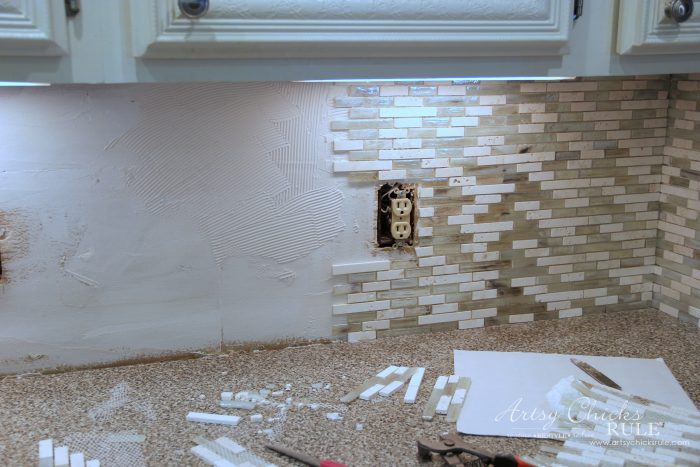 Just apply with the flat trowel (linked above) and then wipe again with the notched trowel.
Attach the tiles to it and press firmly. You can use a level to make sure you are applying them correctly as you go across the wall.
Then just continue across the wall until you are done.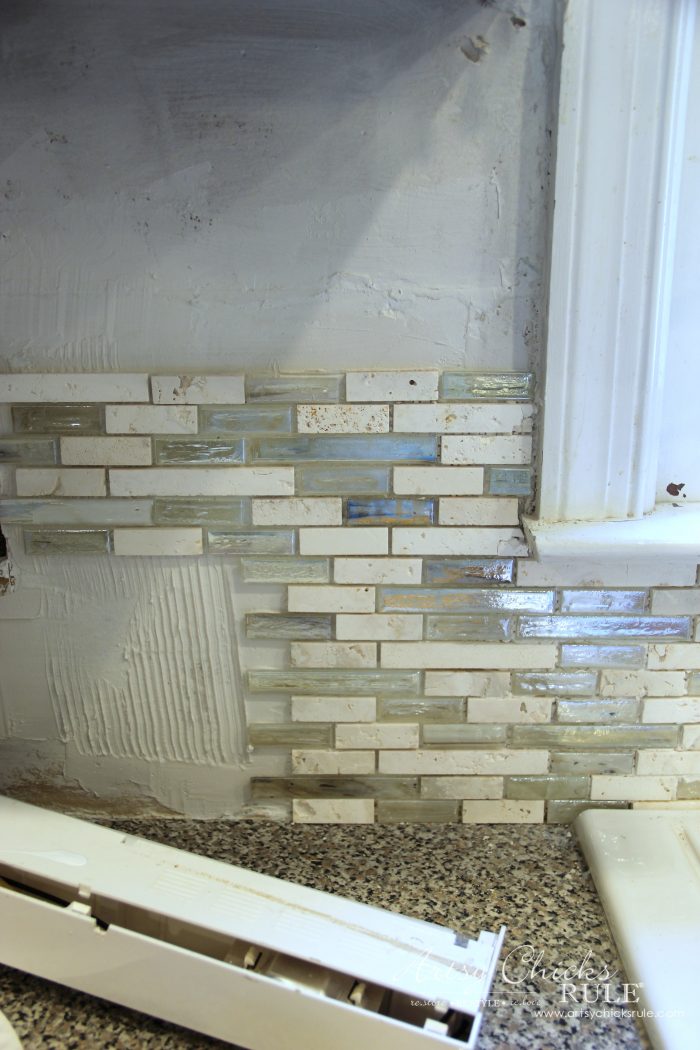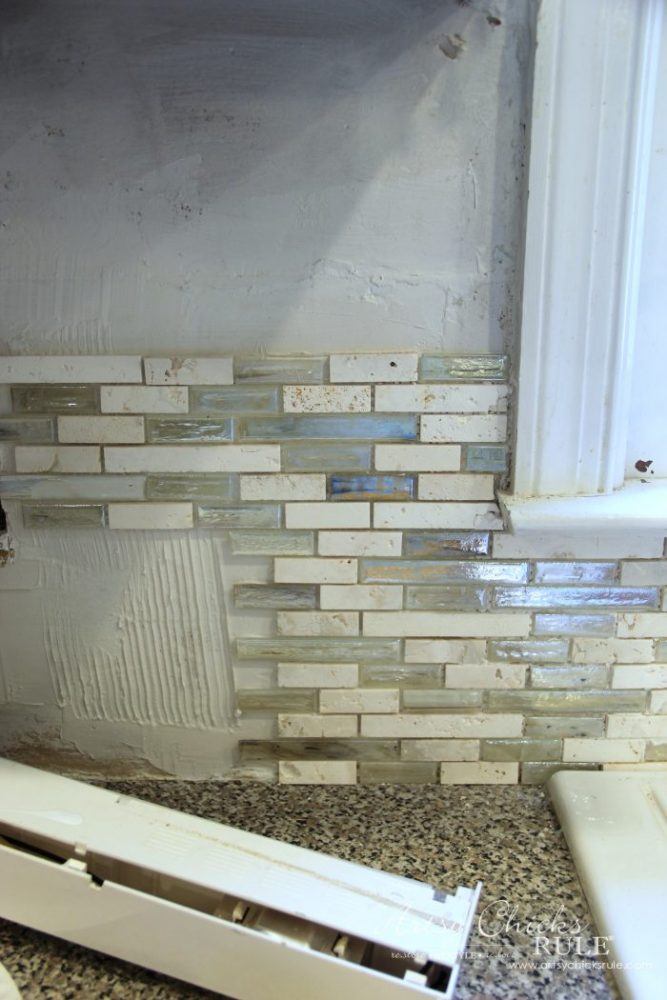 Only apply as much as you need as you go. As in, the amount on the wall for the size tile that you are next applying.
Be sure not to use too much as it will squeeze out the front of the tile spaces. You don't really want that.
If you do get that, remove it as best as possible.
Once I was done I let it sit for a couple of days to dry.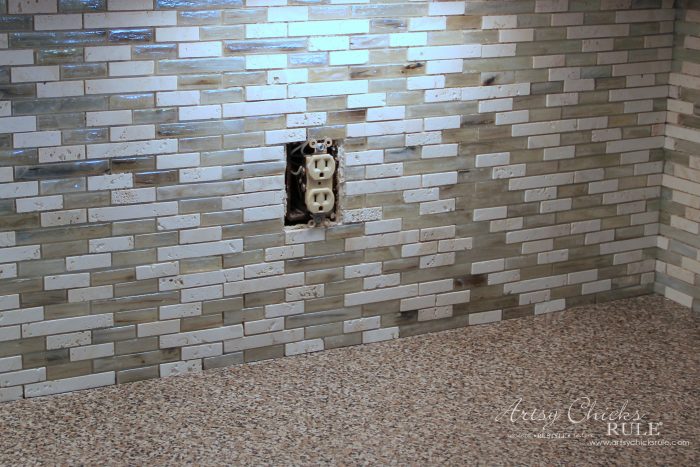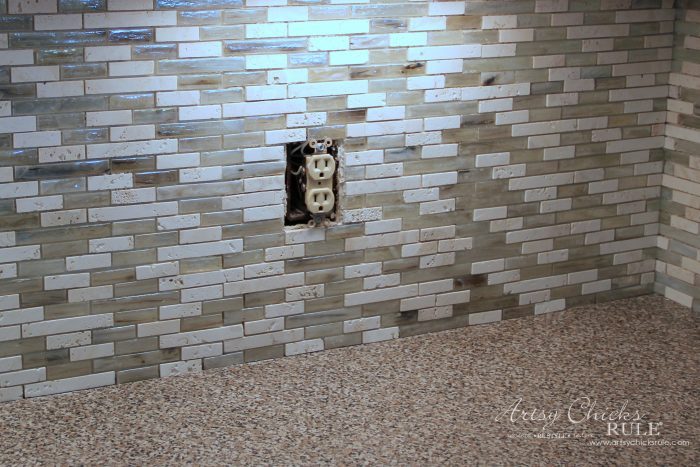 I then came back with a penetrating sealer (linked above) and sealed all of the travertine pieces.
You will want to do this so the grout won't want to stick so badly to them making it very hard to remove.
I wasn't careful about the glass, I just wiped it all over then went back and wiped away the glass area.
You can also seal them before you install them on the wall. Either way is fine.
Finally, I mixed the grout. I used non-sanded since I was using glass tiles and didn't want to scratch them with sanded grout. Plus the grout lines were pretty small so non-sanded grout was a good choice for that as well.
Once mixed with water to the correct consistency, I used the float to apply.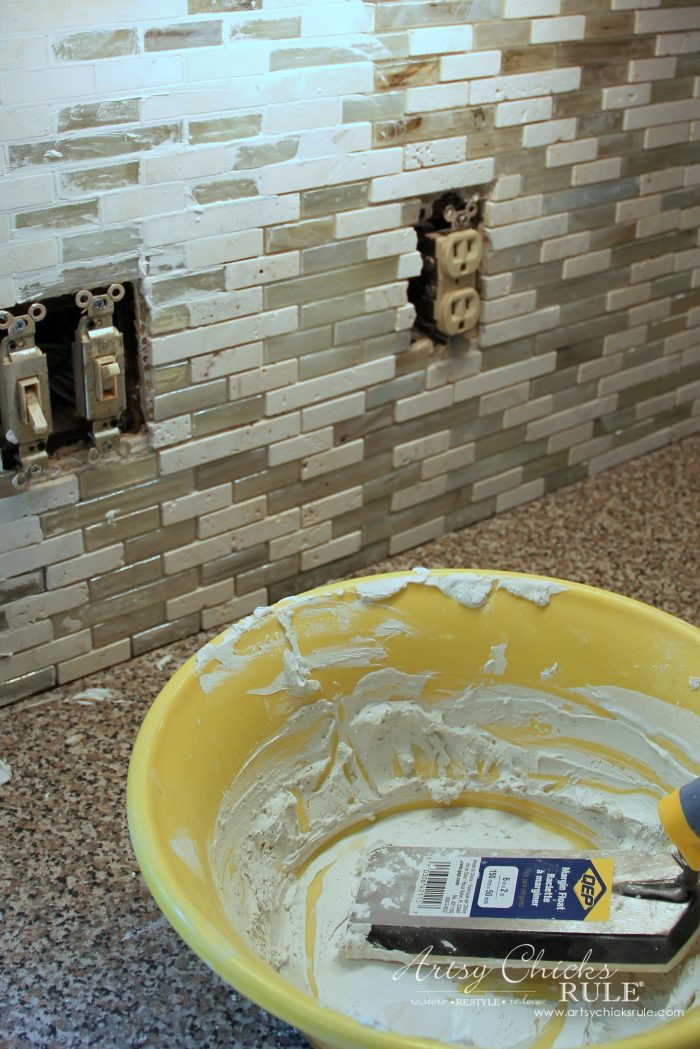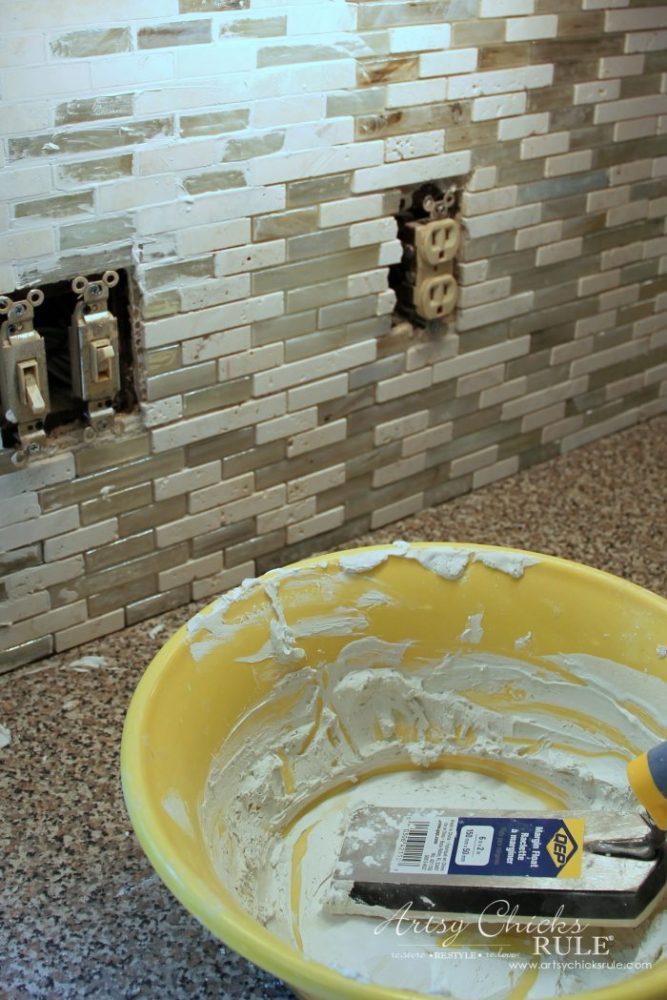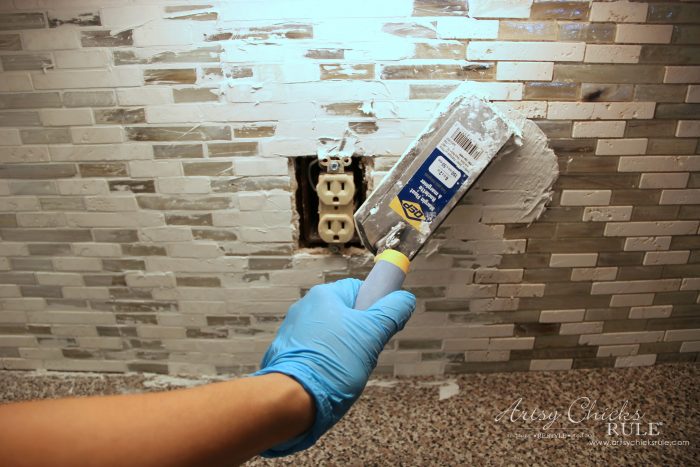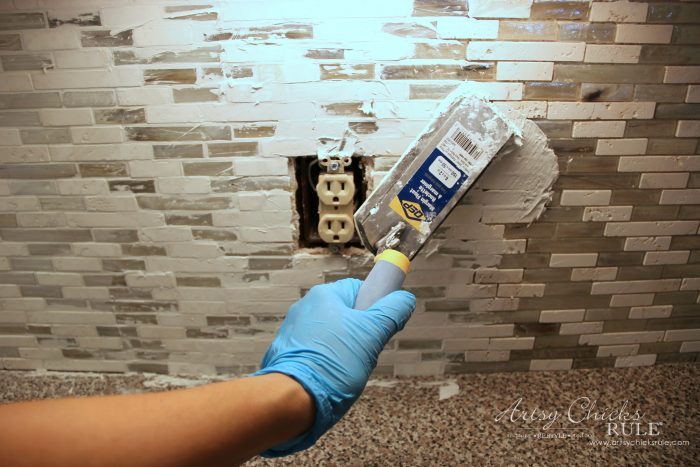 This was the hardest, most labor-intensive, part of the job.
I got my upper body workout in, for sure!! haha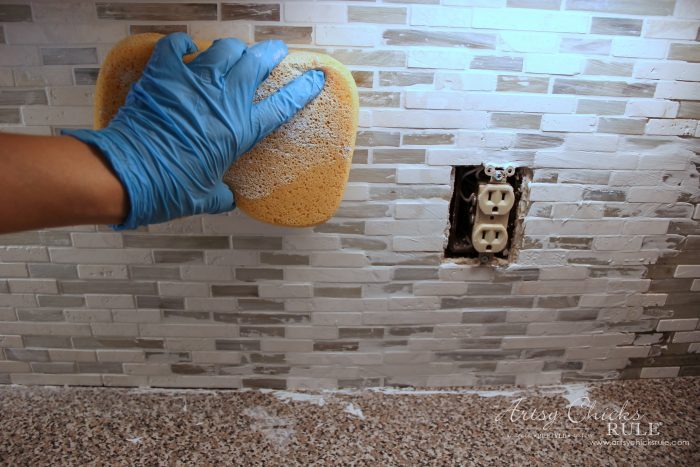 I applied it in small sections, pushing hard to make sure it went into the grout lines fully.
Then I came back behind with a very wrung-out sponge.
I wiped very gently once then moved on to the next section doing the same.
Then I would take the washed and wrung-out sponge (lots of sponge washing here) and wipe the previous section again. I found I needed to do it this way or the grout would be too wet and come out if I tried to wipe too soon. Letting it sit for a bit as I moved on let it harden ever so slightly.
Still, you need to be mindful of this as you are wiping. But you also need to be just as mindful about removing the excess from the tiles so it doesn't stick where you don't want it.
This is just a process of repetition. Wash, wring, wipe.
Do this until you've removed most of the excess and then let it sit for a couple hours.
Then come back and remove all the residual haze on the tiles.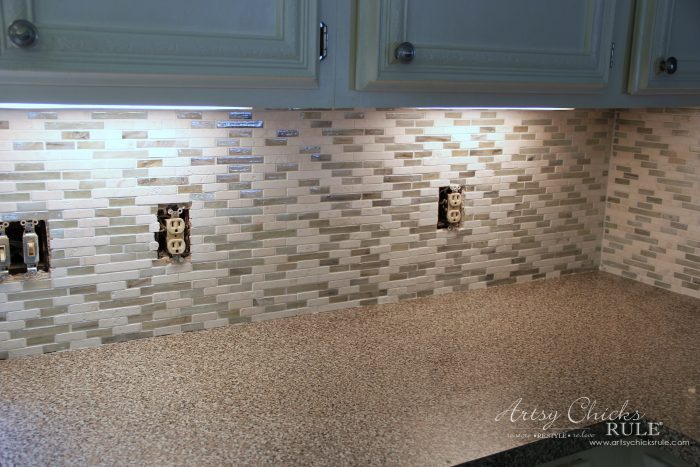 I let it dry for a couple days and then used the same sealer to seal everything again, including the newly applied grout.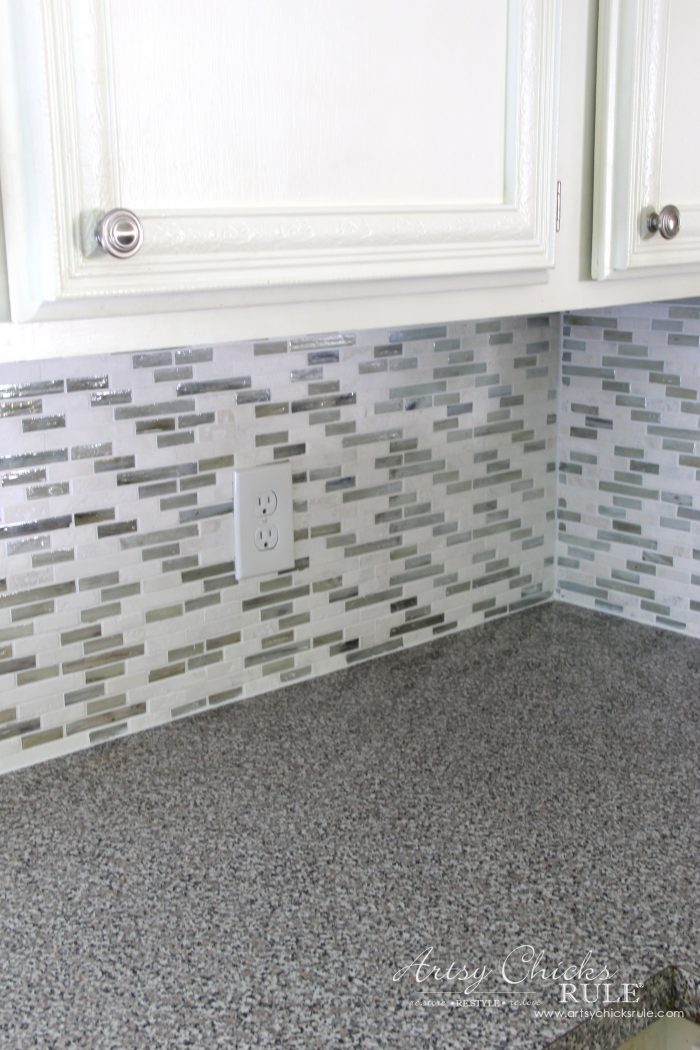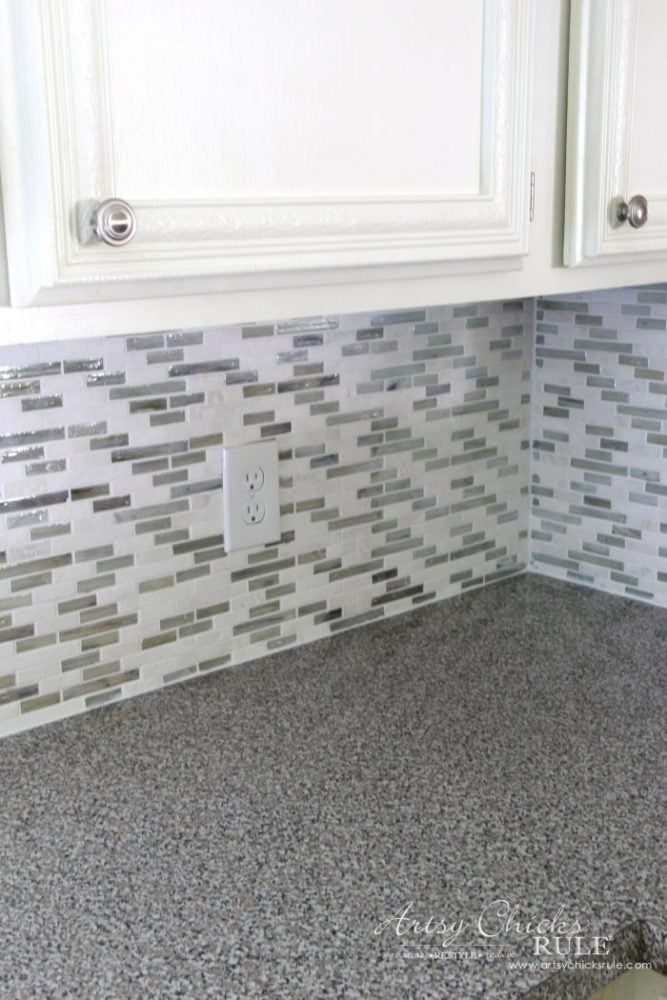 You might have noticed that we (my husband ;) ) also changed out the electrical switches/receptacles with a nice, bright white to match.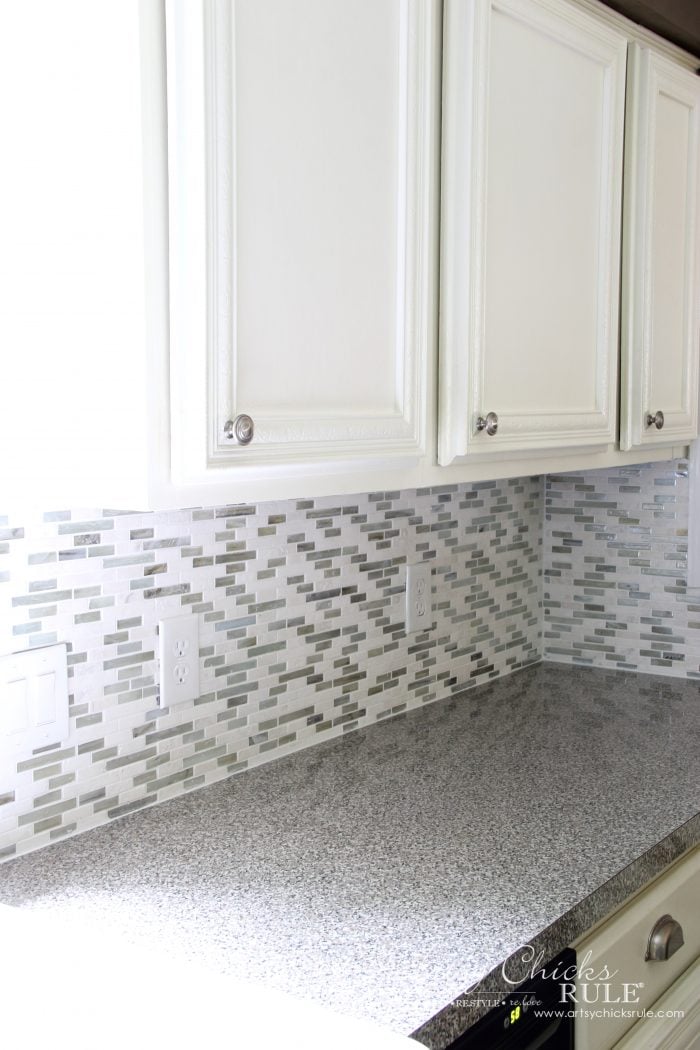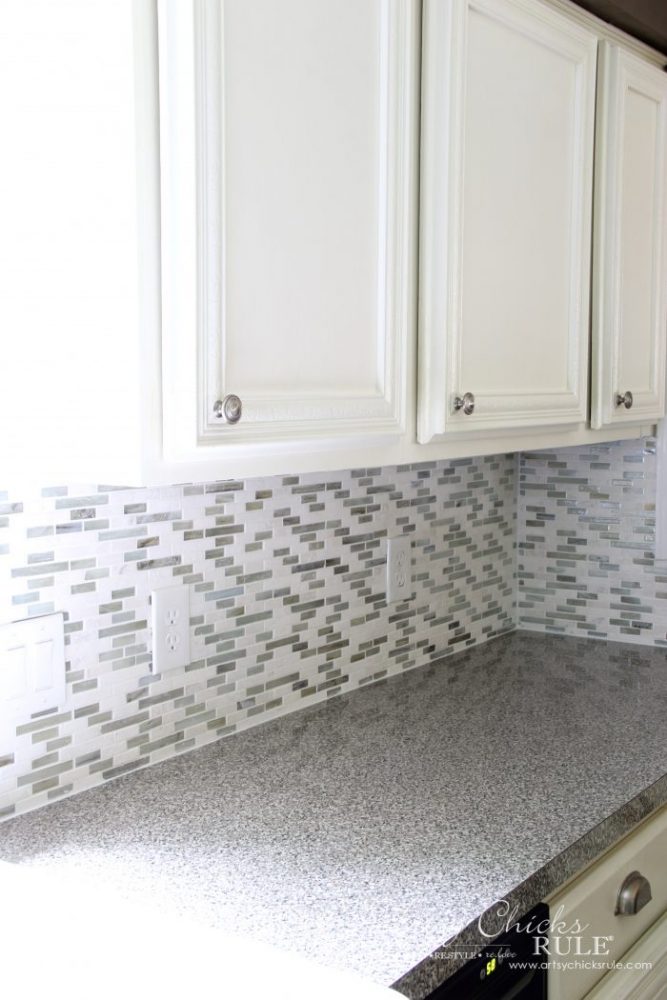 You can see some of the colors a little better here…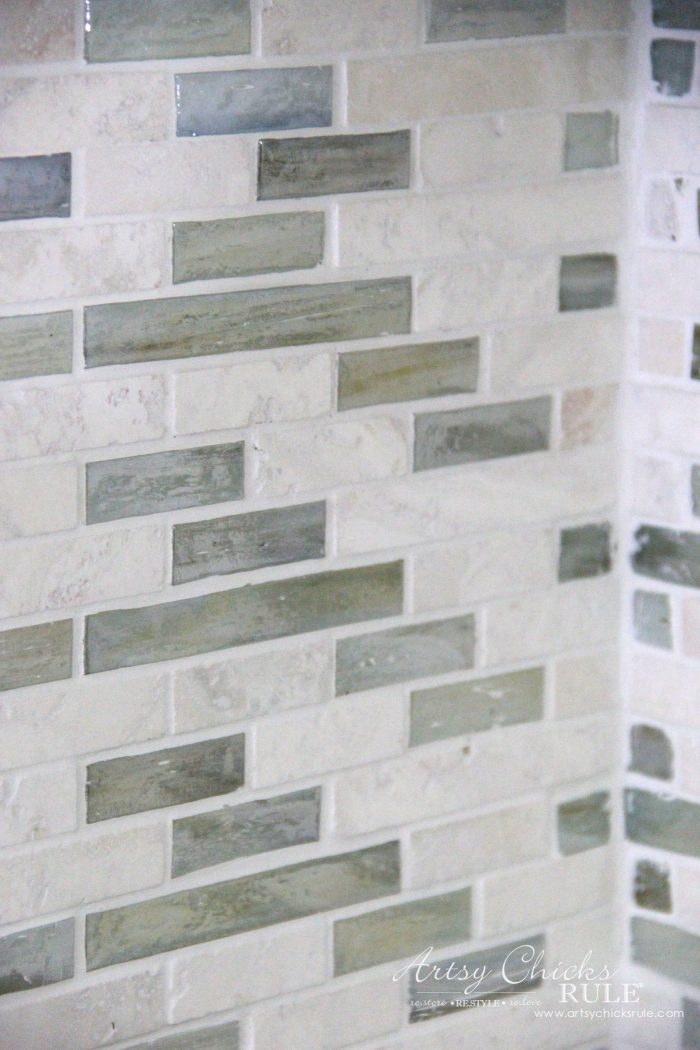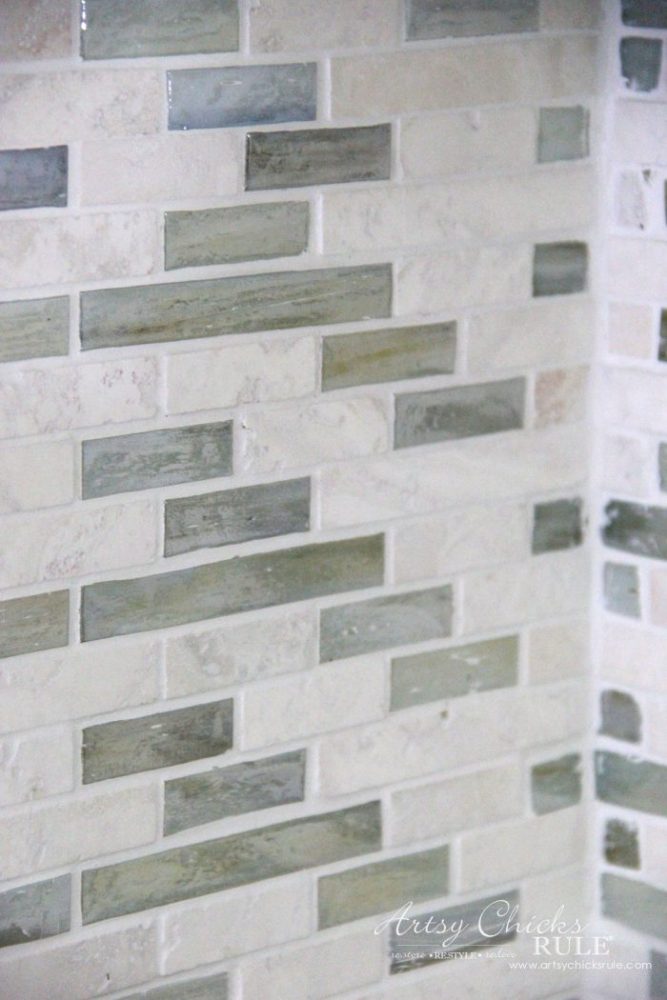 And I used a bright white caulk around the sink for a seamless seal.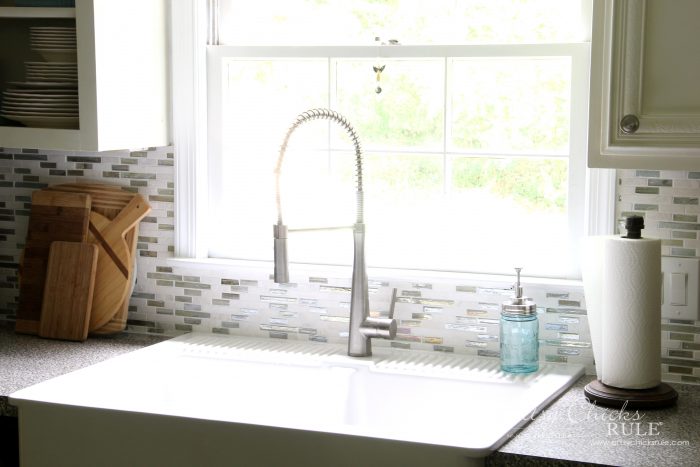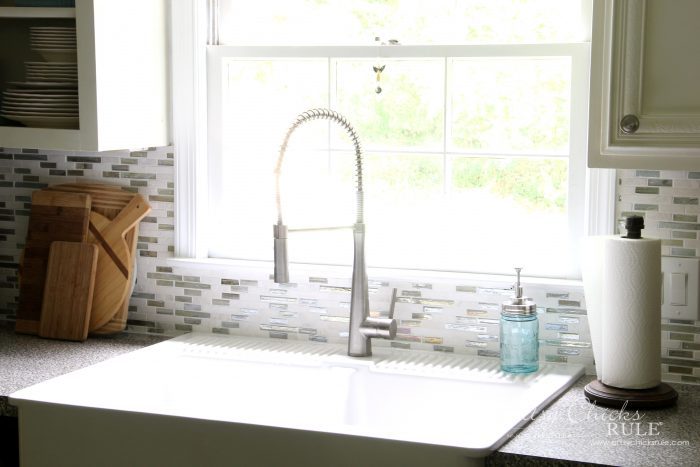 I also decided to remove the piece of trim that was under the window trim.
I installed tile all the way up instead. Love the look so much better.
I adore this >> stainless dispenser top I got for one of my antique Ball Mason jars…..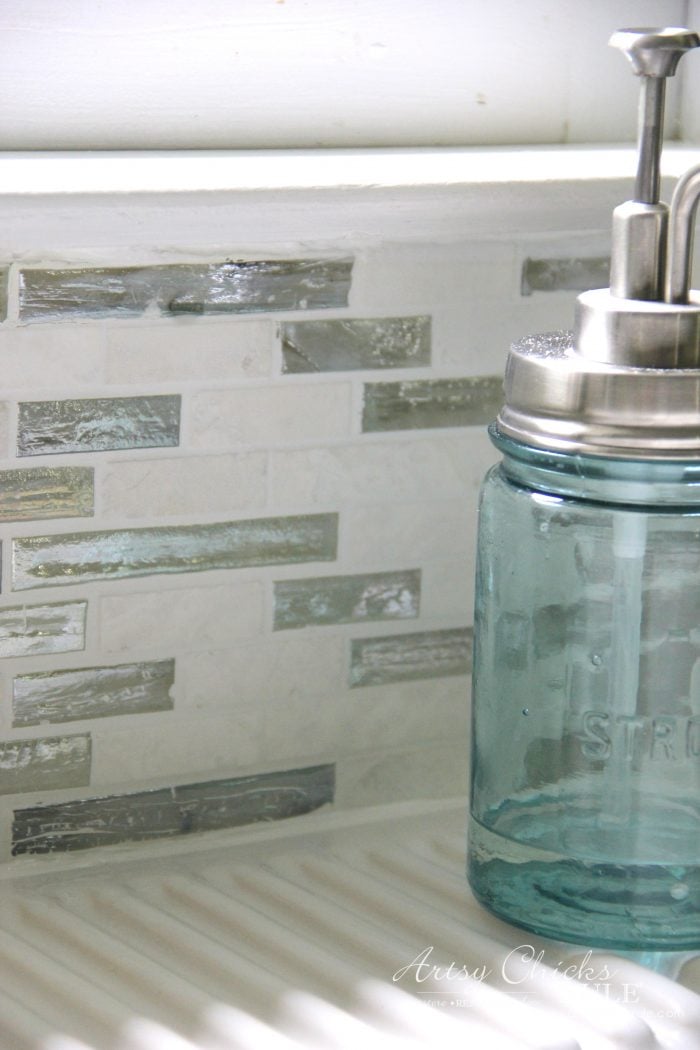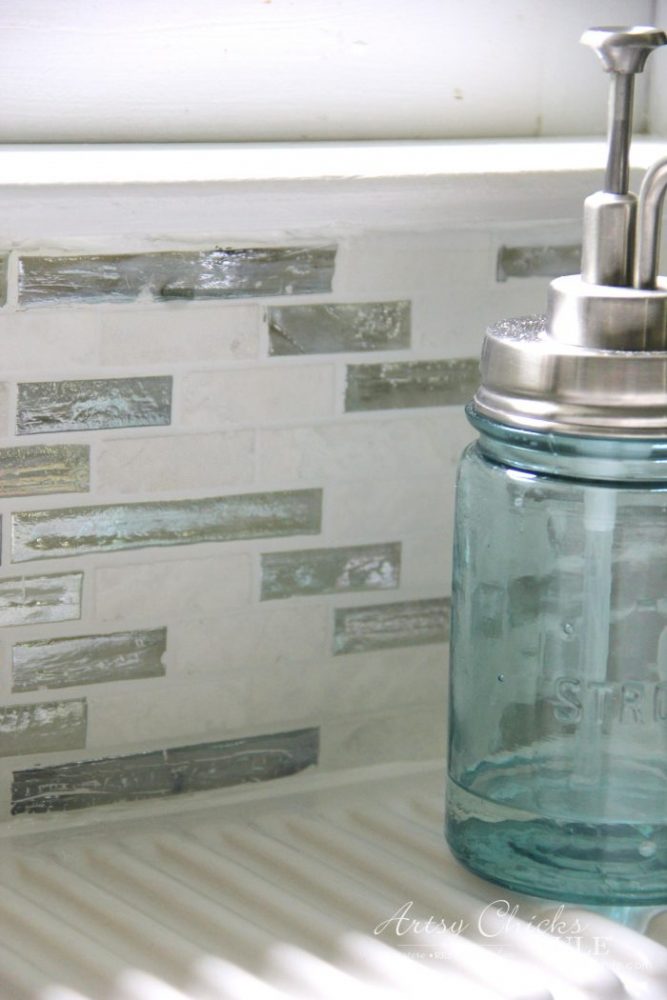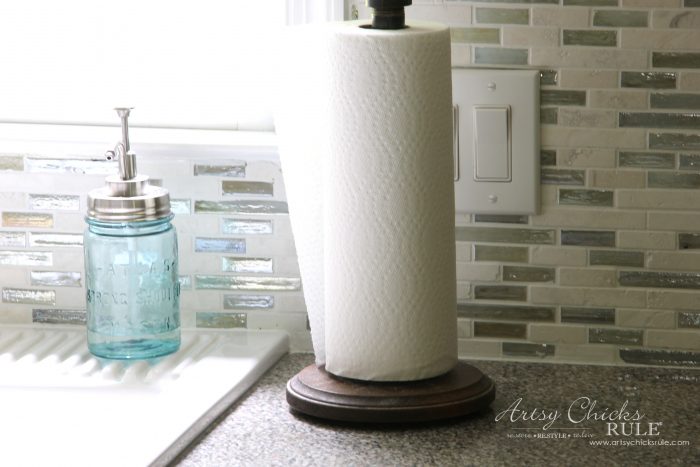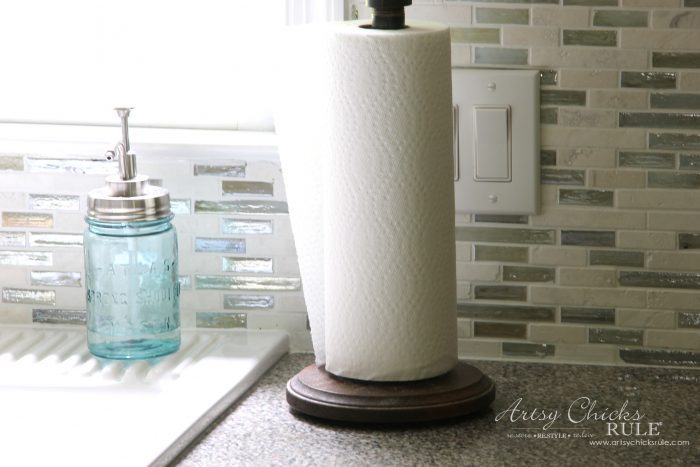 Aren't those glass tiles so pretty? They have a bit of iridescence to them.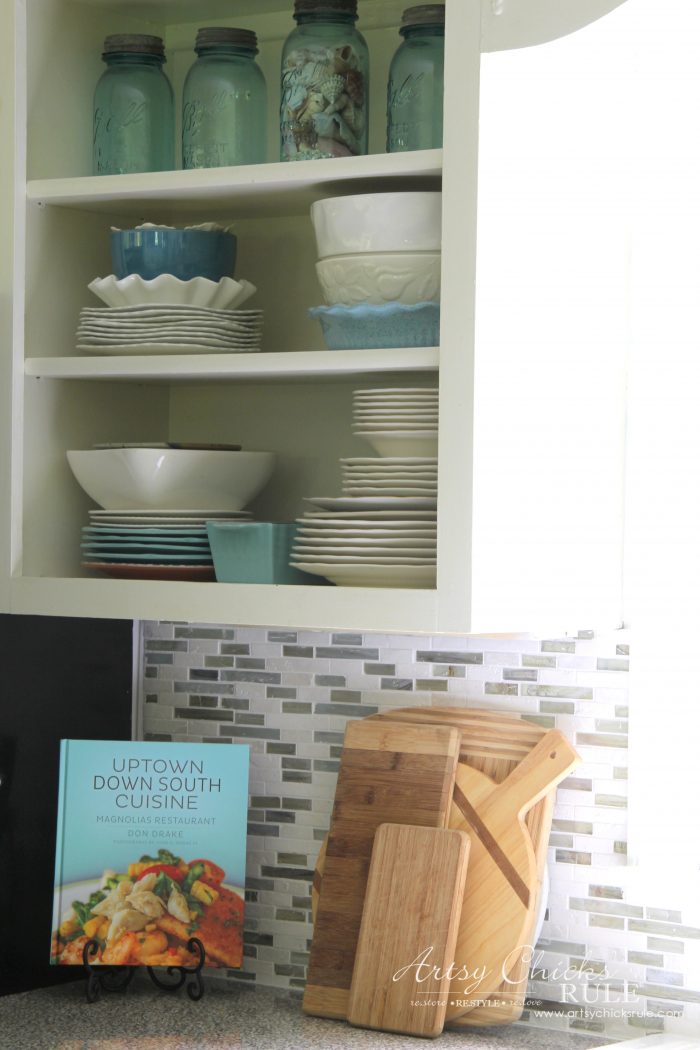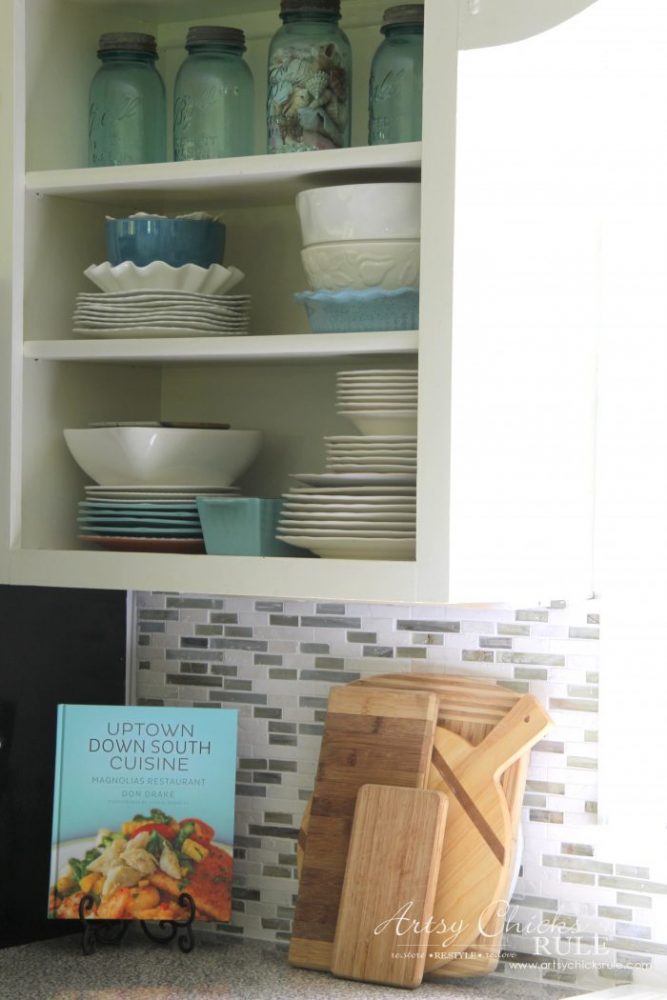 I had planned to use these thick tile pieces as the finish for the edge over here…..but I dropped one behind the refrigerator. lol Ooops!
They were not being very cooperative anyway.
So my husband suggested just using a piece of decorative wood trim.
We always have leftover stuff so he came up from the garage with the piece you see above.
It was lightweight and easy to install, perfect!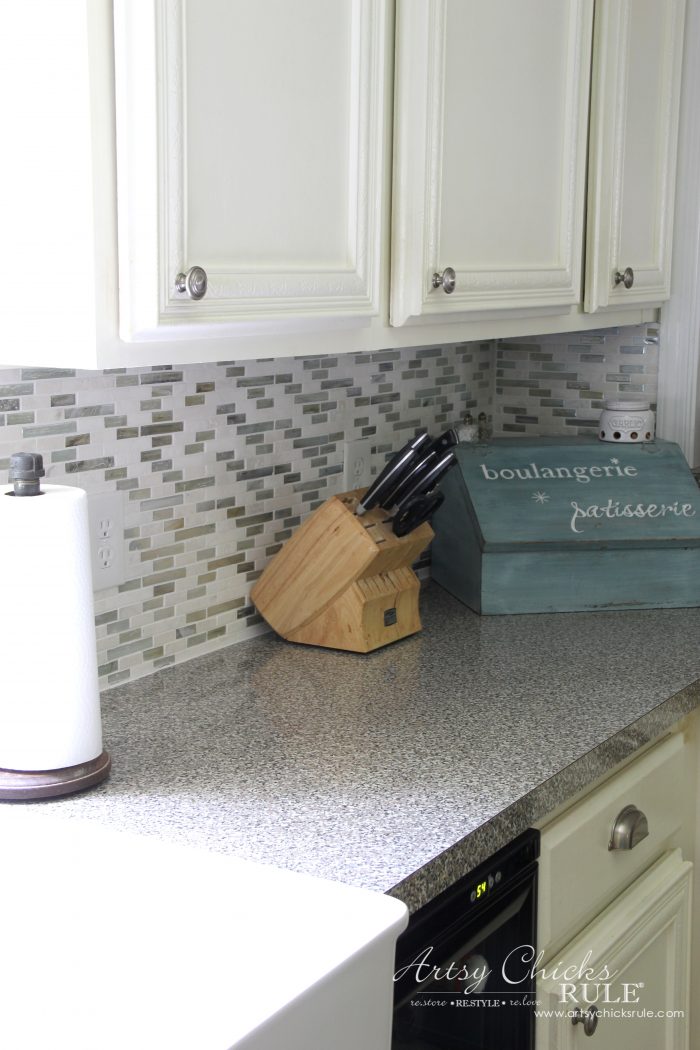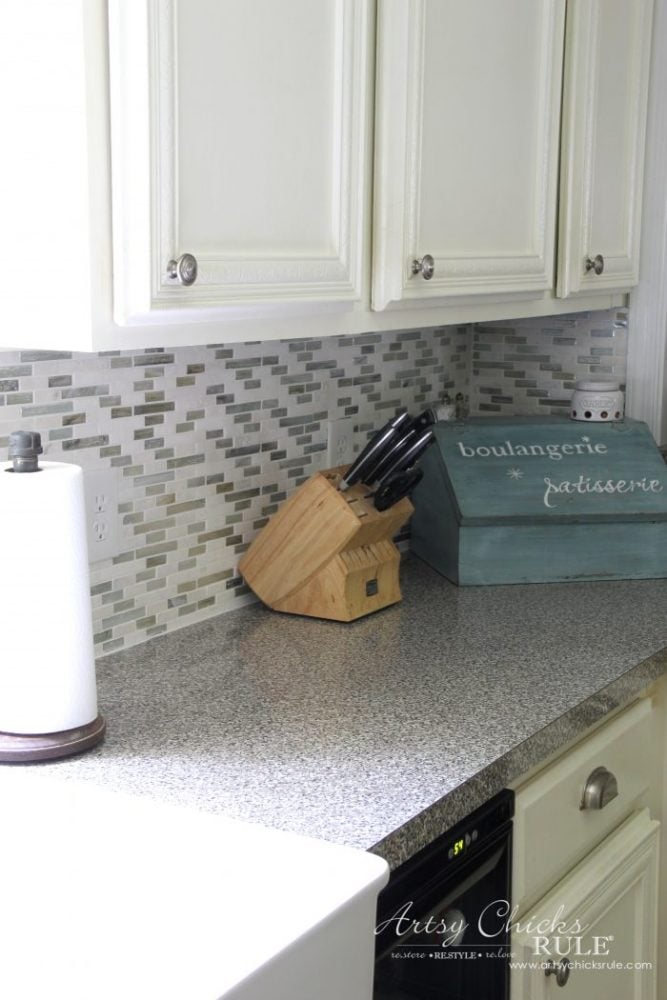 So thrilled with it.
The new tile along with the new paint above the cabinets have my kitchen looking like a brand new space.
All that's left to do is repaint the cabinets in a bright white and the island in a pale, soft blue.
Can't wait! I'm on a roll and will be starting soon. Keeping that ball rolling. ;)
I'll be doing a review of the Chalk Painted cabinets before I share the new paint, etc.
I'll be using the same paint as in the recently made-over laundry room.
I will say I've been very happy with these. It's been over 4 years since I painted them with Chalk Paint, and as you can see from the photos, they've held up great. I've not had to retouch any of these in 4 years.
So there you have it!
A brand new tile job done without any shortcuts. (Bondera, etc)
And it was oh so do-able! If I can, YOU can. :)
PIN this DIY Tile Backsplash Tutorial for later to save it!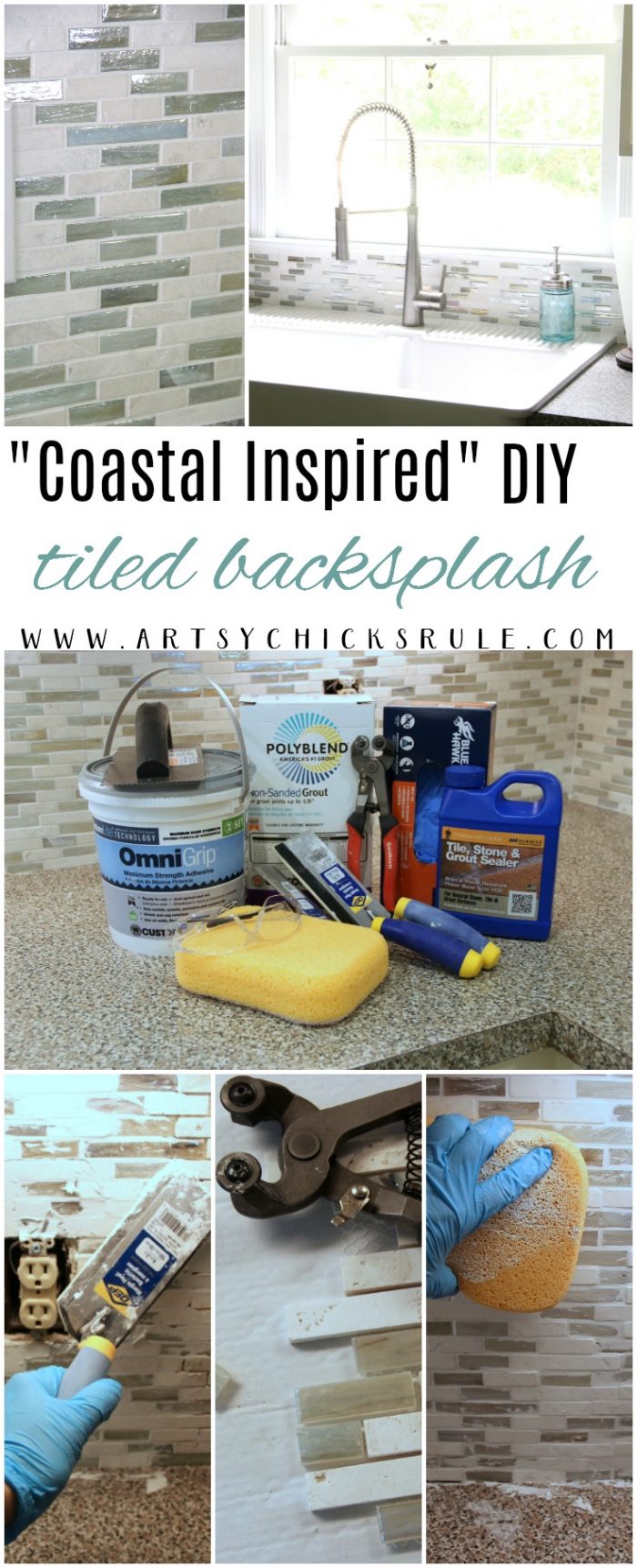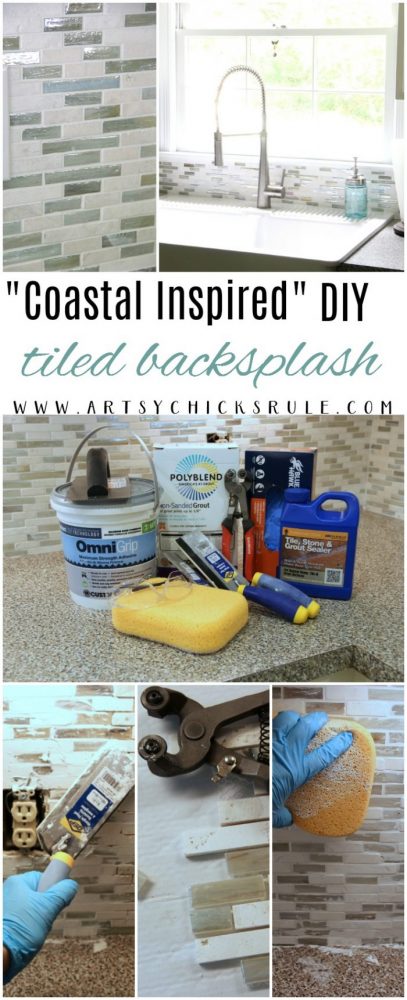 Have questions???
Just ask in the comments section and I'll be glad to answer and help if I can. :)
More home DIY tutorials we have shared here:
See you back here next week with a brand new "trash to treasure" and sharing what I did to these!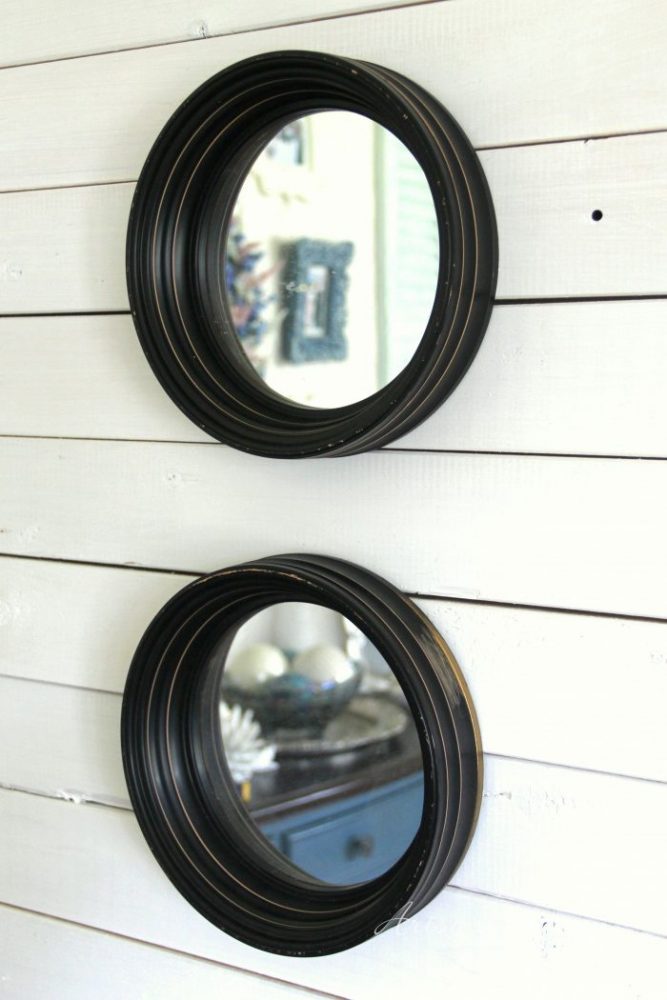 UPDATE!! See them now, here!
Hope you all have a wonderful weekend!
xoxo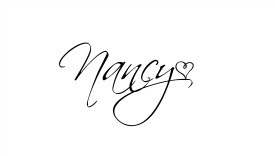 SaveSaveSaveSave
SaveSave
SaveSave