DIY Nautical Porthole Mirrors (thrift store makeover)
This post may contain affiliate links. Please see disclosures here.
Hey Friends! Today I've a quick little thrifty makeover for ya….. DIY Nautical Porthole Mirrors.
That started like this….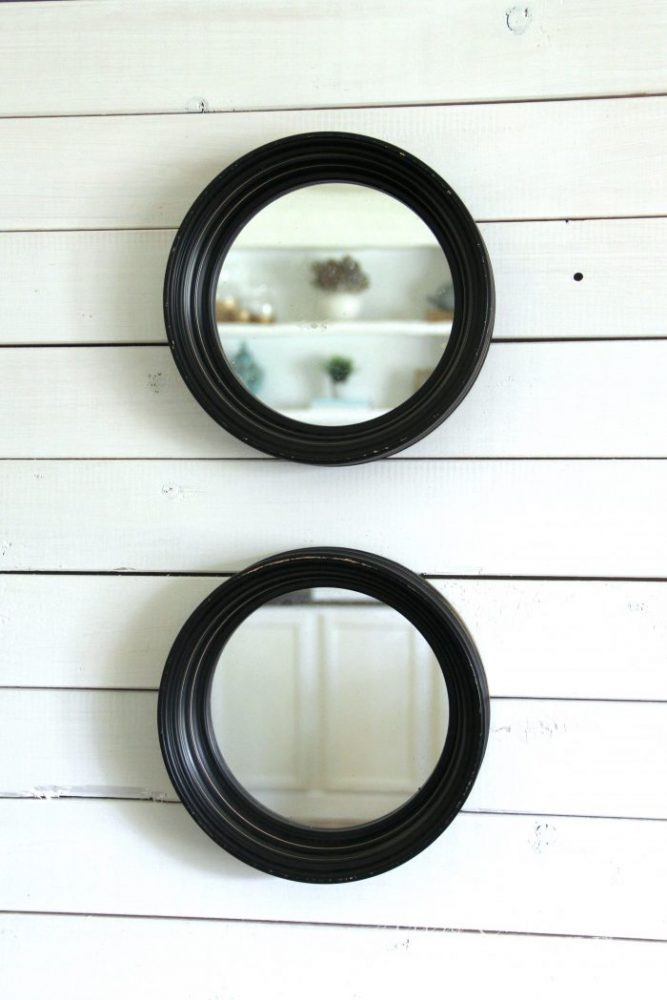 and now look like this…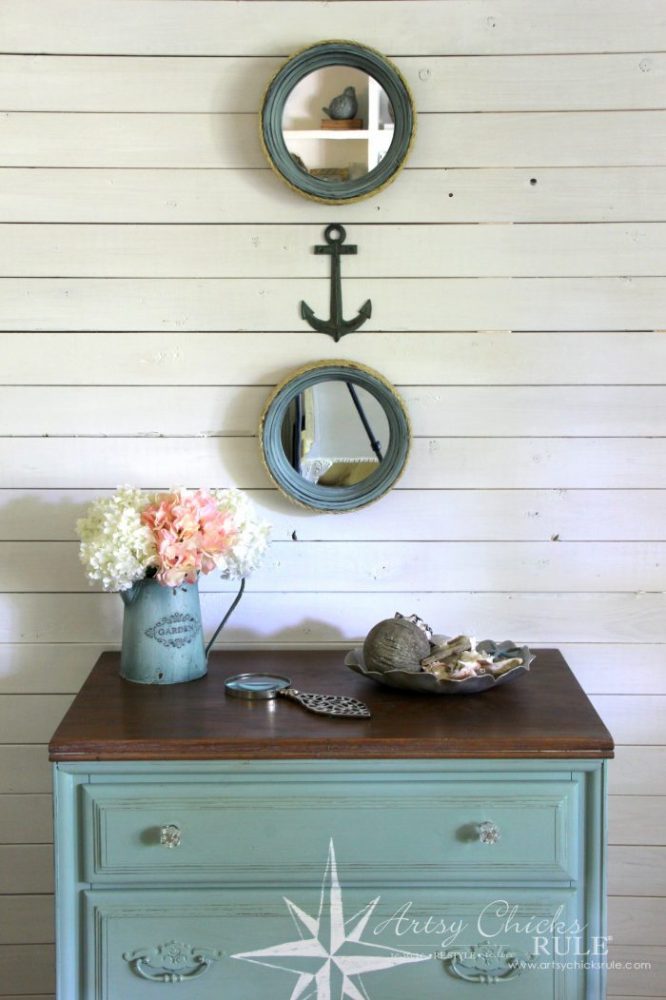 Perfect for any nautical, coastal type decor.
I had thought I'd use them in our recent laundry room makeover but decided I didn't want a lot of stuff on the walls in there.
So maybe I'll just save them for the beach house…whenever that may happen! ;)
Hopefully not too long. I'll be decorating it fully with thrift store finds and makeovers.
I may include an affiliate link or two for your convenience below. You can see my disclosure, here.
Aren't they neat?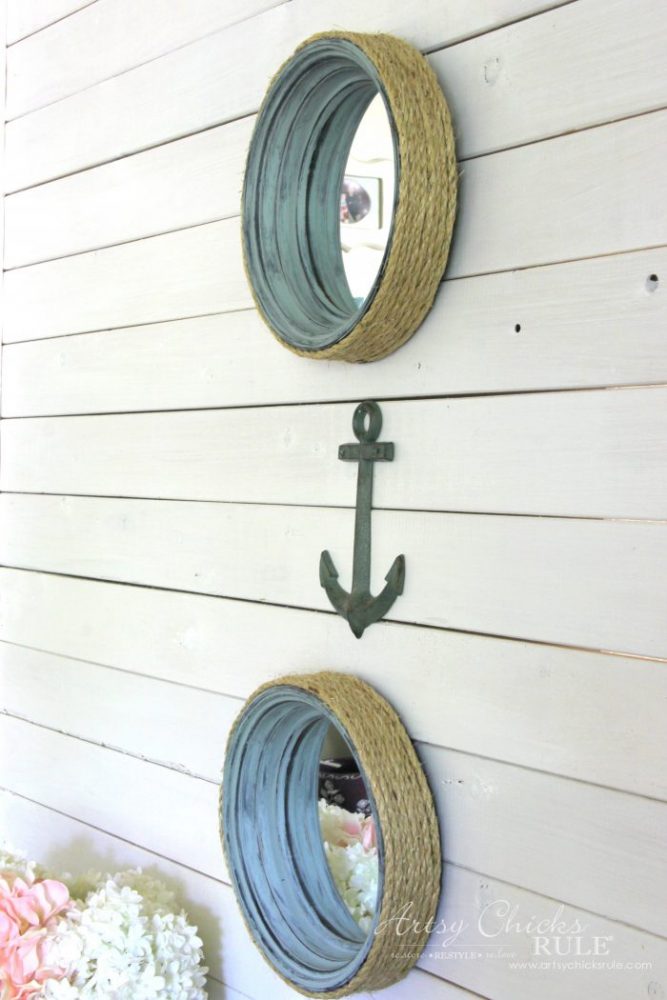 Here's what the looked like when I brought them home….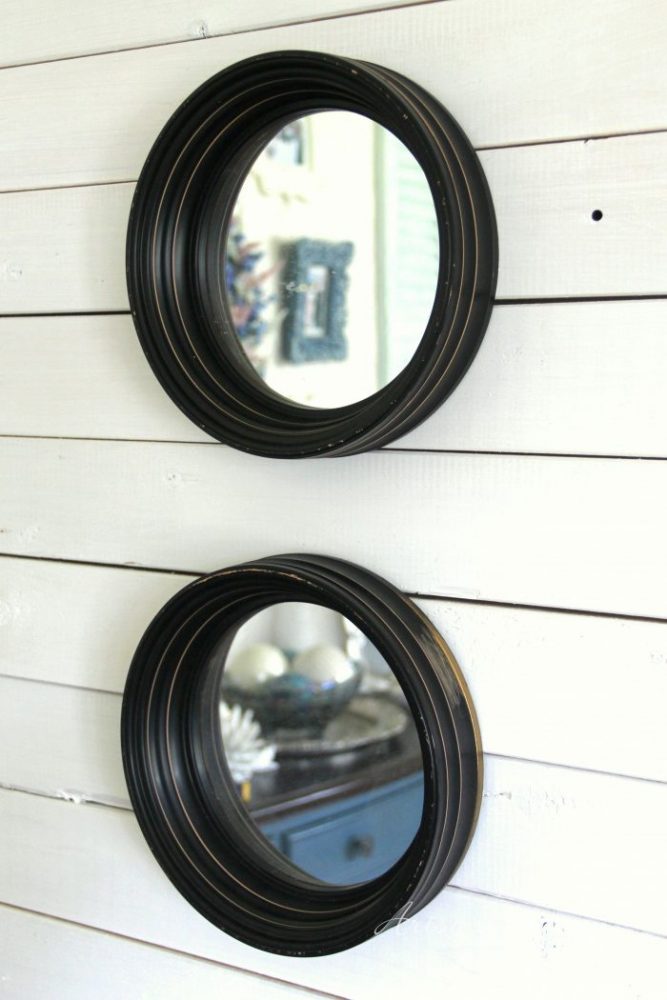 …..for $6.25 for both.
Just plain ole black mirrors with a bit of gold trim.
They seemed perfect for the "porthole" look and that was my immediate thought for them.
This was a simple-as-can-be makeover.
I pulled out my Duck Egg Blue Chalk Paint and gave them one quick light coat on the inside of the rim.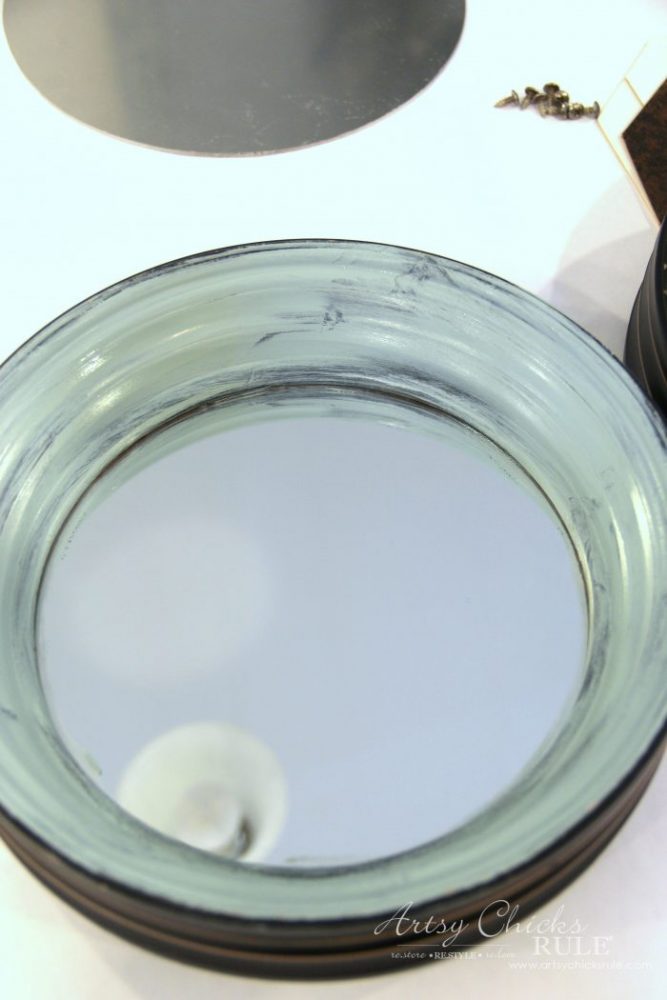 AND … to give them a worn, weathered look, I took a dry (scrunched up) paper towel and wiped right around the inside of the rim removing some of the wet paint.
Perfect!
That's it. Then a quick coat of this flat sealer.
I then pulled out my hot glue gun and glued this rope all the way around the outside rim.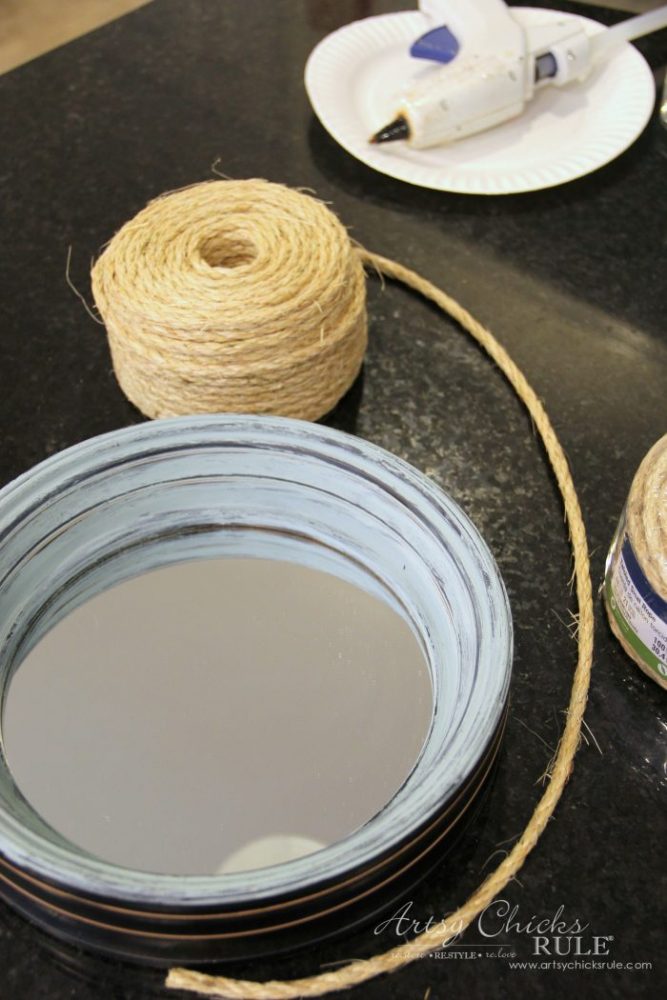 (see how the black shows through on the inside of the rim where I wiped some of the paint away?)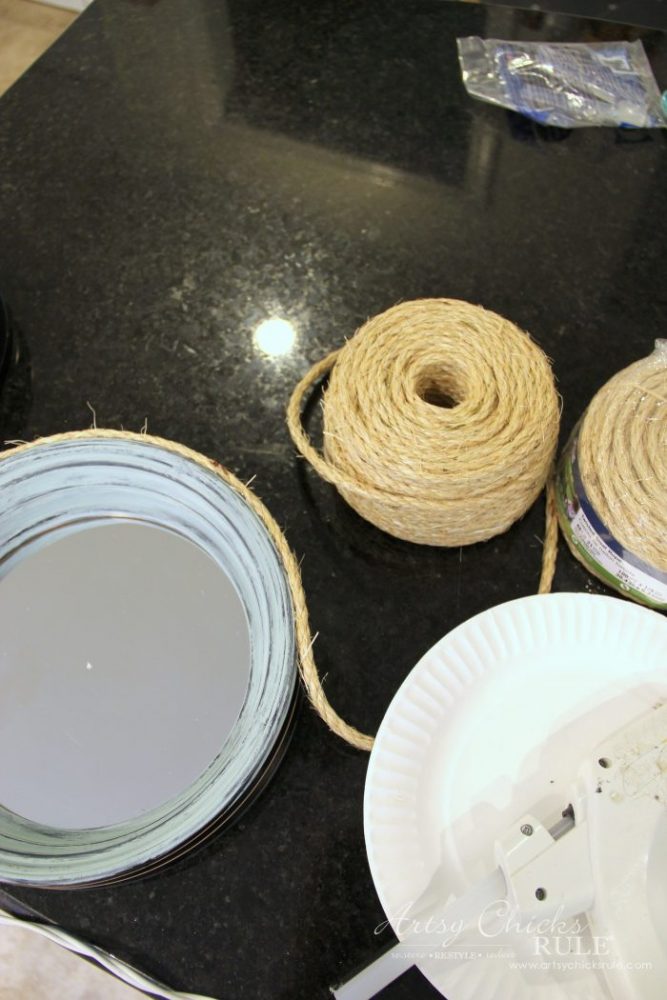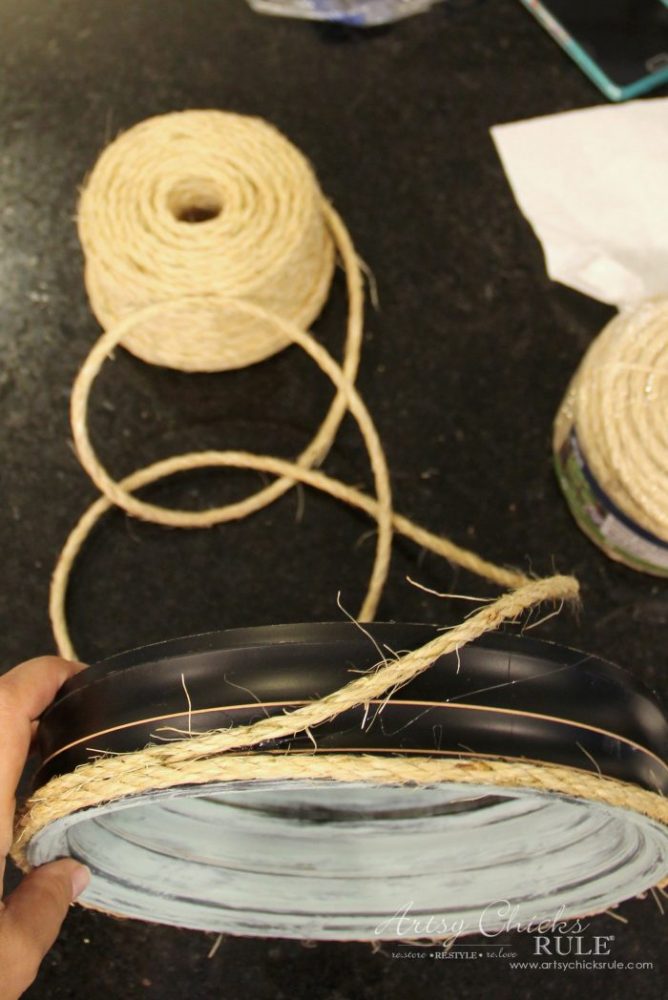 Pretty simple here. Just continue on around until you are done.
Tucking in and blending the cut edges as best you can.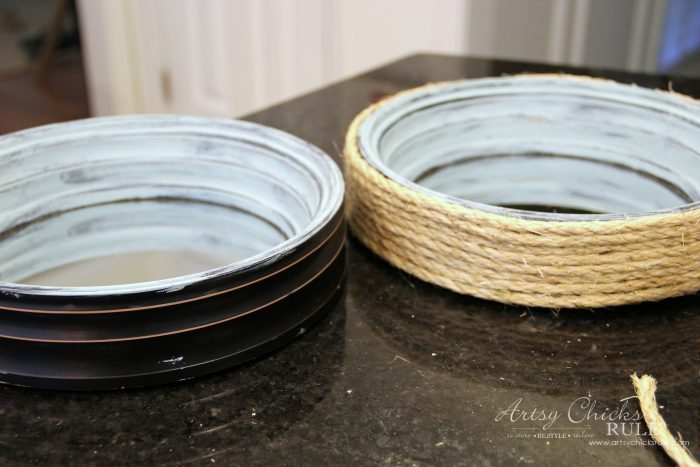 They got a whole new look!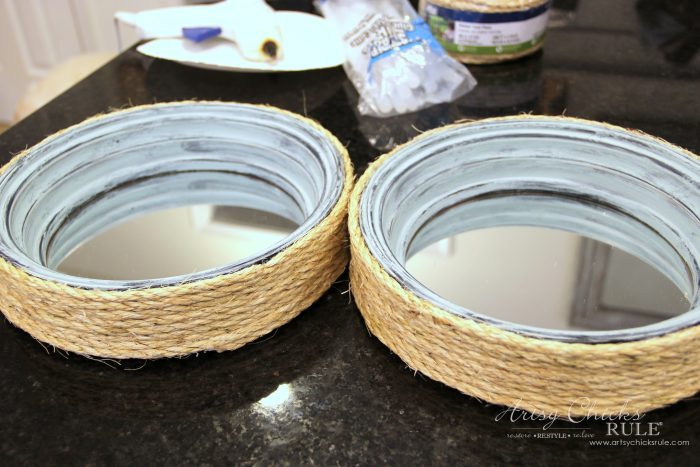 These nautical porthole mirrors were a quick and easy little project and made some very nice, thrifty home decor.
Now I know that porthole mirrors aren't covered in rope but that's okay.
They still resemble portholes to me and why I named the post as I did. ;)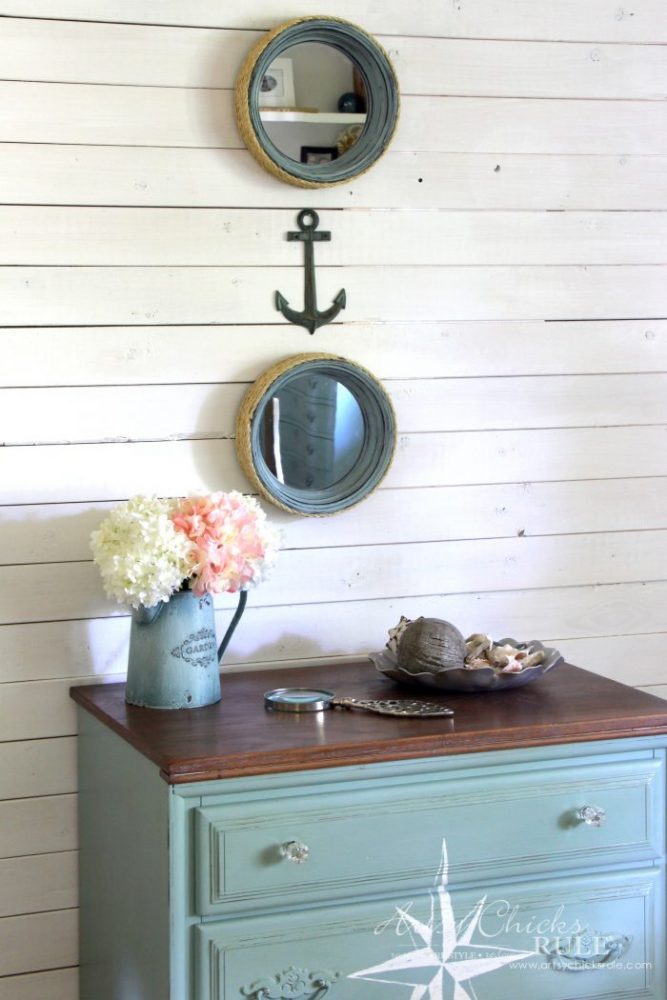 You can see the details on this compass rose dresser makeover, here.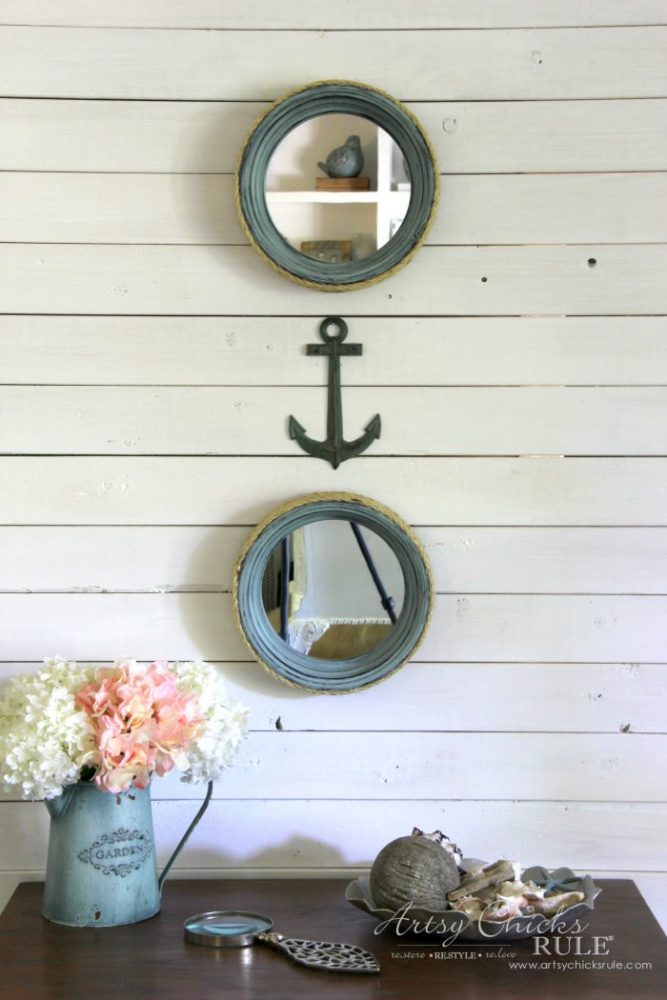 And a close up of my brand "new" nautical porthole mirrors…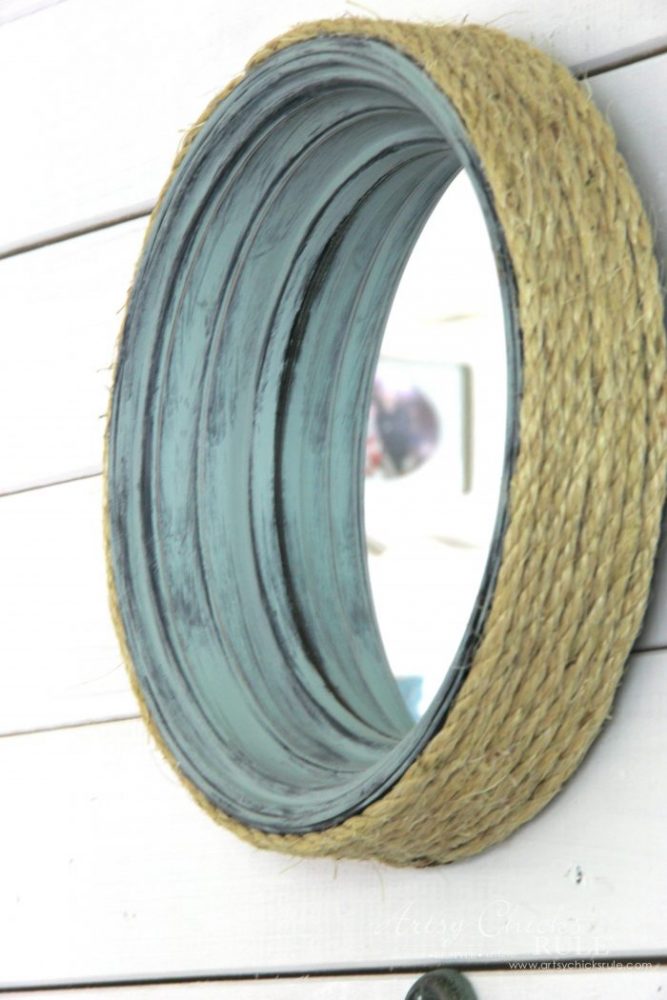 It doesn't have to cost a fortune to decorate your home.
You really can do it very thriftily if you look outside of the box.
I always say there are many treasures at the thrift store/garage sales.
Things no one wants but with a little imagination (and usually, paint!) you can have very budget friendly decor for your home. :)
Want to see even more ideas on simple updates with Chalk Paint (that aren't furniture??) 
Check out this post, here!
PIN this (DIY Nautical Porthole Mirrors) for later!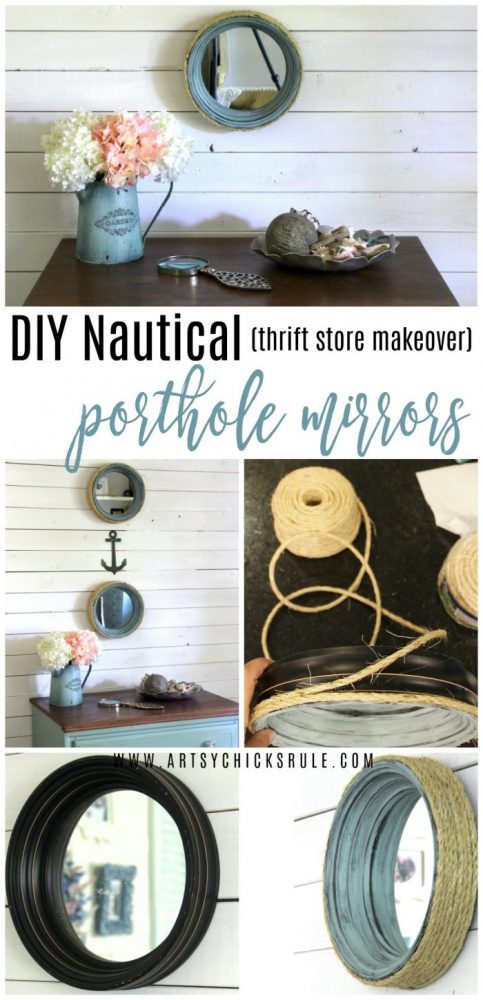 Hope you all have a wonderful week!
xo