DIY Coastal Kitchen Makeover Reveal (full remodel!!!)
This post may contain affiliate links. Please see disclosures here.
Our 1978 kitchen has seen some changes and updates over the last 15 years but we finally gave it a full blown makeover, including all the new cabinets, appliances, countertops and more! See the full coastal kitchen reveal today!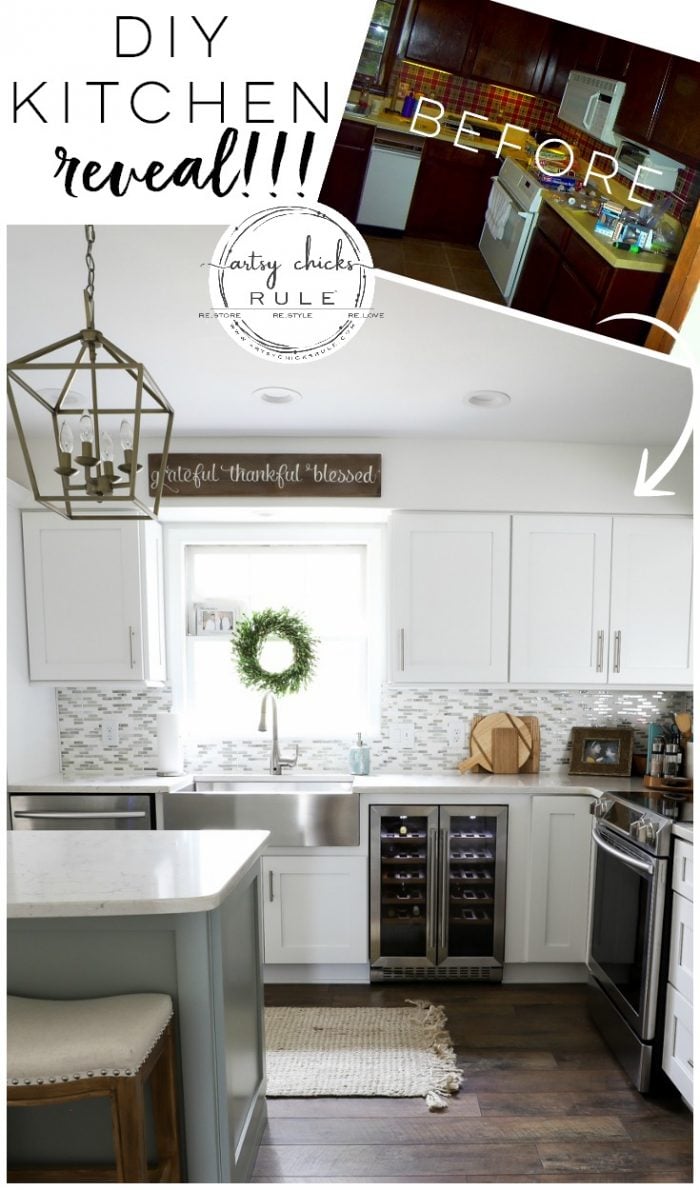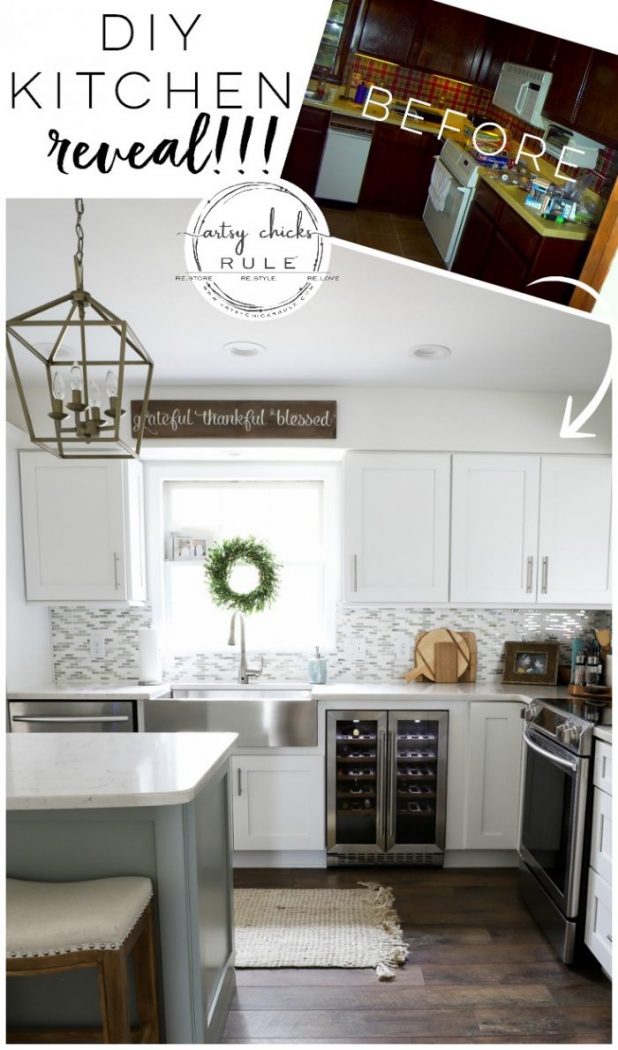 Hey friends!
It's been a long time coming, 9 months from the start date, but it's finally time for the full coastal kitchen reveal.
Yippee!!
I've been sharing over on Instagram, snippets here and there, so you might have already caught a glimpse or two.
Want to see some of these projects in "live" time? Hop on over and follow along with me on INSTAGRAM. I'm always sharing in my stories as I'm doing projects, finding new furniture, fun finds….just all the day to day behind the scenes.
I'm so glad it's all ready and I'm finally able to share our kitchen with you guys. This is going to be a picture heavy post but I'm going to do my best to lessen it if I can. Not likely! ;)
I also want to share about our island build/re-makeover too, but I'm thinking that will have to be another post.
Before we take a look at our "new" coastal kitchen, let's go back to the very beginning.
And I do mean the very beginning.
DIY Coastal Kitchen Reveal
This was taken the day we walked through with the realtor…..
That might give you an idea of just how dark this kitchen was.
The ultra dark cabinets and dark red wallpaper sure didn't help.
And the week we moved in….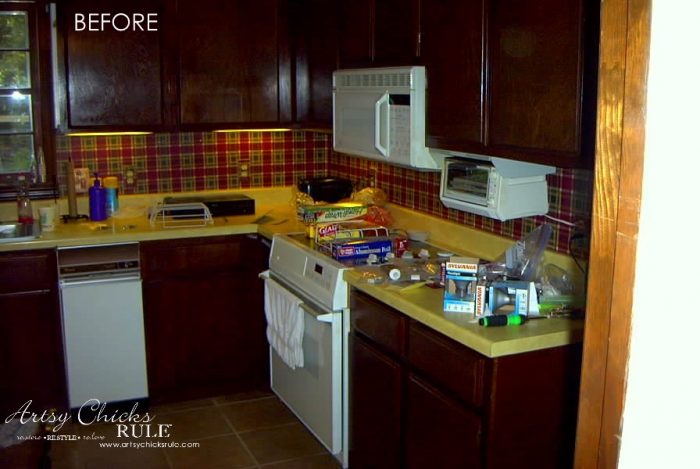 We had our work cut out for us! (the whole house looked basically like this – not really updated since 1978)
In the almost 15 years we've lived here, we've given this kitchen several makeovers.
This latest one would probably be the 3rd overall, and the biggest. (and hopefully, last! lol)
The first one involved taking down wallpaper, painting cabinets and replacing countertops.
Pretty basic and inexpensive for us at the time.
It went from this….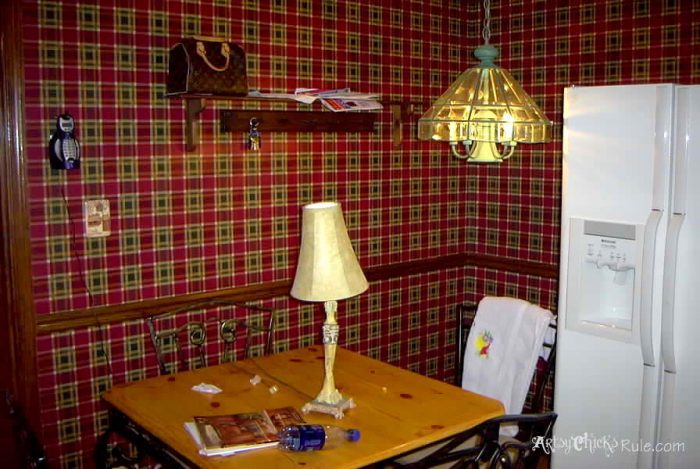 To this….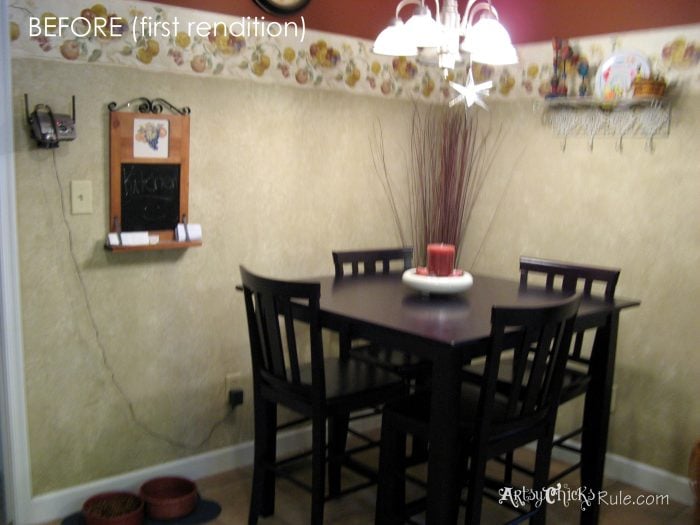 And then in the second kitchen makeover, we added an island, board and batten, removed 2 walls, new ceiling with lighting and new vinyl floor tiles. (wait…this one might have been the most labor intensive! ;) )
Fun times. ;) (that's our daughter and our sweet girl, Lexi, mid-tear out phase) (plus, you can also catch a glimpse of our old stamped ceiling before we tore it out in this photo) This was all pre-blog.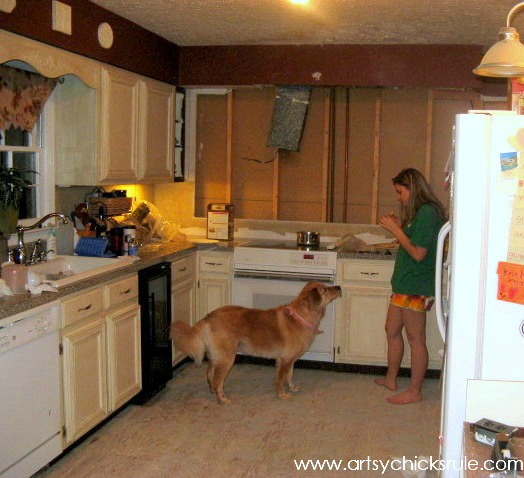 But SO (so, so, so!!) much better with an open floor plan design. (we changed out those recessed lights since we first installed them, too…you'll see further down)
I know this post is a little disjointed, but bear with me. It's hard to share all the changes since there have been so many!
I feel like we've been non-stop DIYing since we moved in. That's probably because we have. ;)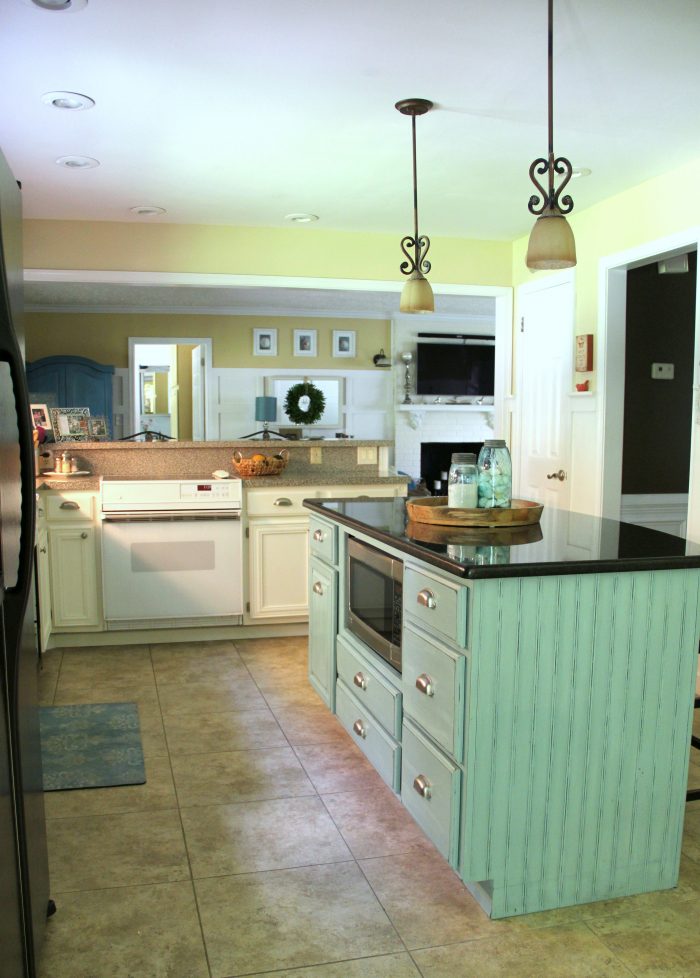 The island we built saw changes too. ;) From the original cherry stained wood, to black to Duck Egg Blue…..to now, this….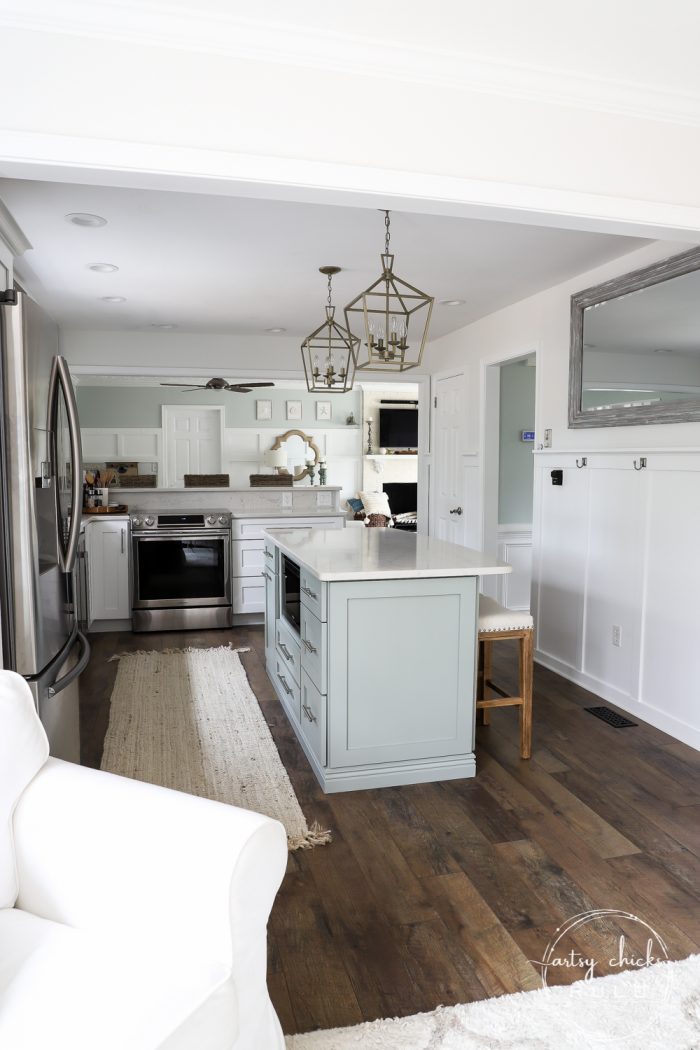 All new doors, panels, hardware, paint and new trim around the bottom.
The island got a complete overhaul. Like I mentioned, I'll share that in another post soon.
But just look how different our kitchen looks. (there was a wall separating these 2 rooms also…so much better opened up)
Here is the latest "before"…..to go with that "after" above.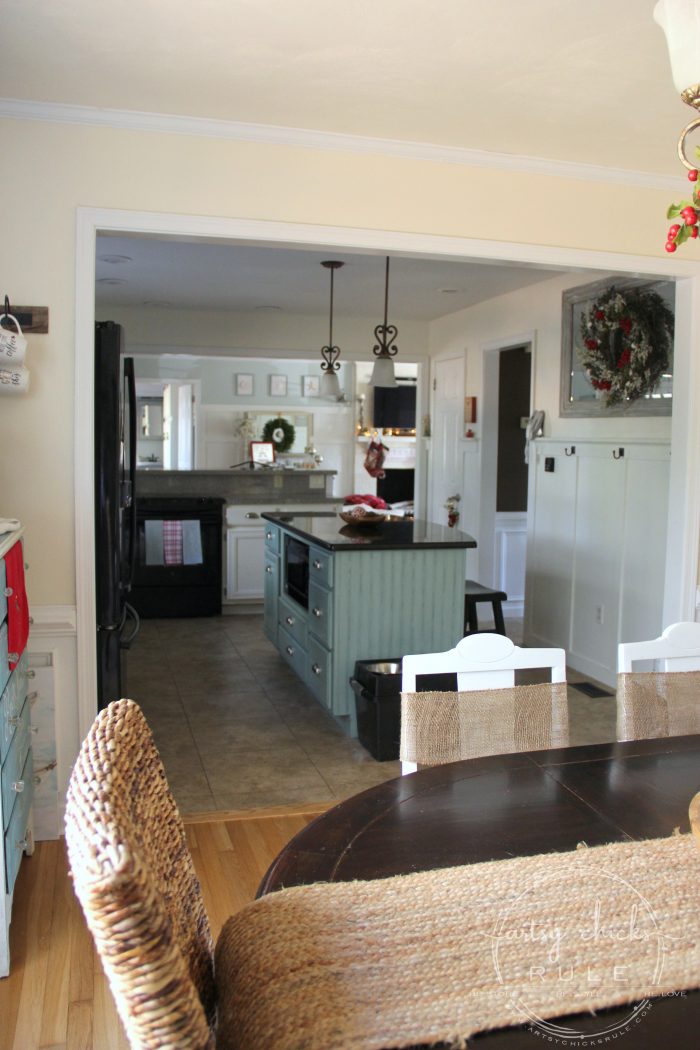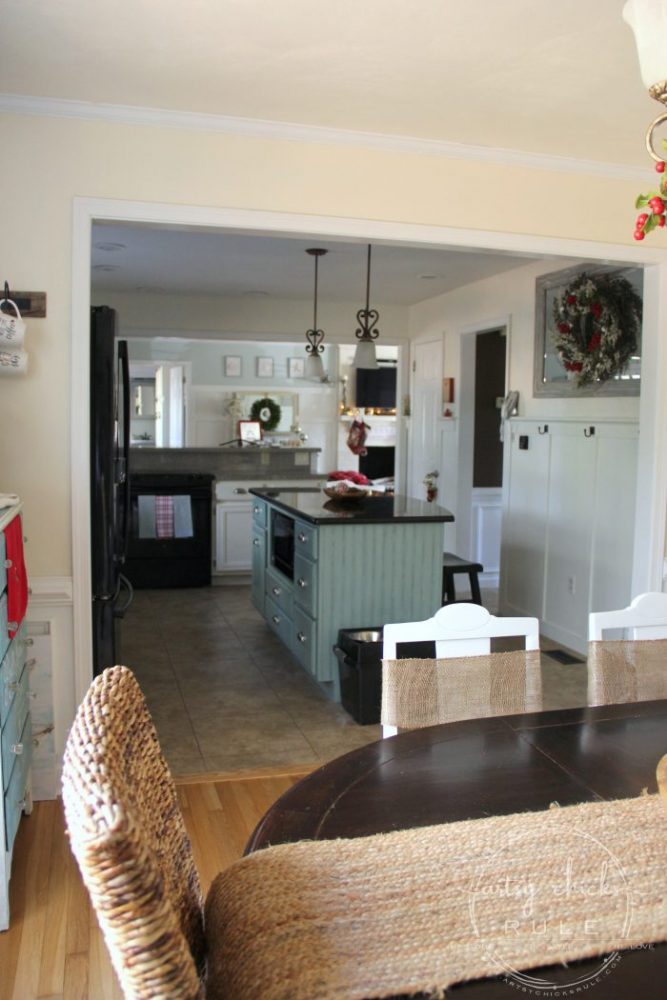 See how much more "open" the new flooring makes the rooms look?? The flooring made a HUGE difference in how our home looks and feels.
You can find out all about our new flooring here >>> NEW FLOORING
Everything just flows from room to room and is perfect for the more open floor plan we've created over the years.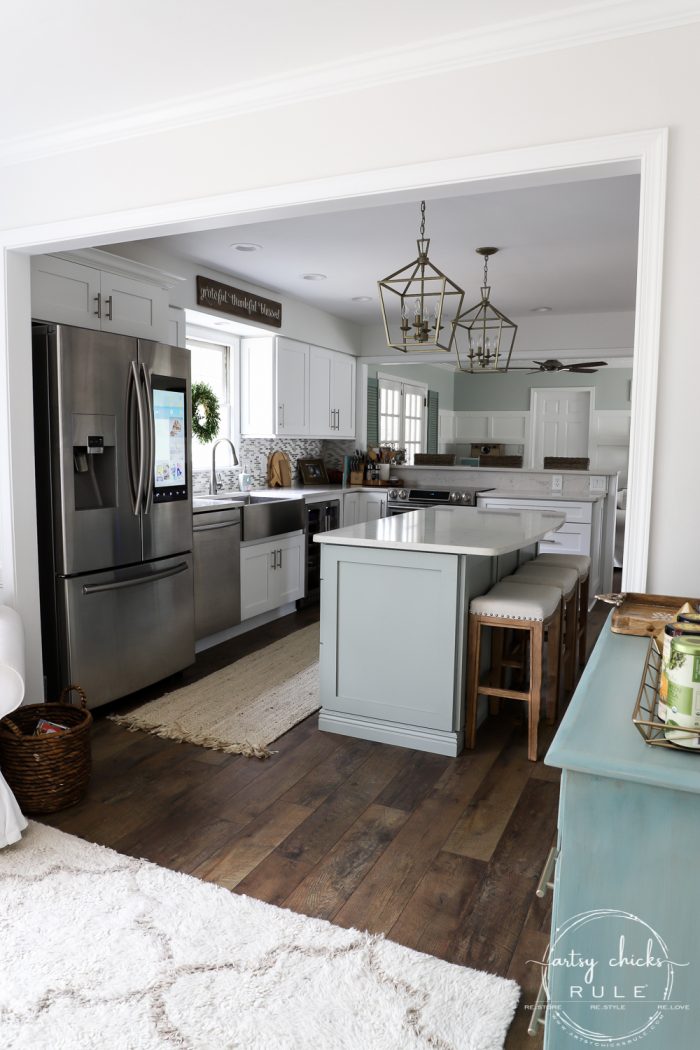 See the new LED recessed lights?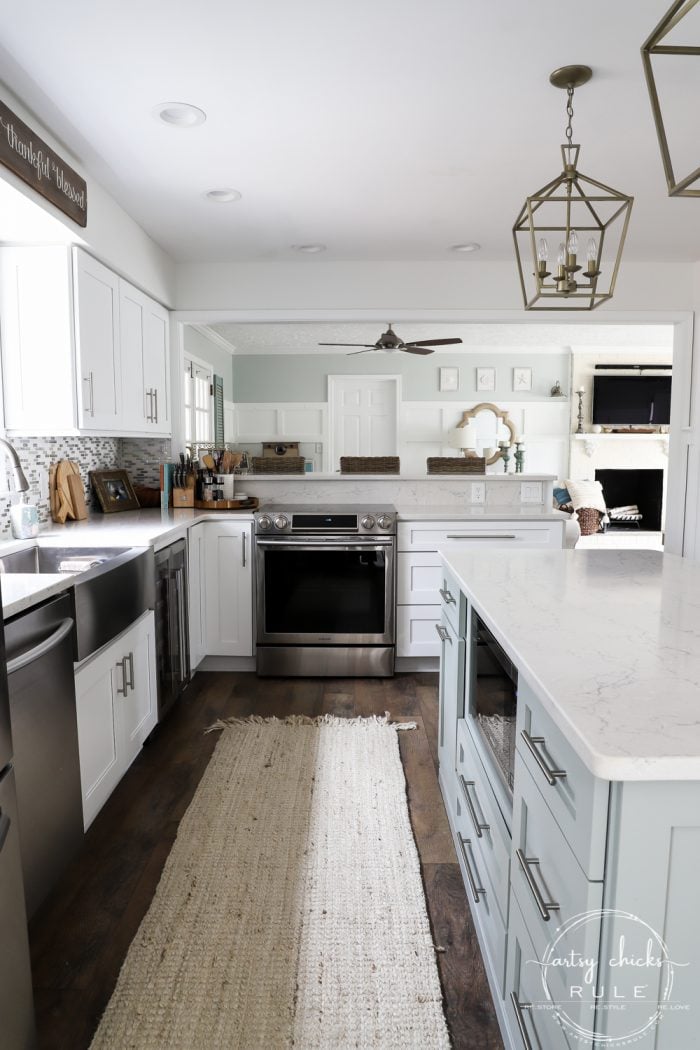 You can find the rug, here.
Our coastal kitchen got new lighting over the island, too.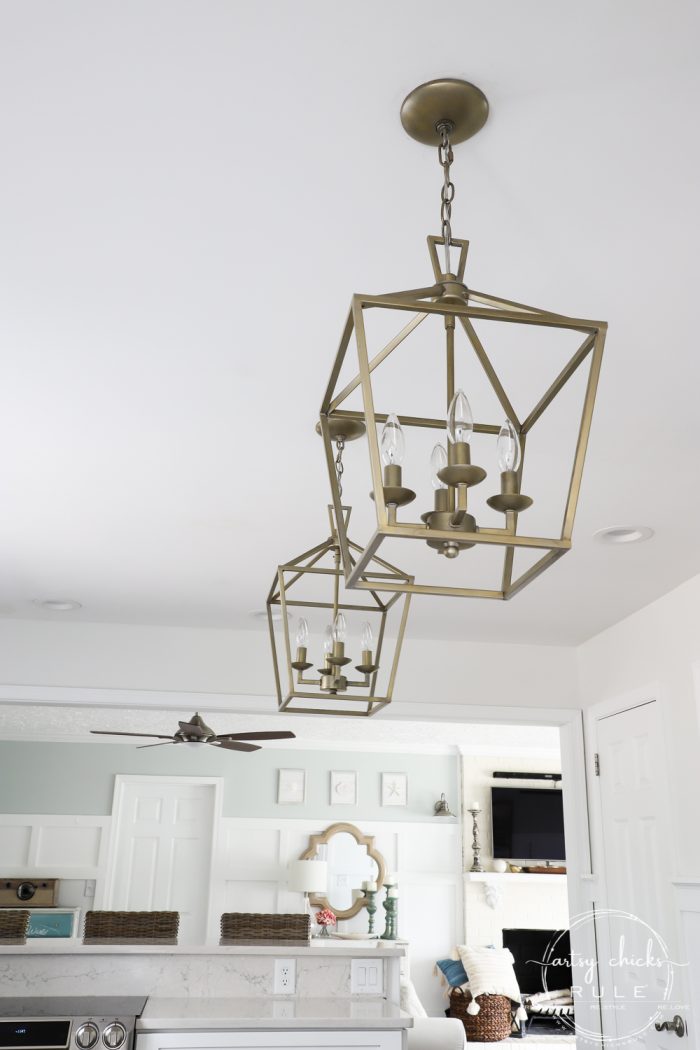 My Christmas present was doing its job while I was taking these photos! lol
I didn't ask for it but I kinda love it! haha I have it set to run at 11 am every day and it does a pretty good job.
Sometimes I follow it around and watch it do its thing. hee hee
This is the one my husband and son got me.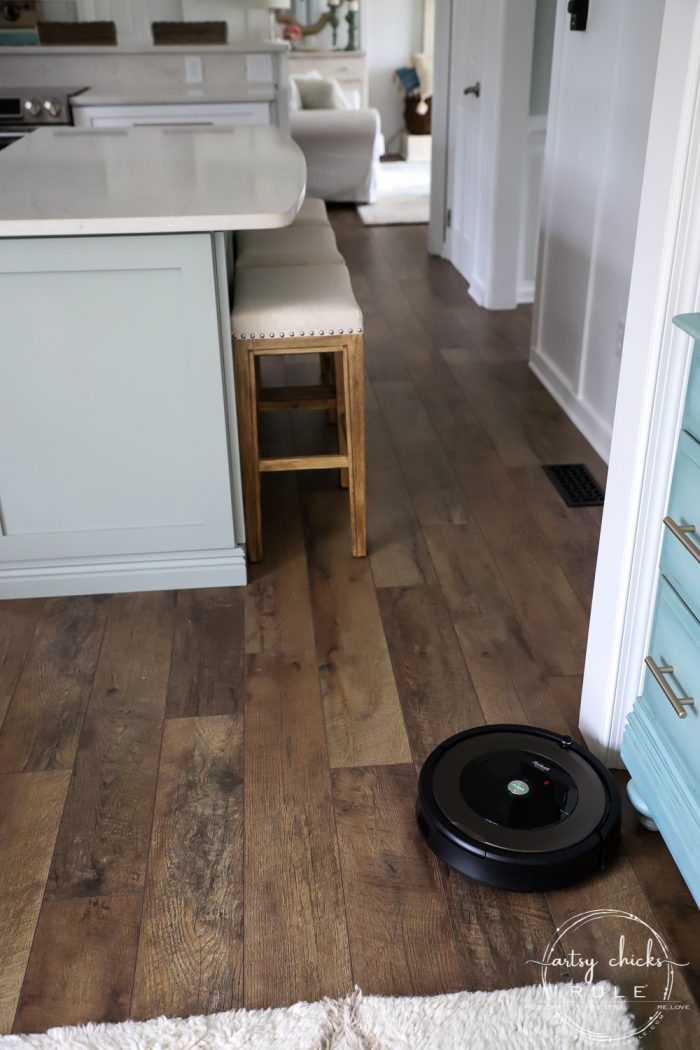 Since we completely tore out the old kitchen, we were able to rework a section or two.
One was this space below.
We decided to put a larger wine refrigerator in and a lazy susan cabinet.
The old corner cabinet was such wasted space. This is SO much nicer.
The wine fridge is a lemon. lol No, really, a lemon from the get-go.
We have another one on the way and will have to update when we get it installed. (it looks almost identical to this one but it's a different brand)
We got this one from Houzz and they were great about refunding us. The new one is from Wayfair and you can find it here.
(Just FYI, it goes in and out of stock. It's out of stock right now but that is the reason why I'm just now getting it. It was out of stock when we first needed to replace ours and I had to wait until it came back in stock after Christmas — it's sold other places but Wayfair had the best price…so we waited)
But it's great because it has 2 separate sides with different temps for red and white wines.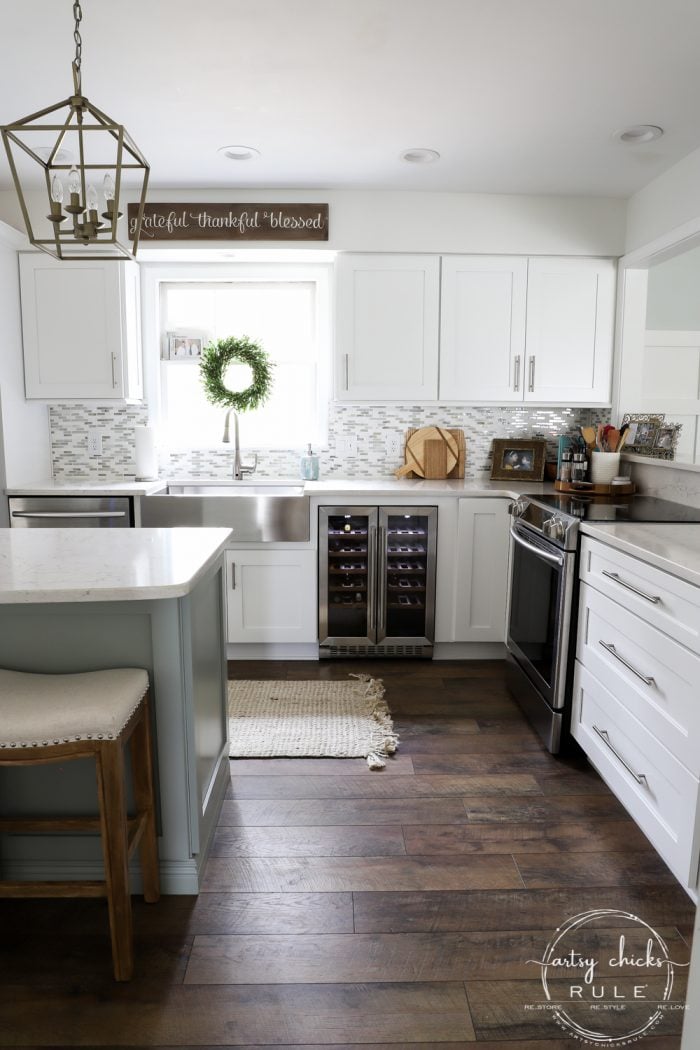 And with my aqua KitchenAid that usually sits over there.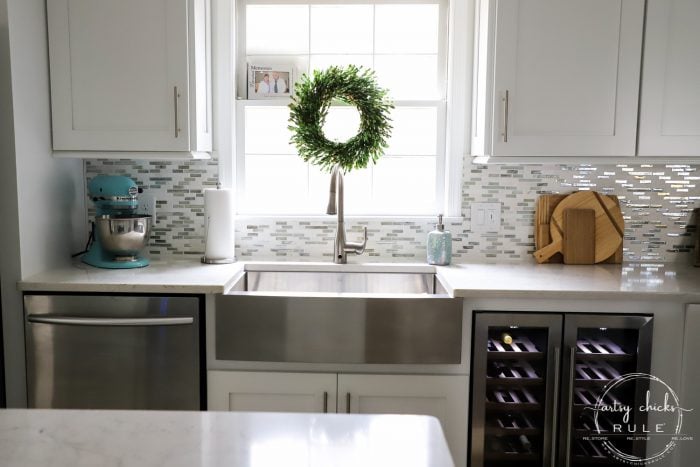 The bar stools are also from Wayfair. I'll have the links to everything in the kitchen at the bottom of the post.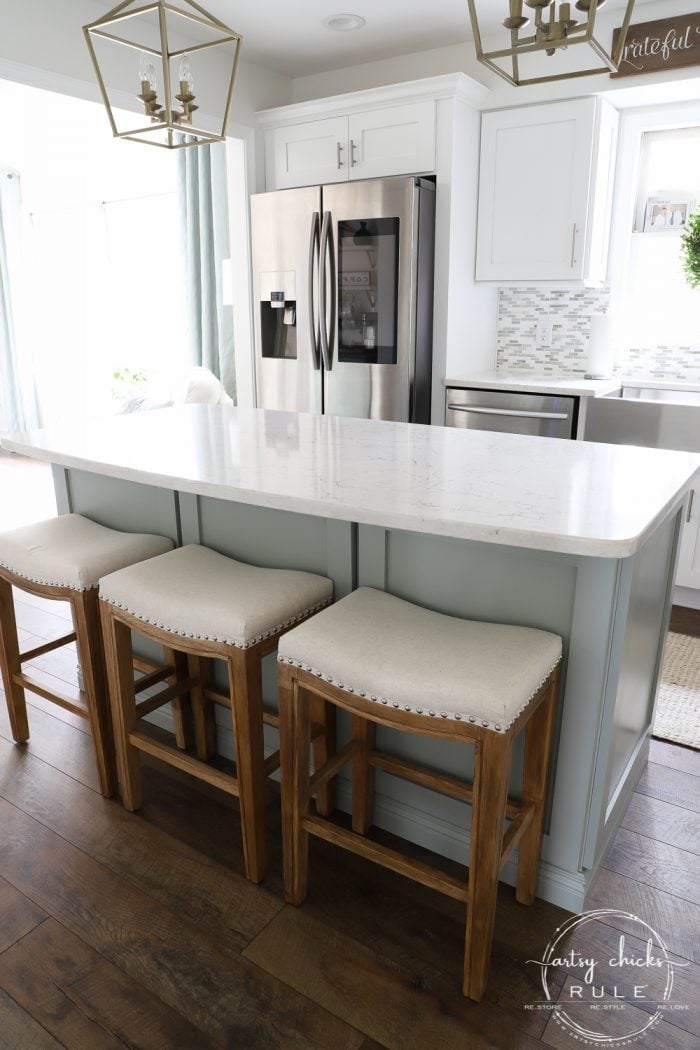 I actually gave them a little makeover when I got them to make them match a bit better.
I'll share that soon, too.
I repainted the kitchen in the same Pure White as the dining and morning rooms. I just love this color!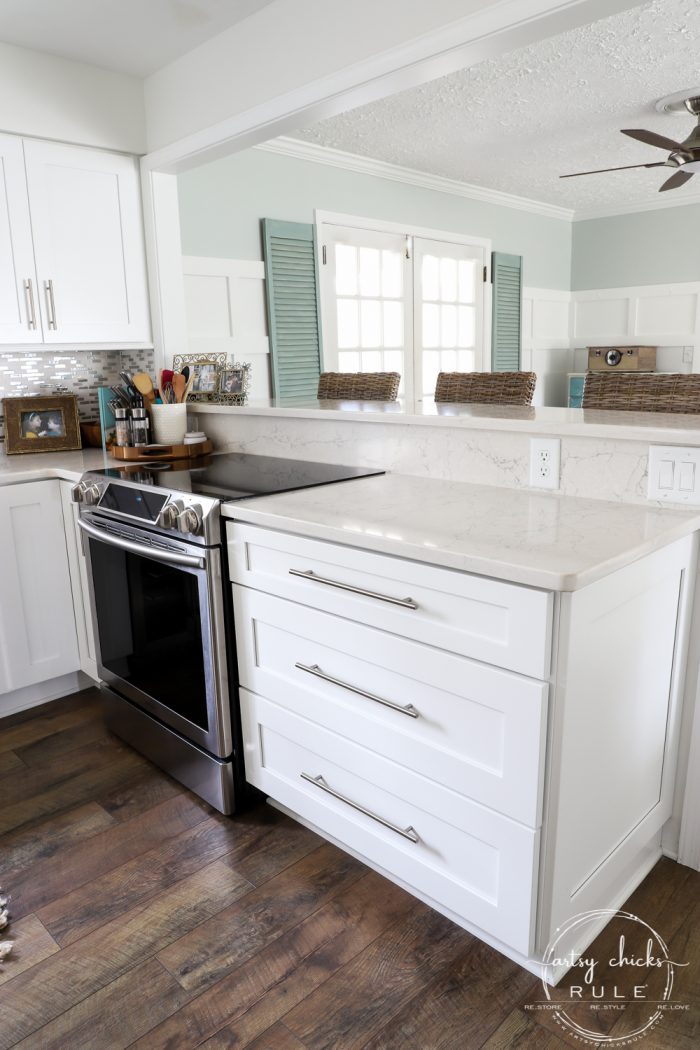 As you can see, we decided to go with white shaker cabinets and simple, stainless bar pulls for our coastal kitchen design.
I think this goes along nicely with the easy going and relaxed coastal feel I have going on in the rest of the house.
Looking in from the family room…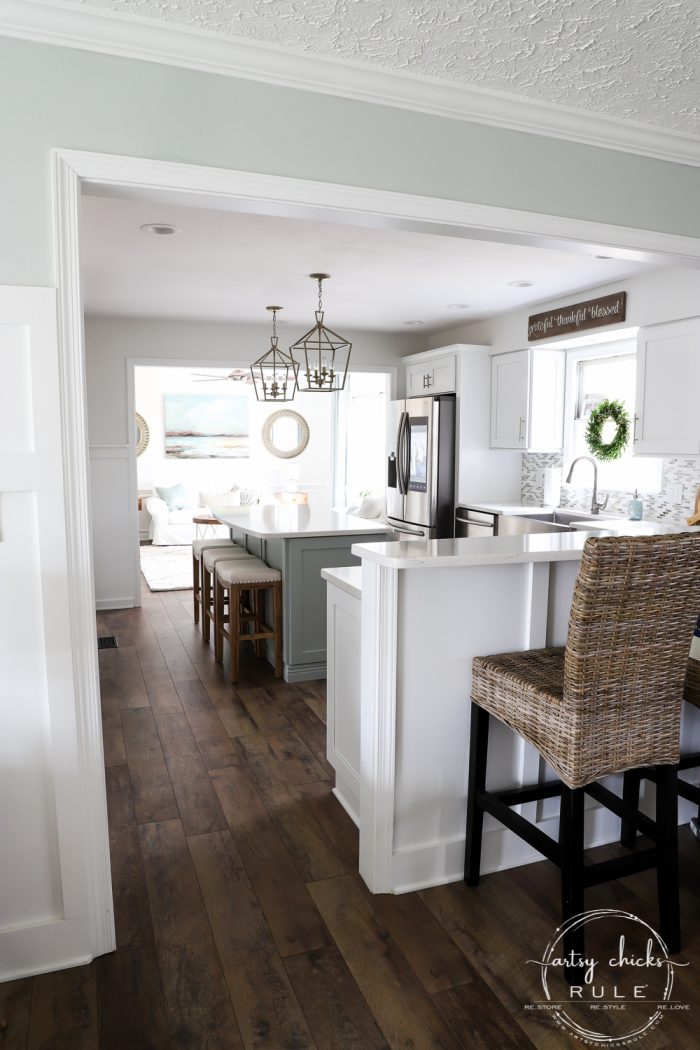 See how that floor just flows through all these rooms??
And of course I have to share the "before" of this same view…. (believe it or not!)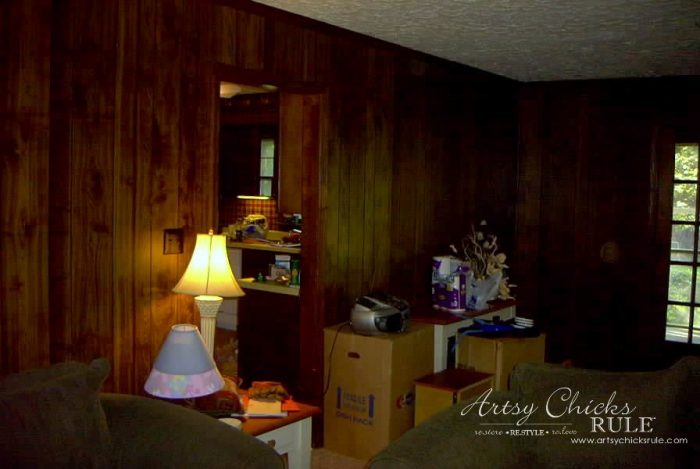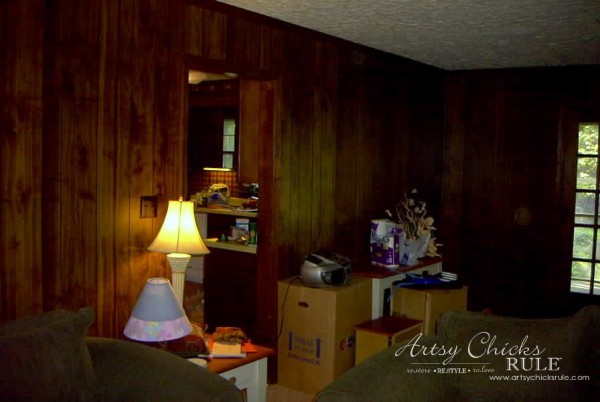 (again, right after moving in…but you get the gist)
Different, right?! SO different.
There's another little something we were planning to add to the island but I'll share that when I write the island makeover post.
It's just a bit too much for this one, but I really want to get your thoughts on it, so stay tuned for that.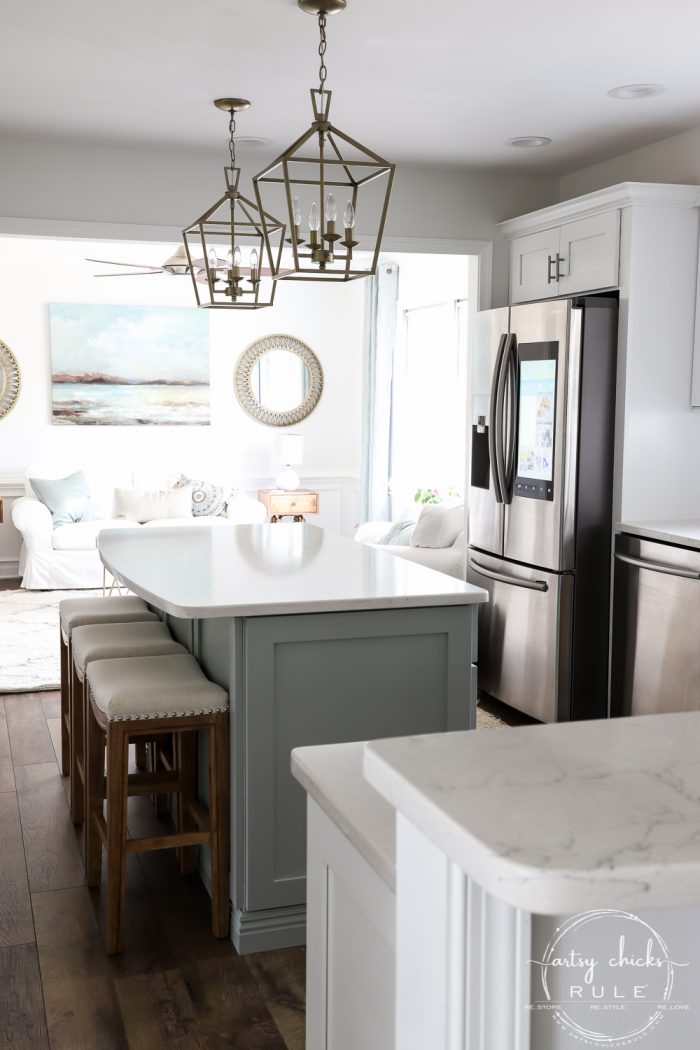 I wrote a post awhile back that shared ALL the details on this gorgeous new counter top.
You can find it, here, NEW COUNTERTOPS.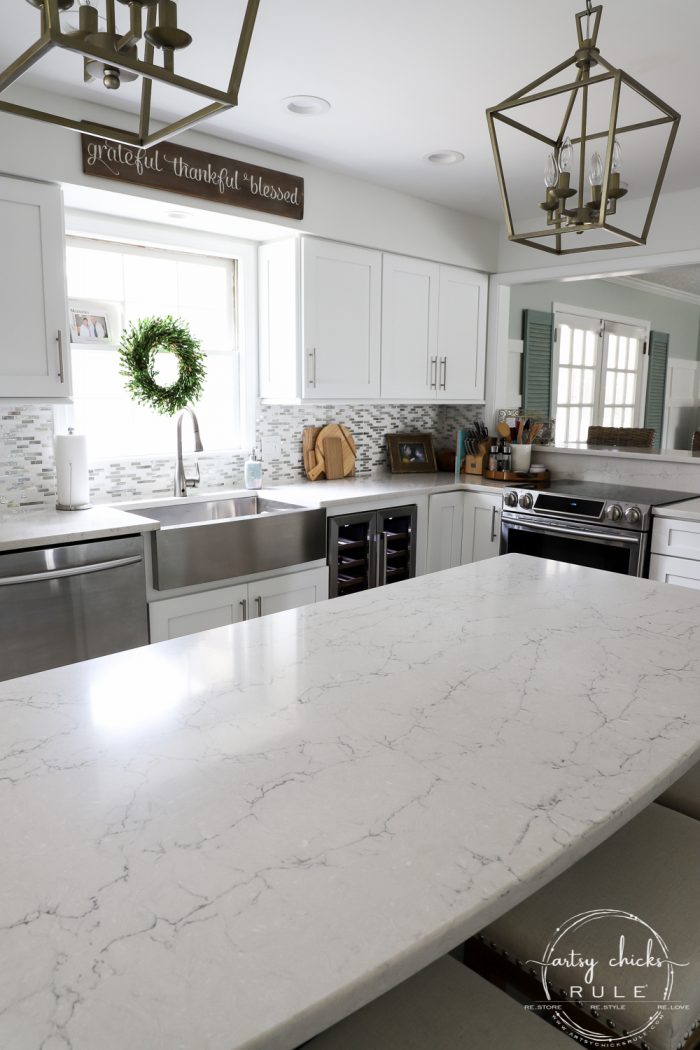 Aren't they so pretty and bright?!
We absolutely adore them.
They feel like buttah….so smooth. And I can't get over how much brighter and lighter the kitchen looks and feels with the lighter counter tops.
I didn't really want the "marble" look that's so popular right now, but I also didn't want too much color, or too dark, etc.
These were the perfect solution! They are creamy, soft white, with bright white variations and muted gray veining.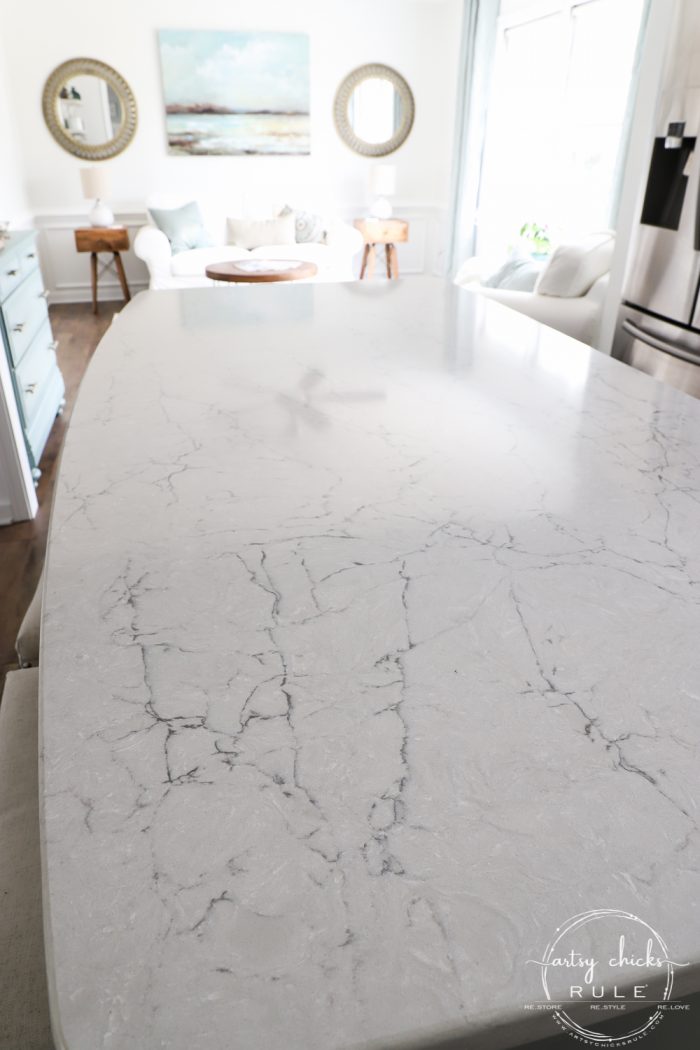 Did I mention how much I LOVE them???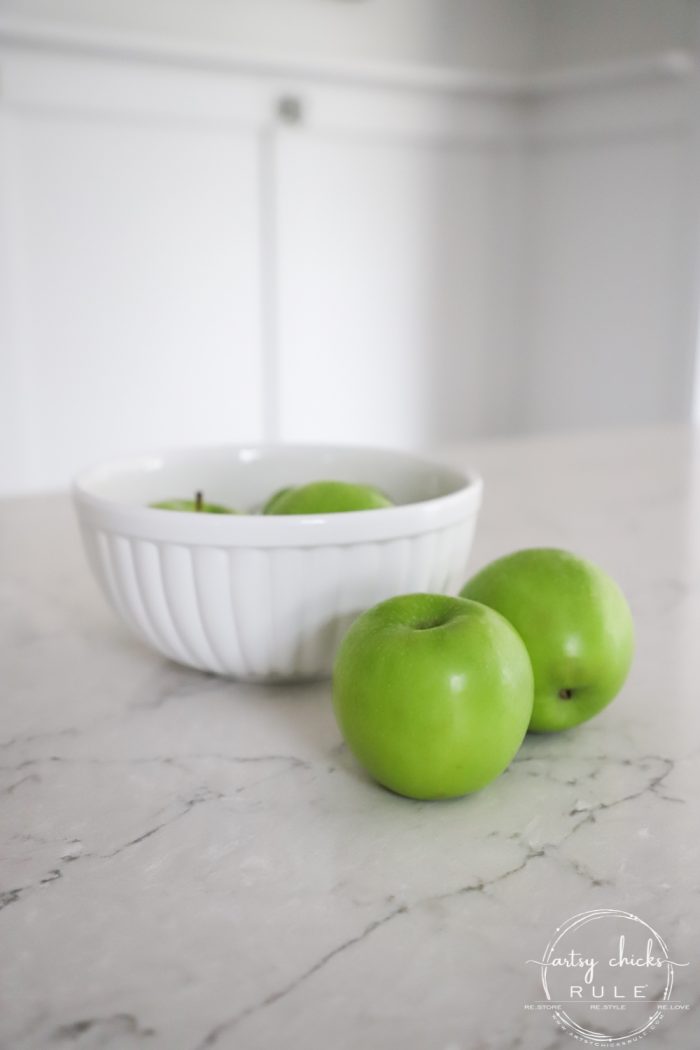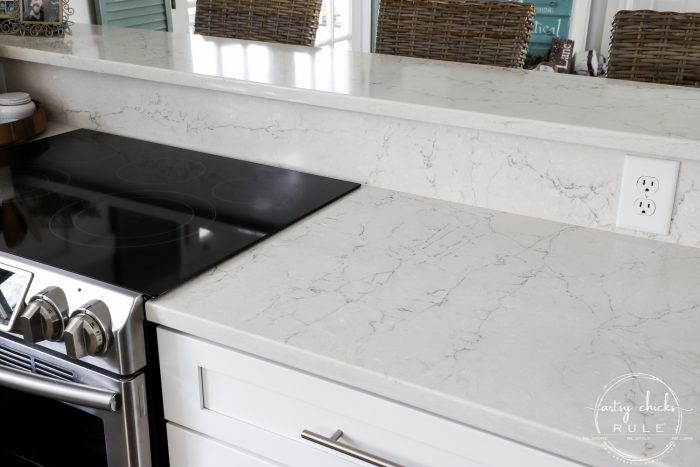 We thought about getting a counter top depth fridge but the struggle is real, y'all.
We need the space so went with a regular sized one.
And we also considered doing shelves to the left of the window instead of a cabinet, but again, needing the storage space won out.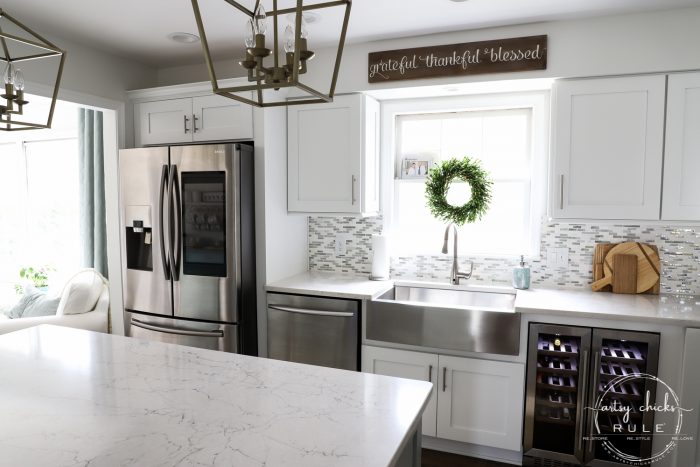 Grateful, thankful, blessed sign (free graphic and tutorial), here.
I recently replaced the backsplash tile (before we decided to tear out the kitchen, of course!).
I would recommend not doing the tile before a major kitchen update like this but we managed to make it work out okay.
You can find all the details on that here >>> DIY Backsplash Tile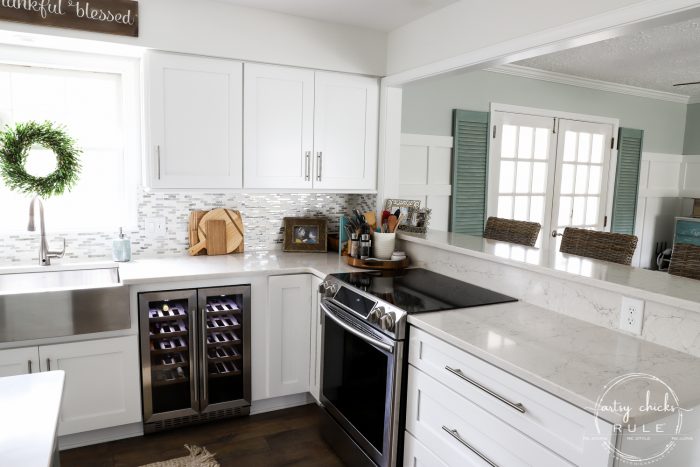 We went with a farmhouse style sink again, but this time in stainless.
The faucet has been great! It's a motion sensor one.
Since there is only one drain in this sink, I decided to forgo the disposal. And guess what?
I don't miss it one bit! Which is surprising to me. I thought I might miss it and I truly don't at all.
There is a nice, deep basket with a little handle that catches everything.
Grab the handle and dump in the trash right behind me. Perfect!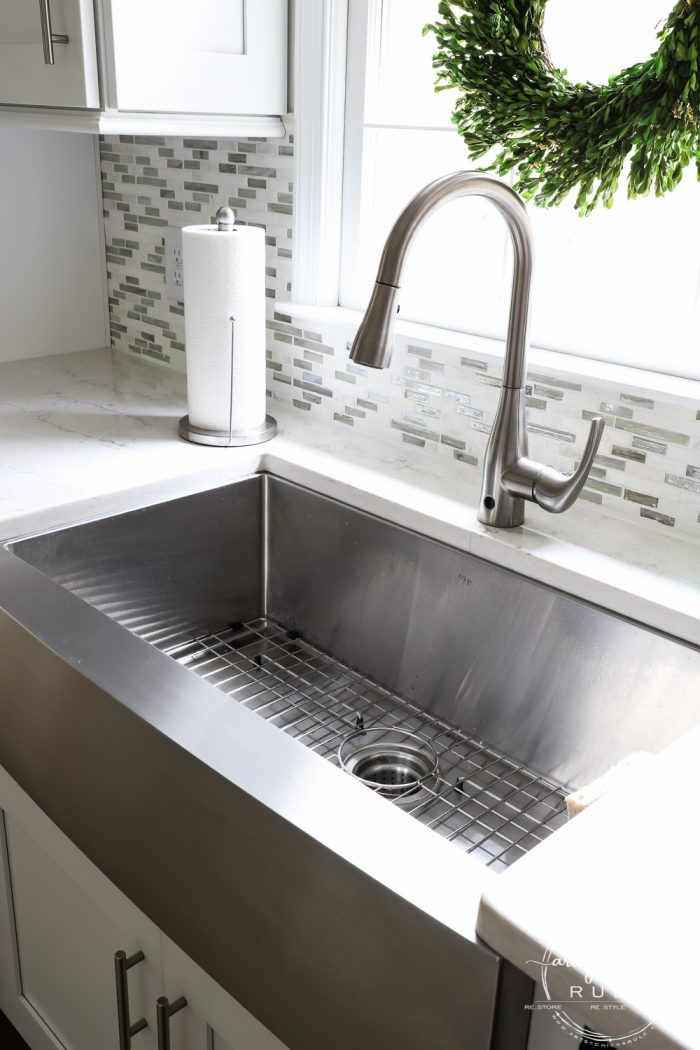 Find the faucet, here and sink, here.
As with any older home, there were issues with non level walls, corners, floors, etc, etc.
My husband and I did every single bit of this DIY coastal kitchen makeover. (we did have the electrician come in and install under cabinet lighting and the plumber came and hooked up the faucet but we did all the rest)
It was a job but it was also doable.
I can say with absolute certainty, however, that I am beyond thrilled we are done!! haha
I'll share some of the fun times, here are a few photos of it as it goes. ;)
Our cabinets coming off the truck….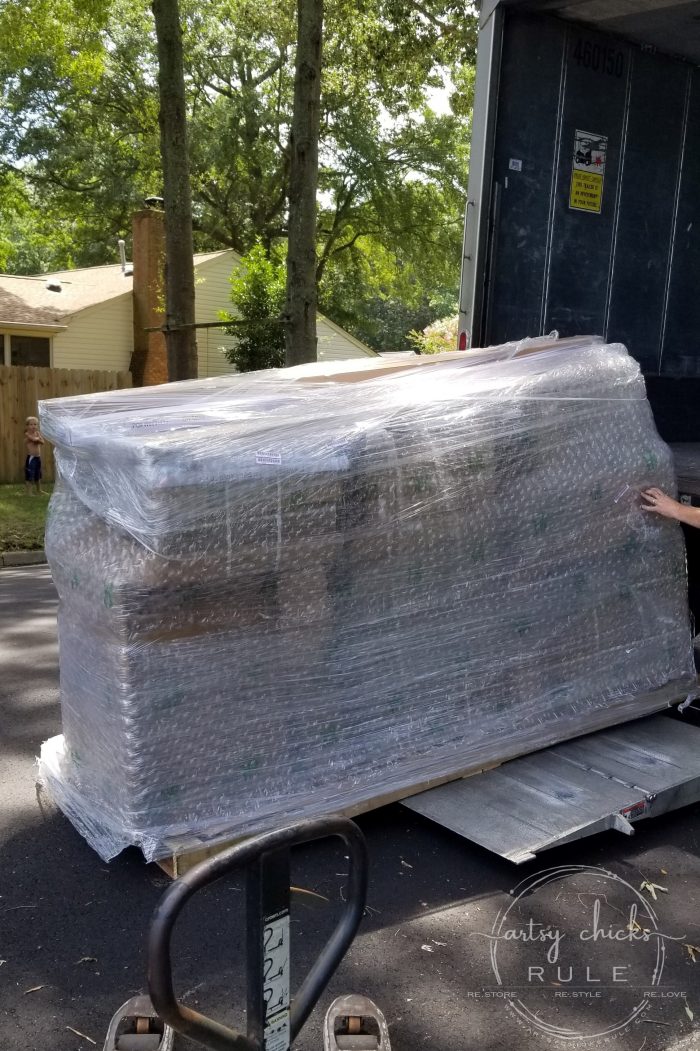 A little about the cabinets.
We used RTA cabinets but had them pre-assemble them for us. We could have assembled them and saved a bit (I think it was around 500ish) but it was just one more thing on a really long list of things to get done. And there were only 2 of us working on this makeover!
And let me tell you, were were SO happy we did.
It's totally do-able but you need space to do it and time. Neither of which we really had.
I am VERY happy with these cabinets and we saved a ton from what we would have paid had we gone the custom or kitchen store route.
That would have been probably 3 times as much, if not more, than what we paid.
The brand we used are by Forevermark Cabinetry and were rated Carb2 compliant and GreenGuard.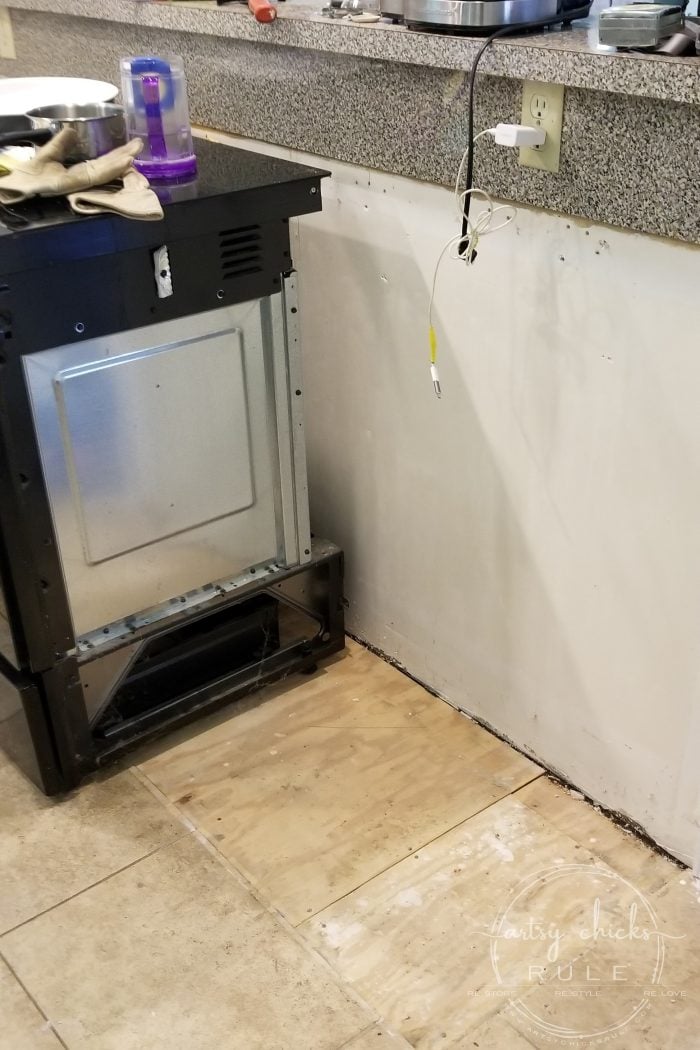 So much fun. Hee hee…nope, but saved us a bunch of money doing it ourselves!
It might have been fun had we not been living here as we were doing it.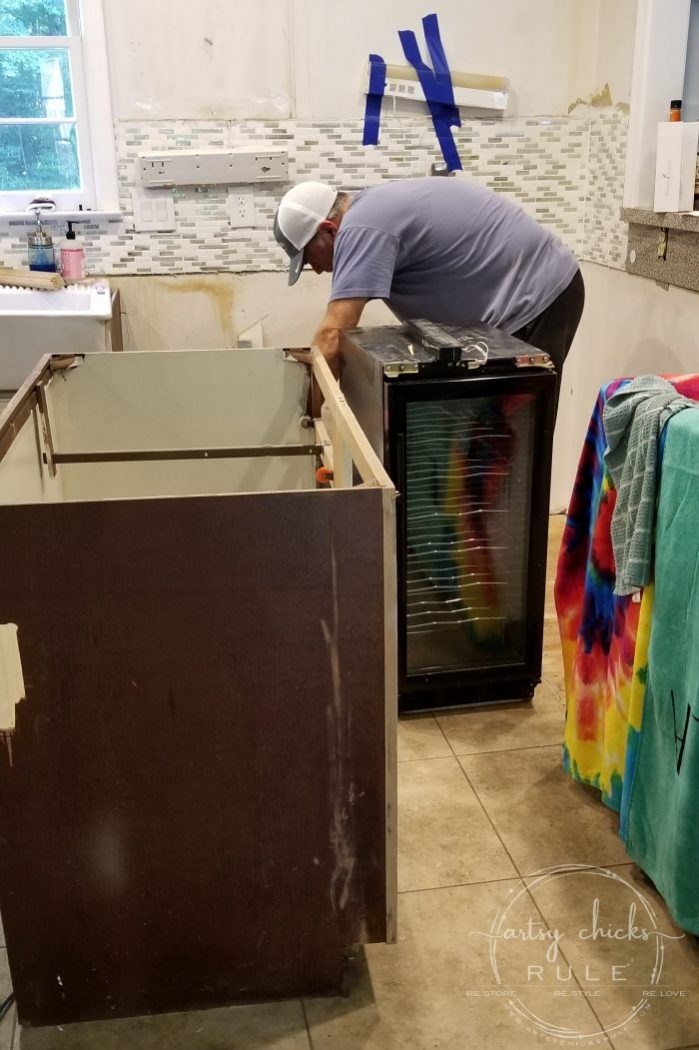 Yikes, it's daunting to look back at these but I'm just keeping it real!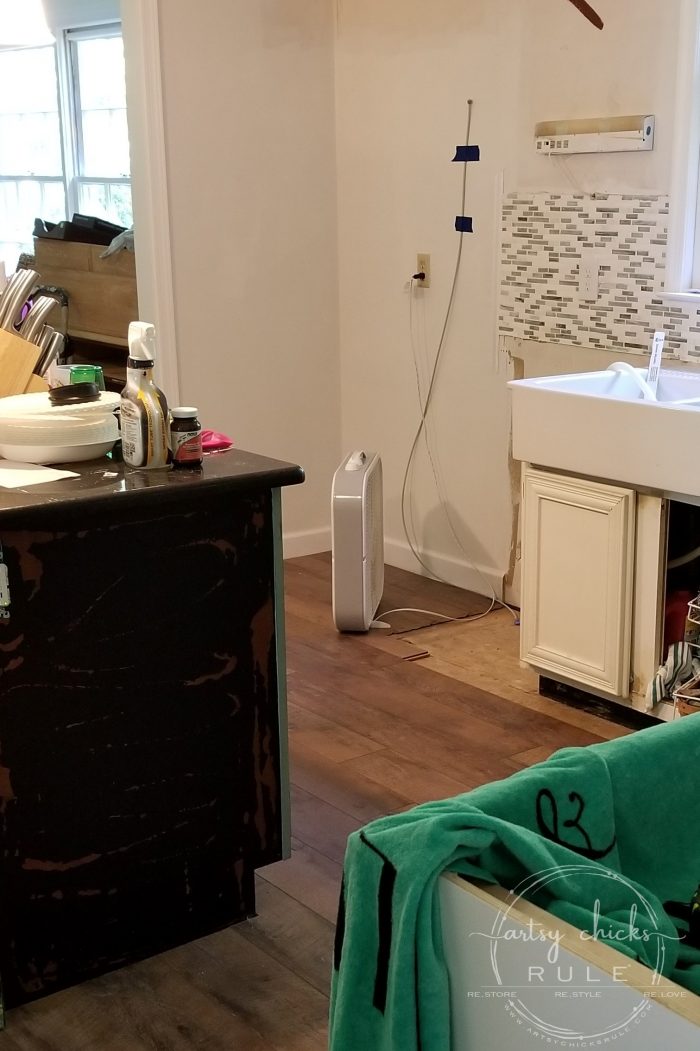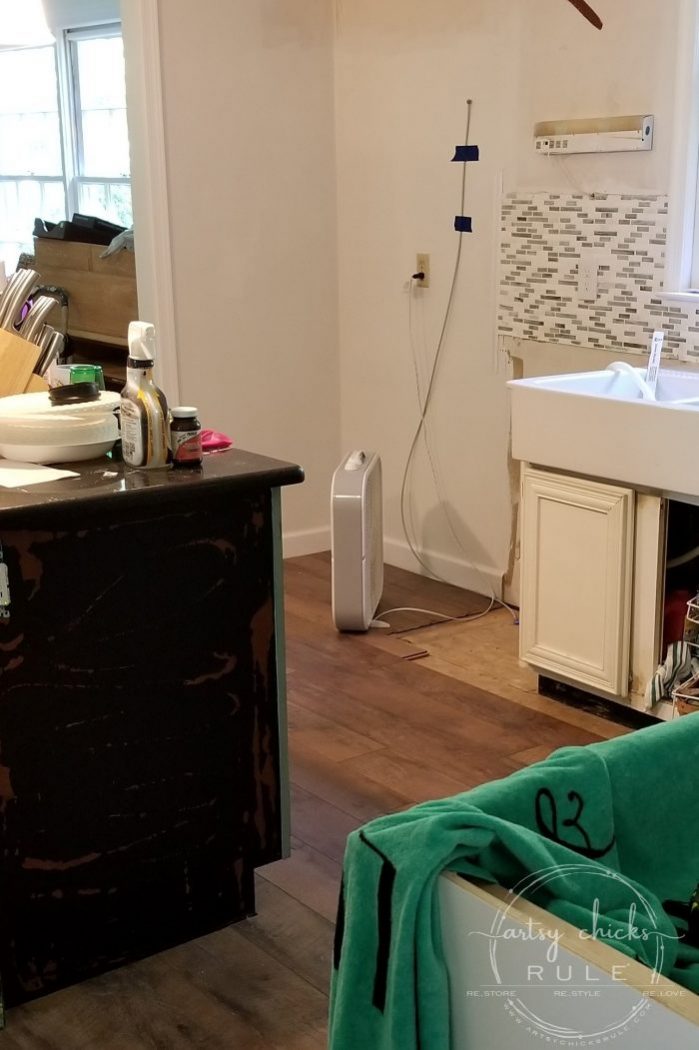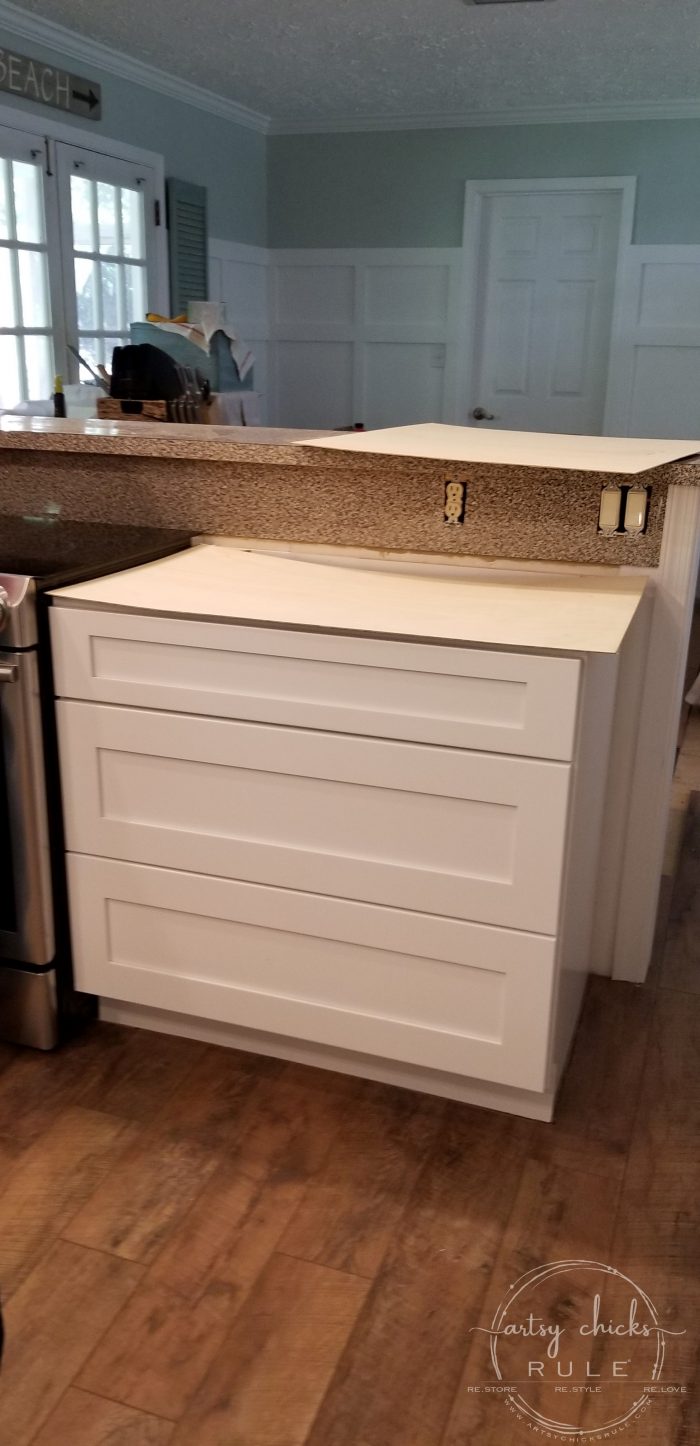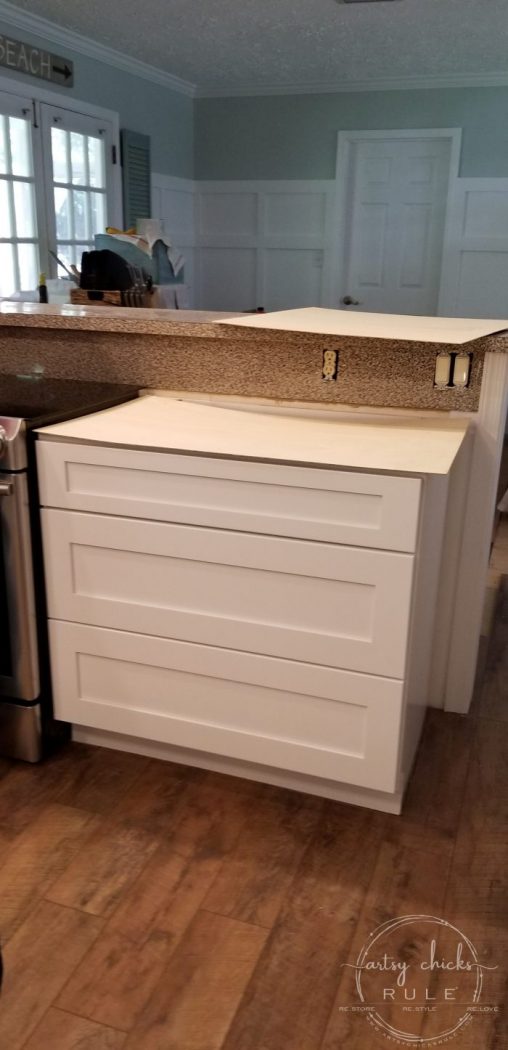 Here's a photo with the new under cabinet lighting turned on.
It's tiny little LED lighting on a strip and has a dimmer too.
So much nicer than those old, clunky things that were there before.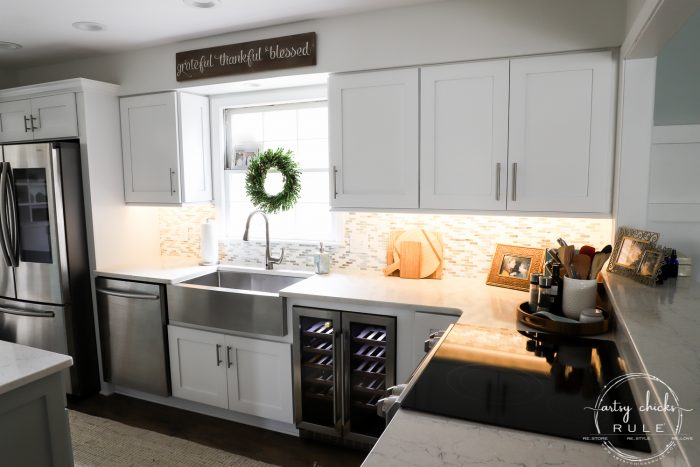 And again the new LED lights we installed in place of the older ones we first used. (it was simple, my husband did it…the first time and this time, these just plug right in where the others were)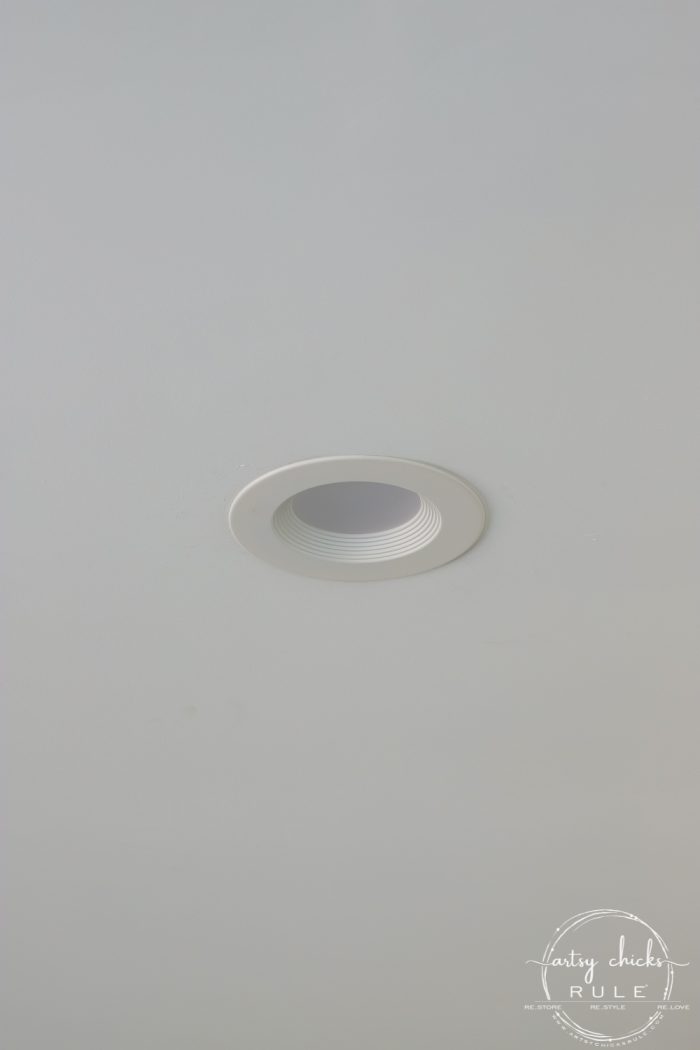 They look so much better, more streamlined.
With the new kitchen came new stainless appliances, too.
Besides building a new house years ago, (before this one), this was the first time ever that we got an entire appliance set at once. :)
So much fun. Like a kid in a candy store! lol
All Samsung and we are very happy with them.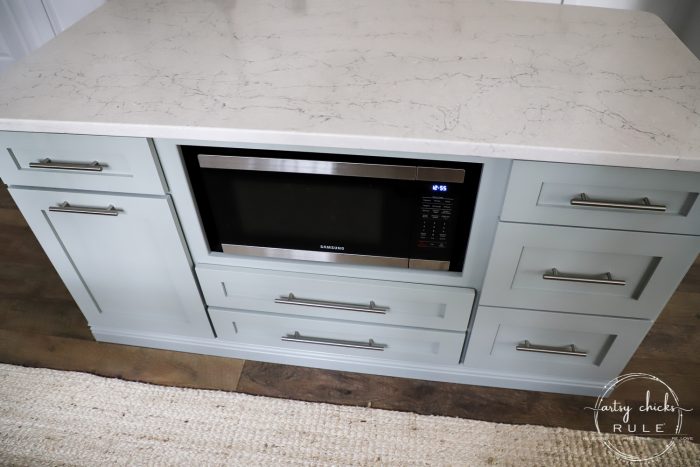 The smart fridge….is the best.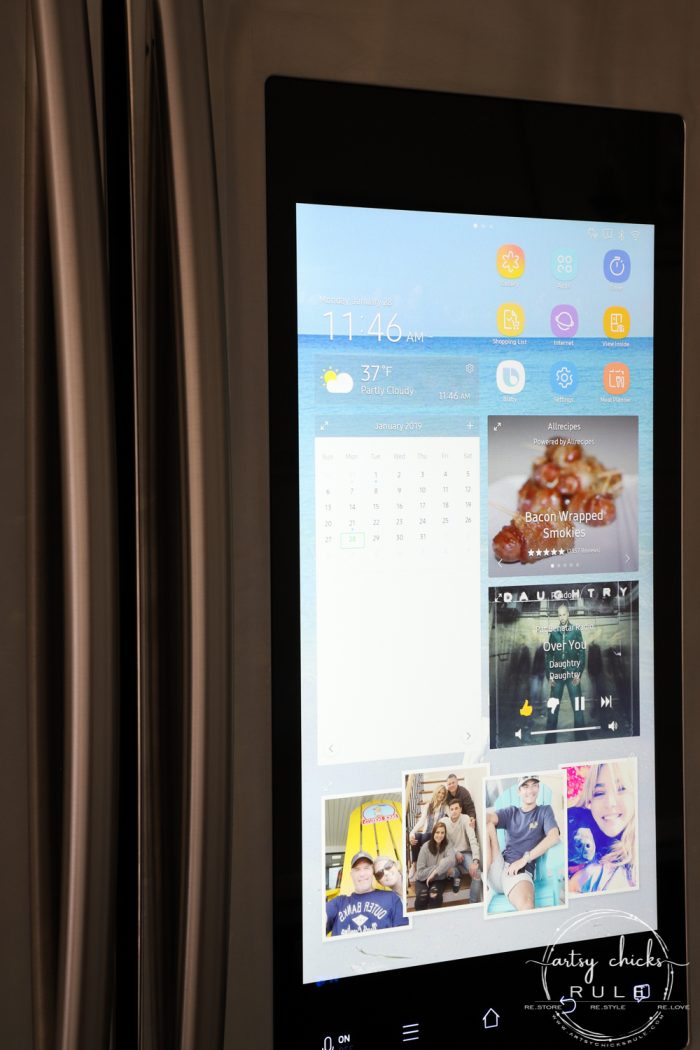 It does more than I can write about in this post and it's already too long! ;)
But one of my favorites (besides it playing Pandora and showing me pics of my loved ones) is I can pull up recipes to cook.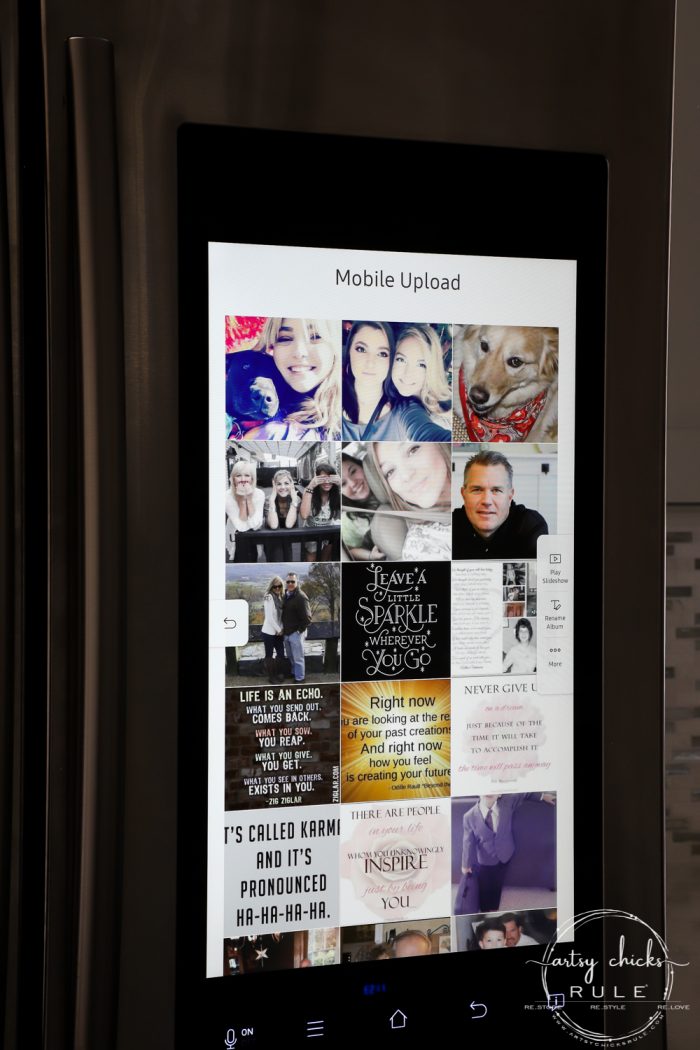 So convenient.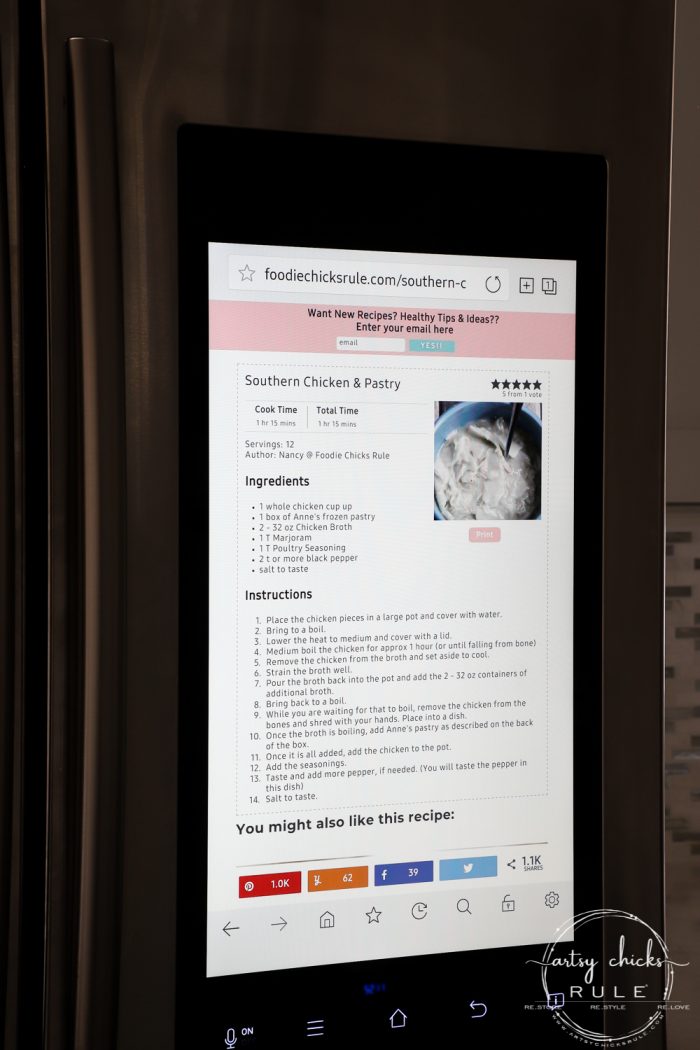 That's my food blog, by the way. :)
One of my favorite photos of our kids.
Christmas morning, going in for a hug or kiss, prompted, I am sure! lol
So cute.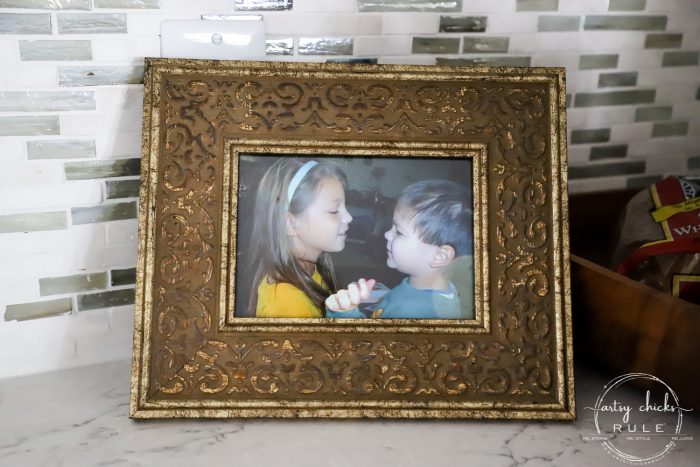 I actually hadn't planned for that photo to stay there.
I sat it up on the counter while I was moving some other things around and it ended up staying because it made me smile every time I saw it.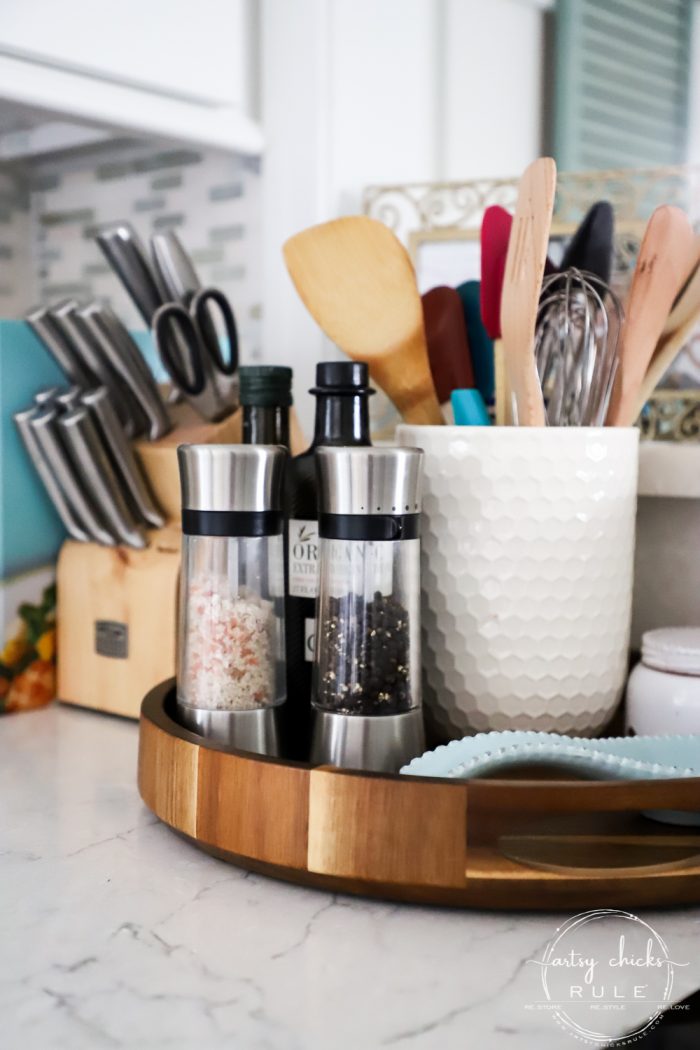 So happy we are done!
I'm not gonna lie, this was a pretty big undertaking, but it was doable.
It just took us longer than it would have taken had we hired contractors to do it all.
But as I said, we saved so much by doing it ourselves and wouldn't have done it any other way.
It's what we do… and have done since we moved in. Loads of DIY…and more to come.
(remember, we still have our master bath/closet to complete…give me strength!! haha)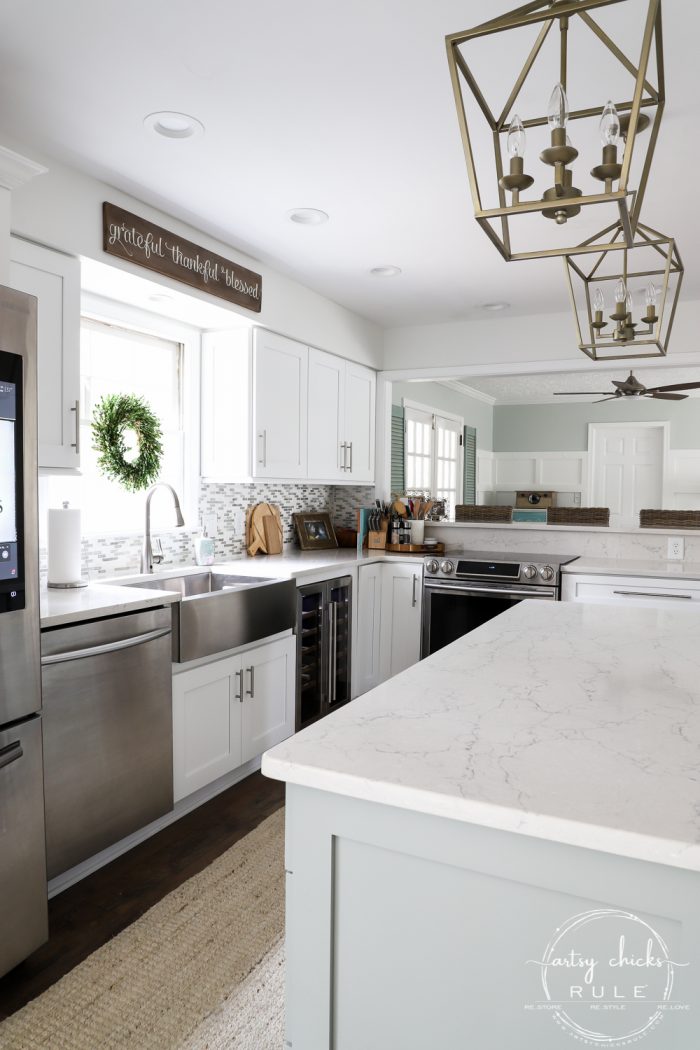 It's surely an improvement from when we moved in!
From very dark, dated, and closed in, to light, bright, open, and airy.
It might have taken us almost 15 years to get to this place, but it was so worth it!
I want to give a special thanks to the following sponsors for so graciously supplying gorgeous quartz countertops, the beautiful flooring and partnering with us on our coastal kitchen remodel.
Wilsonart (for all the details on our quartz countertops, click here)
Select Surfaces (for all the details on our new flooring, click here)
Here are a few more DIY home improvement projects we've done:
SHOP the Coastal Kitchen

PIN it to save it!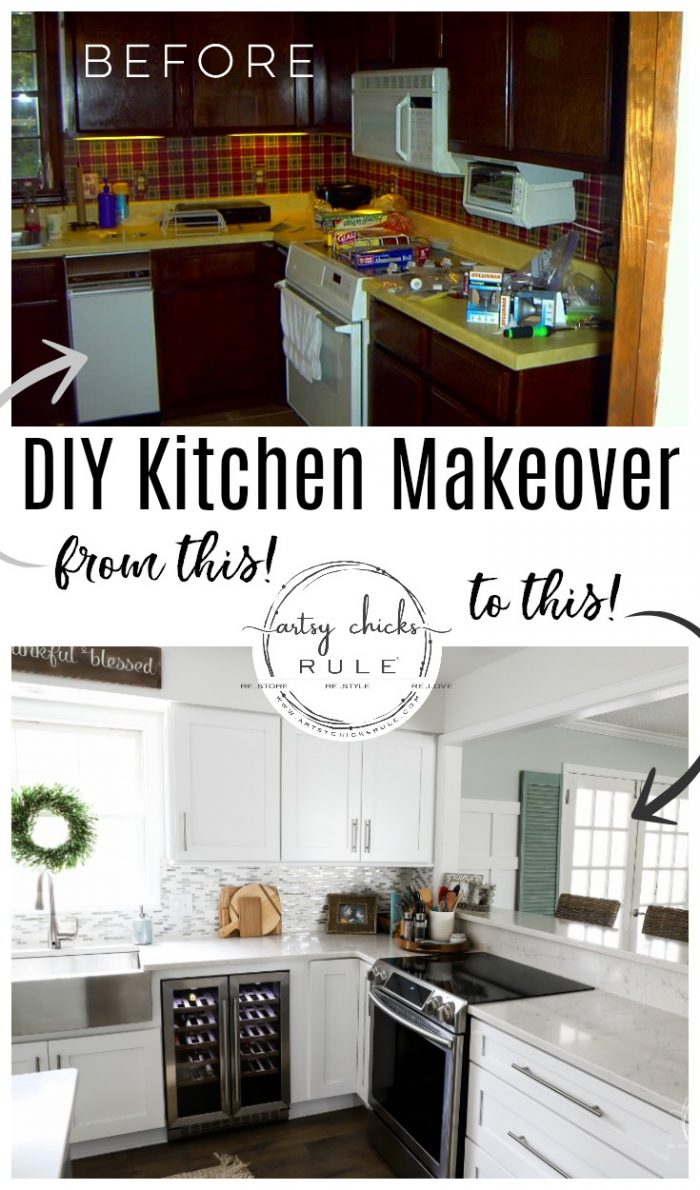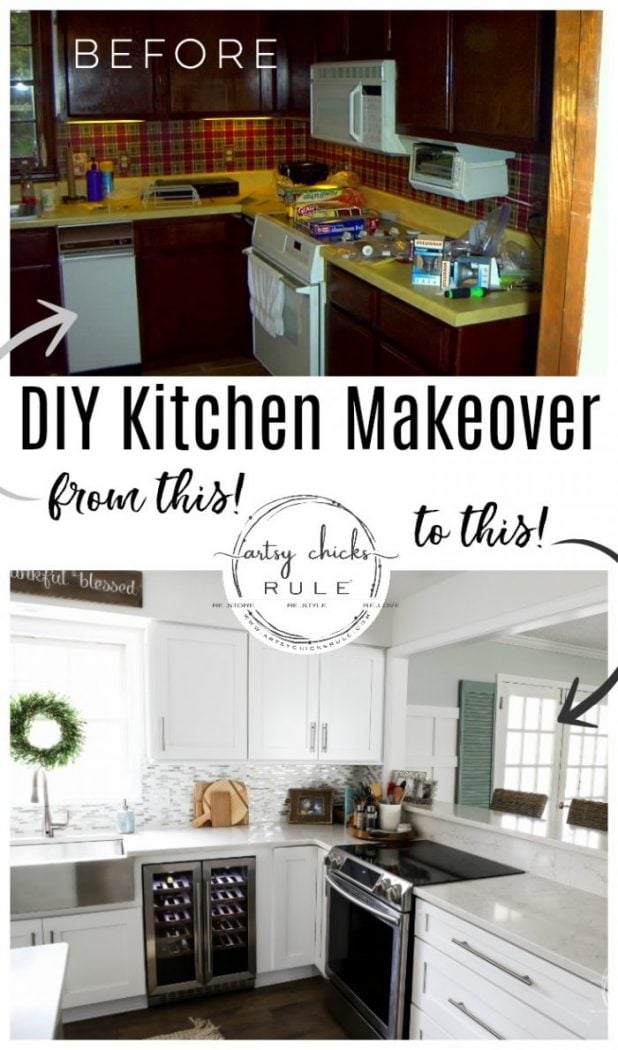 Did you miss our recent morning room and dining room makeovers?
You can see them here, MORNING ROOM MAKEOVER and DINING ROOM MAKEOVER
Check in later this week to see our we made over our DIY kitchen island…again!
UPDATE!! See it now here!!
I hope I didn't wear y'all out on this post. It was a long one, whew!
But so much info to share and not easily split up into two posts.
See ya on Thursday with the island details!
xoxo