Major Kitchen Remodel (Before & After)
This post may contain affiliate links. Please see disclosures here.
Hey Y'all! I'm back today sharing…..a MAJOR KITCHEN REMODEL…..mine!
It's a photo heavy post, just FYI.
AND…please excuse the "mess" in these photos. Saying that in advance!
It's a war zone when you are re-doing basically an entire home…and living in it with kids at the same time.
PLUS, I had only planned these photos for us to have a "before and after" of our makeover.
If I'd known all those years ago that I'd be sharing them with…well, the entire world through the internet…I'd have cleaned up first. ;)
…………………………………………………………………………………………………………
We have been living in this house for 11 years now. The "first remodel" happened as soon as we moved in.
The second makeover/remodel happened some years later.
Then I painted and redecorated in a totally different way/style (third makeover).
So this room has seen some changes!
But wait til you see the "before" photos.
I'm not even sure where to start…..maybe right here at the beginning….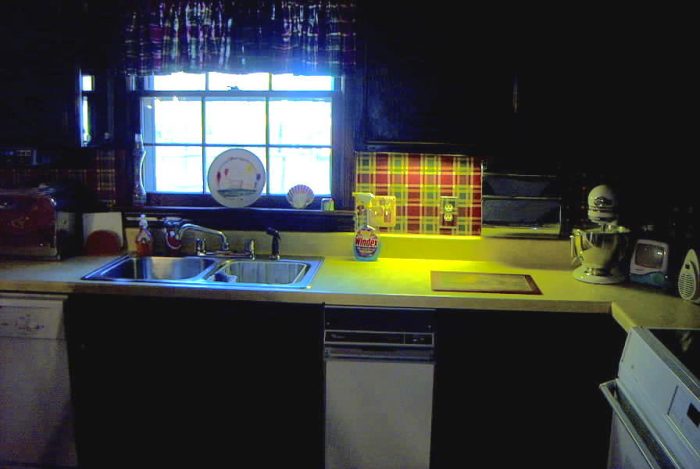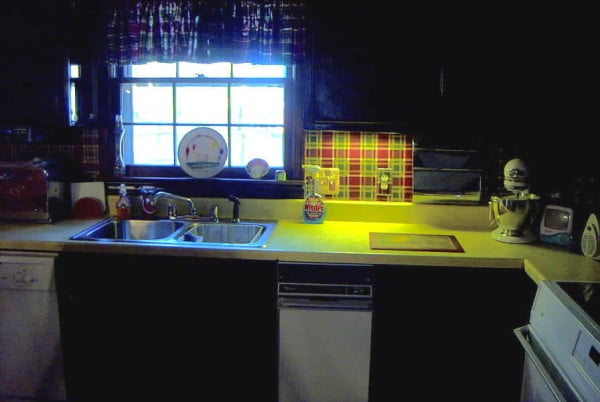 As in….the VERY beginning.
This was a photo I snapped when walking through with our realtor.
I'm sharing it only to show how very dark this kitchen was then.
Sort of like every room in this house, remember "the cave"?
If not, you can check out that room makeover (before & after) here –> Family Room Makeover)
And this is what it looks like now….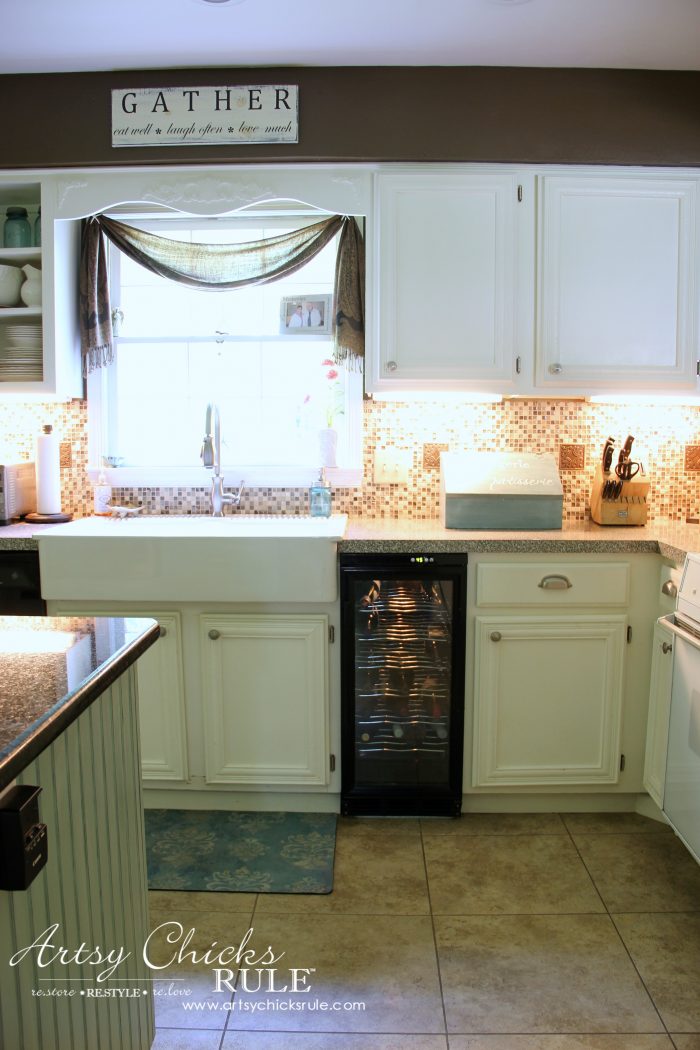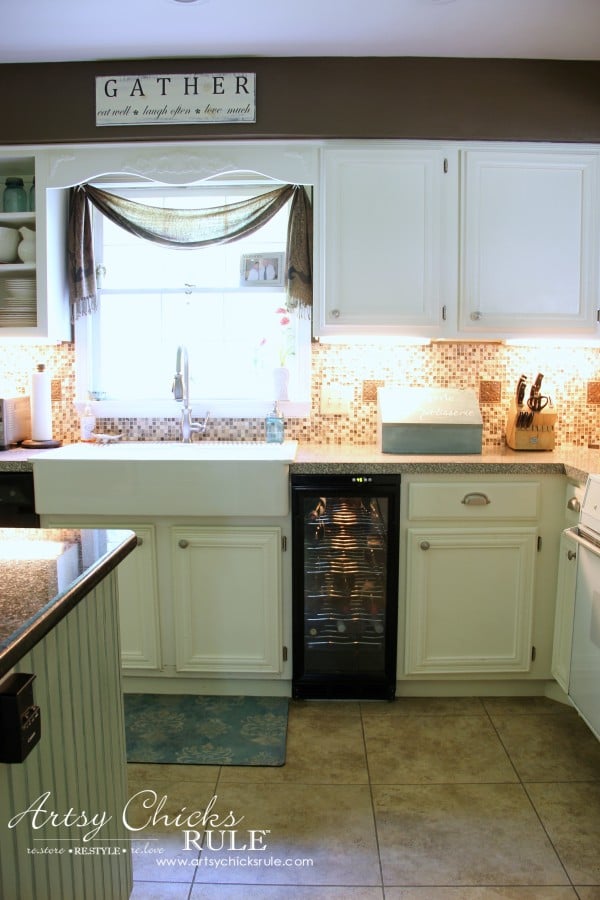 And this is how it got that way. ;)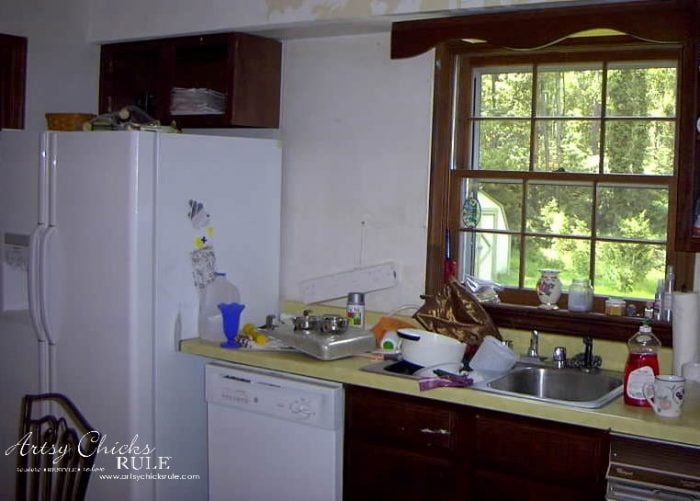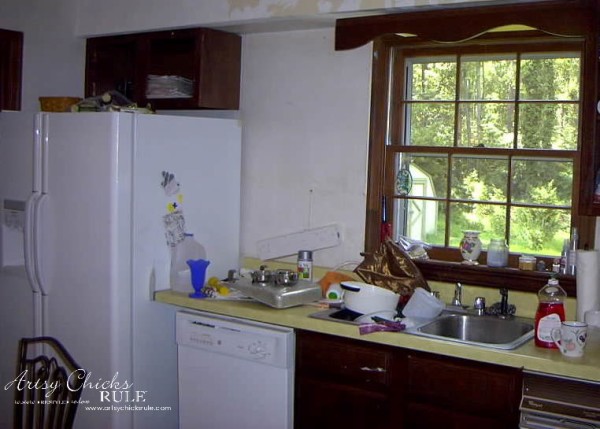 We removed that dark plaid wallpaper.
My husband had to remove, and rework, that cabinet above so the refrigerator would fit in the space.
And now….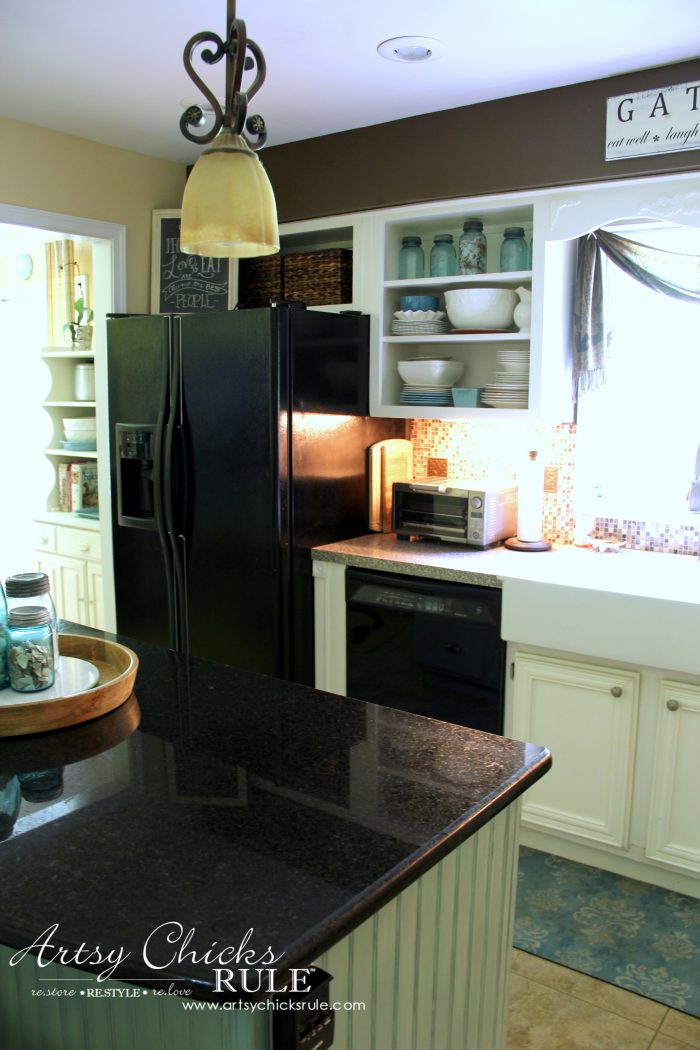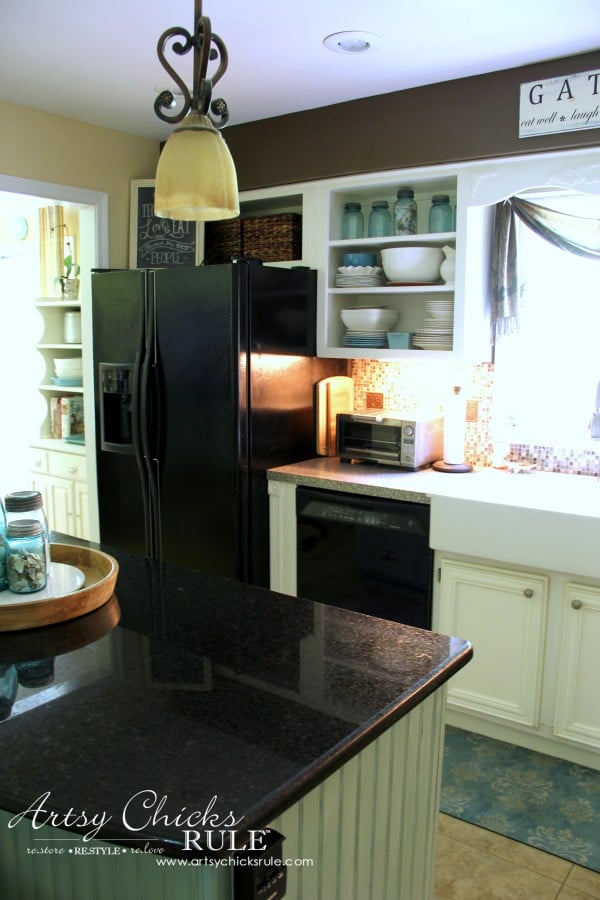 We originally decided to cut it down and make an open area for cookbooks as you can see below.
We later opened it up completely to have an open shelf (as you can see above).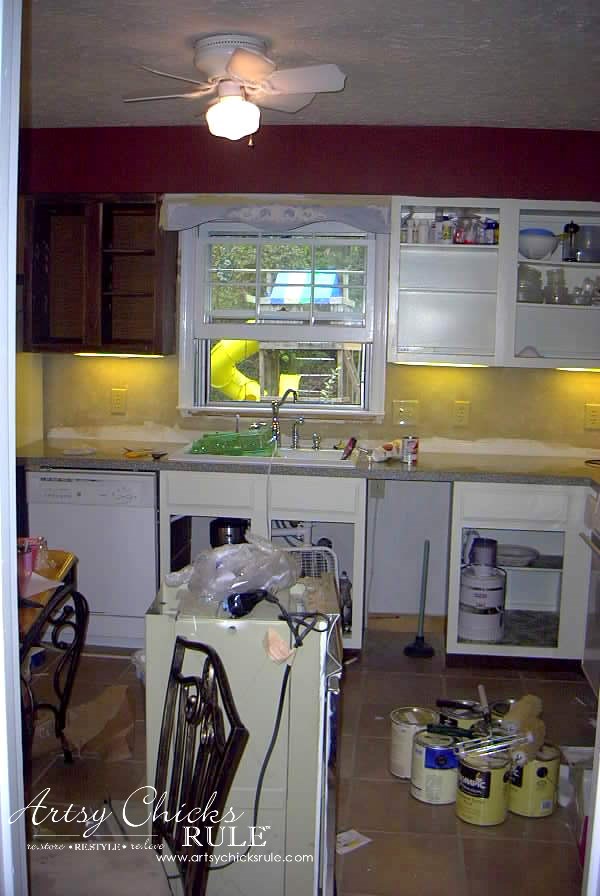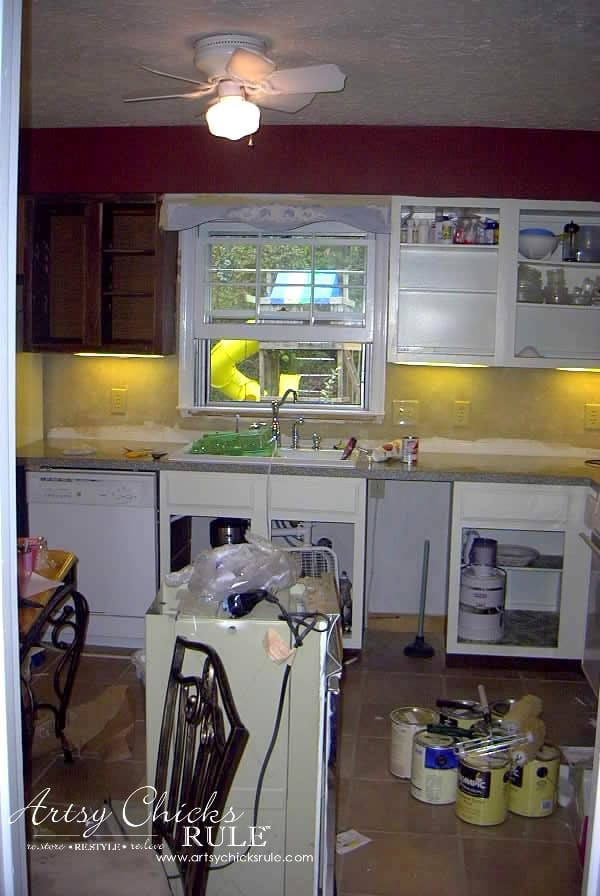 In the above photo you can see I have painted the cabinets, the walls, etc.
The modified cabinet is back in place AND the new counter top is installed, along with the sink and faucet.
We've also removed the old trash compactor to ready the space for a wine refrigerator.
This is what we ended up with. (the tile came a few years later…you can read about that here –> Kitchen Tile Backsplash)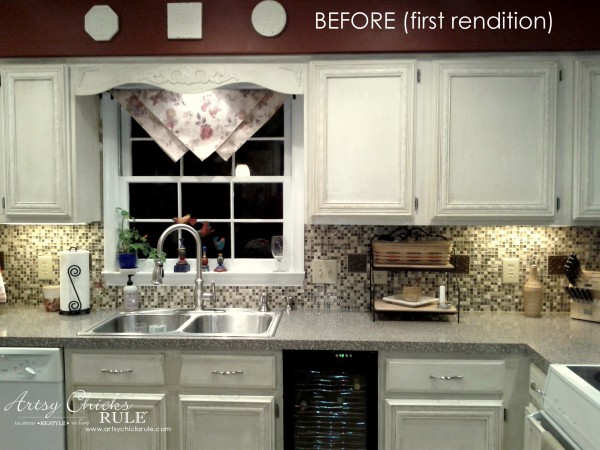 I painted and then glazed the cabinetry. We also added that wood decorative trim to all the doors.
If you look closely at the "before" photos, you'll notice that they are dark wood and FLAT fronted.
I'll be doing a tutorial on how we did that soon!
It really made a HUGE difference in the way they looked.
Moving on to another area of the kitchen….looking into the dining room…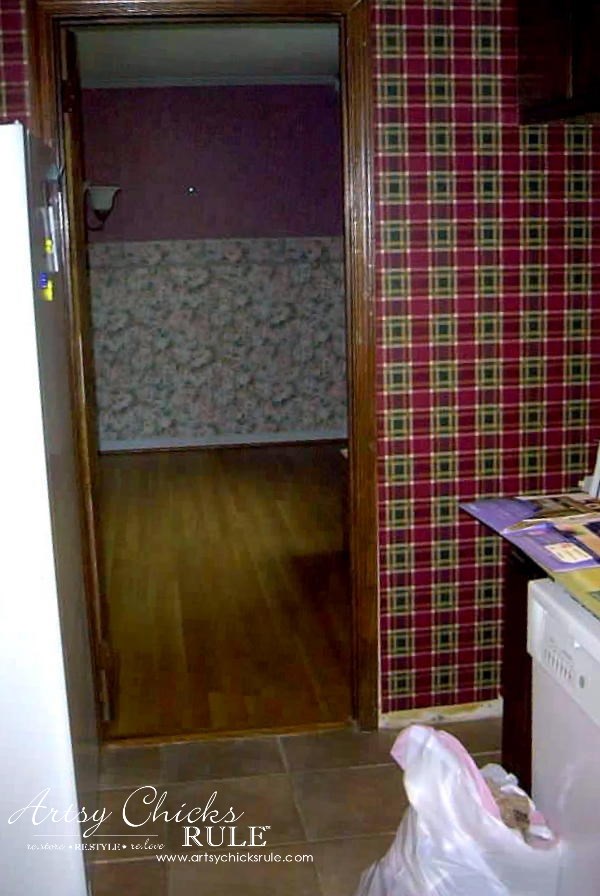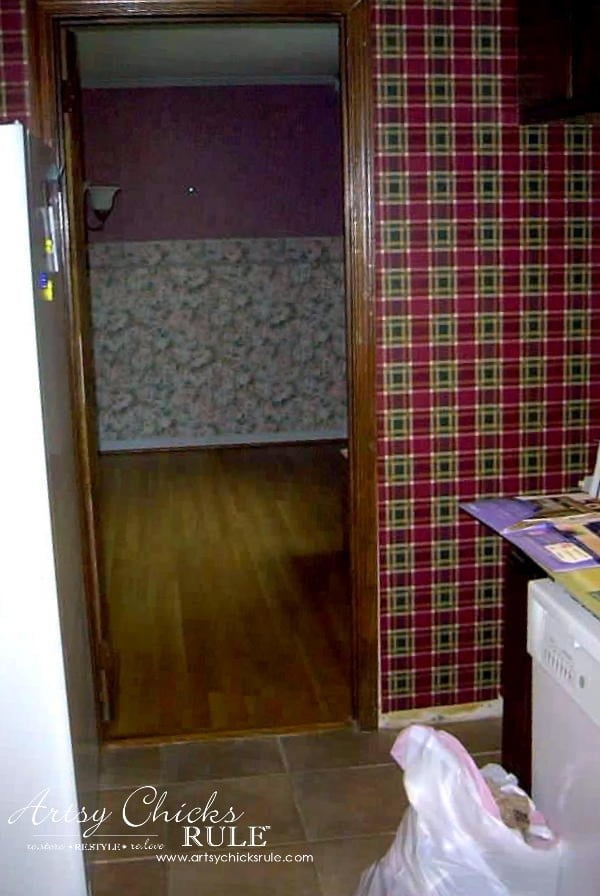 To the right is where the refrigerator goes (for perspective).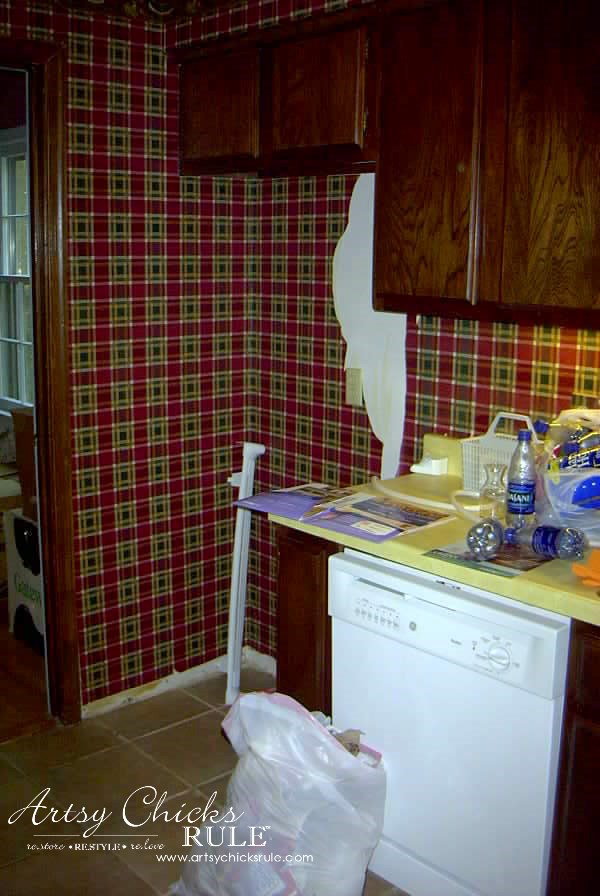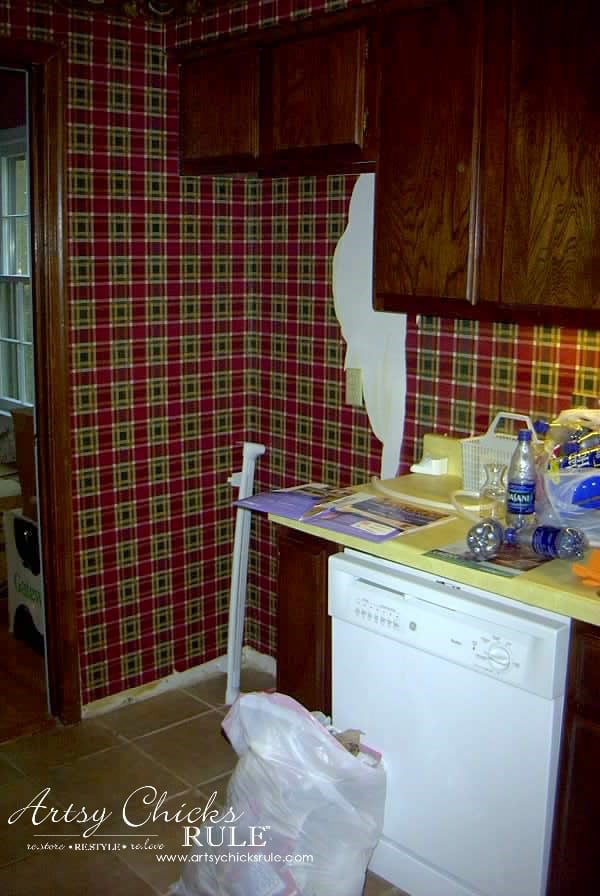 (see those door fronts? flat and blah!)
And the other side, corner/nook…..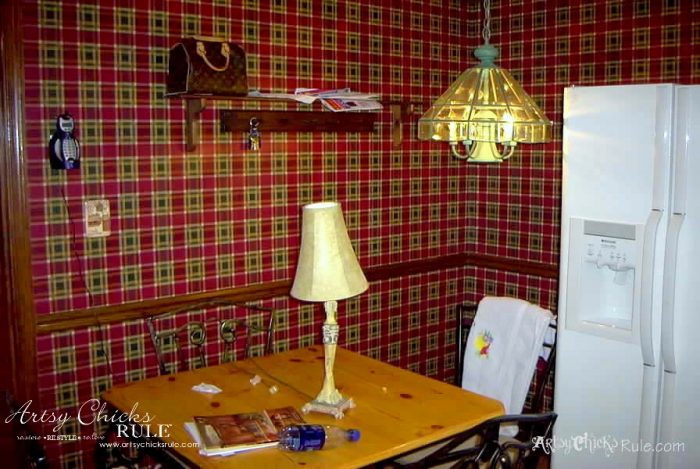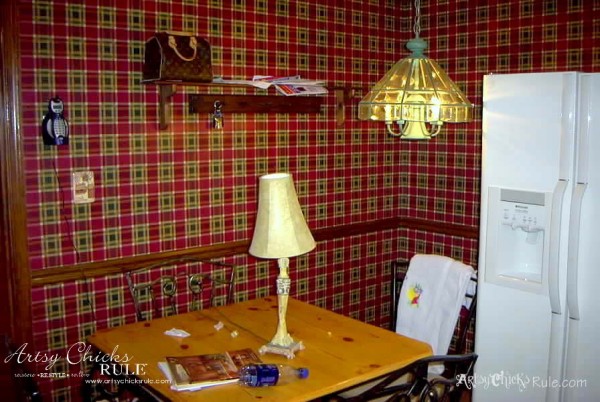 So much plaid!!
But I got rid of that pretty quickly (but not effortlessly, that was a job)….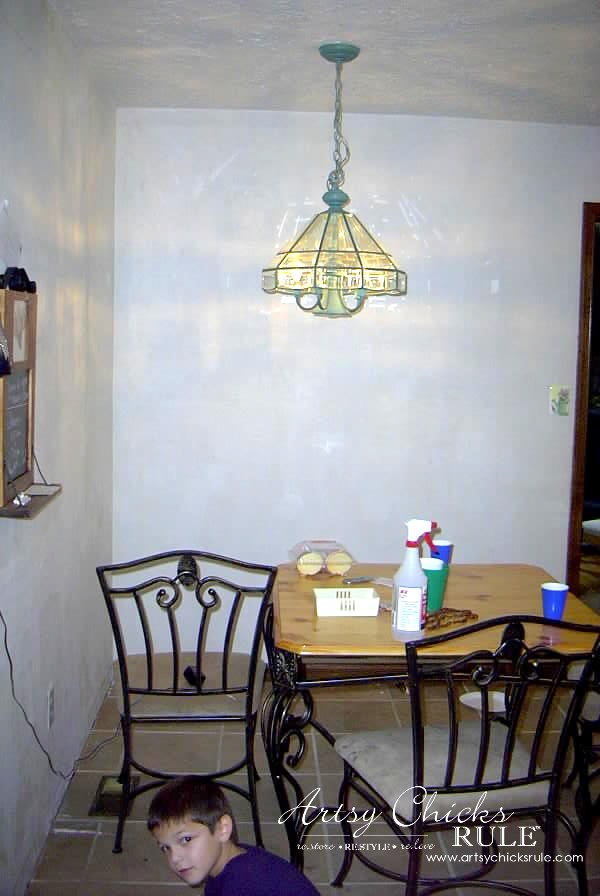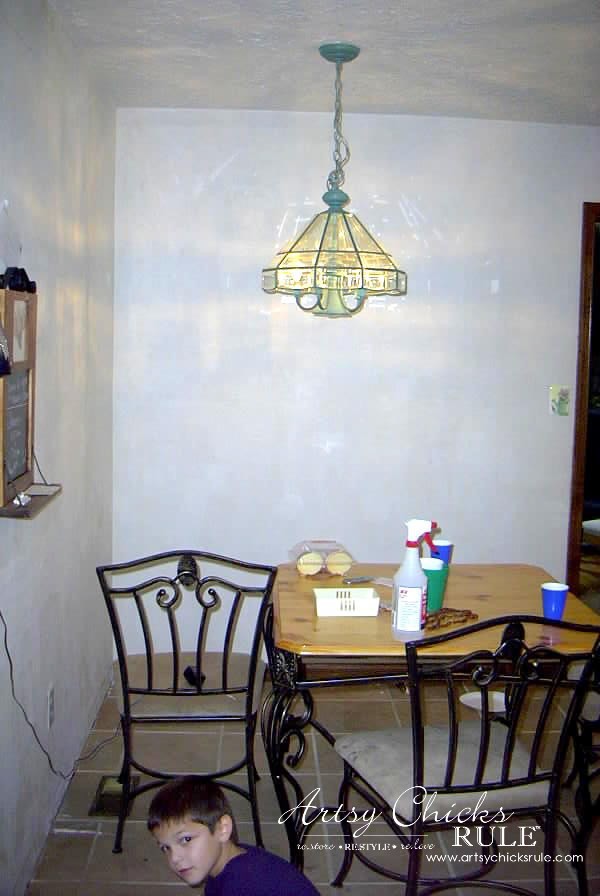 Dark plaid gone…and look at that cutie! Where did the time go?
I miss my babies young.
We had SO much to do in this house so weren't into tearing out walls just yet.
That came later.
This is how I finished up the kitchen the first time….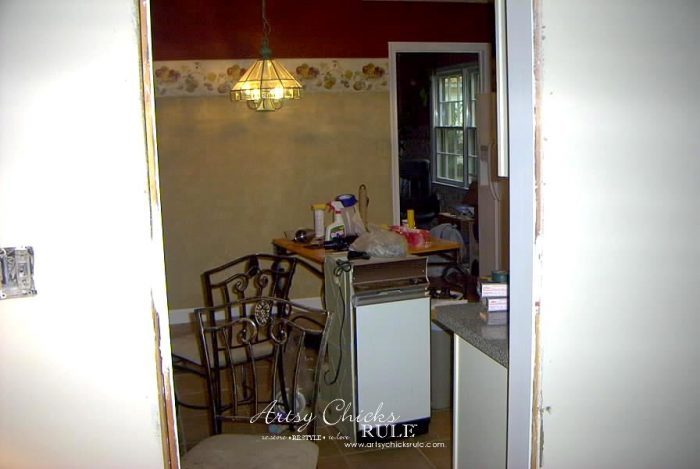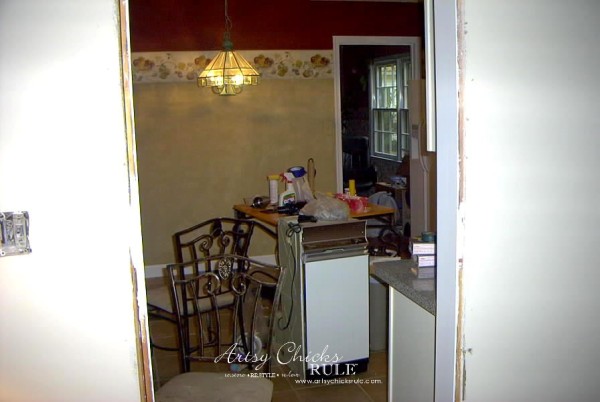 This is looking in from the Family Room.
And finally…..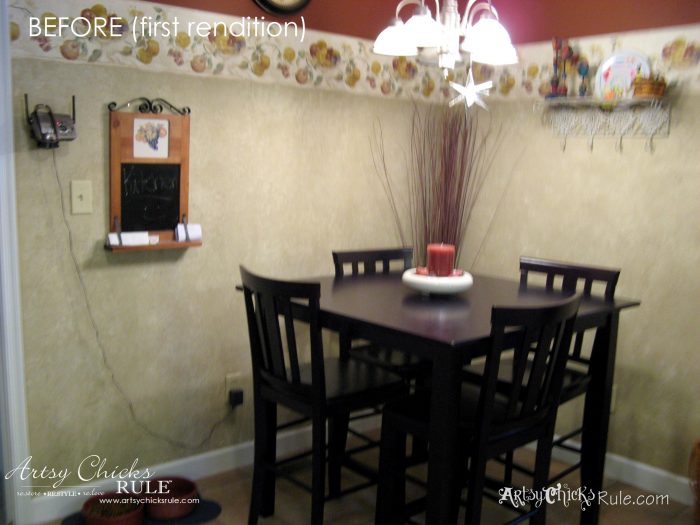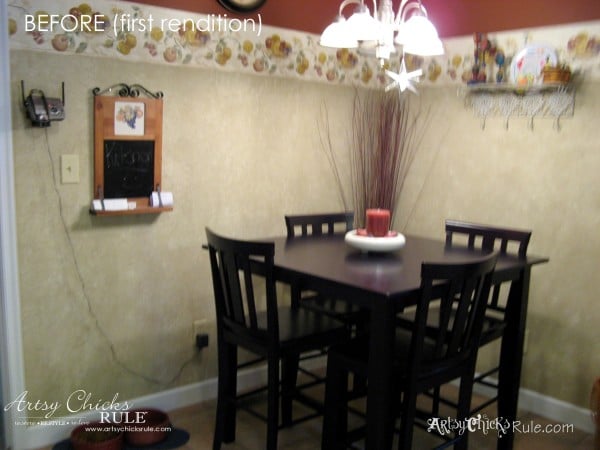 Terrible photo…but again, I wasn't planning on sharing on a blog at the time.
This is the same corner/nook now…..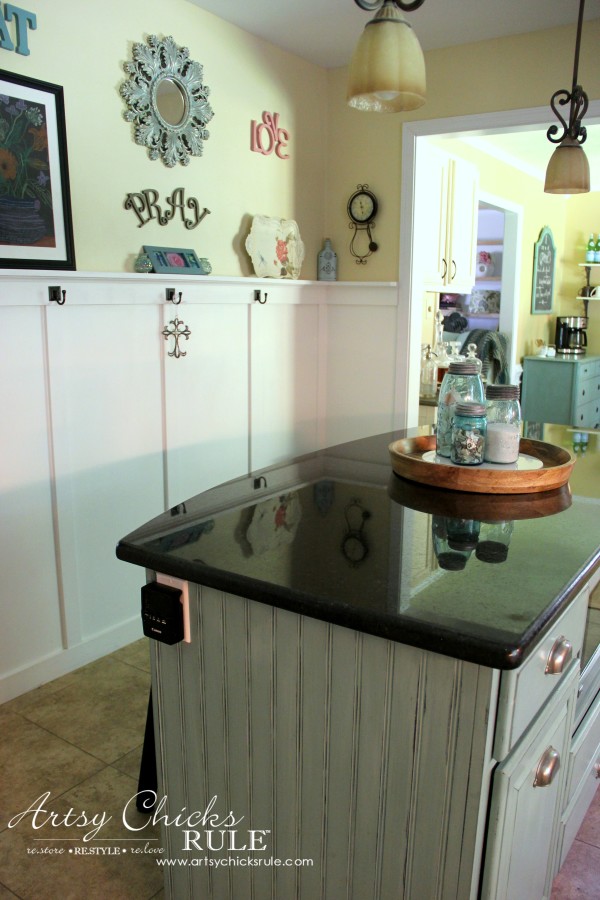 Different, right?! MUCH brighter space.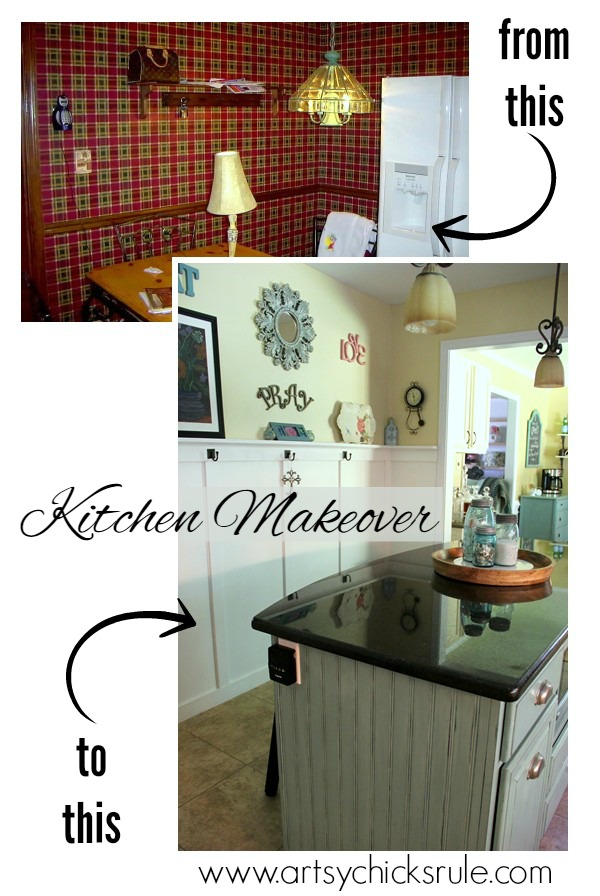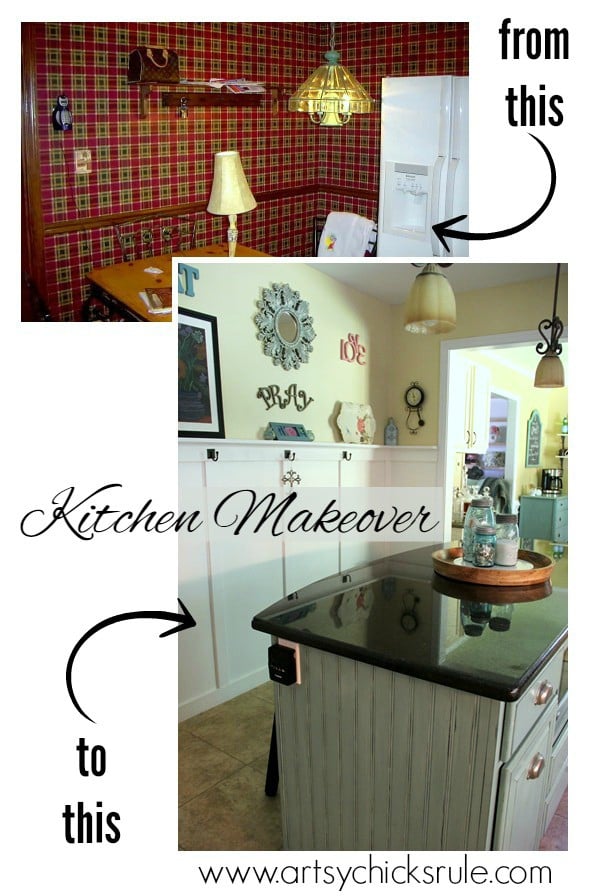 A few years after our first remodel we decided to tear out walls…on each side of the kitchen.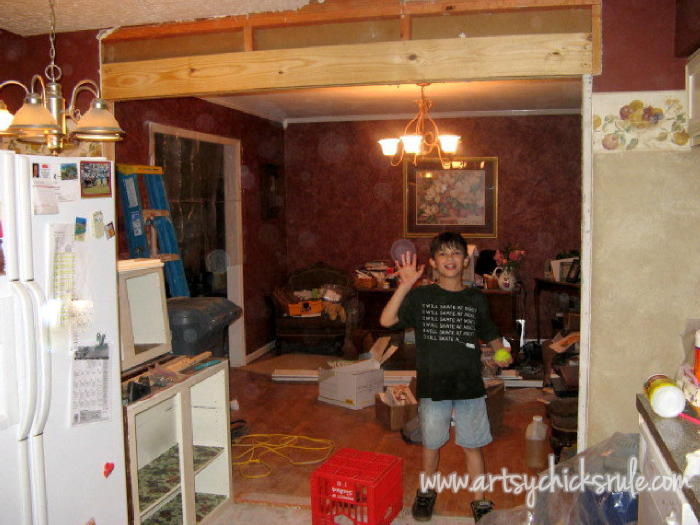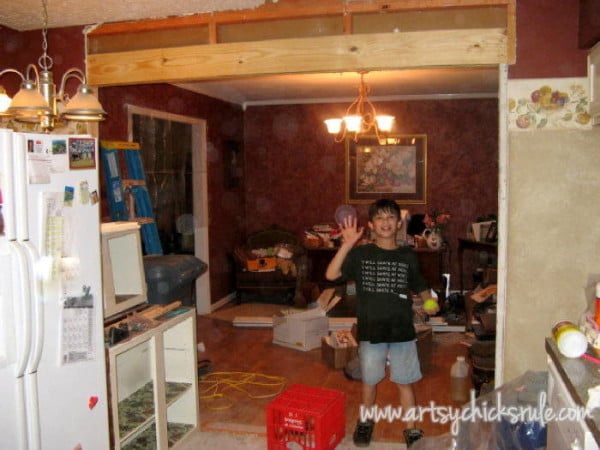 Fun… not fun. ;)
We've been in a state of construction for years. (that's my sweet boy again, a few years older than the last photo)
Much better……….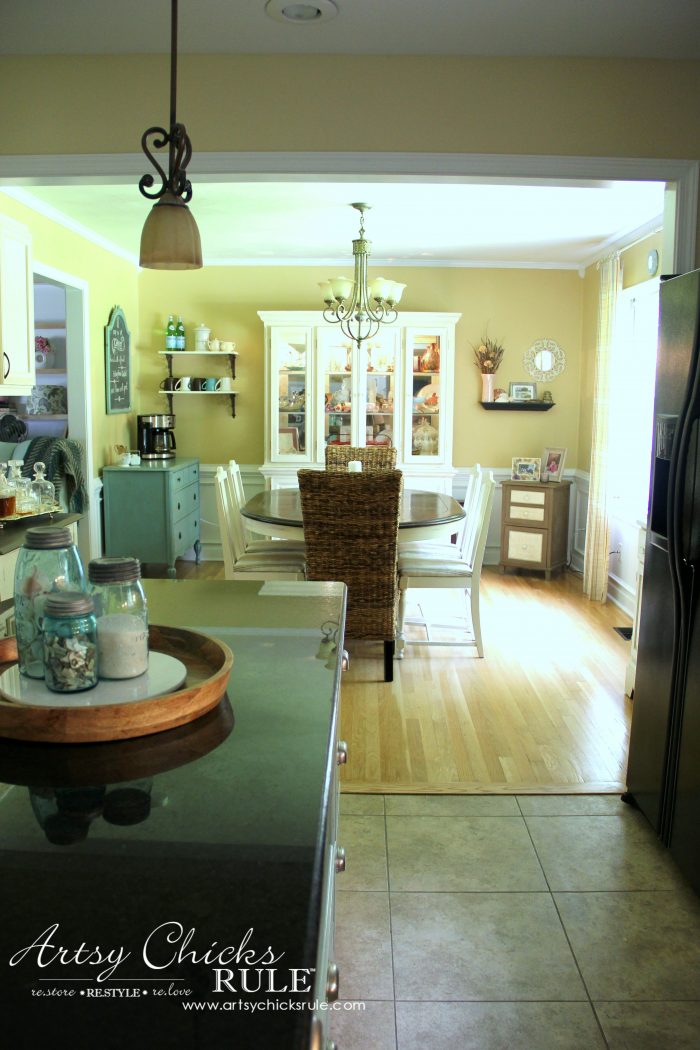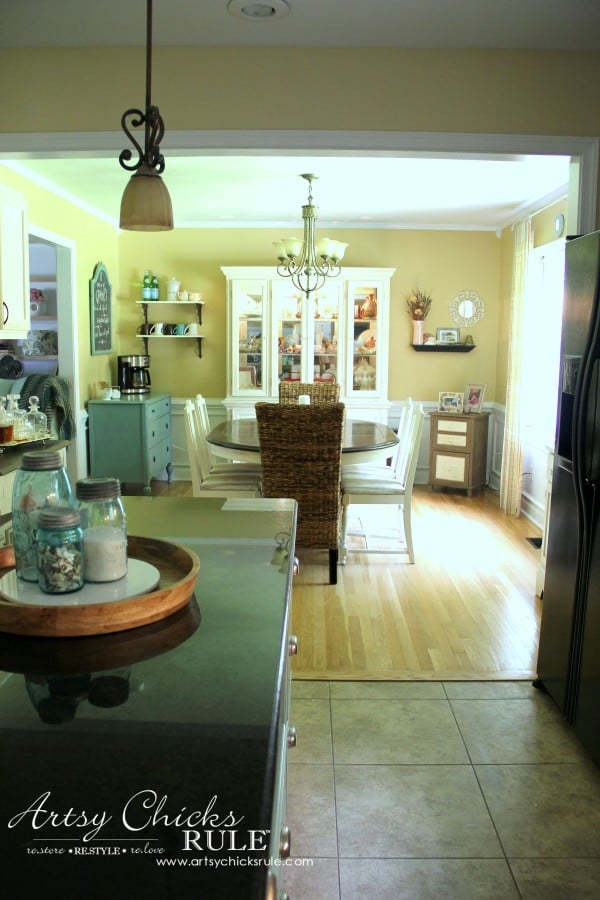 Wow, even I'm impressed at the difference revisiting these photos! ;)
So happy we went ahead and took out those walls.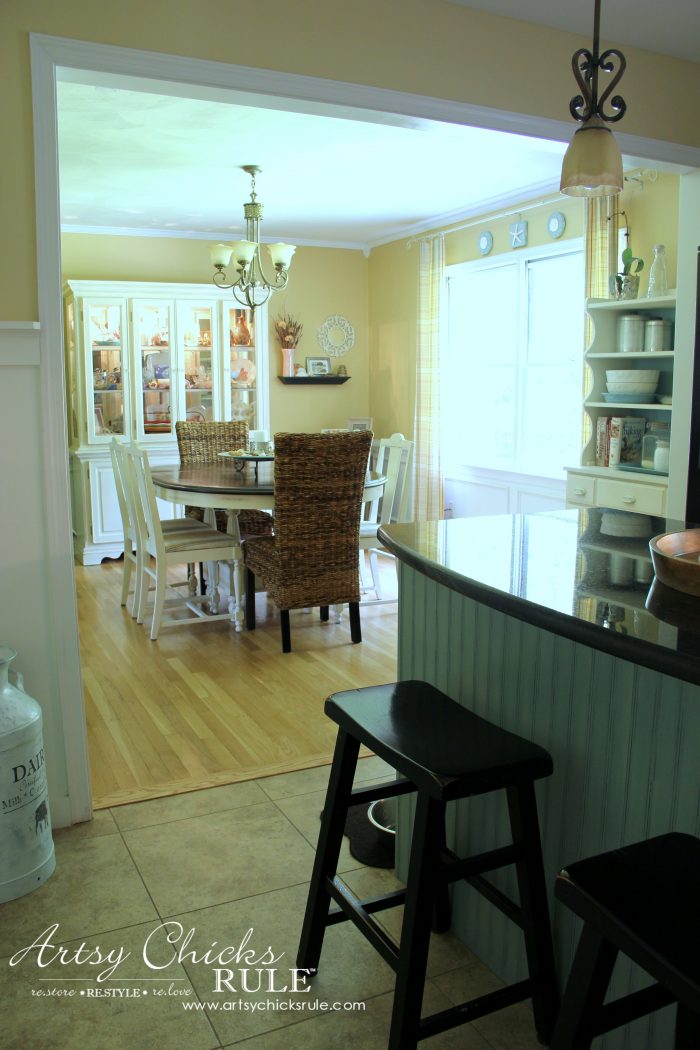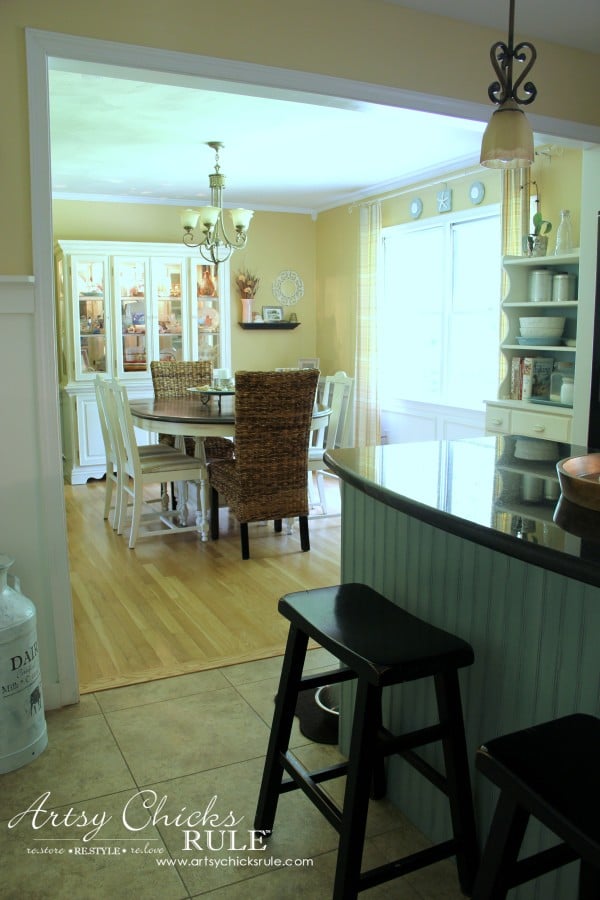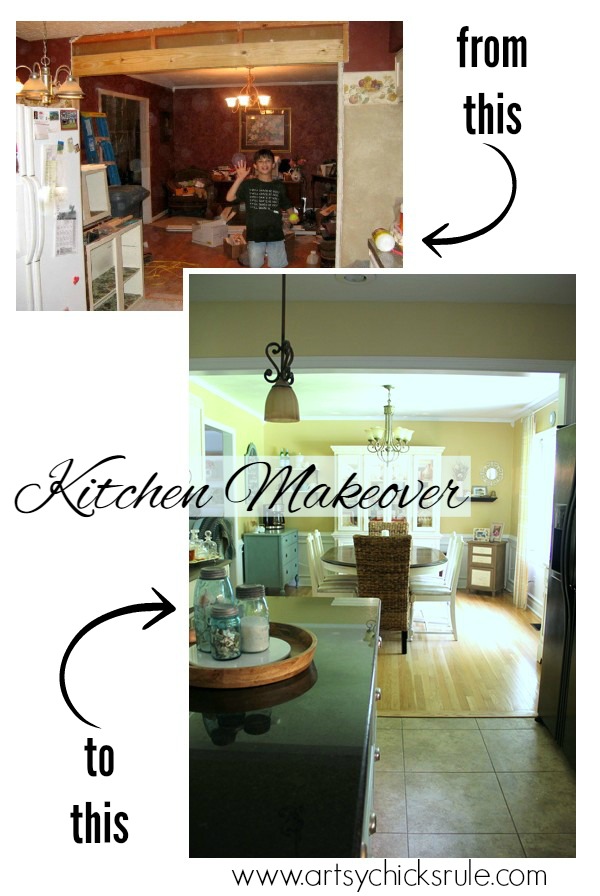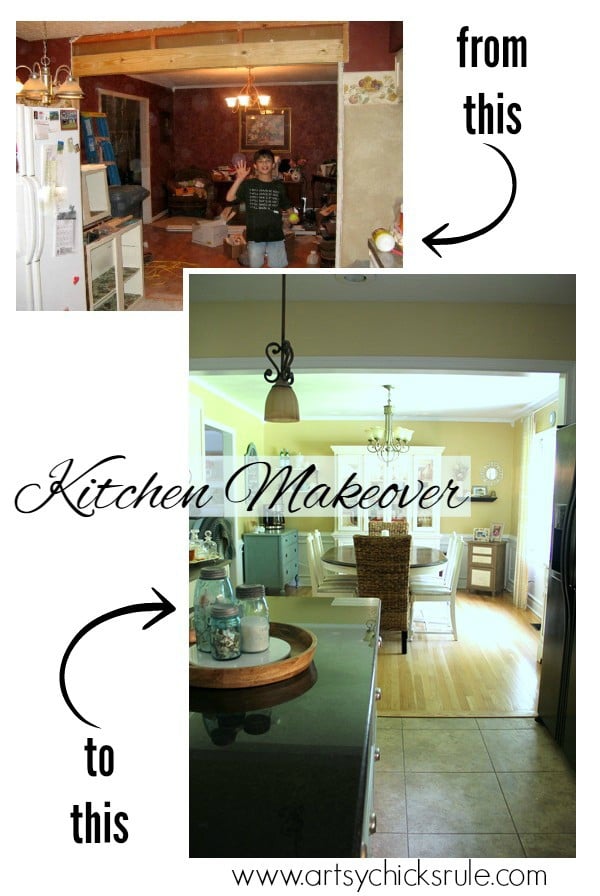 On to the other side, and other wall we removed.
Starting back at the beginning …..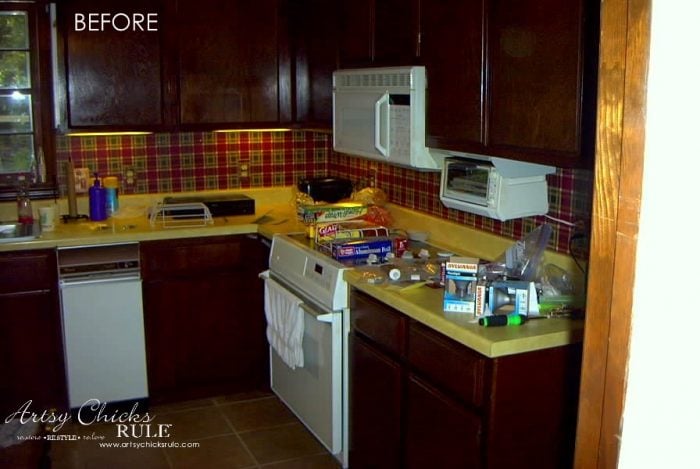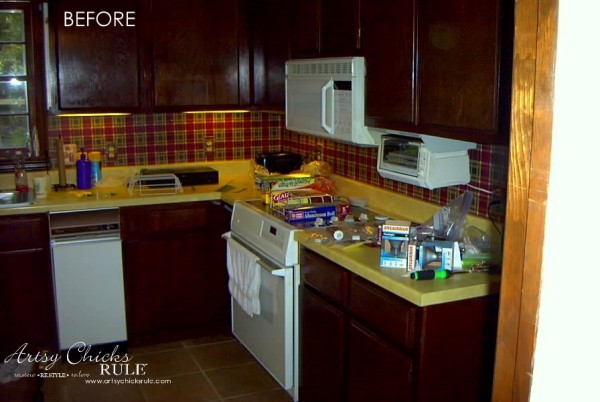 Lovely gold counter tops, broken floor tiles everywhere and dark, flat, plain cabinets.
And now….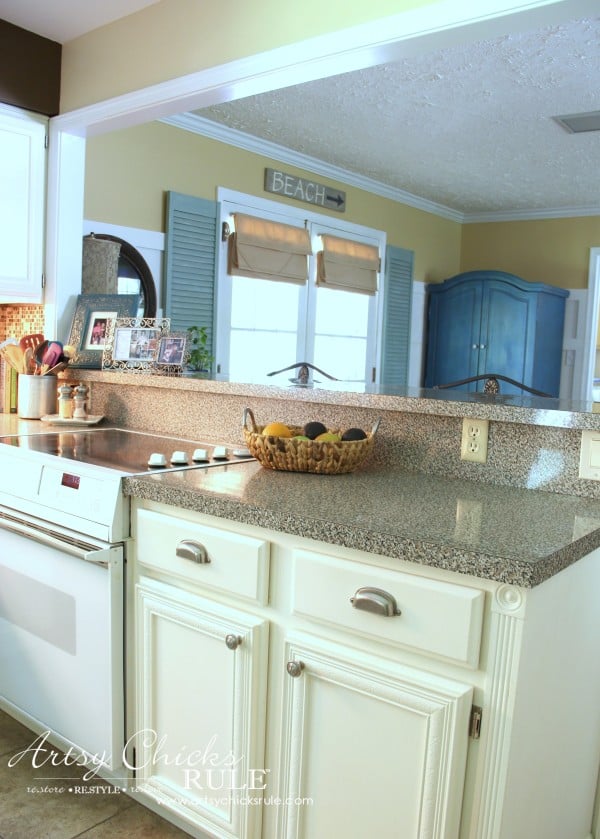 I originally used latex but have since repainted with Annie Sloan Chalk Paint.
You can read about the cabinet makeover here –> Kitchen Cabinet Makeover.
Removing half a wall….(and ceiling)…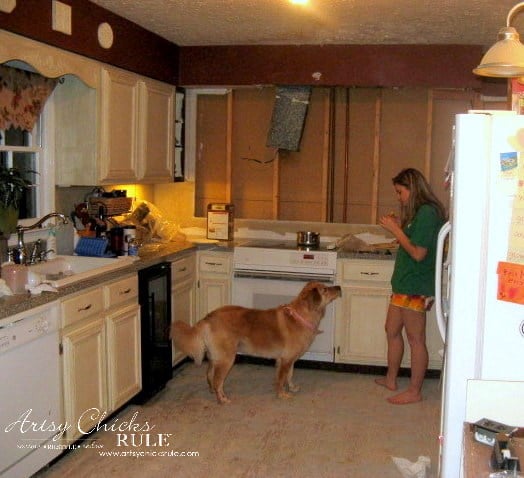 My sweet girl and Lexi, our Golden mix you sometimes catch a glimpse of in my photos.
And…now….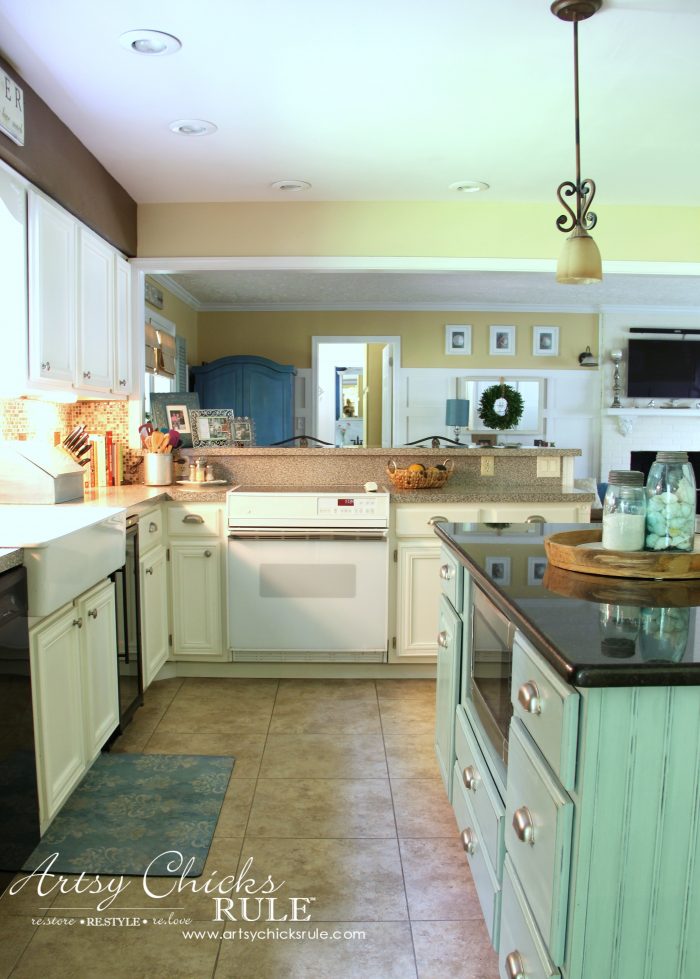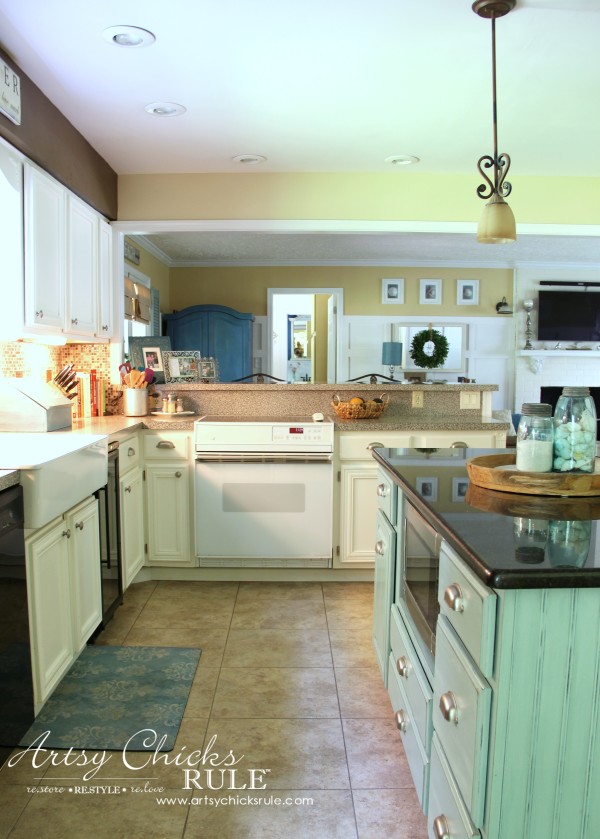 Yes, same stove…since day one! It's getting changed very SOON.
We had also pulled up all the tile and were getting ready to re-do that too.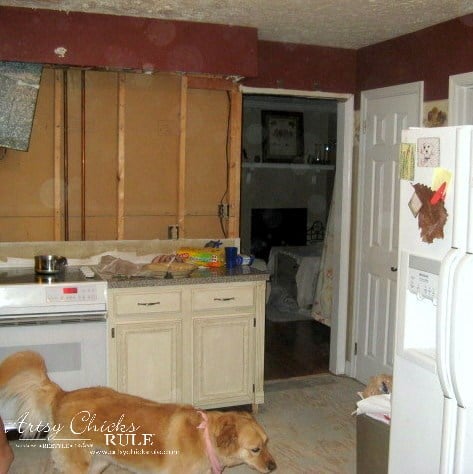 What a mess to live in, right?
But the end result is so worth it.
New ceiling, flooring, island (that we made, and modified using ready made cabinets) and lighting.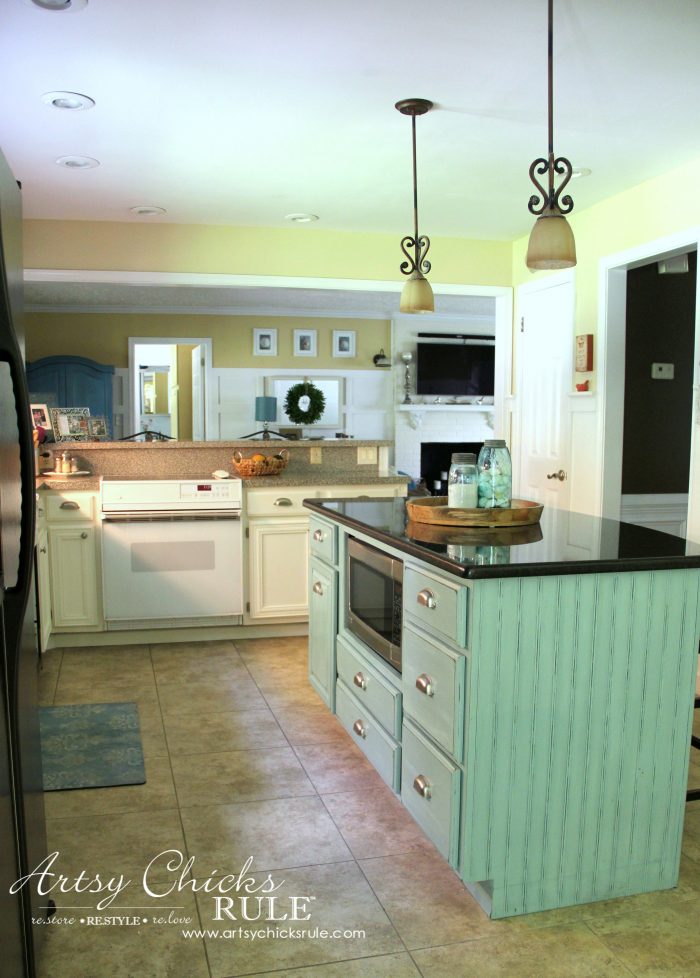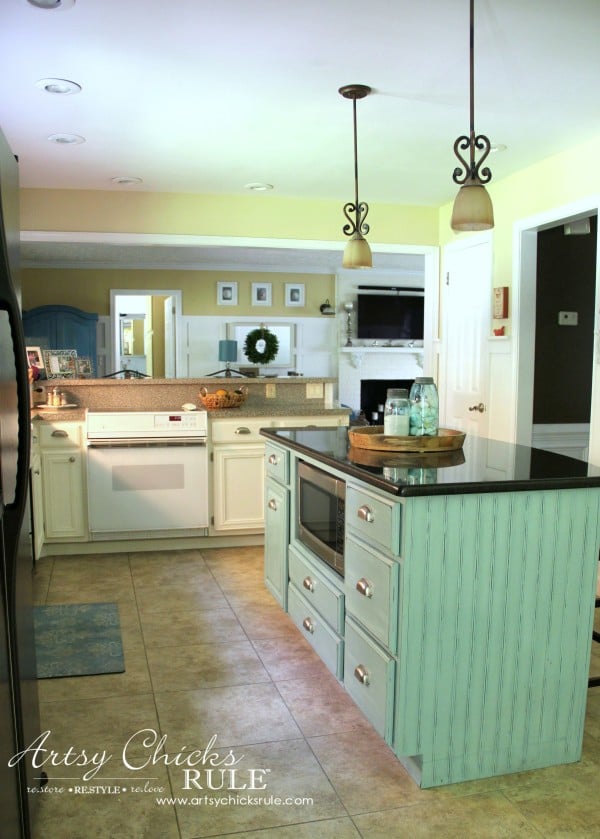 Hard to believe it's the same kitchen, isn't it?
You can read about the kitchen island here –> Kitchen Island Makeover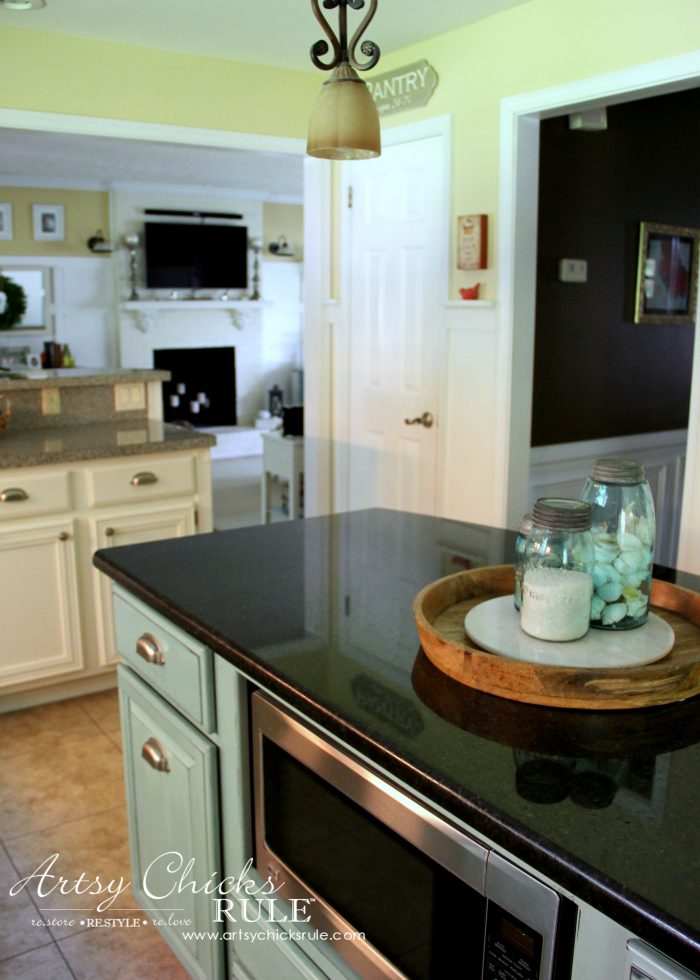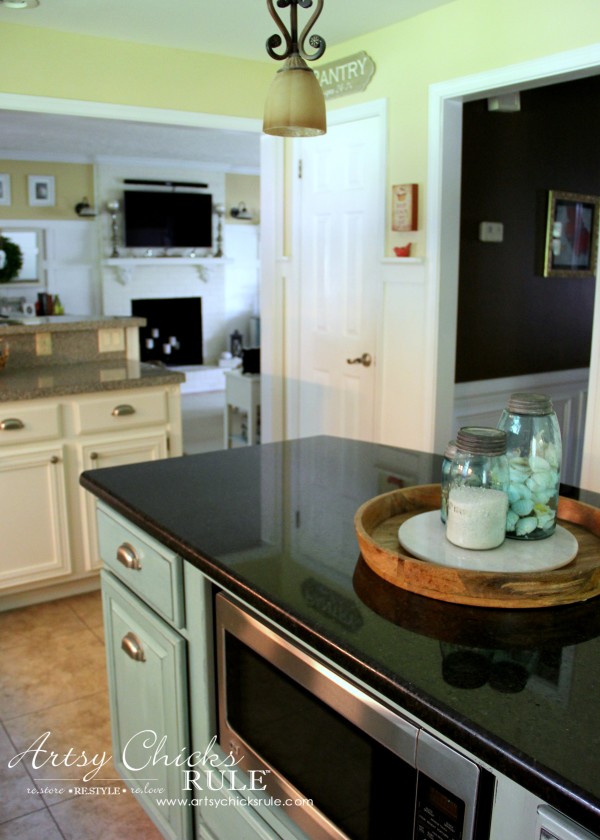 From closed off and dark, to wide open, airy and bright.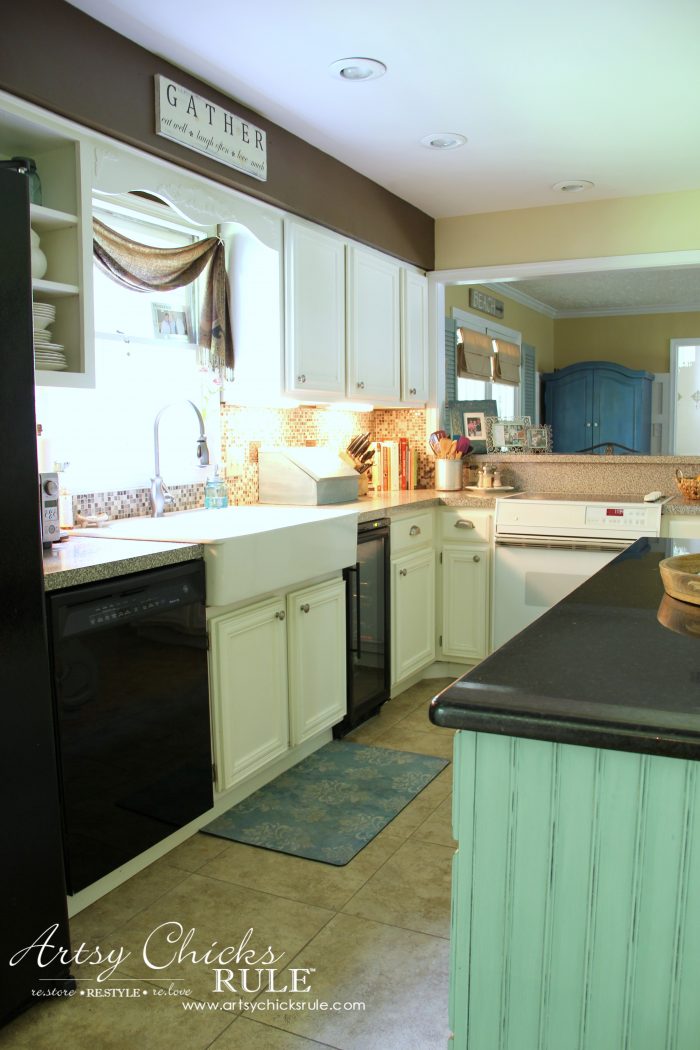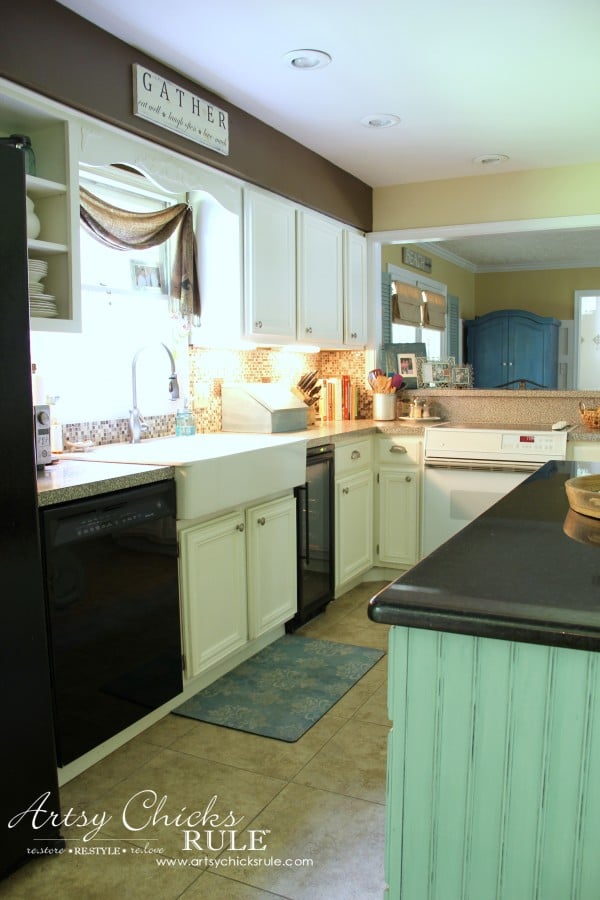 To give you an idea of how I went from really dark, to well, still dark….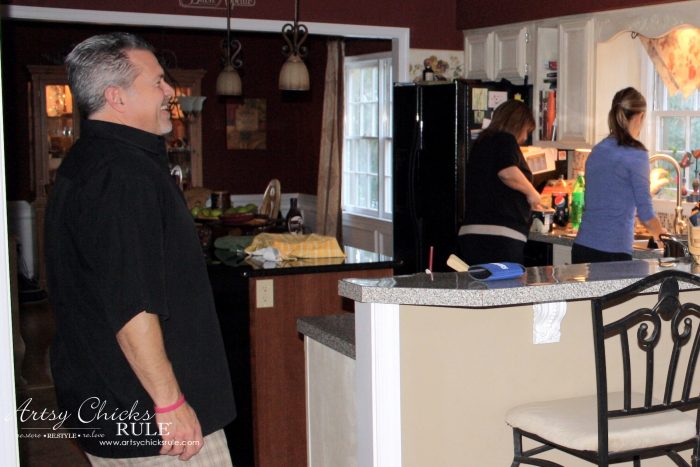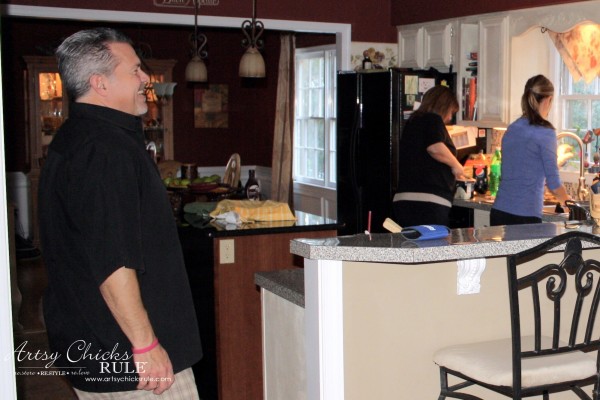 I loved the openness we'd created but wow, I really had it painted and decorated much too dark still.
That is all changed now, thank goodness.
It's like a completely new house all over again!
(That's my husband, sister and I…I'm sure both will be so grateful I shared them here … not ;) )
See my messy cookbooks in the open cabinet up there?
That's why it became open shelving later….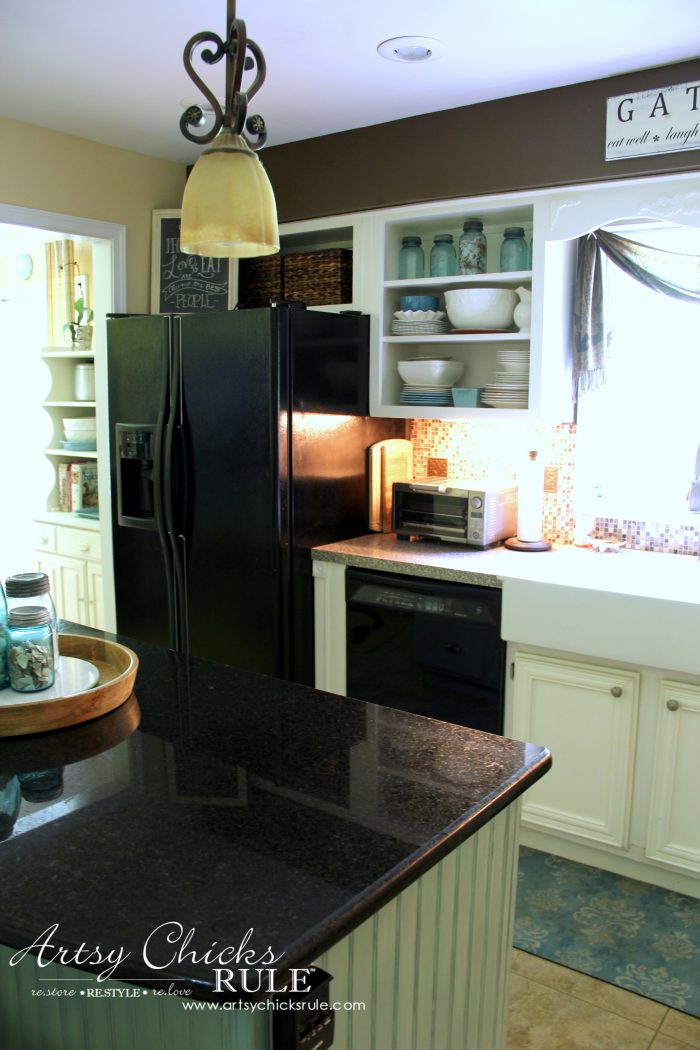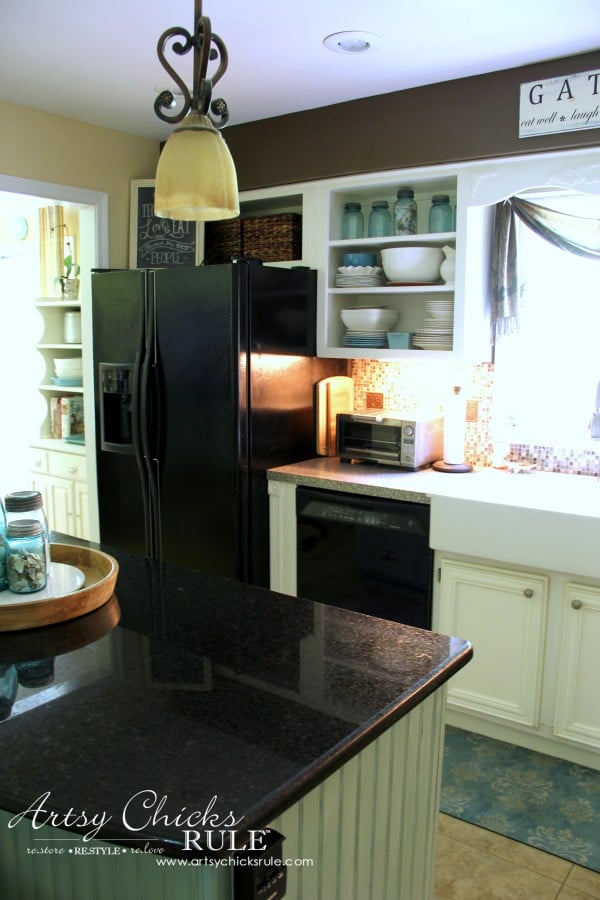 But as you know, I am also tired of all the yellow. Mainly in the Dining and Family room.
I just picked up my paint yesterday so I'll be painting soon! :)
You can see my new plans for the dining room here –> Dining Room Changes Dreamboard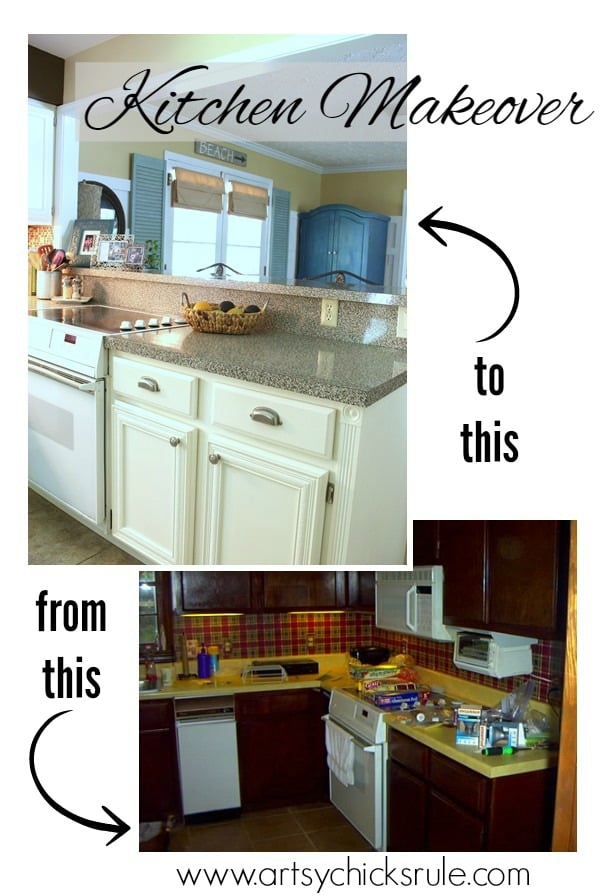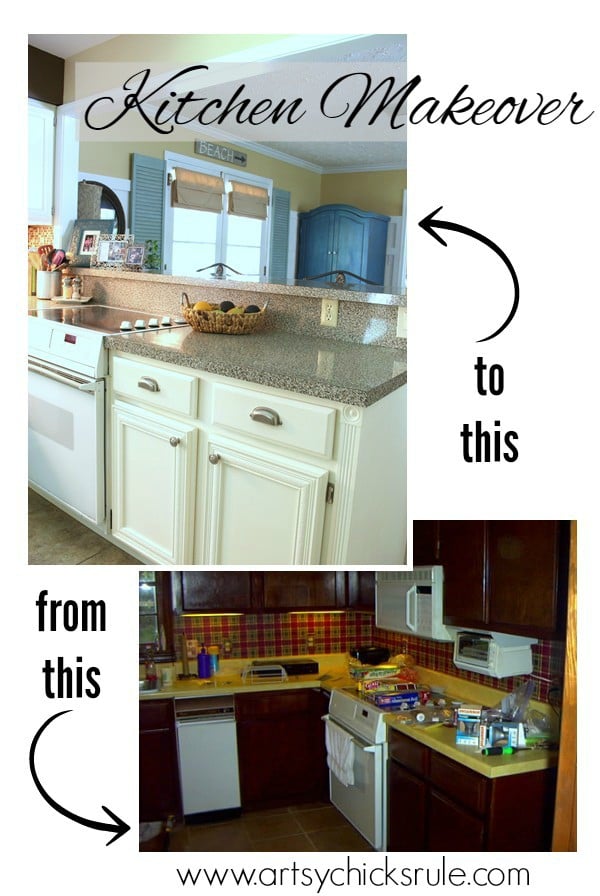 UPDATE: I've since installed a new backsplash. You can see all the details, HERE.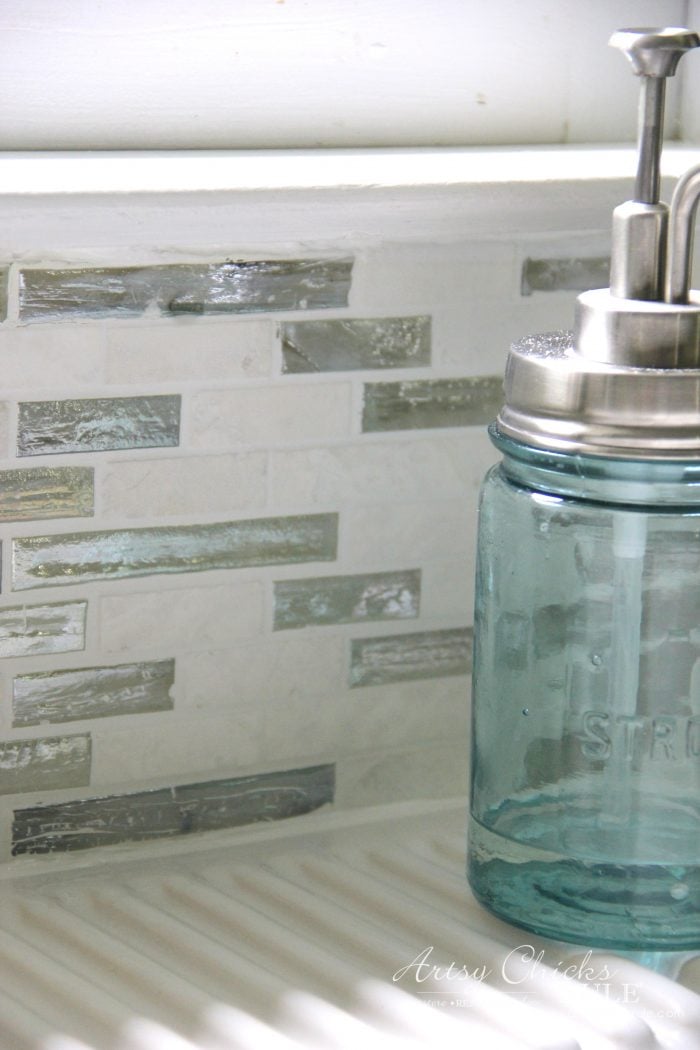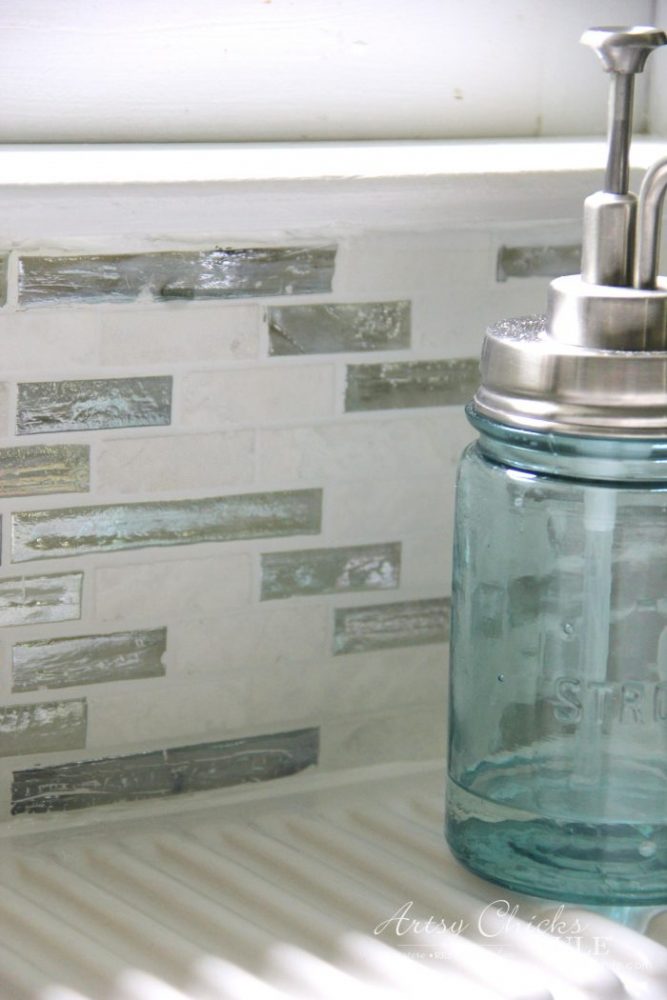 I'm tired just looking back at these.
Hard to believe we've done so much….but it has been 11 years.
And….we are still "doing"!
No, we aren't even all the way done yet. We still have our master bath to renovate.
Always the last, should have been the first. But my thoughts have always been…no one sees it but us! ;)
I'm ready to tackle that area though. Soon!
I hope it wasn't too confusing going through the photos.
We did the first remodel, then the second and now the third so it was hard to share them "in order".
Or in an order that totally made sense.
Anyway, I hope you enjoyed seeing our progress in the kitchen.
We still have to replace the stove but it's coming soon I hope.
I'll share new photos once that's done.
A work in progress, always, I tell ya!
My husband and I do feel a great sense of accomplishment though.
We've done every single renovation and project in this house ourselves.
Nothing has been contracted out. (except for adding an electrical outlet/switch here or there)
I have to say, we work pretty great together! Thank goodness, right?
I hope these photos also inspire you. There's not much that can't be changed or updated.
And wow, what a difference that makes.
So don't overlook some of those homes (if shopping for a new home) OR feel you can't do some of these things in your current home.
If we can do it, so can you! :)