Hey guys!!
I have some fun news today. I think so anyway! ;)
A few friends and I have gotten together and are going to be sharing "Trash to Treasure Transformations" the second Tuesday of every month!
So not only are we sharing our furniture makeovers every month, we'll now be sharing just about anything we've found to make over.
Love it!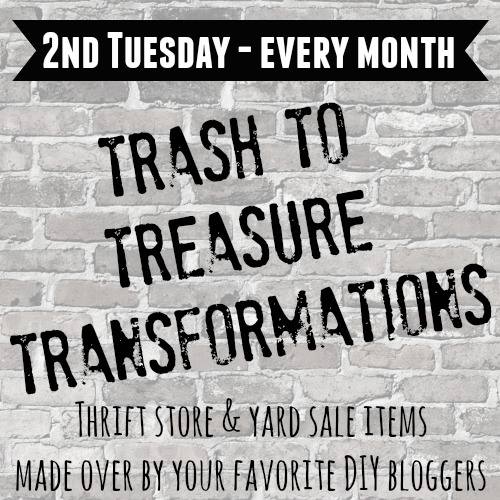 MY LATEST VIDEOS
I'm excited because that is right on up my alley.
I love, love making over thrifty finds.
Just like they say….one man's trash is another man's treasure. Or woman's. ;)
That's what this entire blog is about.
Even my tagline says…..
RE.STORE RE.STYLE …and RE.LOVE, right?
So let me show you what I did with my thrifty find.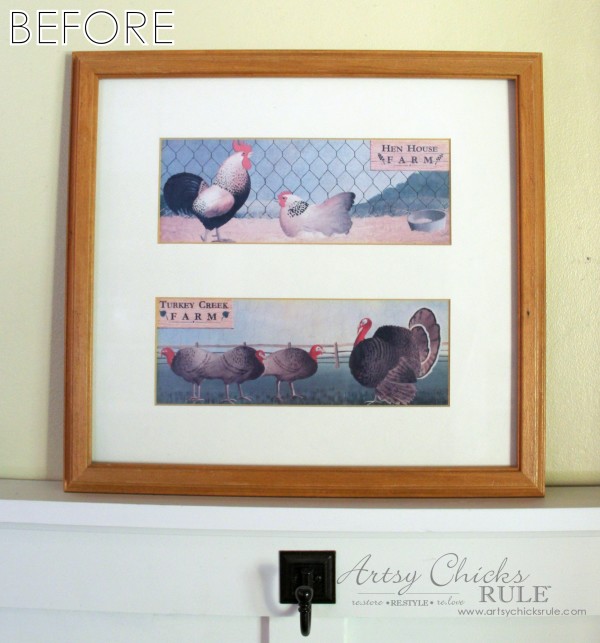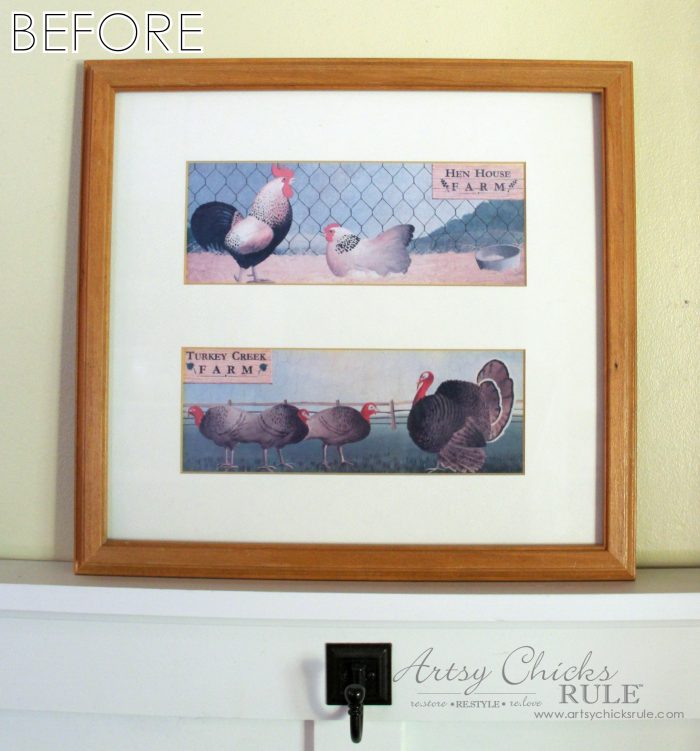 This old rooster print, probably from the 80's.
It was $2 at the thrift store.
You can find old prints in frames like this all day long.
Some of the thrift stores around me have gotten crazy with pricing things lately though.
I'll never understand how they can price a really nice wood end table, $8 and price an old print, $10!
I've seen it, many times.
Anyway, I love these old prints, you can do so much with them.
Here are a few others I've done, "Life is Short, Buy the Shoes", "Easy Holiday Chalk Art", "Baby it's Cold Outside",  "DIY Chalkboards".
For this one, I decided to create some chalkboard art.
I was inspired by this chalkboard art I saw over at Birch Lane.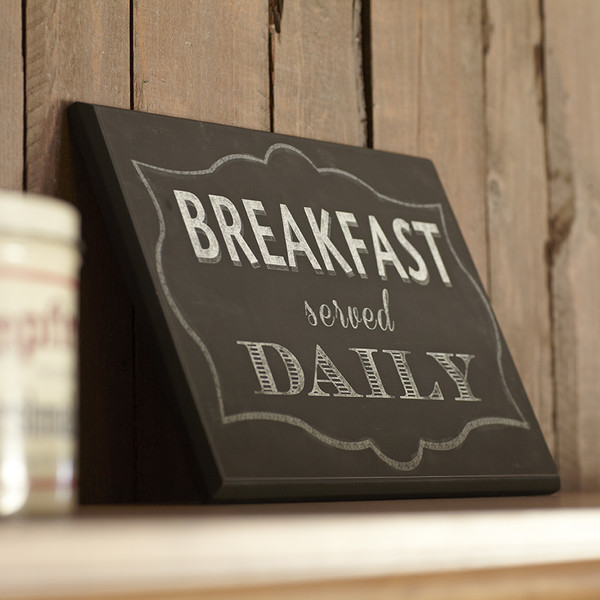 Except mine didn't cost $55. :)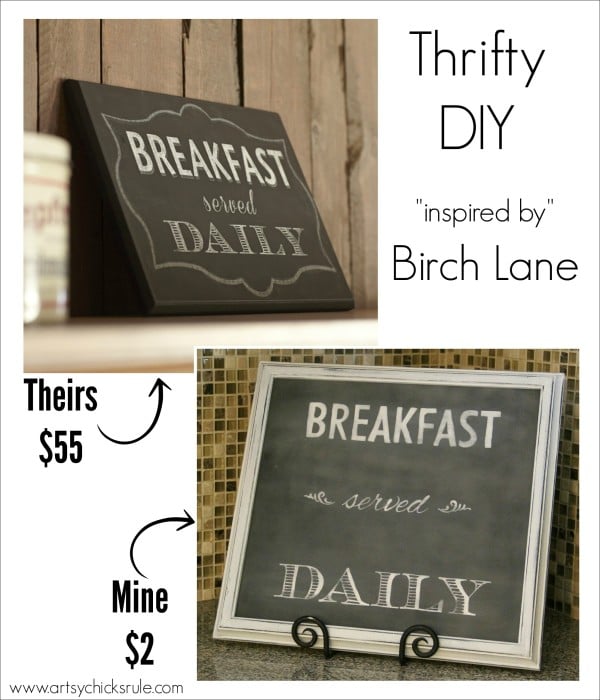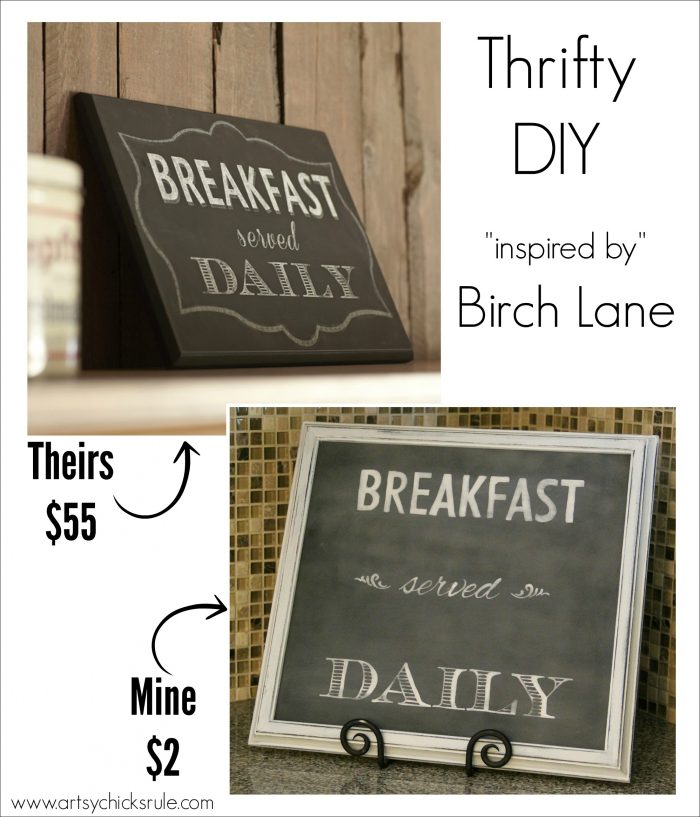 BREAKFAST SERVED DAILY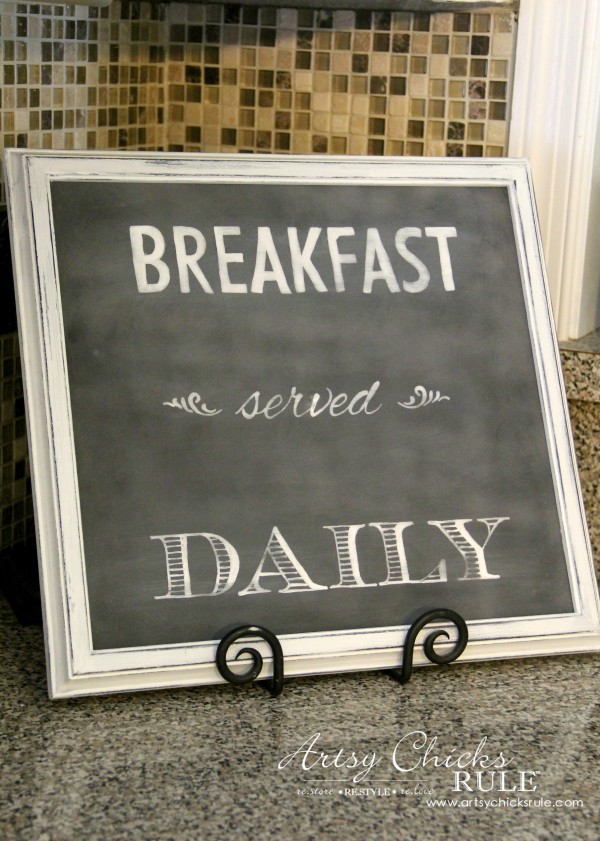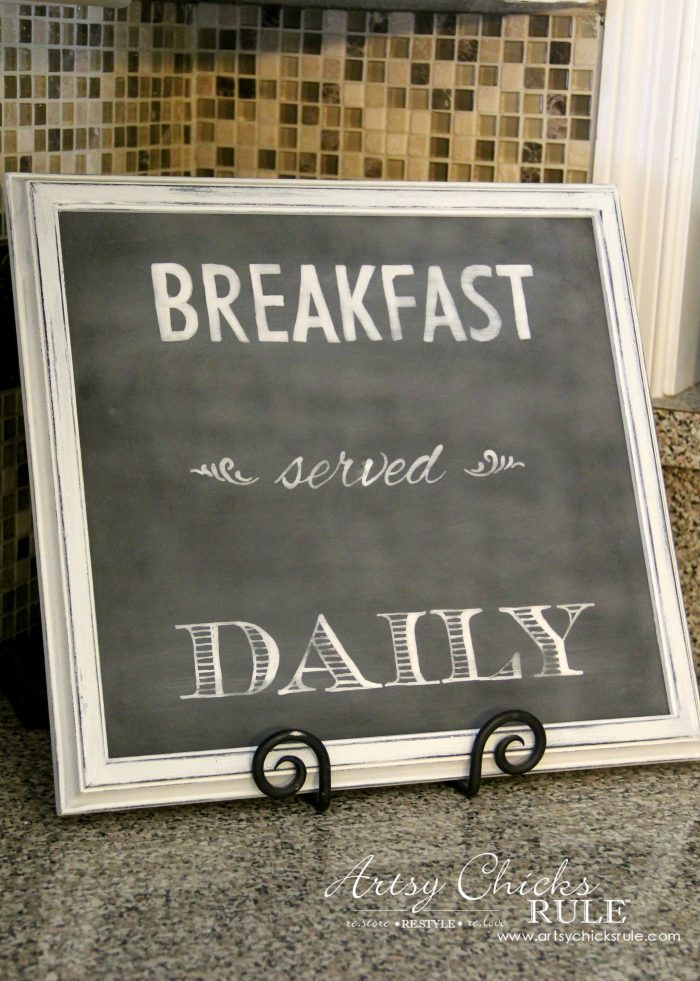 I decided to do mine a little bit differently.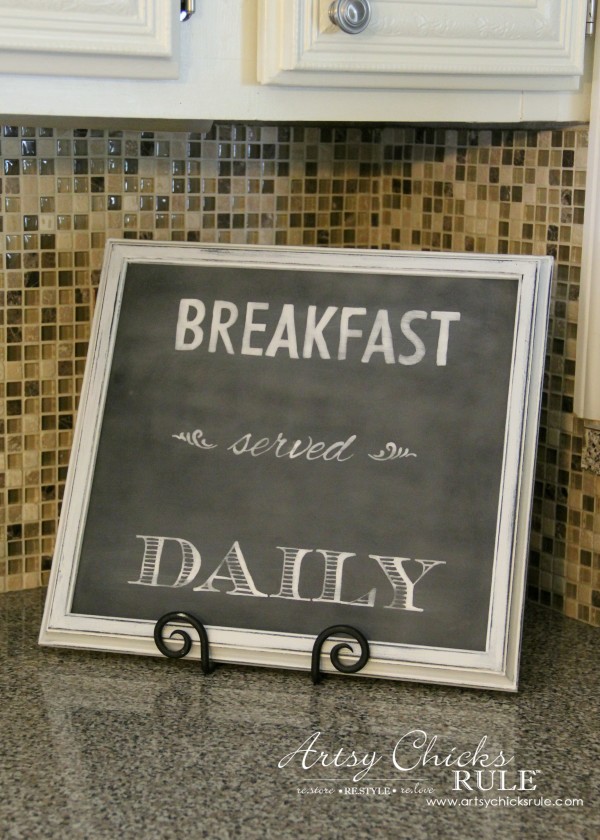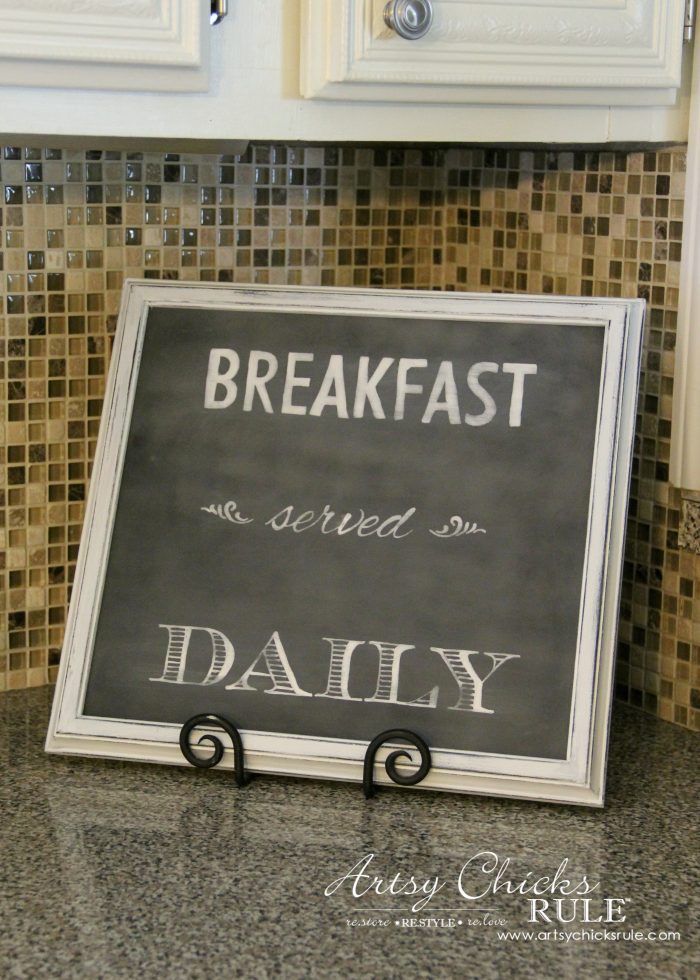 Here's how…..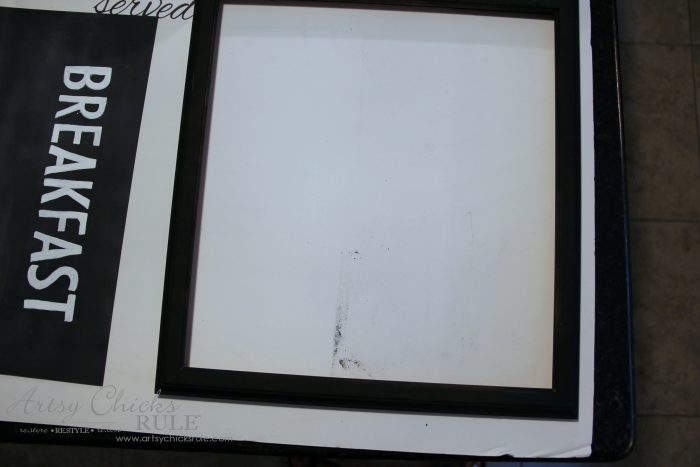 I spray painted both the glass and frame with a flat black spray paint.
I used flat because that would be similar to a chalkboard texture.
I then painted over the black frame with Pure White Chalk Paint.
I used the spray paint underneath so it would show through when distressed.
Plus, using spray paint under, and Chalk Paint over, pretty much ensures you will only remove down to the black layer. (not beyond, which I didn't want)
I then took a damp rag and lightly wiped away a bit of the Chalk Paint.
After it was dry I sprayed a coat of clear sealer over it.
Easy!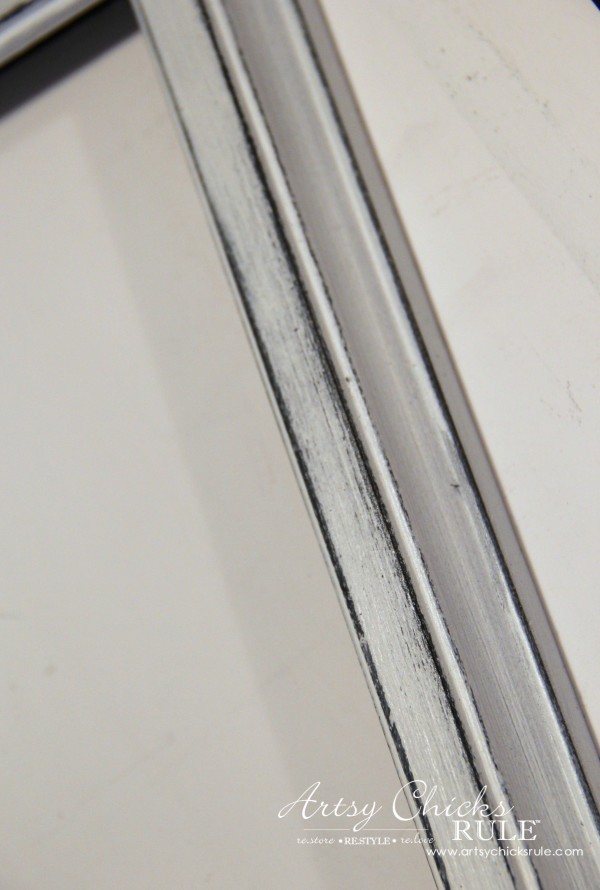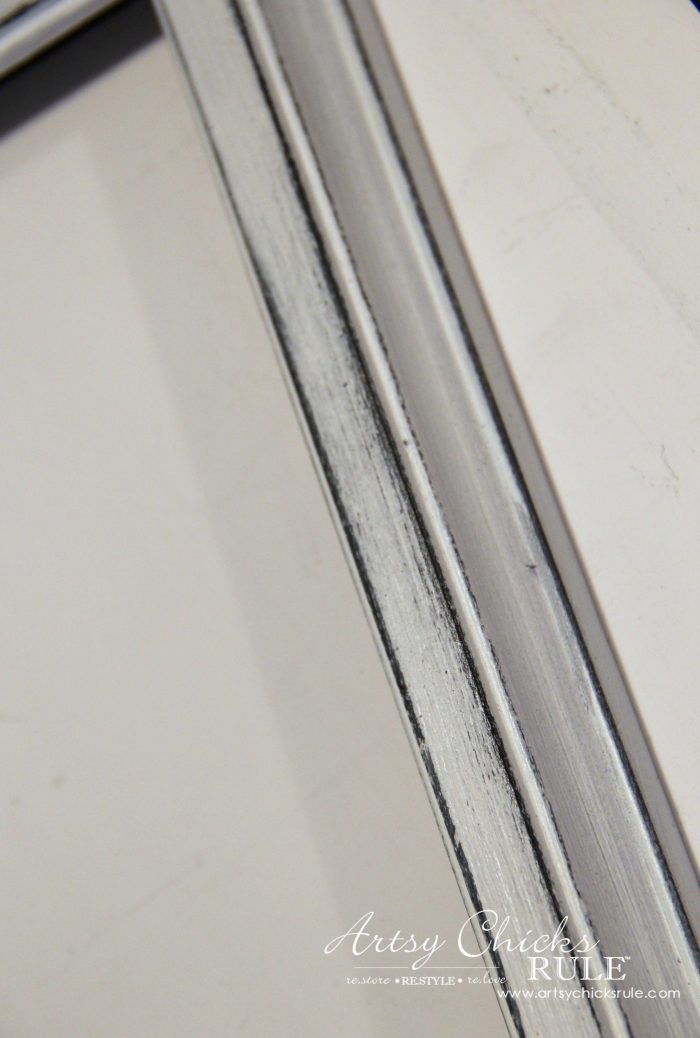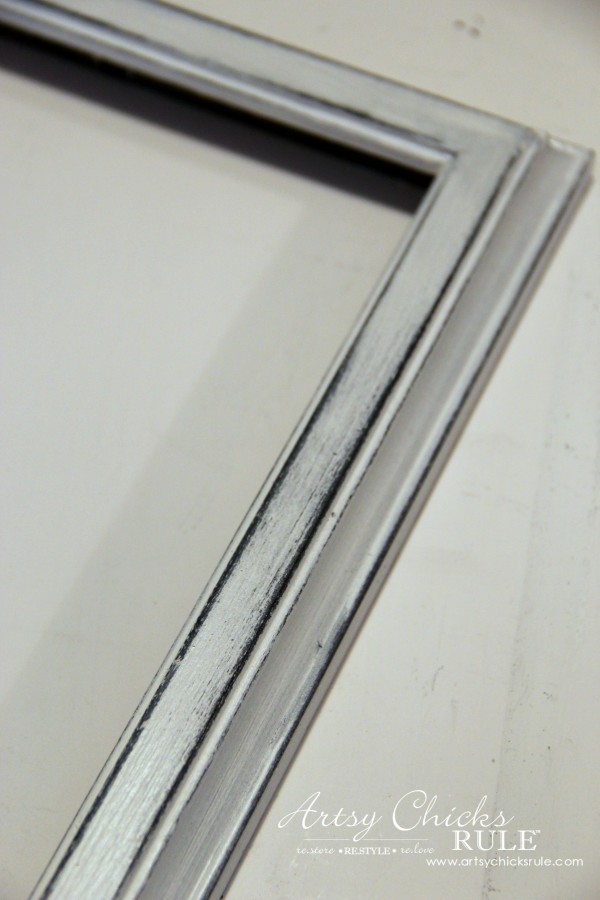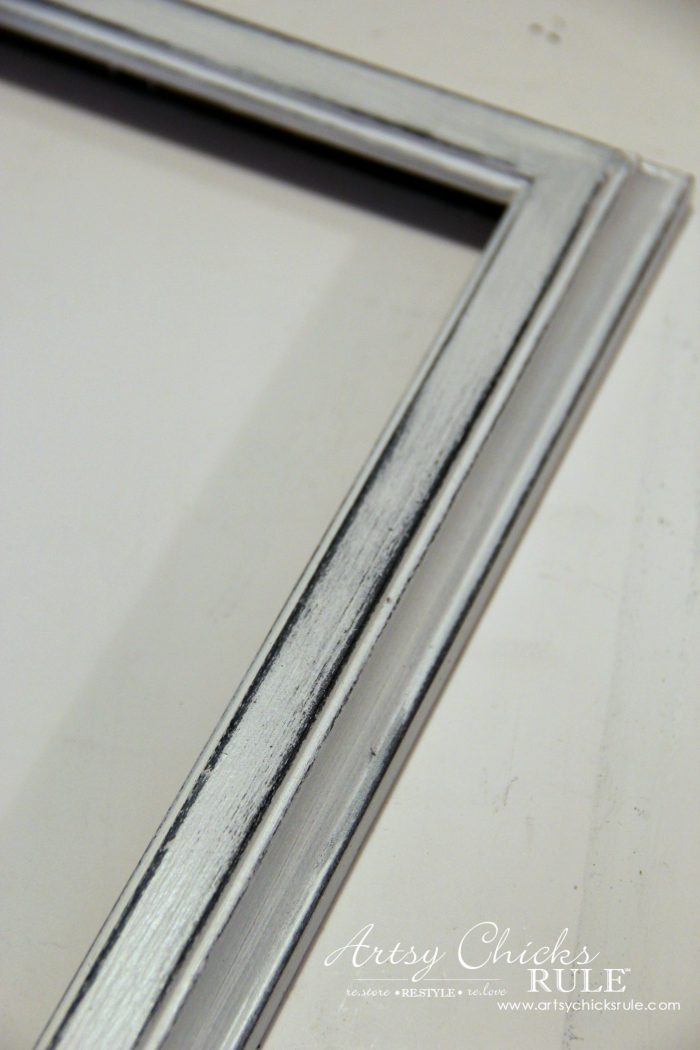 Here is the glass spray painted black. (flat)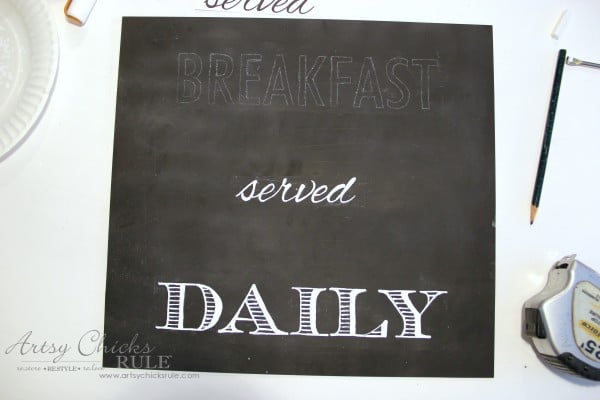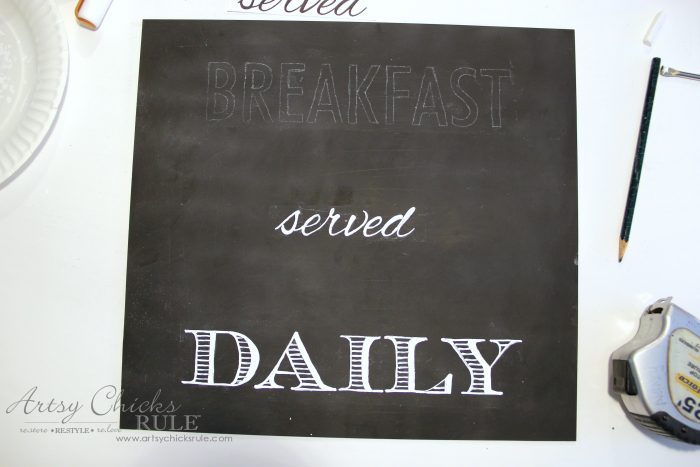 After the paint was dry I rubbed chalk all over it and wiped it away.
(this gives it a "chalkboard" look even though I'm not really using it as such)
Then I created the free printable and printed out my wordage. (I used  Picmonkey)


I cut out the words and rubbed white chalk on the backside.
Next, position them and then trace the letters with a sharp pencil.
This will transfer the white chalk (as you can see in the word "breakfast" up above) so that you can then paint in the letters.
I will sometimes use a brush but this time I used  a handy, dandy  Chalk Ink  pen which just makes it super simple!
After I had finished coloring in the lettering (and it was dry) I lightly sanded to distress.
This makes it look a bit more "chalky" too.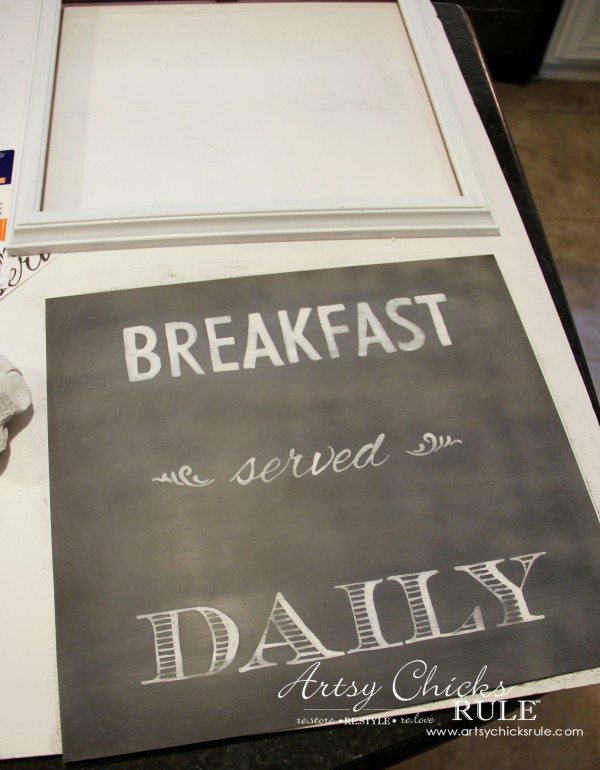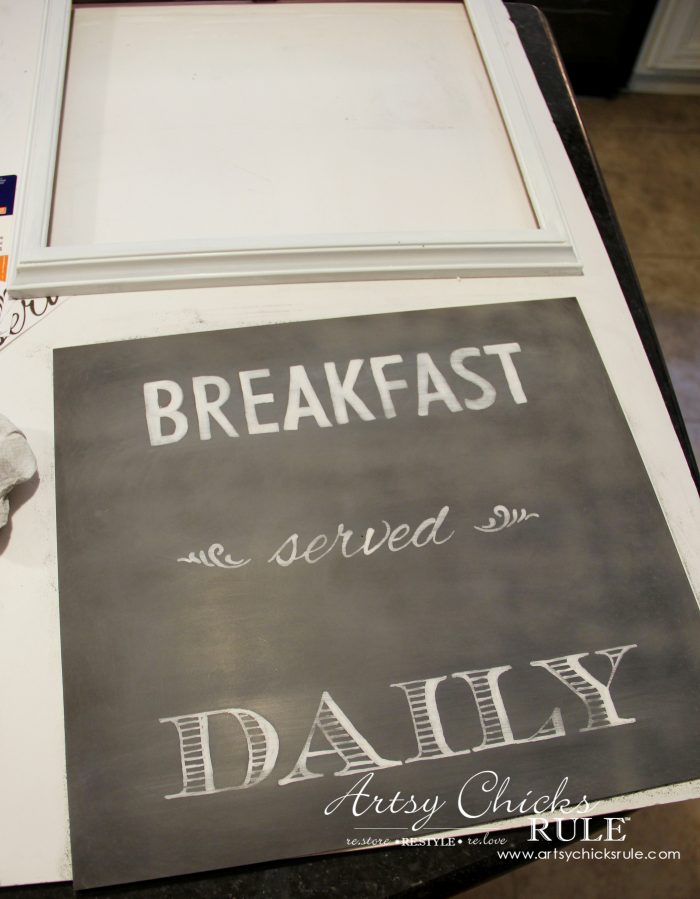 Simple, I tell ya!
Then just place back in the frame….and viola! … Chalkboard Art.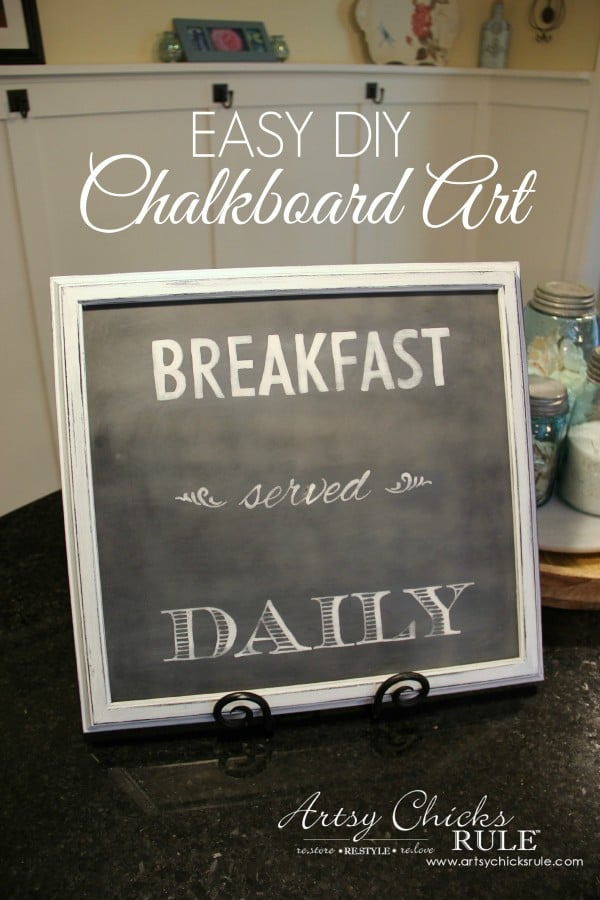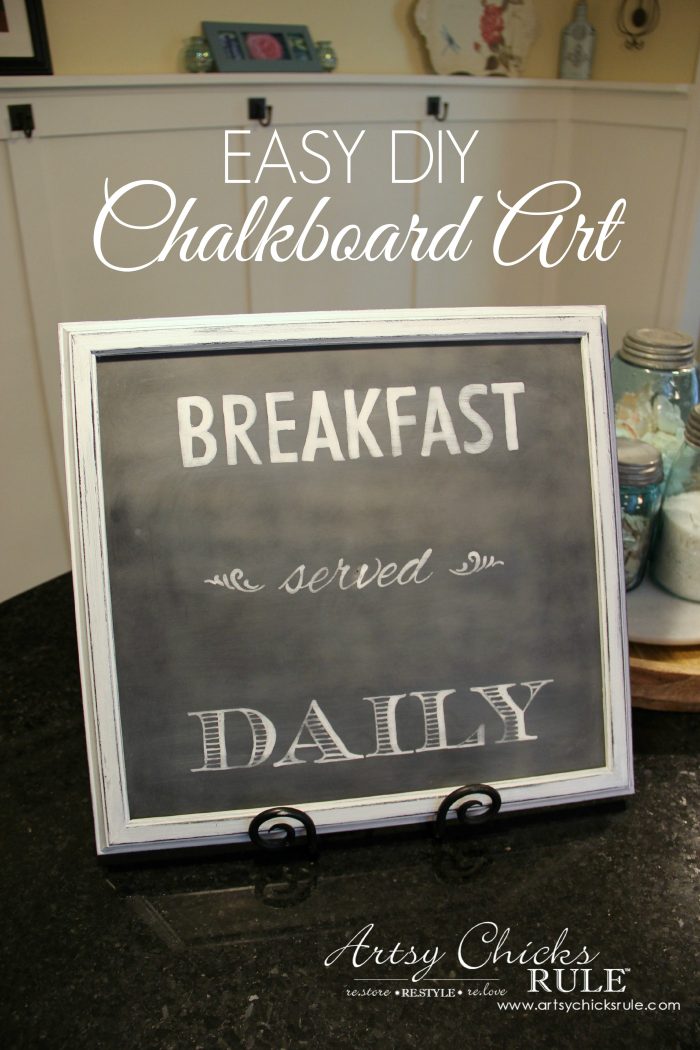 It can be hung on the wall (and even has the hangy thing on the back all ready to go!)
…or like this…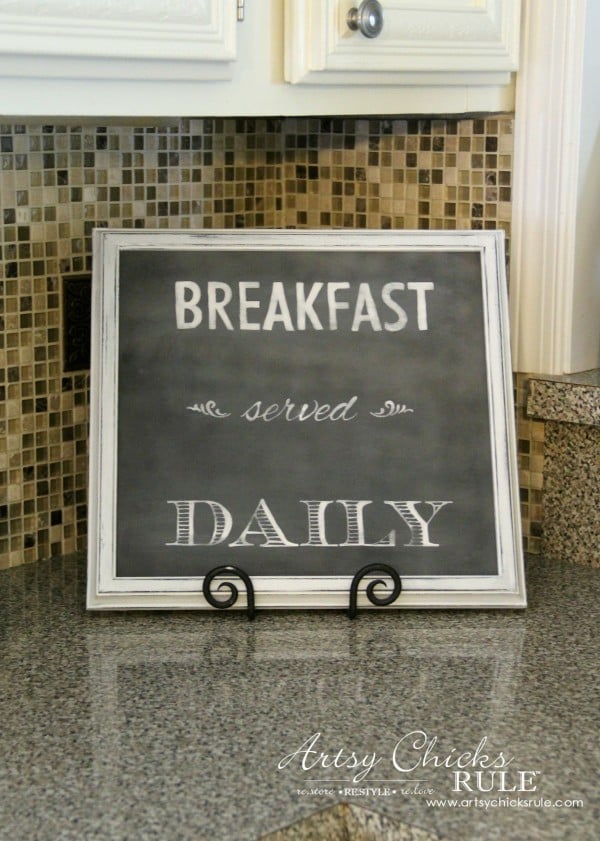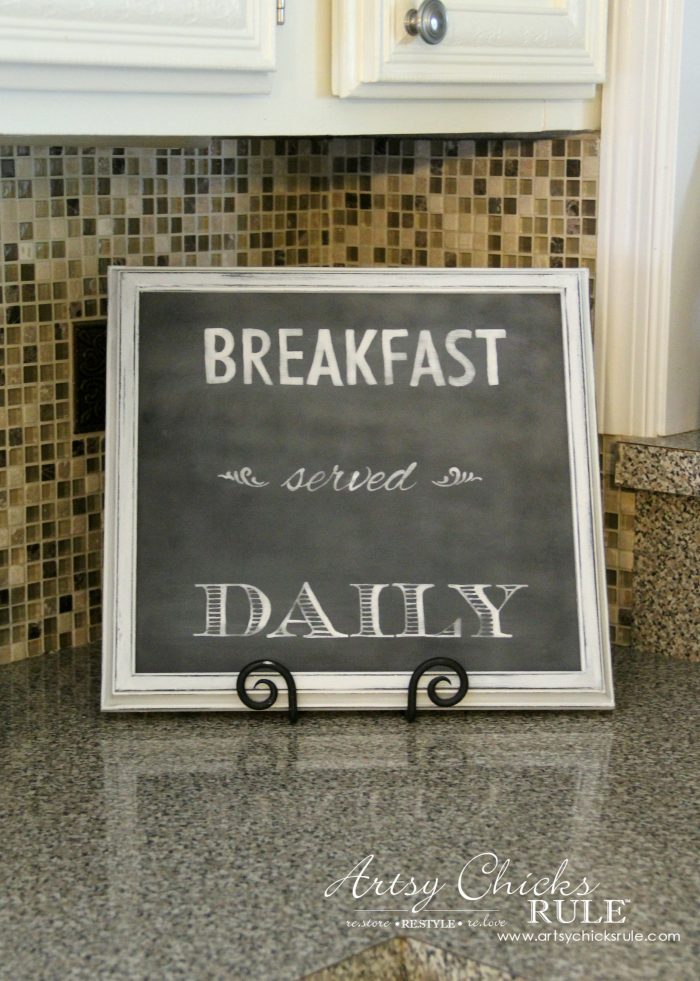 I'm not quite sure where it will go…or even if it will stay. ;)
I've run out of room for things like this!
Maybe it will go with the change up in the dining room.
We'll see.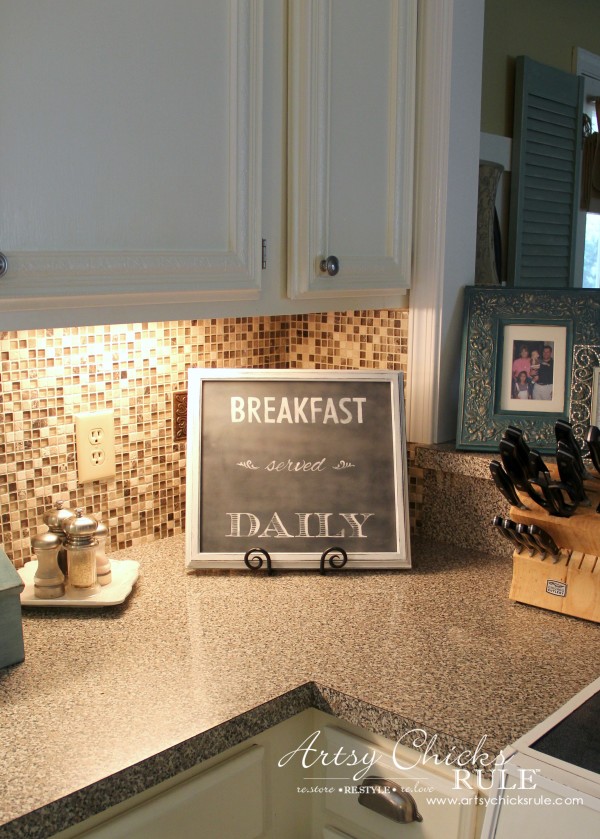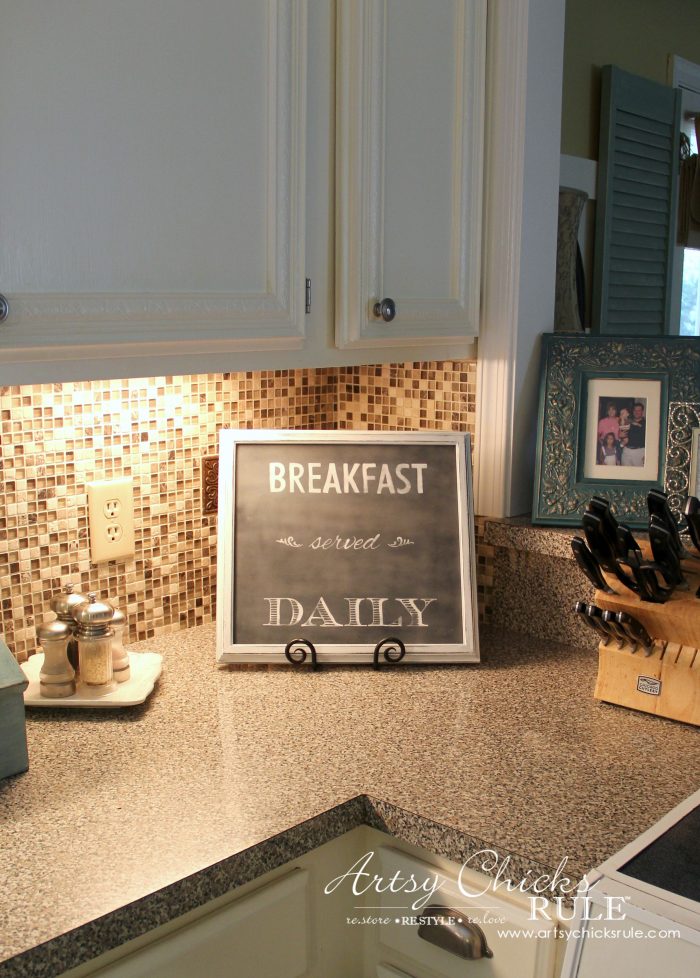 (with the under cabinet lighting)
I do sort of like it here though.
Proudly displaying that "Breakfast is Served Daily" here….hee hee…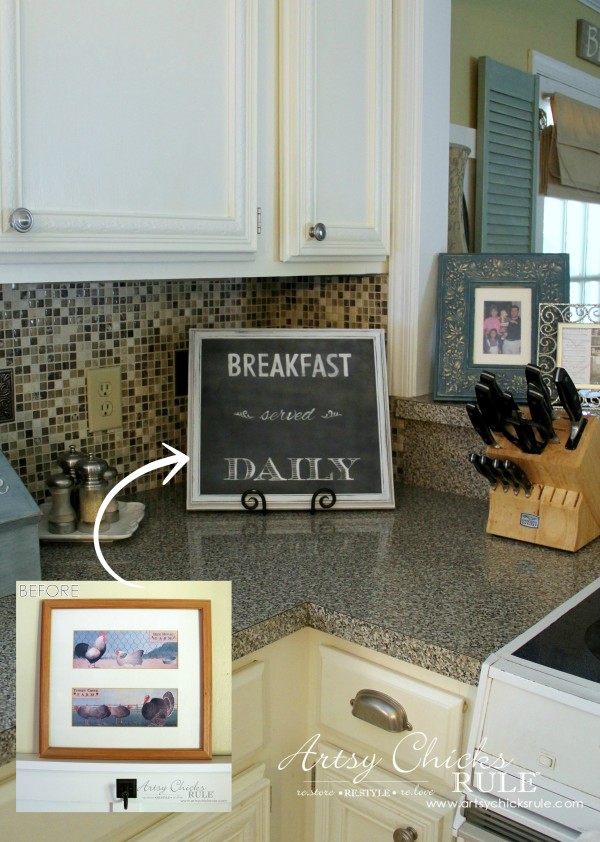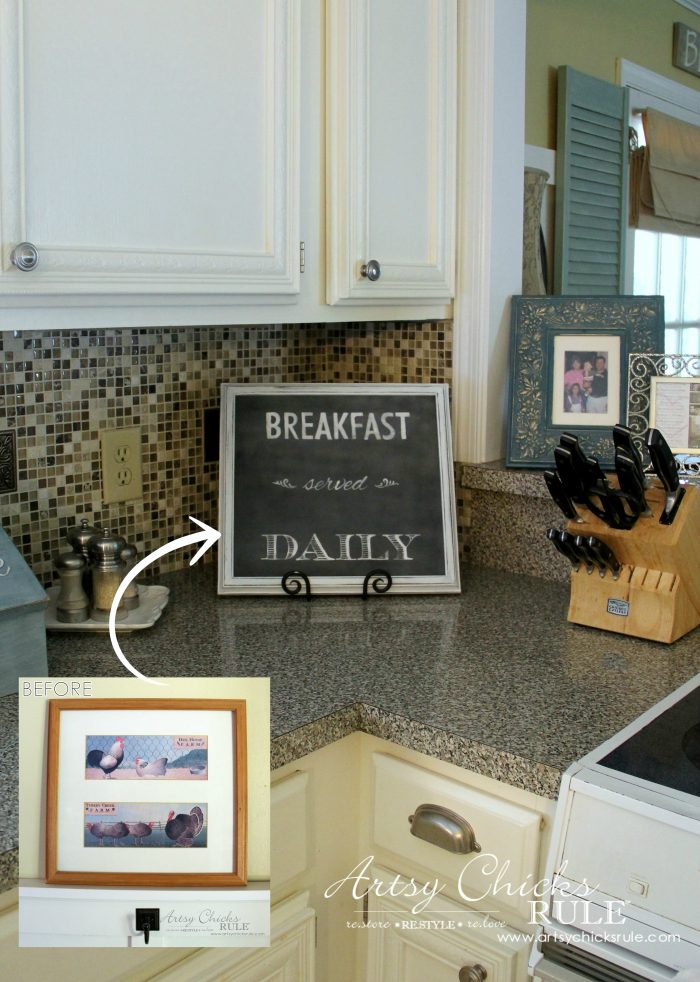 Not altogether truthful, however.
It depends on what you classify as breakfast. ;)
Want to see even more ideas on simple updates with Chalk Paint (that aren't furniture??) 
Check out this post, here!
Anyway, I hope you will enjoy this new series! Lots of inspiration for budget friendly decor.
And …being able to envision things in a whole new and different light.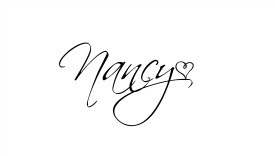 Now it's time to go by and see what kind of treasures my friends created out of their thrifty finds this month!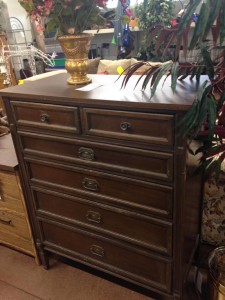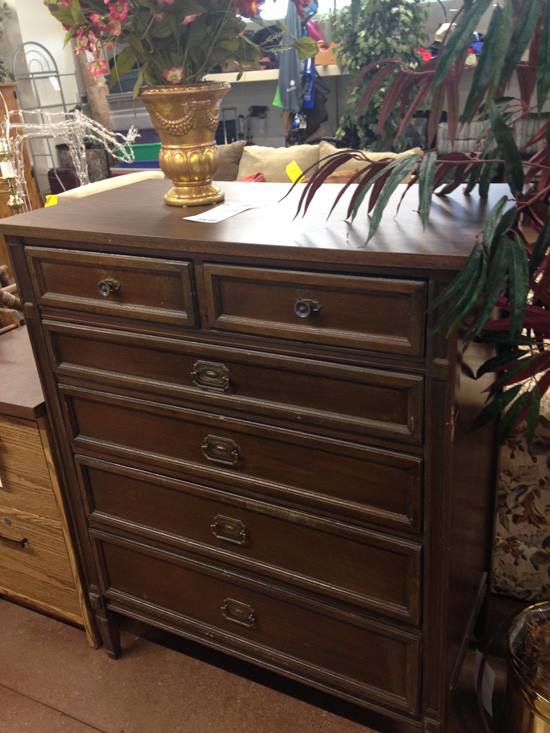 Christy over at Confessions of a Serial Do It Yourselfer
Fabric Inlaid Dresser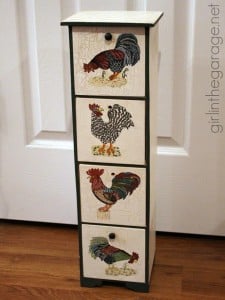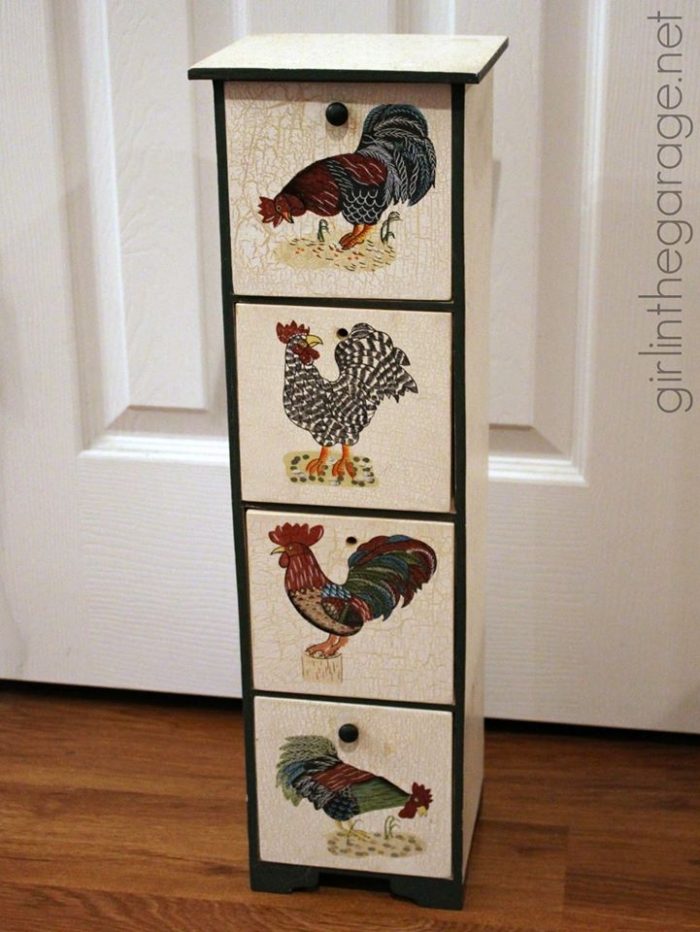 Jen over at Girl in the Garage
Storage Tower
……………………………………………………………………………………………………….
Oh! And be sure to stop by my friend Julie's (Redhead Can Decorate) tomorrow. I'm sharing a bit about myself and my blog over there! :)
Hope to see you there! –> Redhead Can Decorate – Blogger Spotlight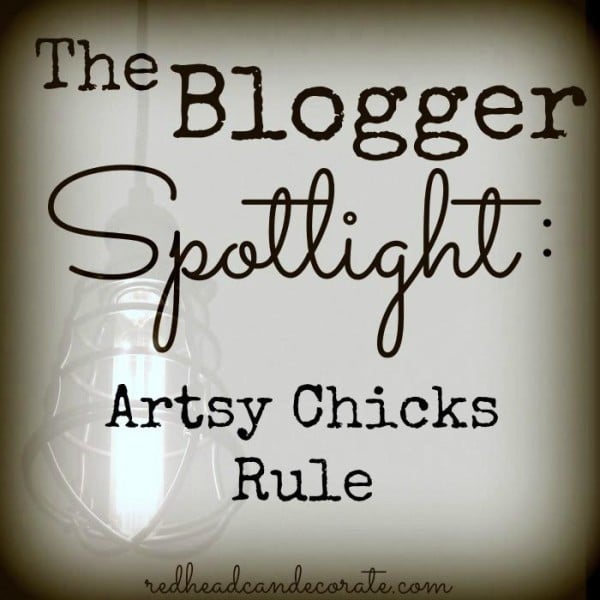 Follow along! –> Instagram ~ Facebook ~ Pinterest ~ Bloglovin
*This post contains affiliate links and is noted by an asterisk. See here for full disclosure.
Follow Along Here!