Wood Look Floating Shelves (with paint and stain!)
This post may contain affiliate links. Please see disclosures here.
Get this "simple to do" wood look with paint and stain on any project from furniture to decor!
Hello my wonderful friends! Wow, life has been so crazy around here lately. SO much going on. I will be glad when things settle down a bit so I can get back to all the fun projects I have planned. I hope you haven't minded seeing some older posts I've pulled from the archive! I figure some of you might have missed them the first time around so might be a good time to revisit.
But today I've got a new one for ya! I am trying hard to get this hall bathroom done. (and it almost is except for decorating and a few final touches, yippee!)
You might remember when I first considered redoing this bathroom (again) here… Hall Bathroom Mood Board & Plans
If you click over to check that out you will see my original plans for the bathroom. Unfortunately, things went in a bit of a different direction somewhat because I could not get that vanity cabinet. BUT I love how it went! Sometimes things just work out for the better, love that.
I'm not showing you the whole bathroom today. I'm sharing the floating shelves that I gave a "wood look" to with paint and stain.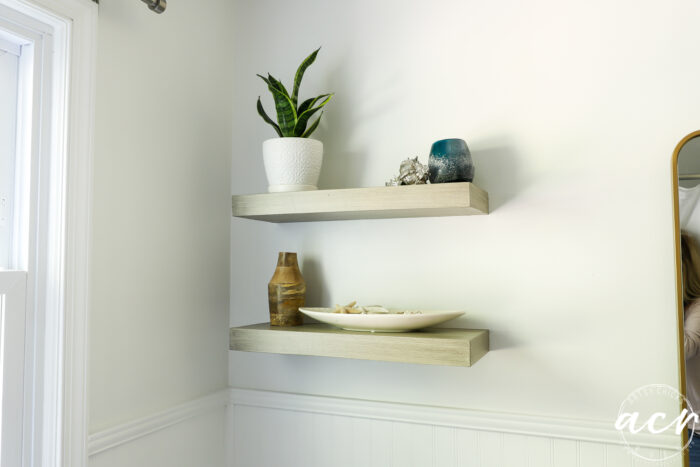 My husband and I made these floating shelves years ago. You can read all about it in this post here … DIY Floating Shelves Tutorial
And as a refresher…here is how they used to look with the old wall color.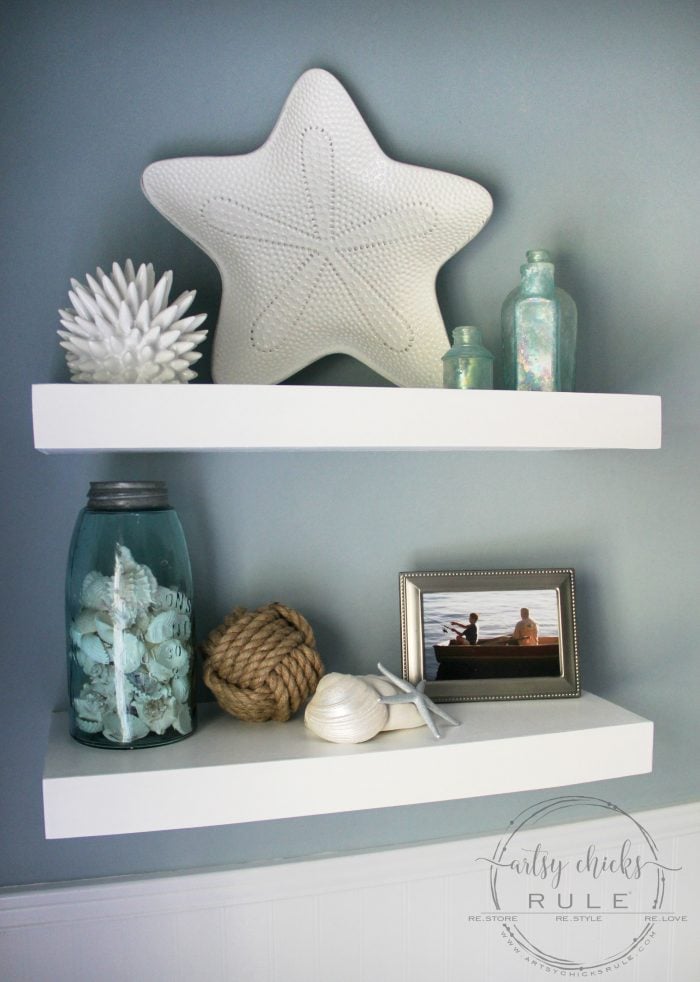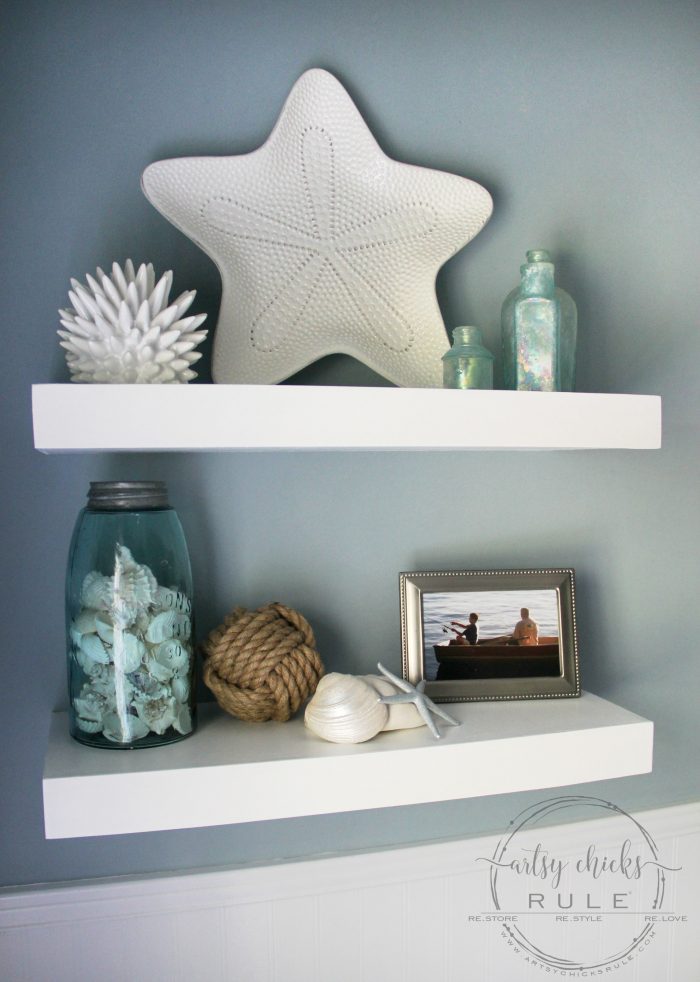 They look great in white with that wall color.
But not so great with this color…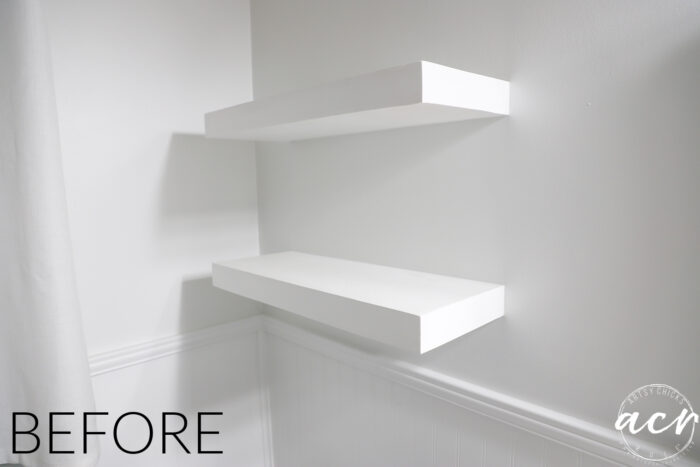 Which is not "white-white" although it looks it. It's my favorite soft (not warm) white that I used in our kitchen, morning room and dining room downstairs.
It is a color by Benjamin Moore called Pure White. I had it color matched at Sherwin Williams though.
I knew I wanted them to have a wood look because of everything else I have going on in here. There are several ways to do it but I decided to do it similar to how I recently did the bath cabinet in our downstairs guest bath. You can see it here … Coastal Guest Bath Refresh
I did do one tiny little thing different on these though. I'll show ya! ;)
I began by taping the shelves up with my absolute favorite tape.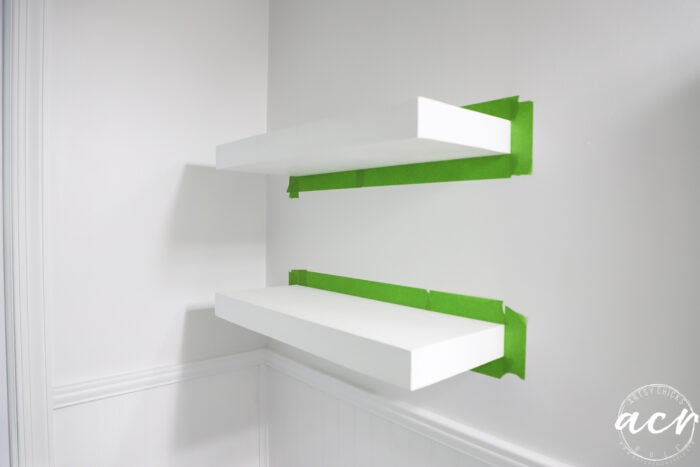 Then I painted them with the Cobblestone paint linked above.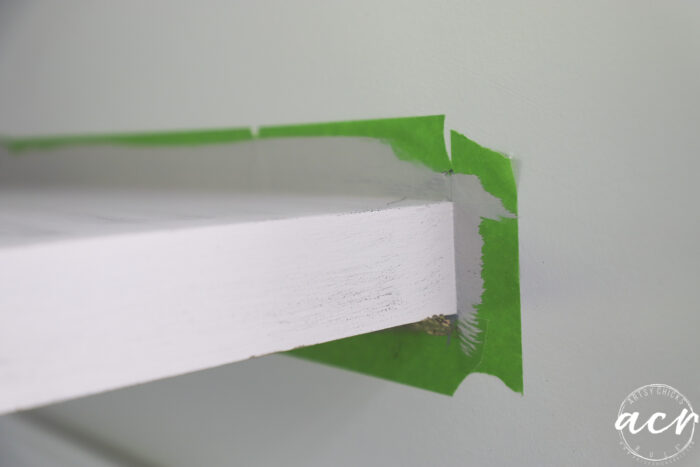 And then the extra step that I did this time…dry brushing on some of the "Ash" color. (see it above?)
And below…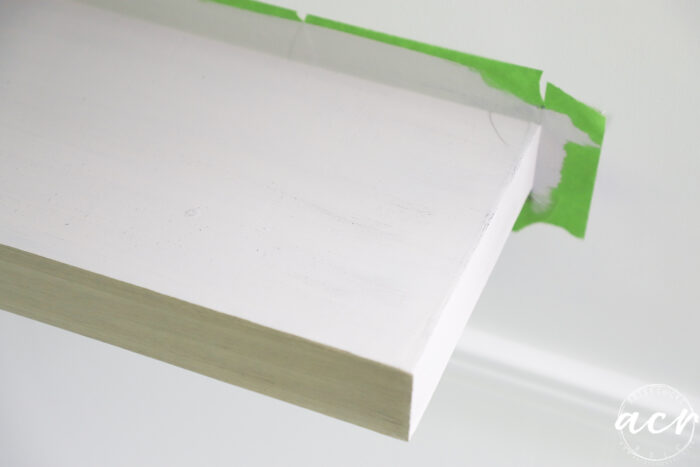 I just thought that might give it a bit more dimension like real wood has underneath the stain.
I think it was a good choice. More might have been even better.
Once that was dry (I let it sit overnight since it is water based and the stain is oil based) I applied the stain. (with a lint free rag)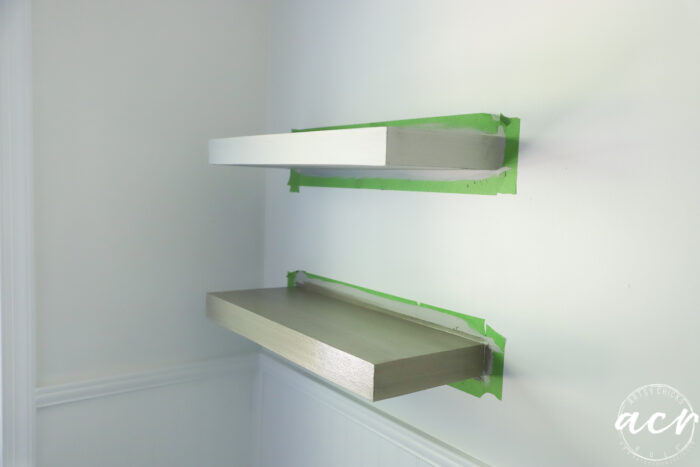 See the bottom one I stained? The top one is still just paint.
Isn't that the coolest? I love how it looks wood-ish. And oh so simply too!
Here's another shot to see the top better. (with the light on)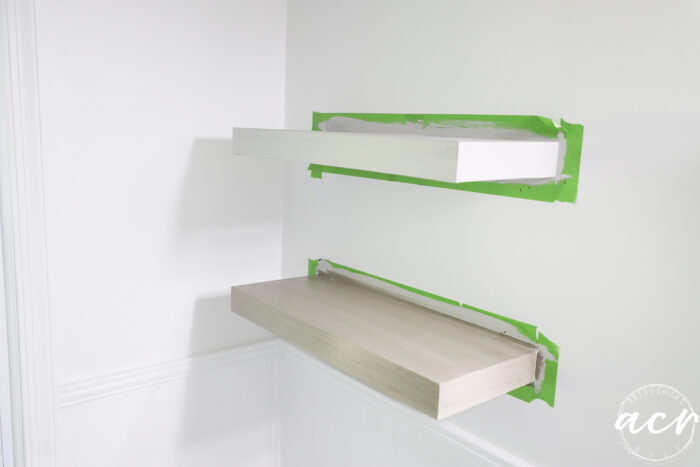 And done!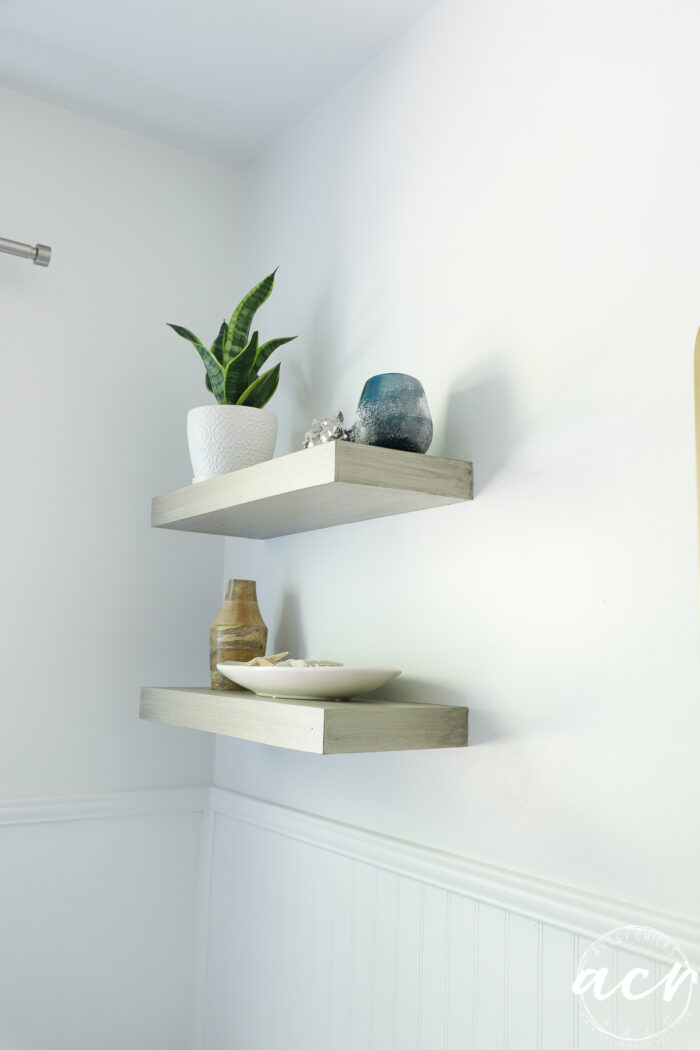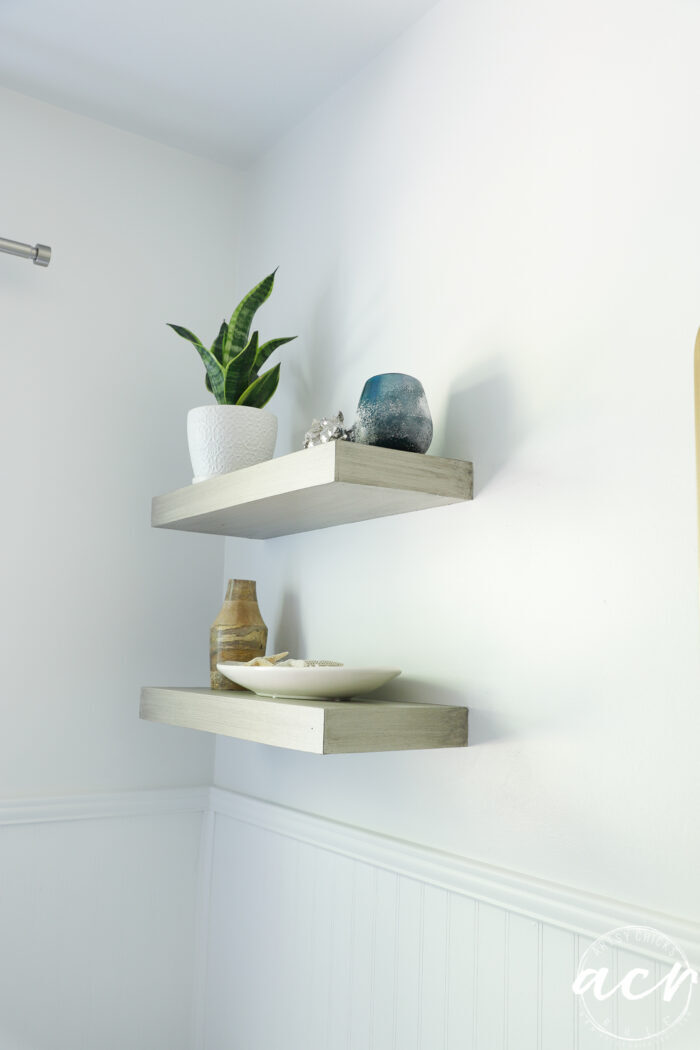 So much better than white. There is a lot of white going on in here already, the shelves didn't need to be white too! lol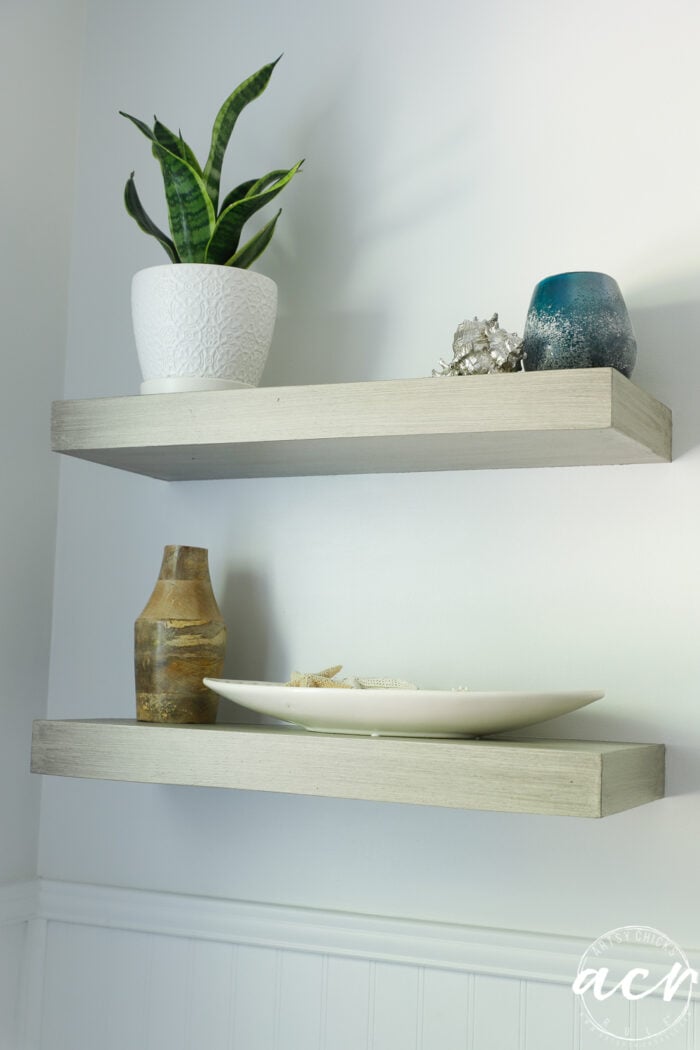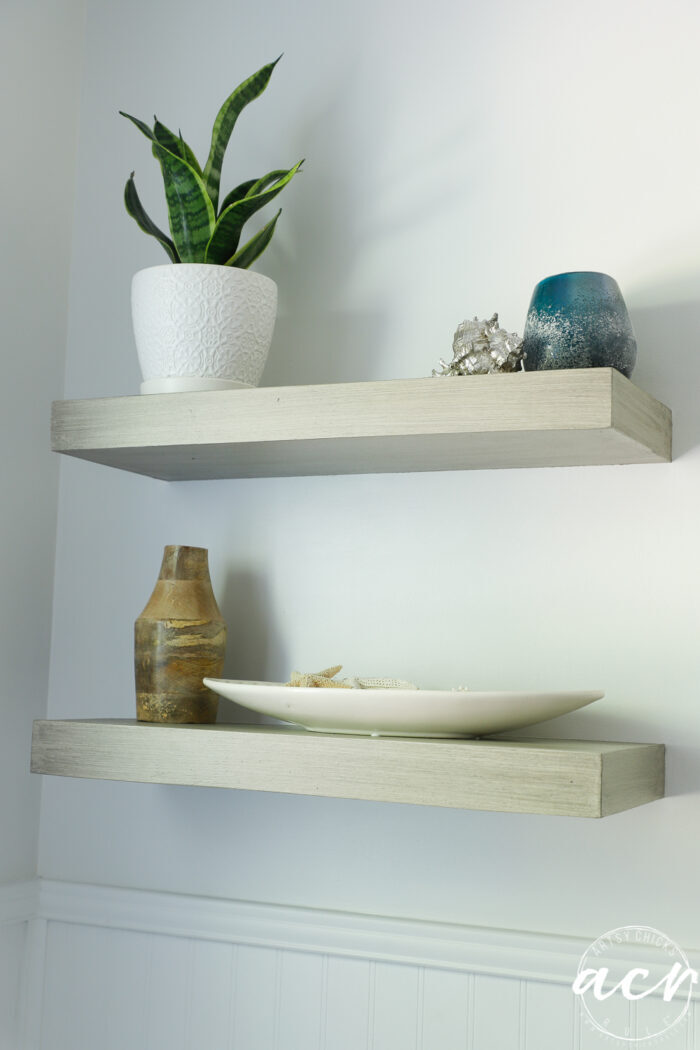 I'm so happy with how they turned out. That Driftwood stain is versitile, I tell ya!
And one of the darker stains I sell in the shop would work nicely too if you are going for a darker wood look.
A little sneak peek of the new mirror.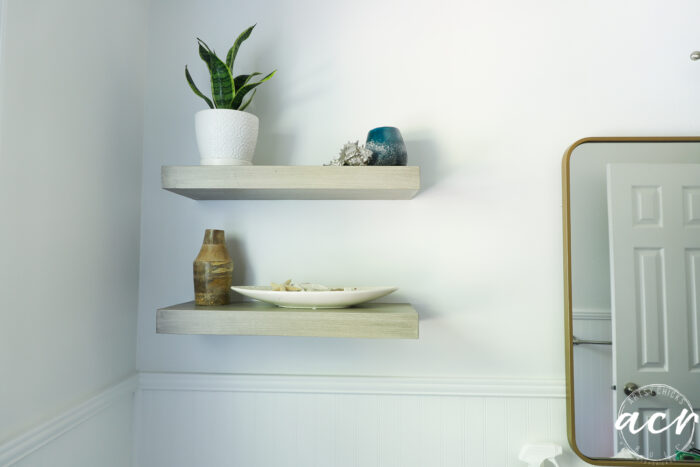 By the way, this is not the final styling of the shelves, I just threw that up there for the photos.
Might be close to that though, we'll see!
A few close ups of that wood look we have going on now.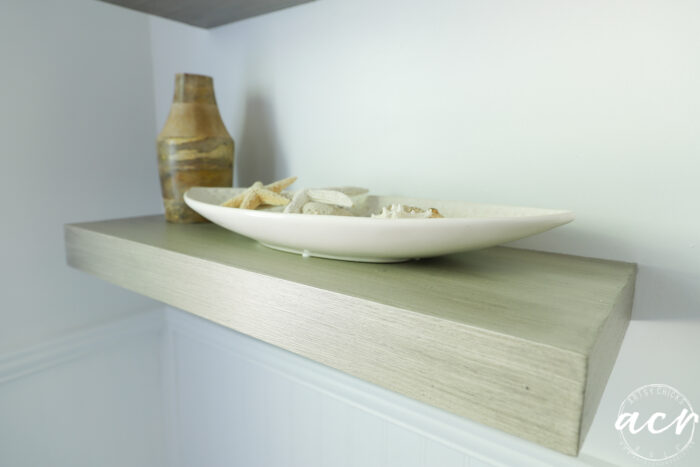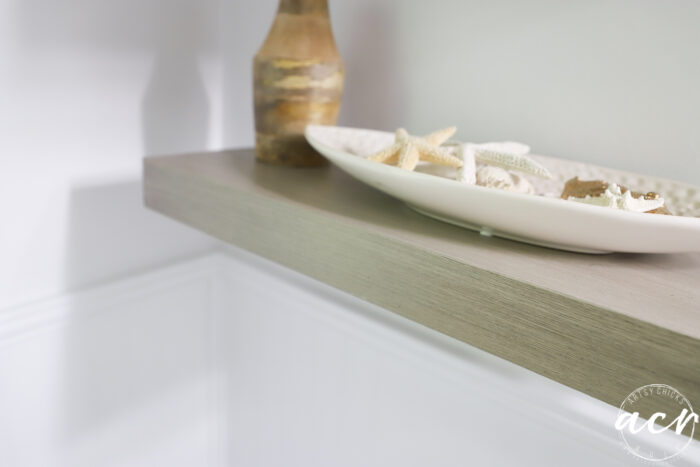 Have you tried the Driftwood stain yet?? I know a bunch of you have ordered it! I've had to restock it multiple times. :)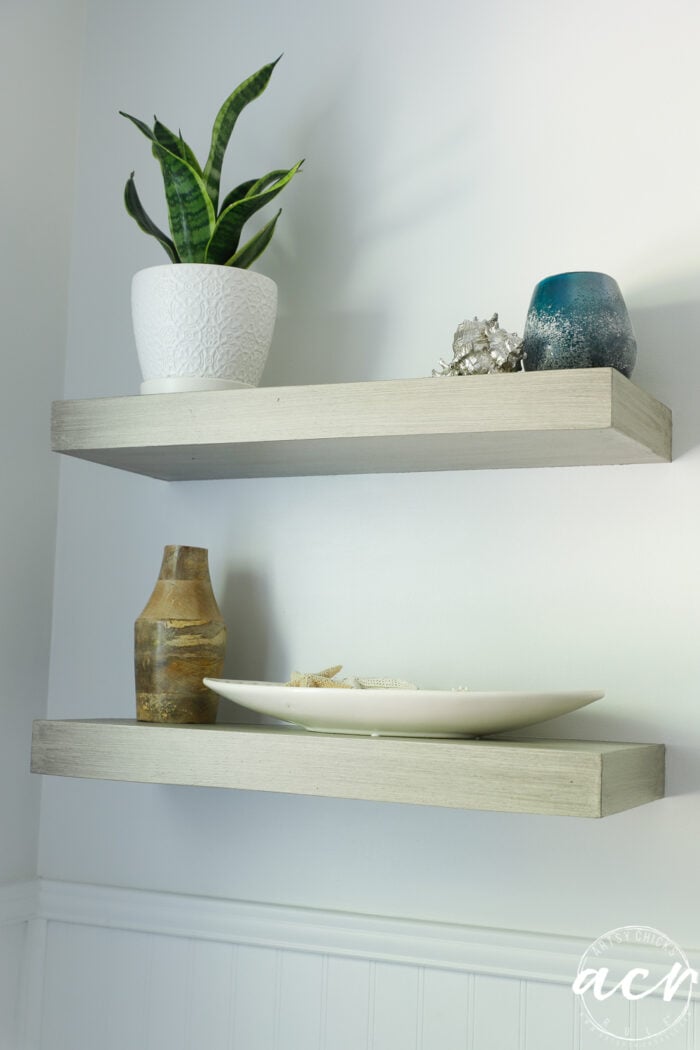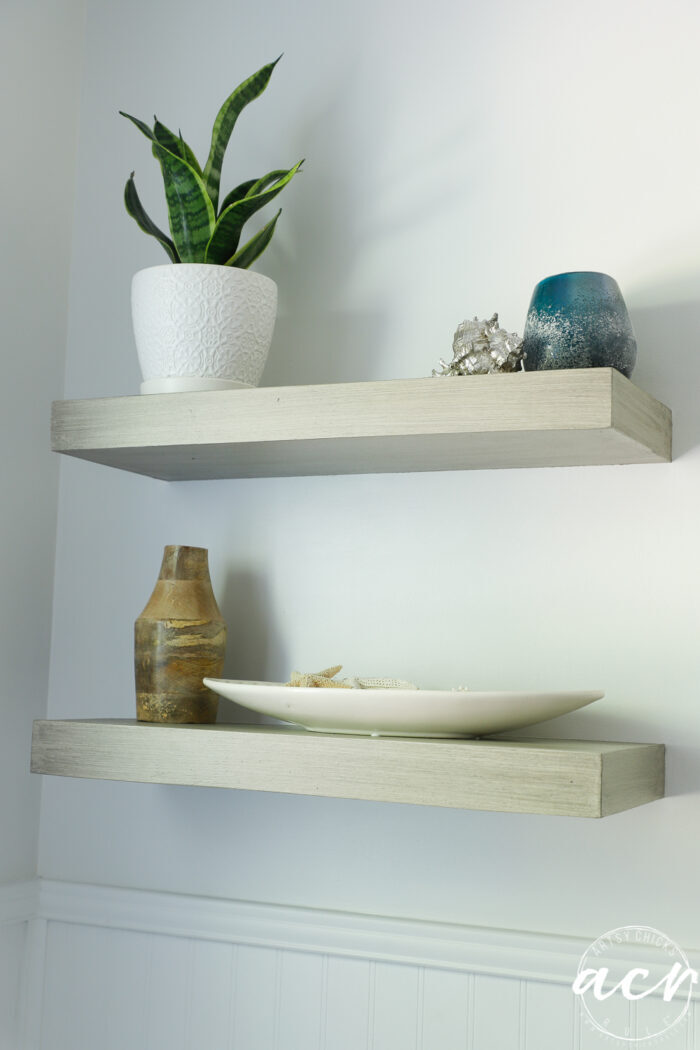 PIN it to save it!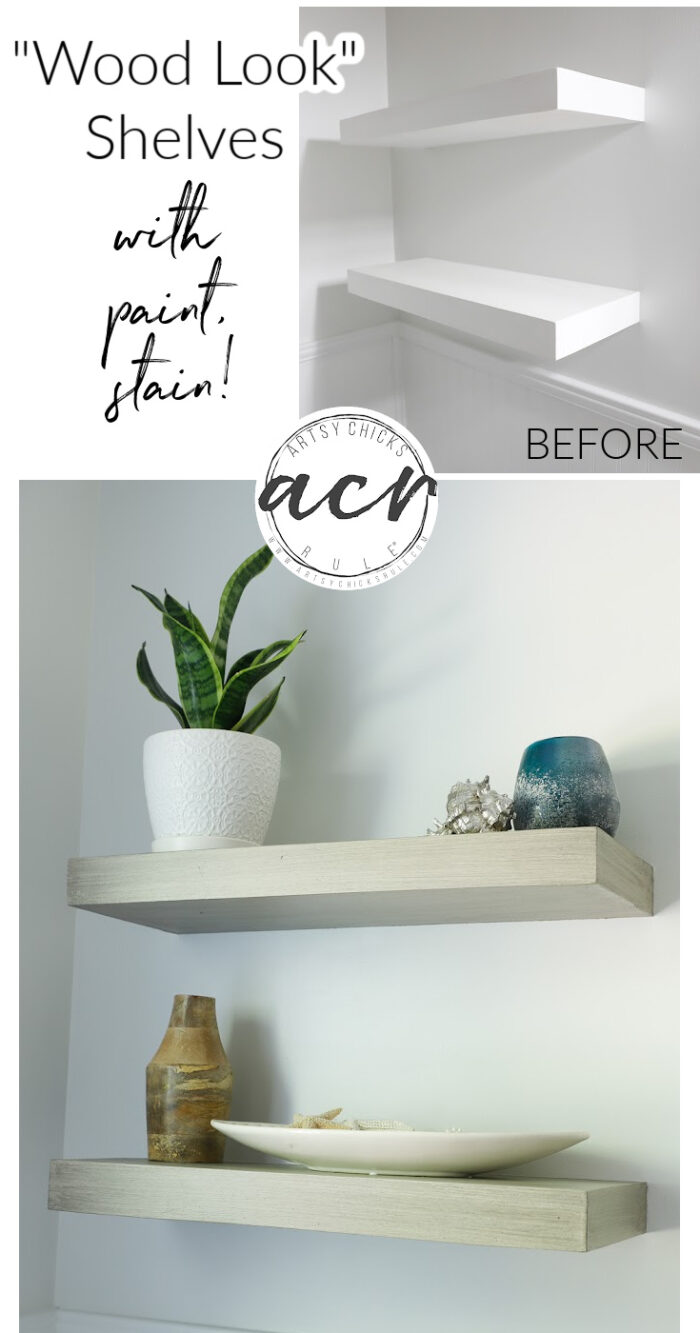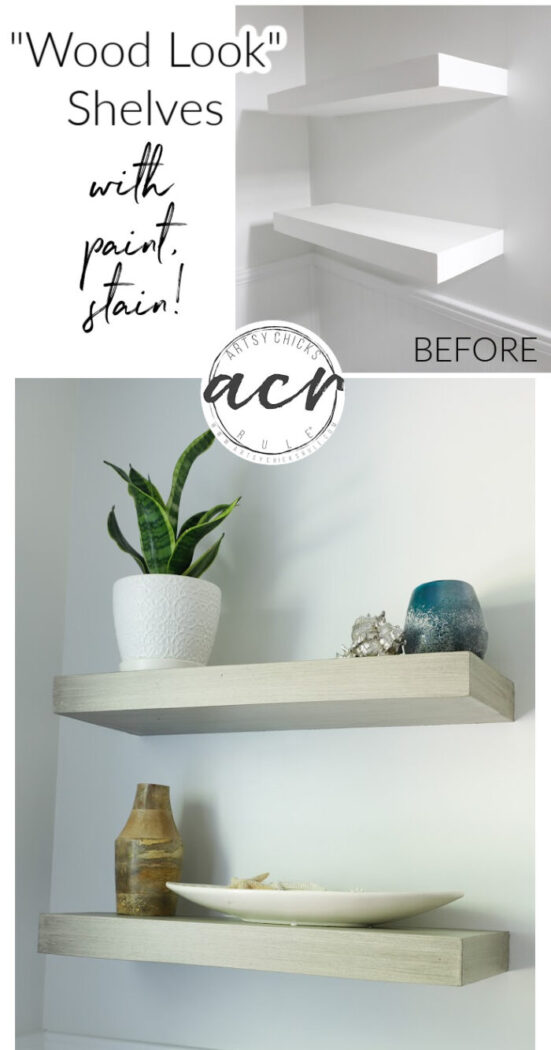 I'll see you back here next week with the FULL REVEAL!! PLUS…the full tutorial on how I painted our bathroom floor tiles. See you then!
UPDATE!! See it now here!!
In the meantime, we are headed to our happy place for the weekend! A little work…a little play. Stay tuned over on Instagram, I may share a snippet or two.
Have a wonderful weekend!!
xoxo