Hall Bathroom Mood Board & Plans
This post may contain affiliate links. Please see disclosures here.
Plans for our hall bath are underway and today I'm sharing our hall bathroom mood board with a relaxed coastal design style.
I know, we haven't even finished our master bath yet and here I am already onto another project. Well, that's not entirely true, we have finished the bathroom but we haven't quite finished the connected master closet. All that's left to do in there is paint the crown mold and put a pretty glass door on one of the cabinets. We are having to cut it down because of the crown mold so that's a bummer. Hoping it works out.
And we still have 2 barn doors to either make or buy for the bathroom and doorway to the closet. Then we will be DONE!
In the meantime, I have already started on the hall bath makeover. It's had a makeover before, since we've moved in, way on back to about 2004 actually. So it's time for a little refresh.
Just for fun (and I mean fun for you, not for me, because I'm cringing as I share these haha) I thought I'd share the bathroom from when we moved in and I started tearing it apart. Who knew I'd have a blog all those years ago and would be sharing these "before" photos I certainly only intended for us to look back on. lol
But oh well, it is the real deal and so here they are!! (don't judge me…lol…we had recently moved in, I had two small kids and I have no idea what's up with all those washcloths in the sink, by the way! hah)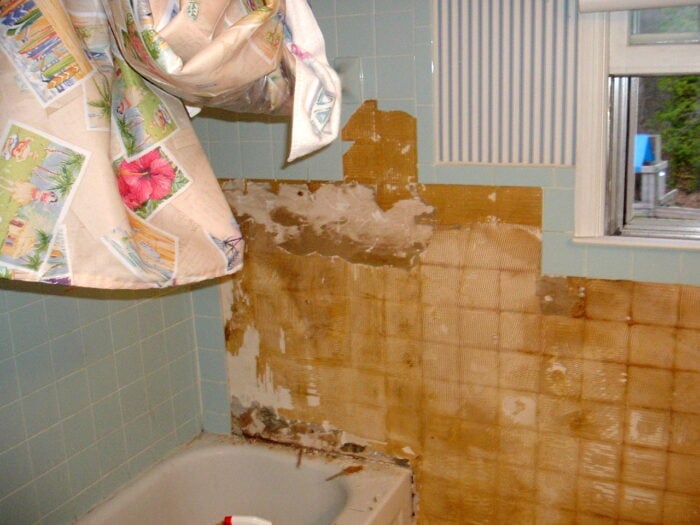 What I do know and what I do remember is this…I was READY to rip it all out! When we first moved here, we were just moving back from 2 years living in South Carolina and my husband was still commuting back and forth. So guess where he was when I started ripping it out?? haha yep! Not home.
I sent him these photos and said, "look what I'm doing"! But that blue 1978 tile, striped wallpaper and all had to go.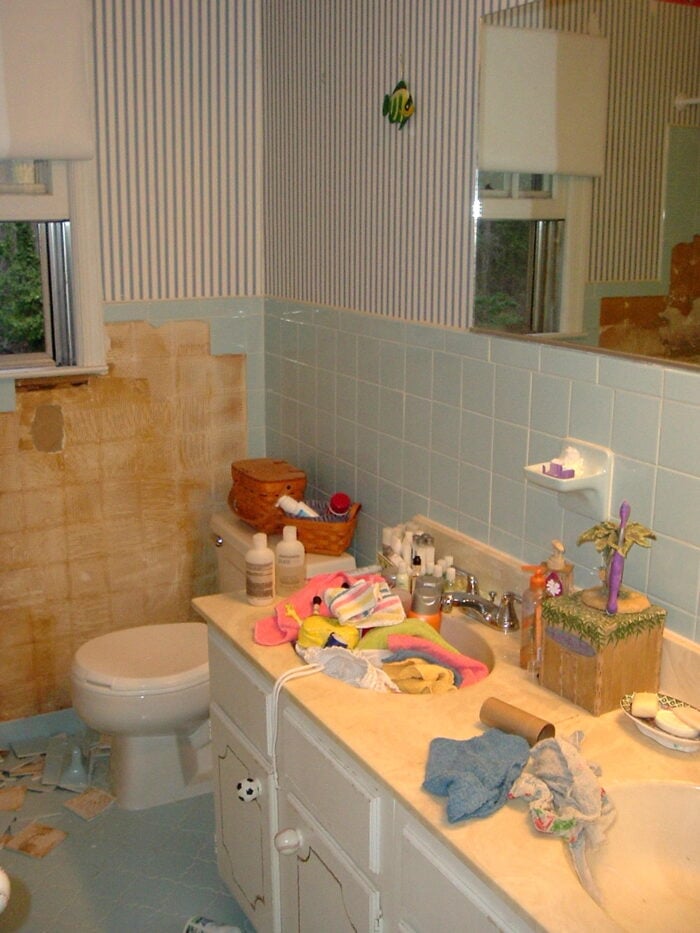 So I started knocking it all off. I love demolition. ;)
See the cabinets below?? We did this on a major budget (as we did most of the house) so kept the cabinet and my husband made new doors for it as you'll see further down.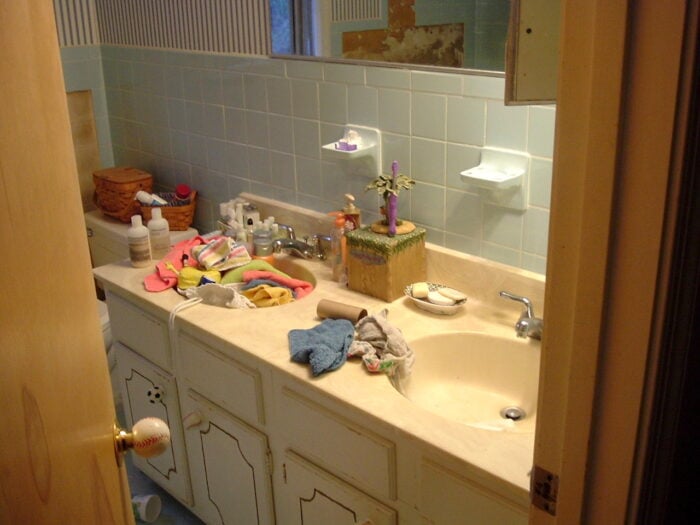 We replaced all the doors in our house as they were all flat-panel like this one above.
So, the first makeover entailed this:
-new tile floors
-painted cabinets with new doors and hardware
-new laminate top (from the take it and go isle in Lowe's/Home Depot)
-new sinks
-new mirror
-wall paint
-beadboard
Here is it now and after those changes I mentioned above.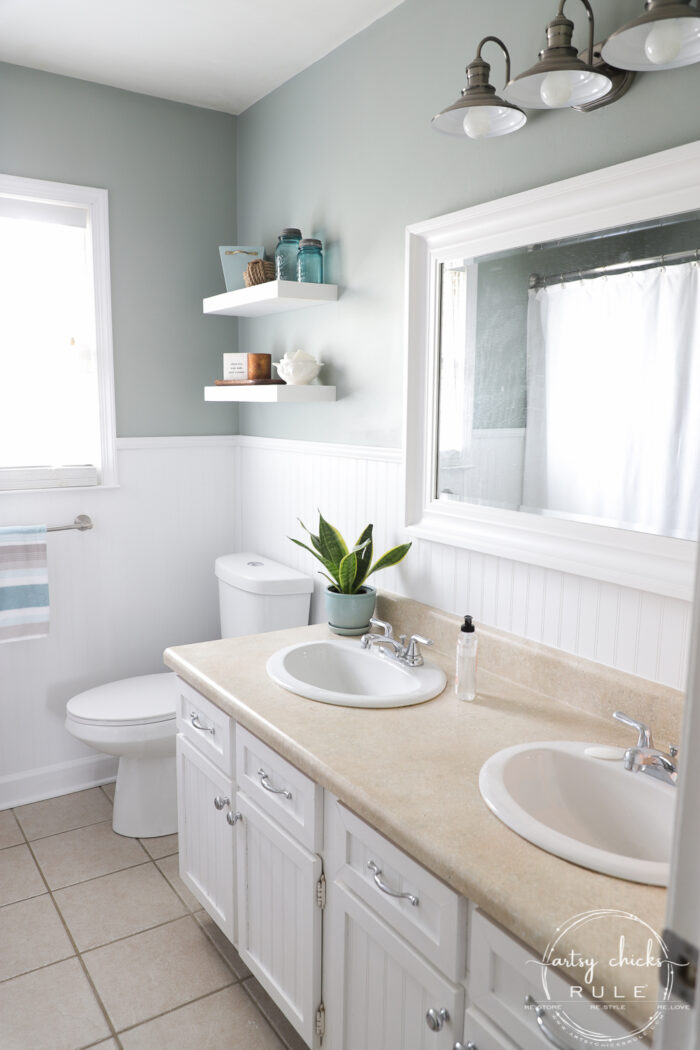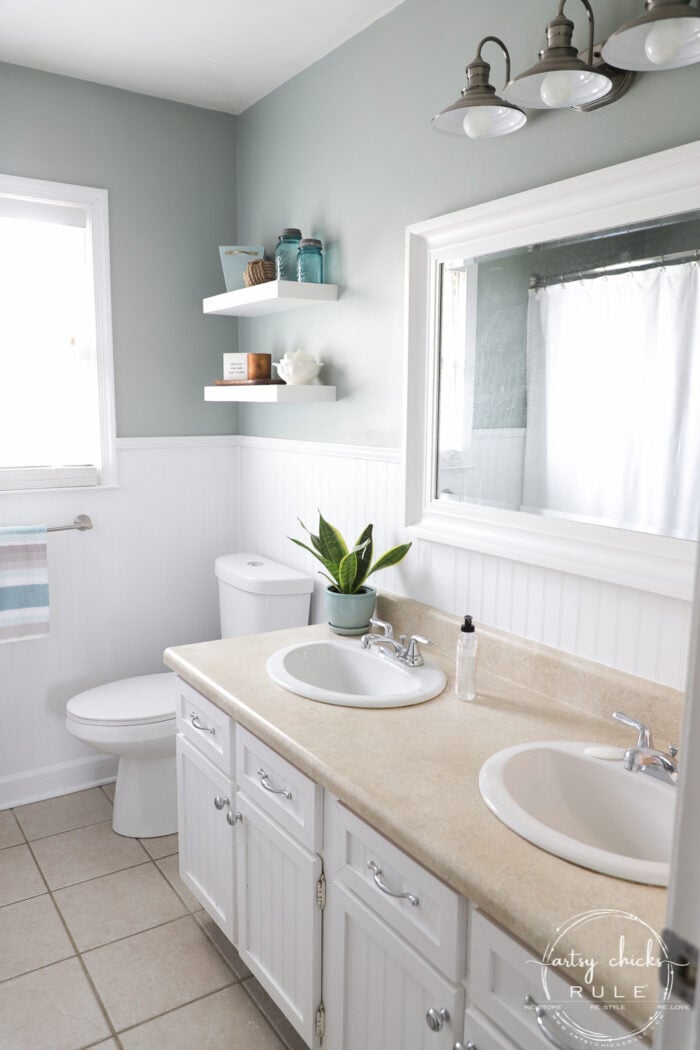 Those are the door fronts that my husband made above. It all looks good in the photos but the cabinet is 40 years old and it's just time for it to be replaced. This worked well for us for 15 years though.
This tile floor was the first tile job we ever attempted. I'm not ready to tackle tearing that up and replacing it just yet so I am considering painting it. I'm hoping that it works out but am super excited about it!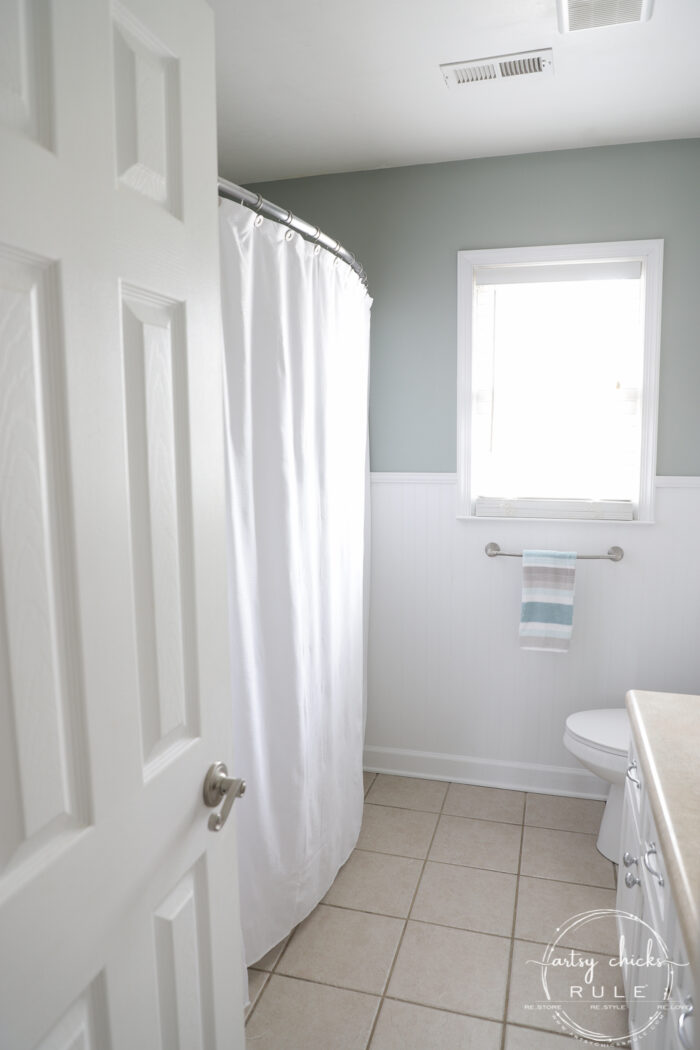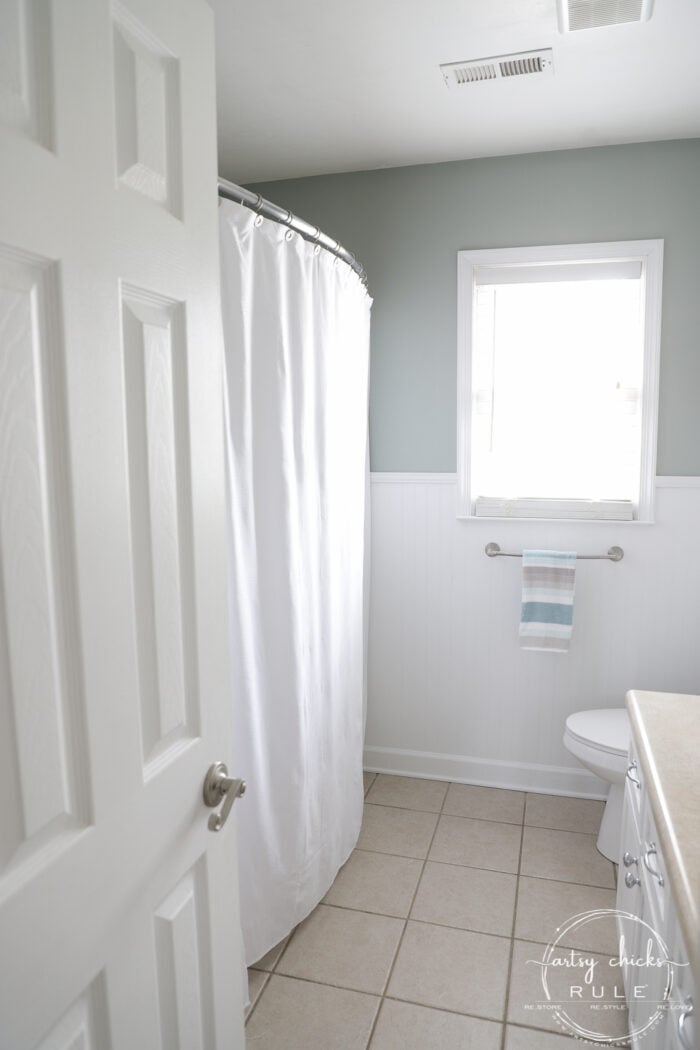 Okay, I always get on a roll with things and didn't think I'd share this bath makeover on the blog since it was sort of already made over before we ever thought of doing a blog. But then I thought, why not? I'm going to do a couple of fun things so might be good to share.
Just for reference though, I've already painted the top (it was a sky blue) over in Oyster By by Sherwin Williams. I've also repainted all the beadboard and trim bright white to freshen it back up.
And we put in a new toilet (a few years ago) and a new light fixture just recently.
Here's what I'm going to be changing in here:
-possibly a new mirror or painting the frame
-new bath cabinet
-sink countertop – quartz or similar
-new sinks
-new faucets
-painting the tile floor with a star "compass rose" look stencil
-new decor, rug, etc.
Something like this hall bathroom mood board …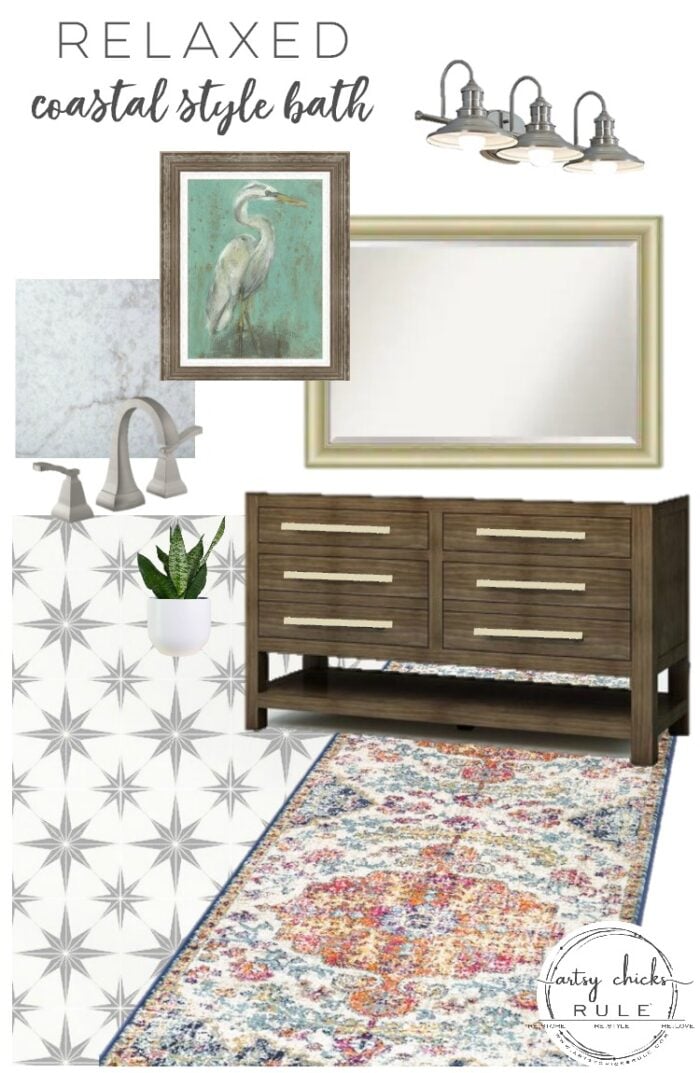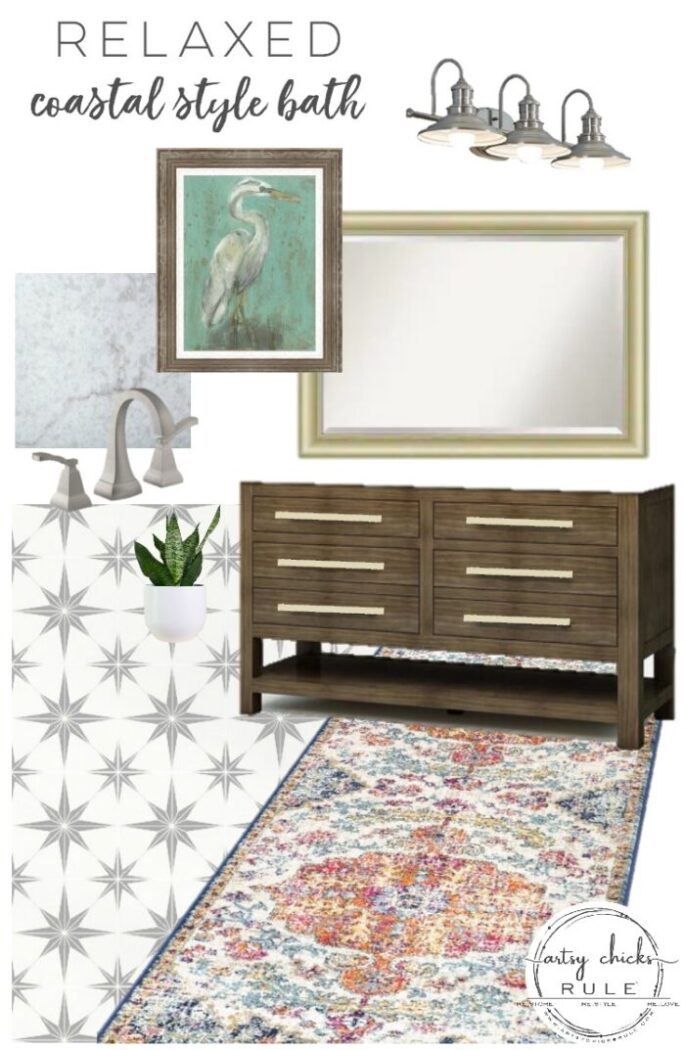 So, I'm going to take y'all along for the ride on this one too. I'll post updates as we go.
Here are the links to the items in my mood board above:
–artwork
–rug
–vanity
–light fixture
–faucet
–stencil
Edited to note: The artwork, cabinet, rug, etc, may not be the exact ones we end up with. These are just a representation of the look I'm going for. :)
Now, I also thought I'd give you a little update on our master bath/closet makeover.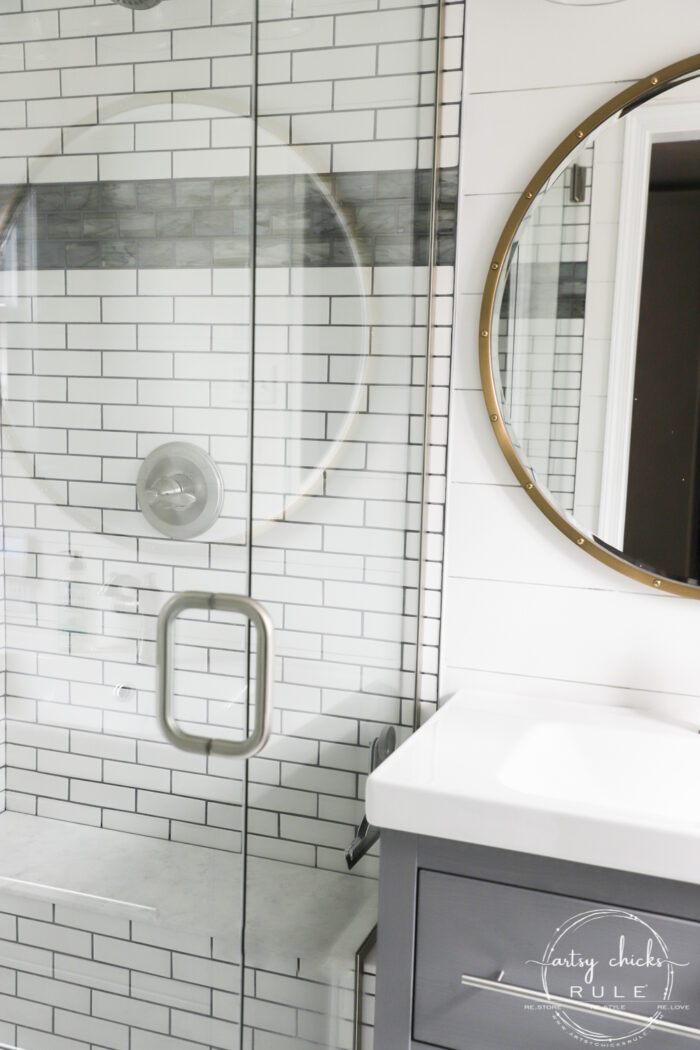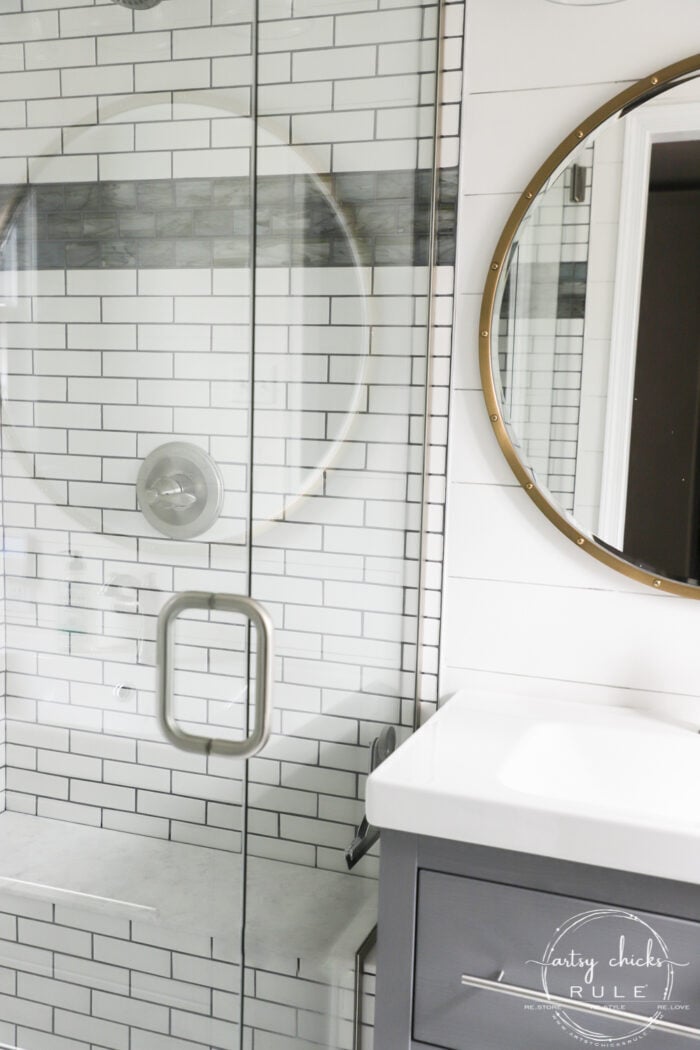 A little sneak peek of our teeny little master bath. I'll be sharing the full reveal along with the closet, soon.
And the closet…which we are so much further along now. But I can't be showing you all of that yet. ;)
This view is looking straight ahead as you walk in from the bedroom.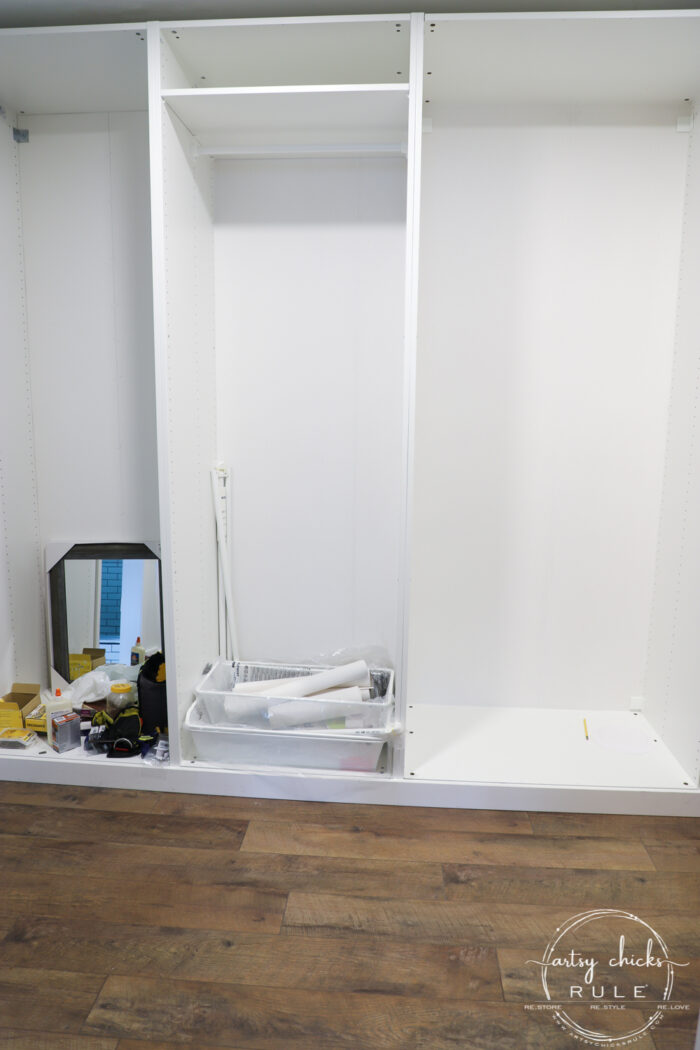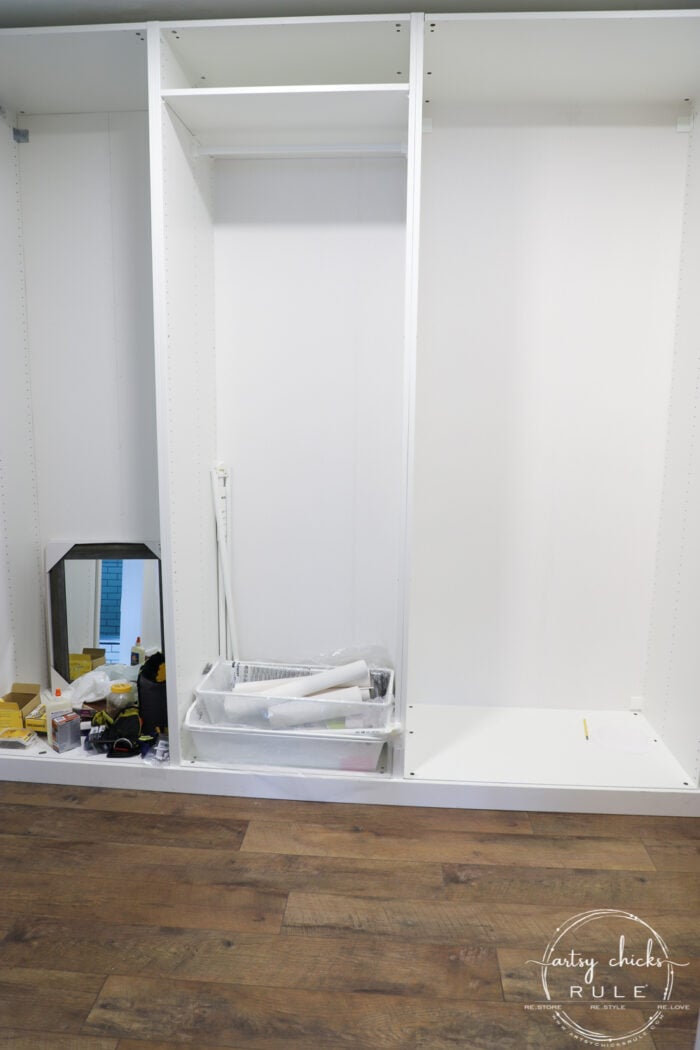 Like I mentioned above, all that's left to do in here is paint the crown molding and attach the glass door to my purse cabinet.
This view is to the right.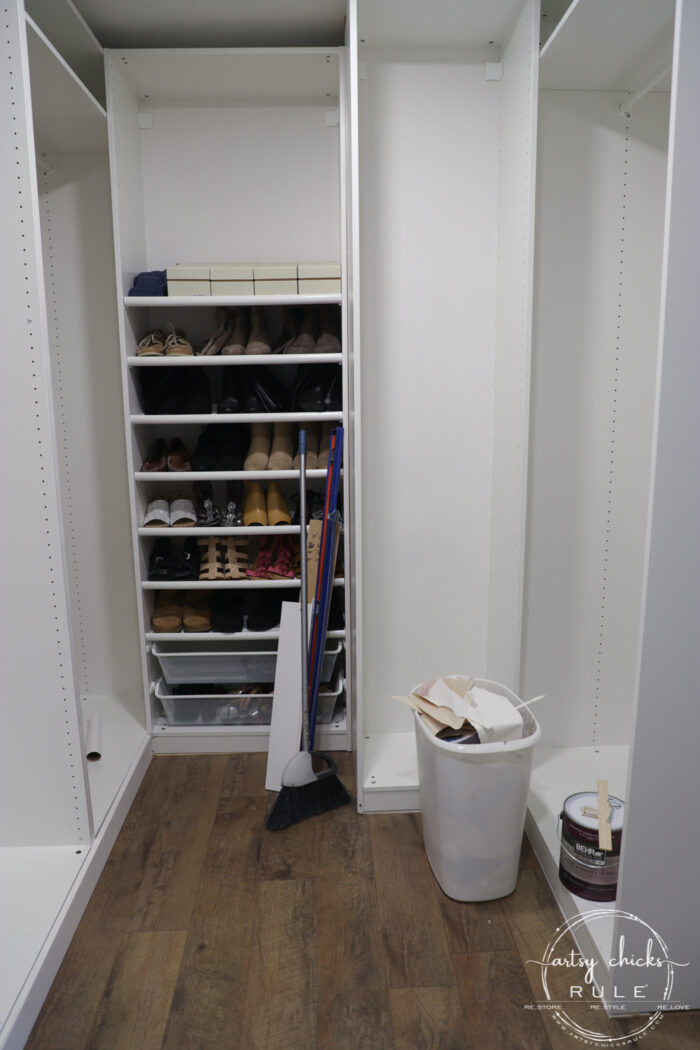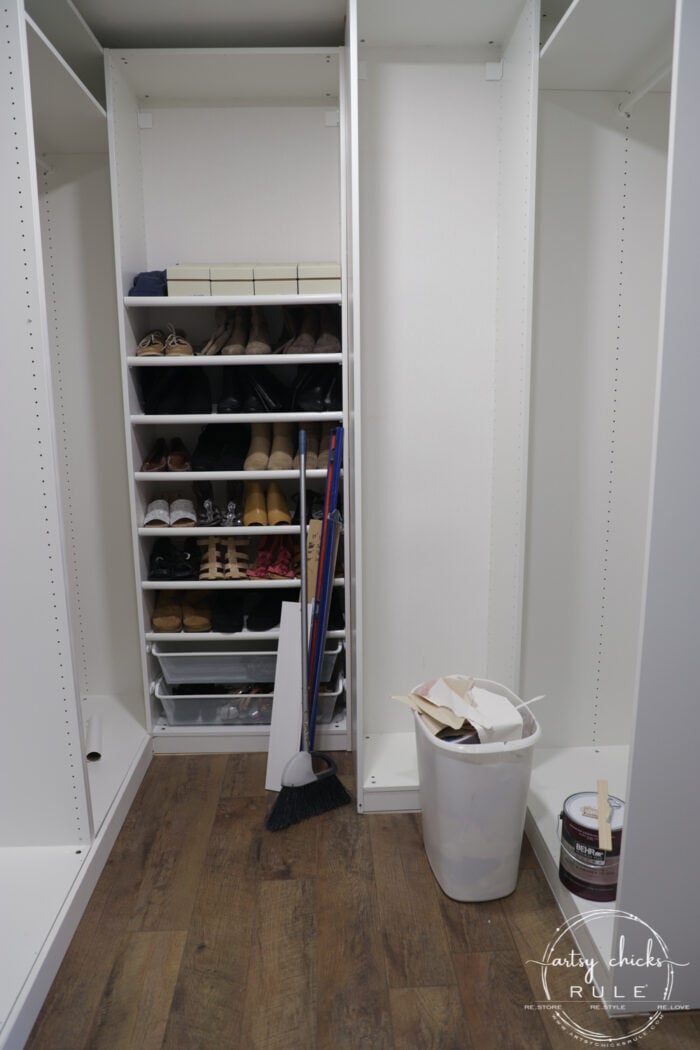 And you might recognize that flooring there. It's the same flooring we used downstairs. We loved it so much we decided to use it again in the closet, master bedroom and down the upstairs hall.
Want to read more about the flooring? See this post here.
Oh! And also, the company I got my flooring from is doing an awesome giveaway over on Facebook right now. Be sure to go by and enter to win it > here)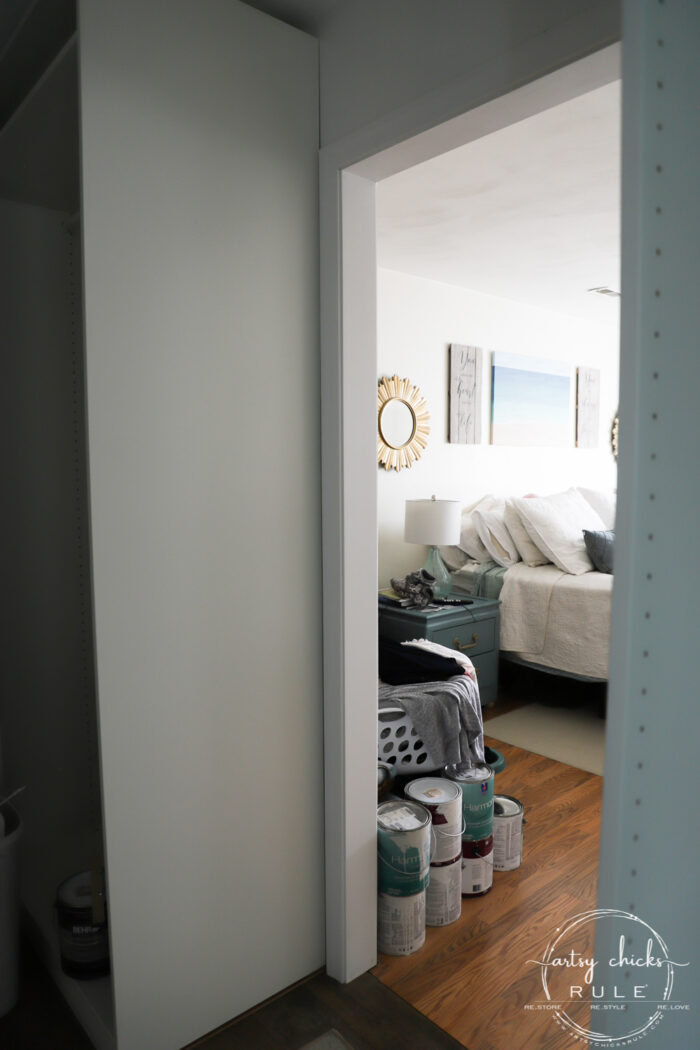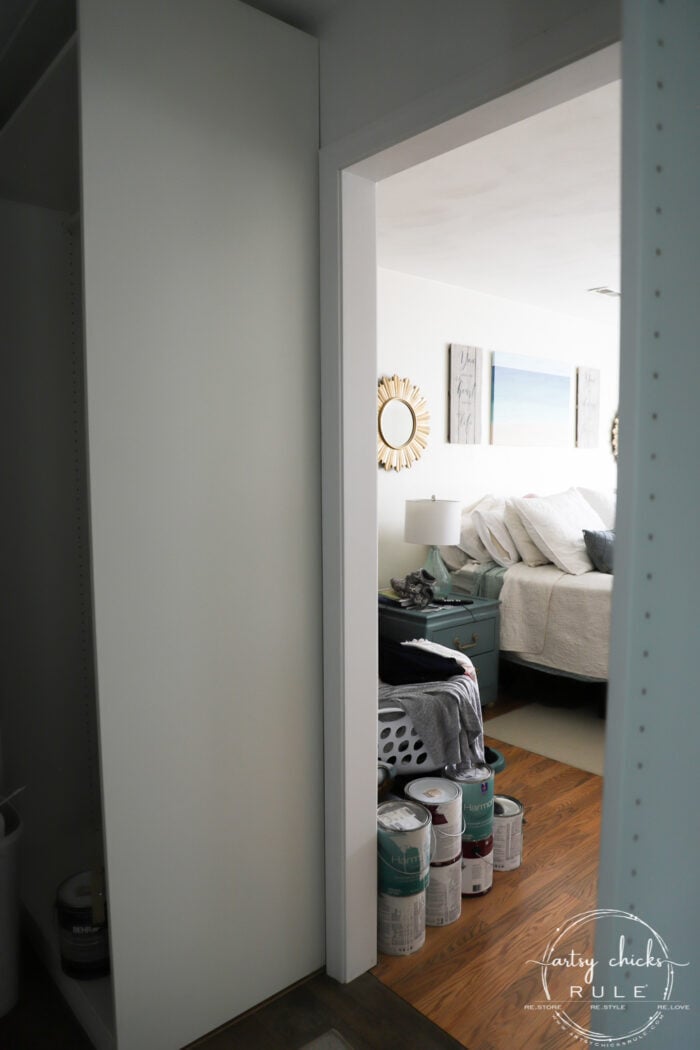 Looking back towards the bedroom…which you can see needs a flooring update! That is the floor we put down about 13-14 years ago.
Not the color I'd love to have anymore (it was a Costco special) so it's getting the same flooring as the closet.
I didn't "stage" that photo, it's real life, so don't look too closely. lol The clothes basket with clothes, paint cans, etc. That poor room has been the overflow for everything while we were in remodel mode. I can NOT wait to have my bedroom back.
Which brings me to the third thing….a bedroom refresh is also in the works to go along with the new flooring we'll be doing in there.
I'll be doing new nightstands and changed up decor and more. BUT we've got other fun plans for in there (built-ins on the other side of the room) so you'll just have to wait to hear more about that a little later.
I hope you guys will enjoy following along with all that crazy I mentioned above. We want to get it done asap. The sooner we can get that all done, the sooner we can get started on all the remodeling we are planning on the beach house. (you can see our new beach place here) And we have lots of neat plans for it. I'm so excited and was ready yesterday to get going on it. haha
See you on Thursday with the first makeover from my recent haul!
xo