Gel Stain Cabinet Makeover (such a simple fix!)
This post may contain affiliate links. Please see disclosures here.
This gel stain cabinet gets the makeover it deserves! Such beautiful woodwork, it'd be a shame to cover it up. You don't have to with gel stain and it's so quick and simple too!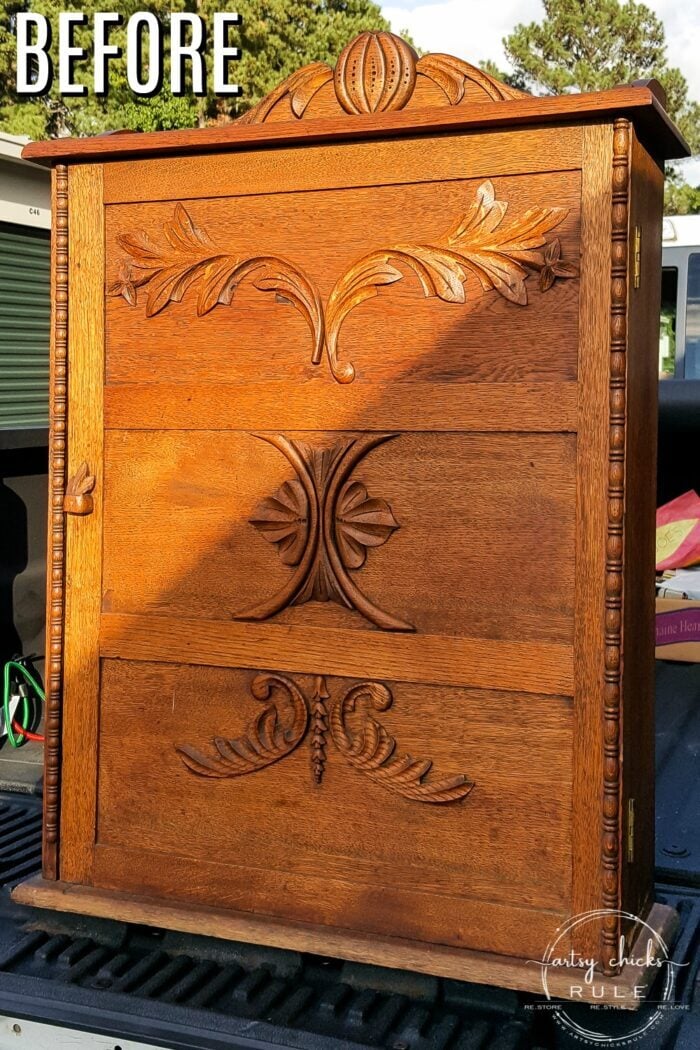 Remember this one?? From last year? That I posted about in this post? >>> here.
Well, I completed it! It is done, made over and beeeuuutiful. :)
I am so happy to be working my way through these pieces. I brought several of them home with me this past weekend.
Not only that, but I went thrift shopping last week and got a bunch of smaller pieces to make over too. If you missed that post, you can see all my finds, here.
(and not to be confused, I did not bring home all that was pictured, only the ones at the very bottom of the post. I so wish I could've brought them all home but I promised myself, no more large furniture until I finish up these in my two storage units first.)
Anyway, it's all about this lovely today.
Gel Stain Cabinet Makeover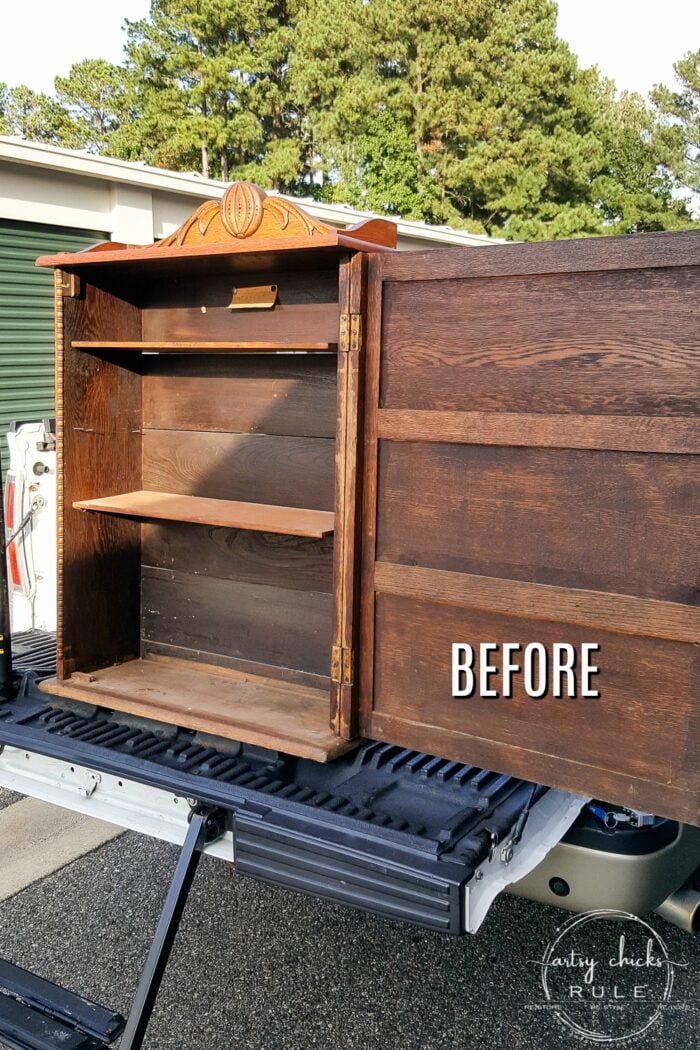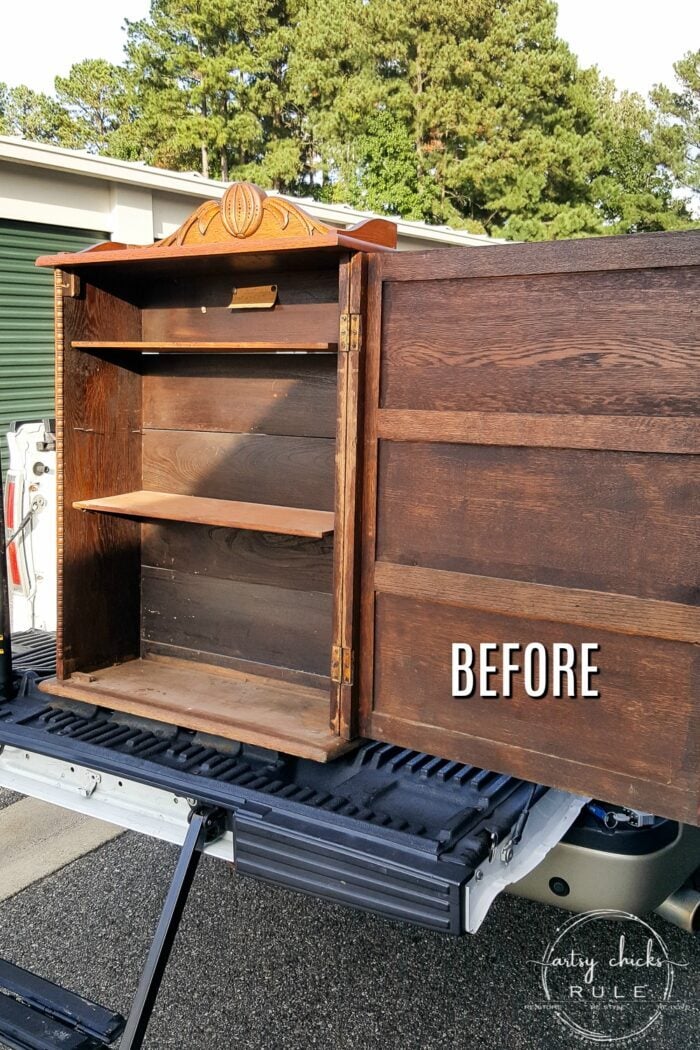 I don't know what it is but I'm assuming it used to sit on top of something.
But I have nothing for it to sit on except those blocks. ;) Just kidding! I'm going to add legs and make it a little storage cabinet.
One of you mentioned that I should add legs and I thought that was just brilliant.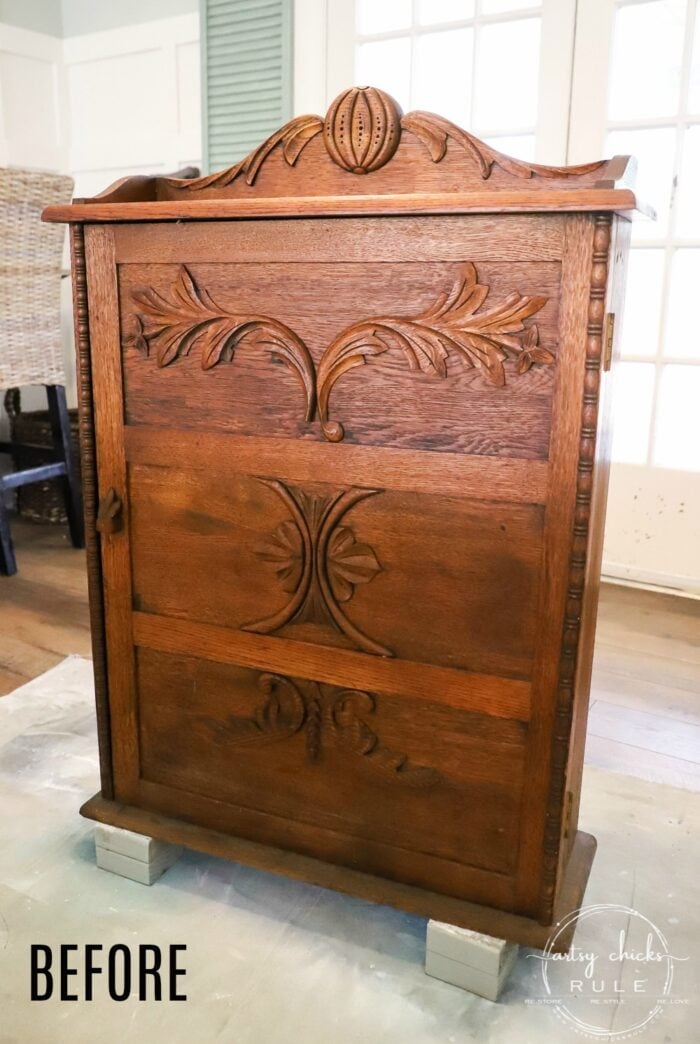 So first things first.
I wiped and cleaned the entire thing very well, inside and out.
Then I sat.
And sat as I tried to decide whether to paint or to stain.
I had considered painting it because it would truly make those details stand out beautifully but that wood was so pretty. Orange, but pretty. And I knew I could counteract that orange so that didn't deter me.
MATERIALS LIST
Sandpaper
Foam Applicator Brush (for the poly)
Tshirt Rags
But here was the first dilemma…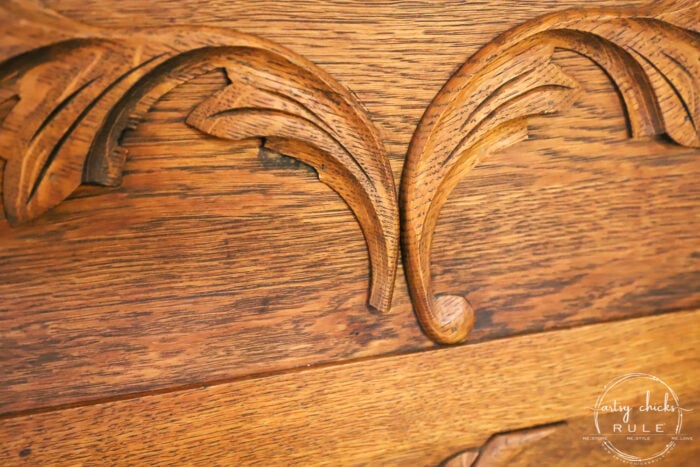 It was missing part of its beautiful trim.
No big deal if I'm painting it, I can just make one to match just like I did in this post >>> here.
And the second dilemma…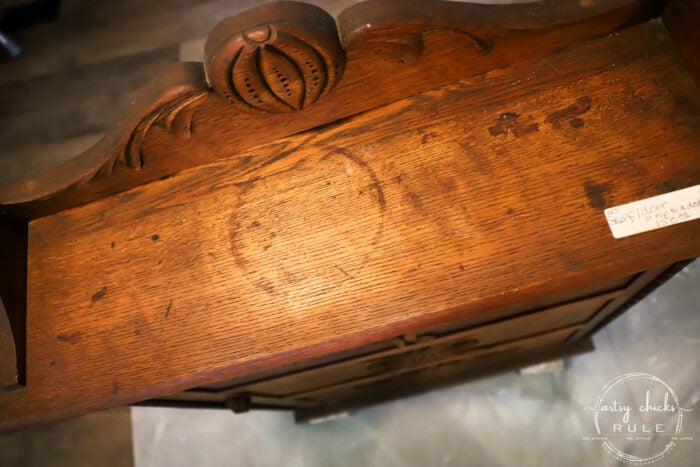 Looks maybe like a paint can had been sitting here for years, who knows? But it left a nice ring AND a lighter area in the wood.
Again, not a big deal if I paint it.
And one more dilemma was a big gouge on the bottom right side (you can see it on the bottom there). Not such a big deal with paint because I can simply fill it in, sand it smooth and paint. And well, I can somewhat do the same with stainable wood filler but I didn't really want to mess with trying to match it, etc.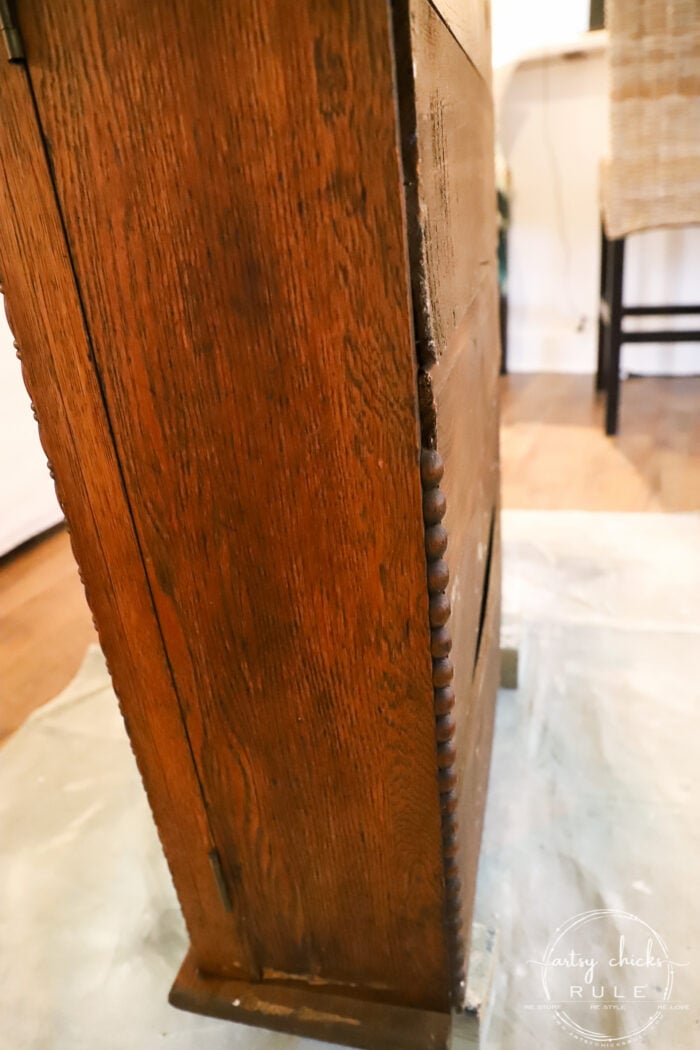 And it was missing most of the trim going down the sides. This was the only piece left. I hated to remove it but since there was none on the other side at all and this side had half missing, I decided it must go. :/ I suppose I could've added new but I kind of wanted to keep it as original as possible.
Want to see some of these projects in "live" time? Hop on over and follow along with me on INSTAGRAM. I'm always sharing in my stories as I'm doing projects, finding new furniture, fun finds….just all the day to day behind the scenes.
So, what to do?? Paint or stain it?
If I stained it, I would have to cut off part of the above applique to match the broken- off side, try to figure out some way to remove or even out the top of the cabinet where the can have set and do something with the gouge in the side.
Even still, stain won!
So we had to painstakingly cut off the piece. I think it physically hurt, haha, but it had to be done.
Now let me tell you how simple this makeover was. (really)
I took some fine-grit sandpaper (I didn't want to rough it up, I only wanted to remove a bit of the surface) and lightly went over the whole thing by hand.
I think it maybe took me about 5 minutes, maybe 7. Quick quick!
Then I wiped all down again, really well.
By the way, I decided to let the "gouge roll"! ha! I'm calling it part of its history and character. :)
Next, I applied the gel stain with an old rag (like t-shirt material).
Want to know more about gel stain? How to apply it, etc? I wrote an entire post devoted to that and you can read it, here.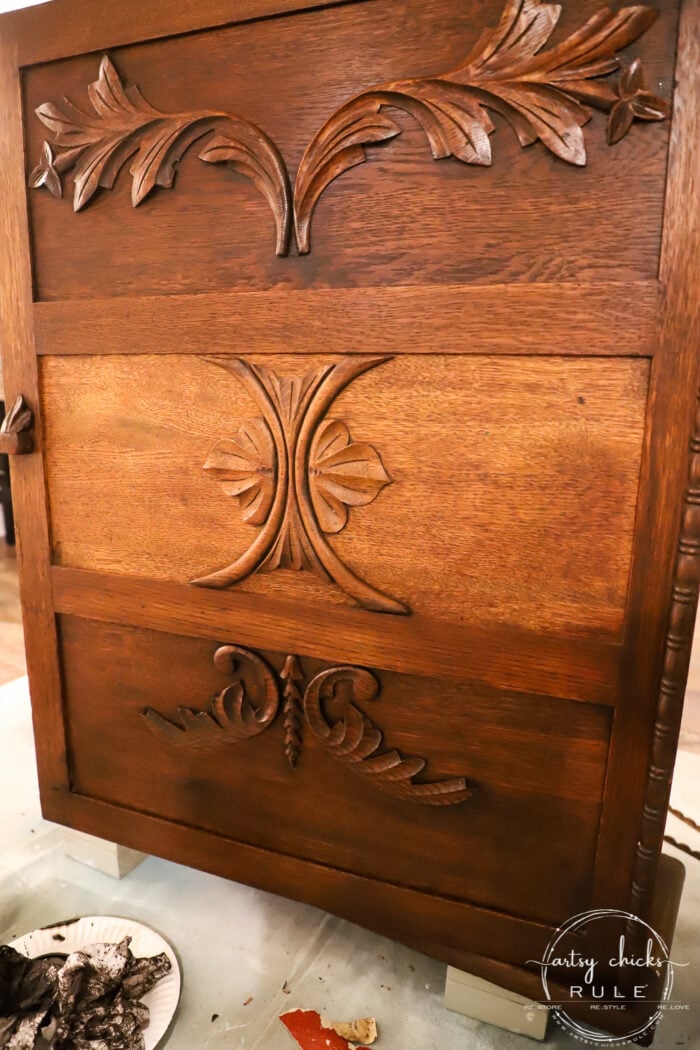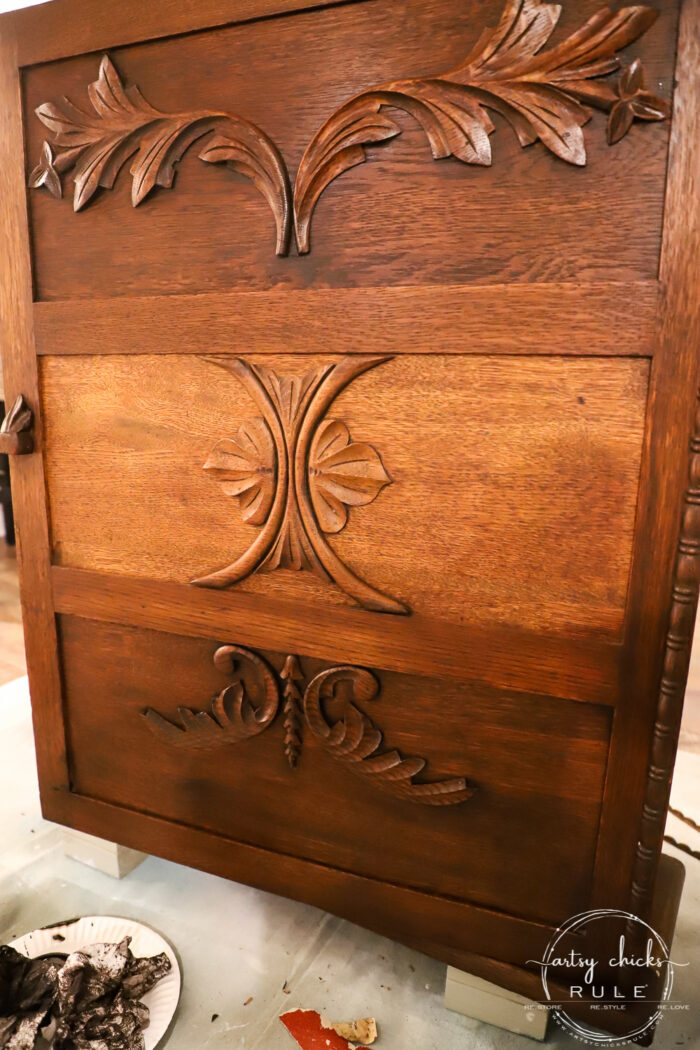 Do you see the piece where we cut it there? I think it turned out pretty well.
Anyway, I'm sharing this photo to show where I've applied the gel stain to the cabinet and where I have not (the middle section).
I keep a clean rag handy to "wipe-back" some of the stain after I apply.
Now what to do with the top besides sanding it completely down (which I did not want to do)?
I decided to try to lightly sand the ring only to lighten it. That way, I could go back over it and hopefully, it will not be as noticeable.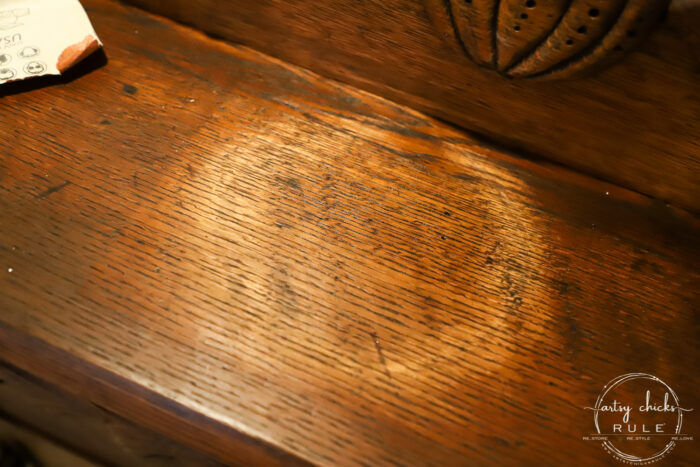 I think it worked pretty well. I did have to layer a bit more product in that particular area but I'm pretty happy with how it turned out.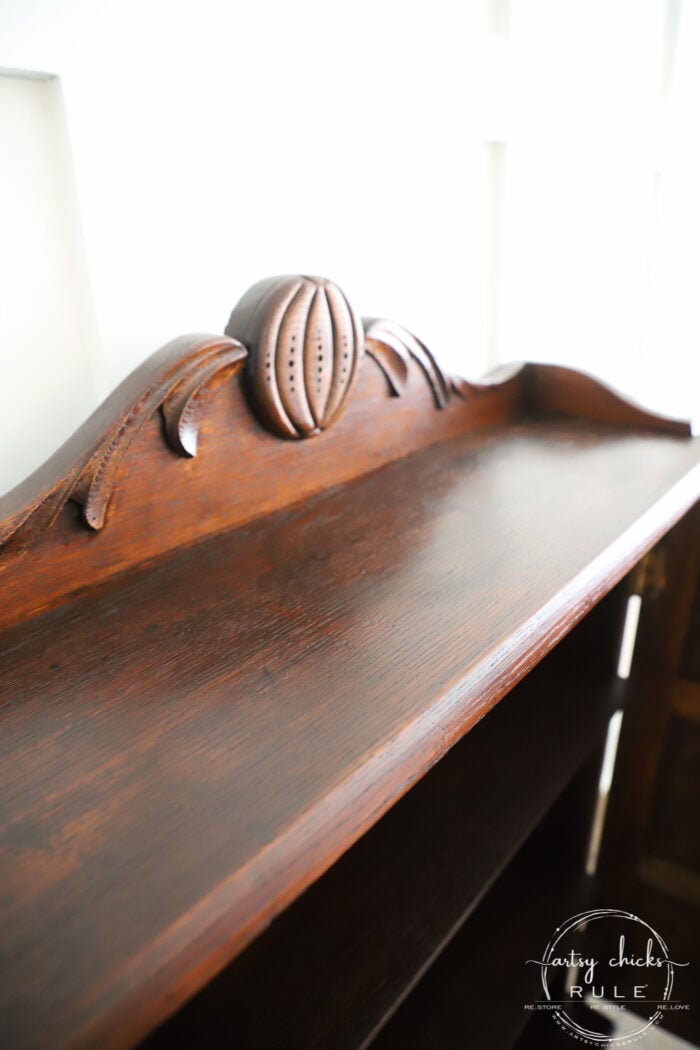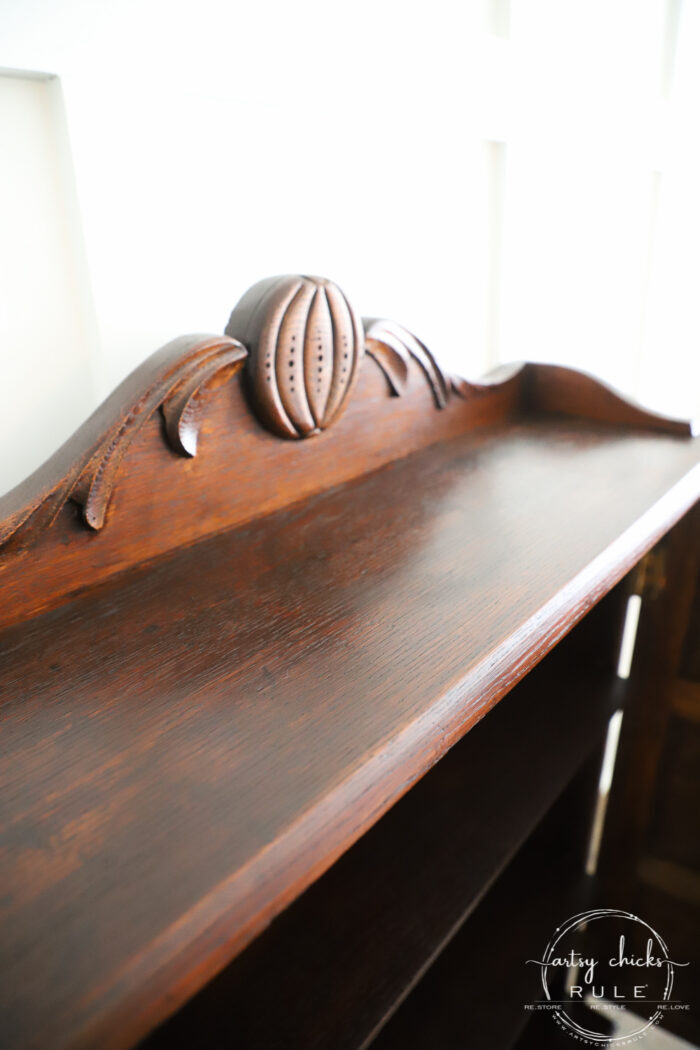 (Want to see even more of my favorite furniture makeover supplies??? Take a look in my very own curated shop, here!)
You can just slightly see it. And I wasn't going for perfection in this piece because it is old and I wanted to keep the character of it.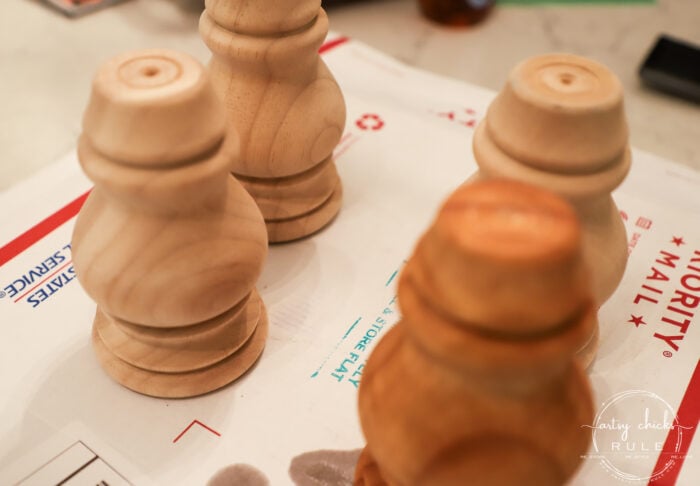 I ordered these pretty feet for the bottom. I used a pre-stain wood conditioner before I applied the stain since it was raw wood.
Then applied the same gel stain as the cabinet.
As I was concerned about, since these didn't start out "orange-y" like the cabinet, they didn't have the same tone as the cabinet. Bummer.
So I simply added a bit of red paint (very, very lightly, and rubbed in well) over top to change the tone a bit to match.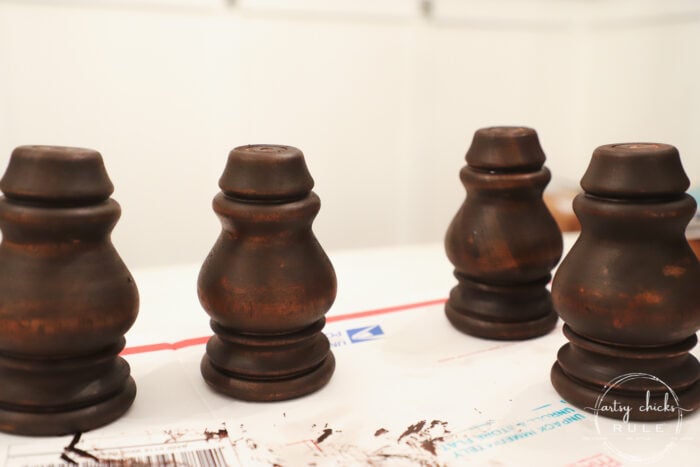 I think they came out pretty great. AND they sort of have that same "old-ish" look too with the wood peeking through here and there.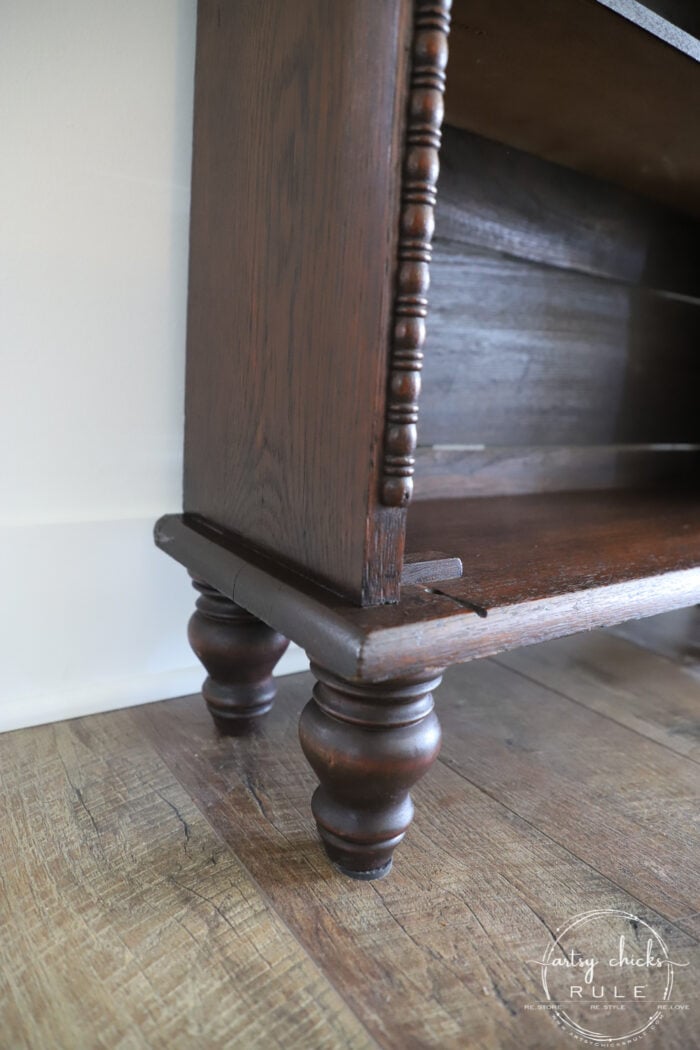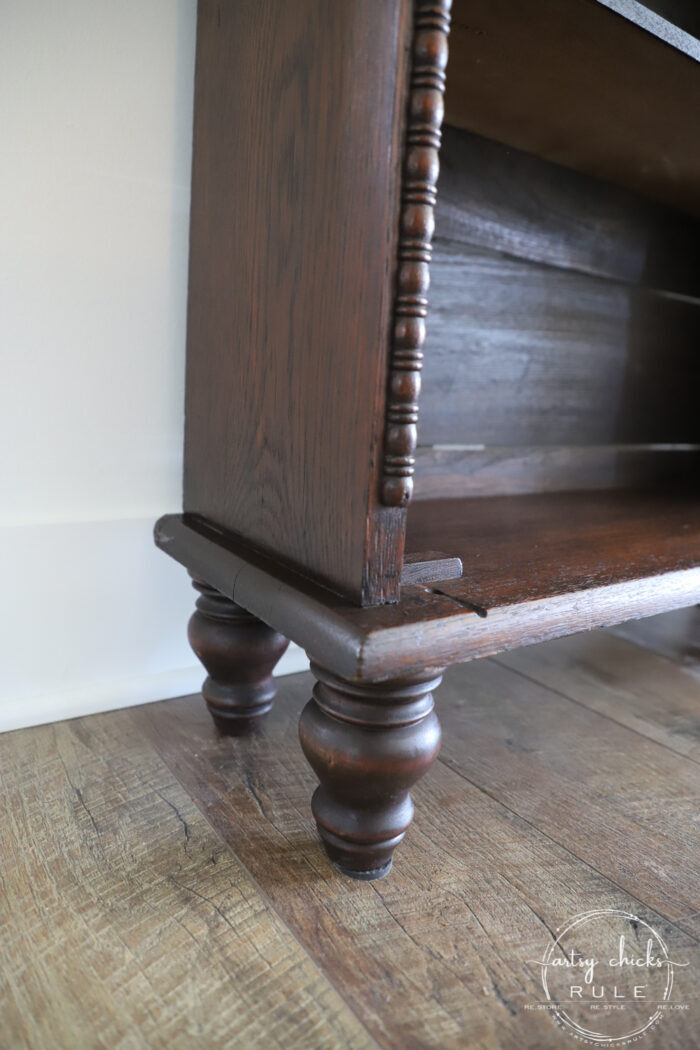 Pretty happy with them!
I love this set because it came with everything, even the protective pads to go under once done.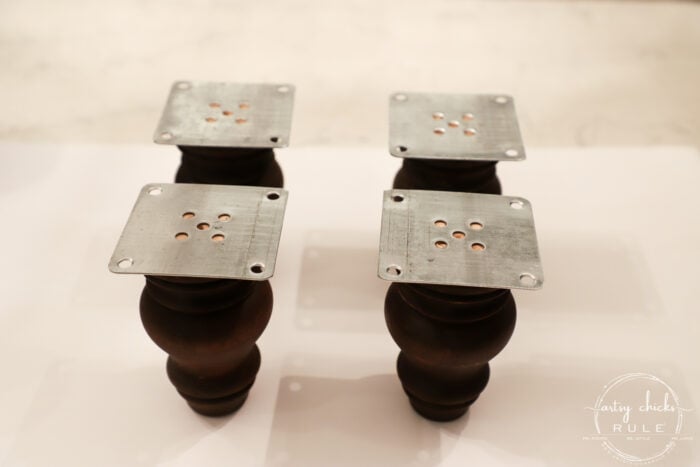 We simply (and by we, I mean my hubby…I can do these things but I was also cooking dinner last night as I was finishing this up so enlisted his help, lol) screwed the plates onto the legs and then screwed them to the bottom of the cabinet. (look at those old screws!)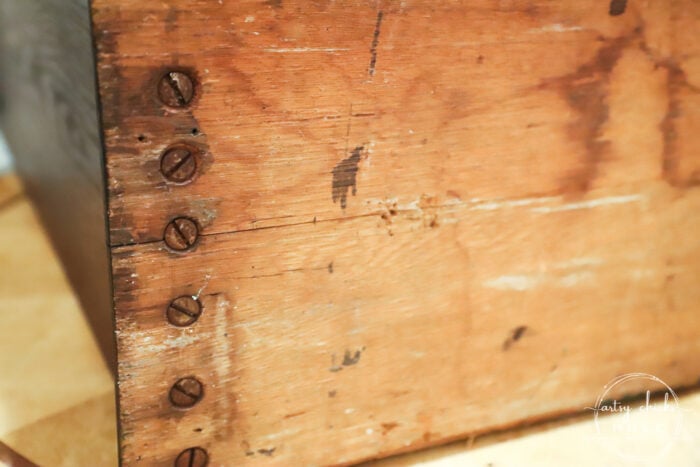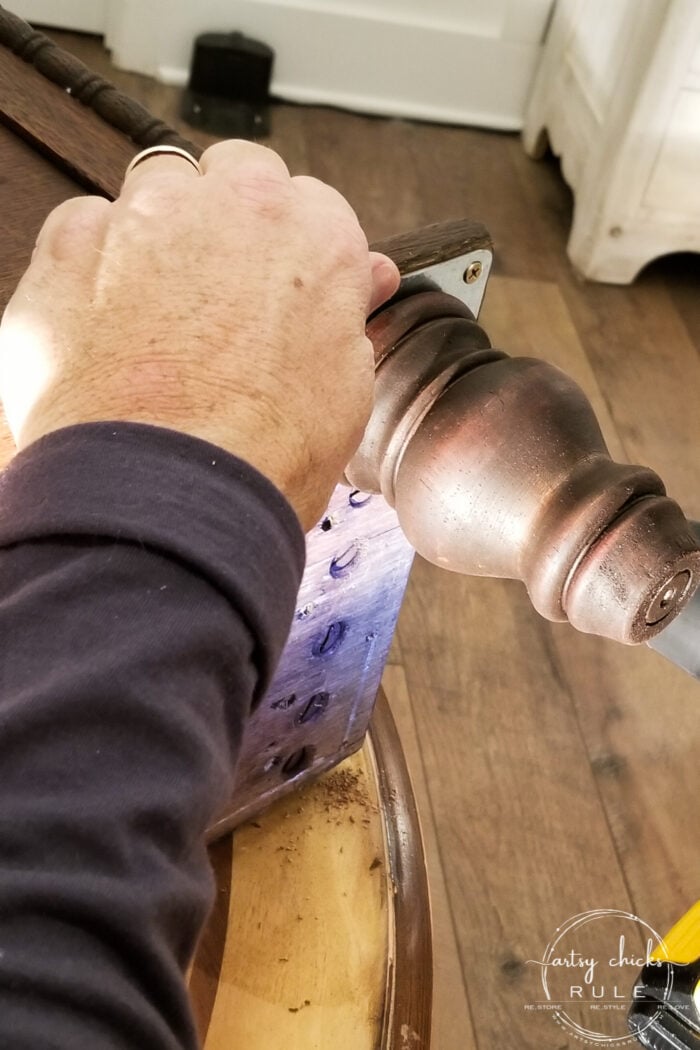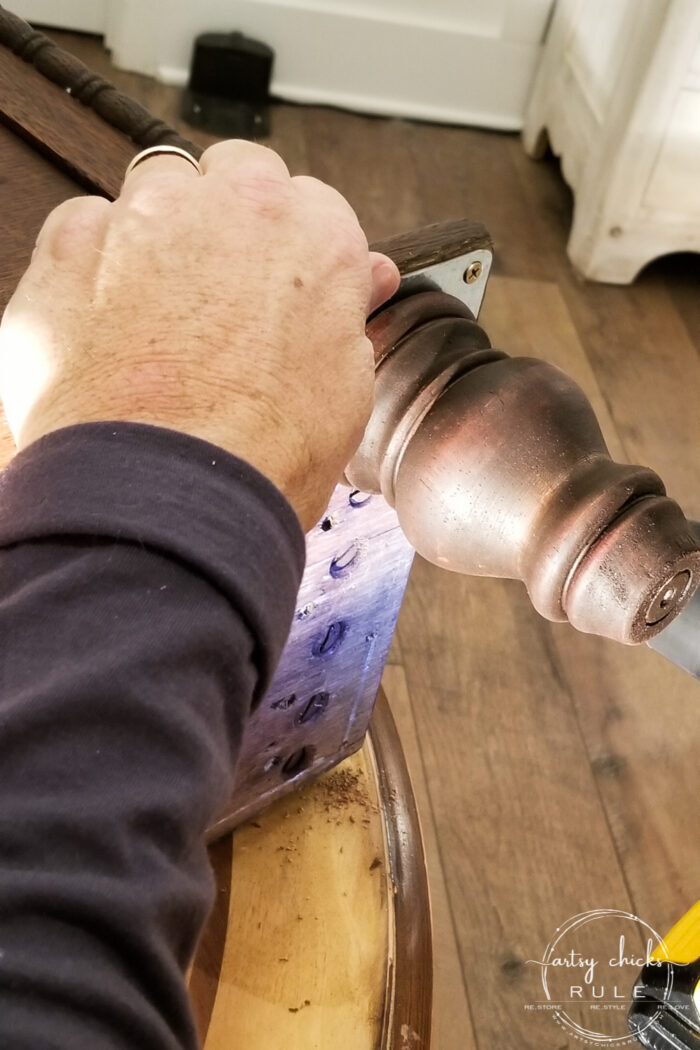 And why yes we had it sitting atop yet another piece I'm also working on….in my living room. haha It's too cold in our garage right now. The temps have been crazy here lately. (I'll probably have this one on the blog next week…stay tuned and stay tuned to Instagram because I'll surely share more of it in my stories as I finish it)
Finally, after letting it sit for a couple of days, I came back and used Gel Top Coat. It's an oil-based poly. I decided to go that route this time but you can also use a water-based poly over the gel stain too. You just need to let it sit for about 72 hours or so before you do.
And done!
Such a simple makeover and refresh. Using gel stain is a win, for sure. It's easy to use and makes that old wood rich and beautiful.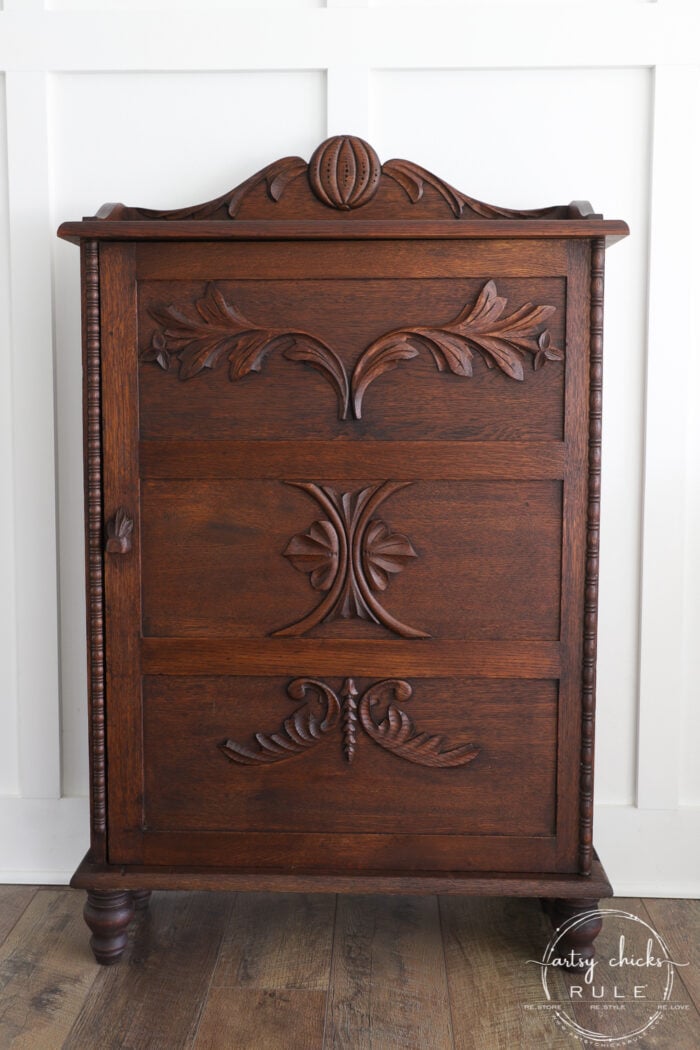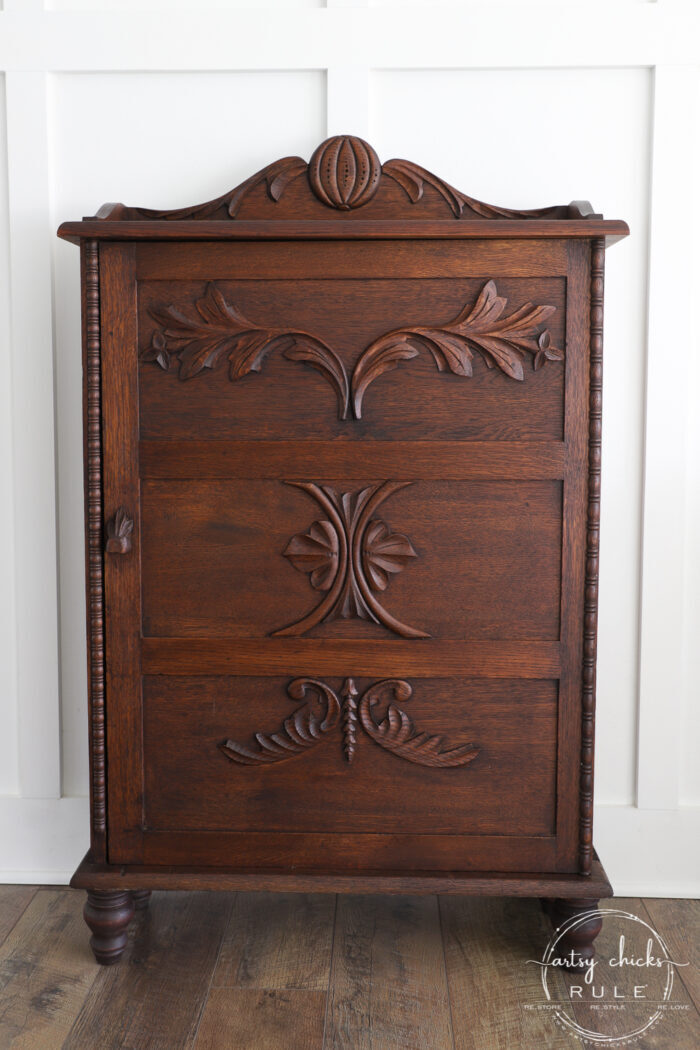 I'm so, so happy with how this old gel stain cabinet turned out. I think I managed to keep the charm and character it had.
The only places I applied the gel stain to the inside of the cabinet was the shelves (which were originally up there with haphazard nails before–scroll back up to the inside "before" shot to see what I mean) and the bottom of the shelf. The rest of the inside, the back, sides, and inside of the door, I left alone. Except for poly.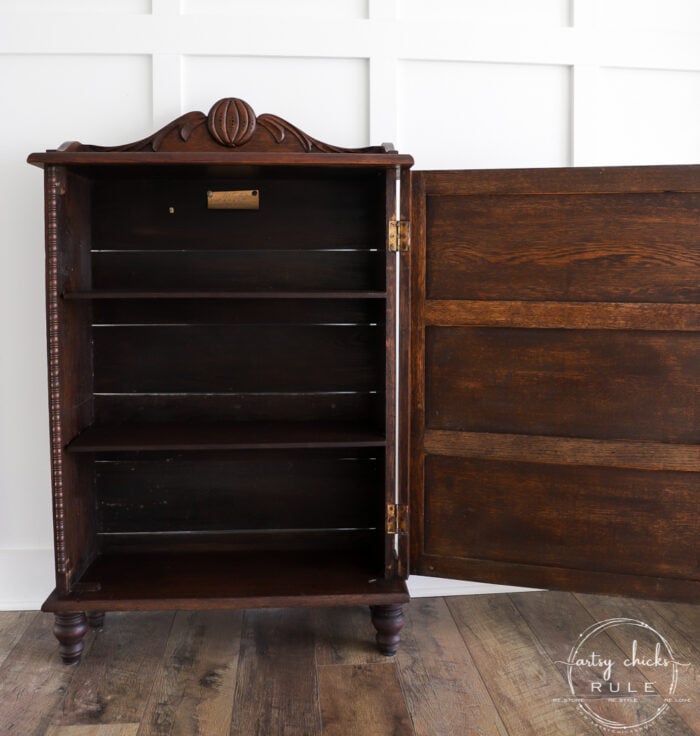 I bought these to replace the nails.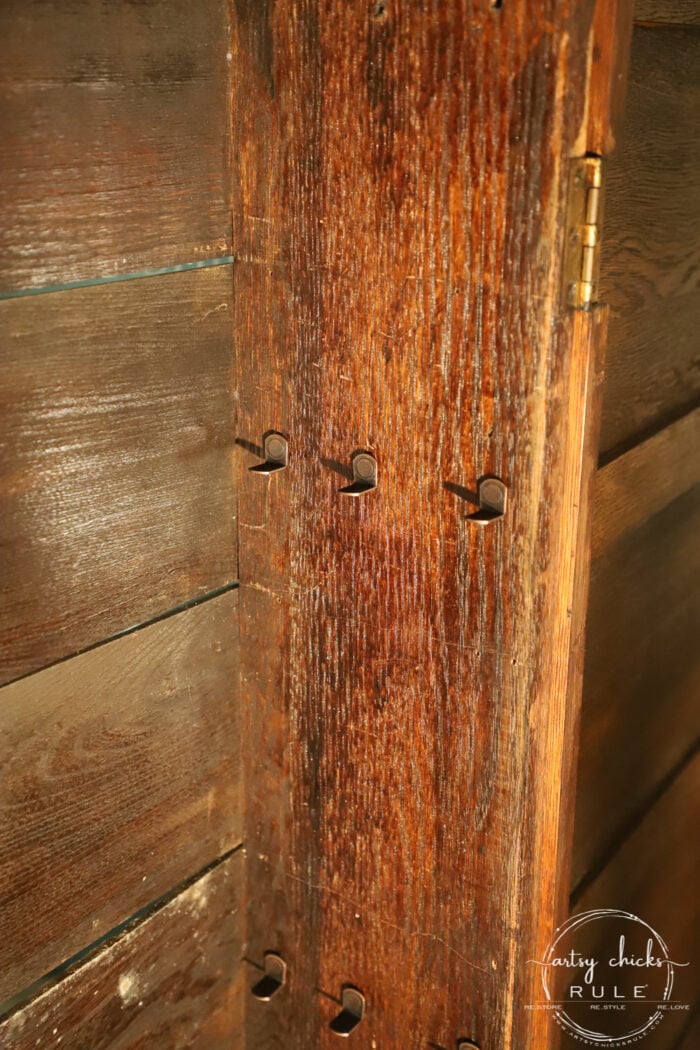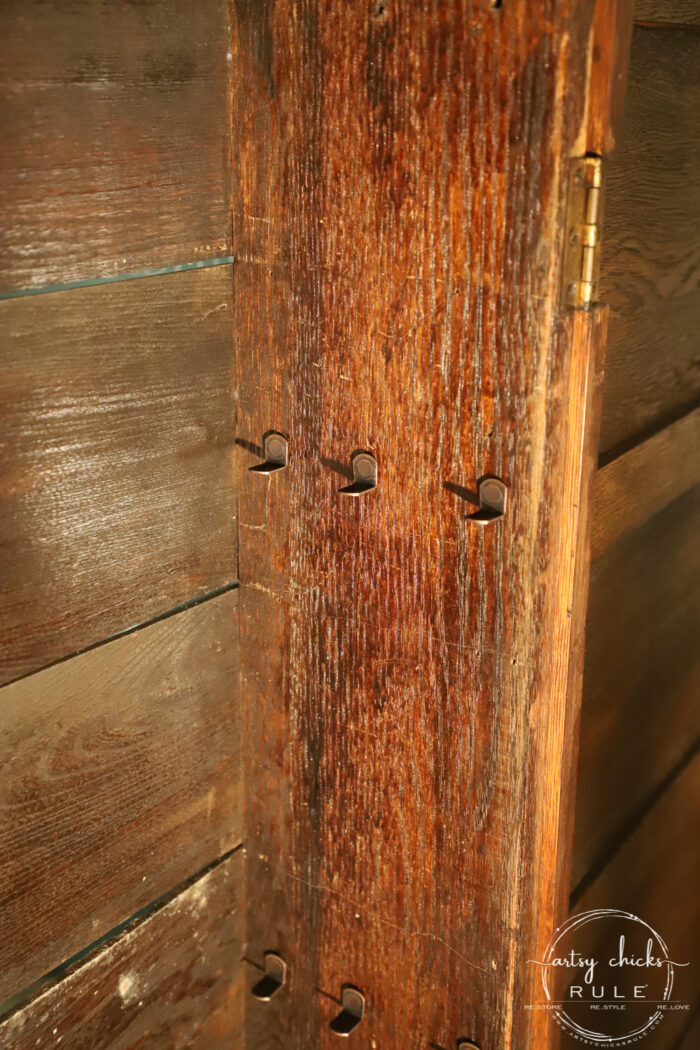 And I meant to remove this old note…but forgot. So left it for now. Have not a clue what it means!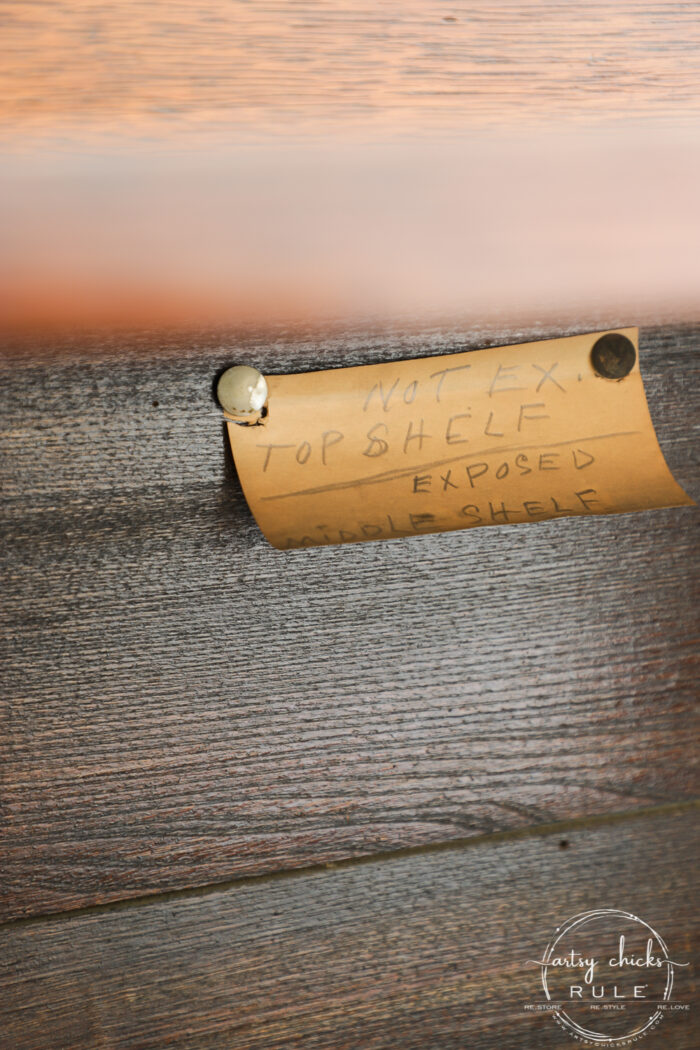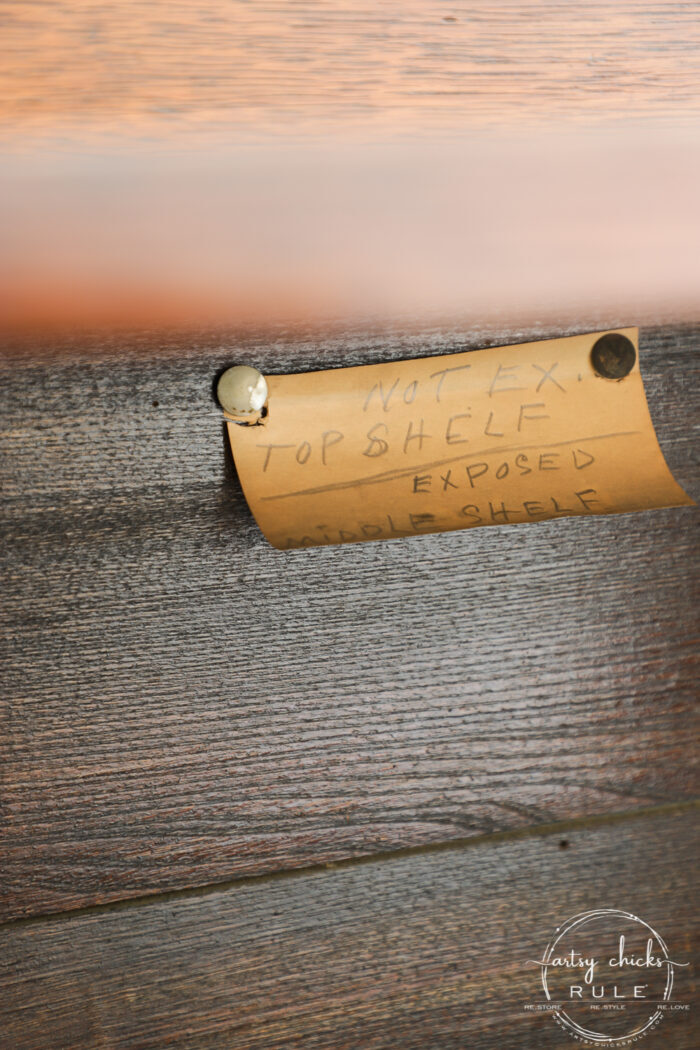 But I believe the inside color is what the outside originally looked like. It has faded over time and turned orange as this wood is known to do.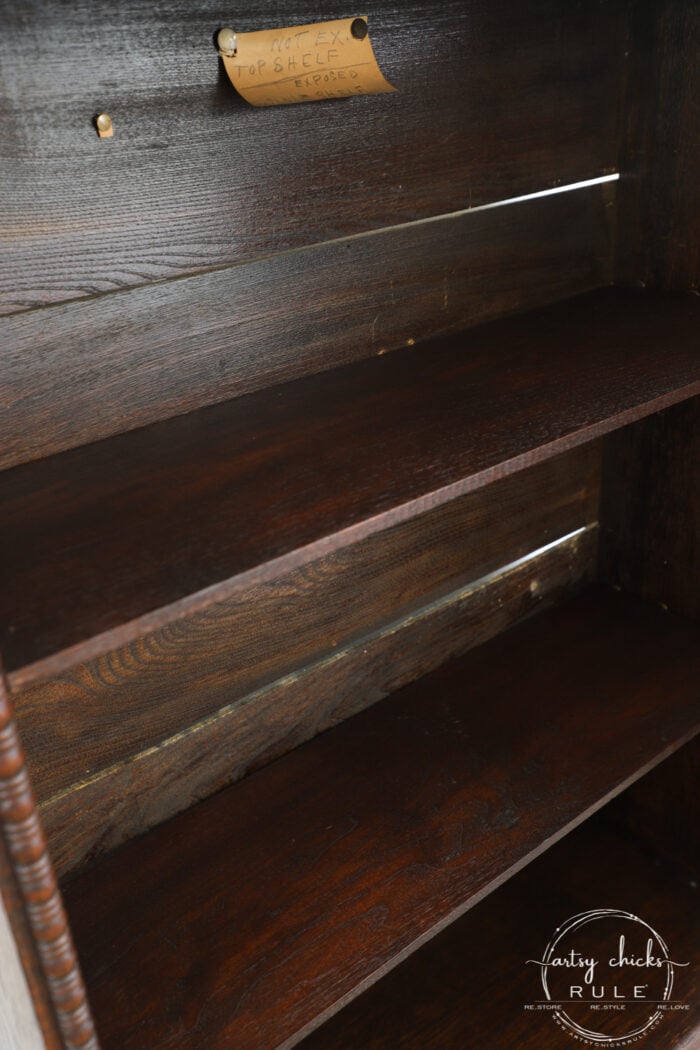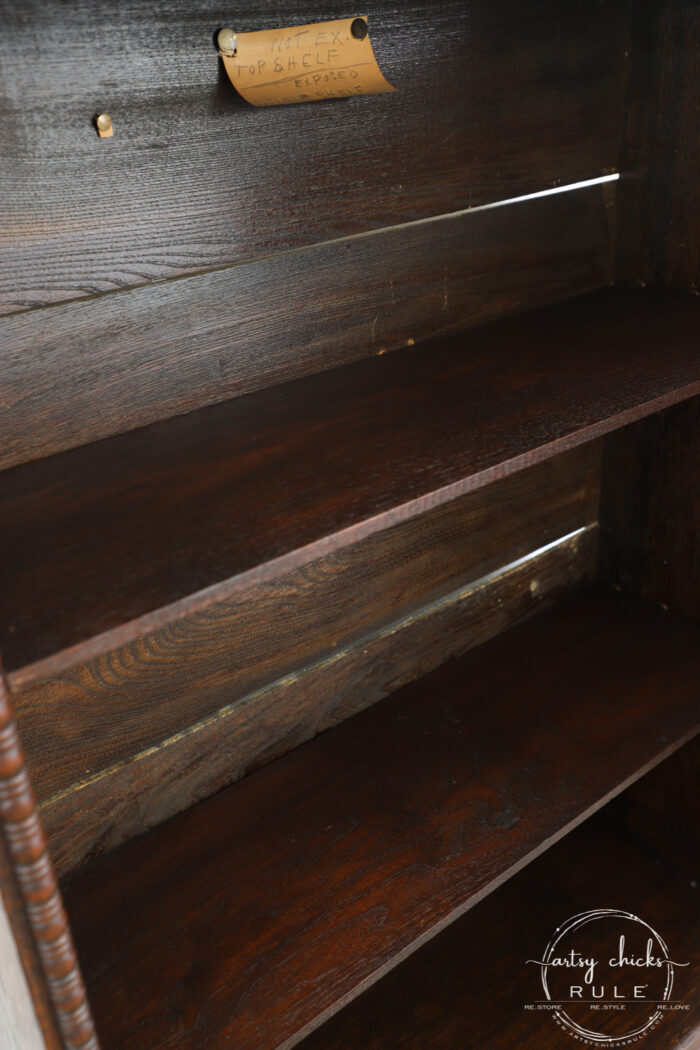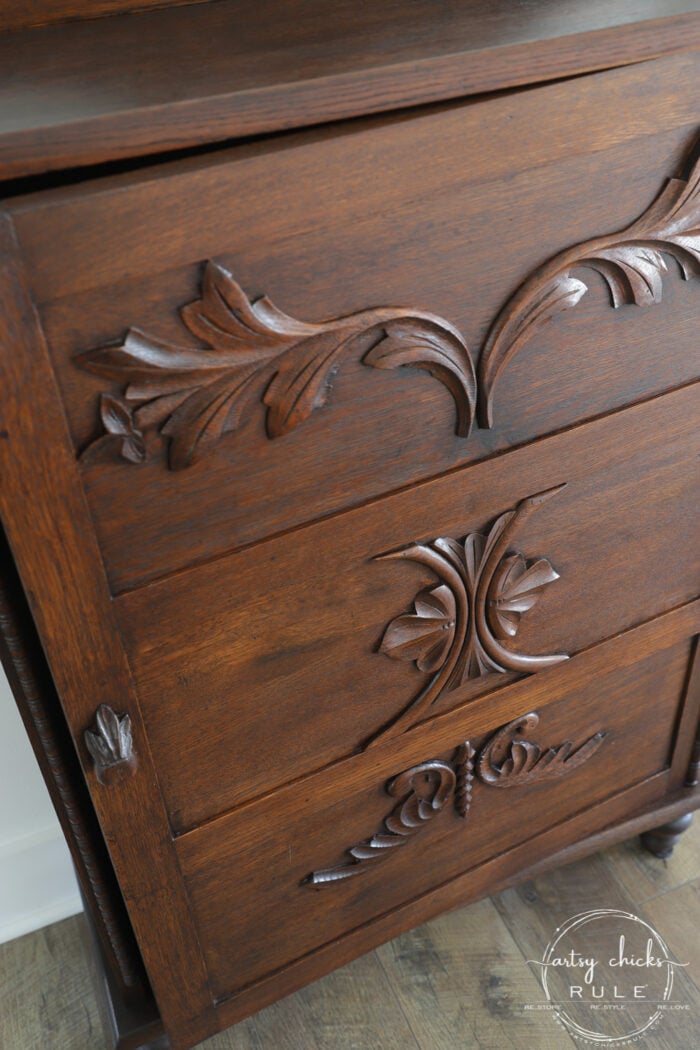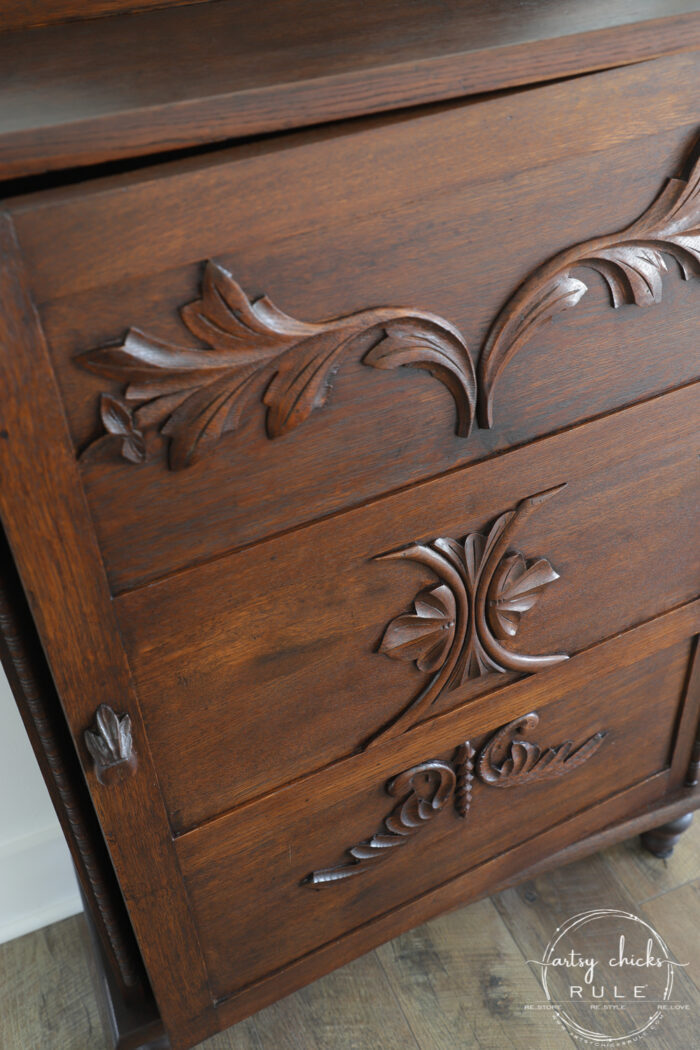 I am sad we had to cut it here, but I think being able to leave it stained made up for it.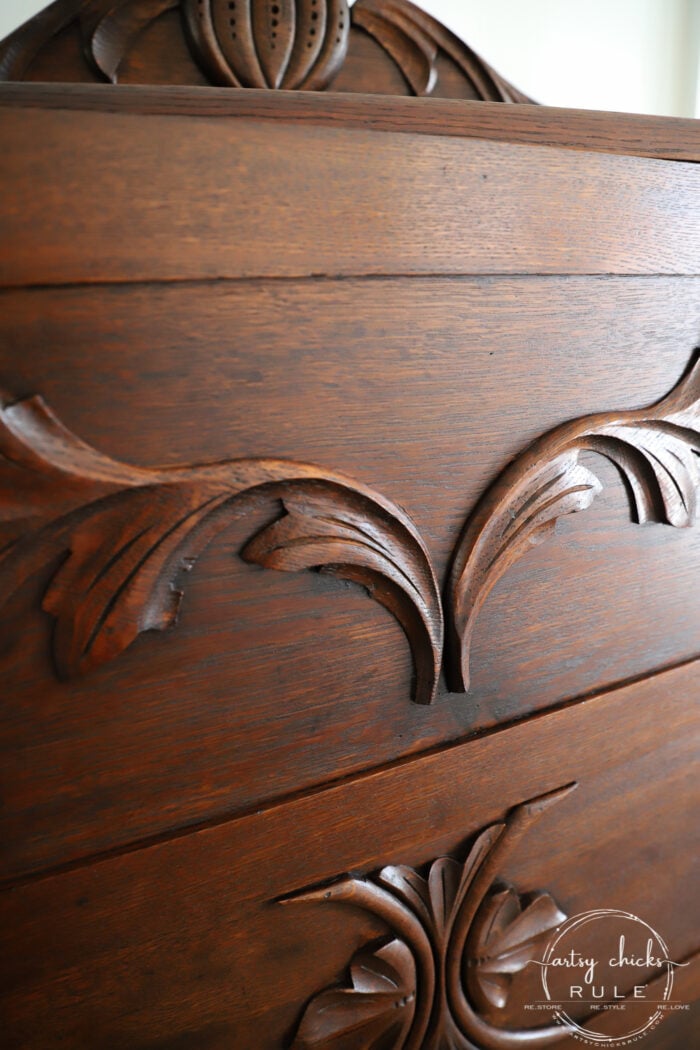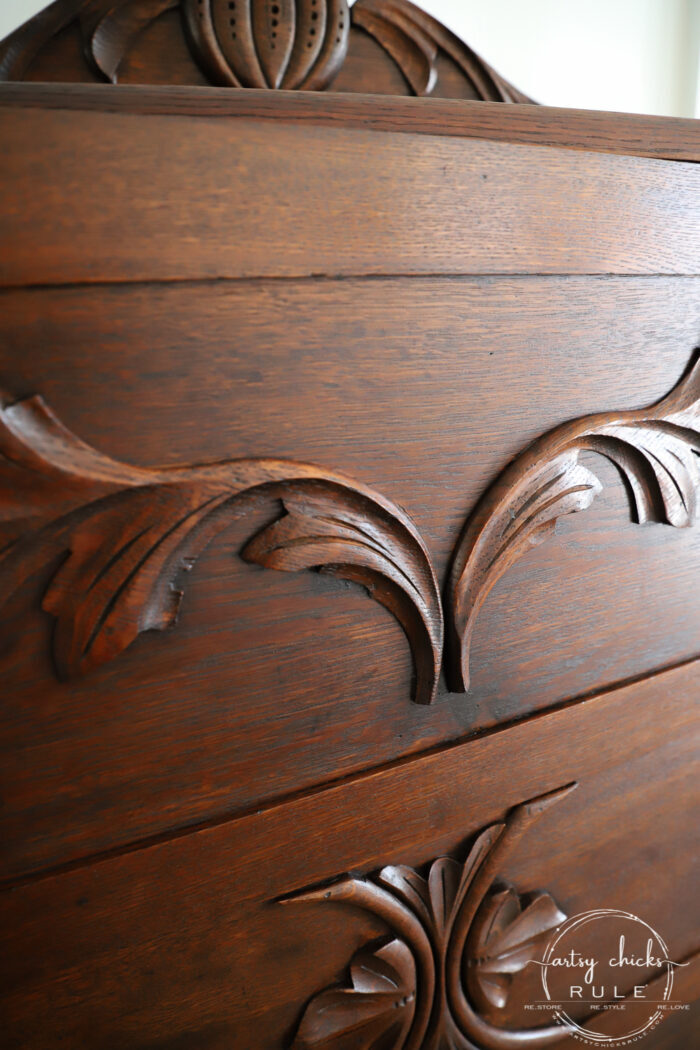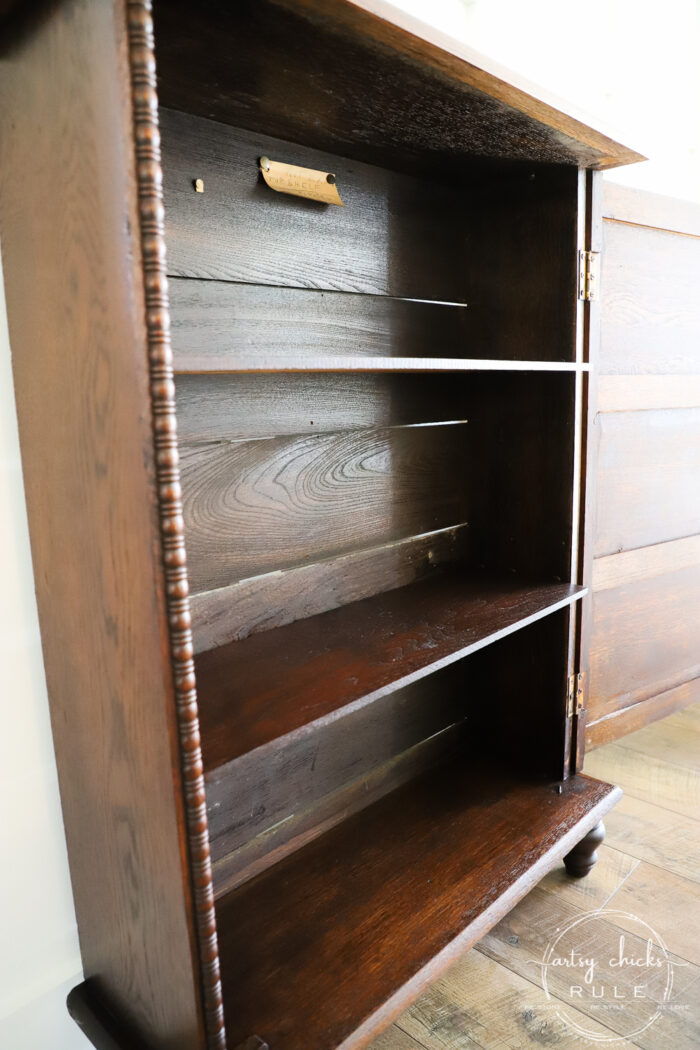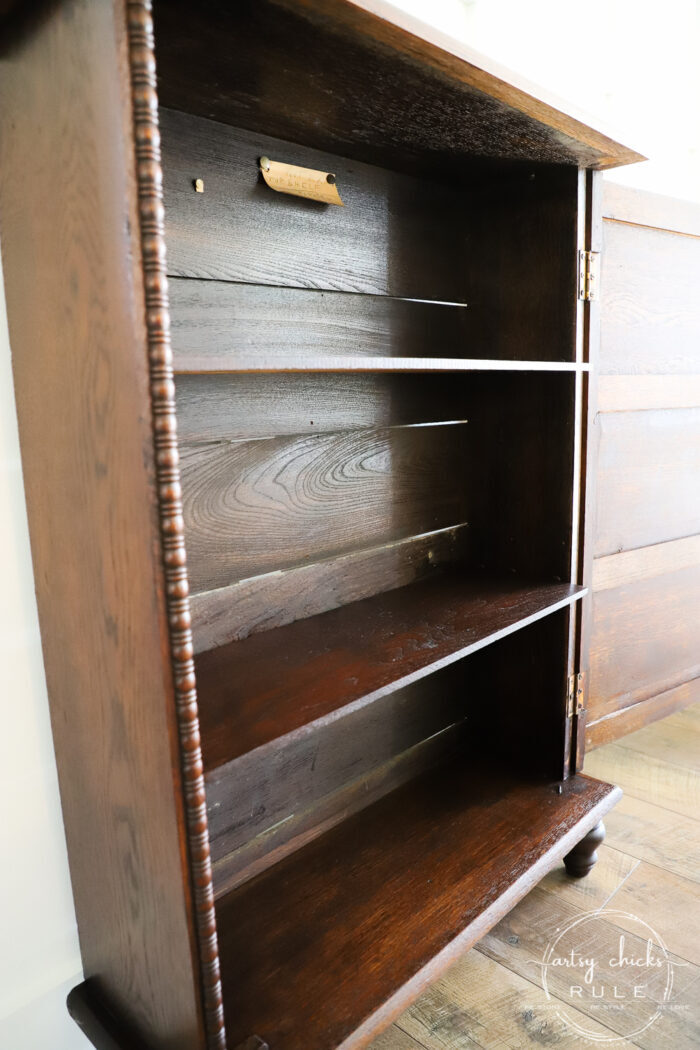 It's another one I'm going to hate having to say goodbye to!
So…do you have any old pieces like this? Old wood you don't like anymore? It is really easy to change them up with gel stain. It doesn't require you to sand it all the way down and that right there makes the job so much more enjoyable. This little gel stain cabinet looks night and day from when I first found it. And it truly did not take much effort or time to get it that way.
PIN it to save it!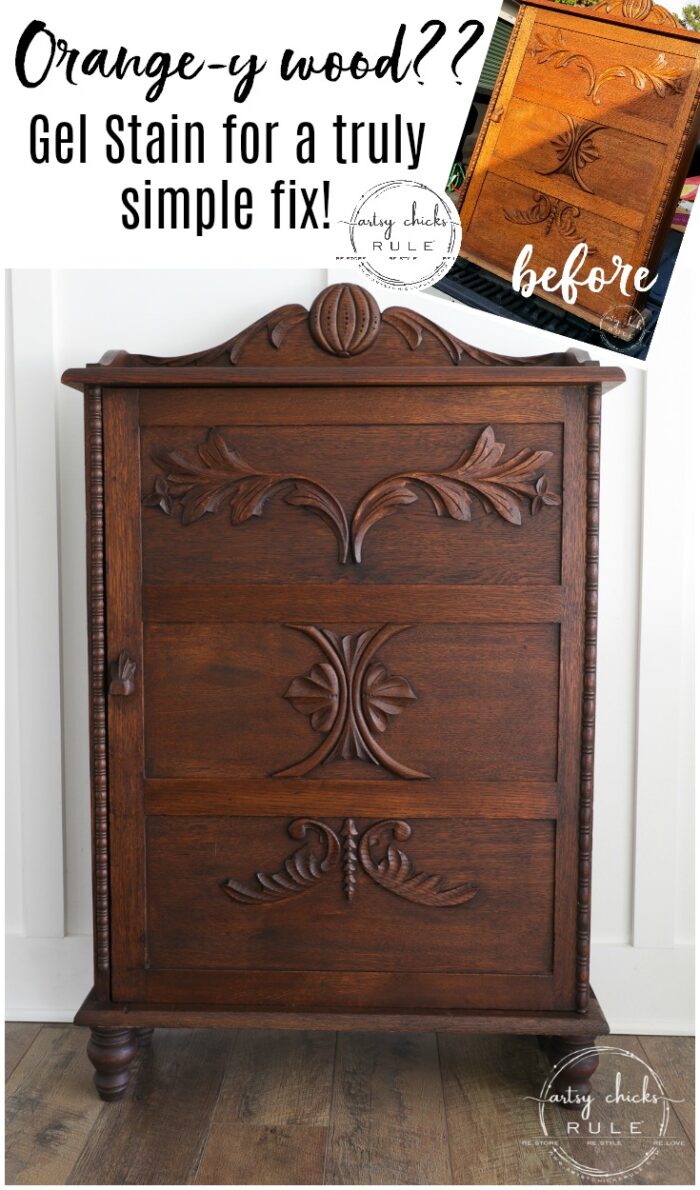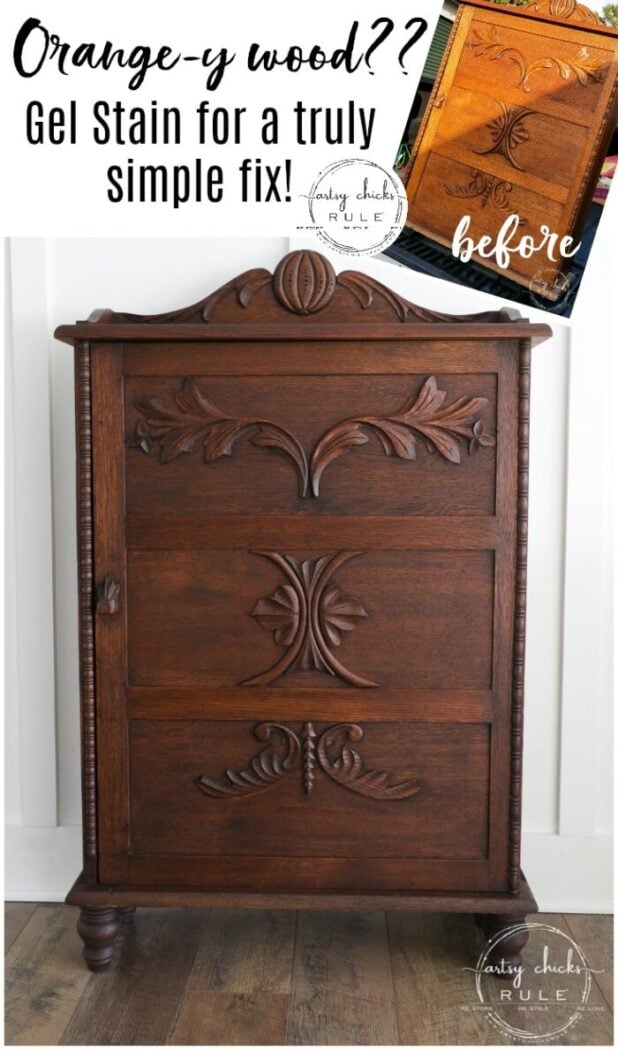 Want to see even more gel stained makeovers?? Click here for more.
My next makeover got a little bit of "gel stain action" too…sorta! ;) Be sure to come back to see it!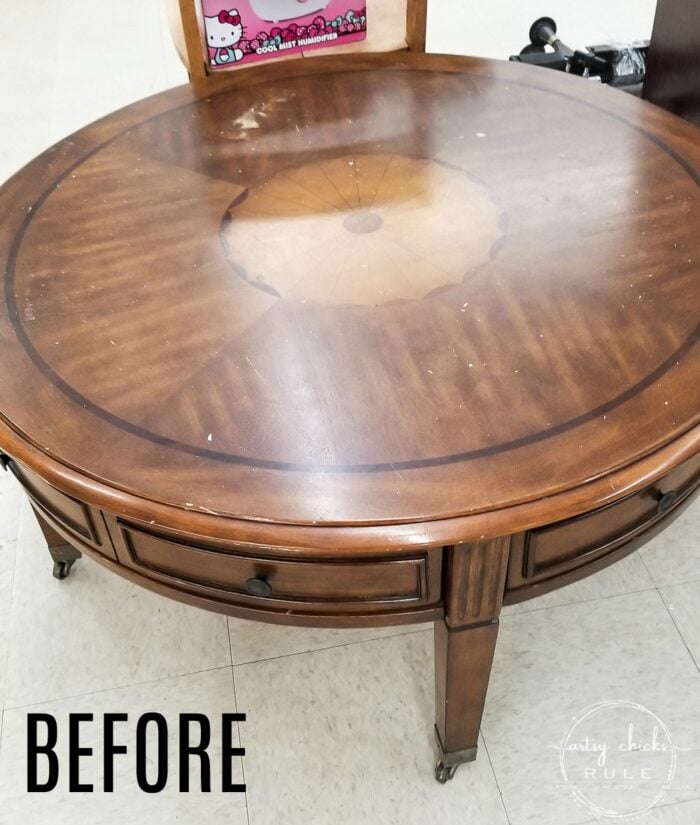 UPDATE!! See it now, here!
I hope you all have a wonderful weekend!
xo