Coastal Style Coffee Table Makeover (with stain and paint!)
This post may contain affiliate links. Please see disclosures here.
Budget decorating at its best! Can't beat a $35 thrift store find turned coastal style coffee table. A little paint, stain and poly is all you need.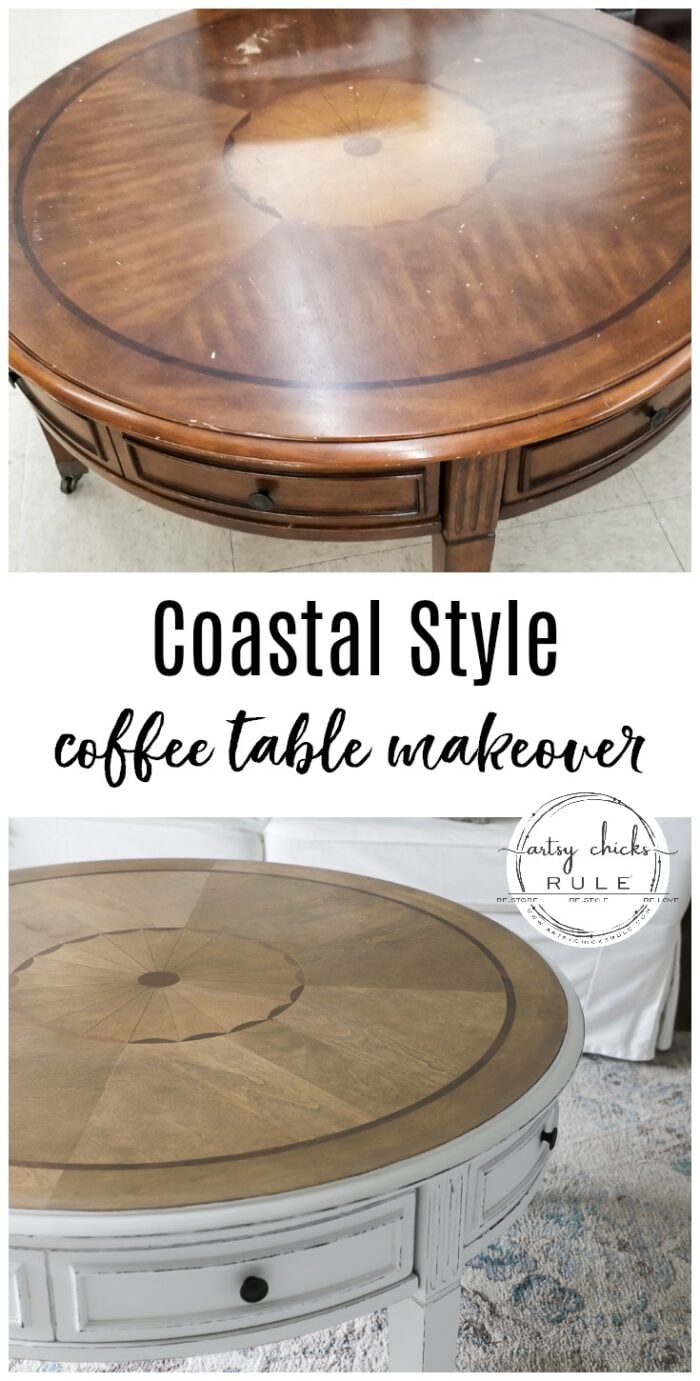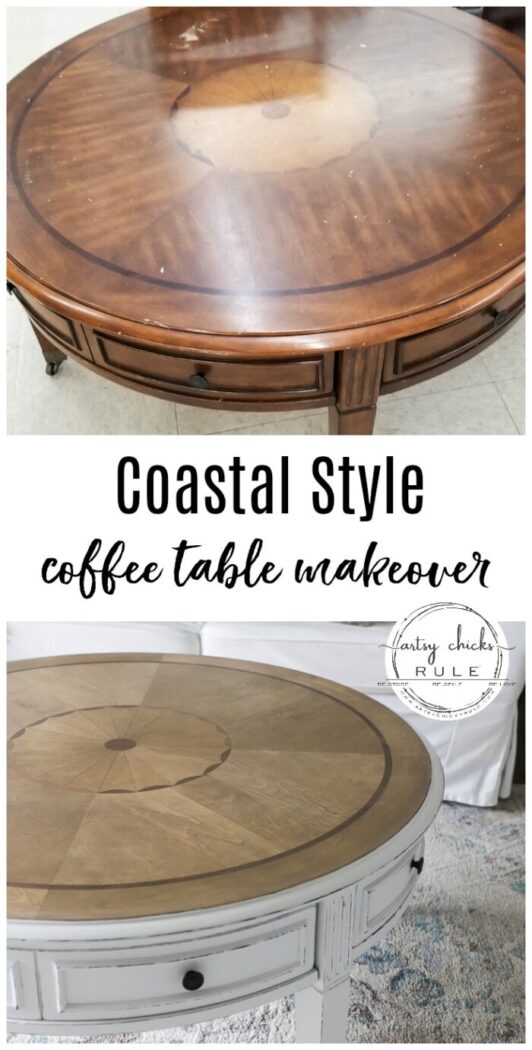 Hey, hey, friends! Guess what day it is??
Trash to treasure transformation Tuesday! Yippee! My favorite day of the month. :)
If you are new around here, some friends and I get together every second Tuesday of the month to share our "trash" we've turned into treasures.
And we have some news, as I mentioned last month, Lauren from Bless'er House has decided to leave the group to focus on other areas of her blog, etc. We were sad to see her go but we are excited to welcome Denise from Salvaged Inspirations to our little group. She does ahhhmazing furniture makeovers, if you've never seen or heard of her, you will be in for a treat!
So follow along and be sure to scroll all the way to the bottom to catch everyone's makeovers today.
Also, if you missed my post on Sunday, you need to hop on over there right now before you go any further. Why?? Because I'm doing a giveaway and you need to go enter to win! I'm giving away my most recent makeover here on the blog and a little something else. ;) Go on over and see >>> here.
Coastal Style Coffee Table Makeover
I am finally sharing that coffee table I've been teasing you with pics over in my Instagram stories. It was a little bit of a bear but I finally got her done! lol
I found this somewhat beat up coffee table at the thrift store a while back. It was around $35, which is a great price considering solid wood, etc.
And it looked like this…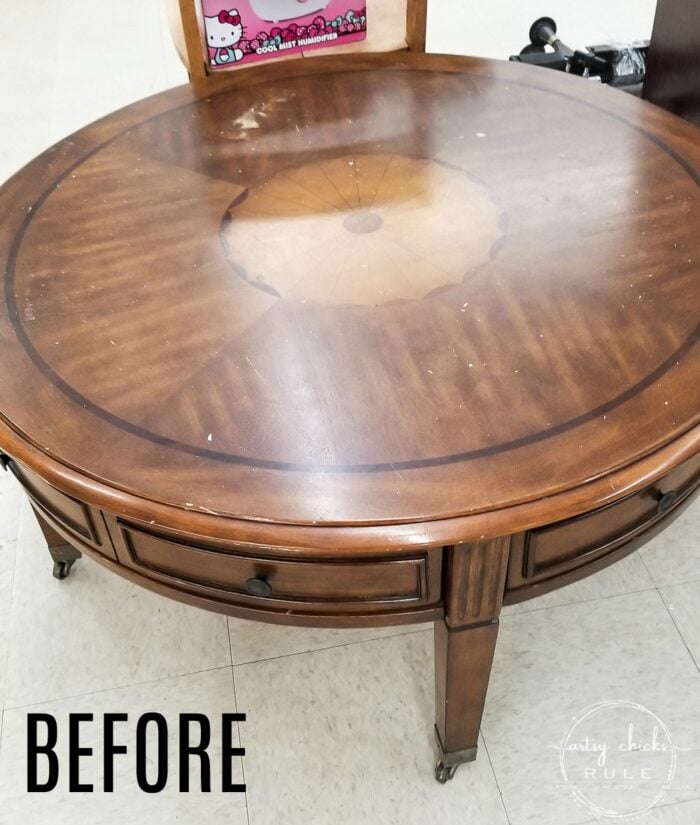 And a closer look at the top…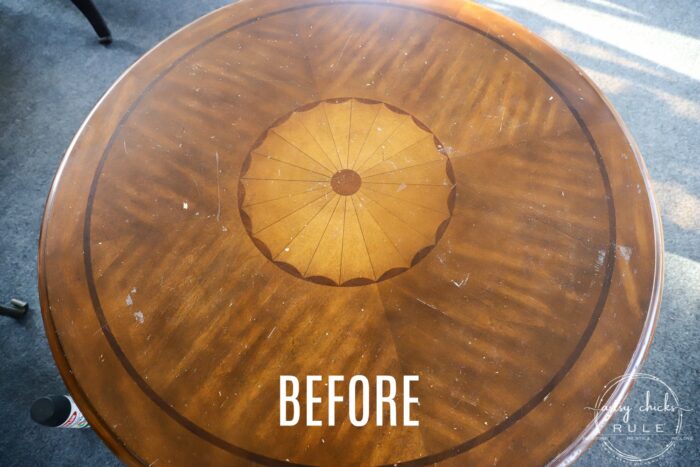 All kinds of chips in the finish and you can't really even see the wood grain. Which is why my immediate thought was… "ohhh, paint it and put a big ole compass rose right there in the middle!" Yes!
But that's not how it turned out. lol
MATERIALS LIST
Citristrip or similar (I don't like the new formula)
Sander (I just got this cordless one and I LOVE it! I might start sanding more. ;) )
Sandpaper
Here's a close up of the side just to get an idea of where we started.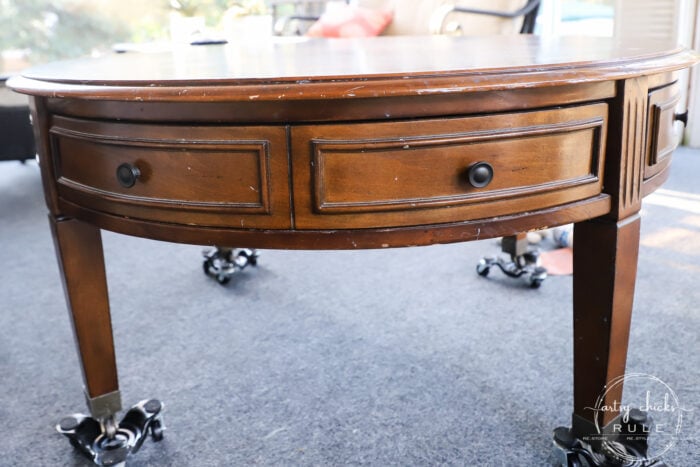 Wait til you hear all the things this top went through in my creative process. haha
I actually started out by painting half of the top white. Then changed my mind.
So I got a wet rag and removed the paint quickly.
I decided I wanted to try to save that pretty wood inlay after all but I wasn't sure what all was under there. Or if the wood inlay was real.
So I pulled out an old bottle of my favorite Citristrip and got to work testing out what's underneath that old, dark finish.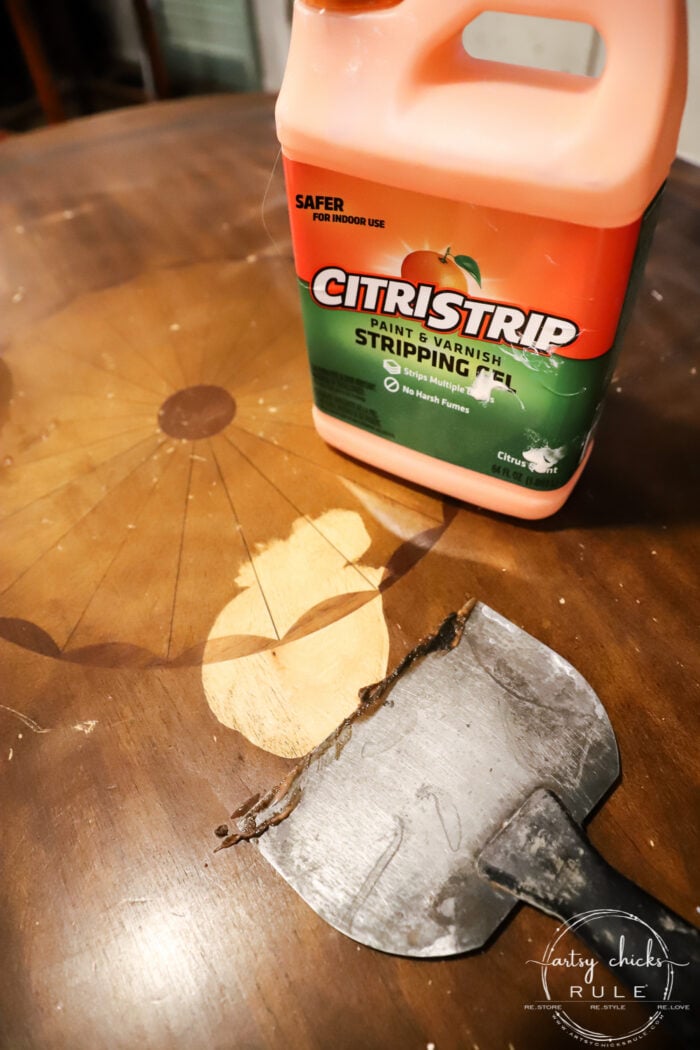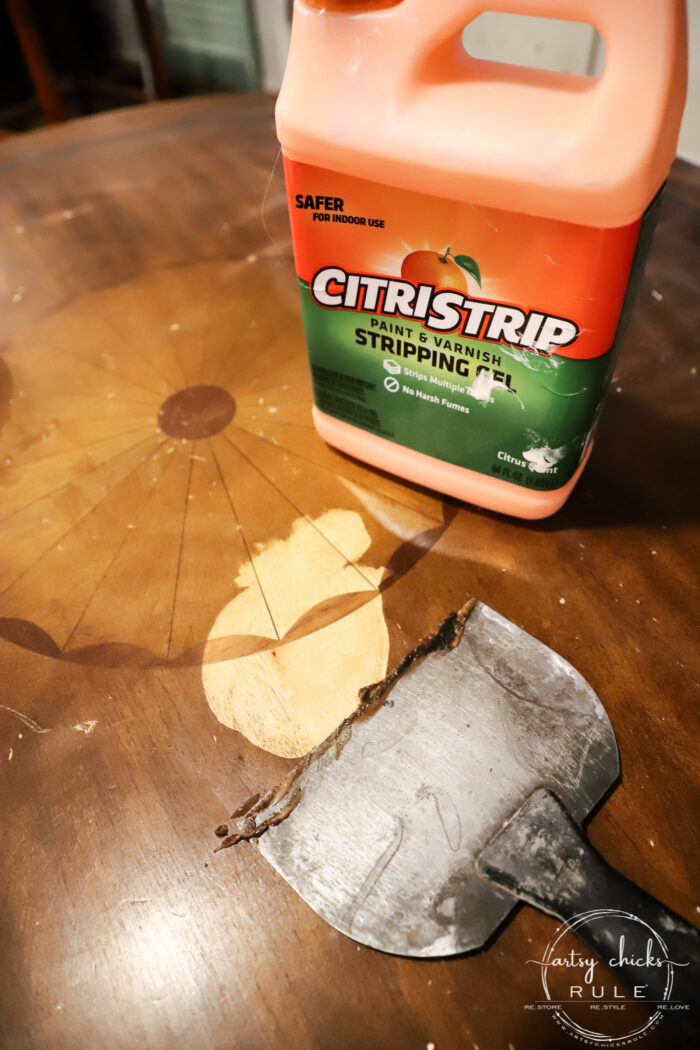 And like a charm!! My trusty ole Citristrip does the job, and does it well, without a lot of stink or chemicals.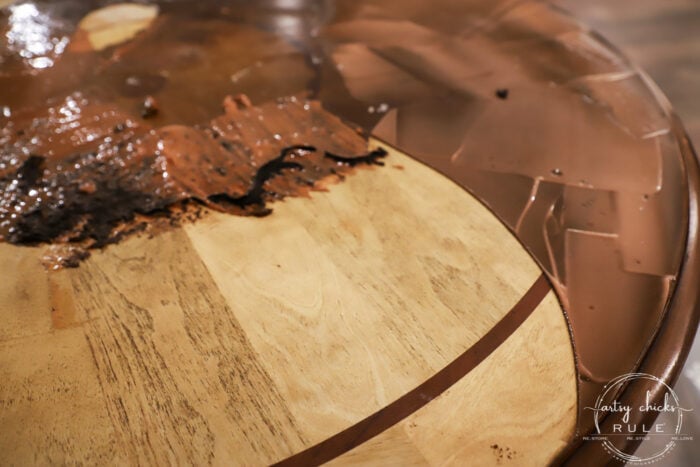 Just look at that gorgeous wood under there. Wow.
Such a shame it was covered up in that old, dark finish.
Want to see some of these projects in "live" time? Hop on over and follow along with me on INSTAGRAM. I'm always sharing in my stories as I'm doing projects, finding new furniture, fun finds….just all the day to day behind the scenes.
Then came the second bump in the road. I didn't quite have enough Citristrip left in my bottle to finish up well so I went and bought more.
Sadly, apparently, they have changed the formula. And…it doesn't look the same, work the same or smell the same.
It used to be more like orange pudding in texture, now it is an orange gel.
It used to smell more like citrus, now it smells like chemicals.
And it used to actually work really well, now not so much.
I'm pretty unhappy about it and have no idea what I'll use now but it won't be this, I returned it.
Anyway, I did manage to get the entire top off and most of the edges(the rim around the top section) with my sander.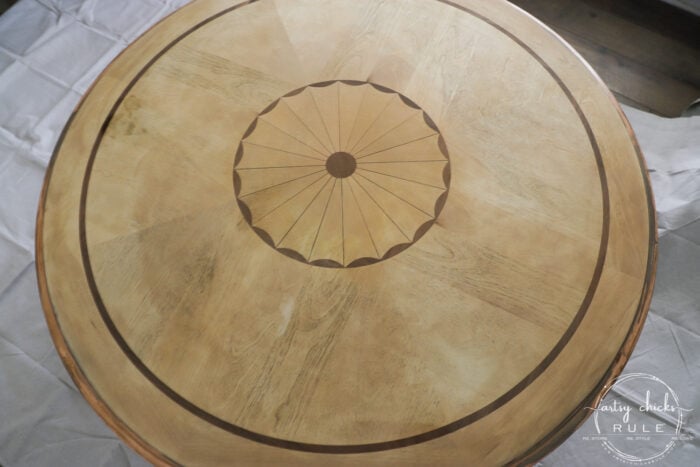 But…boo…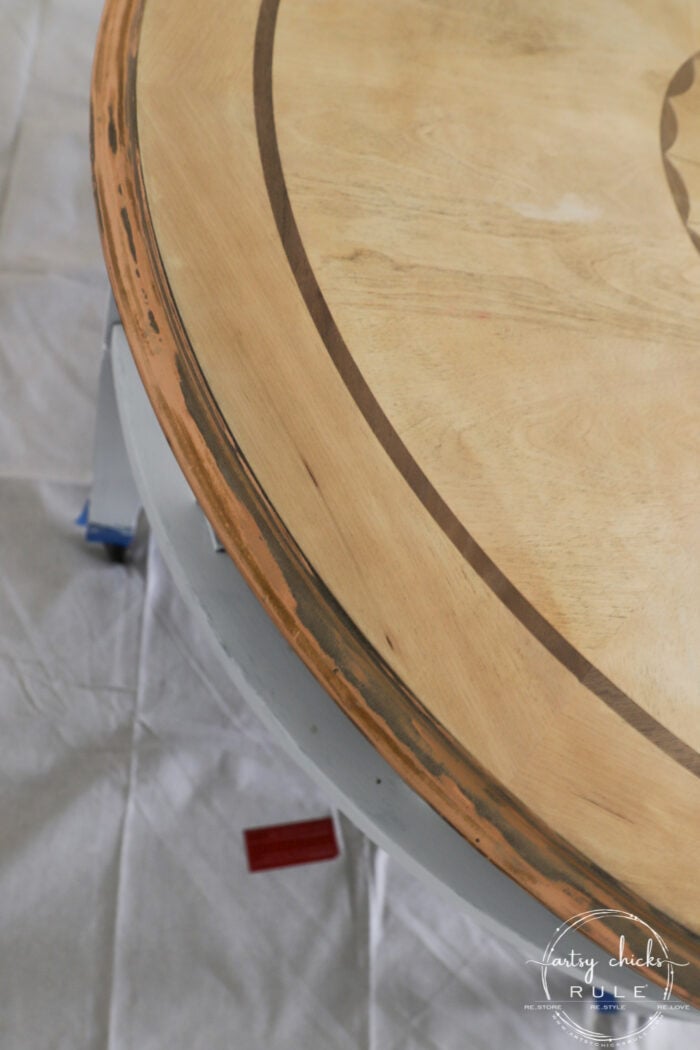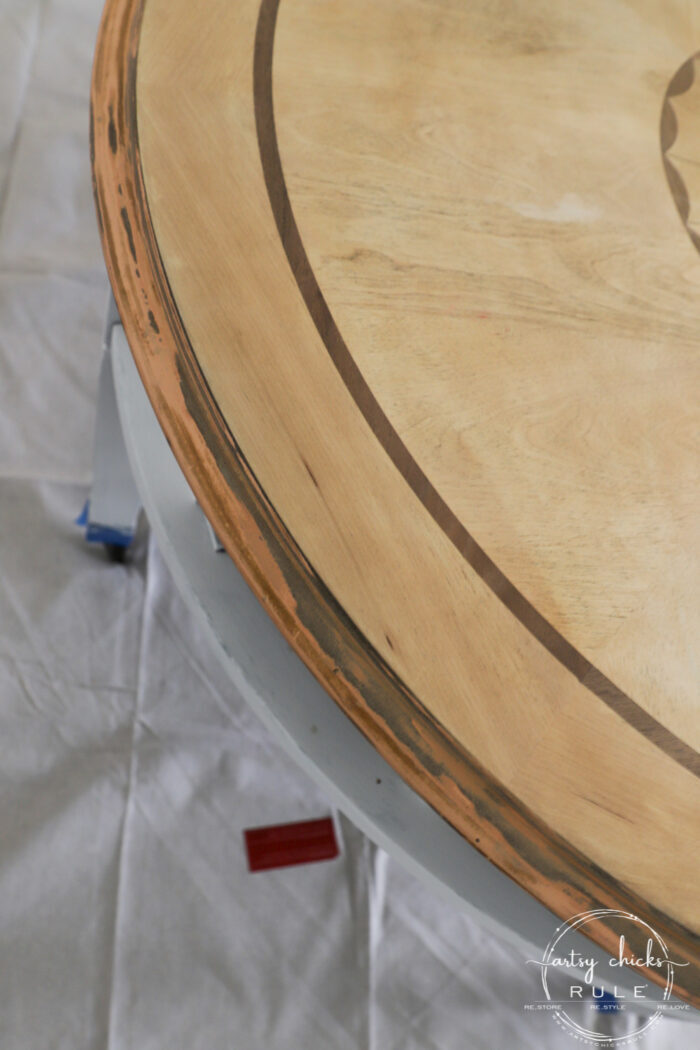 The darn edge isn't wood like the rest (it was like a pressboard wood under there). Boohoo!! So that would have to get painted with the rest of the base.
Only the very top would get stained.
I decided to try out a water-based stain and use that instead of regular oil-based. That was all well and good but I did not like the color (which, by the way, was the only color on the chart that I was really liking for this project)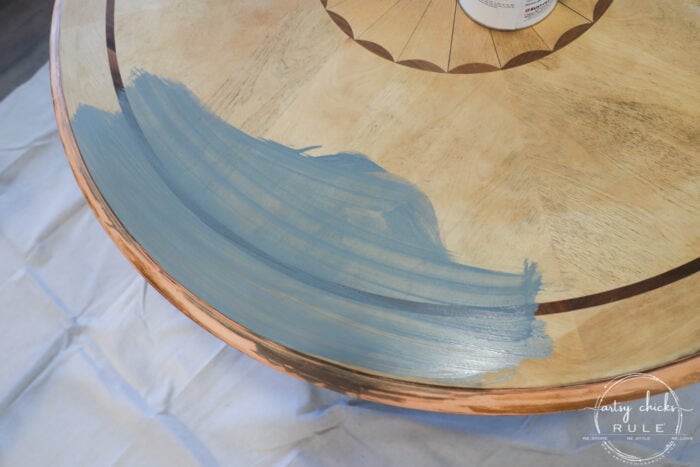 It looks really green in the photo but in actuality, it wasn't quite that green. However, it was more green than I wanted.
I started to rub it in and no, that was not right at all. So I quickly wiped it off and gave it another quick run with my sander.
I did end up using that stain on another project in my haul though. So stay tuned.
Then I thought, well, I'll just whitewash it. Nope, I wasn't loving that either! haha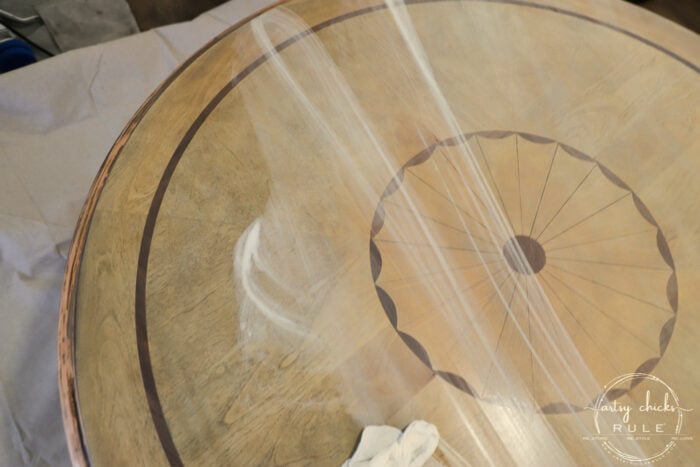 So I took a wet rag and washed that off too.
I let it dry overnight and began again.
I started with a pre-stain wood conditioner then applied Antique Walnut Gel Stain. I didn't really want to make it dark, but I wanted to change the tone and give it a sort of beach cottage look. (not orange-toned wood) So I wiped that on and wiped it back well. It wasn't exactly how I envisioned it so I pulled out another stain, (Minwax Classic Gray) and put that over top, and wiped away the excess. (the same stain I used on this Aubusson Blue dresser top)
Yes!
That is what I envisioned. Finally.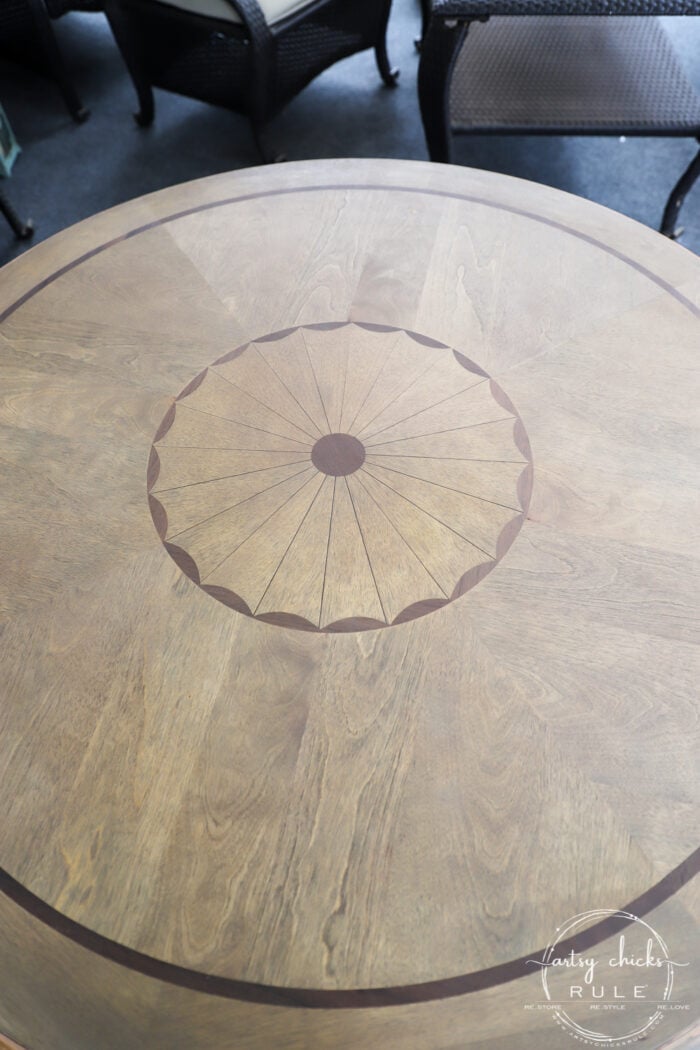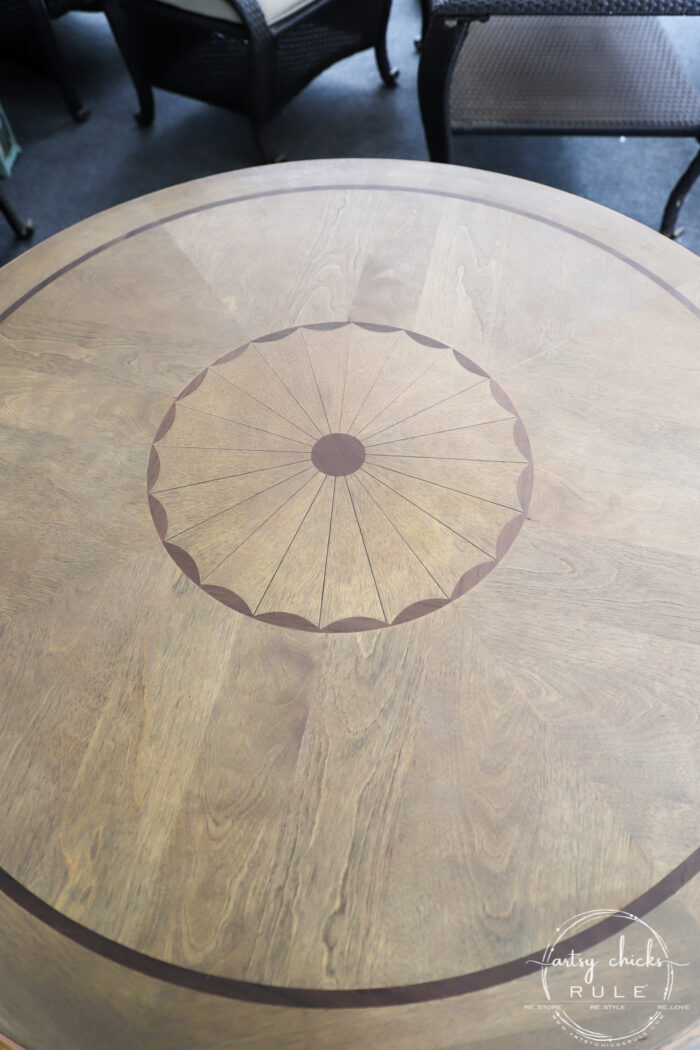 It's now a soft, weathered wood look perfect for a coastal cottage vibe.
It's very subtle but so much better. And look at all that pretty wood grain and those darker wood inlays.
It turned out so much better than I could've hoped after all of that.
And the reason I always say, just keep going. If you don't love it, or mess it up, keep on going.
Don't throw in the towel because you are probably just one step away from wonderful!
Then I gave it the perfect top coat, General Finishes Gel Topcoat. I love this stuff. The finish is amazing.
It's the same finish used on my recently made over stained antique cabinet.
You simply apply it and rub it on using a T-shirt-type cloth. I use one to apply and one to wipe away excess and buff/rub.
It gives the most beautiful buffed finish. I tried to take a few photos to show you but it's so hard to translate what I see in person to what the camera picks up.
But here goes anyway…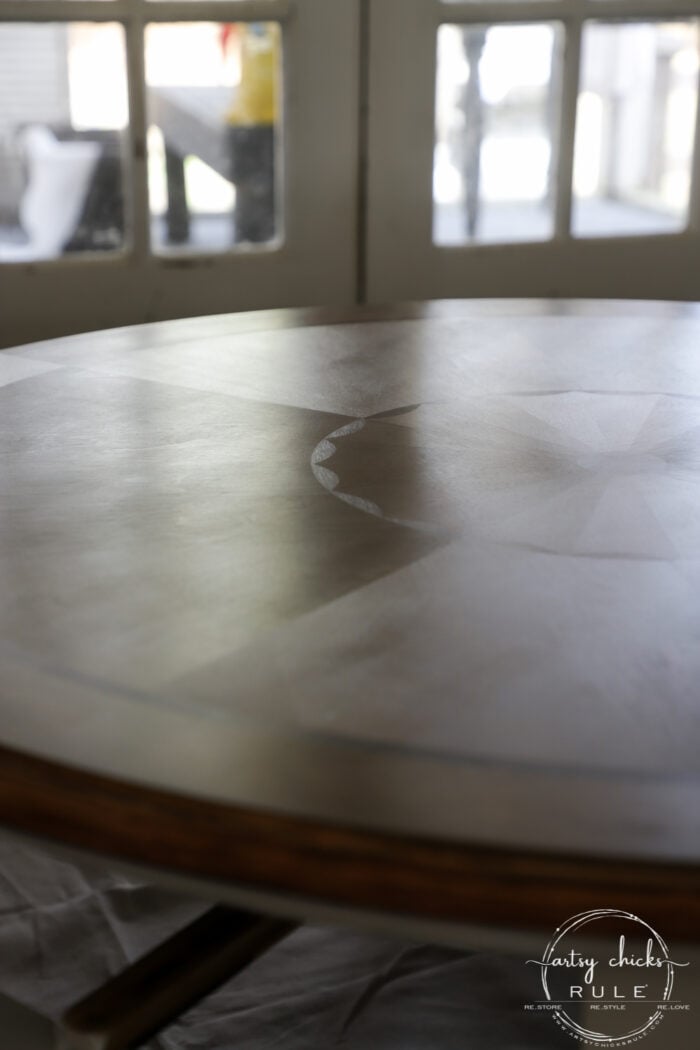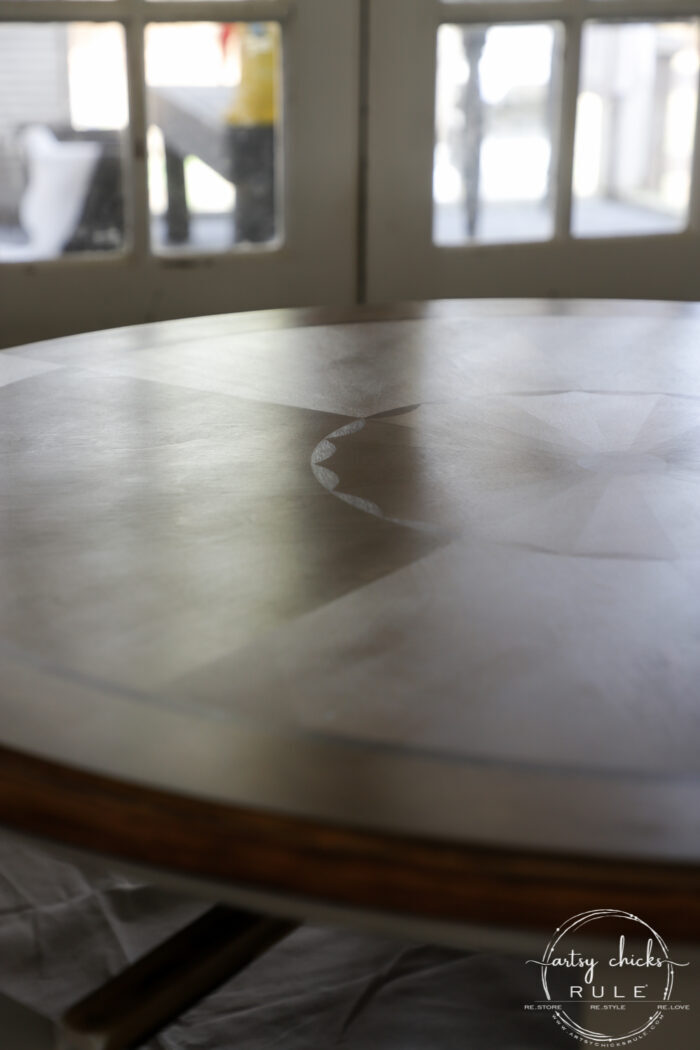 I did two coats, letting them dry in between.
Can you see that pretty sheen??
Keep an eye out for it in the rest of the pictures I share below.
After that was dry, I painted the base white, with my favorite white paint. 2 coats.
Are you new to chalk painting?? This post might be helpful to you >>> "How To Chalk Paint Furniture & More (tips & tricks I've learned!)"
I lightly sanded to distress the edges and applied 2 coats of my favorite water-based topcoat with a sponge applicator.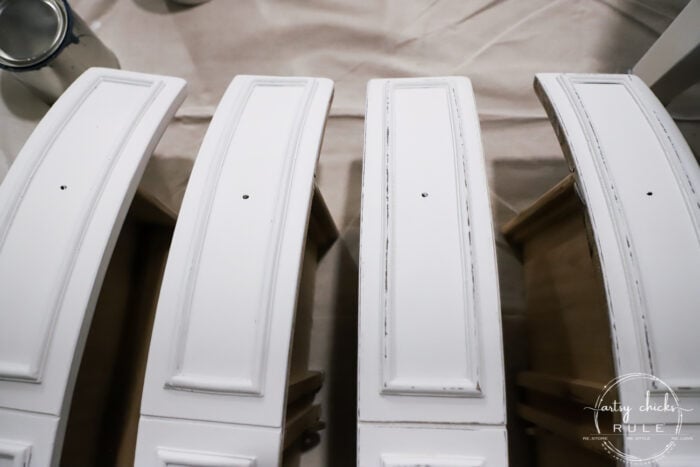 (the left 2 have not been distressed yet, the right two have)
I love the gel topcoat I used on the stained top but it is oil-based and I wouldn't use it on white paint. I would definitely use it on any darker colored paints and stain though.
But for white paint, I only use water-based.
Want more ideas for sealing chalk paint? Check out this post here >>> The 5 Top Ways To Seal Chalk Paint
(Want to see even more of my favorite furniture makeover supplies??? Take a look in my very own curated shop, here!)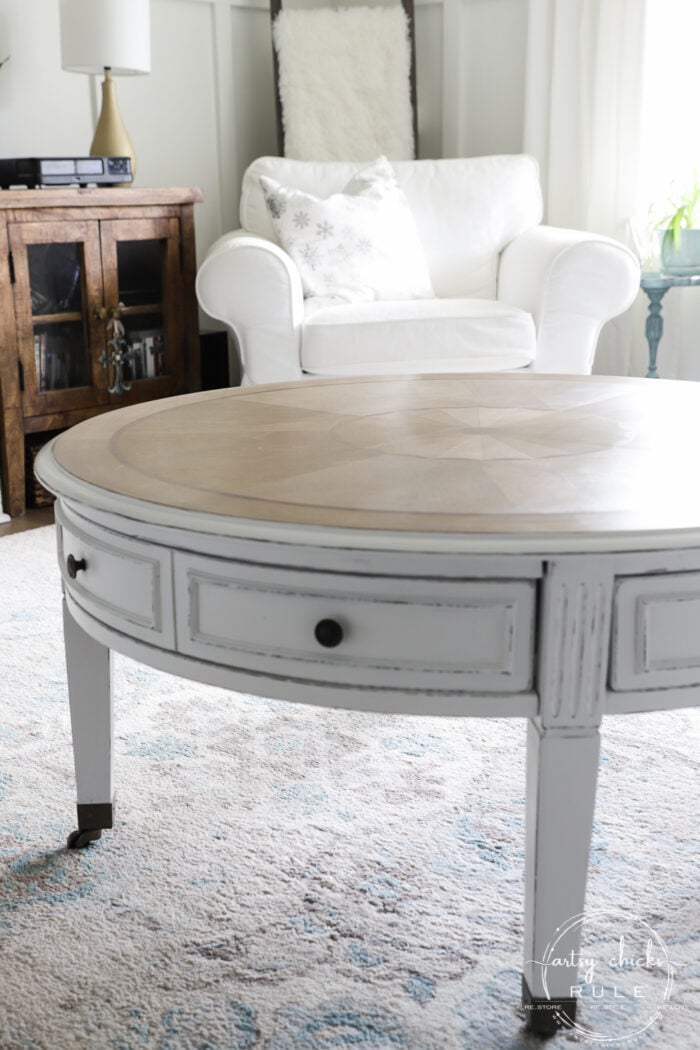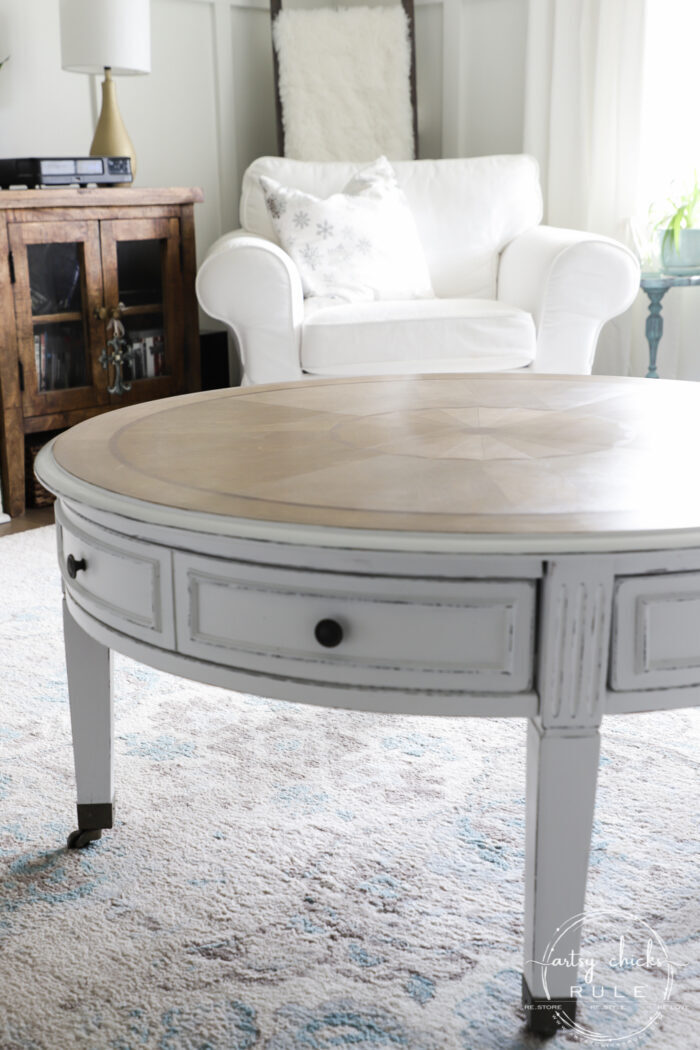 I left the knobs and feet the same color they were. Oddly enough, they both look darker now that the table is painted white.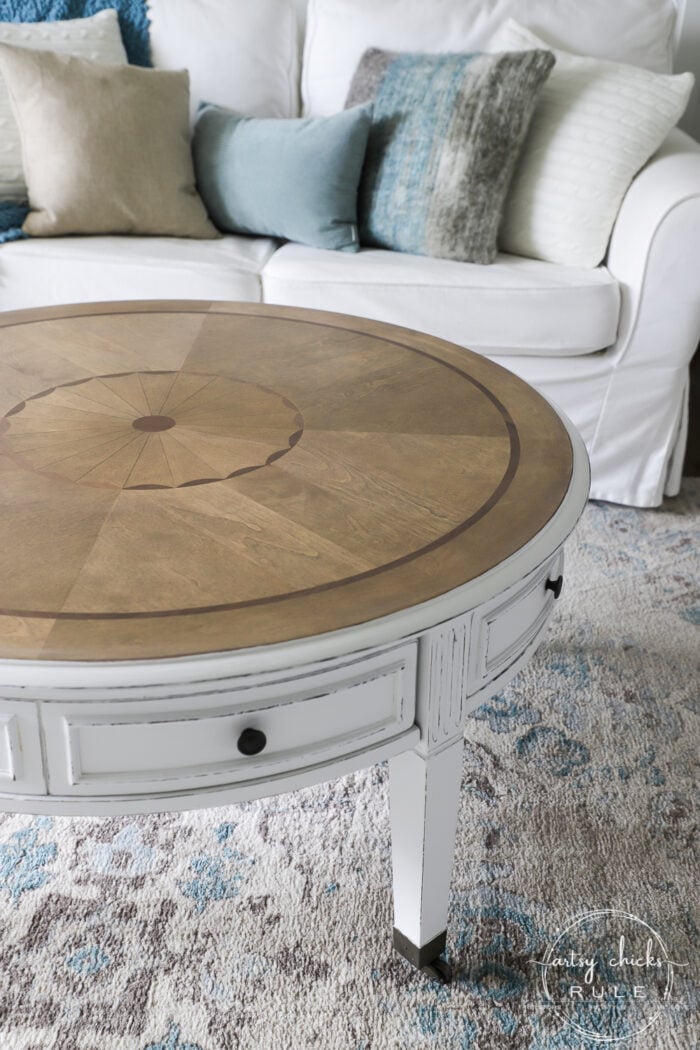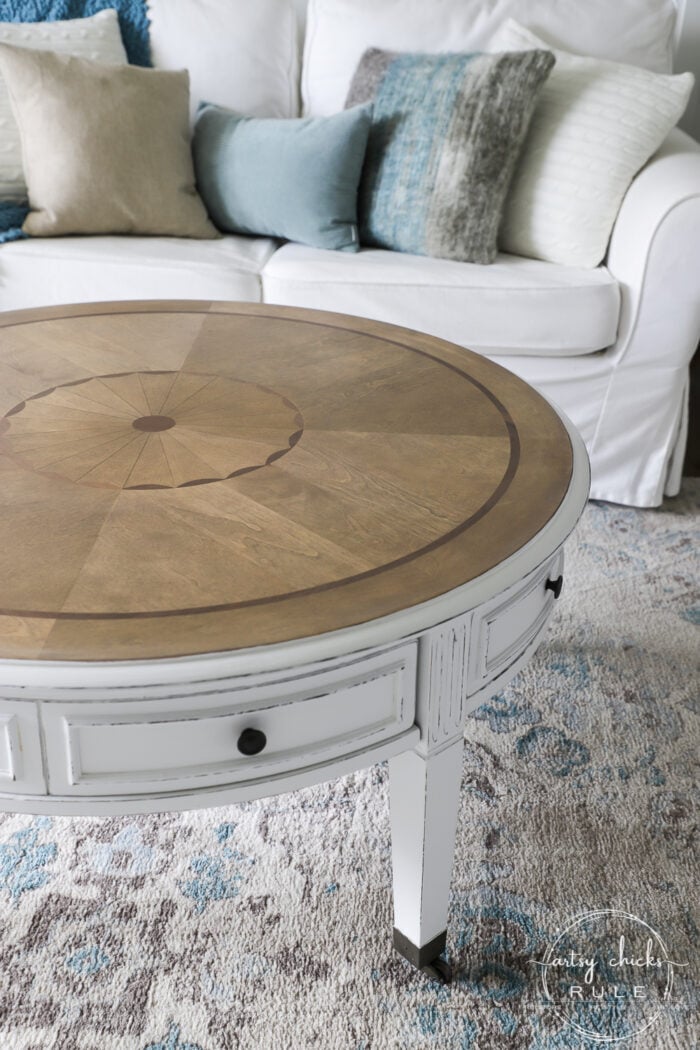 So happy with that top!! I really, really wasn't sure I was going to be after all that trial and error. ;)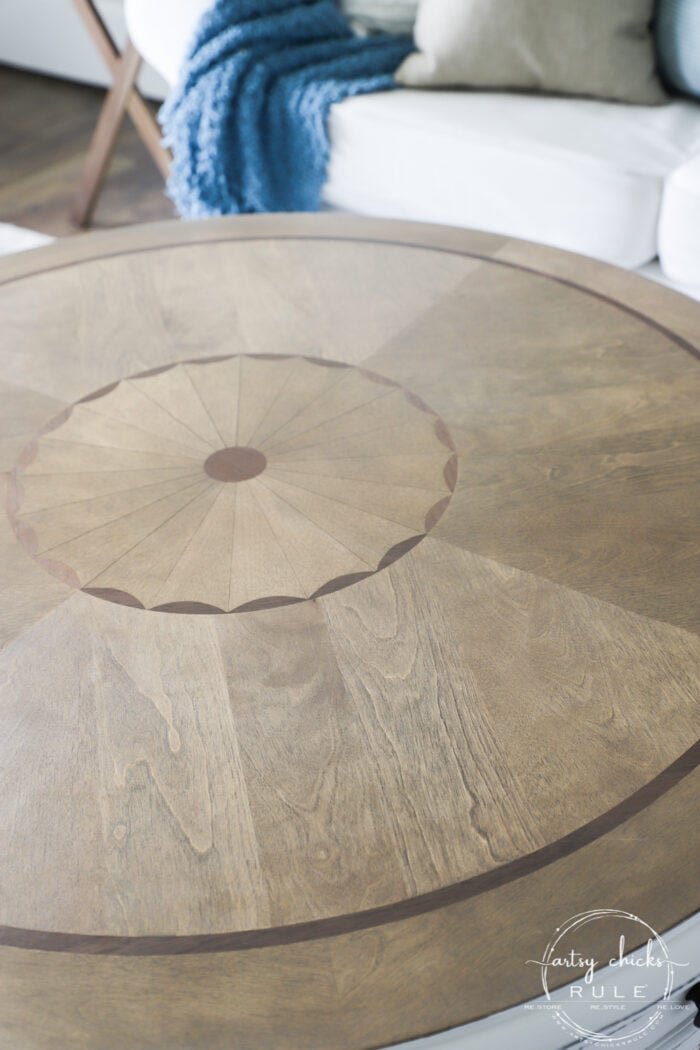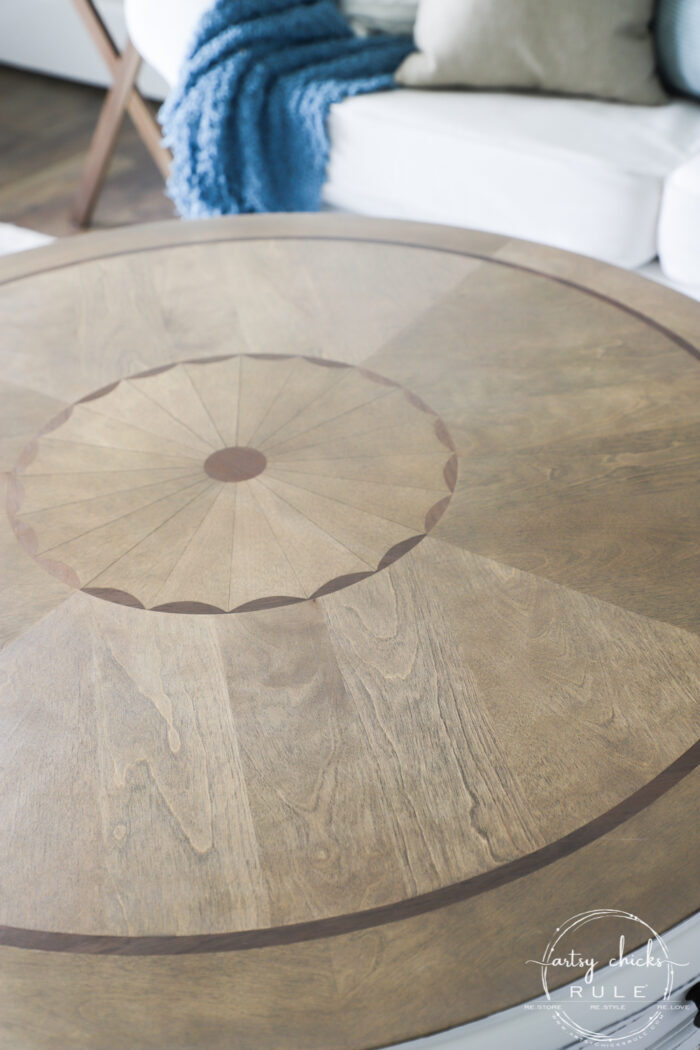 A few close-ups…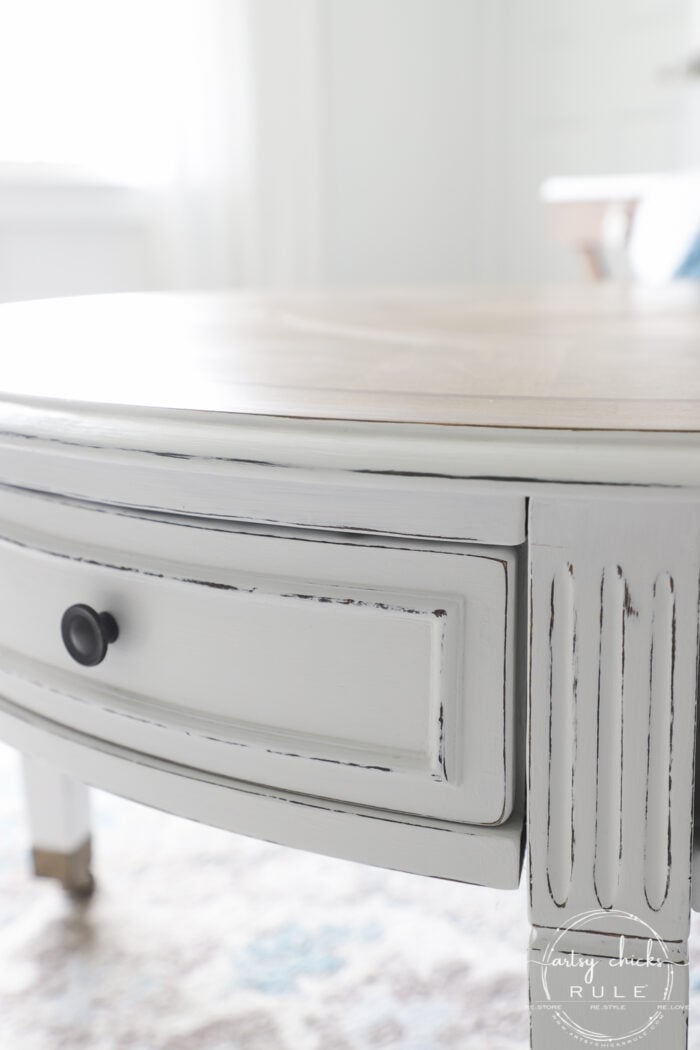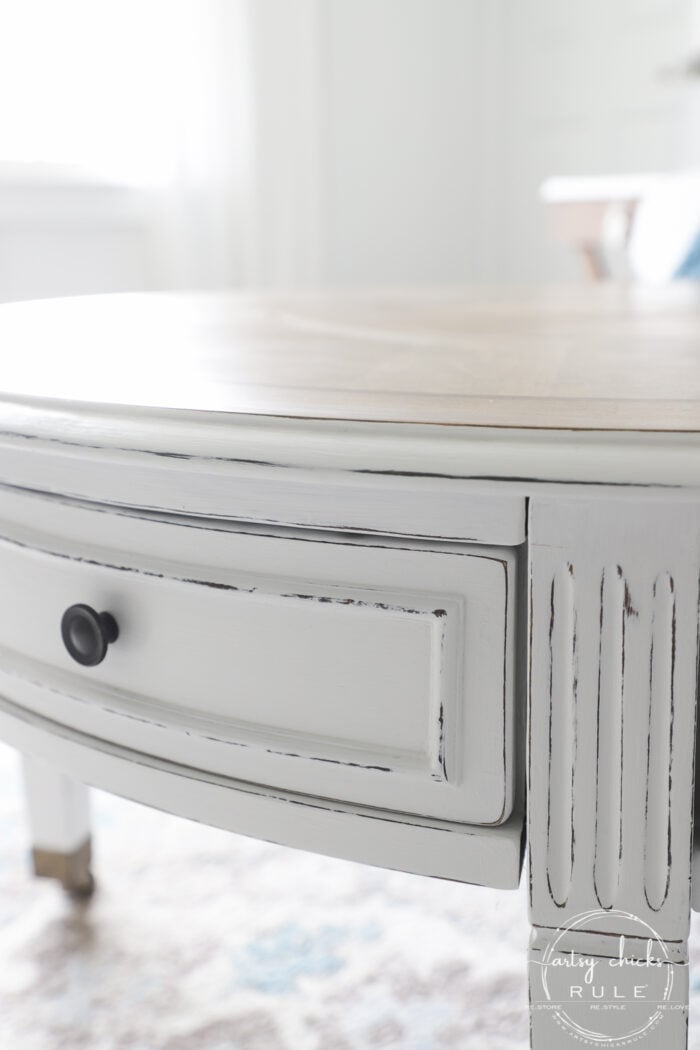 So in order for the top edge rim to show through dark like the rest of the table, once distressed, I did have to paint the edge of the table with black paint before painting it white. (the dark color will show through when distressed…being careful not to sand too much to go all the way to the lighter base)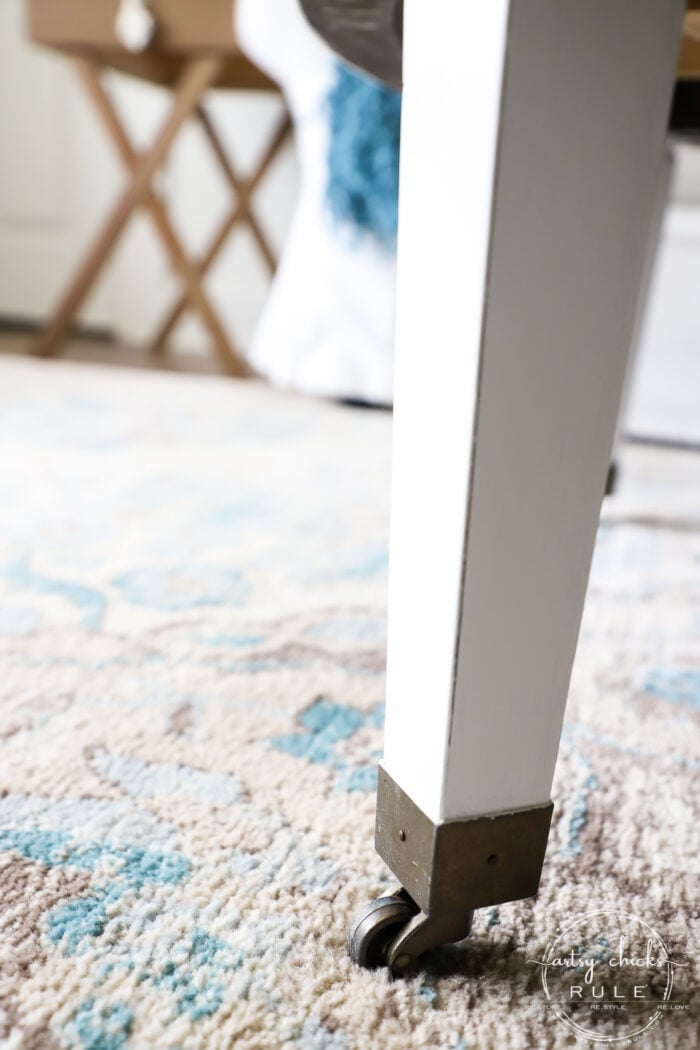 I love that this table has wheeled feet. Easy to move about.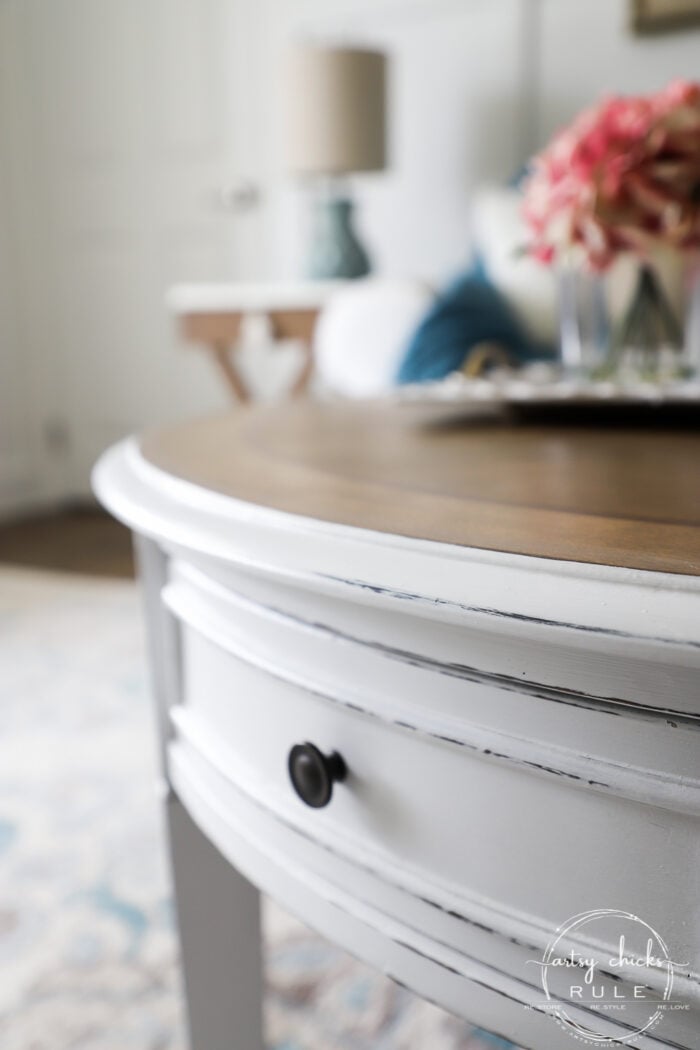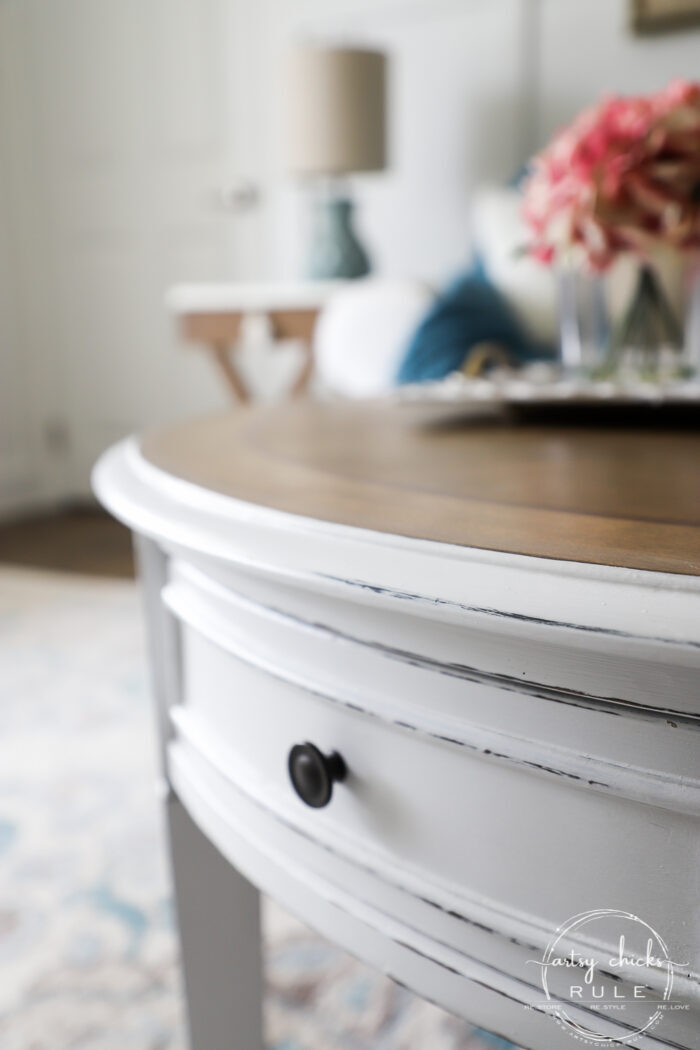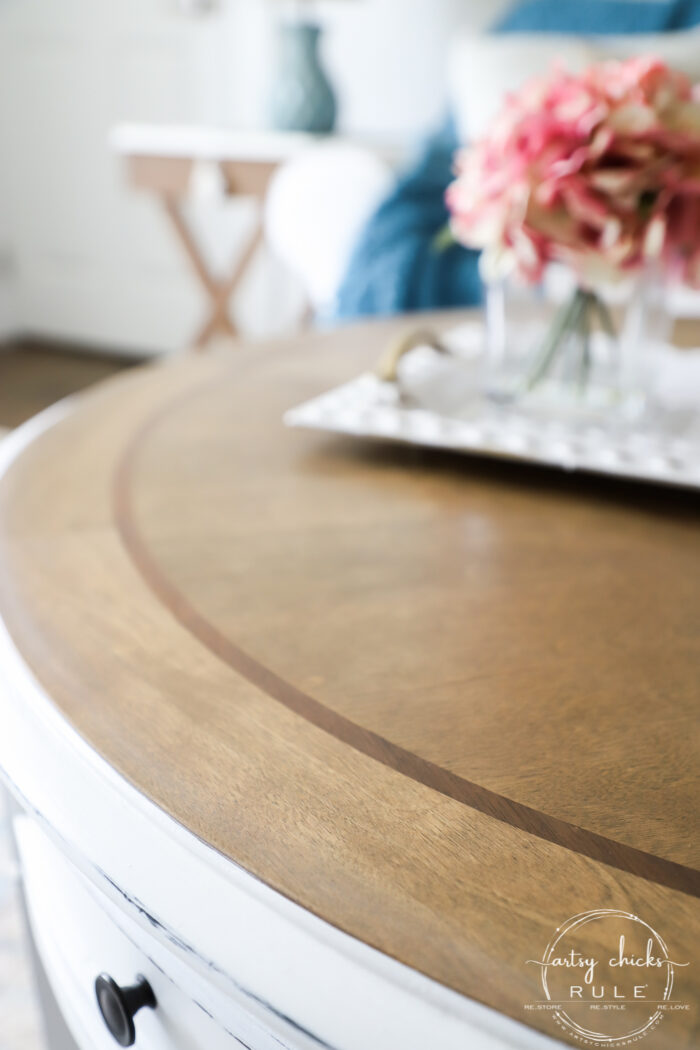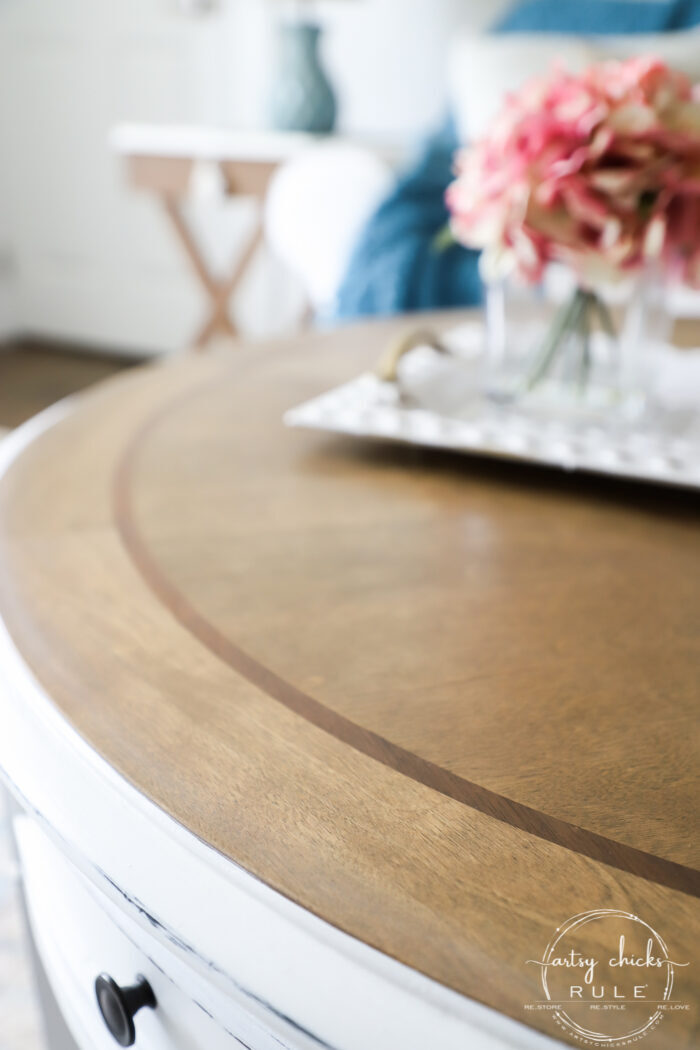 The drawers were in perfect shape inside so I didn't do a thing with them.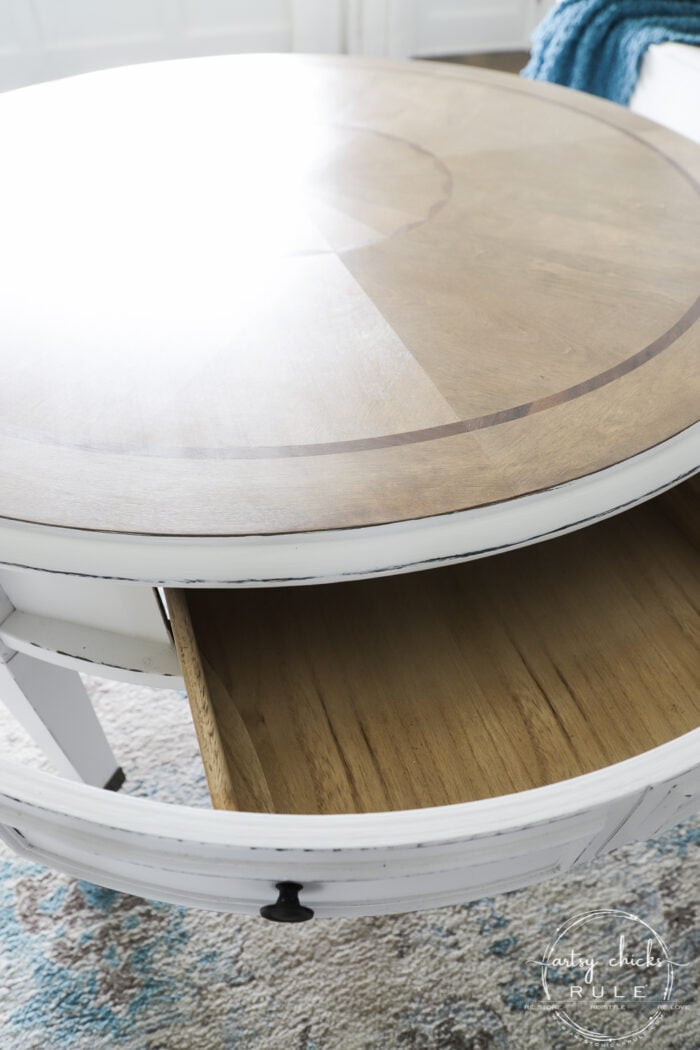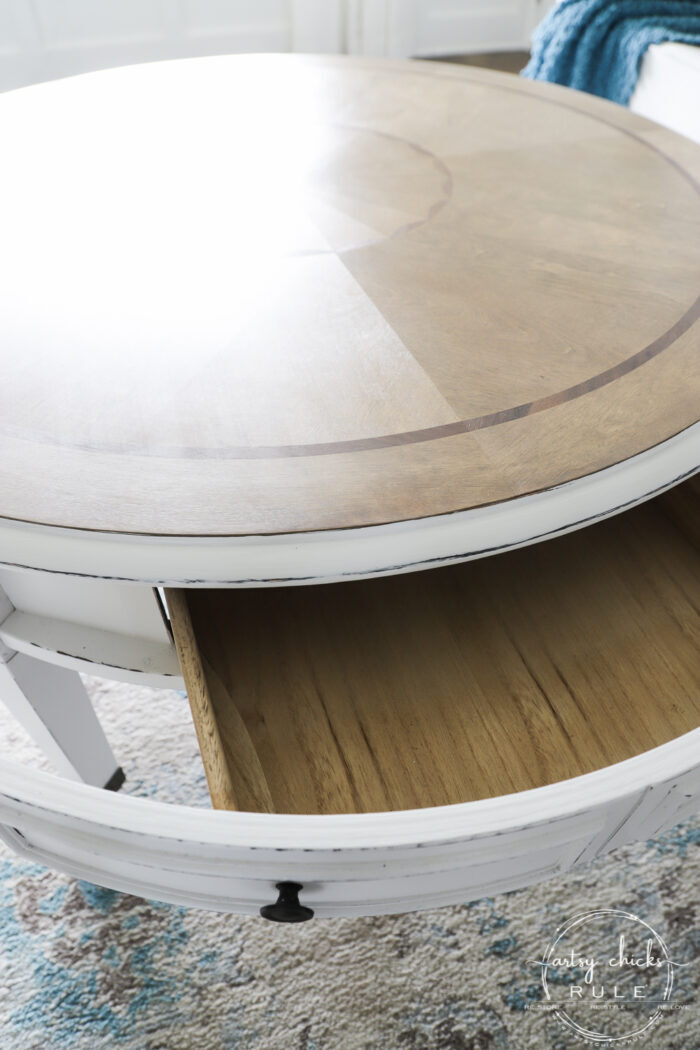 And styled up a bit…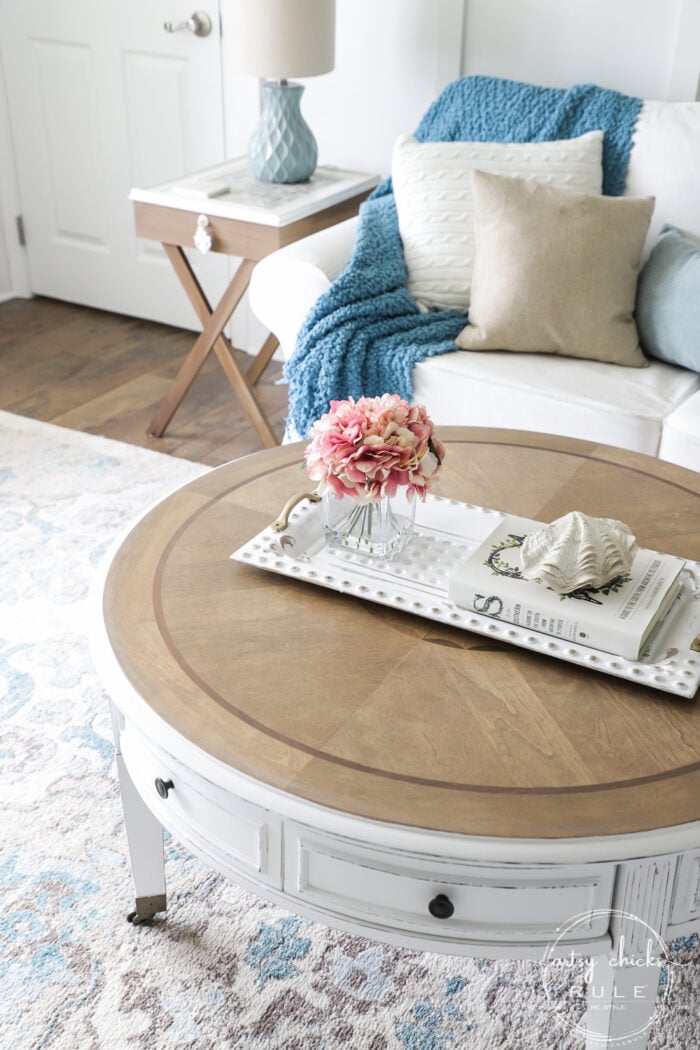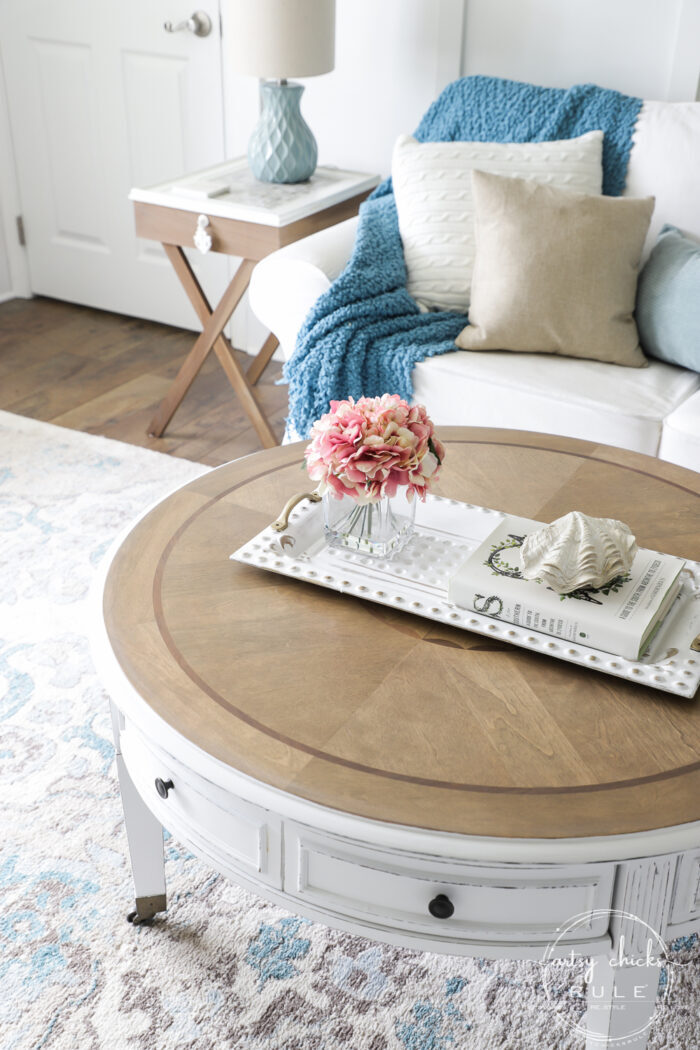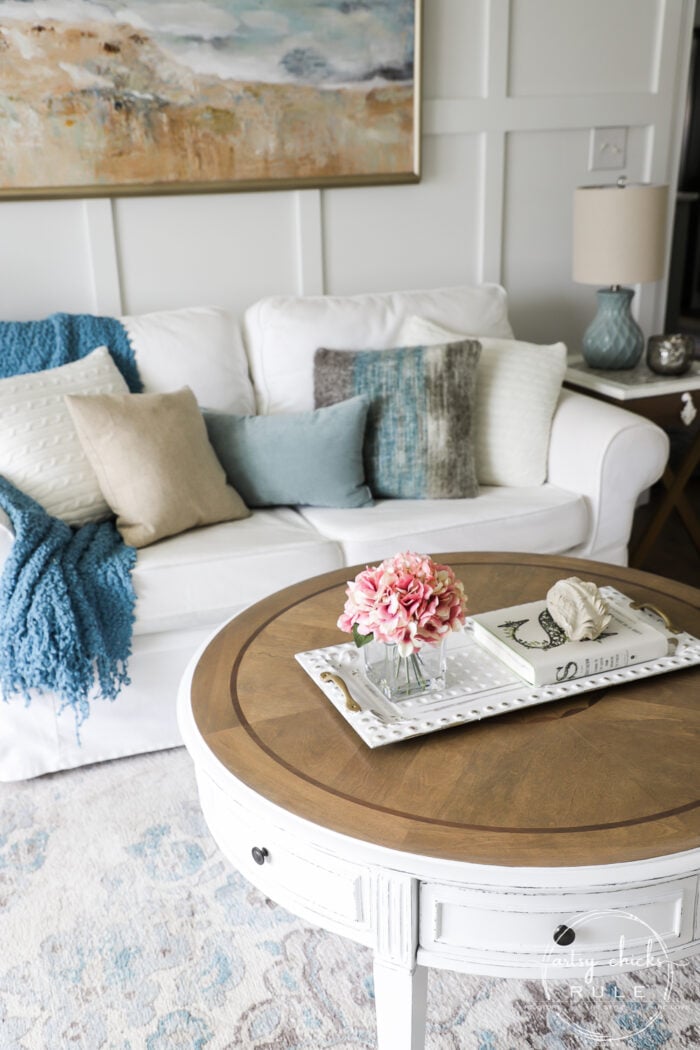 Interested in the rug?? It's a steal and can be found >>> here.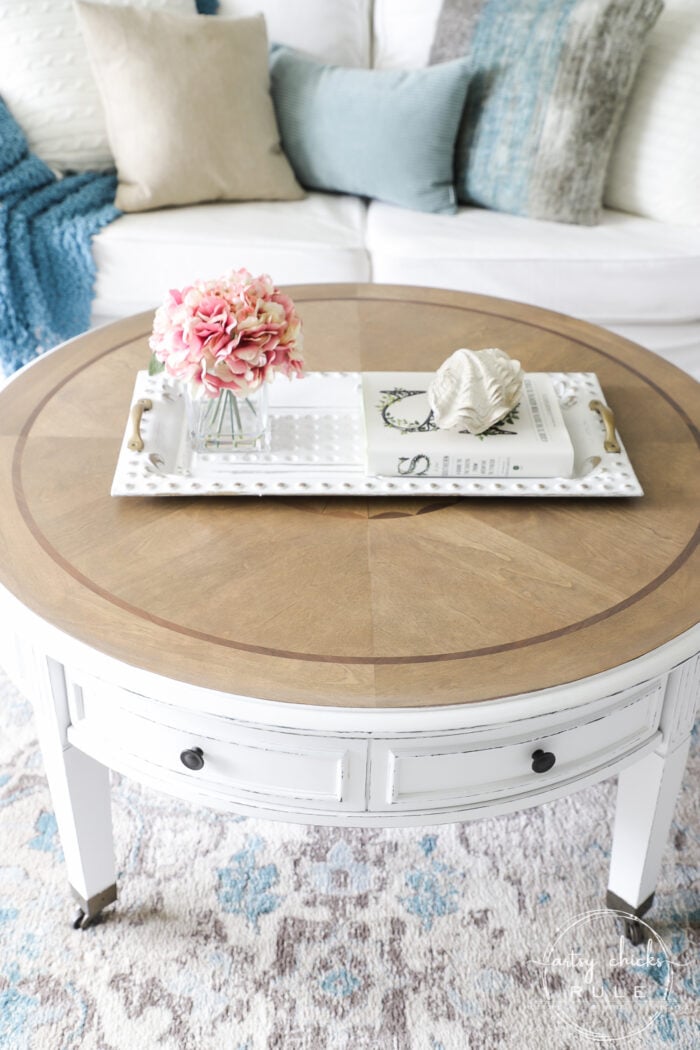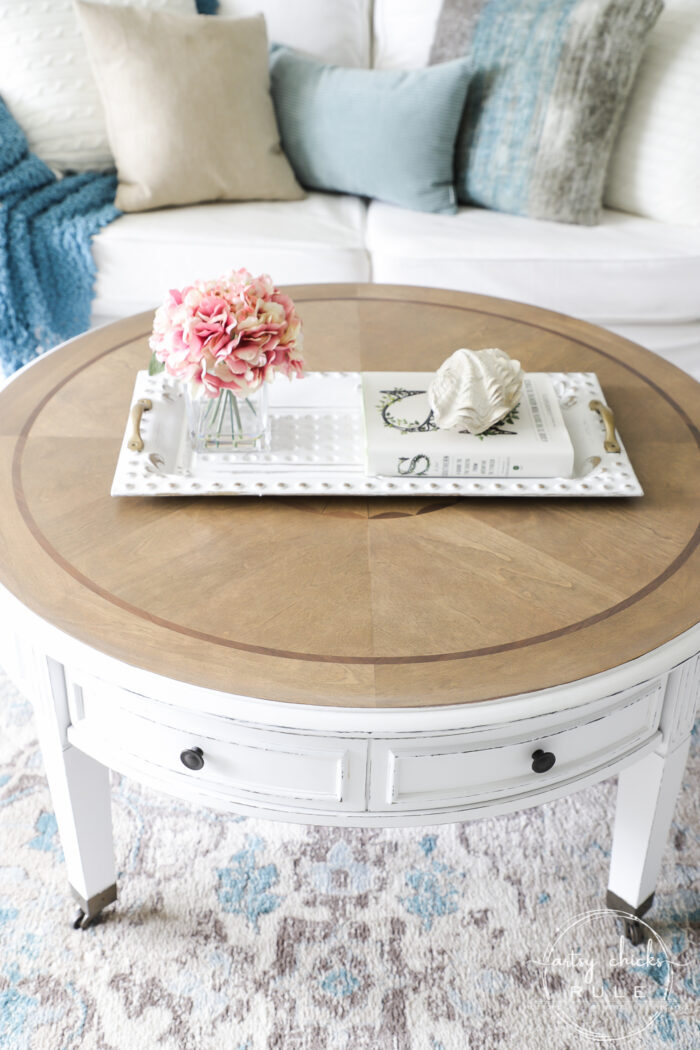 See that buffed sheen on the top??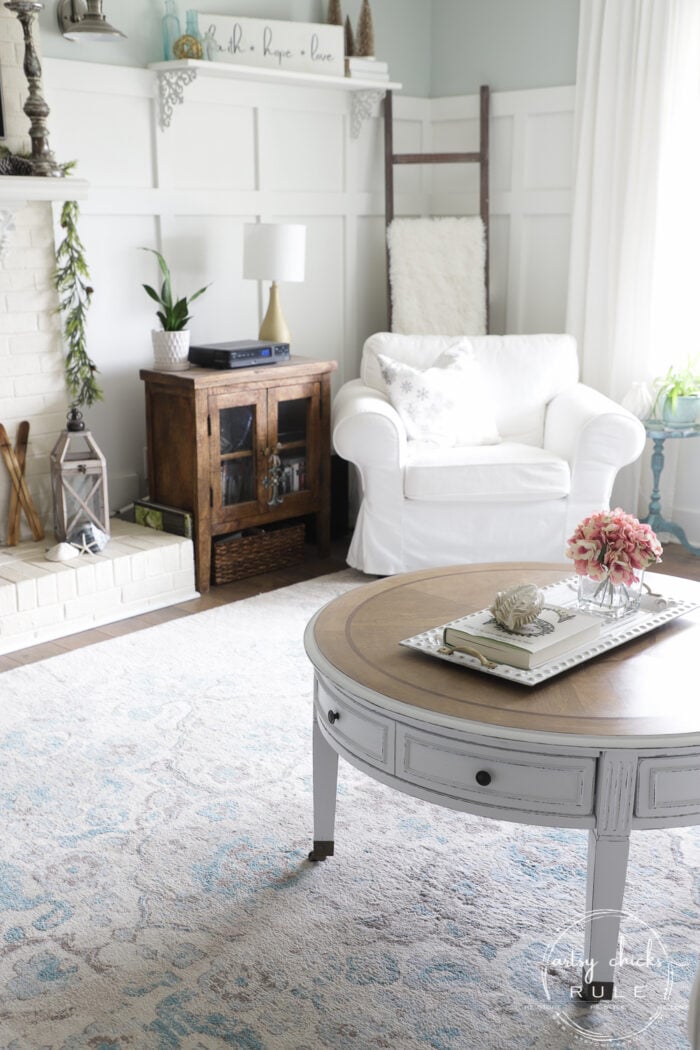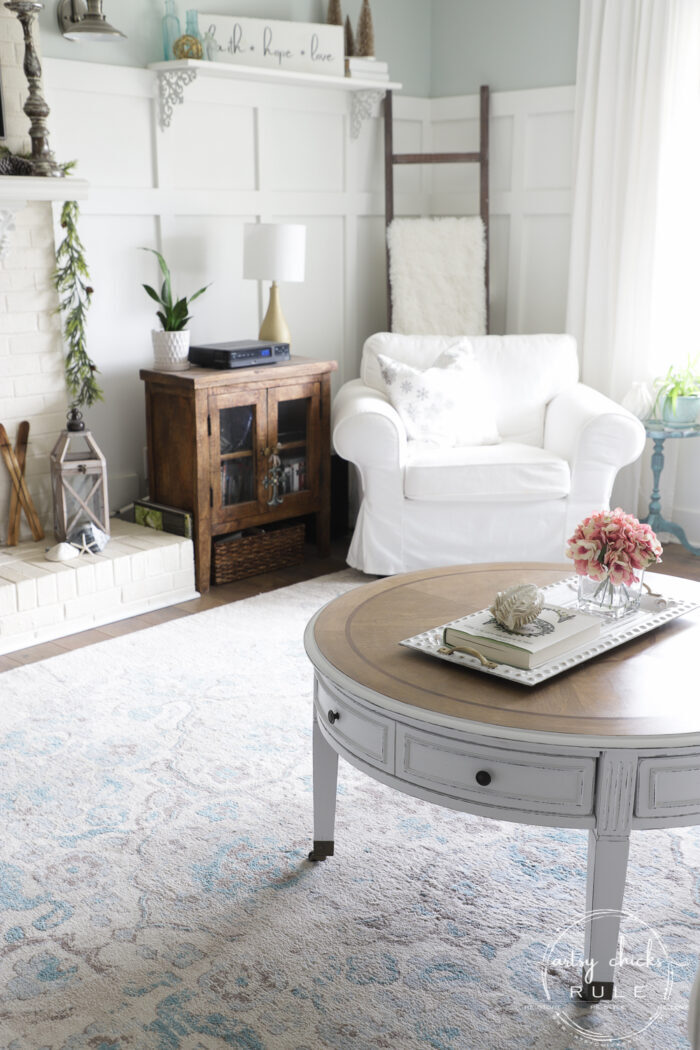 I'm feeling like spring with those pink flowers. I think it might be almost time for me to take down my winter decor for the year. I have to truthfully say though, I have really enjoyed having it up this year. But I'm excited to get busy on some spring projects around here!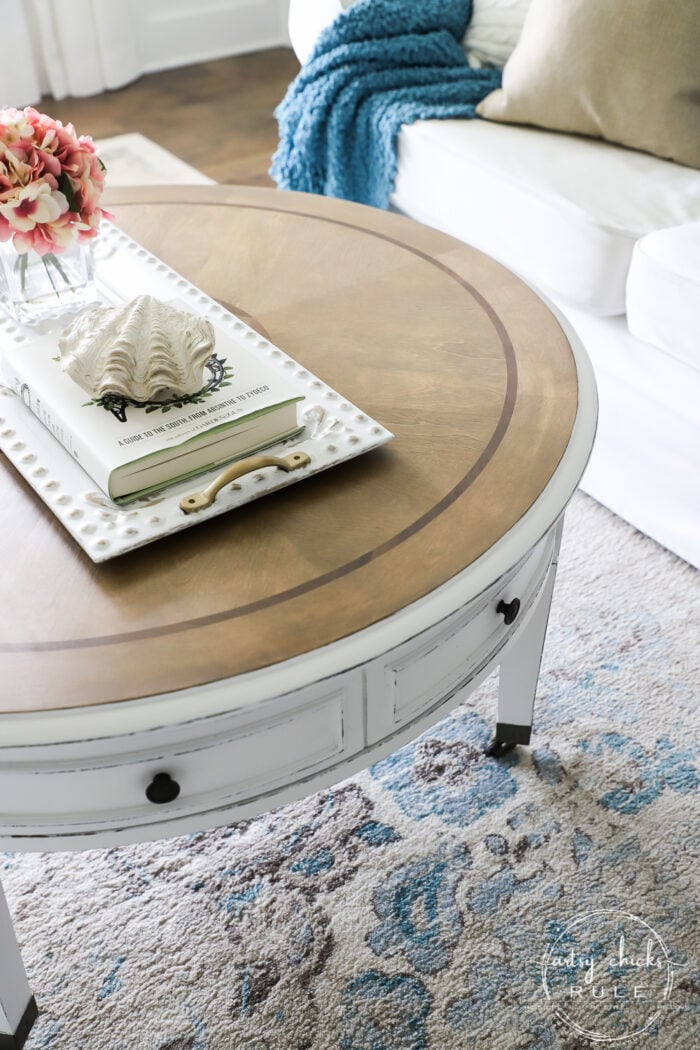 That top is like buttah!! Really, it is. Sooo smooth.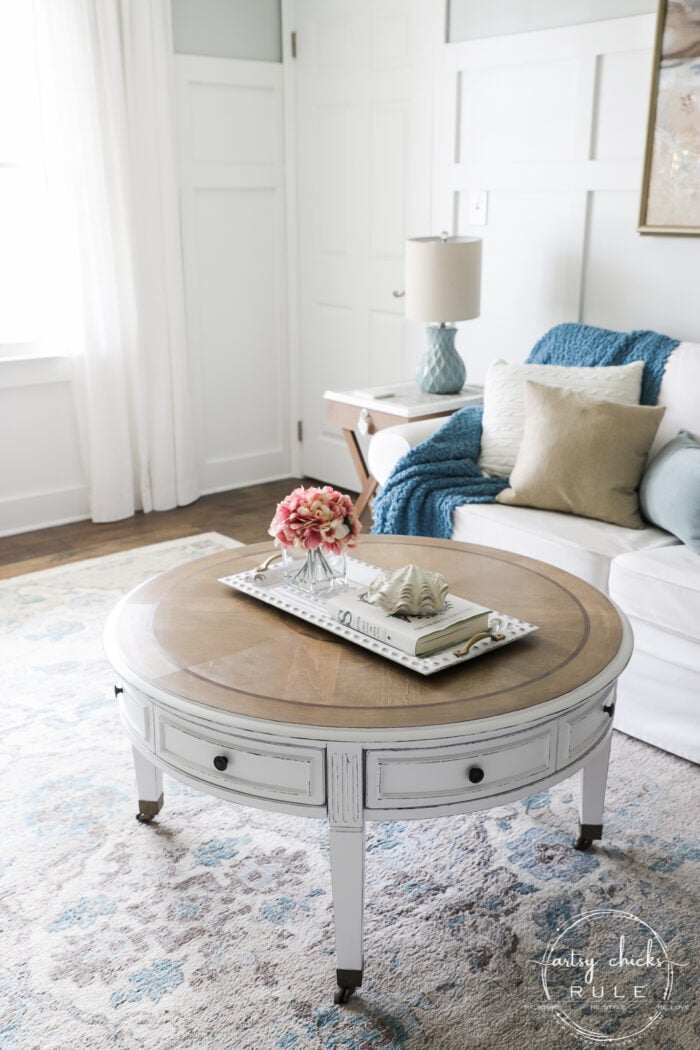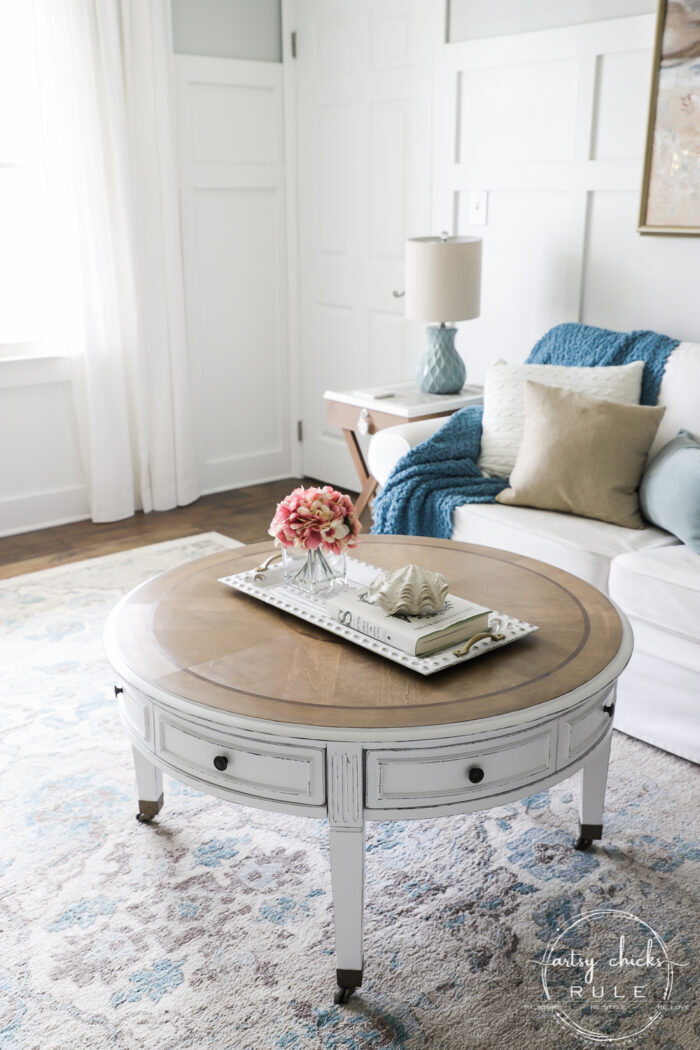 Remember that metal tray makeover?? If not, you can see it >>> here. It's another one that got multiple makeovers before I got it right. ;)
I hope you enjoyed today's makeover. It was a labor of love, this one, for sure. I knew it had beauty under there just waiting to pop out. And there it is!! lol Even if it did take me a few tries before I got it right. It's always worth the effort though. And how can you beat it for $35?? That's a steal.
Decorate your home on a budget by shopping thrift stores? Most definitely.
PIN it to save it!!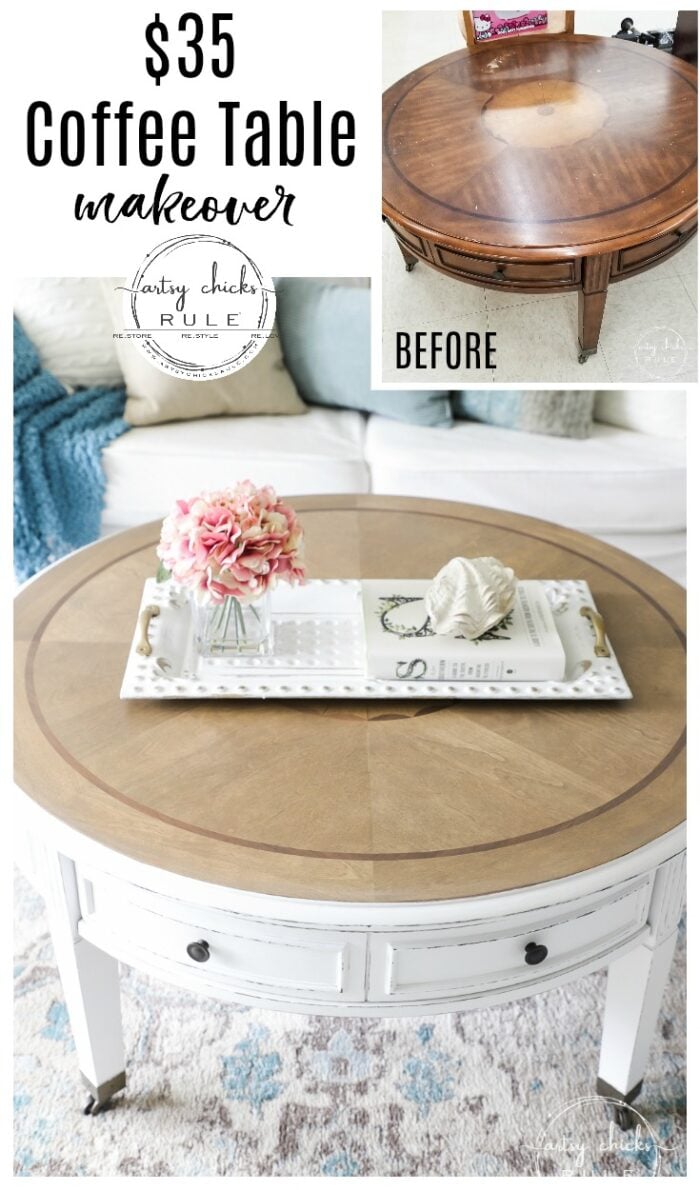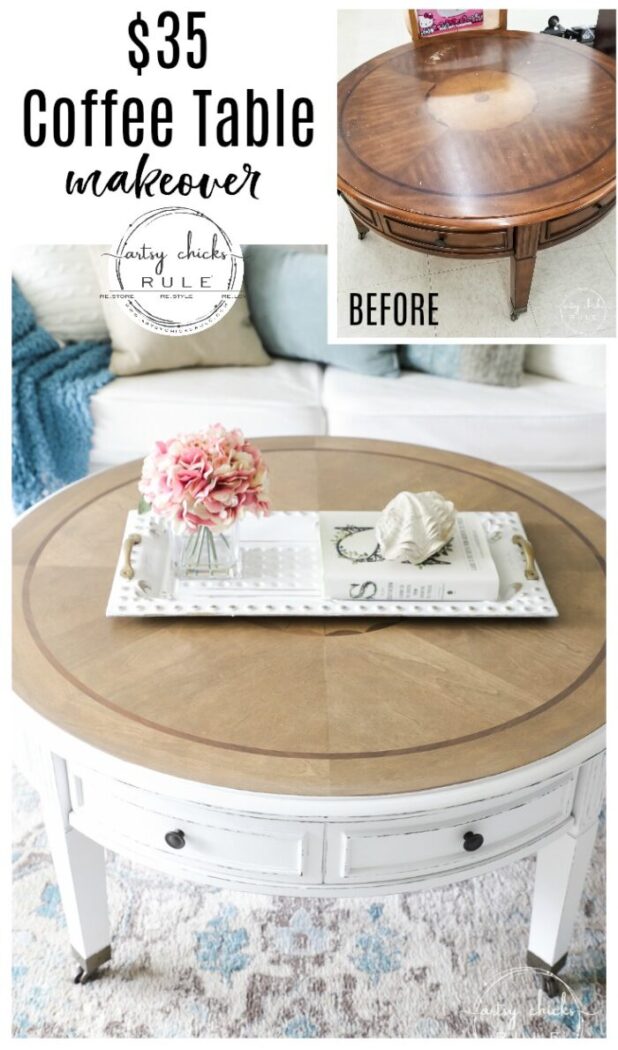 But wait!! Don't go just yet. You've got to hop over and see what kinds of treasures my friends turned these into!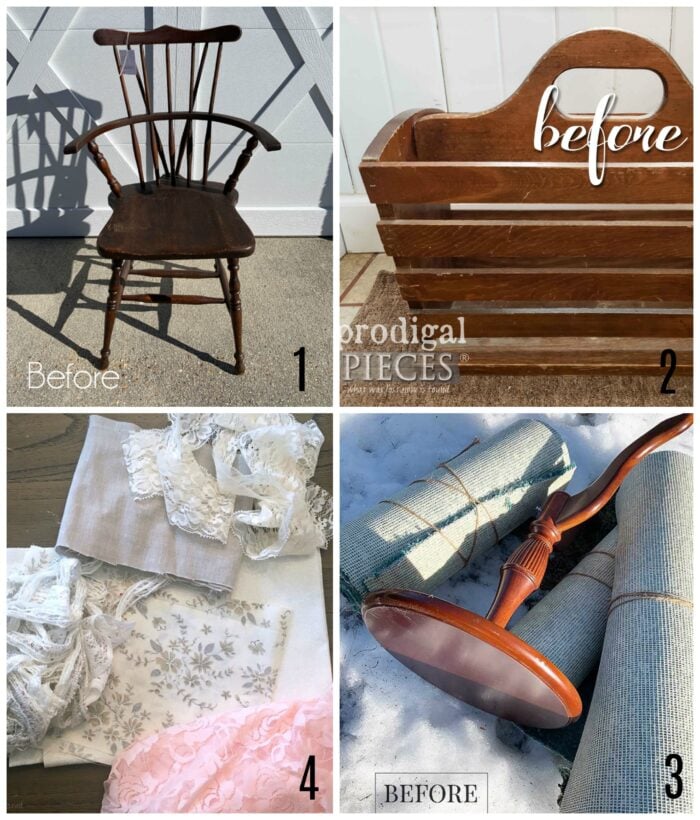 Want to see even more Trash To Treasure Transformations? Check them all out >>> here.
Don't forget to hop over and enter the giveaway I'm doing! You can find it >>> here.
I'll see you back here on Thursday, marking one more makeover off the haul list! :)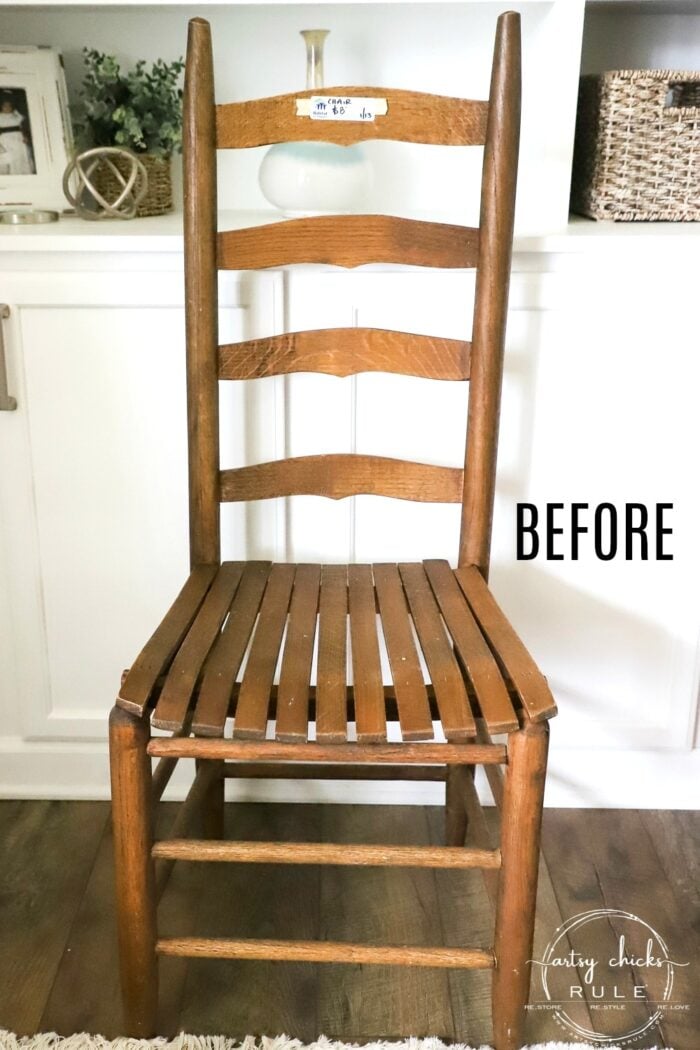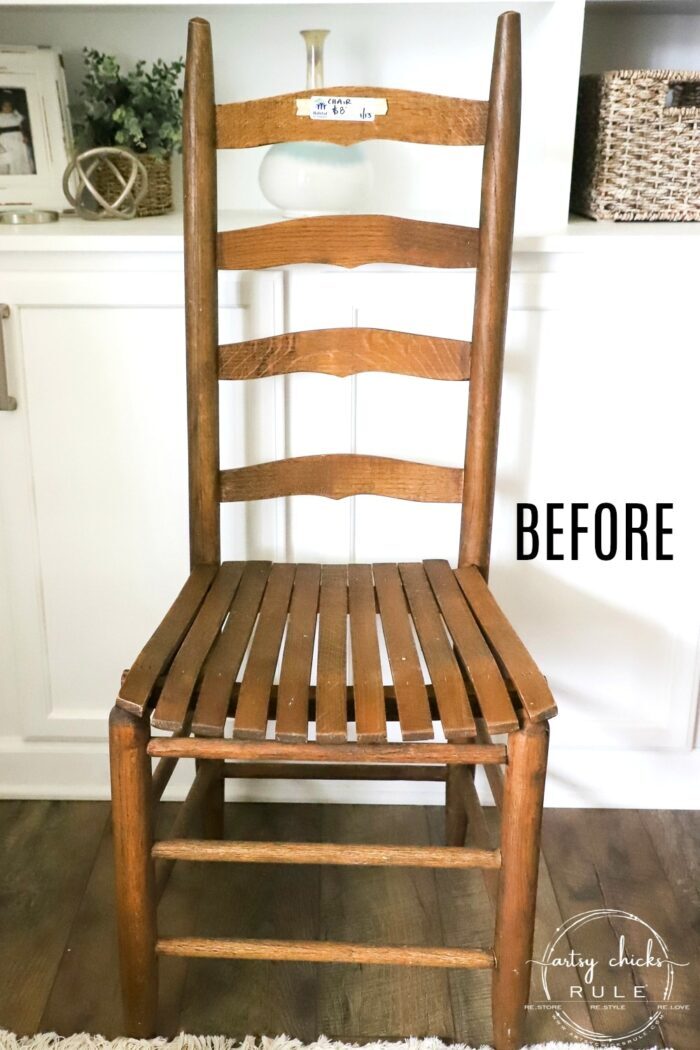 UPDATE!! See it now, here!
Have a great week!
xoxo