How To Transition From Christmas To Winter Decor (tips and ideas!)
This post may contain affiliate links. Please see disclosures here.
I'm sharing a few simple tips and ideas to transition into those long winter months after the holidays to create simple & cozy winter decor!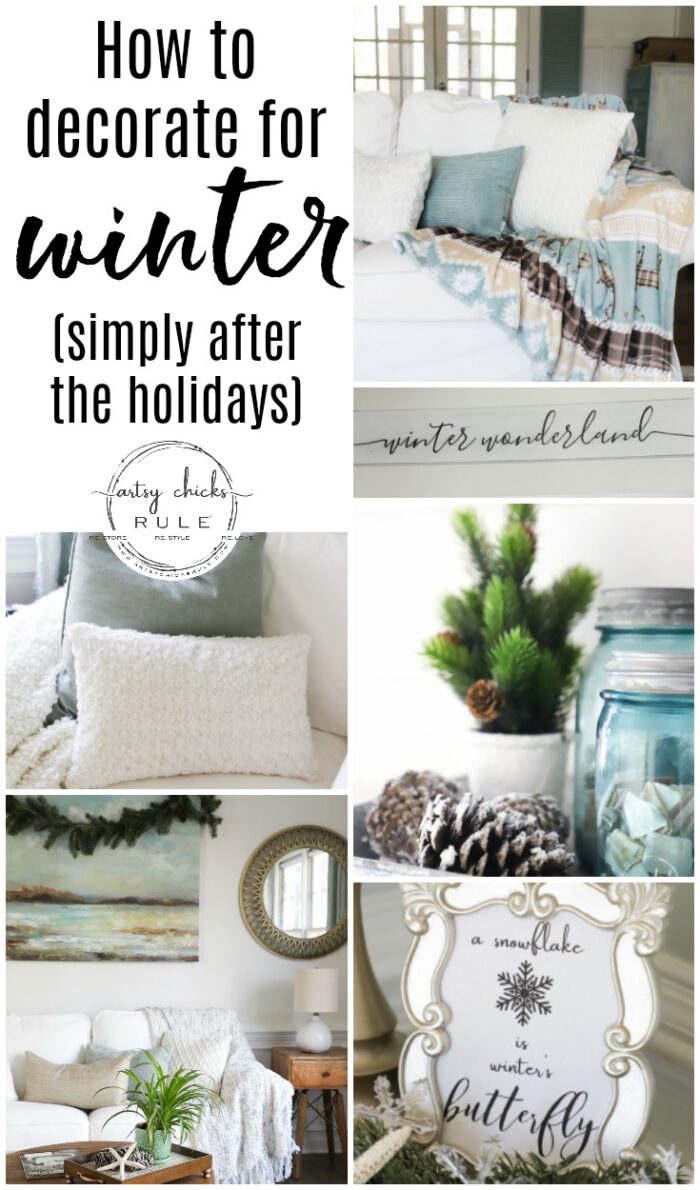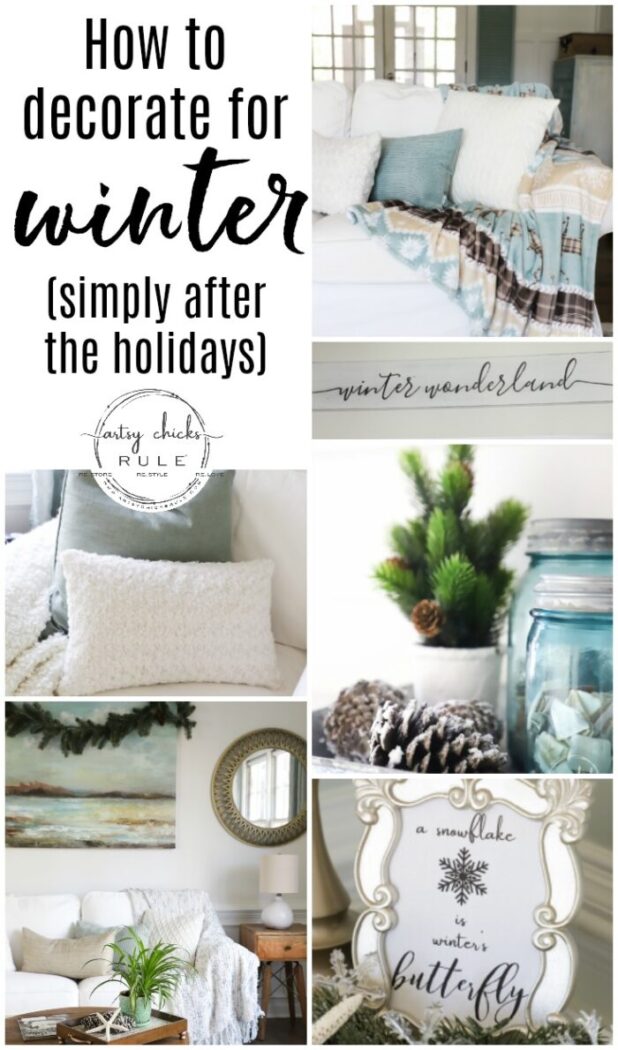 Hello beautiful friends! We are full-on into winter whether it feels like it or not. I don't know about you but we've had some really wacky weather so far. 70's one day, 40's the next. I'm certainly not complaining because the more warm days I can get, the happier I am! haha
And, the chance for snow around here is not that great. Yes, we do have snow some years and sometimes more than once. But it's not a regular thing by any means, if at all. I don't mind a day or two but then it's got to go!
Even so, winter just says "snow" and cold to me. So this year when I took our Christmas decorations down, I decided to leave some of it out to create winter decor for a cozy winter home.
I have mixed feelings about taking down all the holiday decorations every year. I love, love, love the fresh clean feeling of it but I also don't love the absolutely blank look of it after all the cozy Christmas decor. So I compromised.
A little bit here and there but not overdone. Still fresh and clean looking but with a little cozy winter factor thrown in.
This is the first year I've decorated for winter. I'm not sure why I've never done it before??
How about you??
Do you decorate for winter??
I think it's probably because I mentally want to skip right over it and get to spring so I don't even consider it. But I'm fully embracing it this year and I absolutely love it!! I can see myself putting out winter decor every year going forward now.
This is a picture heavy post. I thought about splitting it up but decided to just put em all here. I hope you enjoy touring our winter home with me.
How To Transition From Christmas To Winter Decor (tips and ideas!)
Welcome to our winter home…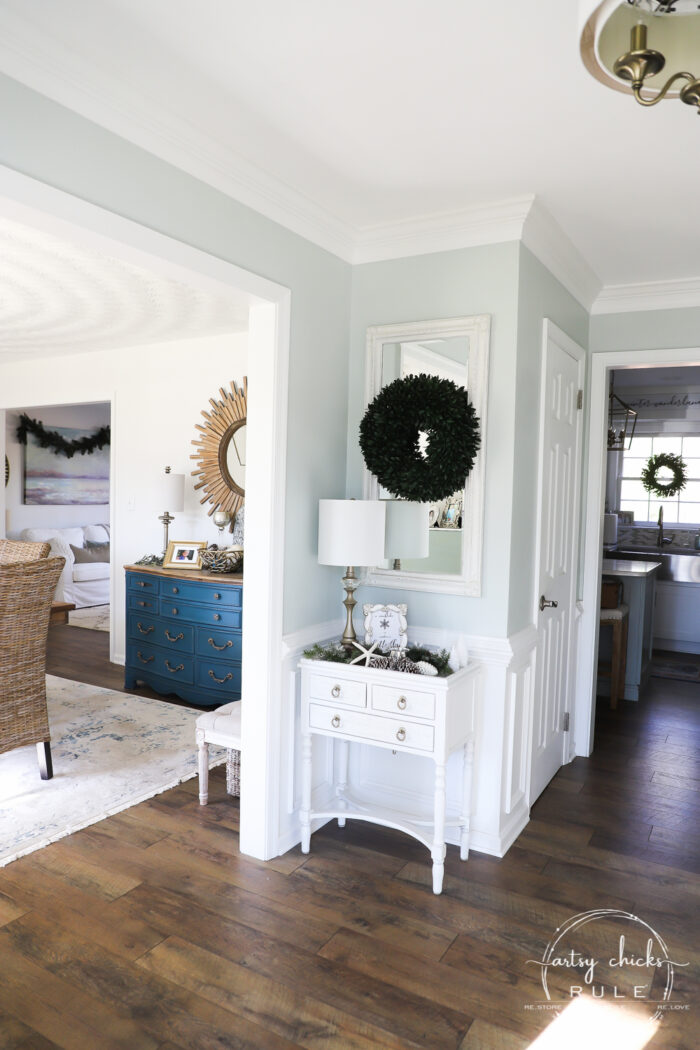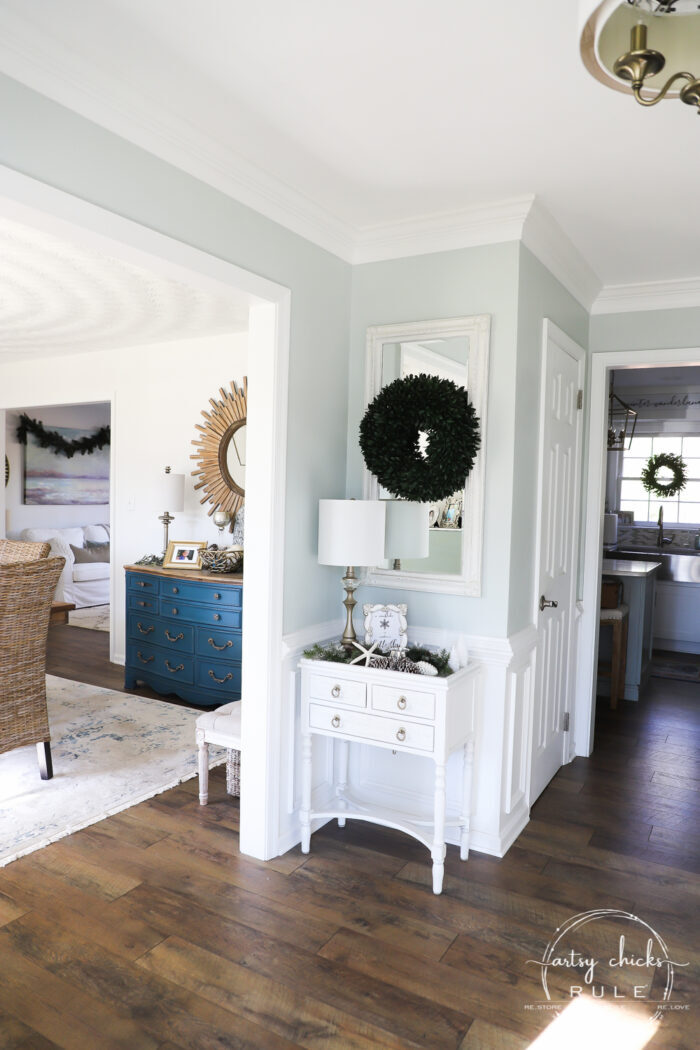 TIP #1
Use greenery left over from Christmas (the ones without the red berries) in and around your home to bring in the "outdoor" wintery feel.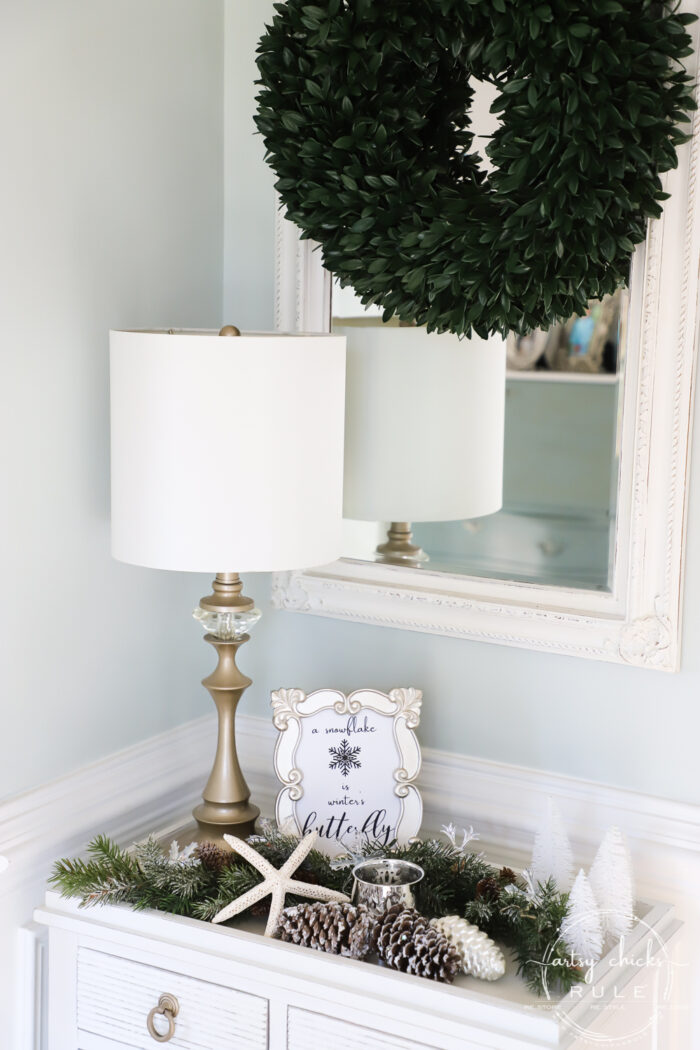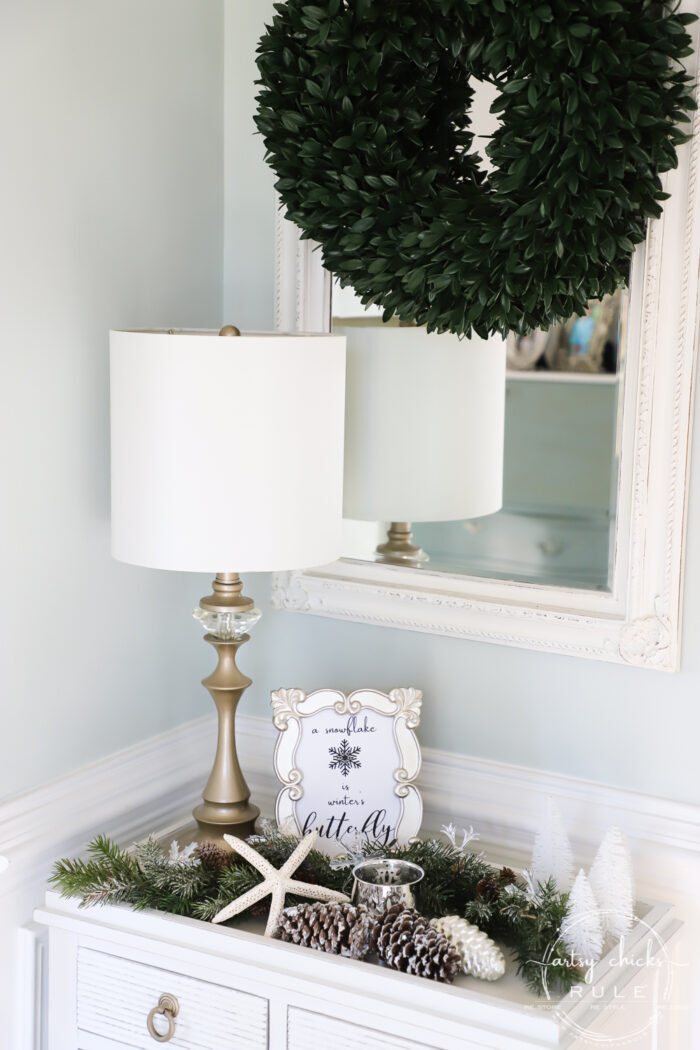 I simply removed my tall Santa that was here ( you can see that Christmas home tour post here) and replaced it with these simple white trees from the Dollar Store. I had these on my dining room table for Christmas.
I made a simple printable with this sweet quote…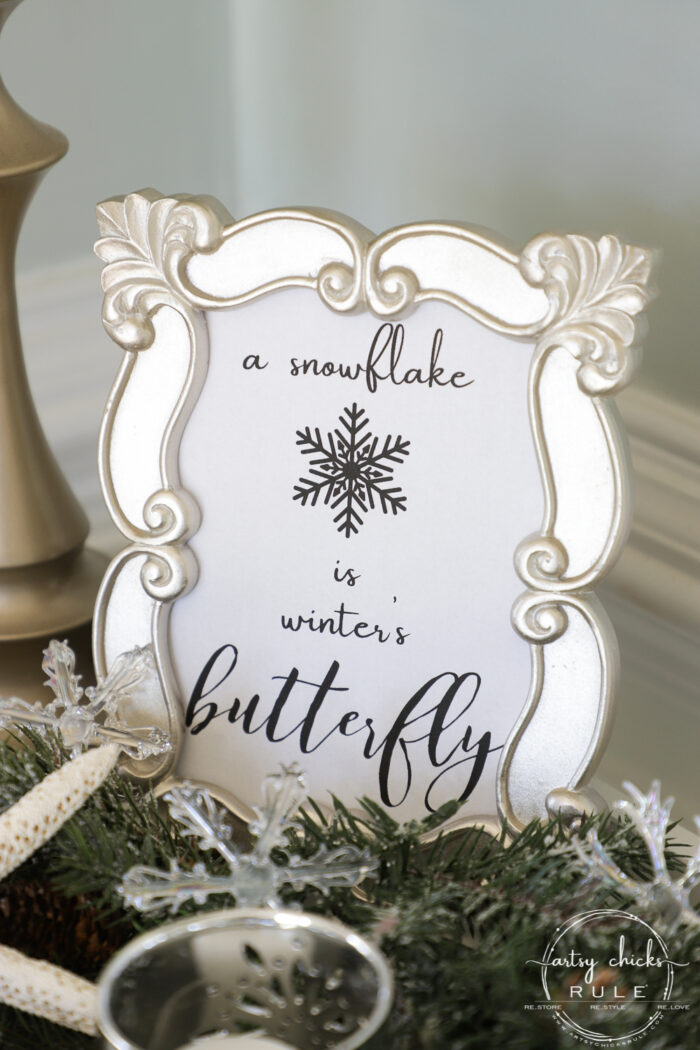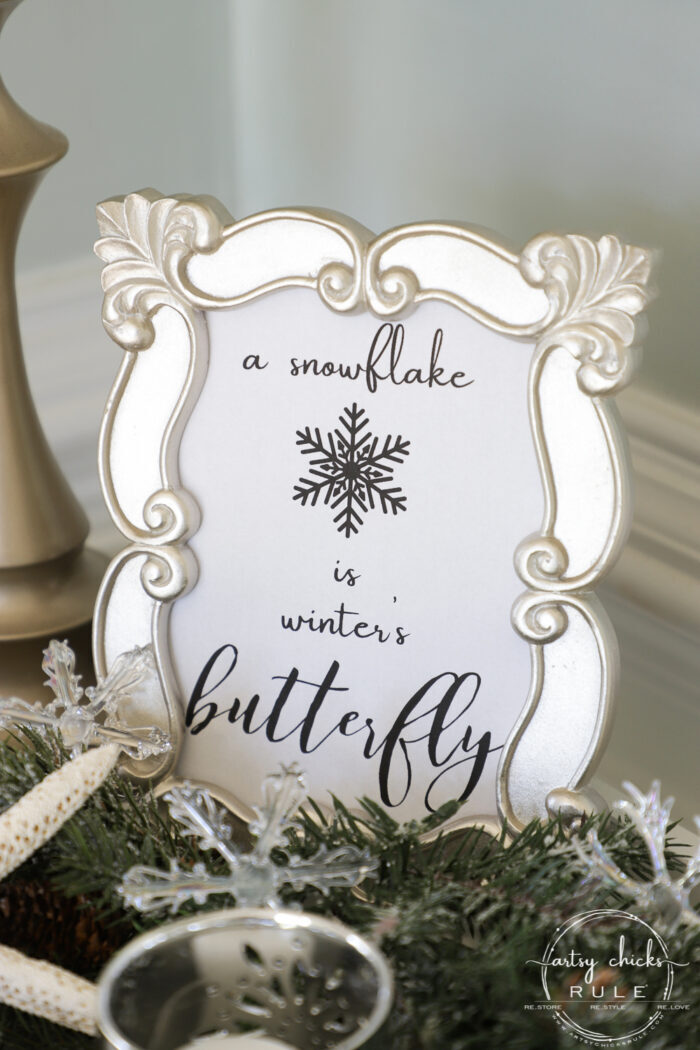 …printed it out and stuck it in this fun, whimsical frame.
I'll have the download for this printable and another sign I made for our winter home next week here for you.
(UPDATE: Get the FREE printables now, here)
As you can see, I kept most of what I had on the dining table. I moved the small white trees to the foyer, removed the large gold tree and stars I had there but kept the rest.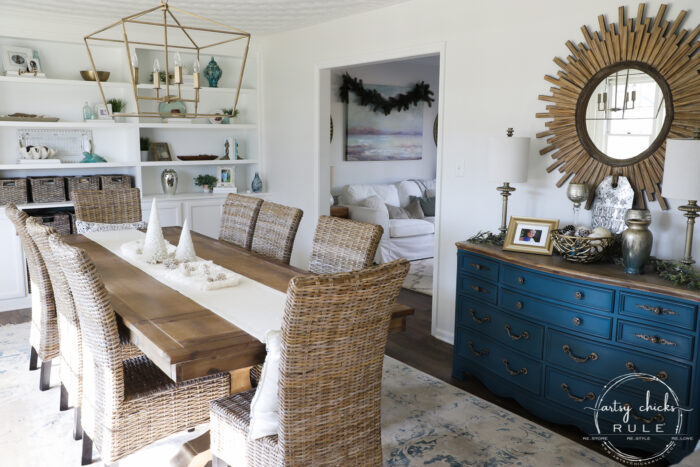 And added sweet little iridescent glass snowflake ornaments. (I added those all around the house)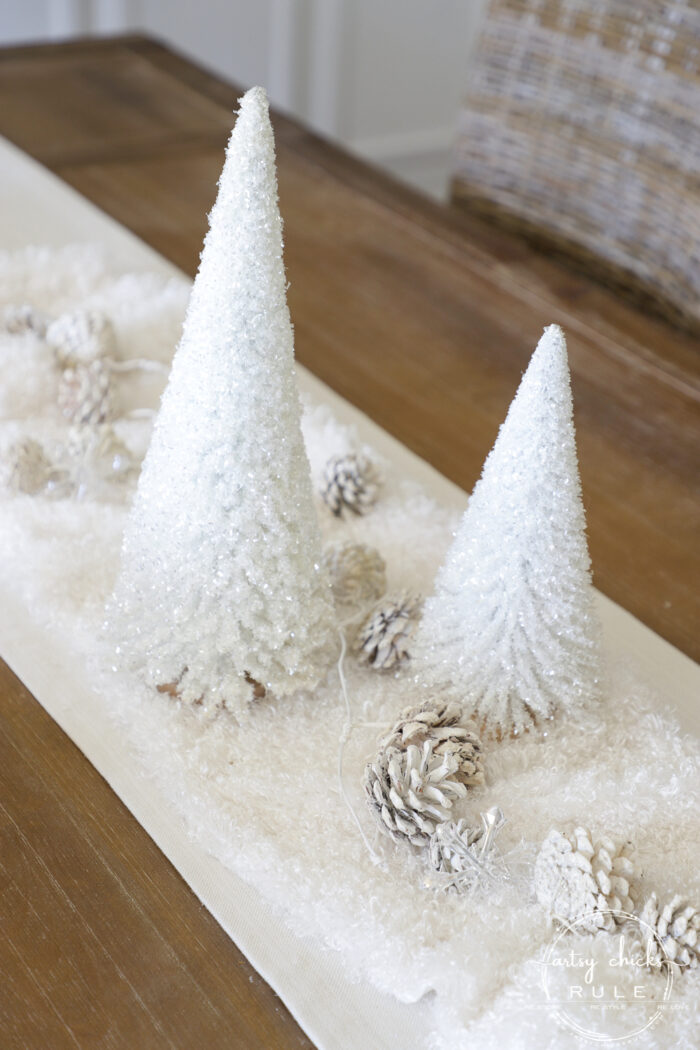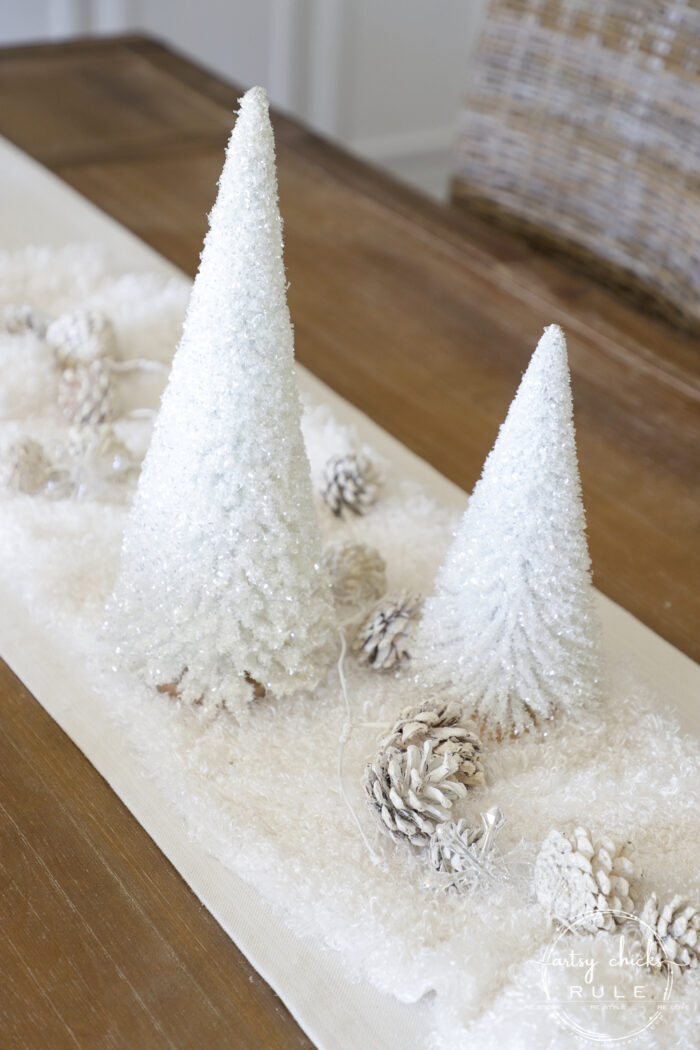 They are hard to see in the photos but I've got more photos coming up where you can see them better.
I removed the white Santa and snowman figurines below and left the rest of what I had on the dresser for the holidays.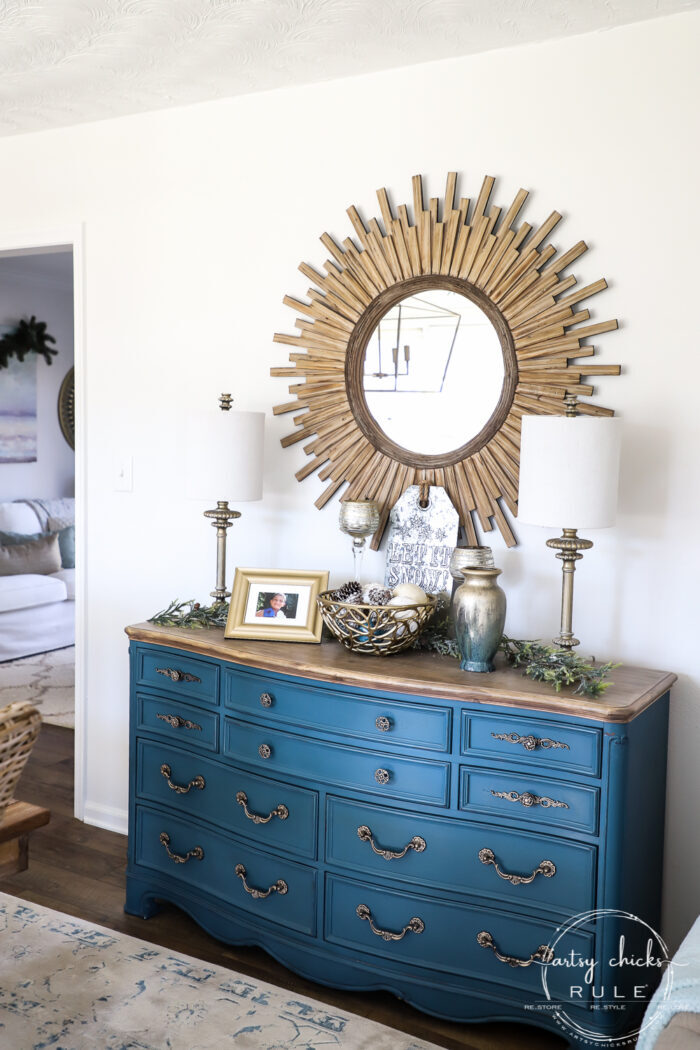 It all worked well for winter.
I did add a few "snow" covered pine cones to the bowl though.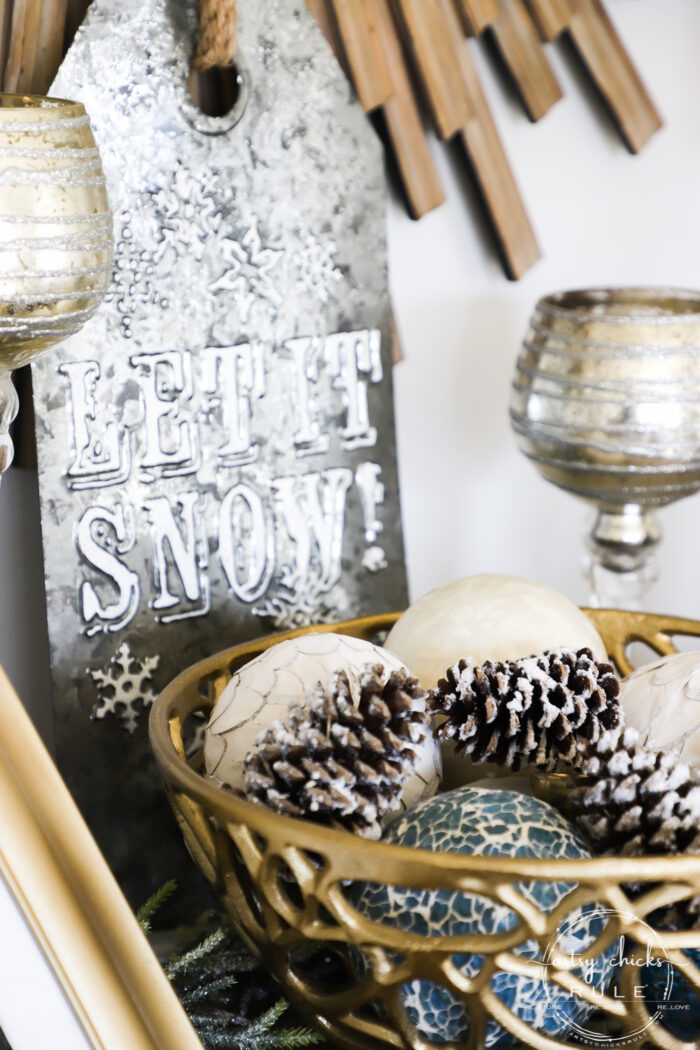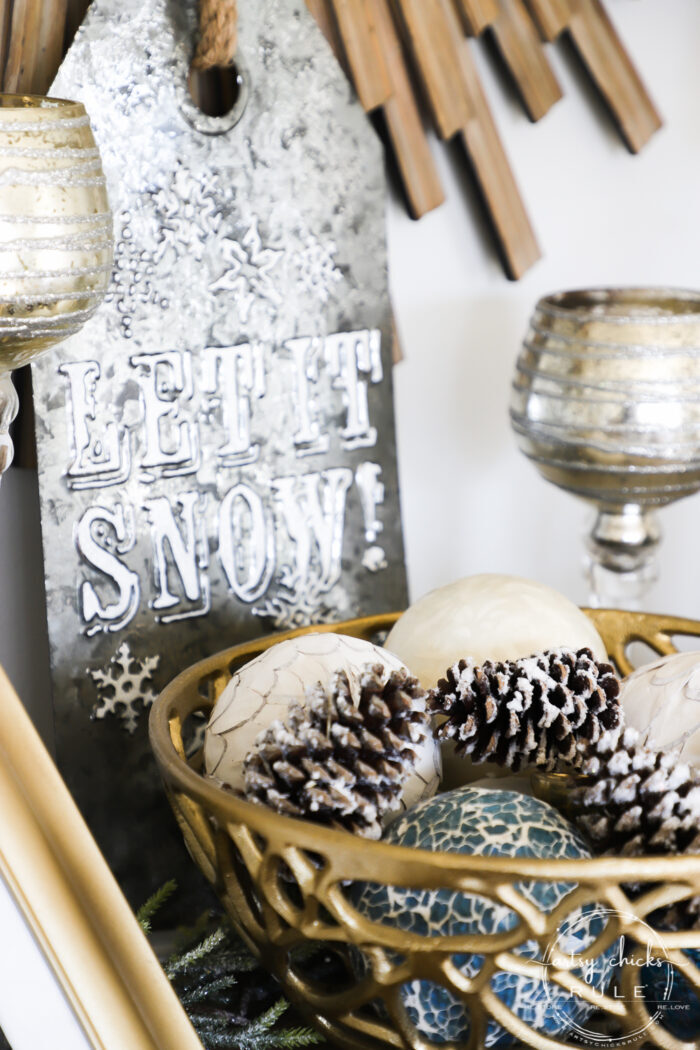 TIP #2
Using outside elements like pine cones (and the greenery I mentioned above) to add a wintery feel to your decor.
I used sno-flock on these previously. (the same stuff I used on our Christmas tree a few years back)
You can find the sno-flock, here.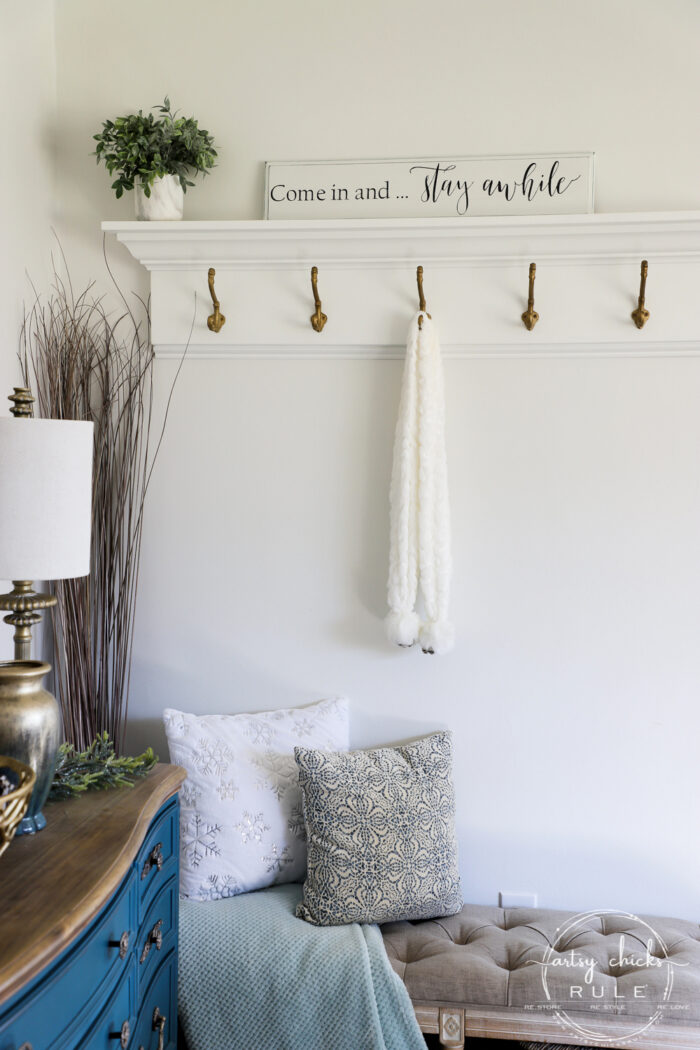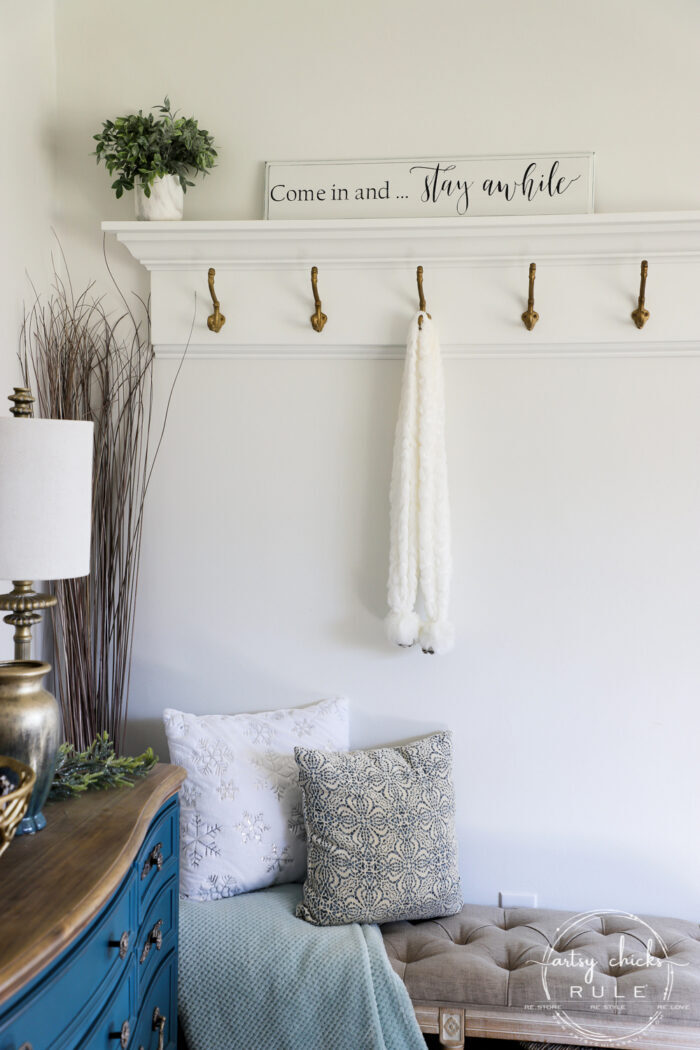 I added a snowflake pillow I purchased several years ago here on the "hall tree" bench.
Interested in anything you see in our home?? Check out our >>>"Shop Our Home" page to find many of them!
Our morning room all cozied up for winter.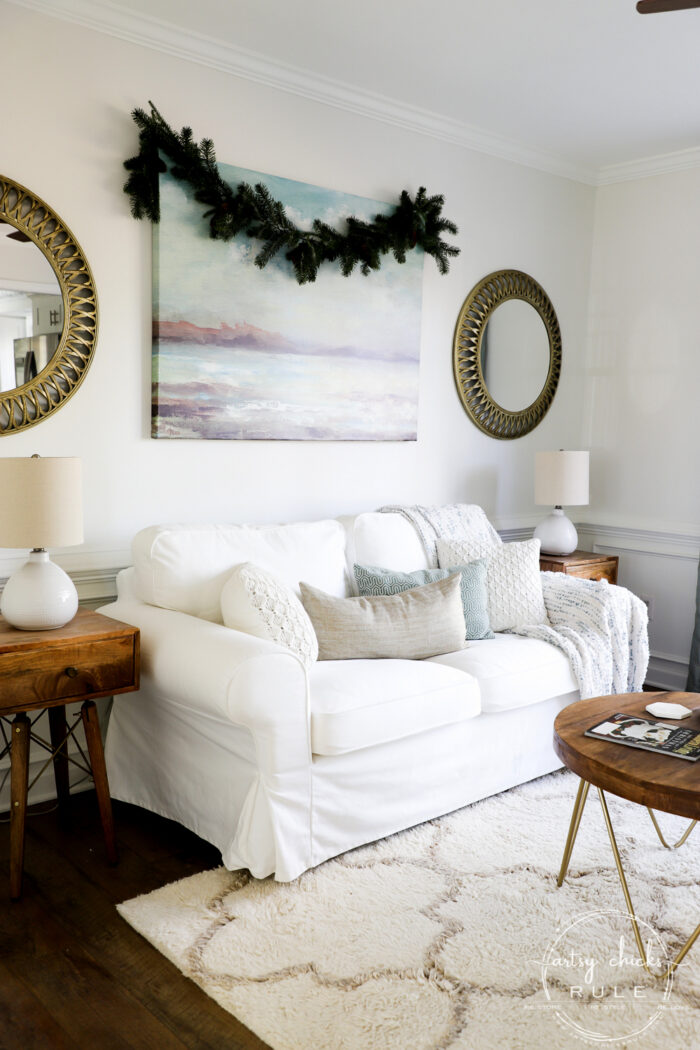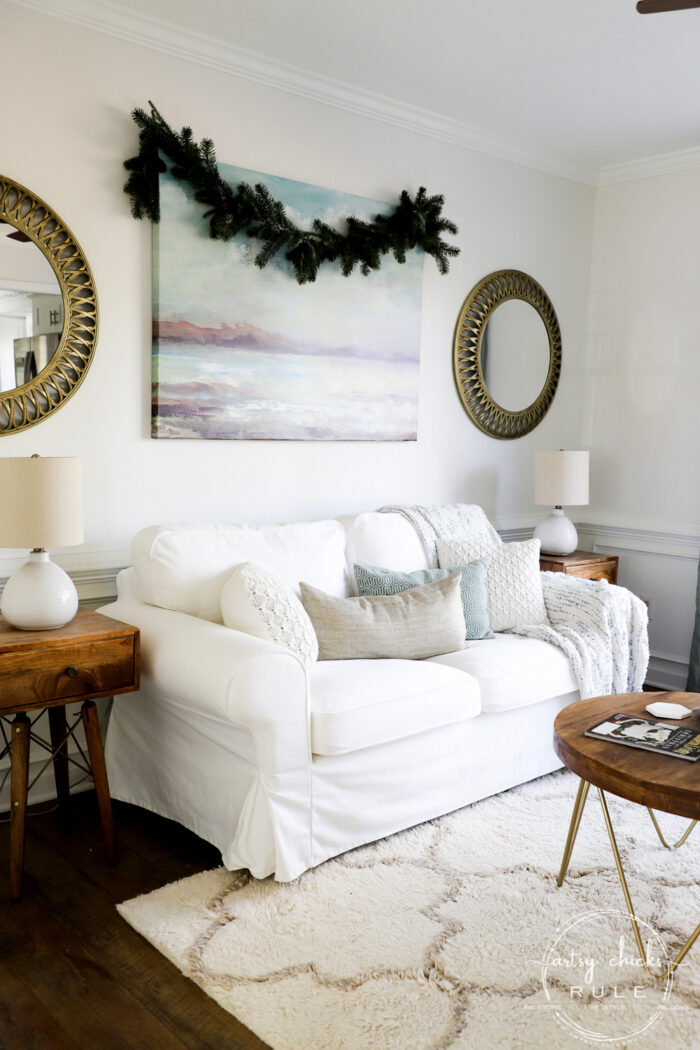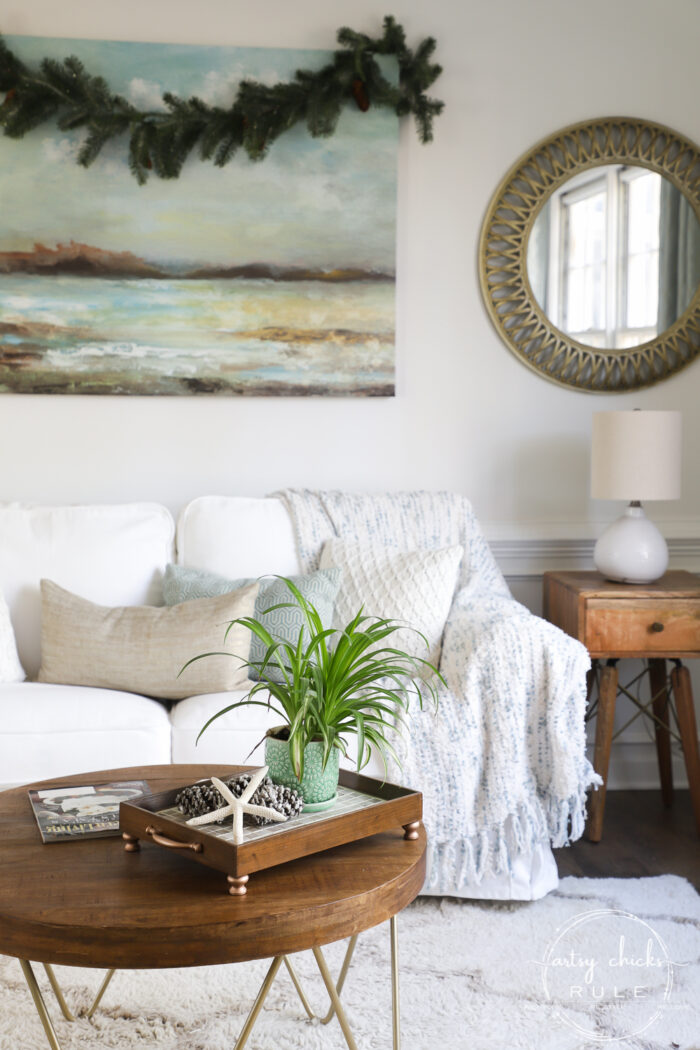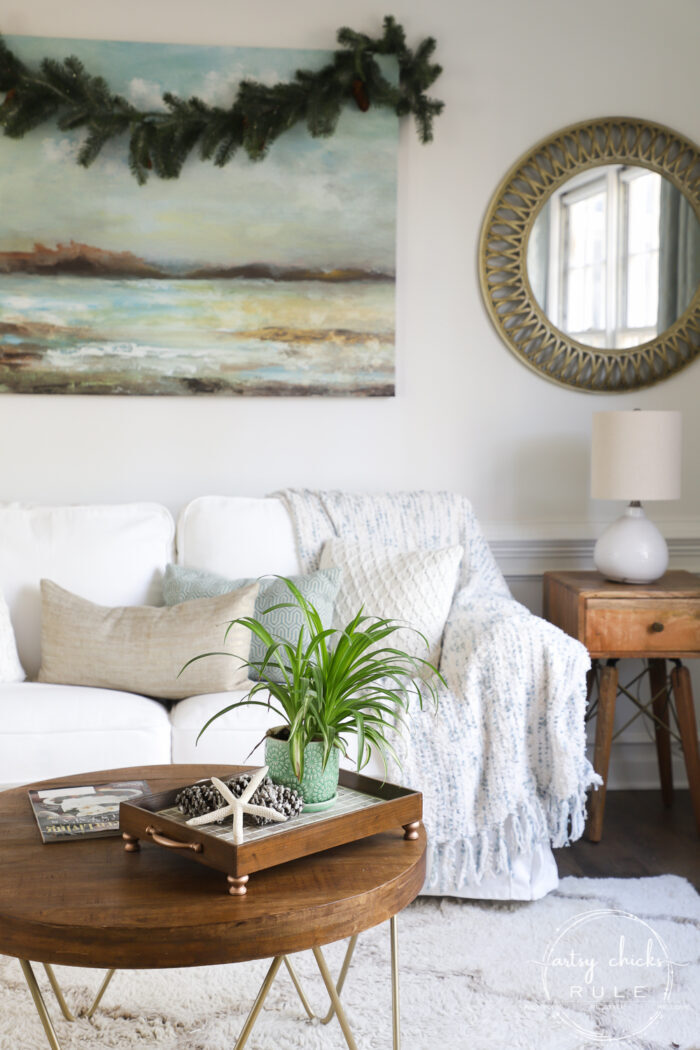 I actually removed the green garland I had over this picture during the holidays and put it on our mirror in the kitchen.
Then I put this heavier looking one here.
The throw is new (Marshall's) and the sweater pillows came from here several years ago.
(more pine cones in the tray)
TIP #3
Add throws in and around your seating areas for a cozy touch. Plus they are great for the cold evenings cuddled up on the couch.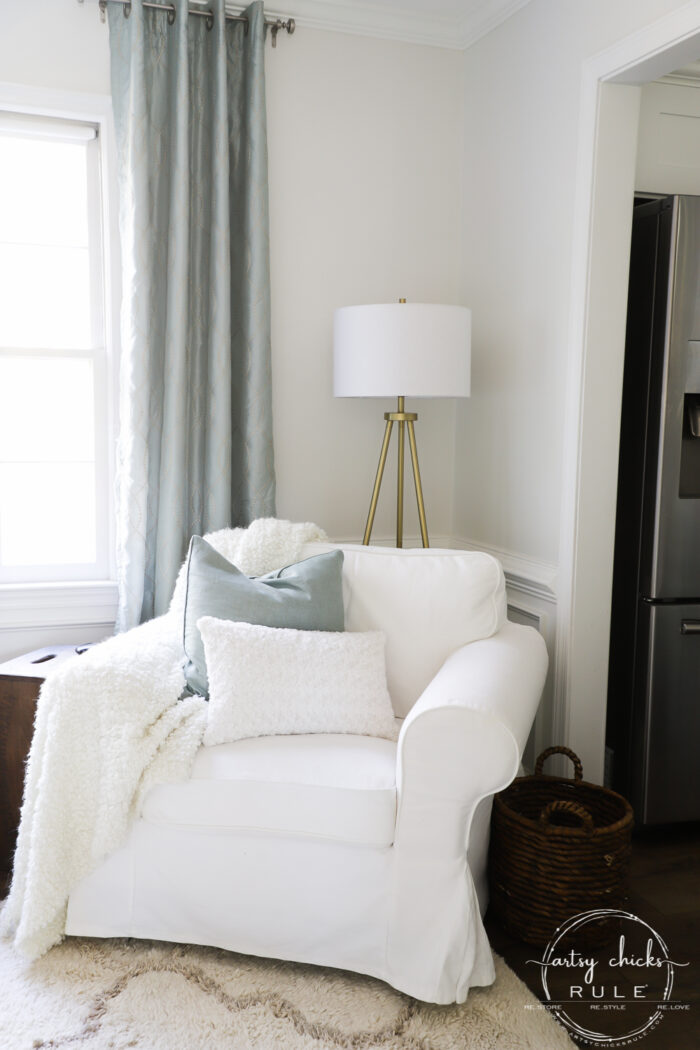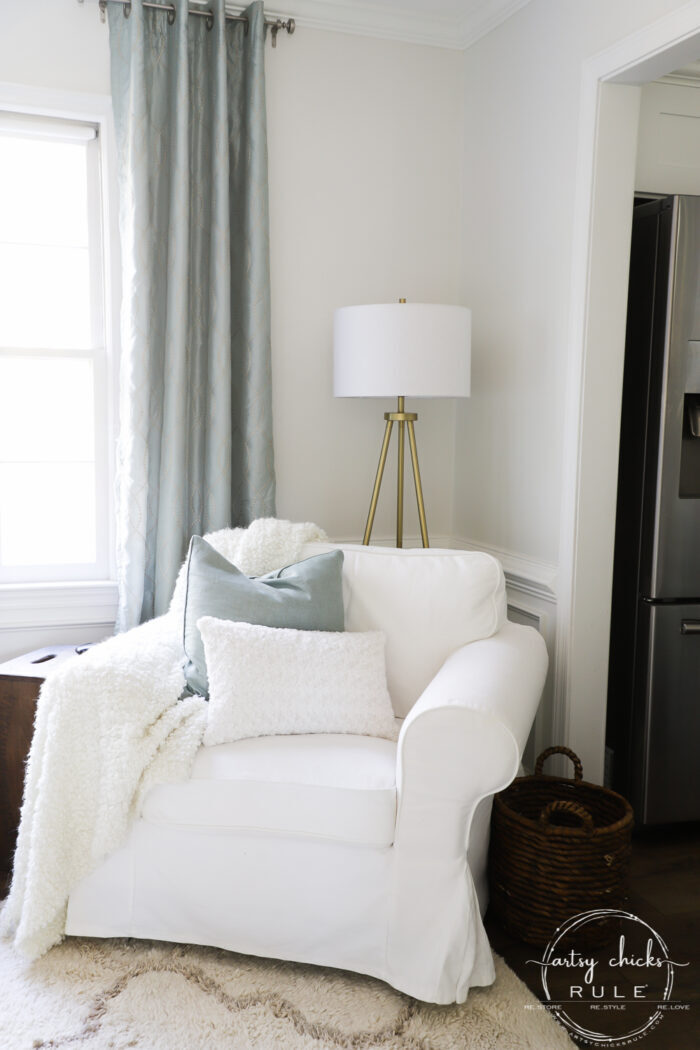 TIP #4
Add throw pillows with lots of texture, like sweater pillows, fluffy, furry, etc.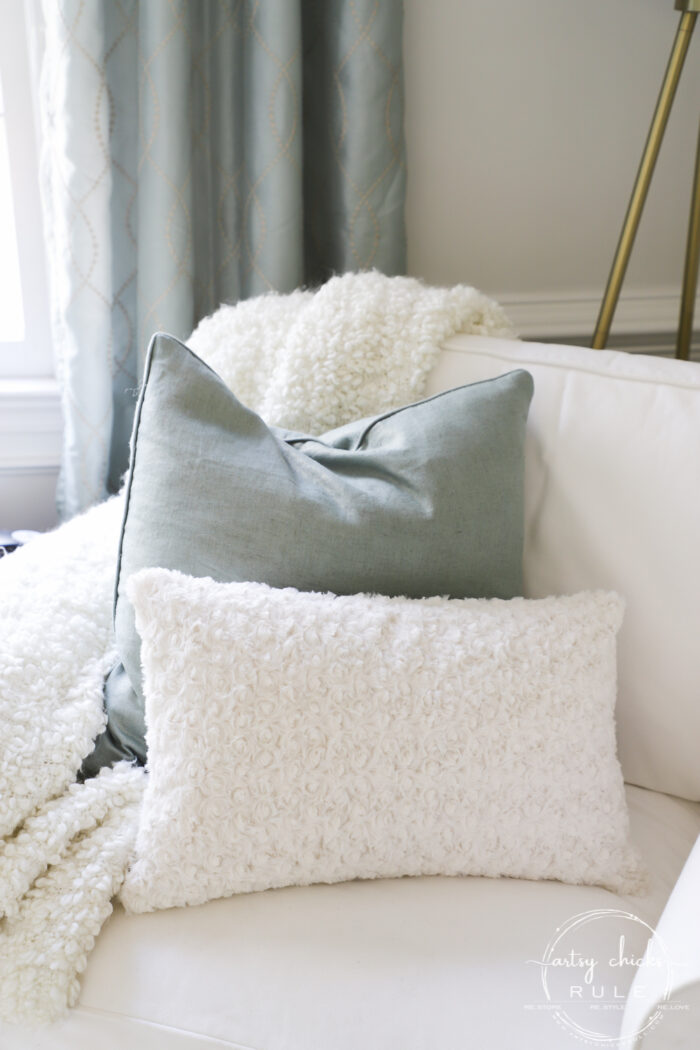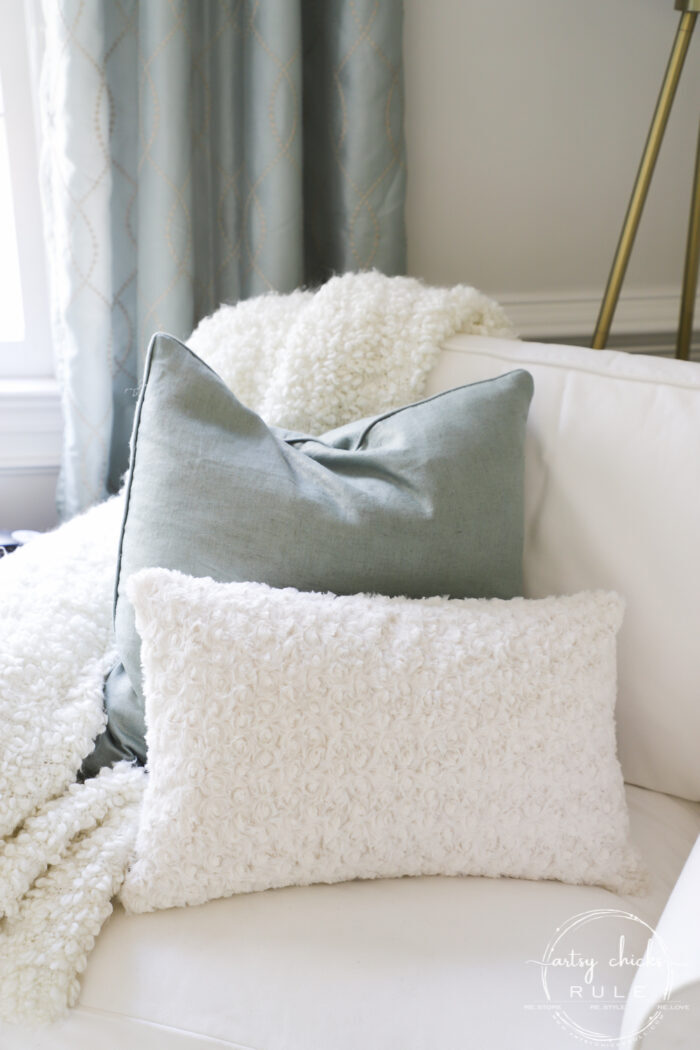 The white pillow upfront is one of 2 brand new covers I got to cover two pillows I already had. This is a perfect solution as I can simply remove and fold to store till next year when I put the winter decor away. (and more budget-friendly than buying full pillows!)
Like the pillow cover? You can get it here.
Over on the coffee bar, I simply added more pine cones, glass snowflakes, baby pine cones, white trees, and a white snowflake tea towel.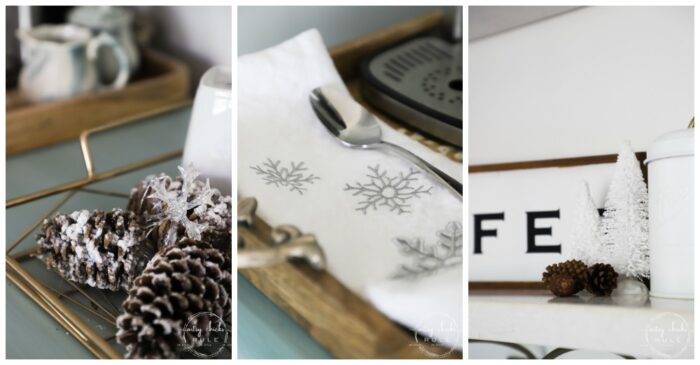 Here's the green garland piece I had in the morning room over the holidays. I thought the smaller one was better suited here.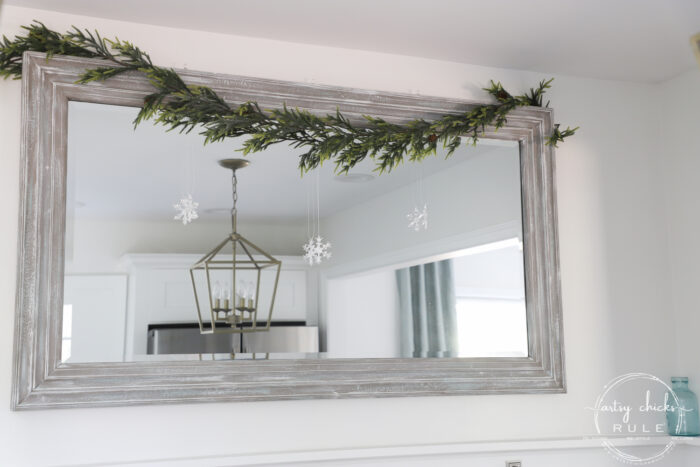 I hung more of those glass snowflakes I mentioned above, here.
If you like them, you can find them, here.
On the other side of the kitchen, I added a small boxwood wreath, a glass snowflake, and a brand new sign.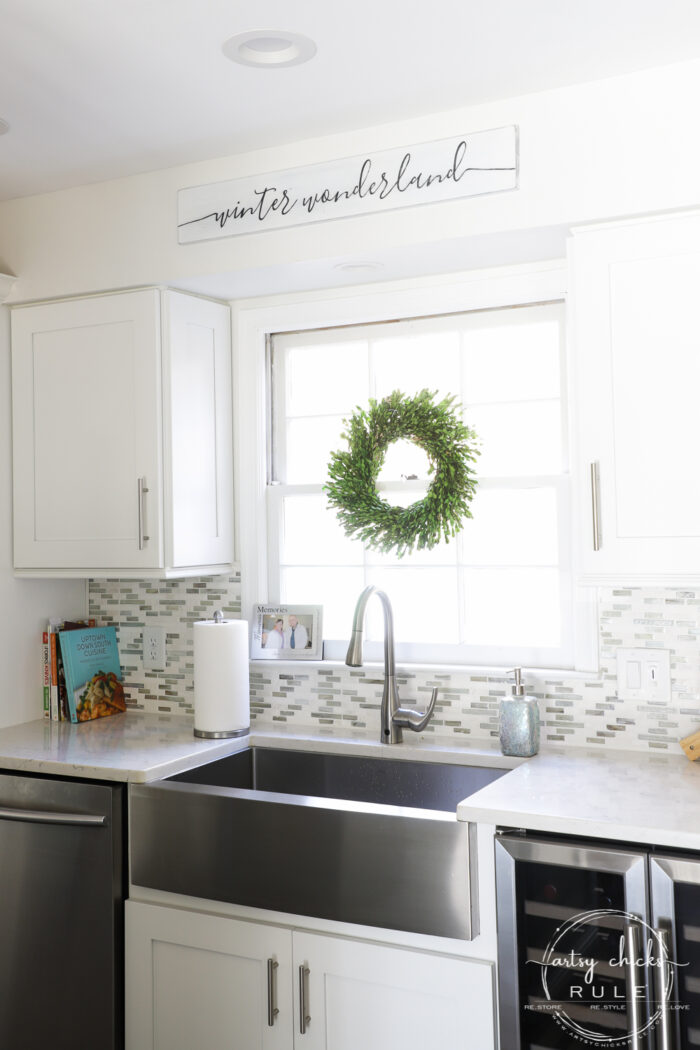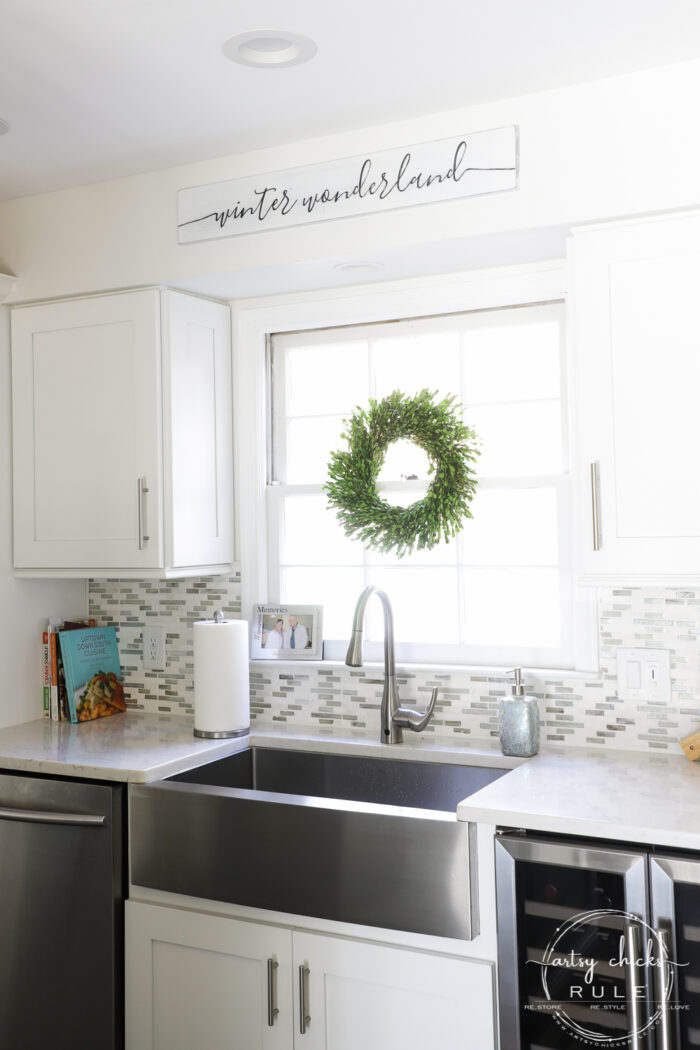 Did you see the sneak peek I posted in my Instagram stories when I was making this one??
As I mentioned above, I'll have the details on the sign and the free printables for both it and the other new one above, next week.
It's a shame none of the photographs are able to pick up the pretty iridescence these display.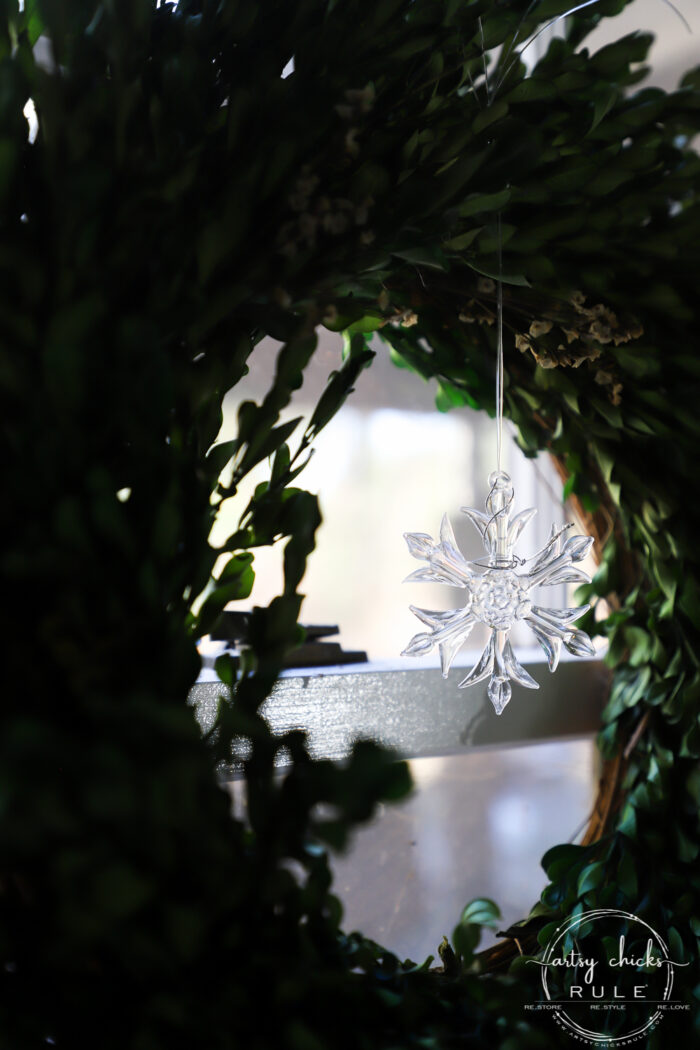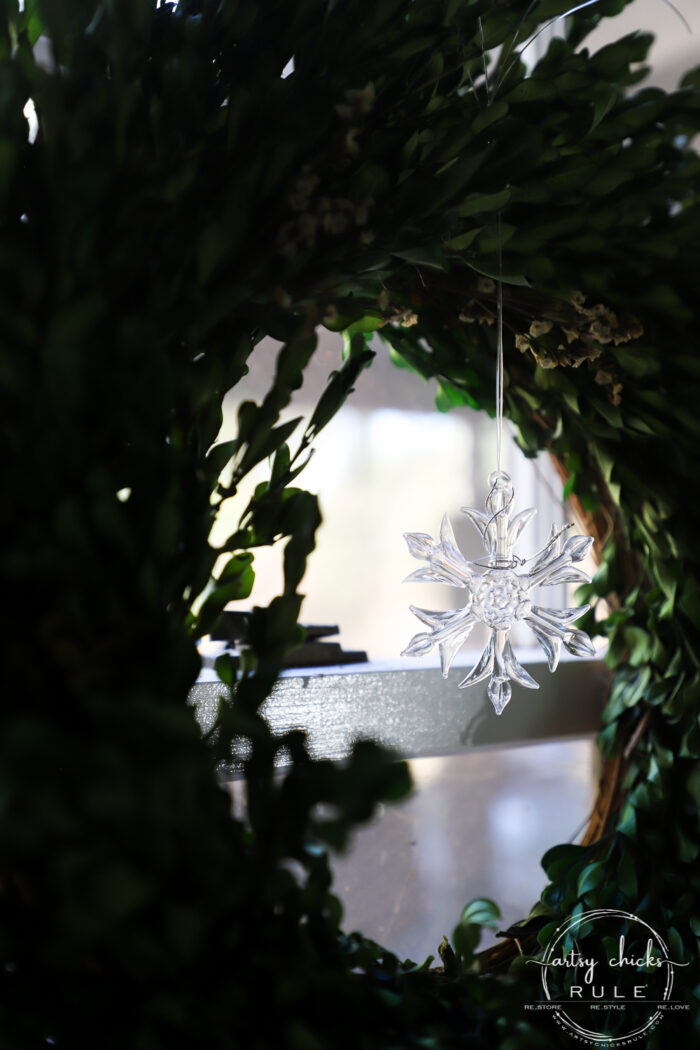 TIP #5
Snowflakes of any kind just speak winter. Add them throughout your home, here and there, on towels, pillows, throws, etc.
I added this small pine tree I already had to the kitchen.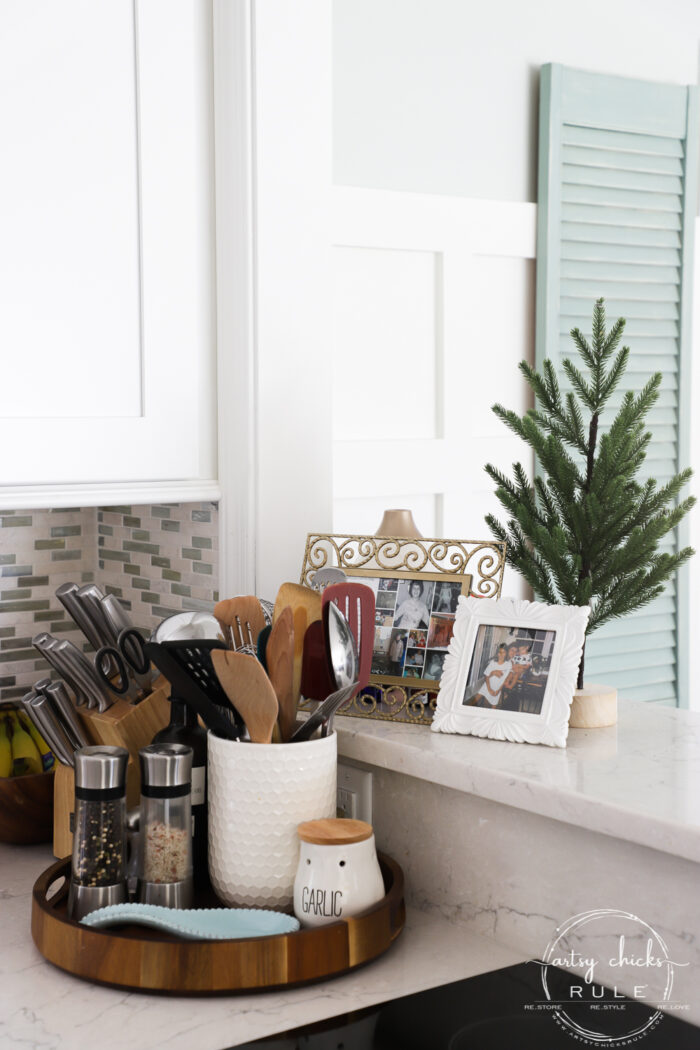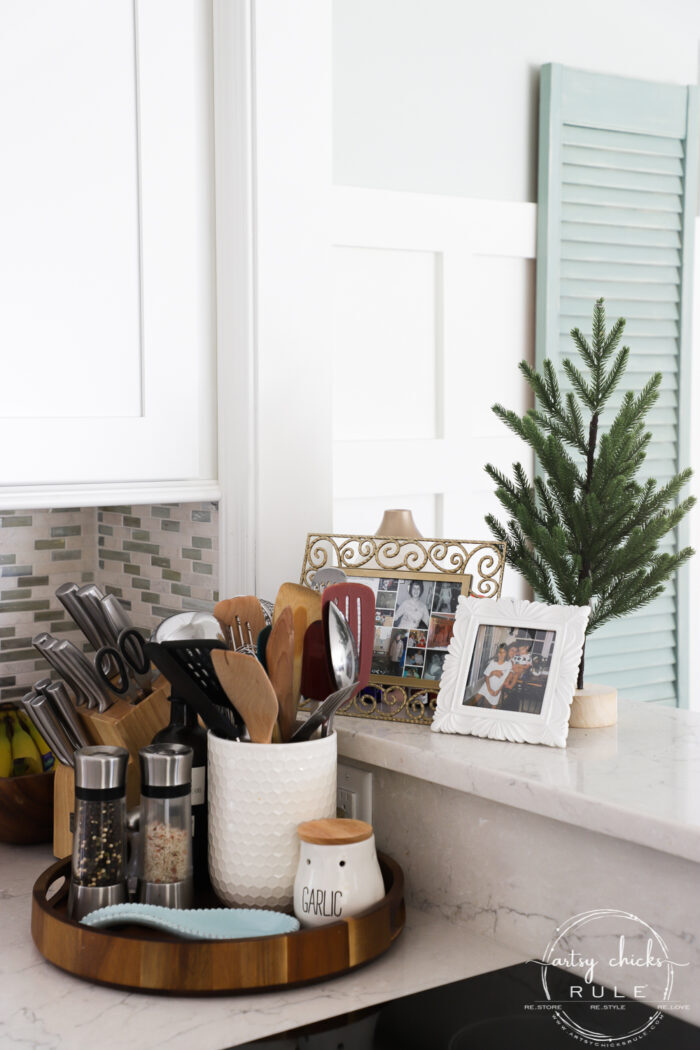 On into the living room…and Ryder. (who matches my winter decor perfectly!)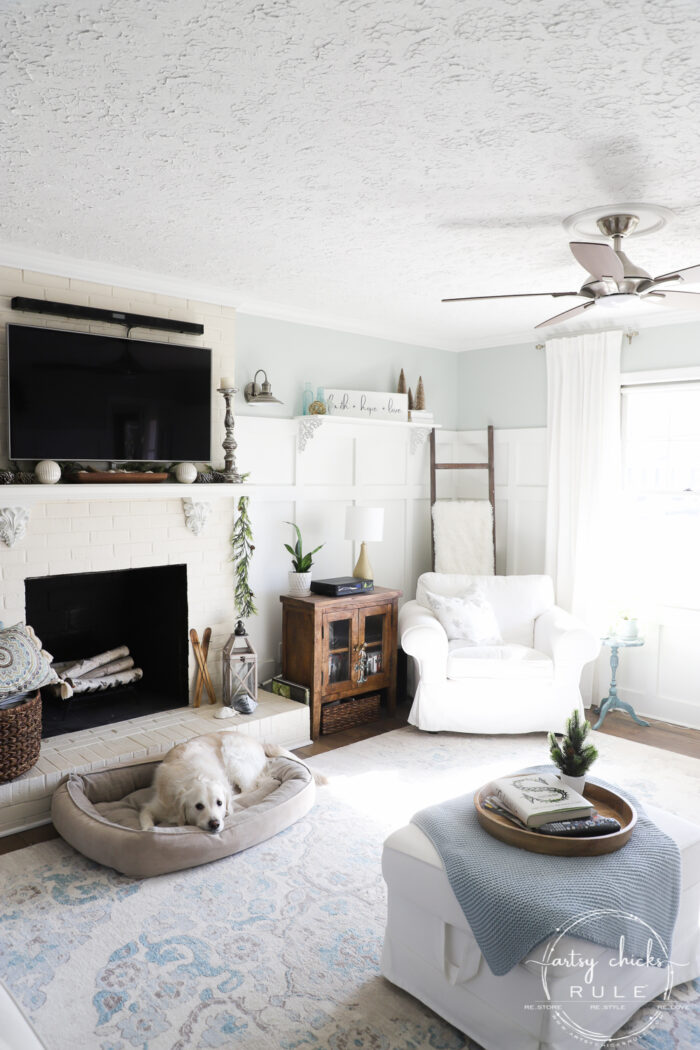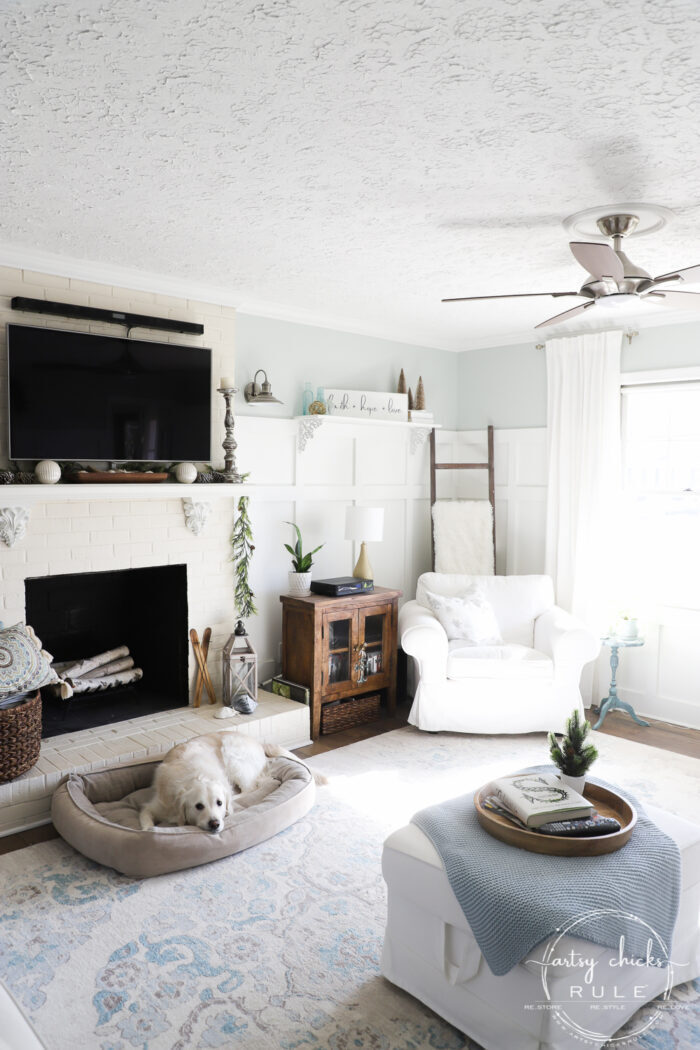 Always the good sport laying in his bed all sweetly. lol
But… does he really???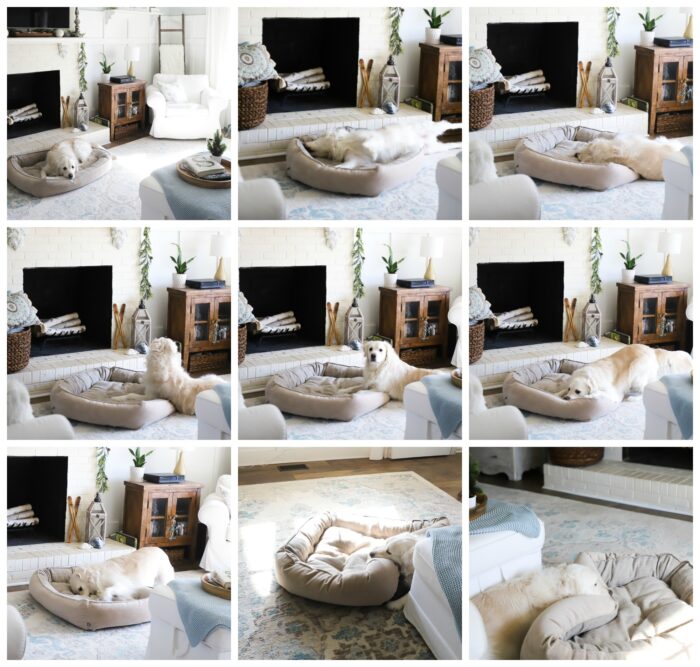 No, not for long anyway!!! haha! He's such a hoot.
As you can see.
He finally made his way over to the other side of the room…with his bed in his mouth. And the very last picture is where I found him about 20 minutes later…bed still in his mouth, content as can be! He's so funny.
Anyway, back to this winter decor of ours.
I left the simple green garland I had up on the mantel for the holidays but added more pine cones.
The gold trees stayed over on the shelf but I put up one of my regular signs instead of the "Merry & Bright" one.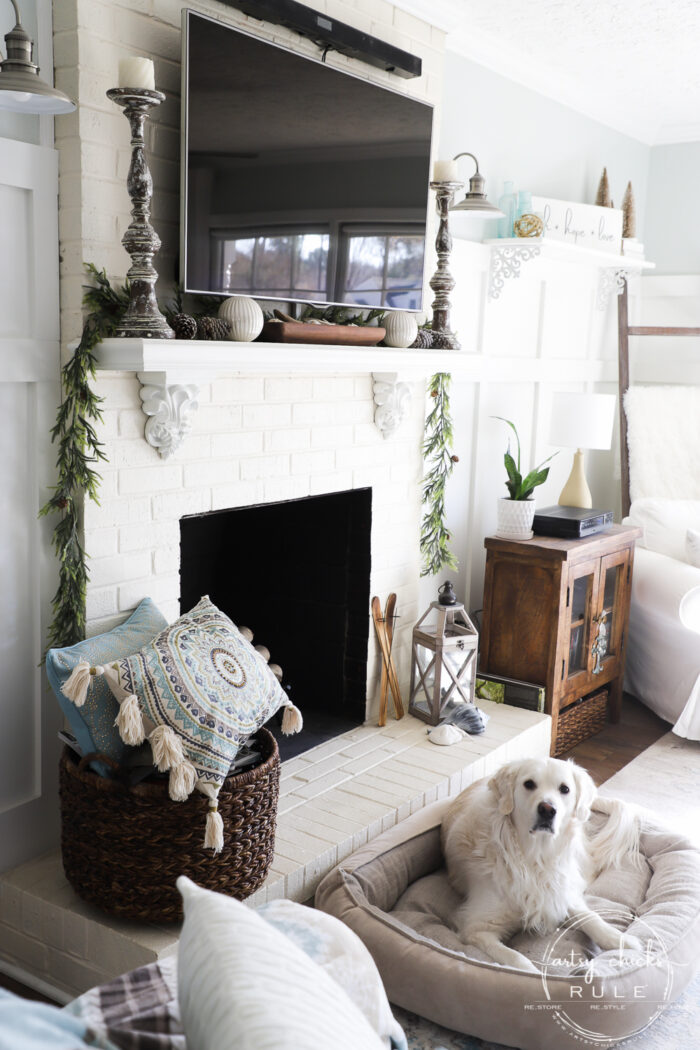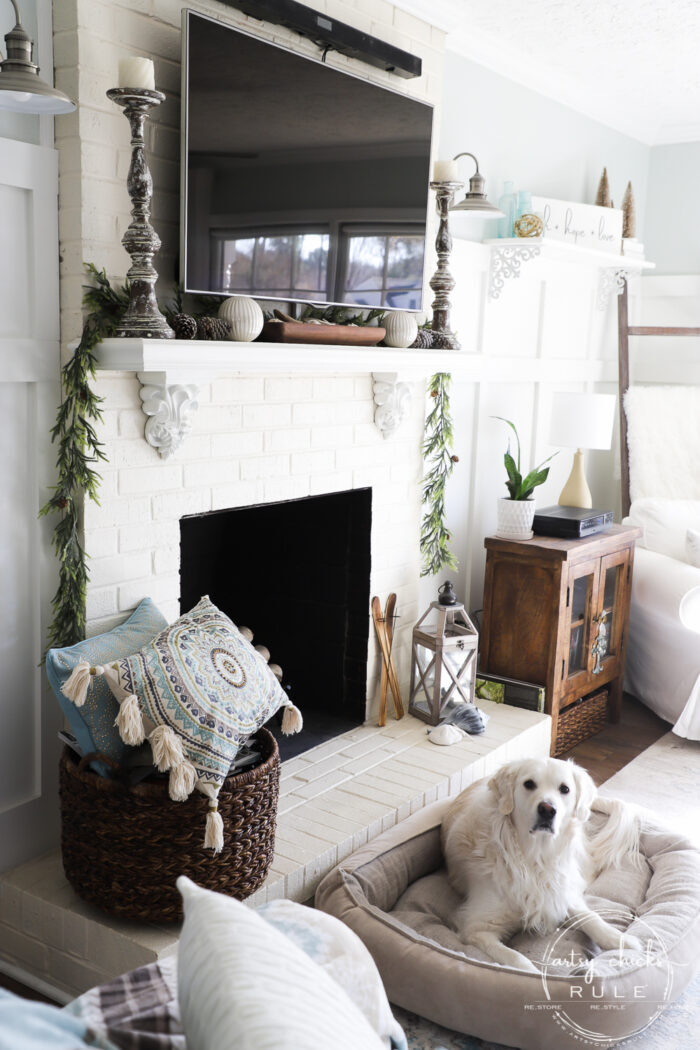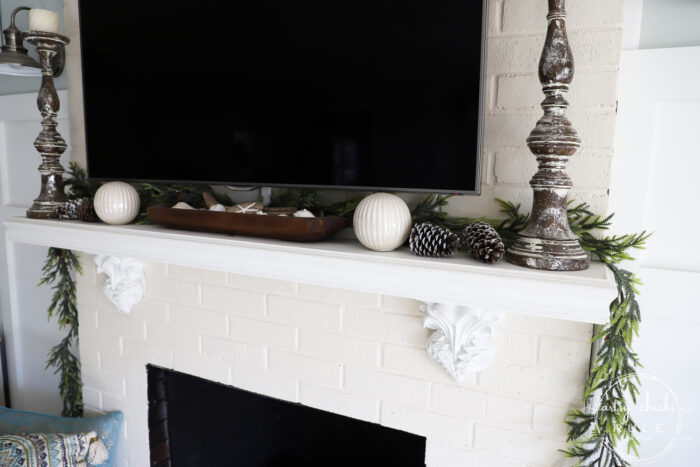 I didn't even use these miniature skis this year in our holiday decor.
But they sure look cute here for winter.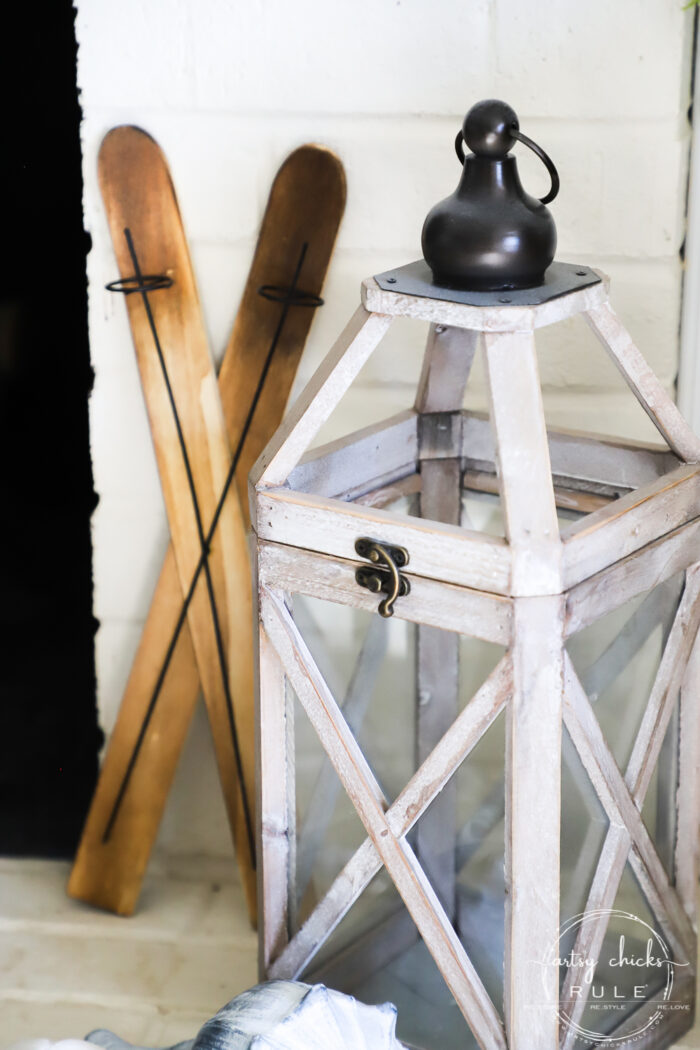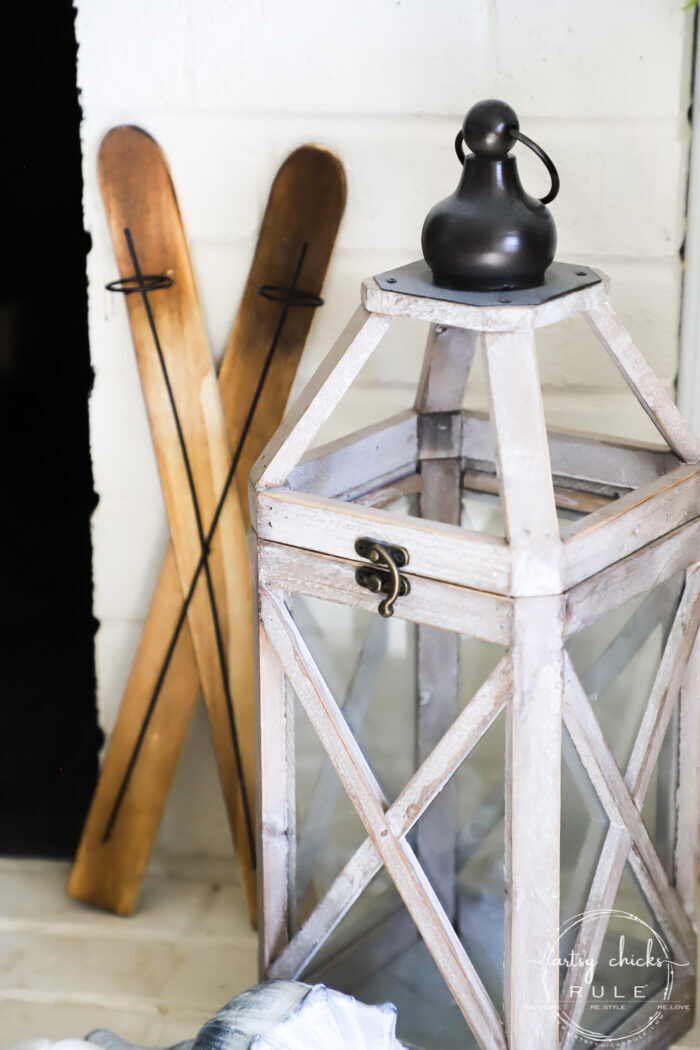 Another small tree I already had and the simple branches in the blue vase work nicely too.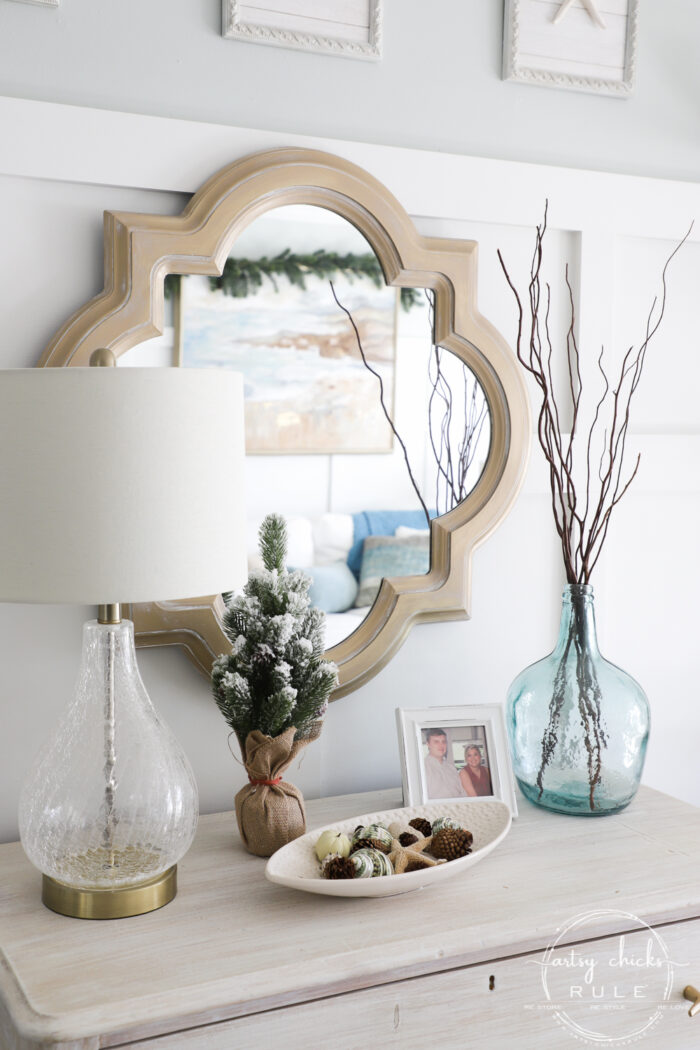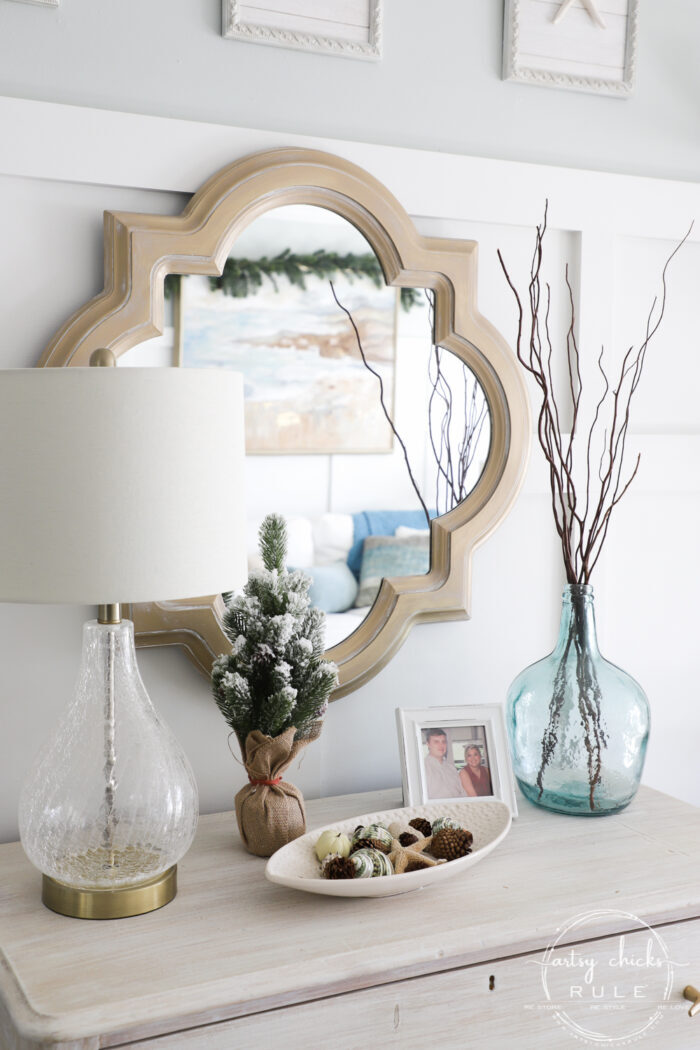 And some baby pines cones in the dish.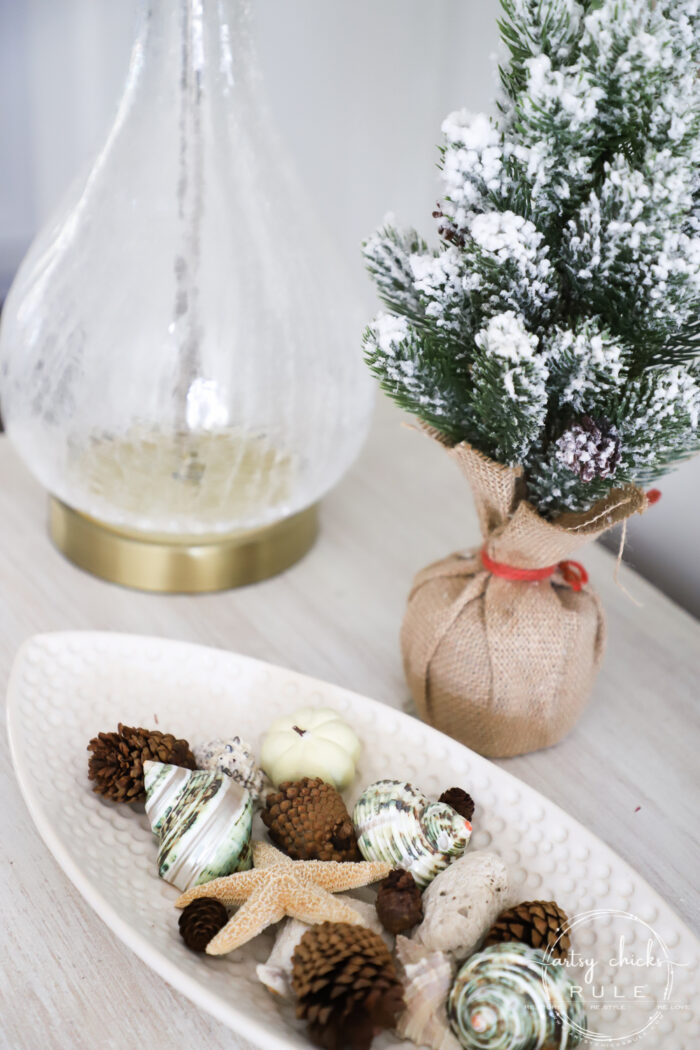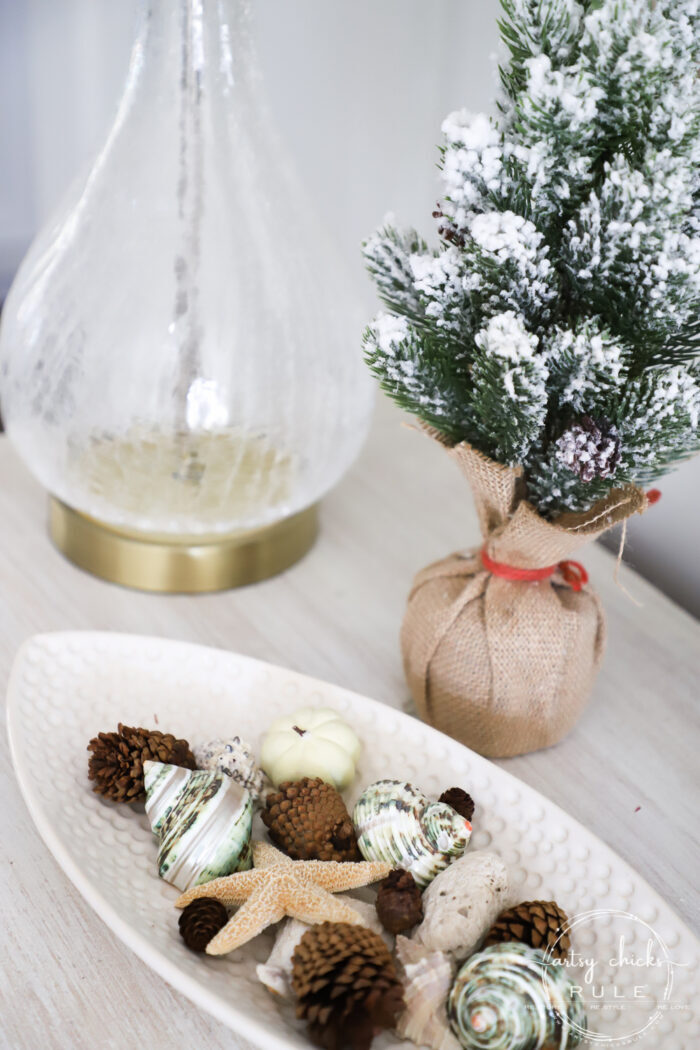 Another cozy throw I got new this year. Specifically for winter decor.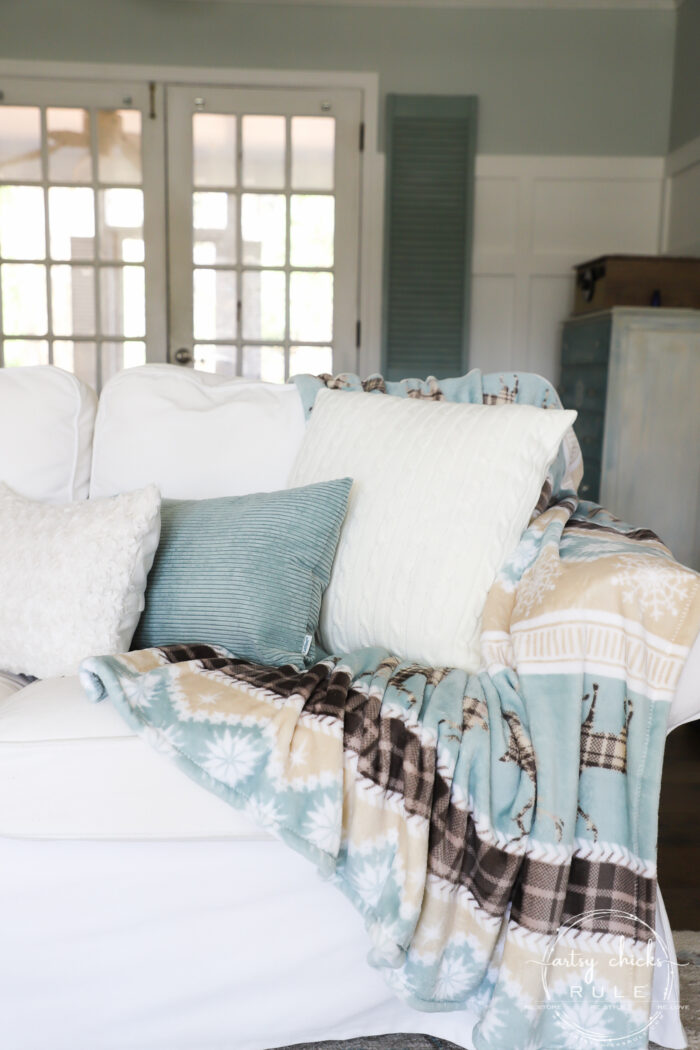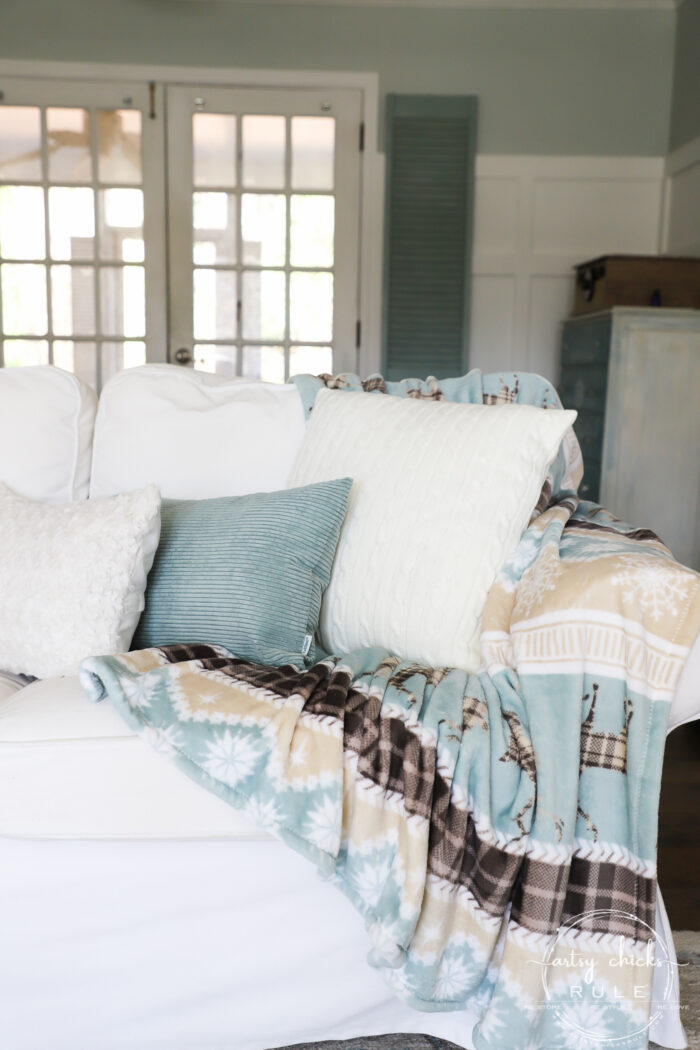 And more pillow covers. (plus the other matching set of the white one in the morning room)
Like any of these pillows or throw? You can find them here:
I'm seriously in love with that throw. It's so soft and the colors are just perfect.
Love the little bit of plaid in it too. I think anything plaid is perfect for winter. I found a few plaid things I liked but most were red and I didn't want red.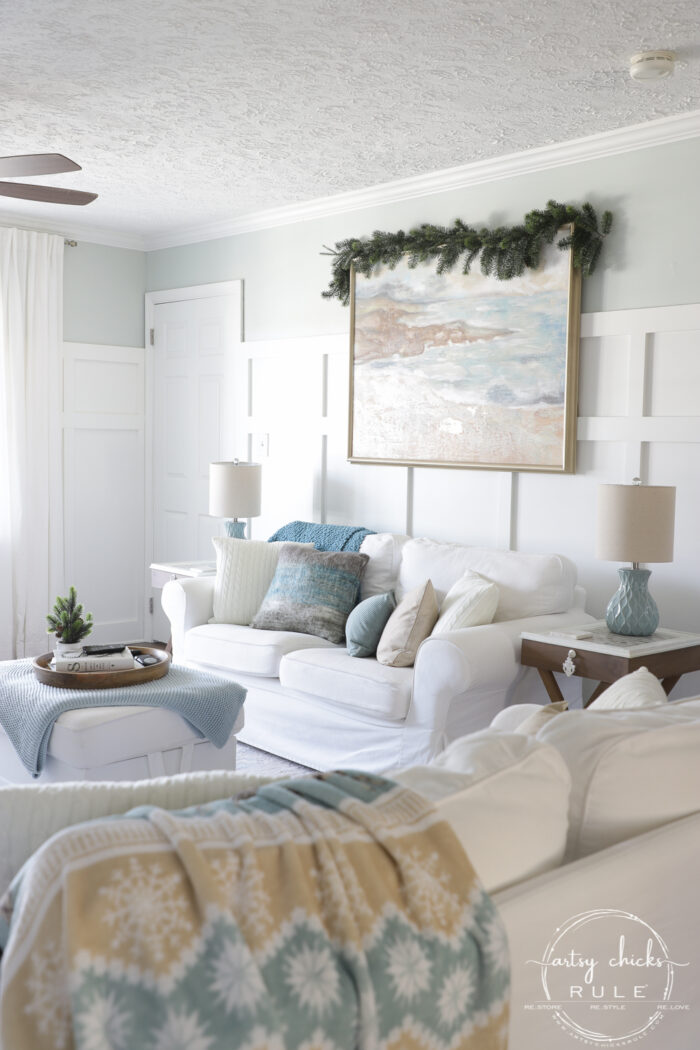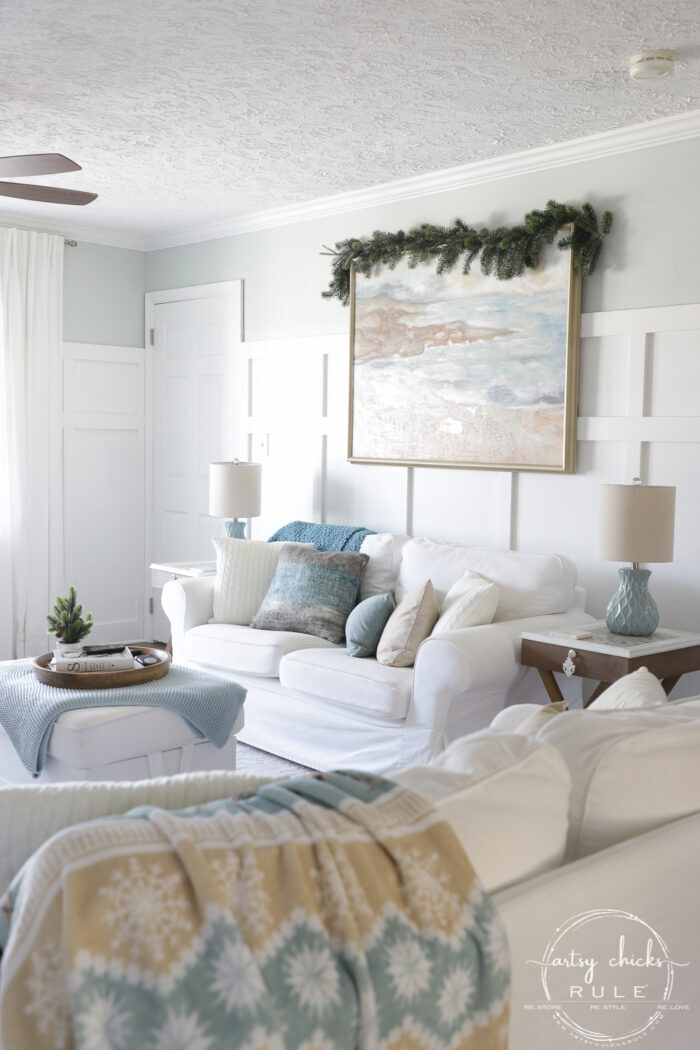 The striped pillow on the other couch is one I found on clearance at At Home on an outing. (you might have seen me over on Instagram talking about it)
It was $7.
The sweater pillows just say winter don't they though? I really love them.
I also got some tan "linen" covers and pillow inserts to bring in some brown/tan. I didn't really get any good photos of those but you can see one on the couch above. If you are interested in them, you can find them here. I really like them and will use them all year long.
The green garland on the artwork came after I took my holiday tour pictures but it was there during the holidays. I kept it up for our winter home decor.
The little pine tree on the ottoman tray was a TJ Maxx find. (I got two, one is in the laundry room) They were 50% off after Christmas so I got them for $3.50 each.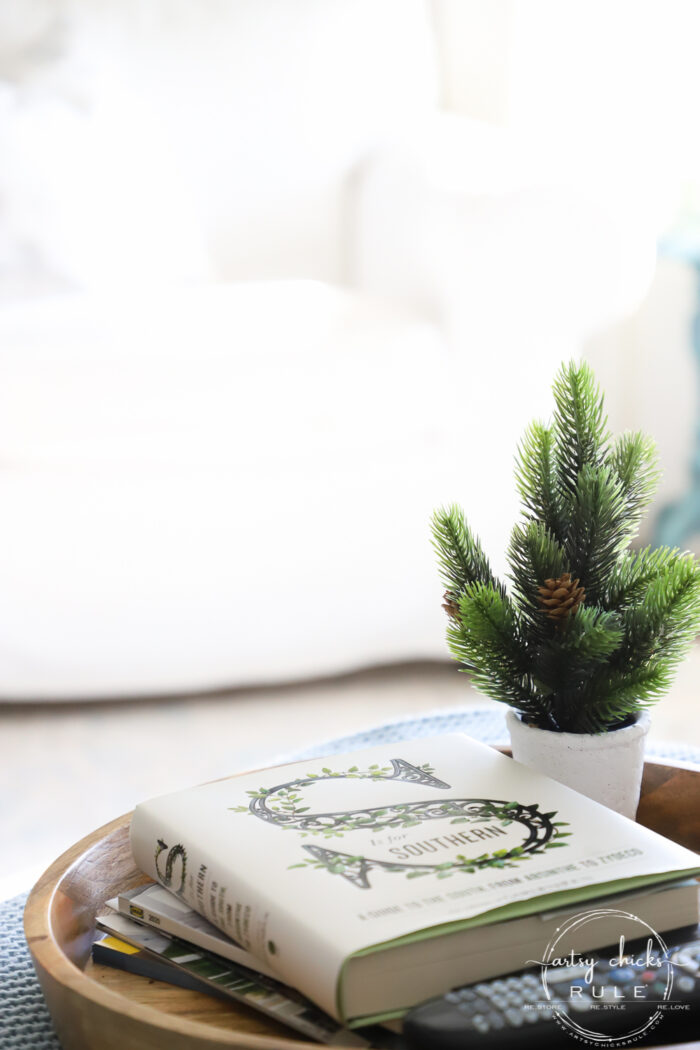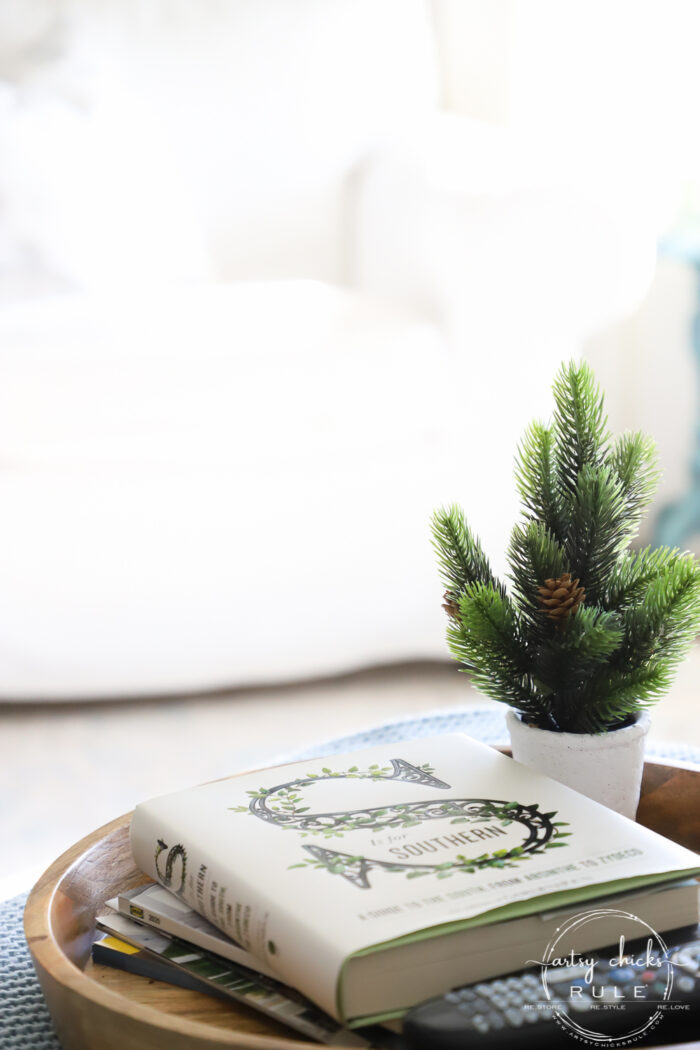 Moving on into the laundry room…
I feel like I actually did a little more in the laundry room for my winter decor than I did for the holidays.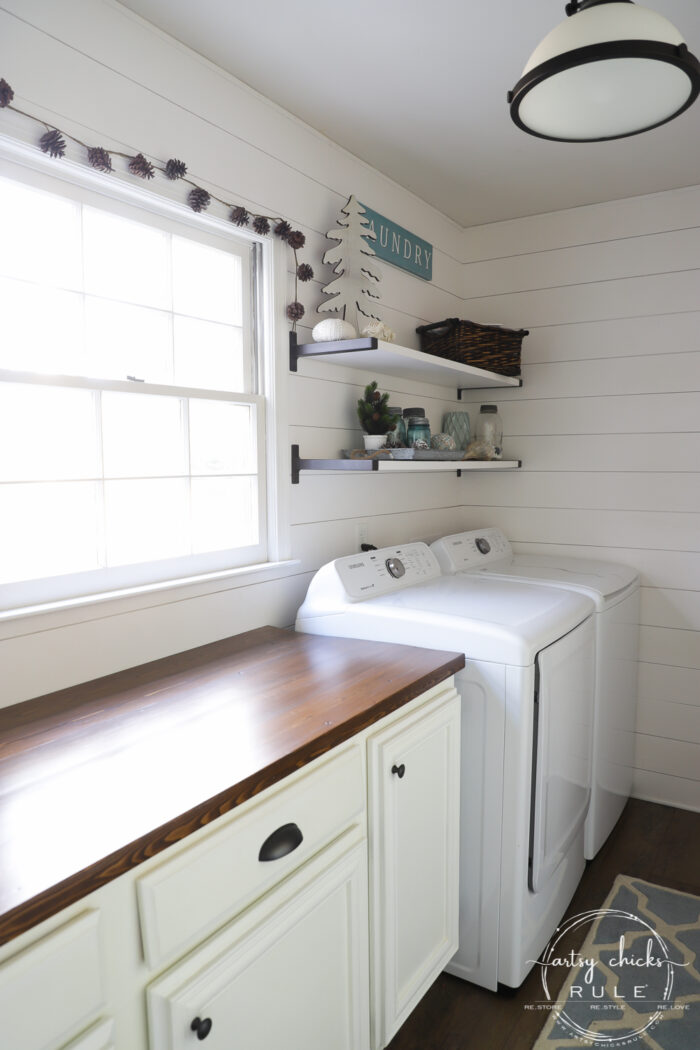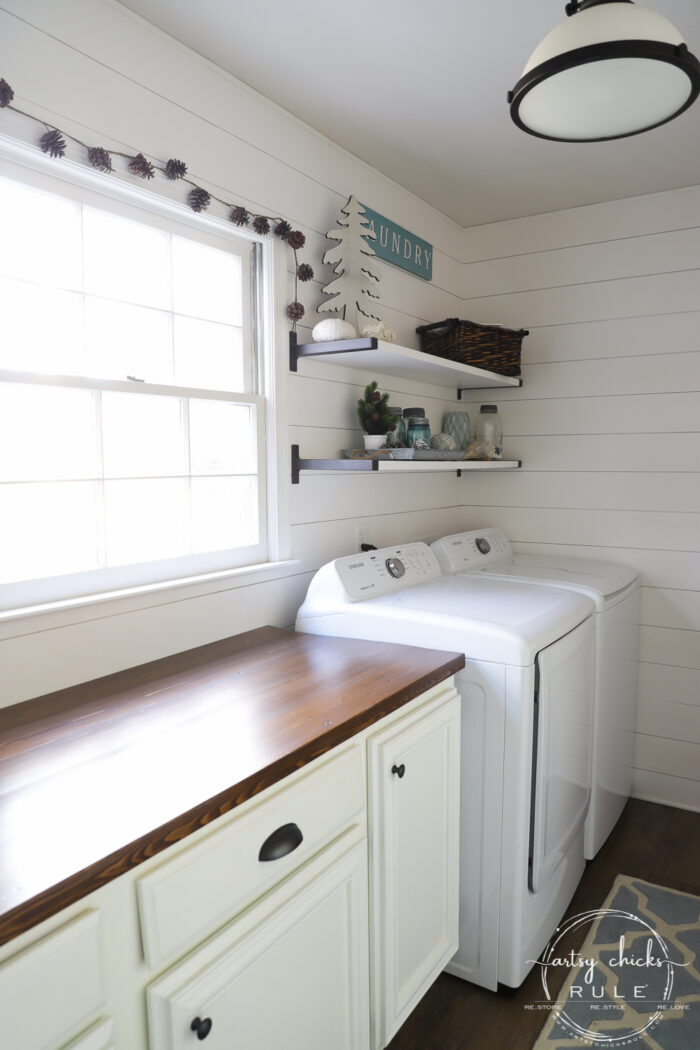 The pine cone window garland came for the dollar spot at Target. $5
And the tree below was a Michael's find for 70% off. It was $7.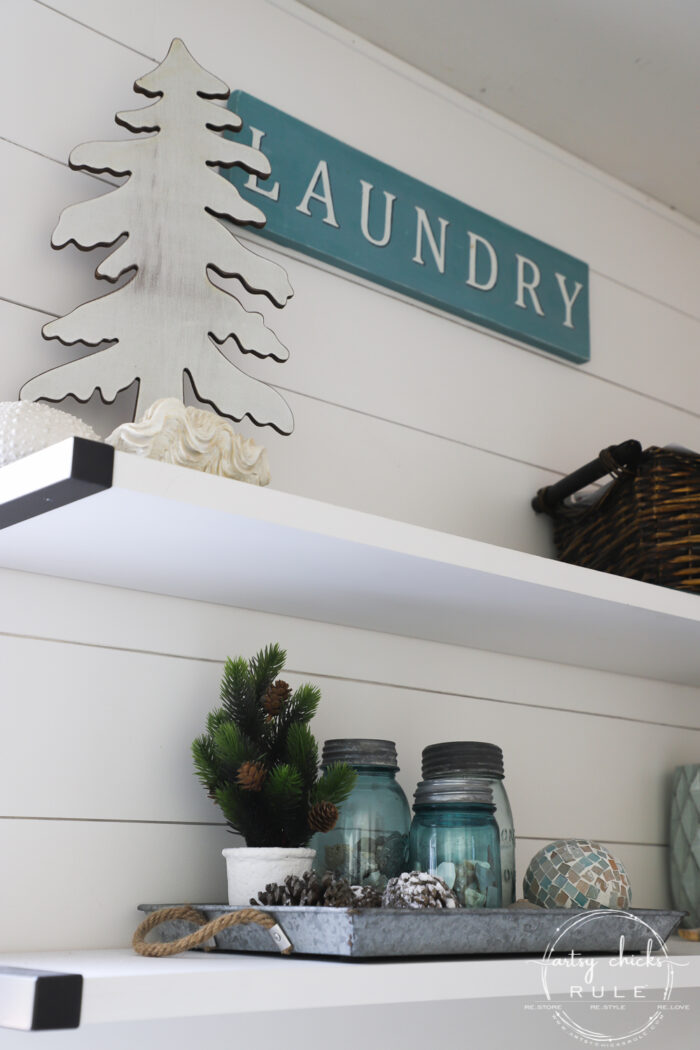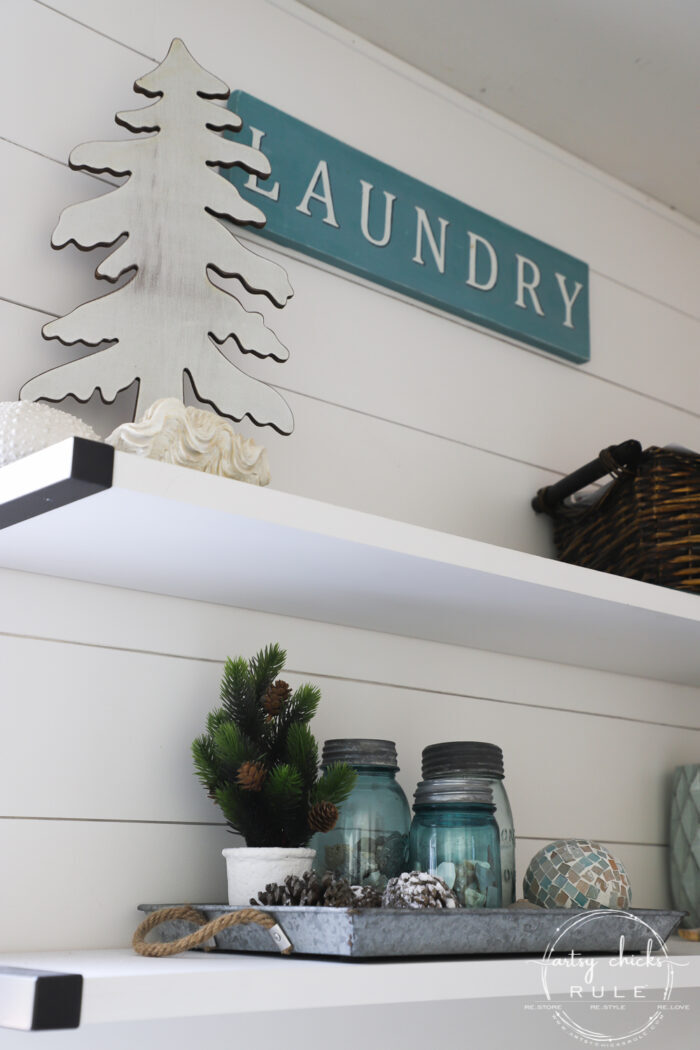 (and the other little pine tree from TJ Maxx)
More pine cones in the metal tray.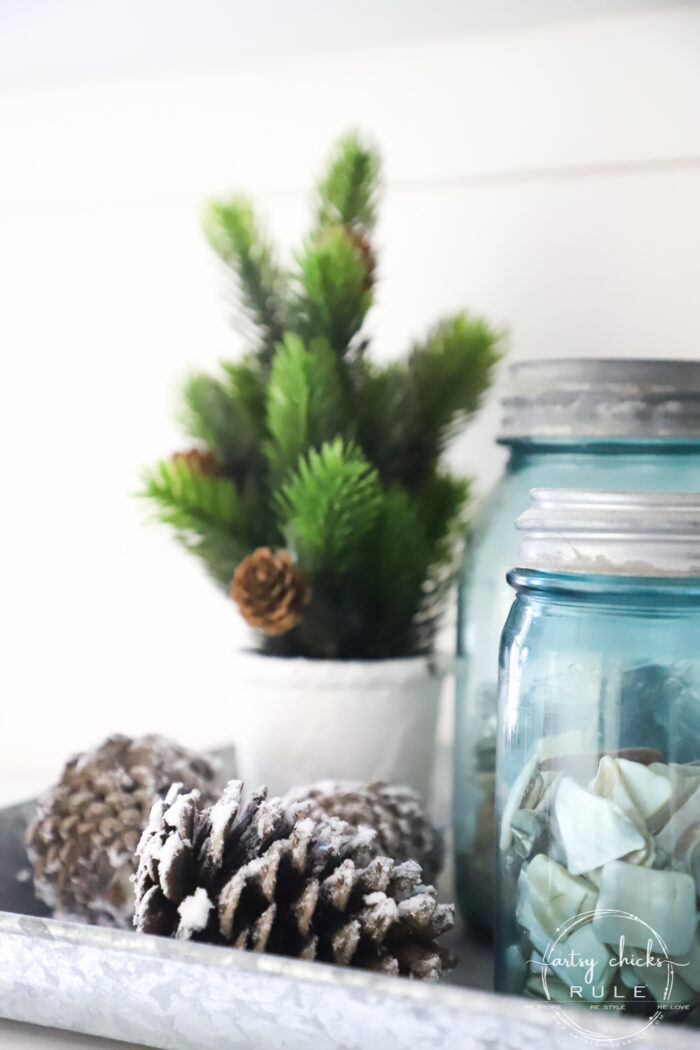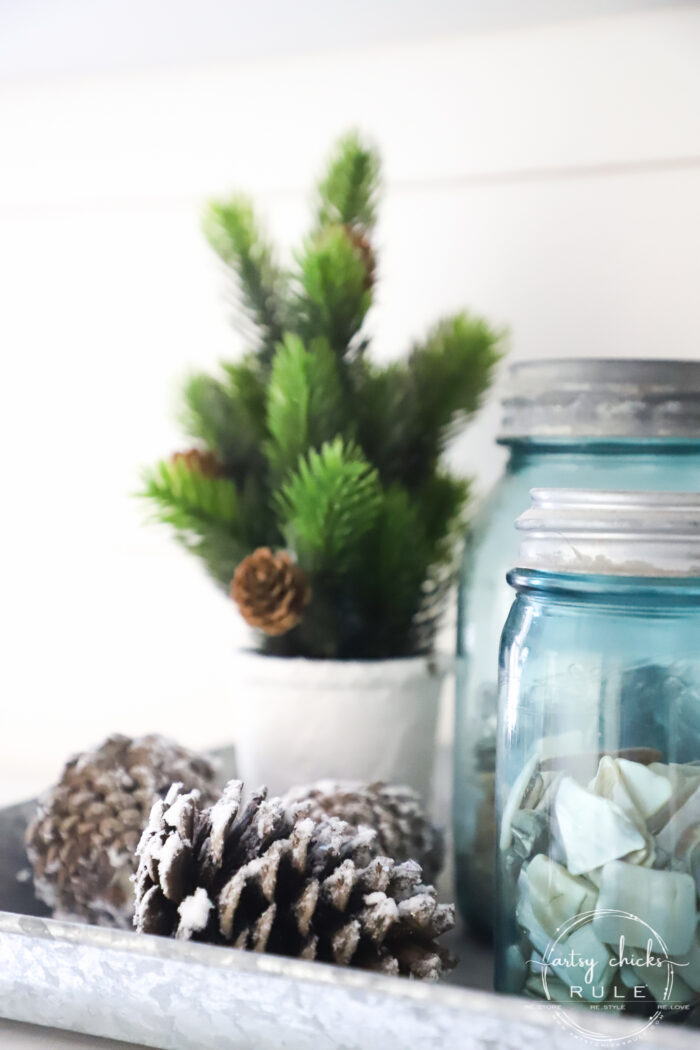 And not decor-related…well it sort of is.
I started using the detergent pods and decided to keep them in one of my (many!) antique jars. This works so well and I love being able to display it AND with a useful purpose at that.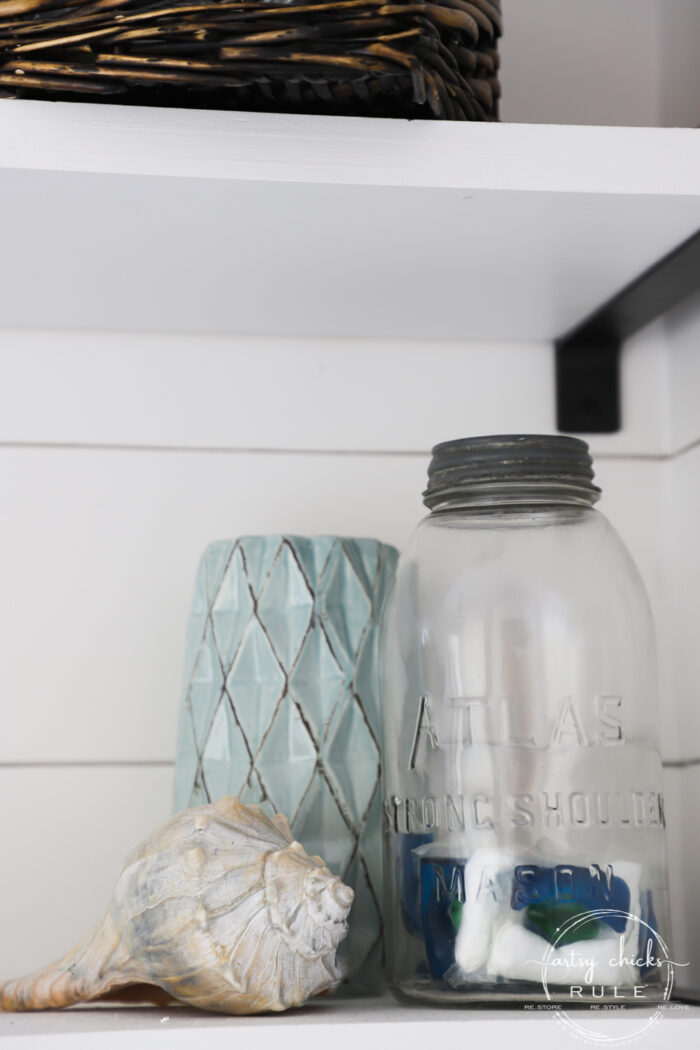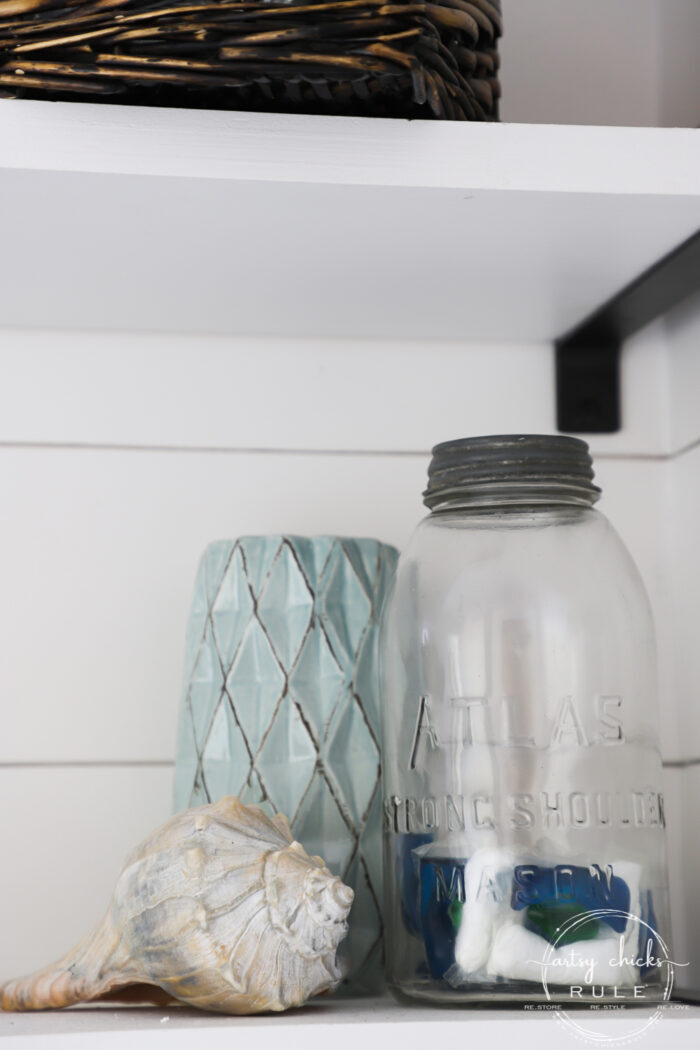 And yes, I am almost out! I had lots of laundry happening over here with my youngest home from college. lol
I kept the same pine garland over the mirror in the guest bath.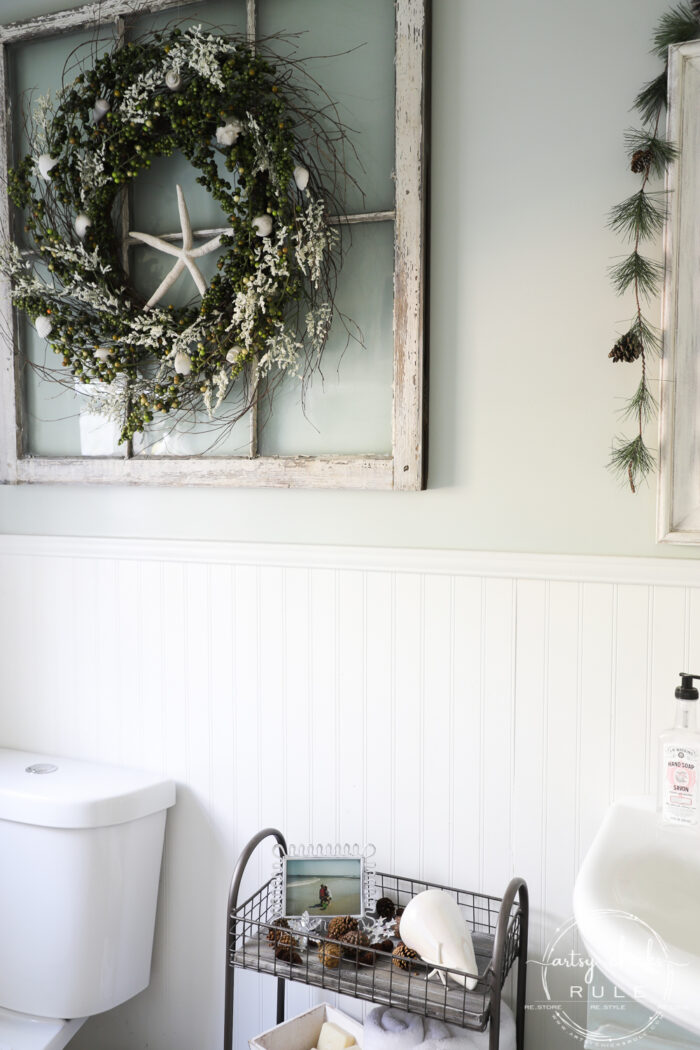 And simply removed the Christmas decor I had in here and added mini pine cones and more of those glass snowflakes.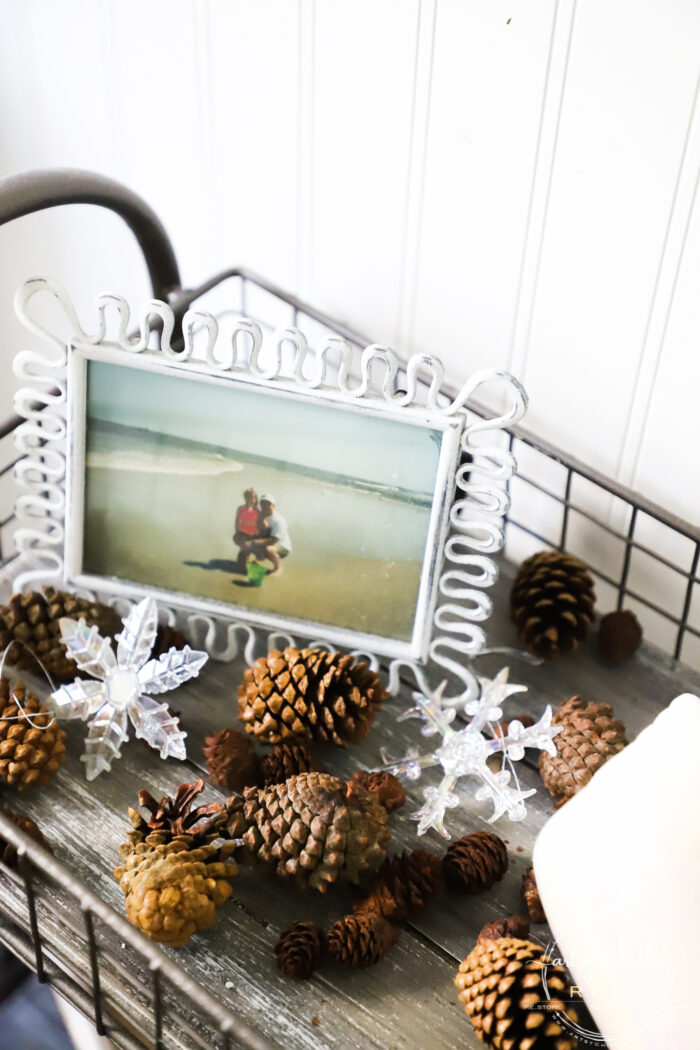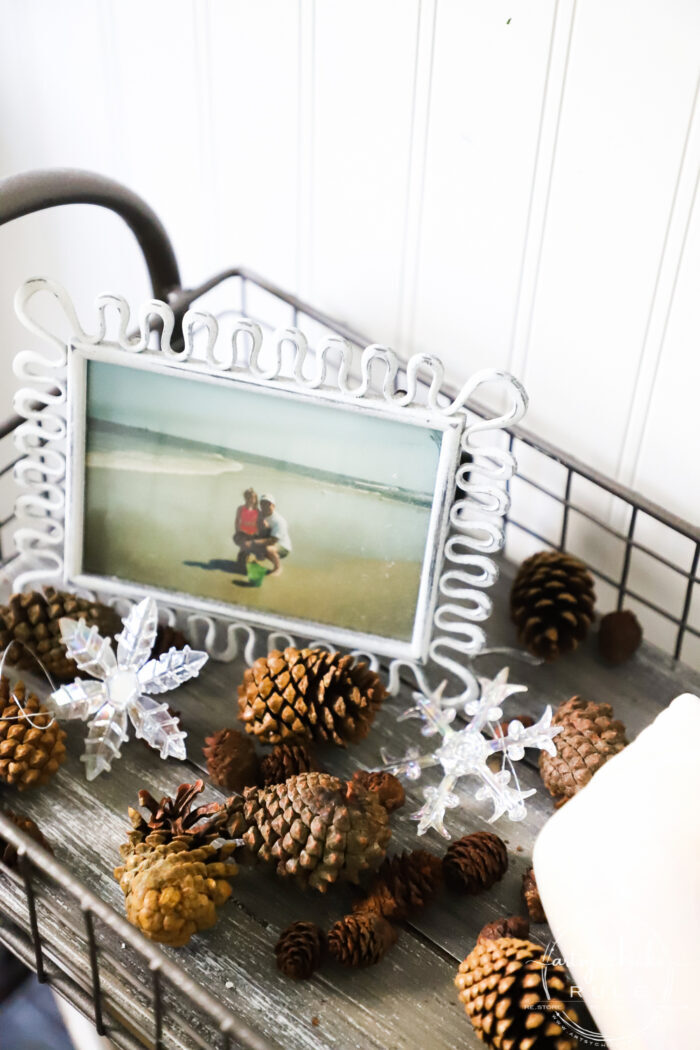 Didn't even touch this side…as is from Christmas.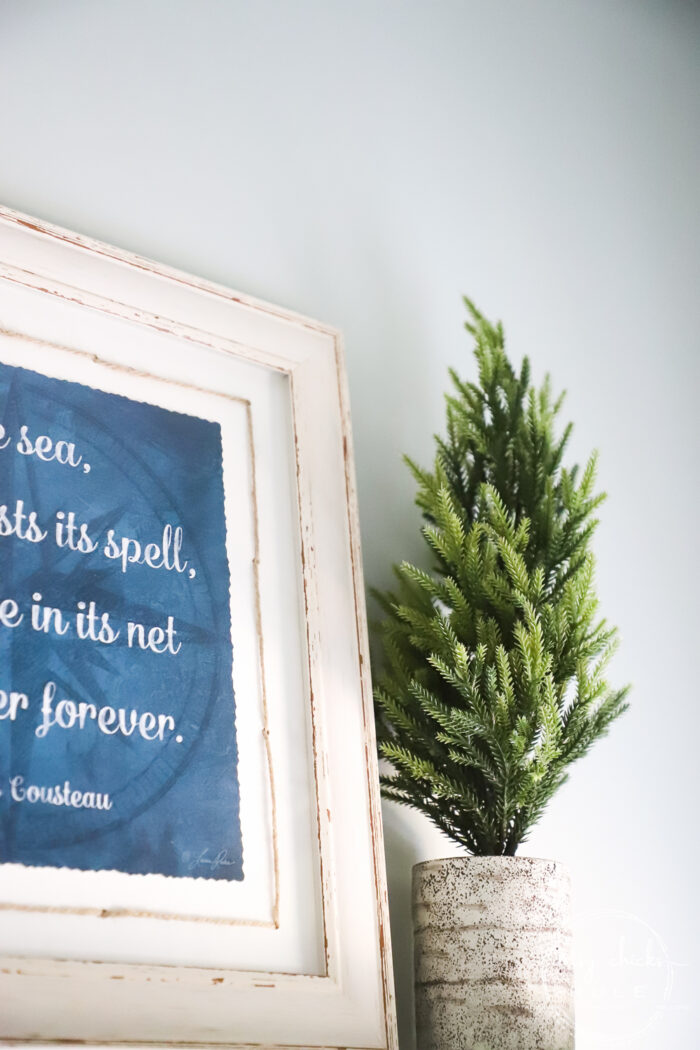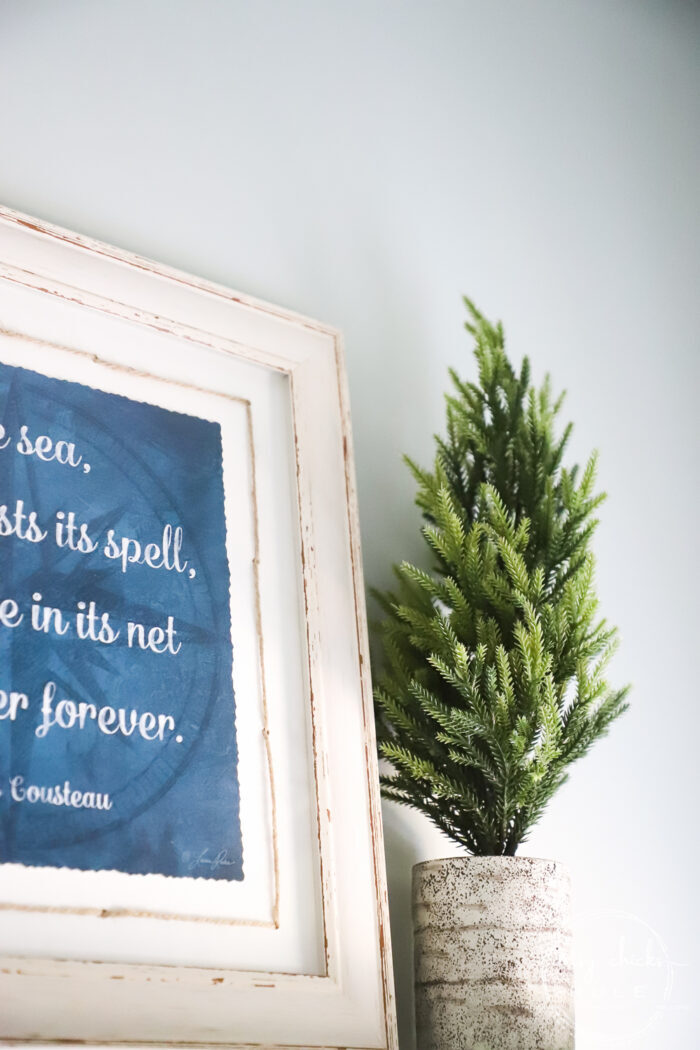 (small shelf on the opposite wall in the guest bath) One simple little pine tree.
Well hey there, you…Roo. :)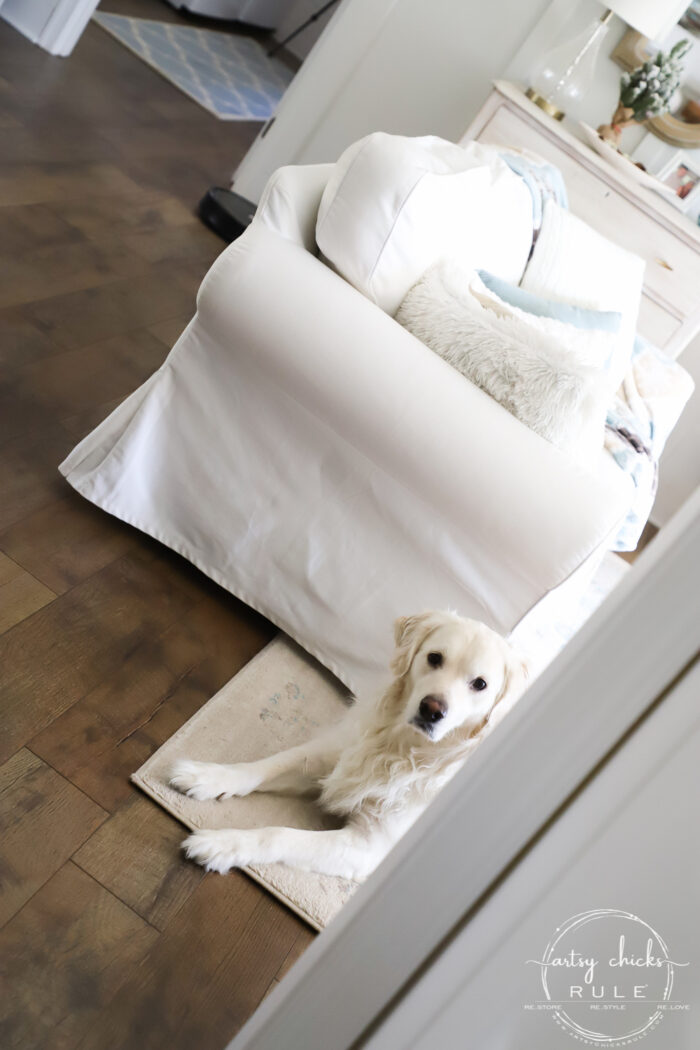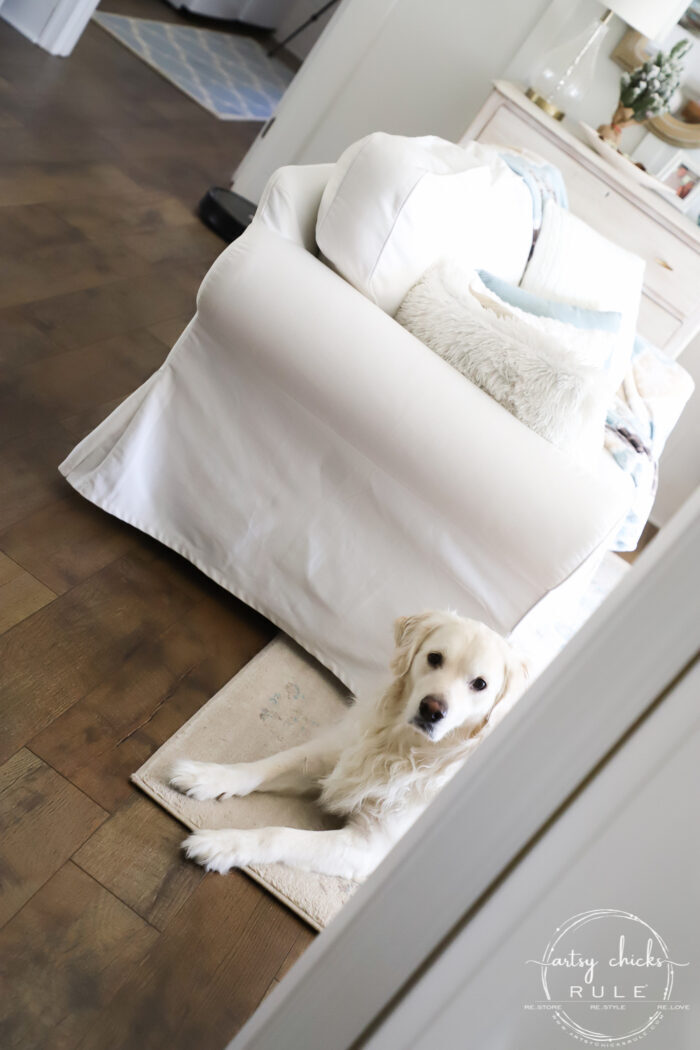 I'm still here, not leaving your sight…don't you worry. lol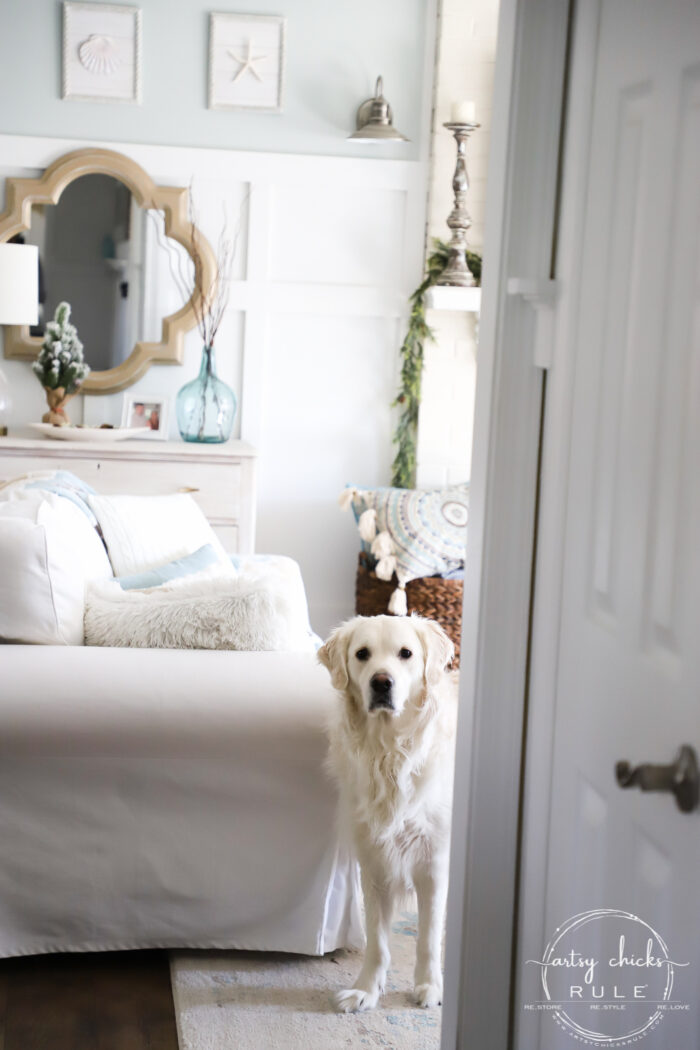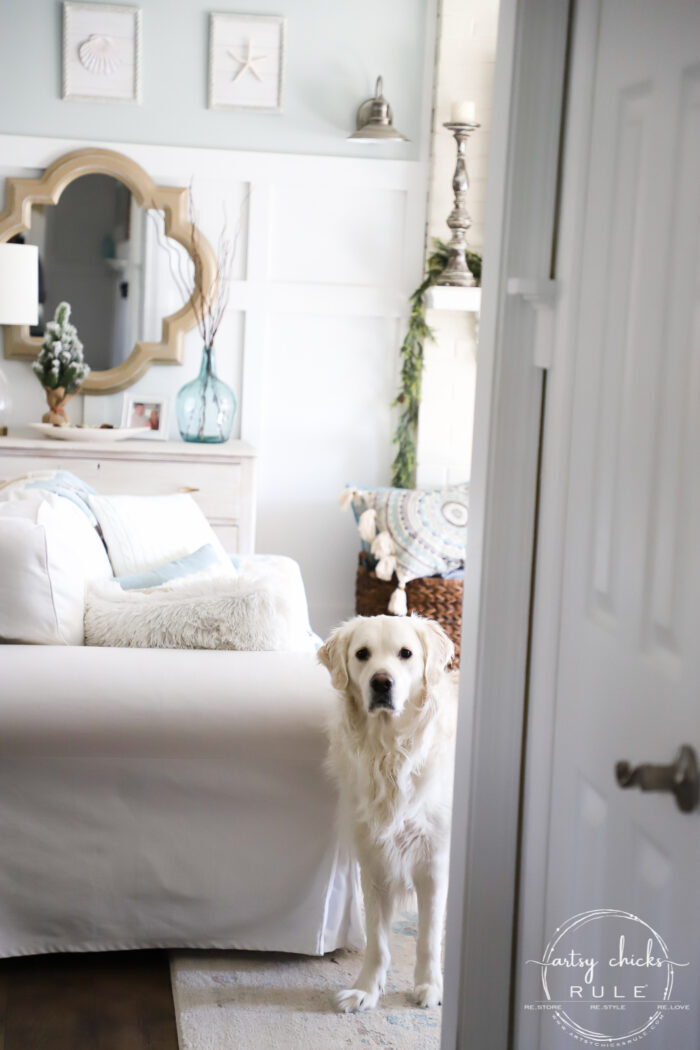 I hope you enjoyed touring our home filled with winter decor and all cozied up for winter.
Maybe it will give you an idea or two for your own home this winter.
If you liked anything you saw, you can scroll back through the post and check out any of the links I provided.
Okay, to recap, some tips to create winter decor for your home, things to add:
layers & texture
fluffy throws and pillows
plaids (blues, greens, tans)
greenery (without the red), small trees, garland, wreaths, etc.
snowflakes or snowflake patterned things
white trees
pine cones
small branches without leaves
"wintery" signs and quotes
and a fluffy white dog (optional…but I highly suggest! ;) )
Now tell me because I am super curious (since this is my first time decorating for winter), do you also decorate for winter?
Am I just way behind the times or what? haha
I'd love to know.
PIN it to save it!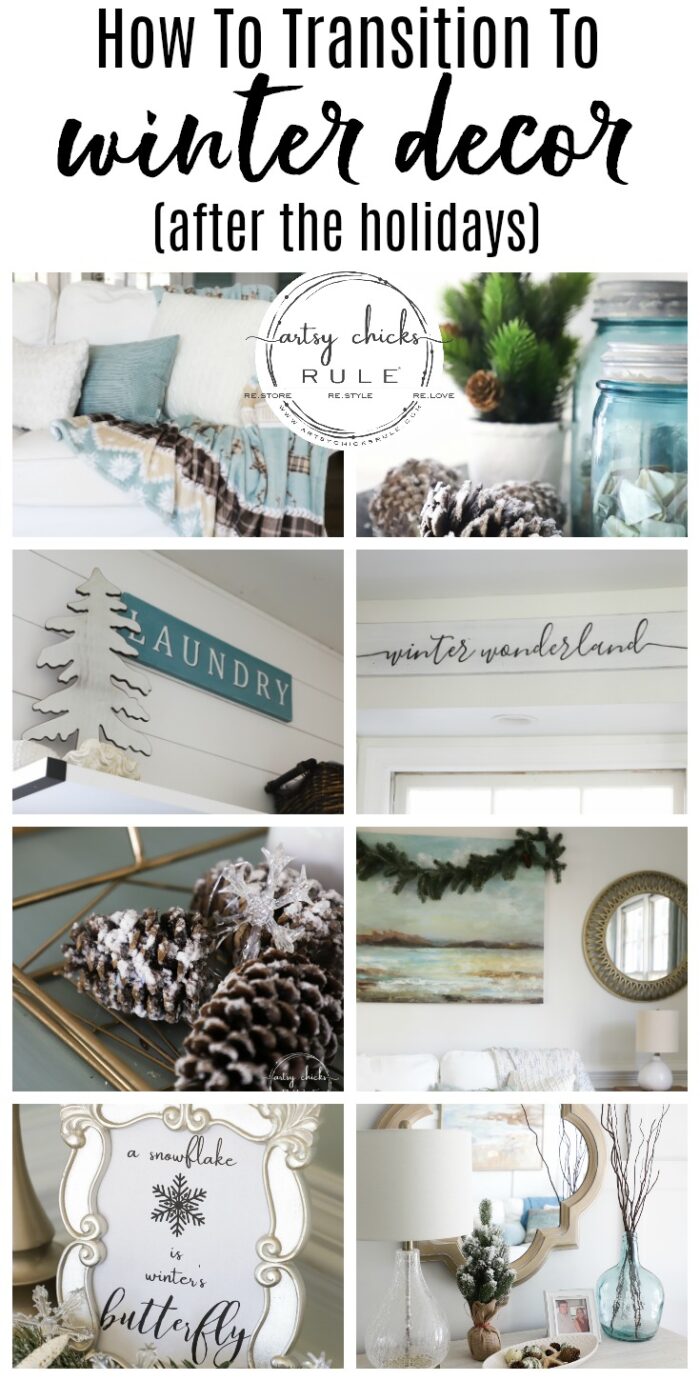 I hope you have a wonderful weekend! I'll be working on something for our Trash To Treasure next week. I think it might be furniture this month. We'll see. I don't have a clue yet!! lol
And, remember, I will also be sharing the brand new "winter wonderland" sign I have in our kitchen, the printable for it and the printable I made and used in our foyer above, next week too.
xoxo