$4 Winter Basket Makeover (pillow holder, cozy throw keeper or gift idea!)
This post may contain affiliate links. Please see disclosures here.
Sometimes all you need is a little paint for a project. This $4 thrifty find got two coats of paint and a brand new life as a winter basket to store winter goodies and more!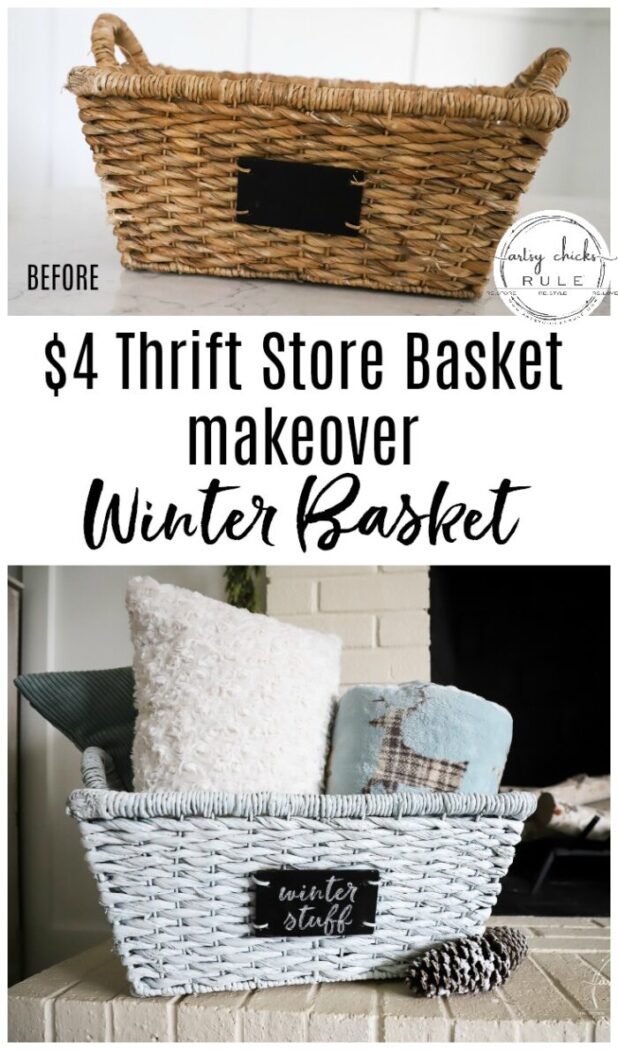 Let's get this new year started with the very first Trash To Treasure Transformation of the year! I really wanted to get a furniture piece done but it came down to time and I just really did not want to rush the piece I had in mind. I will try to share that one later this month.
Instead, I'm sharing a super simple little makeover for a $4 basket I picked up at the thrift store a week or so ago.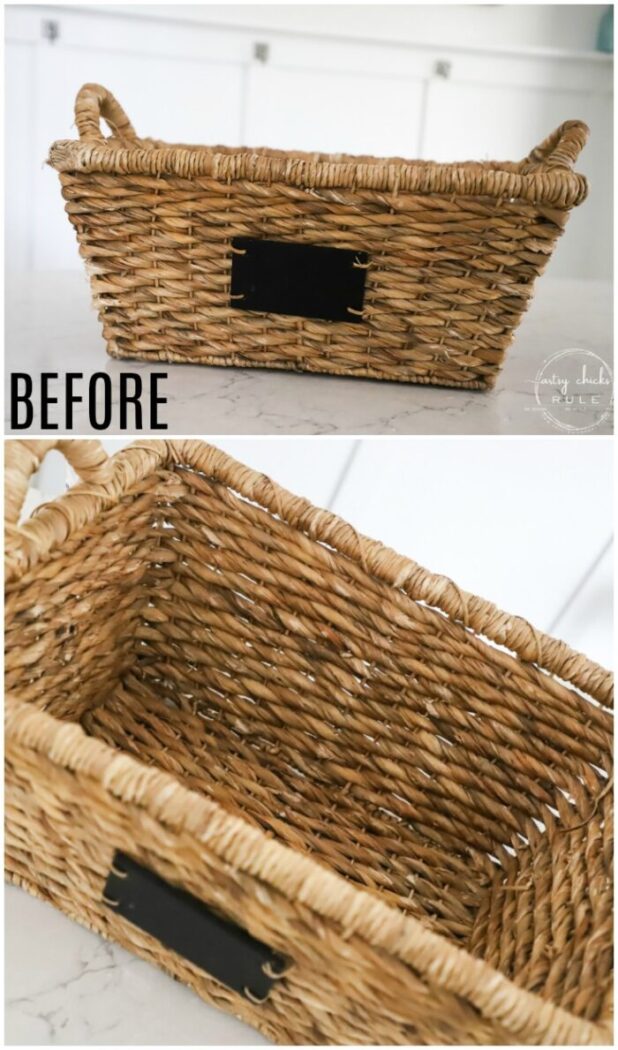 It was a really nice, thick, well-made basket so I certainly couldn't pass it up for $4!
If you follow along with me on Instagram, you've probably already seen this basket as I took y'all shopping with me that day. :) Be sure to follow along as I share lots of snippets of the day to day happenings over there in my stories.
I'll share what I did with this basket below. But first, if you are new around here, a few friends and I get together on the second Tuesday of every month to share our thrifty finds or "trash" we've turned into treasures. So be sure to scroll all the way down to see what kind of treasures my friends are sharing this month too.
Winter Basket Makeover Ideas
Since we are in the midst of winter ( I think?? It was in the 70's this past weekend) and because I'm sharing all things winter right now, I thought I'd turn this basket into a "winter basket". (If you missed my "How To Transition From Christmas To Winter Decor" and winter home tour post, you can see it, here)
You know, a basket for filling up with "wintery" stuff.
But then I thought, hmm, you could do other things with it too. So I'm sharing a few different things you can do with it as well.
I began by spraying it with a blue/green spray paint I had in the garage as a "backdrop" color. (I guess I forgot to take a picture of that step)
Then I sprayed it with white over top not covering 100% to let some of the blue show through.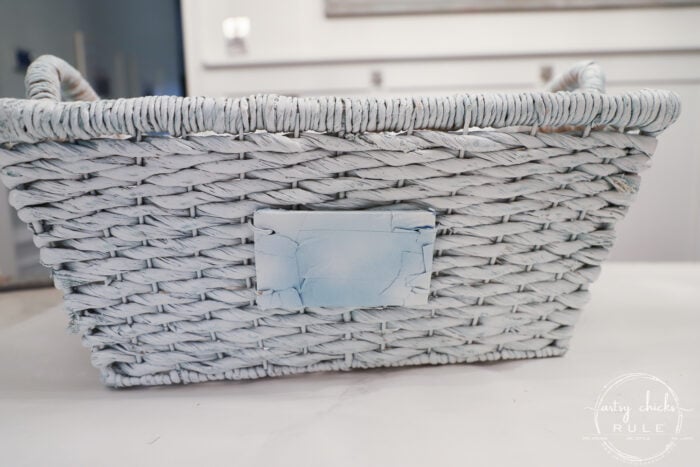 Hard to tell in the photo but hopefully you can see some of the blue underneath here…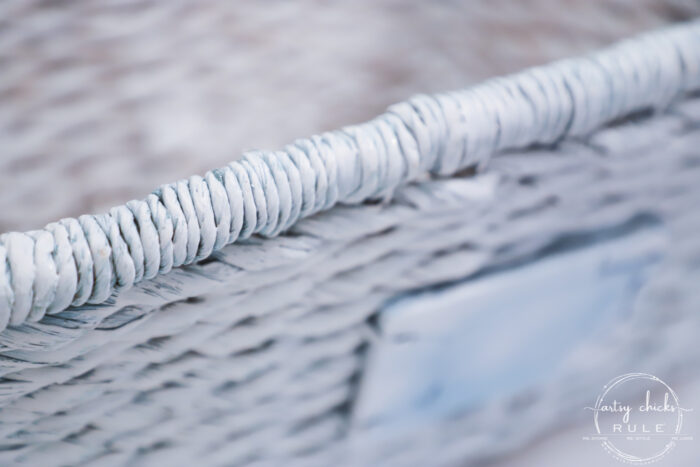 I also taped up the little chalkboard piece beforehand so it would stay black.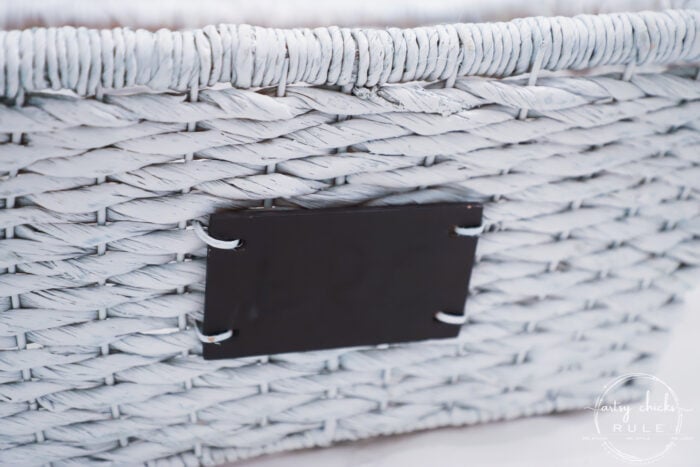 That's it!! Done.
Can't get any simpler than that now, can it?? ;)
Next, I created a few little sayings to put on the chalkboard piece on my computer.
I cut them out with my Silhouette Cameo (that thing makes my life SO easy!)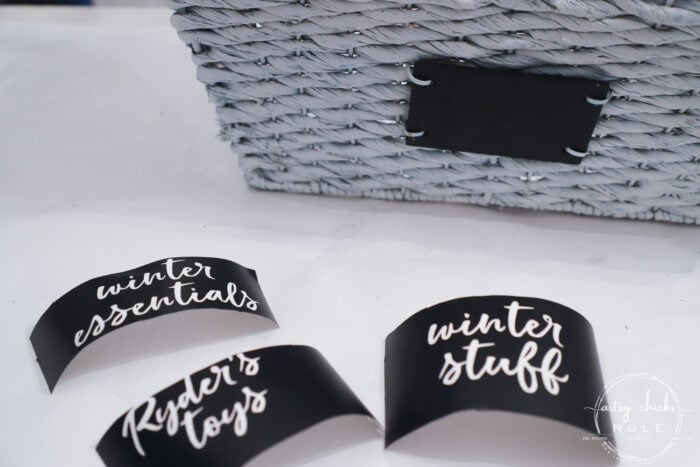 And instead of using the vinyl letters it creates, I pulled them out and used the cutout as a stencil.
Then I rubbed white chalk over the cutout (and simply rubbed over that with my finger to smooth and cover well).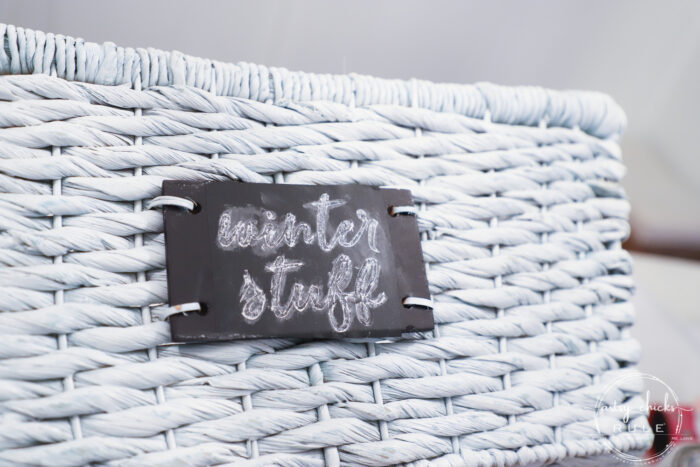 Looks like a mess until you pull off the vinyl…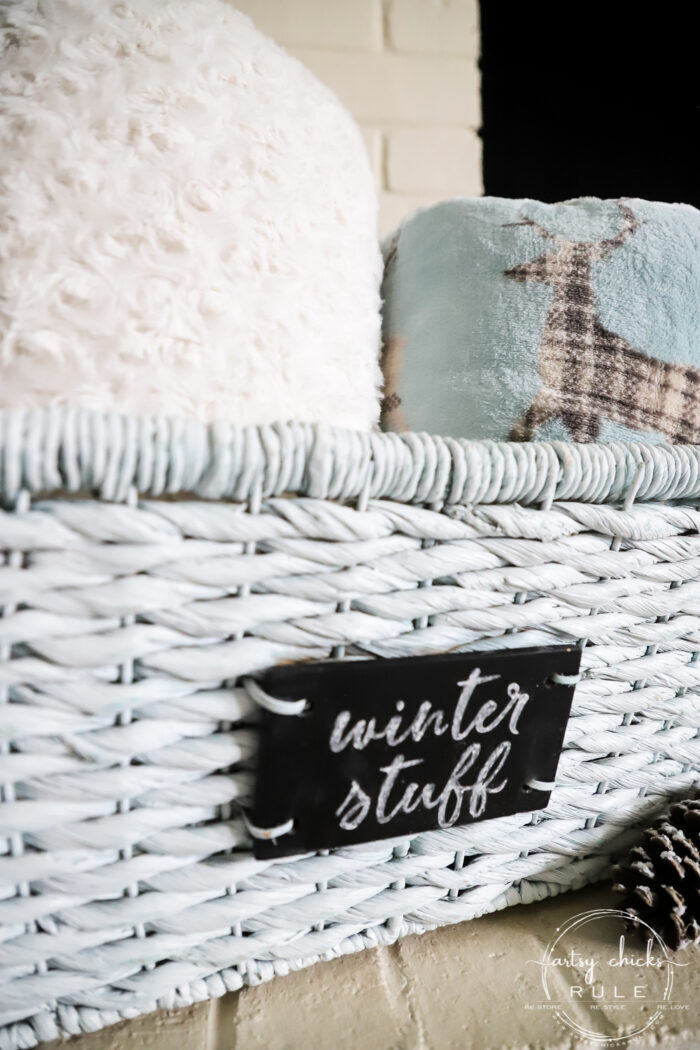 Winter stuff. 
You know, blankets, pillows and such.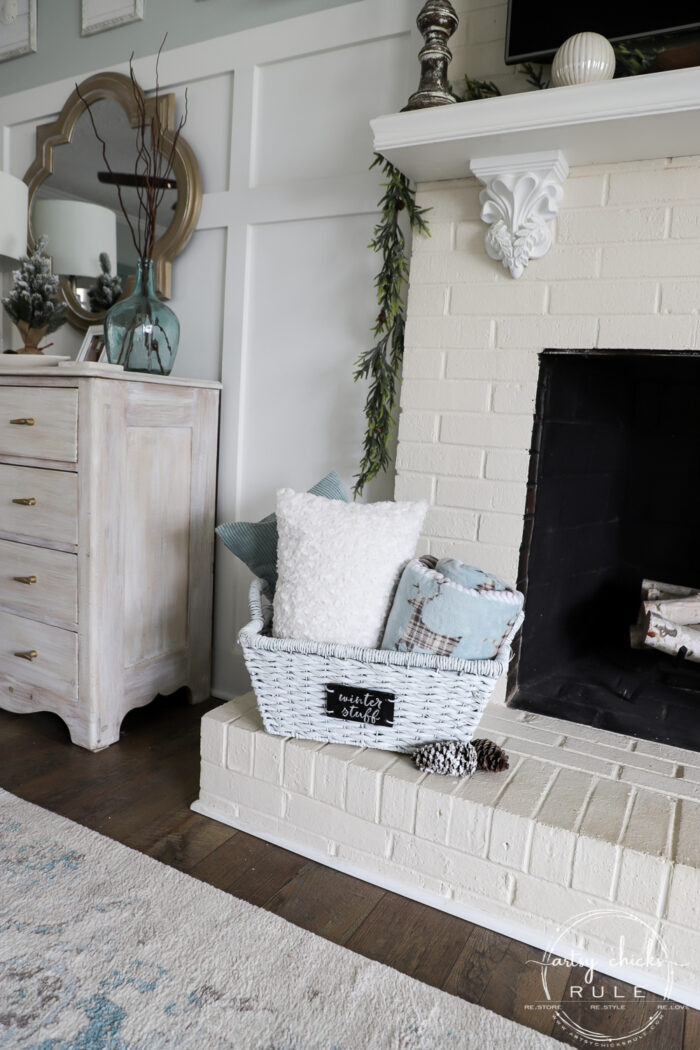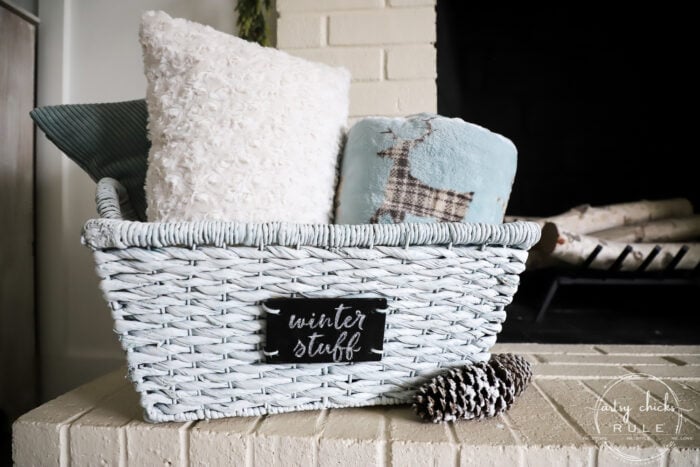 Cute little basket to hold things like this.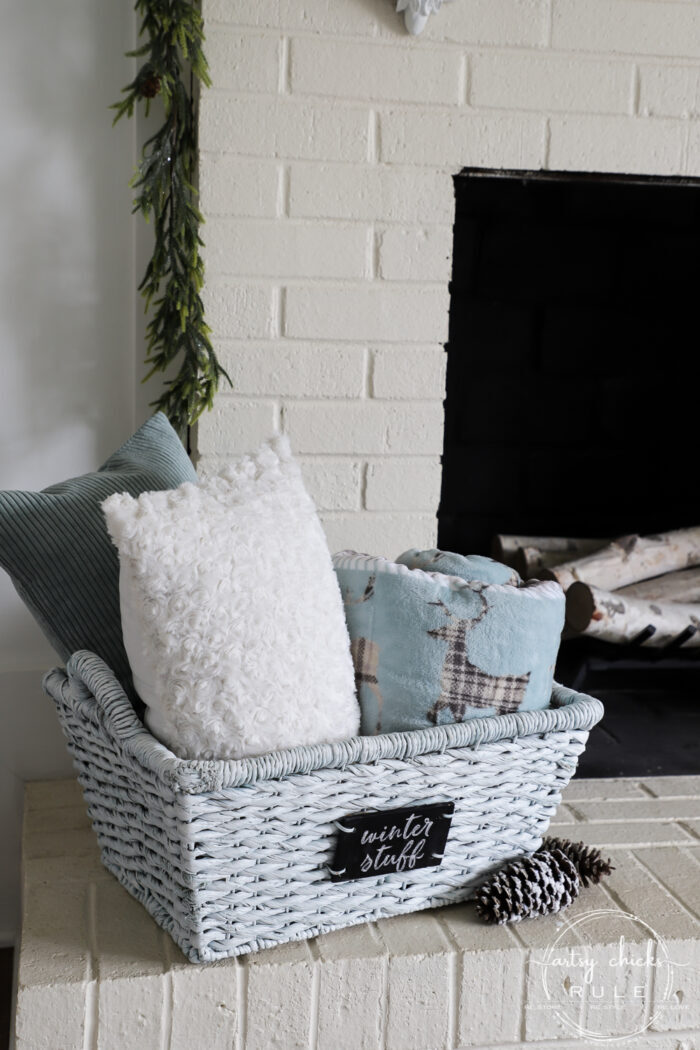 How about "winter essentials" for a gift basket, etc?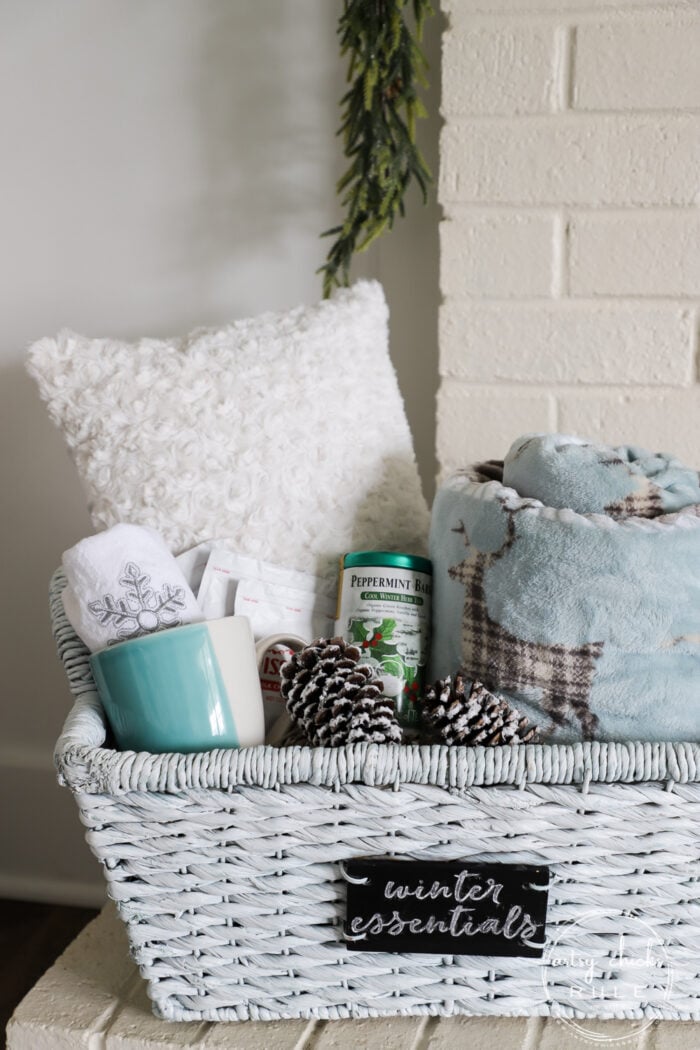 For things like blankets, pillows, tea towels, coffee mug, hot cocoa, tea, biscotti, etc.
Maybe even mittens, ear muffs, scarves and more.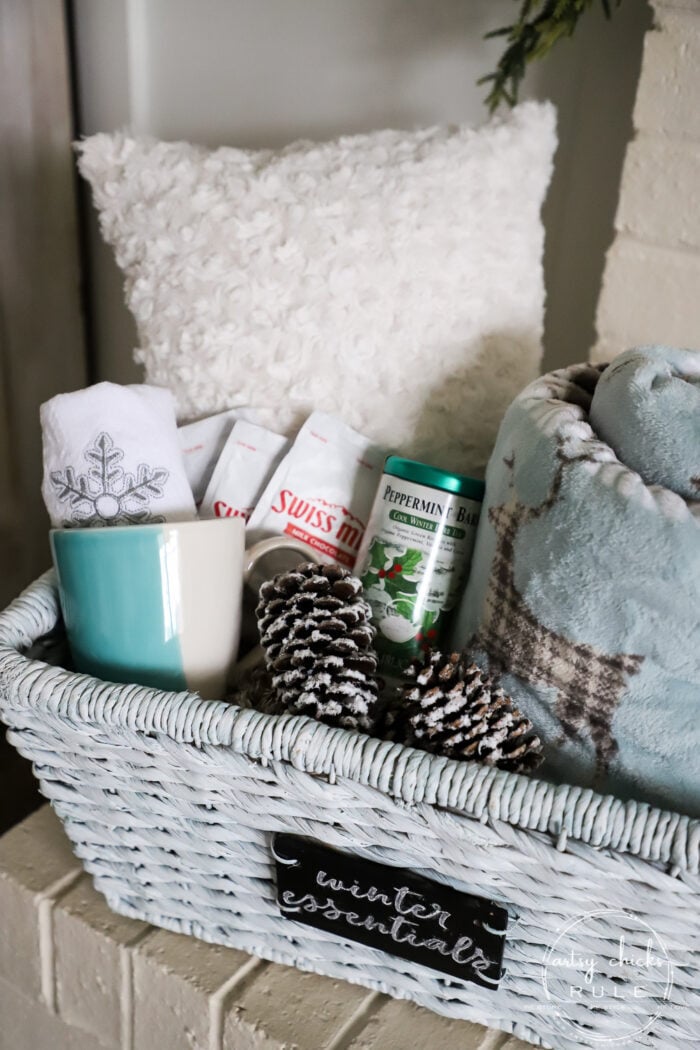 Or how about a basket for dog toys?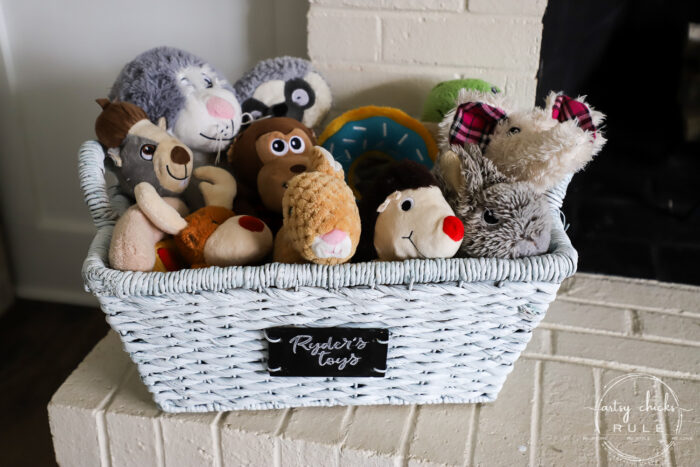 Ryder's toys to be exact. :)
You might notice that almost every single one of those poor toys is missing their little ears. haha!
Bunny below is only missing one…so far. lol The gray bunny to his right has both ears but is missing 2 of his legs at the moment.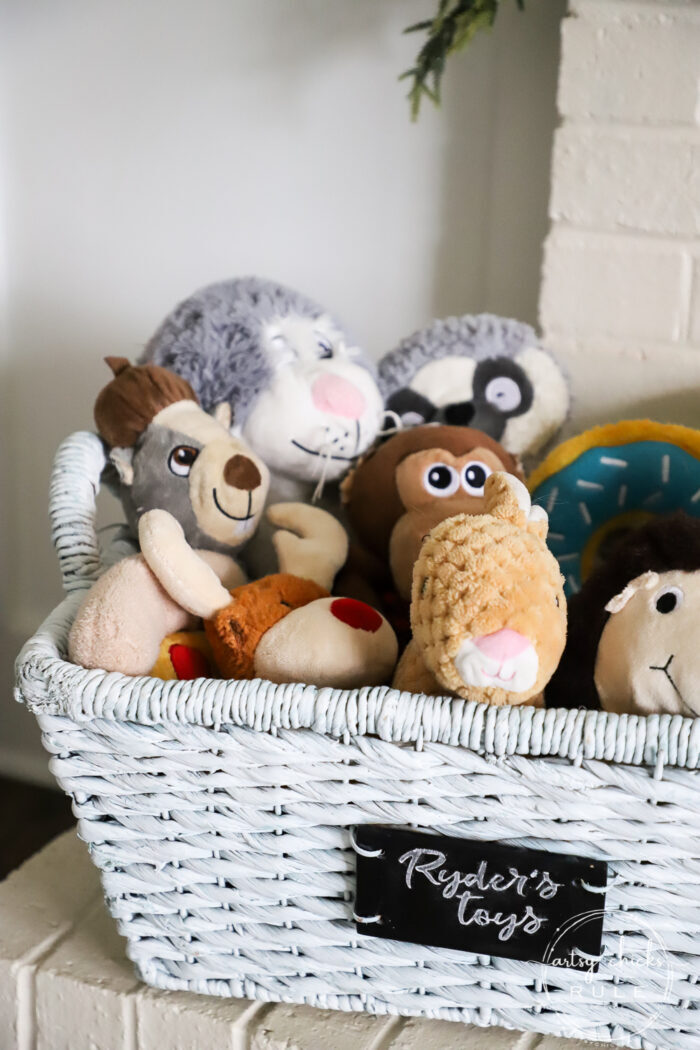 Poor lil bunnies, lol.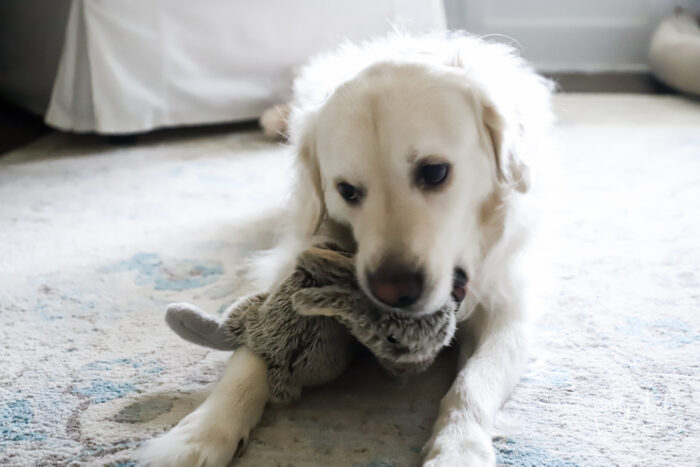 He clearly enjoys his toys. :)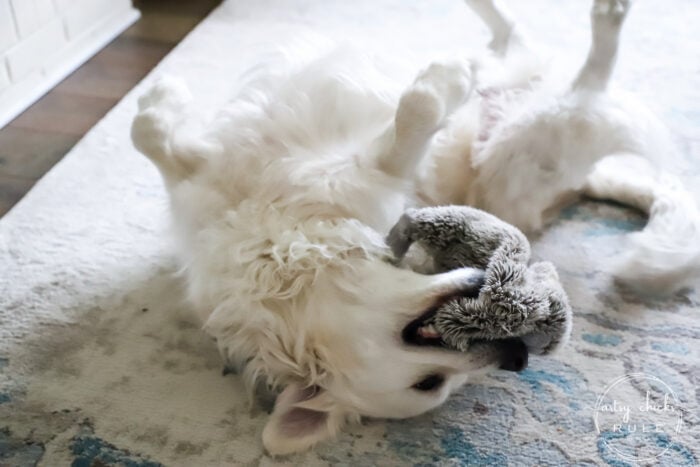 Lots of things you can do with this basket. These are just a few simple ideas.
What would you use it for?
PIN it to save it!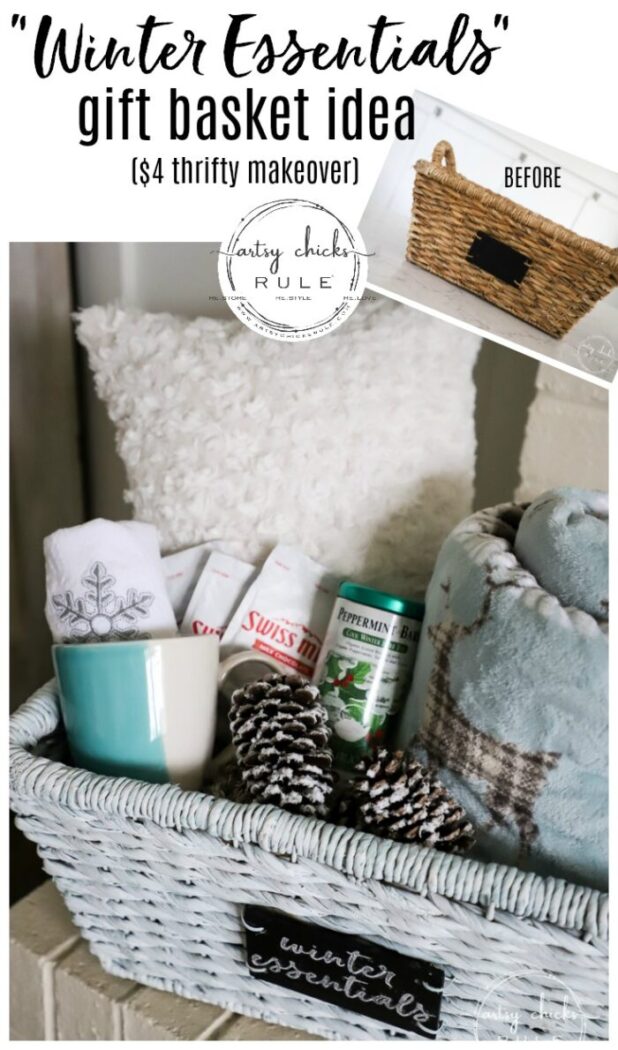 But wait! Don't go yet. :)
Lots more to see below… (click the links below the photo to visit each one and see the "after" details)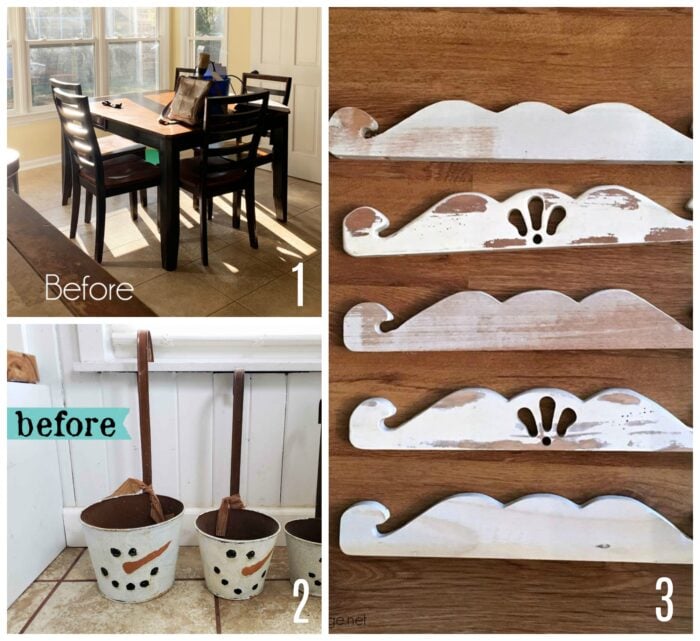 I'm sad to have to say that Lauren from Bless'er House has decided to take a step back and is leaving the group for now. Hopefully, she will be able to come back in the future. We will miss her!
And I'll see you guys right back here on Thursday with the "Winter Wonderland" sign (and the other free printable I created for winter that I framed in this post). Be sure to check back then for both of them.
Have a great week, friends!!
xoxo