White and Gold Tray Makeover (simple to do!)
This post may contain affiliate links. Please see disclosures here.
Have lots of old decor you just don't love anymore?? Don't throw it out, change it up and re-love it! That just what I did with this whit and gold tray!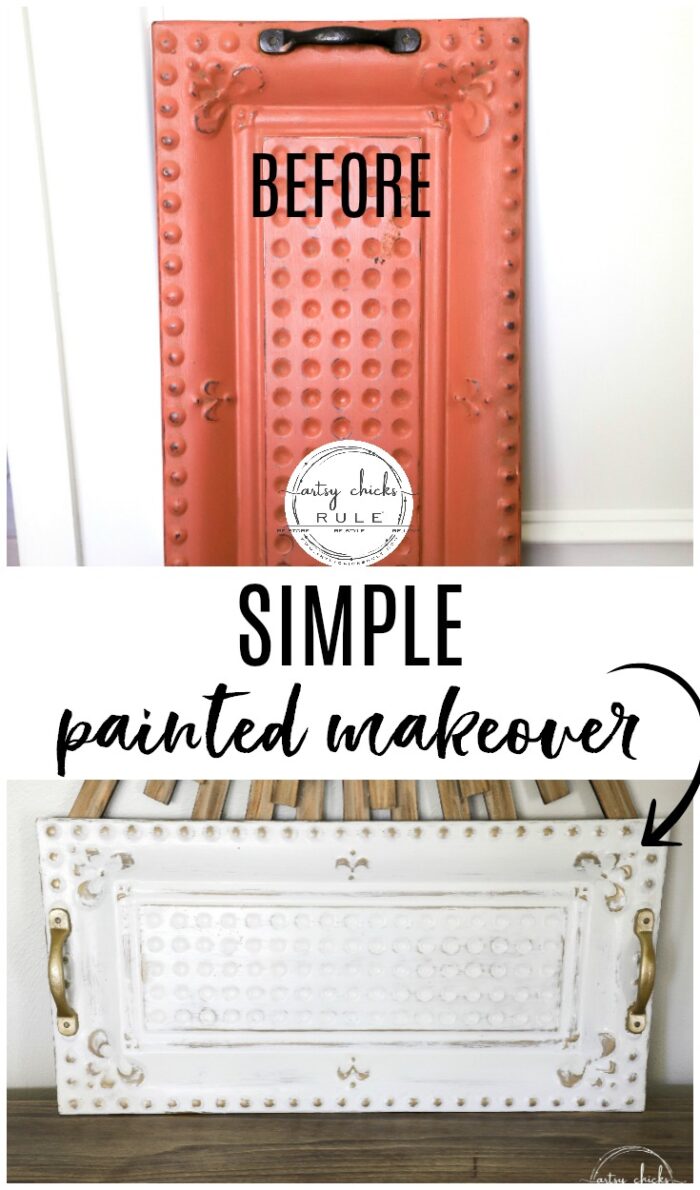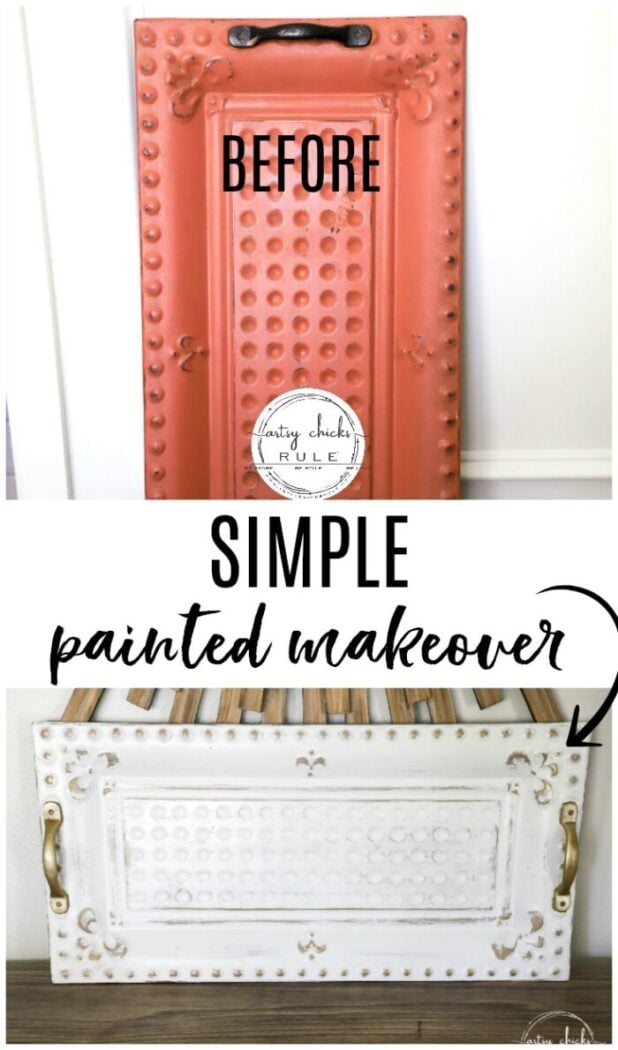 If you've been around here awhile, you know I like to reinvent things in my house… a lot.
It's so much cheaper than always buying new.
And I actually bought these things because I liked them so when they "go out of style, or my current style", I should say, that doesn't mean I don't still love them.
Maybe I just don't love the color anymore?
White and Gold Tray Makeover
Which is exactly the case with the white and gold tray makeover.
I have now reinvented it TWICE to fit our decor! lol
I am a recycling queen. ;)
It was originally a mustard color (I think??) and came from Southern Living At Home. (again, I think, I've had it a long time)
Some years back I loved and used quite a bit of coral color in our decor, so I painted it in Annie Sloan's Scandinavian Pink.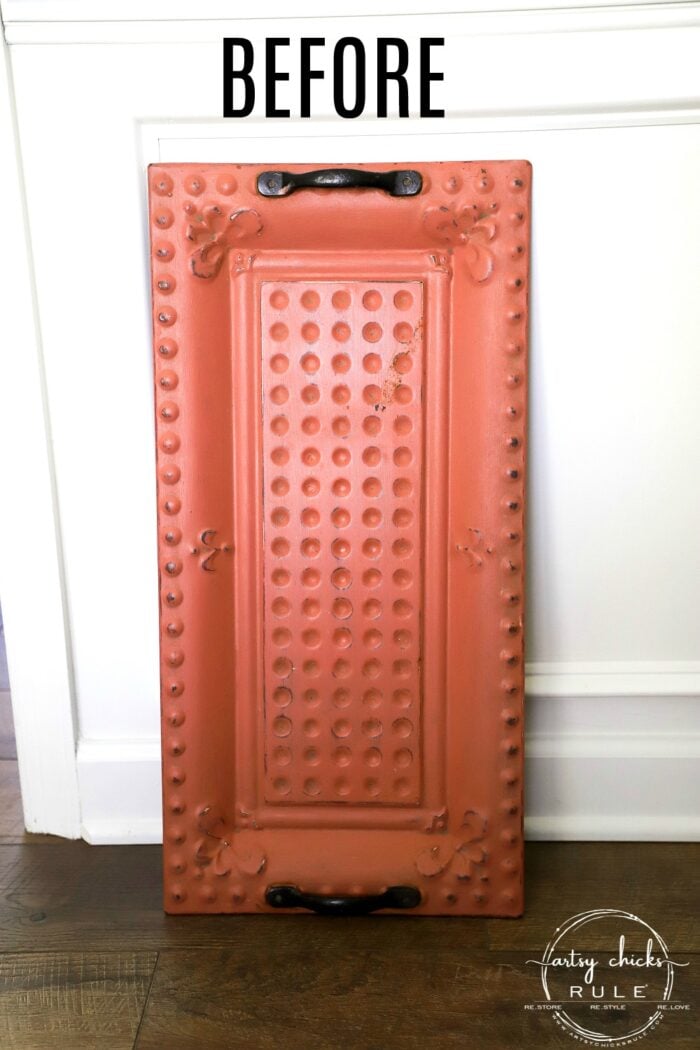 I don't have a photo of what it looked like before this makeover though.
It's a lovely tray, just not the right color for my house so I changed it up…again!
I started out by painting the whole thing in this gold color. (one of my favorite golds)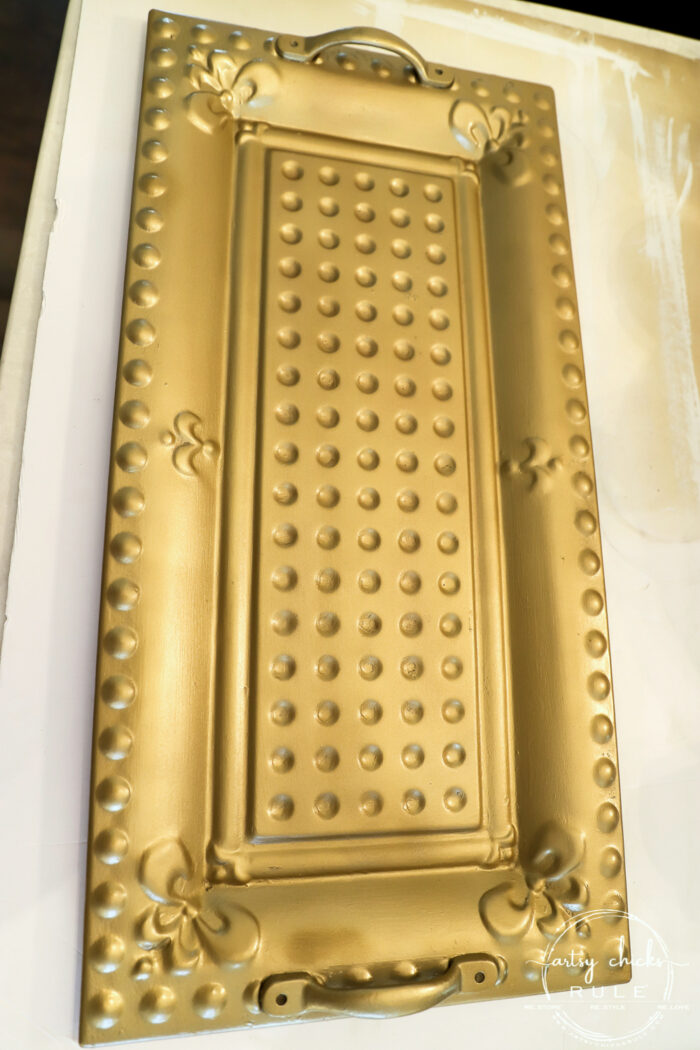 Then once that was dry I painted two quick coats of this my fave white chalk style paint.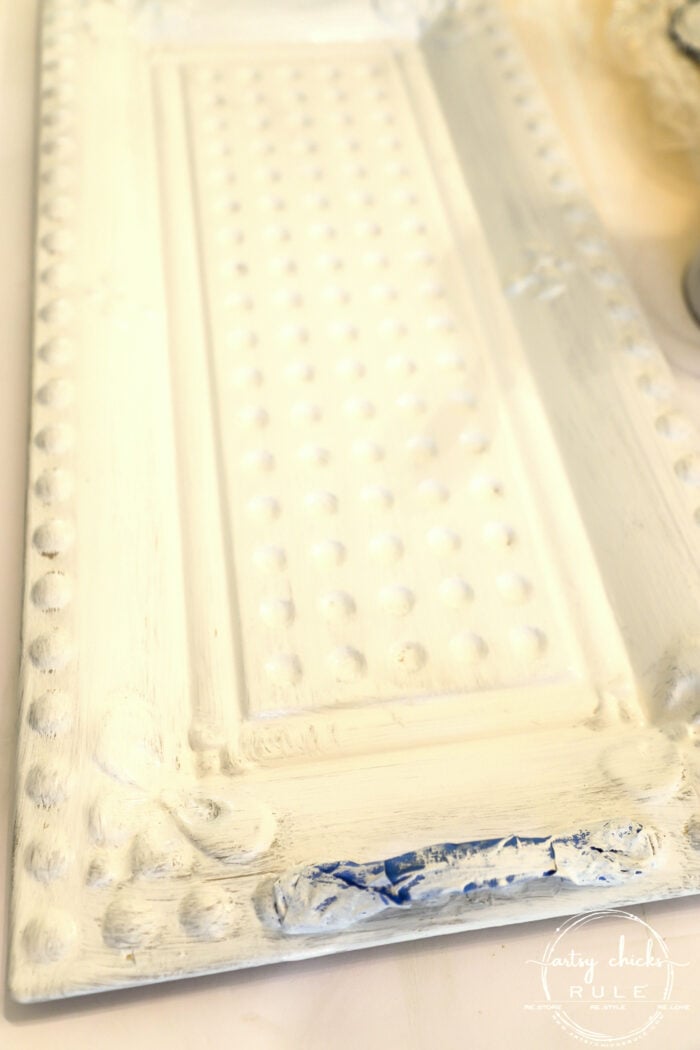 I used some tape to protect the handles as I wanted those to stay gold.
Once that was dry, I took a damp cloth and rubbed the paint away on all the raised edges.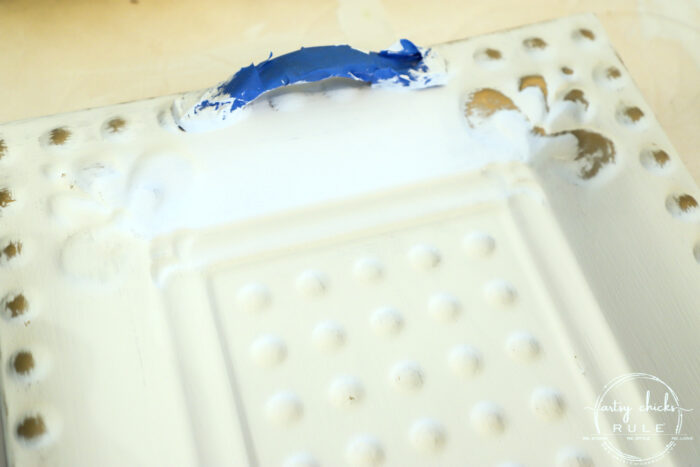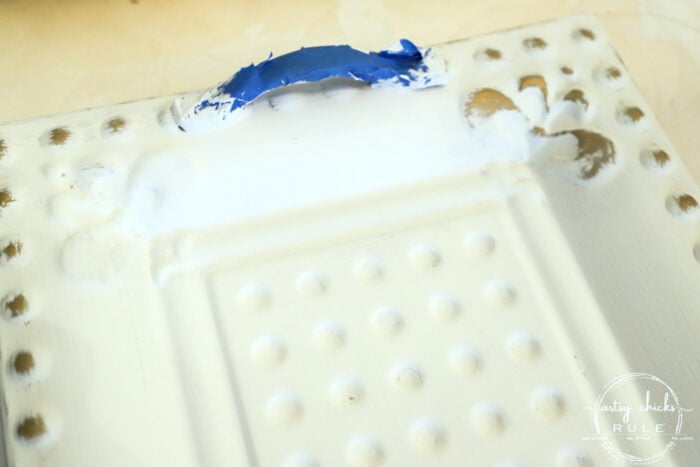 You don't have to be really neat here, just rub away some of the white to show the gold underneath.
As I mentioned in a recent post, it works really well to use spray paint (or latex) underneath of chalk style paint if you are wanting to distress in this way.
The underneath paint will stay put and the chalk paint will come off.
I shared a snippet or two of this project while I was working on it over on Instagram. Maybe you saw it.
Want to see some of these projects in "live" time? Hop on over and follow along with me on INSTAGRAM. I'm always sharing in my stories as I'm doing projects, finding new furniture, fun finds….just all the day to day behind the scenes.
Okay, so once I was done with that, I sealed it all up with one of my fave top coats.
Then I pulled the tape off the handles.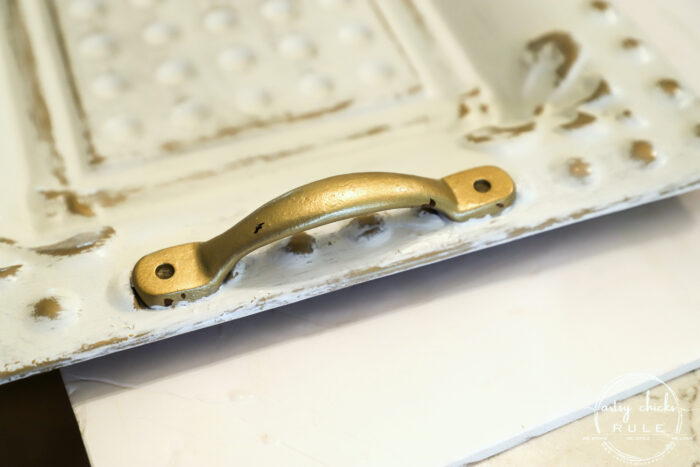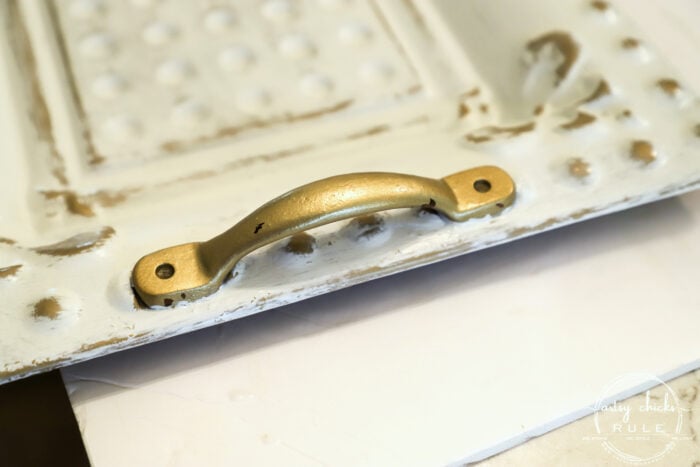 But oops…some of the gold paint came off with it! lol
I taped it up pretty soon after I painted it. I was worried that might happen.
Yikes.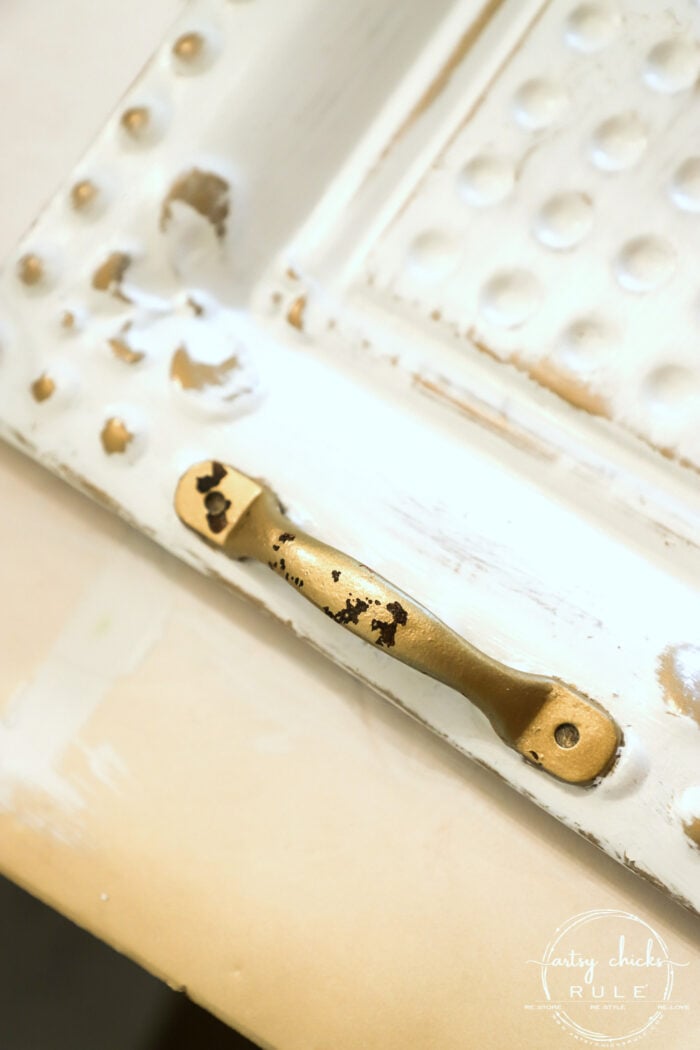 So I stuck a few plastic bags in and around to protect the white and gold tray while I sprayed the handles.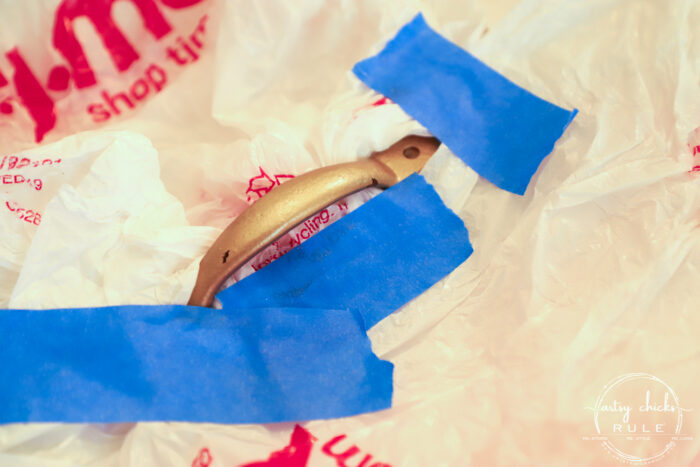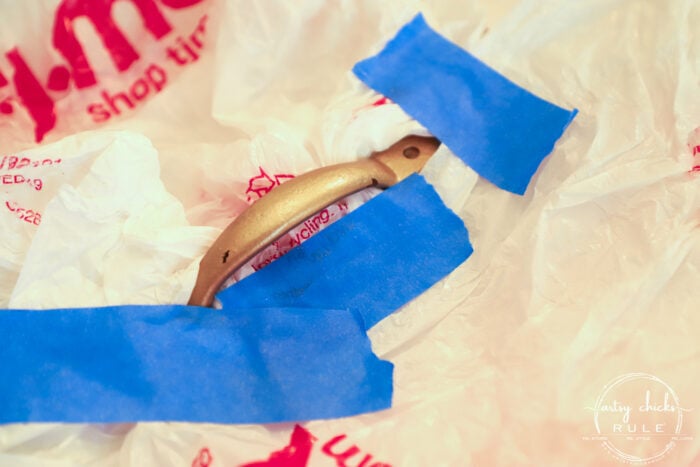 Easy enough!
And done.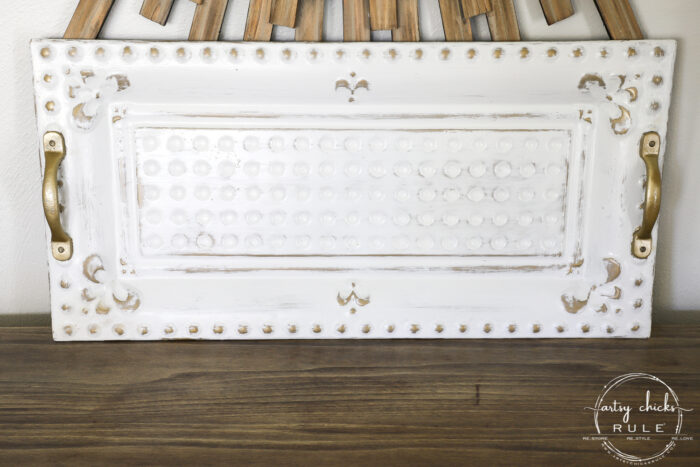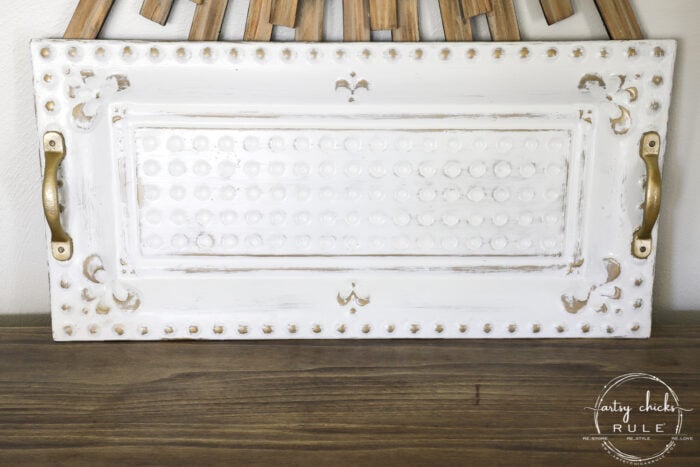 Completely reinvented all over again.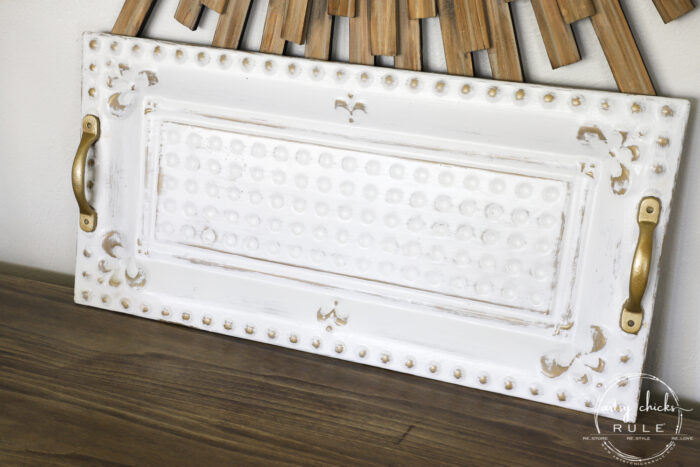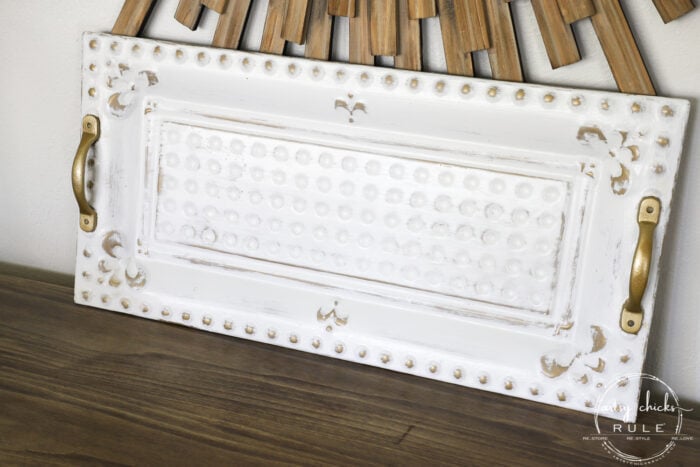 I love the new look!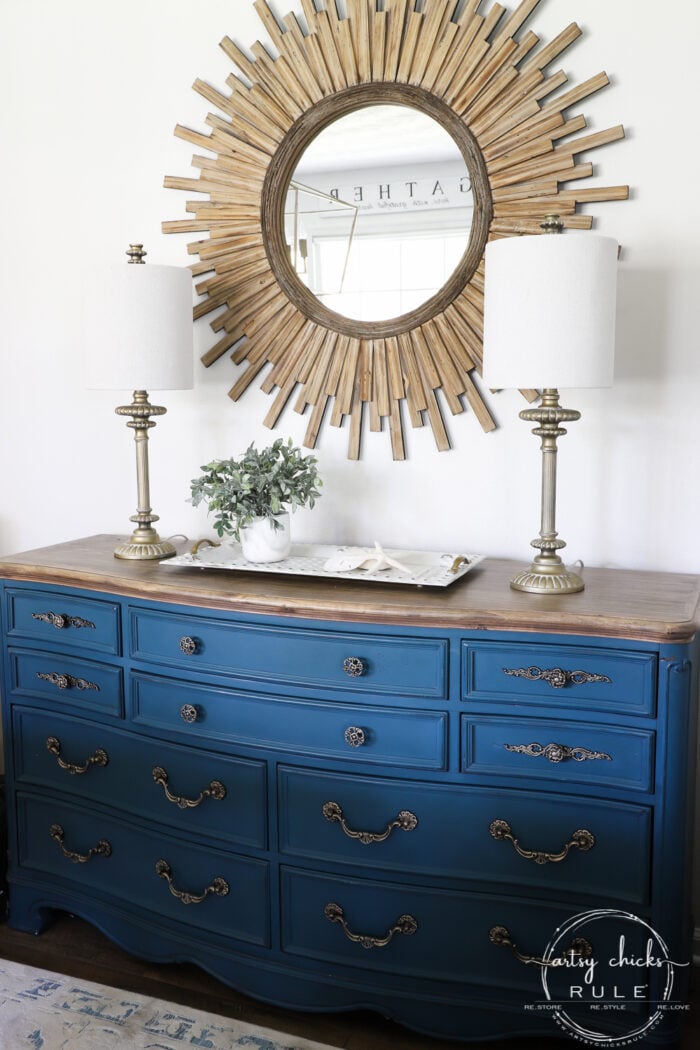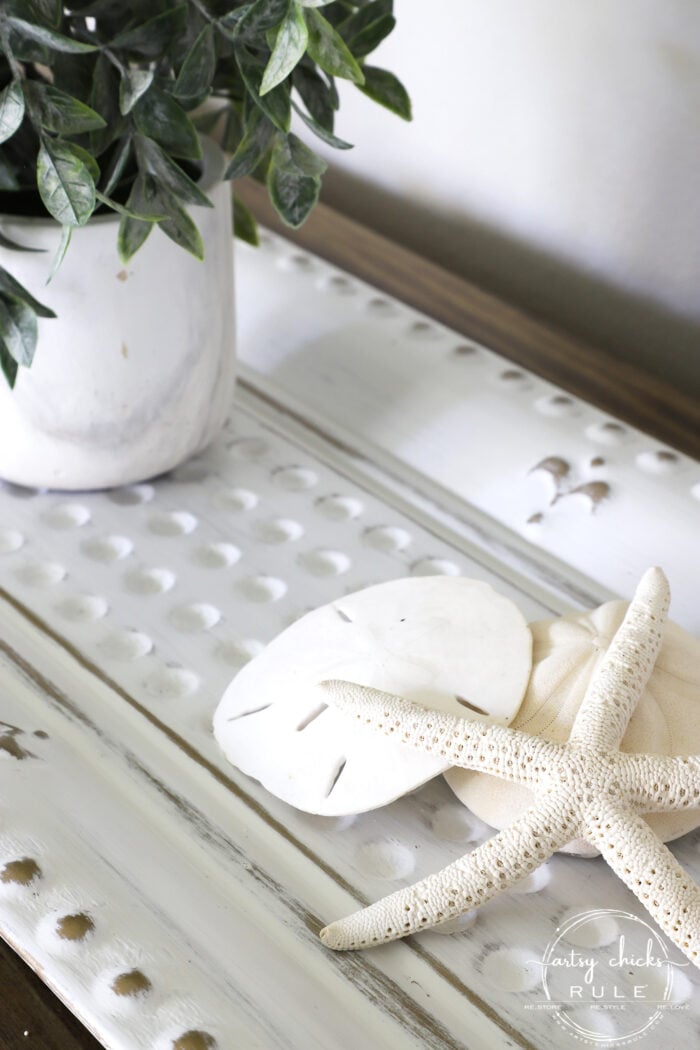 Up close…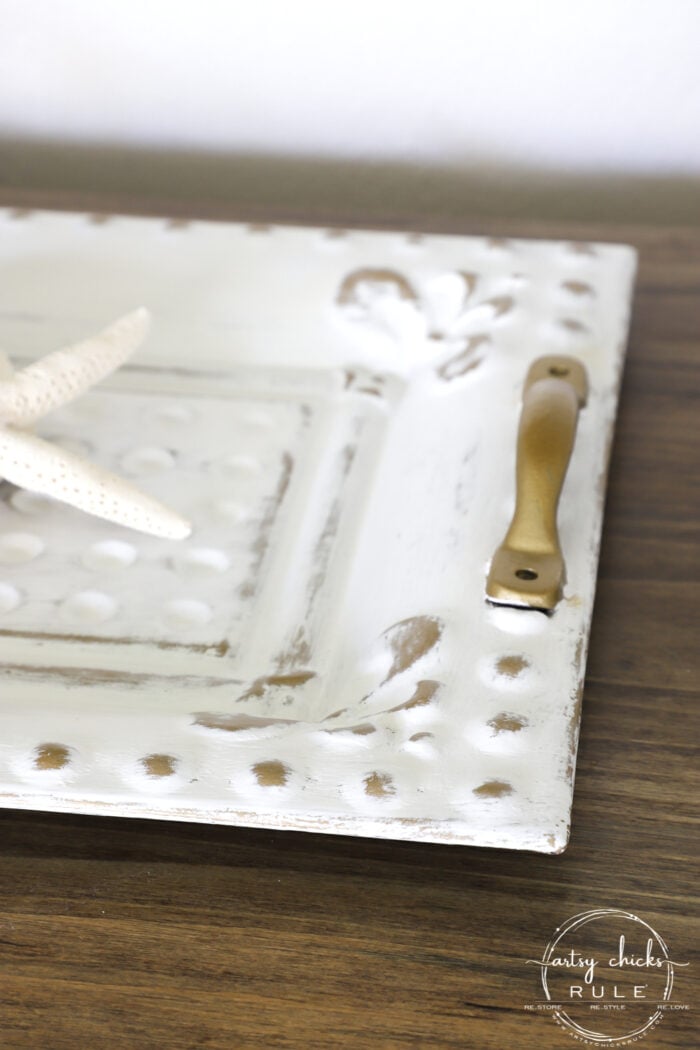 And on our dining room table…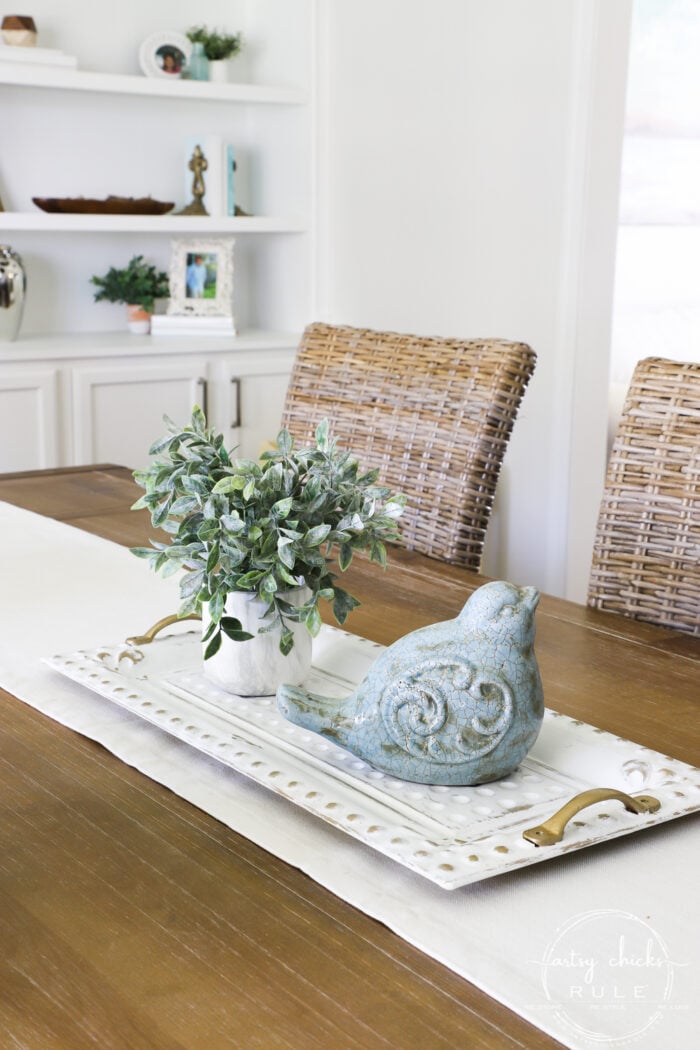 Oh and look who I spied watching me…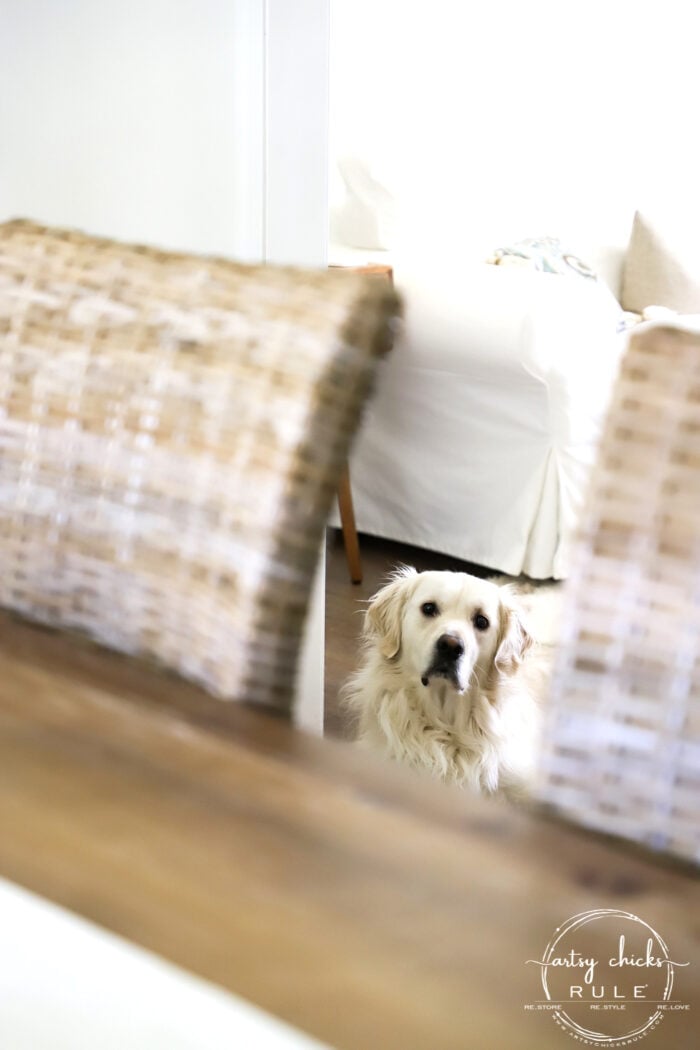 Cutie <3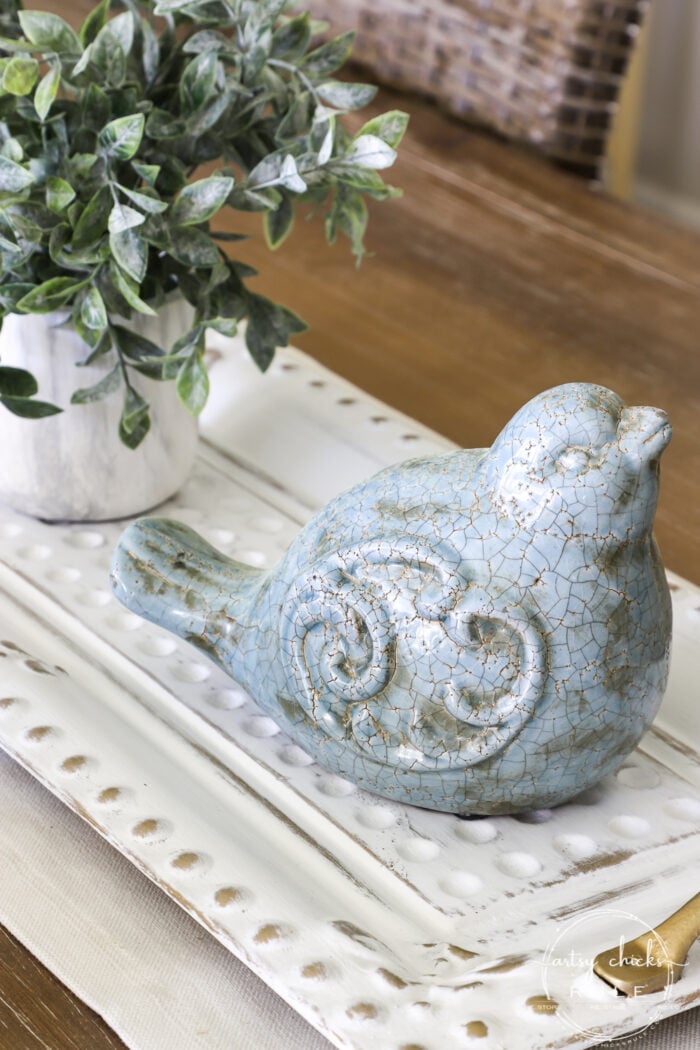 Lots of places I can now use this pretty white and gold tray.
It pretty much goes in any room of the house.
Here it is on my kitchen island.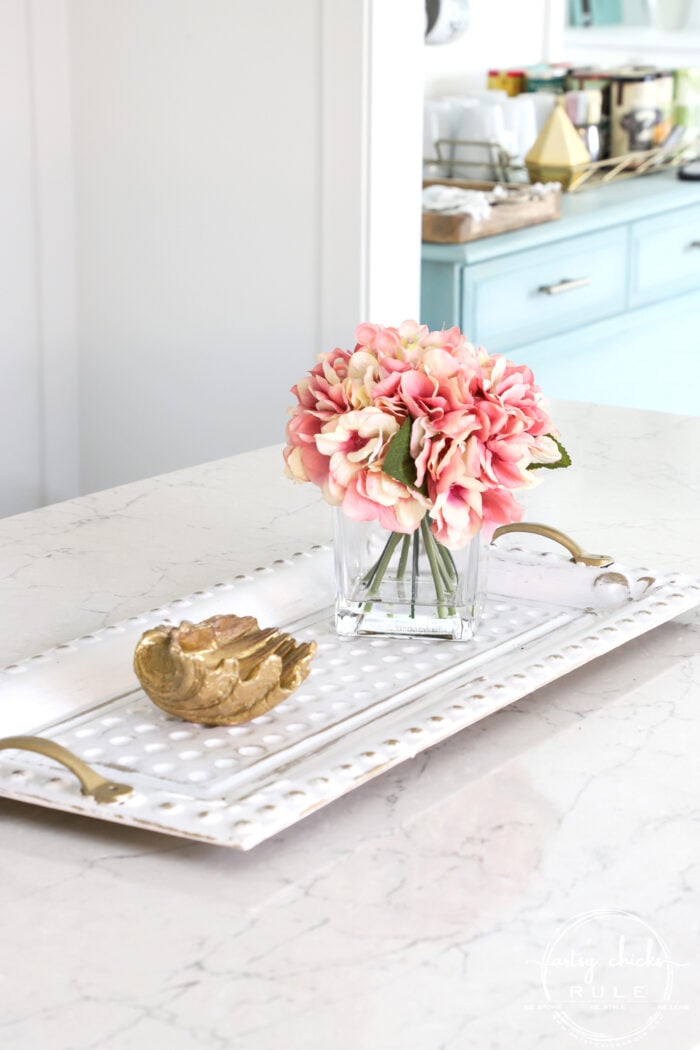 I think I like it here best.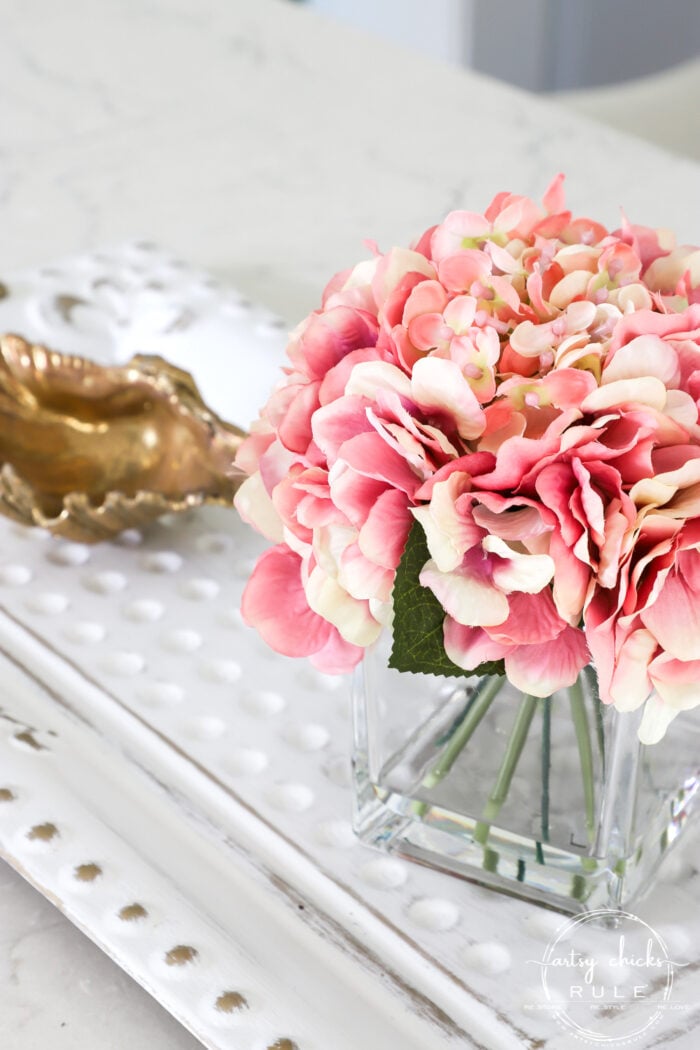 I have really enjoyed these faux flowers I found at the At Home store.
You might be tired of seeing them in so many of my photos lately. ;)
Alrighty, I'm gonna give the spiel I've given a million and one times around here…
If you have old decor you don't love anymore, paint it or give it any kind of makeover, and then you can re-love it!
It's a really budget-friendly way to keep your decor fresh AND save the things you loved originally, too!
PIN it to save it!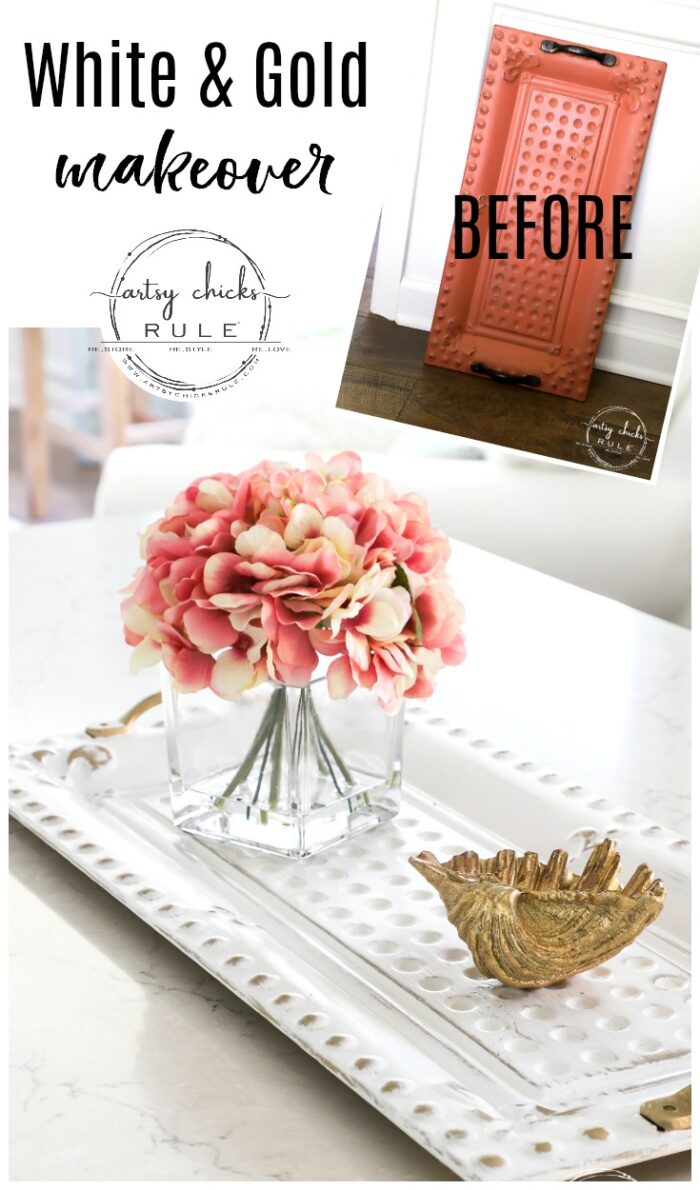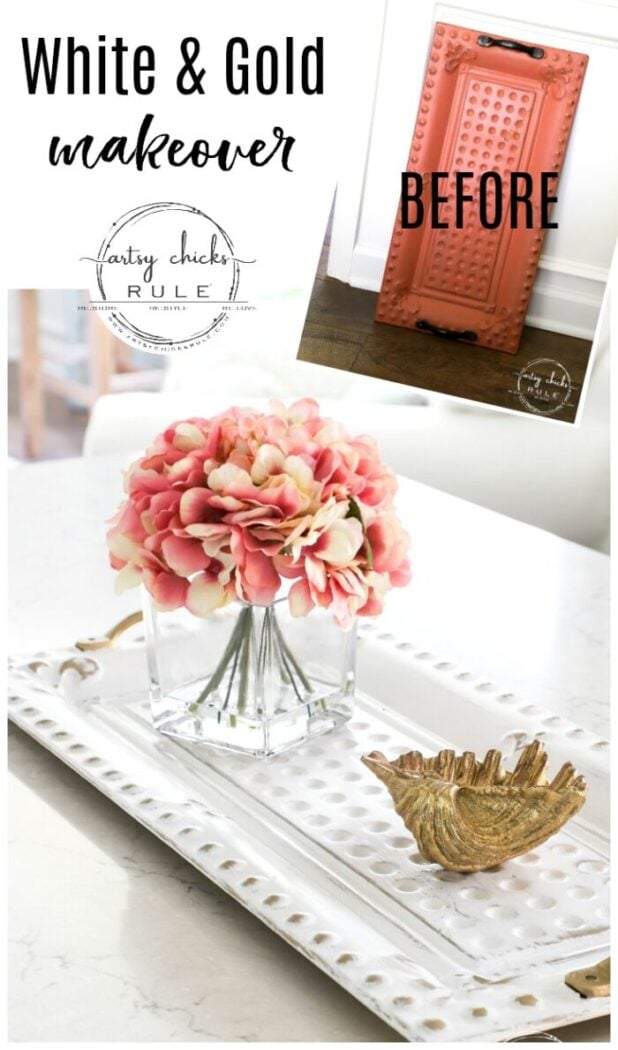 See you Thursday!! Have a wonderful week, friends!
Check in next to see what I do with this old tray!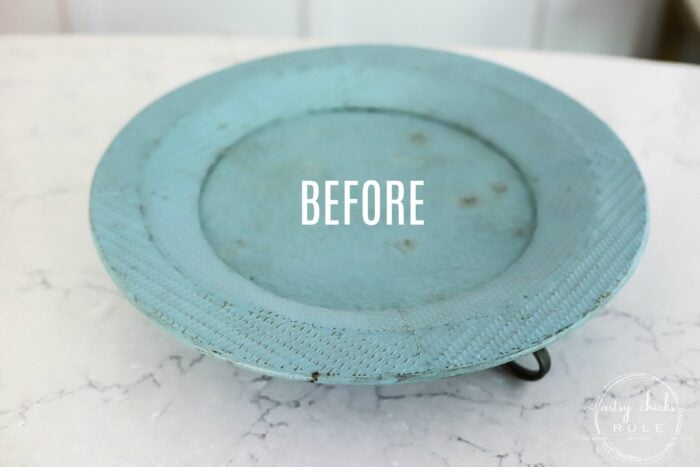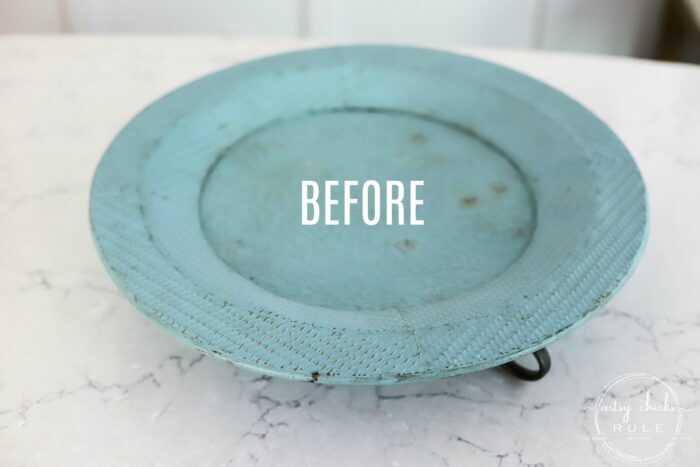 UPDATE!! See it now, here!!
xo