Tissue Paper Decoupage (and a pretty re-makeover!)
This post may contain affiliate links. Please see disclosures here.
Today I'm sharing a re-makeover of a previously made over home decor piece I have…with a fun & colorful tissue paper decoupage!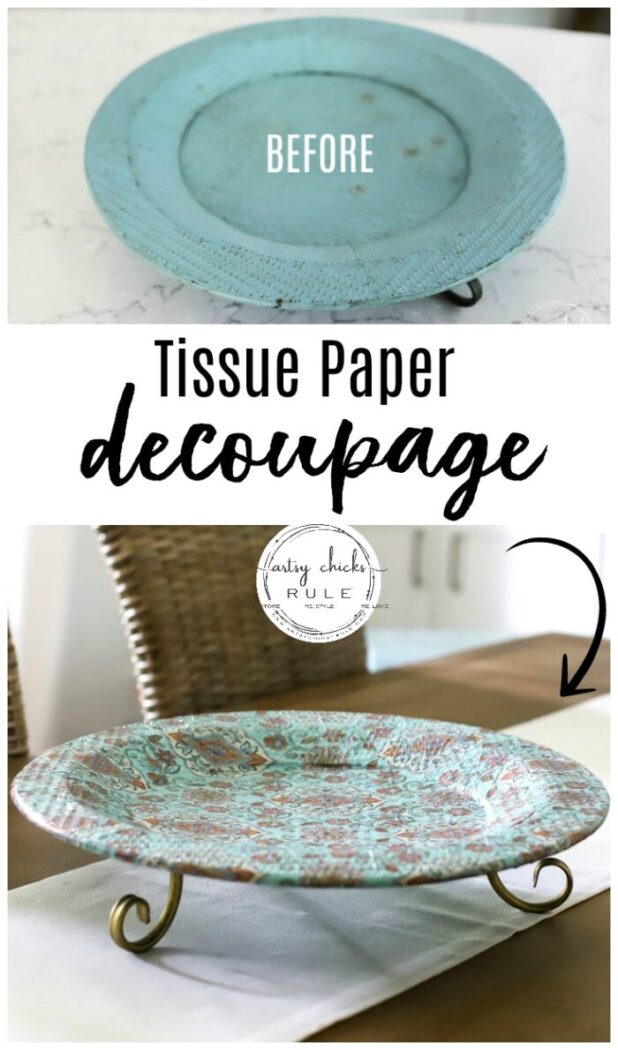 As I change my decor, move things around, etc, I will sometimes put some of my other decor pieces away in the garage for later.
And since I like to change things around from time to time, it only makes sense.
I hold onto the ones I love and think I'll use again.
Like this pretty tray of mine.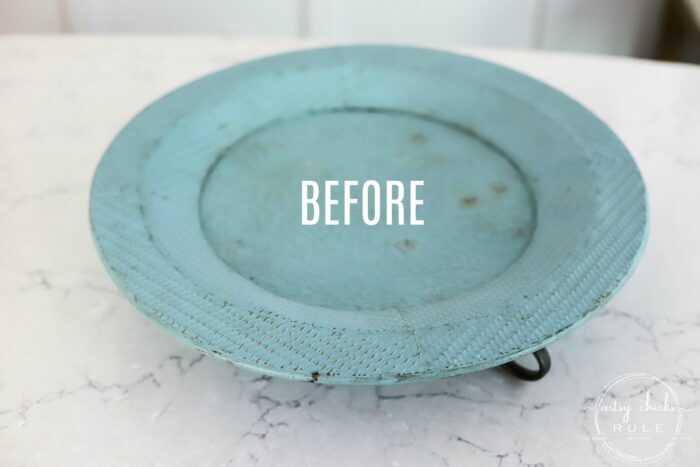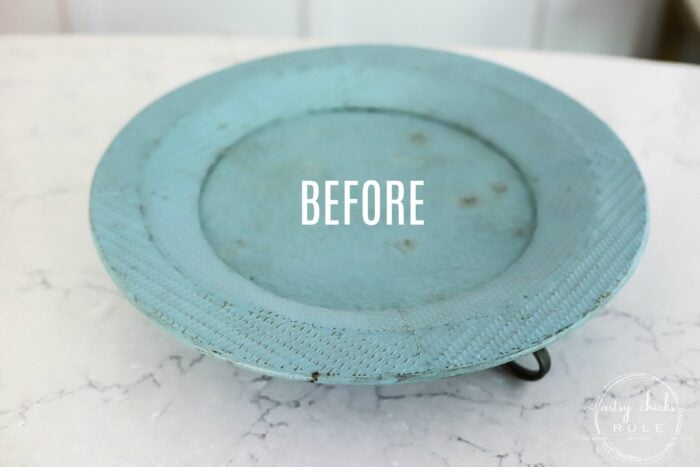 I have had it for probably close to 15 years now.
It started out a dark bronze color (I think!) and I used it with my "Tuscan" decor way back.
About 7-8 years ago, I decided to paint it with Chalk Paint. (I told you, I paint just about everything around here! ;) )
As a matter of fact, I even talked about it and shared it in this post here >>> Chalk Paint – It's Not Just For Furniture
I shared other home decor makeovers in that post too. (even the white and gold tray I recently made over, yet again)
The color of it currently is Provence. Which is going to work perfectly for the tissue paper decoupage I plan on doing.
You might recognize this tissue paper as I've used it on other projects around here AND it went home to a lovely winner of one of my giveaway goodie boxes!
You can see this other project I used it on, here.
The tissue paper comes in a small bag folded up so it had all kinds of lines and folds in it.
I simply ironed it quickly on low heat and that took care of that.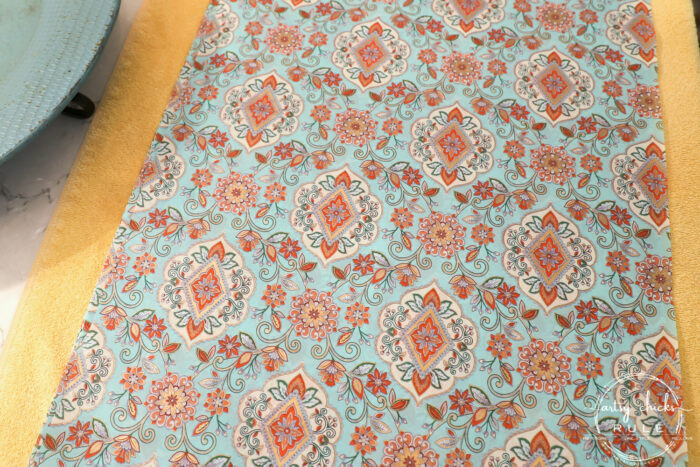 You don't want lines or folds as they might possibly show up in the finished project.
Tissue Paper Decoupage
(Want to see even more of my favorite furniture makeover supplies??? Take a look in my very own curated shop, here!)
I applied the Mod Podge liberally to the top of the tray with a chip brush.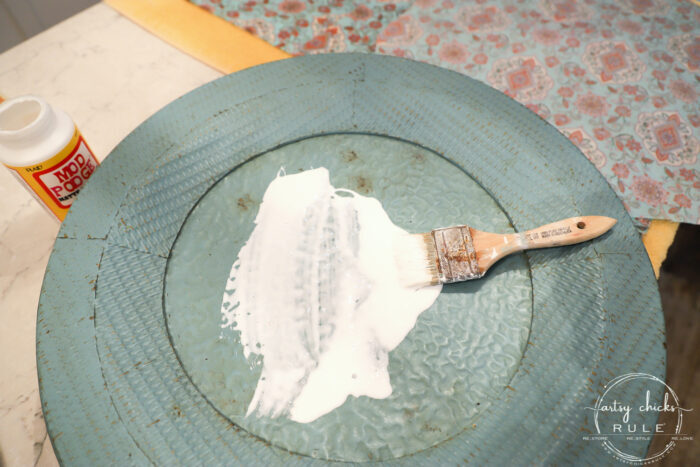 Be sure to spread an even coat all the way around.
Want to see some of these projects in "live" time? Hop on over and follow along with me on INSTAGRAM. I'm always sharing in my stories as I'm doing projects, finding new furniture, fun finds….just all the day to day behind the scenes.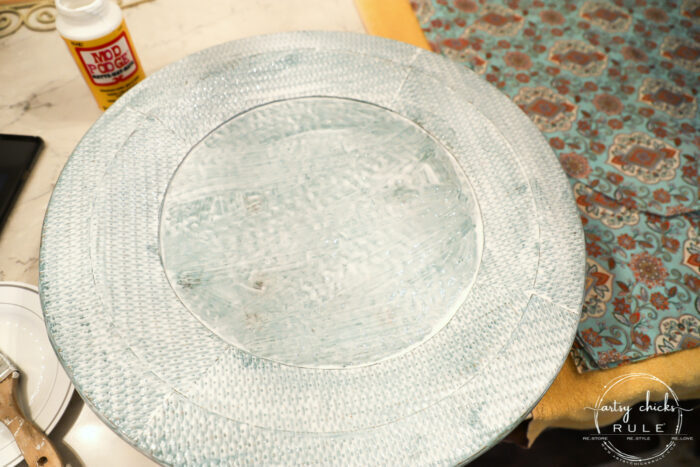 I tried to make sure I had enough so that it wouldn't start drying in sparse areas before I could get the tissue paper decoupage applied.
Next, carefully lay the paper onto the Mod Podge'd tray and gently press it onto the tray.
I didn't worry too much about the overlap on the underside at this point. I will get to that after I get the top all smoothed out, etc.
You will probably get a few wrinkles here or there. That is just the nature of using such thin paper, such as tissue paper.
Don't freak out if you do!
Just try to smooth them out and stick them down.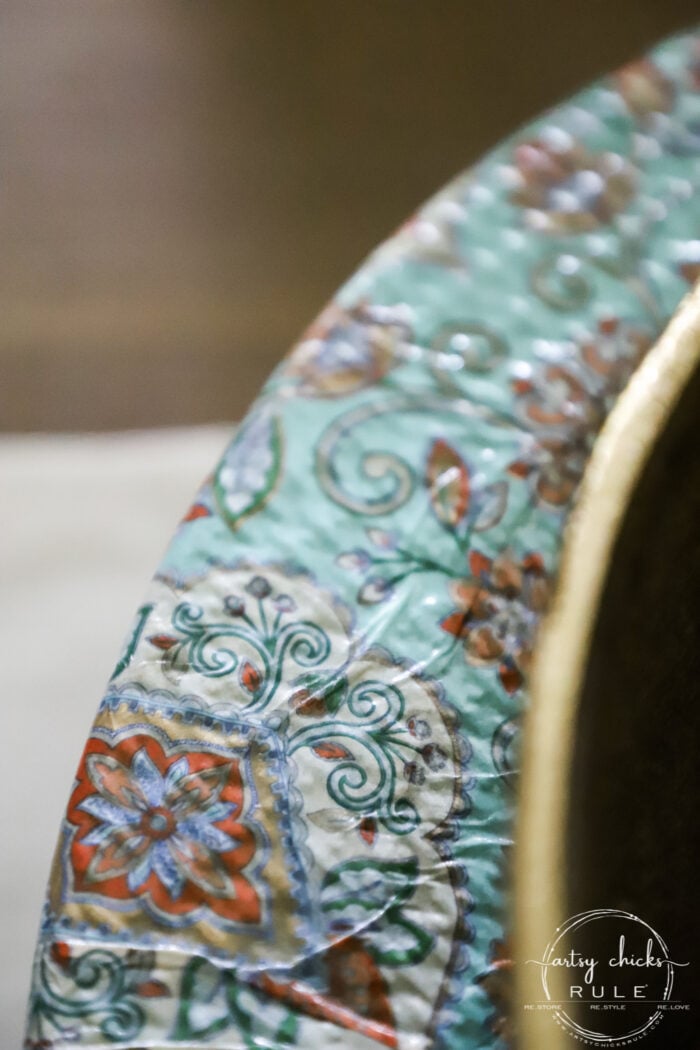 I didn't get many at all, surprisingly, but here are a few to see up close. That was pretty much it.
And I almost got away with using just one piece of tissue paper for the top but it was short by about a 1/4 inch on one side.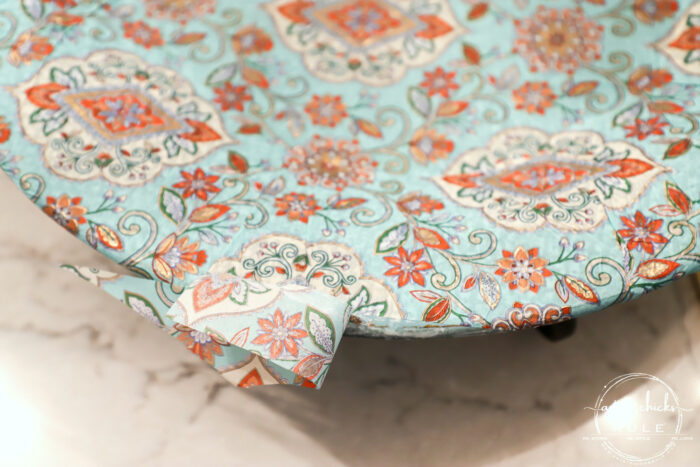 I simply lined up a scrap piece and glued it down.
I considered cutting a piece to match up the pattern exactly but figured it was small and wouldn't really matter.
And it doesn't …. except I know and it's bugging me!! haha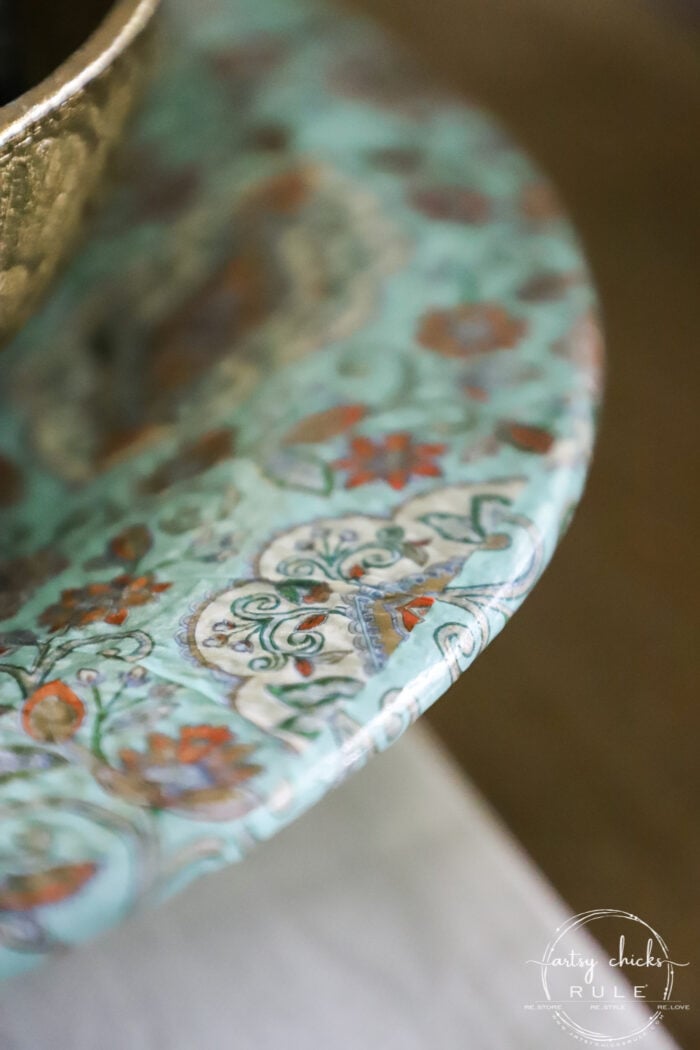 Oh well, it is done now.
It's not that big a deal, I'm just obsessing over it too much probably. ;)
Because you don't really notice it unless you know it is there. (and I know it is there…and now YOU know it is there, haha)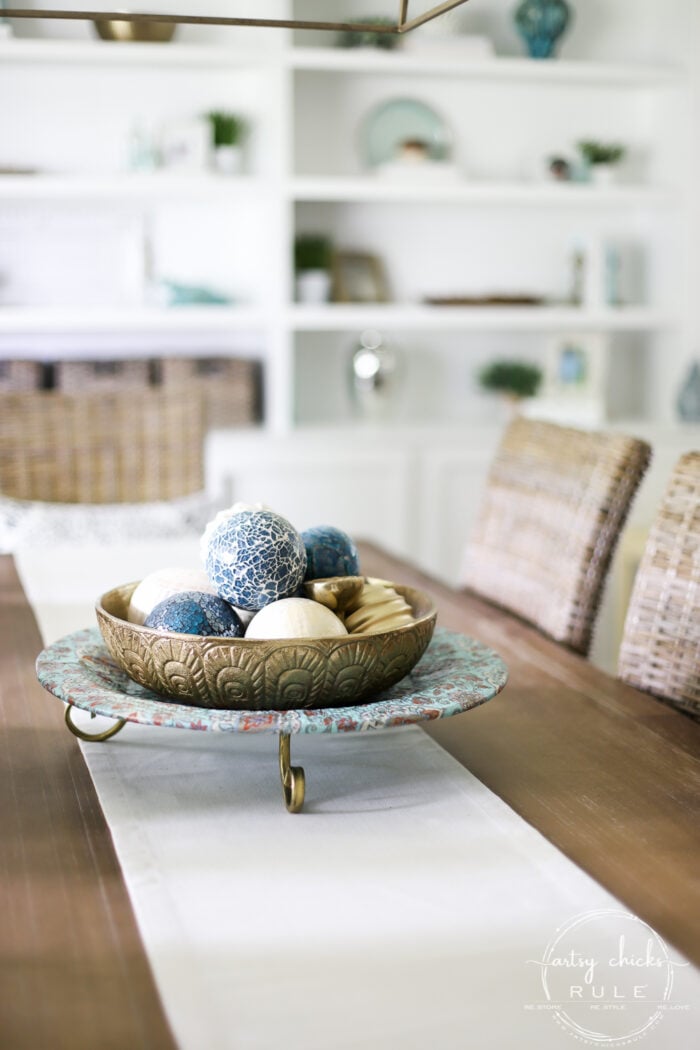 After I had that good and done, no air bubbles, etc., I turned the tray over and added a little more Mod Podge with my chip brush around the rolled edge.
Then I stuck the paper up and under the crease. (Or tightly to the crease) Don't worry about overlap at this point. We will cut that off later.
See the overlap around the edge below?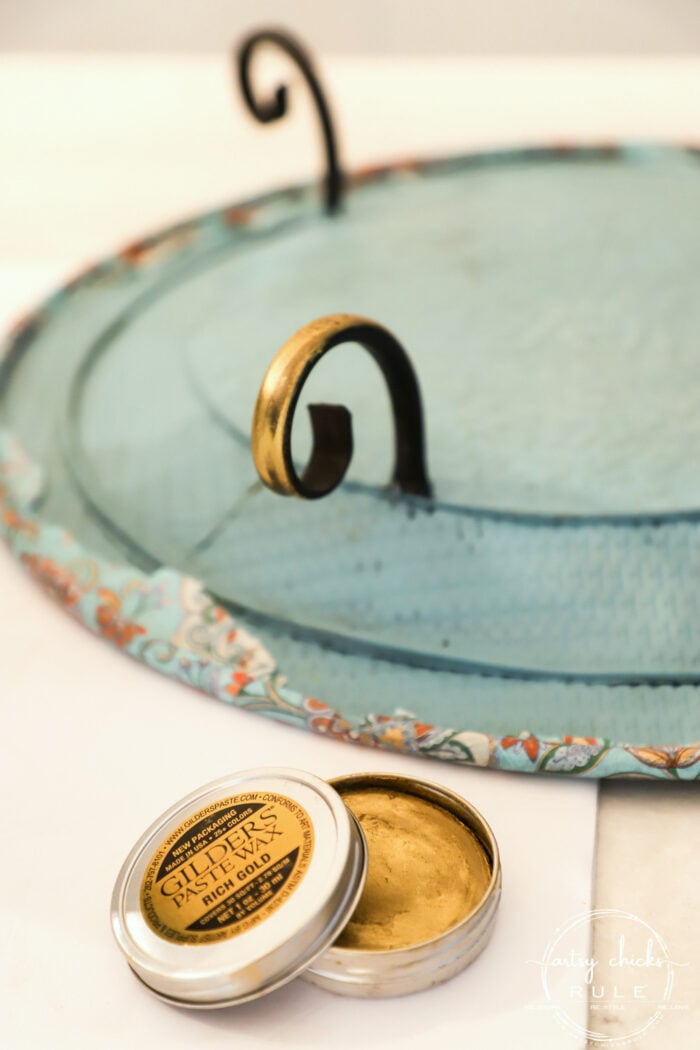 I knew I wanted to paint the legs gold since the pretty paper I'm using has gold in it.
Instead of taping everything up and trying to spray paint them, I used one my Gilder's Paste waxes instead.
SO easy! Just rub it on and buff.
Once the Mod Podge was dry, I gave it a quick coat of my top coat sealer and let that dry.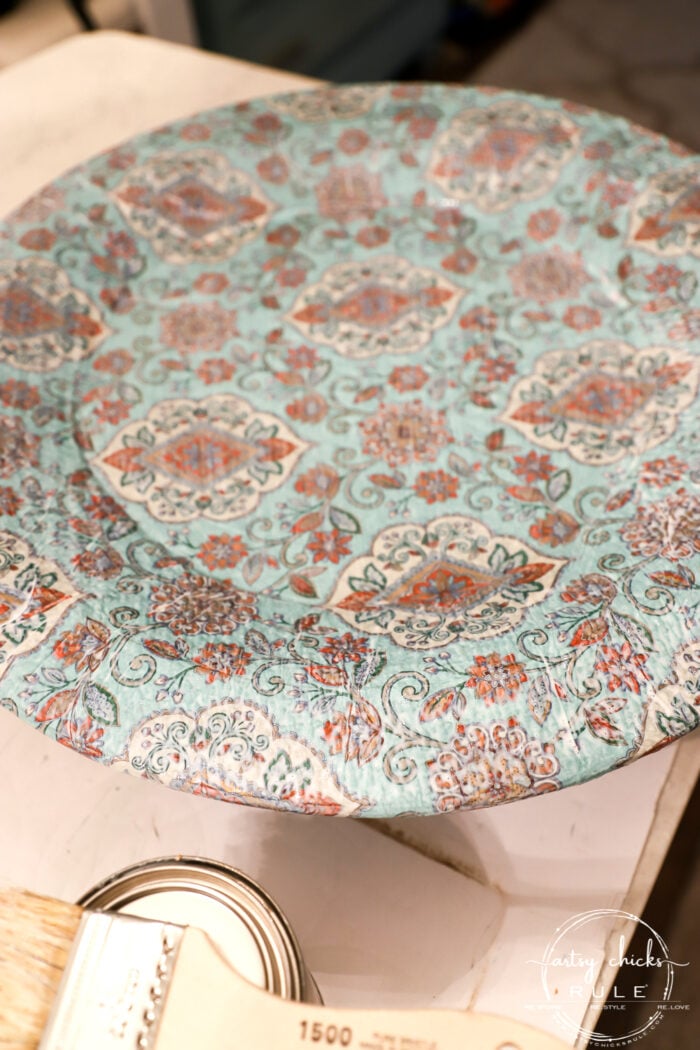 For the underside, once it was all dry, I took my scissors (a knife or xacto knife would be better) and traced around the inner crease to remove the extra paper.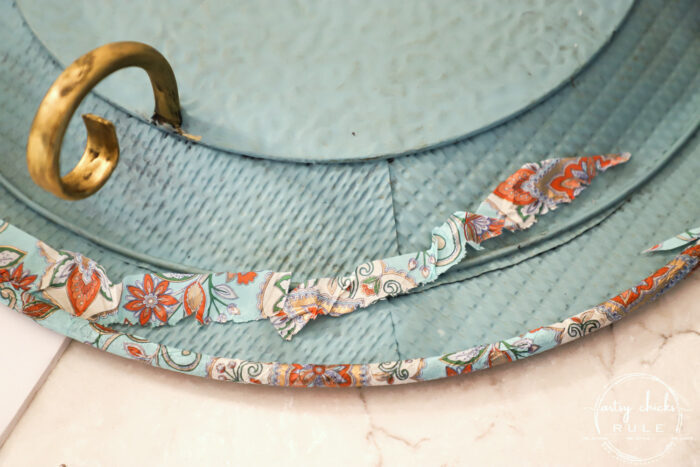 I knew I wanted it to have several coats to really protect that paper so I then added a coat of a pretty "pearl" finish top coat.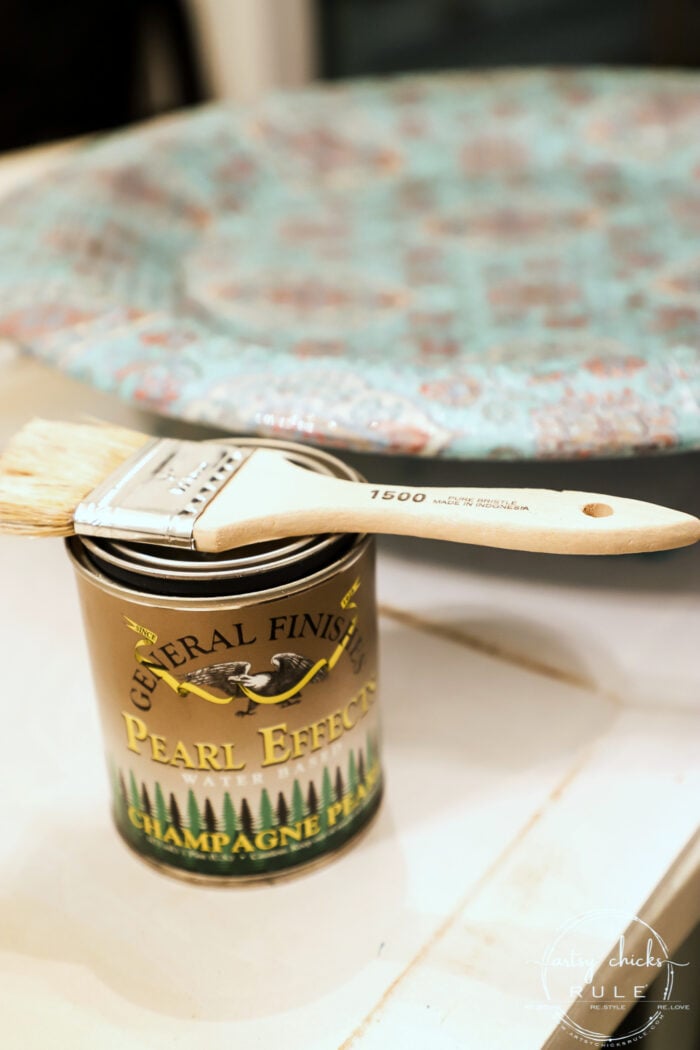 I was hoping for a little more of the pearl to show up but it doesn't really.
Not in the way I wanted, anyway. BUT it is more "lustrous" looking than it was with just the normal top coat sealer so it's still a "win" in my book!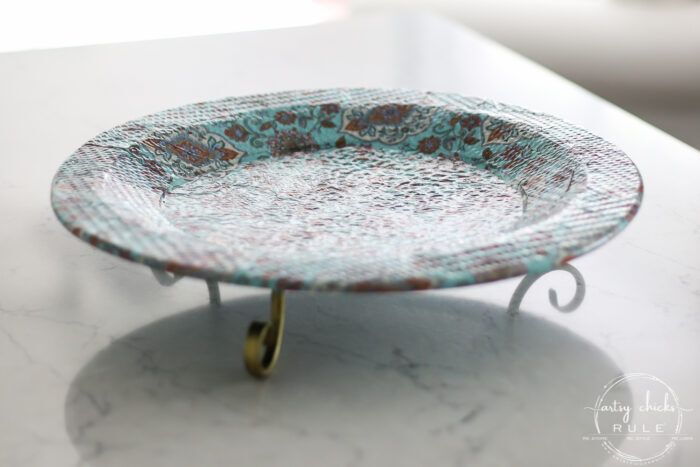 I love how the tissue paper ended up "hugging" the divots in the tray.
And how the underside looks all finished up.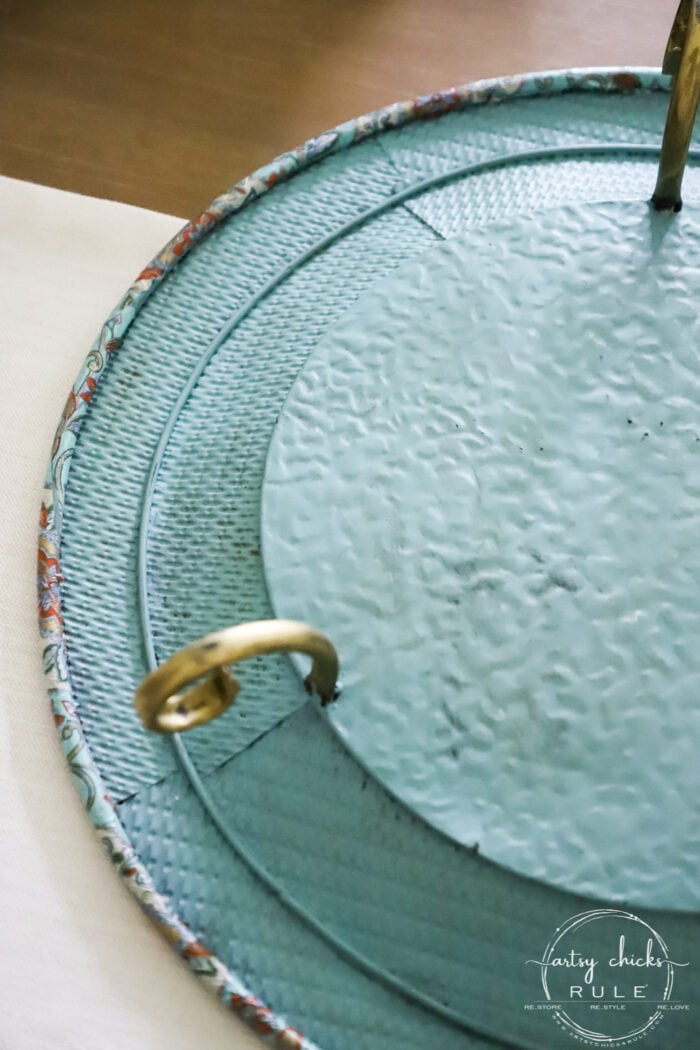 Nice and neat.
Here's another project I used with a tissue paper decoupage.You can read all about it >>> here.
Another tray you can use in so many places or ways.
Looks so pretty on my kitchen island.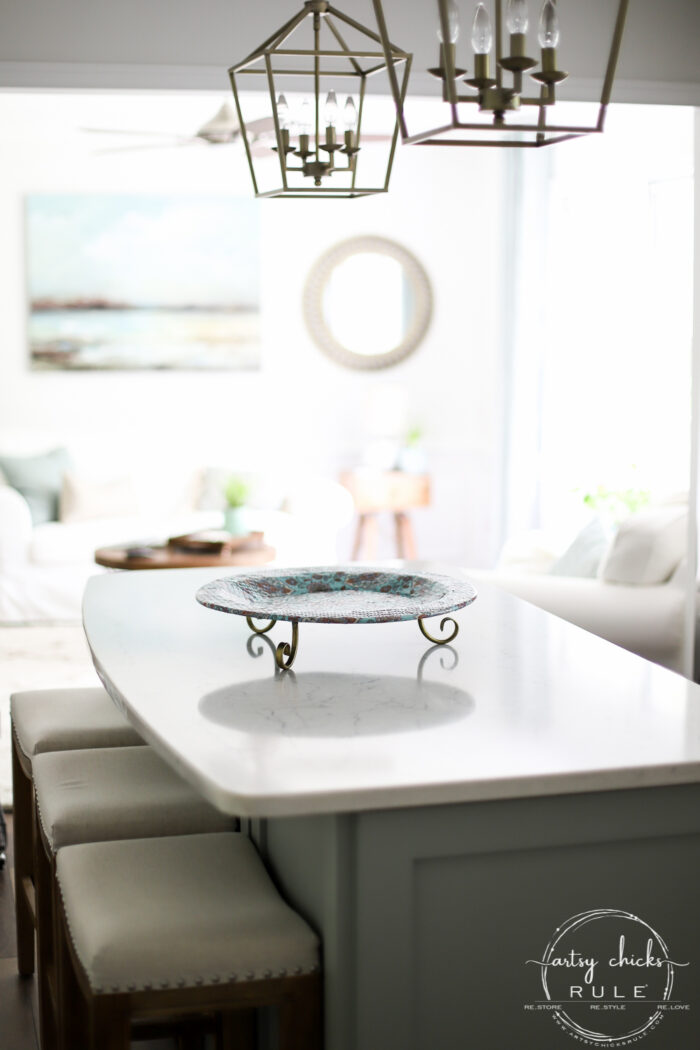 But I'm really loving it here…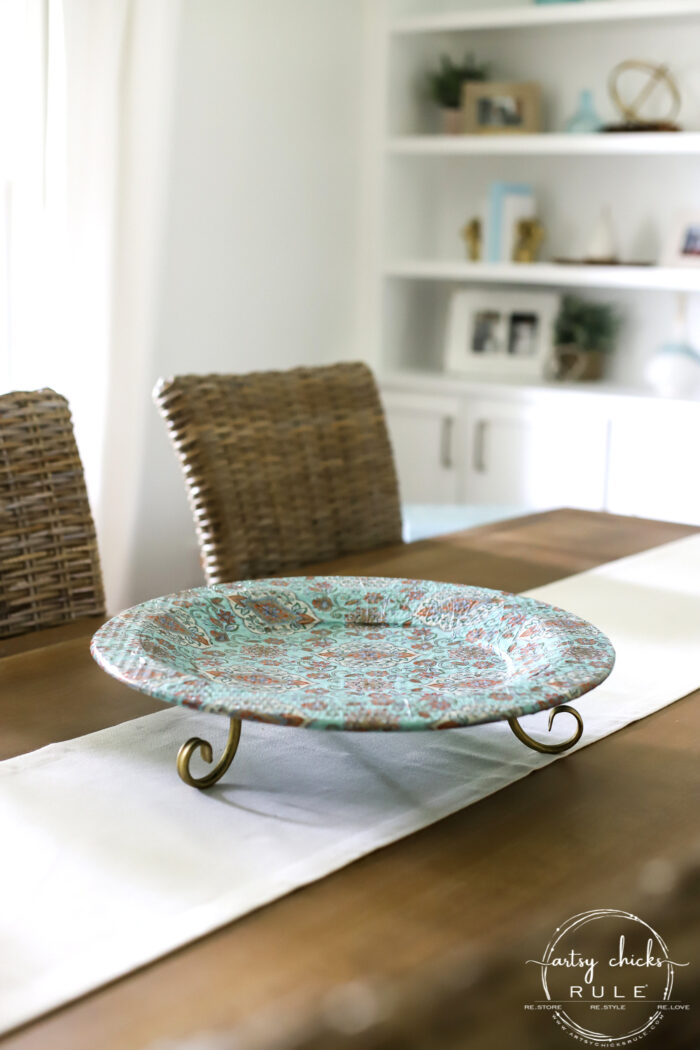 To style it, I was going to use the spheres from this bowl inside it….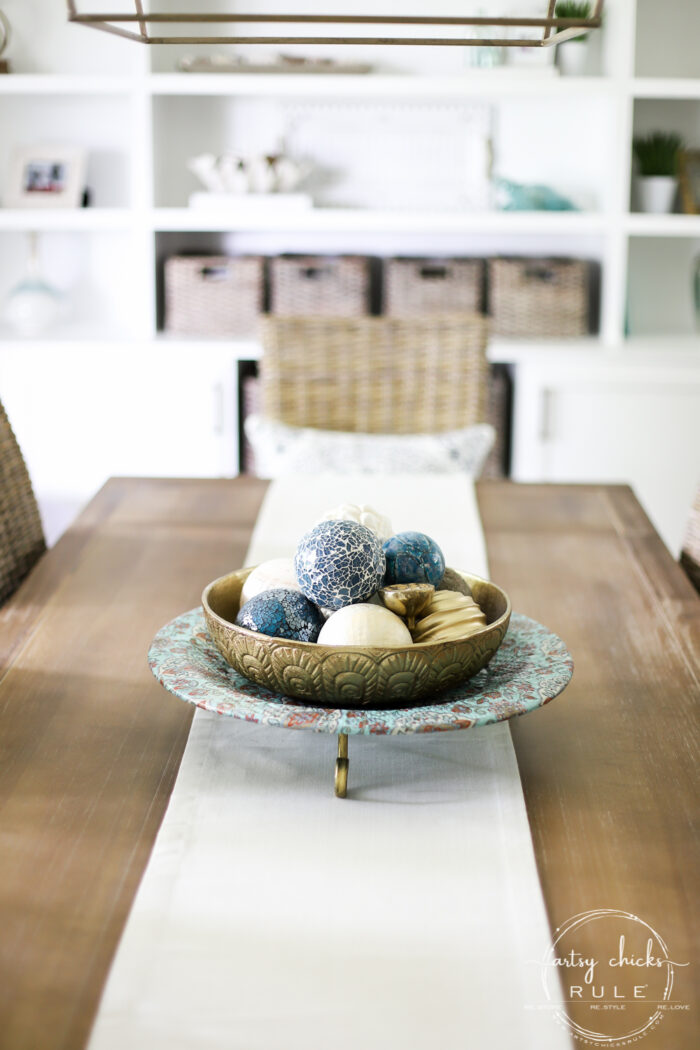 But I ended up just sitting the gold bowl right on top and loved it!
So I just left it like this.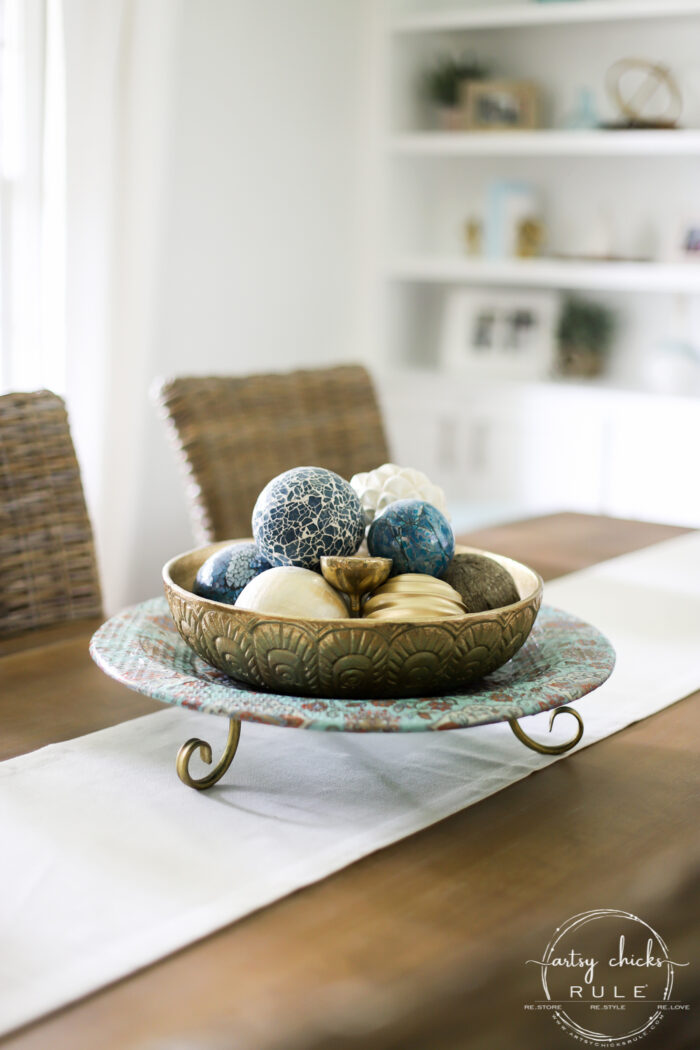 As a matter of fact, even after I styled and shot it, I decided I liked it so much it stayed.
Now I need to find something to go over on the Aubusson dresser where I stole it from! lol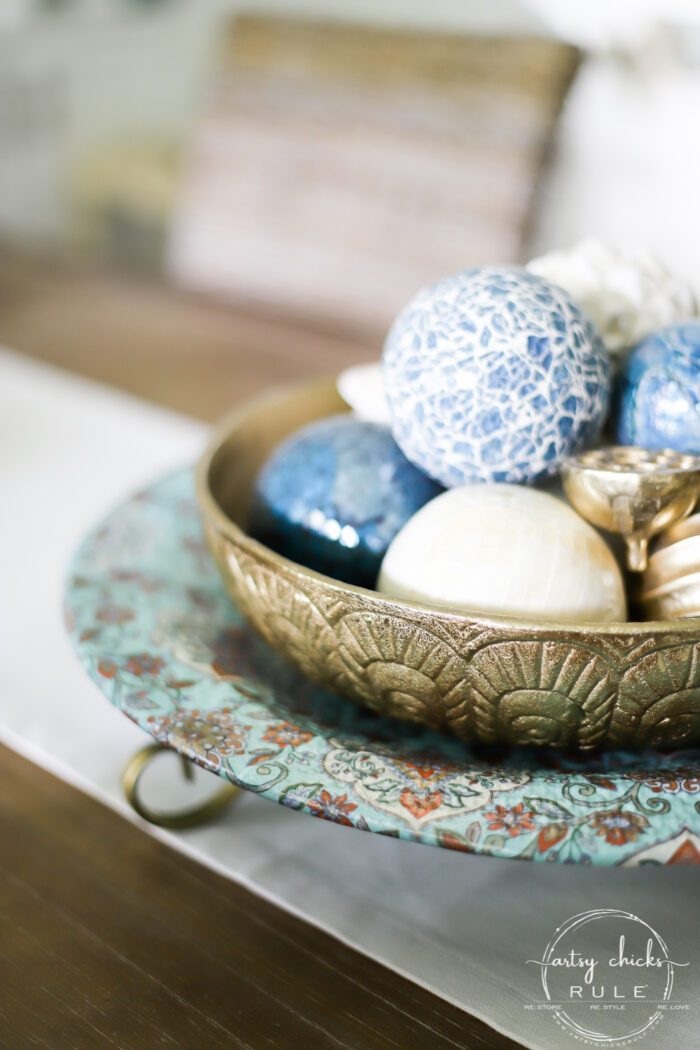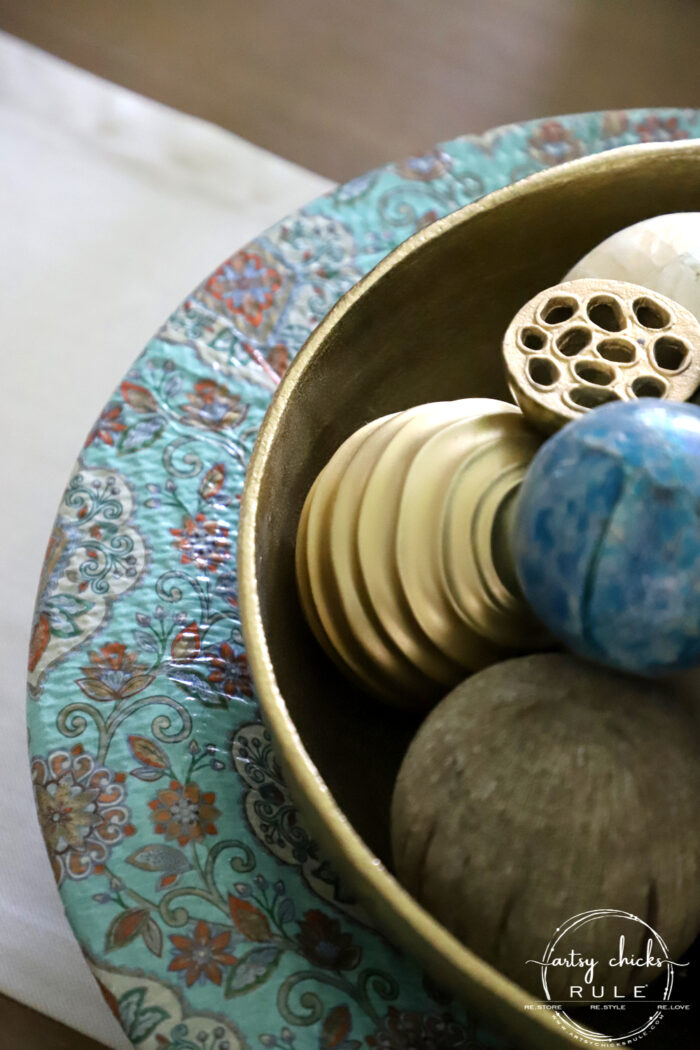 More close-ups….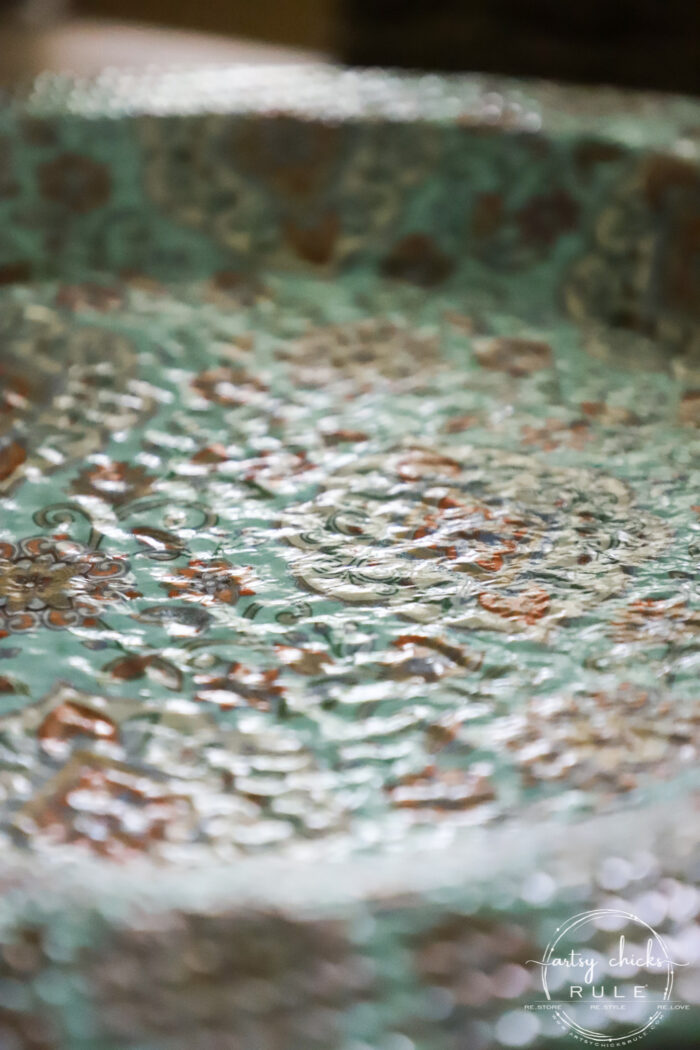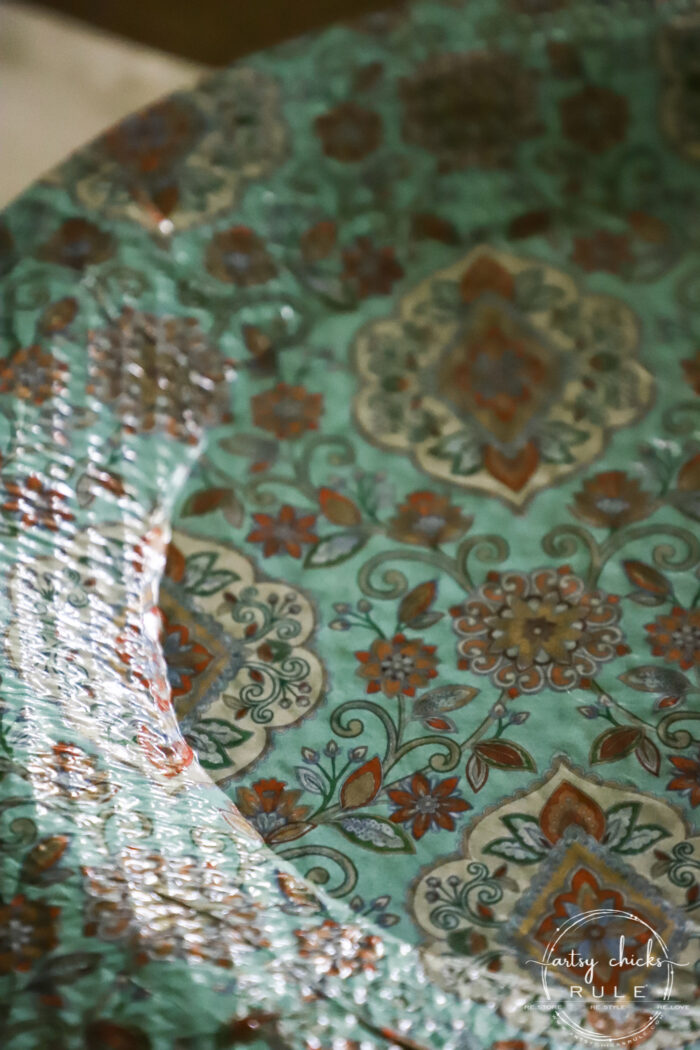 I'm so thrilled with how this one turned out.
You know, because I'm never quite sure if what I see in my mind is going to look like I think it will once done!
Love when it does!
PIN it to save it!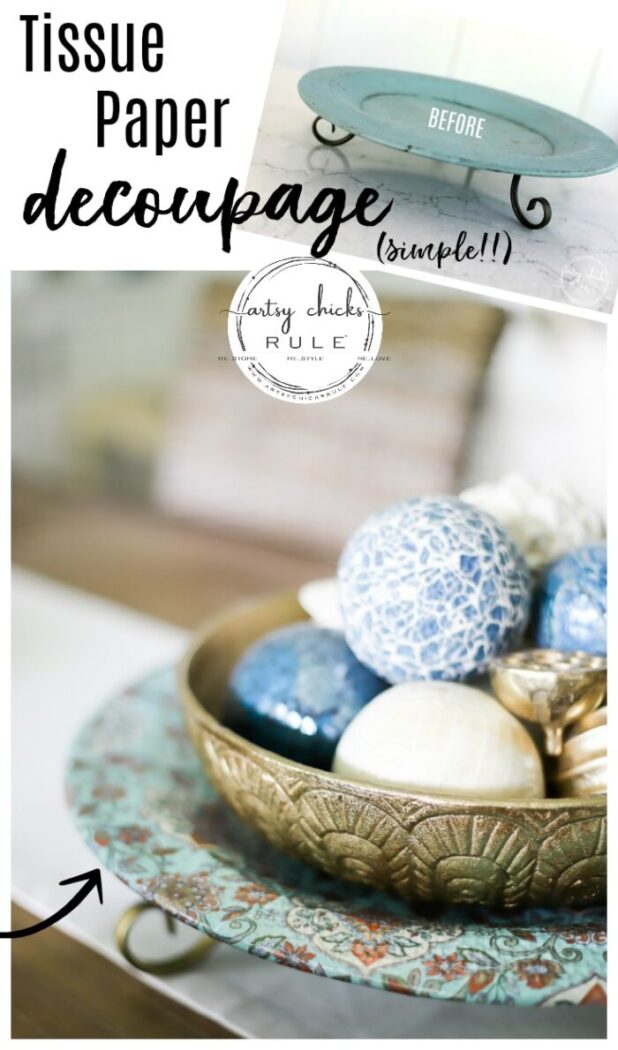 I'll see you later this week with another "small" makeover!
This…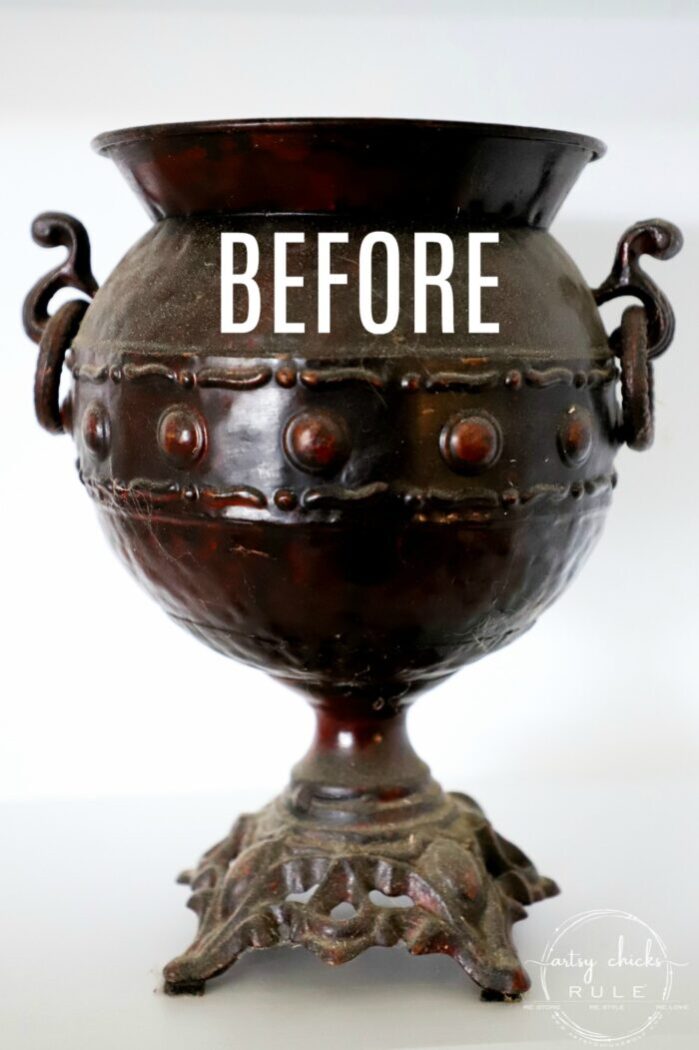 I pulled it out of the garage too. (as is evidenced by all the dust!) It got a brand new look.
EDITED TO ADD! See it now, here!
I'm still working on that TV cabinet. It had quite a few repairs needed sadly.
I'll be sharing some new furniture pieces soon though.
Have a wonderful week, see you back here on Thursday!
xo