$5 Thrifty French Paper Decoupage Table Makeover
This post may contain affiliate links. Please see disclosures here.
Learn how to French paper decoupage….with tissue paper! It's simple and gives a great look!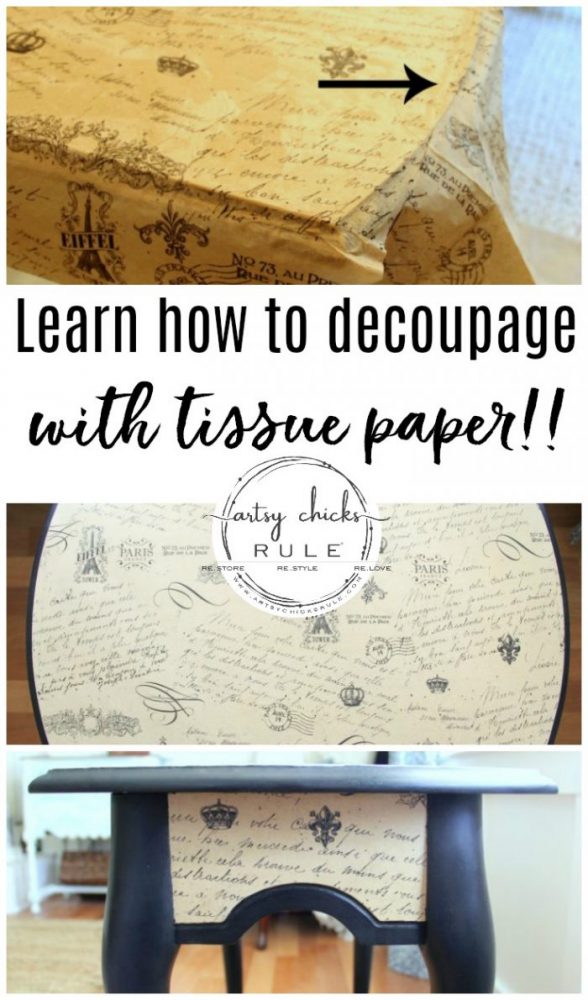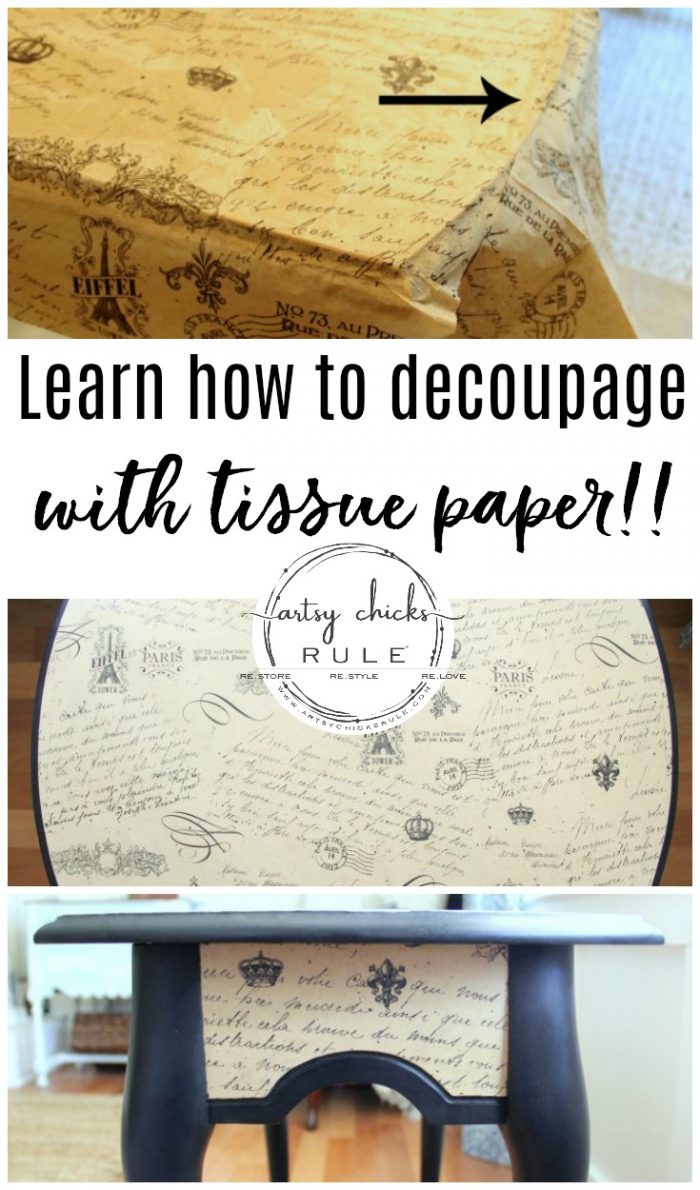 Hey friends!
Every month a few of my blogger friends and I get together and create a makeover around our chosen theme.
This month's theme is DECOUPAGE.
You can see previous month's themes here –> Themed Furniture Tour
I love decoupage and have done a few other projects with it.
This Butterfly Decoupaged Table , "Vintage" French Fruit Tray, Decoupaged Soup Cans and this OBX Latitude & Longitude Table.
For this one, I decided to do a French Paper Decoupage.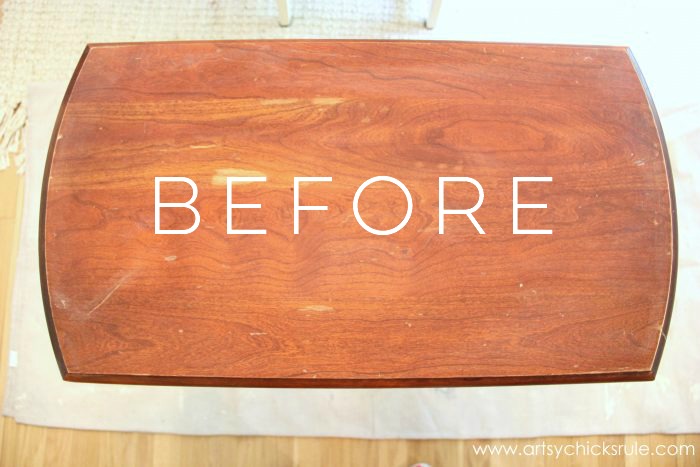 I paid FIVE dollars for this little table. Well, $5.25 to be exact.
But hey, close enough!!
It was originally round with two extensions on each side (thank you to my wonderful Facebook friends for the help there!!)
I guess someone decided they didn't like them and removed them before it made it's way to me?
Oh well, it's a super cute table anyway.
But missing side pieces did require me to do a bit of work to it though.
I started out by sanding the top lightly so none of the imperfections would show through the paper.
Then I screwed and glued the levers in on the sides so they'd be secure and smooth. (these went to the side pieces that were missing)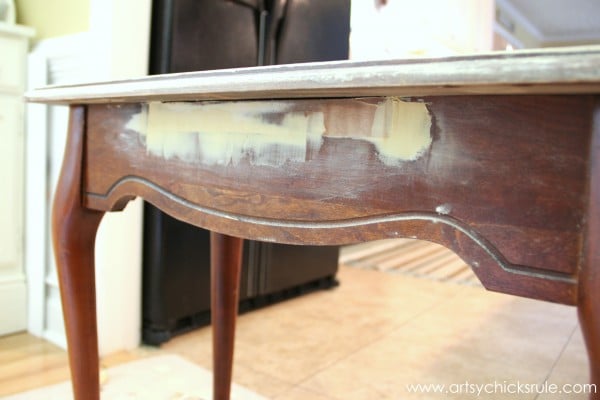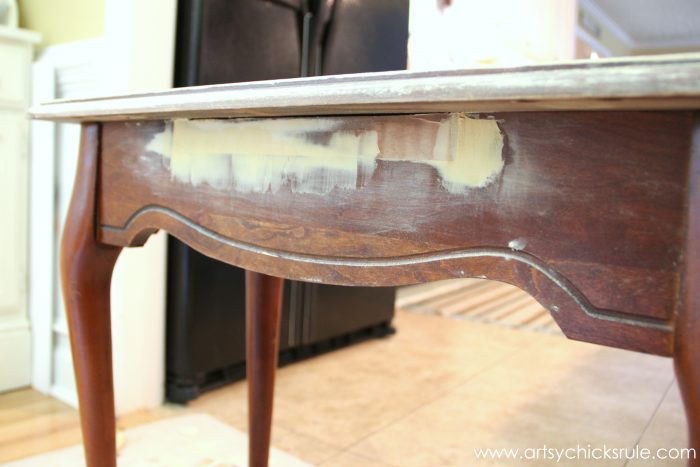 I used wood filler on the outside to make it seamless.
I had originally planned to paint the sides but really wanted those curves on the bottom to stand out.
I felt like they'd get lost if I just painted them all one color.
So I decided to use decoupage there too!! And I'm SO glad I did.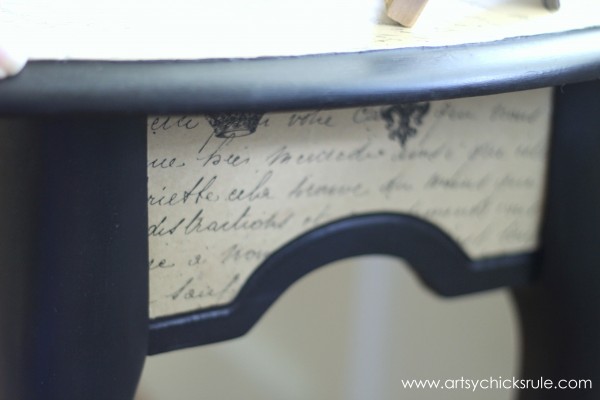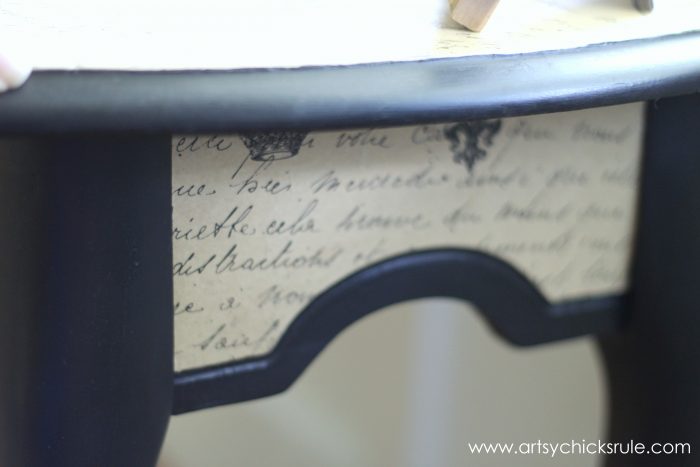 To begin, I painted the top a light color similar to the paper…Old Ochre Chalk Paint.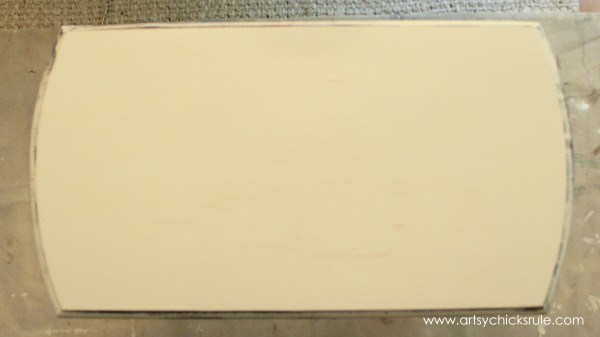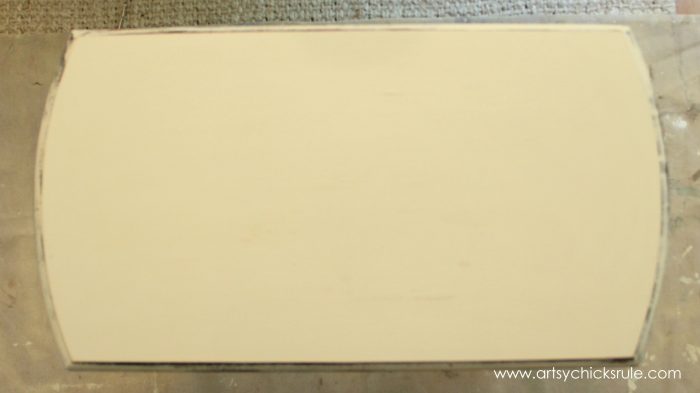 Did you know you could decoupage with tissue paper??
I wanted something really thin and found this paper at Michael's.
Here's one that's similar.
It's very delicate so a lot of care had to be taken so as not to tear or rip this French paper decoupage when applying.
I used Mod Podge mixed with a very good amount of water. (no measurements…it just needs to be very fluid so it will be easier to work with under the thin paper)
Using a brush, layer a good amount over the entire top so it won't dry too quickly when laying the paper down.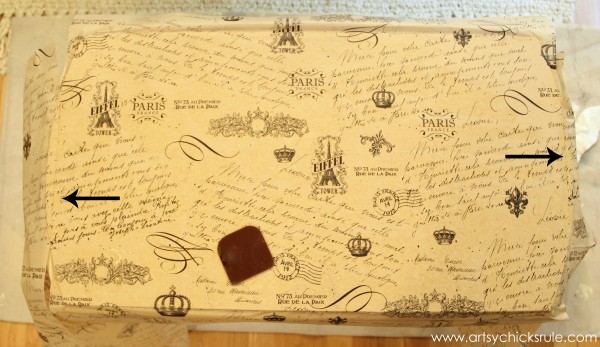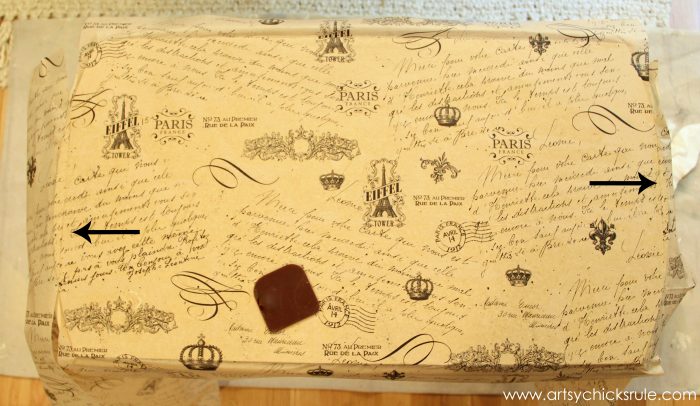 I used my little squeegee thingy to oh-so-very lightly press it onto the top.
The paper was about an inch too short. Darn.
So I evened it out and added two other pieces on each side to fill in the extra space….. (see below)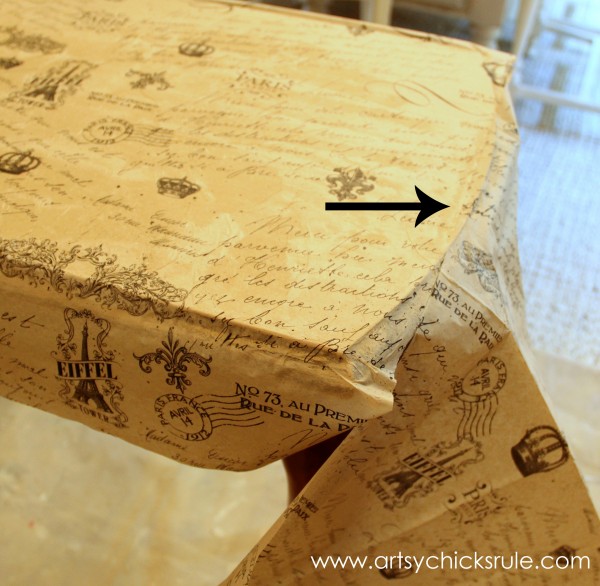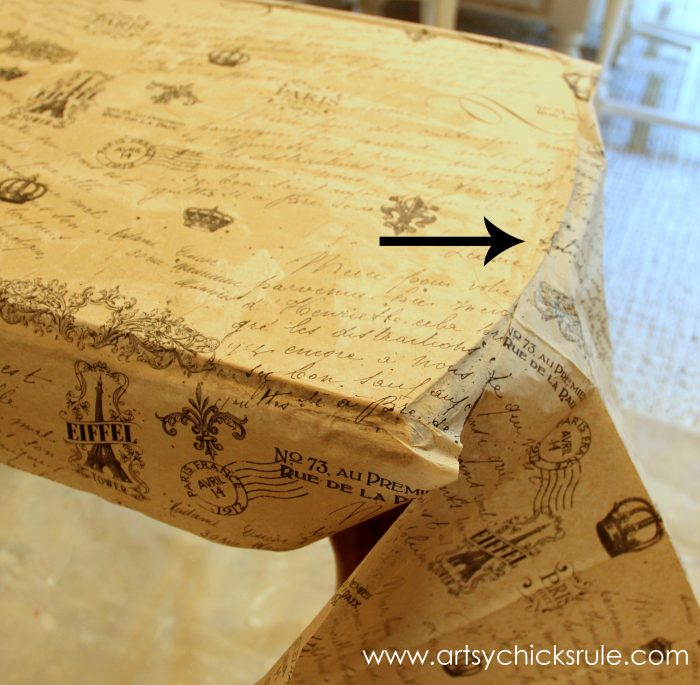 …but it actually worked out much better than I thought it would.
The paper is so thin it ended up with "wrinkles" and I LOVE them! They are perfect for the whole look I was going for here.
That's so much fun when that happens. A project does something unexpected and you end up loving the effect!
I've had things go the other way sometimes (not loving it, lol) so when it's a good unexpected thing, win!!
You can see them really well in the photo below.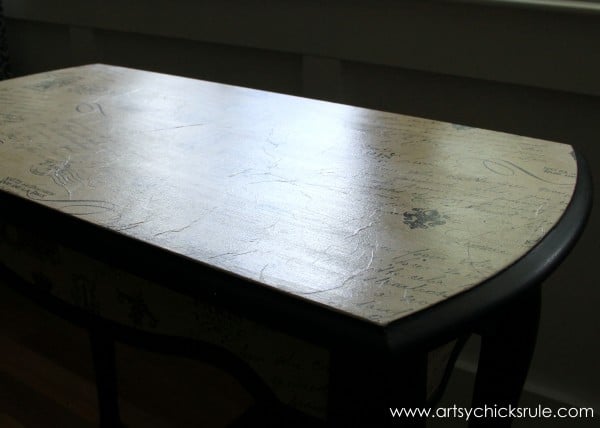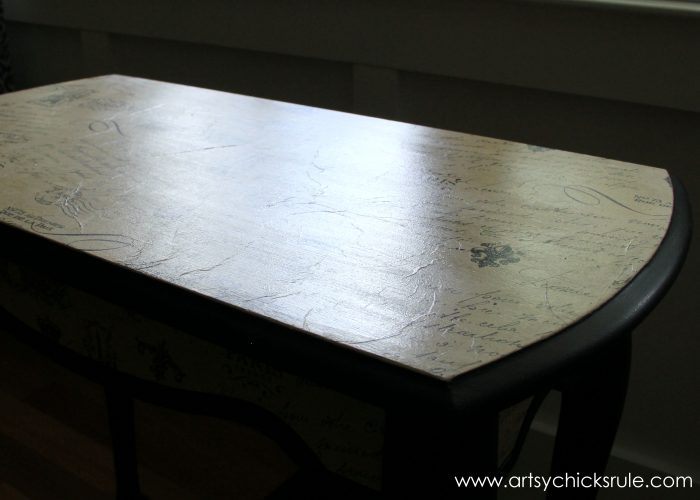 Another close up…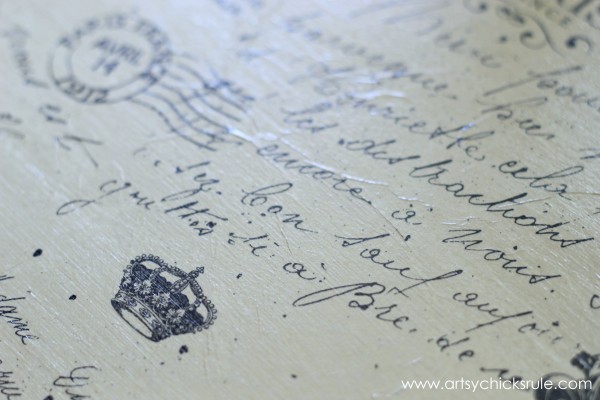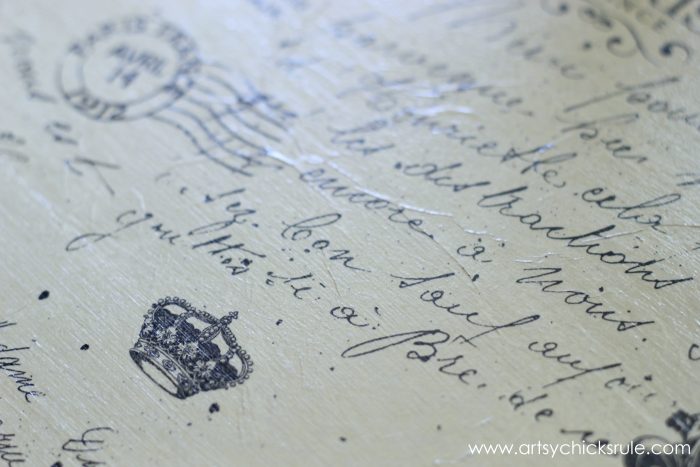 Want to see some of these projects in "live" time? Hop on over and follow along with me on INSTAGRAM. I'm always sharing in my stories as I'm doing projects, finding new furniture, fun finds….just all the day to day behind the scenes.
Once it was dry, I used a piece of very fine sandpaper and lightly rubbed along the edge to trim the excess.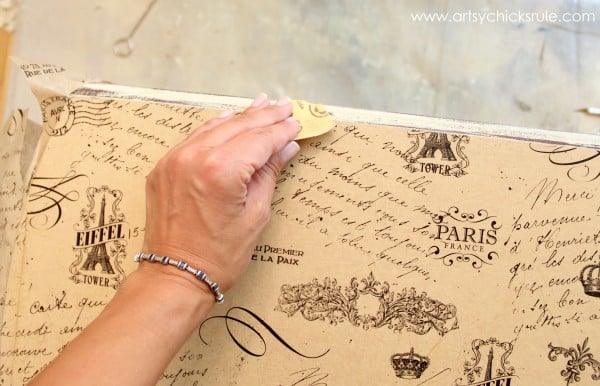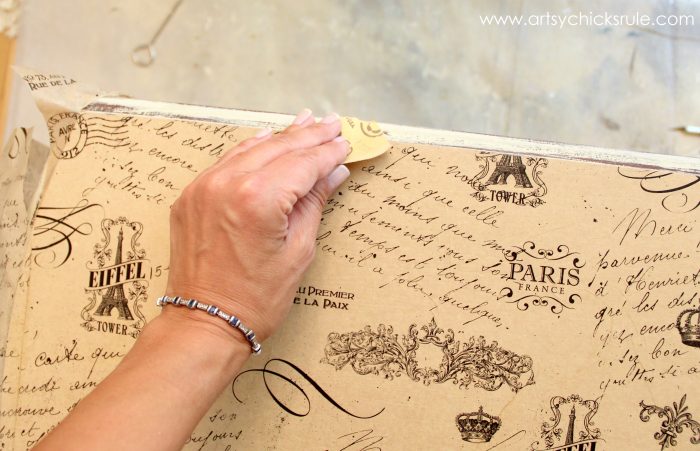 It came right off! So easy.
(bet you can't see where those little extra side pieces of paper are attached… well barely anyway)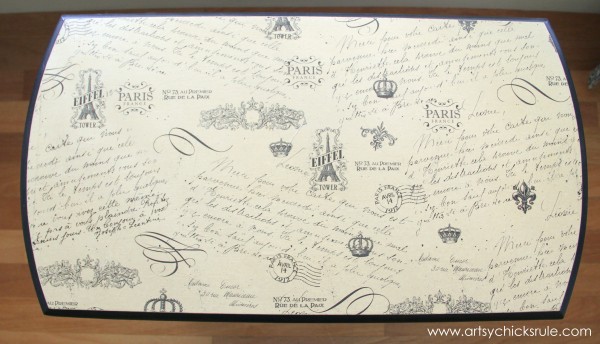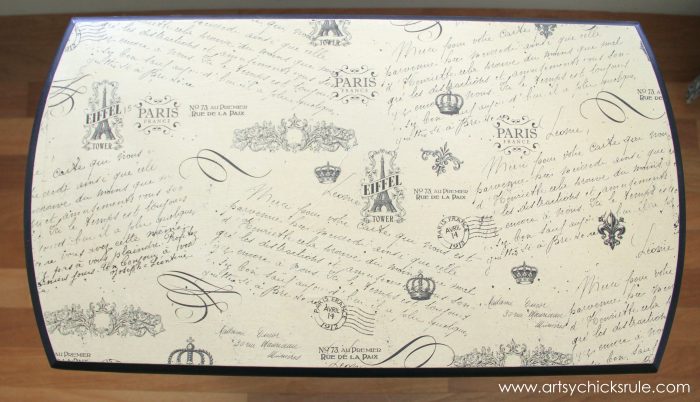 For the sides I had to use an x-acto knife but that worked pretty easily too since I had a good edge to run along.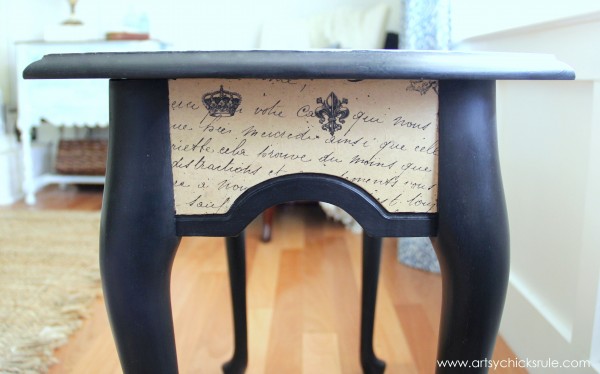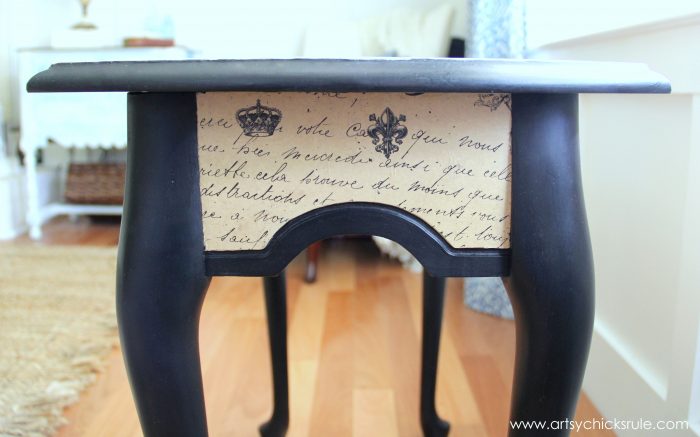 The Old Ochre was the perfect base for underneath this paper. (it's under all areas that are decoupaged)
For the legs, I had originally planned to use Graphite Chalk Paint but it was not black enough.
I remembered I'd bought some Lamp Black
 awhile back.
I'd never used it but knew it was a true black color. Perfect!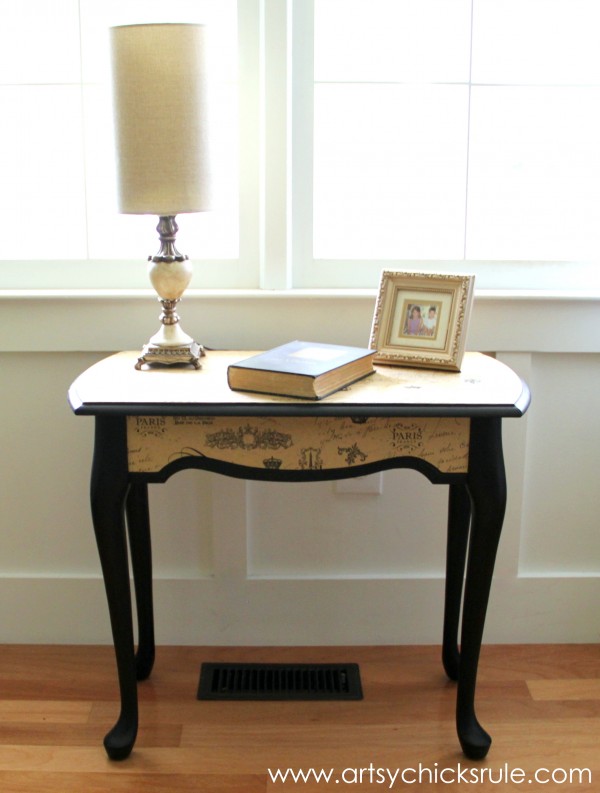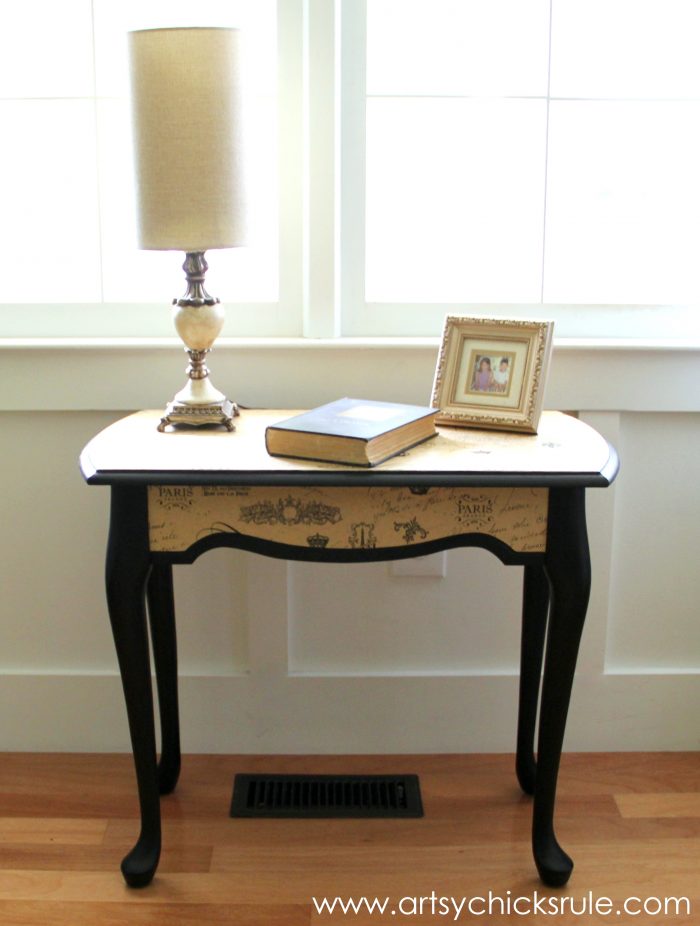 That black is just fabulous….so smooth in application and afterward.
I very much loved working with it.
I painted another little table with the same paint line a while back and will definitely be picking up some more to try now.
For the top and sides (decoupaged areas) I put 2 coats (drying well in between) of Minwax Polycrylic.
I'm all over the place with products on this project.
Once the polycrylic and black paint was dry I applied one coat of Annie Sloan Clear Wax over the entire thing.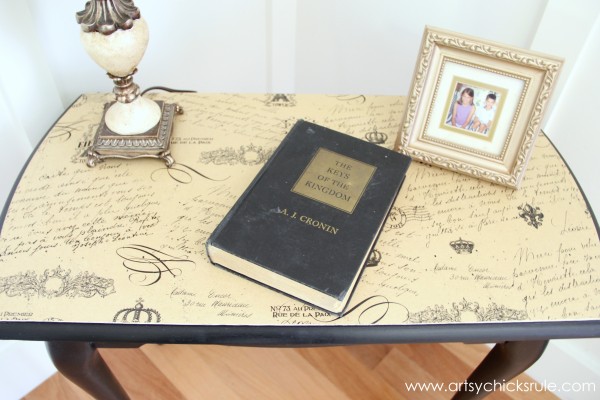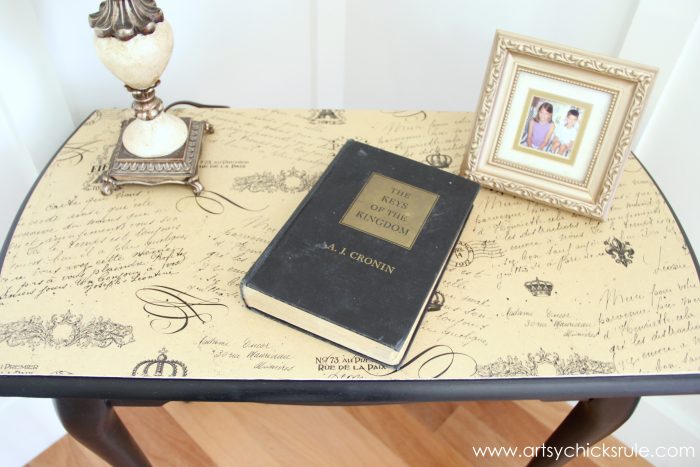 Buffed it up …and done!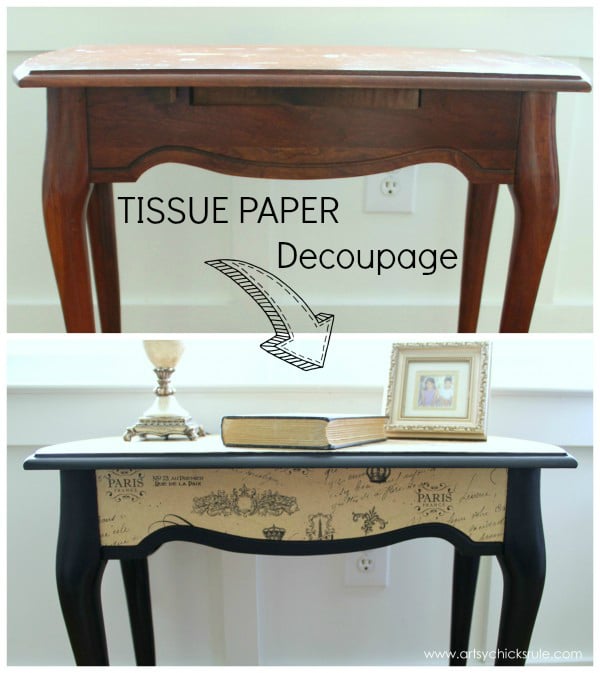 What a difference a little French paper decoupage and paint makes, right?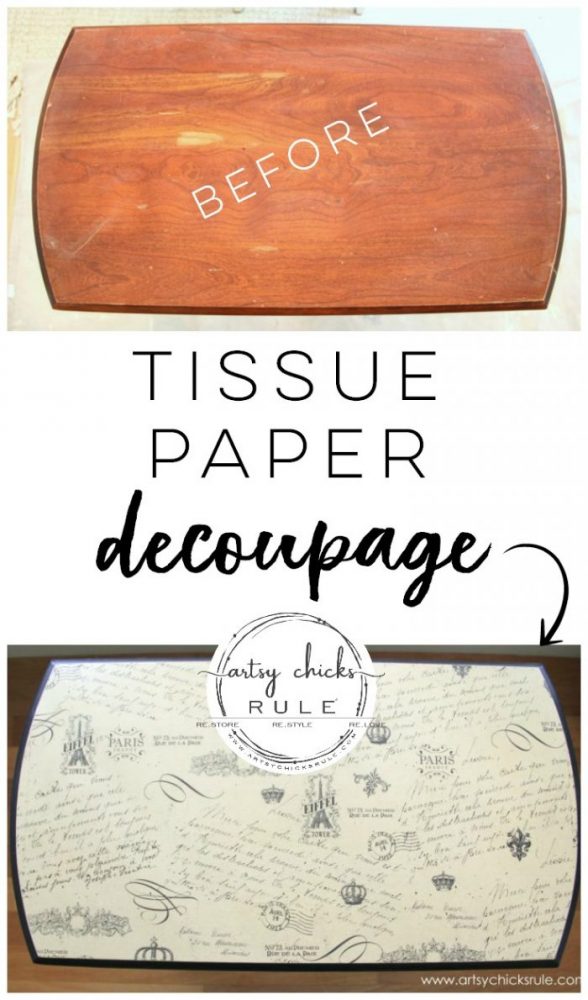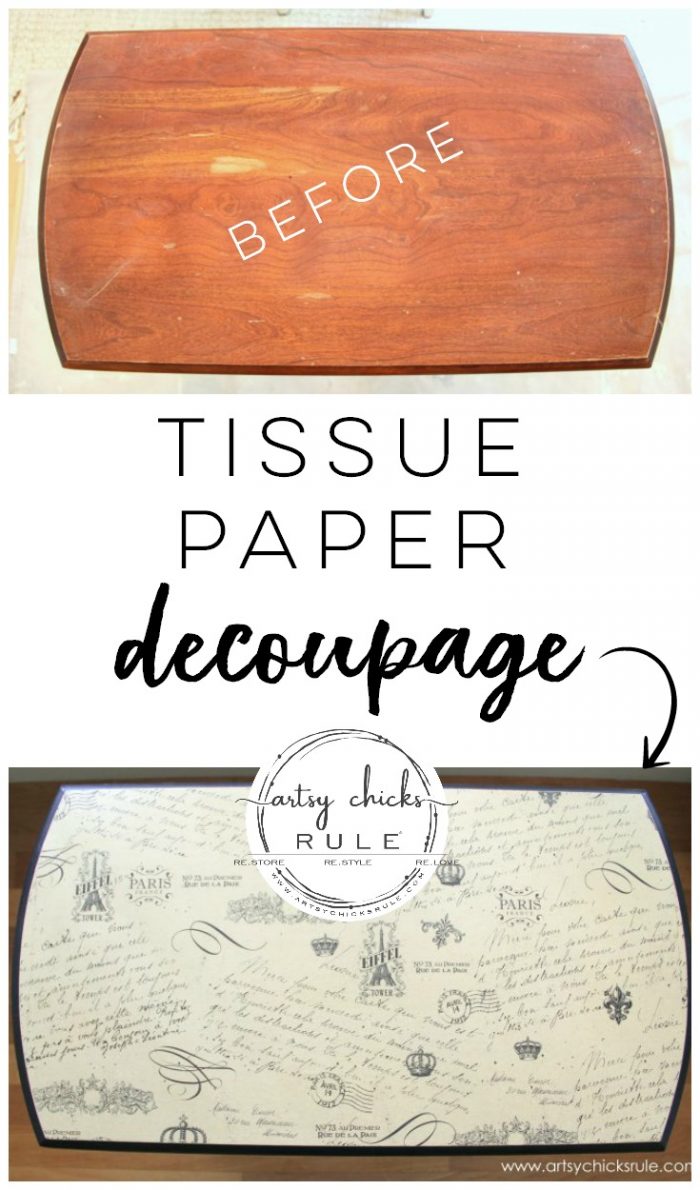 You know it's a winner when your husband walks in at the end of the day and says it's "the bomb".
Thanks, sweet hubby! :)
Guess what….there are even more decoupage furniture makeovers for you down below.
Be sure to click on them to see the full posts.
Hope you have a wonderful week!
Be sure to check back later this week to see what I did to this!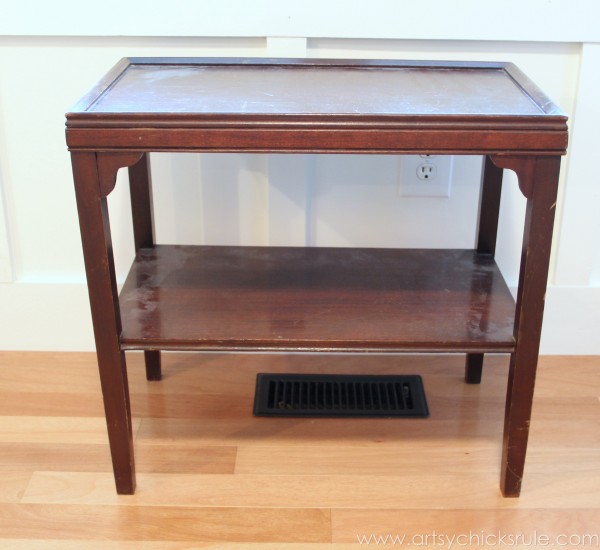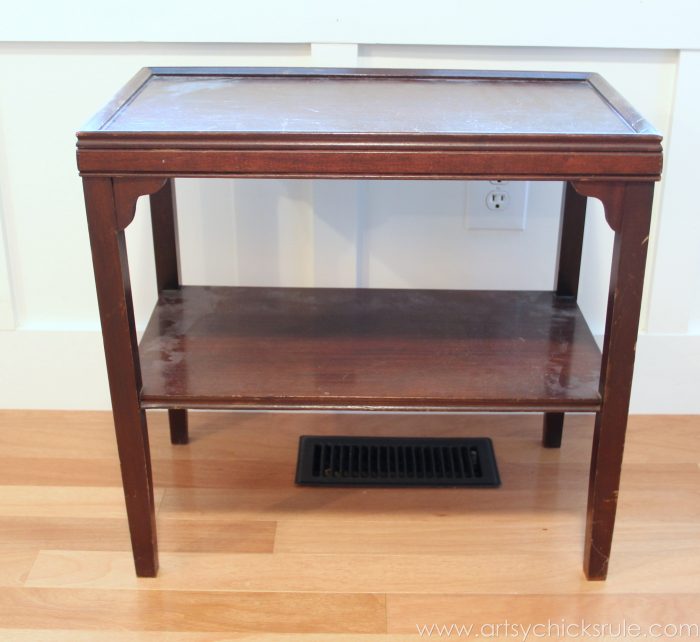 UPDATE!!! See it now, here!!
xo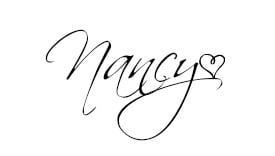 ENJOY!!