Butterflies, Chalk Paint & a Little Decoupage
This post may contain affiliate links. Please see disclosures here.
Creating a fun and creative finish with decoupage and Chalk Paint on this garage sale find….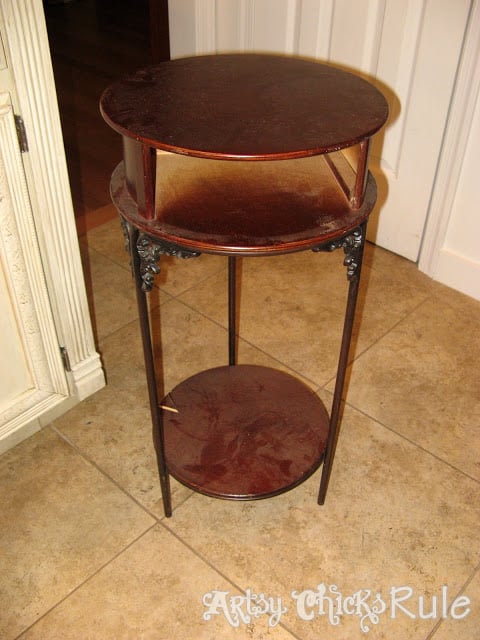 It is an adorable little table that I painted using Annie Sloan Chalk Paint and decoupaged with scrapbook stock paper.
Isn't she the cutest little thing?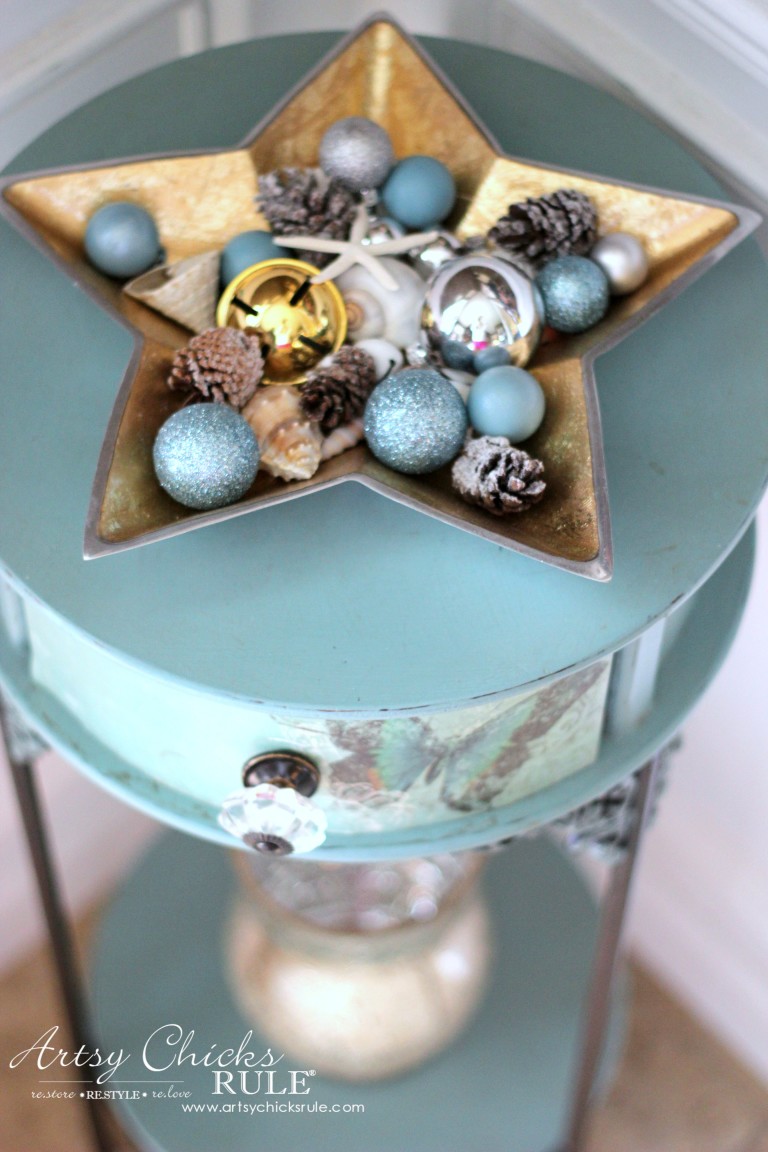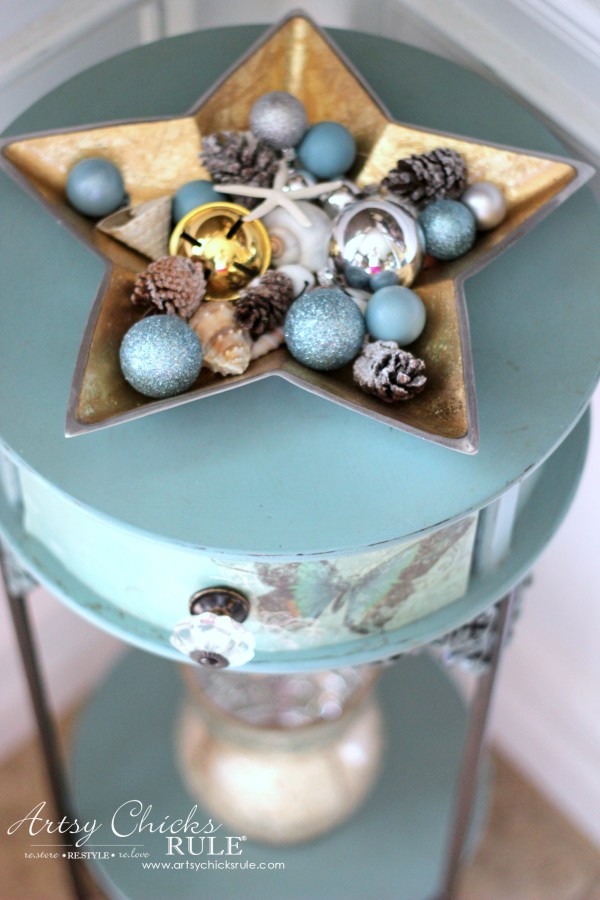 It was really easy to do!
I found these 3 "nesting" tables…they don't really nest but I'm not sure what else to call them?
Maybe…Biggest, Smaller, Littlest? Anyway, there were three of them in graduating sizes.
I picked them up at a garage sale for $20.00.
I really should have taken a picture of them all together but I didn't. Sorry!
And not only that, I also forgot to take a good "before" picture before I started. Oops.
The drawer is out in the photo above because I was already working on the decoupage.
And yep, it's all dusty because it had been sitting in my garage for a few months before I got to it.
So here is the drawer.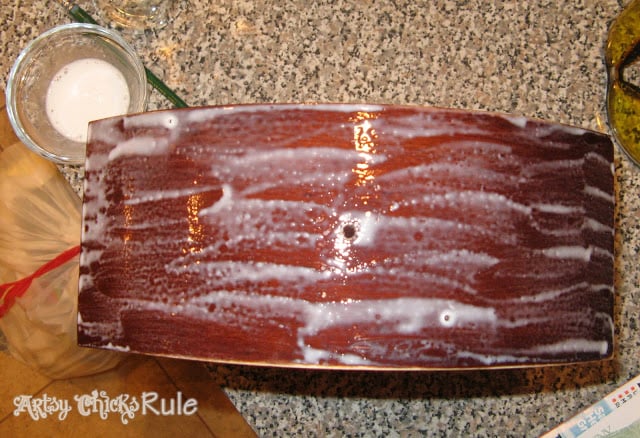 I mixed up some Elmer's Glue All with a little water as my decoupage medium.
(Oh my gosh, lovely bag of trash tied up in my picture there. How's that for being real?! Yep.)
I had this gorgeous butterfly print of scrapbook paper that I picked up at Michael's for around $1.
I measured it by laying the paper stock across the top of the drawer and lightly bent it where the edges of the drawer were.
I cut it along the lines I created.
Not very scientific but easy and actually very accurate.
I laid it on top of the drawer as pictured above with the glue mixture that I had brushed all over the top of the drawer front. Pressing firmly to remove any bubbles and making sure it was down in all areas.
Here is it back inside the table along with a knob I was considering using.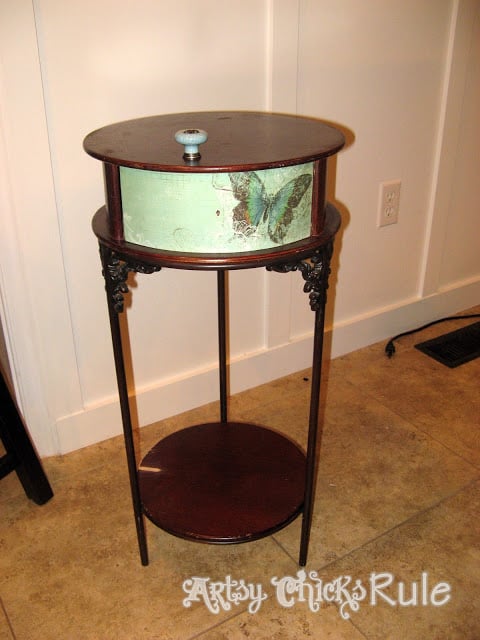 See the wall behind it?? That's our Board & Batten wall we did in the Kitchen last year.
We are getting ready to start another project in our Family room involving similar walls.
This time even easier (smooth walls in that room…I'll explain).
I will be sure to post the tutorial when we are done! I'm so excited!
So, back to the table, after the glue dried I applied a coat of polycrylic over the top of the decoupage to seal it.
Next I mixed up some Annie Sloan Chalk Paint to come up with this gorgeous teal shade.
If you haven't noticed yet I mix her paints all the time to come up with different shades.
They mix together beautifully!
Want to know about 26 other chalk style paints?
I've got the low down for you right here >>> 26 Types of Chalk Style Paint For Furniture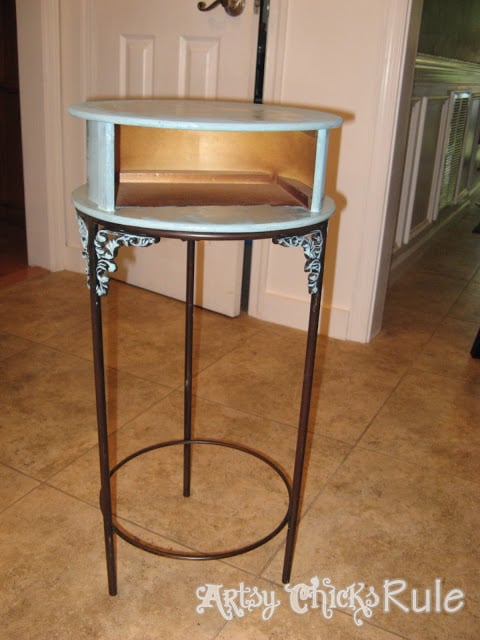 And another…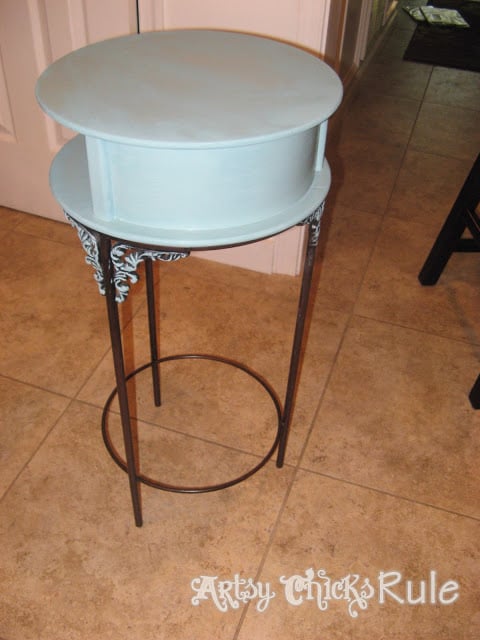 I painted the metal scroll with the chalk paint also to bring out the detail.
I then distressed it just very lightly.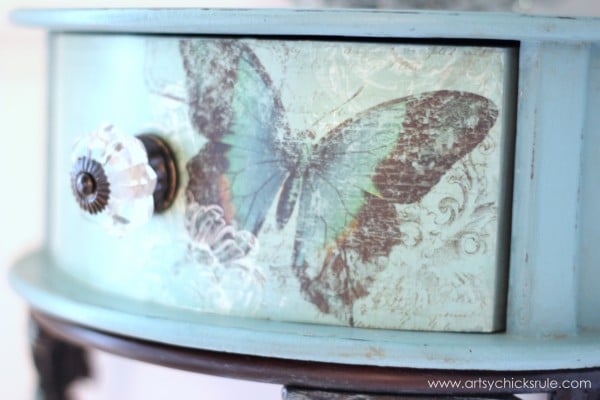 I finished up with a blend of Annie Sloan Clear Wax & Dark Wax. (a tiny, tiny bit of Dark only)
Just to note, I also put the wax over the metal pieces I painted.
I buffed it all, added a glass knob and she was done!
Like it? PIN it to save it for later!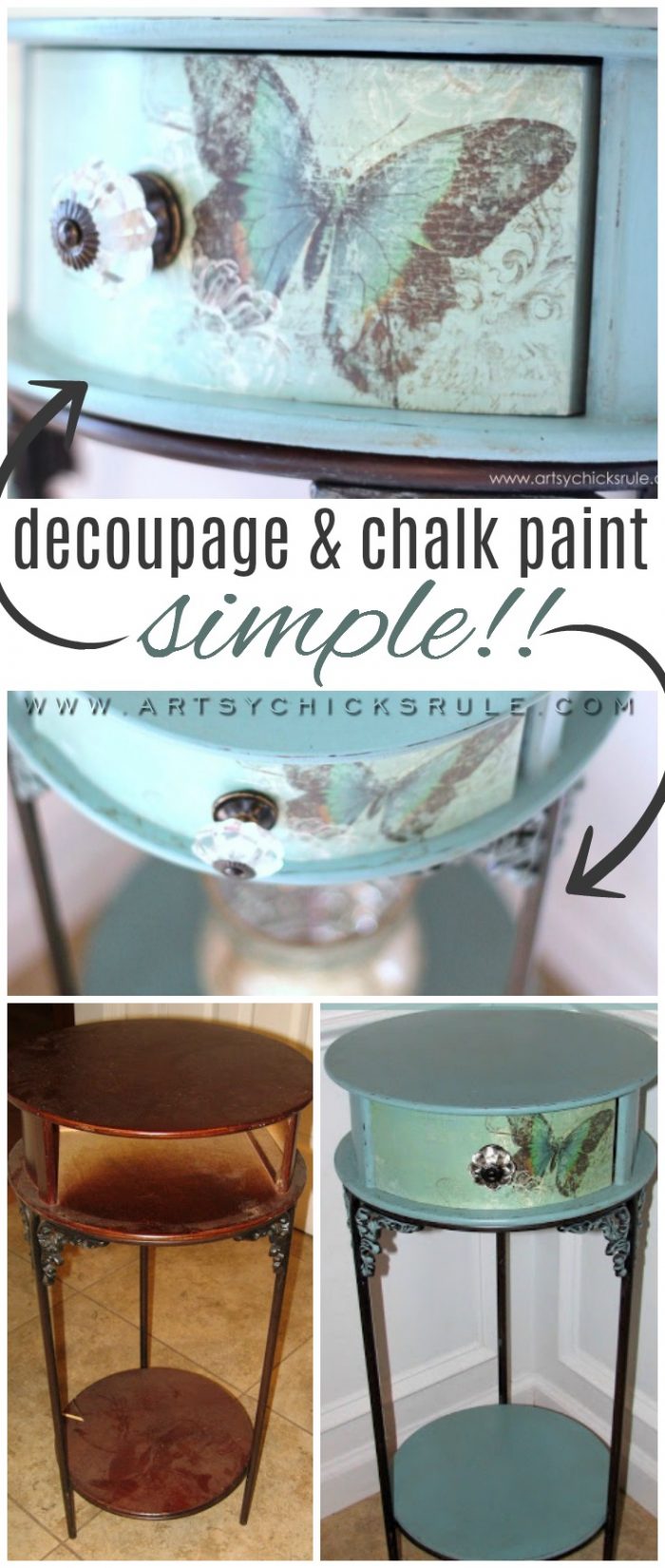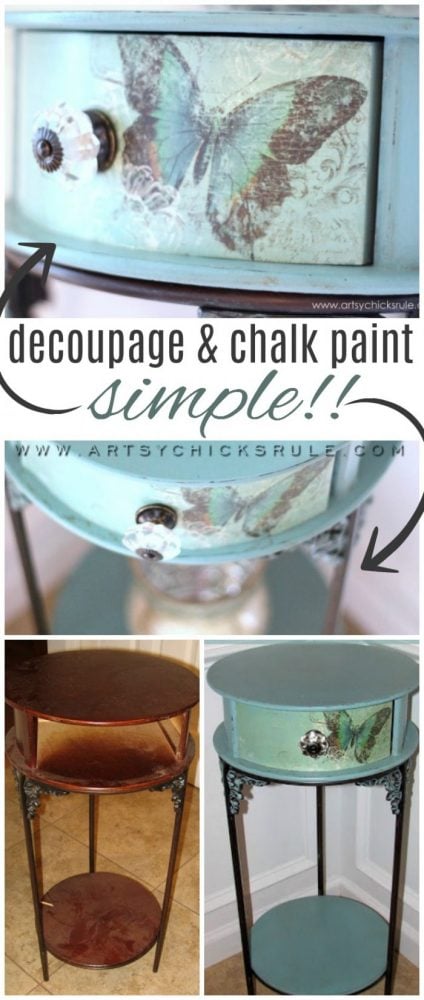 This one sits in my Foyer to the left of the front door under our key rack.
My husband uses the drawer to keep his wallet and other various things in when he comes home at night. Love it!
By the way, the wall behind it we did a few years back. Easy, inexpensive "shortcut" to give your walls a wainscot look. I will try to do a post about that at some point too!
Here is the "middle" sized table.
I used the same sheet of scrapbook stock. It had several rows of different styled butterflies on it.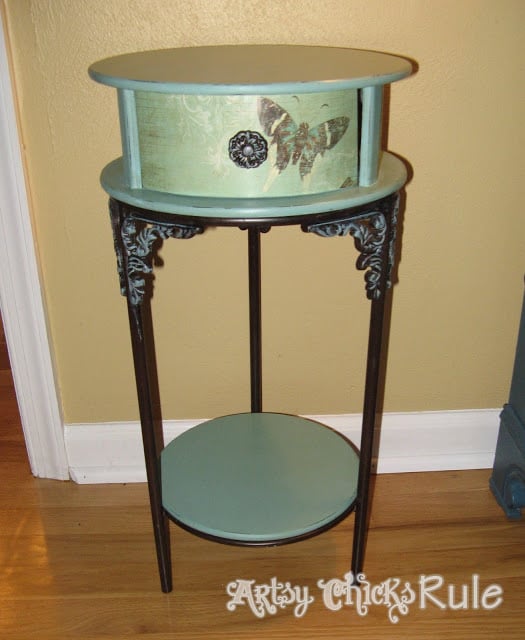 This one got a metal knob dry brushed with the paint.
And it went to the shop.
I have yet to paint the smallest one! It is so tiny I'm not sure what I would do with it?
A plant shelf maybe?
When I do I will be sure to post it. I'm thinking it will end up on my screen porch which is tropically decorated! So bright fun colors & tropical themed decoupage for that one.
Such a fun transformation for several boring little tables! Easy and quick too!
Edited to add the "baby", smallest table of the set, here >>> Antoinette Pink and Decoupage Table
Have you ever attempted decoupage? Or Chalk Paint yet?
Decoupage is very easy and really adds a nice touch to a piece.
And with so many different papers, gift wrap, etc, the possibilities are endless!
Don't forget to stop by so you don't miss how this little table turned out next week!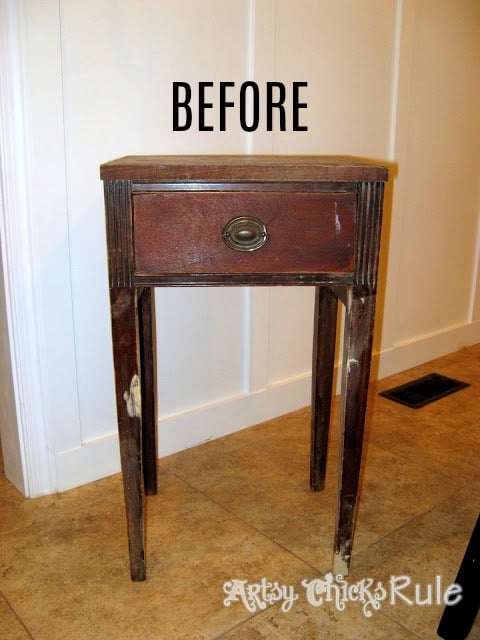 UPDATE!!! See it now, here!!