Thrifty Makeover with French Fabric Decoupage
This post may contain affiliate links. Please see disclosures here.
This thrifty table got a brand new look with French fabric decoupage!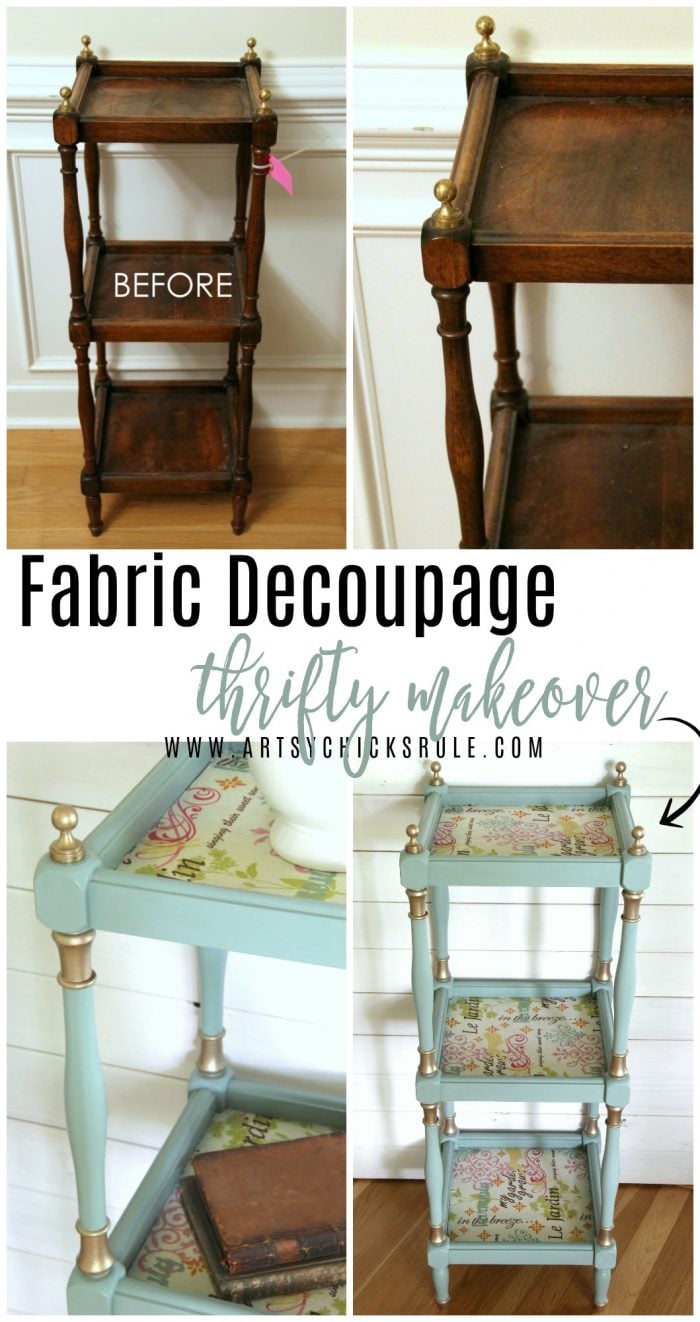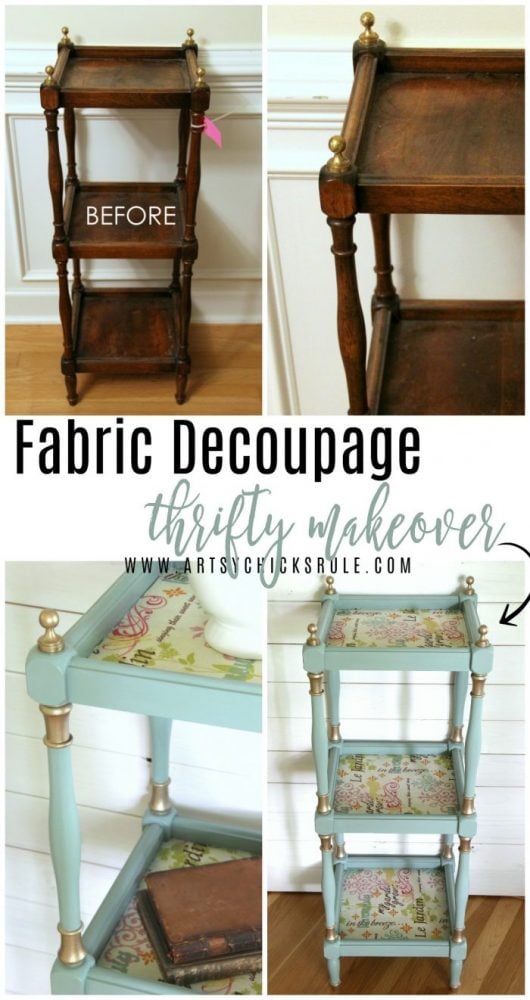 Happy Trash to Treasure Tuesday Friends!
Love, love, love this day every month. If you are new here, a few of my friends and I get together once a month to share our trash to treasure transformations.
It can be anything from furniture to decor, repurposing, or whatever!
Today I'm sharing a little fabric decoupage on a thrift store find.

Actually, I believe I found this one at Habitat ReStore.
If you follow along on Instagram, you probably saw my post about this one when I got it!
I always post things over there when I find them and as I'm giving them makeovers, etc.
This pretty little table was $7 and in pretty good shape, just a little dirty.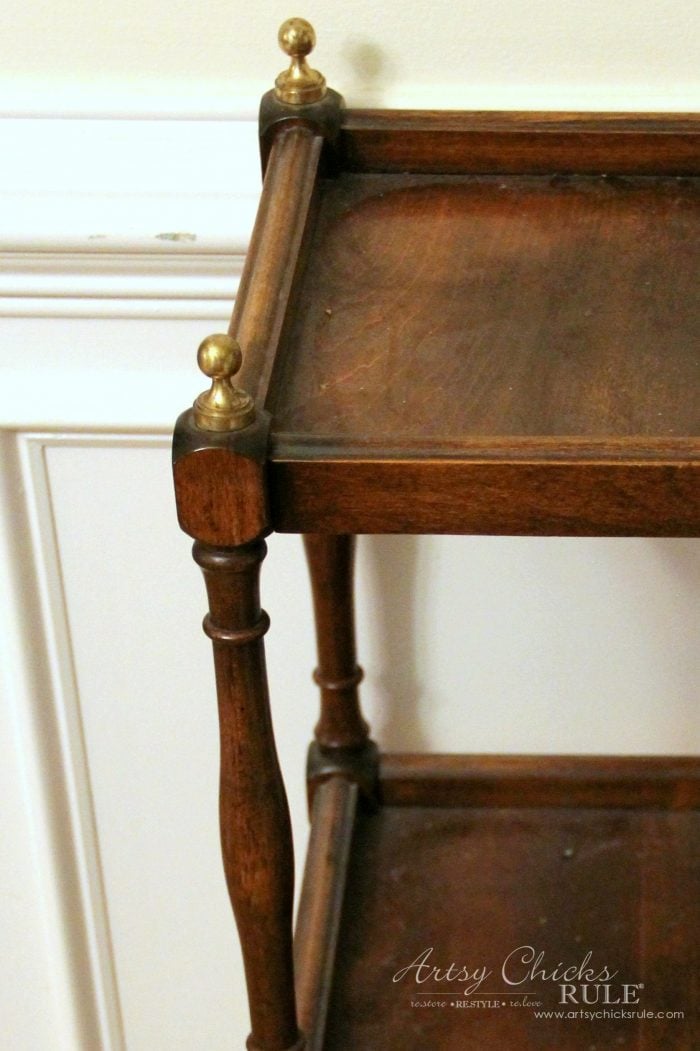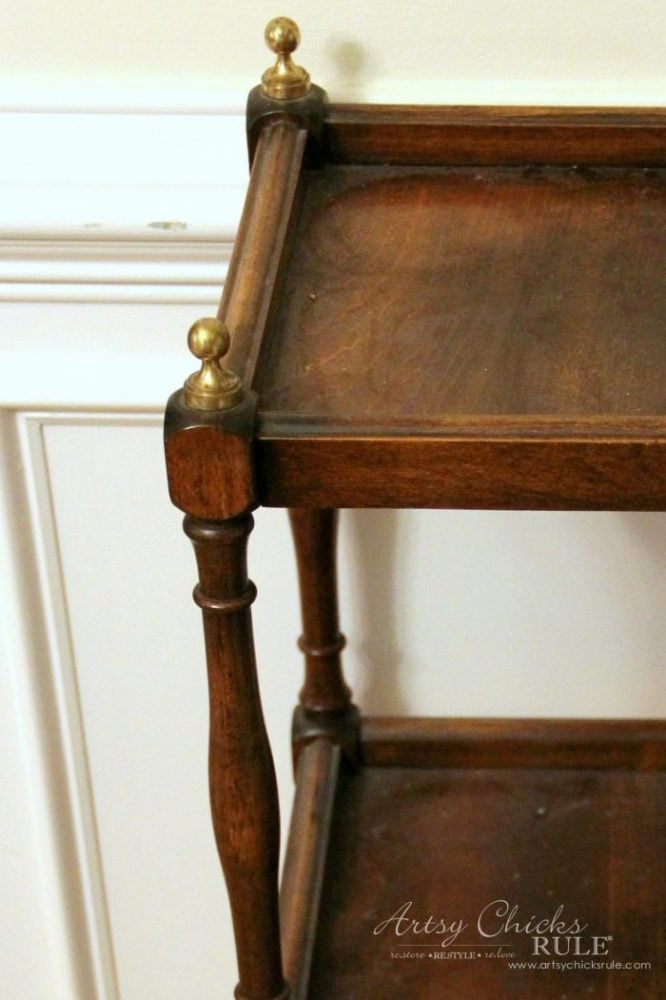 My original vision for this table came from some pretty wrapping paper I have that is pink and green.
I thought I'd decoupage each flat surface with the paper and paint the rest green.
Nope.
After painting about half of it I decided green was not working for me.
So I painted the whole thing pink. Ha, yep!!
And guess what?
That wasn't working for me either. Bummer.
That's when you want to just throw in the towel for a bit.
But I couldn't because did I mention that this was Sunday night at about 11pm?
Ha, yes, it was. I had been so busy around here that I totally forgot about my girls and our fun trash to treasure Tuesday coming up.
So I couldn't throw in the towel! I had to figure this thing out asap.
I went up to my office/craft room and looked through my stash.
I came across some of the fabric I used on these chairs and thought it'd be perfect!
So I grabbed it and ran back downstairs and got back to work.
I decided on Duck Egg Blue Chalk Paint for the trim since it matched some of the print in the fabric perfectly.
And I just love pink and blue together.
Want to know about 26 other chalk paint style paints? I've got the low down for you right here! >>> 26 Types of Chalk Style Paint For Furniture
I cut the fabric about 1/4 to 1/2 inch larger than I needed all the way around.
And I found this in my stash for the fabric decoupage…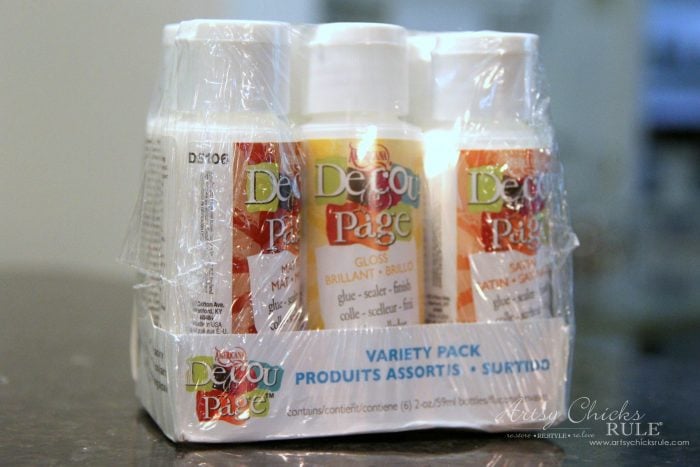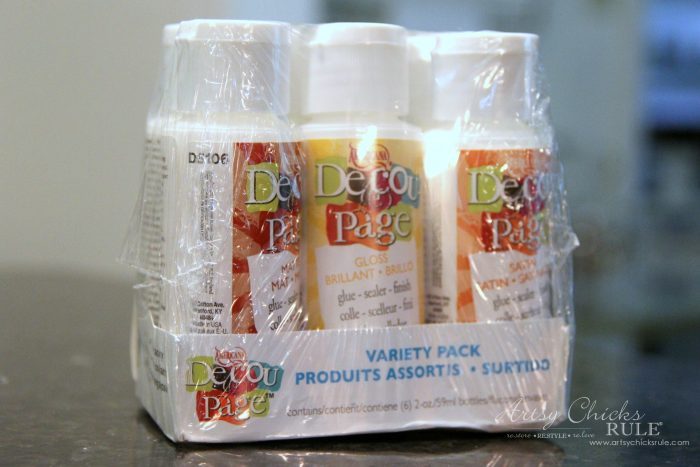 …and decided to use it.
I think it maybe came from one of the blogger conferences I went to.
(Want to see even more of my favorite furniture makeover supplies??? Take a look in my very own curated shop, here!)
I slathered the decoupage fabric glue onto the top and then stuck my piece of material to it.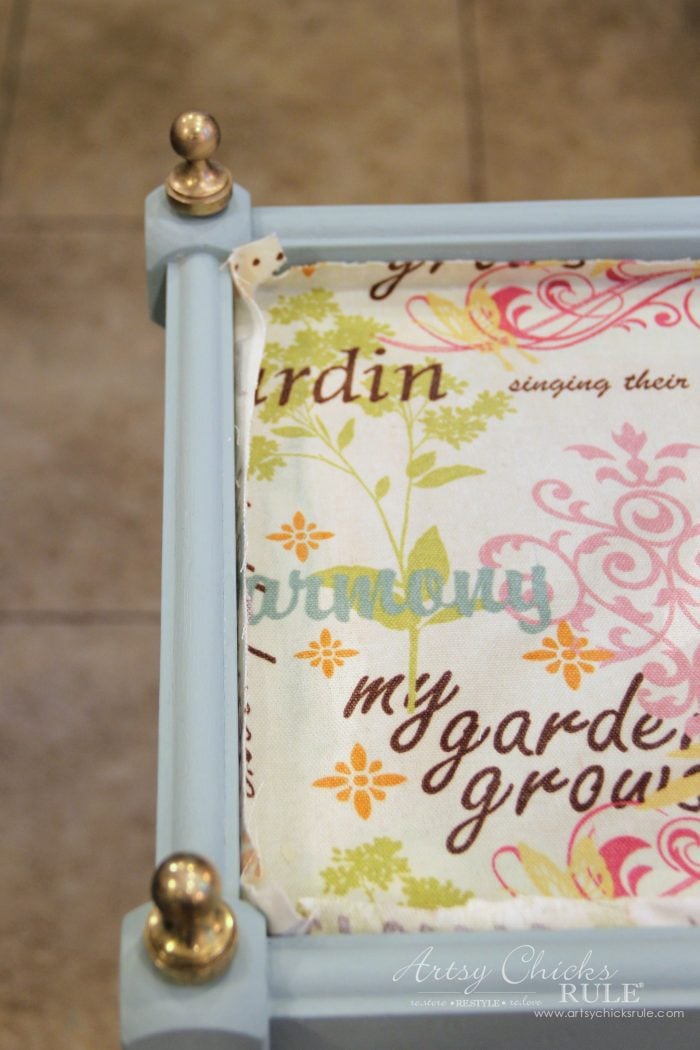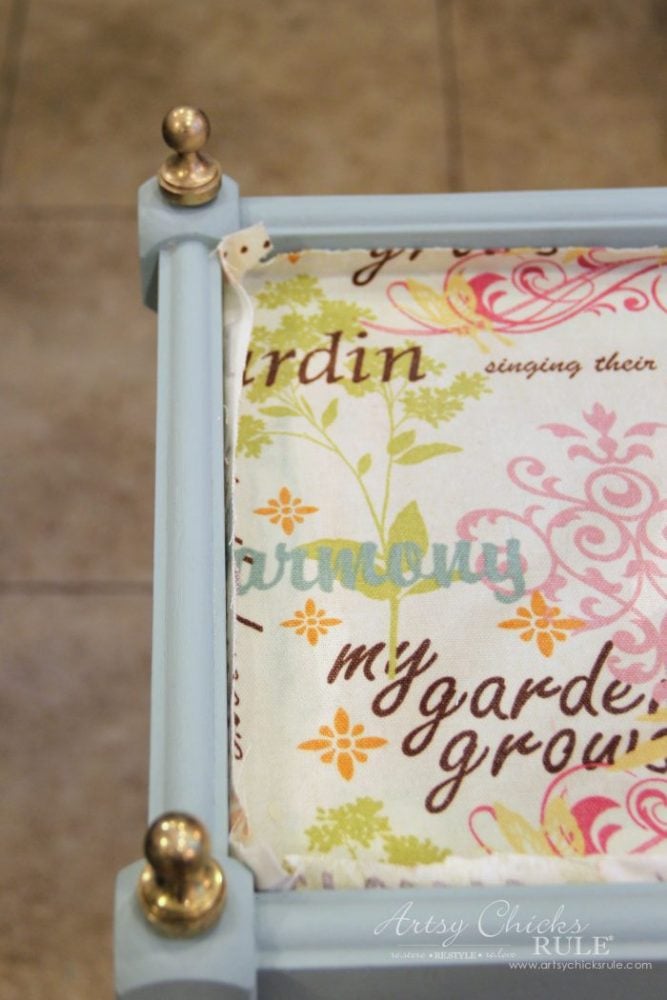 I smoothed it out to make sure there were no lumps or air bubbles.
You can see above and below the excess material.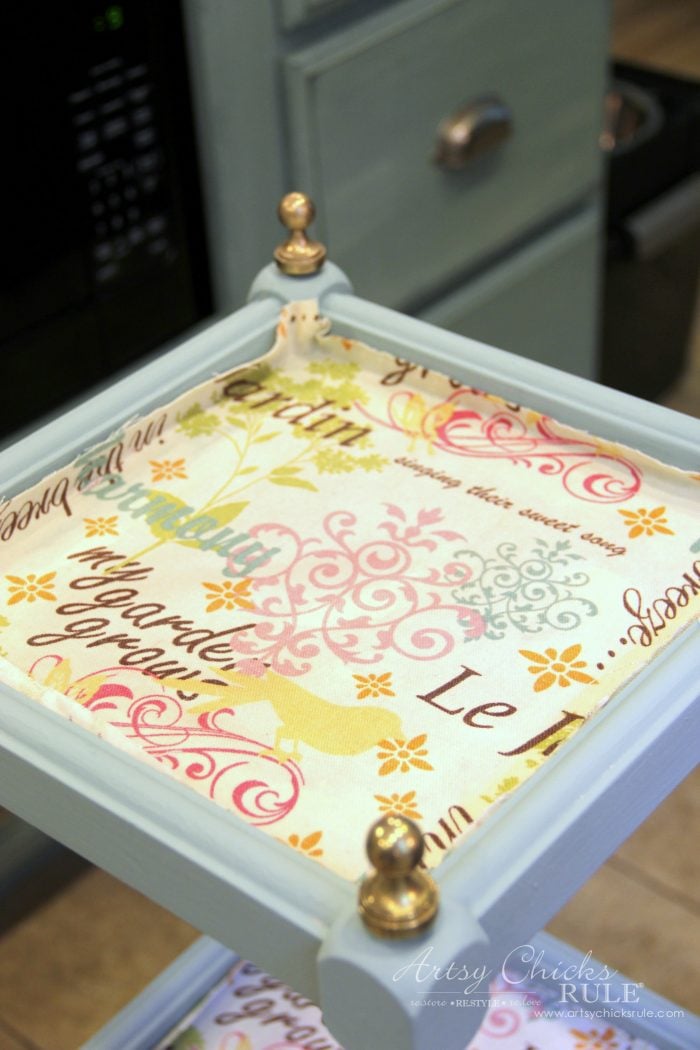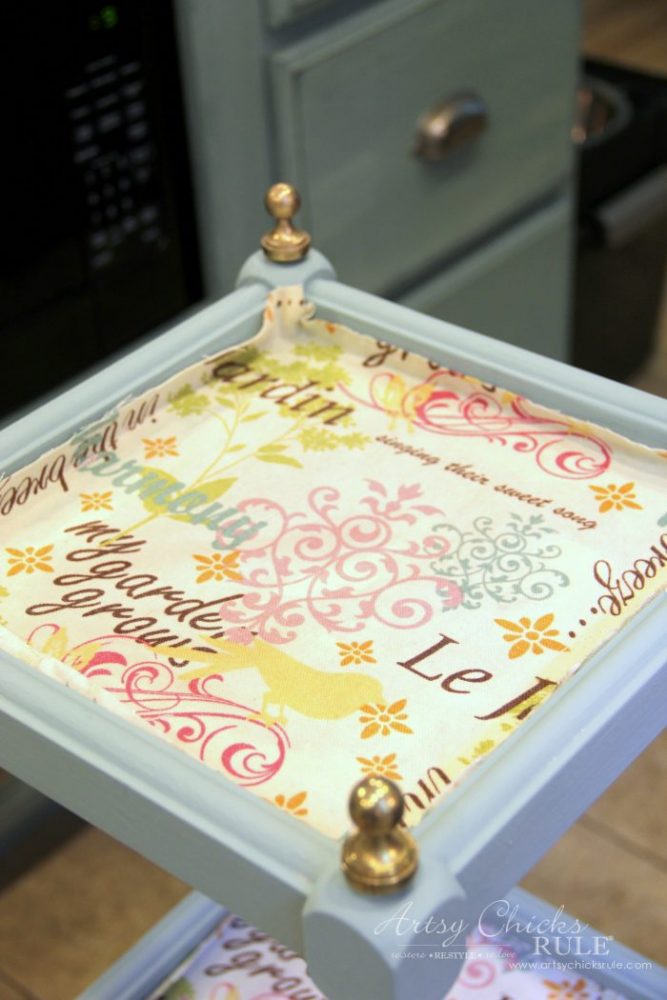 And the Duck Egg Blue paint, of course! ;) Love that color.
Are you new to chalk painting?? This post might be helpful to you >>> "How To Chalk Paint Furniture & More (tips & tricks I've learned!)"
Once this was dry, I used a Xacto knife to cut the excess off.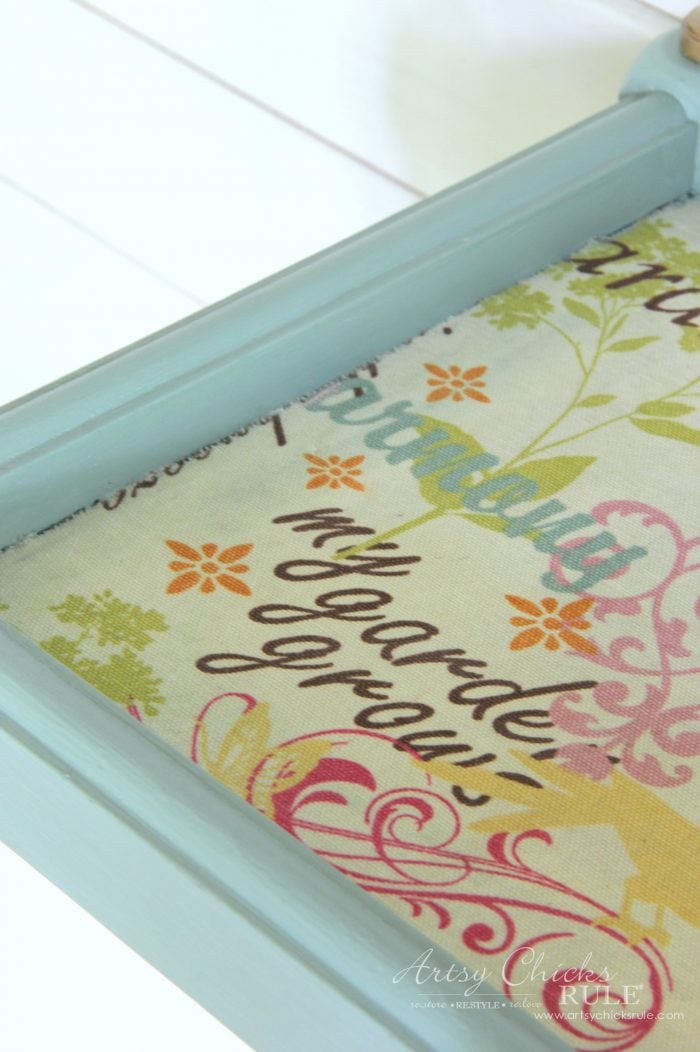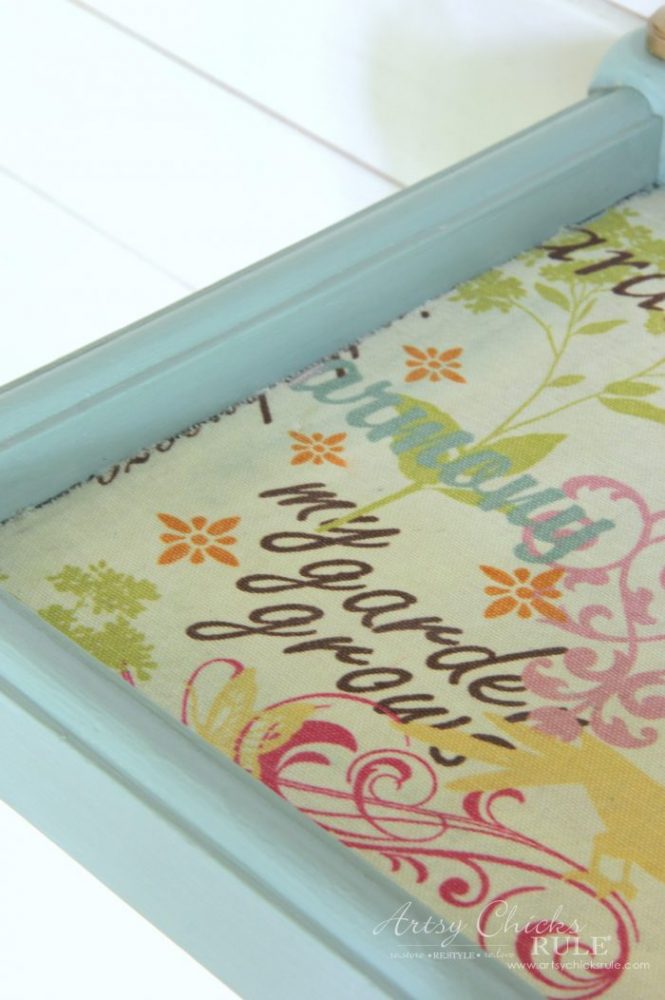 Not perfect but it worked okay.
Next, I used this sealer to seal it up and give it some protection.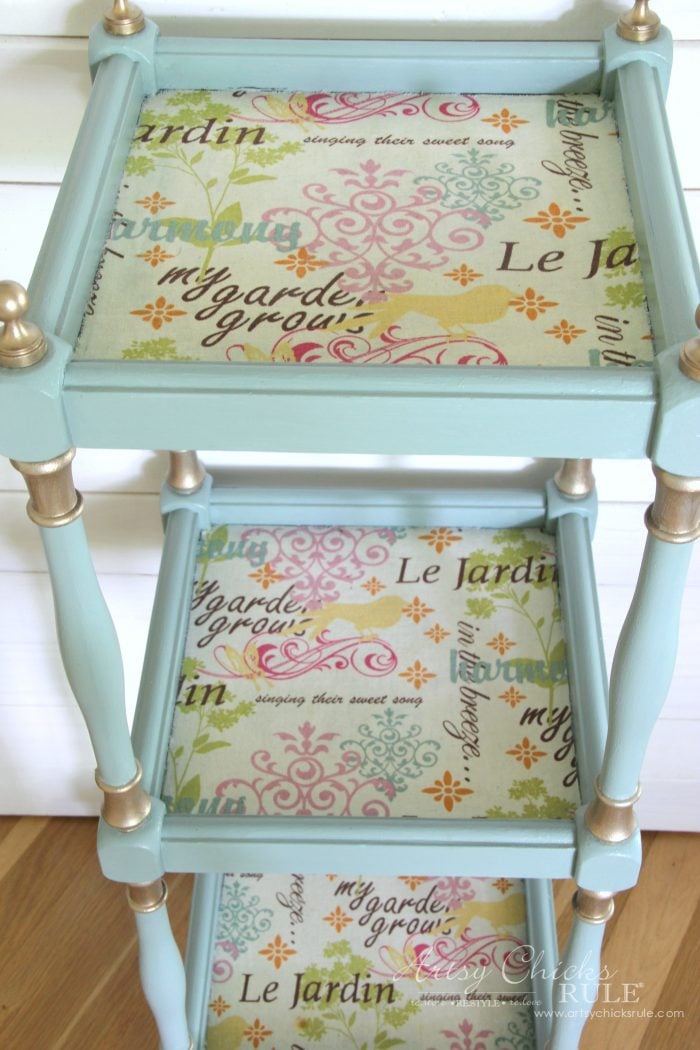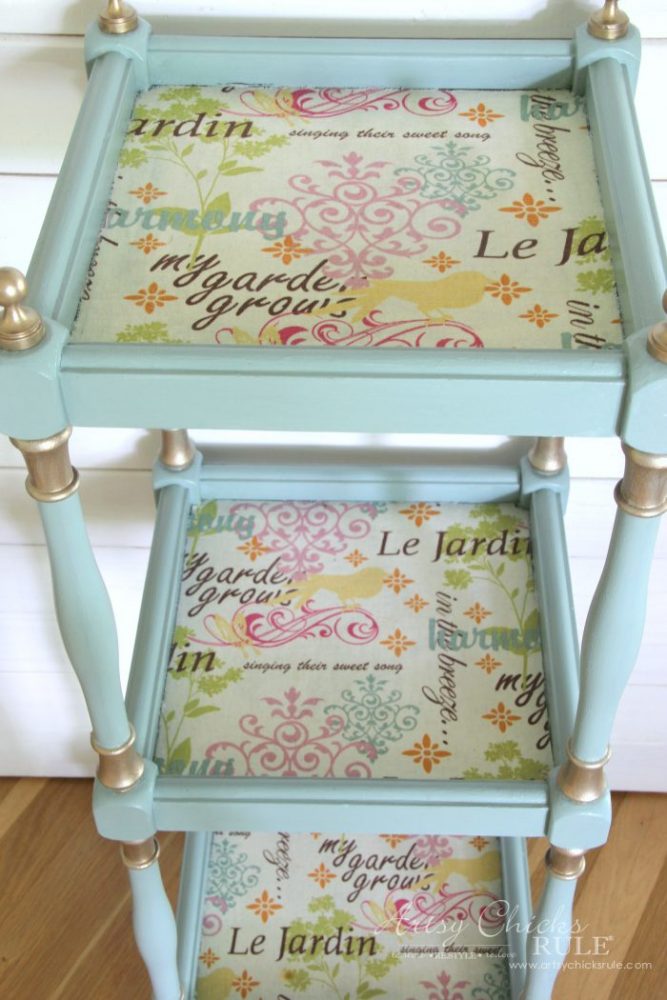 I did two coats, drying fully in between.
I also used the same sealer on the Duck Egg Blue paint.
Curious about chalk paint?? I wrote an entire post devoted to all the pros and cons of using it, here >>> "Pros and Cons of Chalk Paint For Furniture"
I came with the pretty brass knobs on top but I thought it looked a bit plain on the rest.
So I decided to add more gold.
I used this metallic paint for the added gold accents. (pay NO mind to the name of this one, it is indeed GOLD)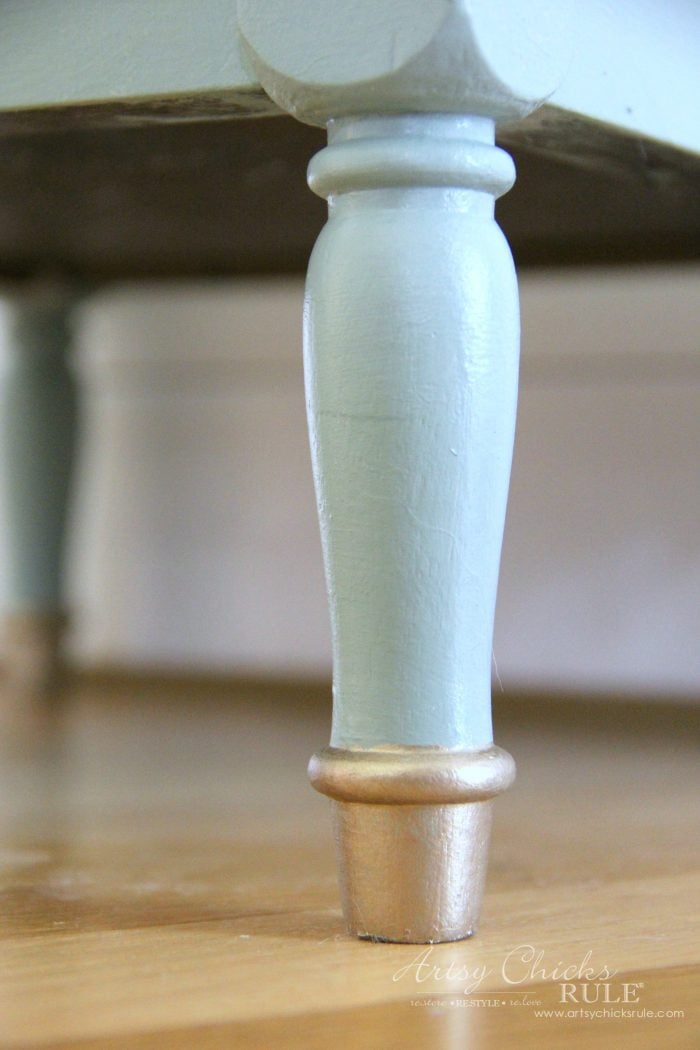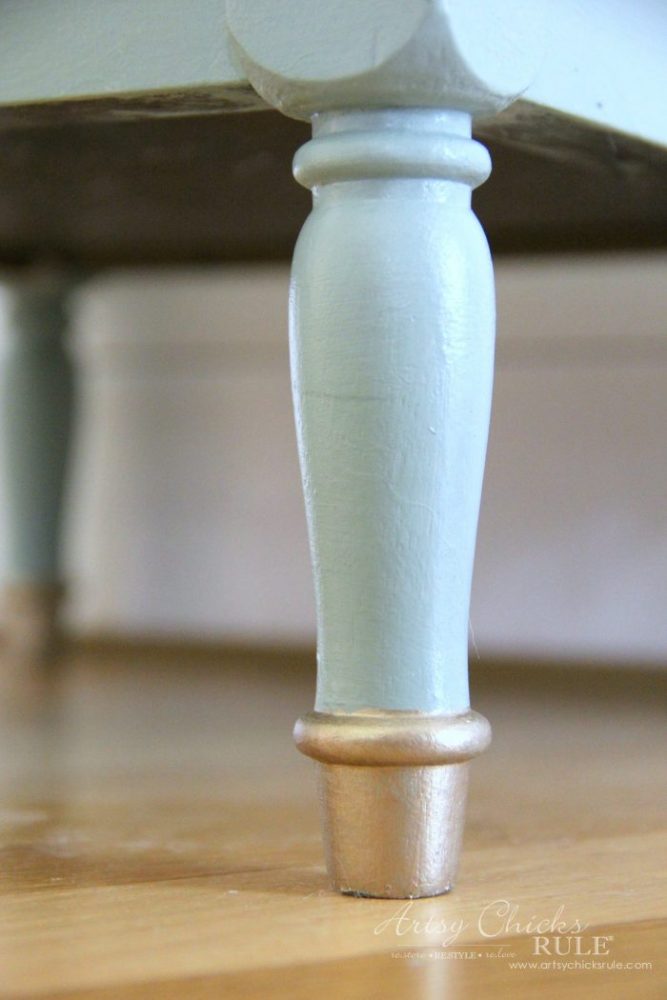 I'm kind of thinking I needed to paint the upper little twirl gold too.
As in keeping with the rest of the design, I probably should have.
I had already taken the photos when I decided on this. (and I'm working in a frenzy to get this post done!)
So, I'll have to go back later and do that. What do you think? Paint it or let it go?
As I mentioned before, the knobs are brass but they were stained and I couldn't get them all the way clean.
They were also more "brassy" than the paint….so I painted them to match!
SO glad I did, they look so much better.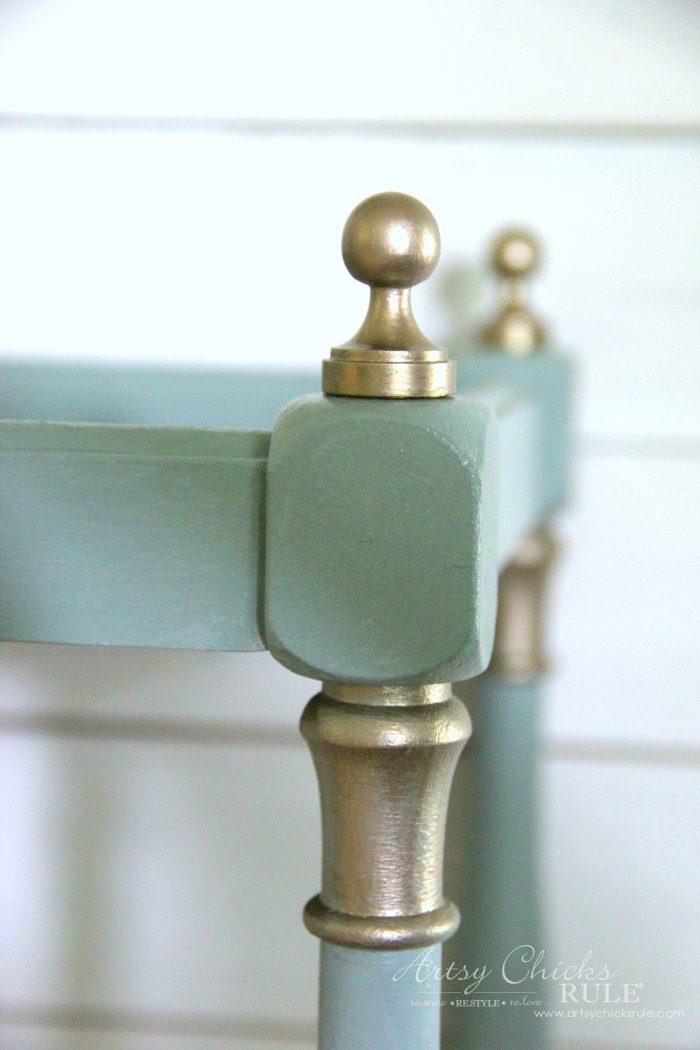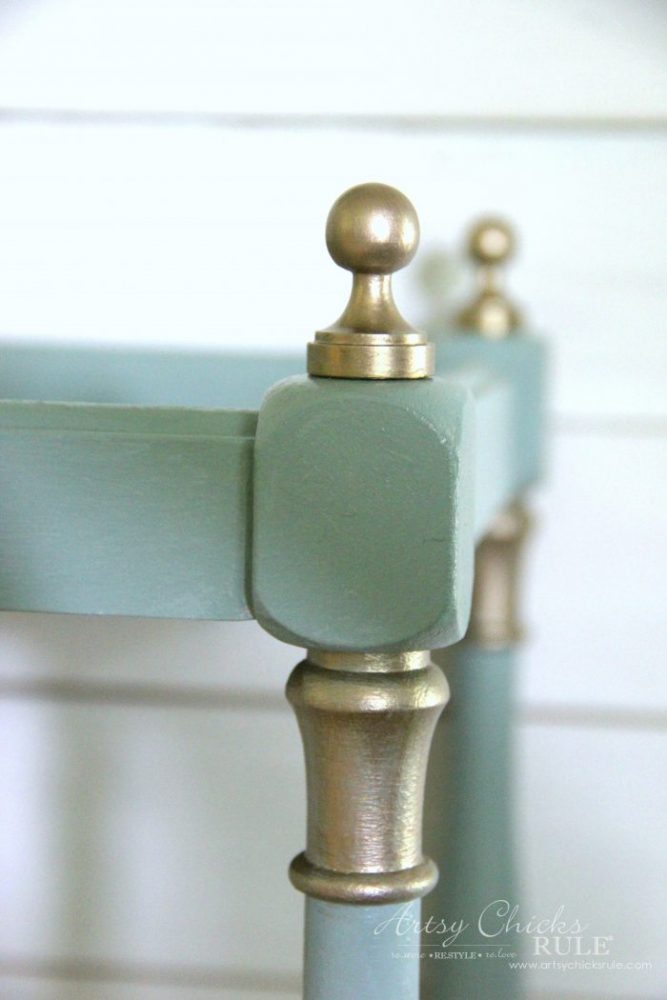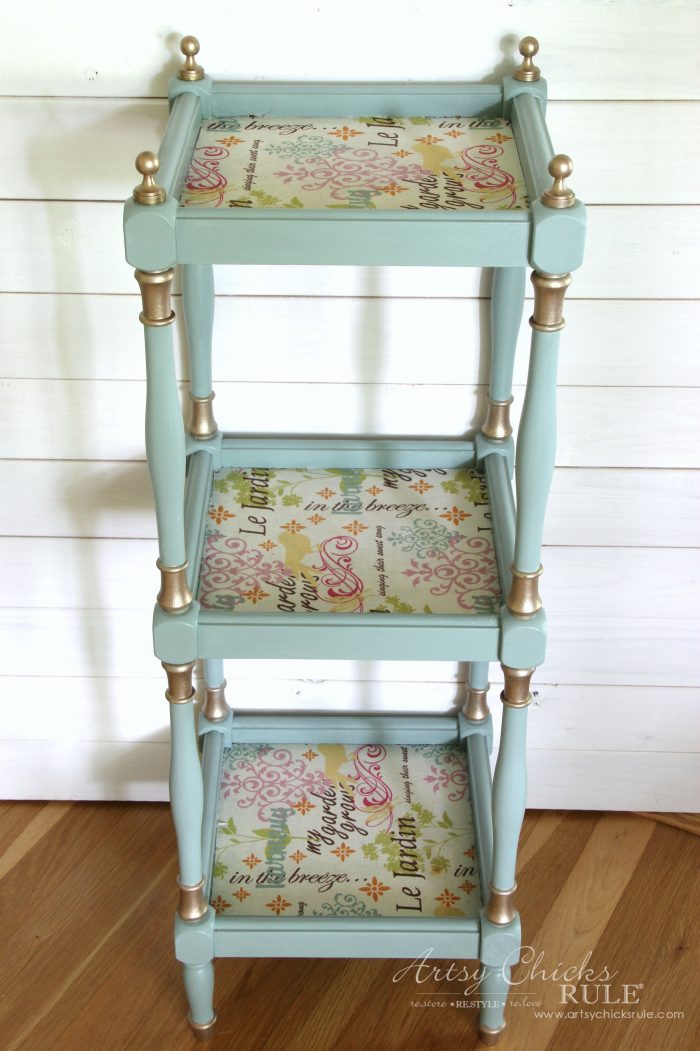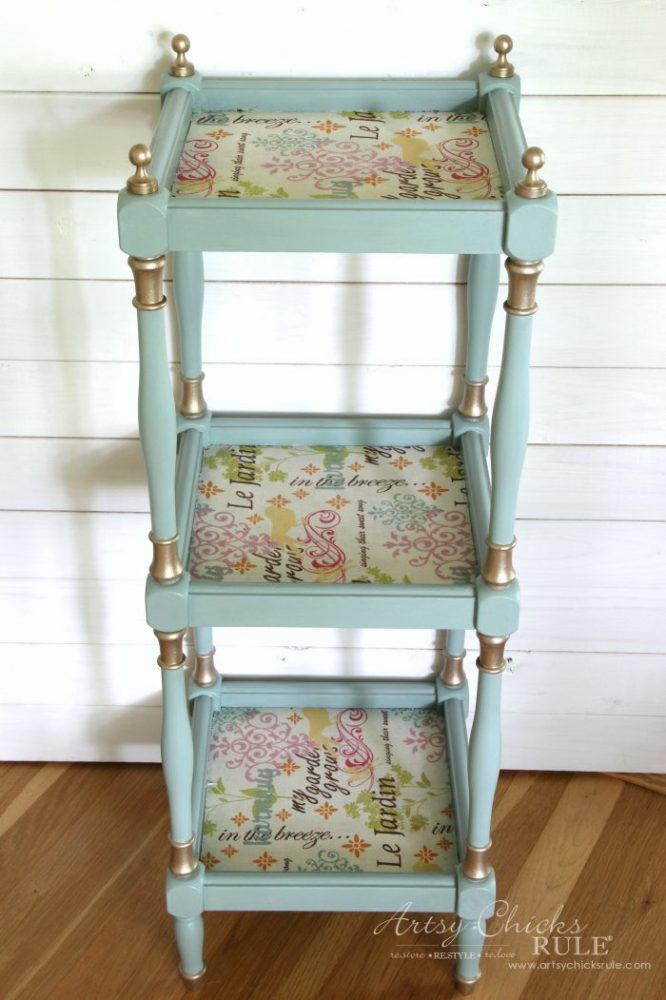 Paint that lower twirl or no? (I can not come up with any other word for it at the moment)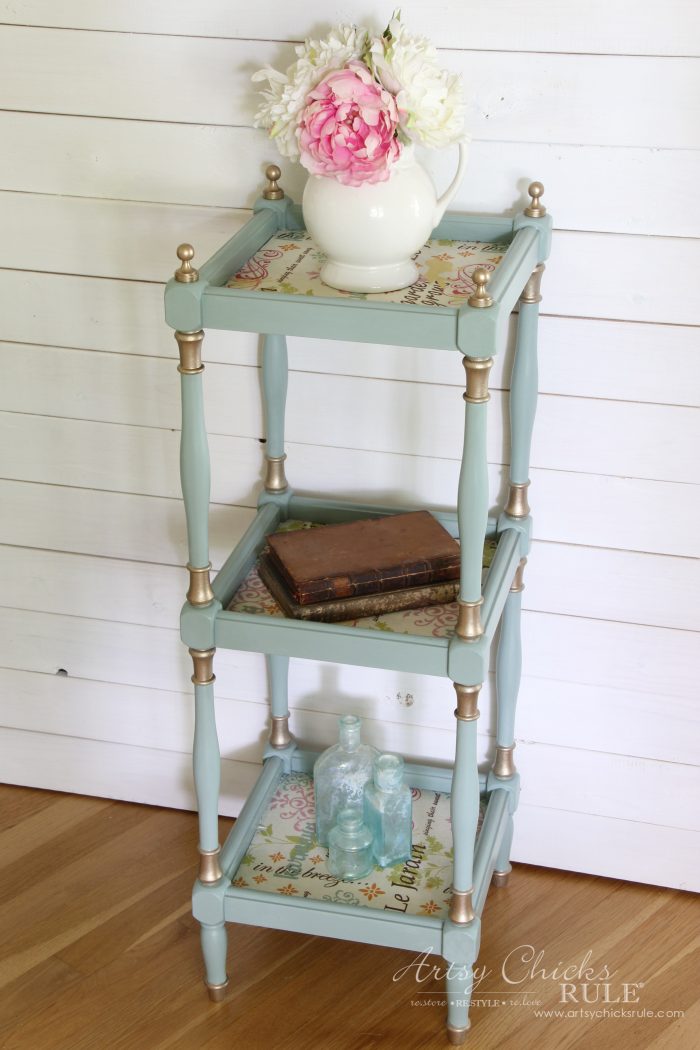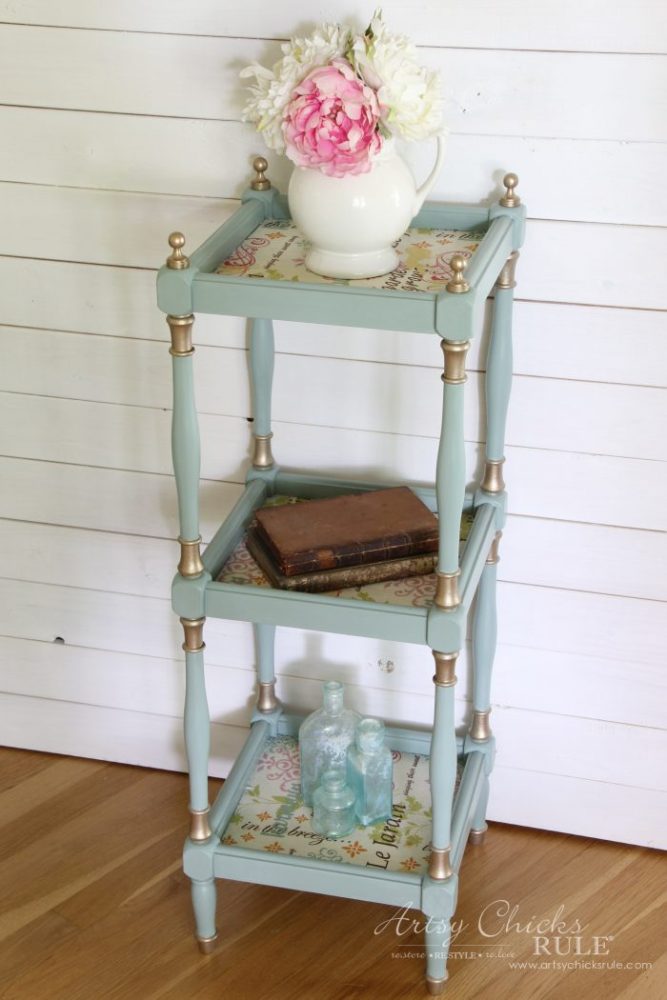 I love these artificial flowers. They are so pretty to me, fake or not.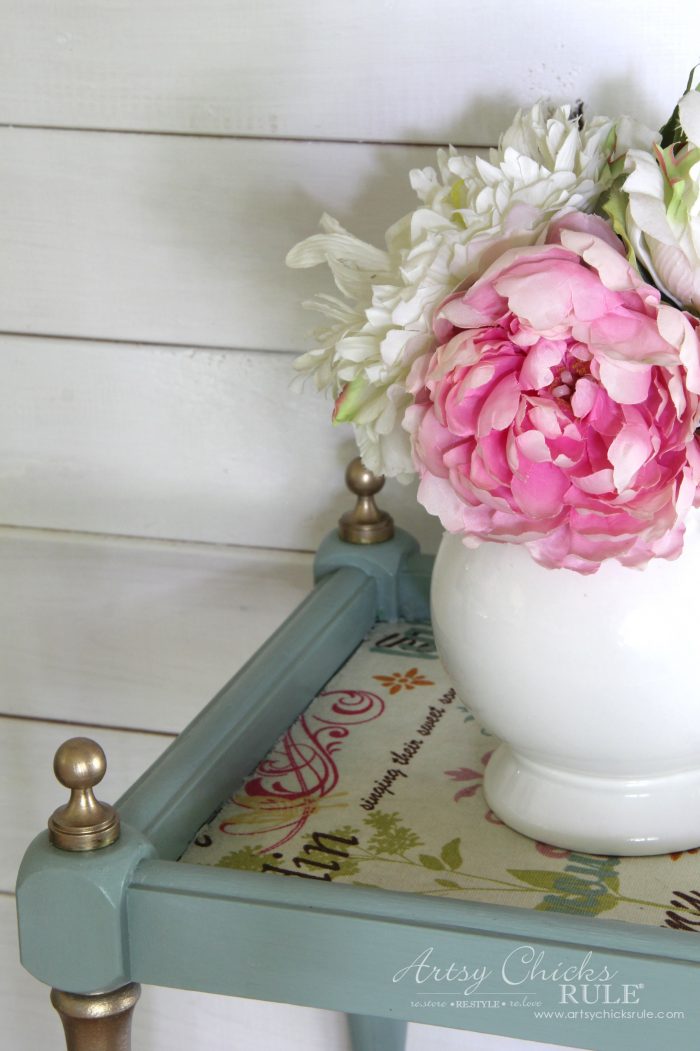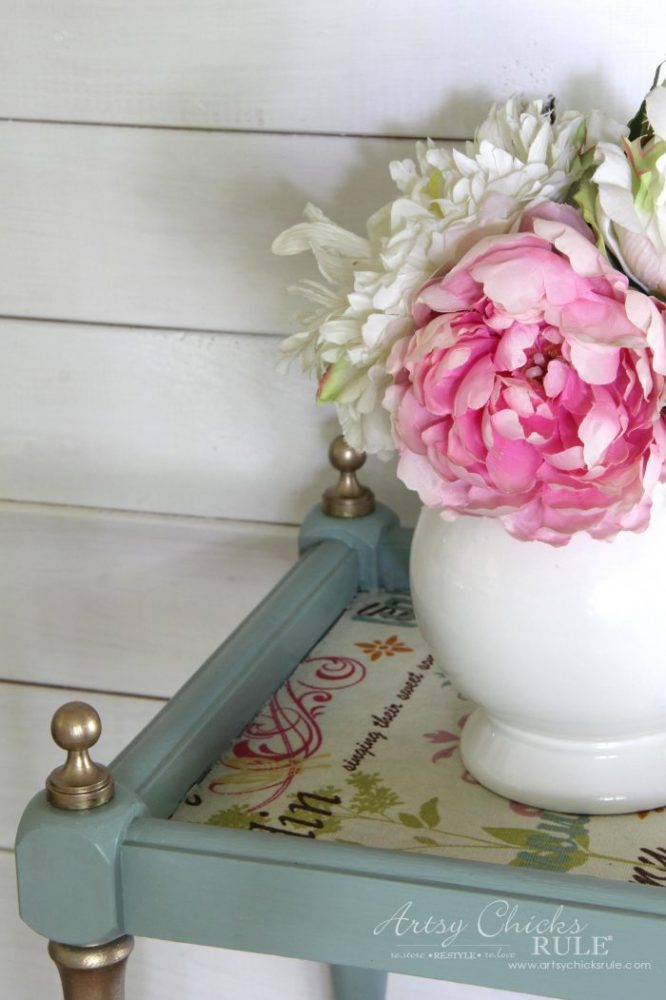 And love these treasures….my very old books. (the top one is from the 1700s, the bottom one, 1800s)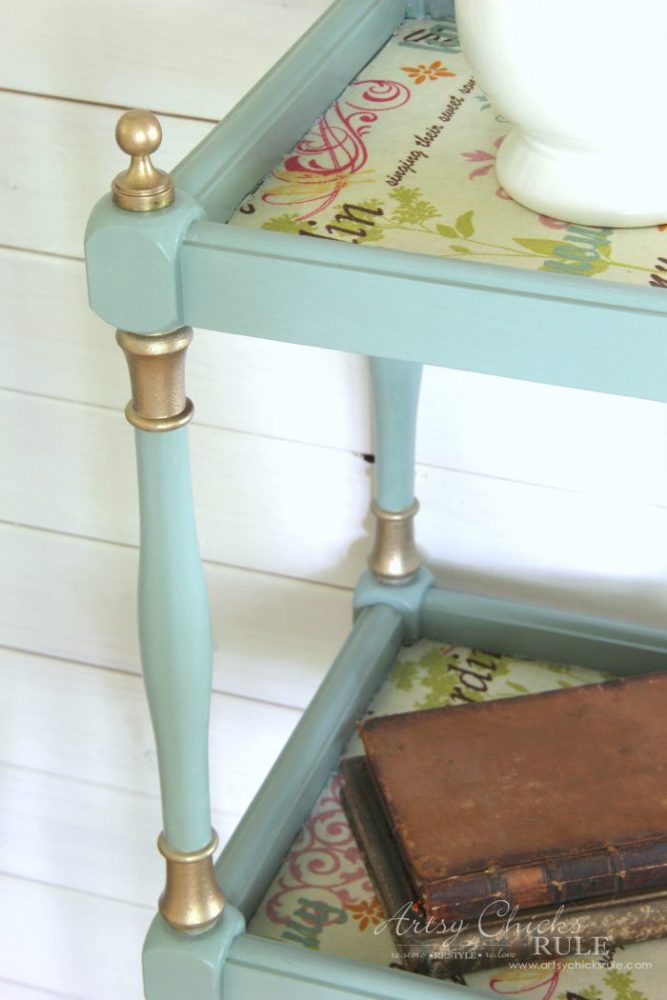 And of course my favorite antique blue bottles…..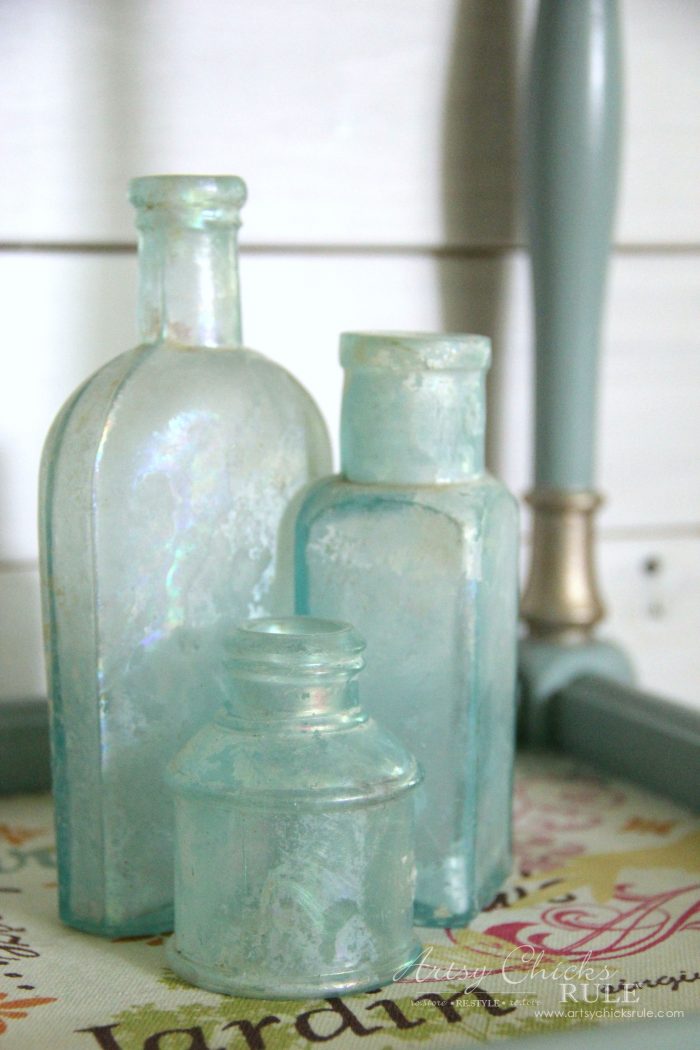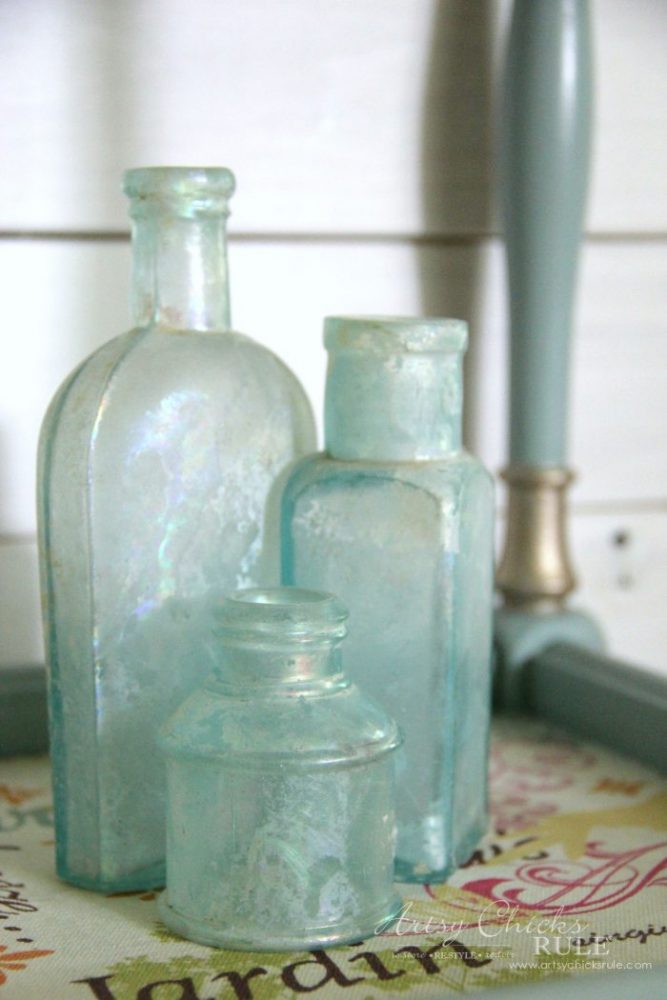 Love.
Pink and blue …two colors I just love together.
I'm so happy with how this little project turned out! Especially considering its beginnings!
PIN this fabric decoupage project to save it for later!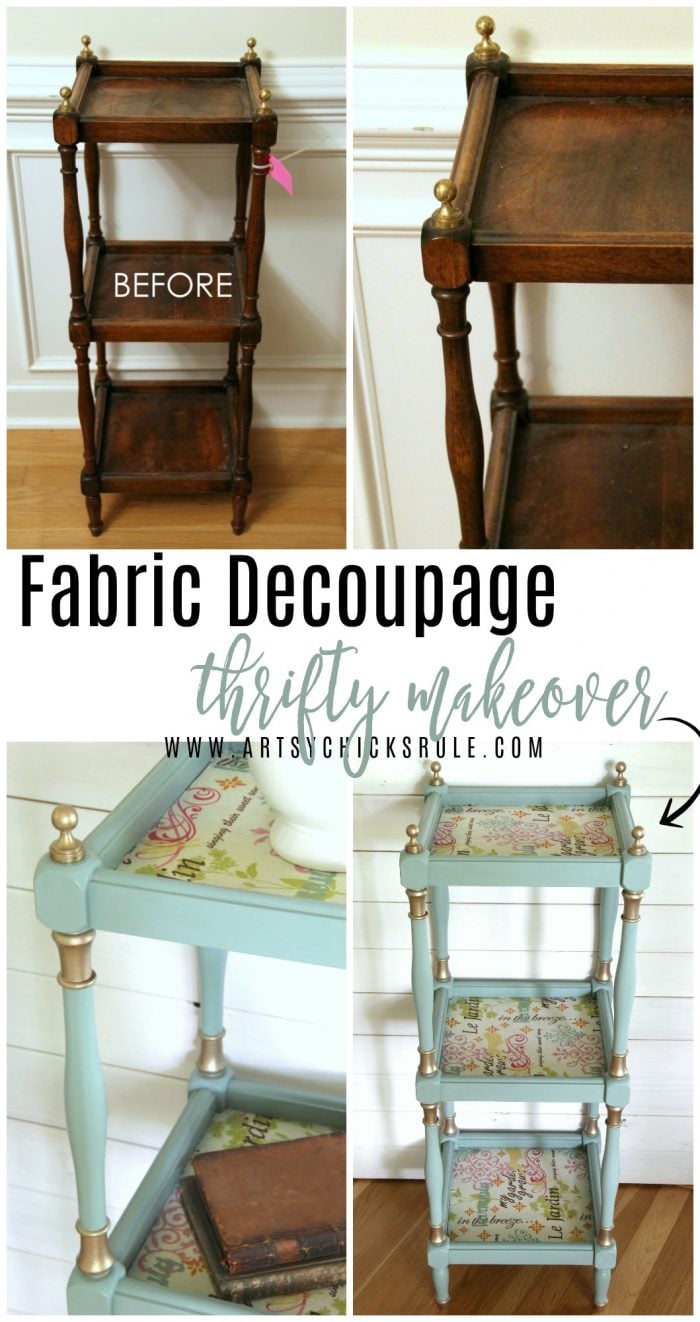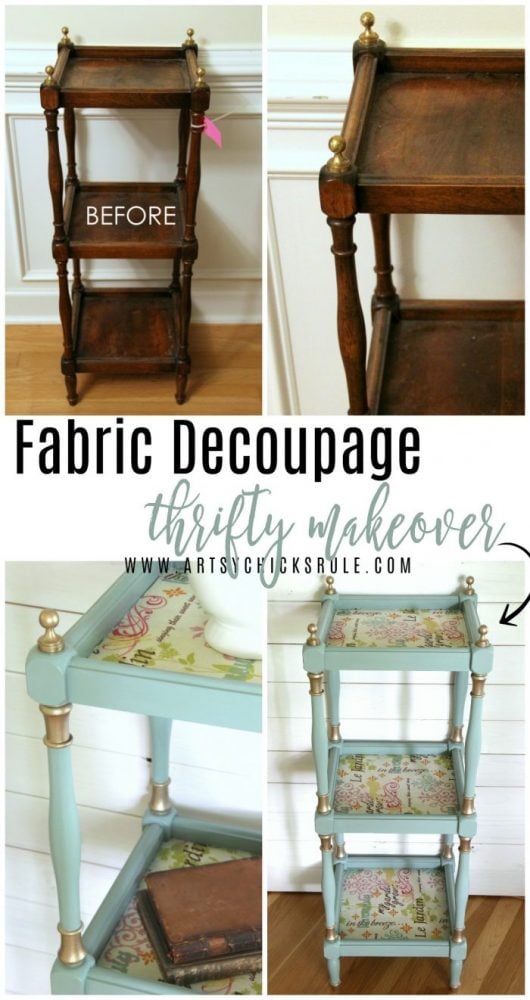 Love this French fabric decoupage project?? (this time, drawer fronts!)
You might also love this one below!!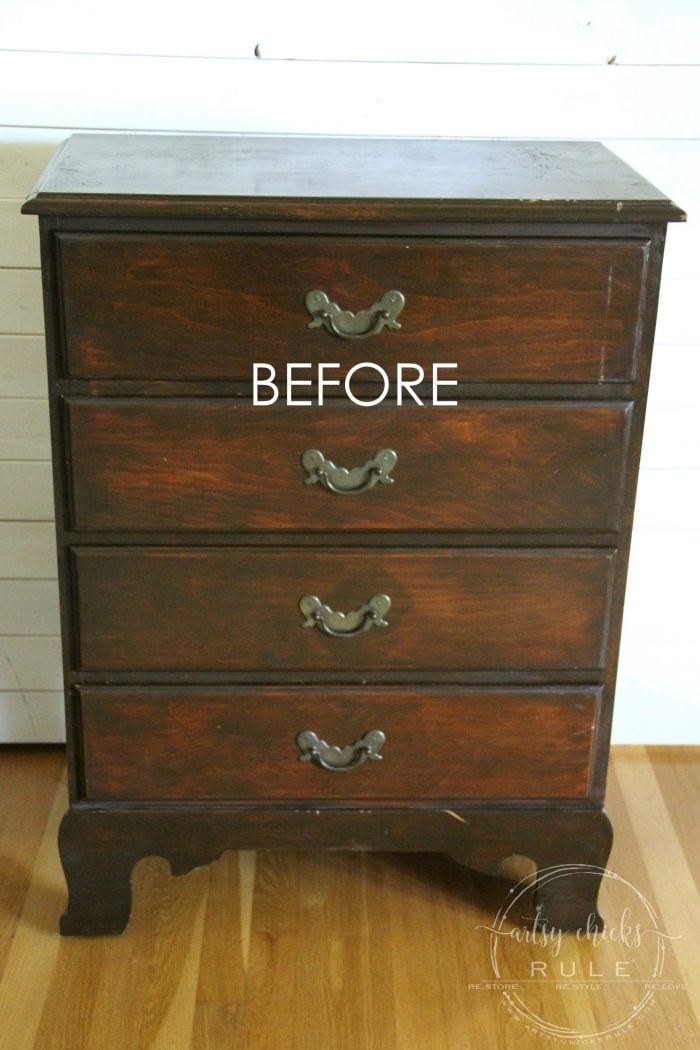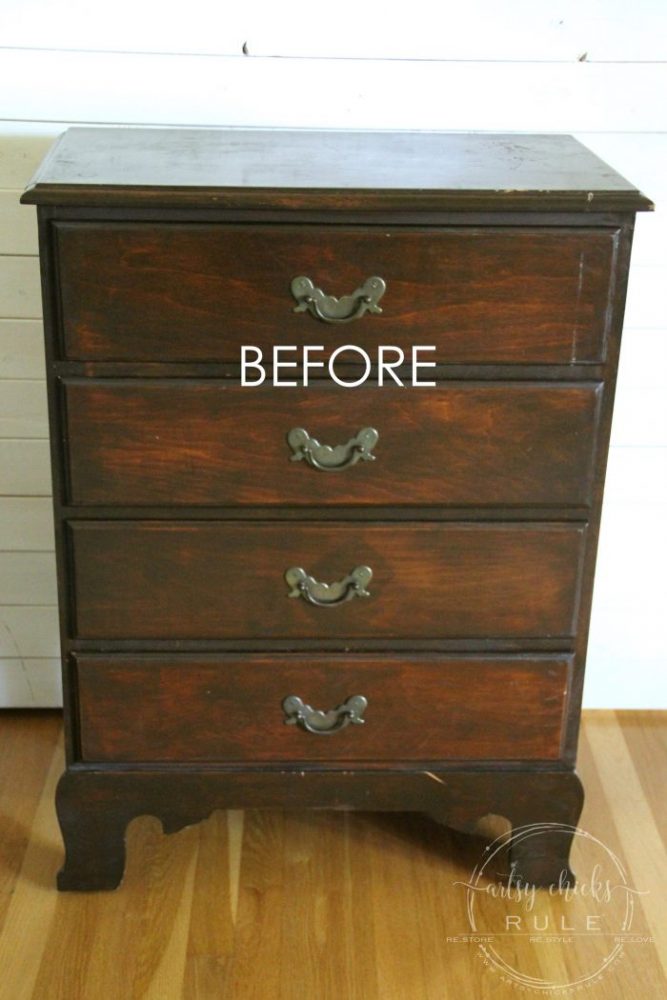 And don't forget to visit my friends trash to treasure transformations this month too, below!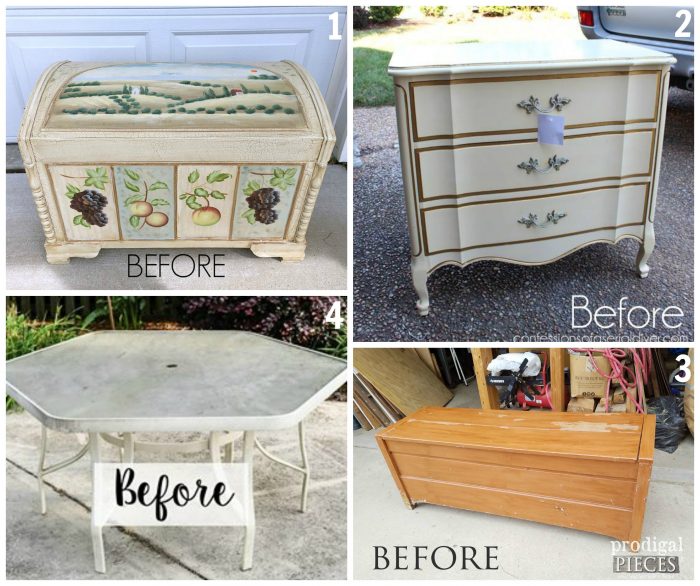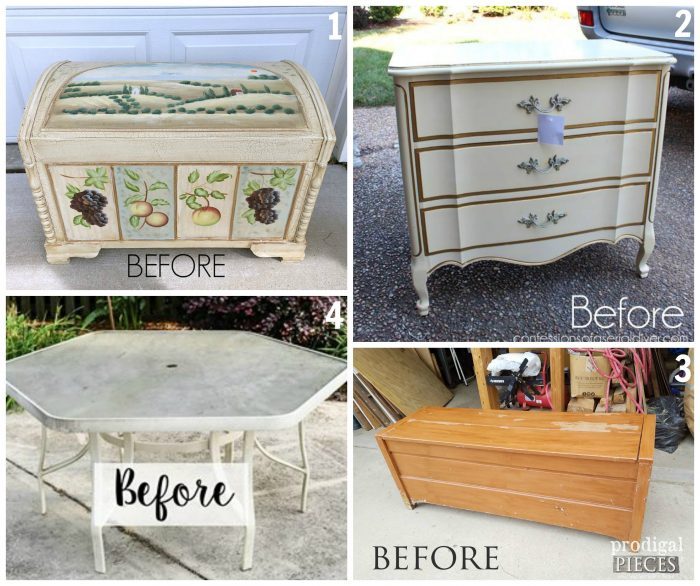 Want to see even more Trash to Treasure Transformations? Click here to see more in this series.
Love shiplap? I'll see ya back here on Thursday with a simple, and inexpensive, tutorial!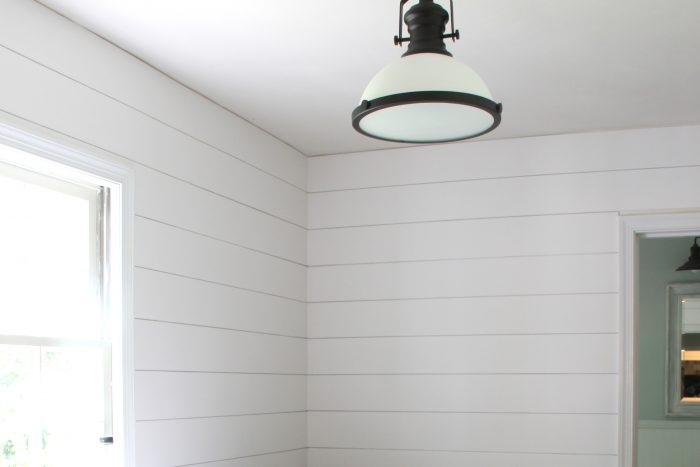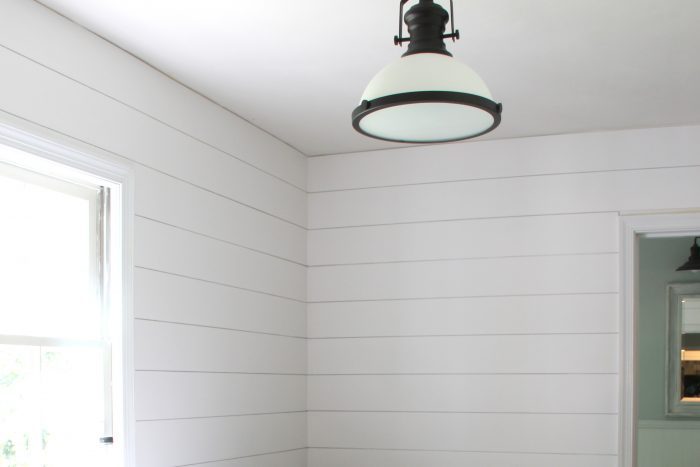 UPDATE!! See it how, here!
xo