Coffee Table Makeover with Prima Transfers (SO simple!!)
This post may contain affiliate links. Please see disclosures here.
Today I'm sharing a fun new product (to me, anyway!)…..Prima Transfers….and how I transformed this old coffee table with them!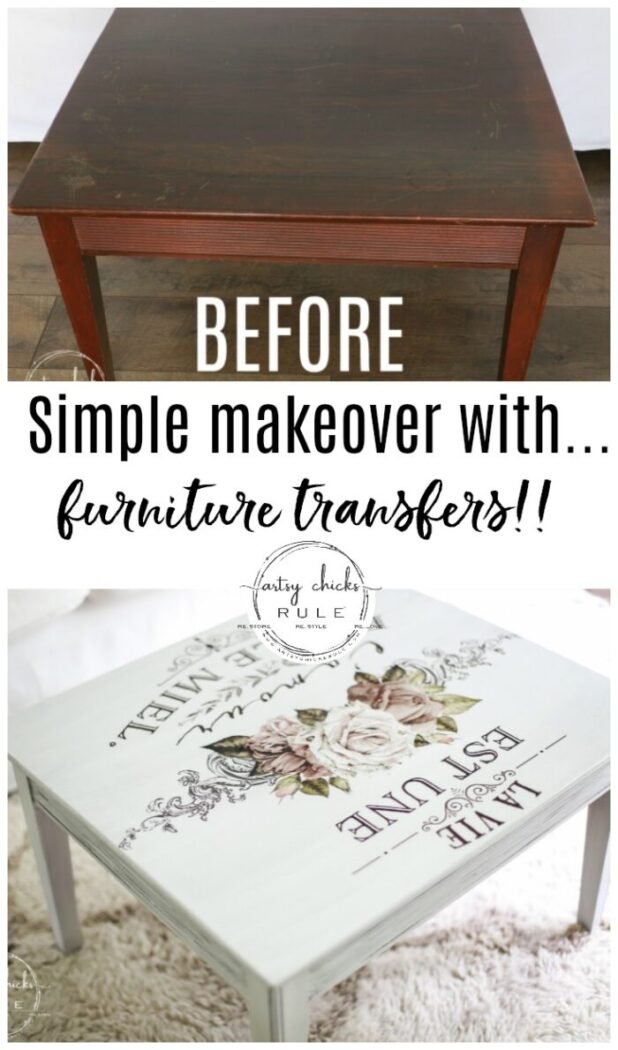 Hey friends!
I'm sharing something really fun today….Prima Transfers.
They are some new furniture transfers I came across a while back. Actually, you probably saw me post about them in my Instagram stories when I got them.
I hadn't had a good piece to use them on, so they sat waiting on me.
I have some really pretty ones (and big ones) just waiting for the right piece to use them on. I can't wait.
I do have one piece in storage (and old dresser and mirror) and know exactly which one I'm going to use on it. I'm thinking pinks, or varying pinks for paint color underneath. :) Stay tuned!
These babies are SO simple to use, you guys. And you know I'm all about simple and easy! ;) That's why I've been using my Silhouette Cameo so much more lately.
But I tell ya, these even beat that.
Here is the little table that got all this special treatment…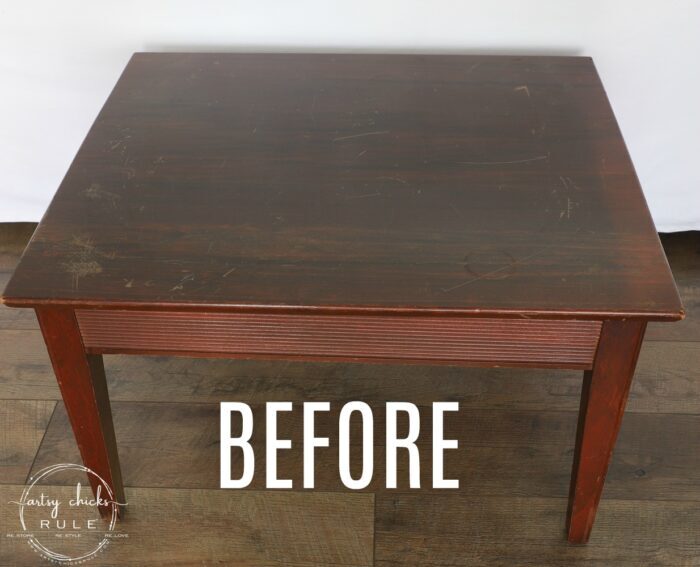 Not so much to look at "before".
Quite beat up, actually.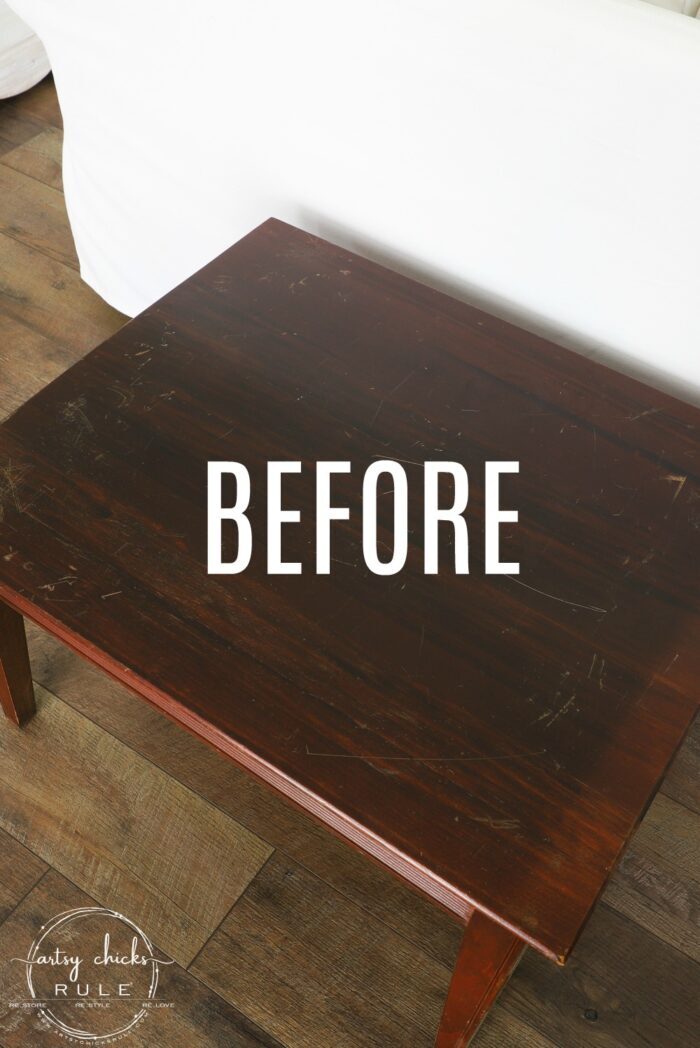 And that lovely reddish wood/stain we all love so well. ;)
And with that, I started out by cleaning this one up well, then spraying it with this Shellac based primer.
(Want to see even more of my favorite furniture makeover supplies??? Take a look in my very own curated shop, here!)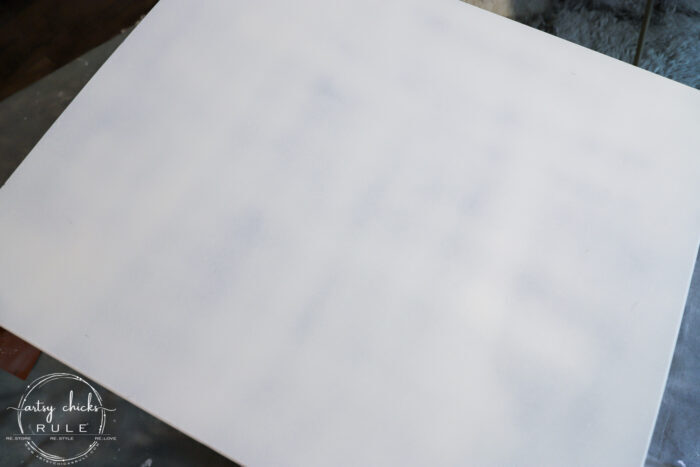 The reason I use the Shellac base primer is because that reddish wood is notorious for "bleeding" through your paint.
Especially white, which is the color I was going to paint it. I will sometimes use this Shellac spray but went with the white one this time since it was getting painted white.
Much less white paint was needed. I only had to do one coat and some touch-up areas.
Want to see some of these projects in "live" time? Hop on over and follow along with me on INSTAGRAM. I'm always sharing in my stories as I'm doing projects, finding new furniture, fun finds….just all the day to day behind the scenes. 
Next, I gave it that 1+ coat of white with my fave white chalk style paint.
Once that was very dry (it's good to wait 24 hours…I'm a rebel, I didn't wait that long…at all, do as I say, not as I do ;) ) carefully line up the transfers where you want them.
Are you new to chalk painting?? This post might be helpful to you >>> "How To Chalk Paint Furniture & More (tips & tricks I've learned!)"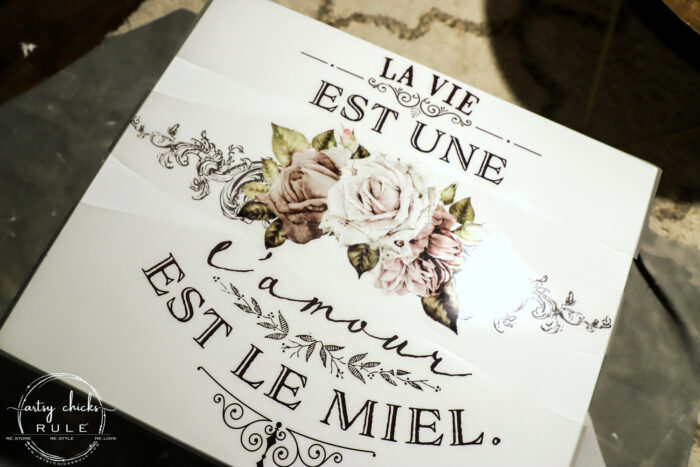 Measure, measure, measure! (and cut them if they are overlapping)
The Prima Transfers I used for this one had one too many elements, so I omitted one of them to fit.
Once you have it exactly how you want it, tape it down so it won't move.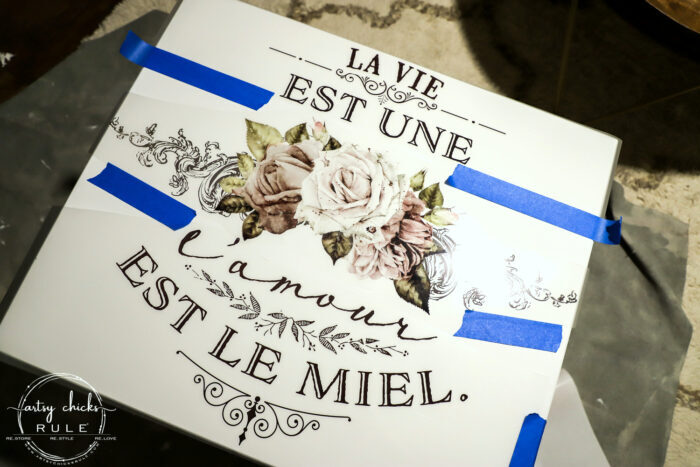 Then you just rub over it with the stick ("applicator tool") they provide until it has all transferred over.
TIP: It does take some work to get it all down. Be sure to carefully lift as you go, making sure it has adhered. If it hasn't, place it back down and rub again.
If it rips or tears, place it back down and rub, rub, rub. I had that happen in several places and as long as the transfer does not move, once it's completely down, you can not tell.
The Prima Transfers are extremely thin (which is how you want it on furniture) so just take care when peeling up the plastic top sheet.
I was amazed at how it looked once I was done with it…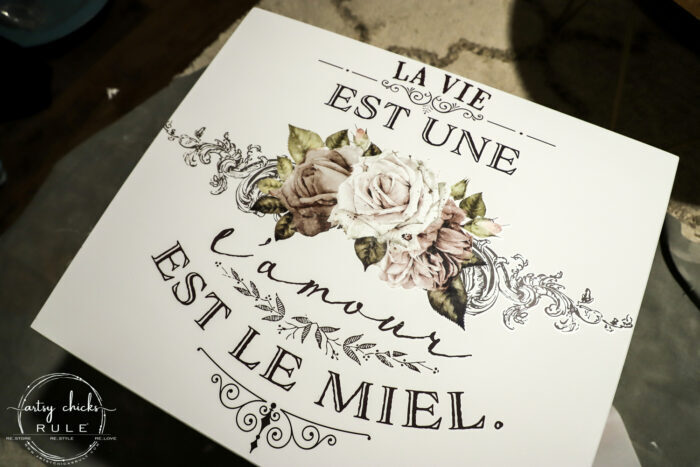 SO easy!
I then gave it 2 coats of my favorite top coat.
And done!
That simple….really. I can not wait to use the rest of the ones I purchased!
Isn't she a beauty???
I sure do think so!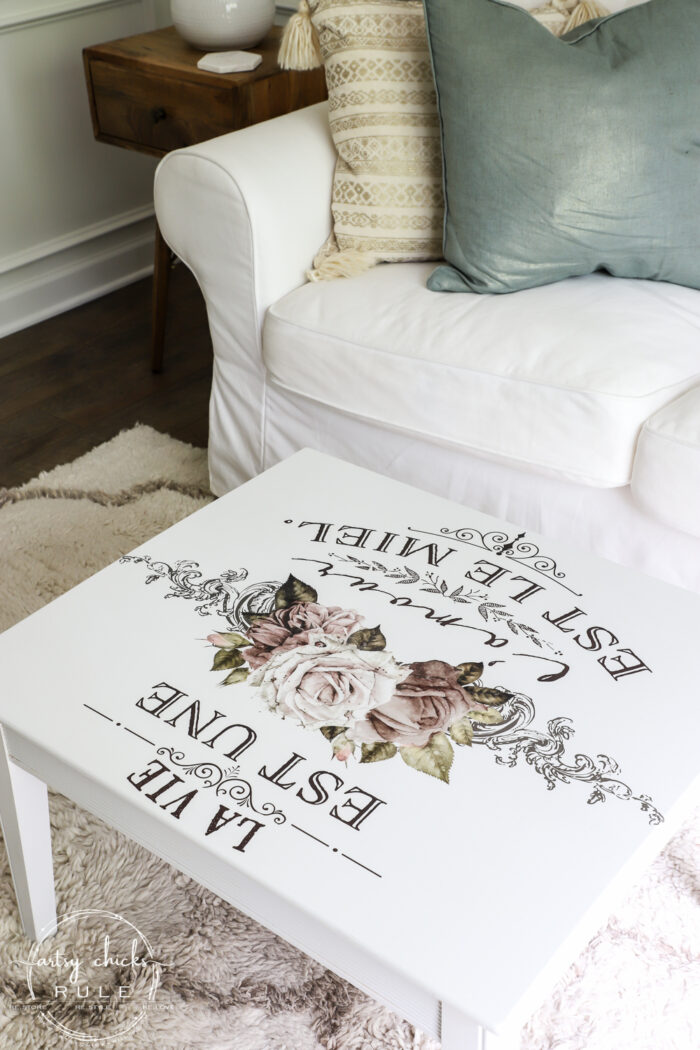 Nice clean lines.
What a difference, right??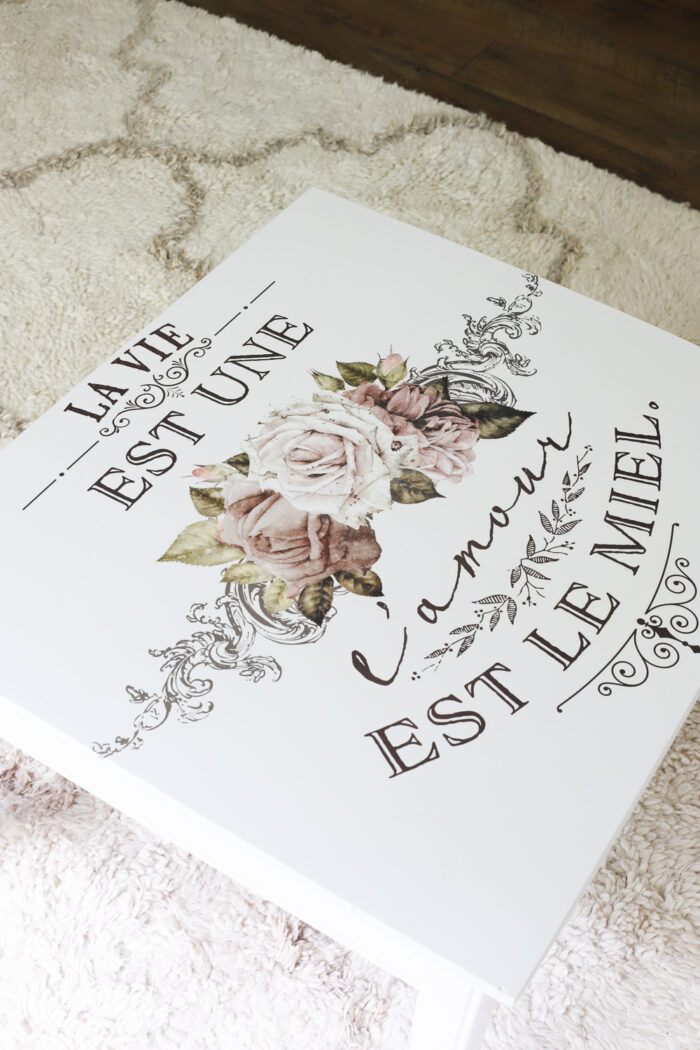 These Prima transfers transformed this old table beautifully.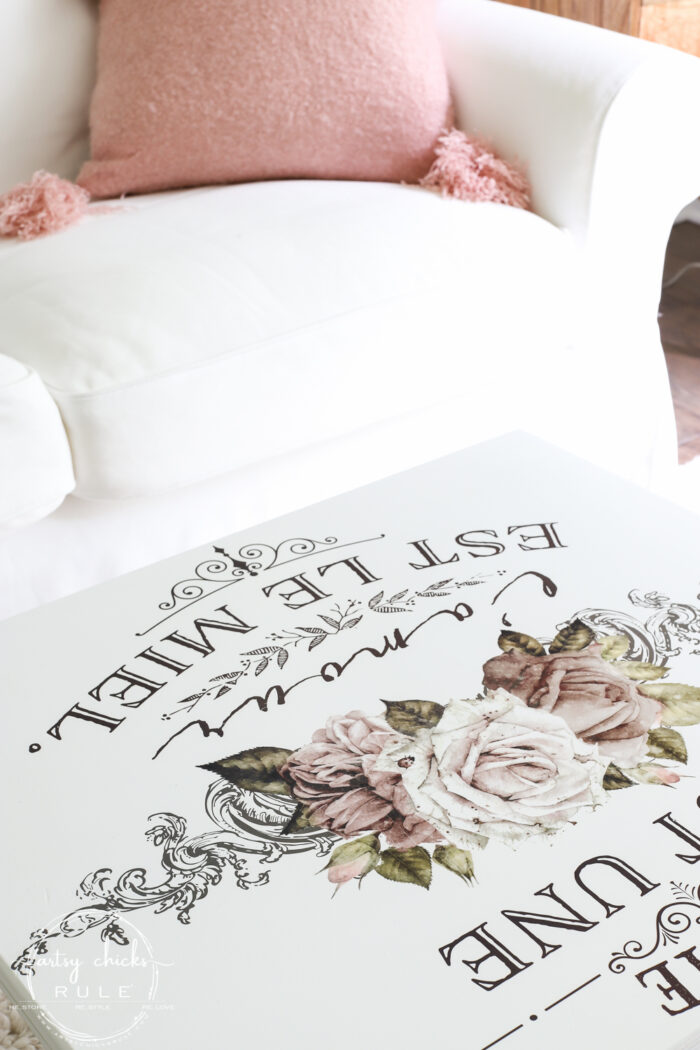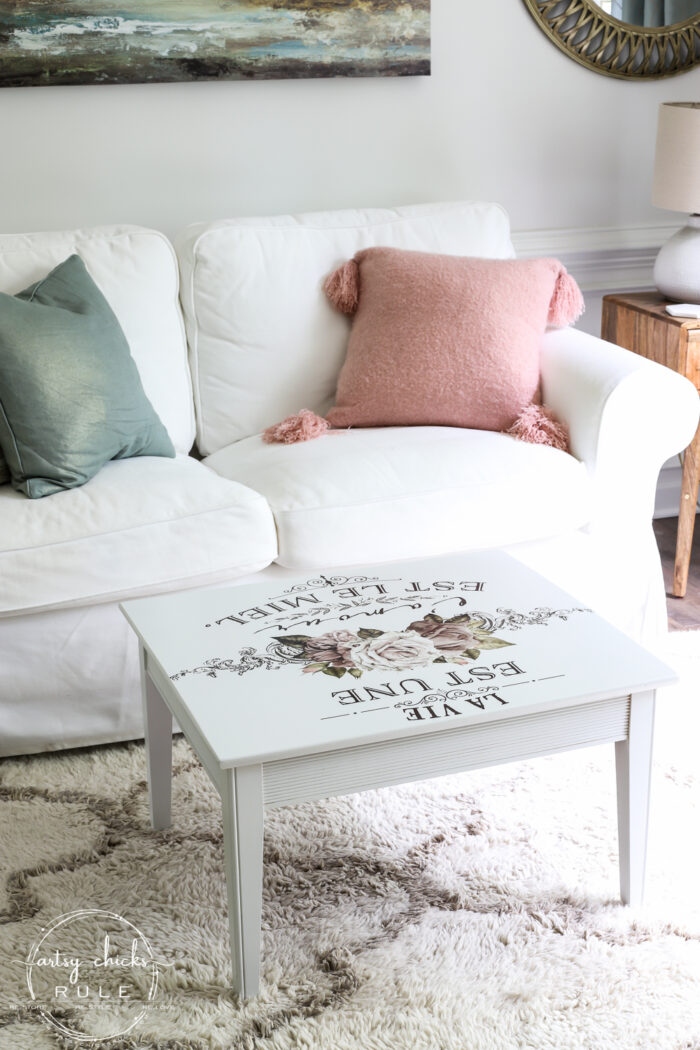 But I wasn't quite done with it yet. 
Because it had an antique look to it, I had originally considered using a dark wax or glaze on it.
Especially with those side groves.
But I liked it so much all white, I decided to take some photos of it like that before I did. :)
These next photos are showing how it looks after I added a dark gray glaze. (<<<I've had this for a while too and finally got around to using it! )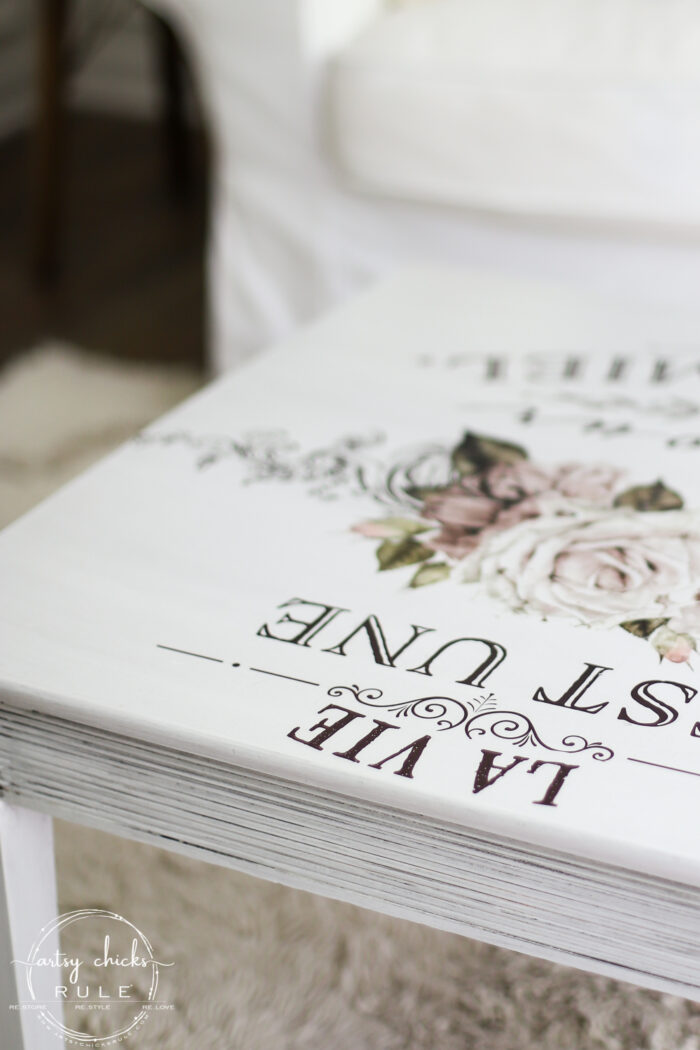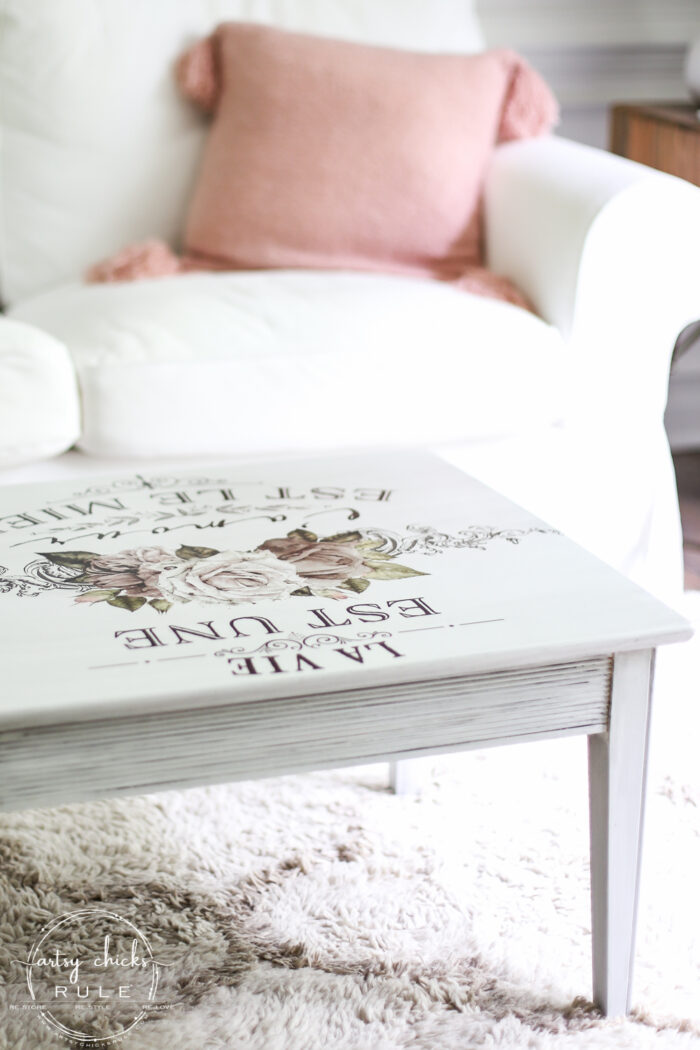 I applied it all over lightly and let some of it settle into the grooves.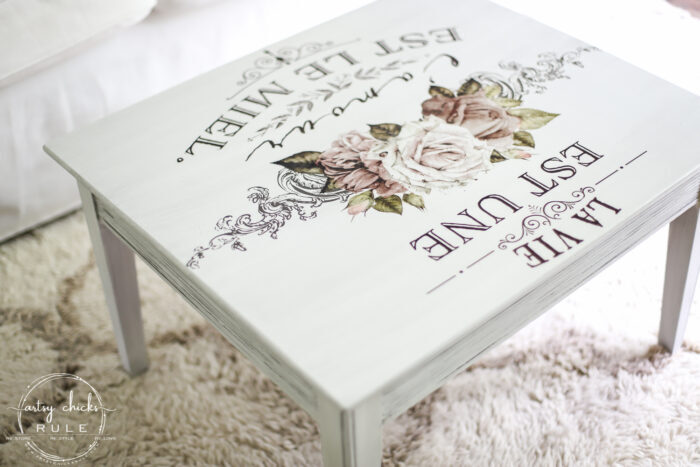 It's hard to see on the top in the photos.
I would say it just gave it a slightly aged look.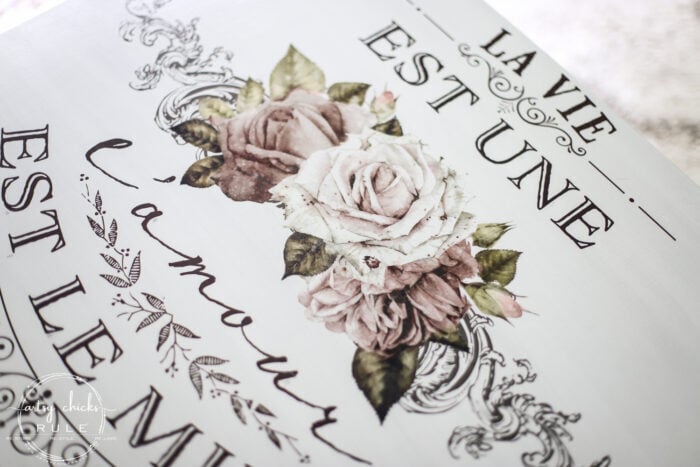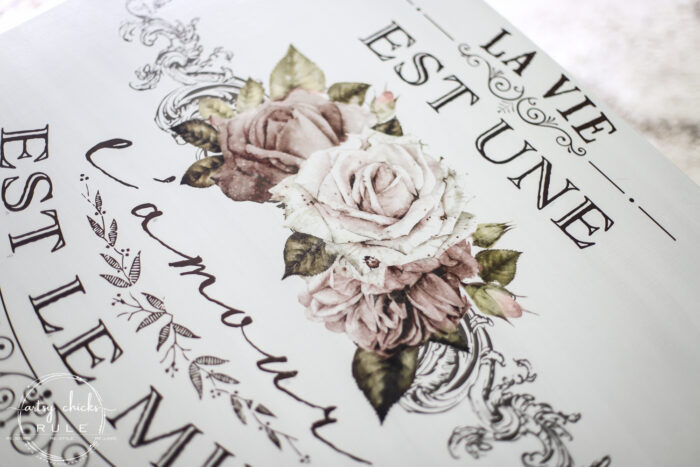 You can maybe see it a little better in this one.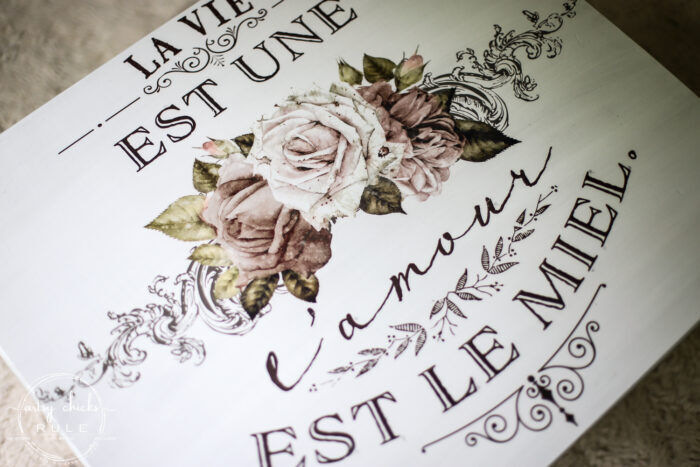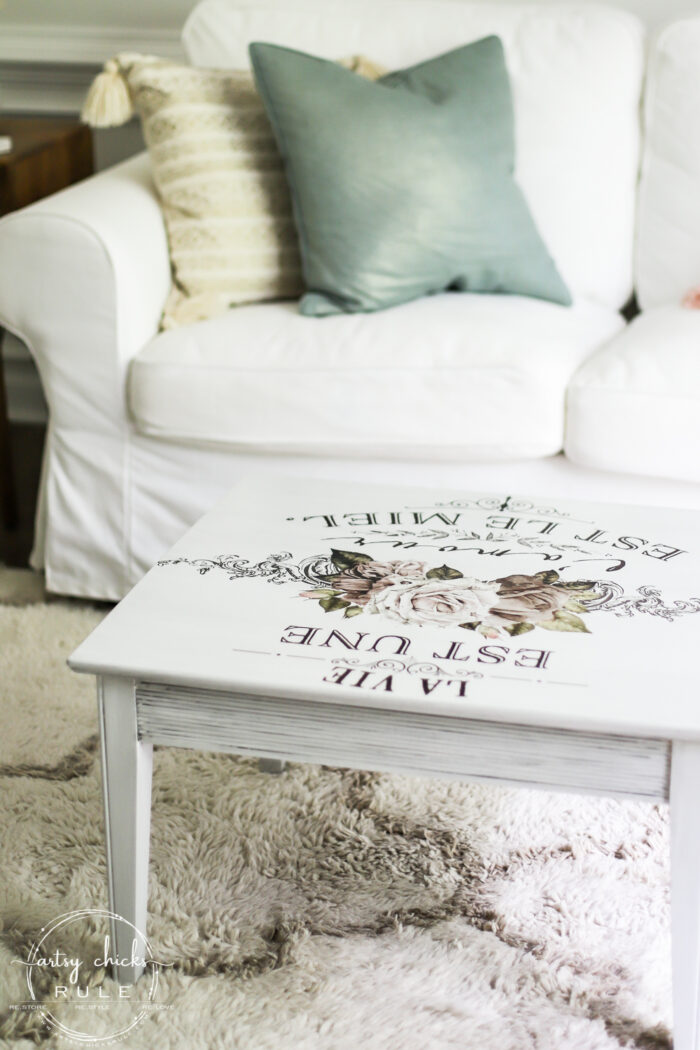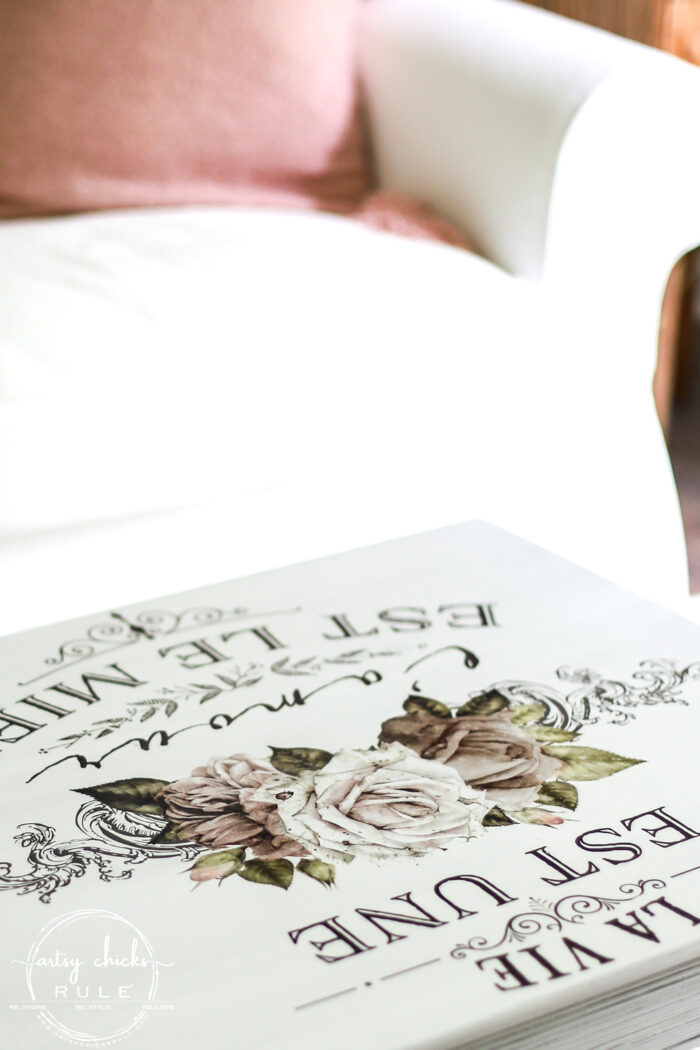 I'm not sure how I feel about it. haha
Did I like it better before?? I kind of think so.
But such is life!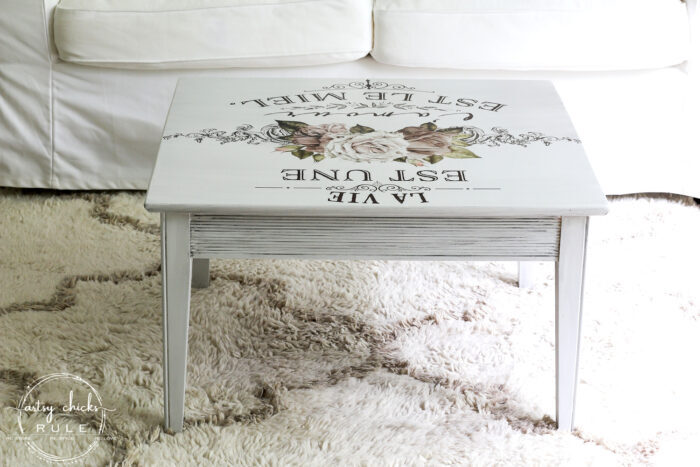 I may go over the bottom and some of the top with a white glaze to soften it a bit.
I don't know yet.
It does go along nicely with the "old" look of it. So we'll see!
Which way do YOU like it better? With the glaze or without??
I'd love to know, tell me in the comments below. :)
PIN it to save it!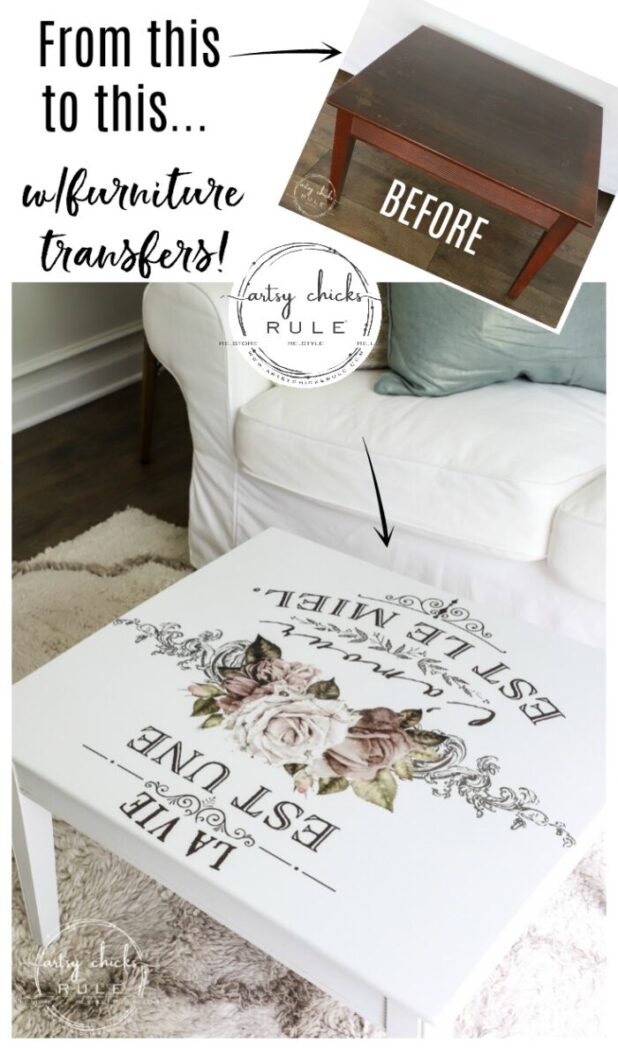 If you liked this makeover, you'll love this one! It's very similar but done differently.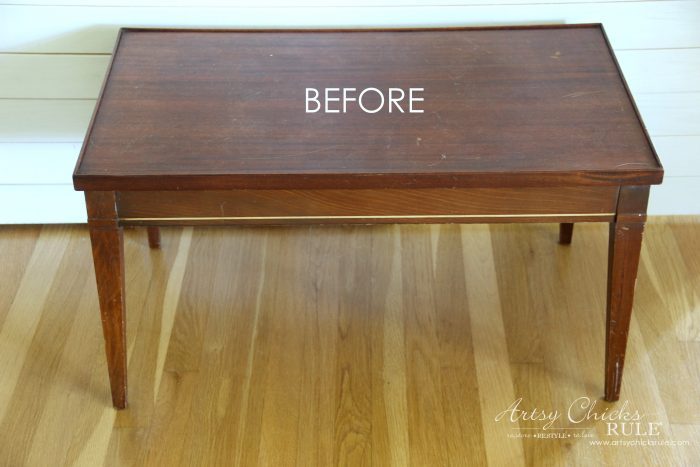 See it, here!
…………………………………………………………………………………………………….
I've been working hard on that old TV cabinet I shared, hmmm, I know I shared it somewhere! Maybe it was on Facebook??
Anyway, it ended up needing much more work than I had anticipated.
I think the bottom was in moisture/water maybe, at some point?
All of the layers of wood are separated and the veneer on the doors are somewhat too.
I have some gluing and clamping in my near future. ;)
But I'm going to try very hard to have that one done for you guys next week!
I will be sharing this one next though, so keep an eye out for it!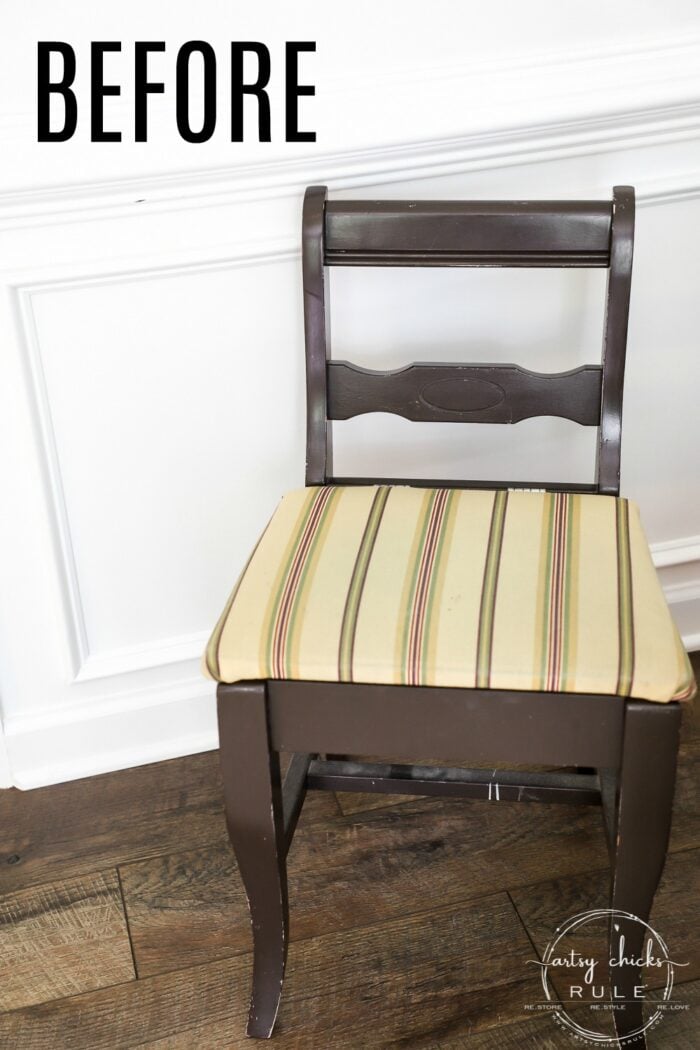 UPDATE, see it now, here!
I hope you have a wonderful weekend!
xoxo