$5 Old Trunk Coffee Table (A Thrifty Makeover!)
This post may contain affiliate links. Please see disclosures here.
Old trunk coffee table? Why not?! These little guys are fairly abundant at garage sales/thrift stores and perfect for all kinds of uses!
Happy Trash to Treasure Tuesday Friends!
I'm so excited to share this little old trunk coffee table with y'all.
I've had the trunk in my storage unit for several years and finally pulled it out to give it a much needed makeover.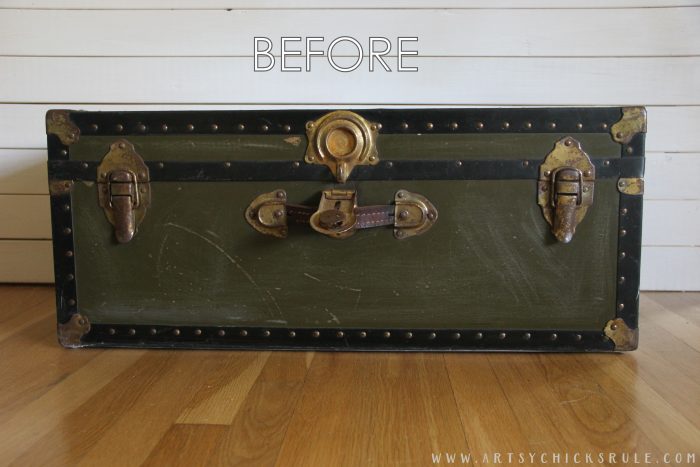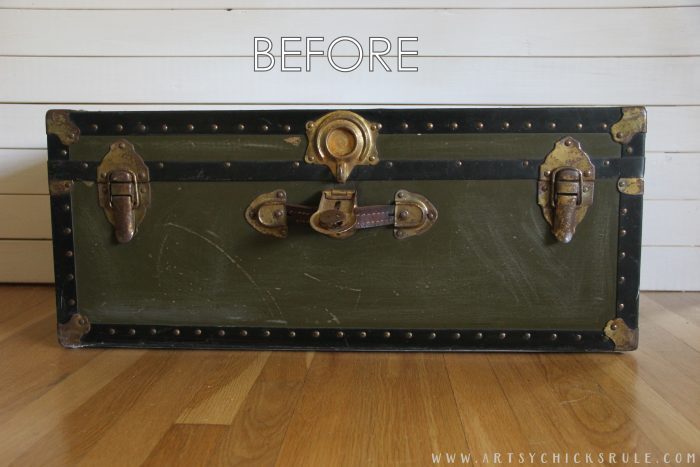 It was in pretty sad shape but I really love giving old trunks makeovers.
Especially when you can make something that looked like that above, like this….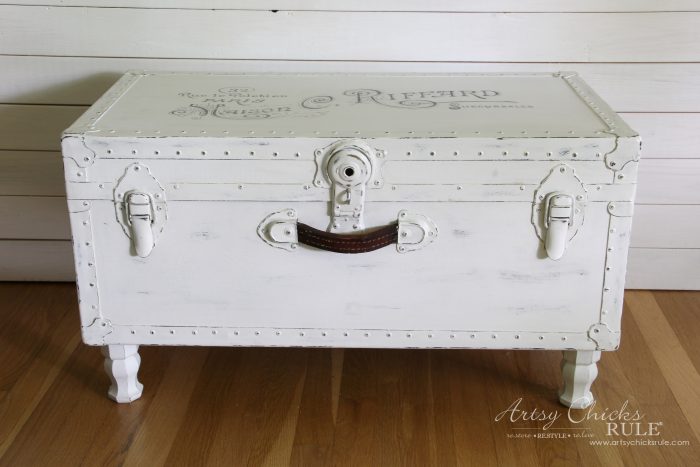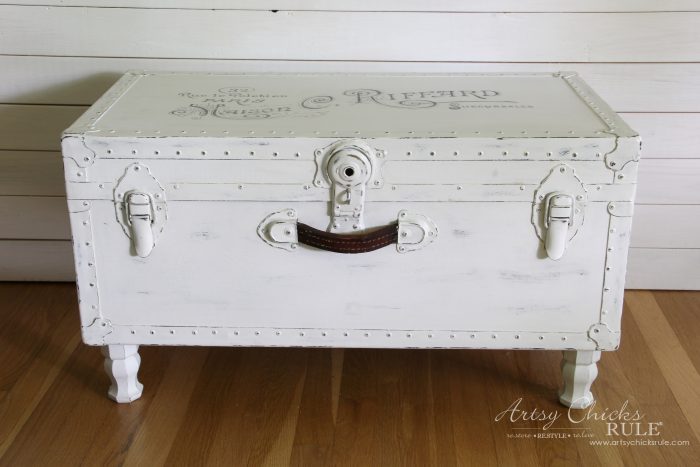 Paint does wonders, I tell ya.
MATERIALS LIST
Black Paint
Wood Feet (mine came from Lowe's and we cut off the bottom section to make them a bit shorter)
Script Liner Brush (this is a nice set)
This Graphic (from The Graphic's Fairy)
Sandpaper for distressing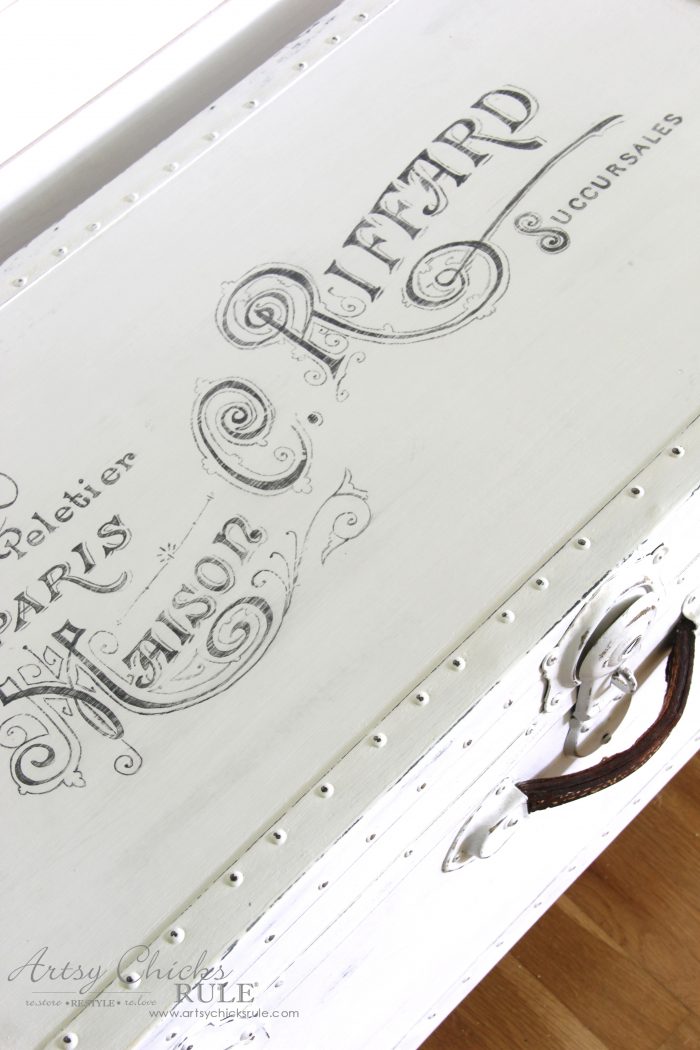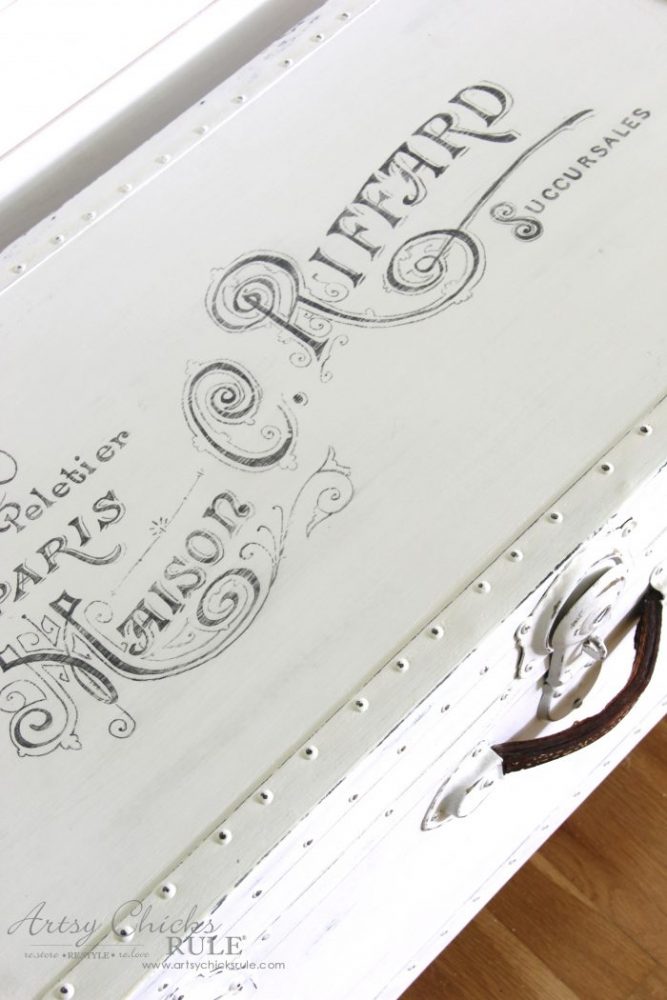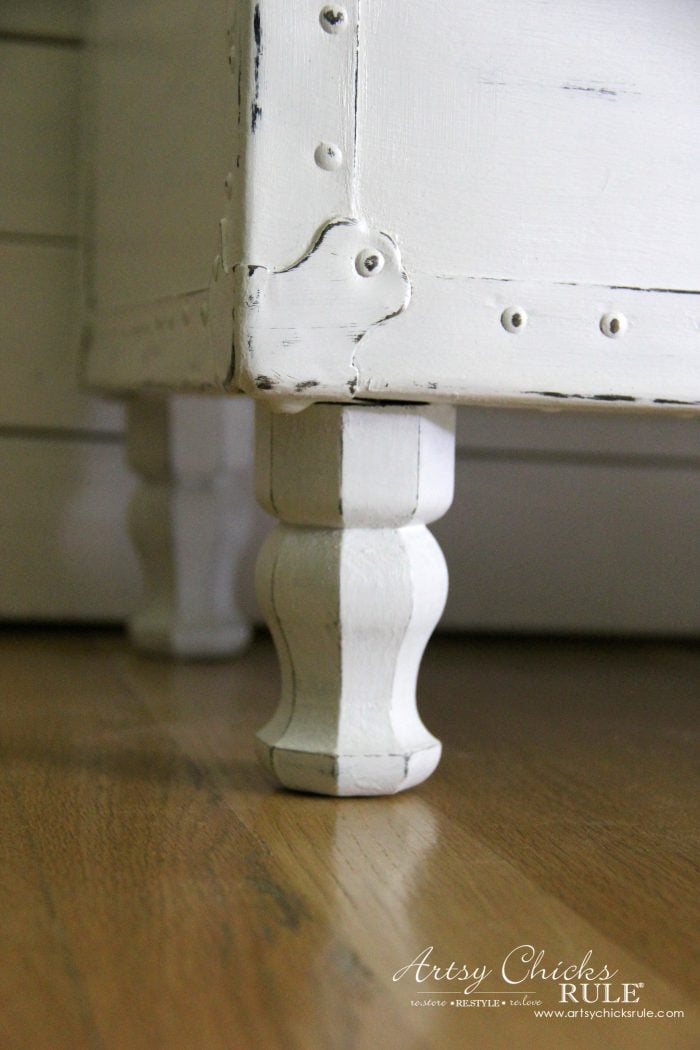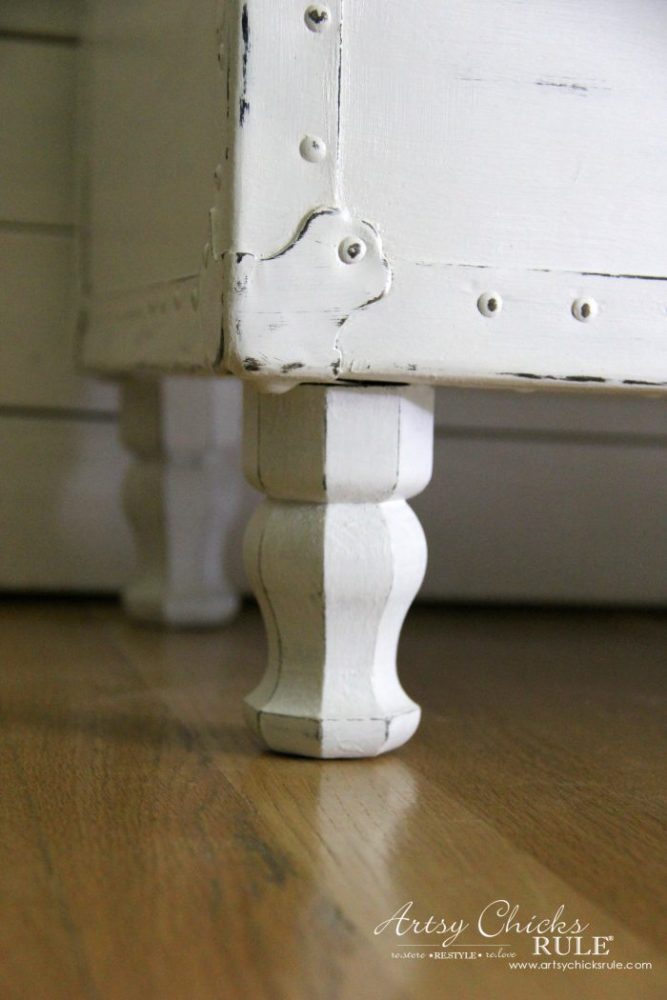 These feet had one more little "ball" on the bottom that I did not like so I cut it off.
The turned up edge of what was left looks so much better as the "bottom" of the leg. (and the scale was a bit better too)
I also decided to keep the old, worn, cracked leather handles unpainted.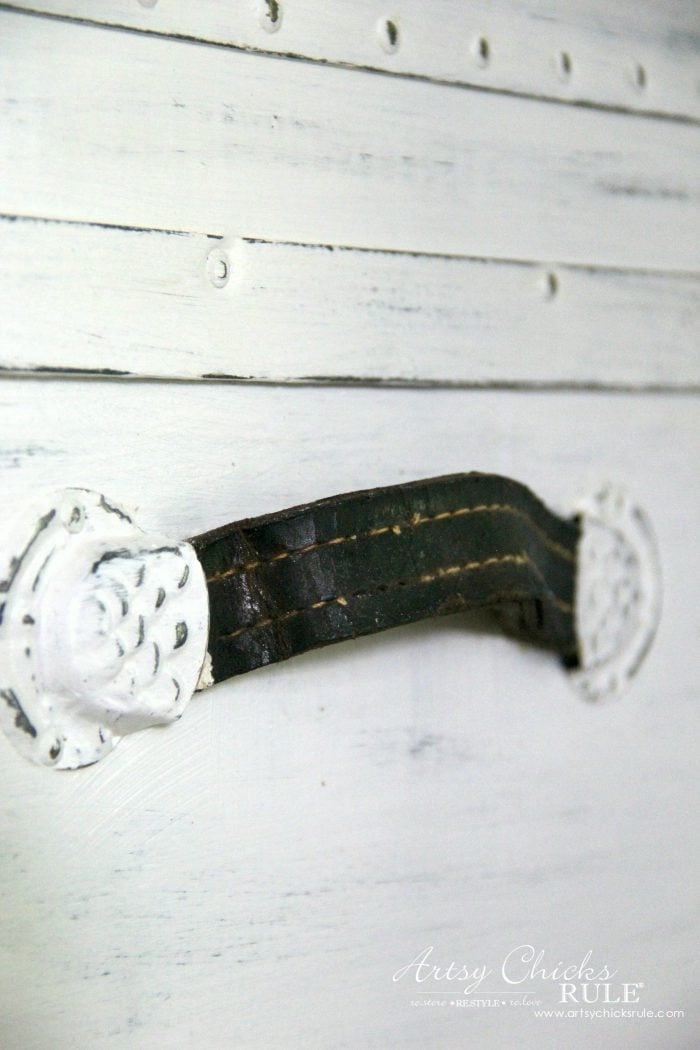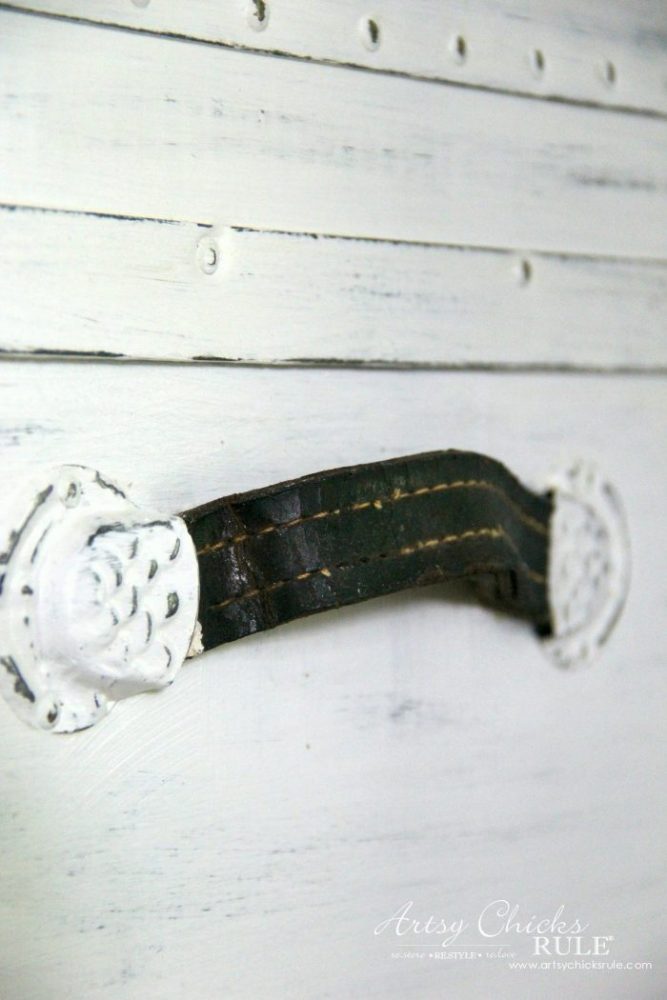 Want to know about 26 other chalk style paints?
I've got the low down for you right here! >>> 26 Types of Chalk Style Paint For Furniture
And here's how I turned this old trunk coffee table. :)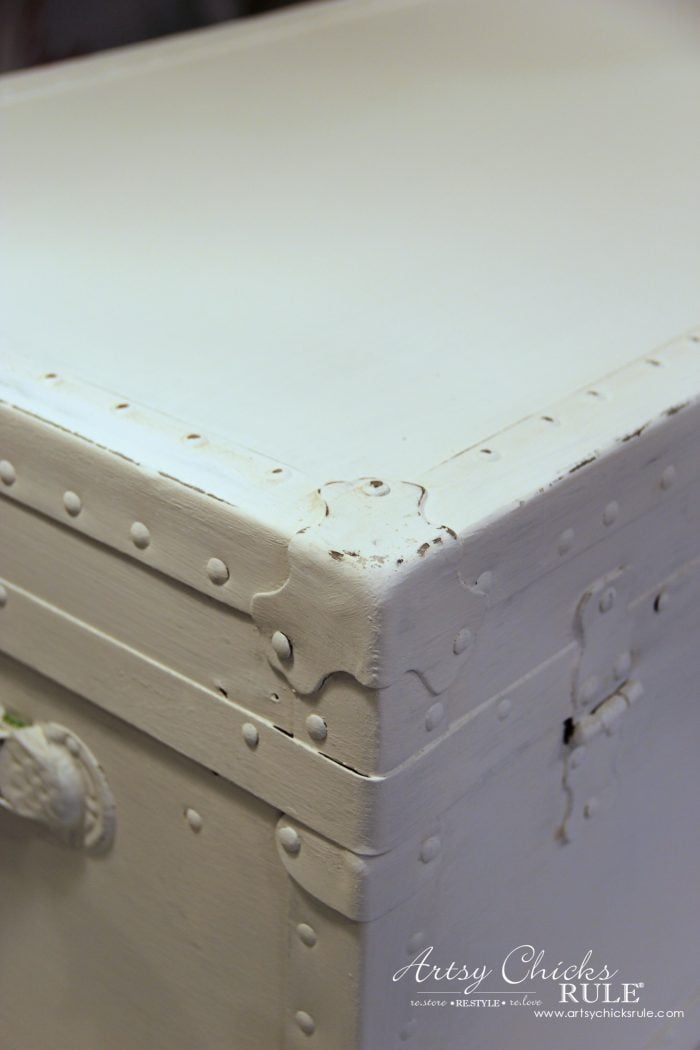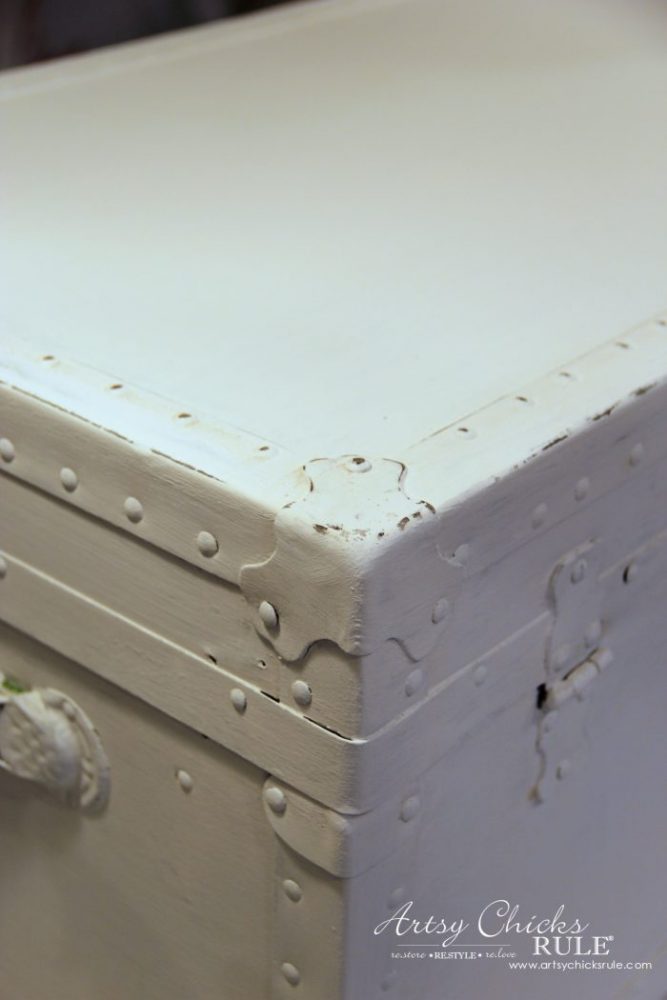 I painted 2 coats of the chalk-like paint I linked above.
And then I distressed it quite a bit after it was dry.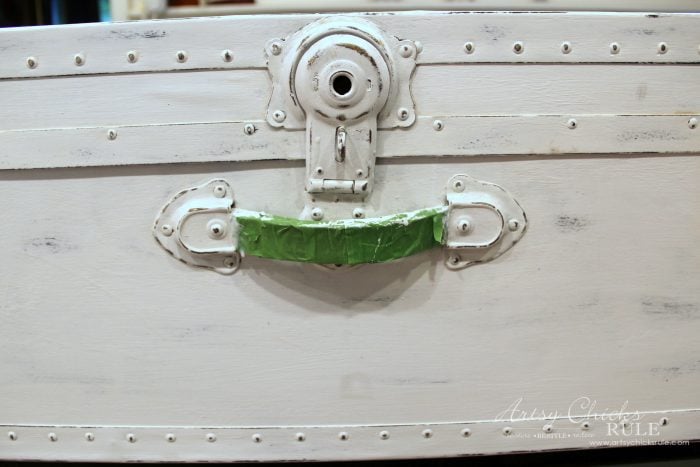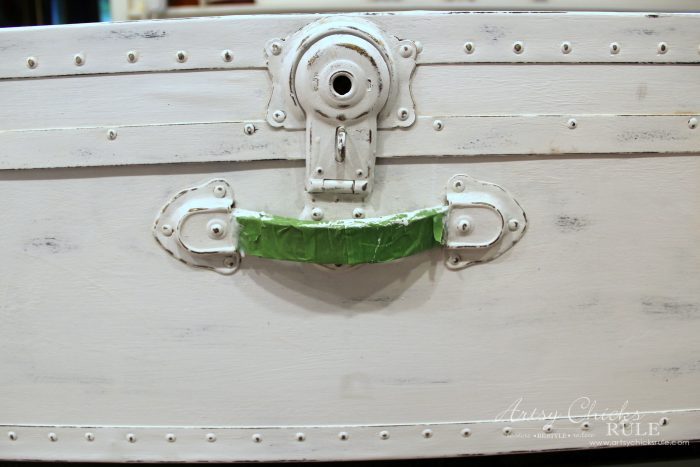 I taped those handles to keep them natural, unpainted with my fave painter's tape.
Then I printed out the graphic (also linked above :) ) using blockposters . (com).
I lined it up and transferred it using the carbon paper mentioned earlier.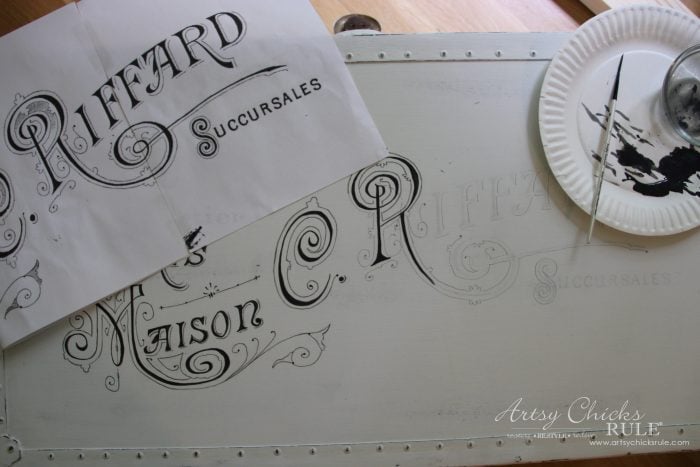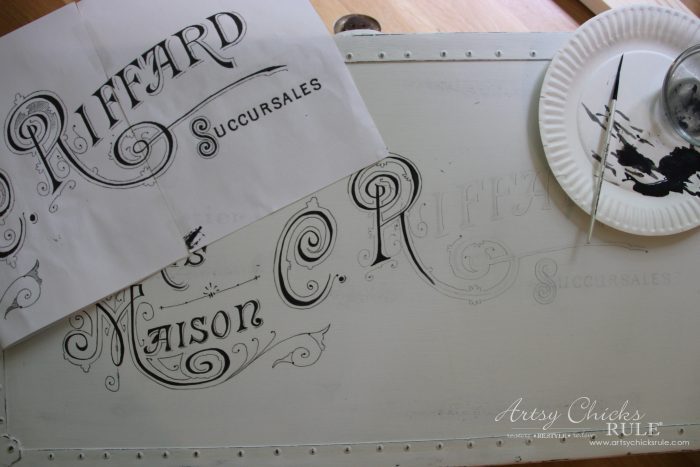 And hand painted it in. I used Chalk Paint in Graphite but you can use any black or dark gray paint.
The script liner brush is a must for this type of painting though.
Plus, another thing I always do is keep the printout that I transferred with handy so I can glance at it as I paint.
Want more tips and transfer methods?
I created a post dedicated to just that, right here>>>"How To Transfer Graphics"
Once it was dry, I gave it a light sanding to also distress it.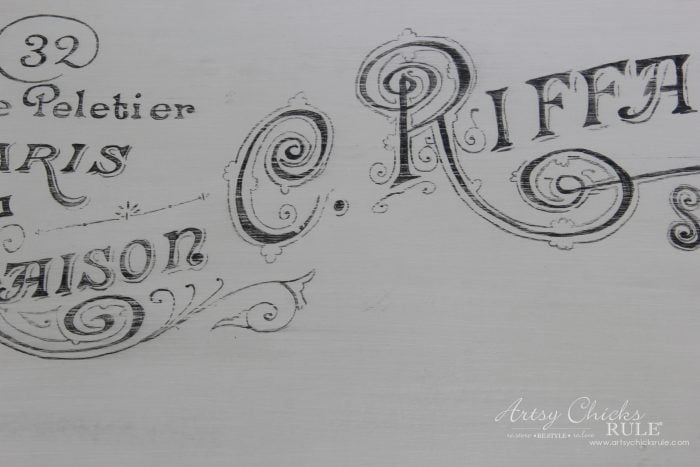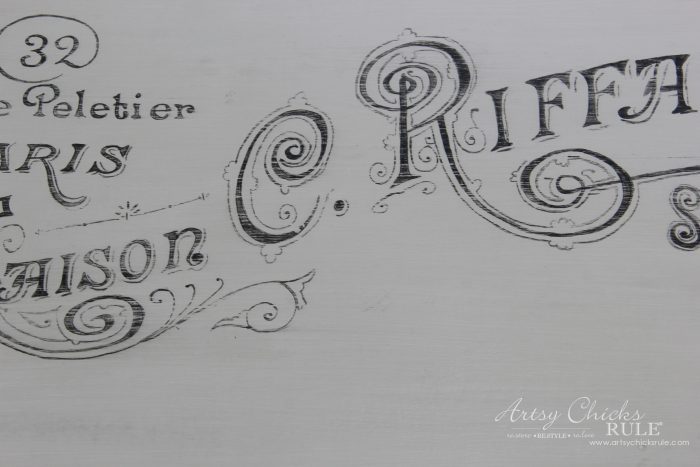 Then sealed it all up with my favorite sealer, General Finishes, High Performance Top Coat. (linked above)
You know what I did next?
I stood back and took a look at my pretty new treasure.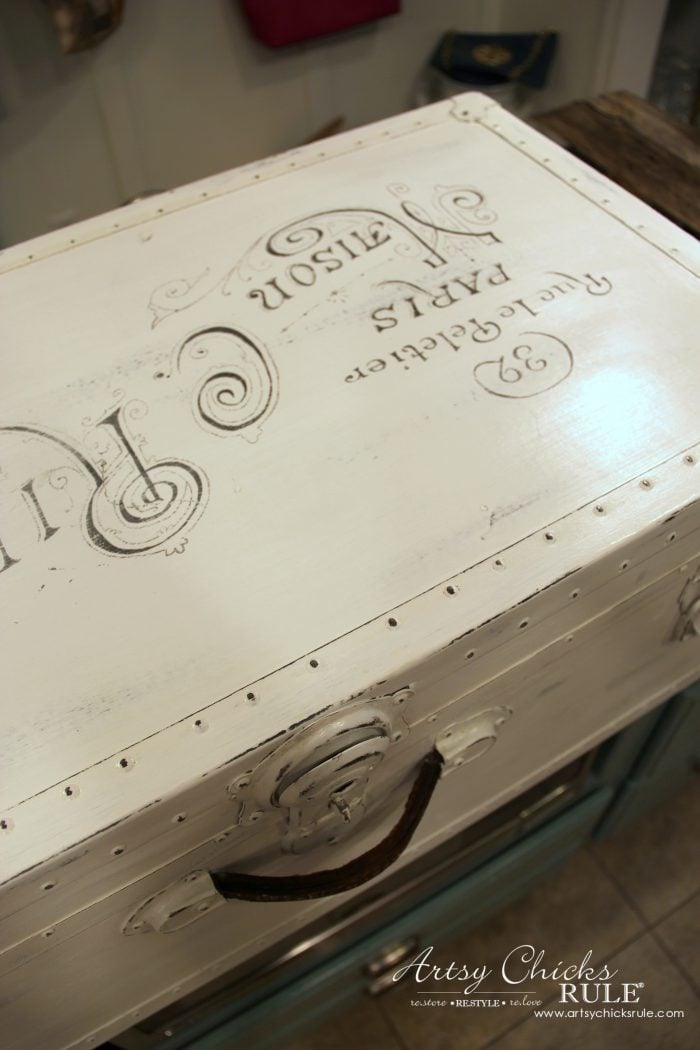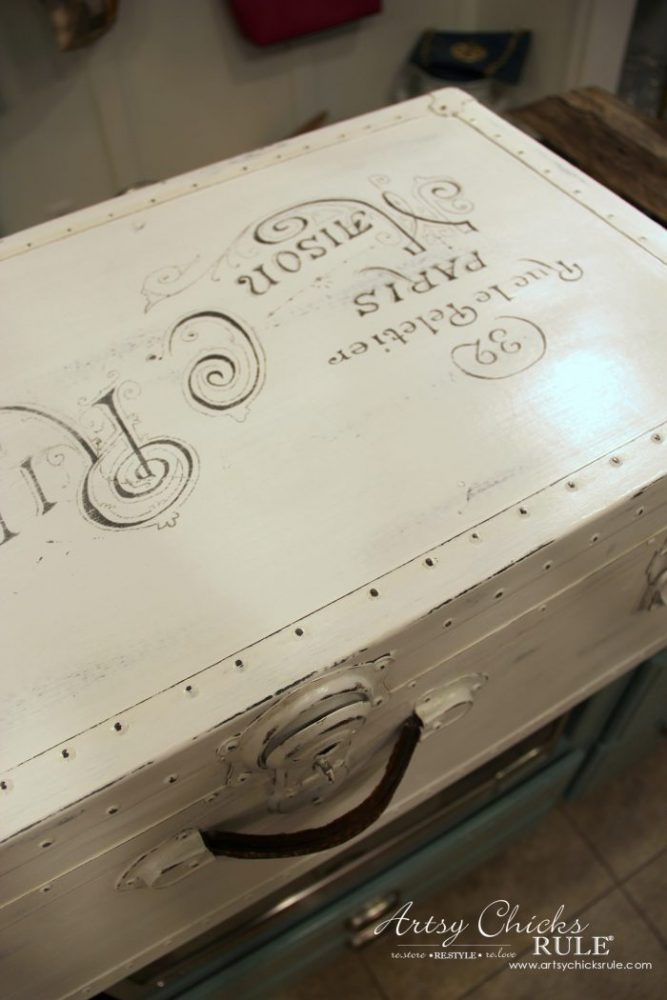 Um, what??? Whaaaaat? Or more like, WAAAAA! (as in, I want to cry right now!!lol)
I did it upside down. All that work. Ugh.
That One Room Challenge has sucked all my brain cells apparently. ;)
So yeah, FAIL. Bummer.
But in the midst of painting shelves, sanding and staining a gazillion sample pieces of wood on Sunday (trying to figure out what I would do with the new counter top in the ORC laundry room)….I repainted this. :/
Here are a few of the samples I did for the counter top, by the way. (this is only 3, I did about 25 different variations, not kidding!)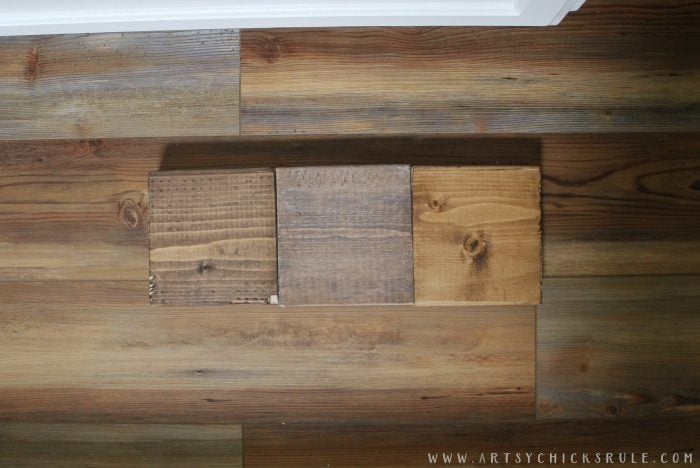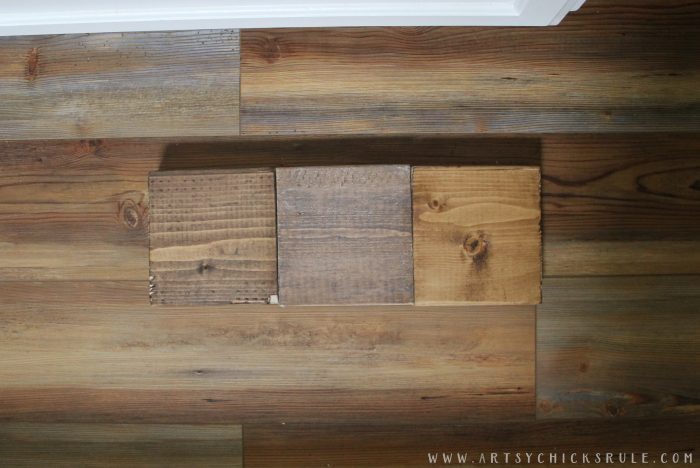 You'll have to wait until Thursday to see what I decided on! (edited! See it here!)
And so will I, since as I type this, I haven't decided just yet. ;)
But as soon as I finish here I'm back at it.
Okay, so here's what happened to the poor old trunk coffee table next…..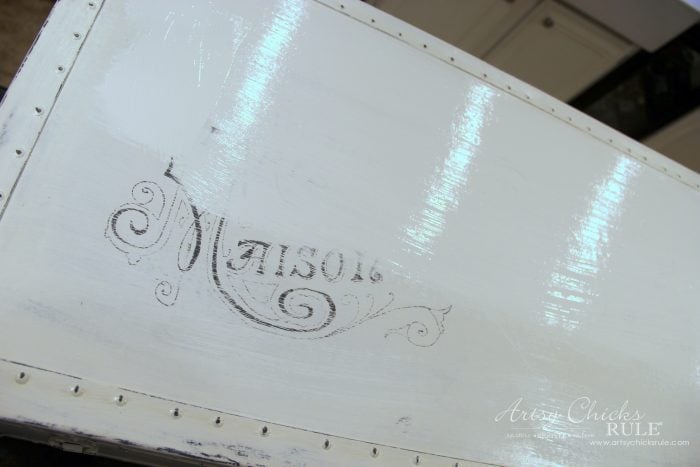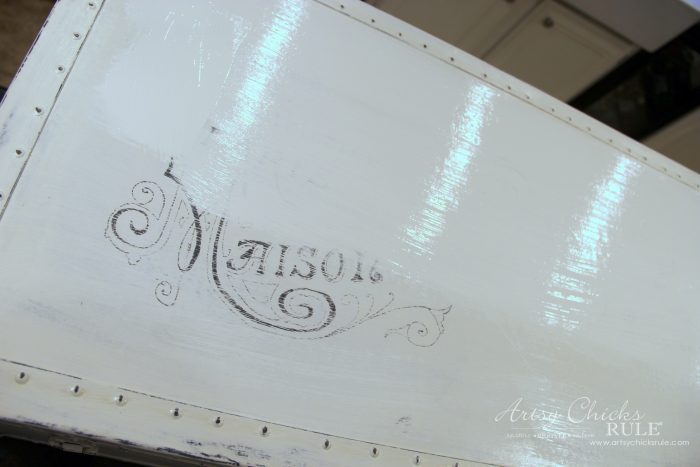 Boohoo.
And since it was about a week in between, I inadvertently printed the graphic out a tiny bit smaller.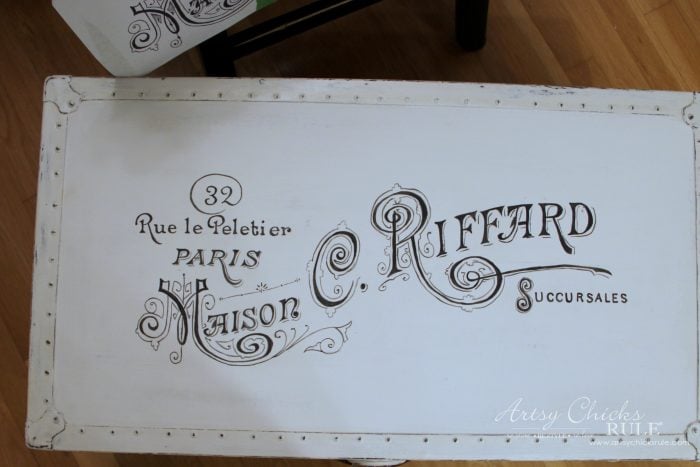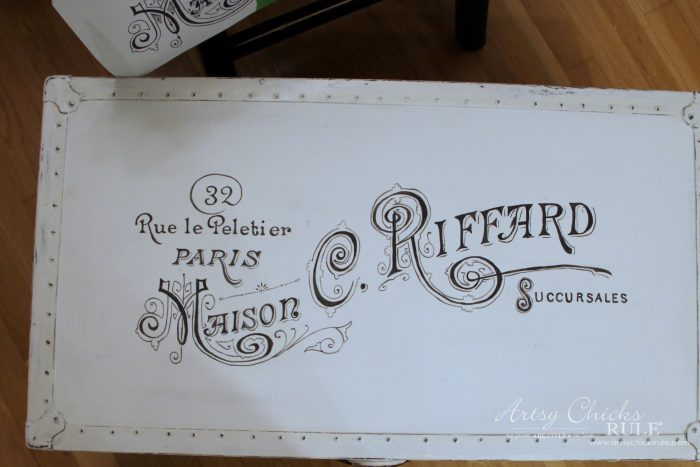 I didn't realize it until I was done and stood back to look at my work.
Oh well.
I did like the the graphic a bit larger but I'm not doing it for a 3rd time! ;)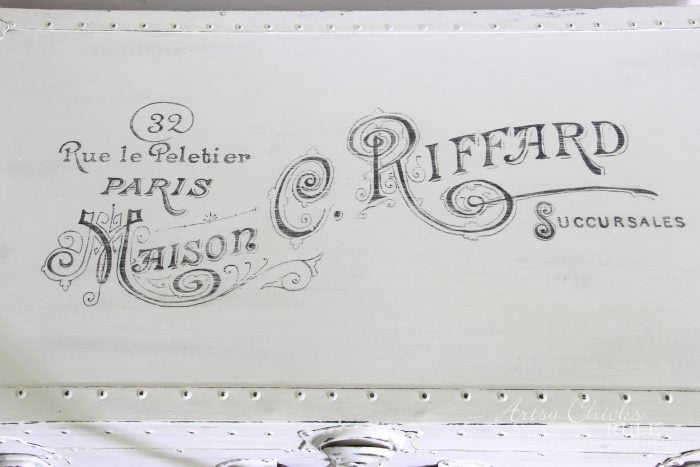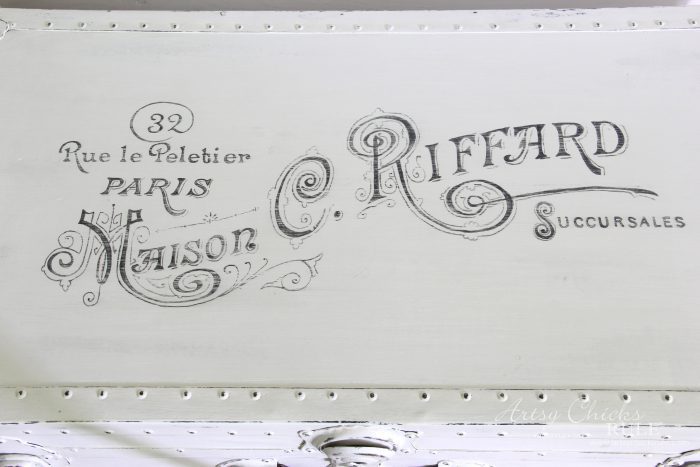 And a little roughed up.
Whew! Done again.
Oh, and here's a peek at the inside "before"……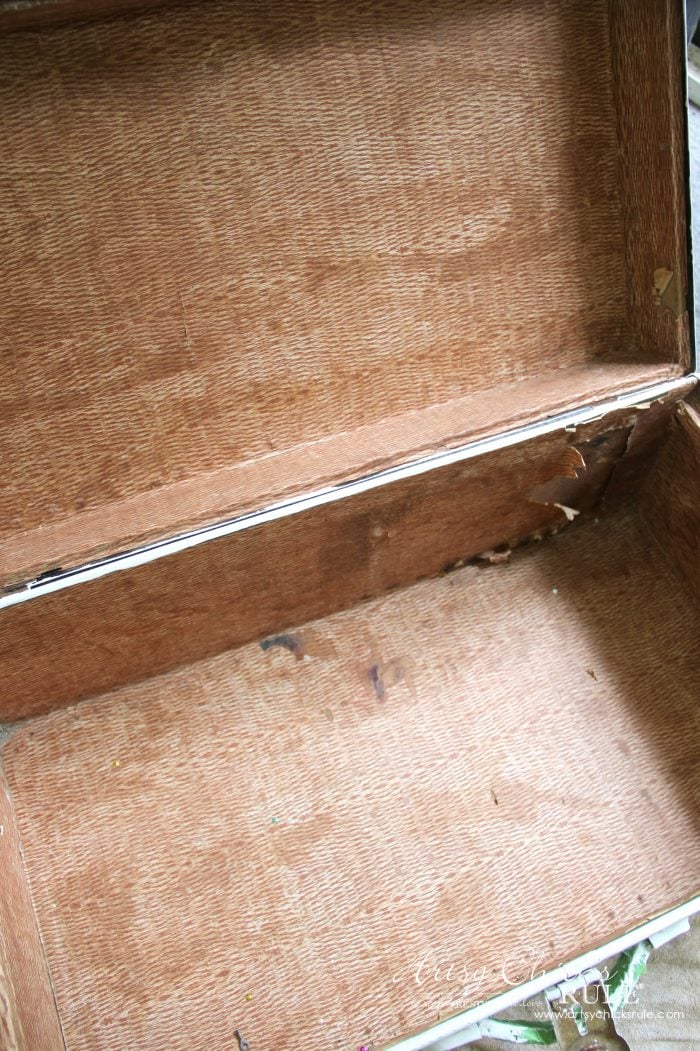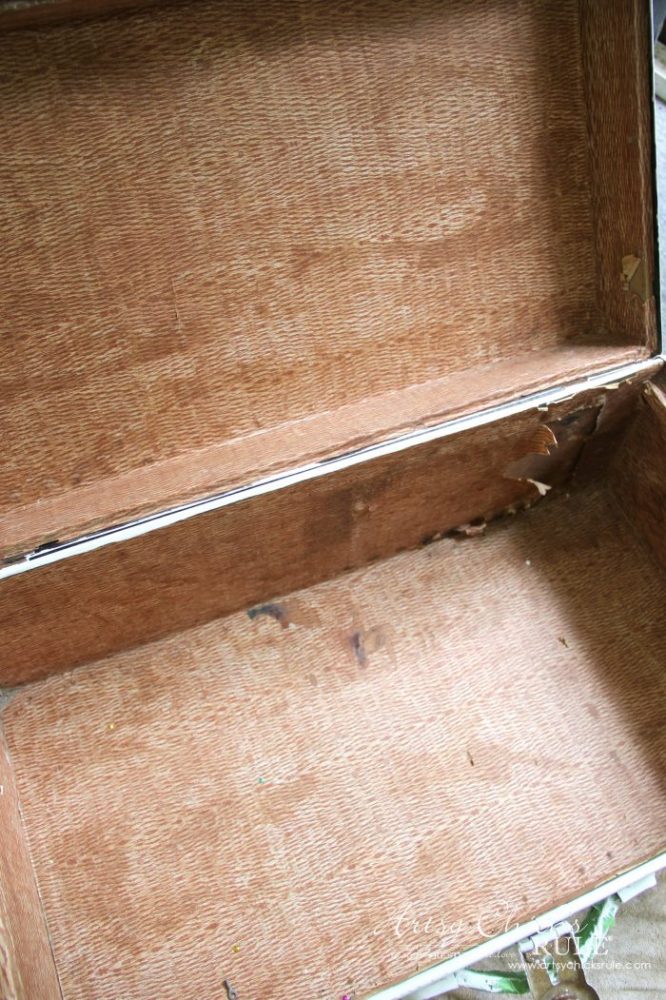 Icky.
I sprayed it about 3 times with bleach to kill anything that might be trying to live in there.
Then I peeled away whatever I could of that loose paper, cleaned it up and added a bit of decorative paper….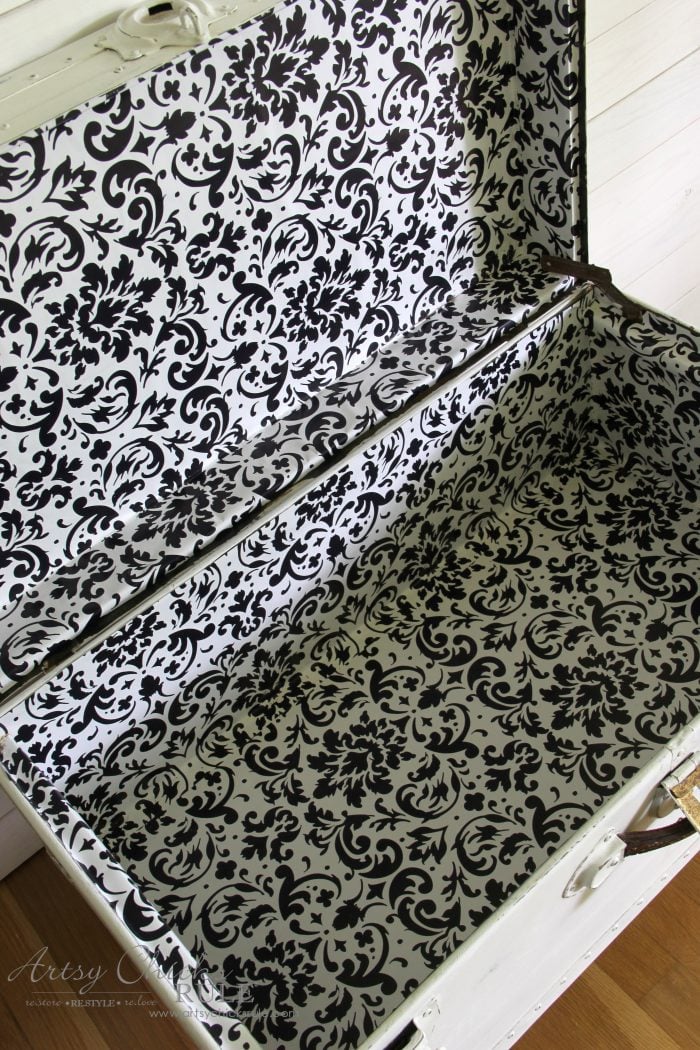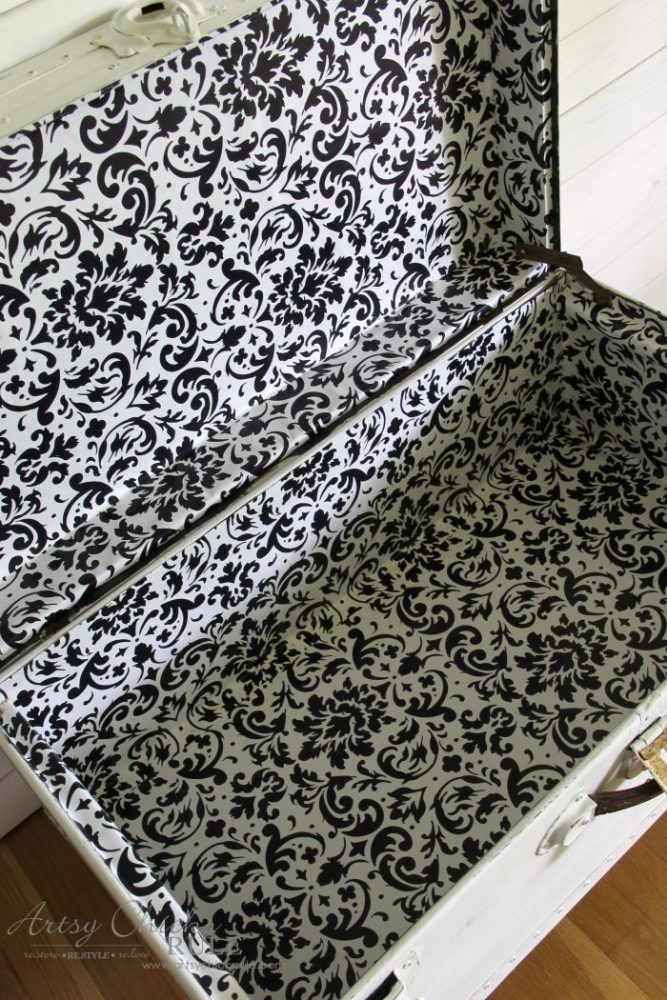 Now let's see it in action. :)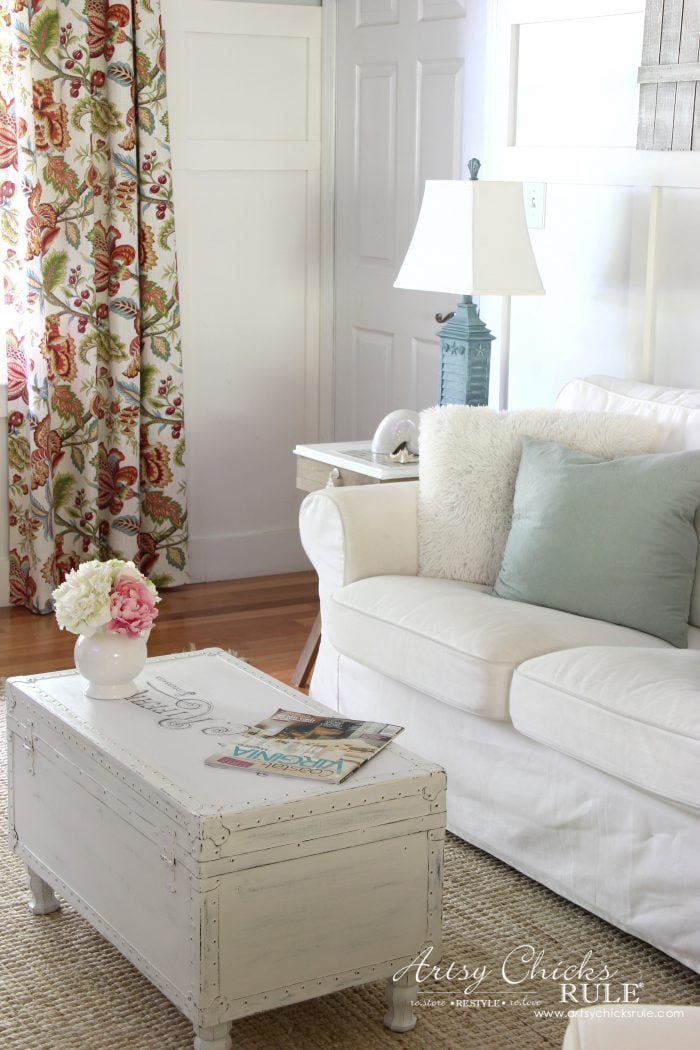 I'm really loving it here in my family room with my white, slip covered furniture.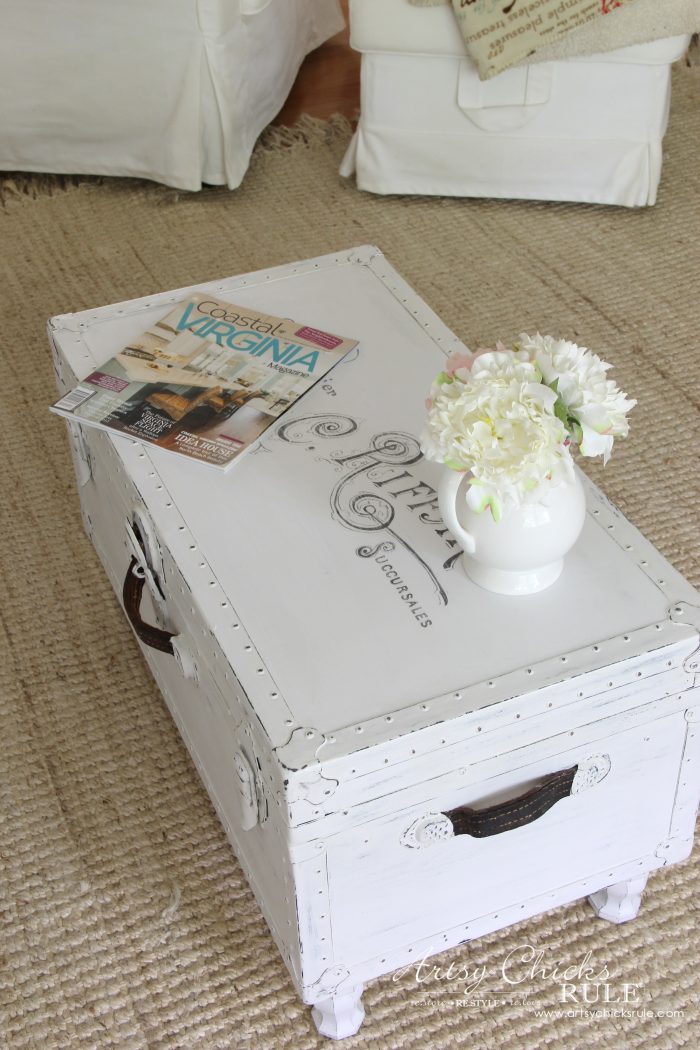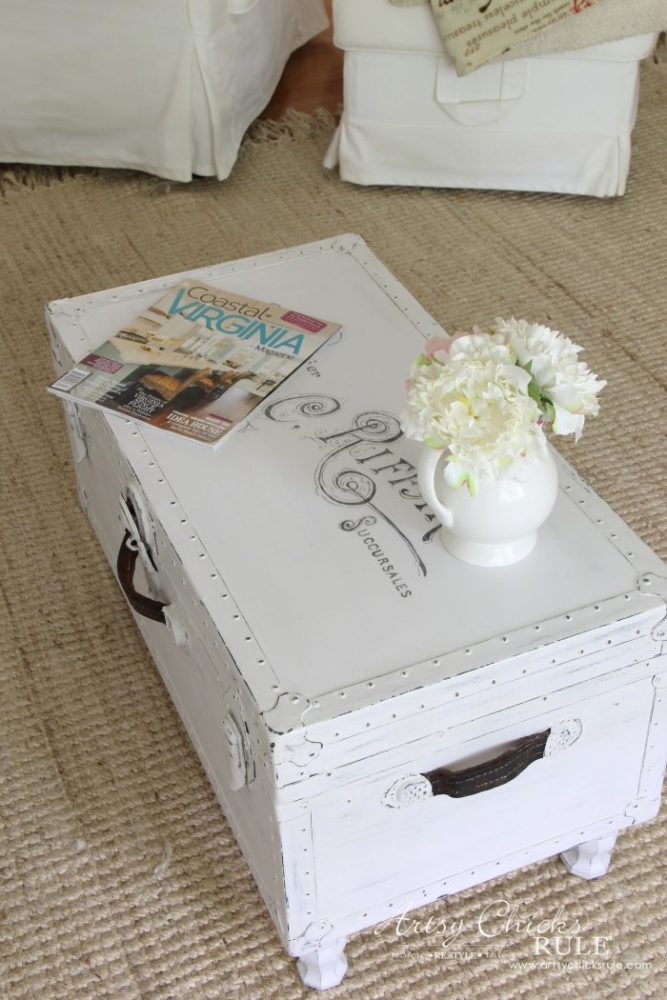 By the way, this is the ONLY spot in the house that doesn't look like a hurricane went through it.
Everything is everywhere and every blank space is a work space with the ORC going on.
So glad this is the last week! I need to get my normal back. ;)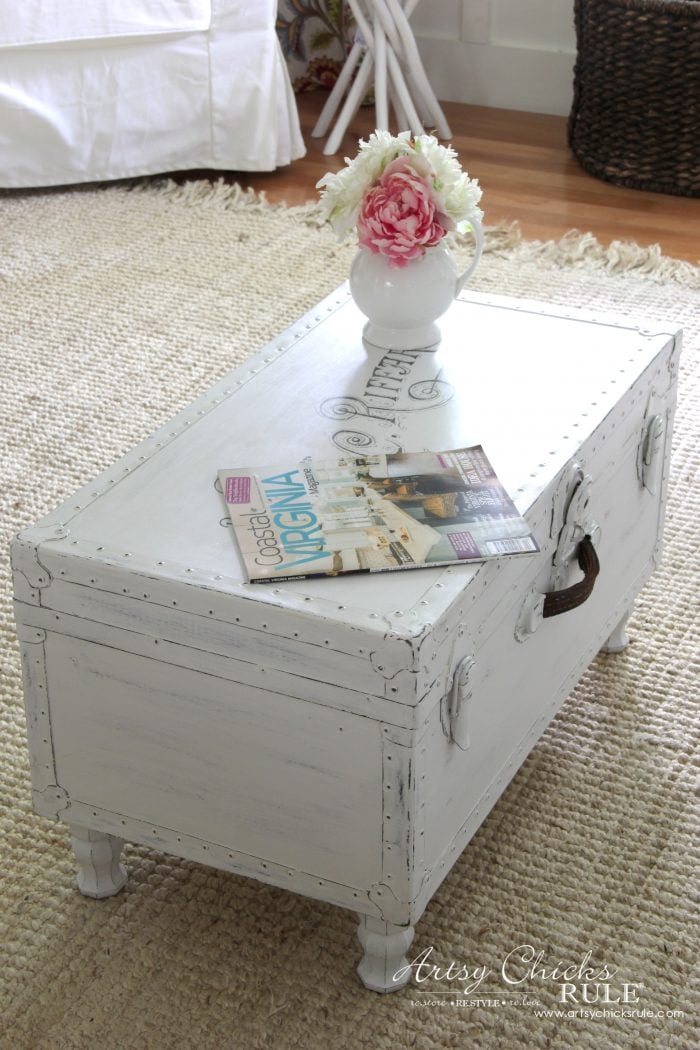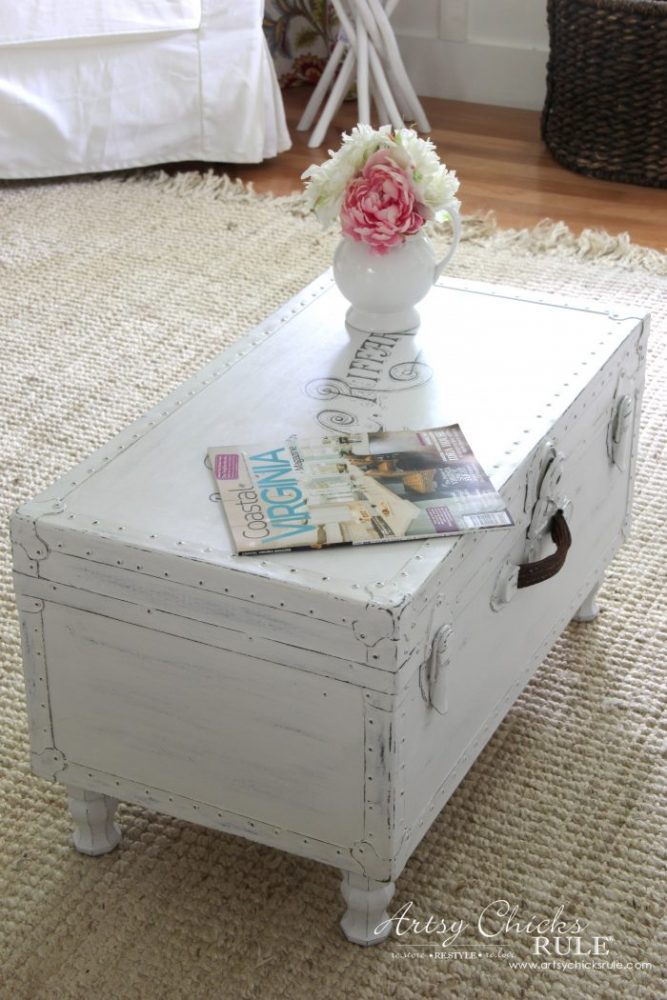 Those feet really make it, I think.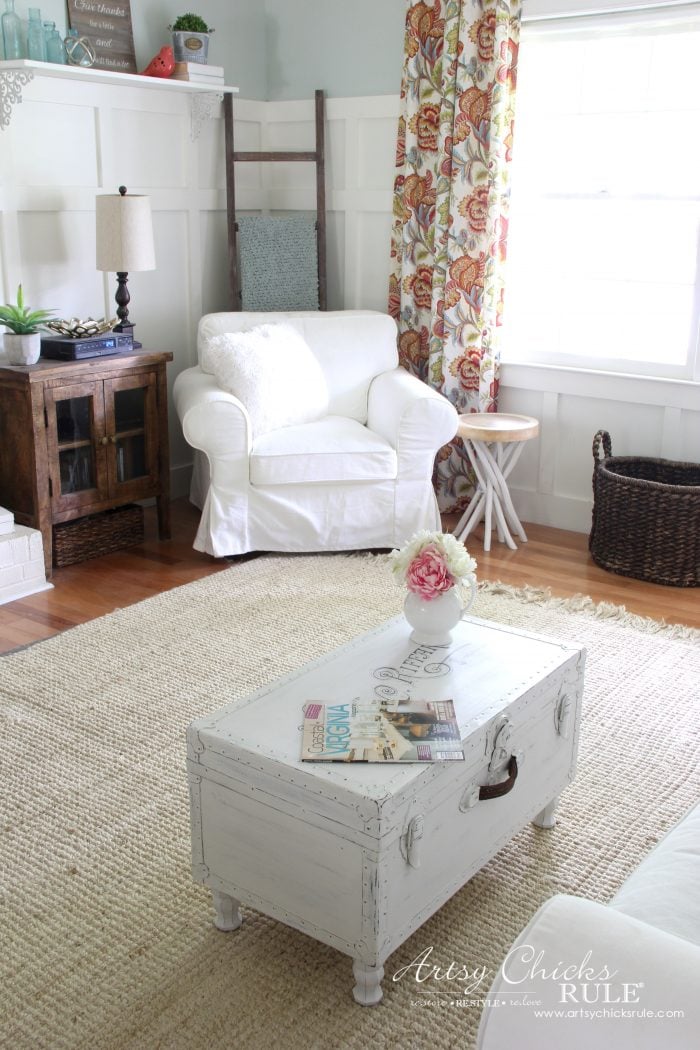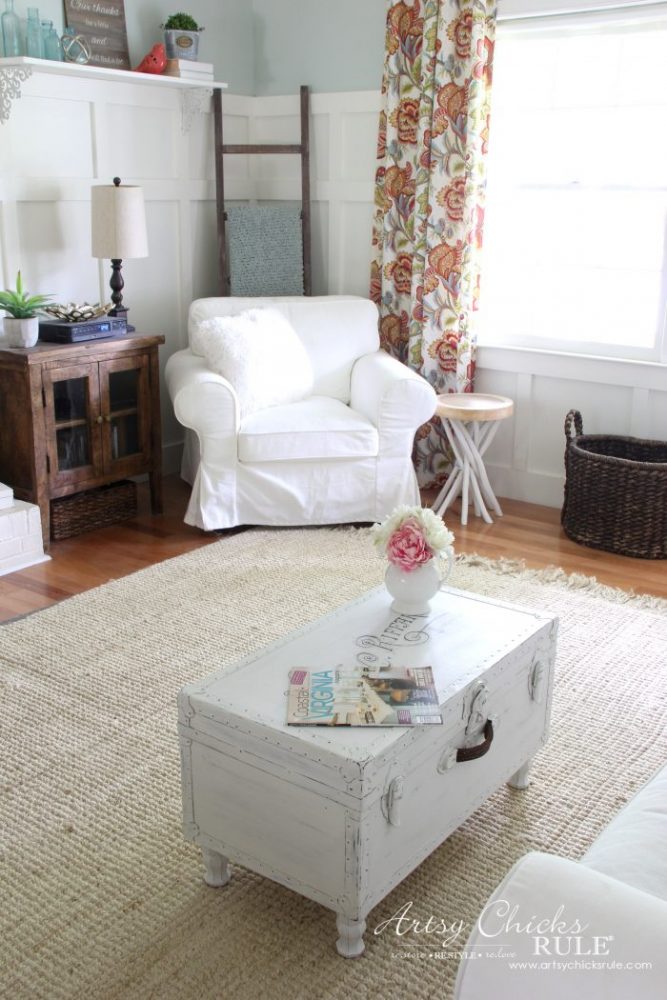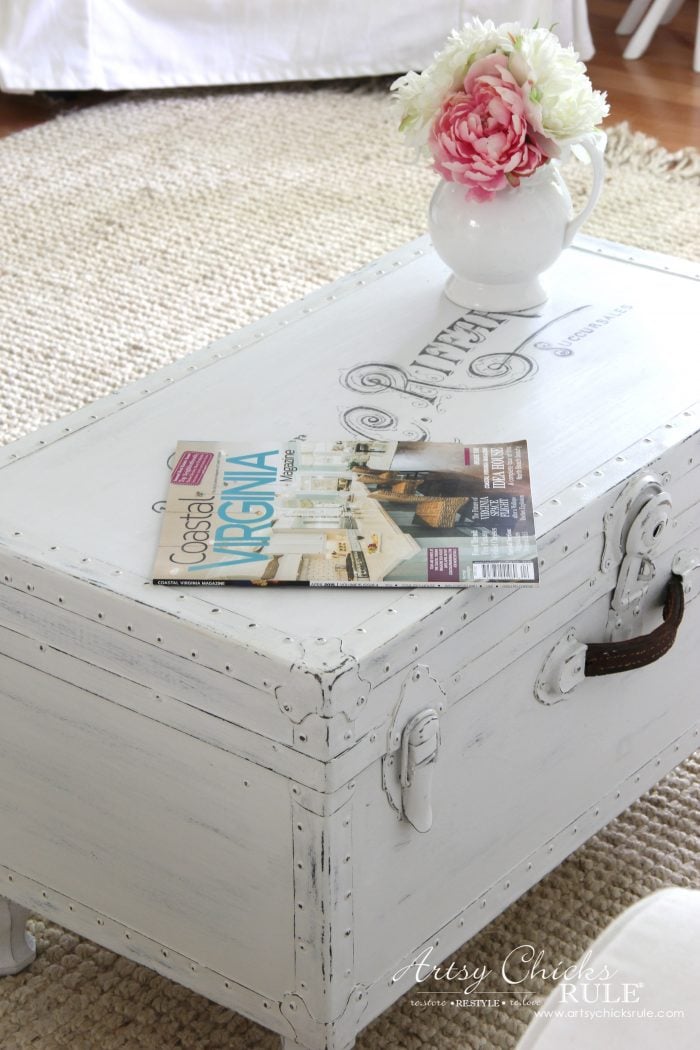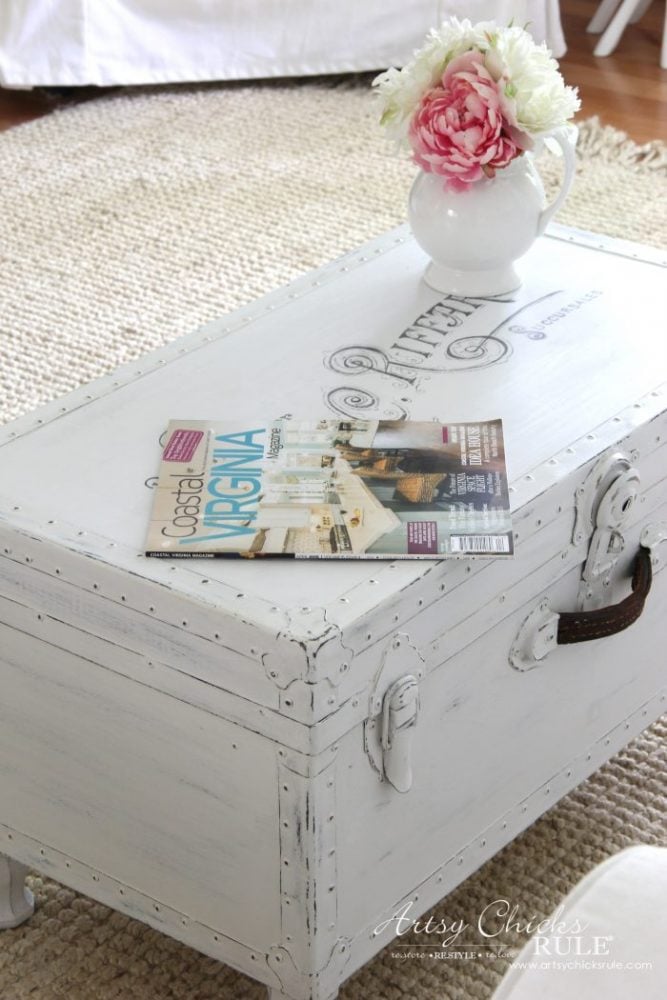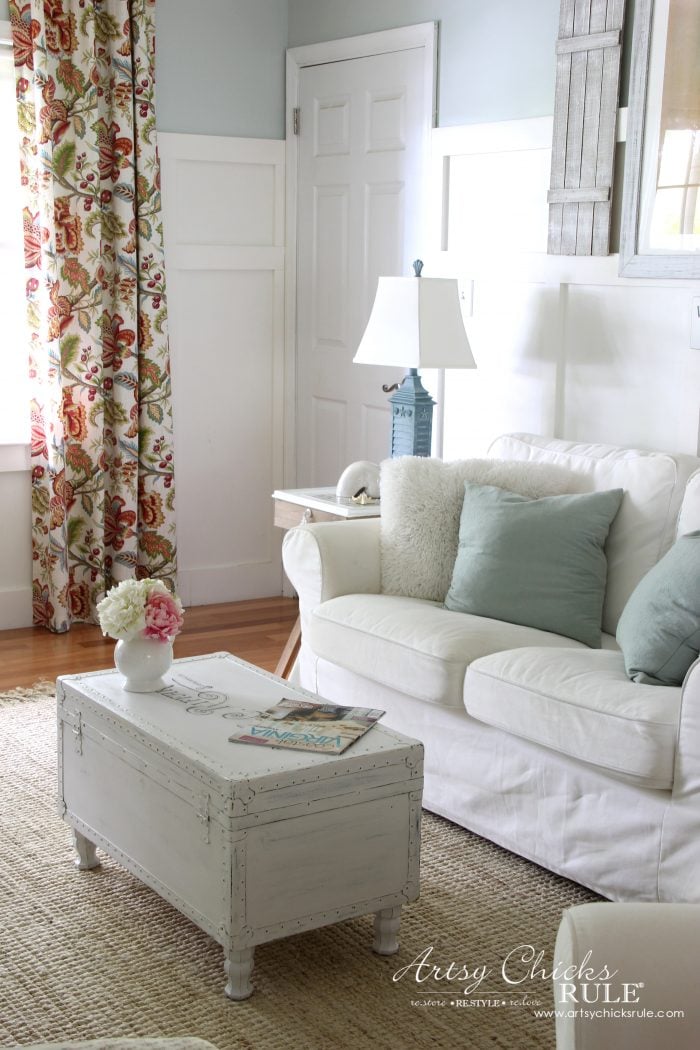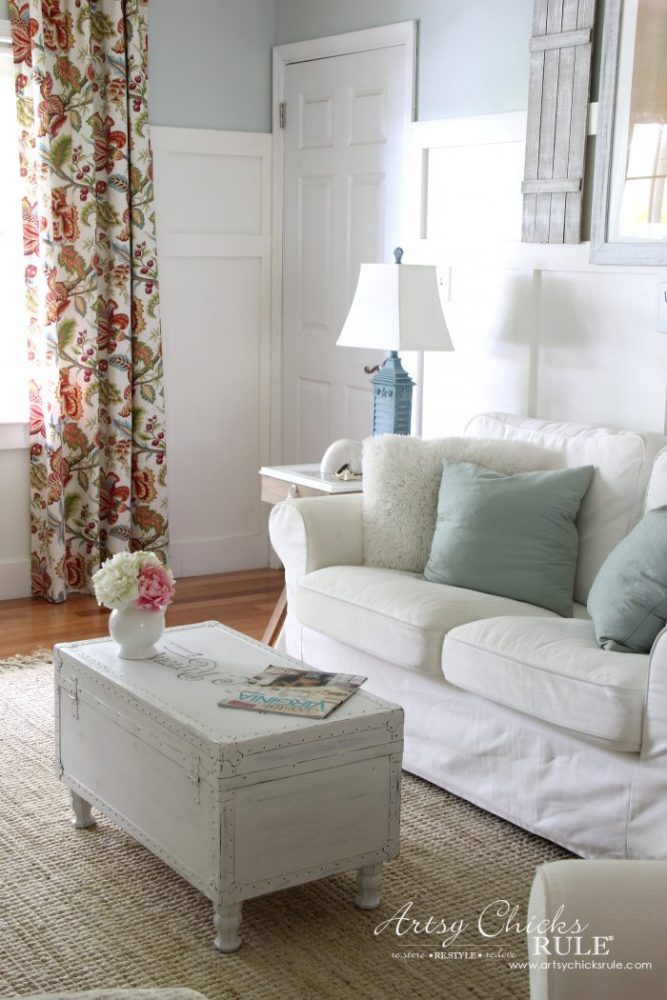 I hadn't thought I'd keep this one but I just might.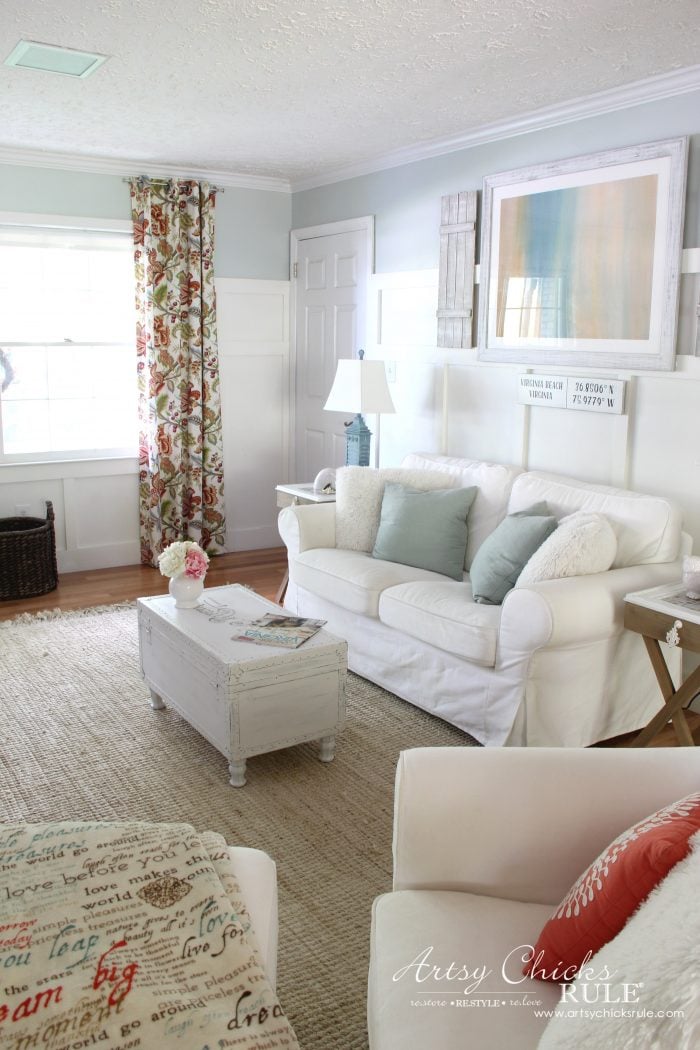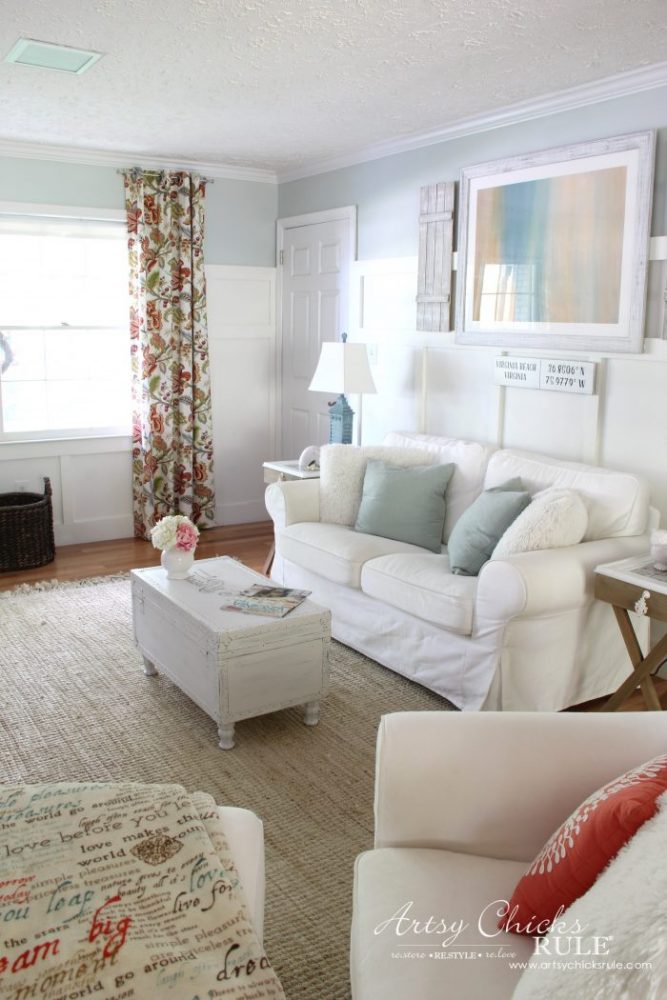 My cute, little model, Ryder…..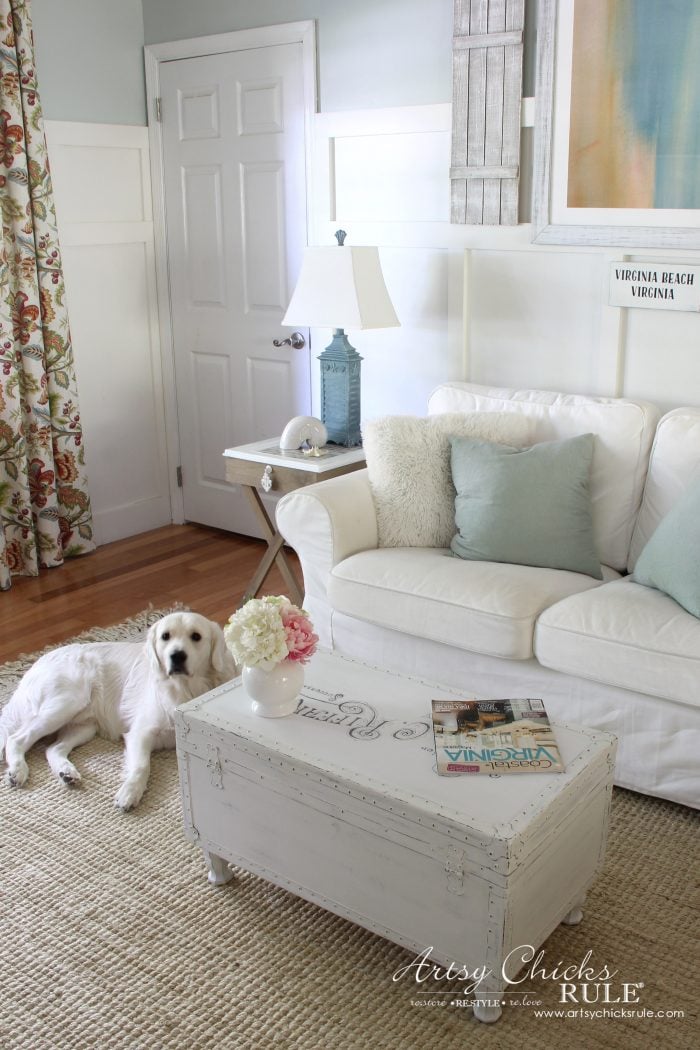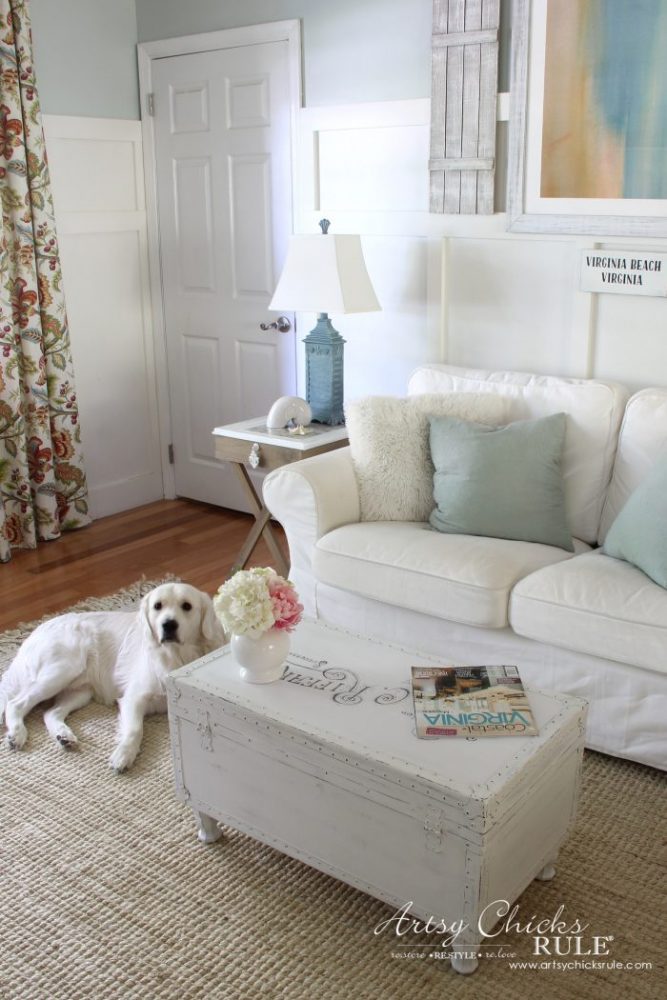 And then he said, that's enough of that, Mom, I'm out! haha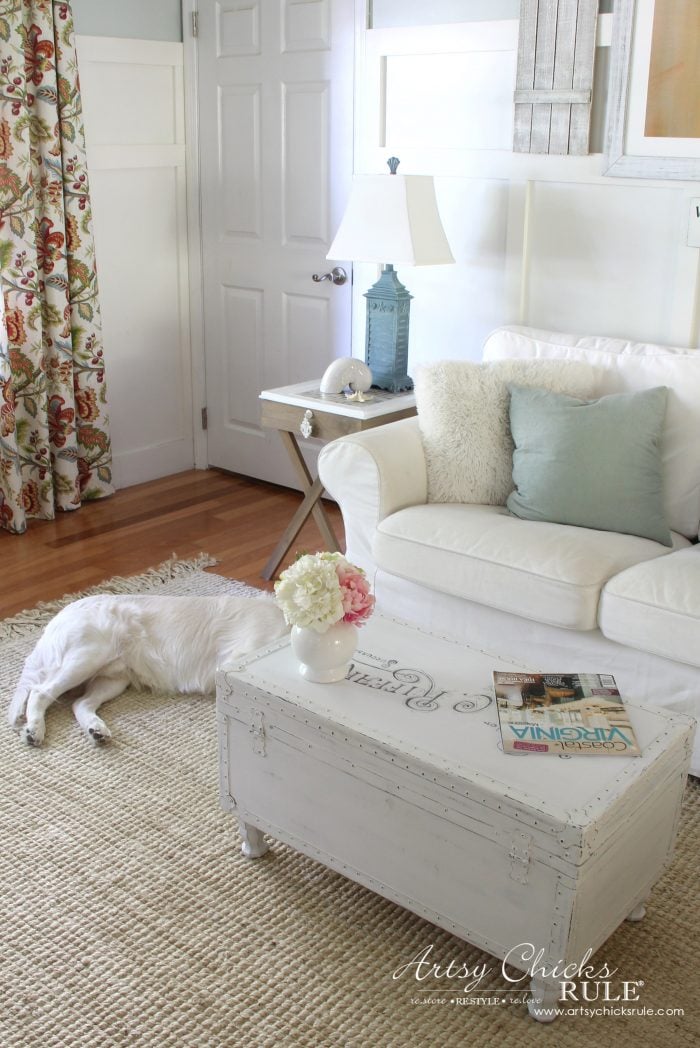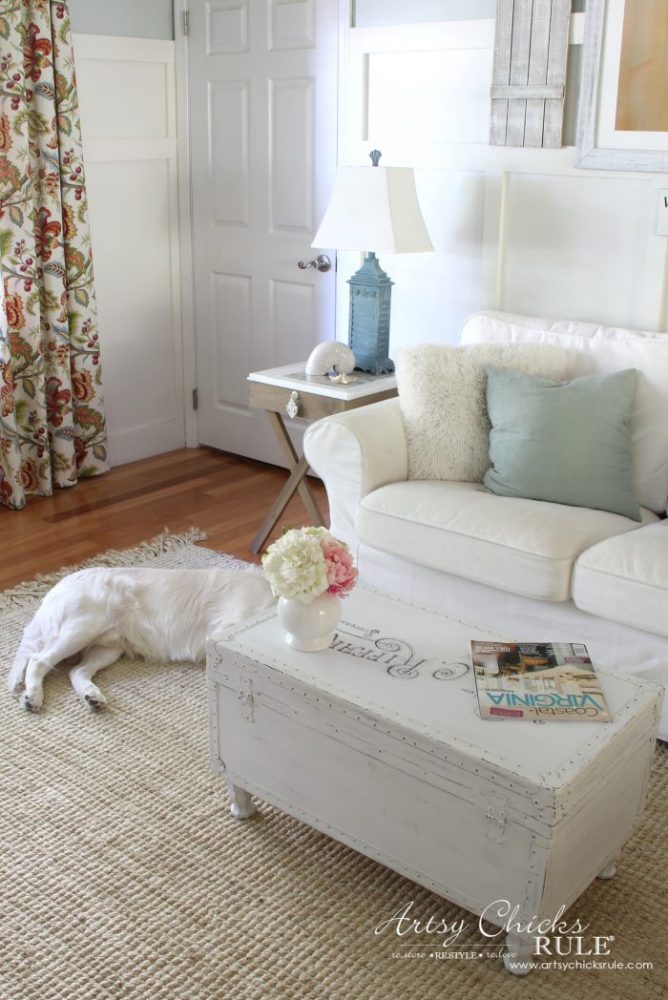 Sweet boy. :)
So, FIVE dollars. You can't beat that.
PIN this for ideas on old trunk coffee tables!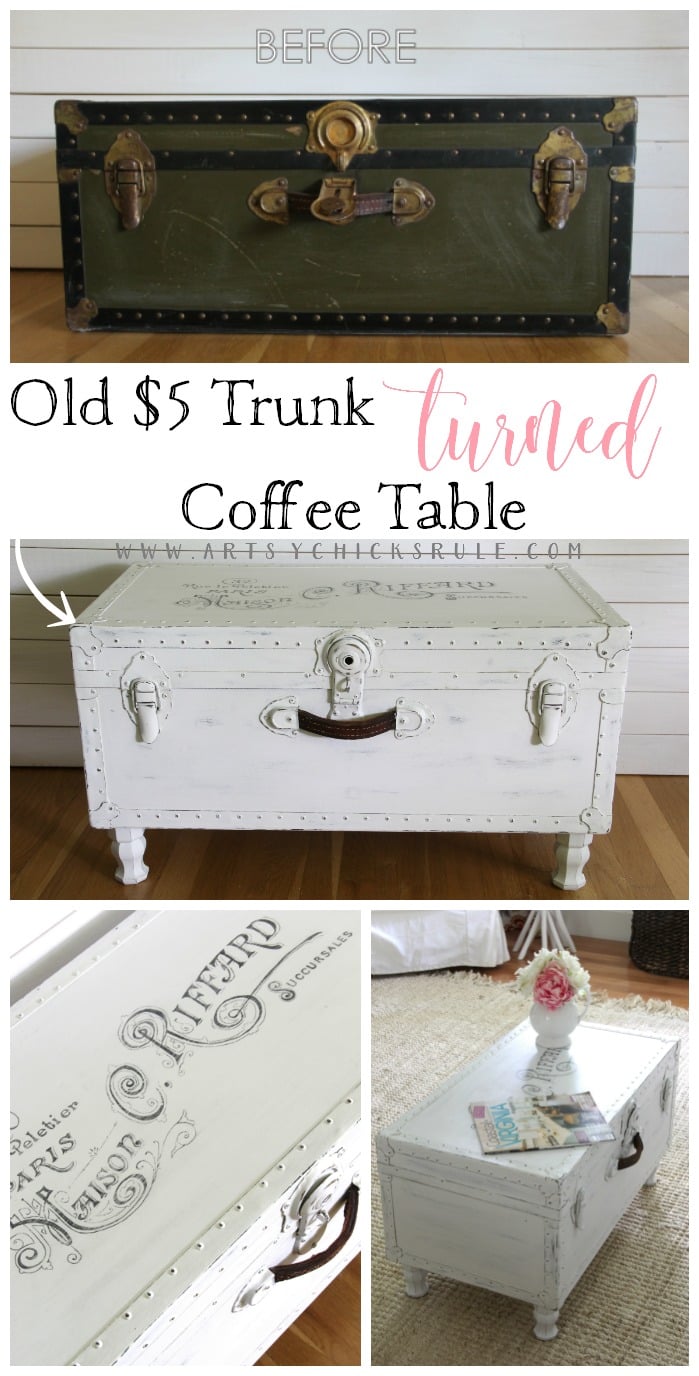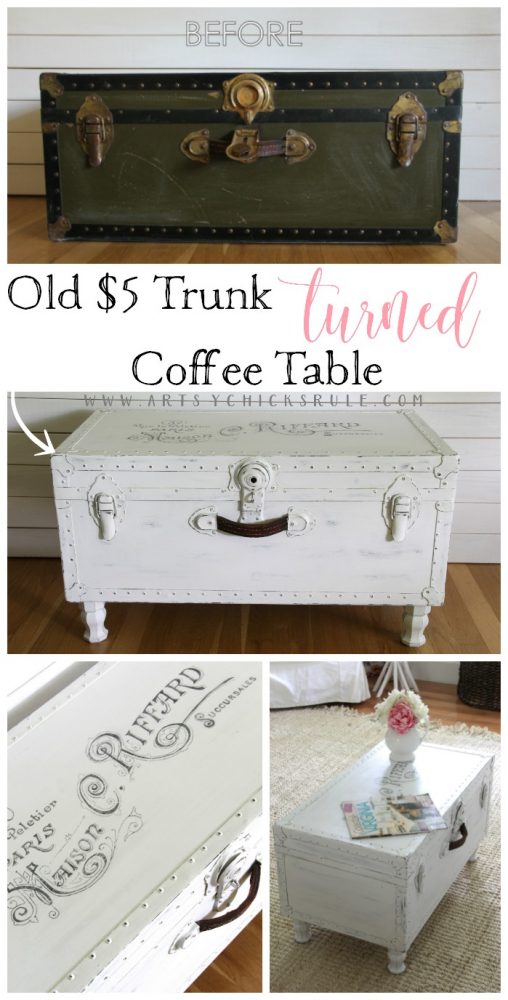 Wait! Don't run off just yet! ;)
Let's see what kind of treasures my friends made out of these this month: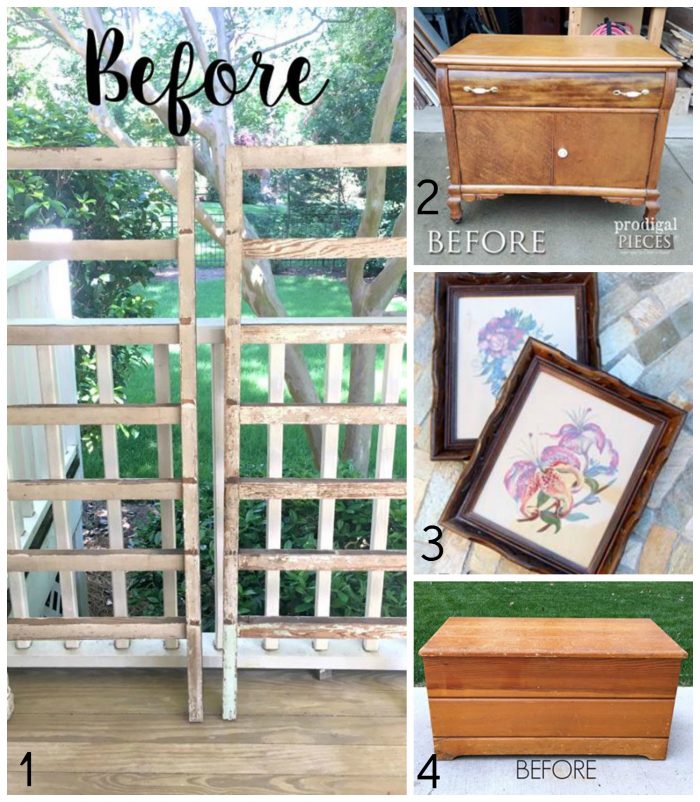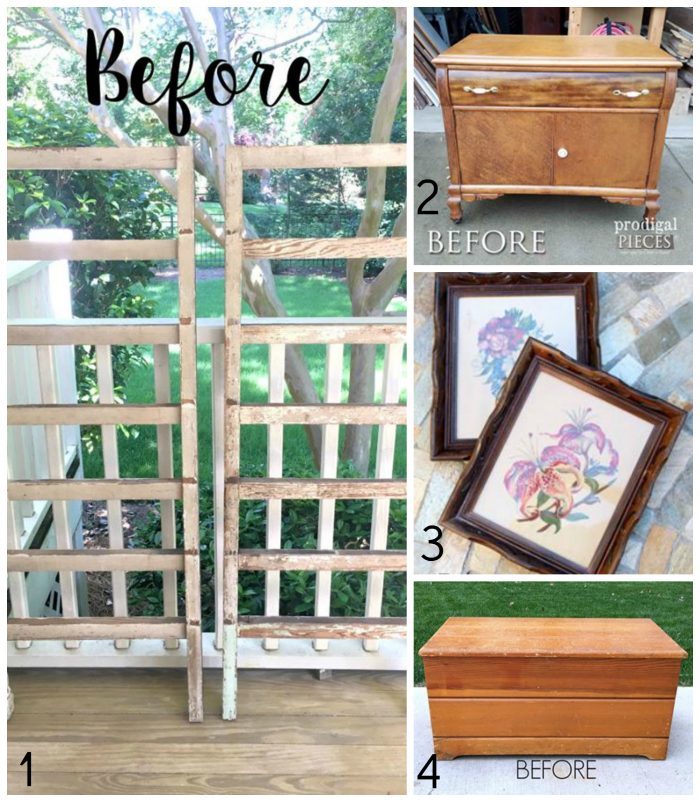 You can see even more Trash to Treasure Transformations right >>> here.
I'll be back on Thursday with my One Room Challenge finale! The big reveal. (I hope! ;) )
Plus some outdoor decorating inspiration for Spring.
And don't miss my latest furniture makeover too!! (this turned into a fun "activity" table ;) )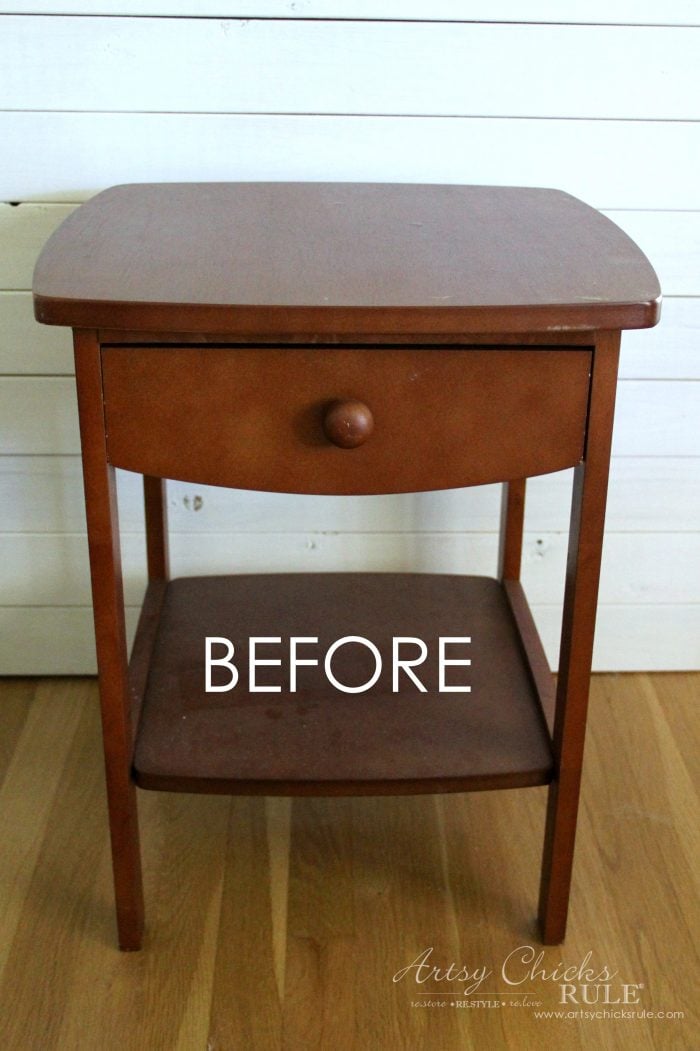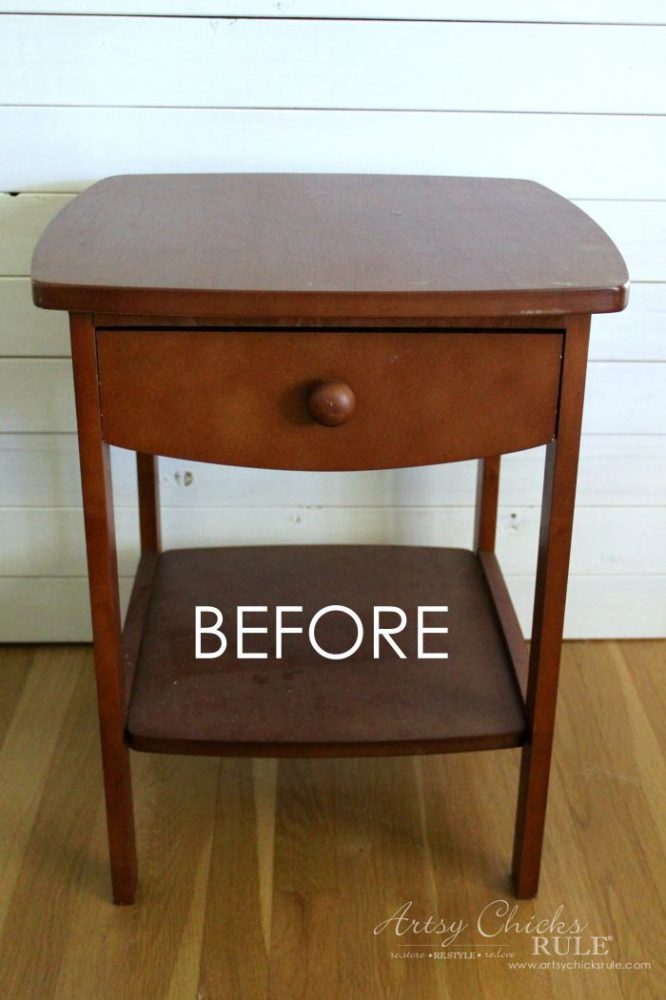 UPDATE!!! See it now, here!!
xo