DIY Checkerboard Table (Patriotic Style)
This post may contain affiliate links. Please see disclosures here.
Hours of fun will be had with this DIY checkerboard table!
Happy Trash to Treasure Tuesday Friends! I just love making over trash.
Because you know, it's not really trash, it just needs some loving. ;)
So I gave this little Habitat Restore night stand some loving….patriotic style. :)
DIY Checkerboard Table….

Since July 4th is upcoming, I thought I'd paint it red, white and blue.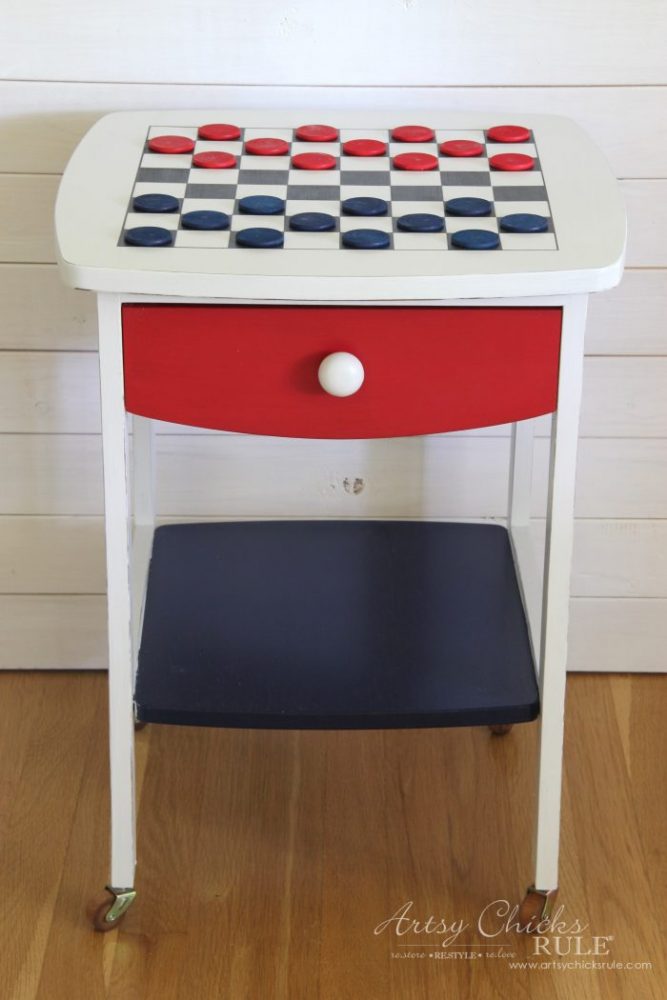 Top before…..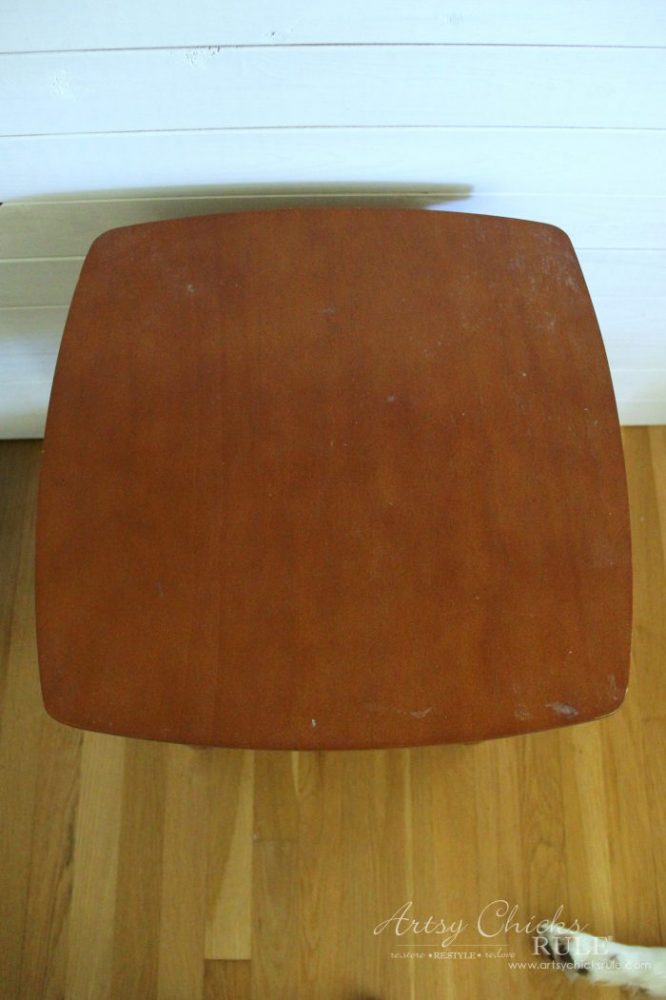 Top after…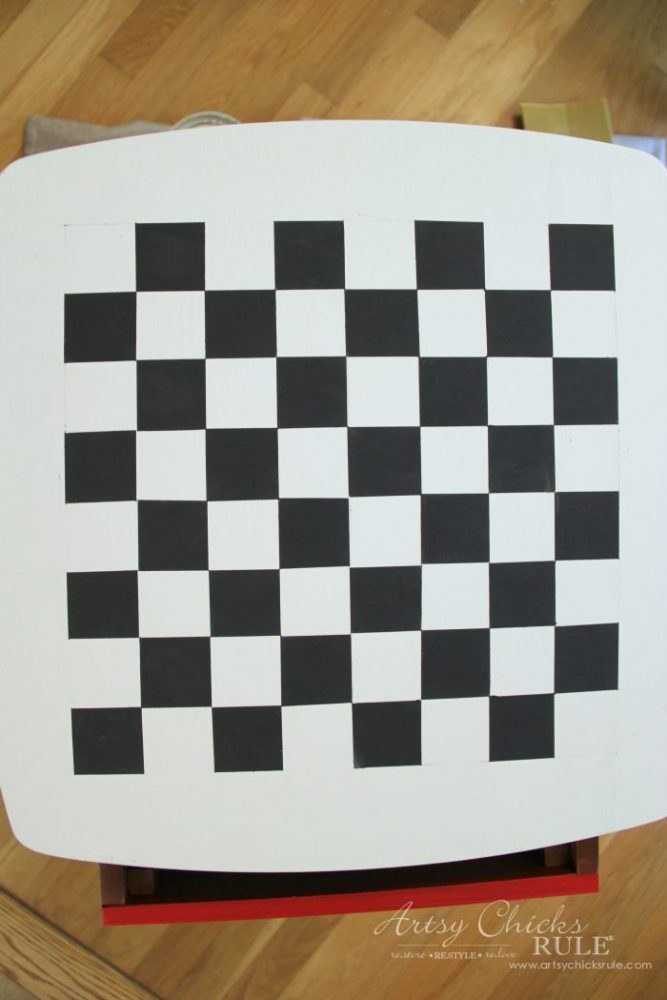 Notice my sweet pup's paw in the photo above? He follows me around the house and lays wherever I end up.
Well, I ended up here taking photos so he plopped himself right there. haha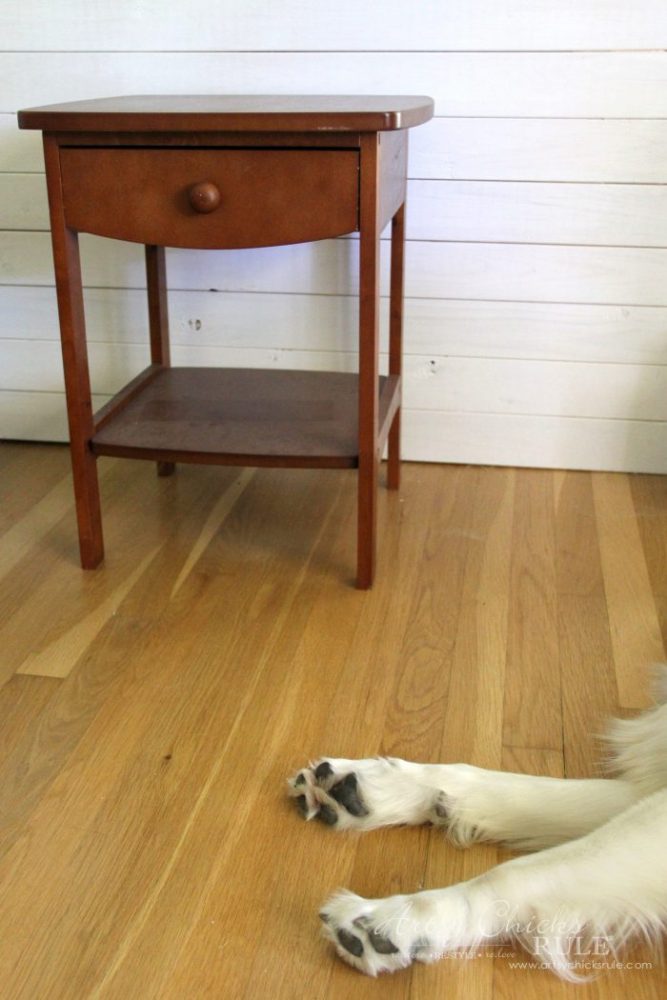 Silly puppy.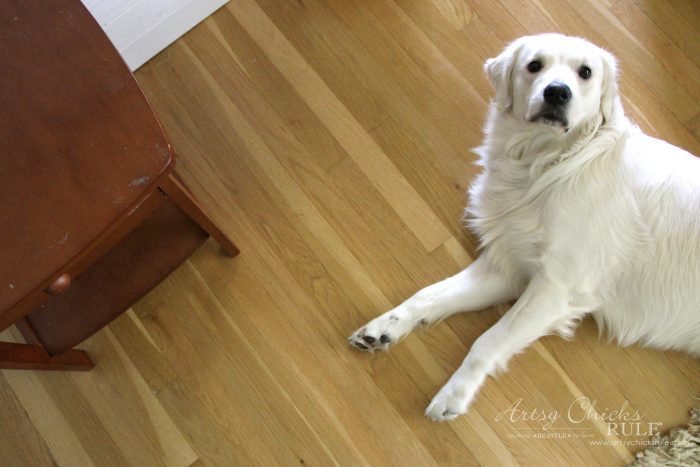 "What is it, Mom"? haha … he's so cute.
Alright so let's talk about how I created that checkerboard.
I'll include affiliate links for the paints and other products I used. You can see my disclosure, here.
I used this white paint for the top and sides, this blue for the bottom and a little sampler of "Classic Red" from Lowe's for the drawer.
I thought I'd use tape to create the blocks of the DIY checkerboard but after several attempts at measuring, etc, I quickly decided I had no patience for that! lol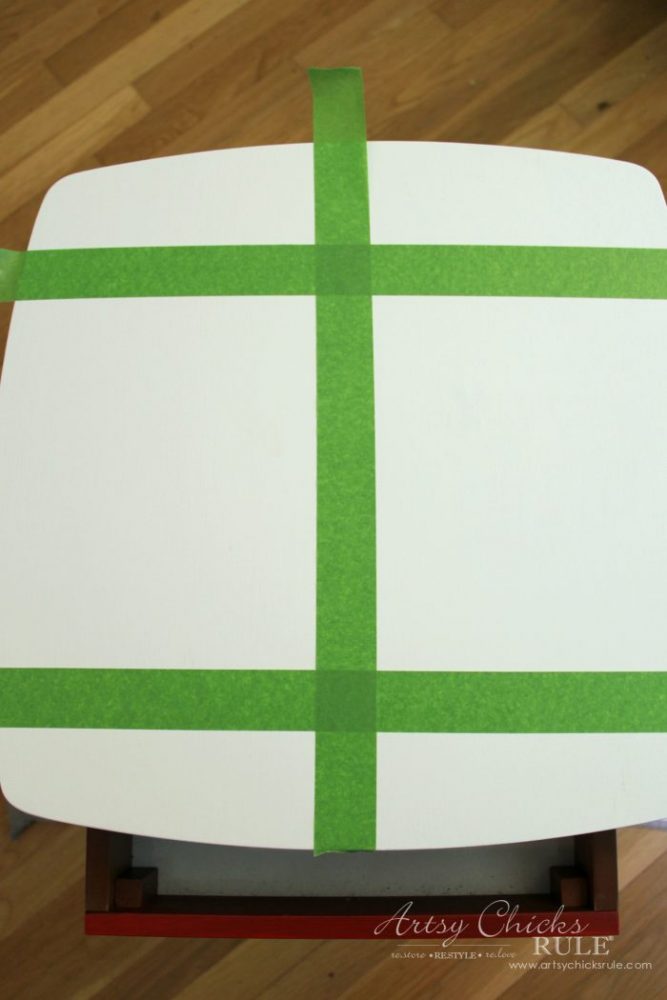 So I hopped on over to my office and looked up a checkerboard graphic on Google. (of which there were many!)
I saved one and uploaded it to blockposters (.com).
You can size it pretty to close to what you need.
Then print it out and go!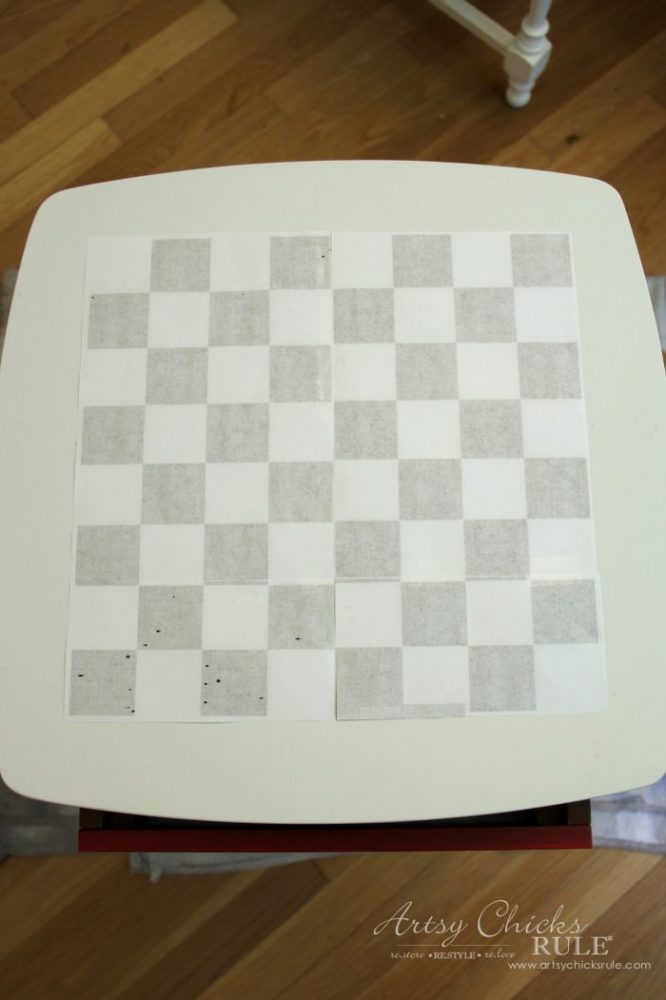 I thought I'd just trace the backs of all the black squares to transfer the printer ink.
So I measured and taped it into place.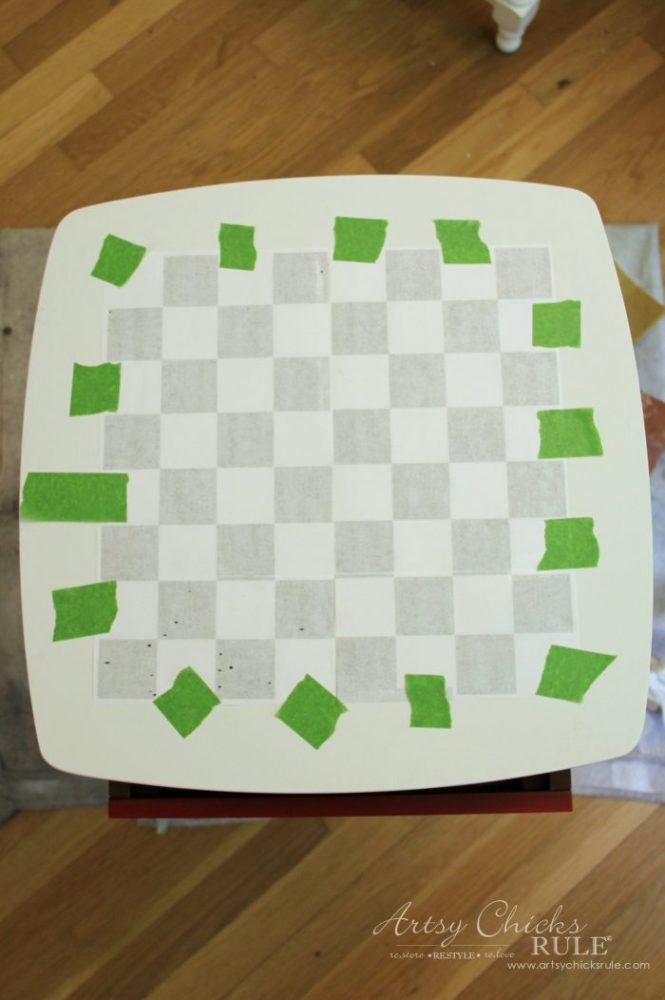 But decided instead to use this fab transfer paper instead.
You can read all about this transfer method and many other I use in a post devoted to just that, here.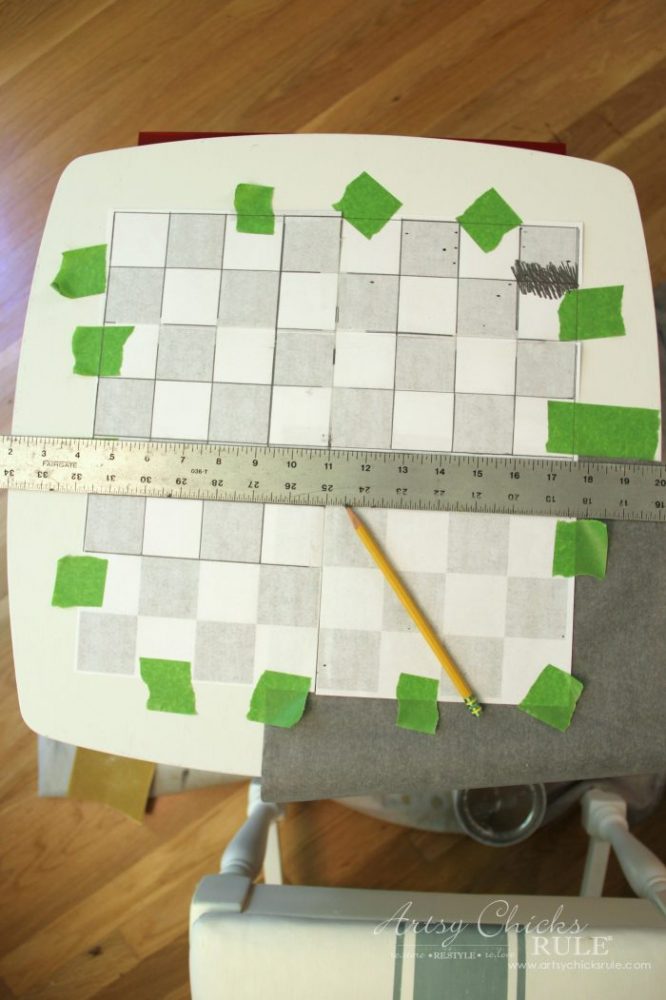 This worked very well.
I used a straight edge to draw lines following the pattern.
Since I already had the checkerboard print out positioned, I just lifted each corner and moved the transfer paper working my way around.
I could have just used the straight edge in the first place (without the printout) but the printout did make it visually easier.
This is what I had when done.
I added a "B" to all blocks that needed to be painted black.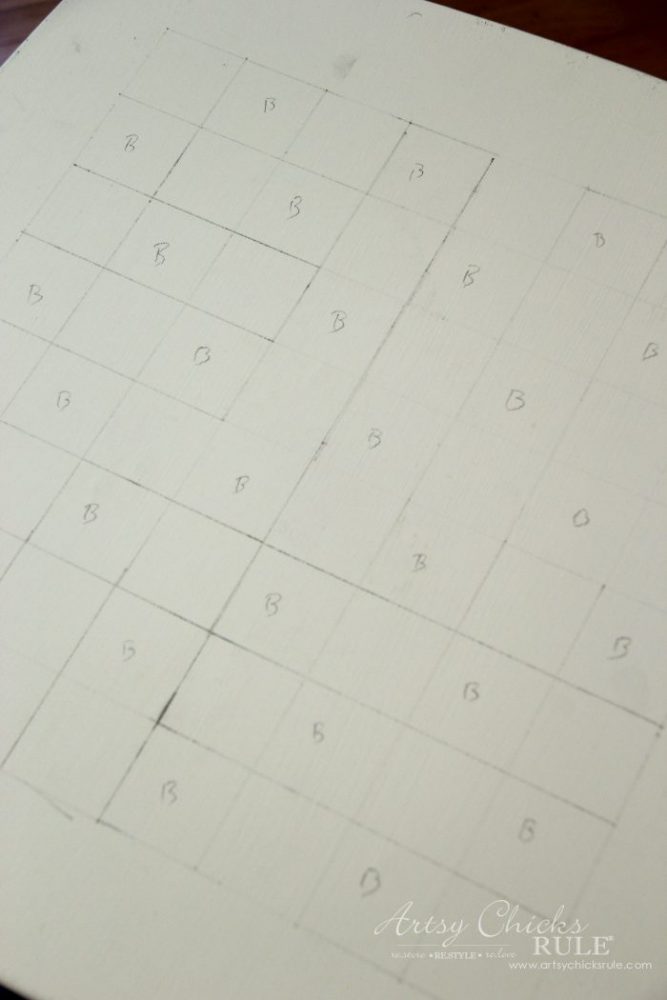 And then I used my favorite tape to block off the letters for painting.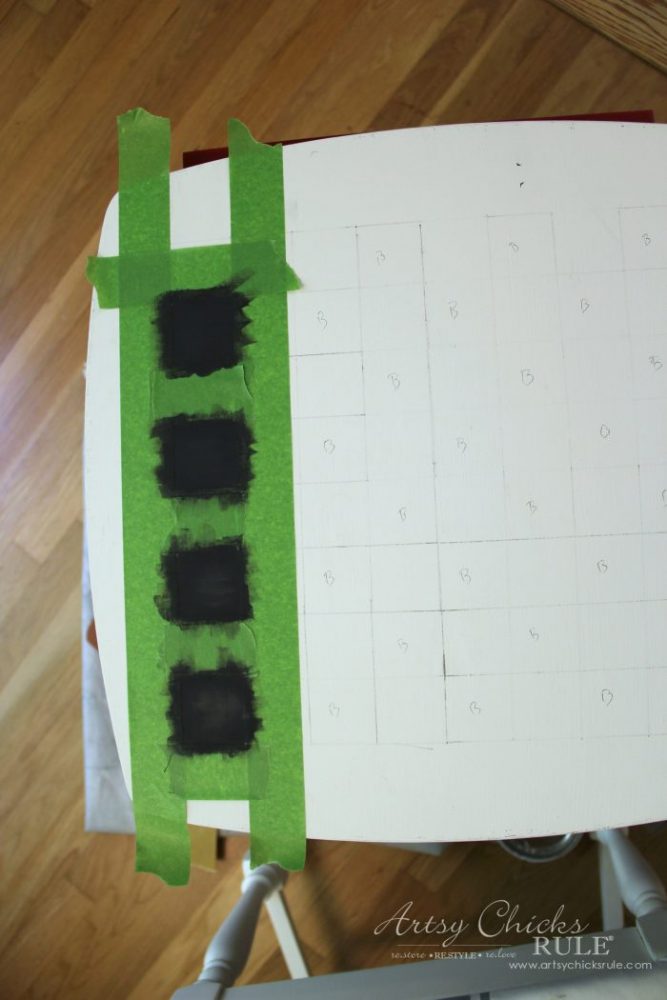 I could have skipped this tape part and just hand painted in the blocks since the lines were there as a guide.
But I wanted nice straight, crisp lines so went with taping off.
Then I taped to create an outline to give the DIY checkerboard a more finished look.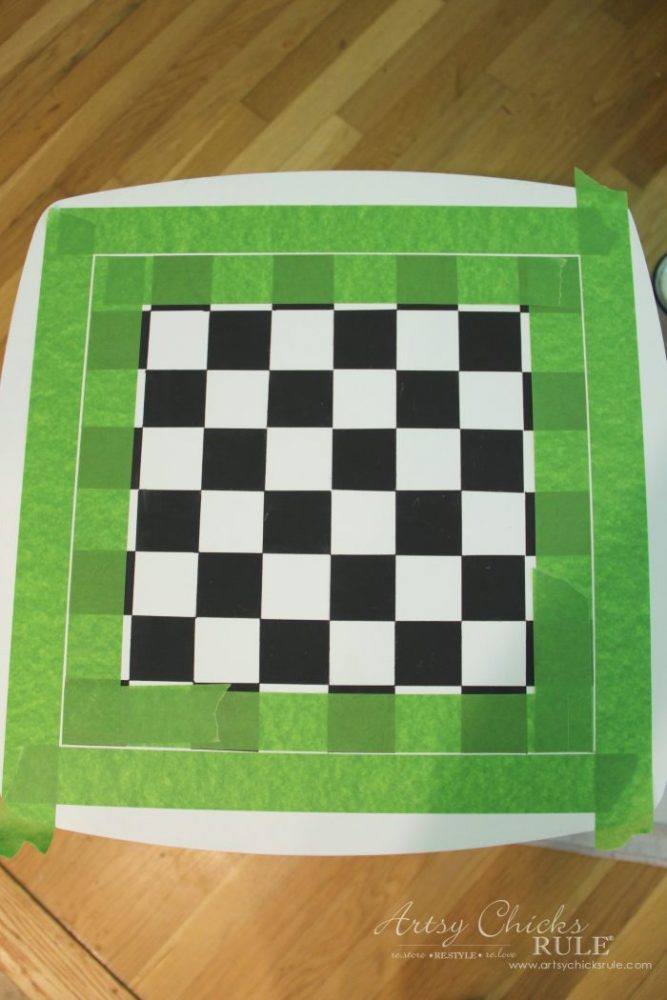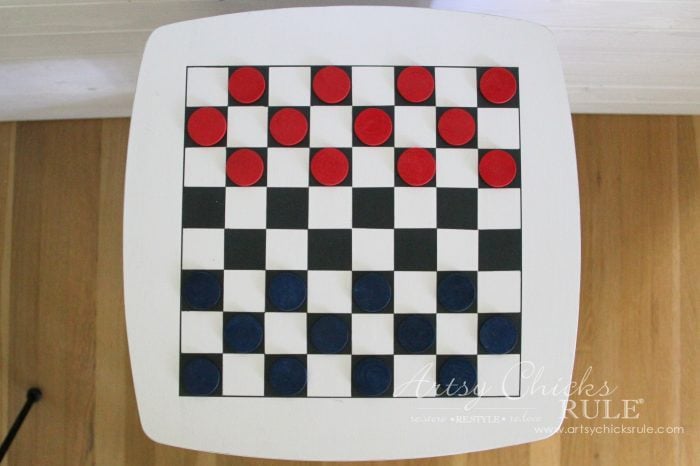 The "checkers" came from Michael's. I used a 50% off coupon and got them for about $3.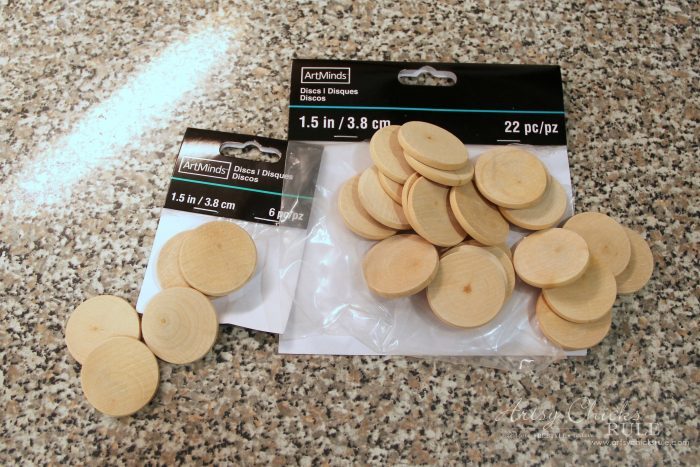 I painted one set blue and one set red, as you can see. :)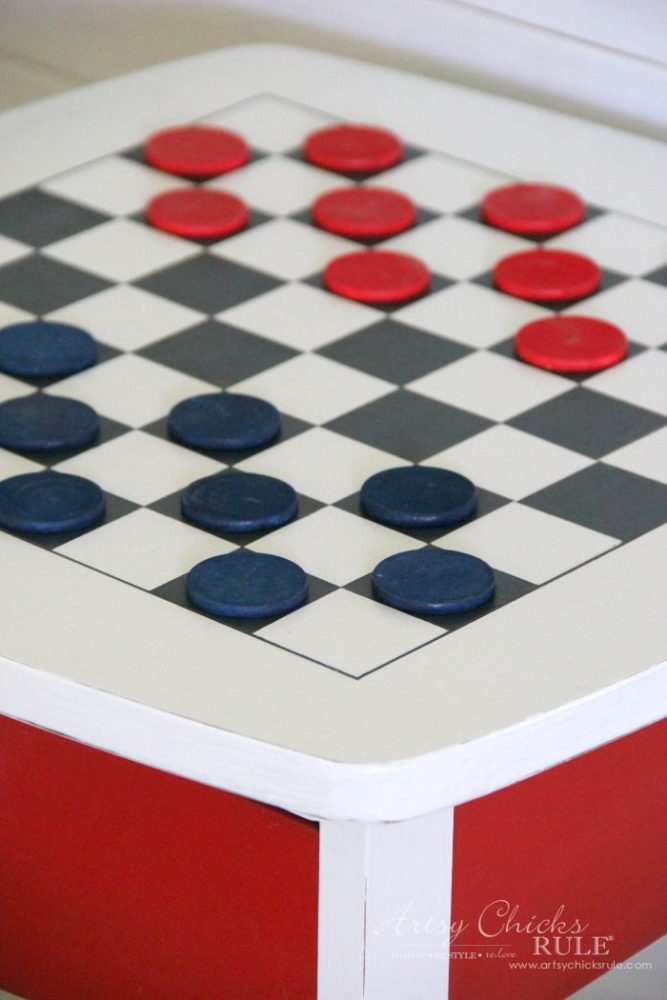 The drawer works out nicely to hold them when not in use.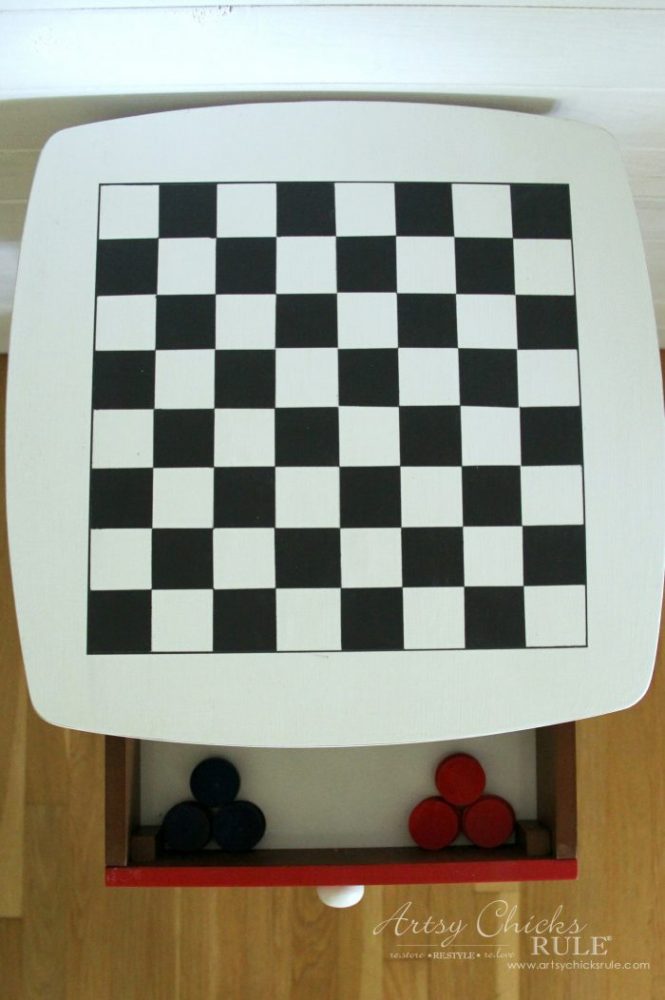 Red, white and blue, perfect for a holiday get together with kids (or adults!).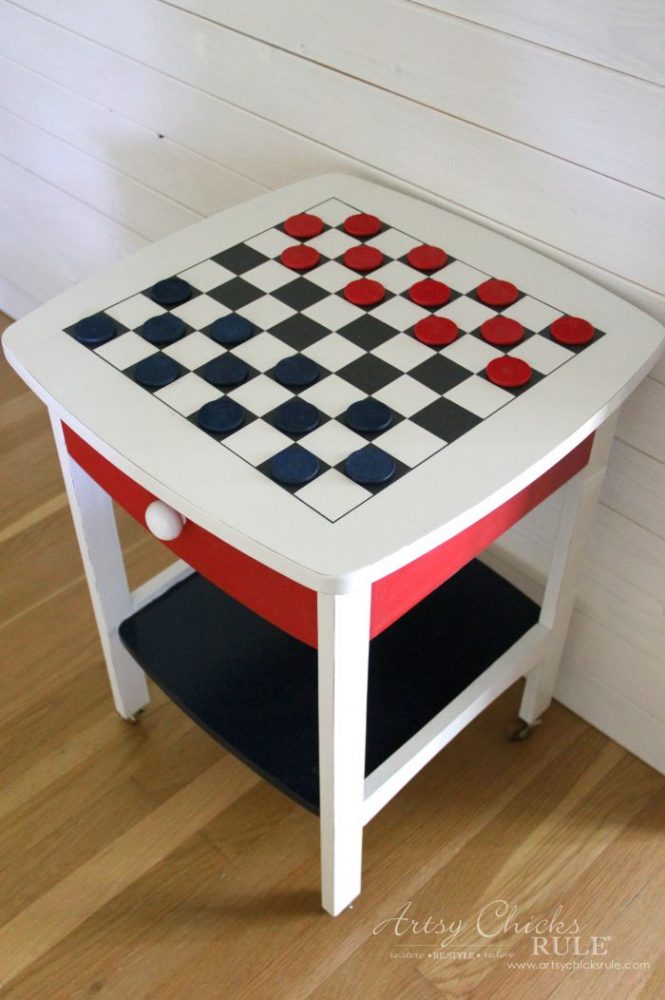 I also added wheels so it would be easy to roll around to play. (plus it made it a bit taller)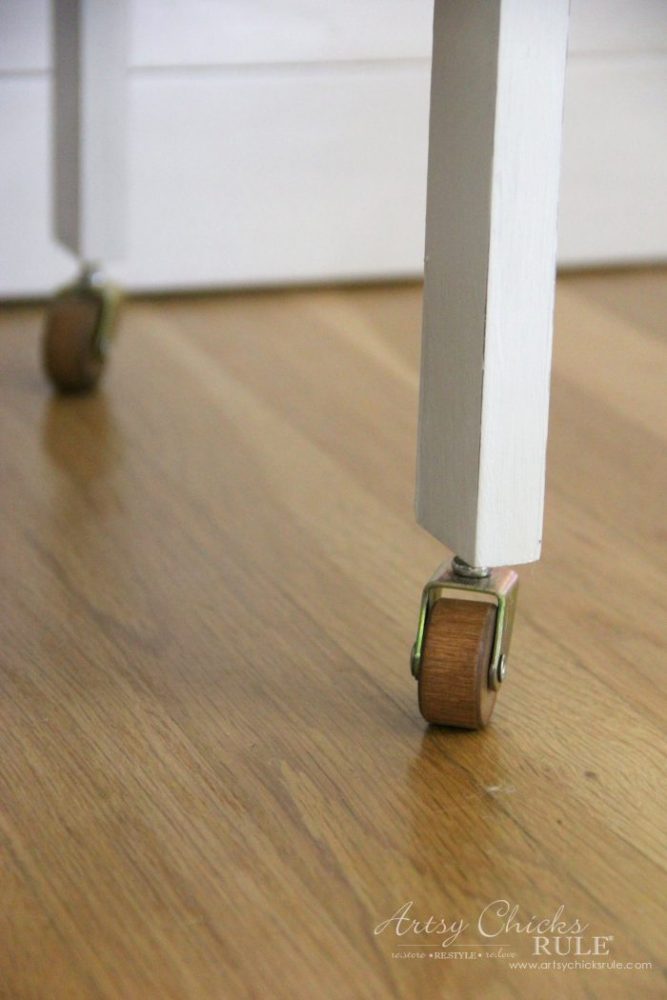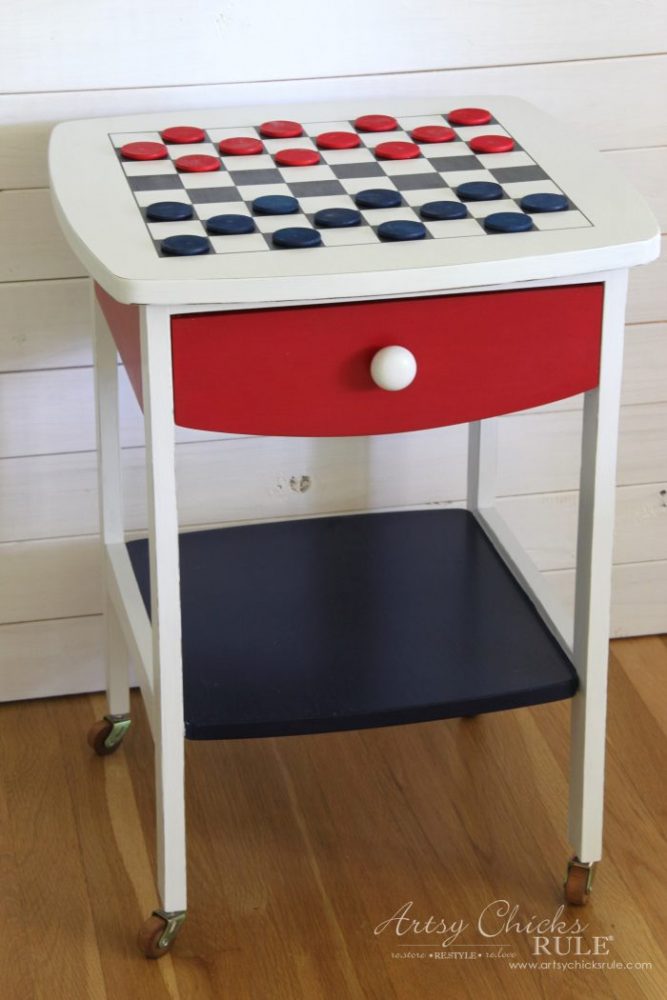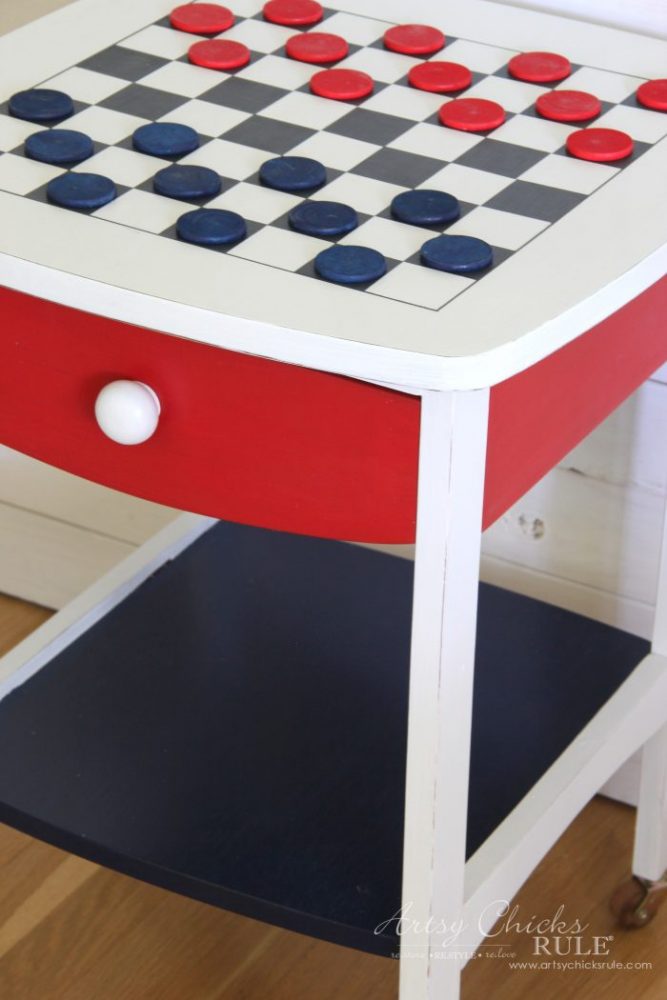 So maybe the kids will get off the phones and play checkers! What do you think? ;)
PIN this DIY Checkerboard Table for later to save it!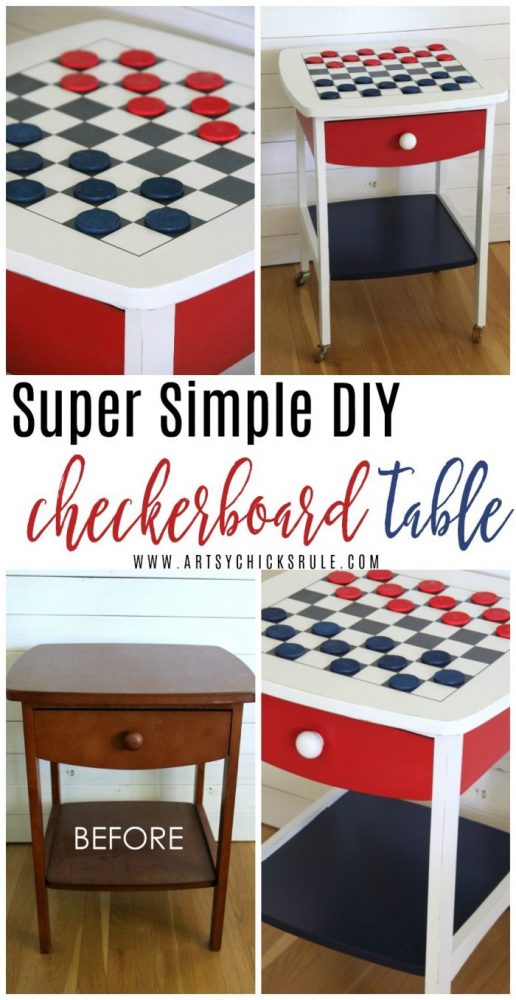 Wait! That's not all, click the links below to see what kind of treasures my friends created this month too! :)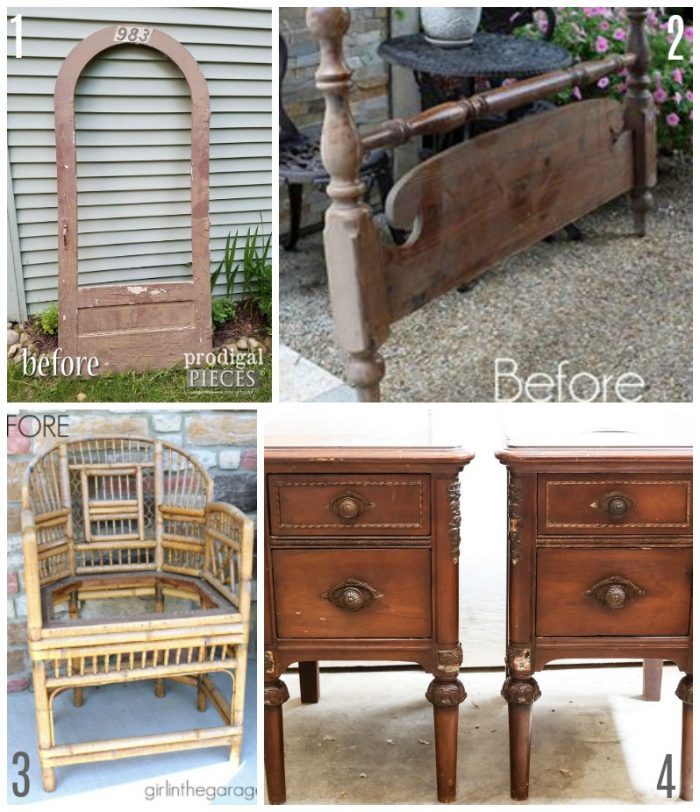 See the rest of my "Trash to Treasure" makeovers, here.
………………………………………………………………………………………………………………………………
I've been busy, busy and actually got the new tile backsplash up yesterday! Yay!
All that's left to do is grout. So excited. :)
I'll be sharing it soon!
But first, come back by to see my latest furniture makeover!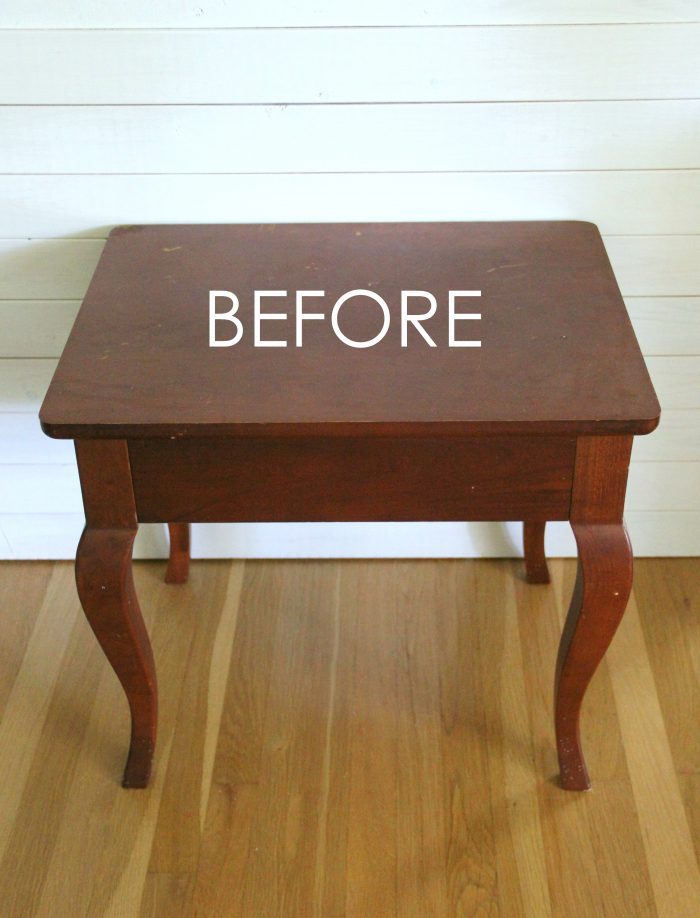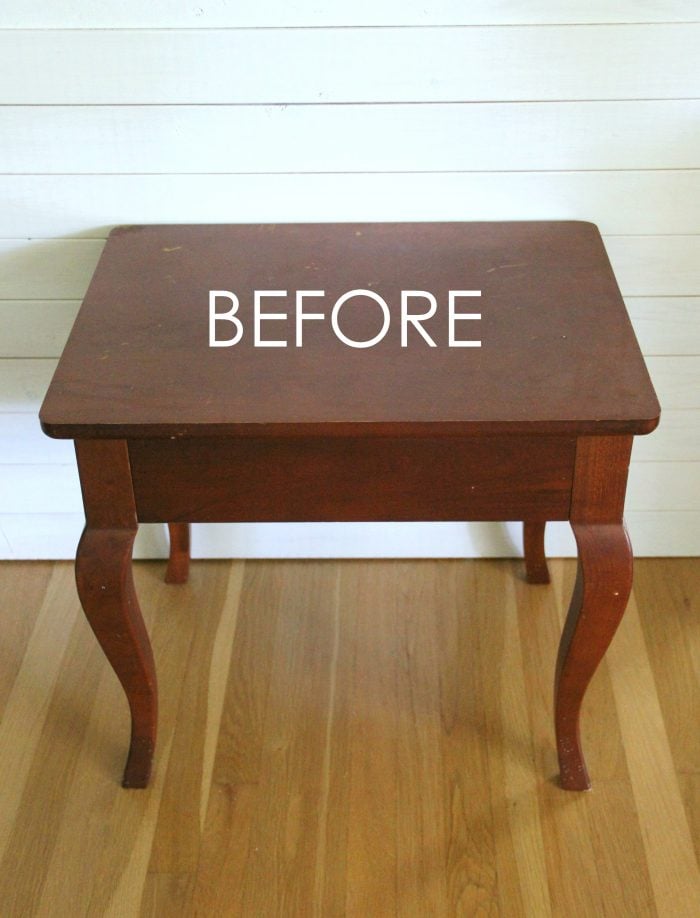 UPDATE!!! See it now, here!!
Hope you have a great week!
xoxo