Compass Rose End Table Makeover (with Dixie Belle Paint)
This post may contain affiliate links. Please see disclosures here.
Do you love coastal decor? It's easy to incorporate with old thrifty finds like this one that I transformed into a compass rose end table!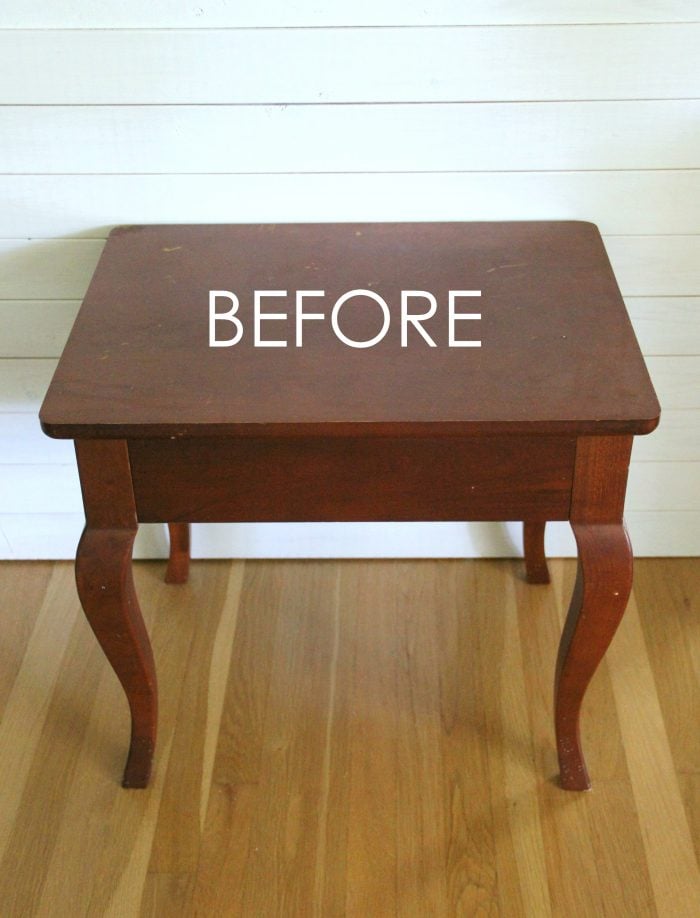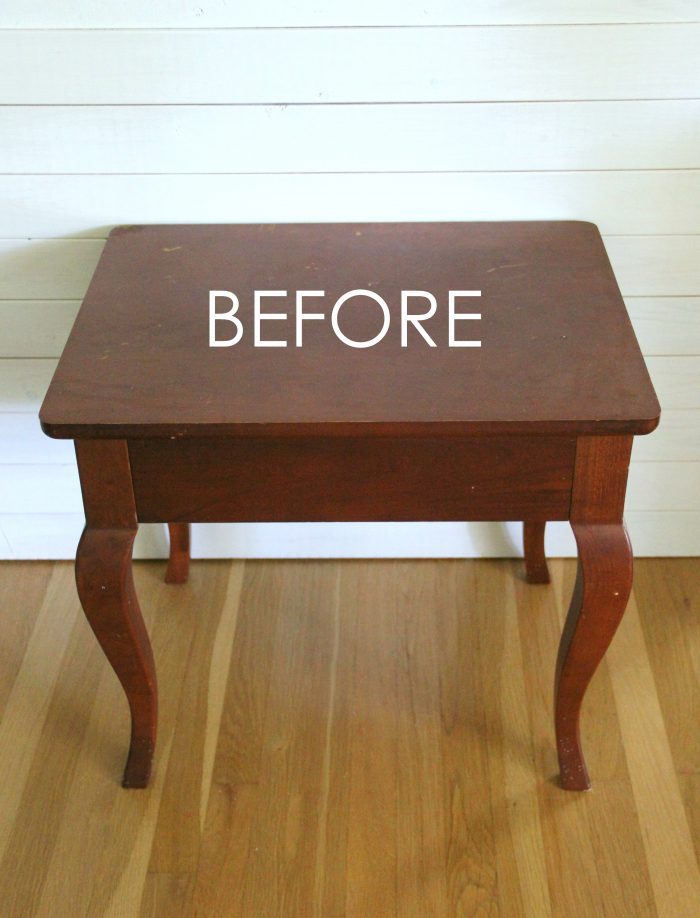 Happy Trash to Treasure Transformation Tuesday Friends!
I'm so excited to be sharing a brand new makeover over with y'all today…. "Compass Rose End Table Makeover".
I'll also be sharing my friends Trash to Treasure transformations at the bottom of this post.
So be sure to read all the way to the bottom! :)
If you are ever intimidated about painting or making over a large piece of furniture, hop on over to the thrift store and pick up an end table.
They are almost always in abundance at the thrift store or the ReStore, which is where I picked this one up for a few dollars.
And then give it a makeover for practice. :) They are the perfect size to play around with and not usually very pricey.
For this one, I used Dixie Belle Paint again. They were kind enough to send me a really nice goodie box some time back.
You might remember I used their paint on this other end table —>> here, also.
I'll include affiliate links to the other products I used as well. You can see my disclosure, here.
The color I went with this time is called Sea Glass and I just love it! It's a bit more green than I'm used to using but it is a fun color.
How could you not love something called Sea Glass anyway? ;)
M A T E R I A L S L I S T :
I started out by removing the finish on the top…..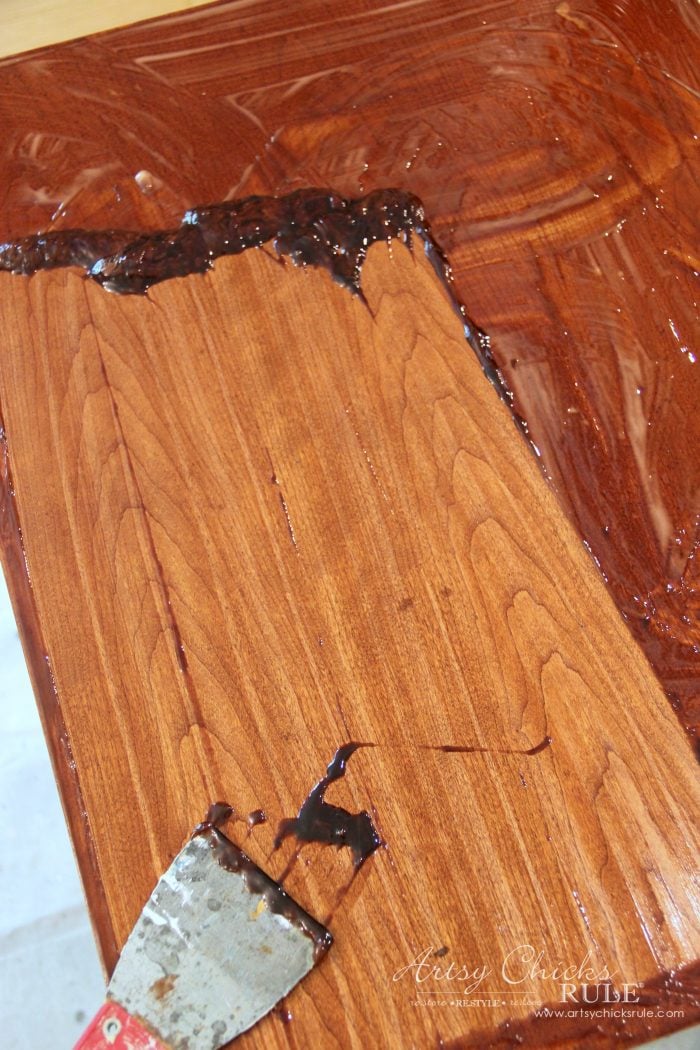 Citristrip makes it a breeze!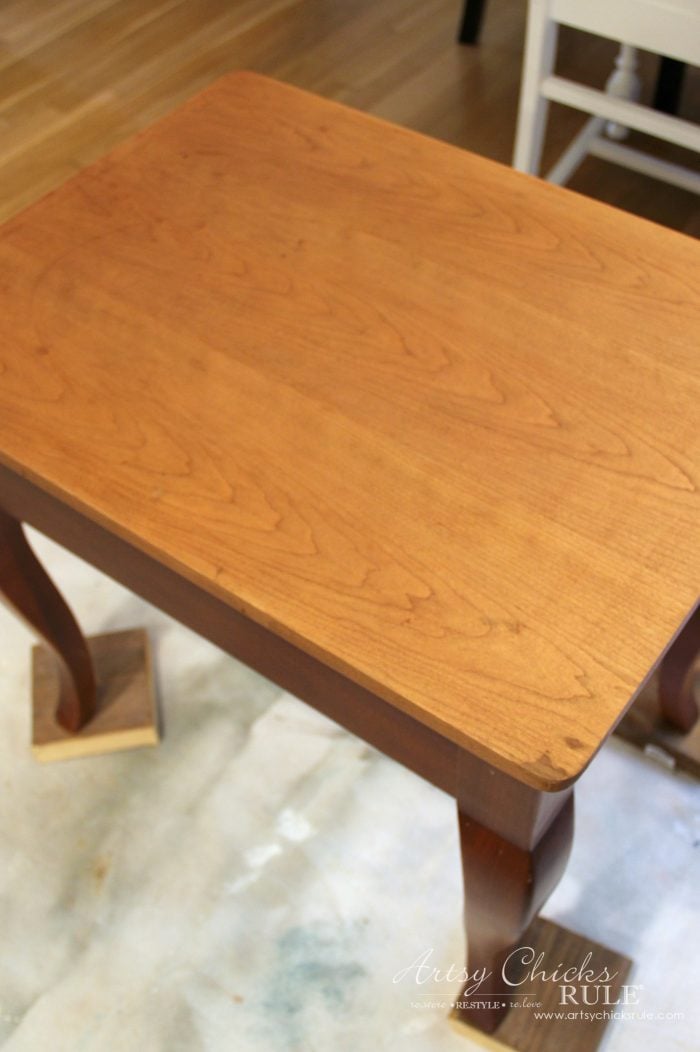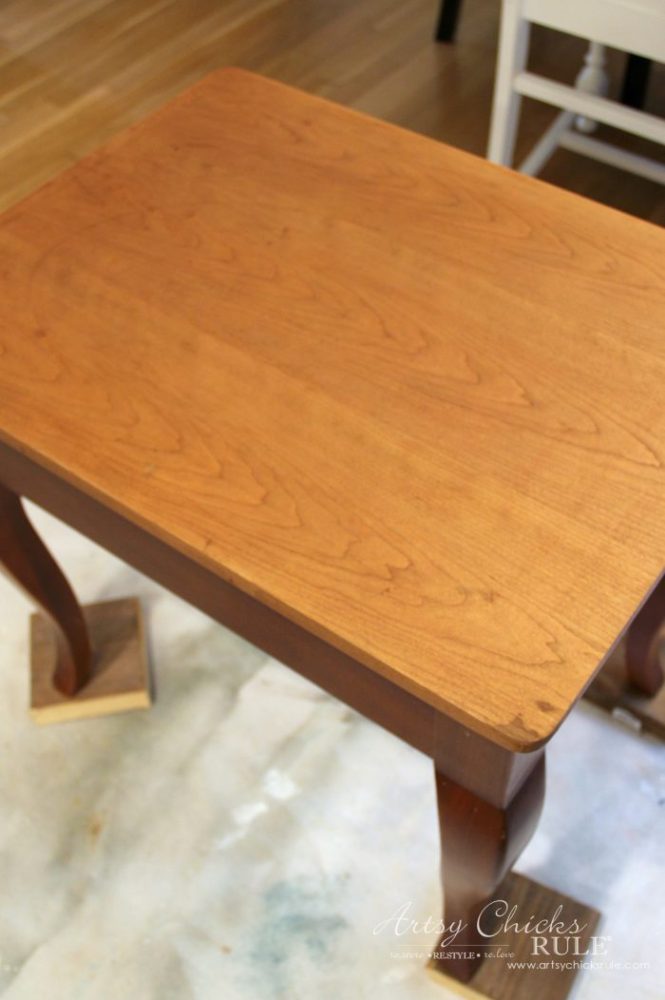 Check that out.
I love that stuff.
I then gave it a quick wipe over with some mineral spirits to remove any leftover residue.
After that was dry, I used the Walnut stain (linked above) first.
I went over top of that with the Java stain.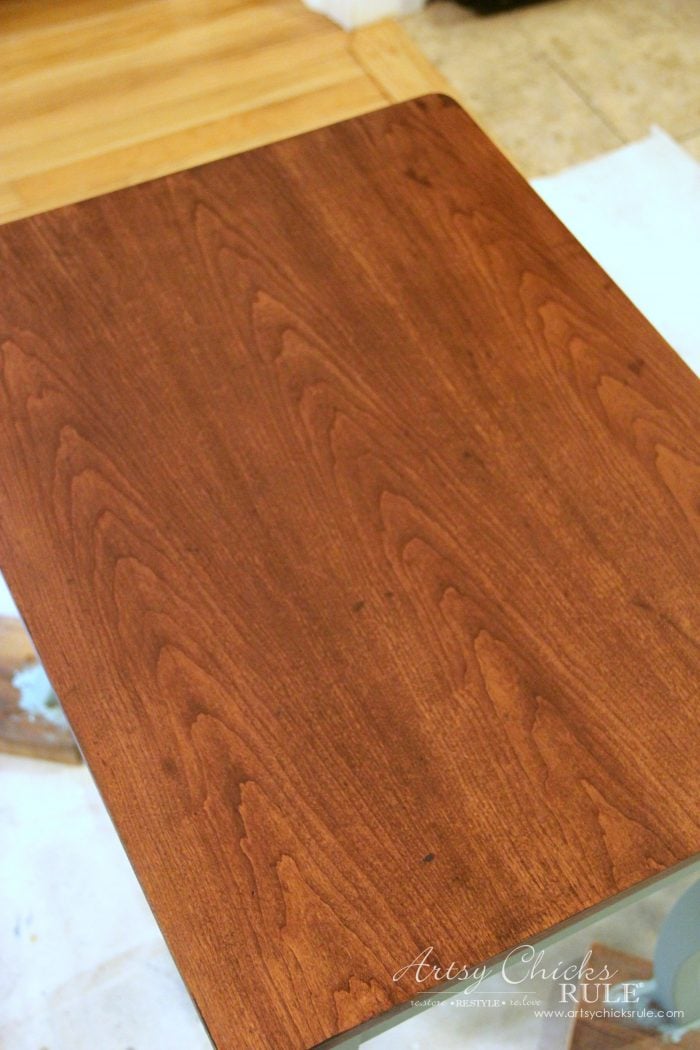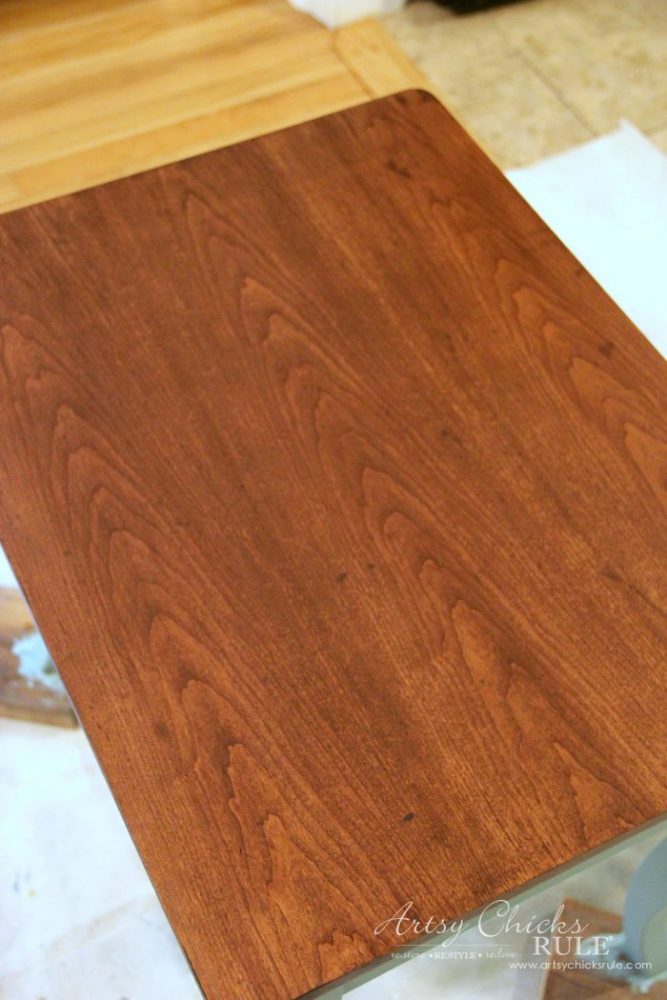 Java by itself would have been pretty dark and I didn't want it too dark.
I waited 24 hours and then applied one coat of sealer.
I then created this graphic in Picmonkey.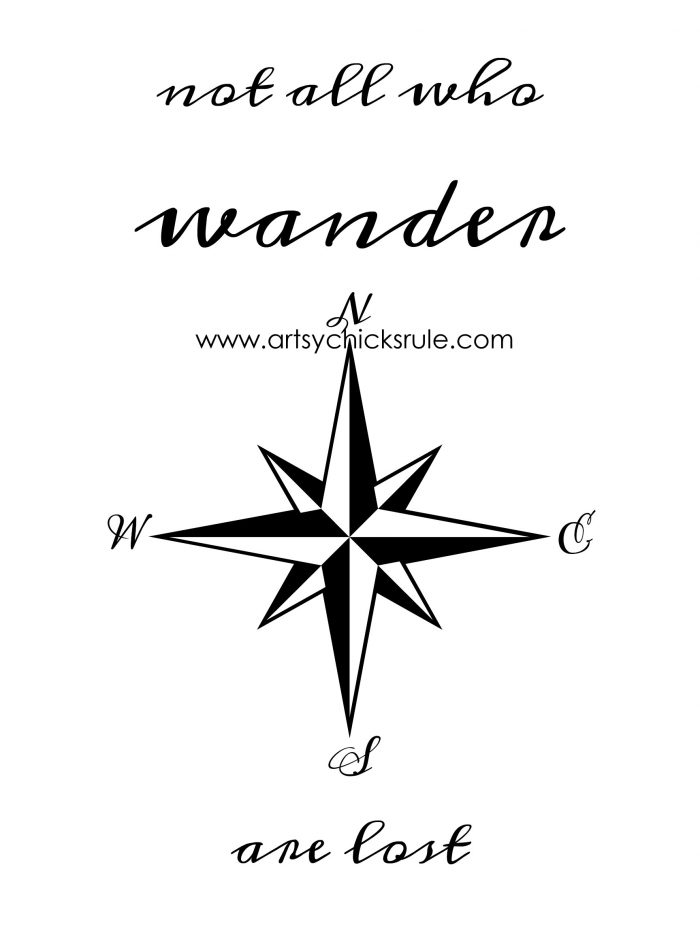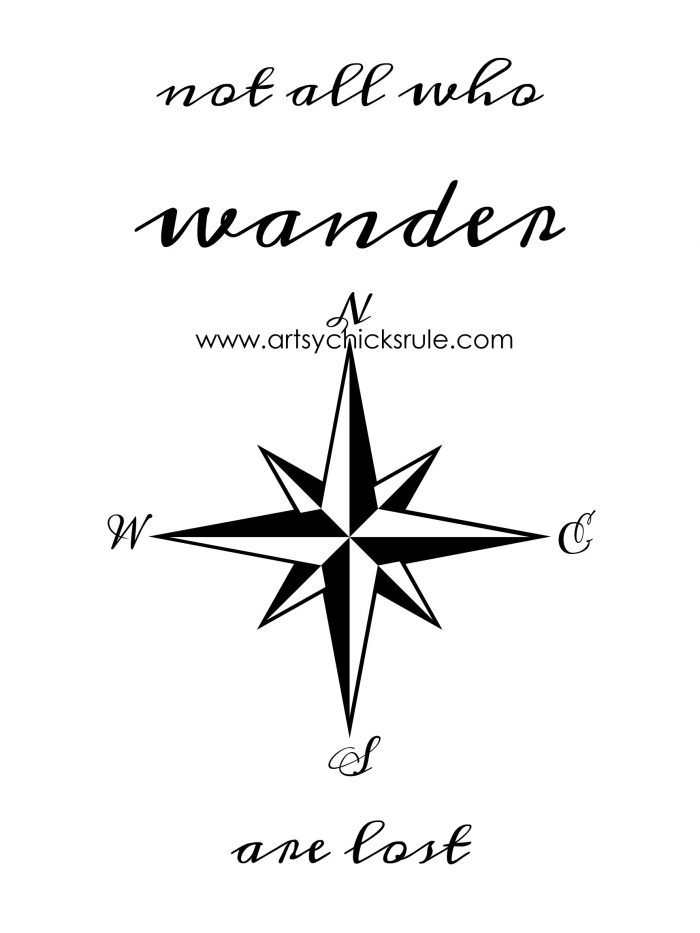 You can download it for free.
(watermark won't appear on the downloadable graphic)

I just love that saying, don't you?
I had originally thought I'd put just the compass rose but decided to put some writing of some sort on it too.
I then came across this saying and thought it would be perfect!
So I printed it out using blockposters (dot) com. (that site is great for printing large things)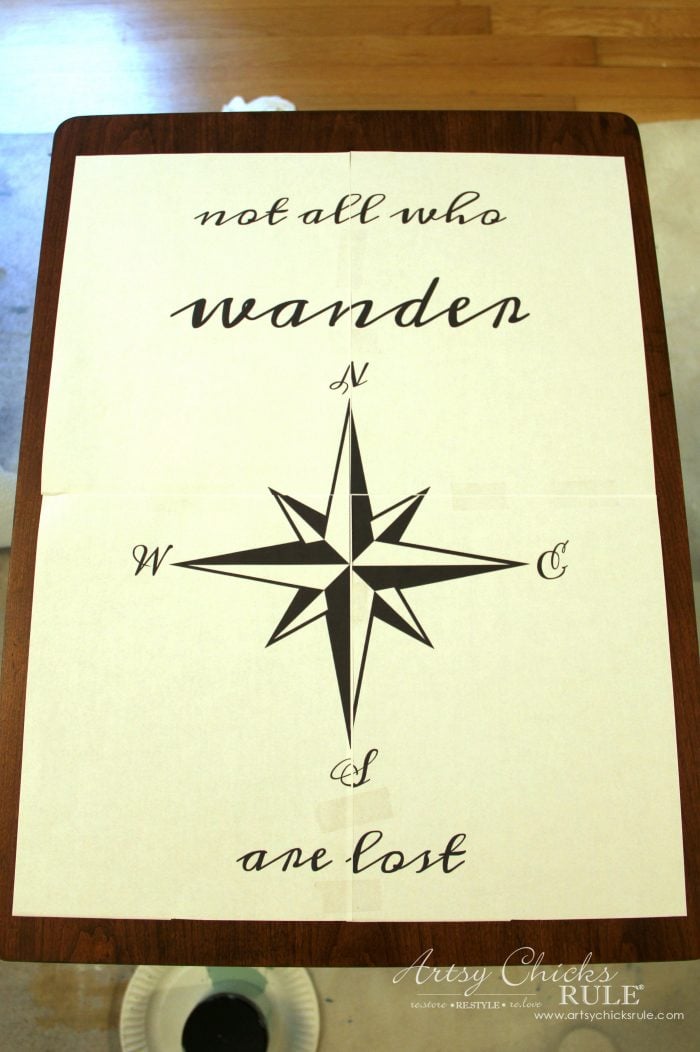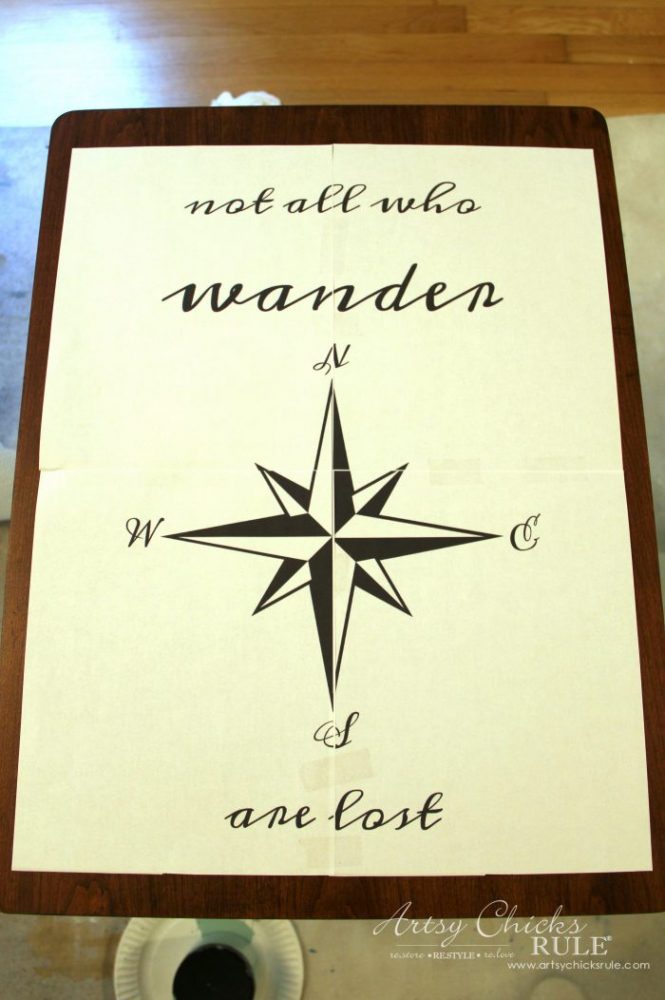 And then taped the pieces together to transfer.
Be sure to use a tape measure and align and tape it to your surface.
Theirs nothing worse than doing all that work and then having to redo it because it's crooked!
I rubbed chalk on the backside and then used a pencil to transfer the image onto the wood. (trace the letters, etc)
You can read about all of my other ways to transfer graphics, here, "How To Transfer Graphics".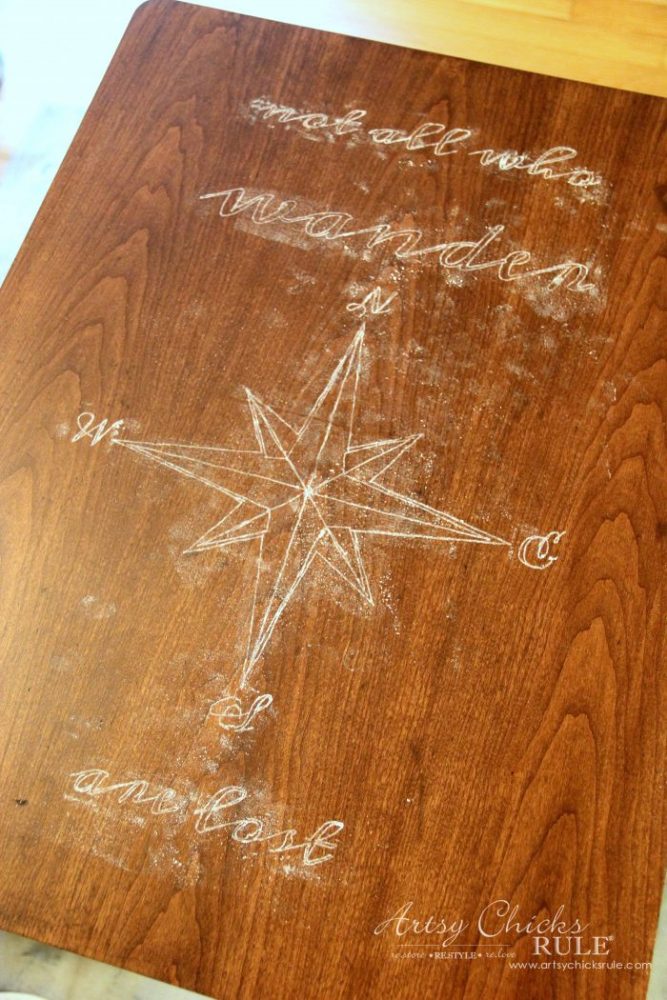 Works really well. All that I need to do now is "color in the lines". ;)
I use a script liner brush for this.
The one coat of sealer I applied beforehand makes it so much easier to apply the painted graphics.
(and easier to wipe away when you make a mistake! ;) )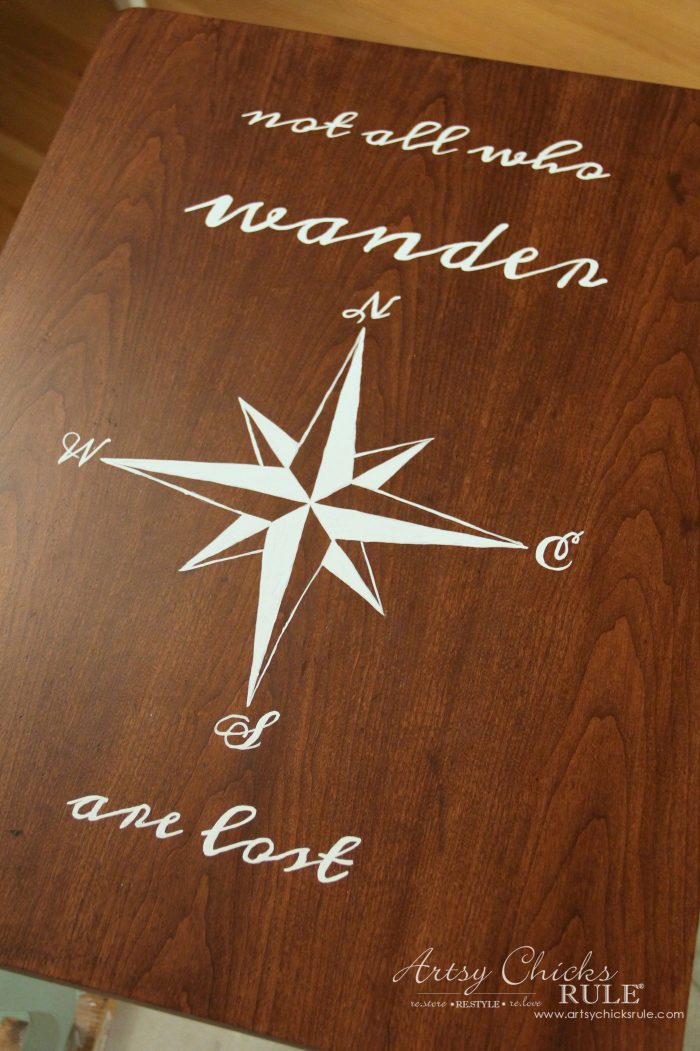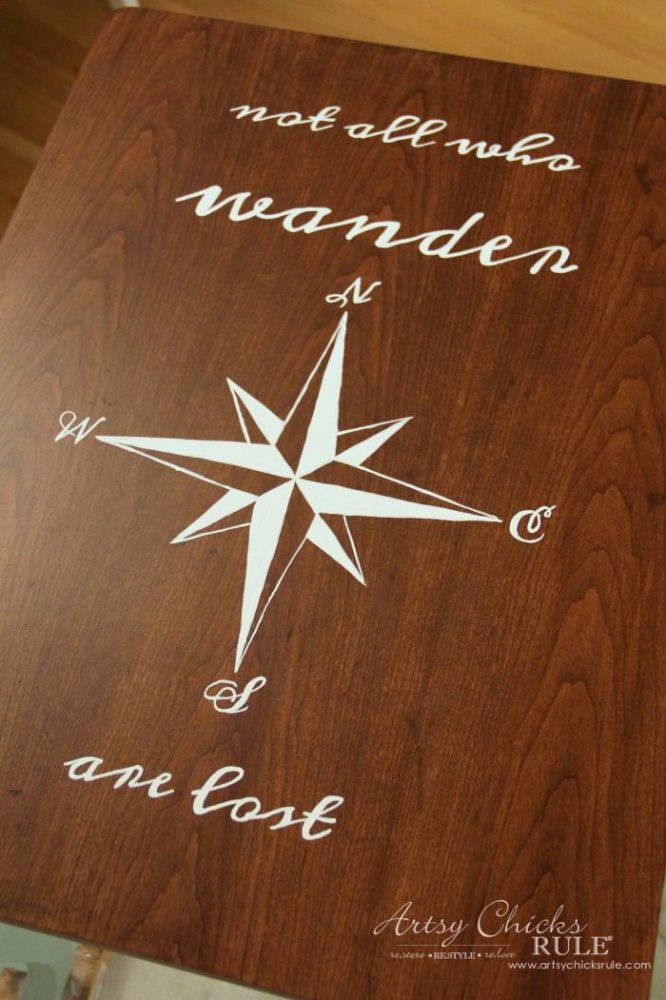 I typically, almost always, like to give it a light sanding to "soften" the edges a bit.
I don't like the flat, just painted, too perfect look.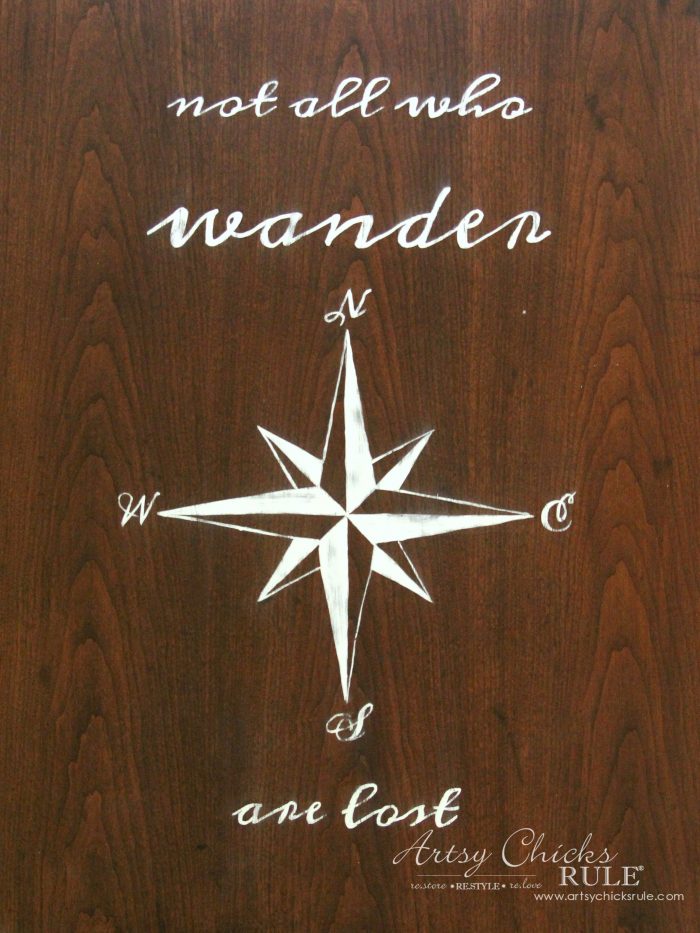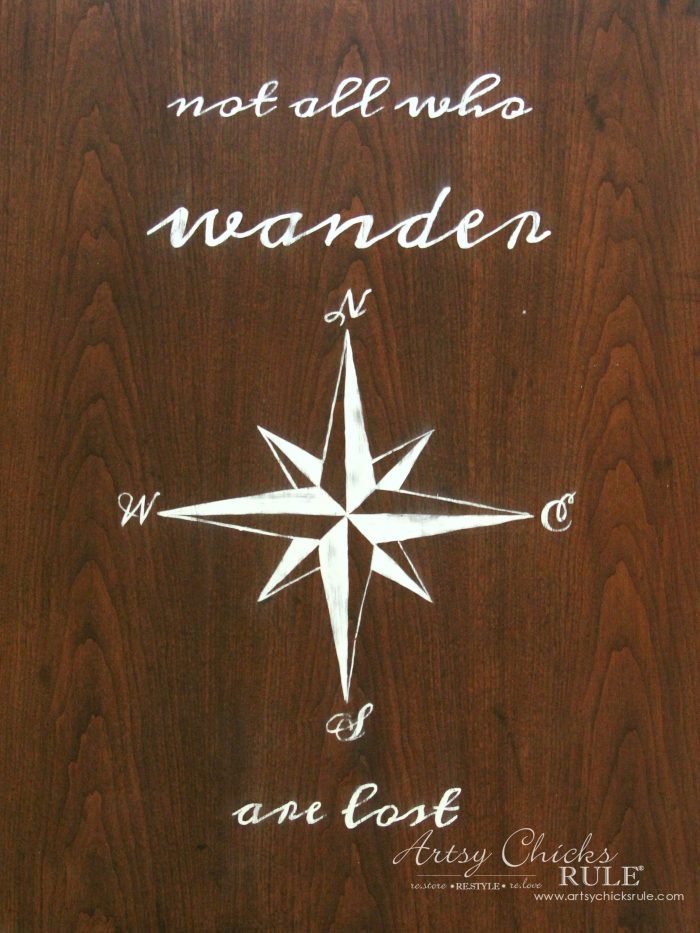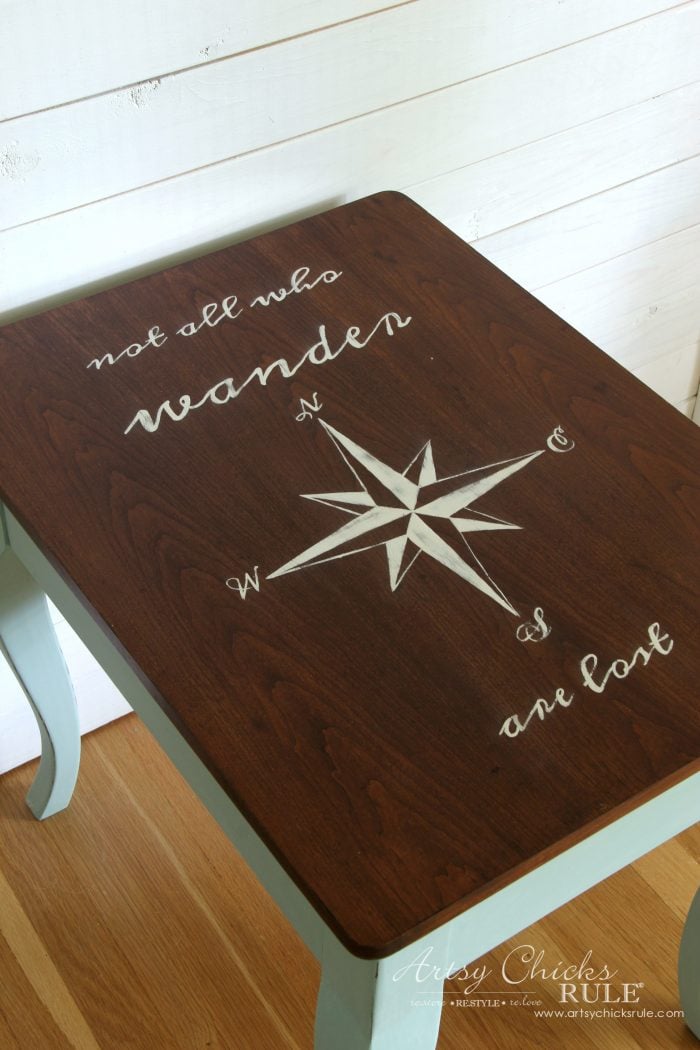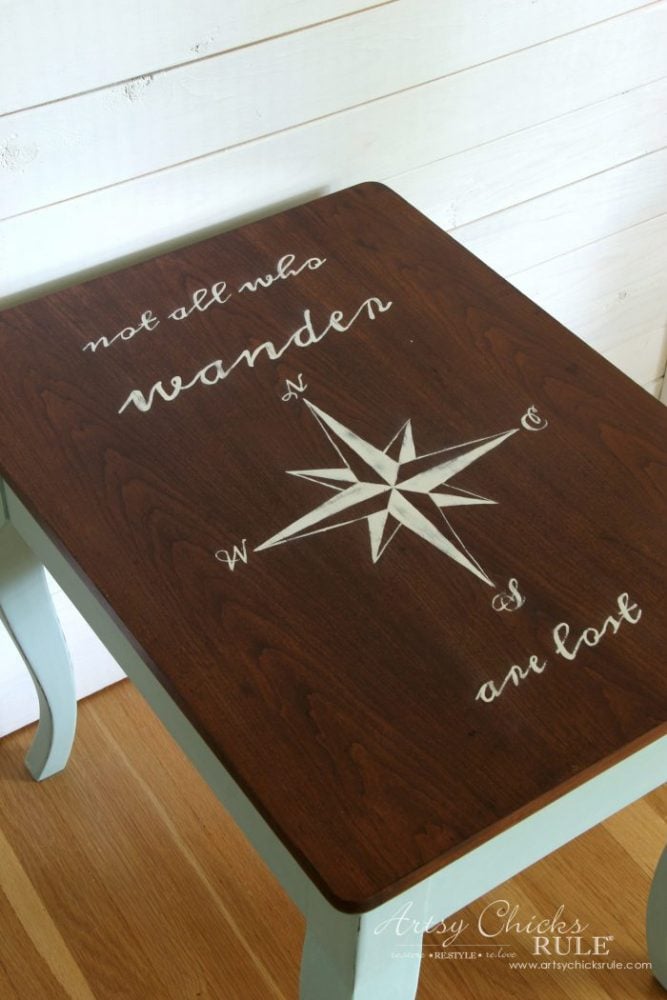 Just a subtle bit of sanding.
And then it got 2 more coats of sealer.
The base got that pretty Sea Glass paint….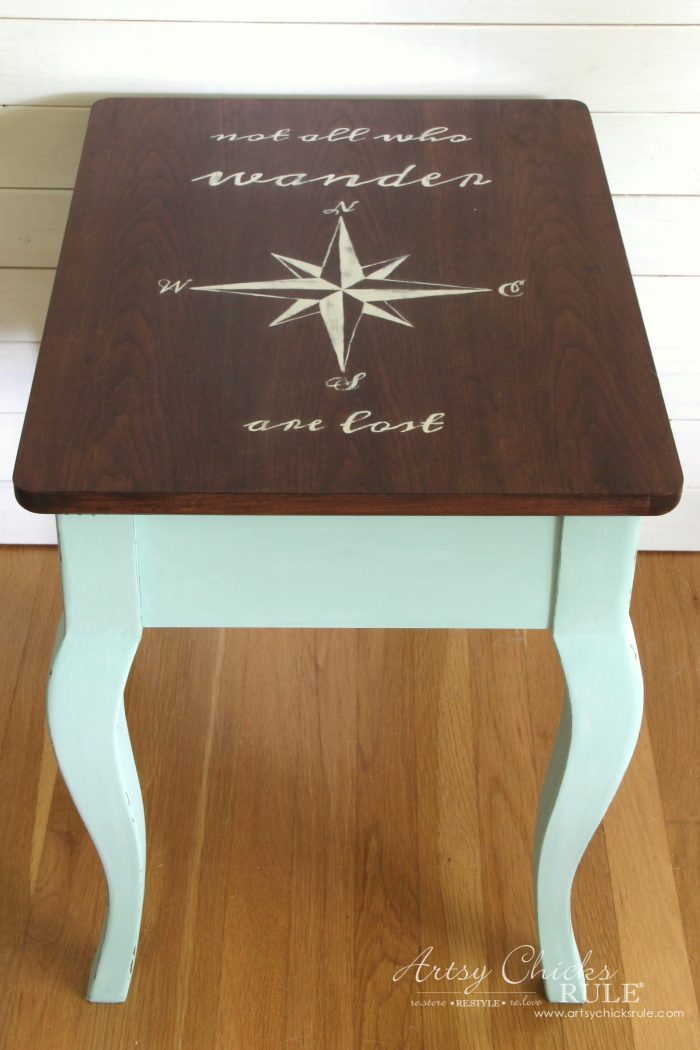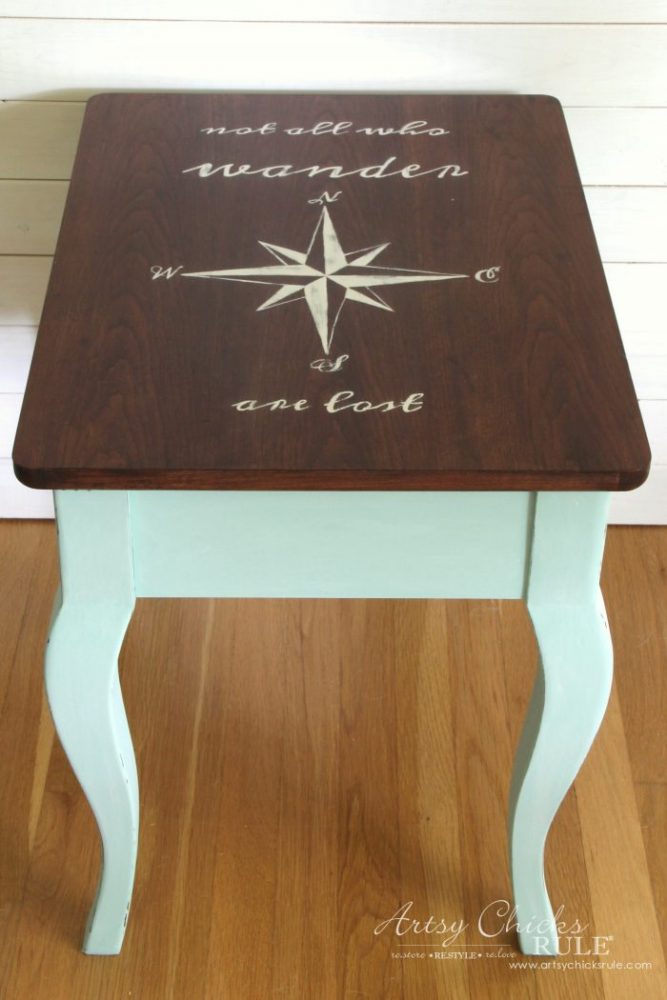 And a little bit of distressing here too.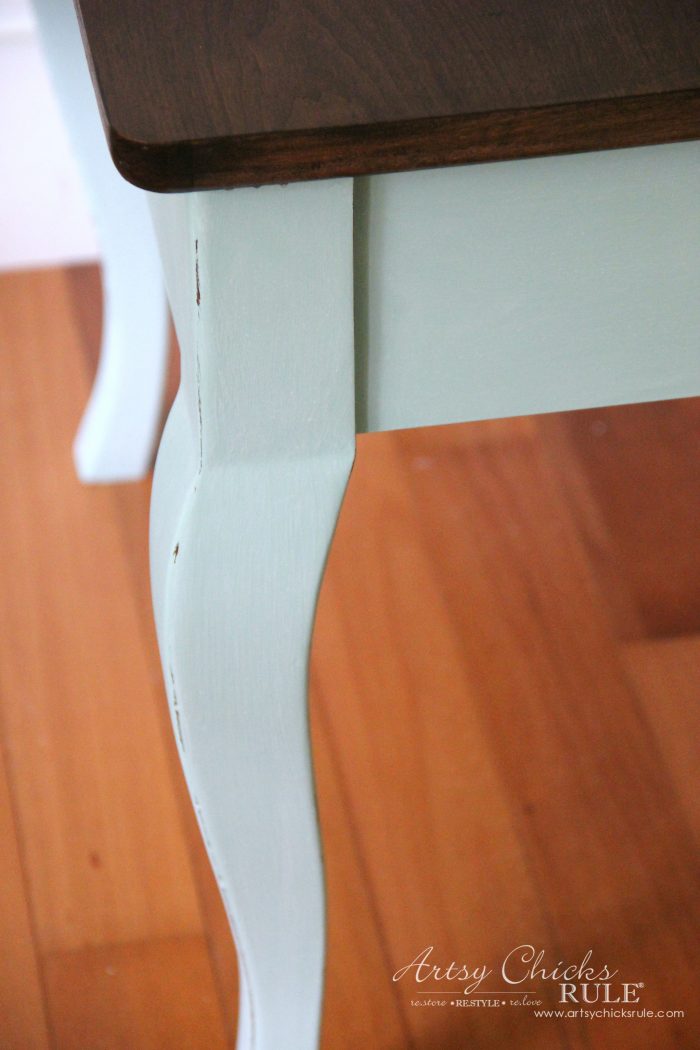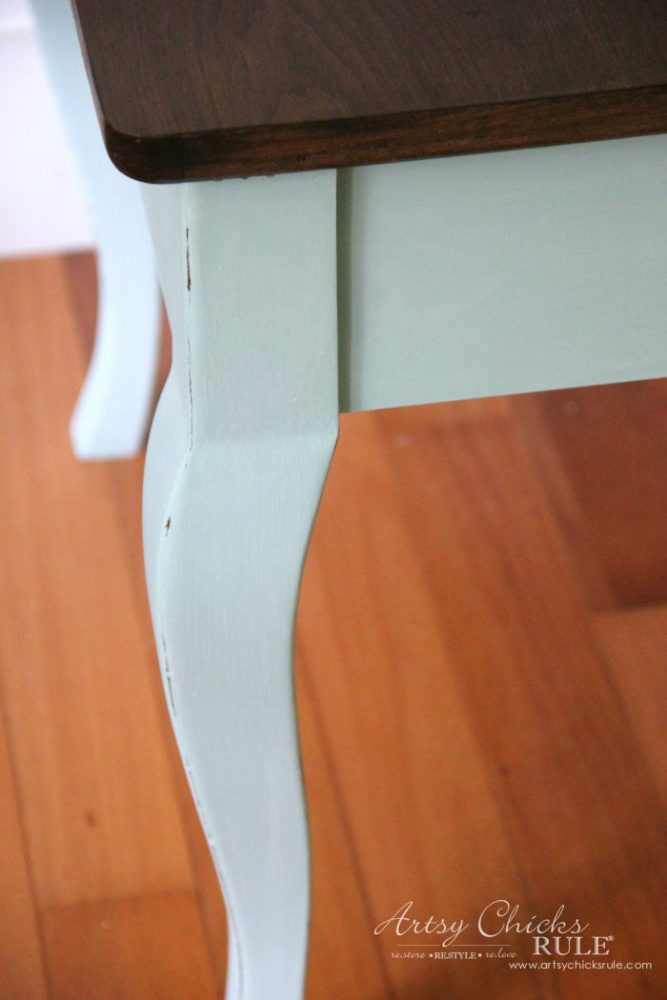 I also used their Whitewash Glaze to go over top of the paint. (all products I've mentioned are linked in the "materials list" above)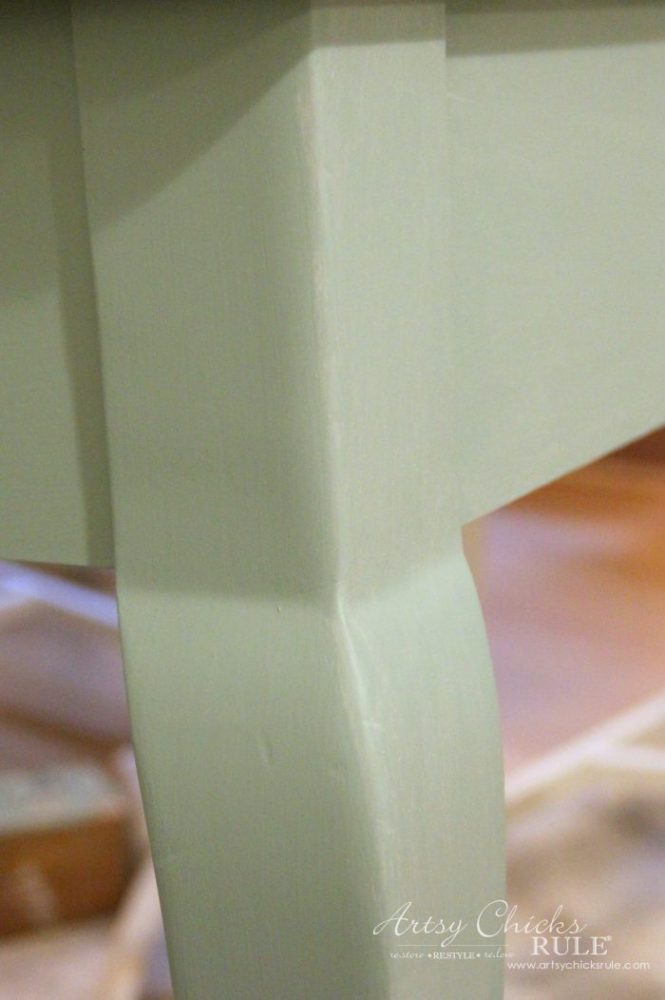 It's very subtle but hopefully you can see it in this photo.
The left is unglazed, the right side is glazed.
It's much more noticeable in person and gives it a nice "washed" look which is perfect for this table.
Want to know about 26 other chalk style paints?
I've got the low down for you right here! >>> 26 Types of Chalk Style Paint For Furniture
What a difference, huh?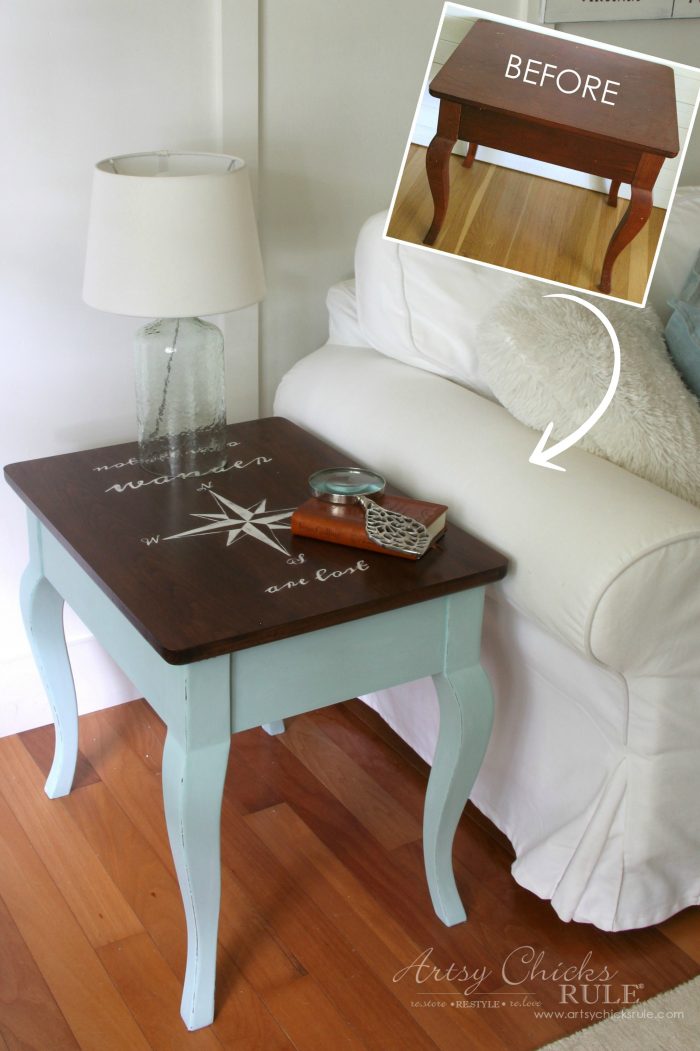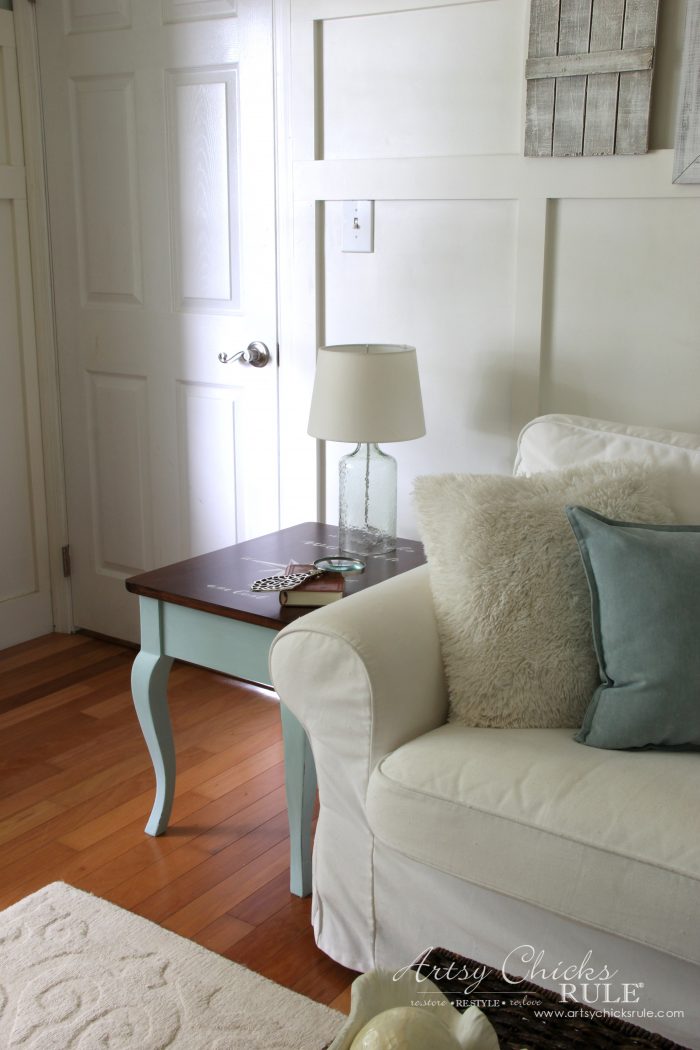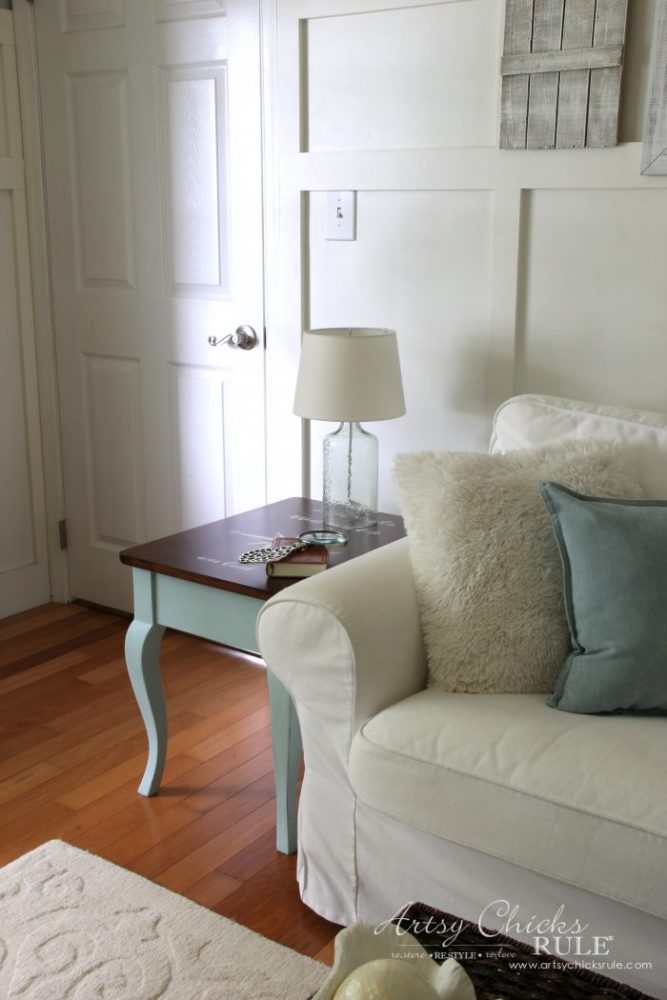 It actually goes very nicely in my room.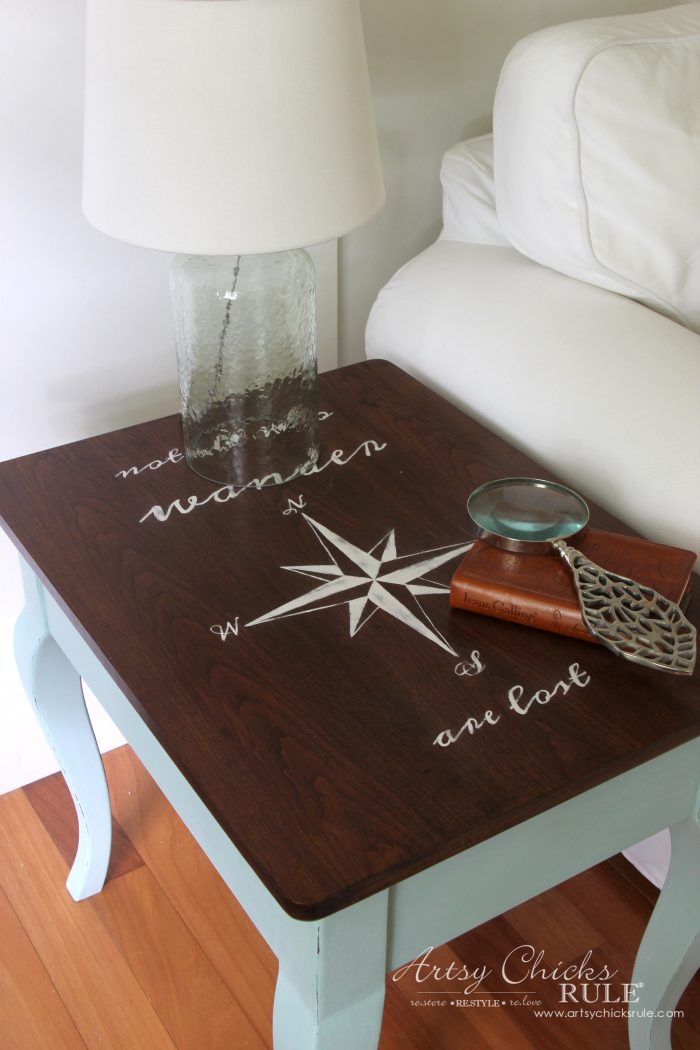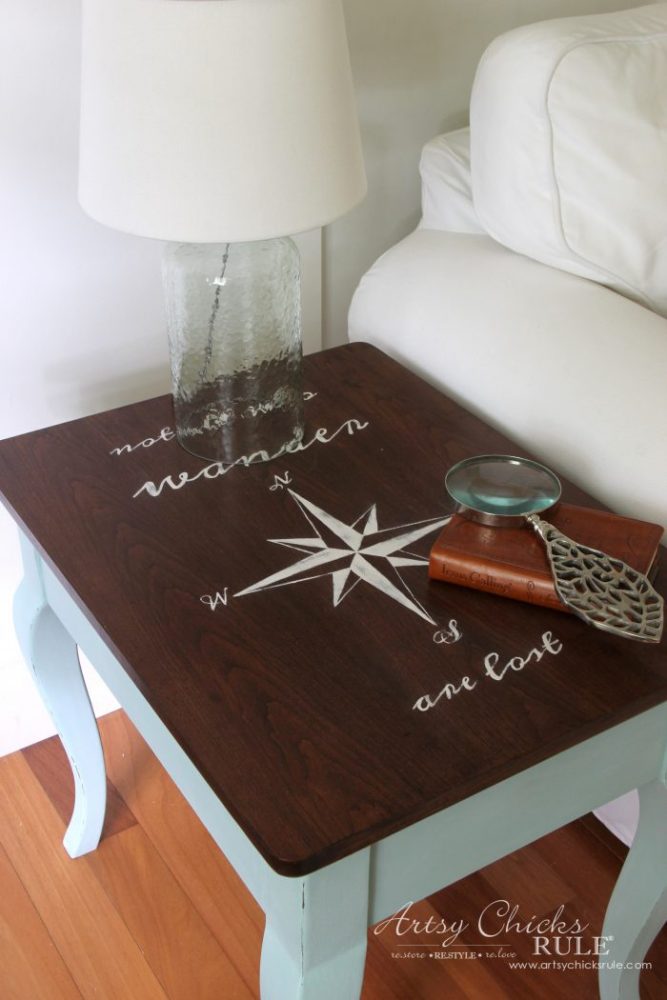 But I've already got my DIY Criss Cross tables in here so this one will have to go into storage for the beach house. :)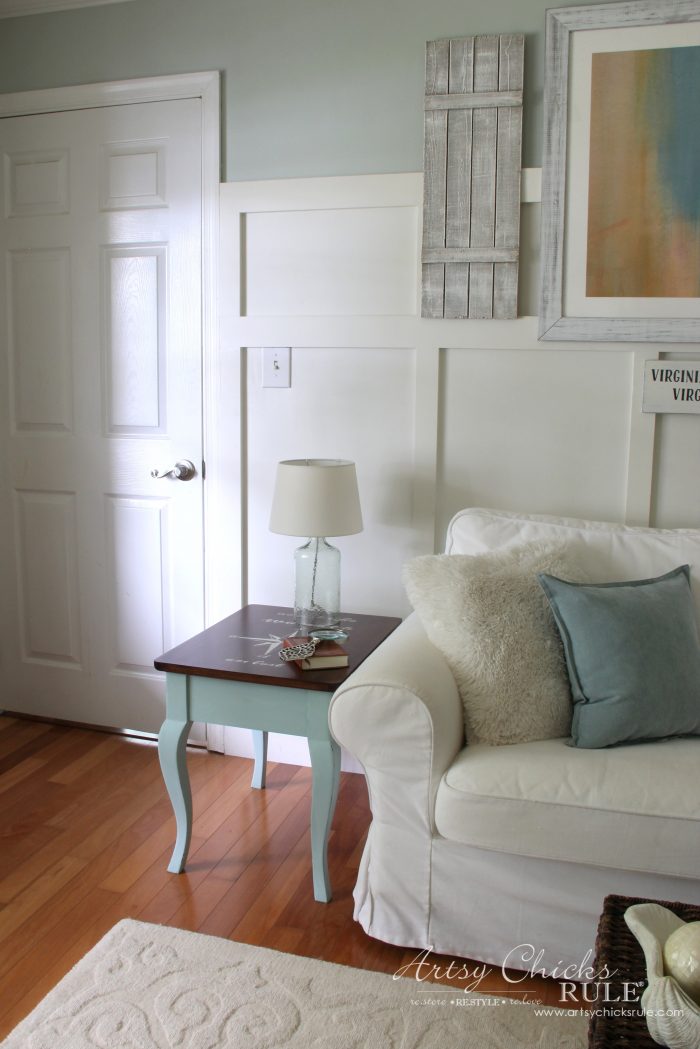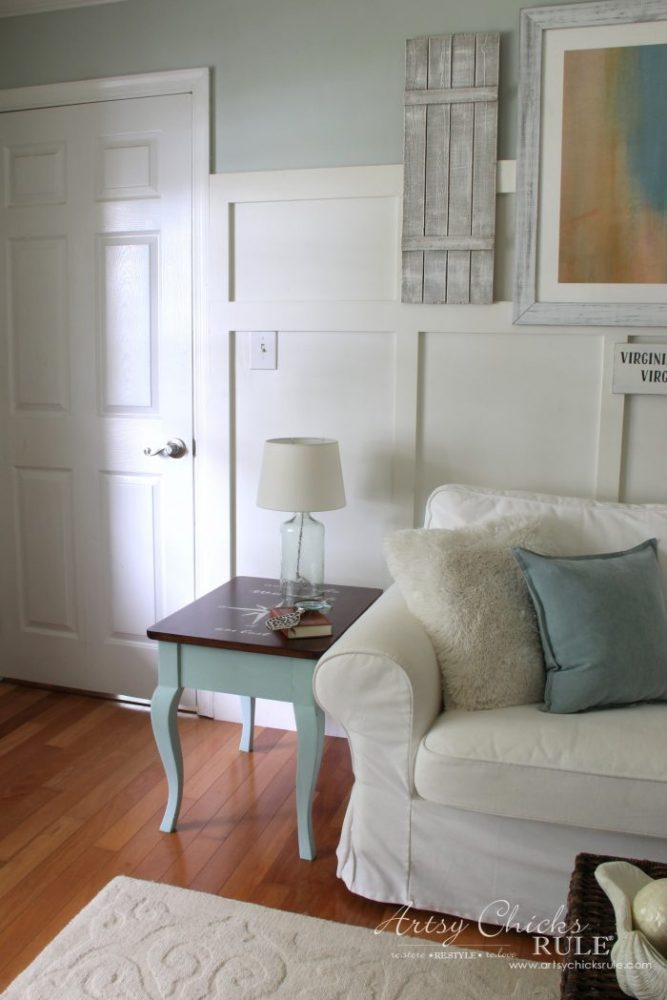 Cute little compass rose end table makes you feel like you are at the beach!
Even if you aren't. ;)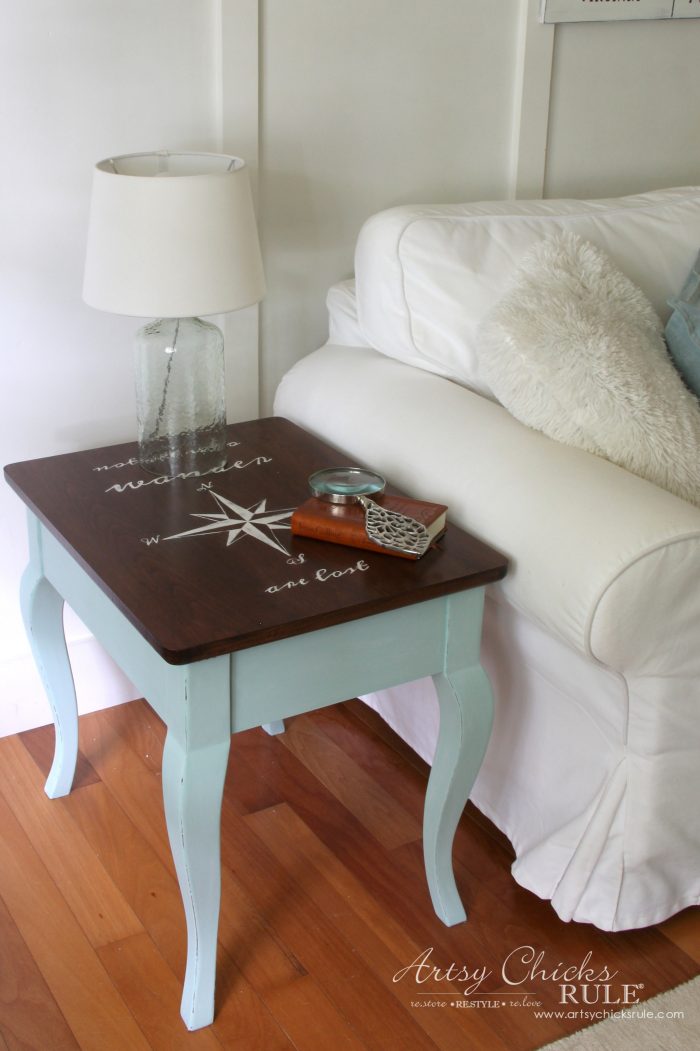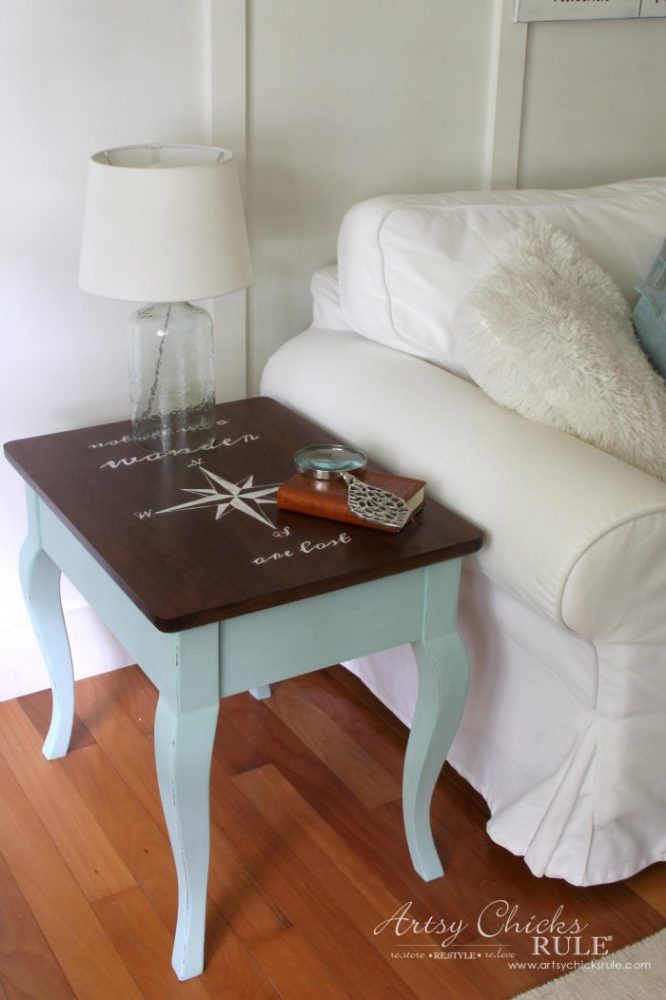 Be sure to PIN this Compass Rose End Table Makeover to save it for later!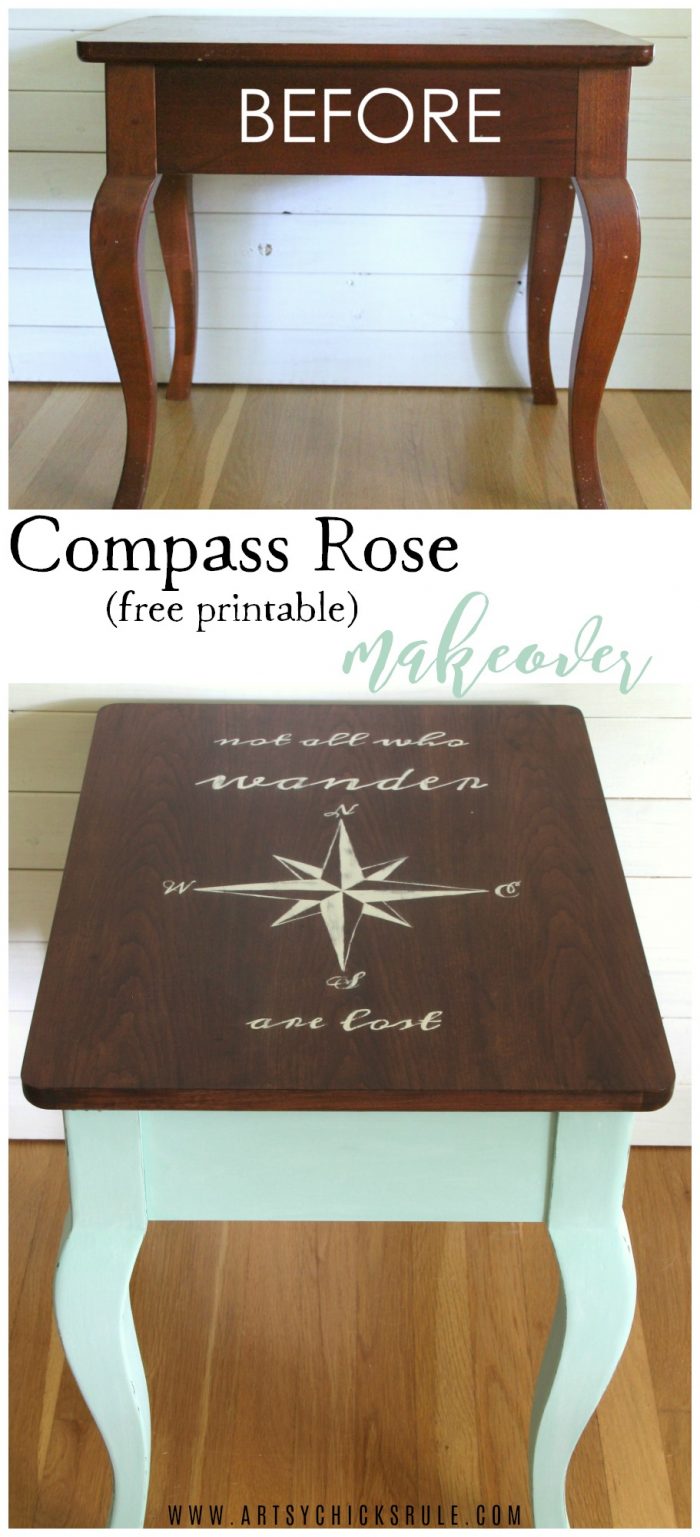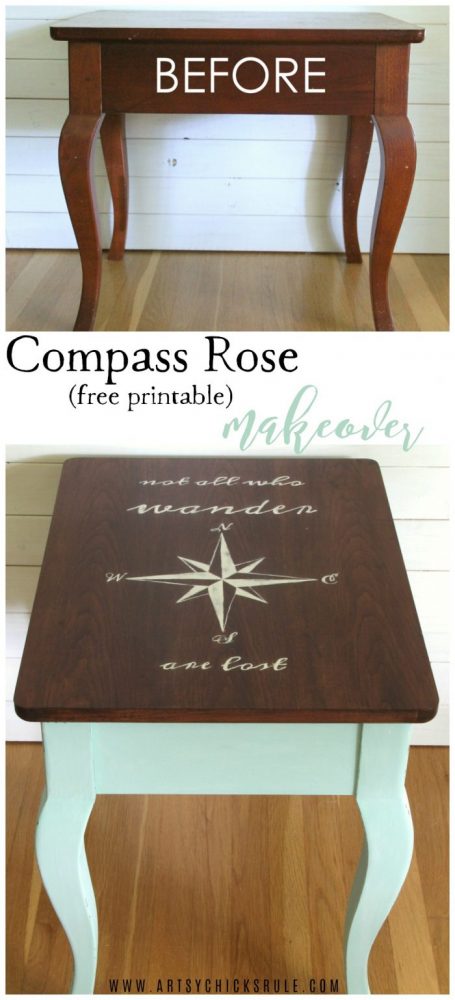 Don't forget to see what kind of treasures my friends created out of their "trash" this week! :)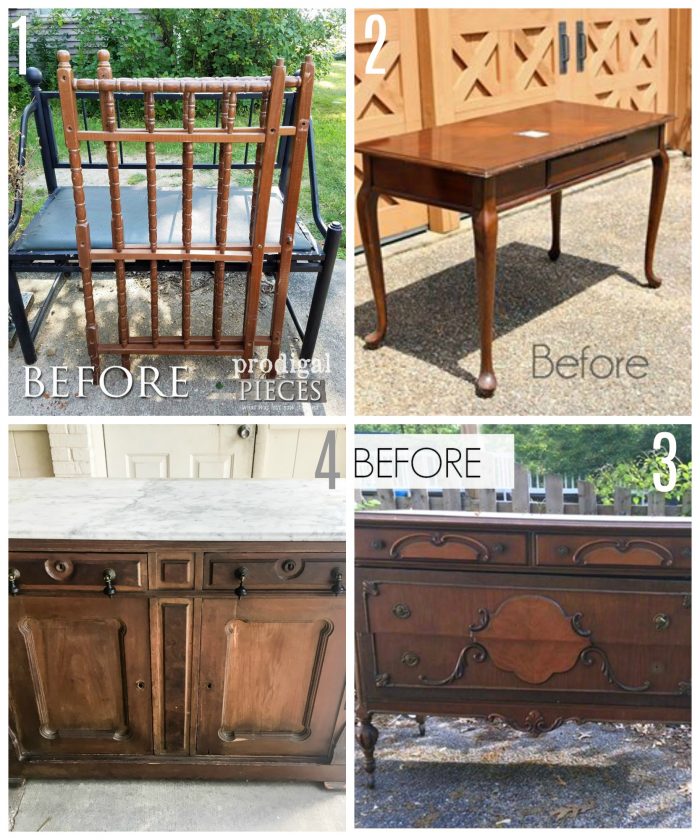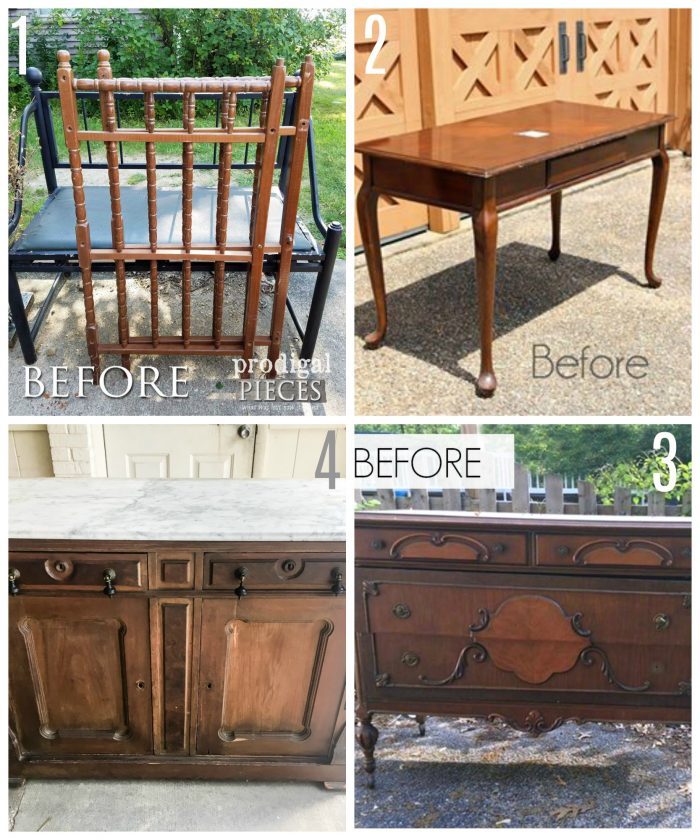 Want to see more Trash to Treasure Transformations? Click here.
I'll see you later this week with the full tutorial on this simple build!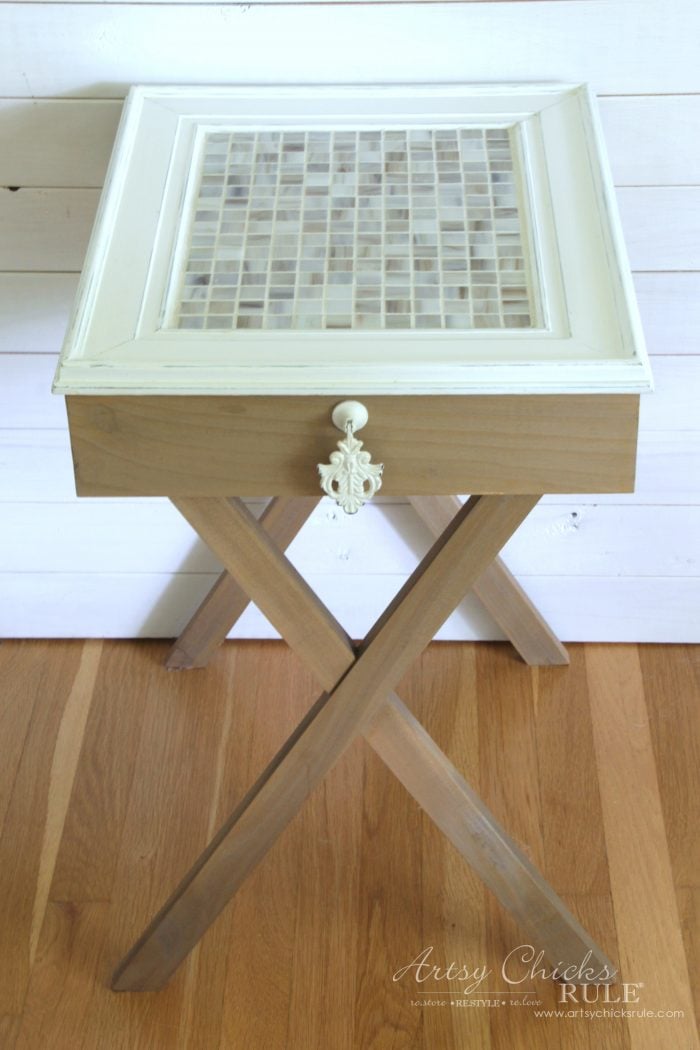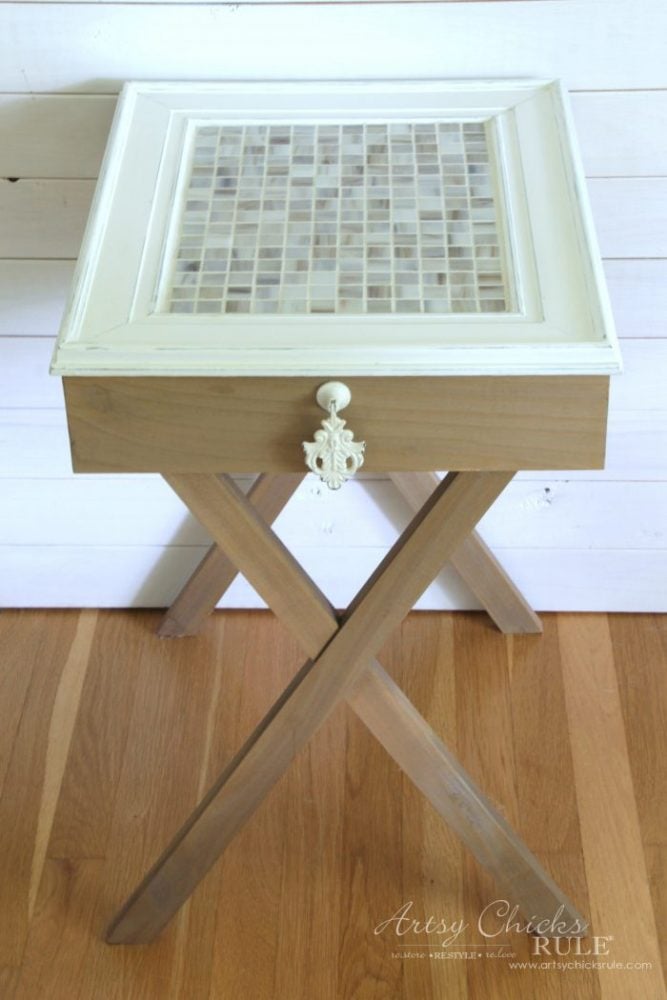 UPDATE!! See it now, here!!
Have a great week!
xo