Coastal Farmhouse Laundry (all the details & sources!!)
This post may contain affiliate links. Please see disclosures here.
The big day is here, friends! And wow, what a whirlwind it was.
I can't believe we got this Coastal Farmhouse Laundry done in time for the One Room Challenge Reveal.
We had so many projects to complete and I really wasn't sure it was going to happen!
All the way down to the last few days, even.
But we got it done! (well, mostly, we still have some finish trim to put up but overall, DONE! ;) )
Before I share it with you, let me just say thank you for following along on this crazy journey.
And let me also say thank you for all the help, opinions and thoughtful comments you gave.
I truly appreciated every single bit of it! :)
This was not only stressful because of the short time frame, but also because there were SO many decisions along the way.
And none of those decisions could really be mulled over for a time. I had to decide and decide quickly or we'd get too far behind.
Not only that, but doing this with thousands of eyes on you can be a little unnerving. Mainly because you don't want it to suck! ;)
And let's not even talk about living in a house that looks like a hurricane went through it for 5 weeks! Whew, so glad we can get out of construction mode and put everything back in it's place. :)
Well, let's get on with it….but first! …. go grab a cup of coffee or tea and maybe even a snack too. It's a long one!
Here was the 'plan' for the room….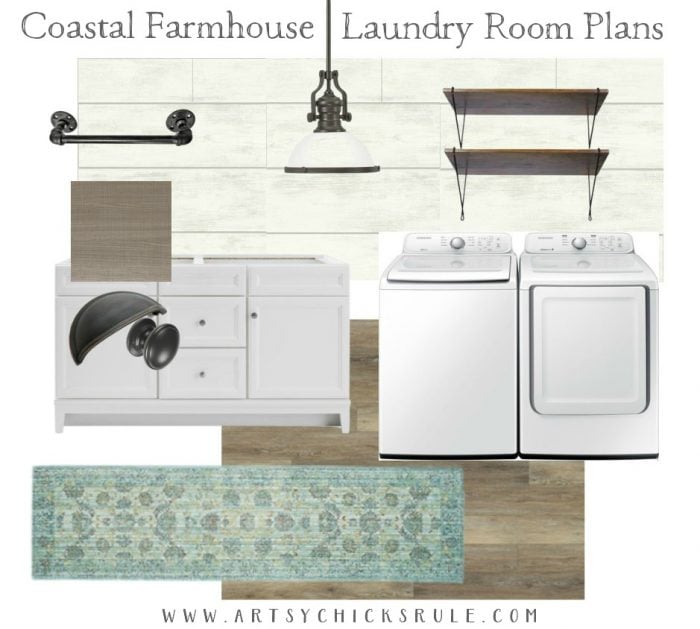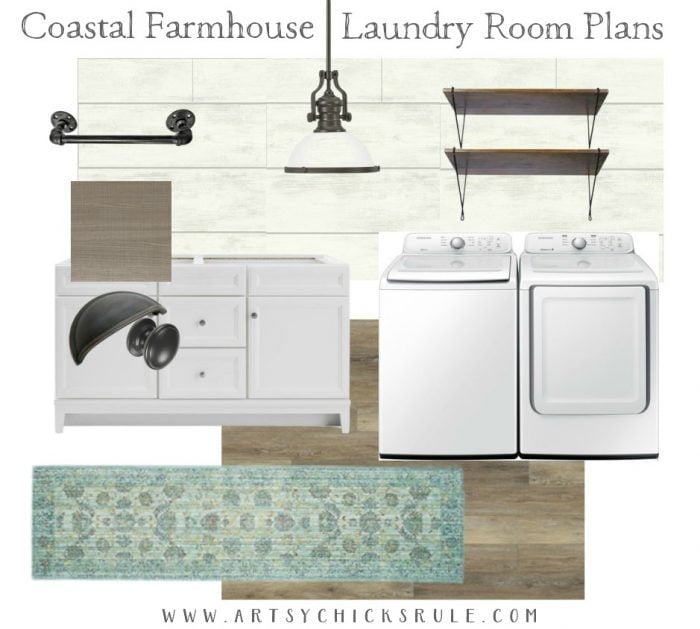 Are you ready to see my brand, spanking new Coastal Farmhouse Laundry Room?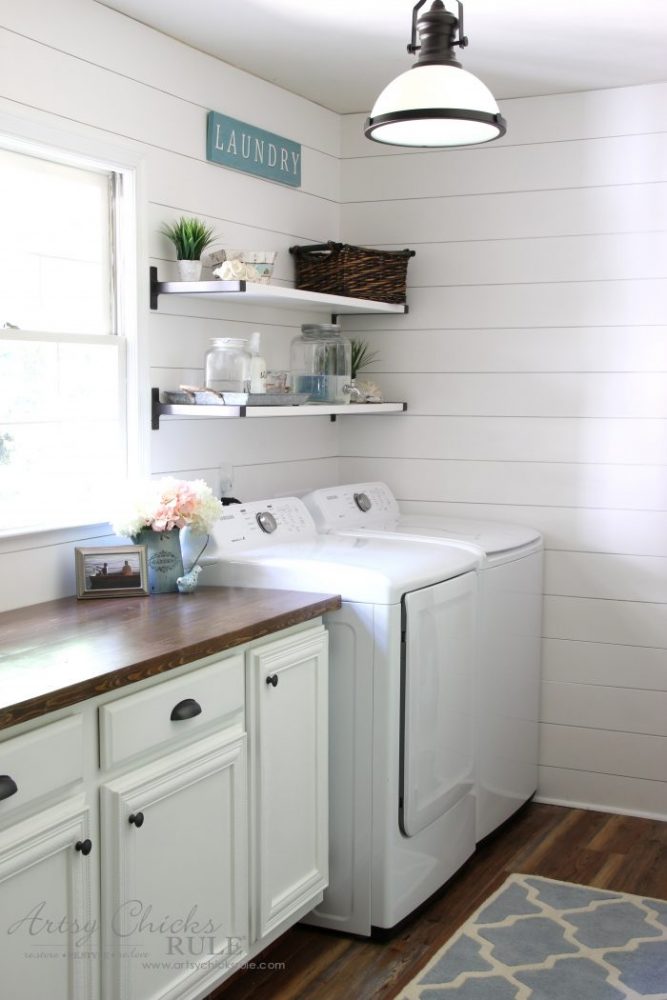 I'll try to add links and/or affiliate links to all of the items in the room (or most of them anyway) so you can find the exact items. You can see my disclosure, here.
Let's refresh your memory on what this room looked like when we moved in 13 years ago….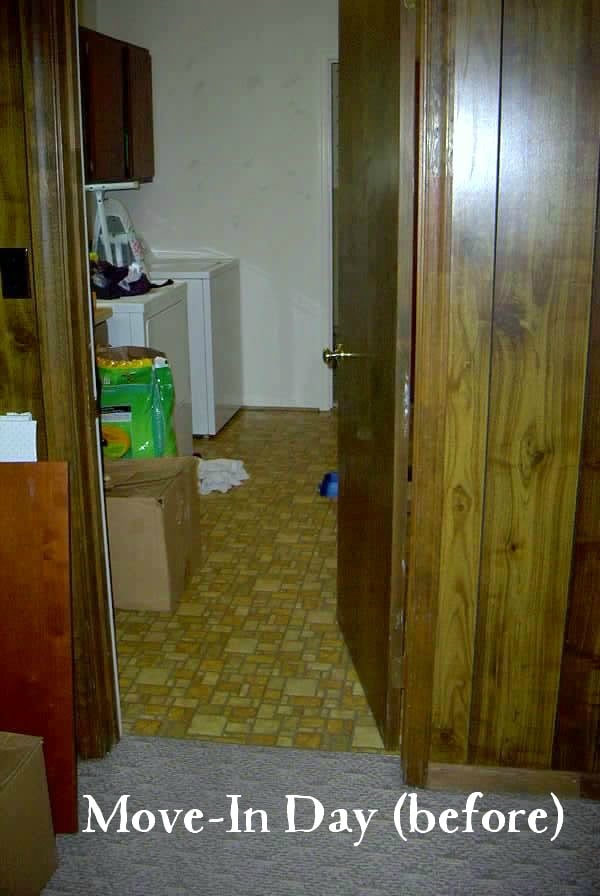 Side by side, I tried to take the exact same angle. Wow!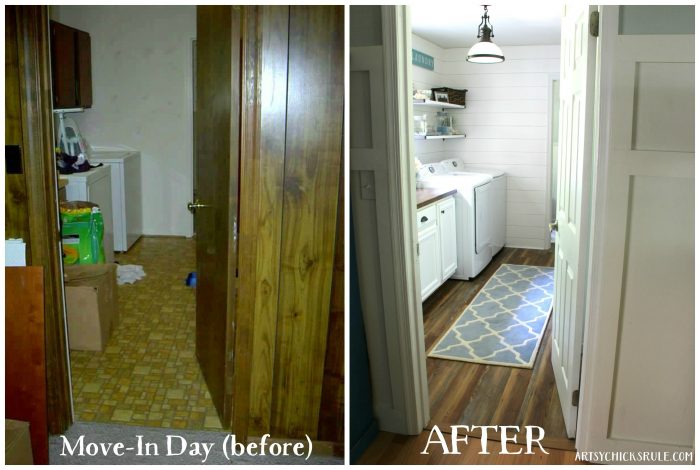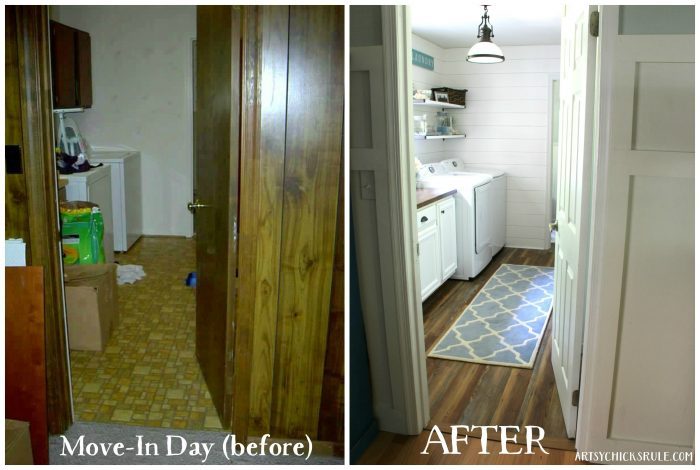 BIG difference when you look at those two, huh?!
I lived it and I can hardly believe it's the same room.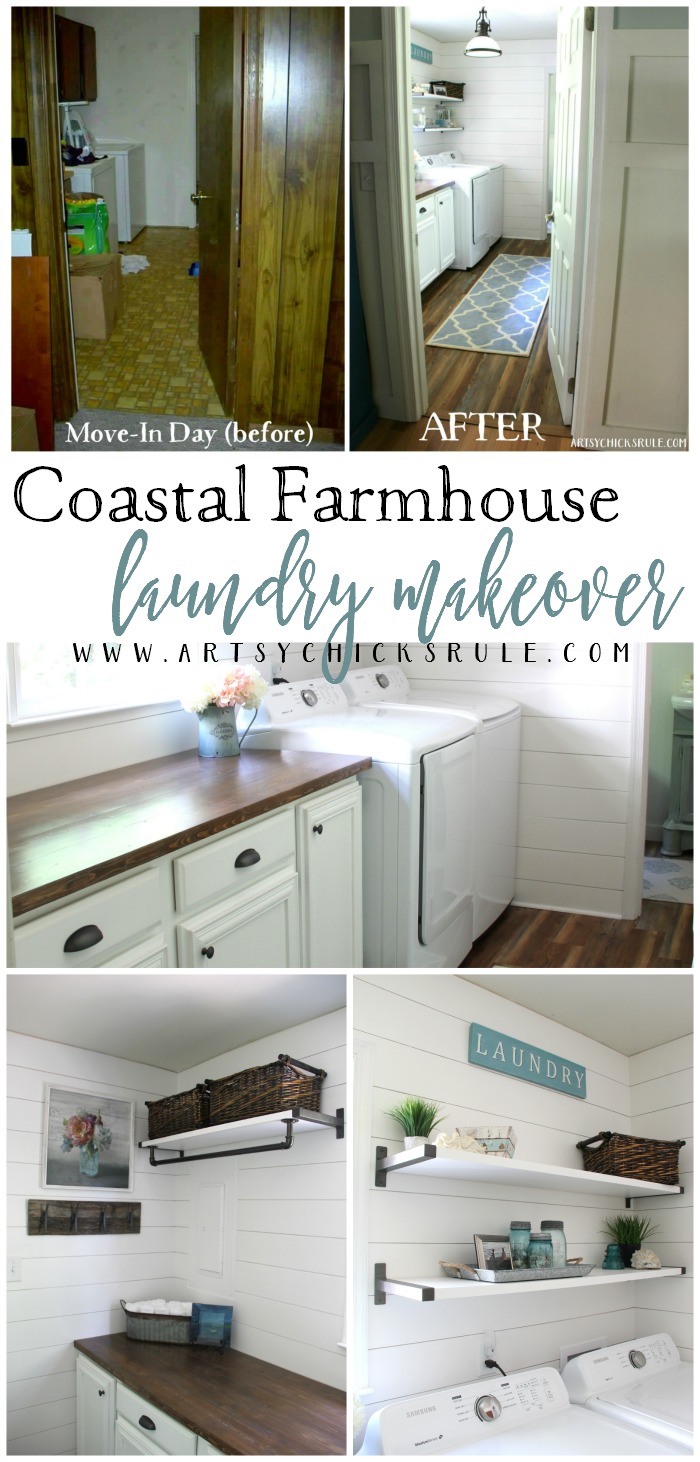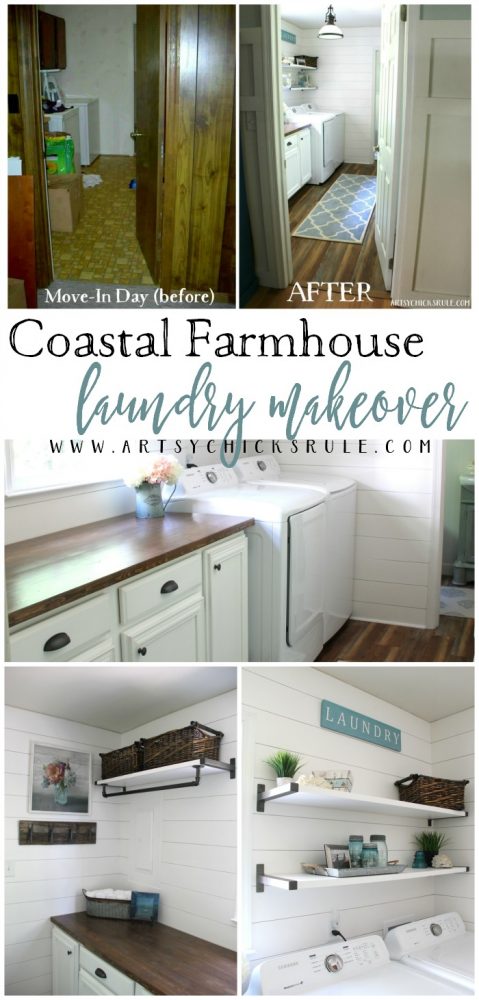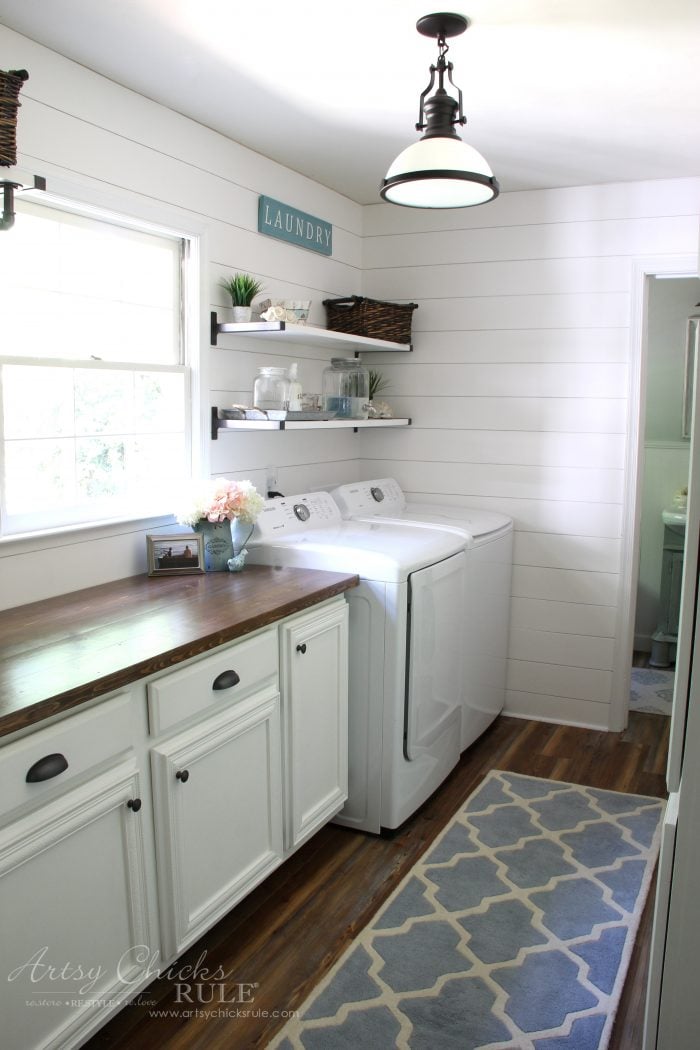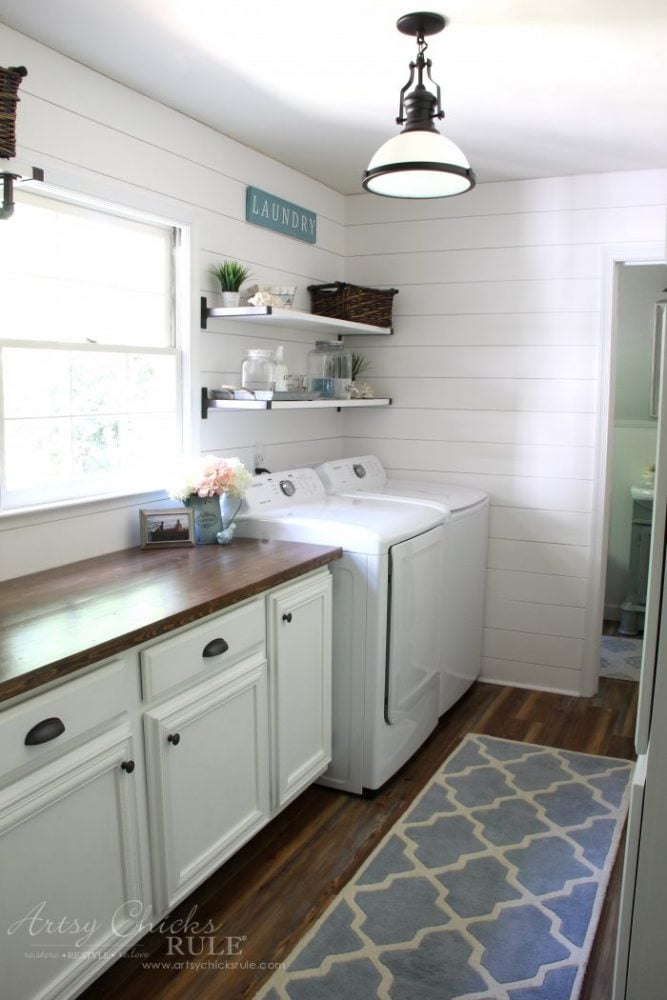 And yep, that's a rug in there.
But not the rug (or rugs) I showed you. It's the rug that I had in here before the makeover. (money saved, yay!)
It's not quite as "aqua" as I'd like but I like the way it looks in here.
It's a bit more plush looking (and feeling, it's wool) and I think it's going to stay.
Here it is without the rug….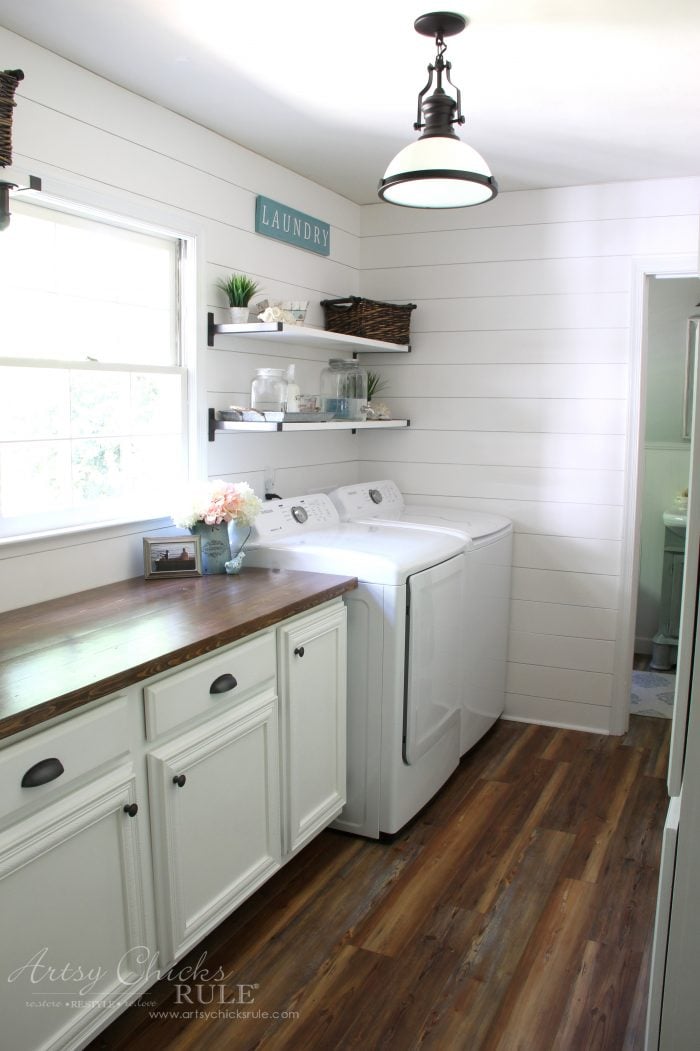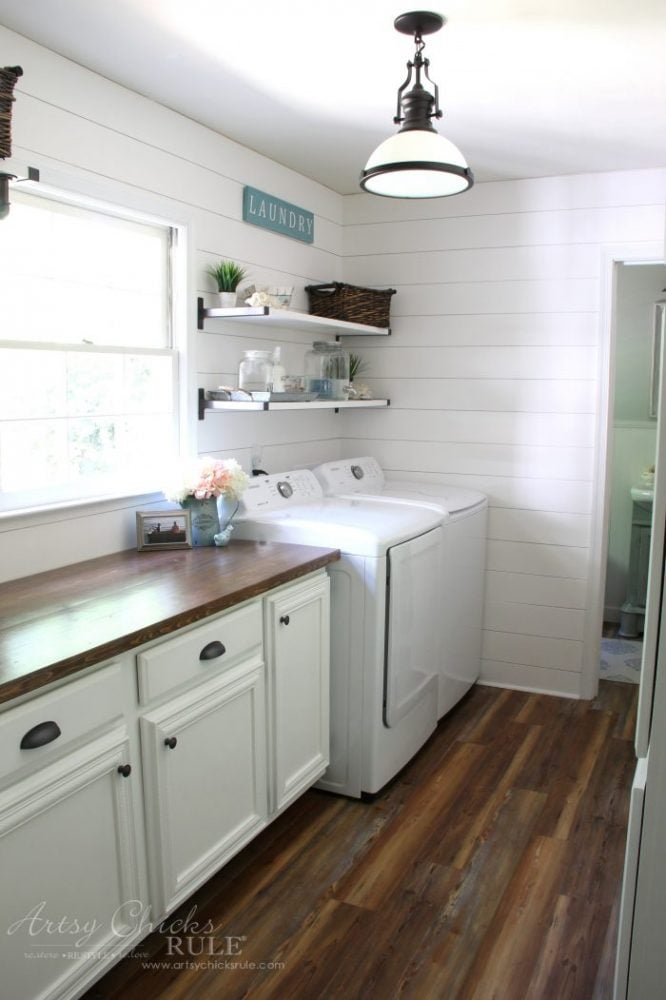 I just feel as if the room has so many dark and wood elements that the rug brings in some nice softness.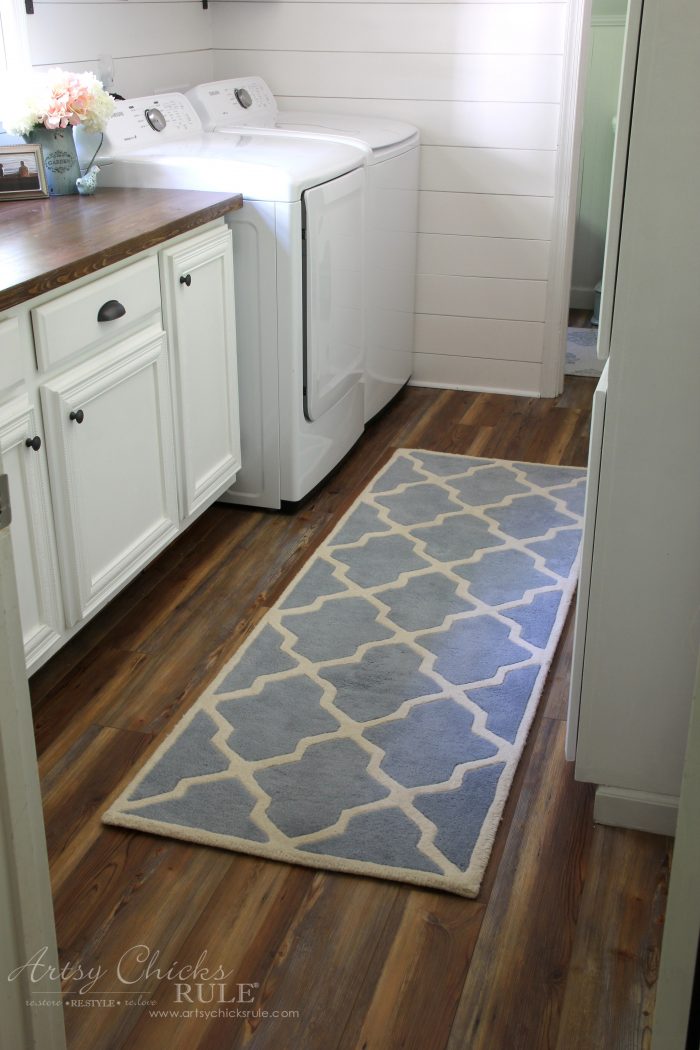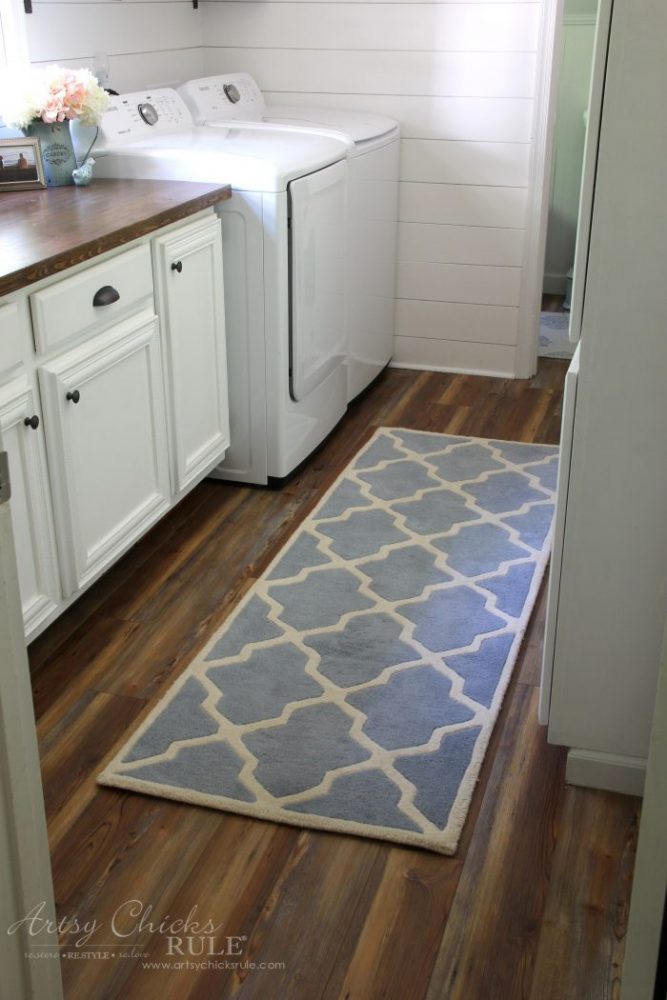 Not only that, but it is about 1-1/2 feet shorter than the other rug so more of the flooring shows with this one.
I think that helps and is probably the reason I like this one.
I had thought I would like wood stained shelves but once we moved through the process a bit, I realized it would just be too much wood.
Plus, I really, really, liked the light, bright open feeling removing the upper cabinets gave the room.
So I painted them the same color as the walls, Nano White, Behr, so they'd "blend in".
However, when we put up these dark brackets, I thought "oh, no, too dark!".
I hemmed and hawed (and fretted and hemmed and hawed some more!) and finally said, I'm painting them white tomorrow!
My poor husband didn't know what to think. haha
Then I woke up the next morning, went in with fresh eyes, and it looked perfect to me. So I didn't paint them.
Plus, my daughter, son and husband all thought it would be too much white if I painted them.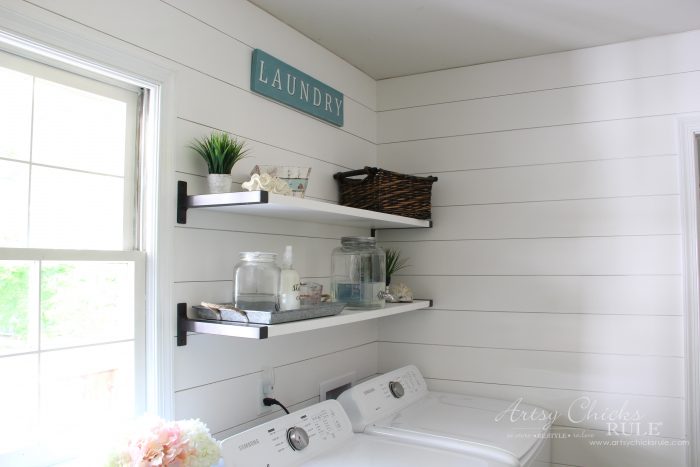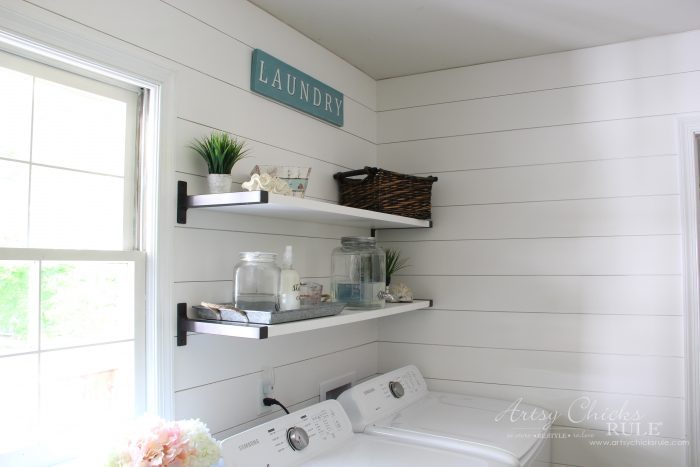 This was my first "vision" for the shelving.
Glass bottles for the fixings, drink dispenser for the laundry detergent…very utilitarian, useful.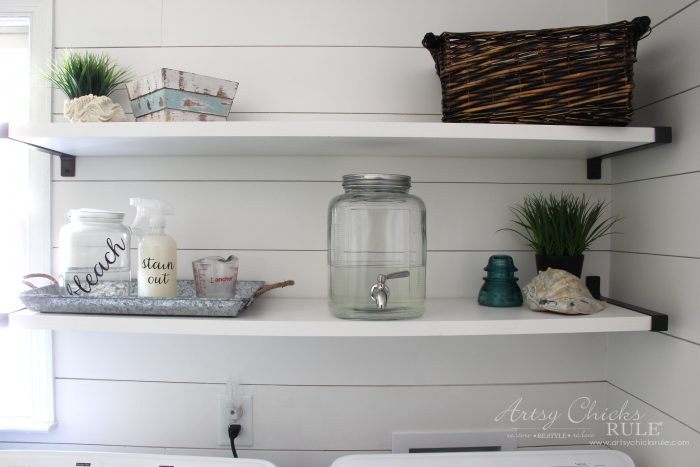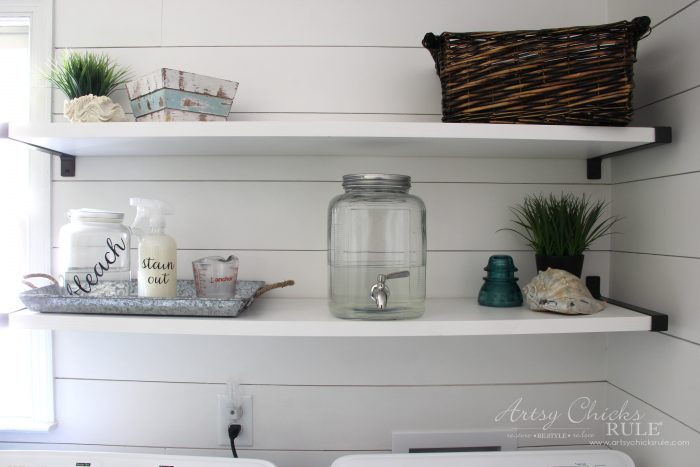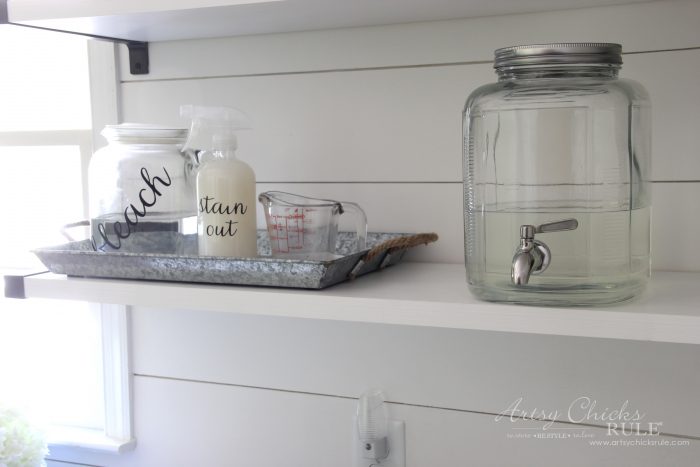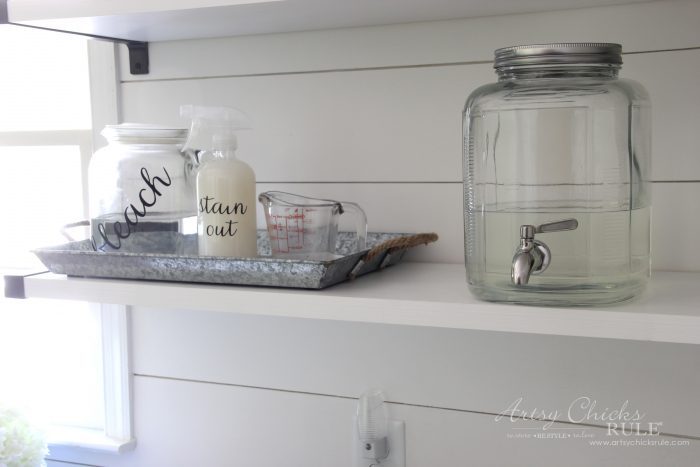 I even created labels with my Silhouette for laundry items.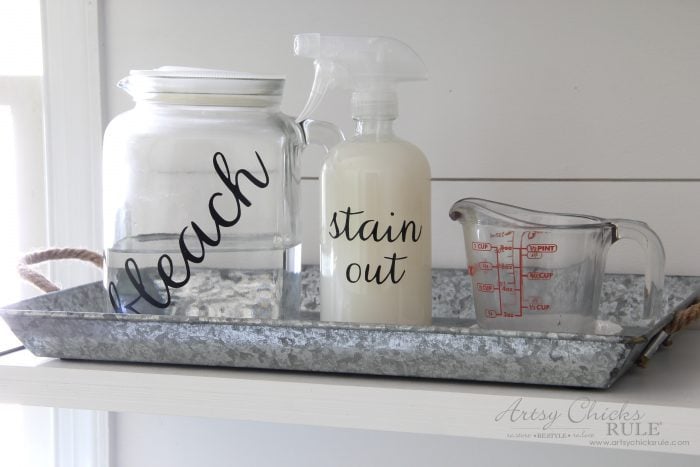 But then I thought, no, I can use this handy new cabinet my husband built…..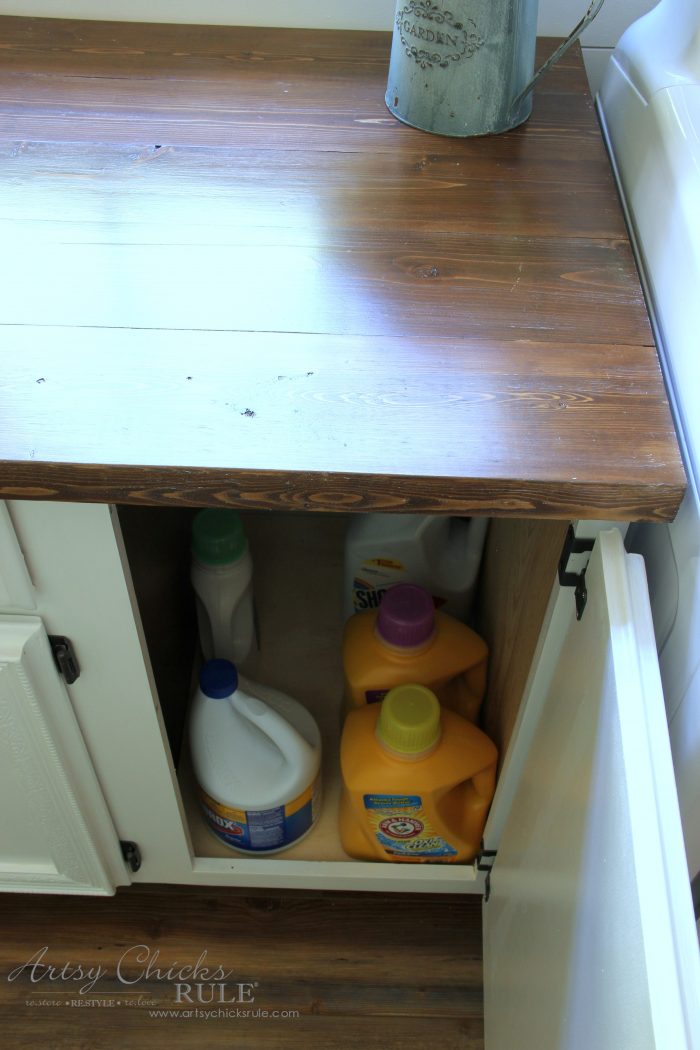 Easily accessible so I don't really need to display it and I can keep the shelves pretty.
(the laundry is a walk-thru for bathroom visitors, after all :) )
We have a halfway shelf in the other new cabinet, on the other side.
I wanted this one left open for a few reasons.
So I changed things up a bit and added some decor…. see the shelves?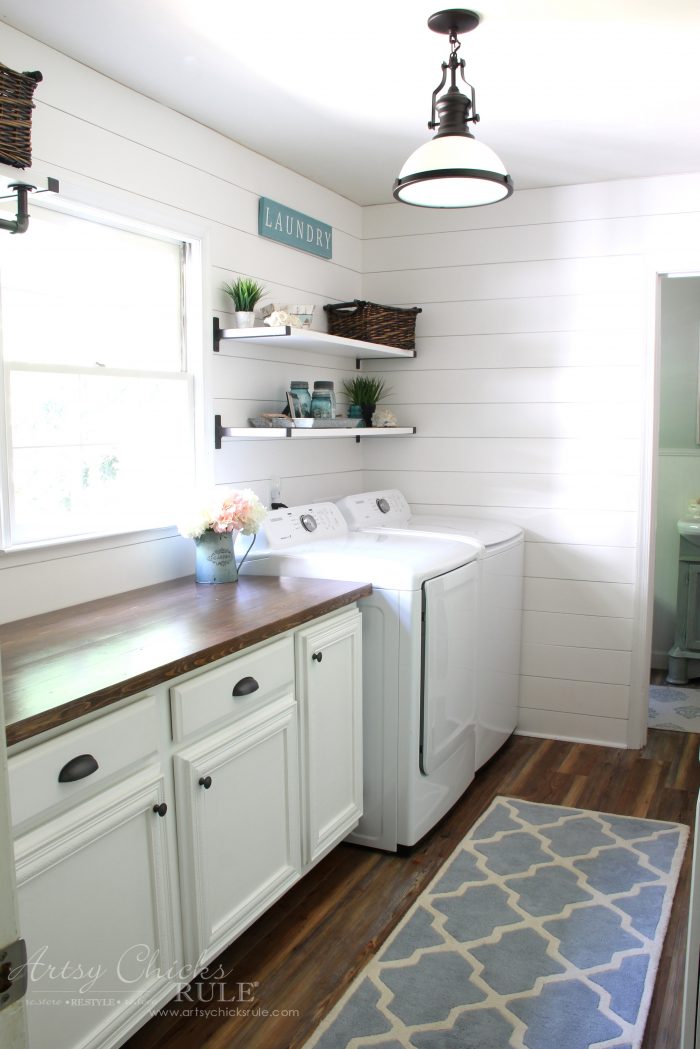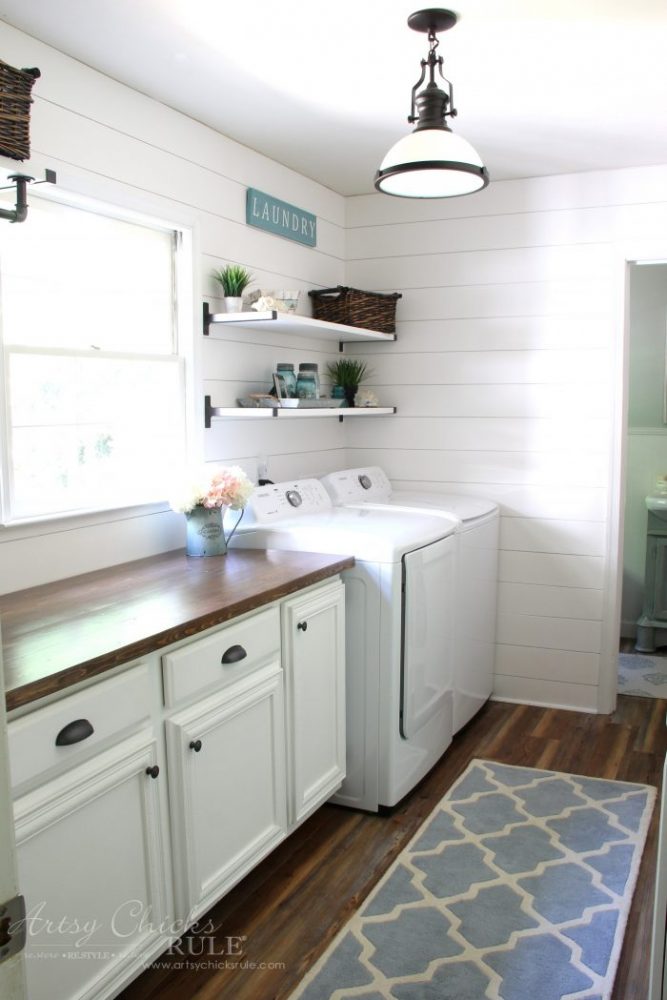 And again, without the rug. Which do you like better?
I'm curious to hear your thoughts since this is a different rug and the room is now complete.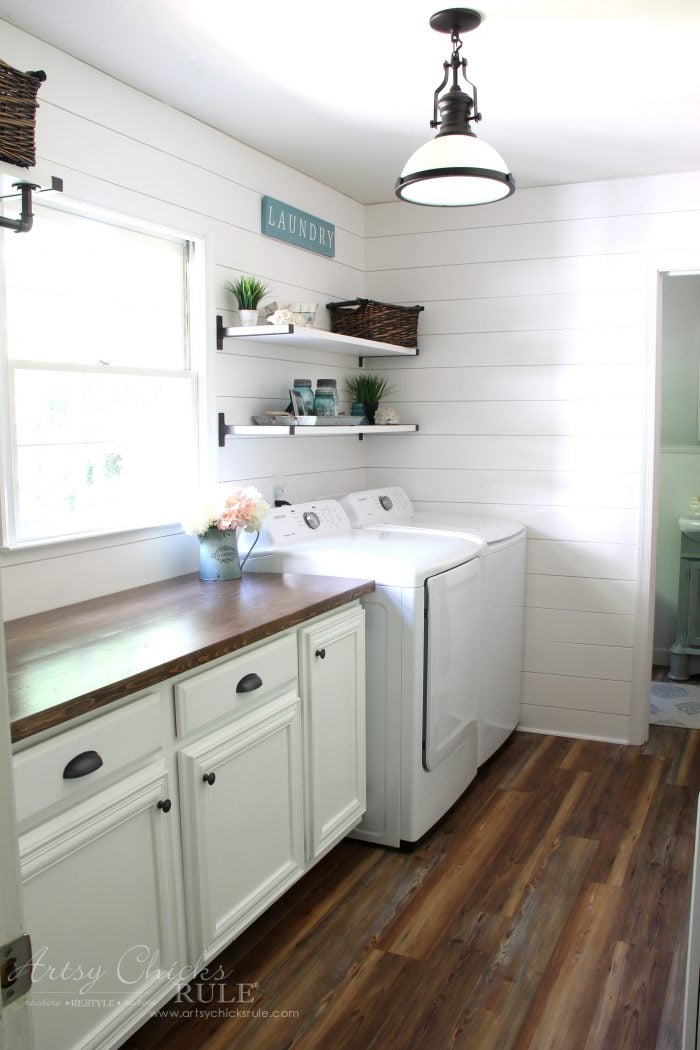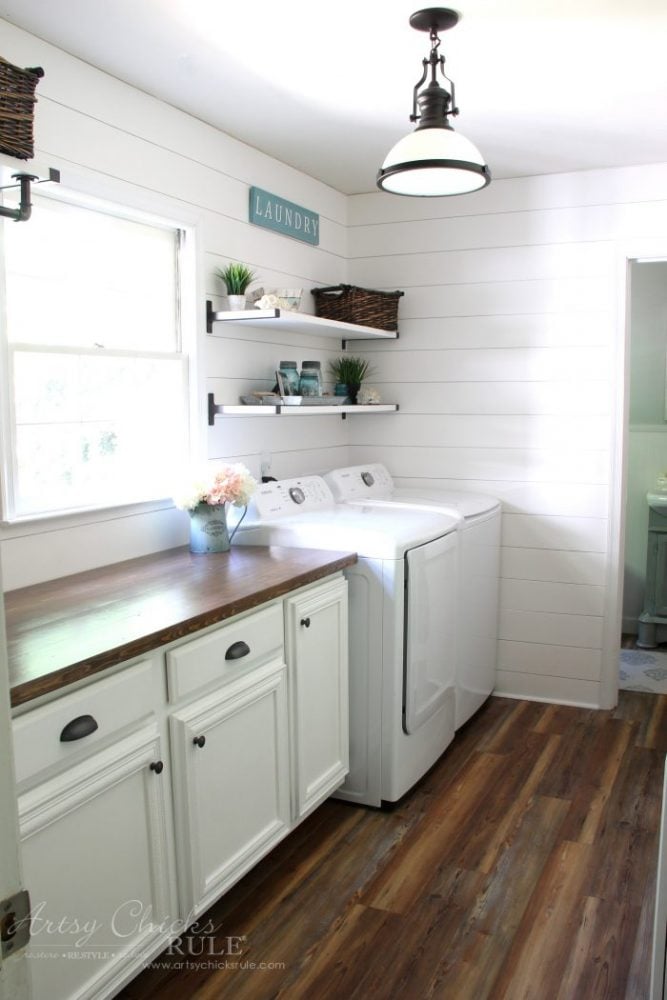 And you might remember I had my blue laundry sign hanging over the window before.
I decided to put it here and I'm so happy I did. I really like it in this spot.
I also gave it a bit of aqua in the form of Provence Chalk Paint. I just lightly went over the blue area and gave it another coat of poly after.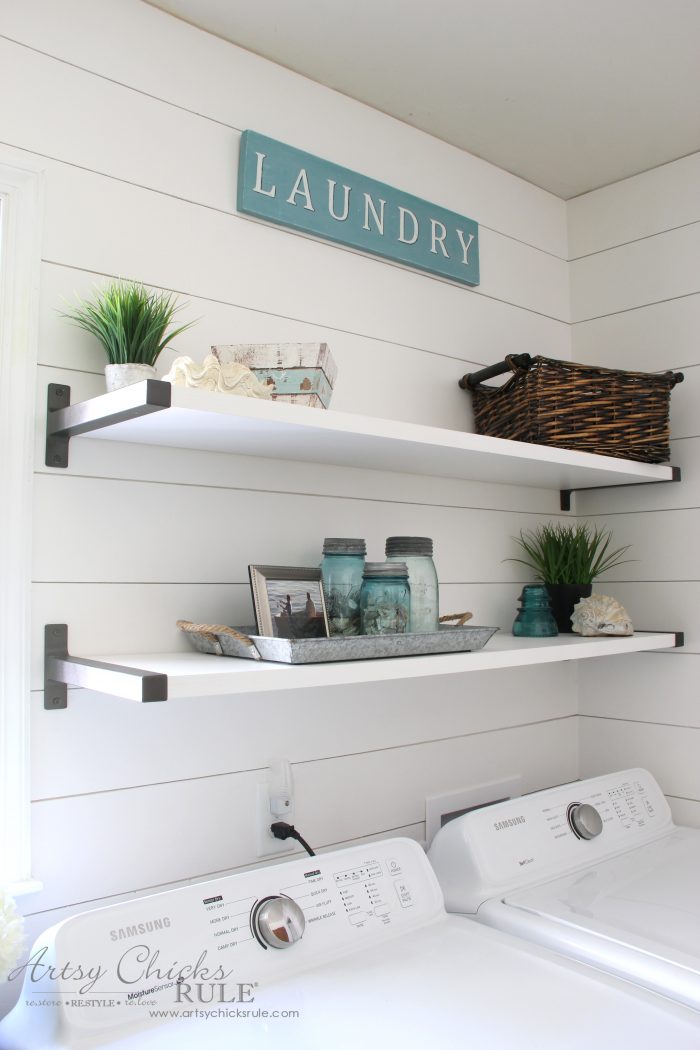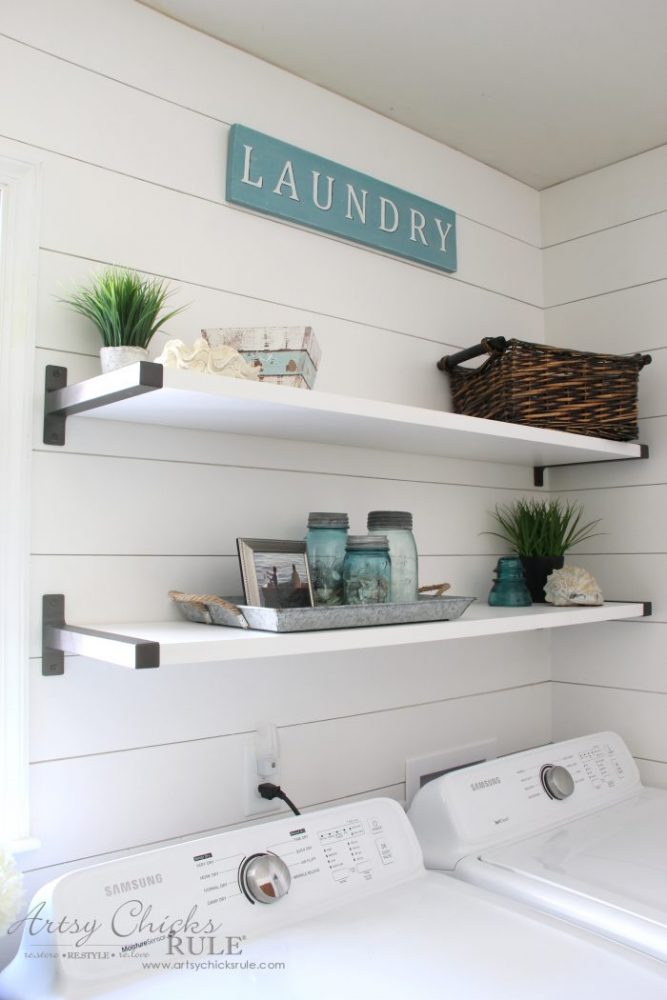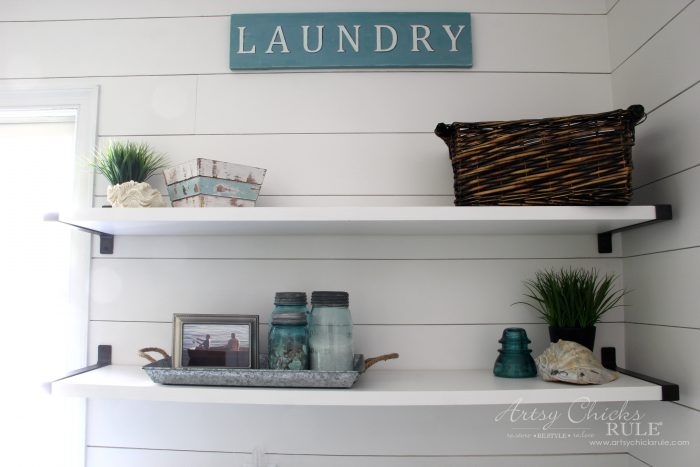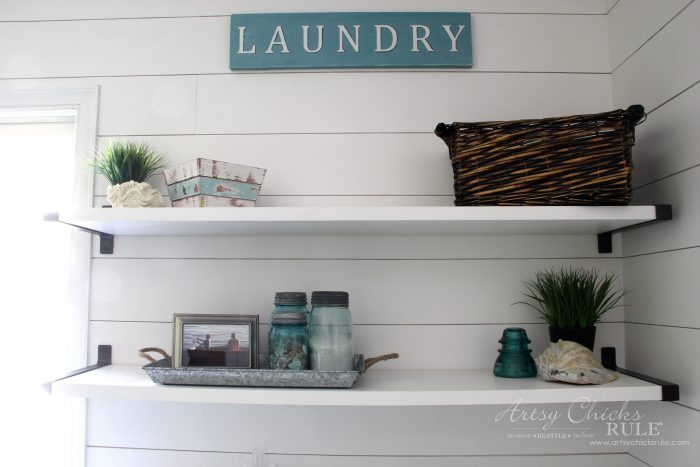 Which way do you like better?
Which way would you have it if it were in your own home?
Decorative or utilitarian?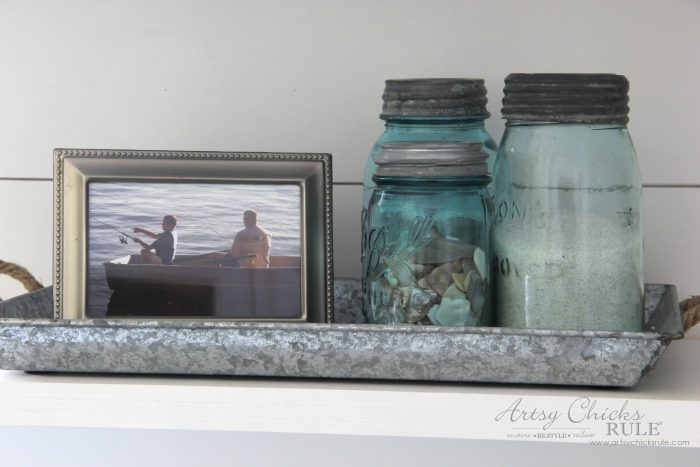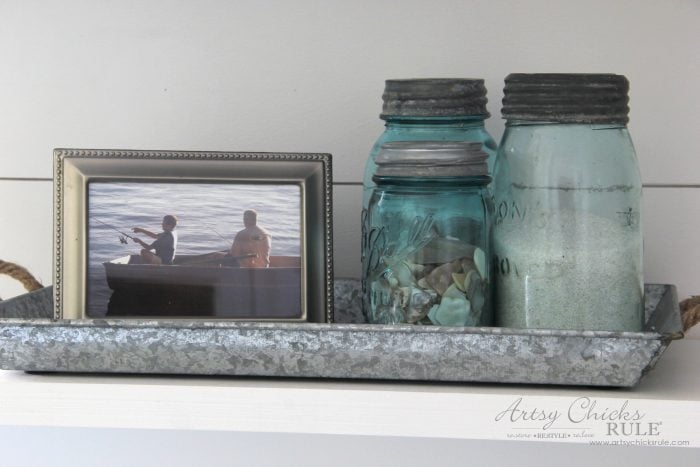 I love that sweet picture of my son and husband fishing some years back. :)
And of course love displaying my antique blue Ball Mason jars with shells and sand.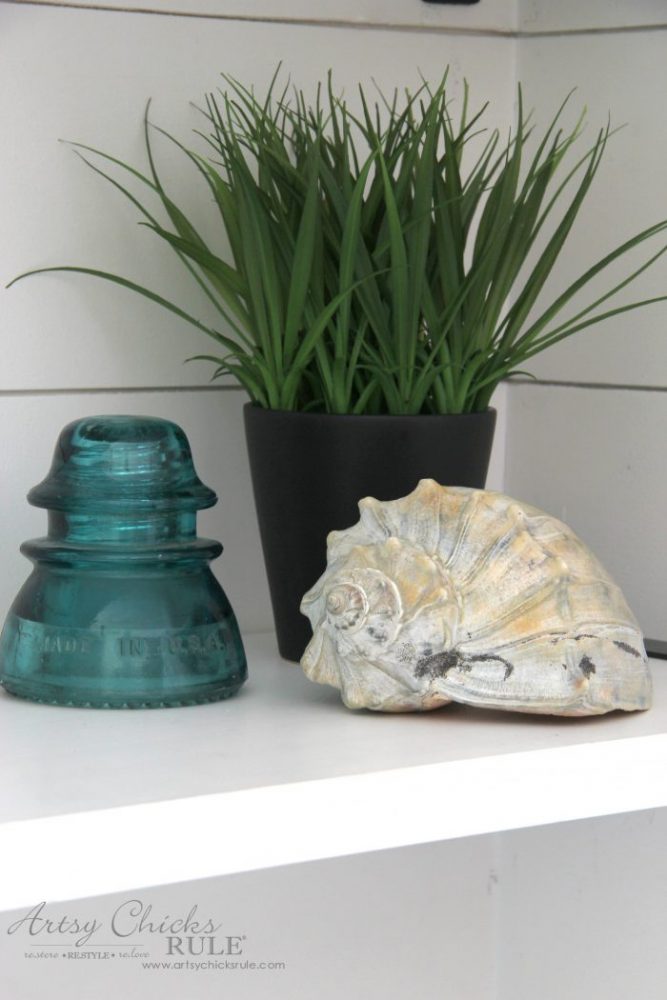 I'm glad I was able to use this old aqua insulator in here along with a huge shell my son found on the beach on a recent field trip for Oceanography class.
He actually found 2 like this. (different colors) You can see them on Instagram where I posted a photo of them awhile back.
And a little recap of the "before/after" of our brand new coastal farmhouse laundry..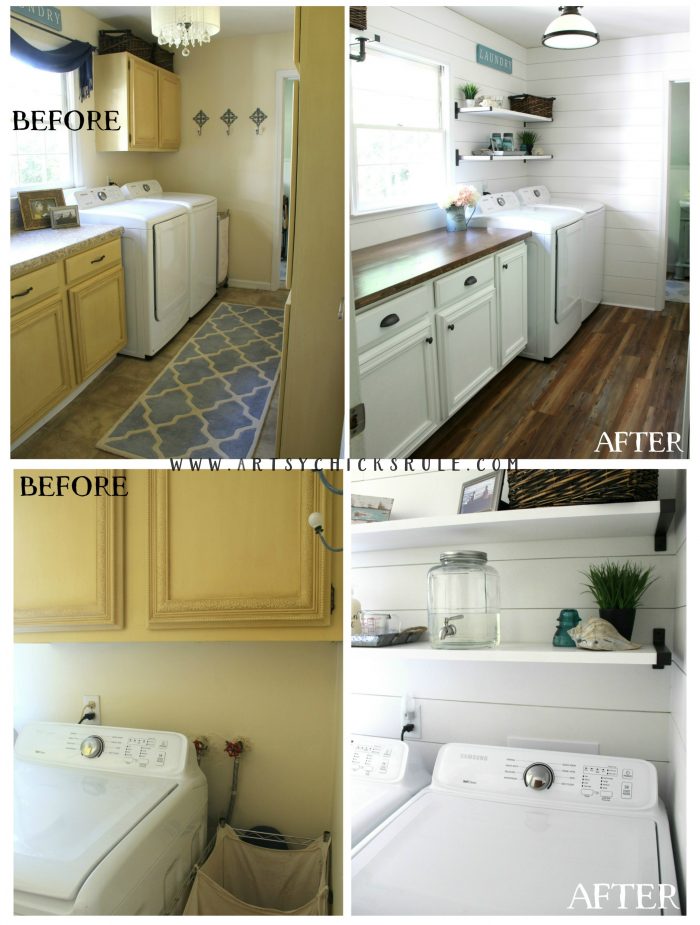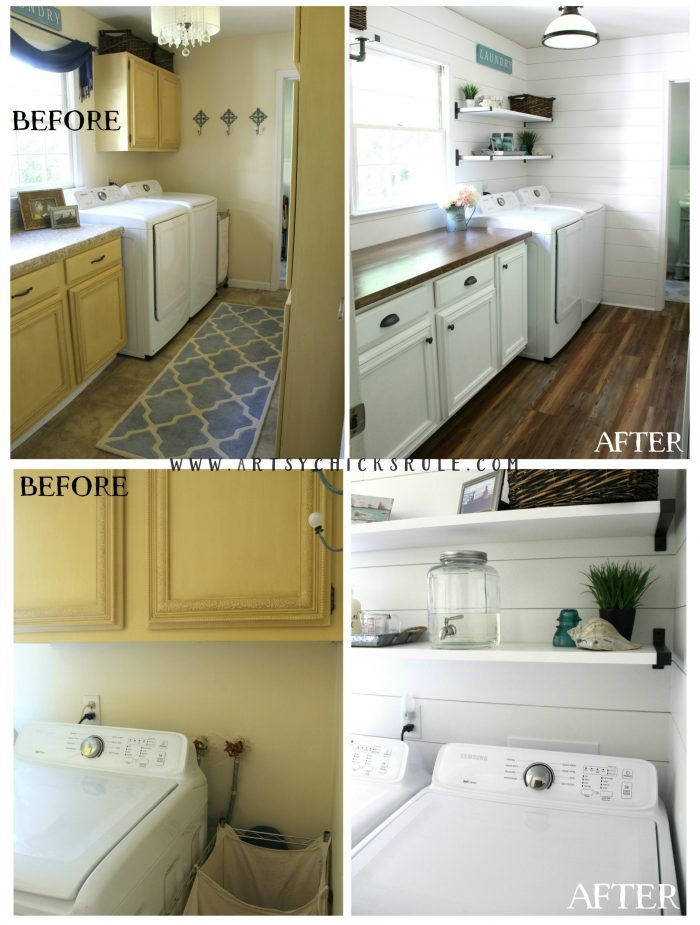 I'm almost as excited about the makeover the water shut offs got as I am about the whole room! ;)
Here's the door I stained with General Finishes Gel Stain.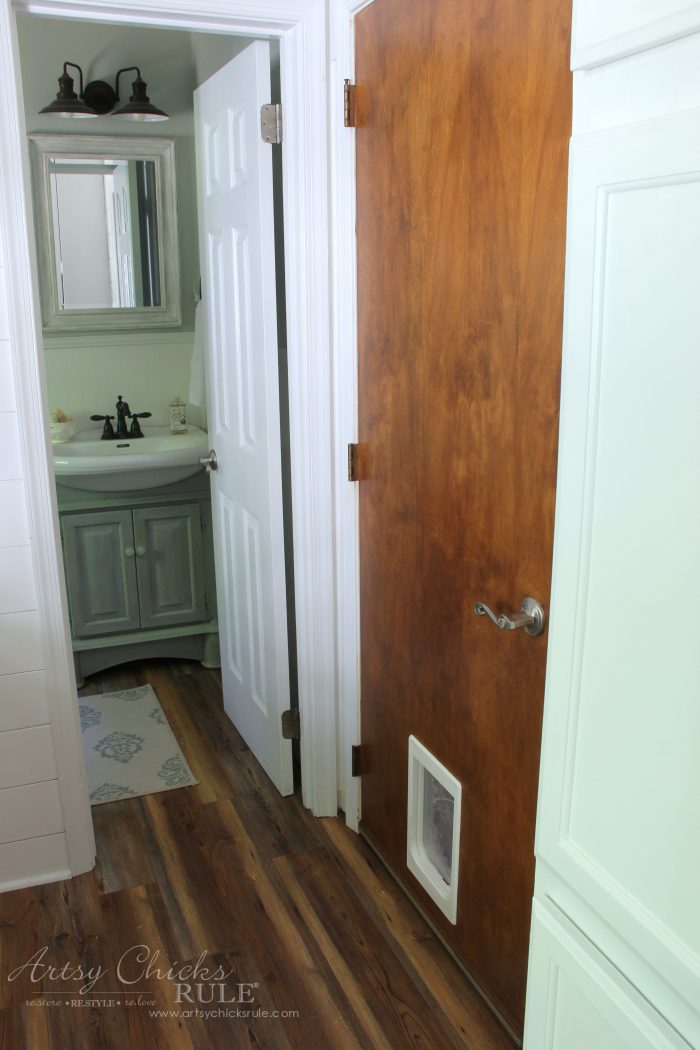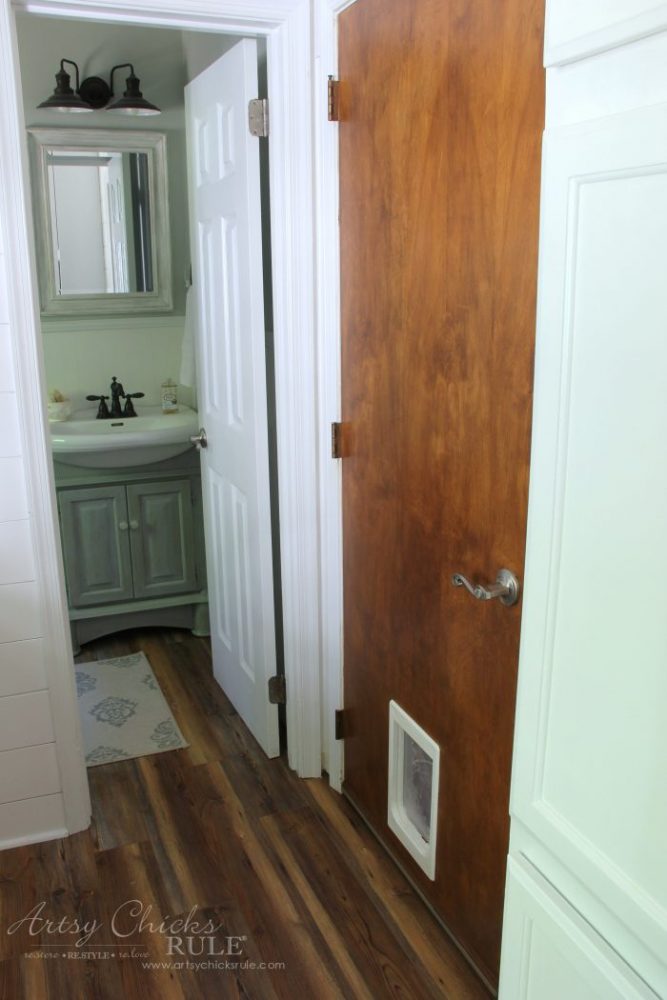 Looking towards the other side of the room…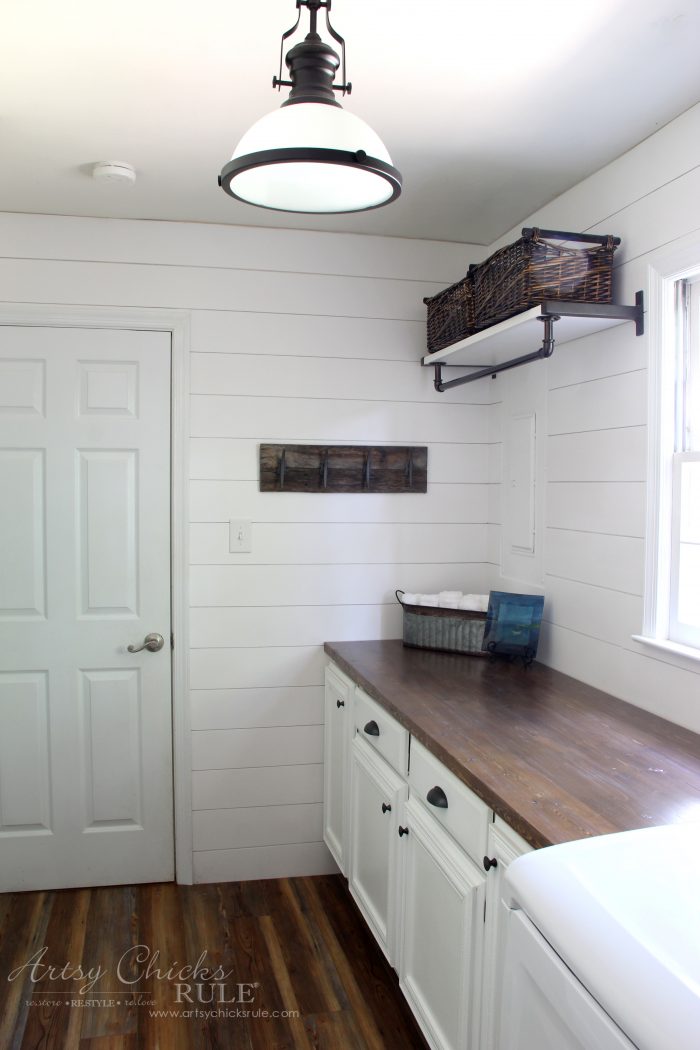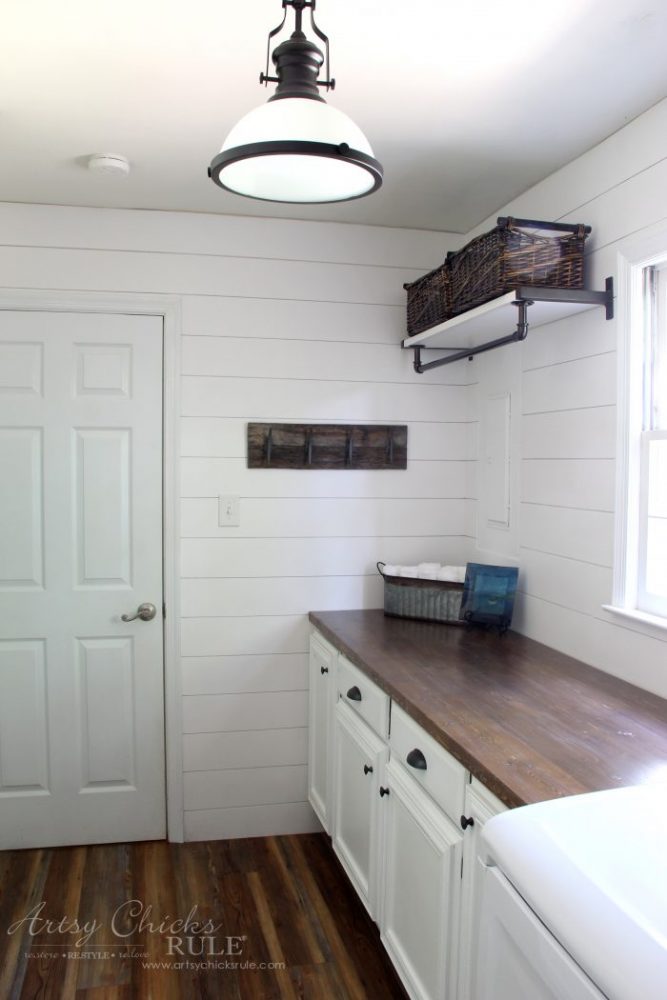 We now have a nice, long counter top for folding, etc.
Notice how we added another shelf and just rotated the clothes rod?
We did have to cut it down just a bit to fit.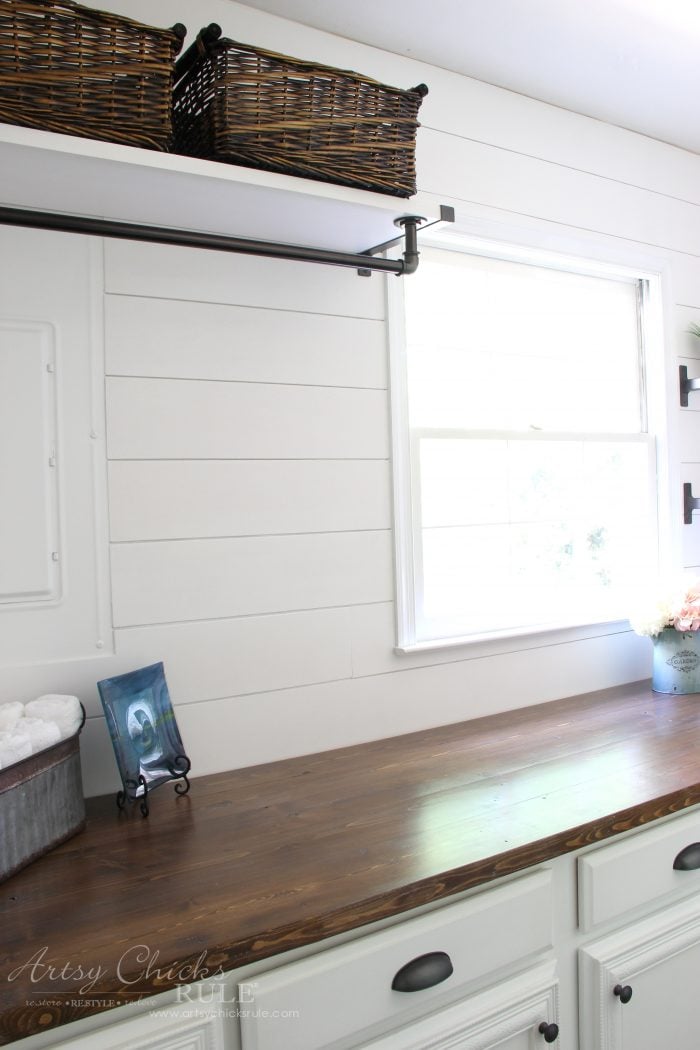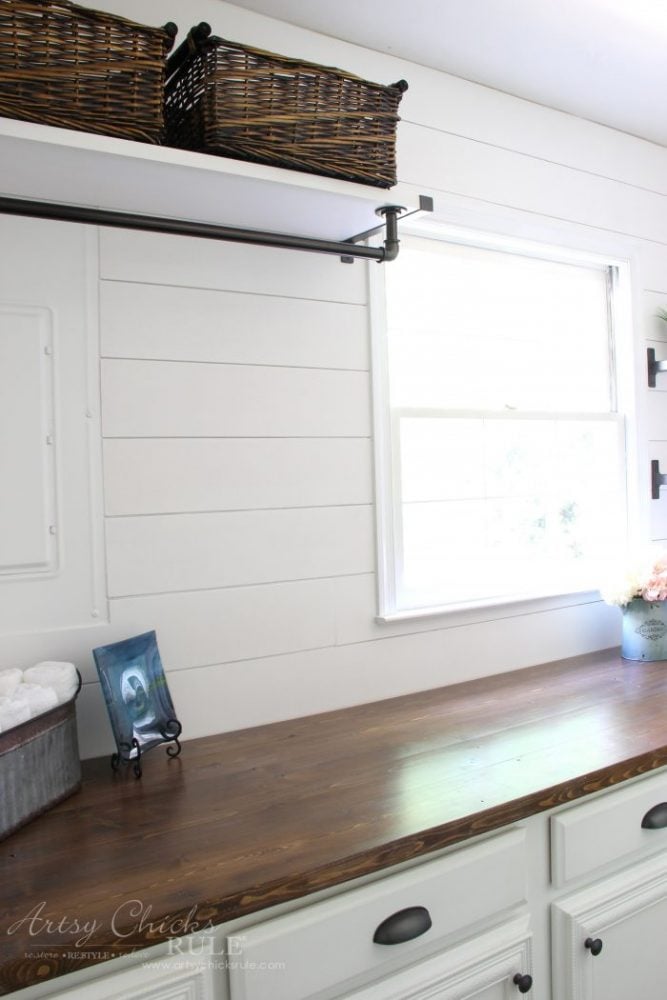 I've also decided to forego a window treatment of any kind in here.
I like the clean, unfussy look.
I reused the baskets I had in here previously.
I thought the dark was a nice contrast to all of the white.
Plus the coloring is similar to the floor so it's a nice tie in.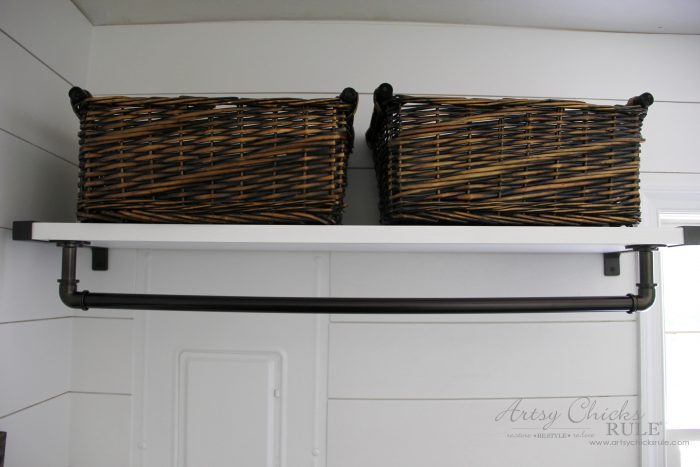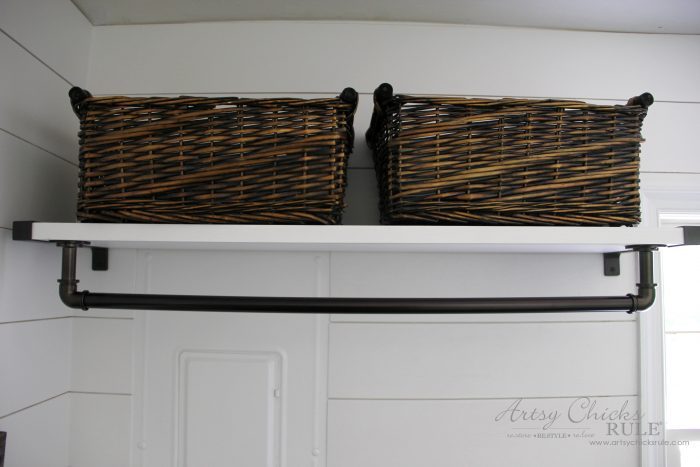 I'm using them to keep extra rolls of paper towels for the kitchen.
And don't mind that screwy uneven ceiling. Remember the trim I mentioned?
We have the ceiling, quarter round and trim on the sides of the wall cabinets to do.
Hopefully the trim will hide that uneven ceiling a bit.
And look….clothes can hang properly now! ;)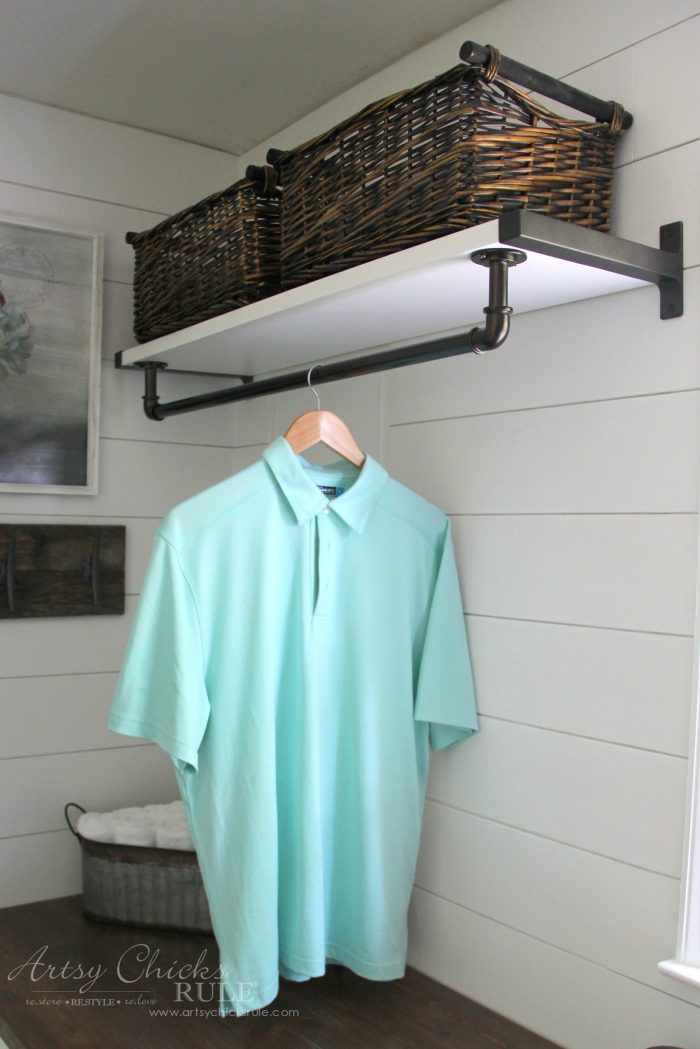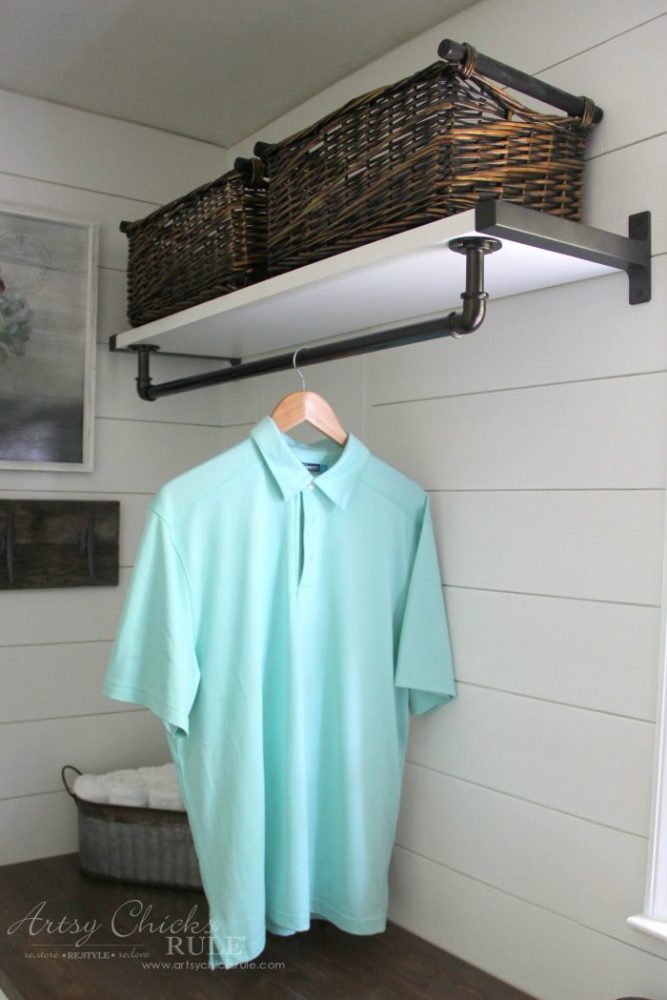 And I just love this little goody I made.
We had some old pallets out back and my husband cut a couple for me.
I cleaned them up and attached these cleats. (sprayed with Metallic Soft Iron)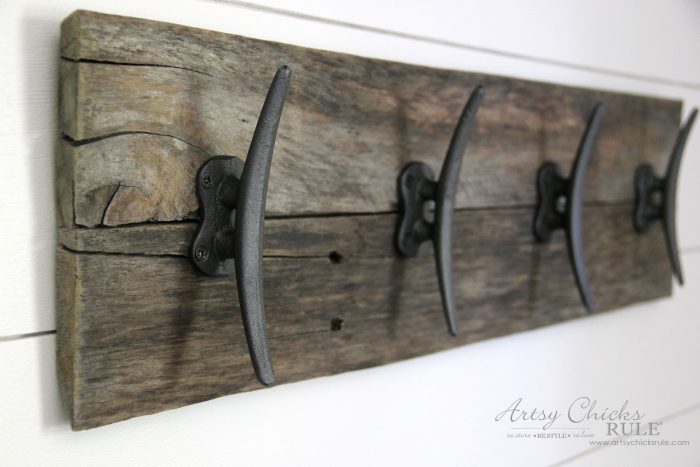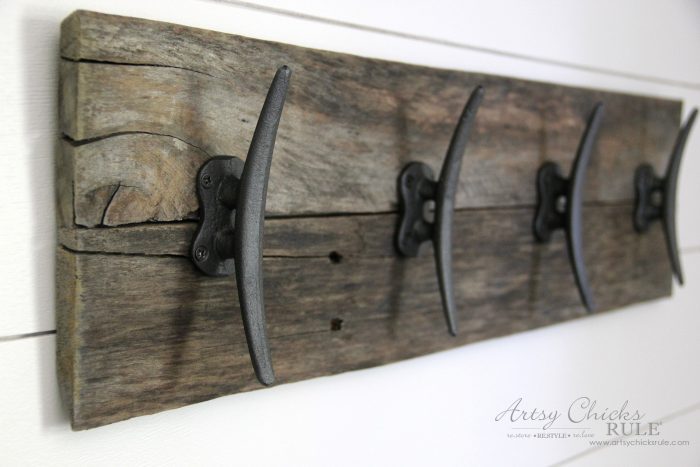 Perfect for hanging dog collars/leashes and such. :) (details and tutorial, here)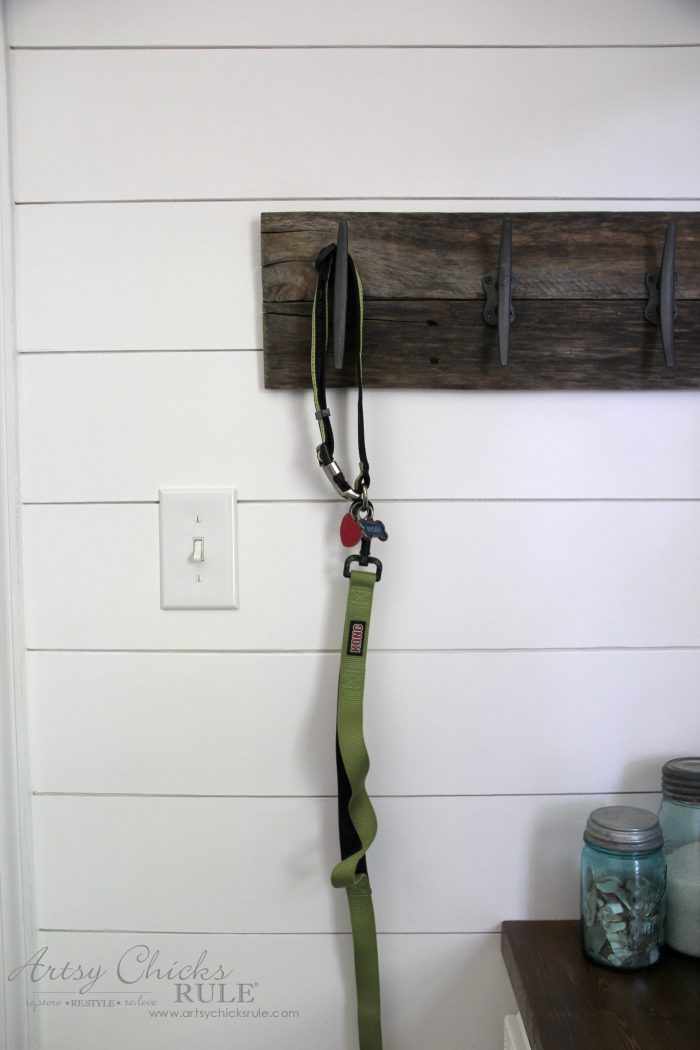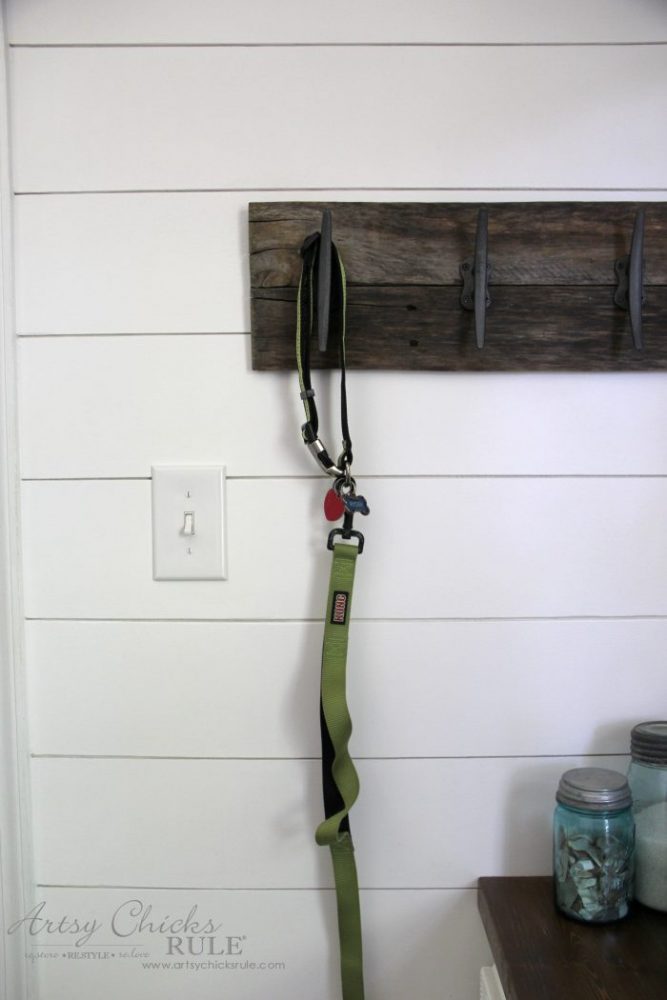 The little blue decorative glass sailboat plate came from the ReStore.
I thought it would be nice for bringing in some color.
The bucket came from At Home and I filled it with hand towels.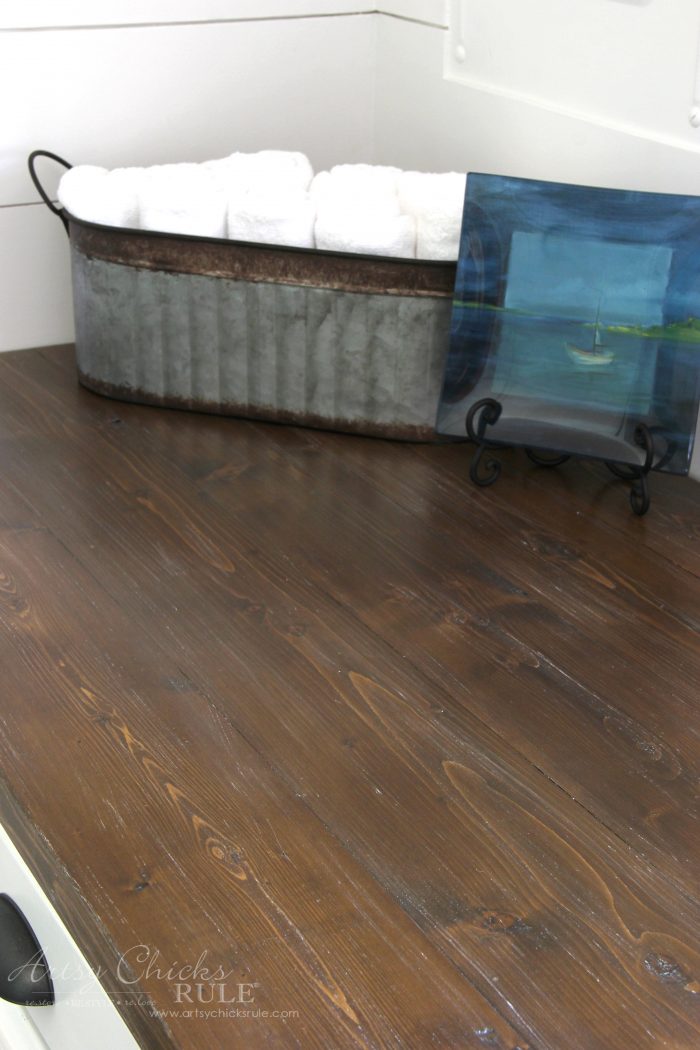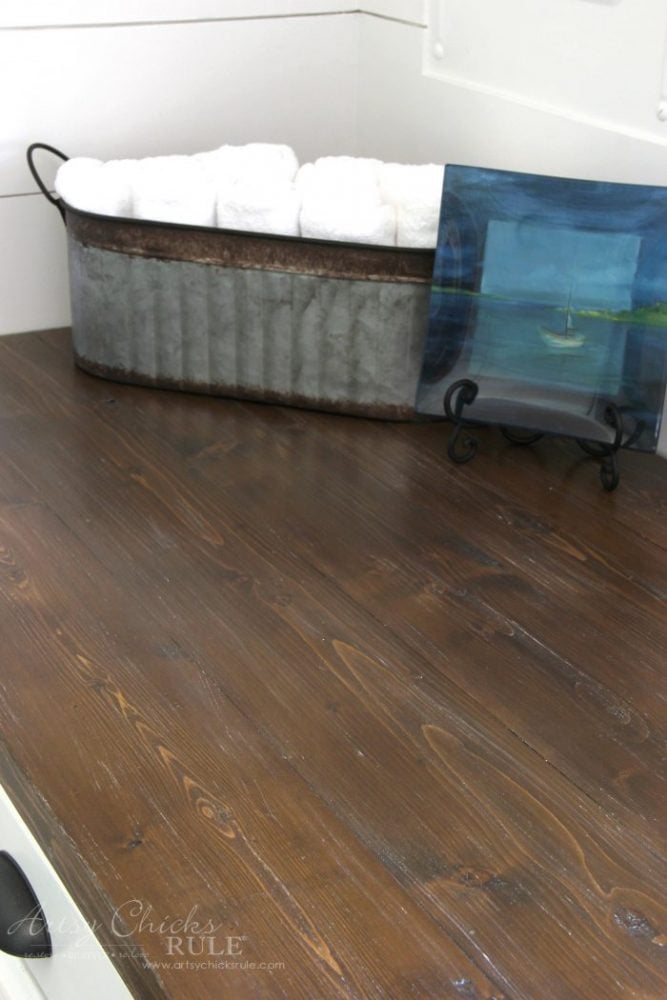 Now….the counter top.
We made it with white pine and I gave it a little stain and weathering.
I'll have a tutorial up soon. :)
But it was another I agonized over.
I had originally wanted a very light, whitewashed counter but that was when I was using a darker, gray weathered floor.
I spent most of Sunday testing wood samples for all kinds of variations. Tons, really.
I finally came up with something I liked and thought would look good in here. Thankfully!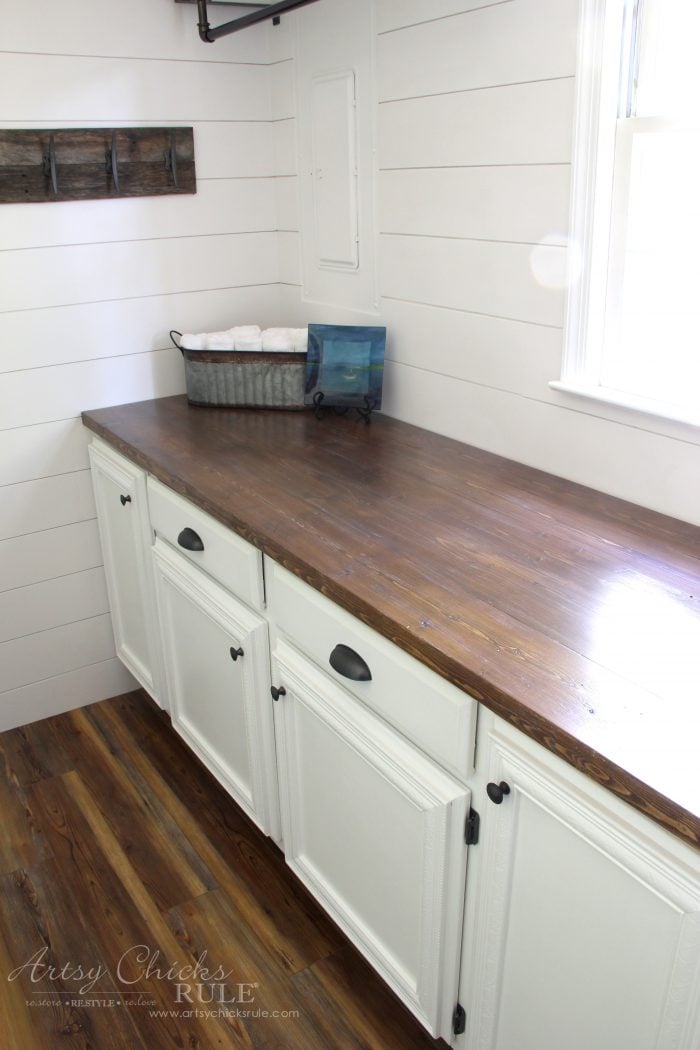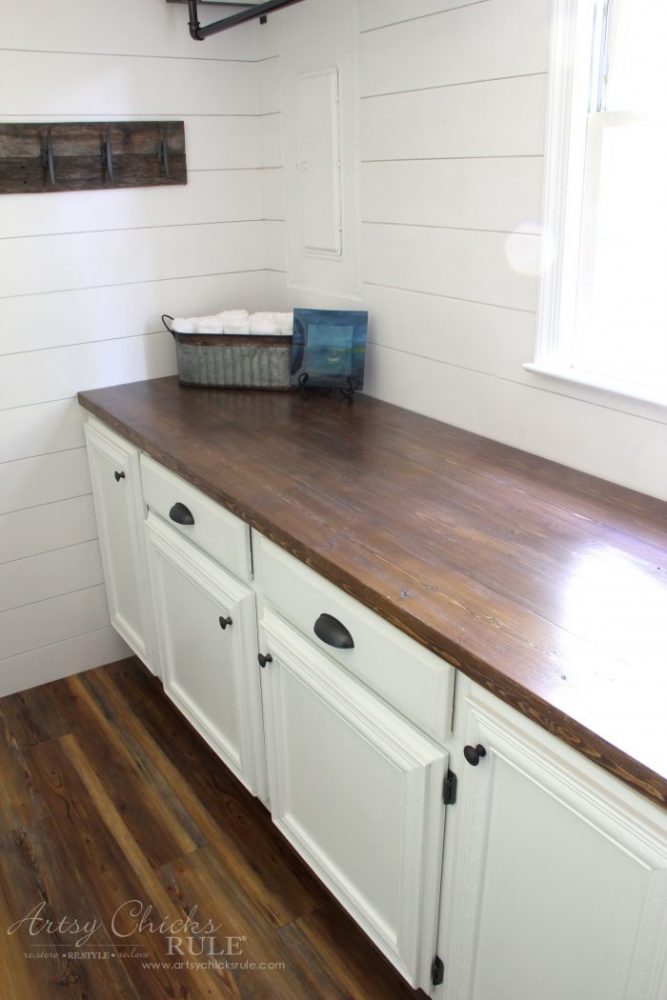 And the glorious hardware. So glad y'all talked me into putting it on.
I just love it.
The pulls were an "iron" finish so I sprayed the bronze hinges and knobs to match with the same Iron Spray Paint I used on the cleats.
I still want to find some hardware for the wall cabinets on the other side but have had no luck yet.
I'd love some inset, flush ring pulls but have found none that will fit.
The counter top finish…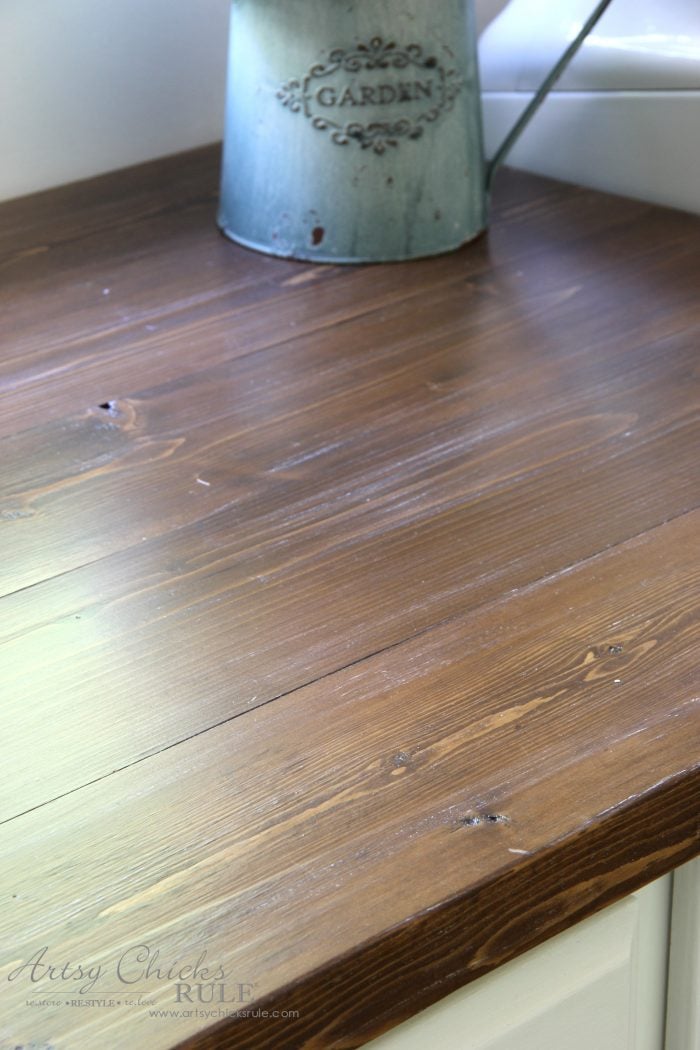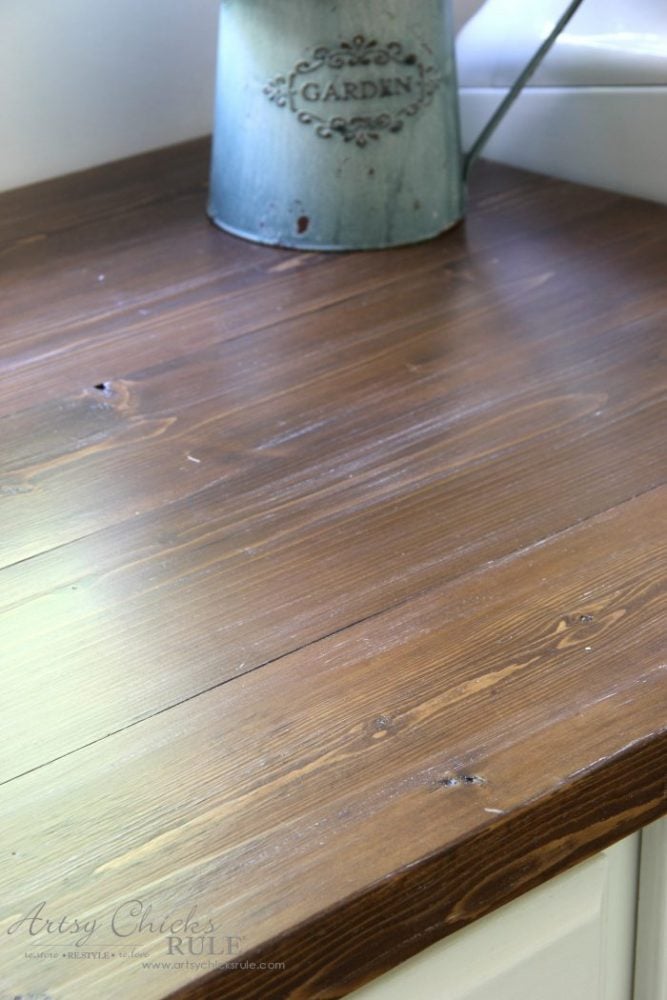 I'm really happy with how it turned out.
Bringing in more color….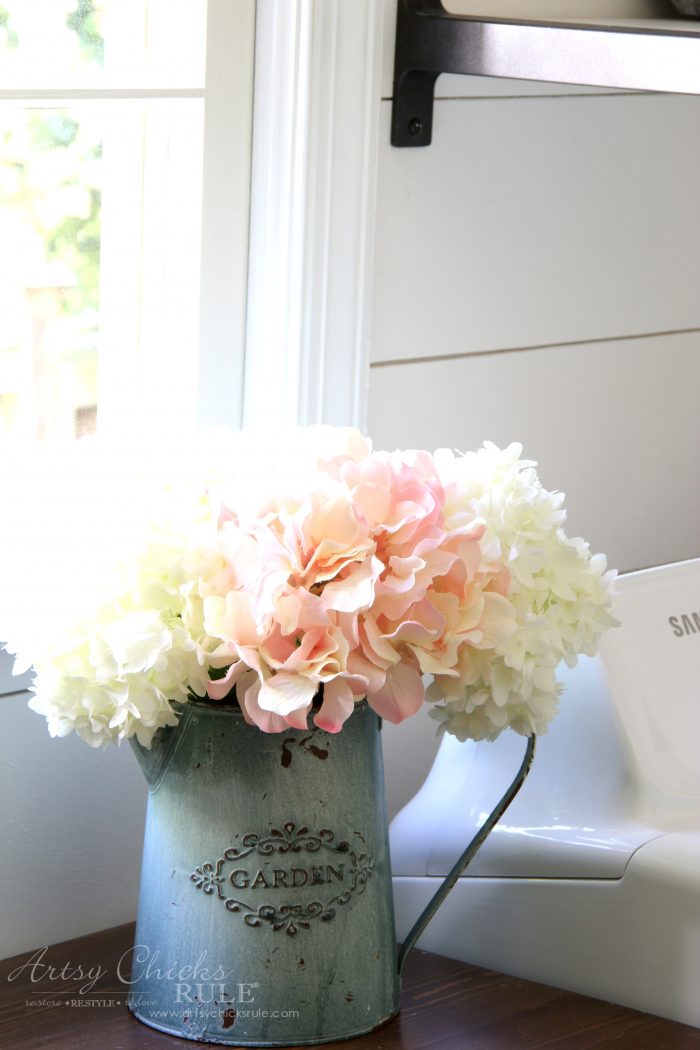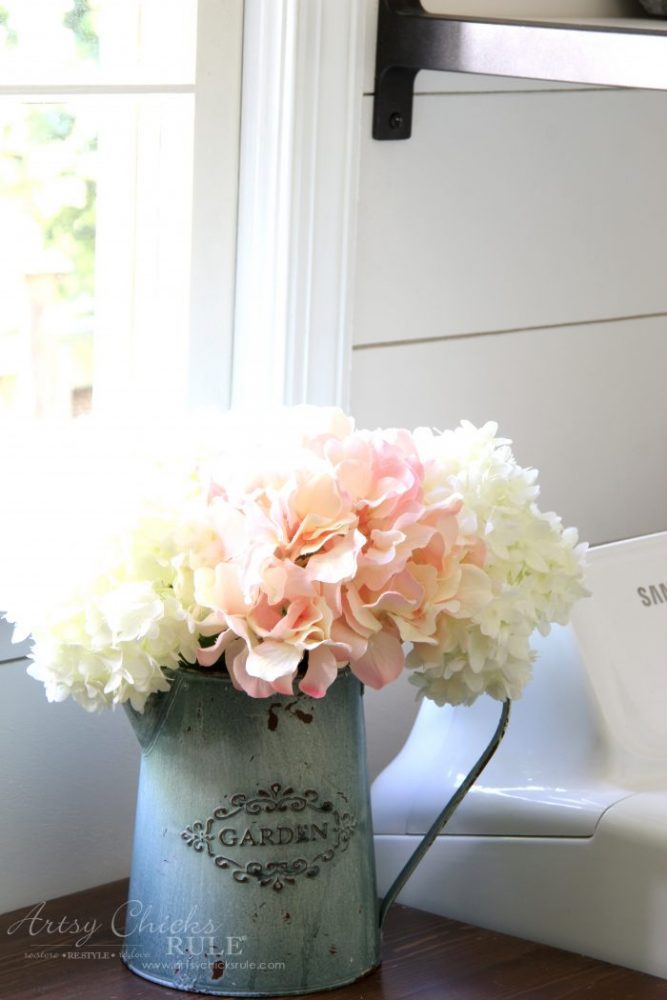 And another little recap of the "before/after" of our coastal farmhouse laundry makeover…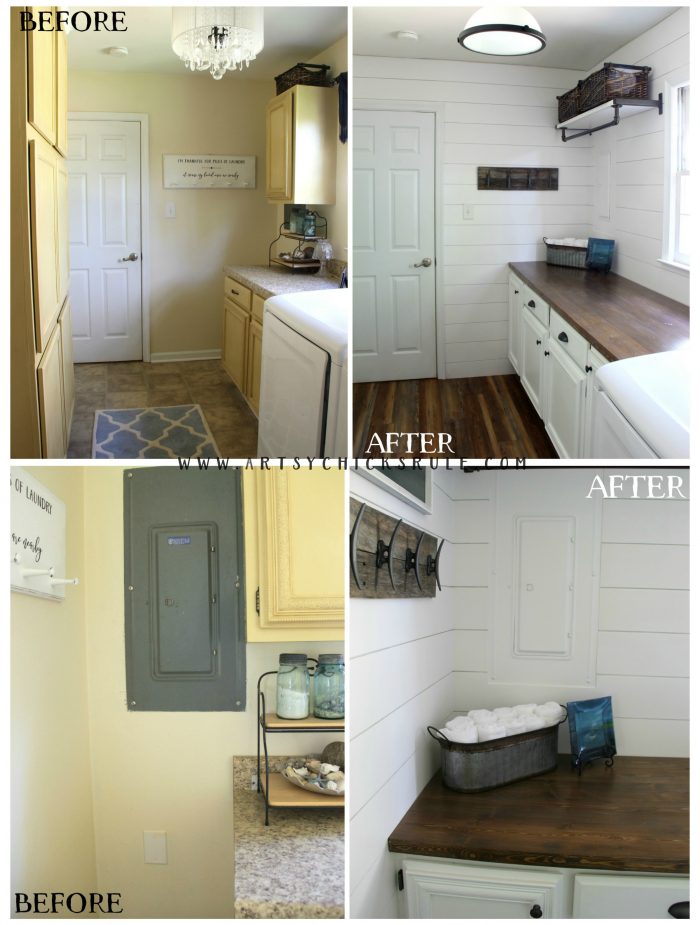 And here's what's going on behind the door….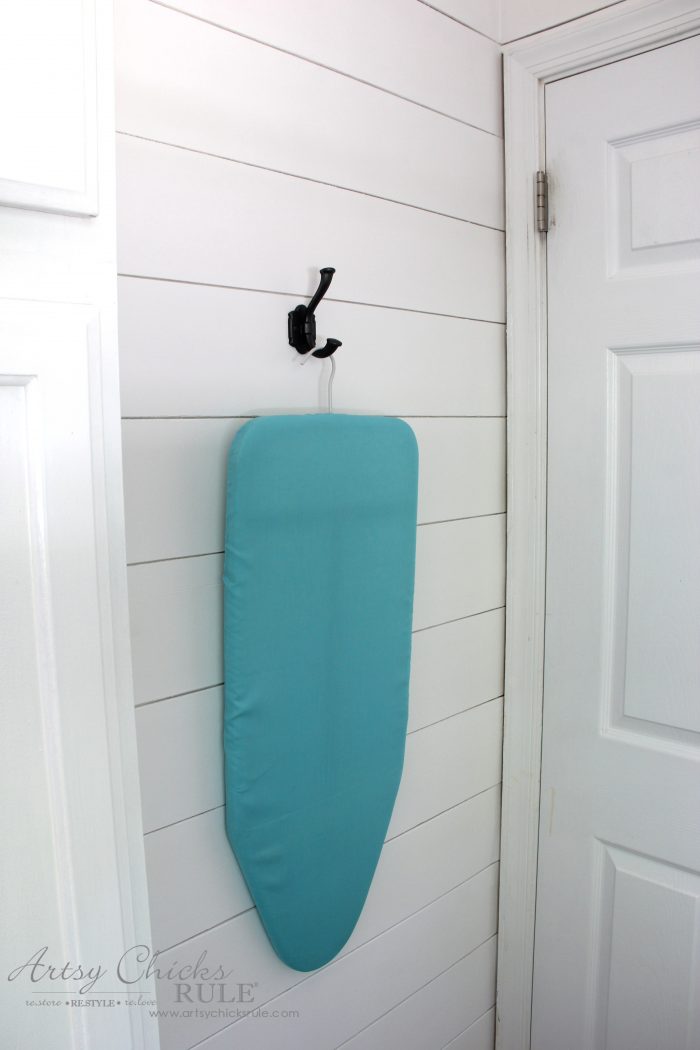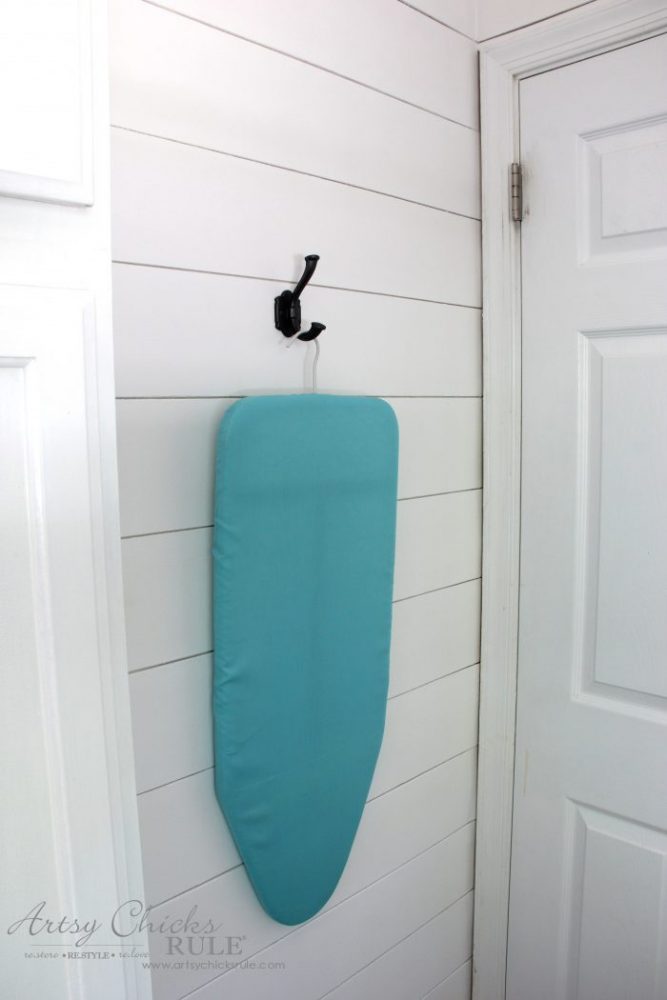 I thought this would be the perfect place to hang a little ironing board.
We used to have one shoved behind the hamper (you can see just the tip of it in the "before" photo of the washer above)
I think this is a much more user-friendly space. Plus it's hidden most of the time!
~ Shop This Post ~
And so, here's a final recap of all of the "before/afters" of our coastal farmhouse laundry room.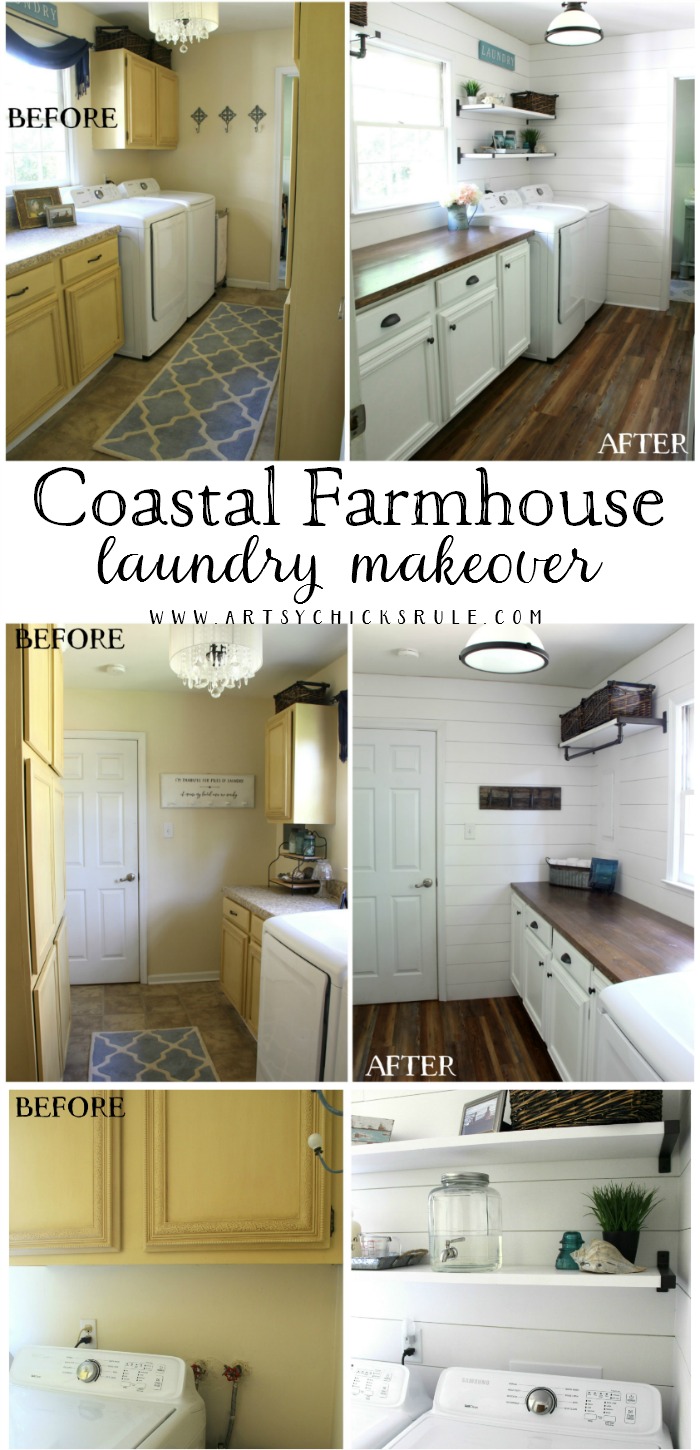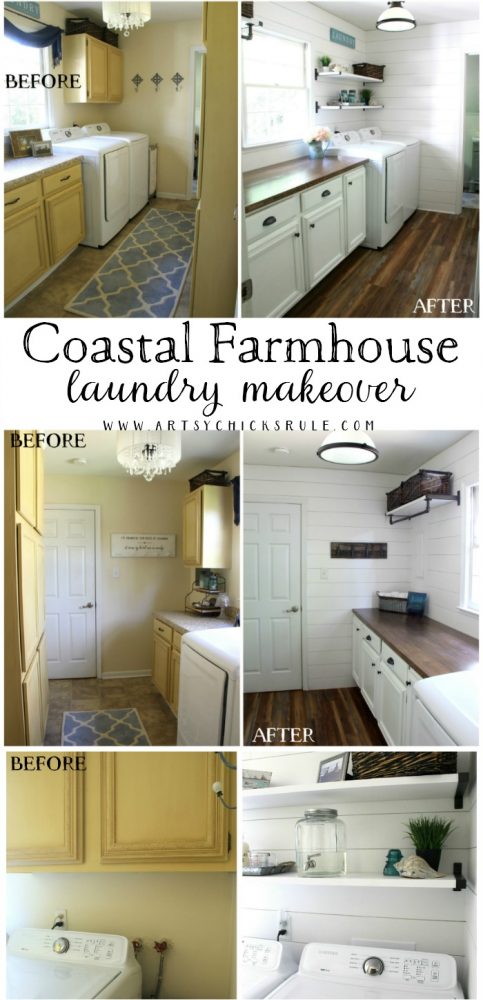 So let's talk about all the things. Here's what I used in the room:
And here's a wrap-up of what we did in the room:
Removed upper cabinets and created shelving in it's place
Added onto and painted existing cabinets (used the doors from the upper cabinets we removed)
Added new iron hardware to cabinetry
Retrofitted the piping and redesigned the shutoff valves and water drain off inside the wall box
Stained garage door
Added new lighting
……………………………………………………………………………………..
So there you have it! I feel like dancing! haha…in the laundry room, of course! ;)
PIN IT to save this Coastal Farmhouse Laundry Room :)
(or the "before/after" PIN above, whichever one you like)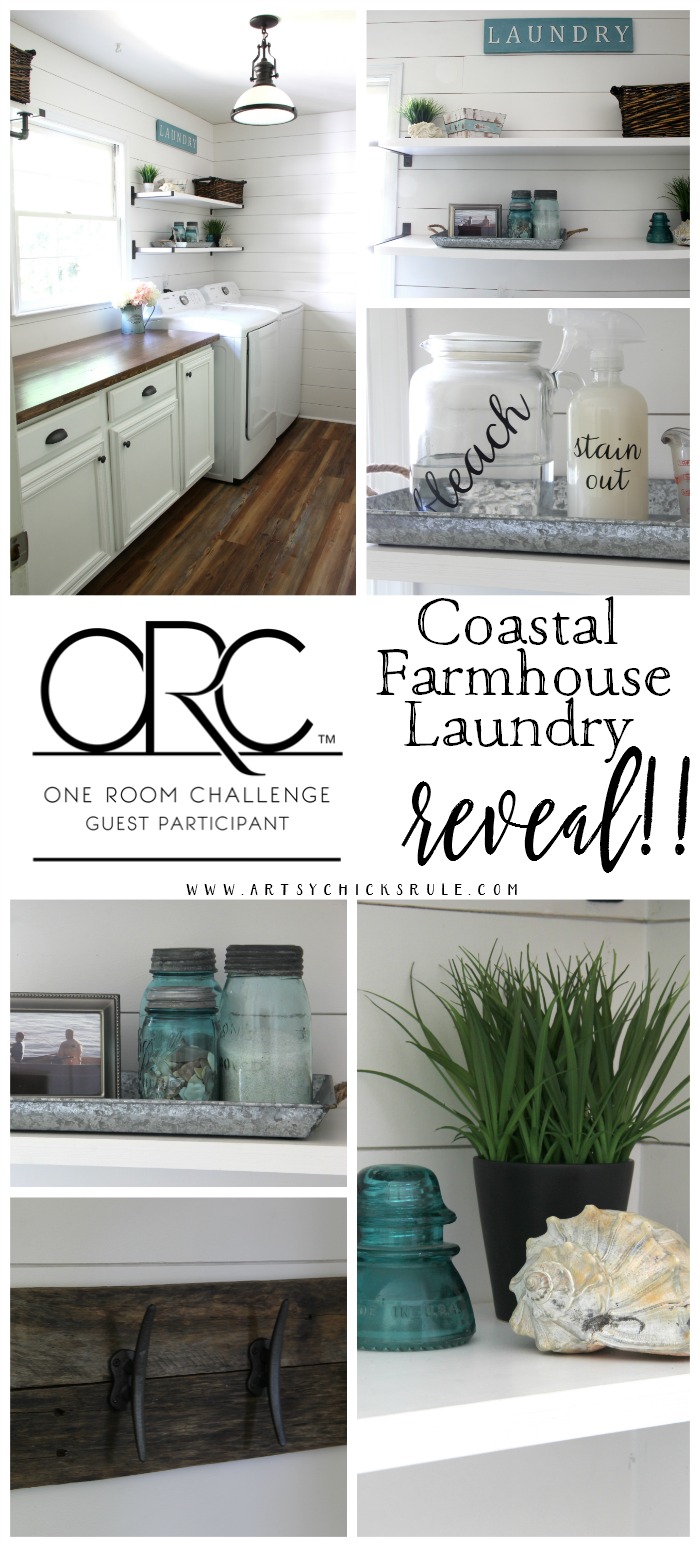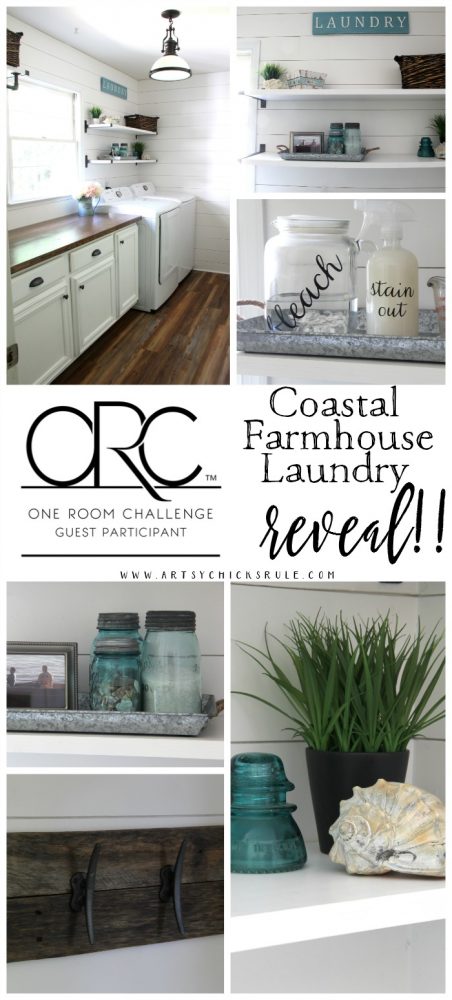 Want to see the progress of our coastal farmhouse laundry as we went along?
Week 1 Plans
Week 2 Painting Cabinets
Week 3 Shiplap & Lighting
Week 4 Painting Shiplap and Room Progress
Week 5 Vinyl Plank Flooring
Week 6 You are here!
…………………………………………………………………………………….
I can't tell you all how glad I am to have this done. As you can see, I've given this room a few small makeovers over the years.
But we've always wanted to give it a proper one. New flooring to replace the very temporary one we put down.
A larger cabinet, longer counter top, etc. Well, now we finally have it.
So many times we've discussed and dreamed and planned….but had never gotten around to it.
It was always good enough, even though not what we really wanted, and there were other rooms, things, that needed done in this 1978 home of ours.
And the same goes for the master bath and closet. It really got shoved to last place.
We have done much of nothing in there over the years. But that's about to change!
As you might remember, I posted our plan for the space literally just before we decided to take on this ORC for the laundry.
You can see it >>> here if you haven't and don't know what I'm talking about. :)
We are taking a MUCH needed break before we get back to that though! ;)
I'll be back soon with tutorials and more information on some of the things I did in this room.
In the meantime, hop on over and visit Calling It Home to see everyone else's big reveals today!
AND, today is also decorating day with my Decor Enthusiast friends.
Hop over to my "Outdoor Decorating Ideas" post to see all the ideas (mine and theirs!).
I'll see you next week with something! ;) I have nothing planned yet so we'll see what I come up with! ;)
xo