Farmhouse Vinyl Plank Flooring (One Room Challenge, Week 5)
This post may contain affiliate links. Please see disclosures here.
Faux flooring doesn't have to look "fake". There are so many wonderful options out there these days! This farmhouse vinyl plank flooring is a big win!!
Hey Friends! Today I'm sharing one of the most exciting changes in the One Room Challenge, the brand new "Farmhouse Vinyl Plank Flooring"!
I LOVE this stuff. :)
It is beyond my expectations in every way. (PIN it to save for ideas on farmhouse vinyl plank flooring!)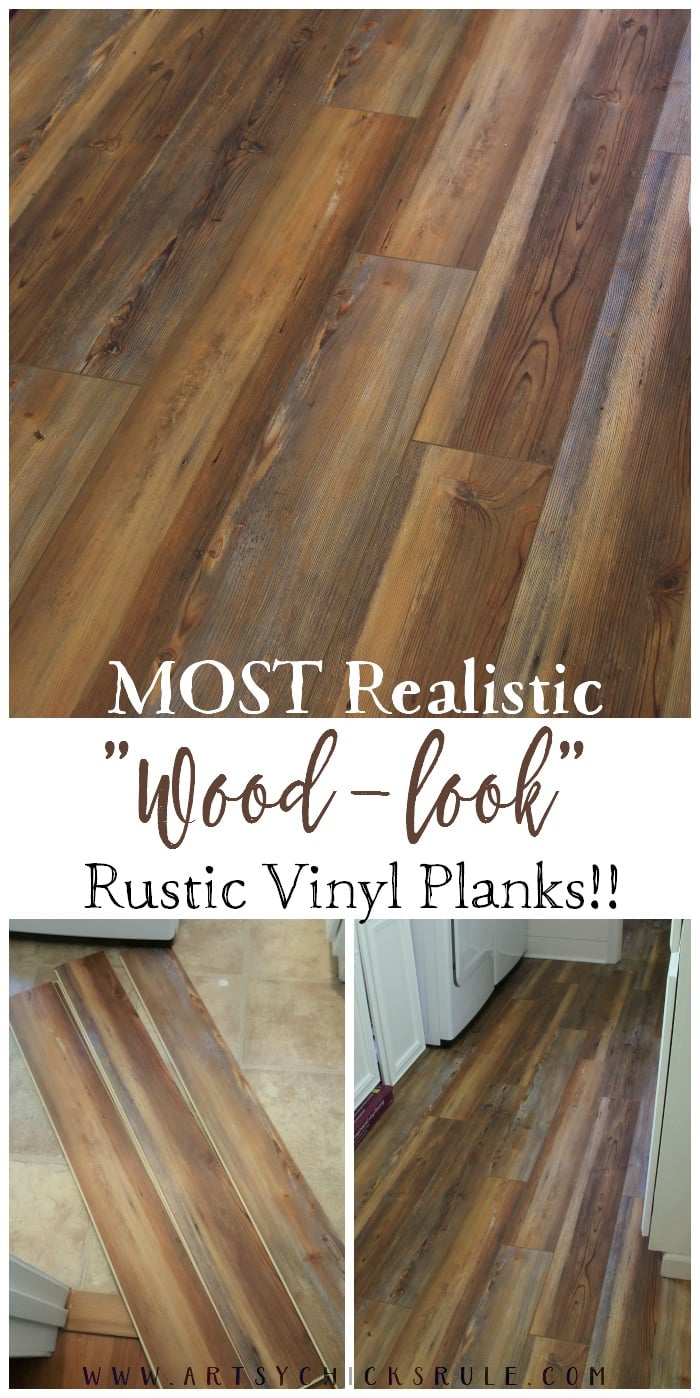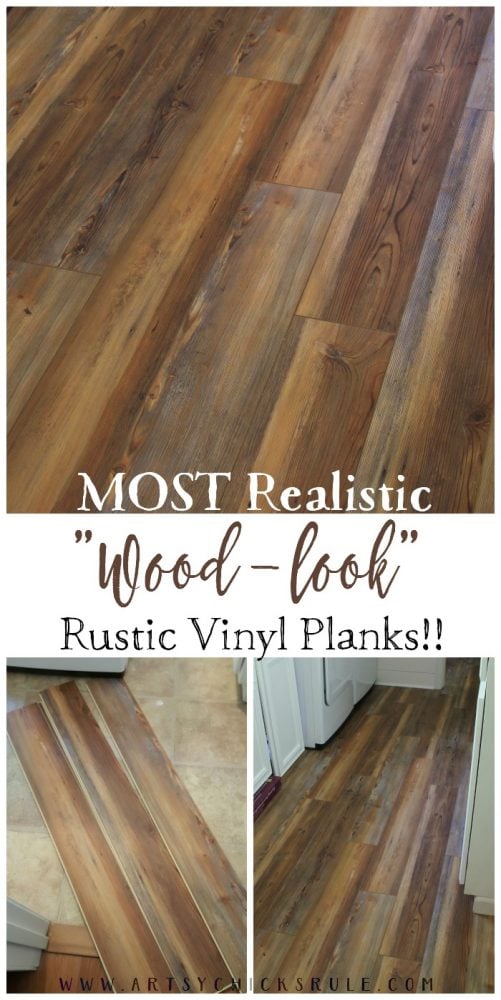 And just like my little photo above says, it's the most realistic rustic looking farmhouse vinyl plank flooring I've seen!
This stuff is awesome. I am SO happy I came across it.
And the winner is….. Smartcore and is called Blue Ridge Pine.

**If you are new here, I joined in on the One Room Challenge hosted by Calling It Home.
I decided to do our laundry room in a "Coastal Farmhouse" style.
Visit this first post in the challenge to see how it looked when we started and the plans for the room, etc.
>>> "Coastal Farmhouse Laundry Room Plans, Week 1"
So, you might remember I was undecided between two other vinyl planks.
One of them was in this design series by Smartcore called "Woodford Oak"….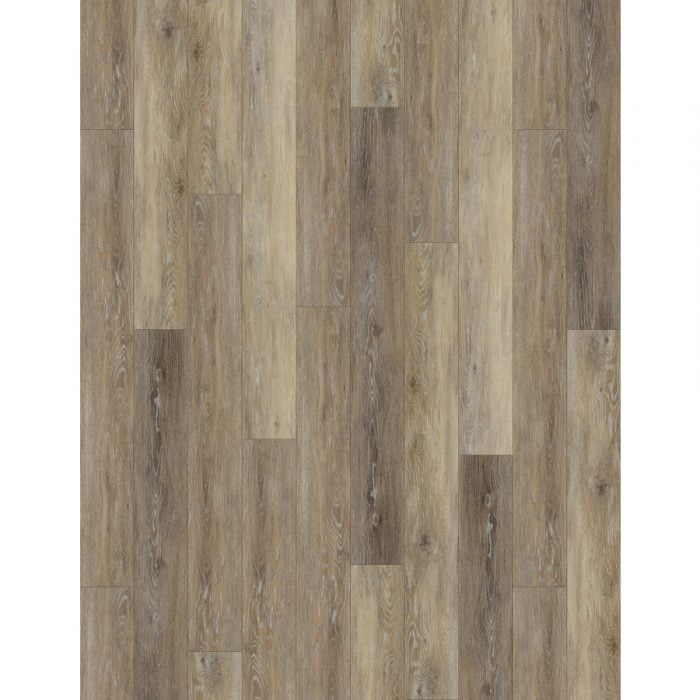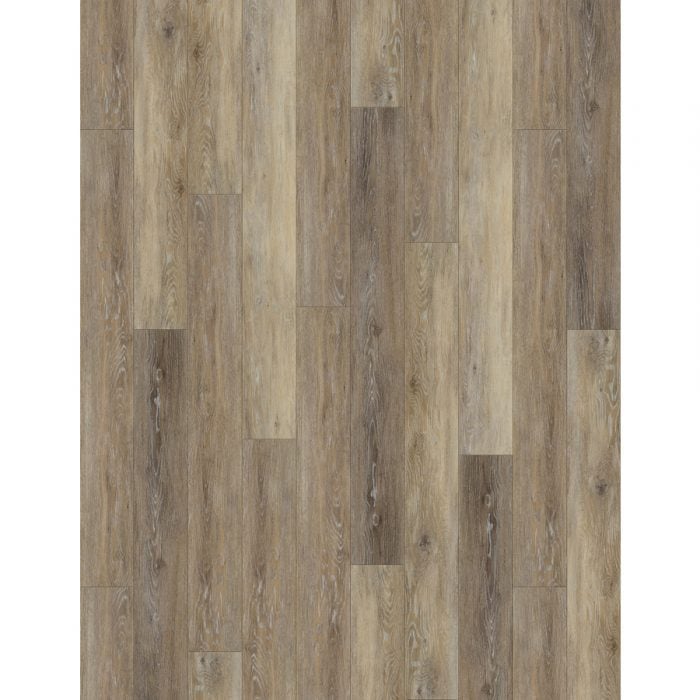 Isn't is also wonderful? I loved it too but it just wasn't going to work out next to the flooring adjacent in the family room.
It also wasn't going to work out so well with the newly, walnut stained door.
So I went back to the drawing board!
I kept looking at samples in that "weathered" wood variety because I really wanted that look in there….or so I thought.
But it needed to stay on the warm side because of those other wood areas I mentioned.
And then, just as I was looking this Woodford Oak over again, I saw the Blue Ridge Pine right next to it on the sample board!
A truly "duh" moment.
I realized it didn't need to be "gray weathered" looking, just sort of a rustic, farmhouse vinyl plank flooring look.
And the Blue Ridge Pine was the perfect rustic touch I was looking for!
Plus it looked great with both the door and the flooring next to the laundry room.
Win-win! Yay!
Sadly it was quite the adventure trying to wrangle all the boxes we needed.
Apparently I am not the only one in love with it! ;) I am told it is sold out quite often.
I had to travel to several stores to collect enough to do our room…but it was SO worth it.
So let's back up a bit.
Once I decided on this flooring (or hoped to, if it matched my other wood areas), I bought the only box that store had to bring home to match.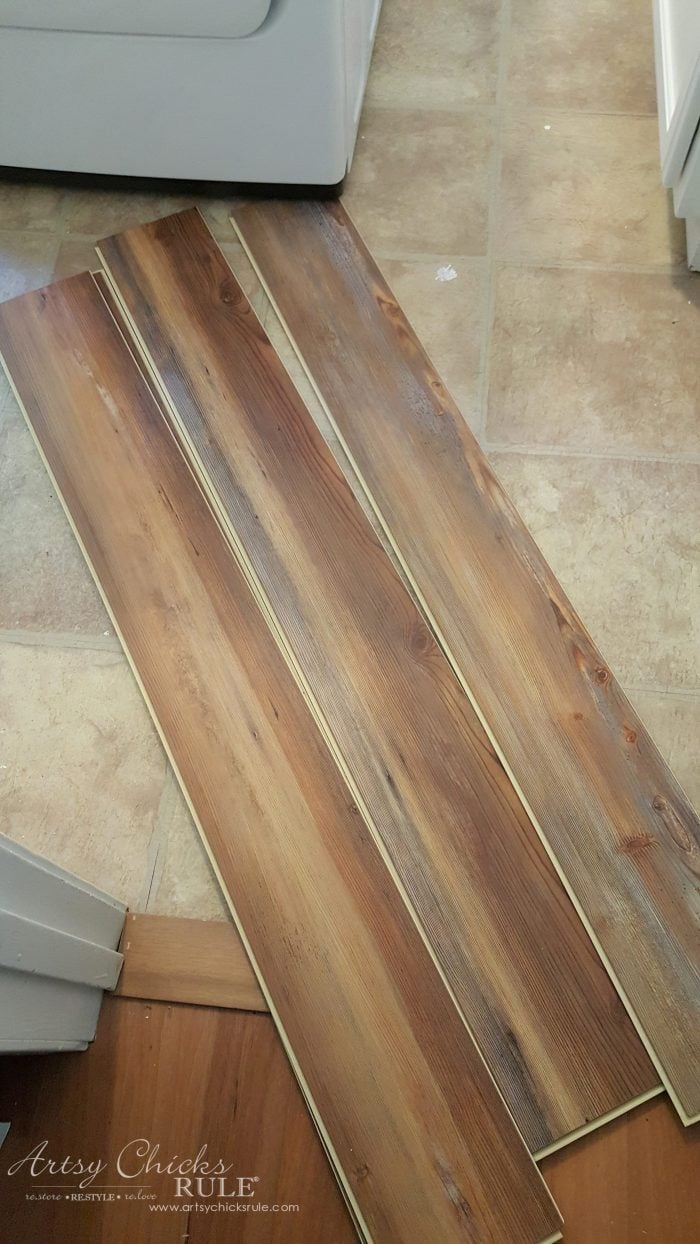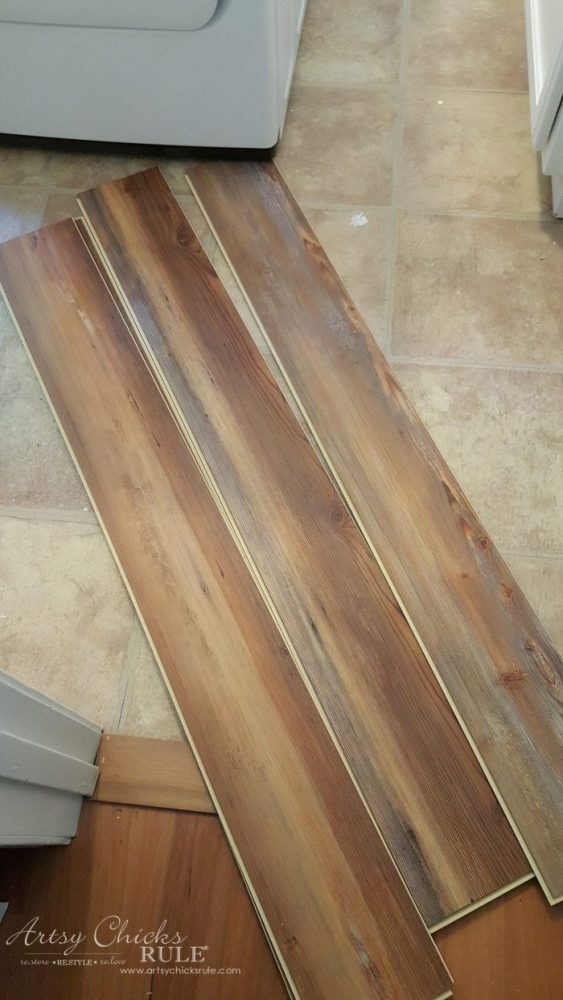 We opened it up and laid it next to the floor and was thrilled with what we saw.
It looks really nice next to the flooring we have in the family room.
Want to see some of these projects in "live" time? Hop on over and follow along with me on INSTAGRAM. I'm always sharing in my stories as I'm doing projects, finding new furniture, fun finds….just all the day to day behind the scenes.
Once I drove all over creation to locate the boxes, we got right to work.
Then had to get my cutie in action there! He whistles while he works, so cute, I love it.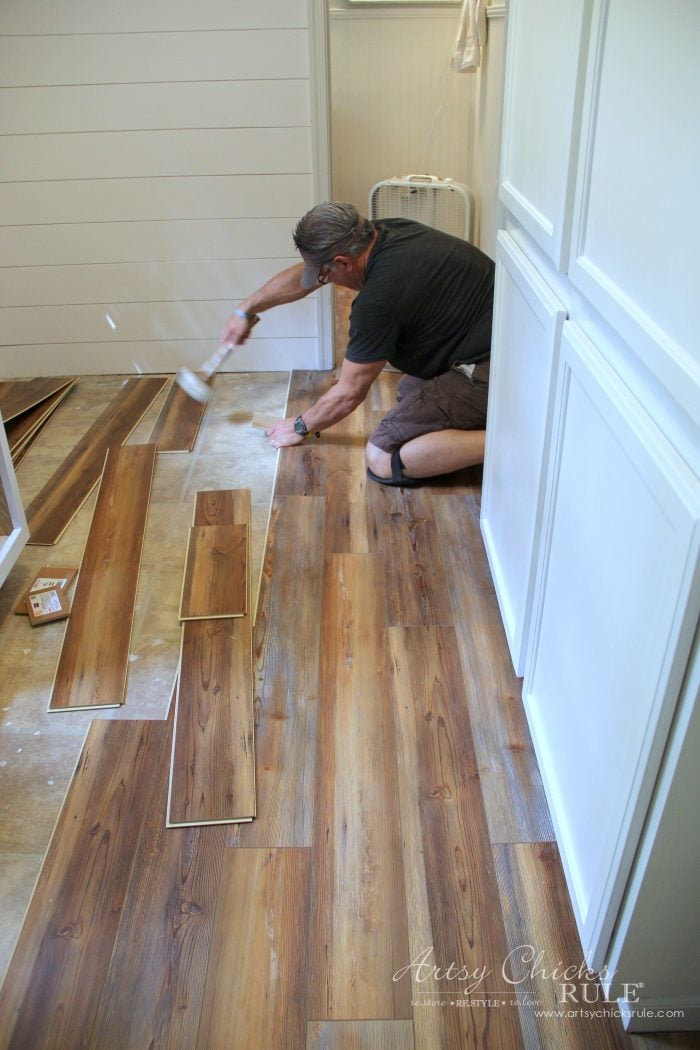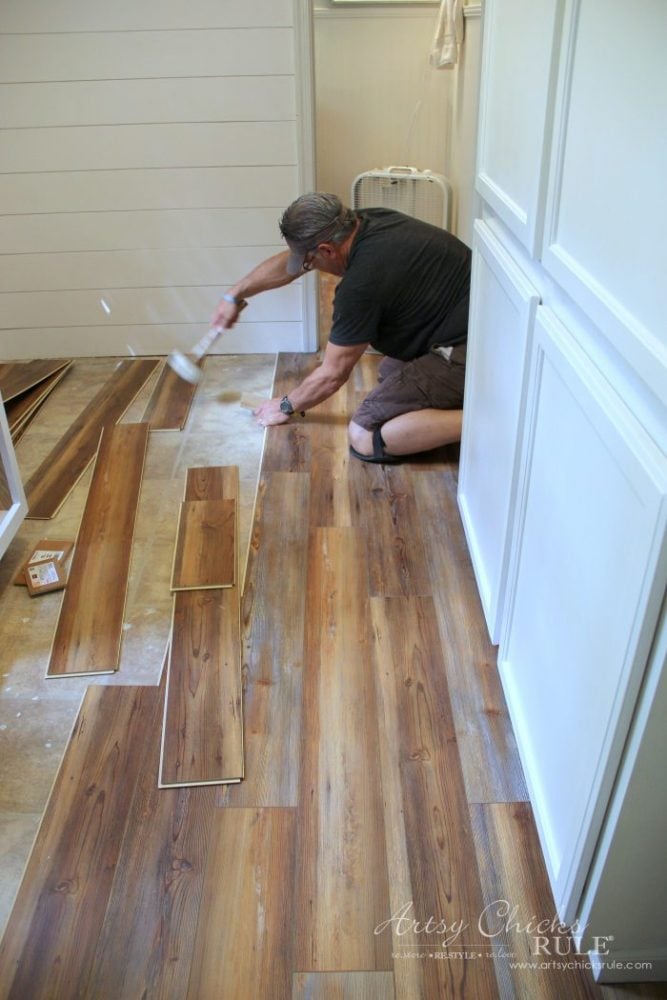 These can lay right over the old vinyl flooring and are 100% waterproof, which is perfect for a laundry and bath.
As you can see, we are carrying the farmhouse vinyl plank flooring right on into the bathroom.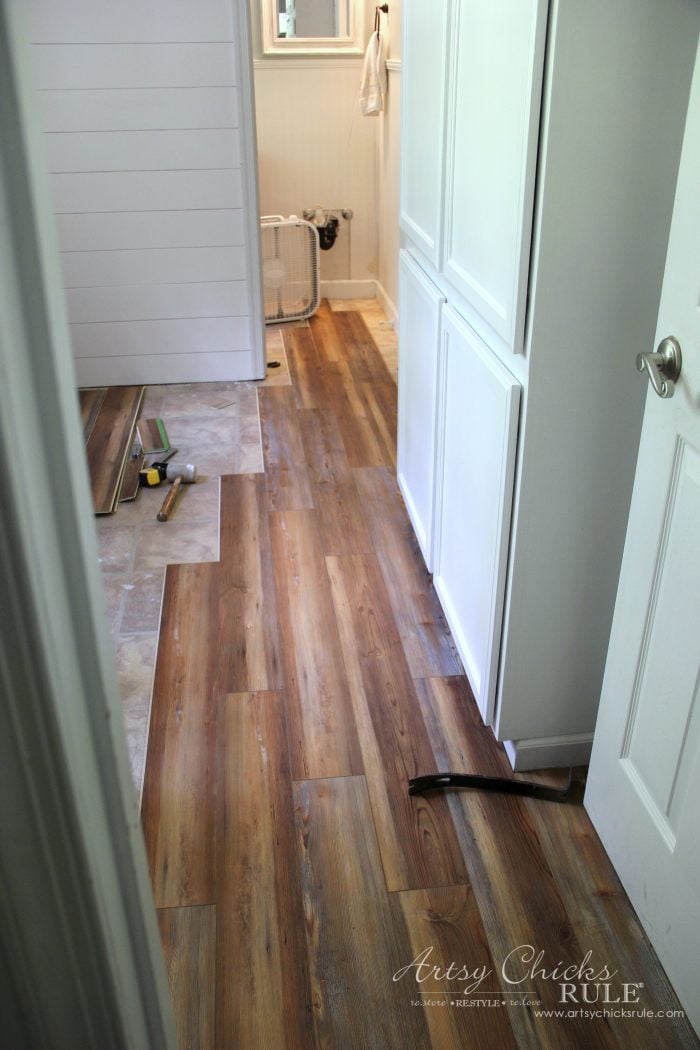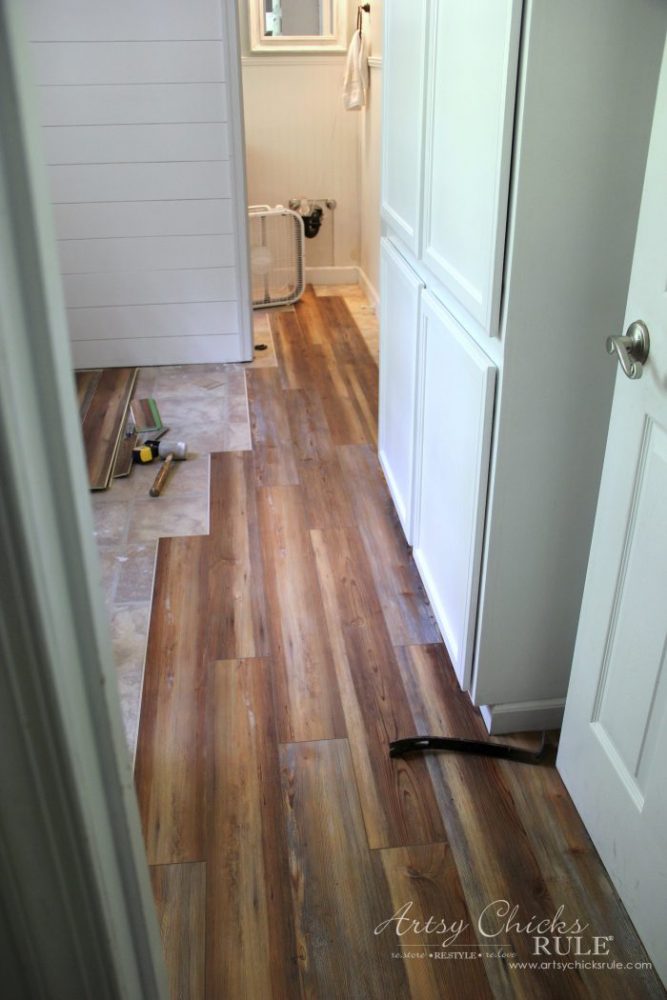 I think it's going to look so good in our Coastal Farmhouse Guest Bath.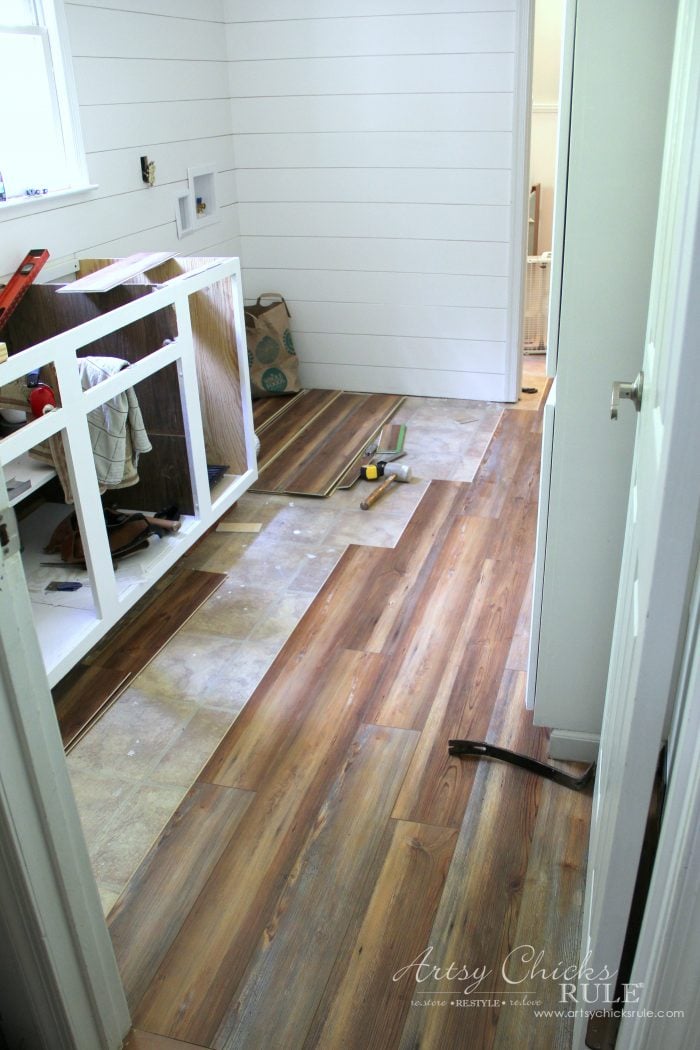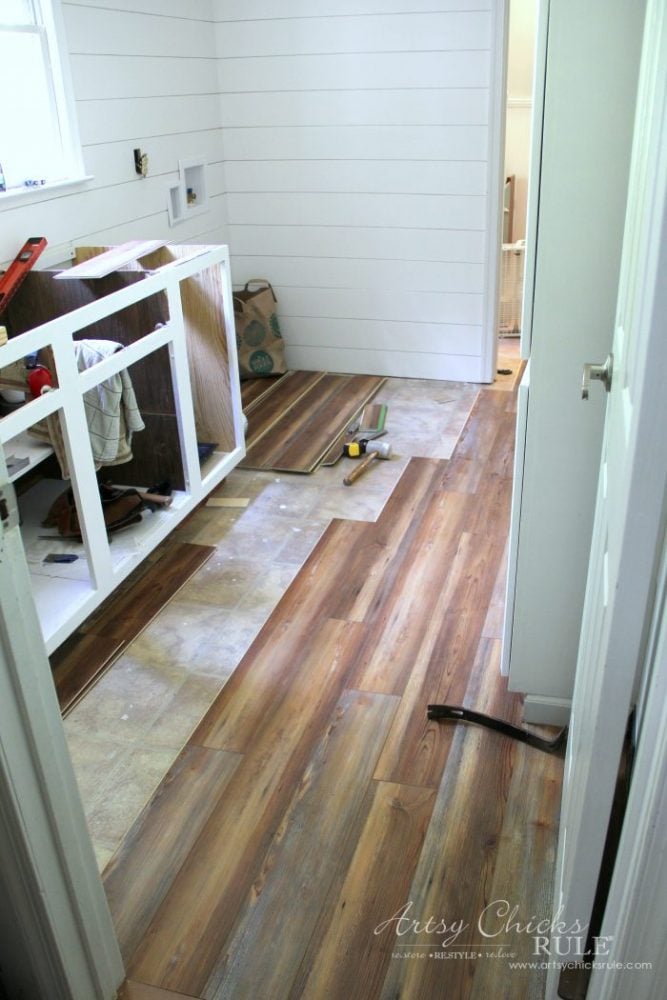 And ….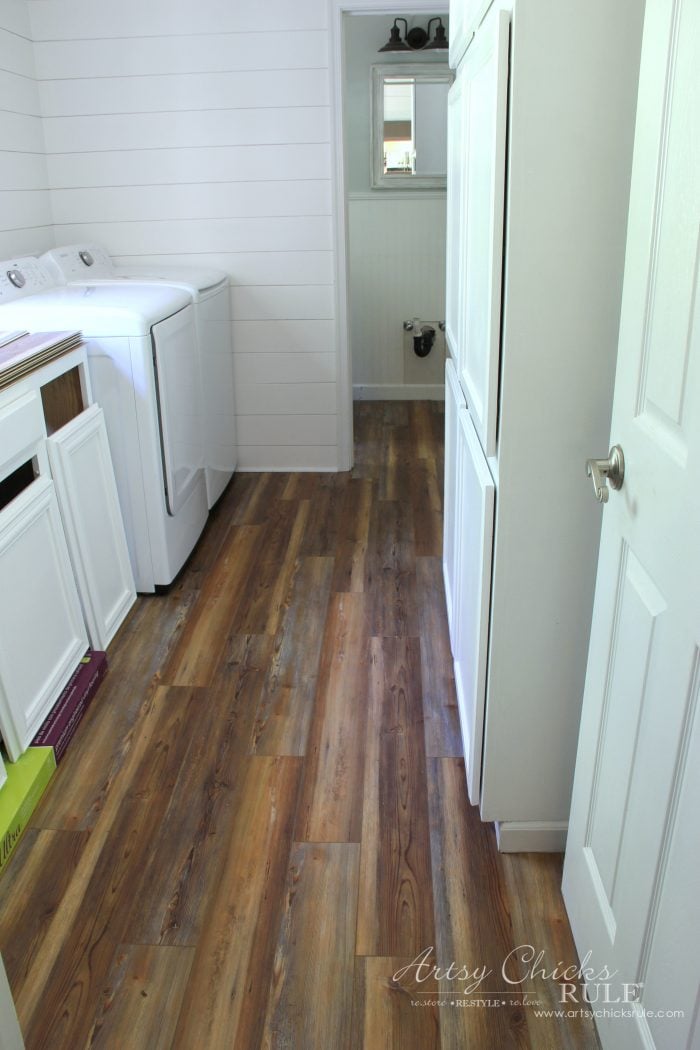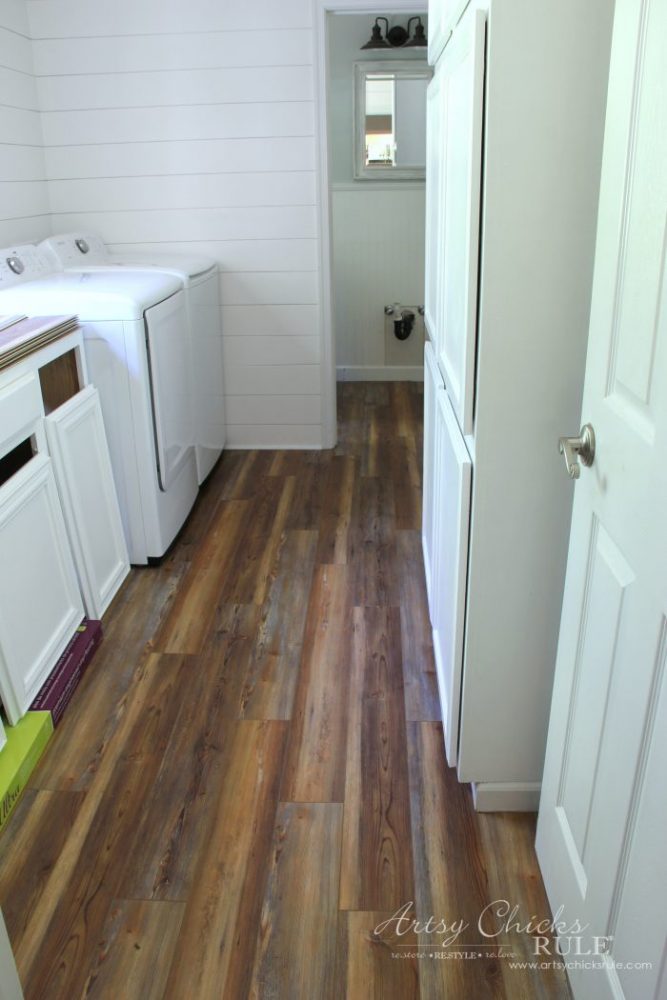 What do you think?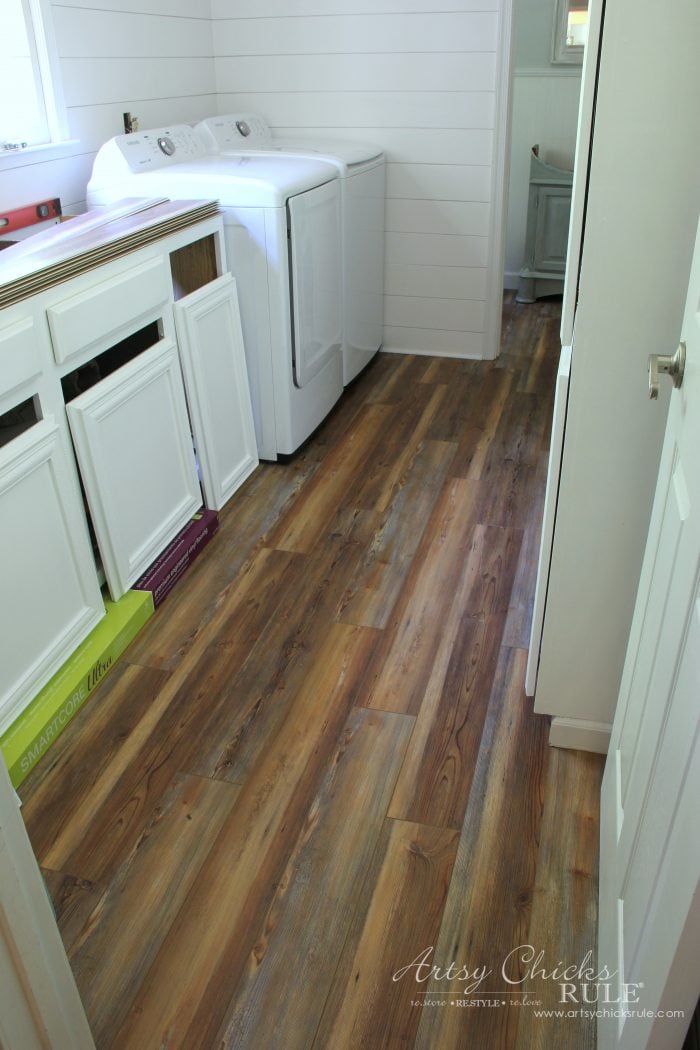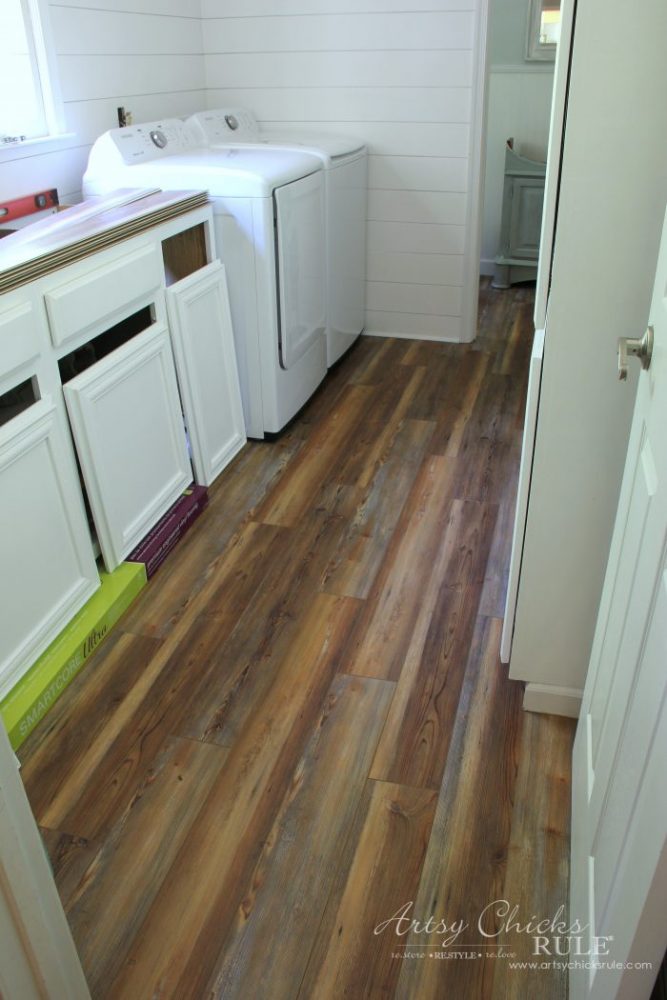 I love that is still has that little bit of gray weathered look in some of the planks.
I was also very thrilled with the variety of design in the vinyl planks.
That just makes it all the more realistic.
I mean, just look….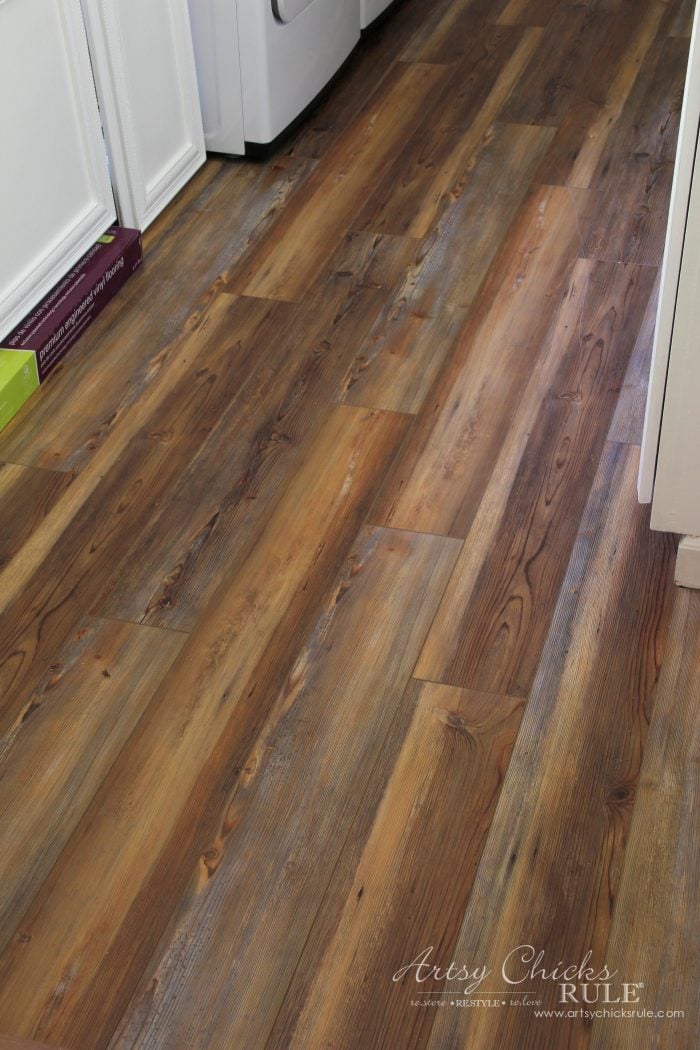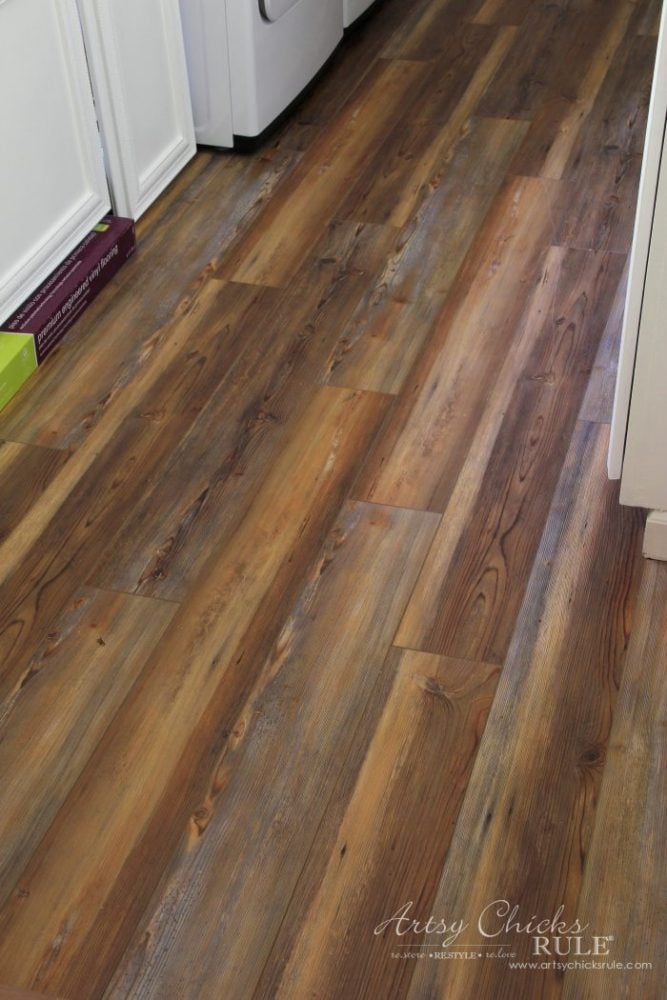 I laid the cabinet doors where they are going to go because I haven't been able to put them up yet.
We were thinking we would maybe put them back up with hidden hinges but sadly they won't line up properly.
So….I'm either painting the hinges white (not ideal), or using bronze hinges.
I love the sleek white appearance but if we use the bronze hinges then they will break that up a bit.
It might be some nice contrast though, since the room is still very white.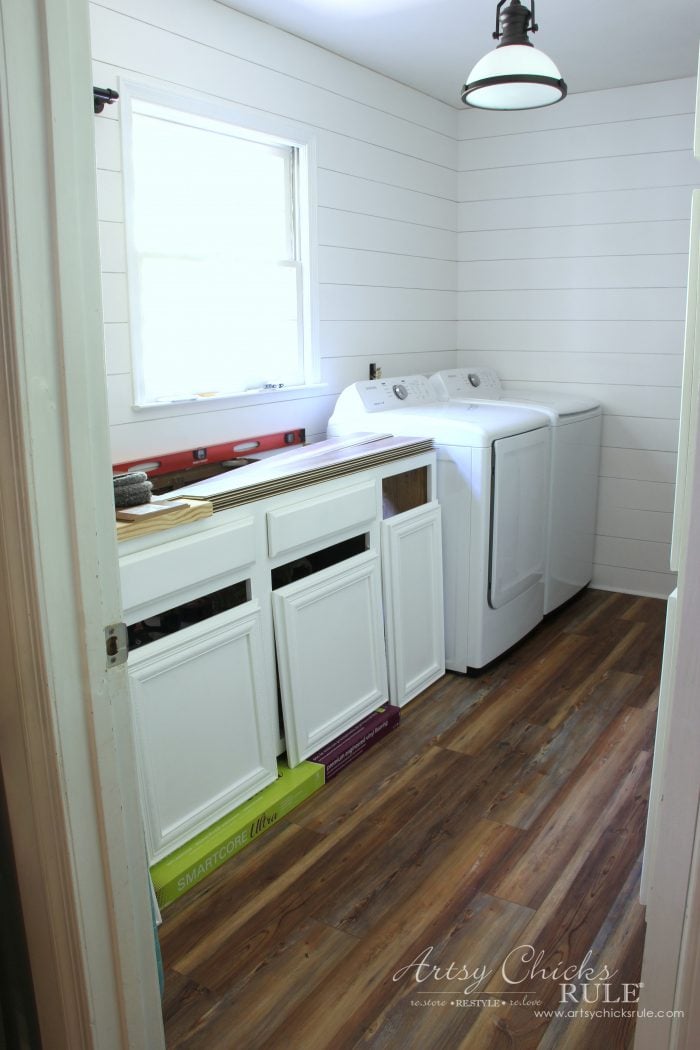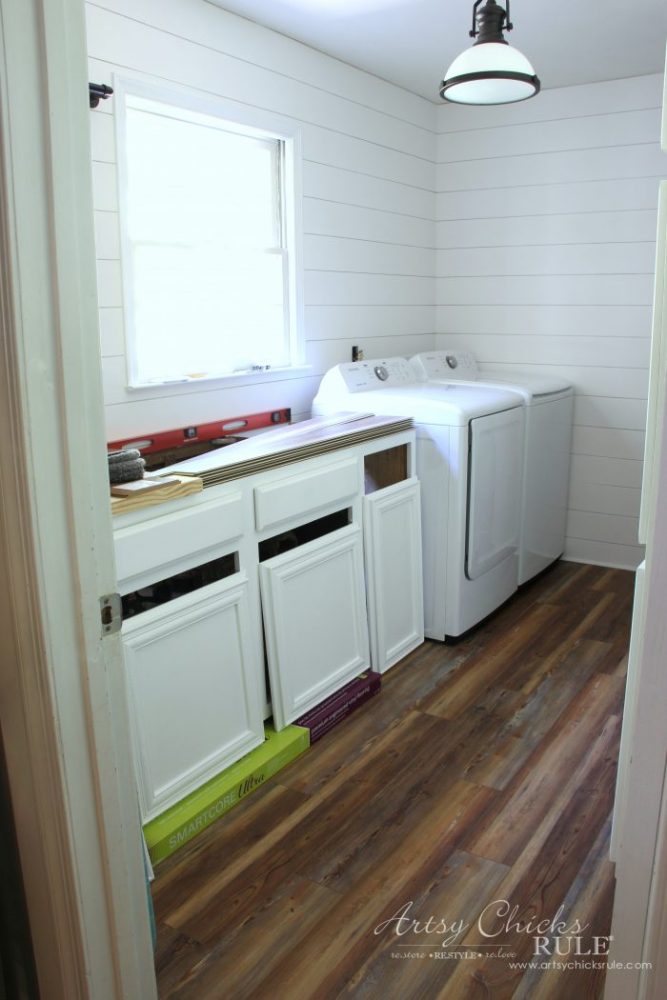 But you can mostly see how it's going to look.
Now…..I want to ask your opinion again.
No handles on the drawers, like above, or these bronze ones below….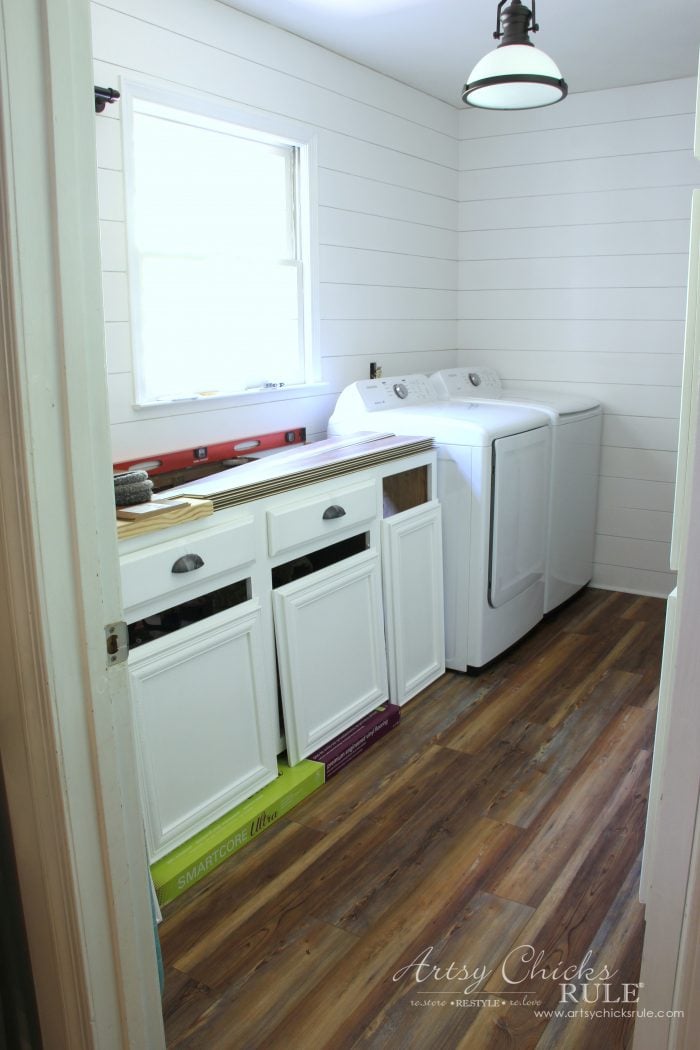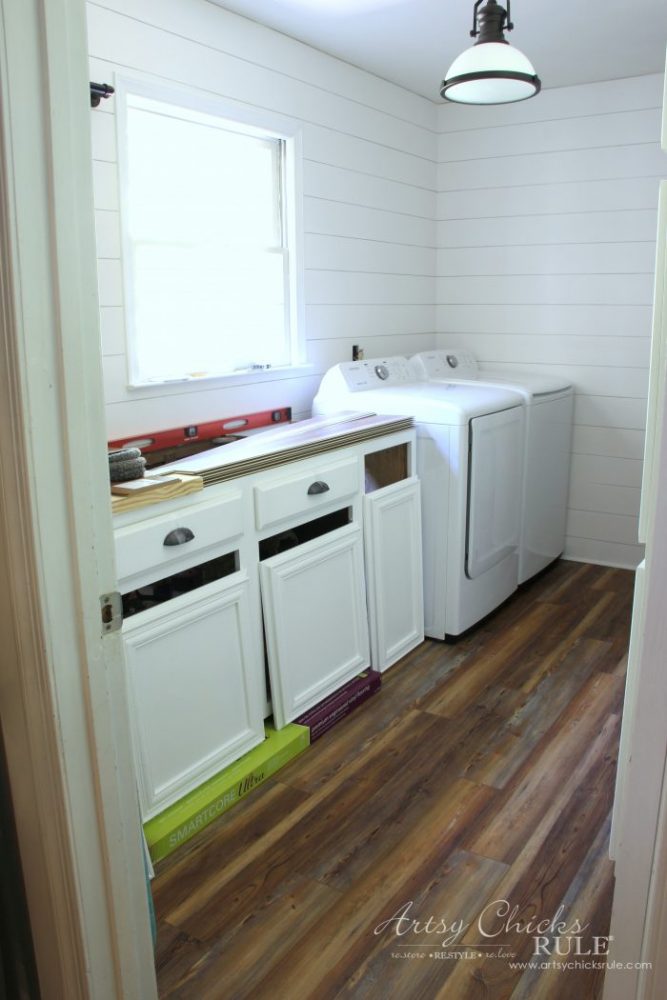 I think I'm kind of liking the handles ….I think…. but would love to hear what you think.
Plus, if the hinges will end up being bronze, these might look nice.
And I wonder if I should just add the handles on the drawers and none on the doors? Or yes, on the doors too?
I would still leave the right side cabinet hardware-free since I wouldn't want anything sticking out as you walk by it.
What do you think?
And by the way, I am just loving having the the washer/dryer all the way against that far wall.
If you remember in the One Room Challenge, Week 1 post, we had a rolling hamper against the wall which put the washer/dryer further down into the main part of the walkway.
This feels so much more open and roomy.
And more progress this week, a new rug….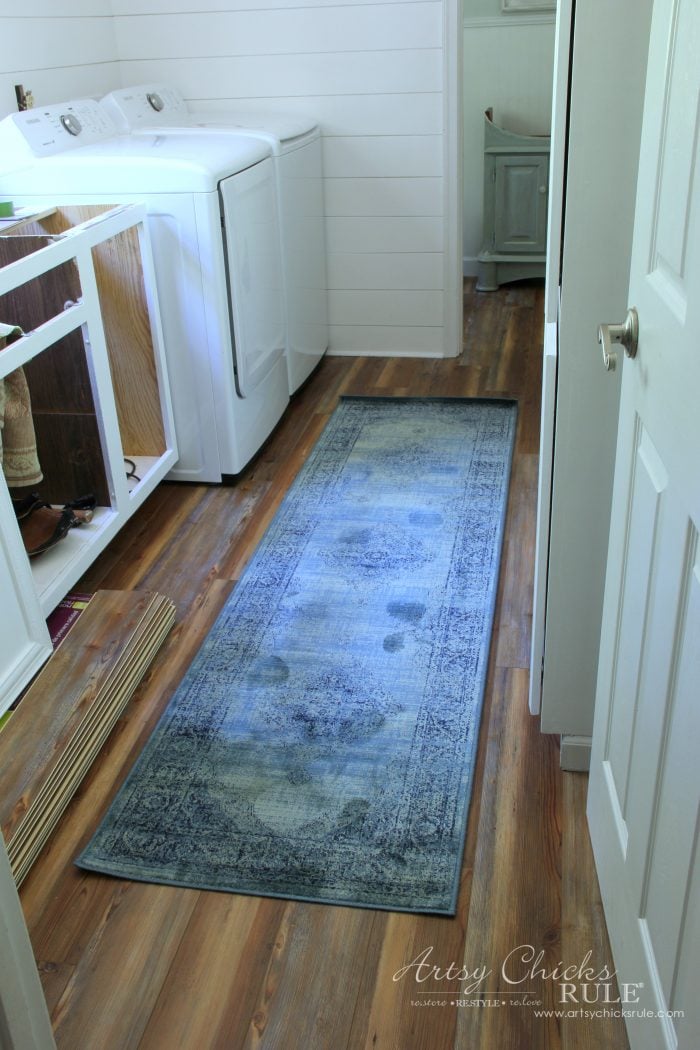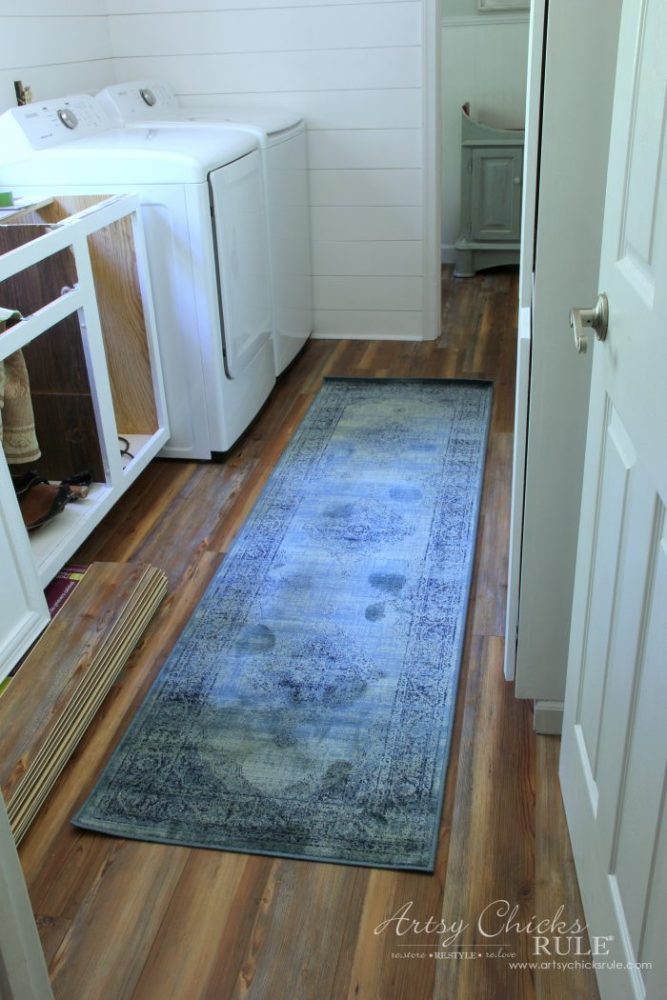 …it's from Wayfair and I really do love it….just not in this room. :/
I think it's a bit too dark and it's just doesn't have the right feel.
So I decided to go with the exact one I picked out for my plan below…..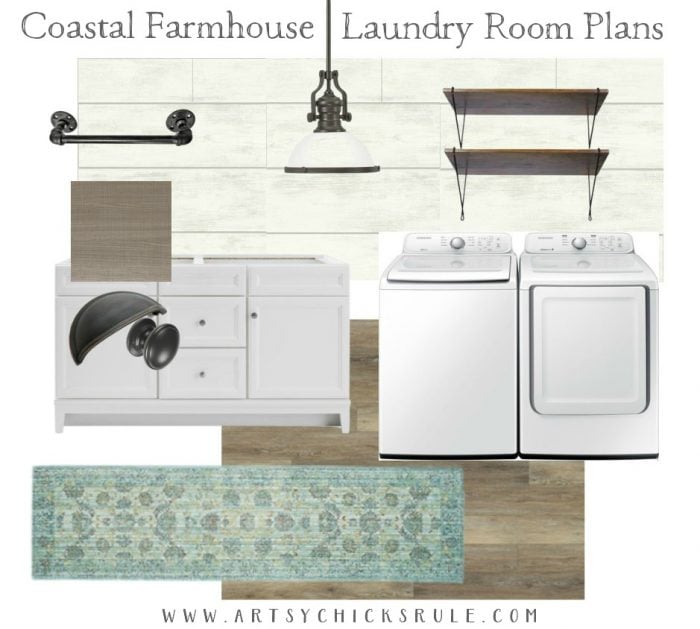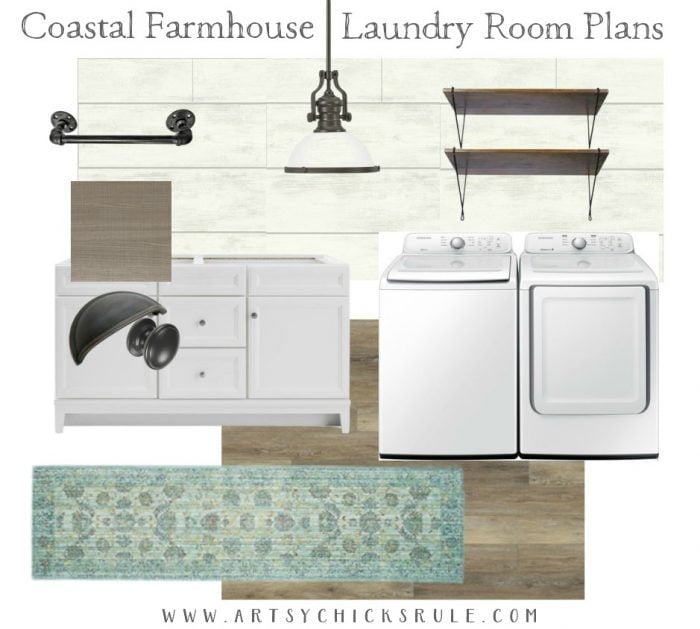 And…..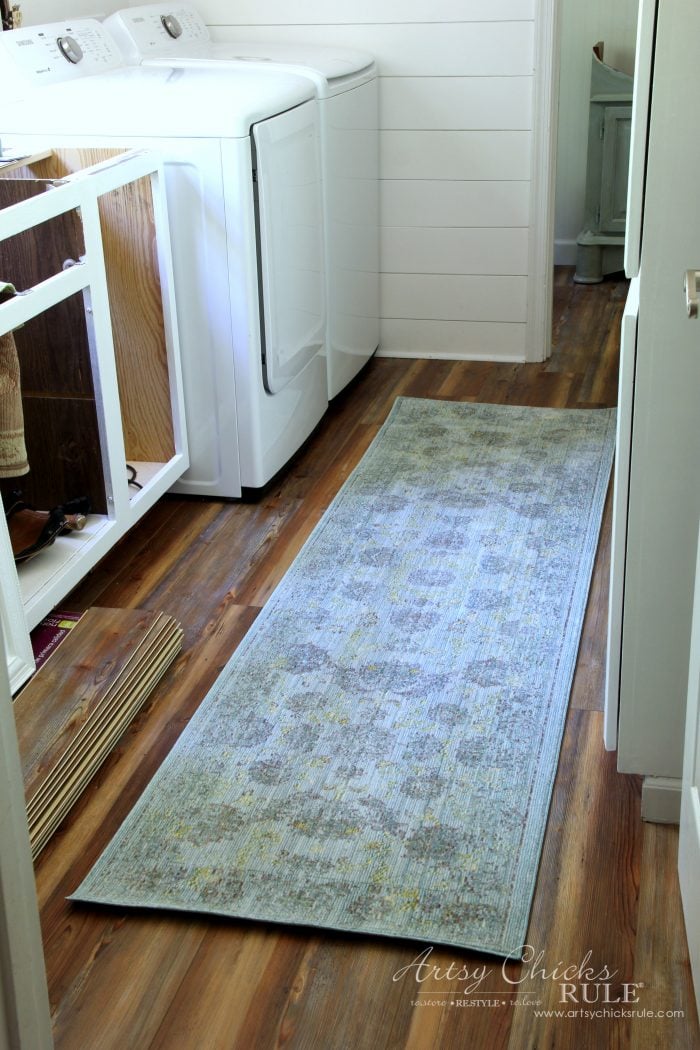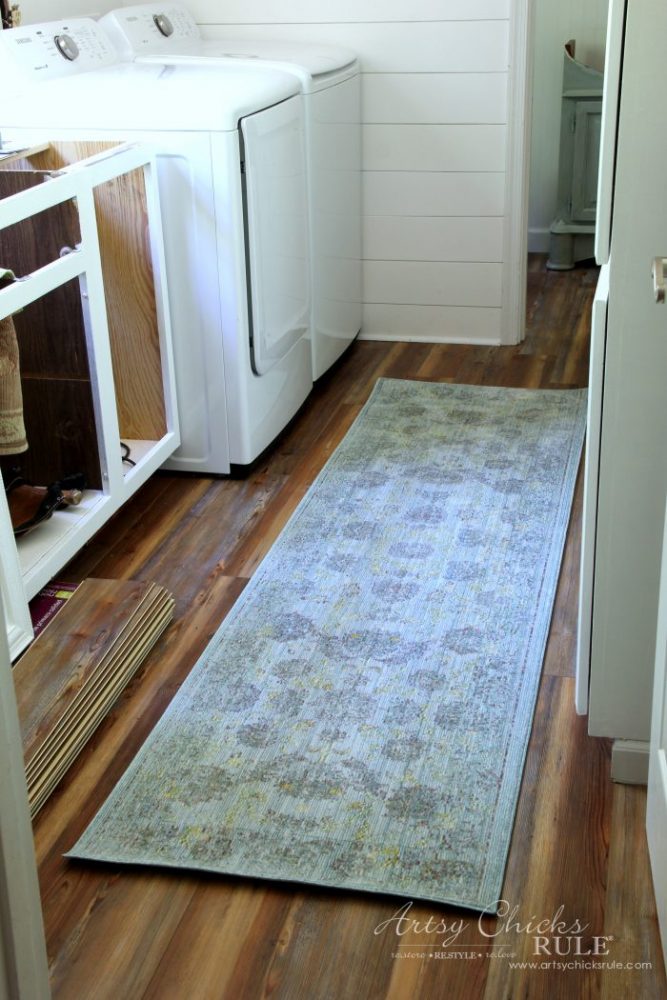 …it's a winner!
It's a nice, pale shade of aqua which is exactly the feel I wanted in there.
But I do hate to cover up that gorgeous floor, at all.
BUT …. ugh, do you see it?
The pattern is slightly off center. I kept looking at it thinking I was seeing things.
But no, look at the outside trim on the left and right and you can see much more on the right, which is pushing the design off center.
Bum-mer.
I wonder how crazy that will make me over time?
It's one of those things that once you see, you can't not see it.
Maybe I'll send it back and try again? What a pain. Ugh.
But other than that, what do you think? Rug number 2 is the winner?
I think so!
And that, my friends, is all I have to share this week! Ack.
Yes, that means we have much work ahead of us still and short on time.
Reveal day is next Thursday which means the room needs to be done AND decorated by Tuesday at the latest so I can take photos, edit them and write the post.
So I'm signing off here and getting back to work!
Be sure to PIN this for later!!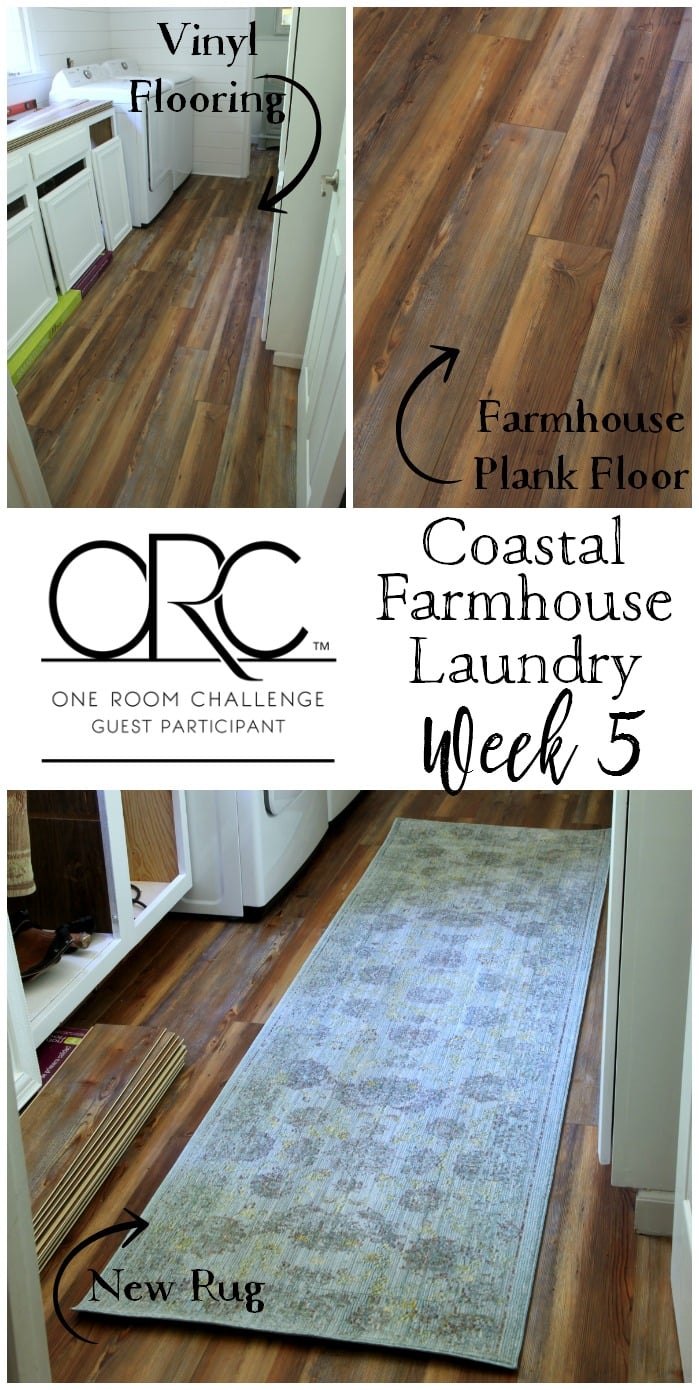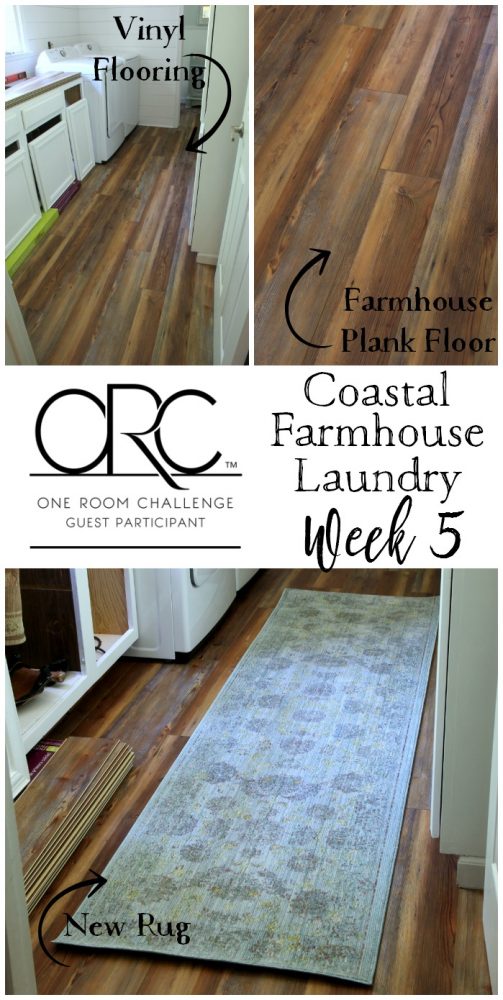 ITEMS in (and used in) the Coastal Farmhouse Laundry Room:
Updated to add: See other posts in this challenge here.
Week 1 Style Plans
Week 2 Painting Cabinets
Week 3 Shiplap Progress and New Lighting
Week 4 Painting Shiplap and Room Progress
Week 5 You are here!
Week 6 The Big Reveal!!
And be sure to hop on over and see how everyone else is doing on Week 5 >>> One Room Challenge Guest Participants.
I'll see you next week with a brand new Trash to Treasure AND Decorating Enthusiasts post.
Have a wonderful weekend! You know what I'll be doing!! ;)
Work, work, work! I'll share on Instagram, so be sure to follow along and watch the crazy as it unfolds! ;)
UPDATE!
We've since changed our decor somewhat and moved away from the "very rustic" farmhouse look. This floor is still a lovely choice for those with that style of decor and I do still recommend it for that. It's a great flooring product! However, as mentioned above, we really desired to replace the flooring in our entire downstairs living area and chose this one because the color matched existing flooring adjacent to it. We have since been fortunate enough to have the opportunity to do just that and we adore the new floor that flows through our entire downstairs space! Both are beautiful options. It just depends on the look and style of flooring you are after.
But this new one is a much more affordable option and great for the home DIYer!
Want to know more about the new flooring we chose?
Check out this post, here.
xoxo