Dressing Chair Makeover (with fabric and spray paint!)
This post may contain affiliate links. Please see disclosures here.
This dressing chair makeover is a prime example of how you can update your furnishings easily and quickly!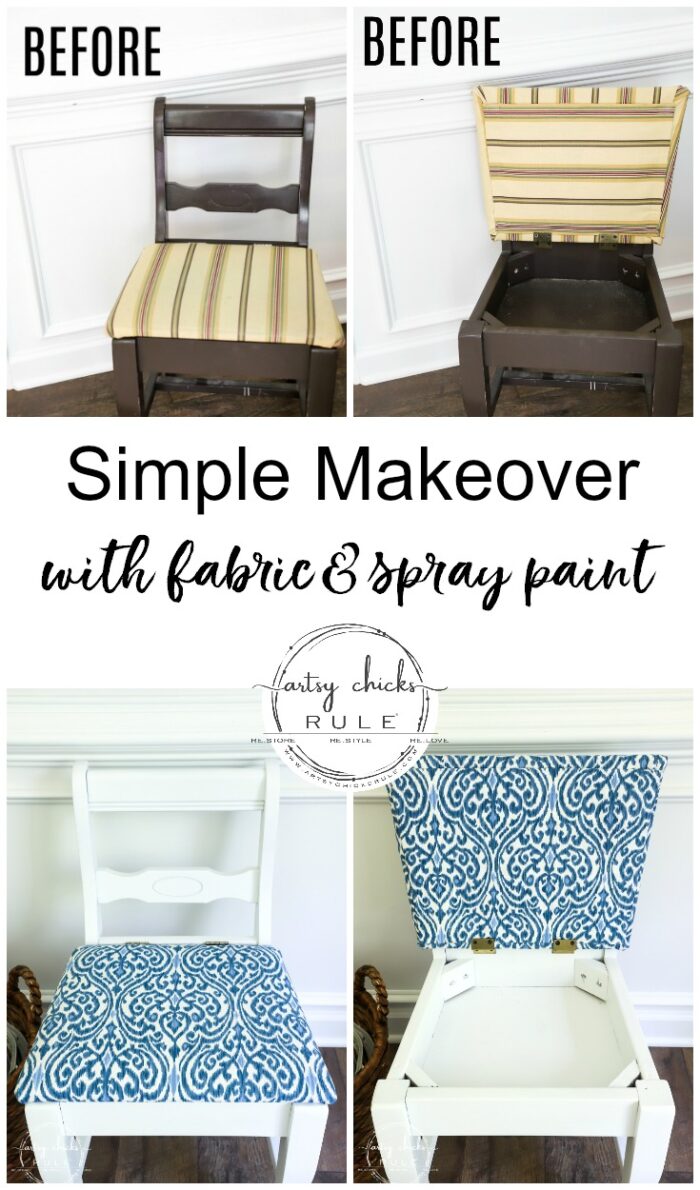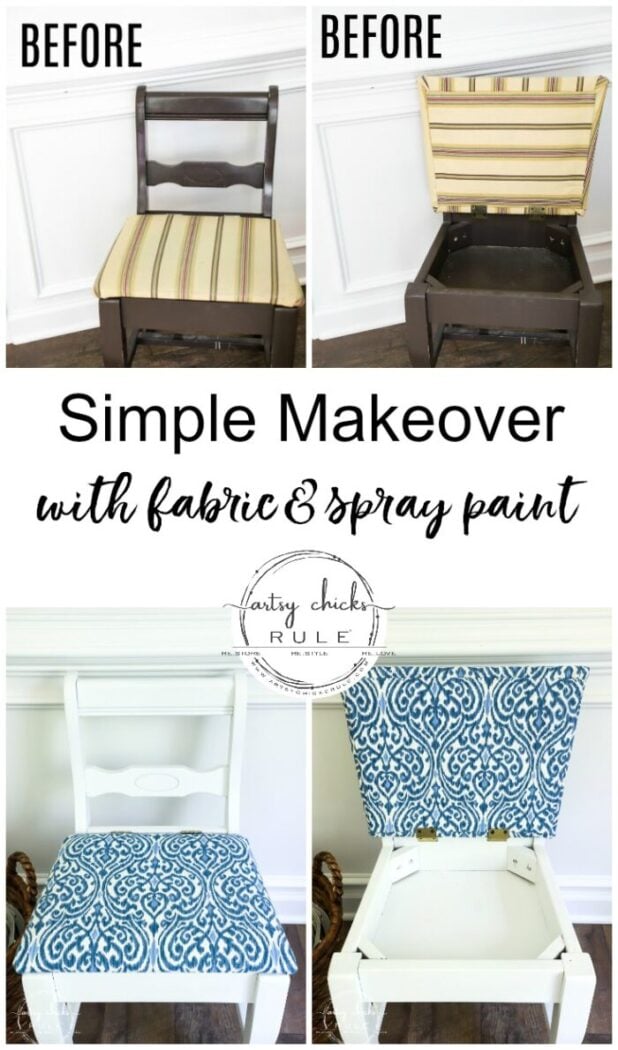 Updating old thrifty finds or even our own "finds" right inside our home is the perfect budget-friendly way to decorate your home.
This old dressing chair was originally a thrifty find so it's done double duty on the "budget-friendly" scale.
I am sad to say I don't have a photo of it originally because I gave it the first makeover before I started my blog.
I use this little dressing chair just by itself in my master bedroom, no dressing table. If I'm being honest, it has been the "catch-all" of clothing over the years. ;)
But now that it's all pretty, I'm going to have to stop using it for that! lol
I plan to continue to use it in the bedroom until we get our master bath/closet reno complete. Then I will use it in the closet.
Dressing Chair Makeover
So the only "before" you have is this one…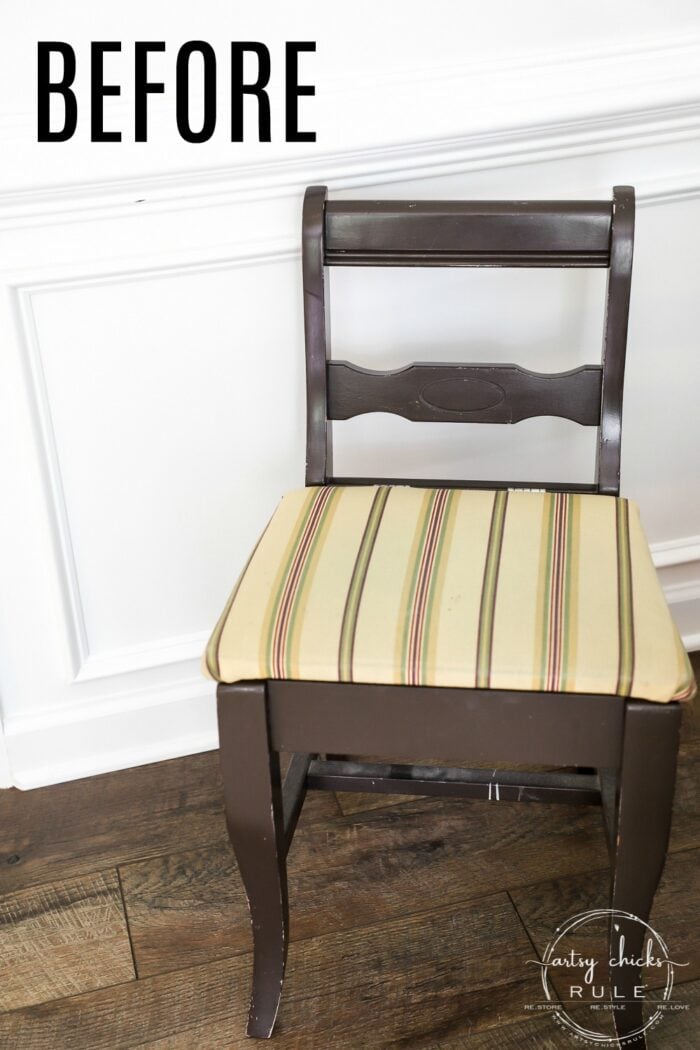 And the seat opens up for storage which is really neat…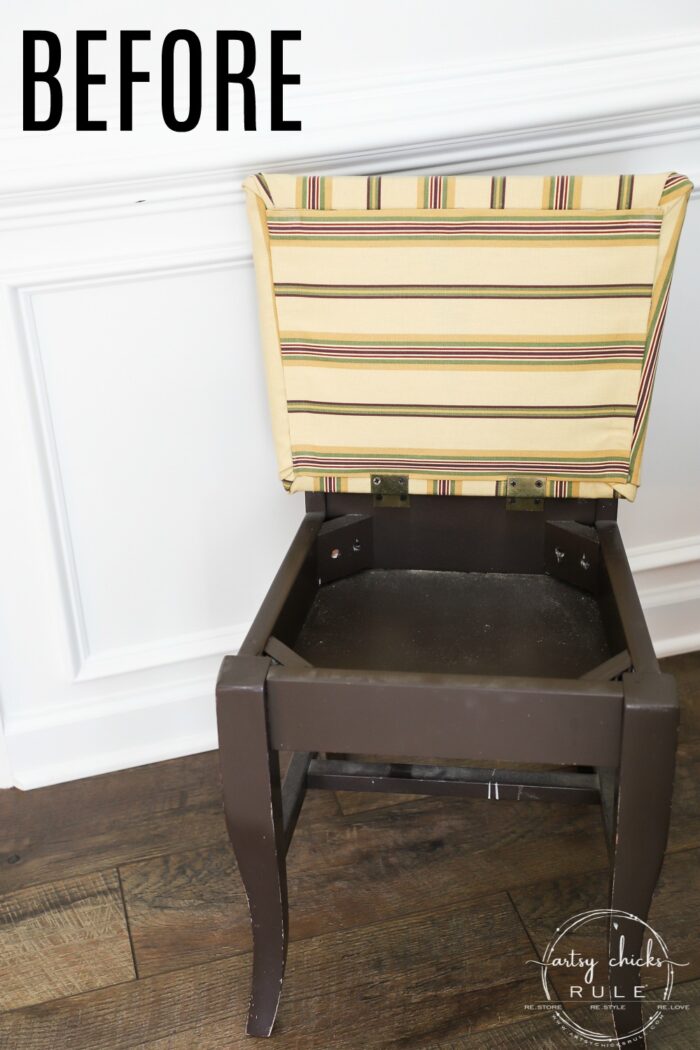 I wiped all the dust off and removed the seat to get it ready for painting.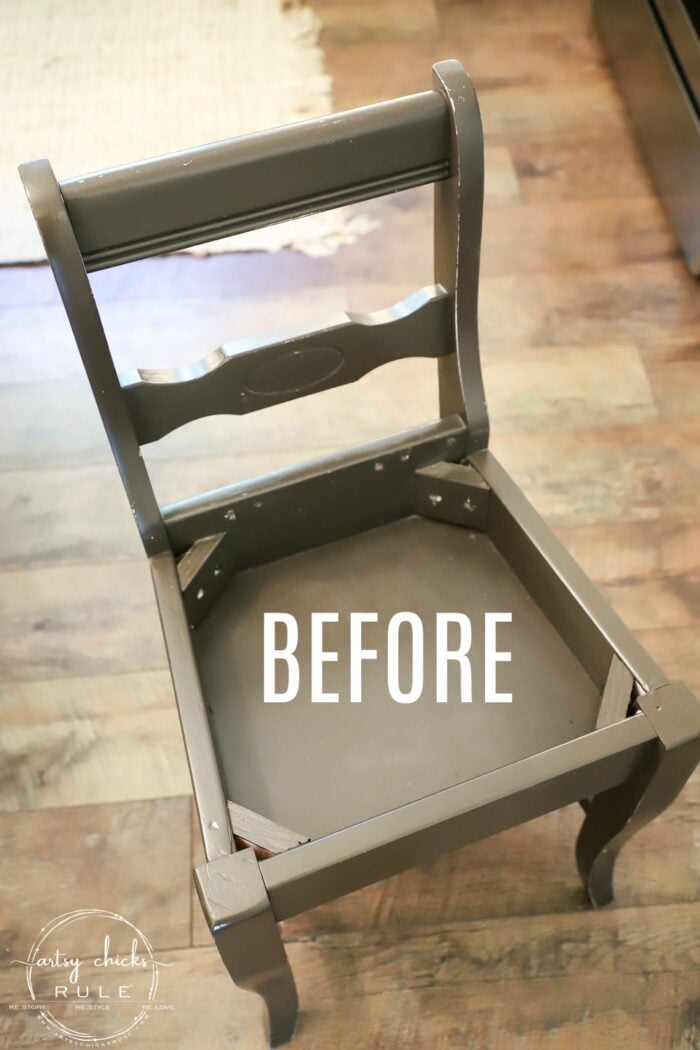 I used this primer first. Then once that was dry, I spray painted it with this white paint, 2 coats.
You can not get any easier than that!
I really dislike hand painting chairs with all the legs, surfaces, etc, so any time I can get away with spray painting instead, I do.
It's just a no brainer. You can do it so very fast….and done!
I removed the yellow striped fabric that I had added previously and here is the original "before" of the seat.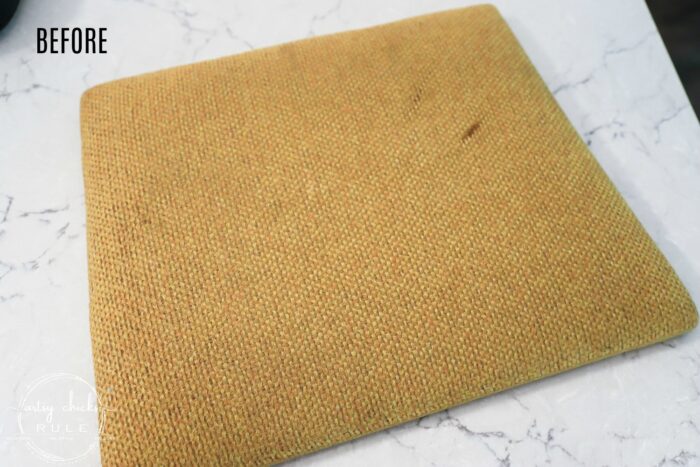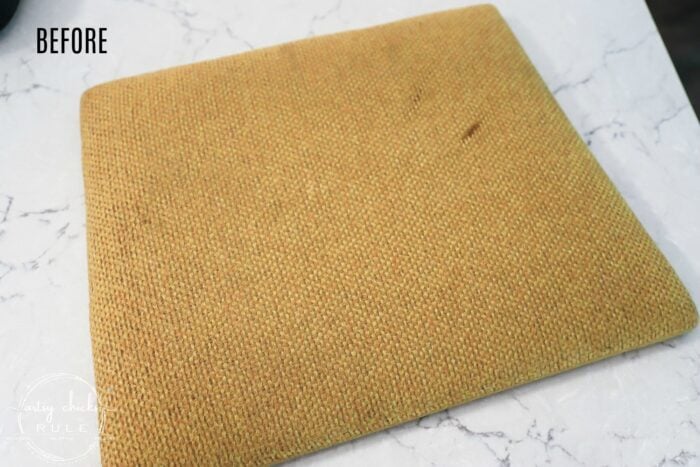 It was in pretty good shape so I again left it and decided to go right over top with the new fabric.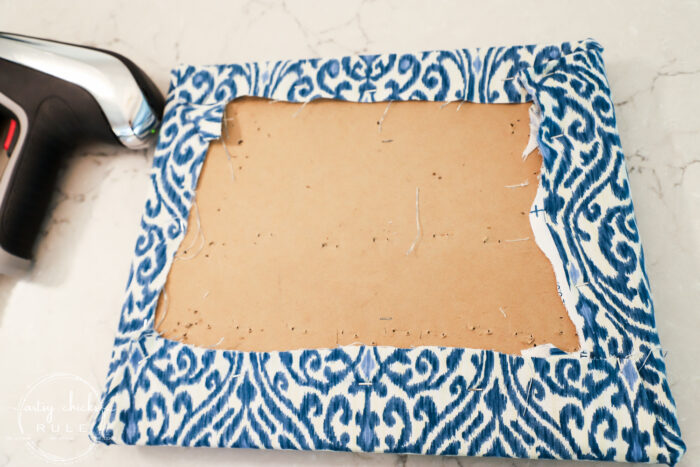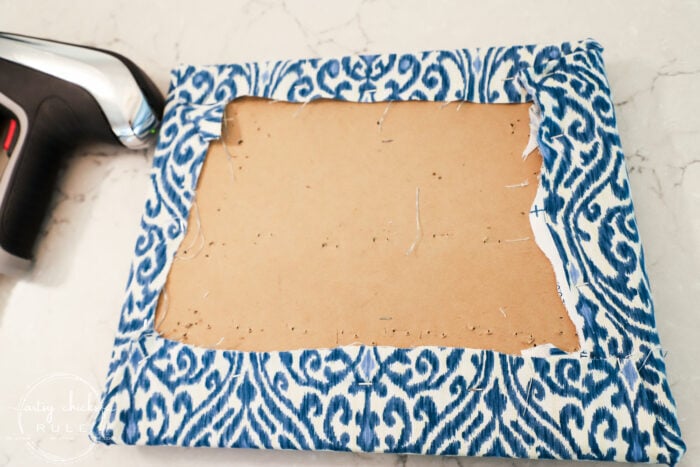 Don't look at my wonky lines back here. It's not going to matter as I'm using another piece of fabric (just like I did on the first makeover) to create a finished underside.
The new(er) staple gun I have now is the bomb. Way better than my old one. I absolutely love it.
And the front…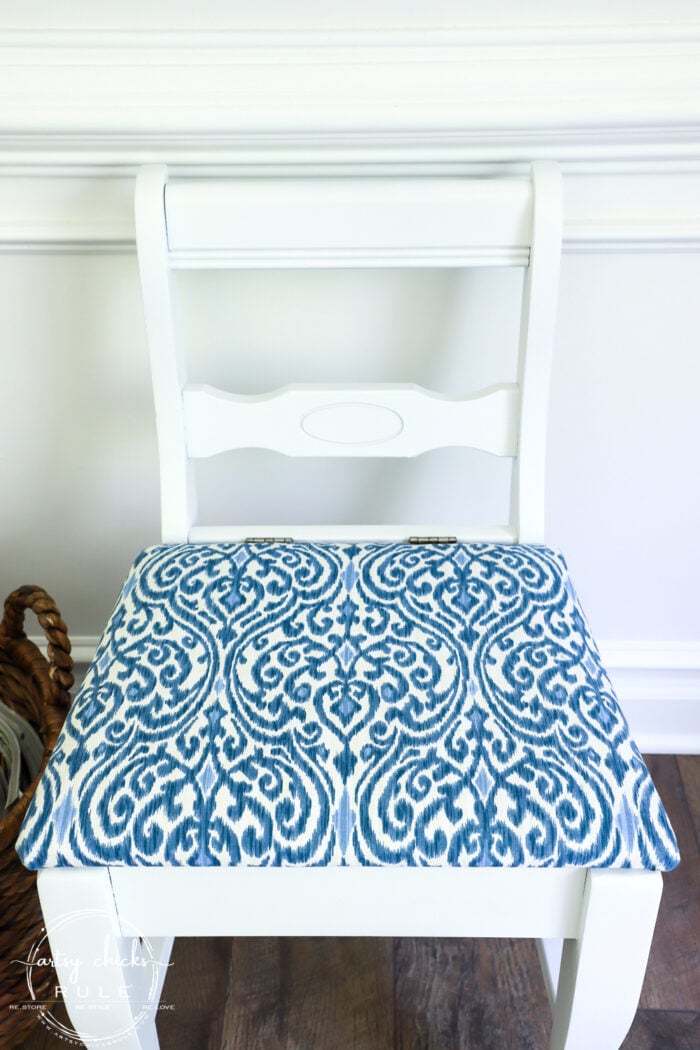 So, for the finished back side of the dressing chair, I just cut a piece of fabric large enough to fit that could also be folded under for a neat look.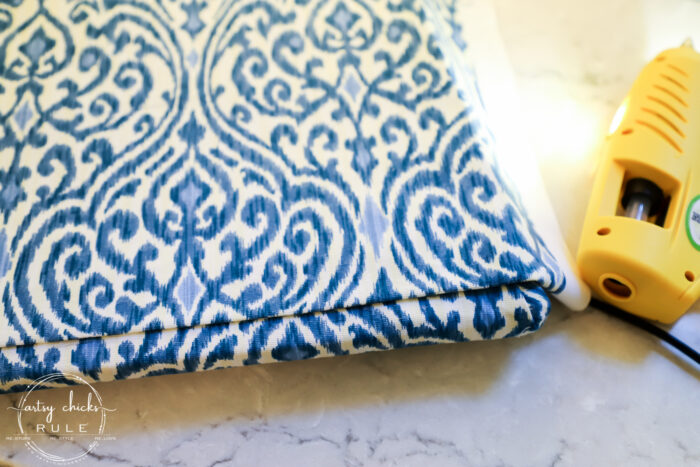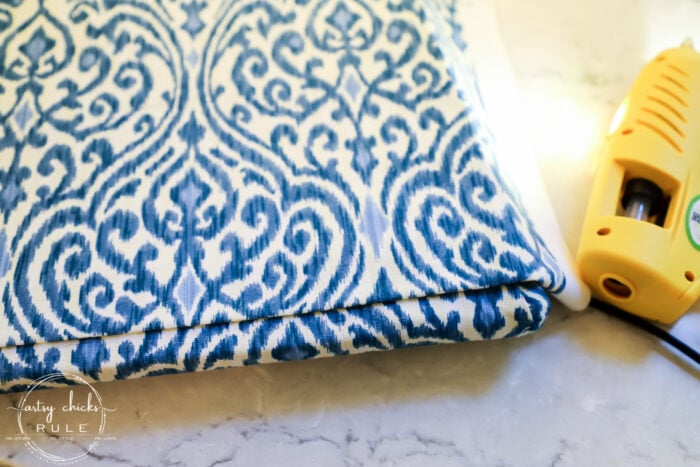 I used my also new(er) glue gun to attach it to the back. I used a glue gun the first time too and that stuff was still stuck all these years later.
Really well, I might add. ;)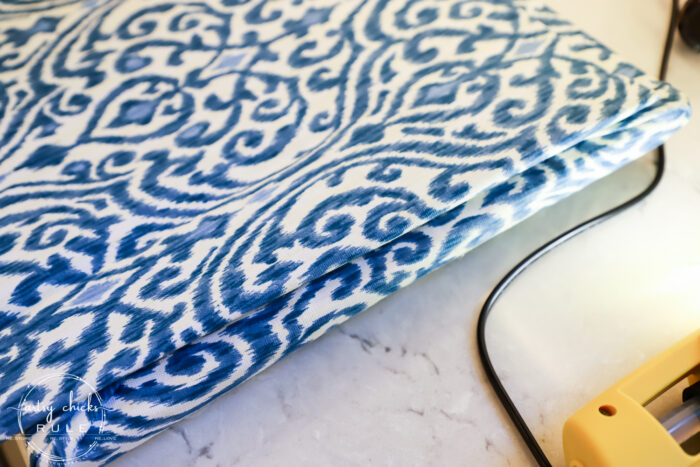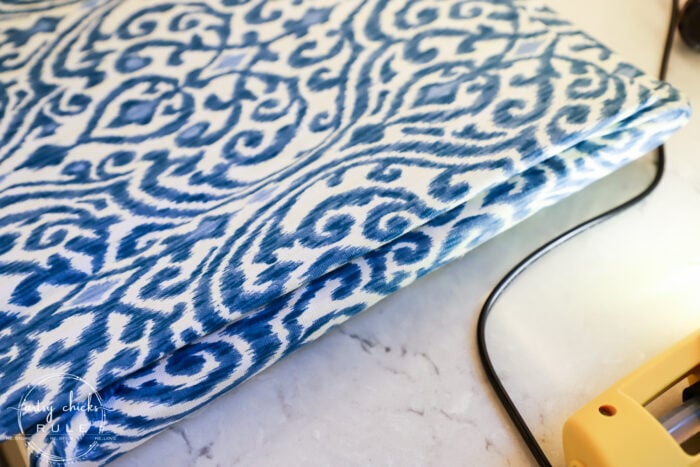 See how nice and neat it looks? Just a sea of beautiful blue fabric.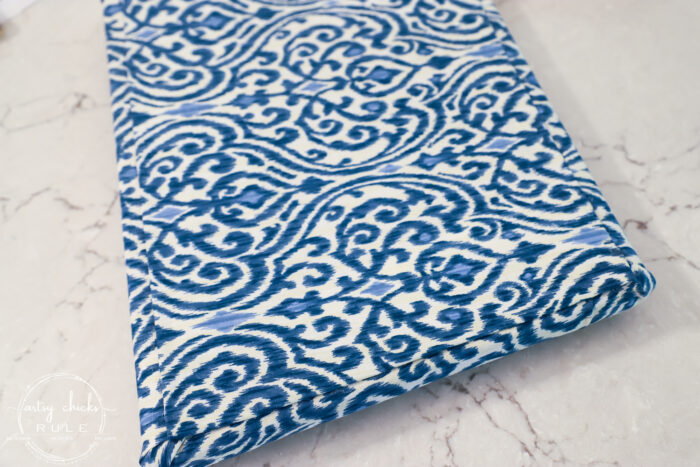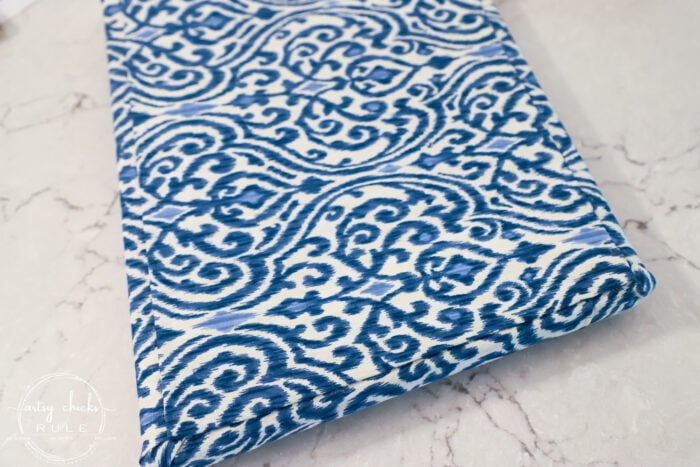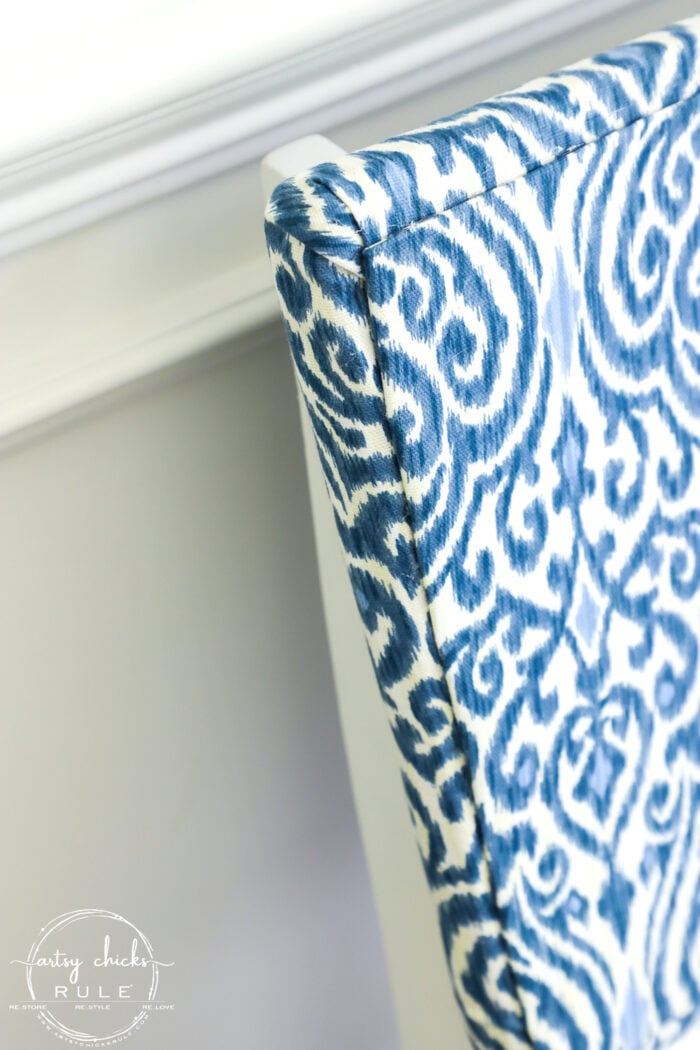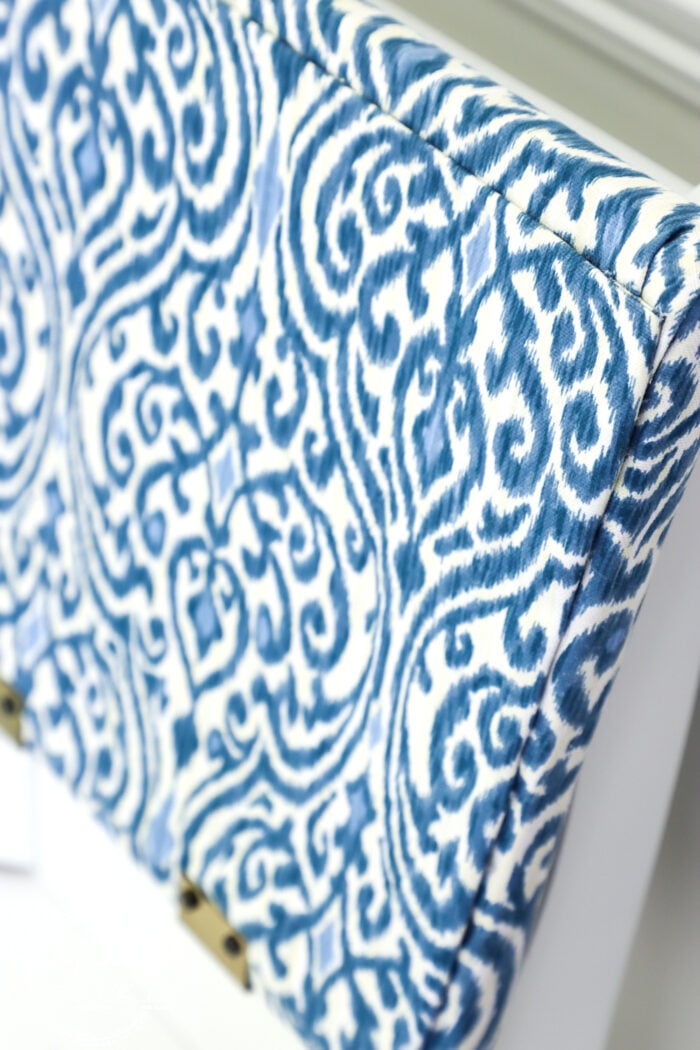 This fabric is just stunning to me…still…after all these years.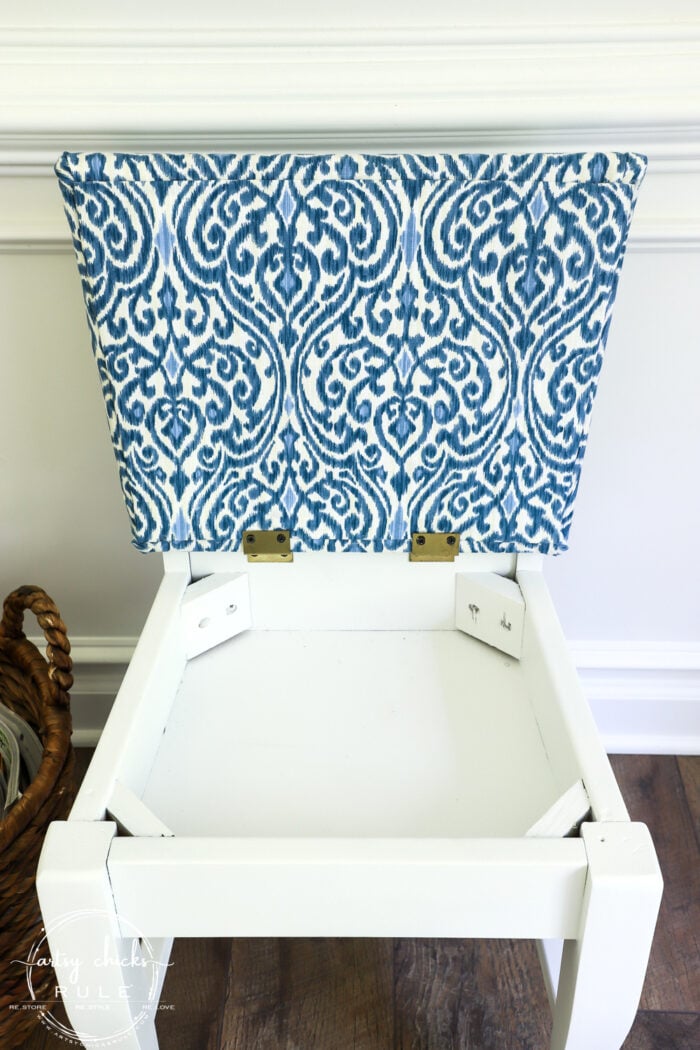 I first time I used it was back in 2013 on "no-sew" curtains I made for our family room. They have since been moved up to our master bedroom, so yep, I'm still using these beauties.
You can see them >>> HERE.
And the clean white paint is the perfect backdrop to this gorgeous blue fabric.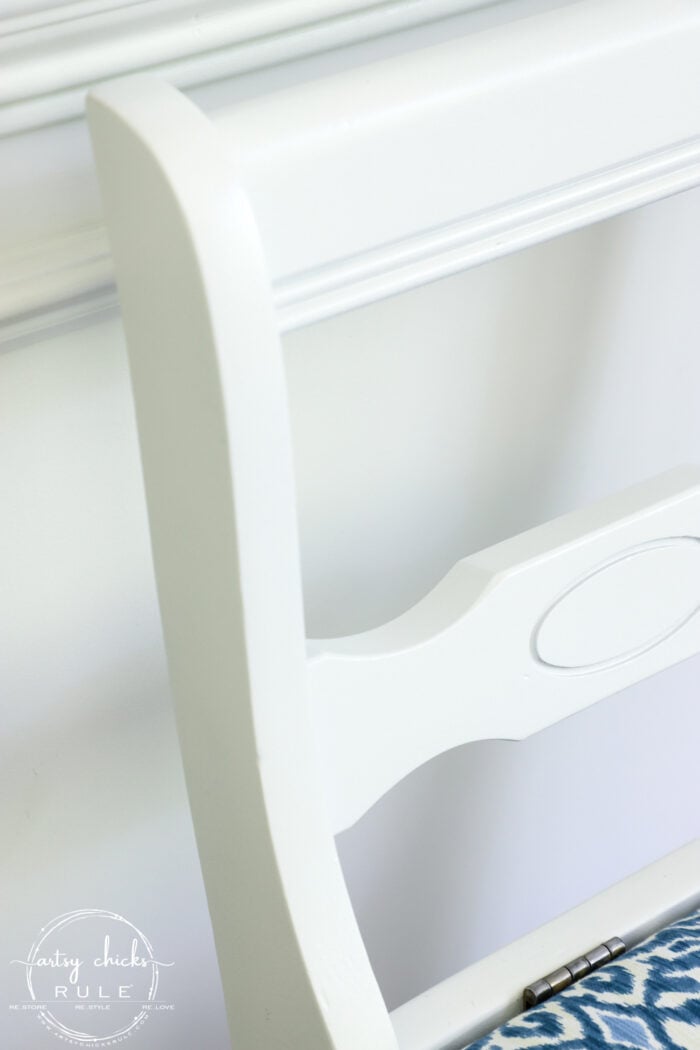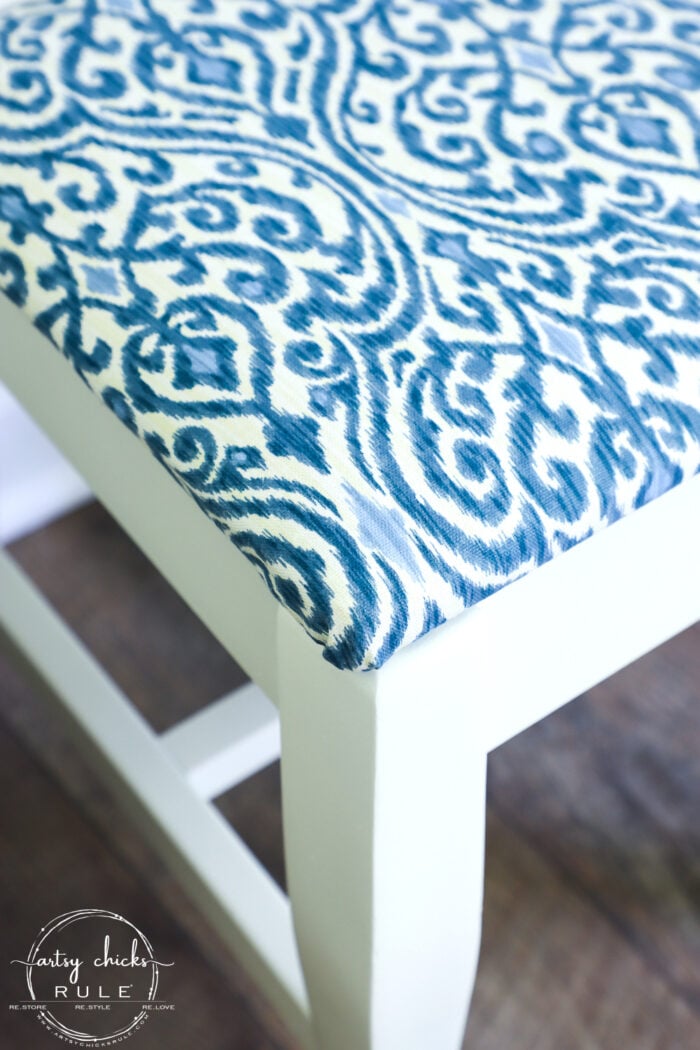 And since I'm using the curtains in our master bedroom, this little dressing chair will go so nicely now.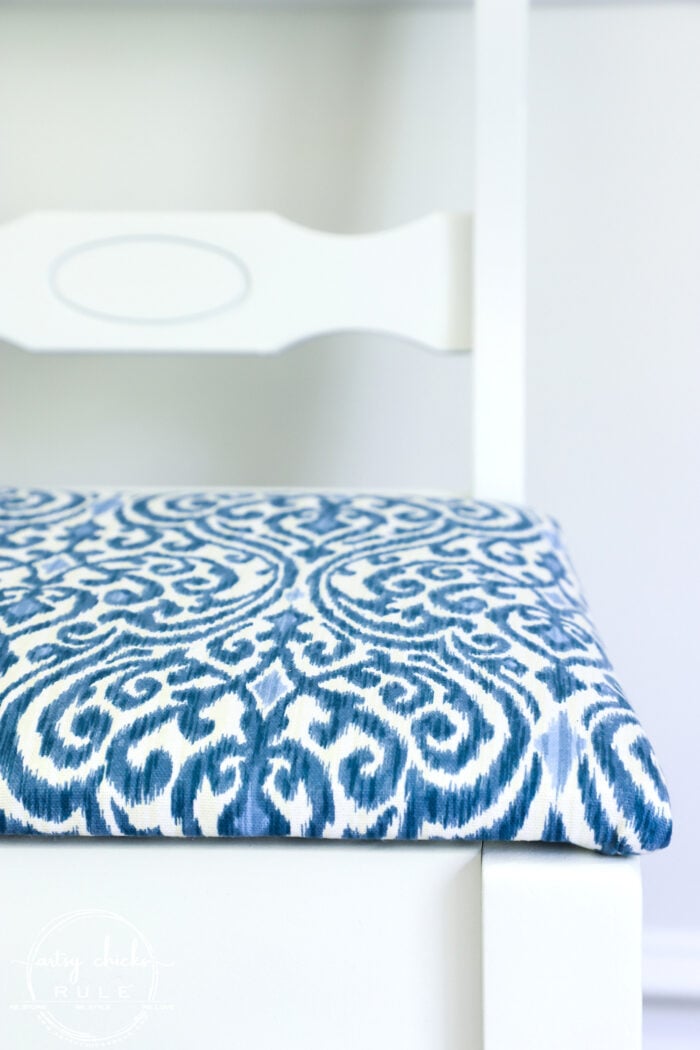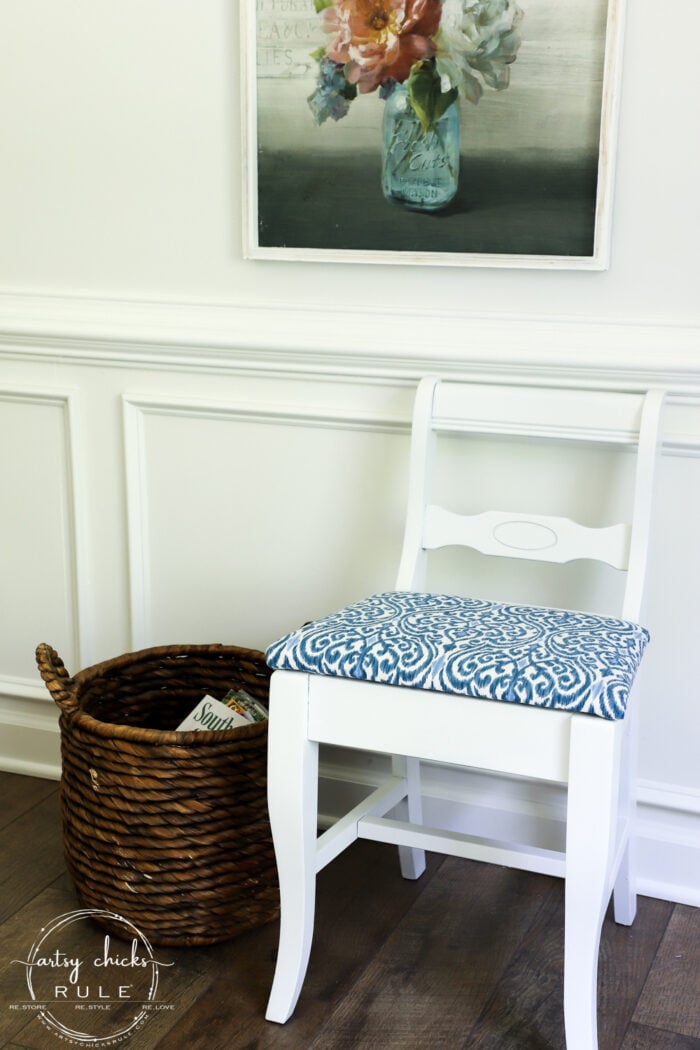 I am going to do my best to keep this dressing chair looking just like this. (instead of being used as my clothing drop ;) )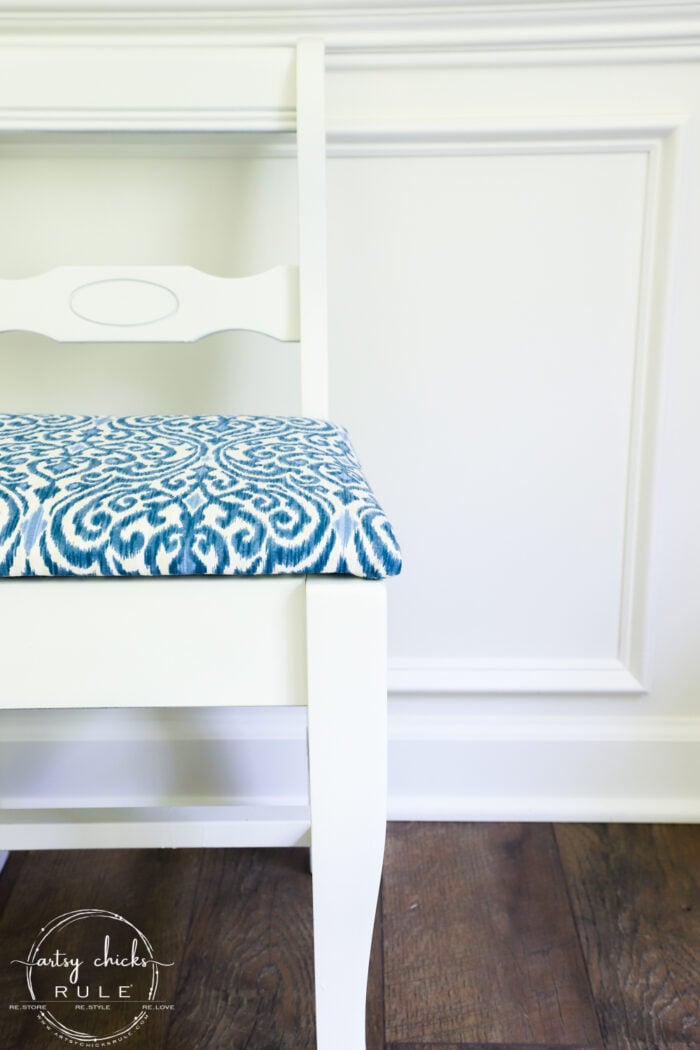 I'm really happy with how it turned out! Another makeover of a previous makeover…and a thrift store one at that.
Budget decorating at its best.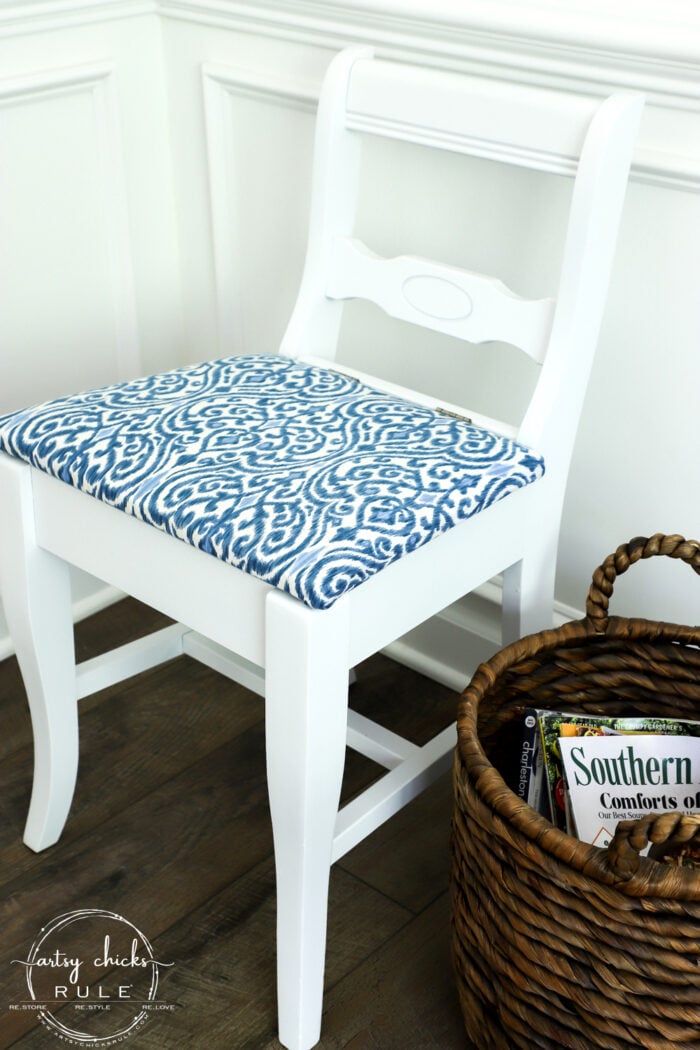 PIN it to save it for later!!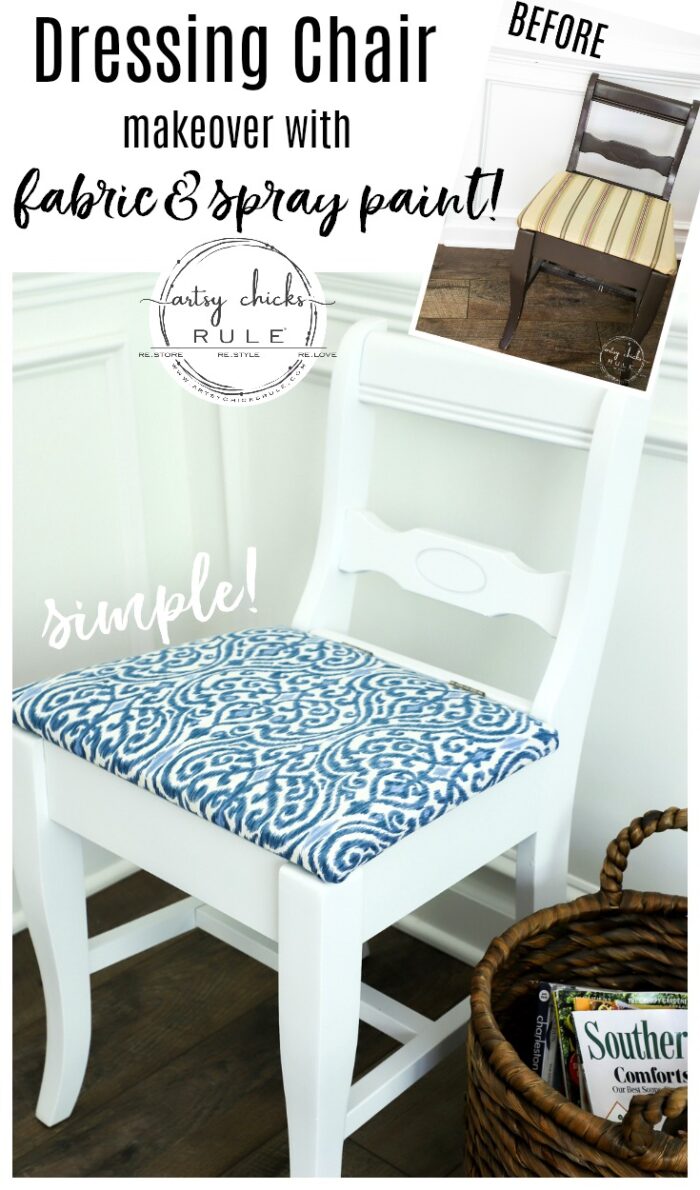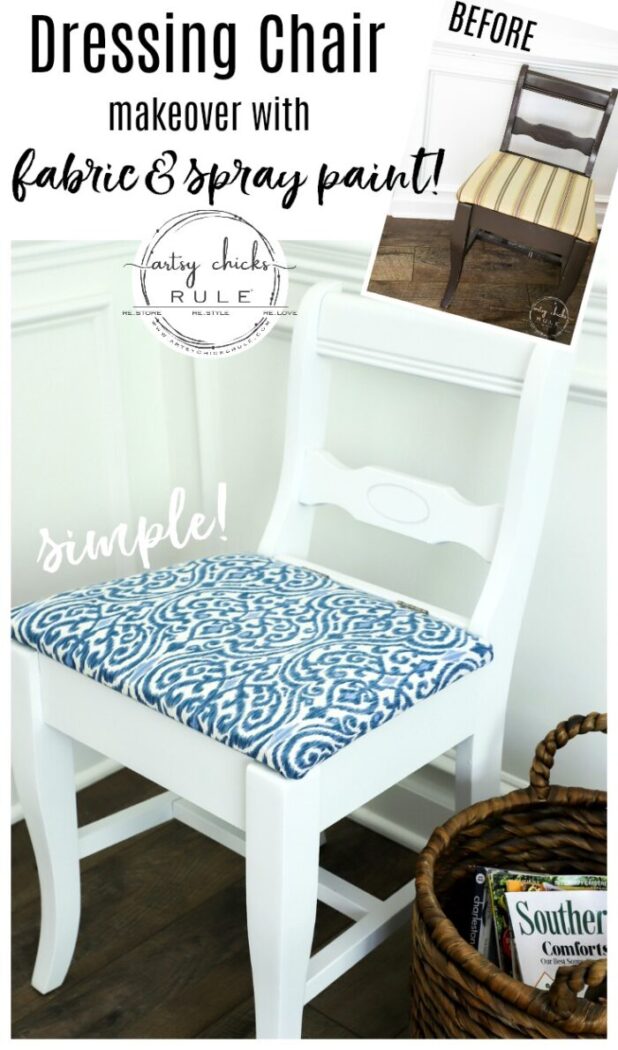 I'll be back on Thursday with a simple update to another small thrifty find!
And next week, this brand ReStore find gets a makeover.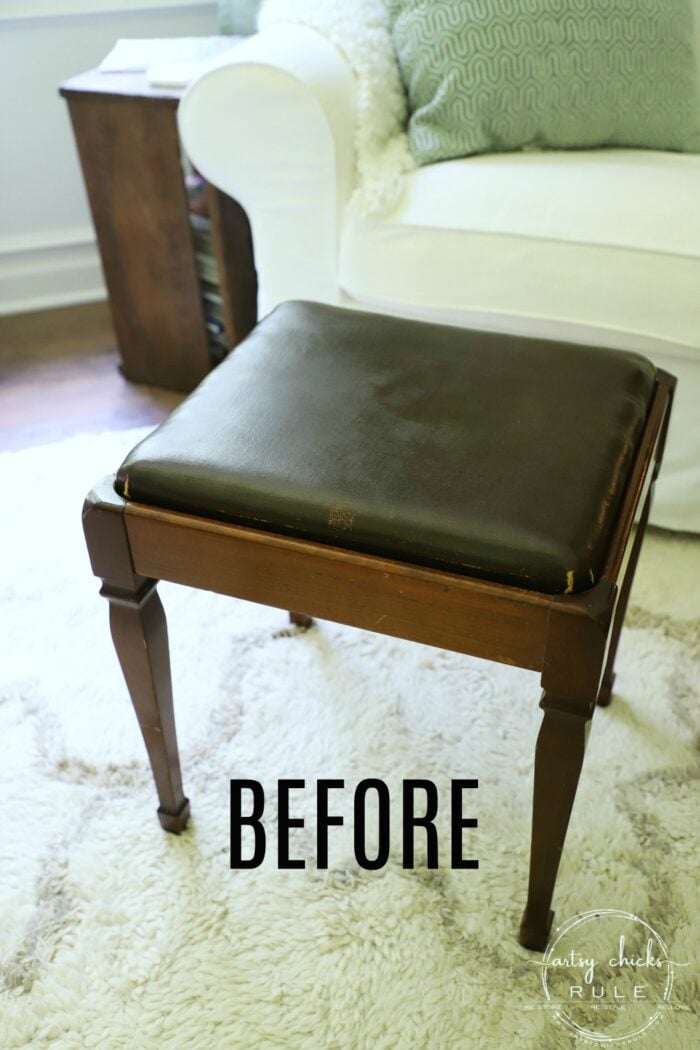 UPDATE! See it now, here!
See you then, friends!
xoxo