Easy, No Sew Curtain Panels
This post may contain affiliate links. Please see disclosures here.
It's easier than you think to create your very own curtains, even if you don't sew! These no sew curtain panels are a breeze!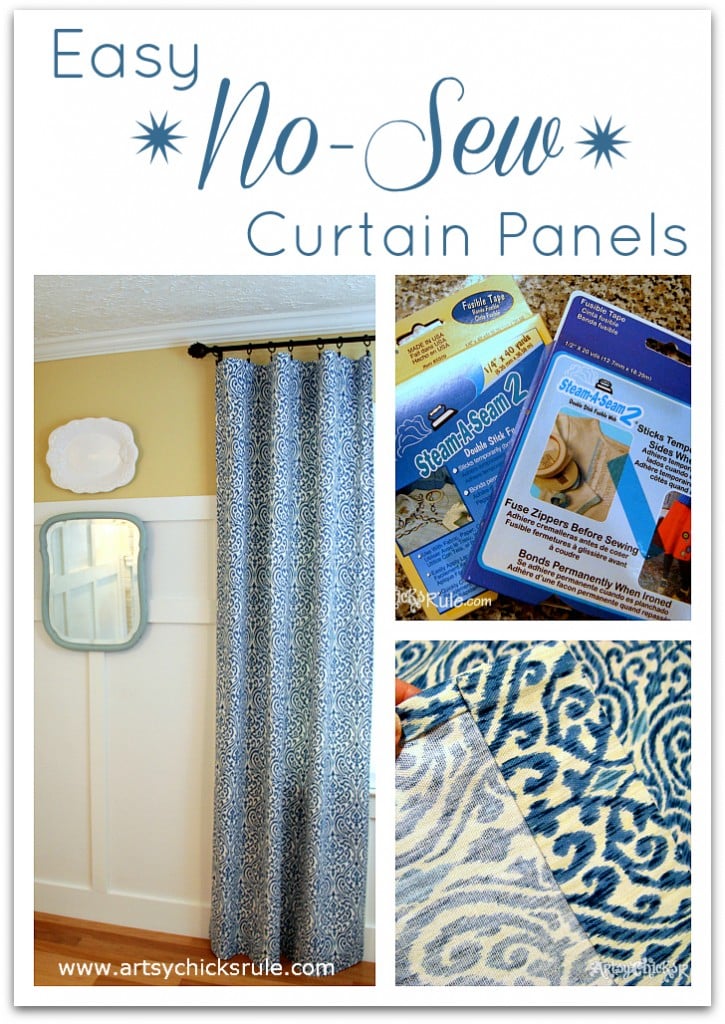 Have you ever thought about no sew when thinking of making your own curtains?
You really don't have to know how to sew to make pretty things!
I don't sew…. but I like pretty things. ;)
So, I find ways around this little inconvenience. Such as using Warm Company Steam-A-Seam 2 Double Stick Fusible Tape 1/2″X20 Yards

in place of that pesky old needle and thread…..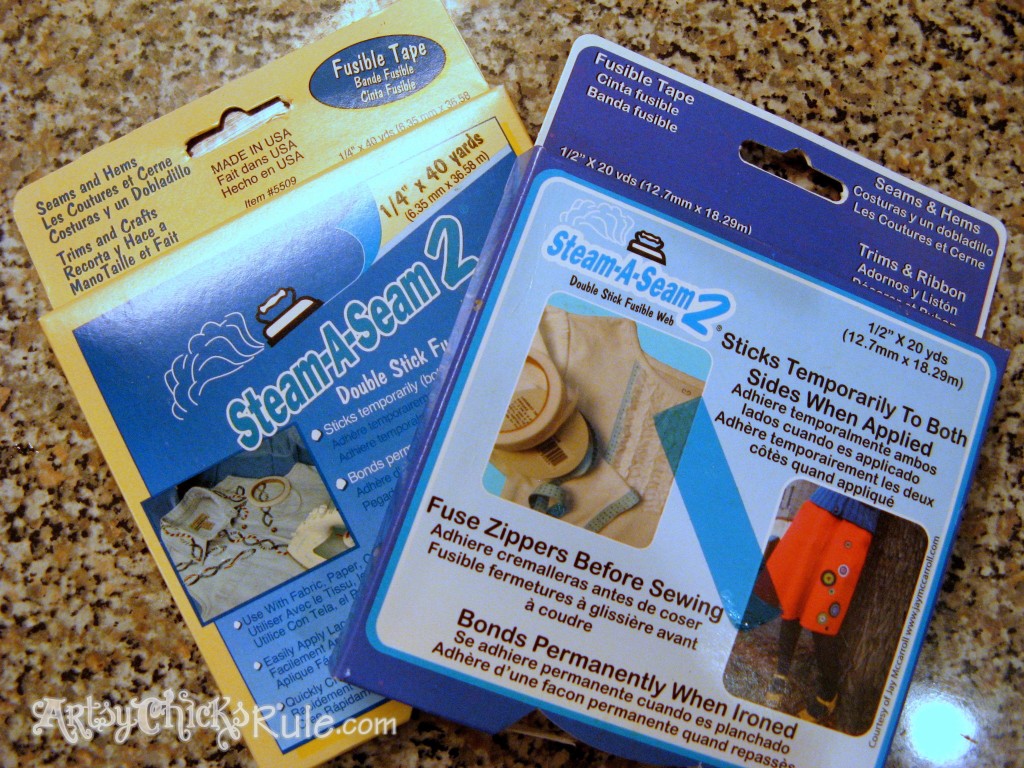 I have used it more than a few times and I have been super pleased with it. Really.
I am in the middle of a Family Room re-do and I can't wait to finish it so I can share it with all of you.
If you follow me on Instagram you've already seen little snippets here and there of all kinds of things I'm working on. (like the board & batten in the first picture…we just recently completed) If you are not following me there, do, I post dailies of what I'm up to long before it hits the blog here.
If you want to, of course. ;)
Anyway, lots going on in all of my downstairs rooms at the moment. (my family is thrilled let me tell ya!! But they are somewhat used to it by now) I'm changing and redoing just about everything. But for now, I'm going to share these curtains I made from THE MOST GORGEOUS FABRIC ever.
You can find the fabric here —>>> Indigo Fabric
Well, it is to me anyway.
I knew it was THE ONE when I saw it.
Seriously, I had been looking and looking and looking for months.
And when I spotted it I think I truly heard the Angels sing…which quickly faded to a very dull roar as I realized it was just a little ole remnant of THE MOST GORGEOUS FABRIC ever.
Would they possibly find enough for me to make my panels? Or was this all that was left?
As luck would have it there was more!! After calling around for about 30 minutes they finally located enough in one of their stores… in Ohio. OH happy day. ;)
Thank you Jo-Ann Fabrics!
Yes, happy happy day. But it sat for awhile as I pushed around the idea of getting my Aunt to sew them for me. With all of us so busy I finally decided I'd use my trusty Steam a Seam instead.
I was ready for them to go up already.
Out came the iron and I got to the task of measuring and cutting. (I completed these in one evening's time, by the way)
I first figured out how long I wanted them to be from the rod (close to the ceiling) to the floor. Then I measured how much my hems would take up and cut accordingly.
Here is a picture of the bottom of the panel….luckily all my measurements were spot on…this time. ;)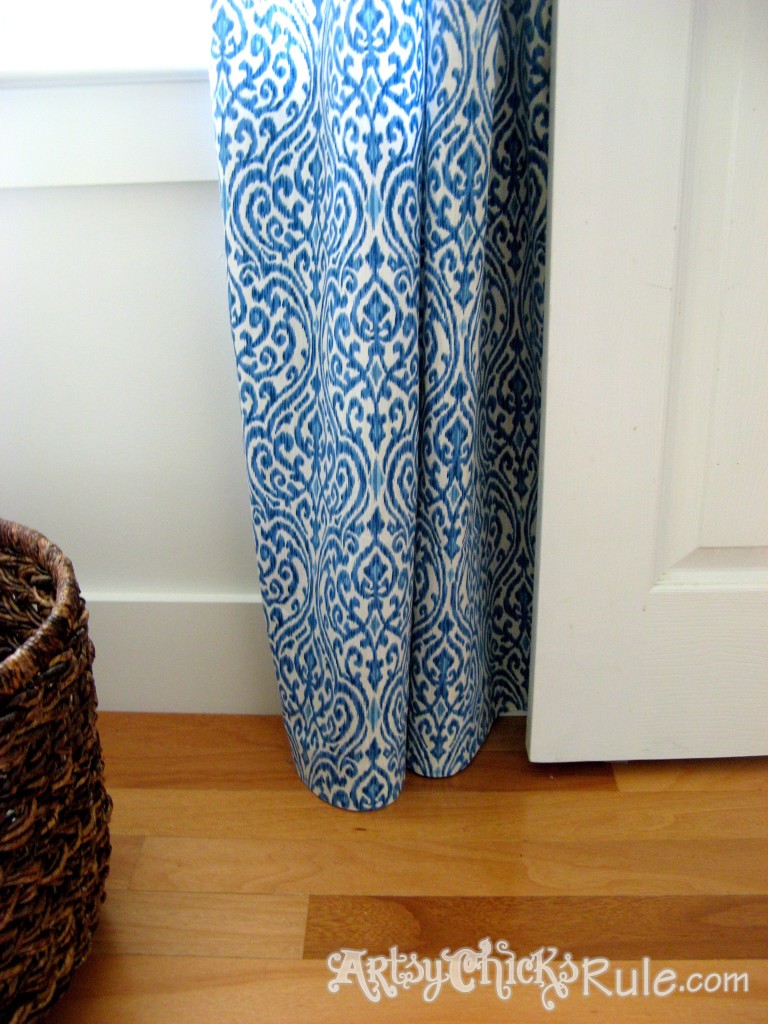 To make these I first "hemmed" the sides of each panel. (I wrapped the frayed edges inside first for a clean look, as shown below)
And let me say now that no, I did not line these. I could have but I just chose not to.
Not much of the backside is visible from the outside the way I have them hung so I really felt like there was no need.
But you can if you like.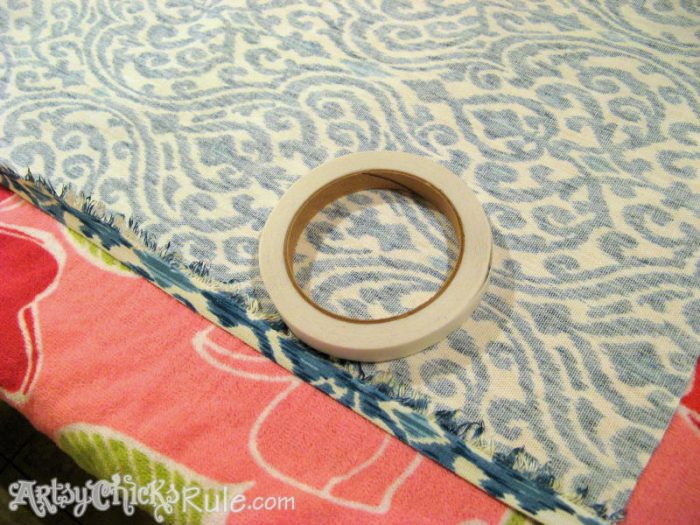 Here is the next step…folding over again, finishing the side hem.
Want to see some of these projects in "live" time? Hop on over and follow along with me on INSTAGRAM. I'm always sharing in my stories as I'm doing projects, finding new furniture, fun finds….just all the day to day behind the scenes.
Nice and neat.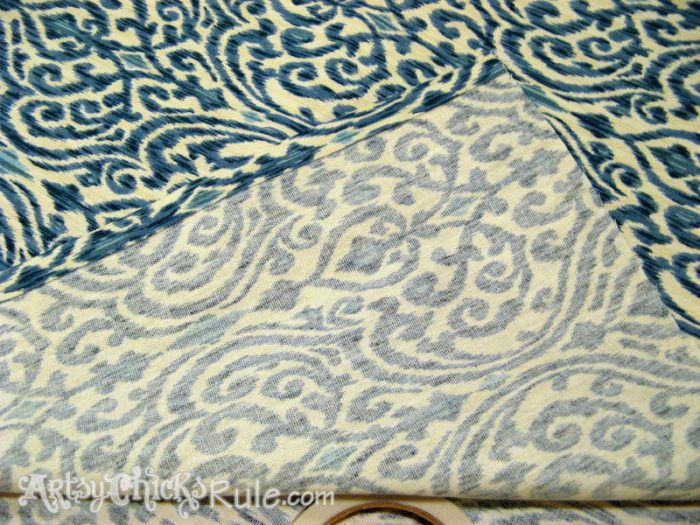 It is a bit hard to see because of the pattern but hopefully you can make it out.
I made an opening in the top hem in case I ever wanted to put a rod through it (I don't think I will as I have them attached with clips and rings (purchased at Lowes) now and I like that look, but you never know)
Here is the bottom and side hem, complete….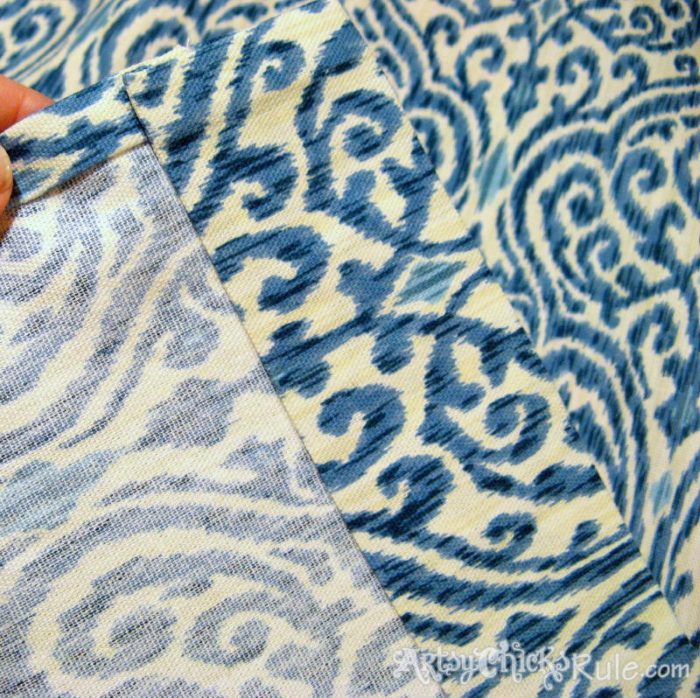 I could have used straight pins…but I don't own any. So, I just used the pattern of the material as a guide (to keep a straight line) as I ironed the seam across the bottom and top.
Worked perfectly.
And complete….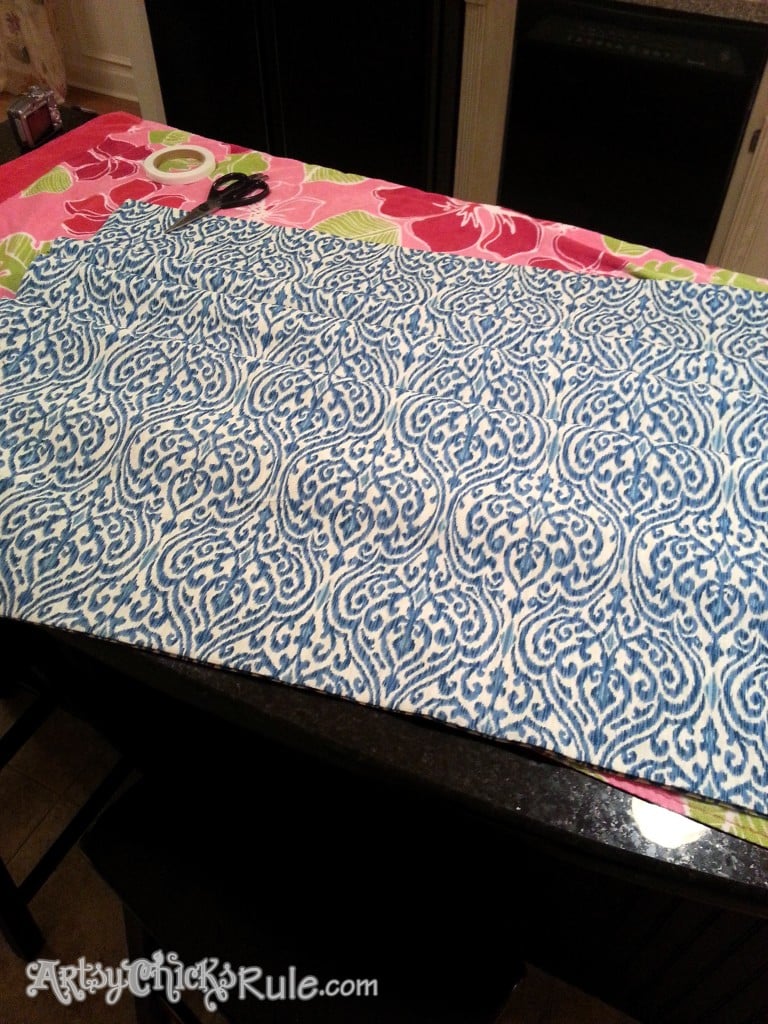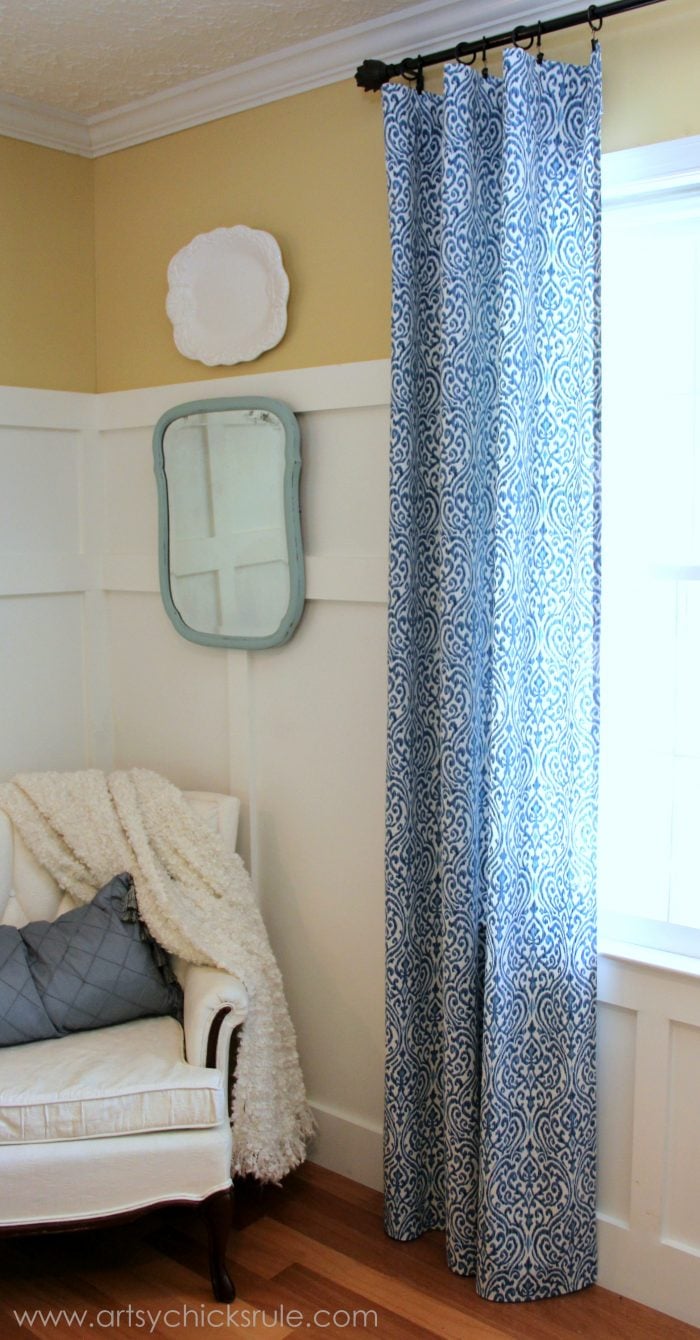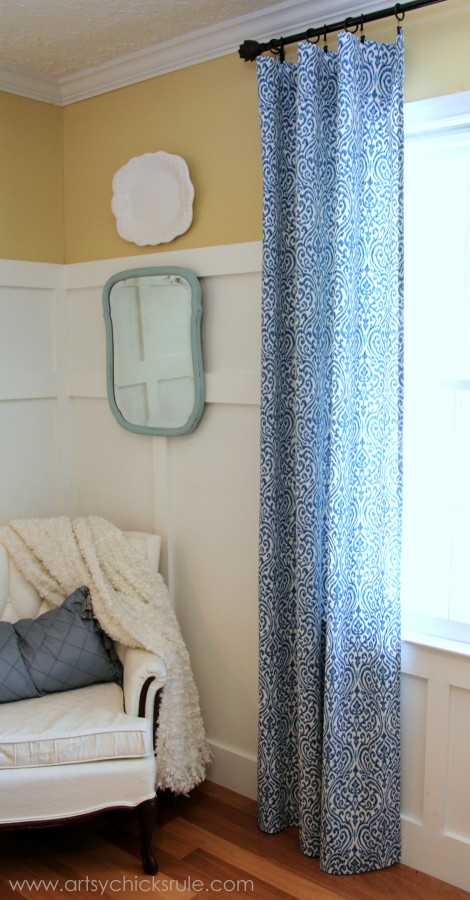 EDITED TO ADD: Here are a few more recent "no sew" window treatment projects of mine: here, here and here.
So there you have it. Easy, no sew curtain panels.
Did I mention the fabric was about $40 in all (at 40% off)? And I also have enough left to make a few pillows.
Now that I love. Easy, INEXPENSIVE, no sew curtain panels.
PIN it so save it!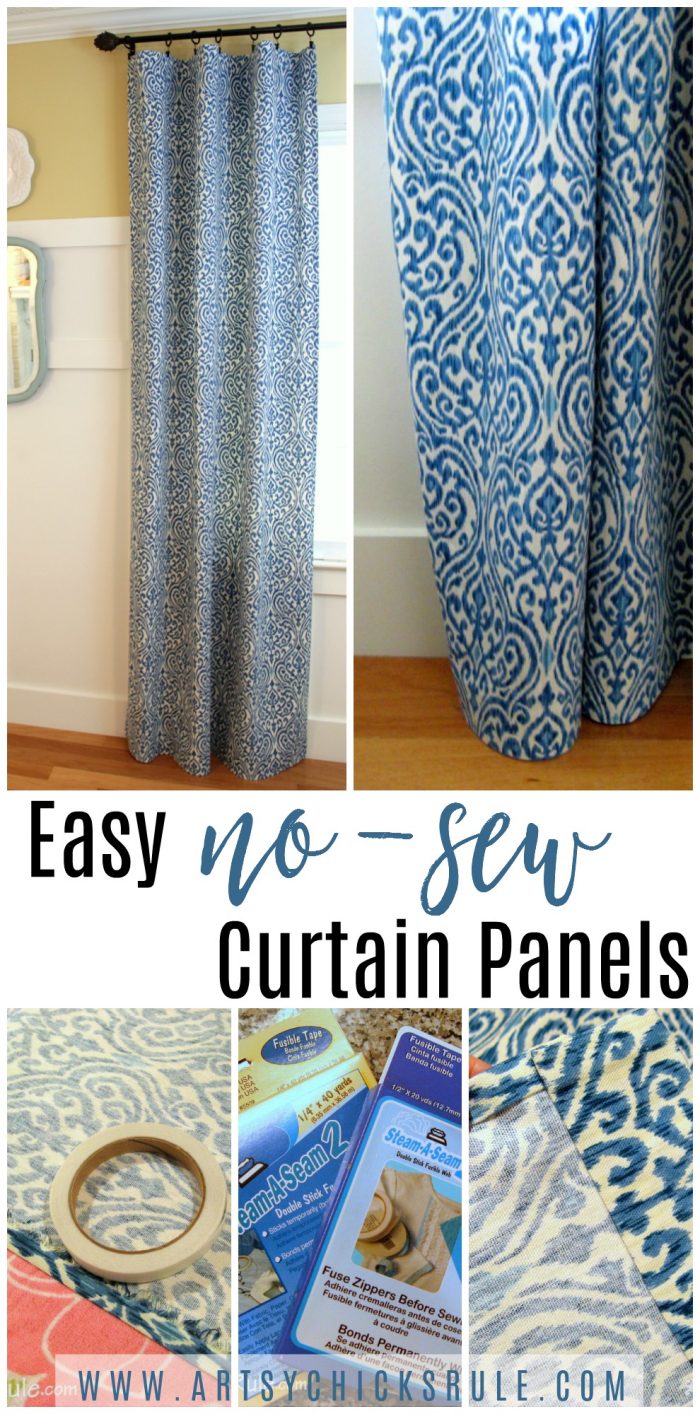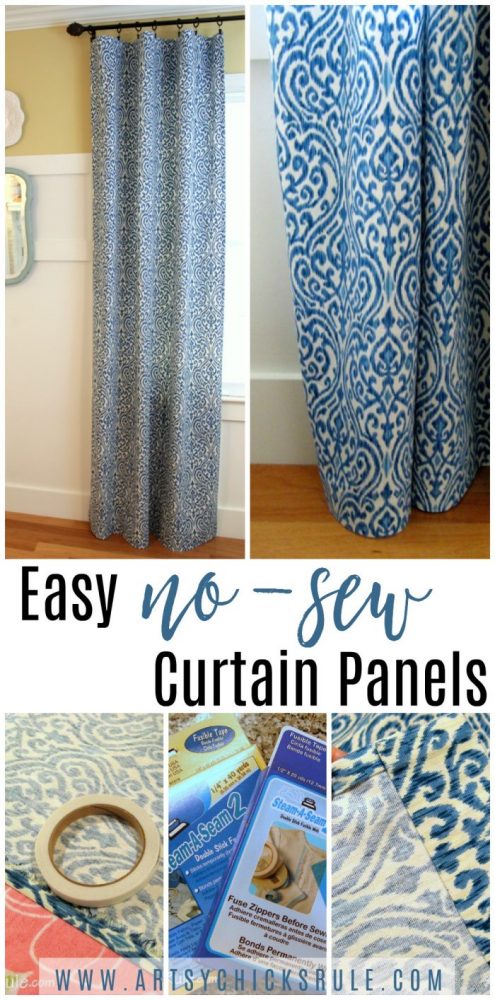 I will agree, sewing is best but don't let not knowing how stop you from making pretty things for your home.
Plus, I saved a ton finding the material and doing these myself.
You might also like this post:
See these no sew curtains (with grommets – SO easy!) here >>> How To Make No Sew Curtains With Grommets
Have you used any of these iron seam products before?? Think you might try it?