How To Paint Fabric With Fusion Mineral Paint
This post may contain affiliate links. Please see disclosures here.
Let me show you how to paint fabric with Fusion Mineral Paint! It's so easy to do and change up your project in a new way!
Hello my friends!
I hope you had a wonderful weekend! We had a nice quiet one (well, quiet because of the weather but it was not quiet actually also because of the weather! ha!) Tropical Storm Ophelia made her way through here and it was quite windy and rainy. Our electricity went out for a few hours and lots of small limbs and leaves on the ground but that's about it, thankfully! Other parts of our little town were flooded (tide) but thankfully we live on the higher side and don't see that often. Mostly back to normal on Sunday.
I did do a little work on this one that I'm sharing today to finish it up.
How To Paint Fabric With Fusion Mineral Paint
Remember last week I shared this rocker I found??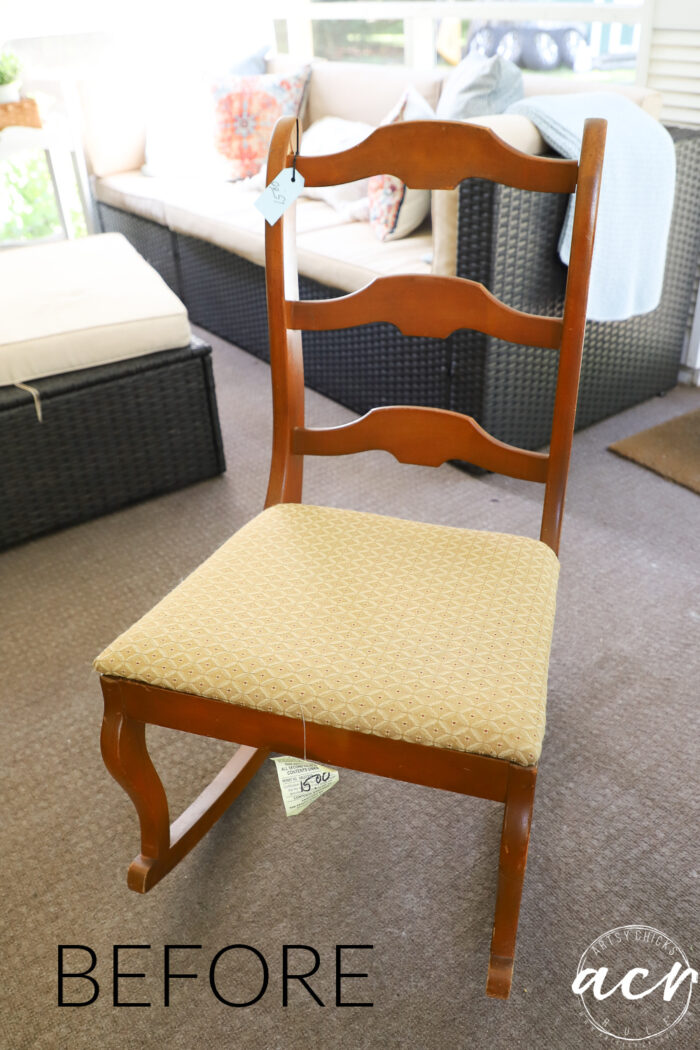 $15
A little beat up but the seat was in good condition. I just didn't love the mustard color, etc.
So I considered what to do. I thought about just changing it out but then I thought I'll just paint it instead!
And that's exactly what I did.
I mean, hey, this ain't my first rodeo! ;) I have painted fabric quite a few times in the past. But I hadn't tried it with Fusion yet so here we are! I had to know if it would also work well. And it does!
Here's a few other painted fabric projects I've done (with other paints):
I wanted to keep the wood look too. I could've easily painted it but decided to keep it stained.
I could've also sanded it all down and restained it. But who has time for that?? lol
Kidding! Totally doable but ugh all those surfaces would've been a pain to do. You know what I'm saying.
So I decided to use our Stain and Finishing Oil in the color Cappuccino instead.
Materials List
Cappuccino Stain and Finishing Oil
Tshirt or lint-free rag
Raw Silk Paint
Paintbrush
Sandpaper
Tough Coat Topcoat Matte
SAND
I lightly sanded the entire rocker. After doing that I wiped it all down very well to remove the dust, etc.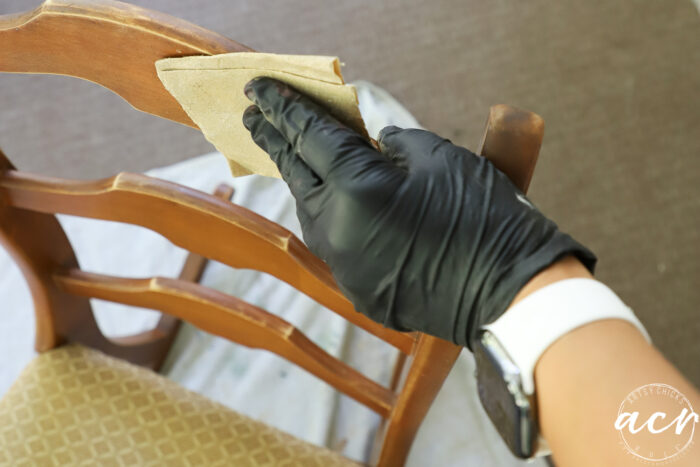 STAIN
Once dry, I applied the Cappuccino Stain and Finishing Oil all over with an old t-shirt.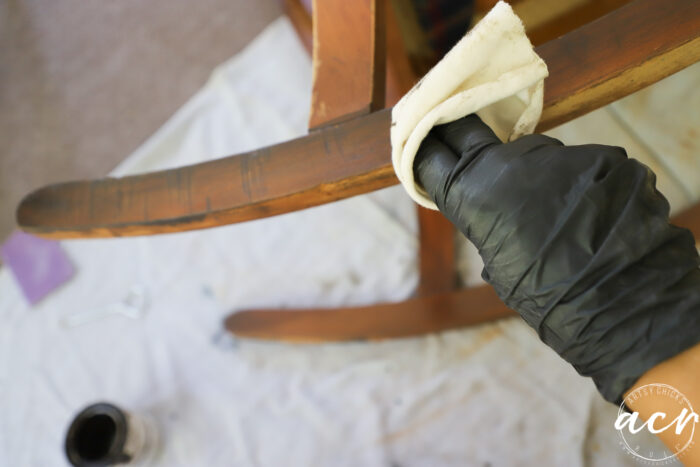 You can see the difference between the original orangey finish and the new finish on the leg below.
You can see where I've applied the stain on the leg and where I haven't yet.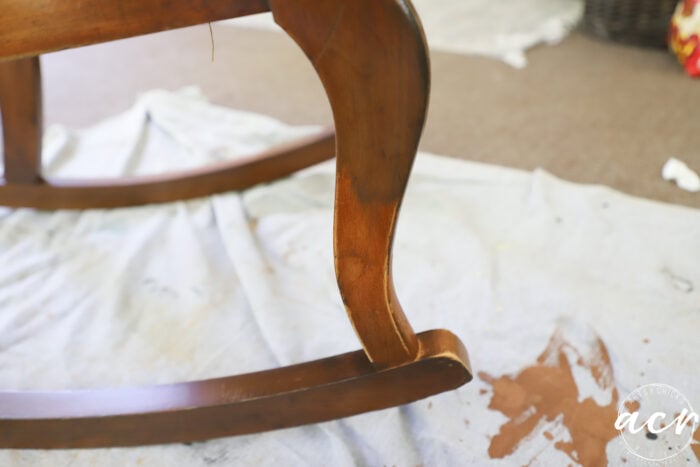 PAINT THE FABRIC
After applying that and letting it sit for a day or two I got to work on painting the fabric.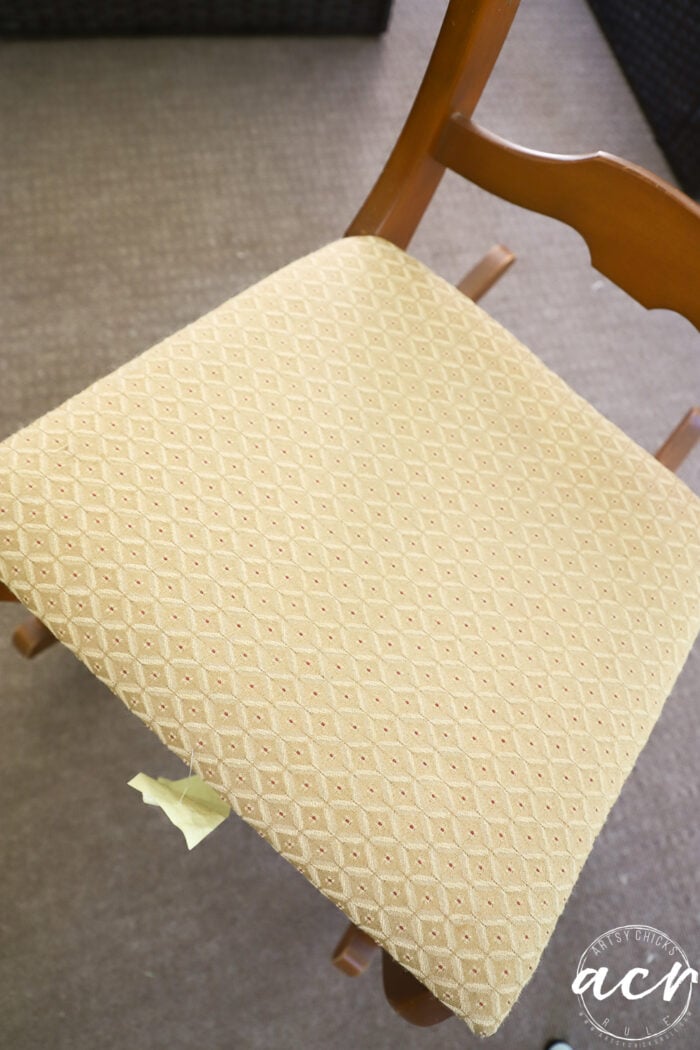 To begin, I mixed the paint with water. About half and half.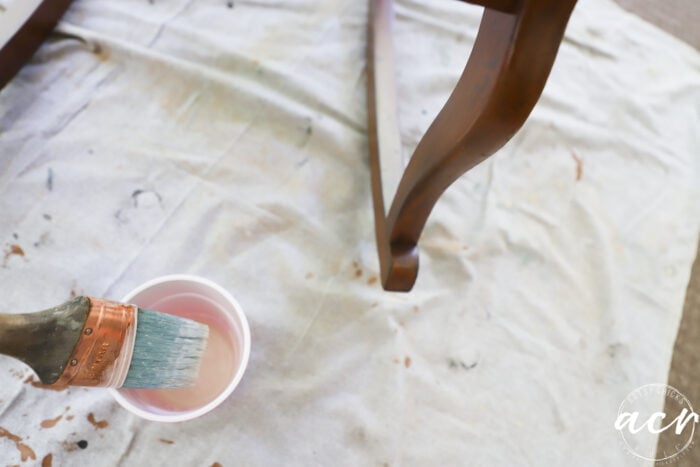 It's pretty watery but you'll want it watery so it can soak into the fabric. You really don't want it to just sit on top.
It almost acts as a stain.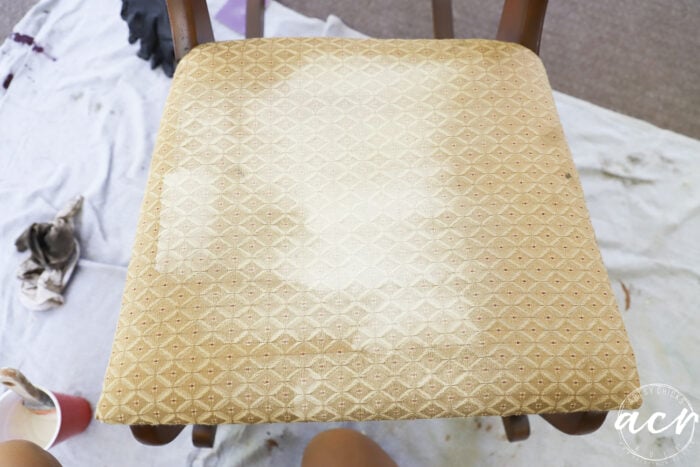 Just apply it with a brush like you would paint any other furniture piece.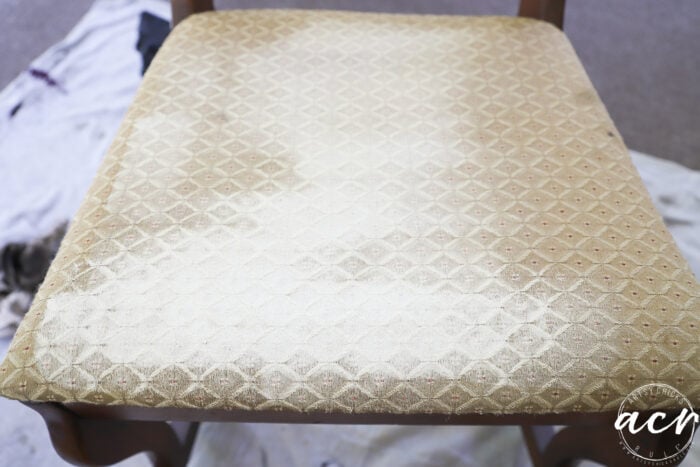 It looks like it has more coverage than it will have when dry when you first apply it. As it soaks in it becomes more transparent.
Let that coat dry and go again. This time with a mixture of about 1/3 water and 2/3 paint.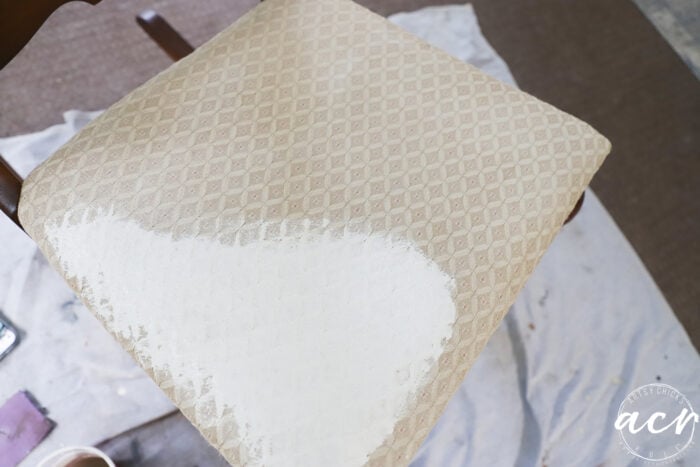 Once that coat is fully dry, I lightly sanded it all over to remove the roughness. This will give the fabric a smooth feeling.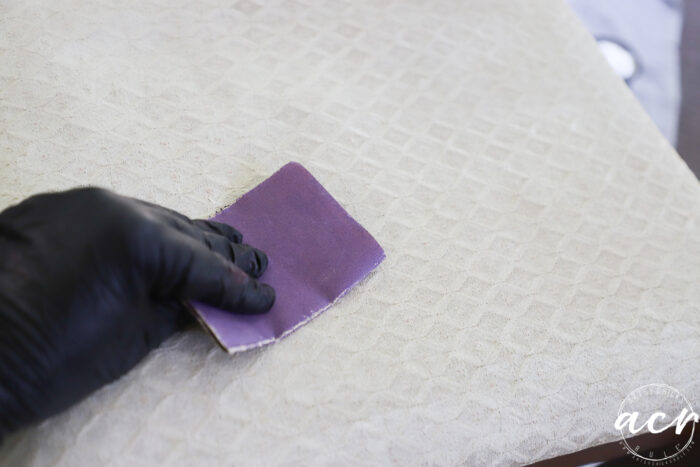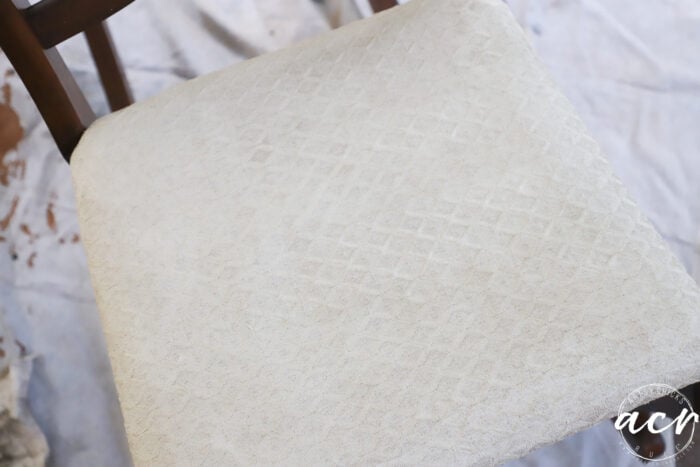 I touched up a few areas that looked like it needed it and that was it! Lightly sand one last time.
So as you can see, I was going for an antique look. Darker wood and a creamy, soft-colored seat.
But I wanted to take it a step further.
I decided to add a furniture transfer to it. I had never put a furniture transfer on fabric so thought I'd give it a go!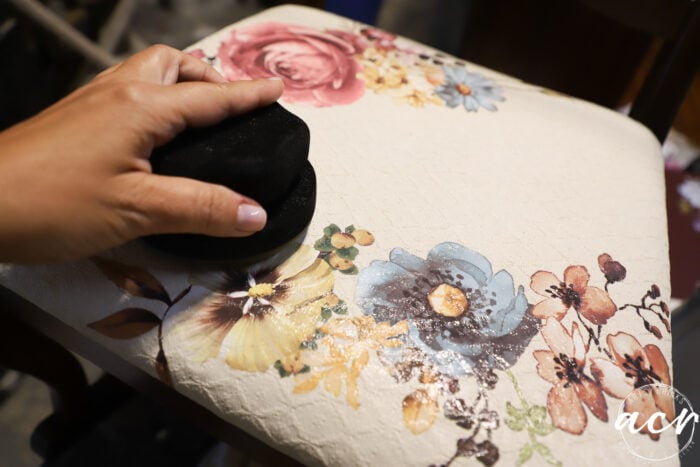 I love how it turned out! Who knew?!
TOUGH COAT TOPCOAT
After that, I simply added a coat of Tough Coat Topcoat over the seat with my handy sponge applicator, and done.
Love this sponge applicator! (you can find them in our shop here and the link is also in the box above, "Materials List")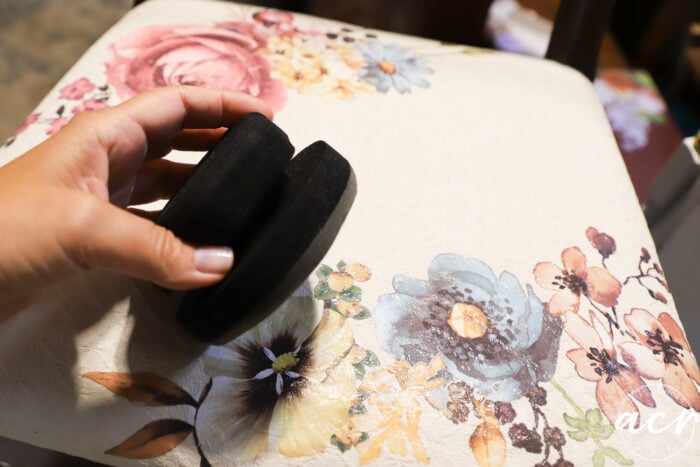 Now, in all honesty, it wasn't quite that simple as in I wasn't sure what I was going to seal it with. I considered wax.
I also always seal paint on fabric (and leather like on this ottoman here) with wax. It's just a softer more pliable finish. BUT with a transfer, I just felt like the Tough Coat poly would be better. I was a little concerned about how the fabric would feel once dry but I needn't have worried! It was fine.
And well protected now too. It only took me 5 days of mulling it over back and forth to come to this decision! lol
By the way, if I were not using a furniture transfer on this fabric, I'd have used wax.
Isn't she sweet?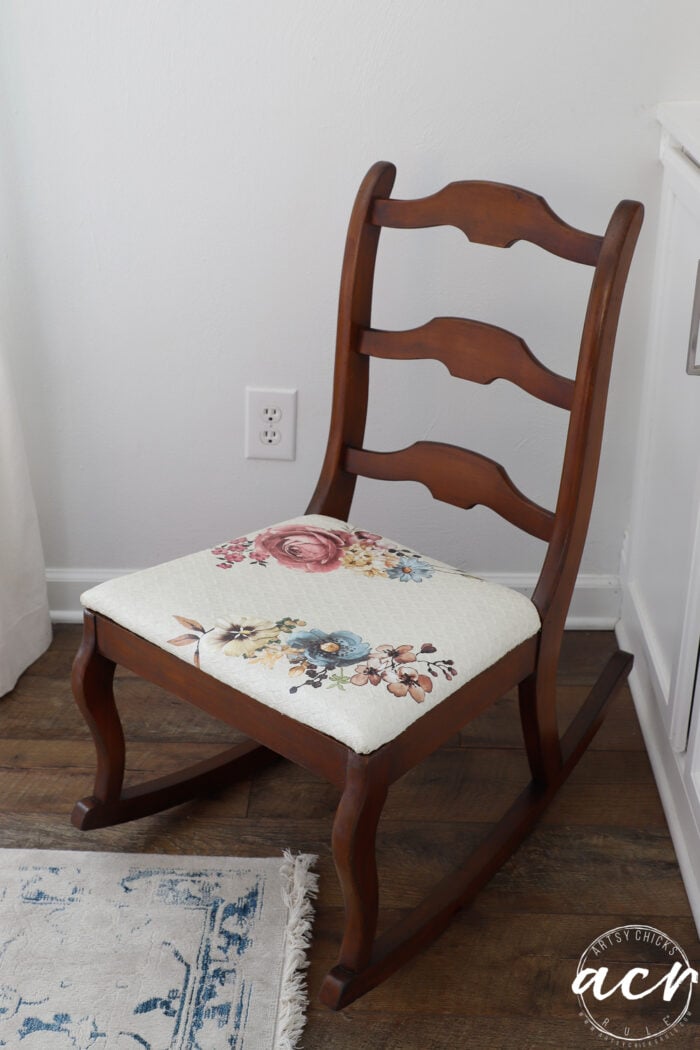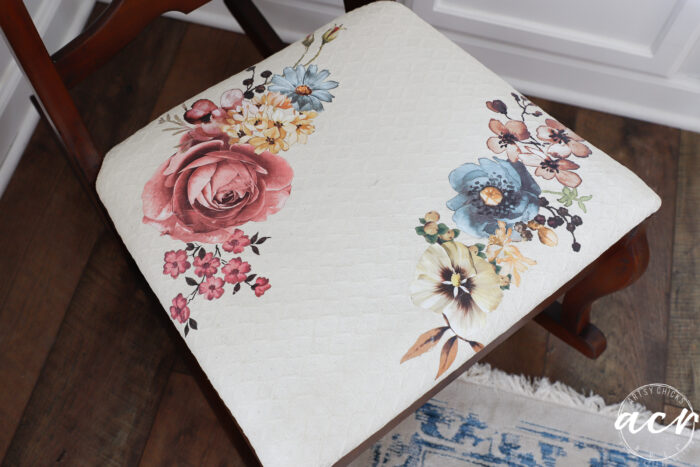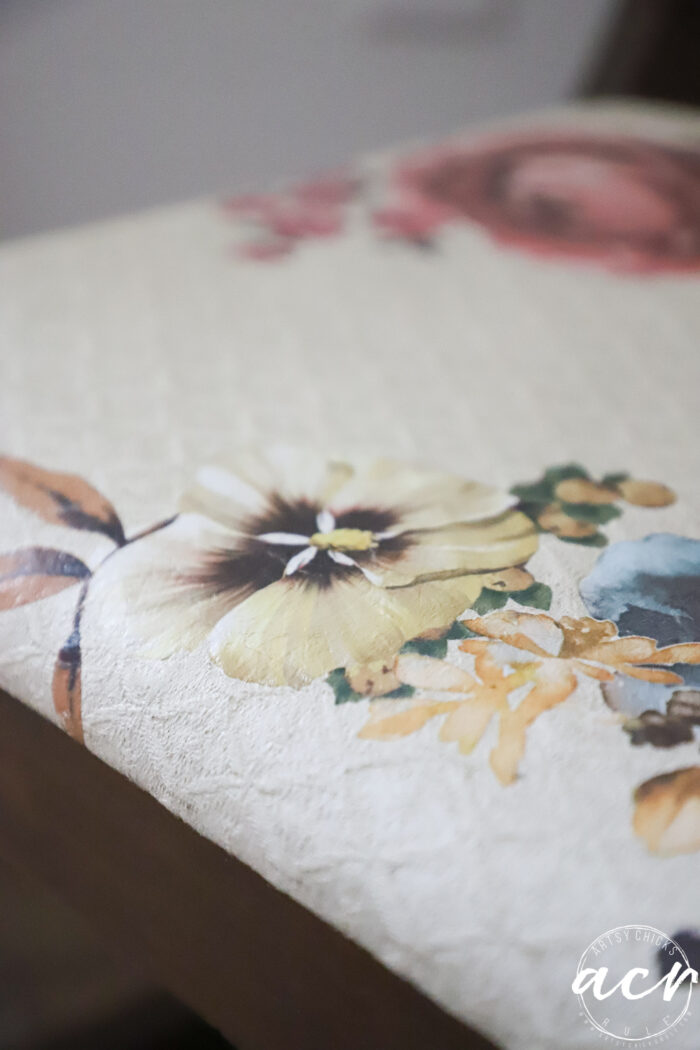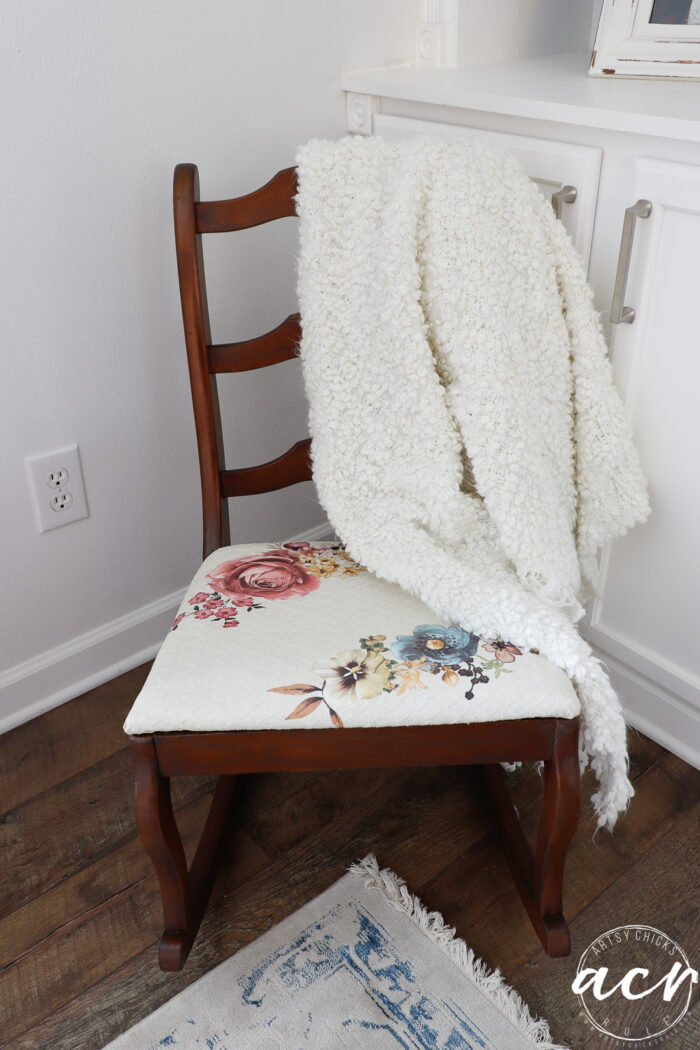 I can see using this in a corner of a guest room. Or even in a young girl's room.
I'll be back on Thursday with all the transfer details!
PIN it to save it!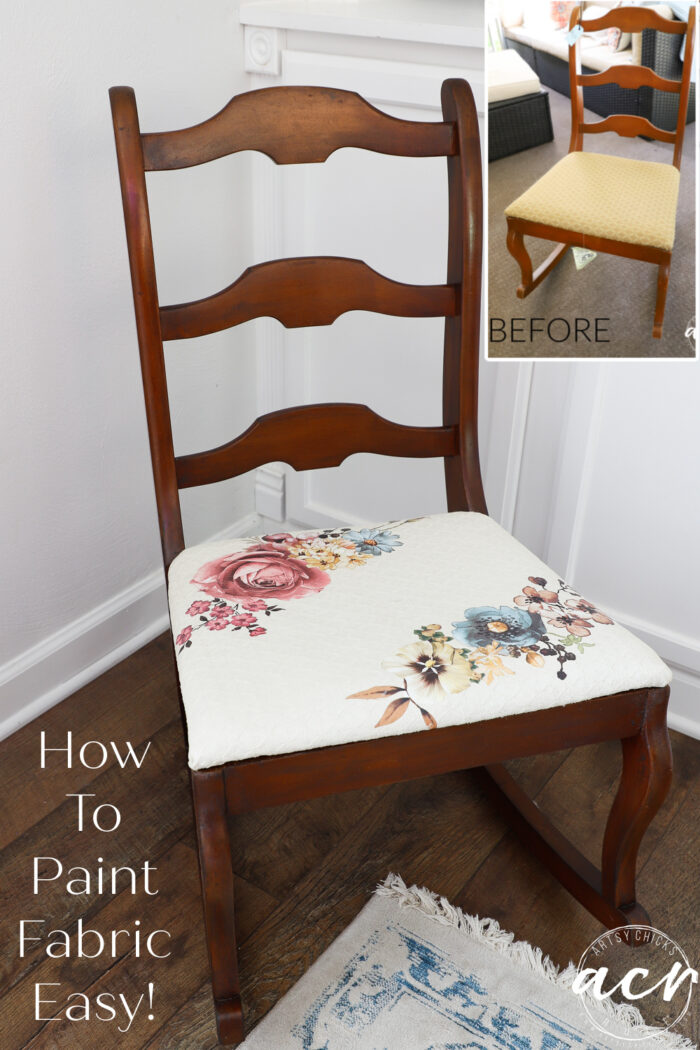 Have a wonderful week, friends!!
xo