Thrifty French Chair Makeover (Annie Sloan Chalk Paint)
This post may contain affiliate links. Please see disclosures here.
I am so excited to be teaming up with several of my blogger friends today to bring you some fun "love & romance" themed furniture makeovers.
Mine is a thrifty french chair makeover with Chalk Paint and a cozy little romantic reading nook I created with it.
Theirs will be linked at the bottom of this post. Don't miss em!
(You can see other month's themes here –> Themed Furniture Tour )
…………………………………………………………………………………………………………………………
I just adore French styled furniture. It's so romantic and sweet.
French country coastal…that's my style. With a bit of eclectic thrown in for fun.
I'd been wanting to create a cozy little reading nook in the corner of my Family Room since I moved the TV.
So when I came across this chair recently I knew it had to come home with me.
Isn't it pretty?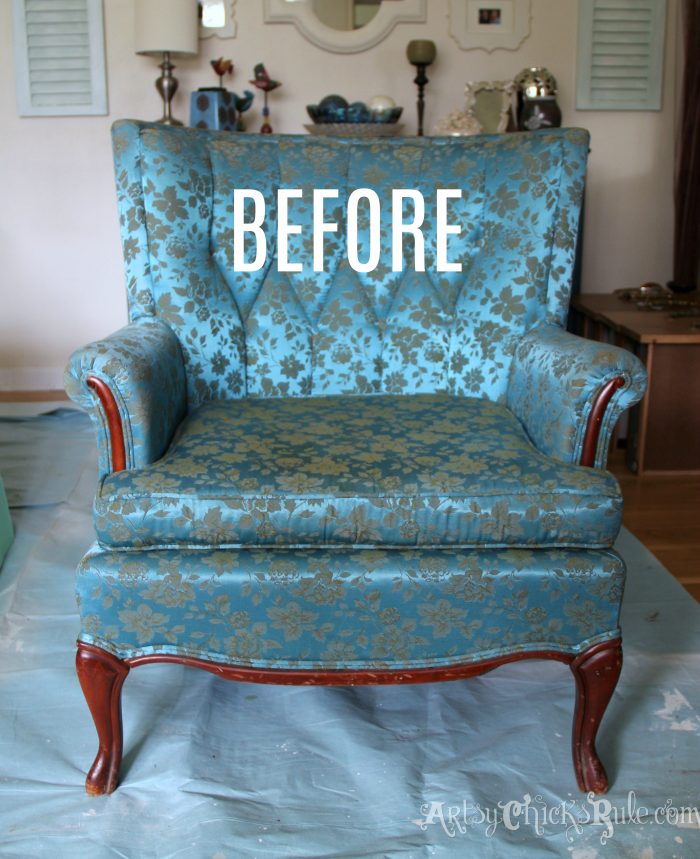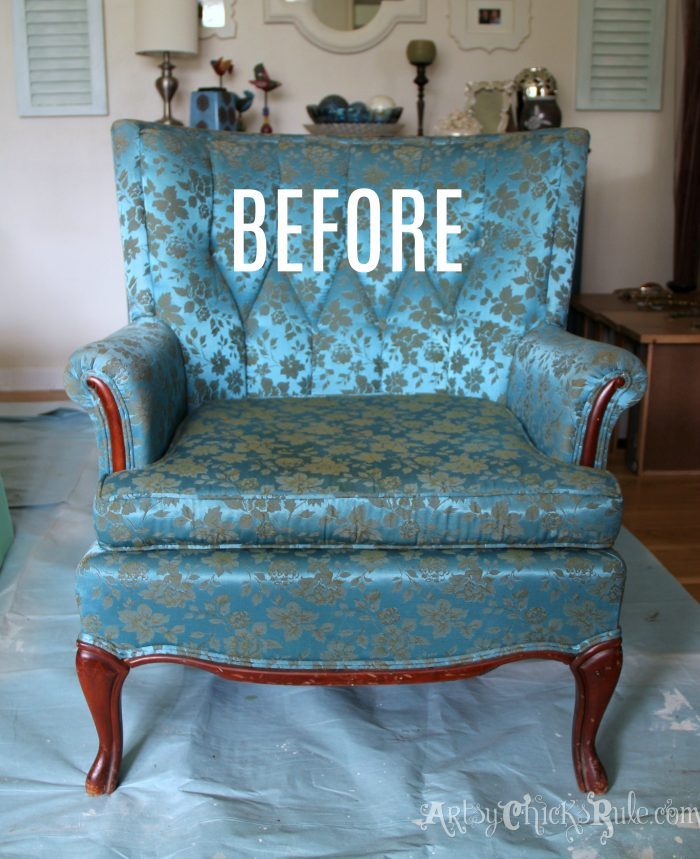 Well, actually, it is a pretty color, so not too bad. Just not my style.
But this is the "after"….as in after I gave it a big ole makeover with Annie Sloan Chalk Paint & Minwax PolyShades.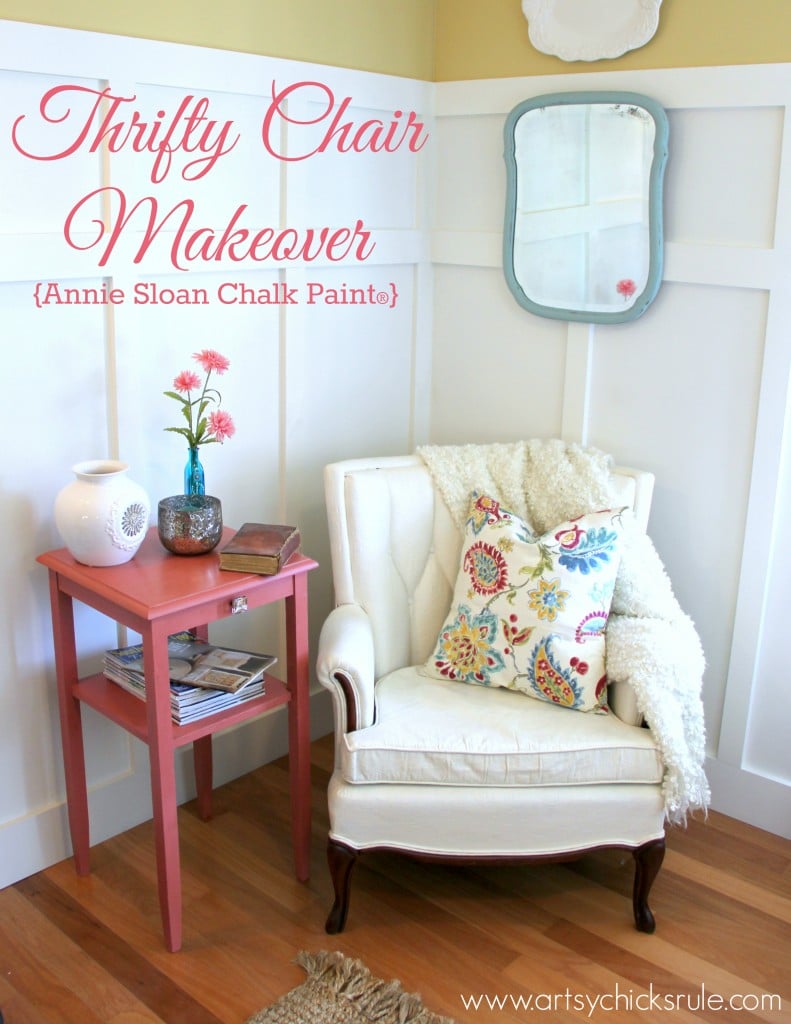 If you follow me on Instagram you've already seen it. I post things I'm working on there, in "real time", long before they hit the blog here.
(and I post fun random stuff too)
What a cozy little spot to sit and read with a warm cup of tea. Romance novel, perhaps? ;)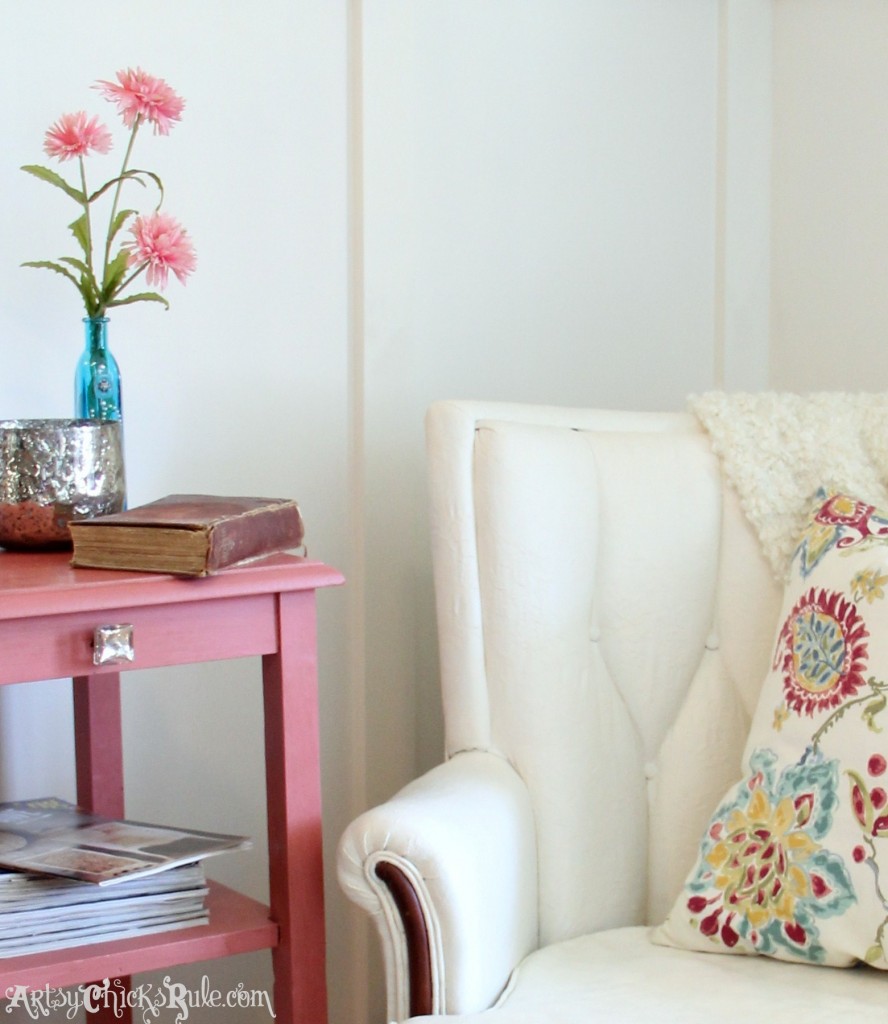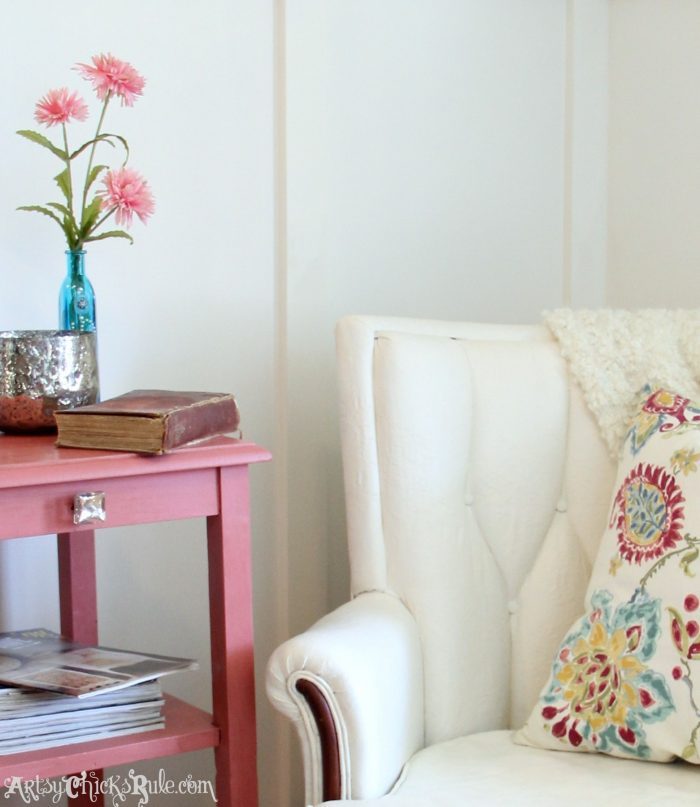 The chair was a steal at $25.
Who can beat that? And no, I'm not a fan of buying used material covered pieces BUT I did and it's all gonna be okay. ;)
I scrubbed it very well before painting with OxiClean (no affiliation, it's just what I decided to use).
And ya know, once painted AND sealed with wax…it will be, well, SEALED.
But I cleaned it anyway.
And again, here how my french chair makeover with Chalk Paint looked when I got it.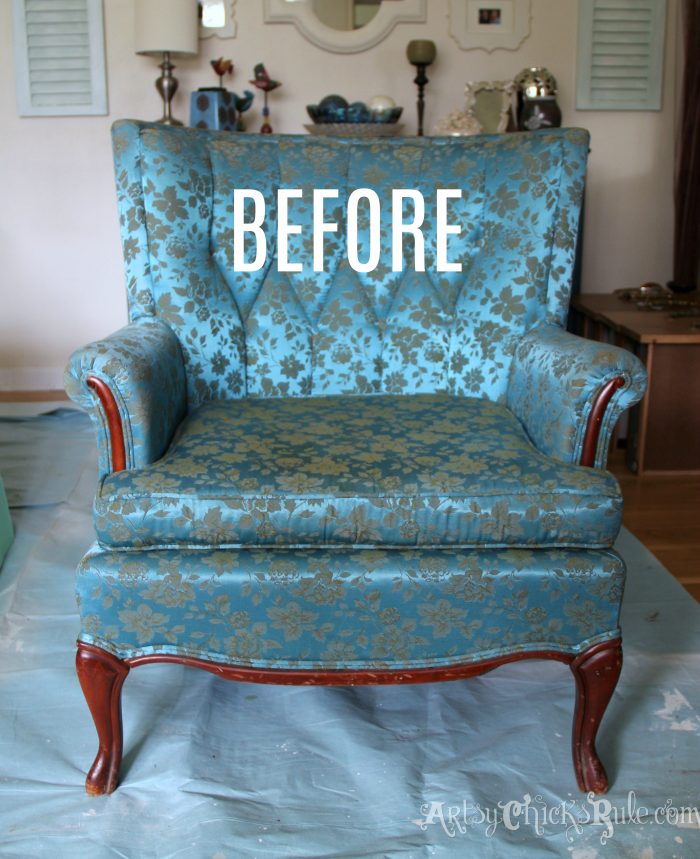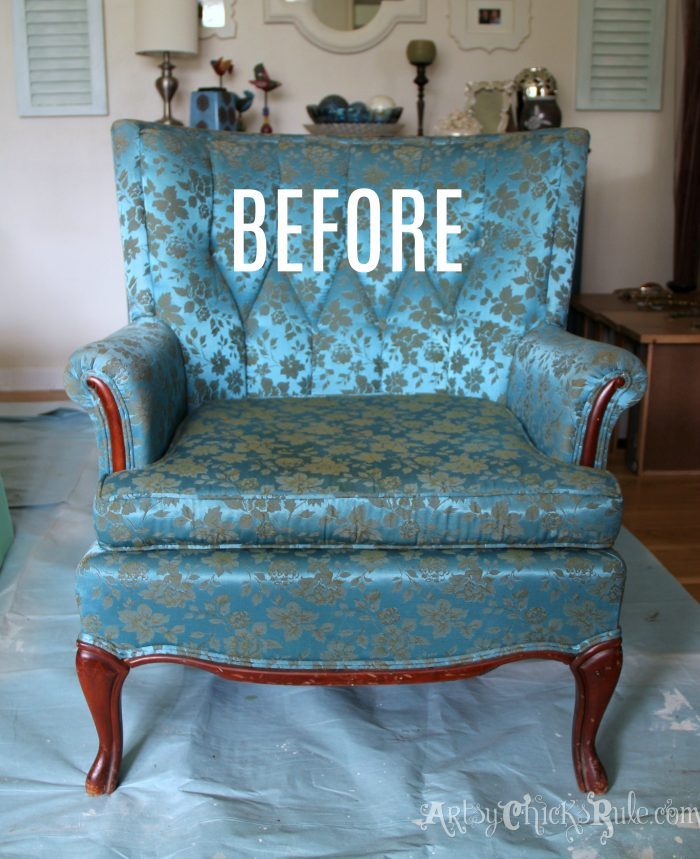 Not completely awful. The color is not bad but I don't love the "shimmery-ness" of it…or the floral accents.
And you guys know how I love to paint. Anything and everything.
I've painted it all…. from metal bowls to lampshades to porch pillows!
So why not upholstered furniture?
So I did. And it turned out fabulous!
I had to replace the foam cushion in the seat because it was hard……as a brick, hard. Definitely needed replacing.
I bought the foam at JoAnn's (which was 50% off, plus coupon) and traced around the edge of the cushion.
I cut it with my electric knife (just like they did at JoAnns! Thanks for that little tip…works great!)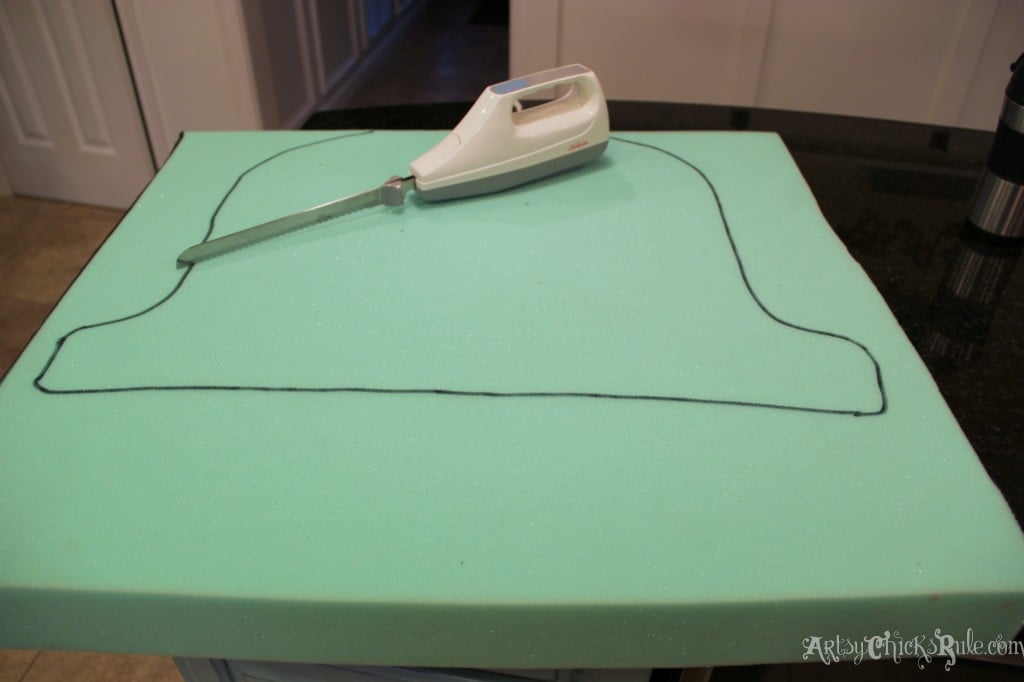 See?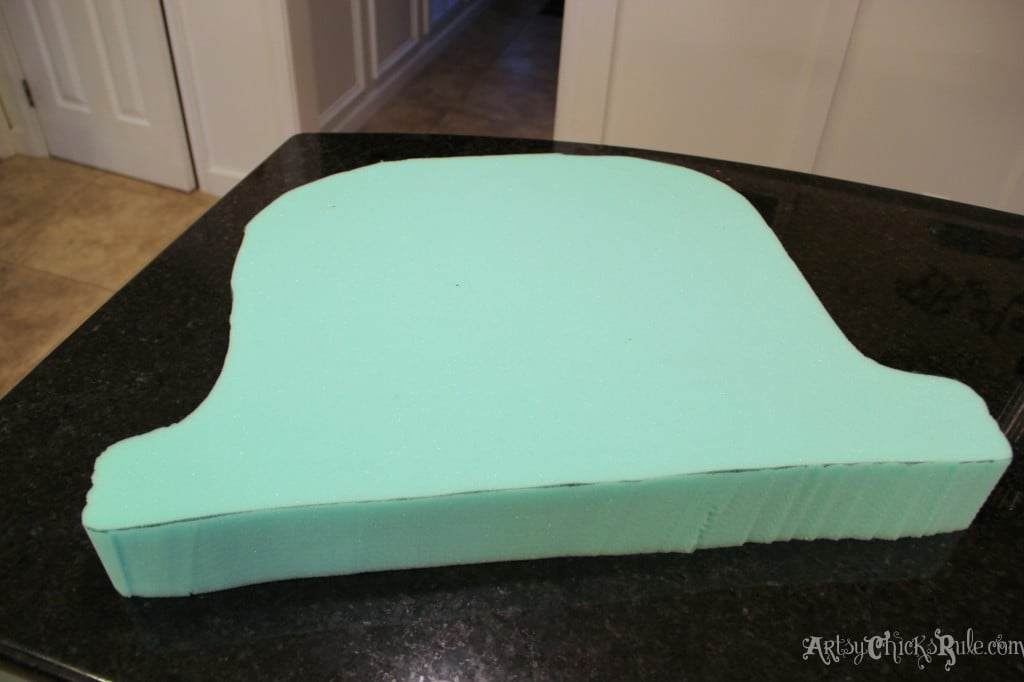 And I started painting the chair……
…in the color that I thought I wanted it.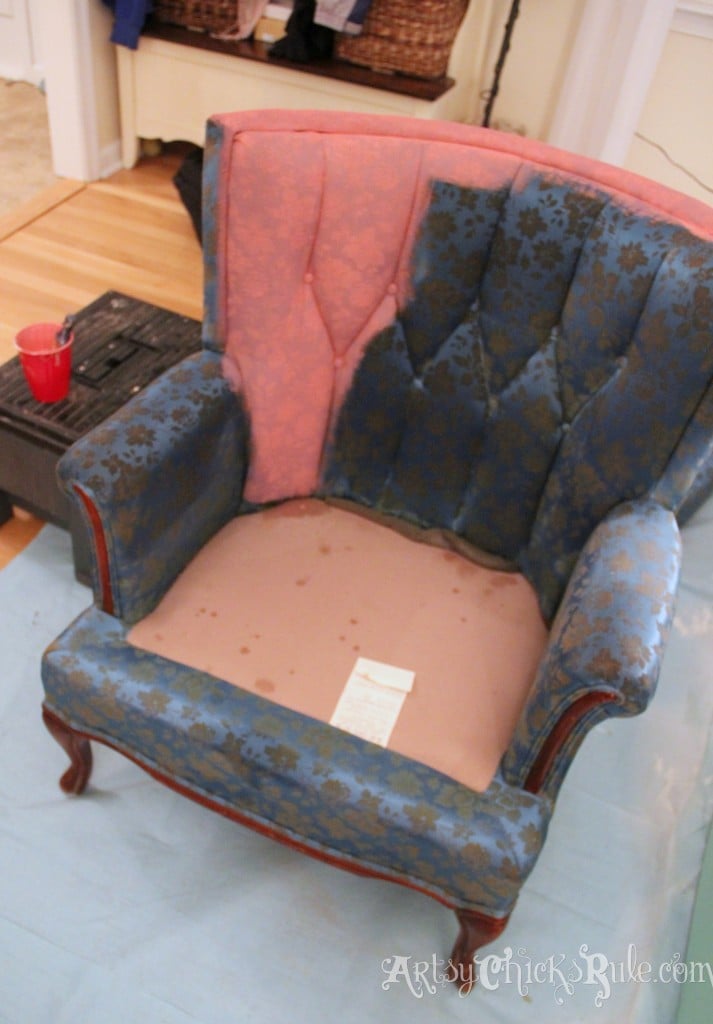 Can you guess?
Yes, I changed my mind. And no, not after I had only painted what you see above.
No, I painted basically the ENTIRE chair with one coat (thank goodness for that!) when my brain decided to go in a different direction entirely.
Story of my life, I tell ya.
It's never boring around here anyway.
So….I washed off all that paint. I know, what a waste but, oh well.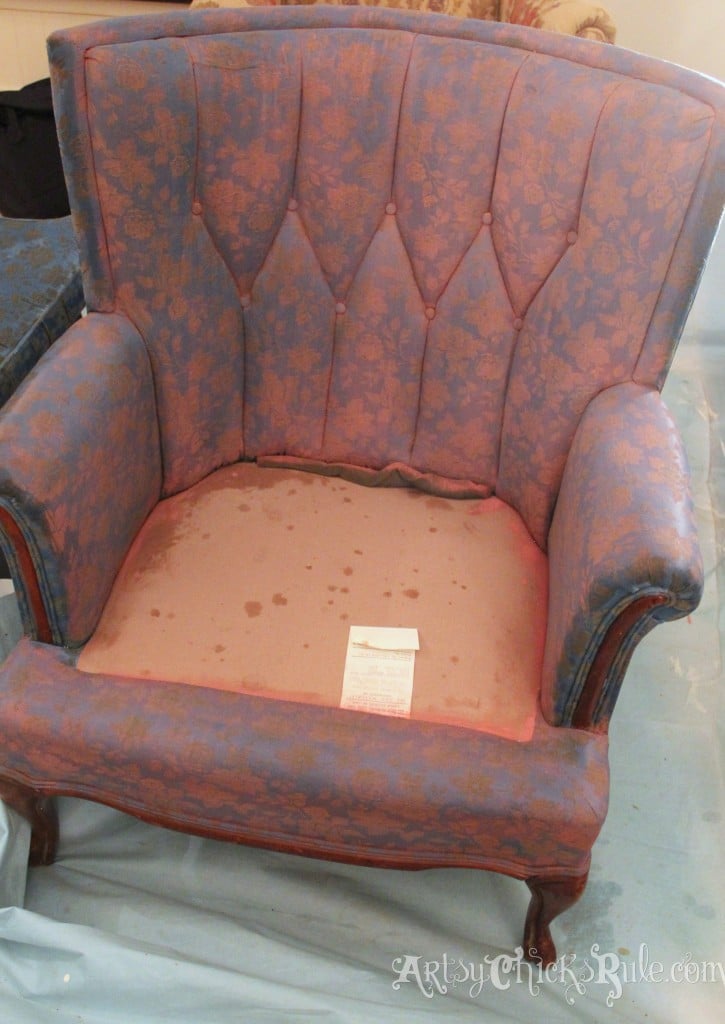 Really, I could have spared you this little detail, you know.
But I want to be up front and honest about the things I do and share here on the blog…because I am sure you guys have "oops" moments too, right?
Um, I hope so anyway. ;)
Here is how great working with Chalk Paint is….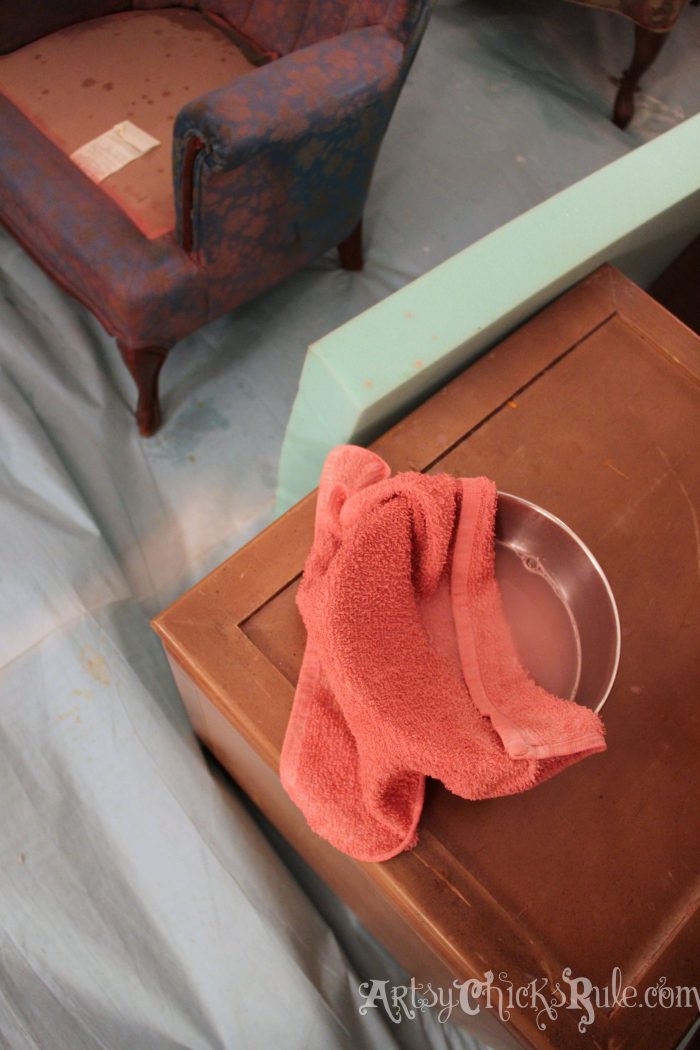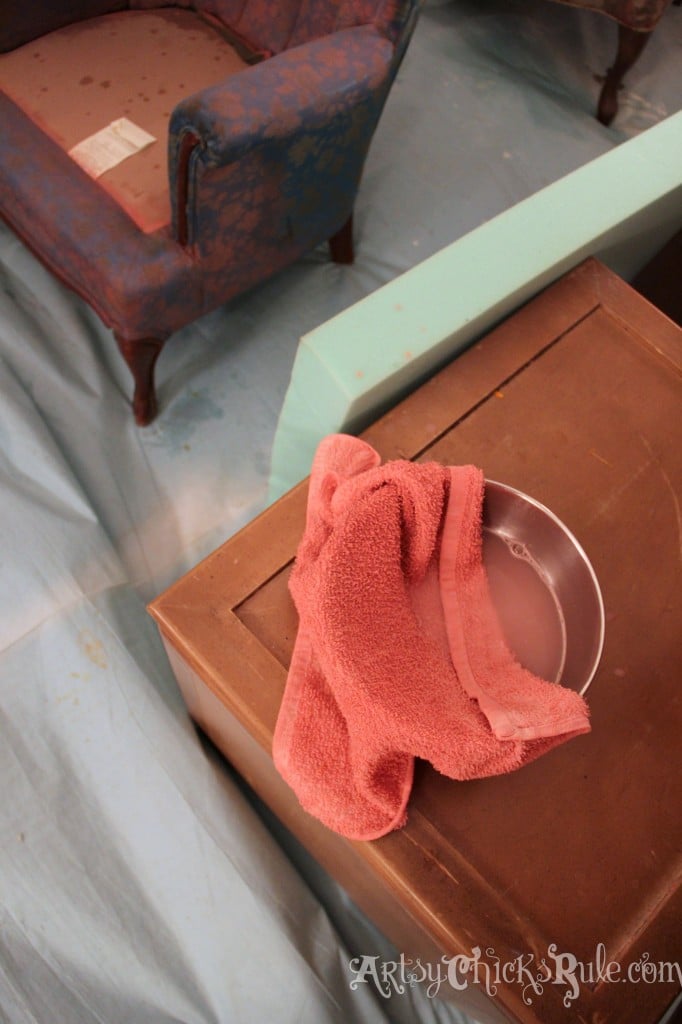 I washed most of it off pretty easily.
NOTE: When painting fabric with Chalk Paint, it's best to wet if beforehand. You can mist with a spray bottle or use a wet rag to wipe over it. Also, you will want to thin the paint some with water. Don't have an exact here because each of the paints are a little different. Just know that it needs to be thinned some when painting fabric for best results.
(Edited to add: You want the paint to "soak in" not lay on top of the fabric. If it is too thick (not watered down enough) it will lay on top and be more prone to cracking. I love this option for redoing furniture but I would not recommend this on pieces of furniture you use extensively (like a Family Room couch, for example) Also, some fabrics will work better for this than others. Some will hold up better than others. So do a spot test beforehand if you are unsure.)
Check it out the beginnings of my french chair makeover with Chalk Paint right there y'all…..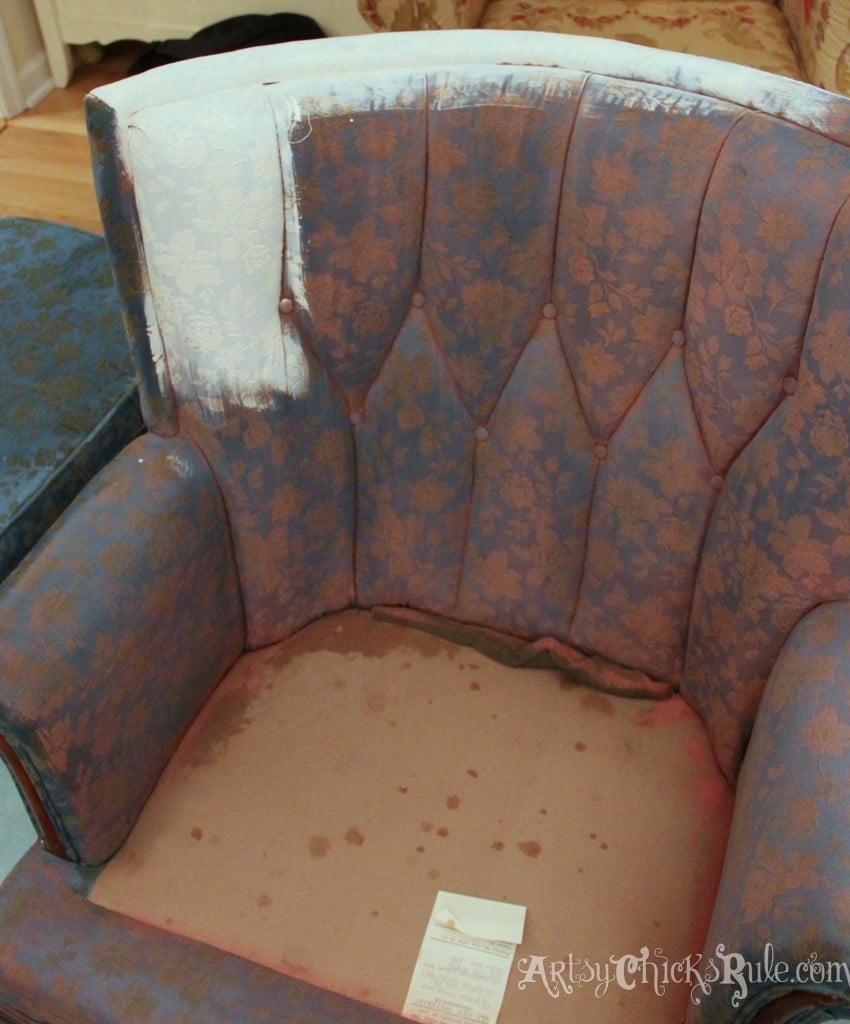 I did 2 coats with a few extra strokes here and there to cover thin spots. It went on and covered really well.
Want to see some of these projects in "live" time? Hop on over and follow along with me on INSTAGRAM. I'm always sharing in my stories as I'm doing projects, finding new furniture, fun finds….just all the day to day behind the scenes.
The wood trim was looking a little rough so I decided to freshen it up with some Minwax PolyShades in this color.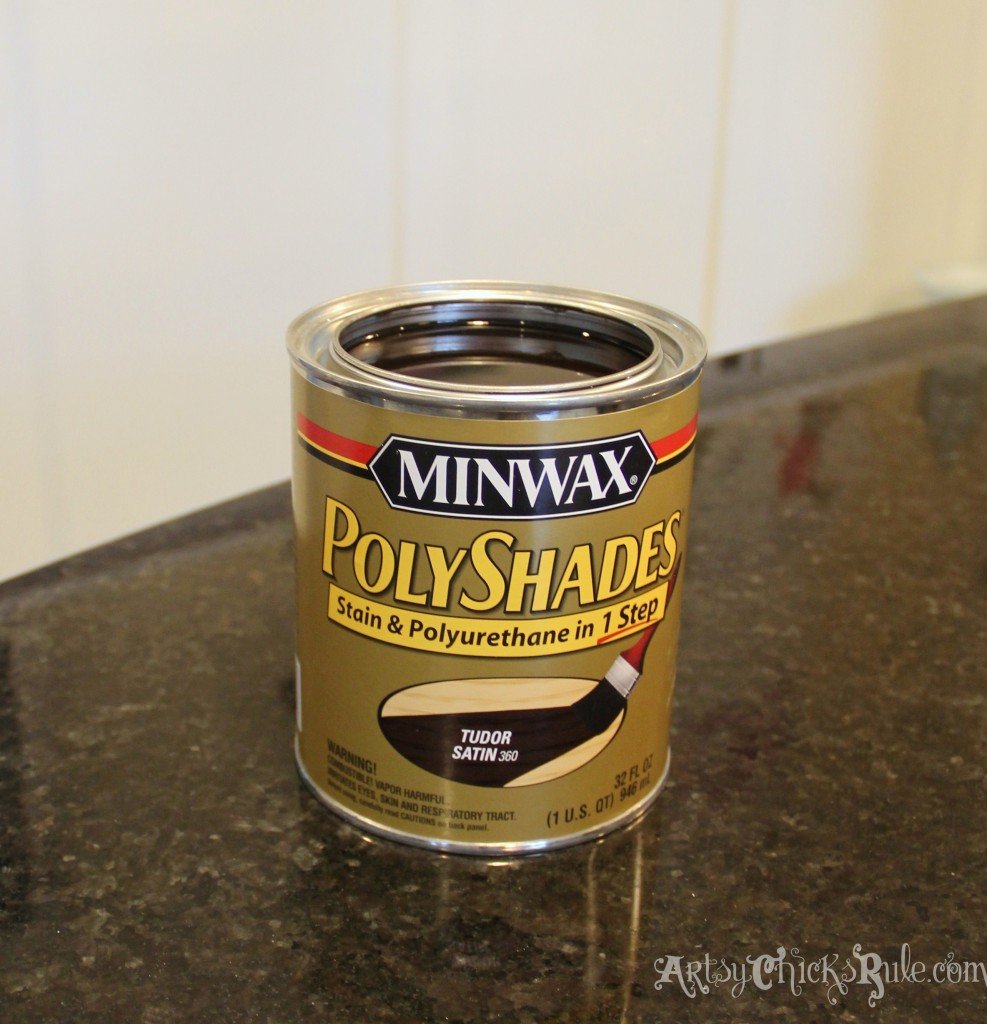 I lightly sanded it all….(be sure to wipe/clean the dust off well before applying PolyShades)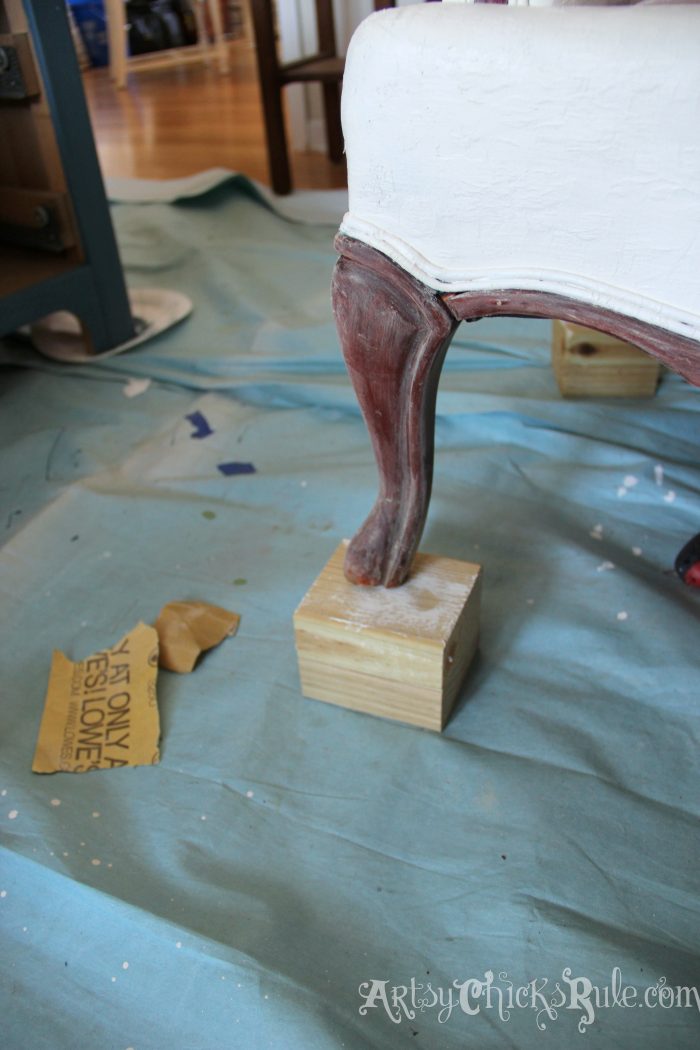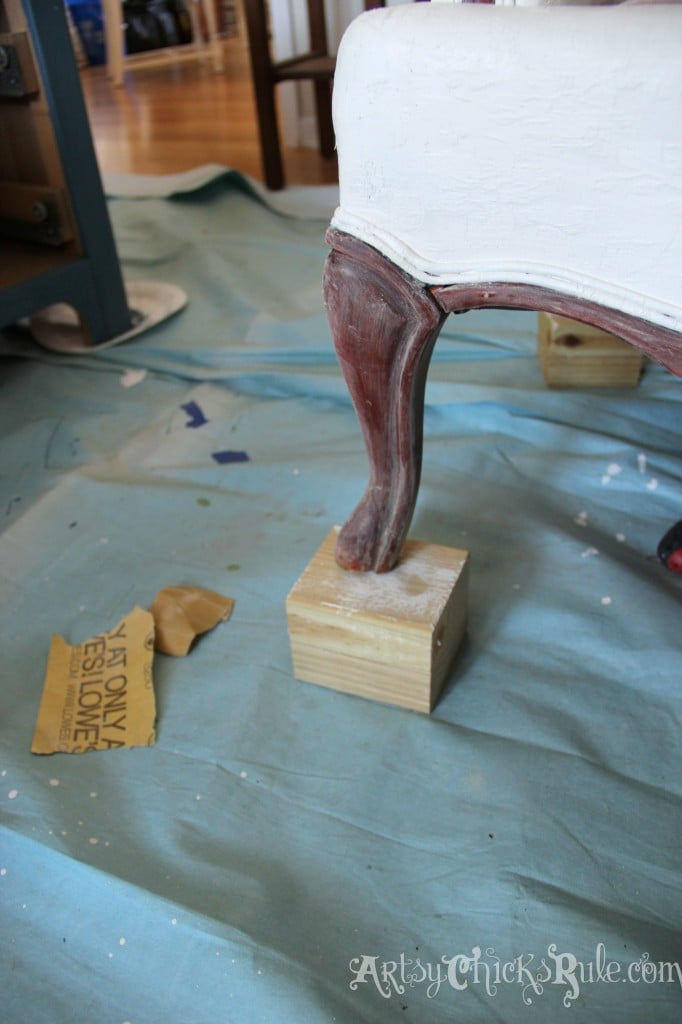 …and then applied a coat of the Tudor PolyShades. (left side is done, right side is not)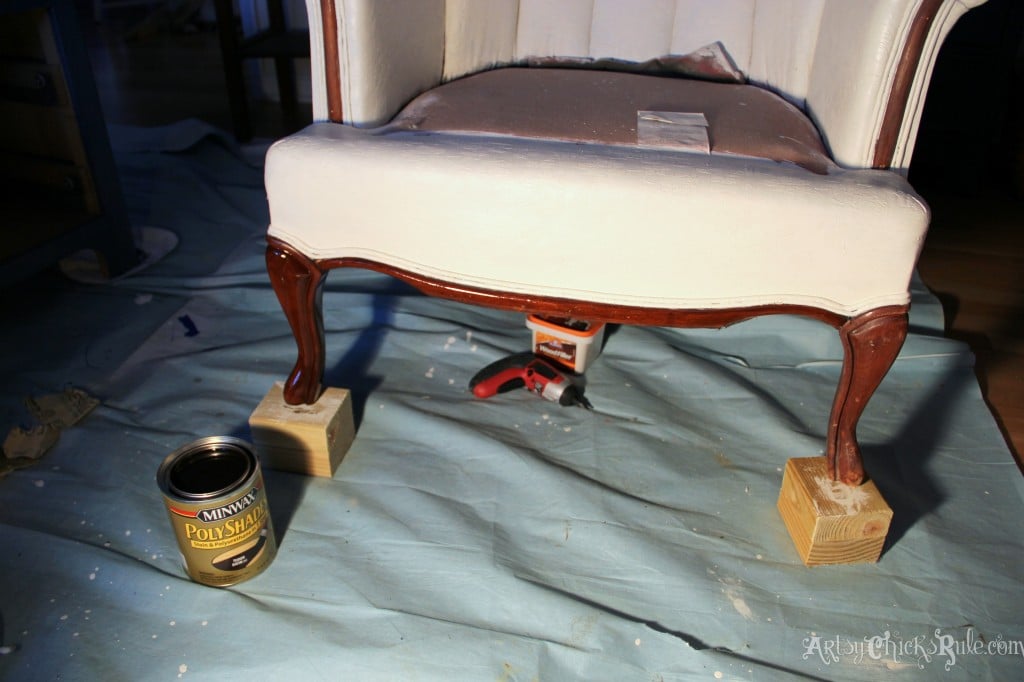 I work long into the night around here. ;)
I love how easy it is to freshen up old, dingy wood with the PolyShades.
Works well and is super easy.
After the chair was dry, I sealed the upholstery with Annie Sloan Clear Wax.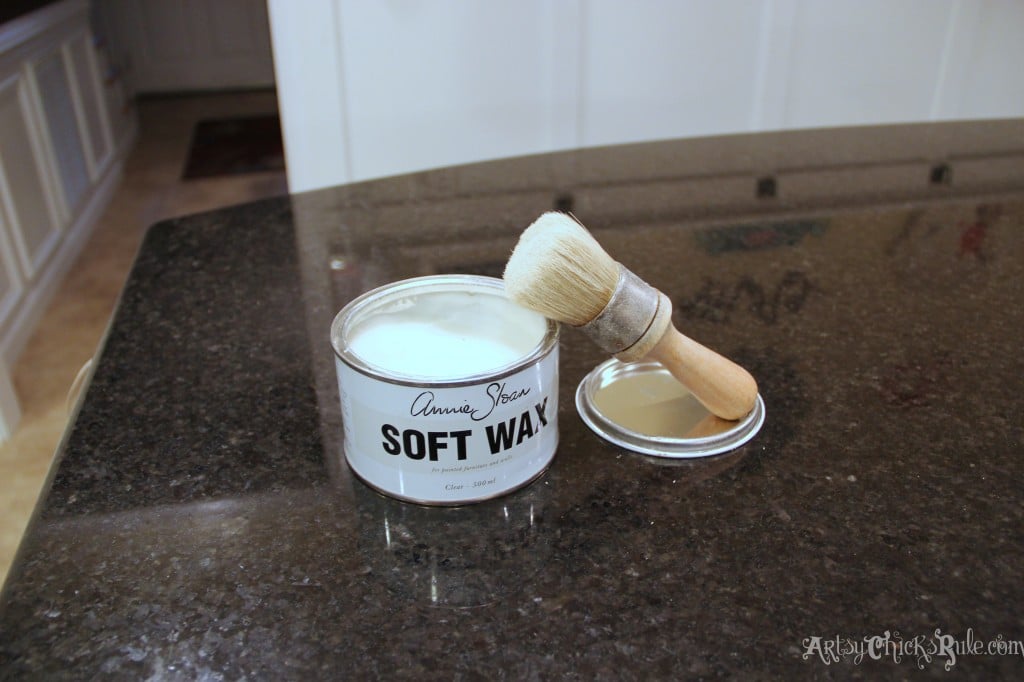 The paint can be a little "crisp" feeling but once you apply the wax it softens it up. (and seals it)
It ends up feeling "leather-ish" to me once finished.
Want to know about 26 other chalk style paints?
I've got the low down for you right here! >>> 26 Types of Chalk Style Paint For Furniture
Up close and personal…..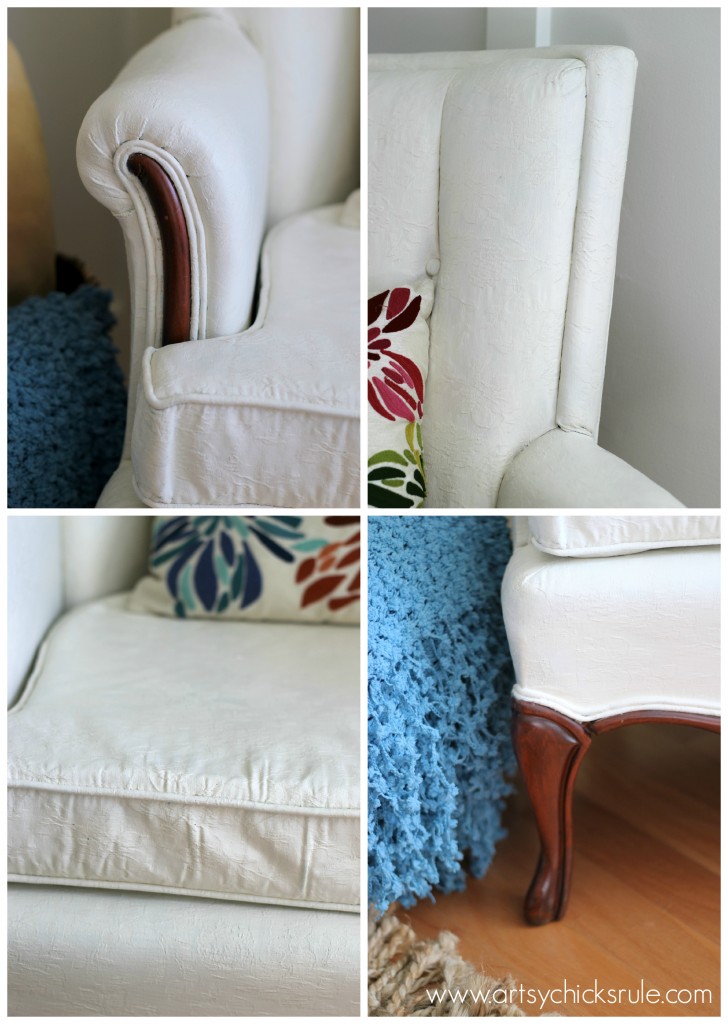 What a difference, right?
I know.

BE SURE TO PIN THIS FRENCH CHAIR MAKEOVER WITH CHALK PAINT FOR LATER !!

:)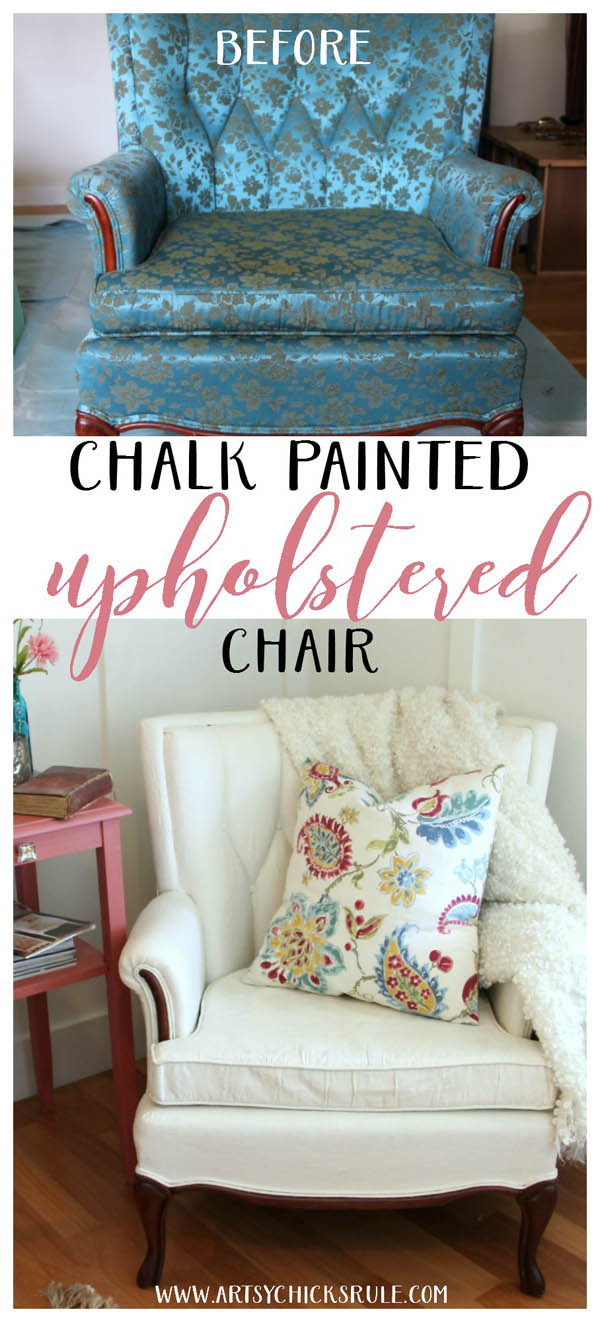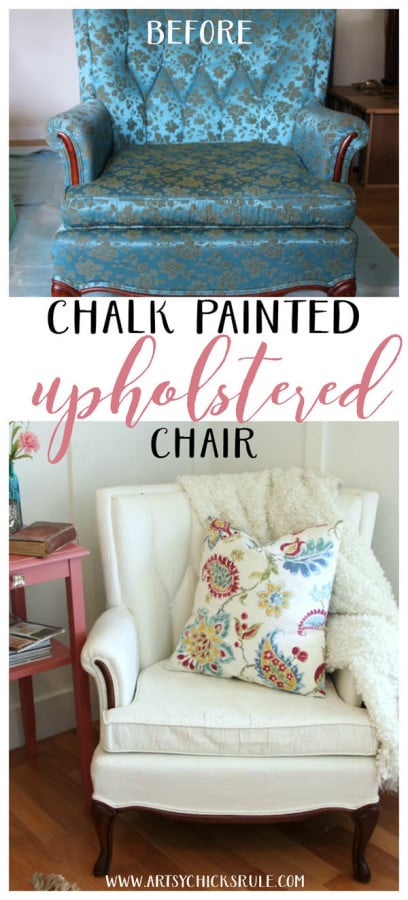 Night and day.
Now I love the floral accents in the fabric.
By the way, the paint color(s) I used were a blend of Pure White (heavy on this) and Old White (light on this).
This is my go-to "beachy" white as of late. I LOVE this shade.
It's not too yellow, not too white…it's just right. ;)
Oh…and I'll fill you in on the little table(<–you can see it there) you see here in the photos very soon. It's a thrifty Chalk Paint makeover too.
As a matter of fact, the mirror, table and chair were all thrifty finds….and all painted with Chalk Paint®.
What do you think?
Old, dated, dingy and uninspiring –to– cozy, romantic little reading nook.
Think you'd try painting a chair like this?
Be sure to check in next when I share how I gave this little cutie a makeover!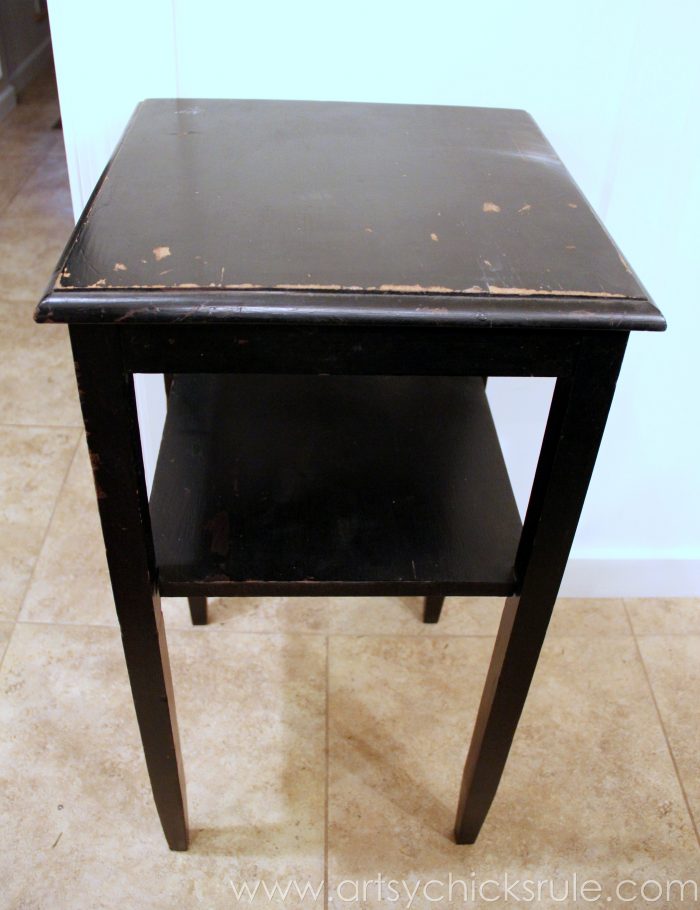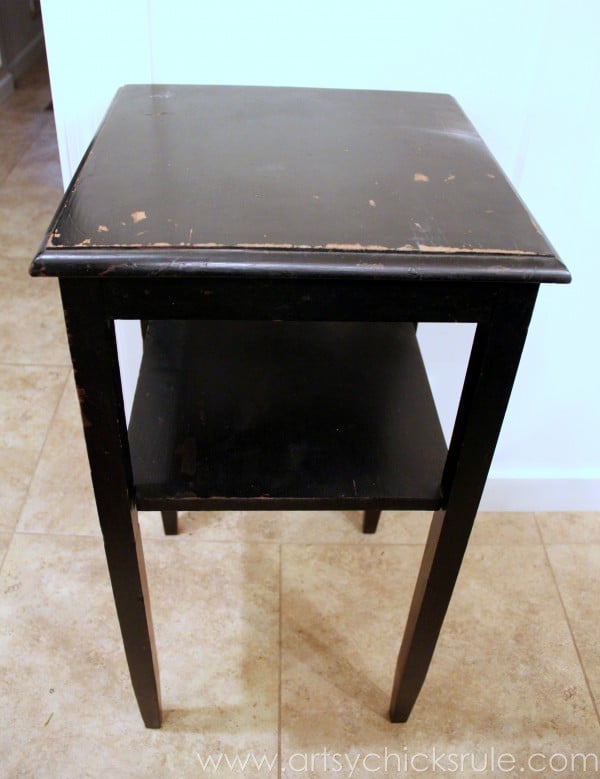 UPDATE!!! See it now, here!
Want to see even more "before & after" furniture makeovers? Click here.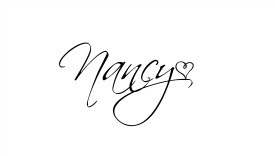 Here's a few teaser photos for my friend's makeovers for ya!
Click the links to see the rest – and- all the details of each one.
Enjoy!!
One of my favorite color combos…pale blue and white.
I can only imagine how great the rest of it looks!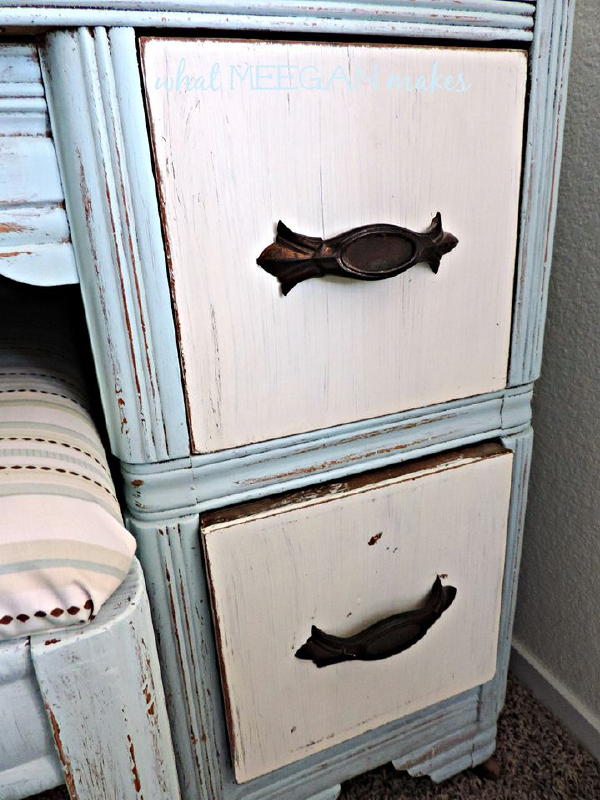 My favorite color lately!
So loving the distressed whites. Can't wait to see all of it!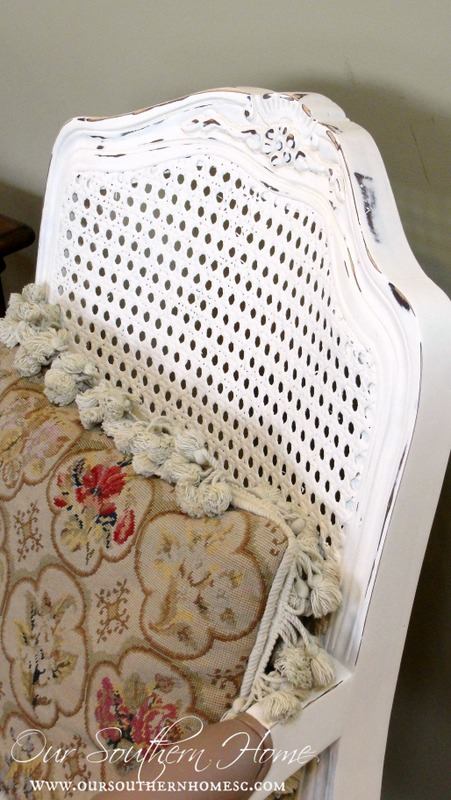 Ohhh pretty fabric and more of that fabulous distressed white…wonder what the rest of it looks like?!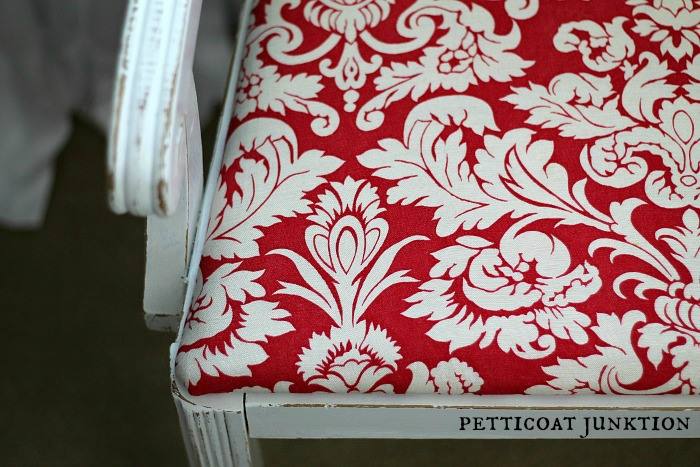 That knob is gorgeous…and so is the paisley top. I can't wait to see the rest!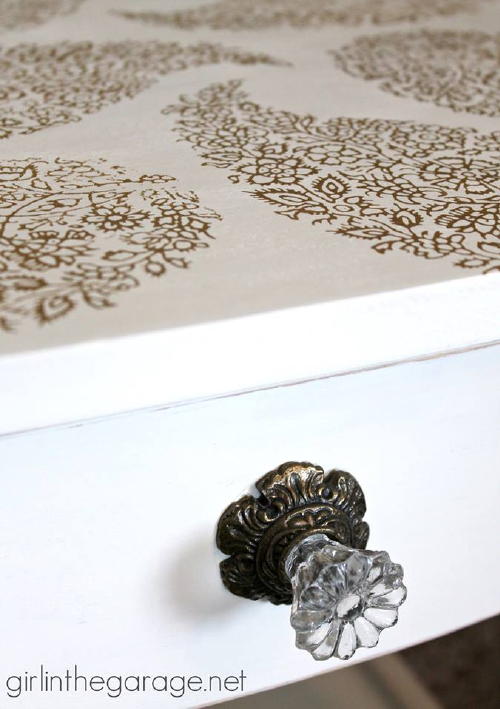 Loving those sexy legs…. can't wait to see what goes with them! ;)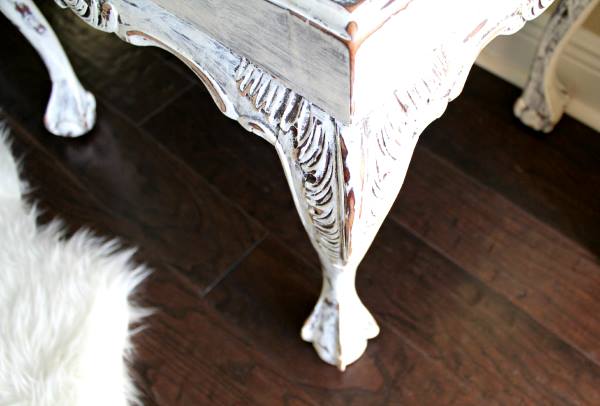 Have a great day!!!!