Painting Fabric Instead of Replacing It (really! it's easy to do!)
This post may contain affiliate links. Please see disclosures here.
It's fairly simple to replace the fabric on chair seats but then you have the cost of fabric, too. How about painting fabric instead? Simple enough and the design choices/colors are endless with stencils, paint….and tape!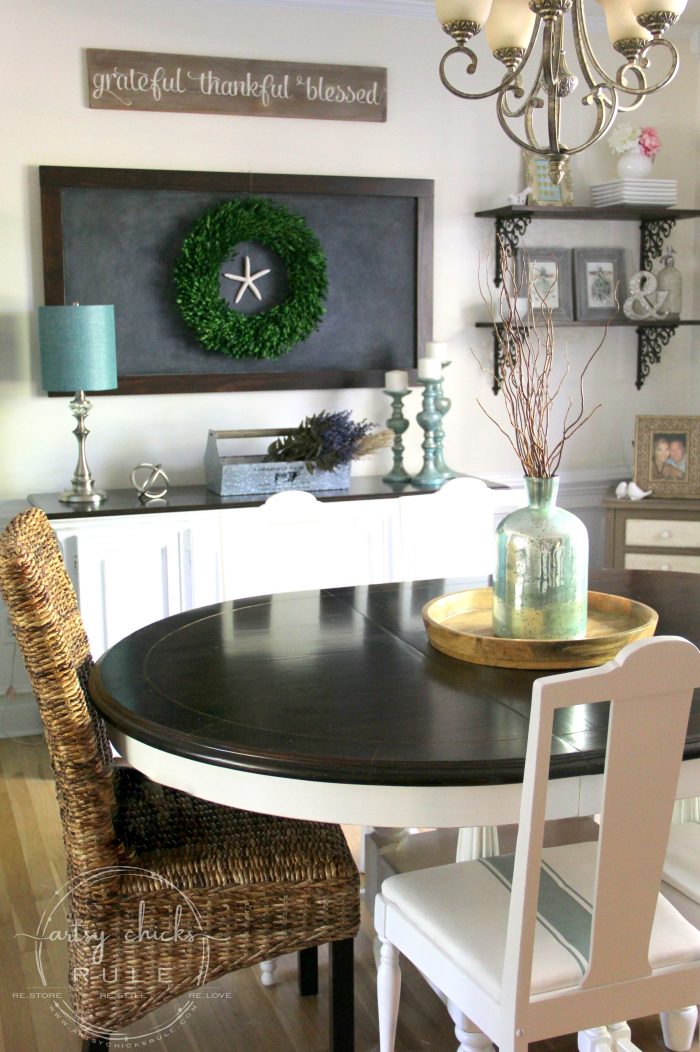 Want to learn all about painting fabric? Well you're in the right place! ;)
You might remember I gave this dining room a makeover (another makeover ;) ) last year.
You can see it >>> here.
I had previously given these chairs a makeover with new paint and fabric.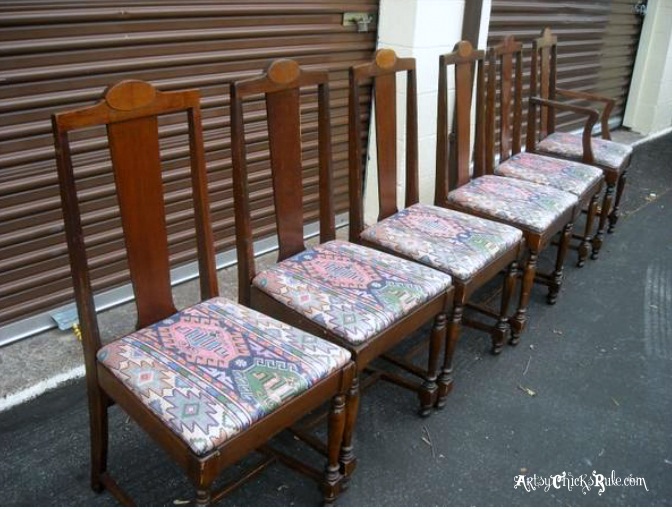 You read about the first makeover >>> here.
With the new bright white paint and new curtains, it was time for new chairs.
But instead of buying new…..and instead of buying fabric to recover, I decided to paint the fabric already on there instead.
The curtains already had a design in them and I knew I didn't want just plain white fabric, so this was a great choice!
I started by pulling out my handy HomeRight Spray Shelter and paint sprayer. <<< (love that thing!)
I removed the seats and got spraying.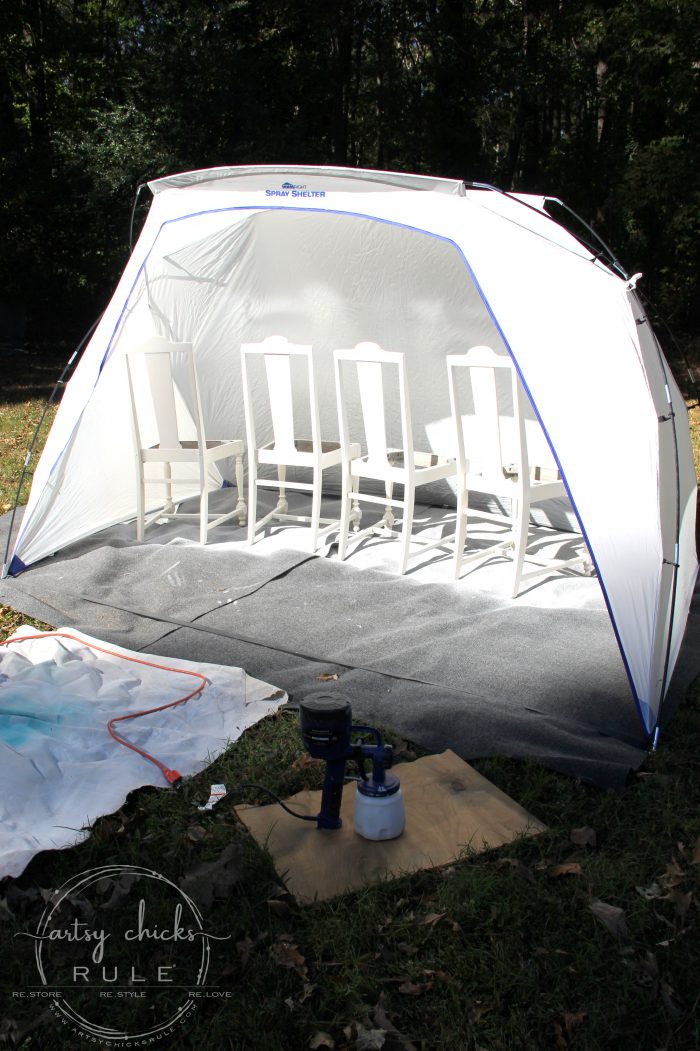 Do you have any idea how much quicker this is?
MUCH!! I really hate painting chairs. Reallyyyyy hate it.
These 2 items make the job a joy, not a chore.
I used the same white paint on the chairs that I did on my table and buffet in this post.
For the chair seats, I used Annie Sloan Chalk Paint.
Since I didn't want to add the expense of new fabric OR try to find fabric that would go with the new curtains, I painted some grain sack stripes instead.
I think they are the perfect accompaniment to the floral fabric in the curtains.
Just follow the same technique I use in this tutorial >>> here. (painted upholstered chair)
Another painted upholstered chair >>> here.
And the very first time I tried painting upholstery >>> here.
Painting Fabric Tutorial
Step 1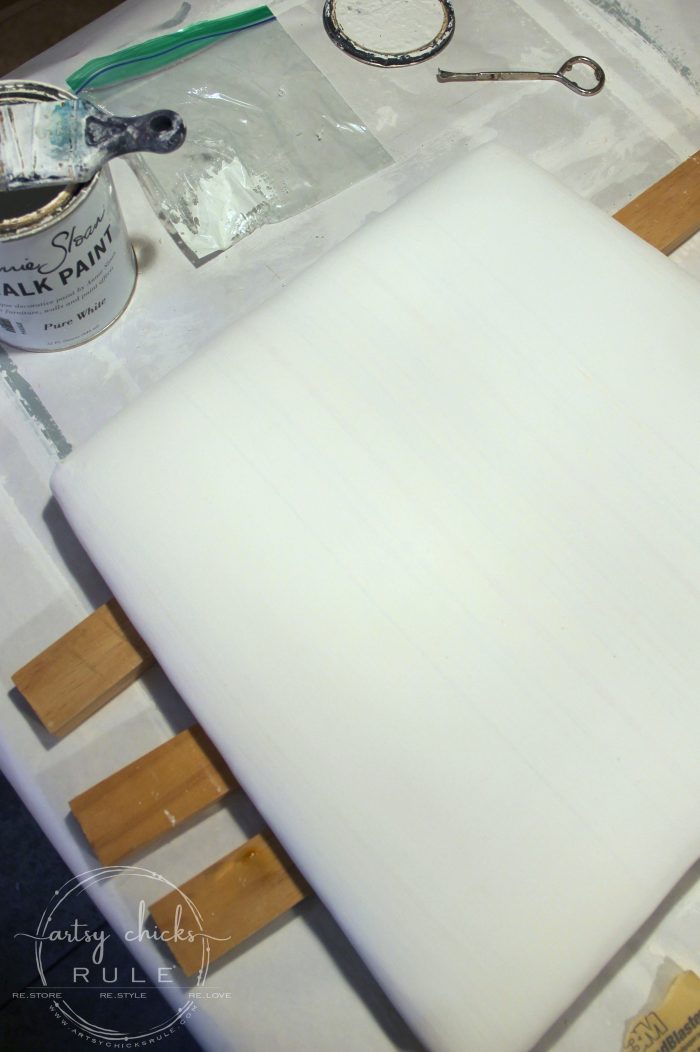 2 coats of Pure White (Annie Sloan Chalk Paint) lightly sanding in between and after. (be sure to use a very fine sandpaper as you don't really want to remove the paint, just soften it a bit)
Step 2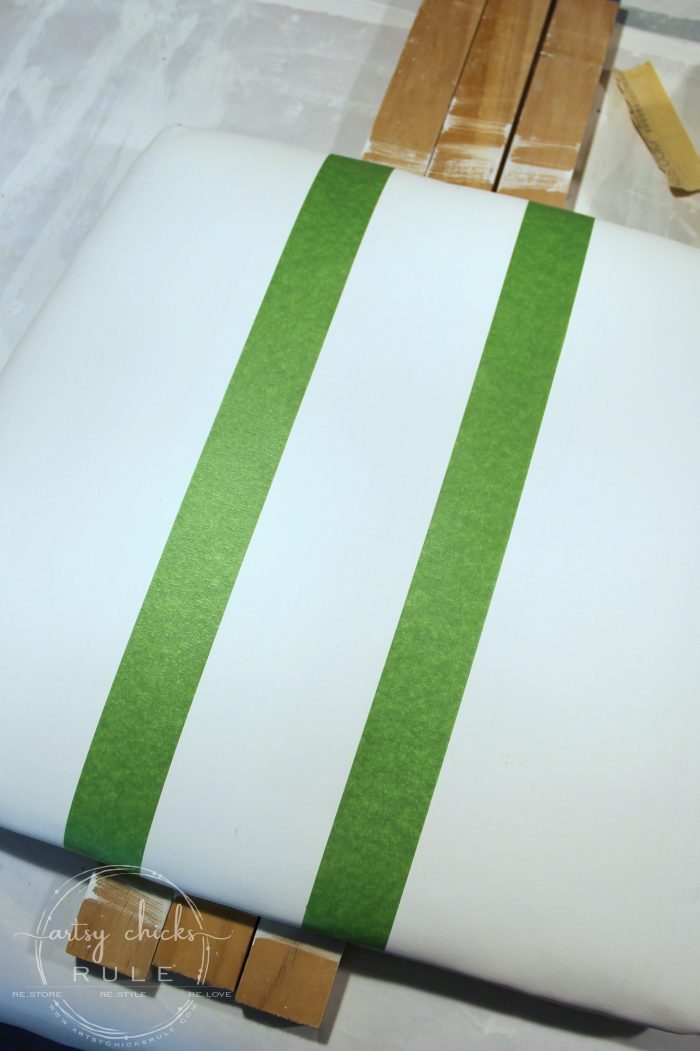 Attach the tape (my fave tape >>> here) so that you can paint in the center stripe. (be sure to remove all dust from sanding first)
Measure as best you can to line things up correctly.
Step 3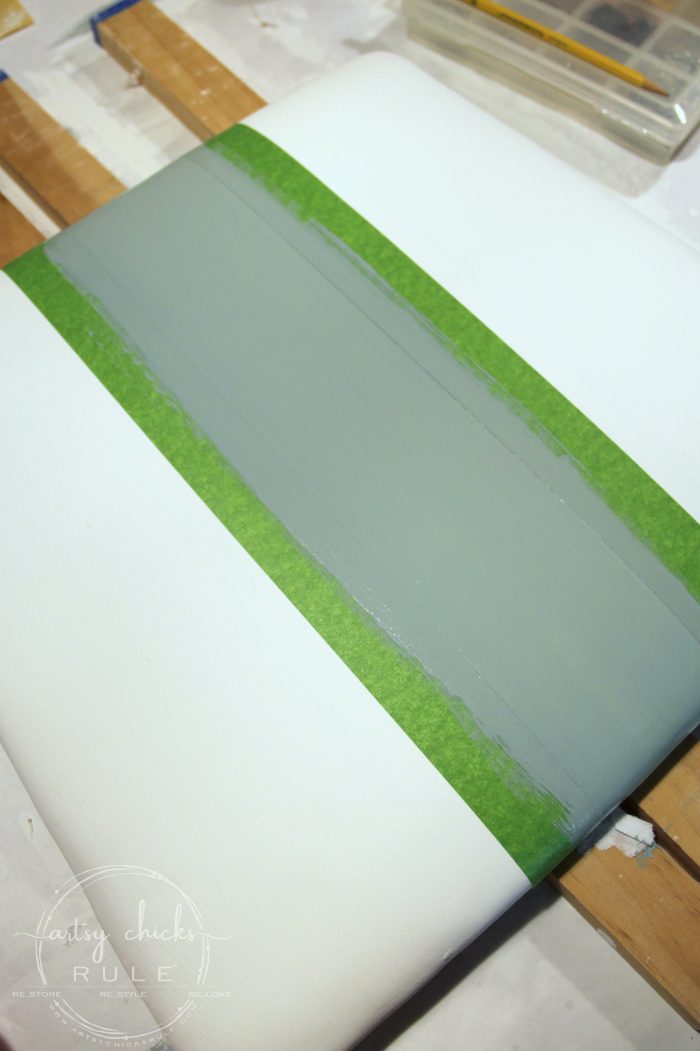 Paint inside the tape with Duck Egg Blue (or any other color you choose).
I liked the Duck Egg Blue because it looked similar to the color in the curtains.
I usually pull the tape off before it dries. I get better results that way.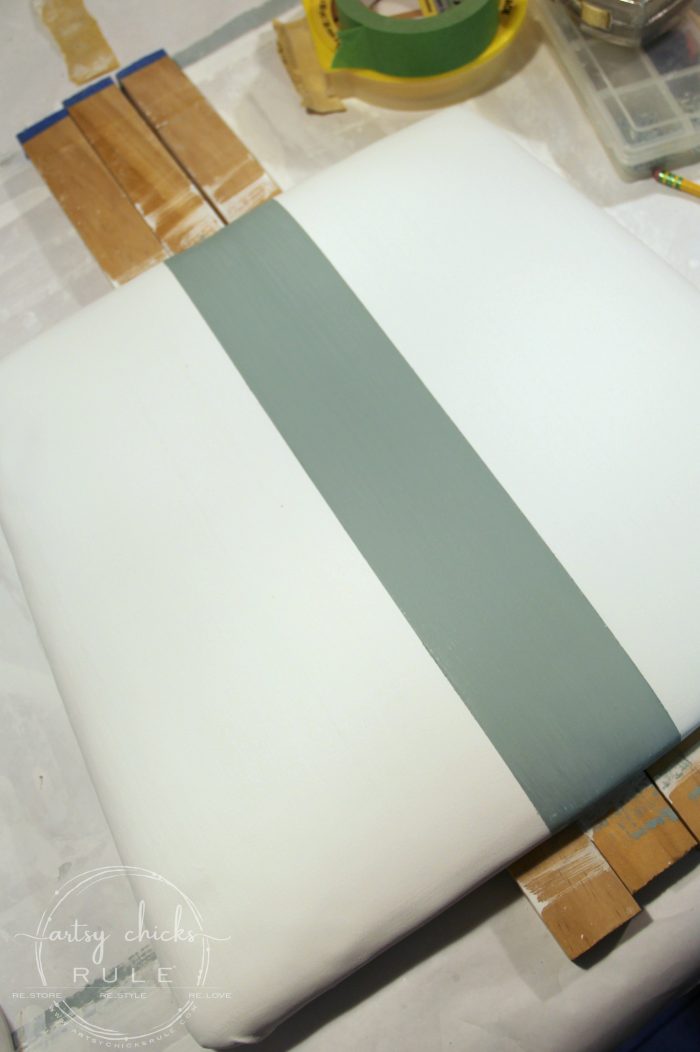 Look at those edges! That tape is the bomb.
Let this dry completely before moving on to the next step.
Step 4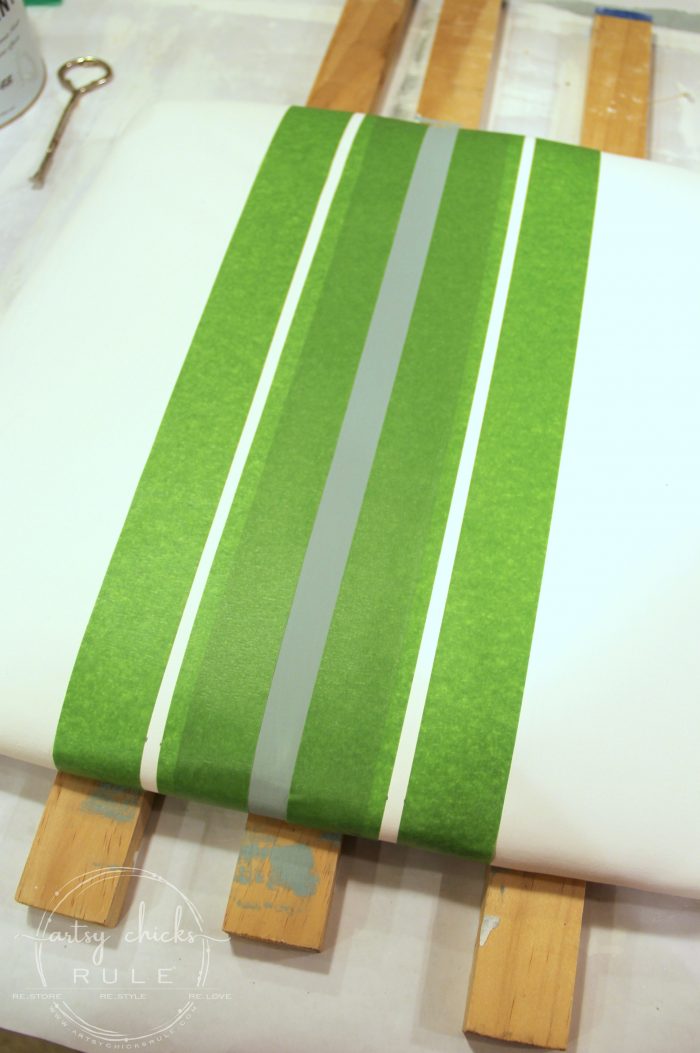 Add the tape for the tiny stripes on each side.
Be sure to measure again. If you look closely, you can see the little pencil marks I made from measuring.
Step 5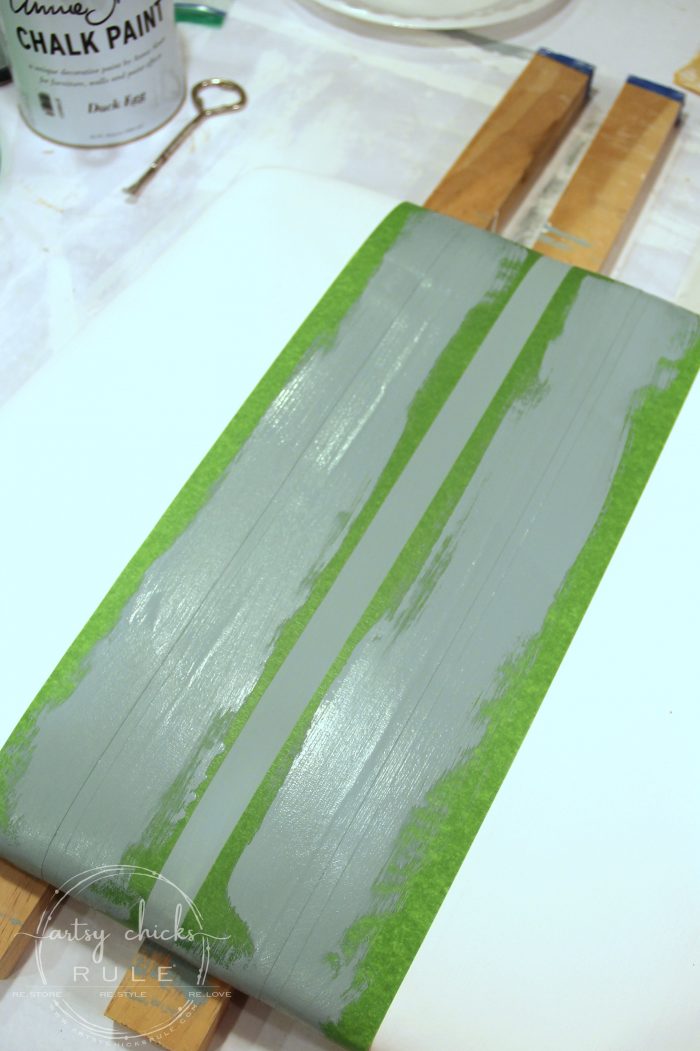 Paint in the lines.
Step 6
Now, just do that as many more times as you have chairs.
This really wasn't that tedious at all. It went pretty quickly as I did all the seats at once.
The seat above is just after painting, no distressing.
You can leave it like this if you choose but I wanted mine to look like fabric, not like painted fabric.
Sort of like a worn, washed fabric.
Step 7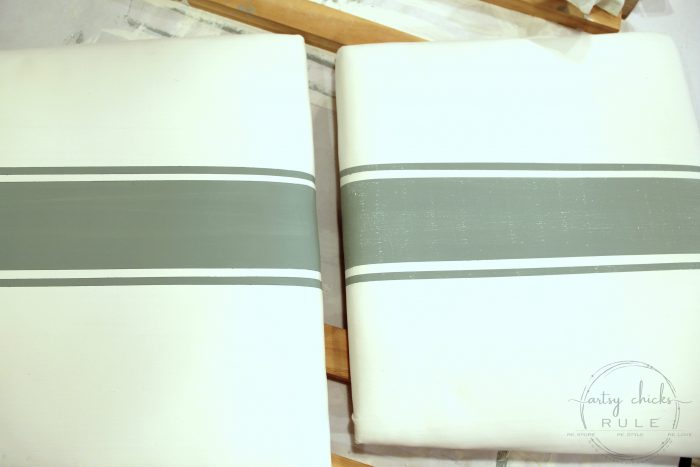 You can see a bit better the difference in this close up….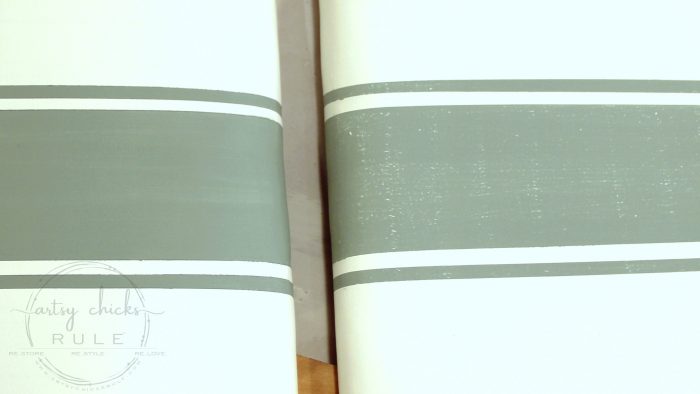 See how it looks more like worn fabric? No one would ever know they are painted.
Step 8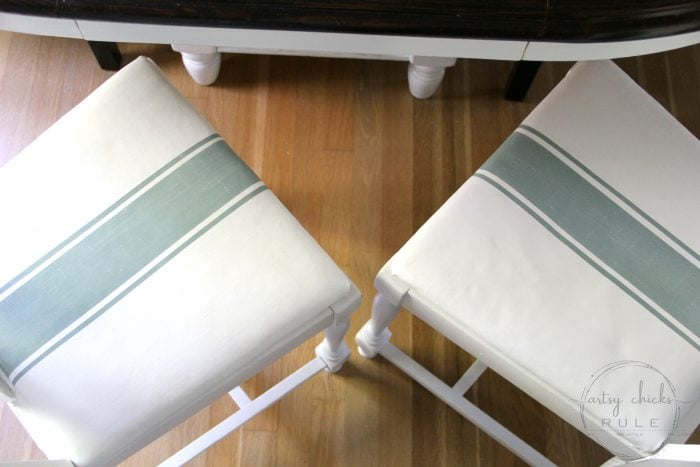 Wax and you are done! (I used Annie Sloan Clear wax)
They feel soft and pliable and have held up wonderfully as this project was done over a year ago.
TIP: A little trick to keep the fabric soft (which I mentioned above) is to sand lightly in between coats and on your final coat before you seal with wax.
Brand "new" chairs…again.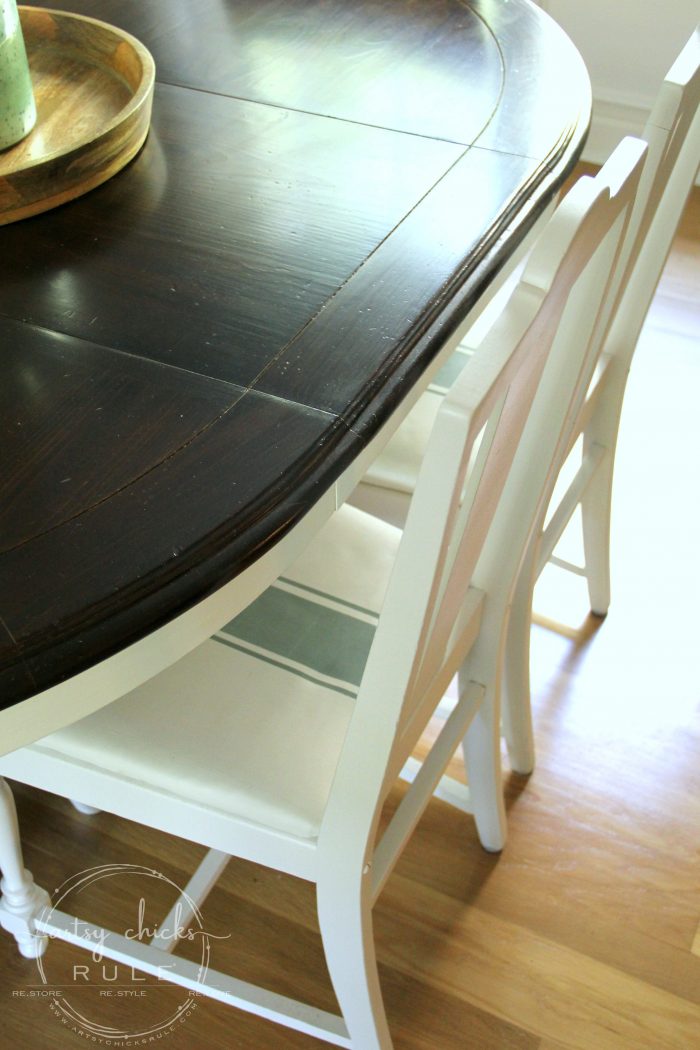 I'm really thrilled with how they look now.
Paint….isn't it just awesome? I love paint.
And the grain sack stripes are always classic and go with most everything.
Want to see even more ideas on simple updates with Chalk Paint (that aren't furniture??)
Check out this post, here!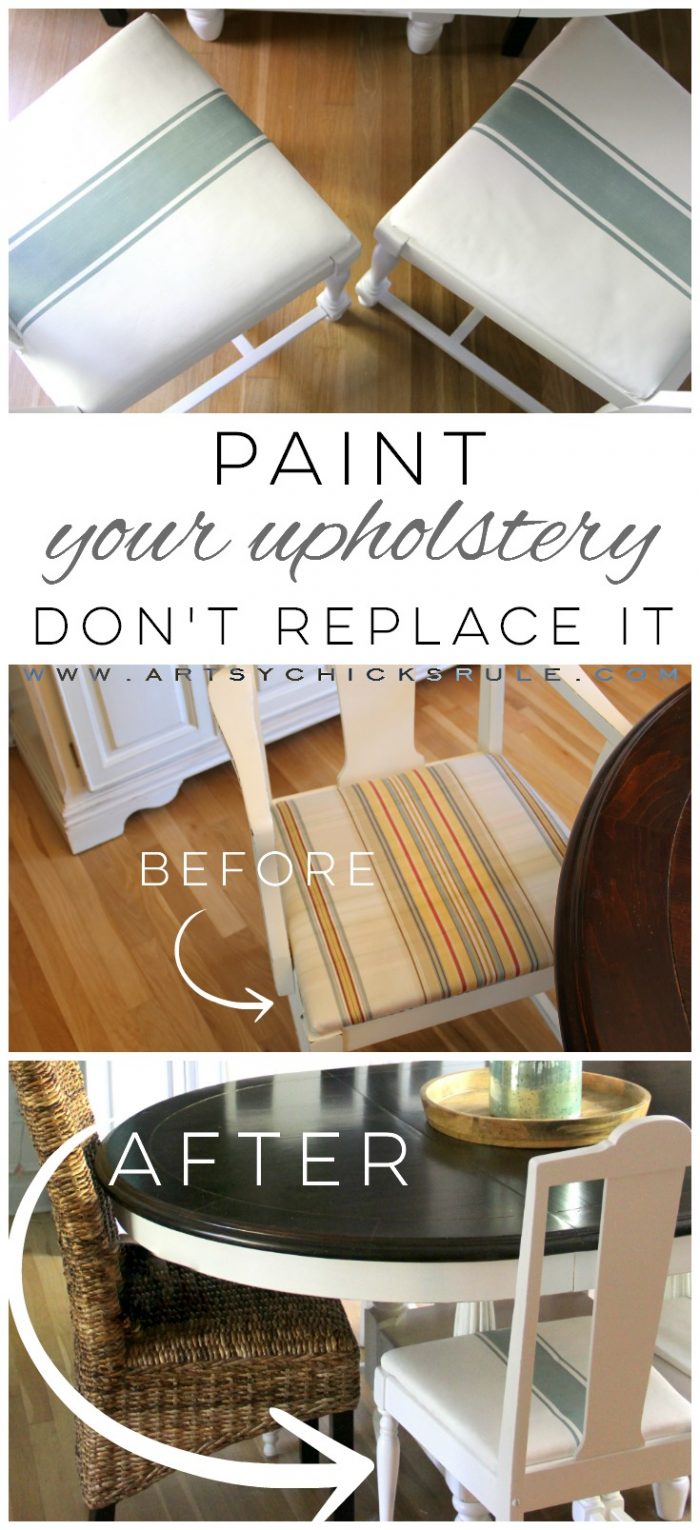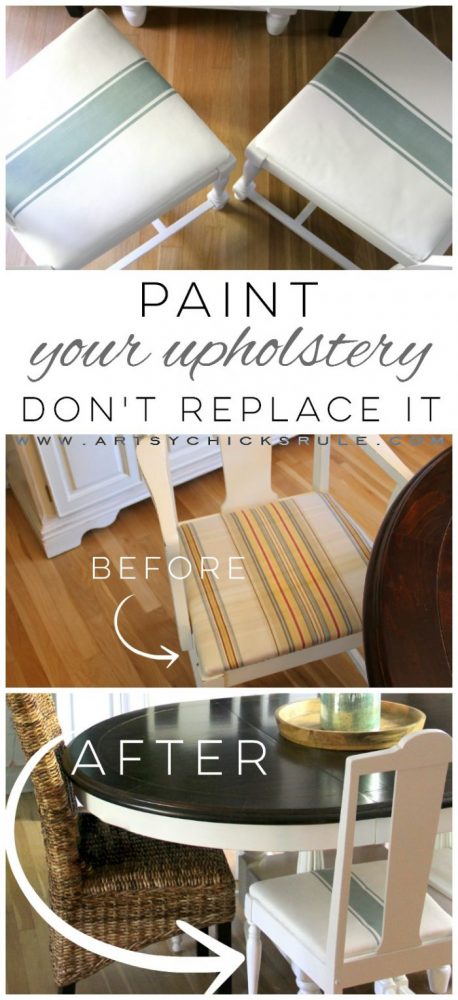 See you later this week with another fun makeover!
In the meantime, you might like this cute one here….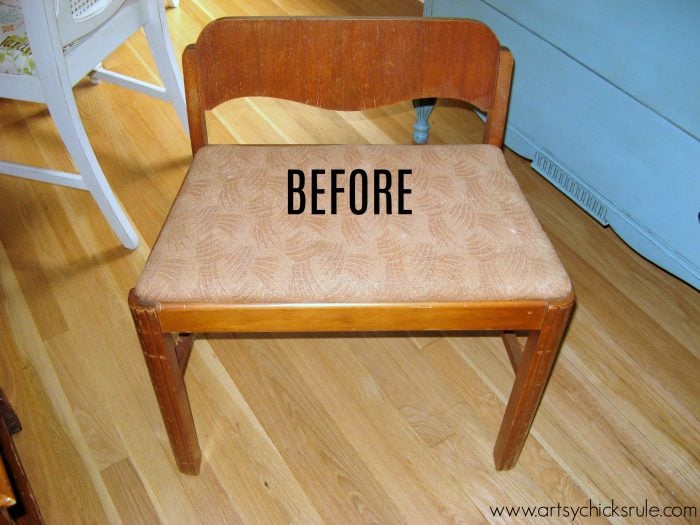 See it >>> here.
xo