DIY Faith Hope Love Sign (and FREE printable!)
This post may contain affiliate links. Please see disclosures here.
Make this DIY Faith Hope Love Sign with these simple instructions or just download and print out the free printable!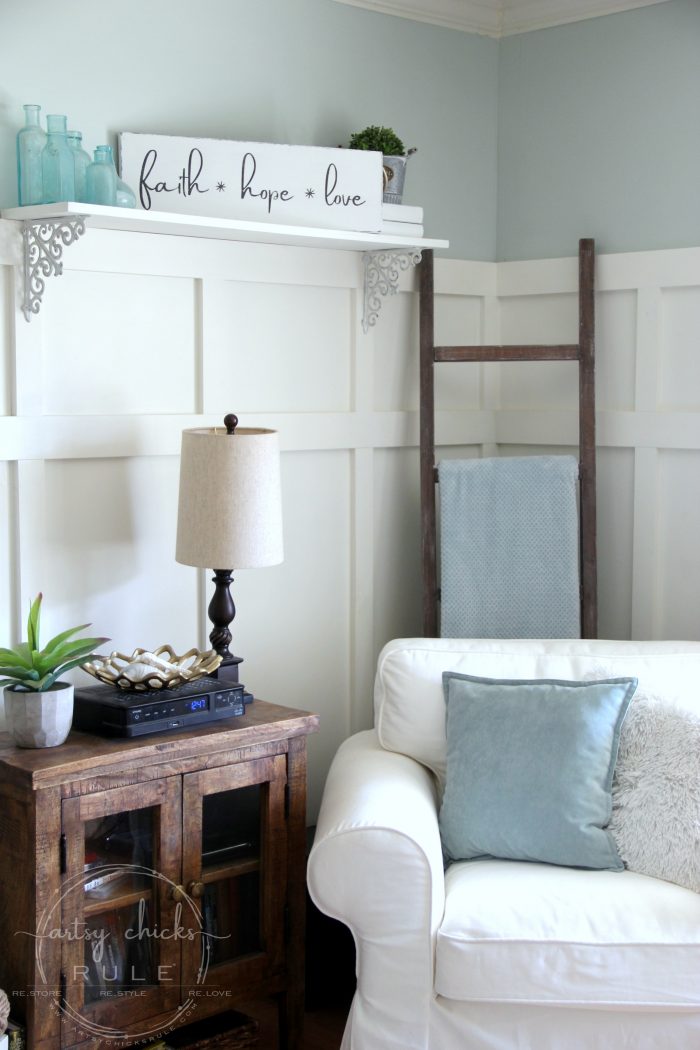 I'm sharing how I made this faith hope love sign today!
But first, do y'all remember this sign?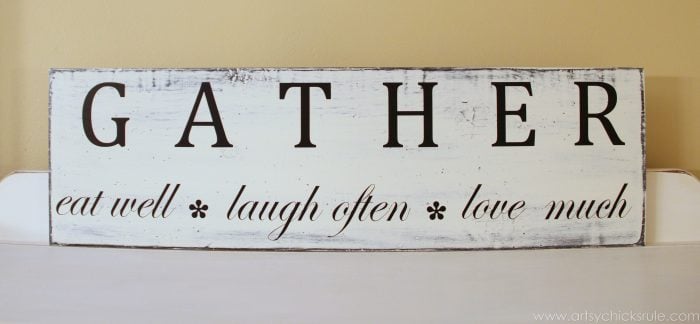 I made this one awhile back using my Silhouette Cameo.
You can read all about this project, here…
But lately it looked like this….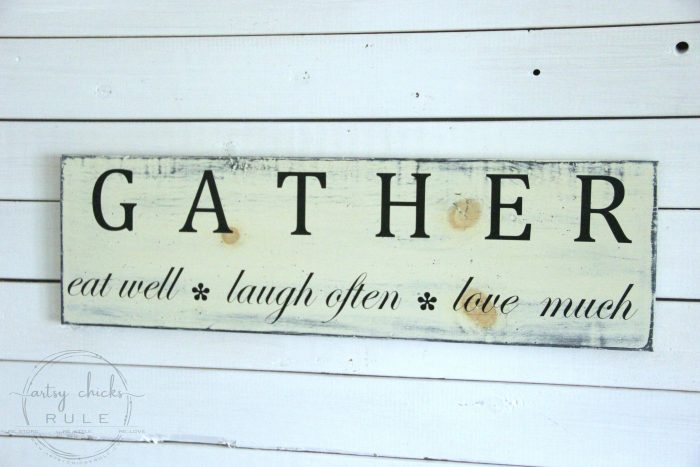 Those pesky knots came through over the years.
So I thought I'd give this makeover….another makeover.
I removed the vinyl lettering….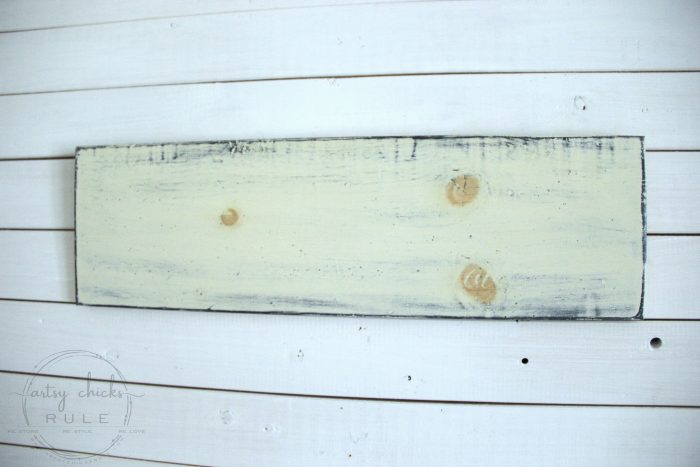 And then sprayed it with Shellac to seal those pesky knots!
Then painted it with 2 coats of white "chalk style" paint. <<< my favorite white "chalk style" paint these days….less pricey than regular Chalk Paint.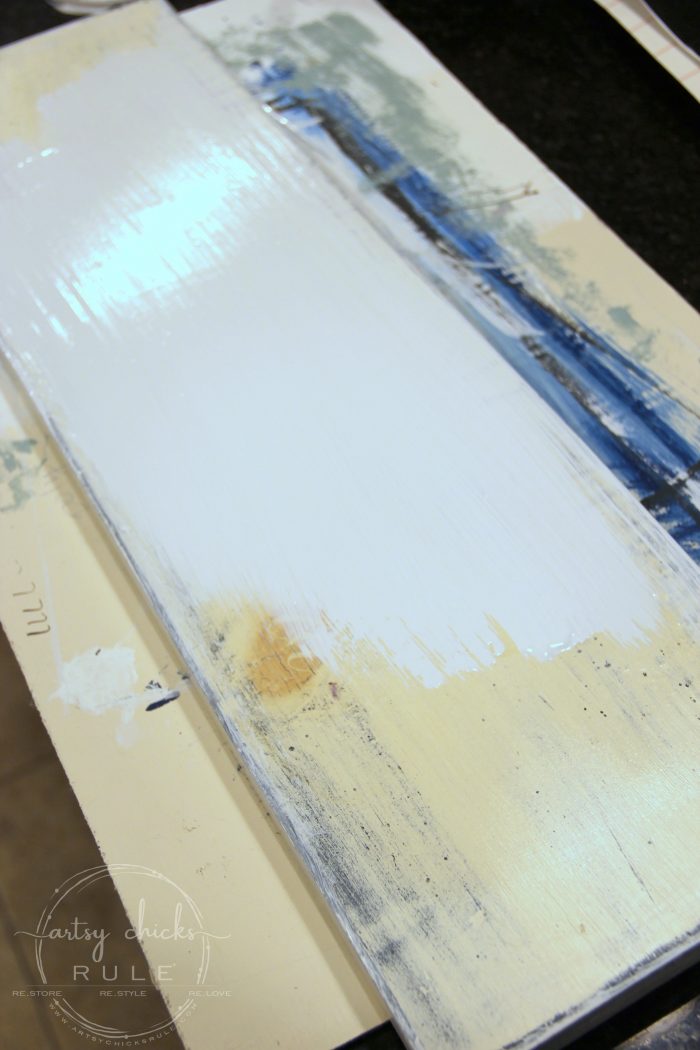 Bye bye knots! Hopefully for good this time.
I let that dry and then lightly sanded the edges to bring some of that same black back through.
Lastly, I sealed it with one light coat of poly.
You don't have to seal with poly before adding the letters but I wanted a little "insurance".
With the non sealed chalk paint underneath, any mistakes would be harder to fix.
With the less porous, sealed paint, mistakes would be easier to "wipe away".
I didn't have any, thankfully, but you never know!
Then I created this graphic in Picmonkey…..

Want the free printable?

I opened the saved graphic in my Silhouette Cameo program and cut it out on vinyl.
Want to see how easy it is to use your own designs inside of Silhouette? Click here >>> How To Import Your Own Designs Into Silhouette Cameo.
Or you can also use any of these transfer methods to do it if you don't have a Silhouette machine.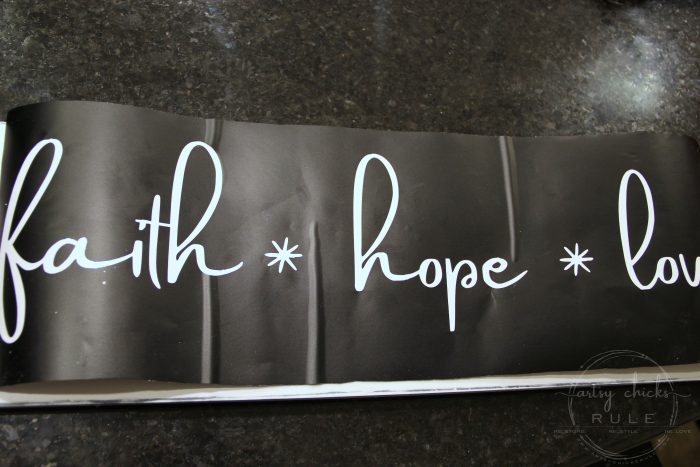 You can use the vinyl letters as I did in the original "Gather" sign above, or you can remove them and create a stencil.
I removed mine to create a stencil because I wanted the letters to be painted on, not vinyl, this time.
In order to get it to lay properly, I did go ahead and used the transfer paper…..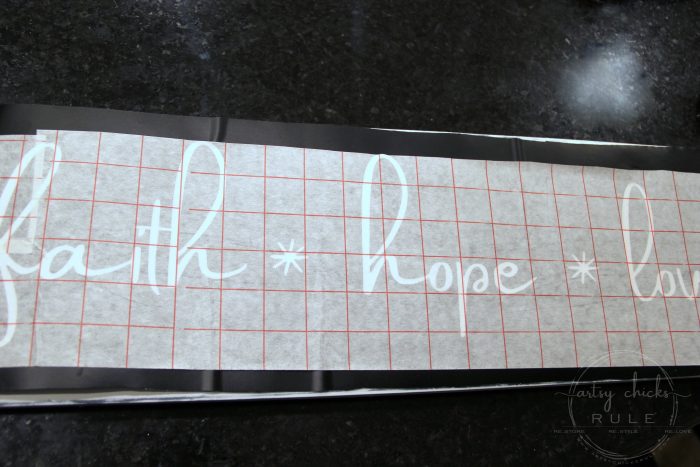 ….and this is what it looks like on the other side once I removed the backing.
This sticky side will attach to the board for stenciling.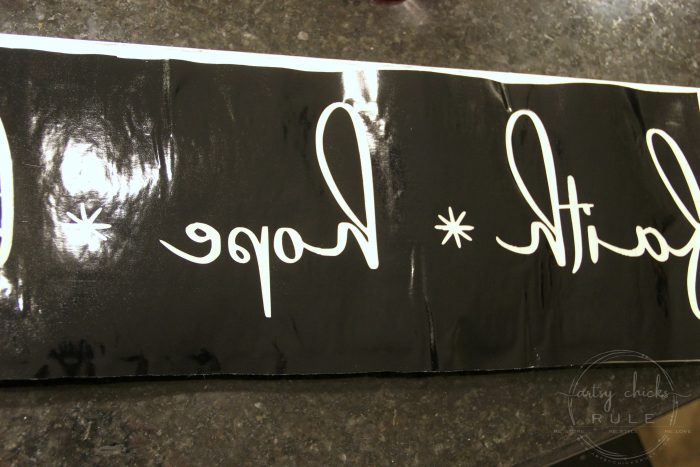 Align your vinyl and press firmly to attach.
Then peel off the transfer paper…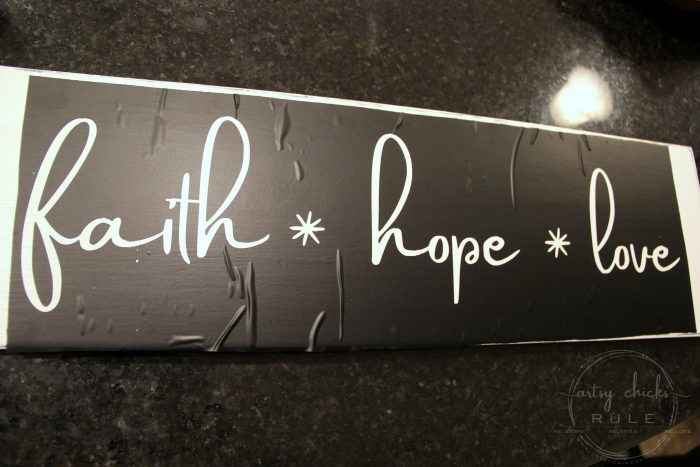 …and paint it in just like a stencil.
I like use a small roller for this. It's so much easier and quicker!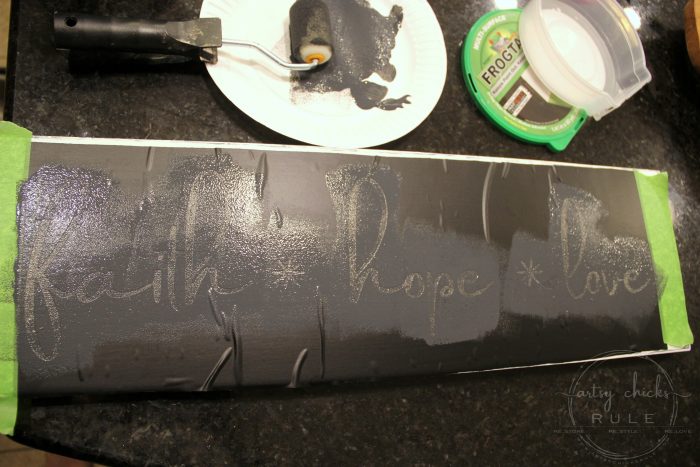 I did 2 coats, drying in between.
By the way, I used Graphite (Annie Sloan) but you could use any black color paint.
Or any color at all, for that matter.
I peeled away the vinyl stencil I made as soon as I was done with the second coat. (before it dried)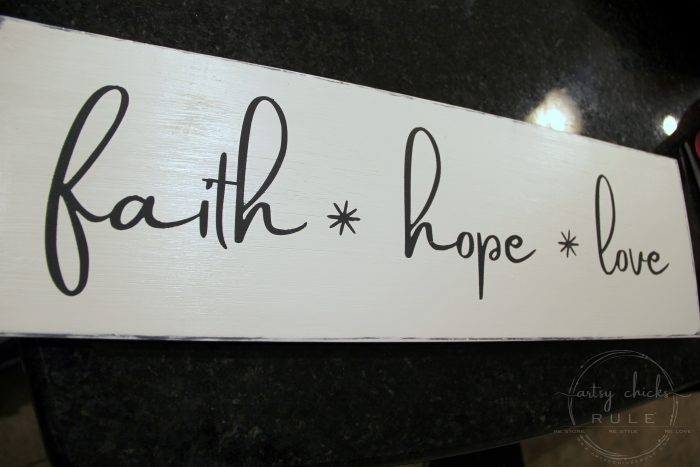 Nice!
After it was dry, I took the same fine sandpaper and lightly went over all the letters to give them a little wear like the edges of the board.
Then one more light coat of poly.
If you don't have a Silhouette and aren't looking to buy one, you can use any of these other transfer methods.
Want even more ways to transfer?? Check out my "How To Transfer Graphics" post! (sharing all the techniques I use)
Loving the new sign!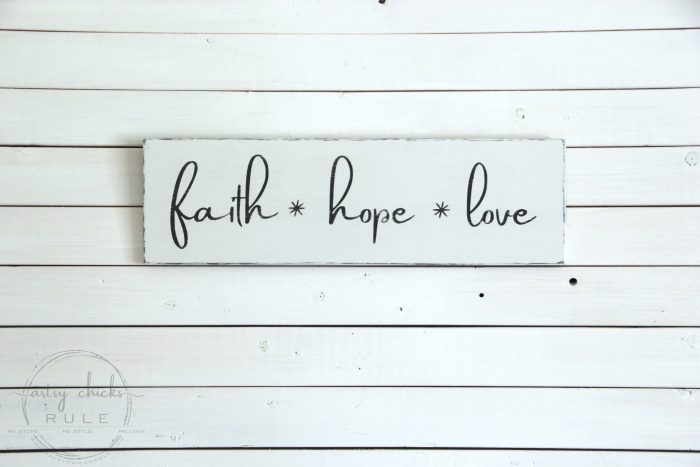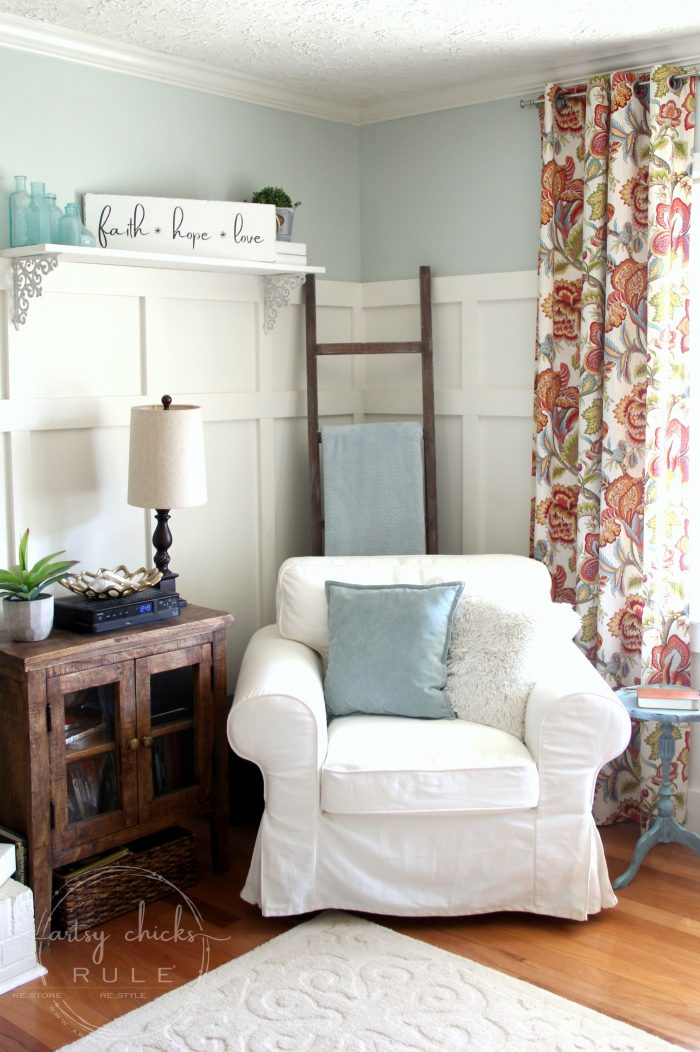 Might even have to leave it up there for a bit.
Faith Hope Love…what better words to see every day?
No more dingy looking yellow…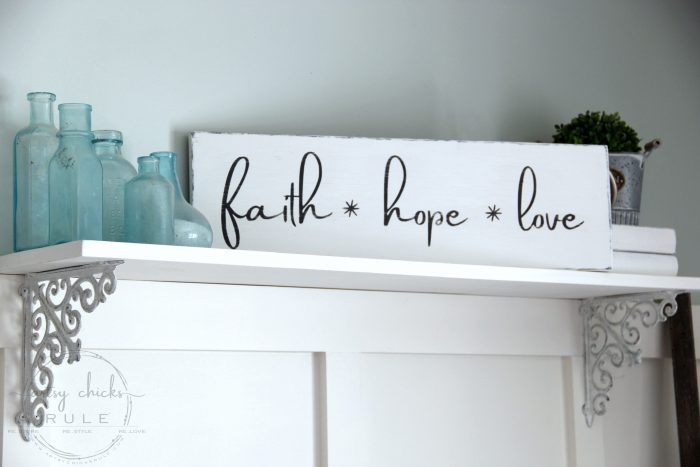 ….or yucky knots.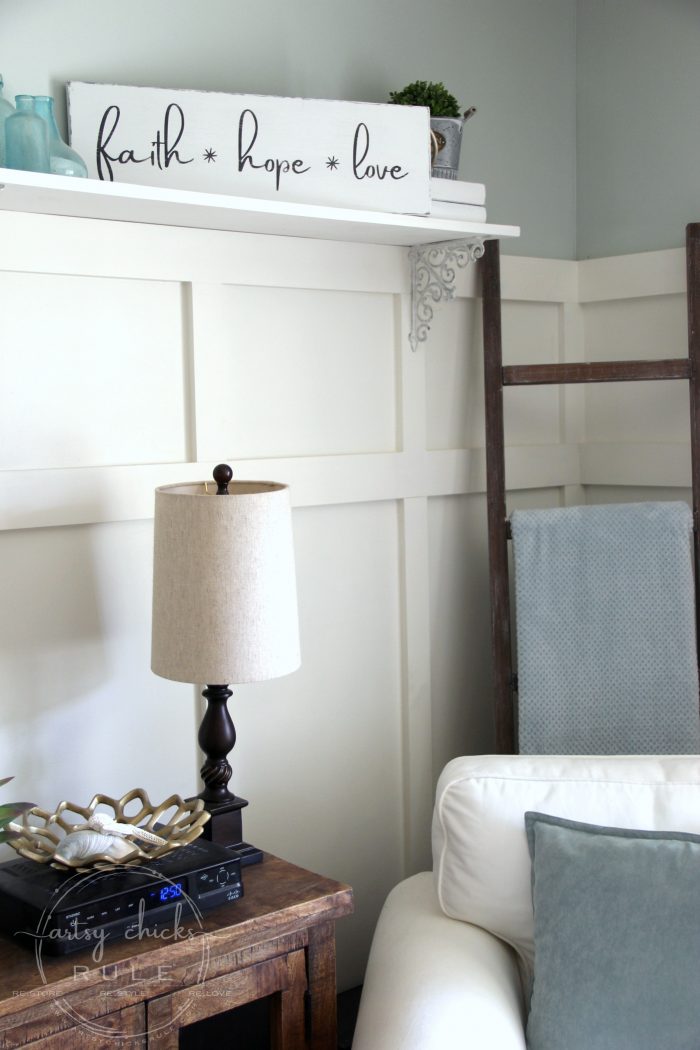 Want to make one too? Don't forget to go get your download!
And then PIN this to save it!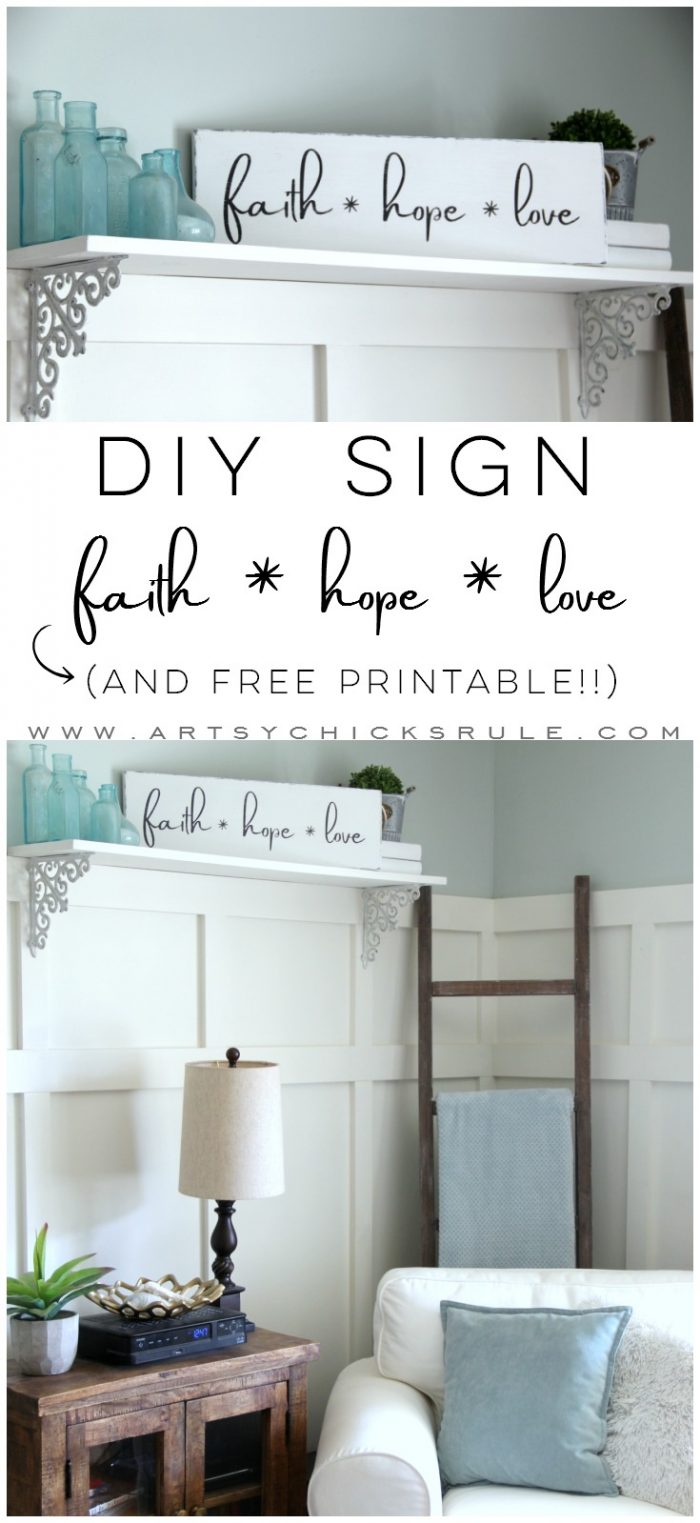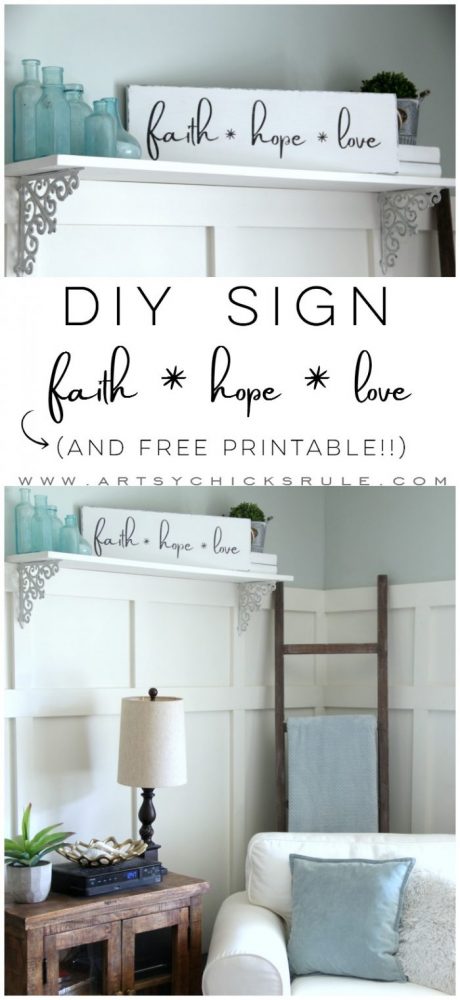 Have a great weekend!! One more week closer to spring!! Yay!
xo