Painted Upholstered Chair Makeover (Chalk Paint)
This post may contain affiliate links. Please see disclosures here.
Painting upholstery can bring new life to your furniture. This painted upholstered chair does not even look like the same piece!
Guess what?
I did another painted upholstered chair…..with Chalk Paint.
Why not?
You can change the look so completely…so easily.
(If you follow me on Instagram you've already seen little snippets of this chair awhile back as I was painting it )
Want to see some of these projects in "live" time? Hop on over and follow along with me on INSTAGRAM. I'm always sharing in my stories as I'm doing projects, finding new furniture, fun finds….just all the day to day behind the scenes.
Here is is "BEFORE"….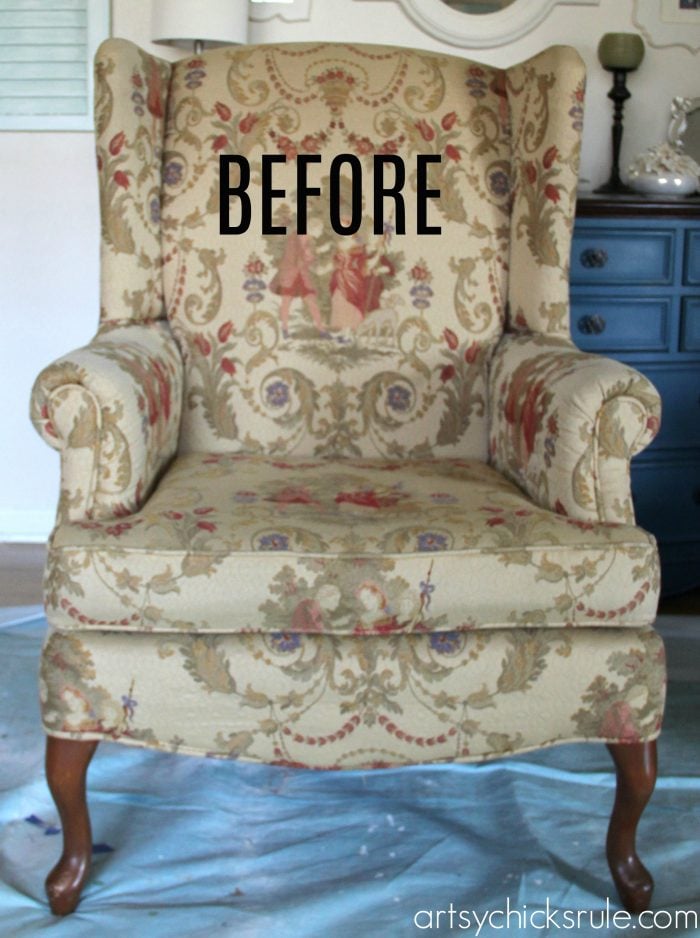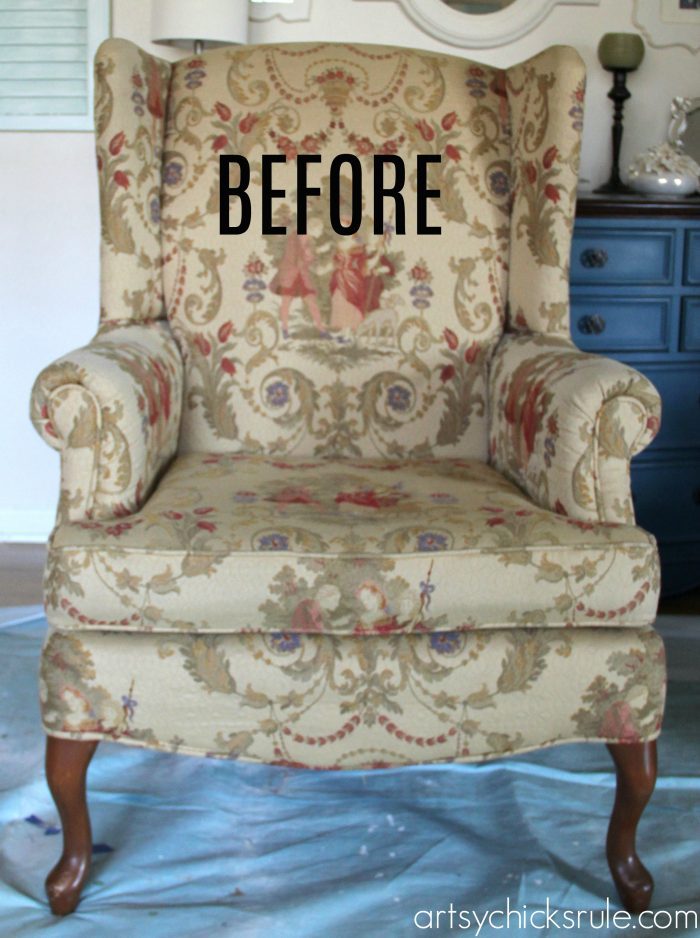 And now…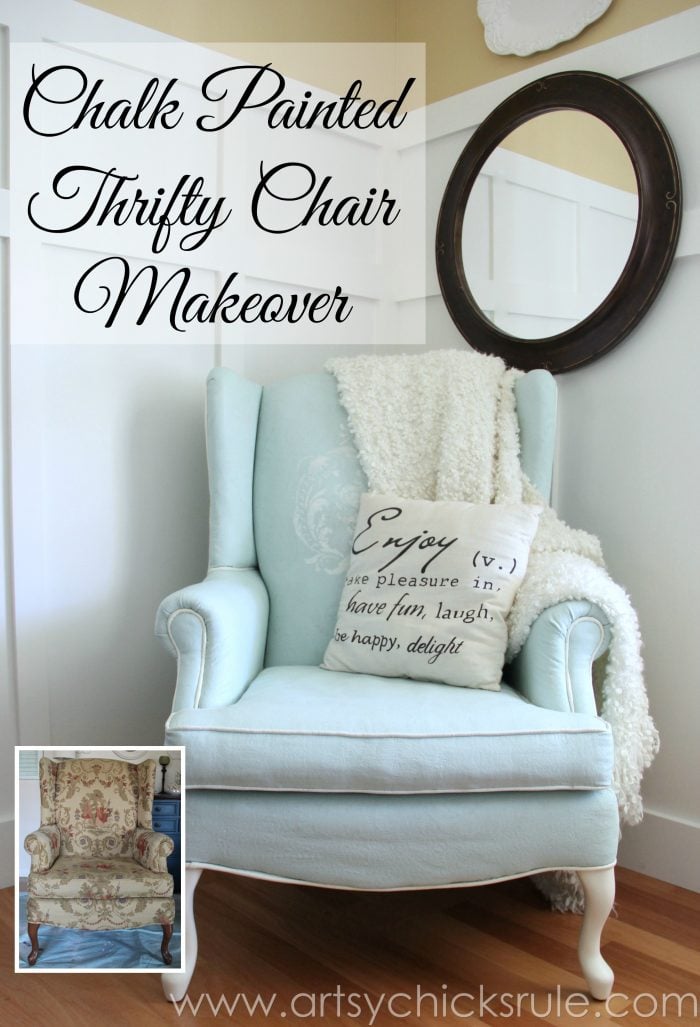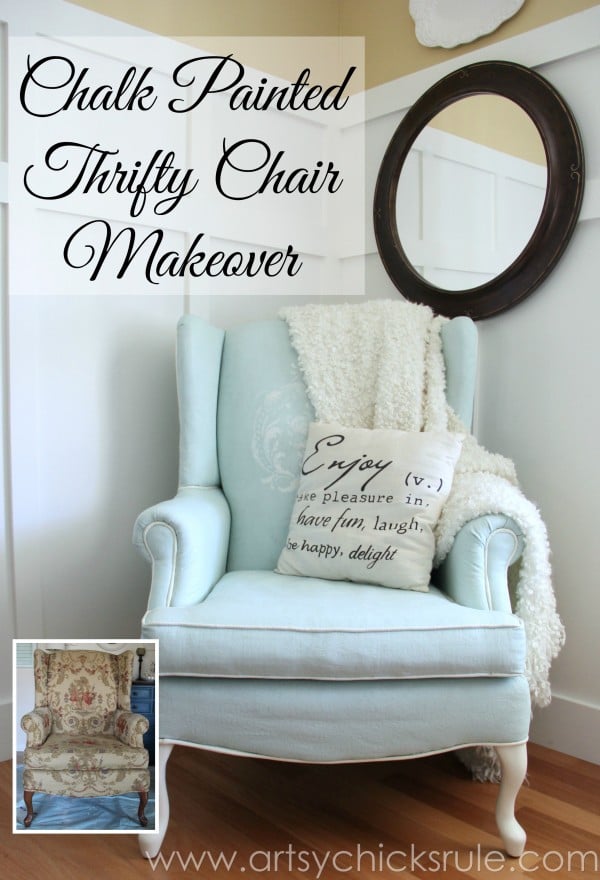 It was a 'throwaway' at the Habitat Re-store. They had a bunch so I took one home with me.
This chair was a little colonial for my decor but in very good shape.
The last chair I painted white and used Minwax PolyShades on the legs and wood trim.
You can see that chair —> here.
It's a favorite of mine!
This time I decided to paint the wood along with the fabric.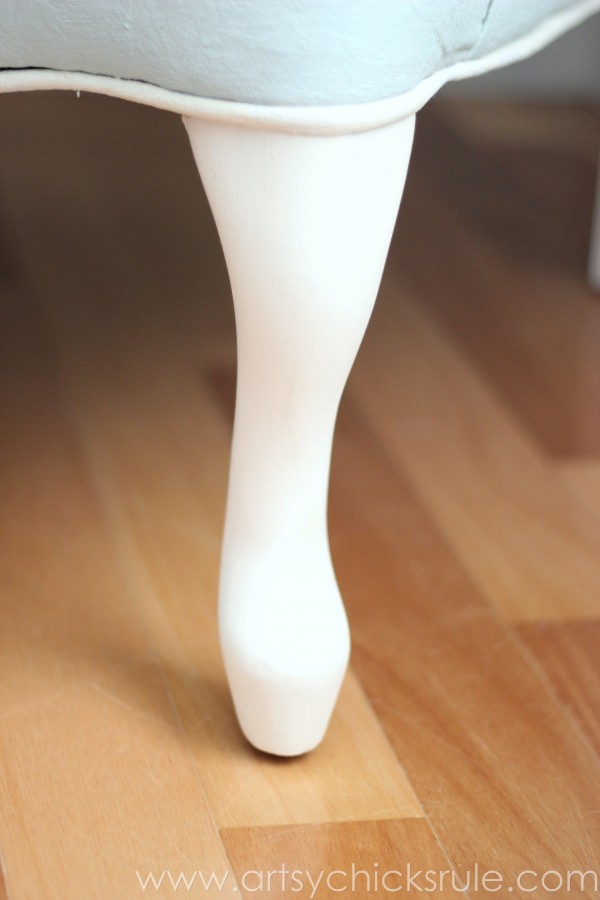 I wanted to keep it bright and cheery. It's going into my study/office/craft room.
It will be the chair I sit in and blog from. :)
I can't show you it there just yet since I'm working on creating that space.
But you get an idea of where I'm going with the room from the chair anyway.
It took about 2 coats of paint with a touch here and there. I used a blend of Pure White and Duck Egg Blue Chalk Paint.
Heavy on the Pure White. I mixed a little water in it so it would soak into the fabric better.
I also misted the dry fabric before painting.
(Edited to add: You want the paint to "soak in" not lay on top of the fabric. If it it too thick (not watered down enough) it will lay on top and be more prone to cracking. I love this option for redoing furniture but I would not recommend this on pieces of furniture you use extensively (like a Family Room couch, for example) Also, some fabrics will work better for this than others. Some will hold up better than others. So do a spot test beforehand if you are unsure.)
I'm not going to go through all the steps since I've done that on another post—he chair I linked above.
You can see more details there.
But here it is with the second coat going on….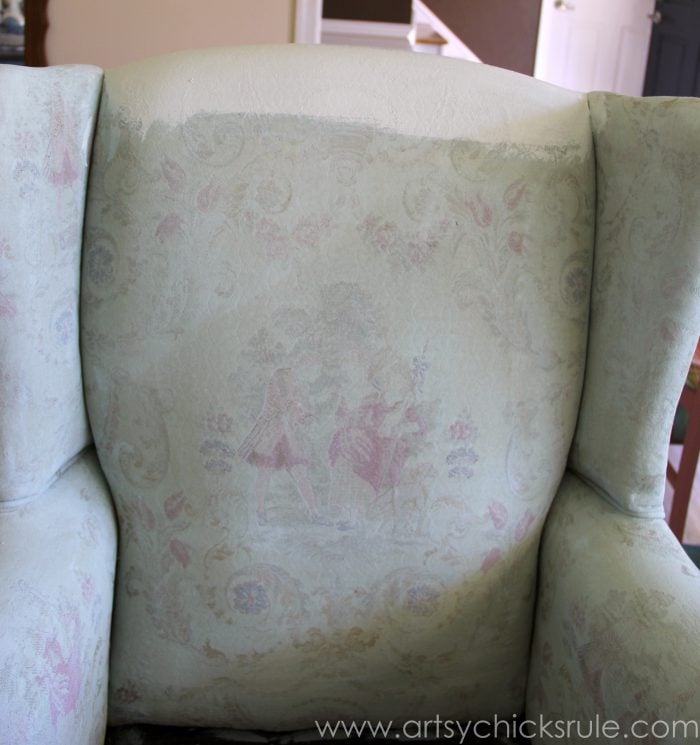 …just to get an idea of coverage.
Kinda cool, huh?
I decided to go back and paint all the cording/trim white to give it some "pop".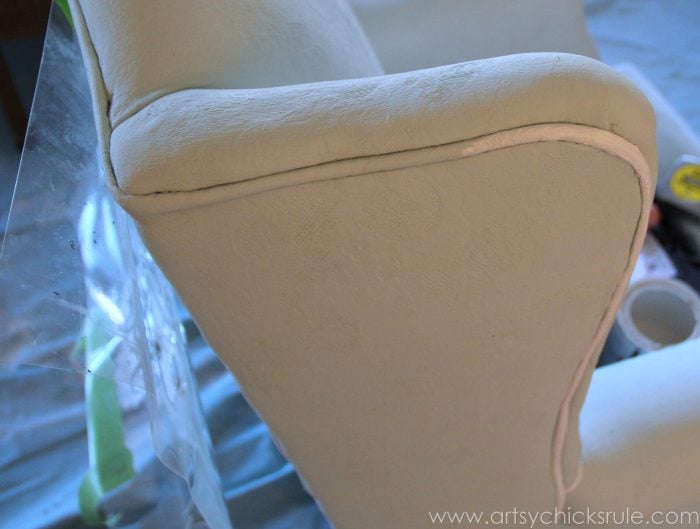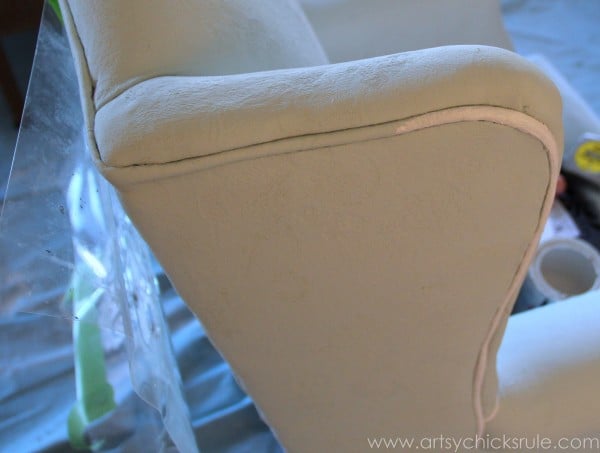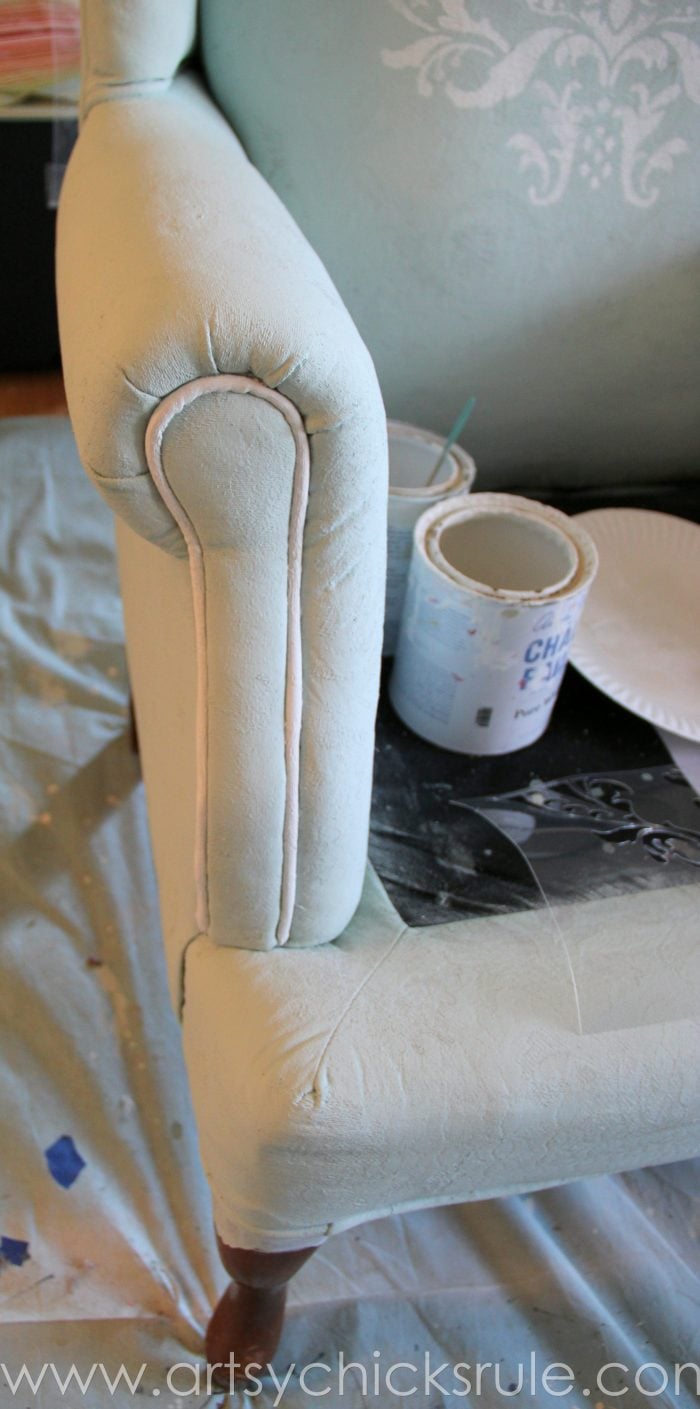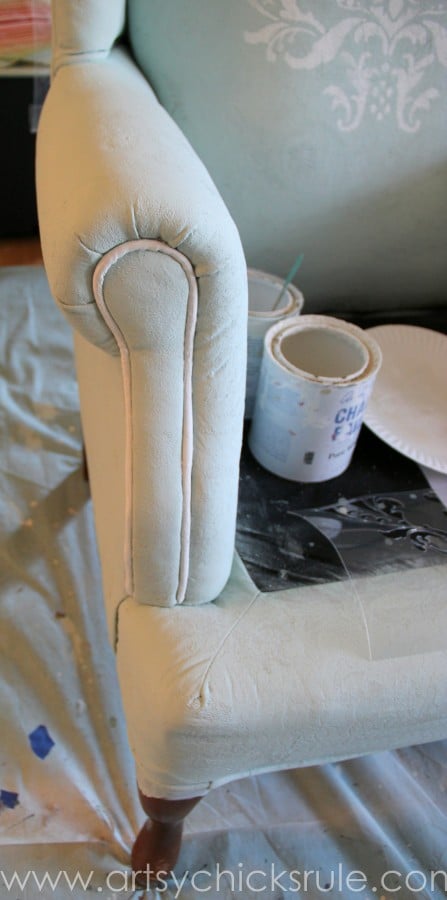 And as you can see in the first picture I posted….I added a stencil. (this one >>> Stencil)
It's the same stencil I used on these night stands –>here.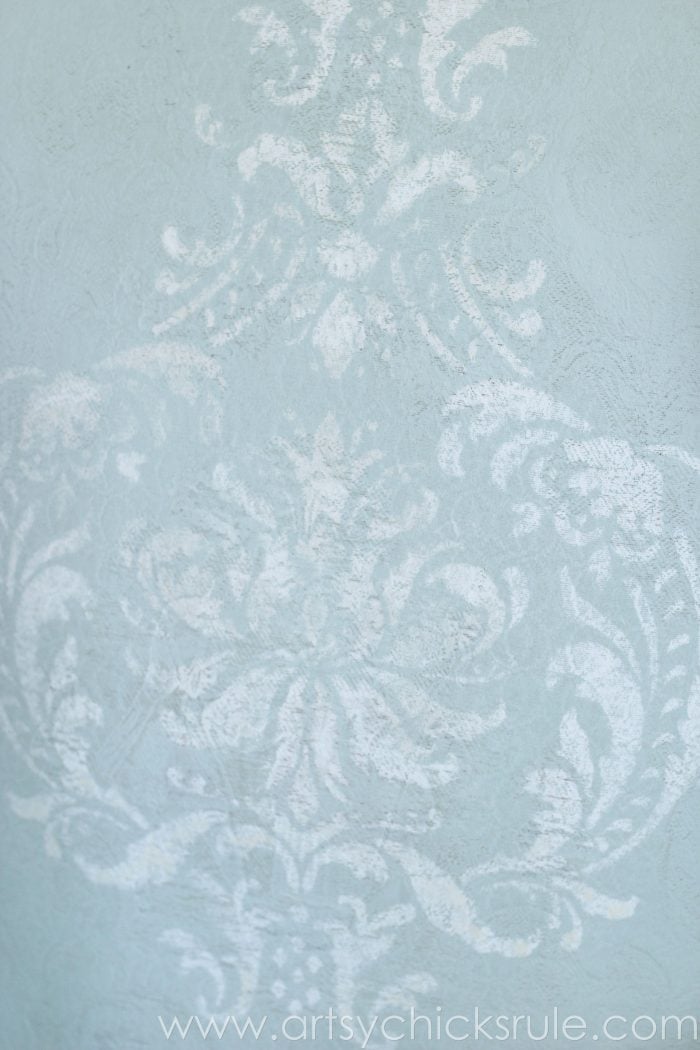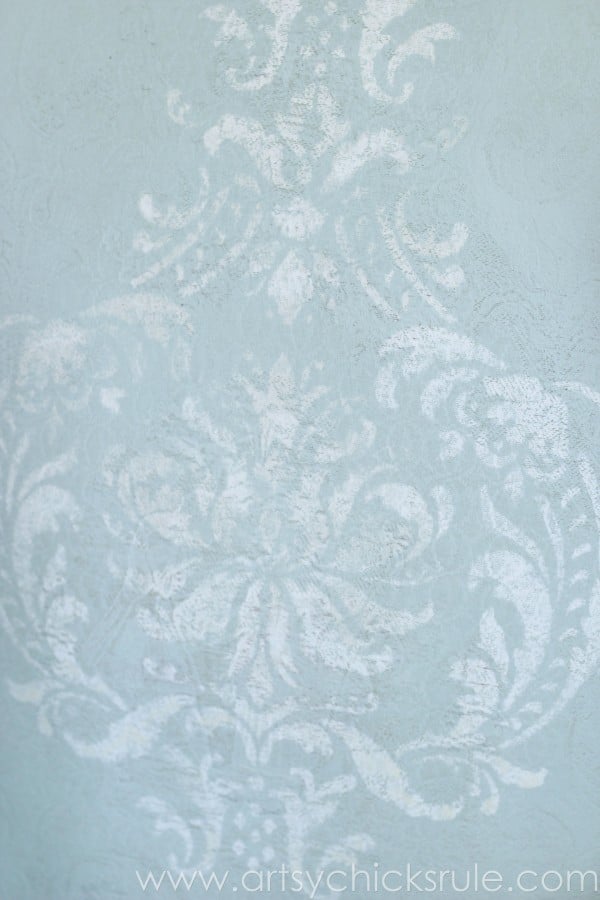 I used some very fine sandpaper and slightly distressed it. (actually, I went over the entire chair very lightly with the sandpaper to soften it a bit) I sealed the chair, wood and all, with Annie Sloan Clear wax.
One coat and then buffed. (once it dried)
A few close ups for ya….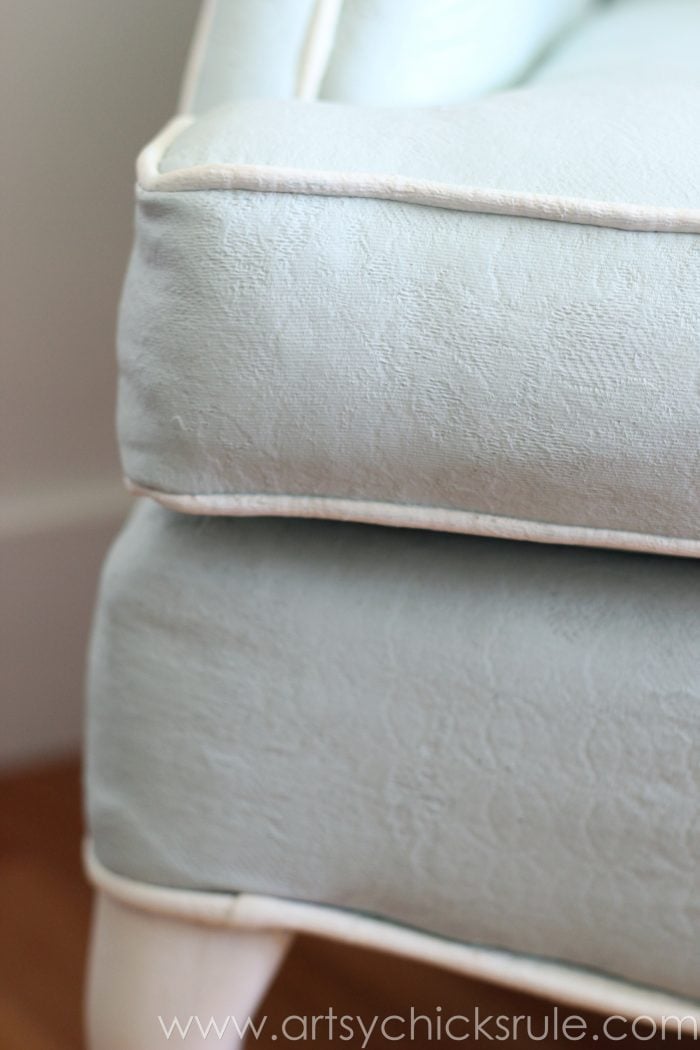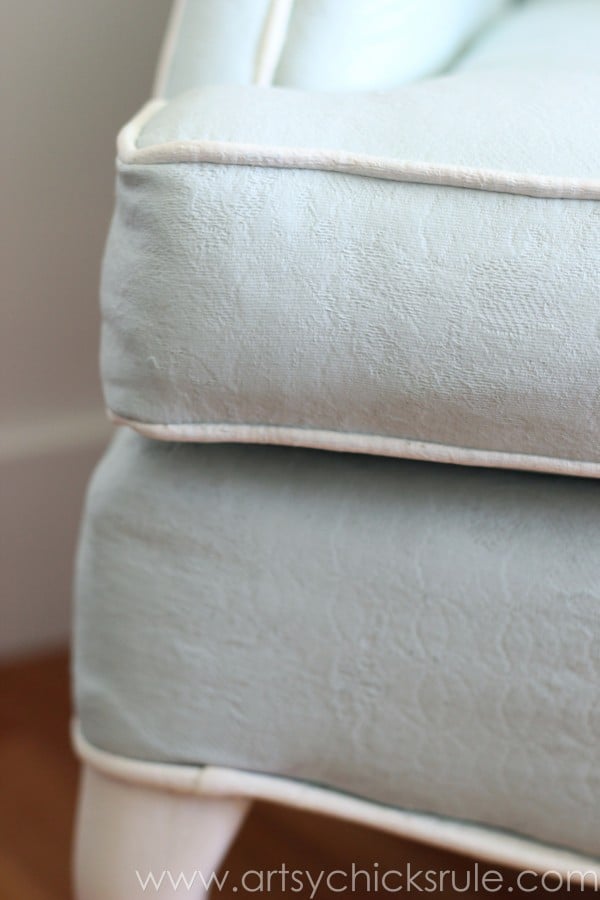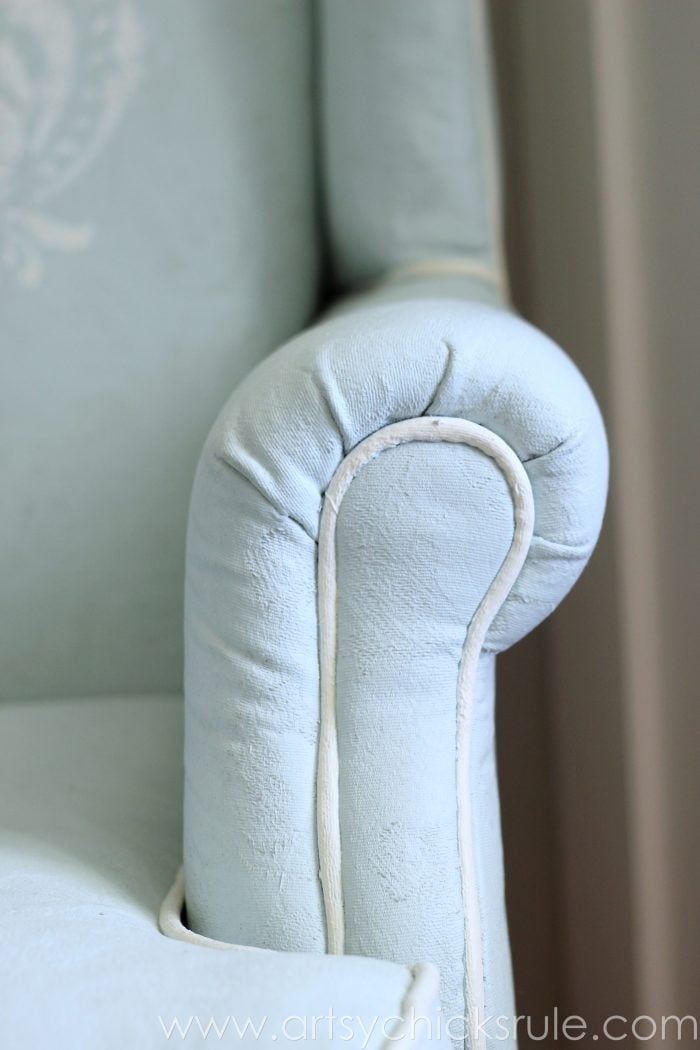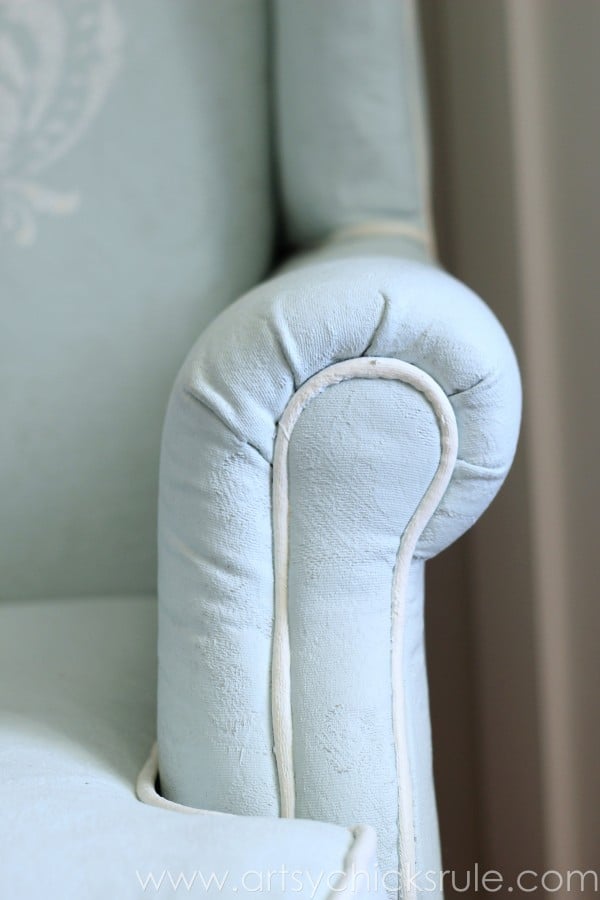 The back ….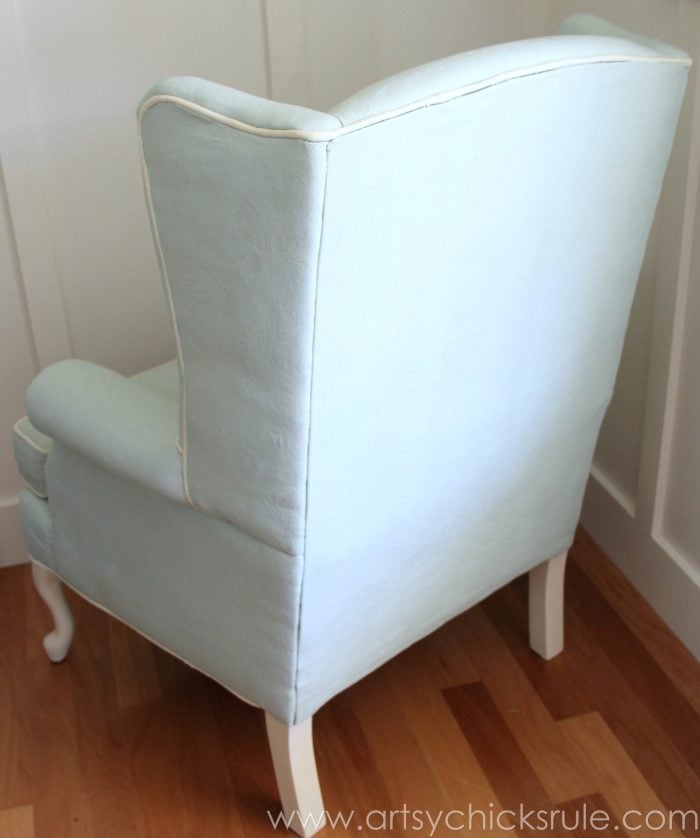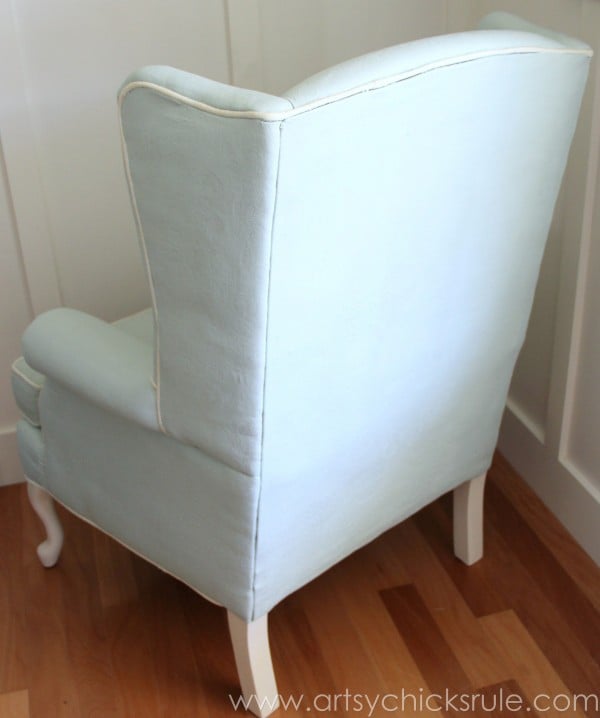 The side…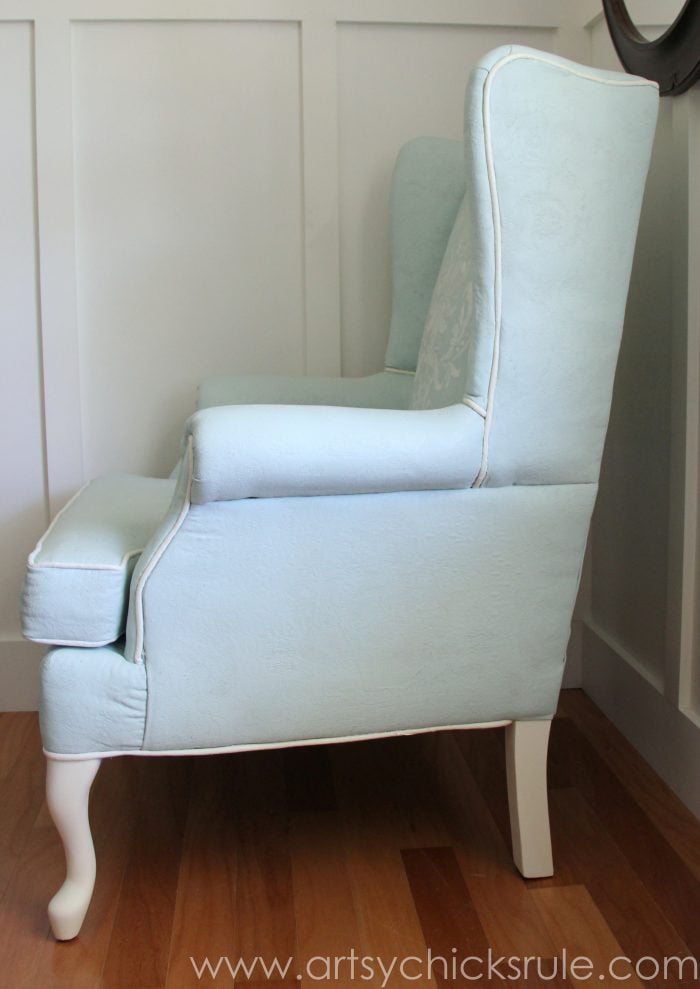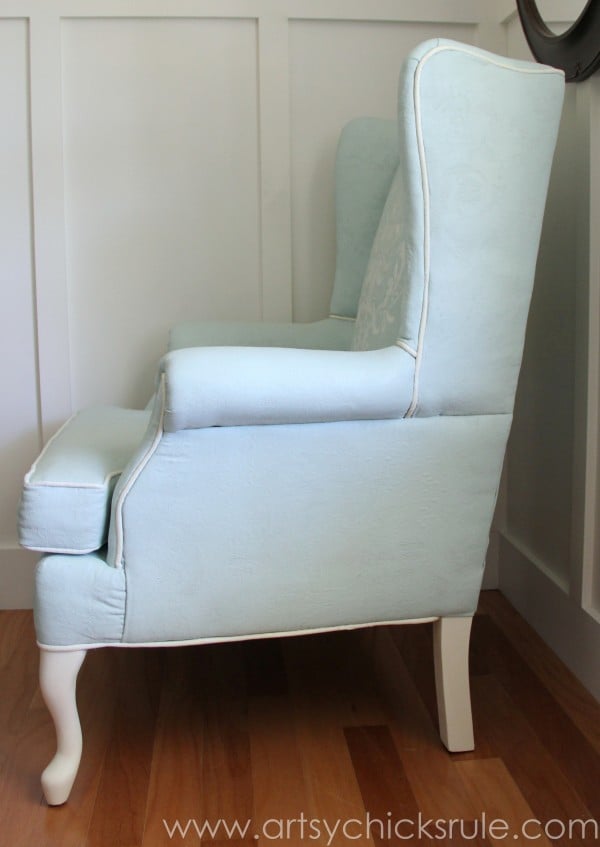 I love how feminine, soft and sweet it looks with the pale blue, white and stencil.
Perfect for the direction I'm going in my office!
Want to know about 26 other chalk style paints?
I've got the low down for you right here! >>> 26 Types of Chalk Style Paint For Furniture
Can't wait to finish in there.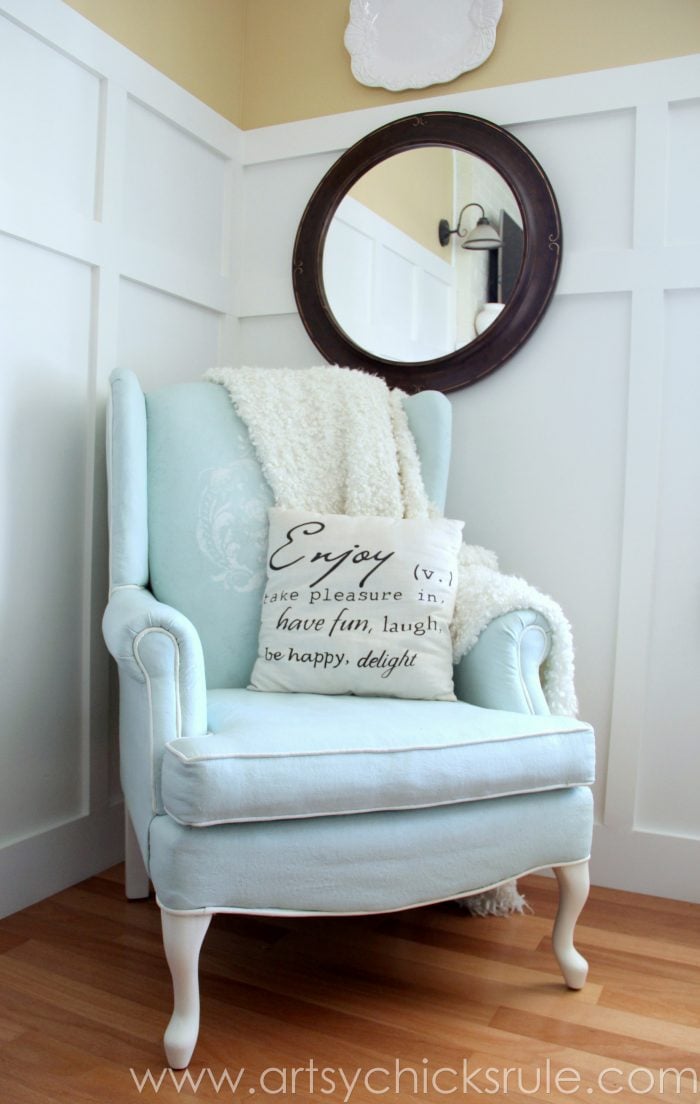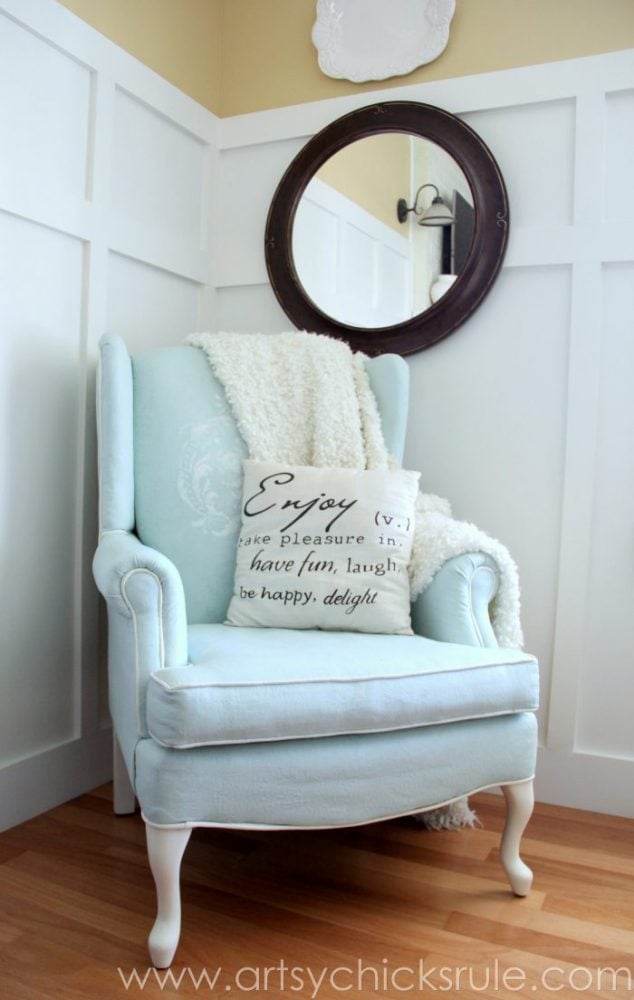 So what do you think? –> a painted upholstered chair…am I'm crazy for painting an upholstered chair? hah maybe!
But it works. And it's a great (inexpensive) way to completely transform your furniture…upholstered or not.
I love a good transformation…and I'd say this is a pretty good one.
I think so anyway. ;)
BE SURE TO PIN THIS FOR LATER!! :)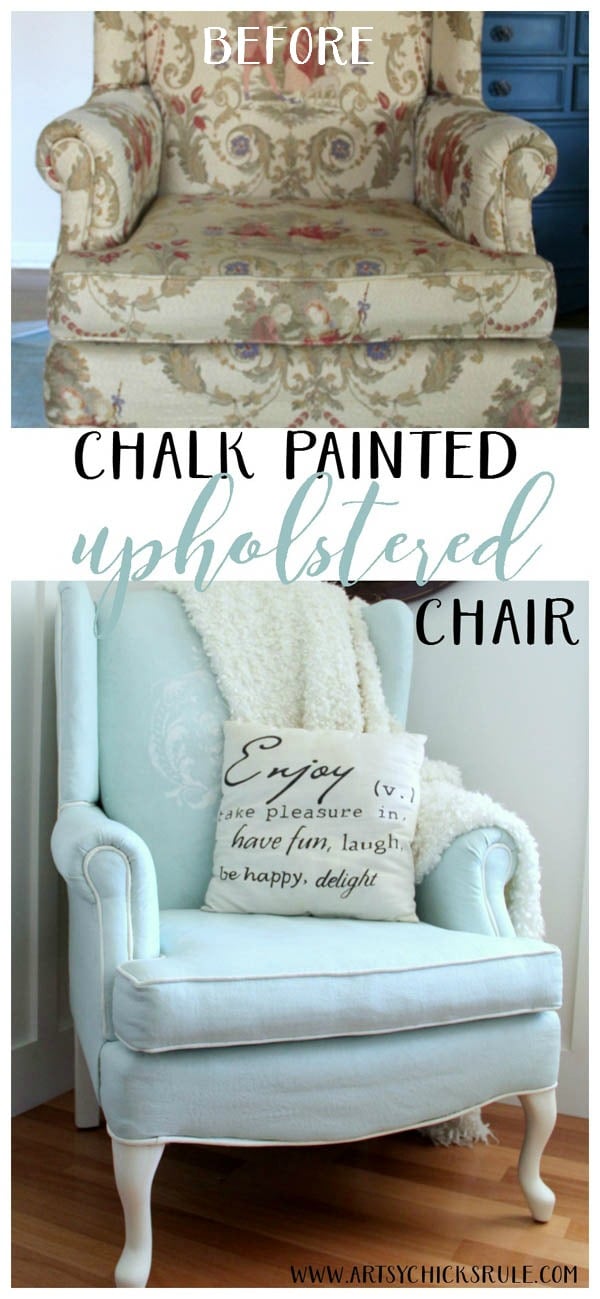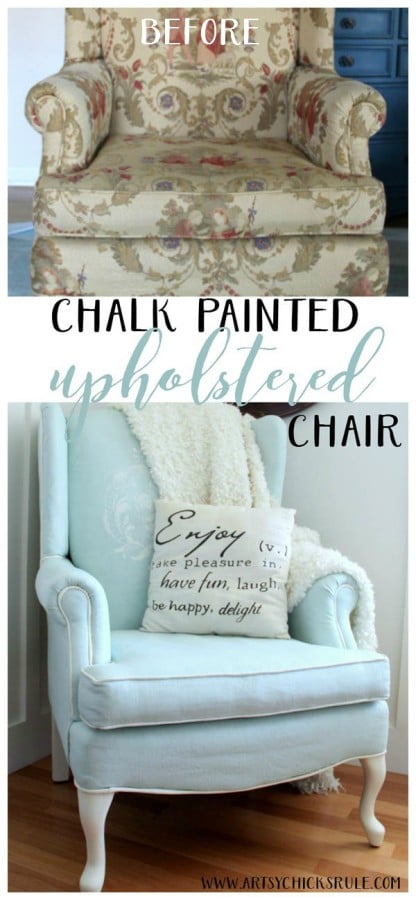 So there it is. Another Chalk Painted upholstered chair makeover.

Have you tried painting any fabric with Annie Sloan Chalk Paint before?
A pillow, chair, curtain panel…anything?
If you have, I'd love to hear about it and how it went for you!
I'll be sharing this fun makeover next!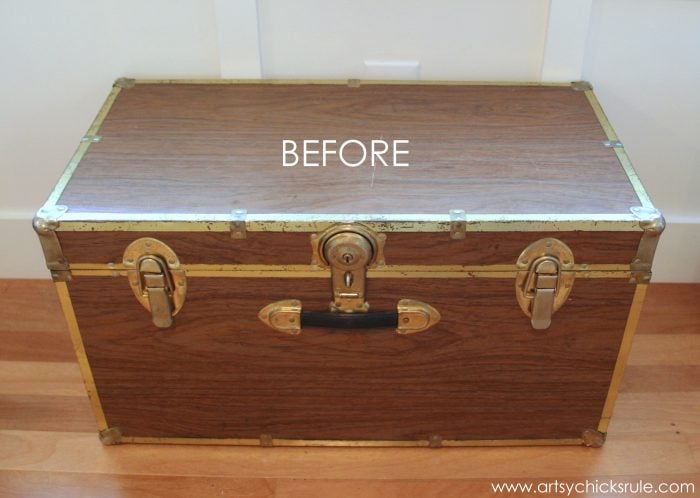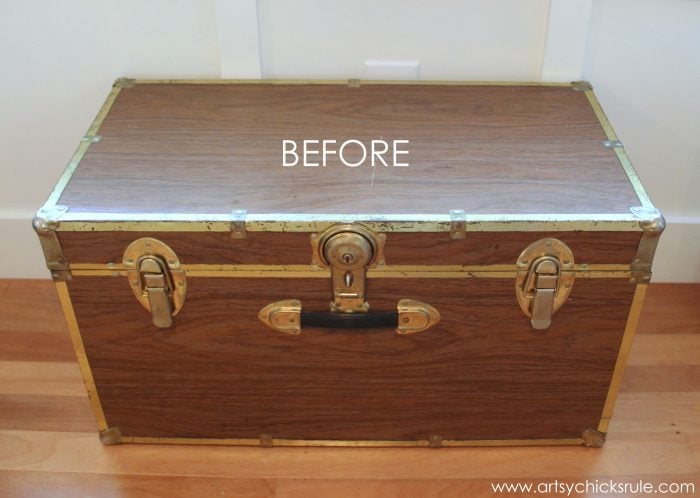 UPDATE!! You can see it now, here!
Want to see even more furniture makeovers? Click here.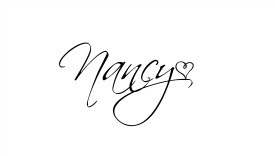 Get the "behind the scenes" and more when you follow along with me on Instagram!
PLUS be sure to sign up for our newsletter so you don't miss any new projects or products I'm sharing!
Click here –> Yes, I'd like to join.