Every month my blogger friends and I get together to share a themed furniture makeover with you all.
I'm sharing a Travel Trunk Chalk Paint Makeover today.
Some of our recent themes are here –>  Themed Furniture Tour
How's that for variation?
Today's theme is….. TRAVEL.
Perfect for summer, right?  Since so many of us doing exactly that.
I had originally planned something else for this themed makeover but I couldn't get it done. (it's still coming at some point)
So I decided to makeover this old "travel" trunk instead. That's what I'm calling it anyway. ;)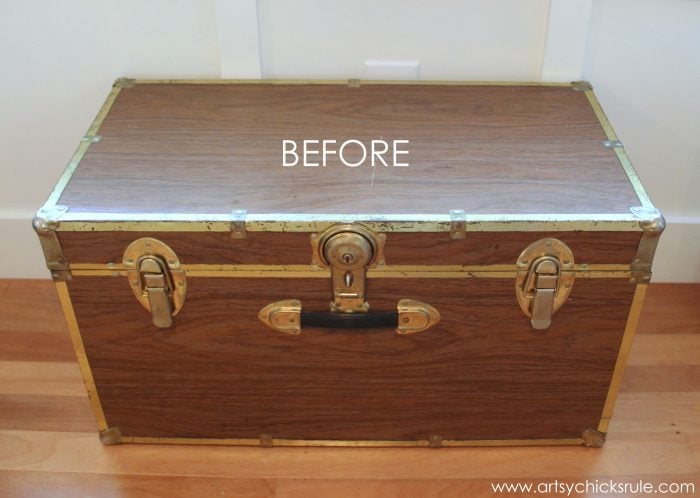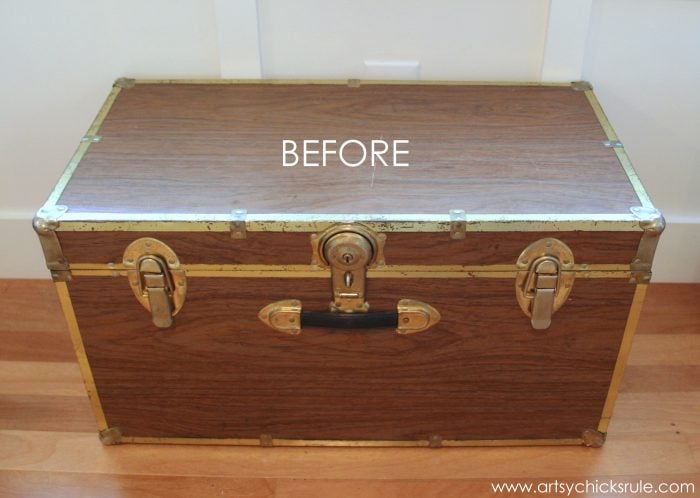 And voila!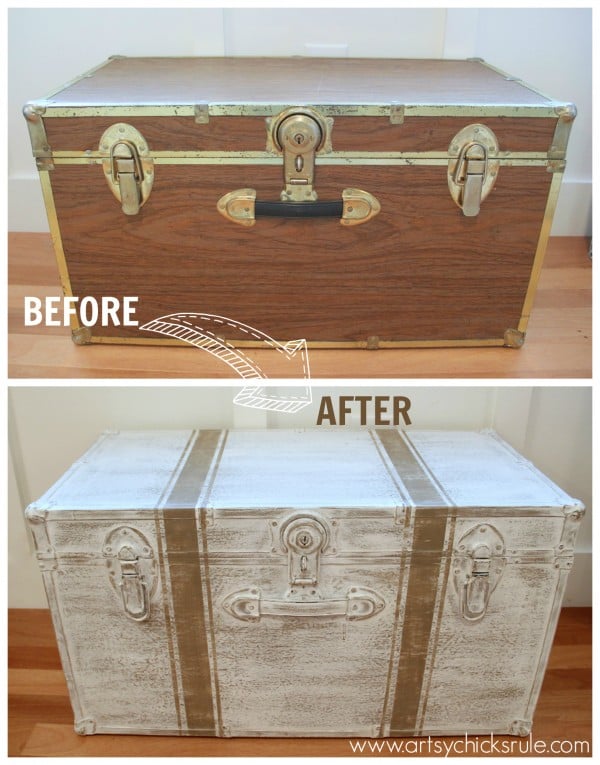 It was FREE, even better!! :) But not so pretty….before.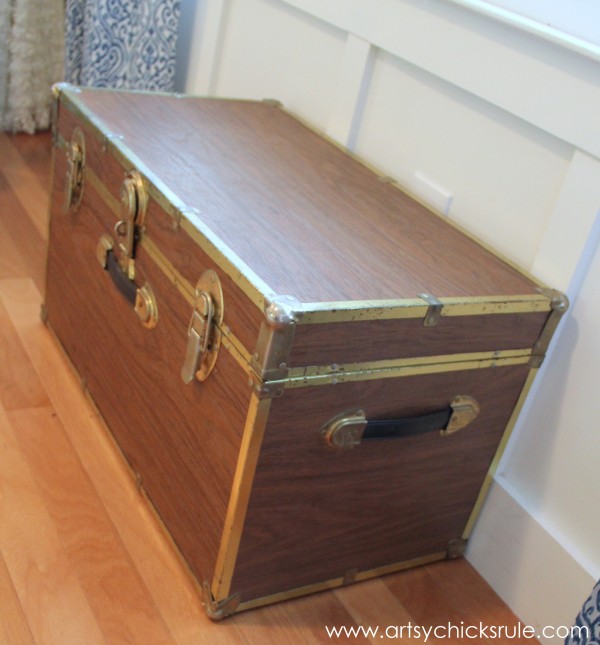 You get the idea. Rusty old trim, laminate "wood" and plastic black handles.
But I knew I could make it better with a little paint.
I painted the entire trunk with Sherwin Williams Adhesion Primer, metal and all.
(only because I had a different plan when I started this project (who me?) ..otherwise I'd have just started with the Chalk Paint®)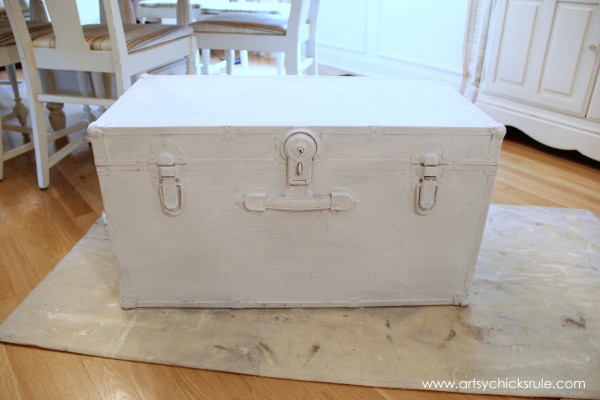 Next I put a layer of Coco Chalk Paint over that.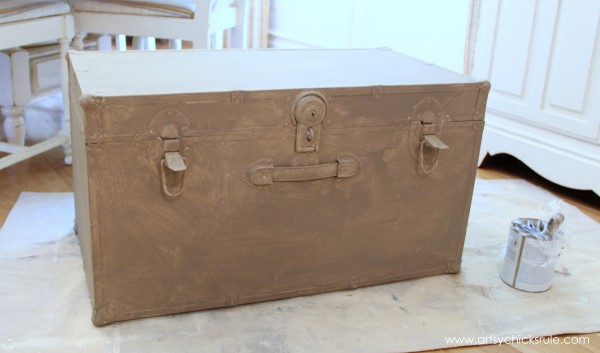 I didn't worry too much about application because it was going to get covered with more paint.
….Pure White Chalk Paint (one coat) ….which got heavily distressed once dry.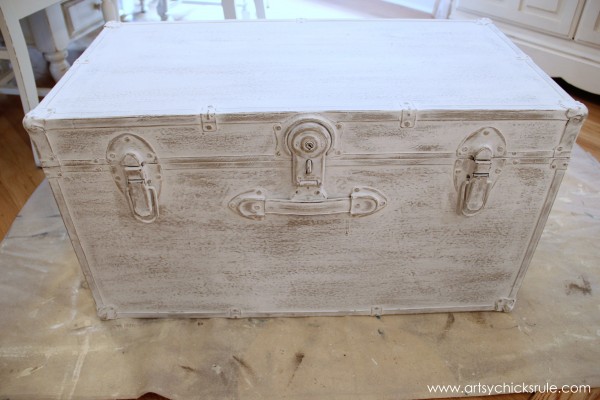 I wanted to really be able to see that Coco color underneath.
I just kept sanding until it had the look I was after.
Then came the measuring, tape and grain sack stripes.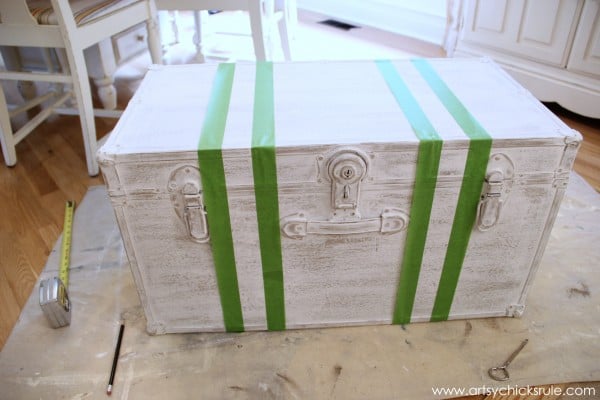 By the way, I sanded before applying the grain sack stripes because I wanted it heavily distressed.
I knew I'd end up sanding the entire stripe away to get the look I wanted if I waited to do it all afterwards.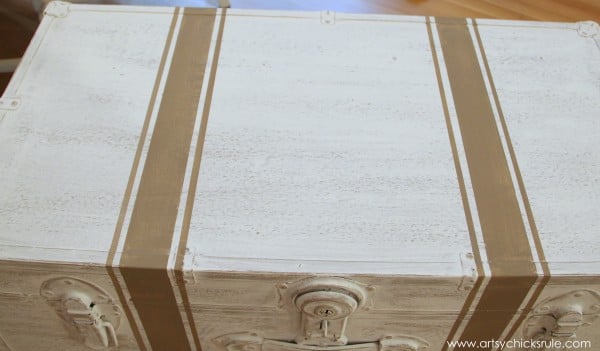 Six stripes…all taped and painted. (front to back)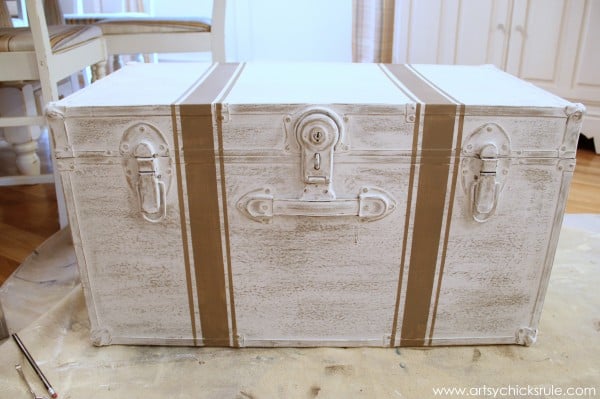 Those stripes just made it, didn't it? I sure think so.
I distressed them up a bit and applied Annie Sloan Clear Wax.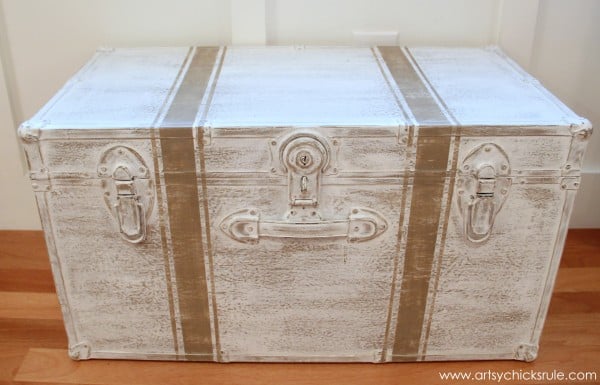 A few close ups….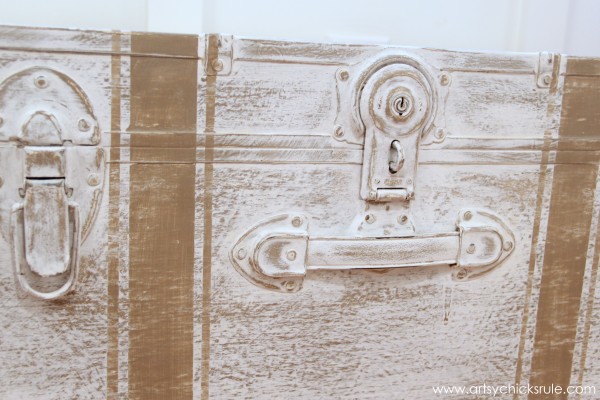 I just love all that Coco brown Chalk Paint peeking through everywhere.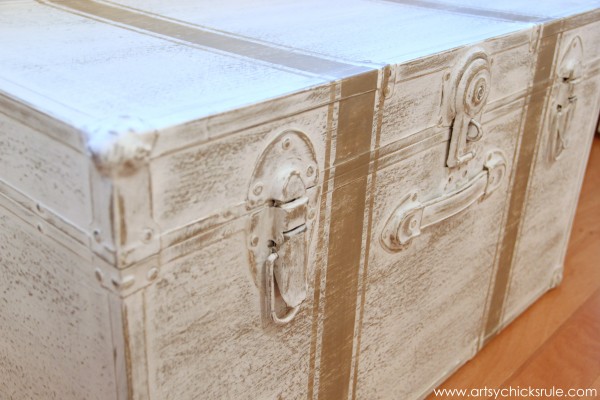 And one more….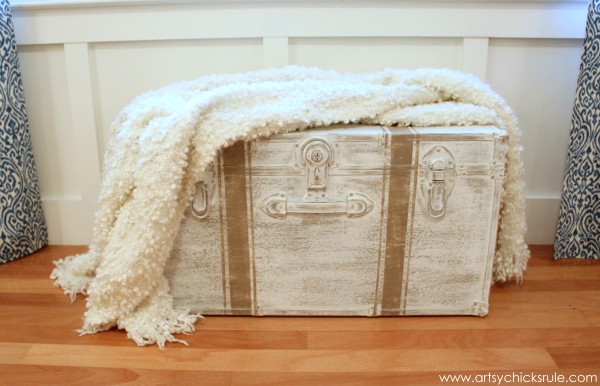 I'll probably put this under the window of our Study or maybe even at the foot of our bed in the Master Bedroom.
Both rooms are "in the works" so we'll see where it ends up! ;)
Either way, it's a keeper.
Amazing the difference a little paint makes.
Want to know about 26 other chalk style paints?
I've got the low down for you right here! >>> 26 Types of Chalk Style Paint For Furniture
Love it? PIN it to save it!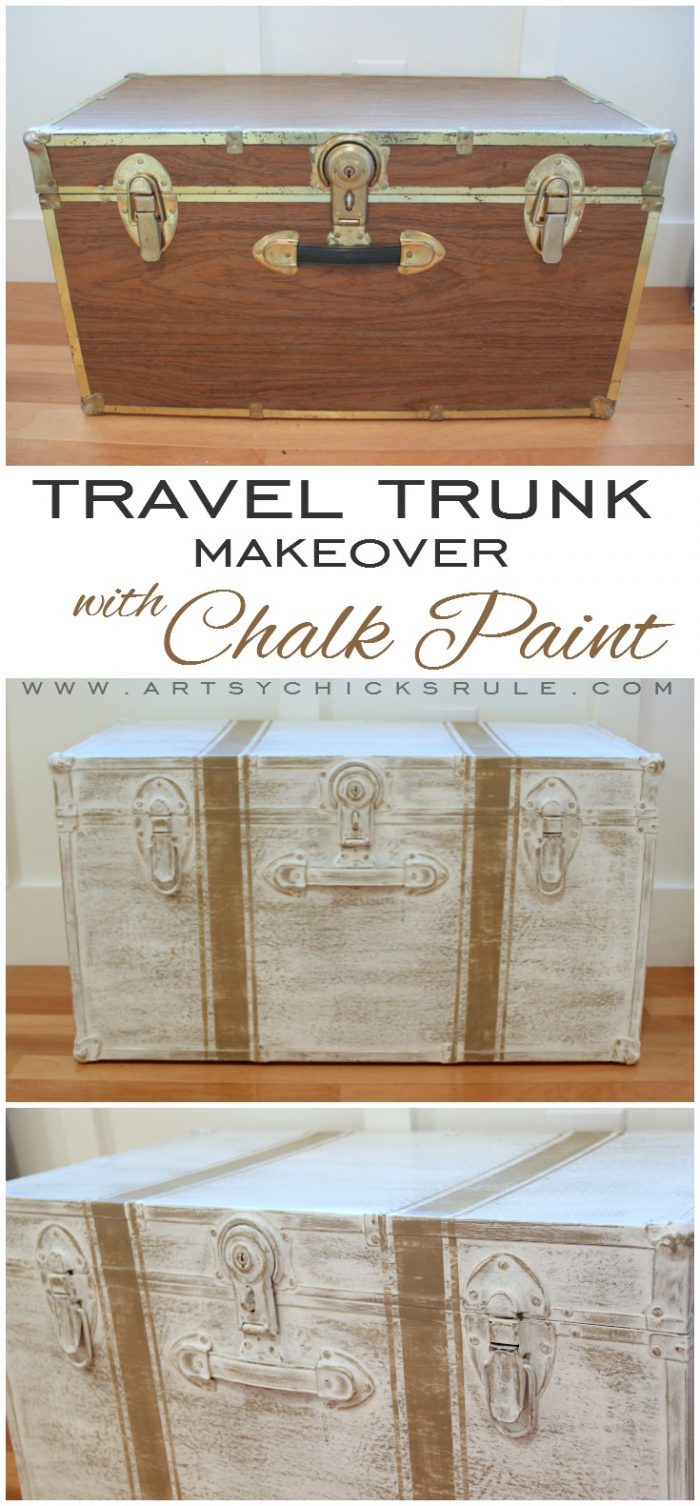 I painted it and I can hardly believe it's the same trunk.
It is, promise. ;)
Loving this travel trunk Chalk Paint makeover!
Be sure to check in next week when I share this makeover!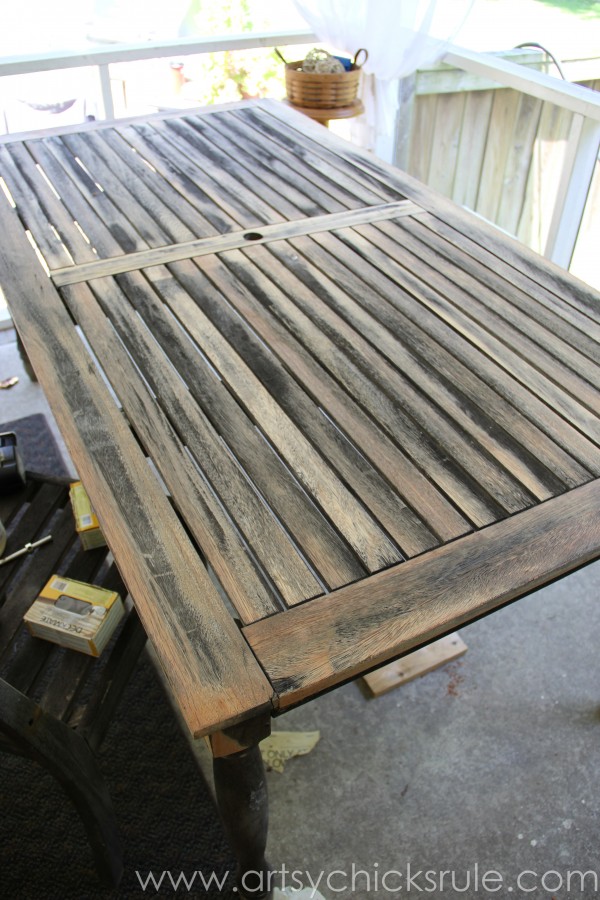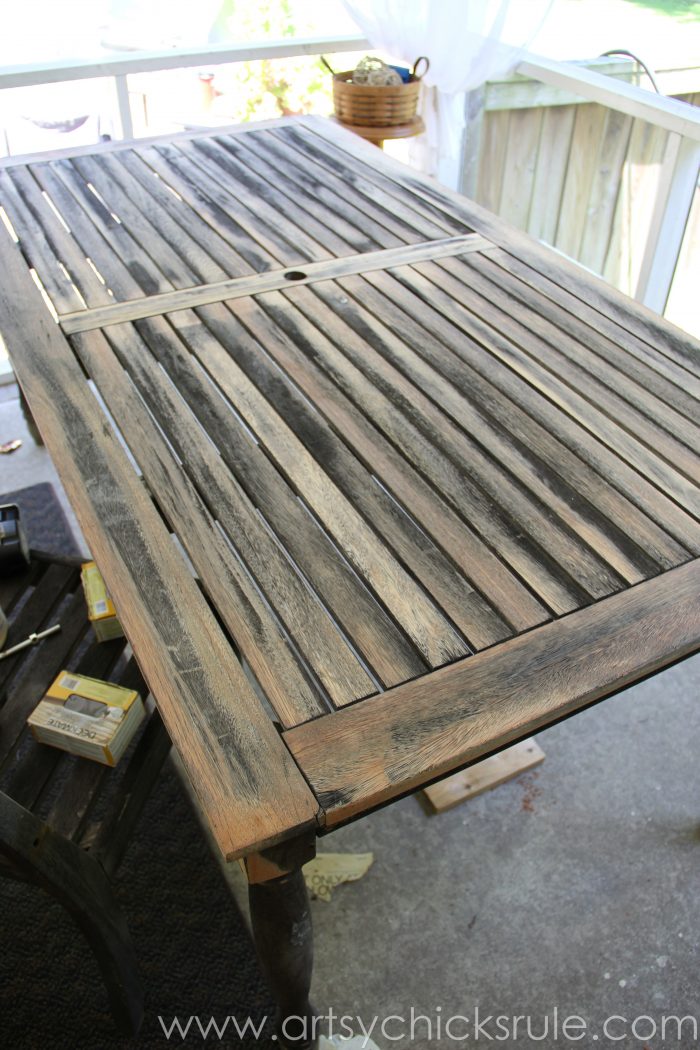 UPDATE!! See how we rescued this old patio table now, here!!
Don't forget to take a look and visit my friend's "travel" themed makeovers below!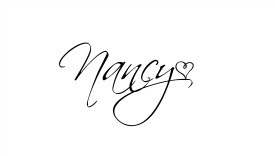 Follow Along Here!