Kitchen Island Tray Makeover
This post may contain affiliate links. Please see disclosures here.
This $2 thrifty find makes the perfect kitchen island tray for displaying all kinds of pretties!
Hello, friends, and happy October! Fall is moving along, isn't it?
If you missed it, I shared my super simple fall porch (and a few projects) last week. You can see it (and them) here.
Today I'm sharing a brand new project. A $2 (yes, TWO!) dollar wood tray I made over for our kitchen island. I just love it!
I popped into our local ReStore and found it along with a couple of other small pieces I'll be sharing soon.
You know I can't pass up a good tray, don't ya?! I have made over a bunch here, just search "tray" in the search bar to see a few of them. (well, pages and pages of them actually, lol)
Before I get to today's makeover… I'm happy to say that today is 12 years since breast cancer was removed from my body. I'm beyond thankful to be able to say that! If you haven't read my story before, you can right here. So, what is my reason for mentioning this?? Since it is breast cancer awareness month, this is my reminder to YOU to take care of yourself, know your body, be your own advocate and get those tests, etc, when they are due! Don't put it off…just do it. xoxo
Kitchen Island Tray Makeover
Here is it "before"…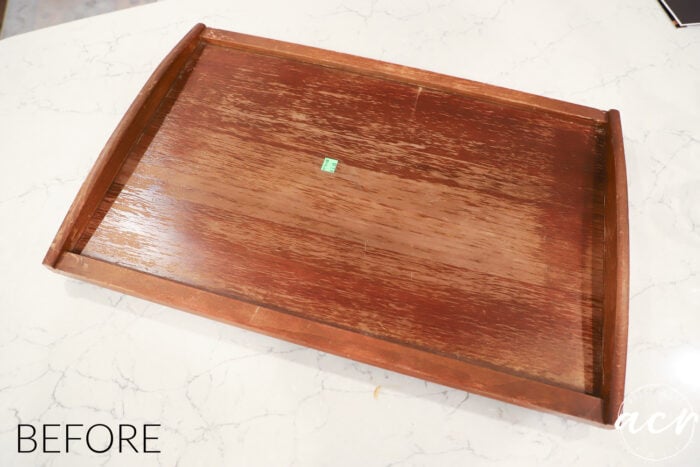 TWO dollars, y'all, who could pass that up? And it's solid wood too.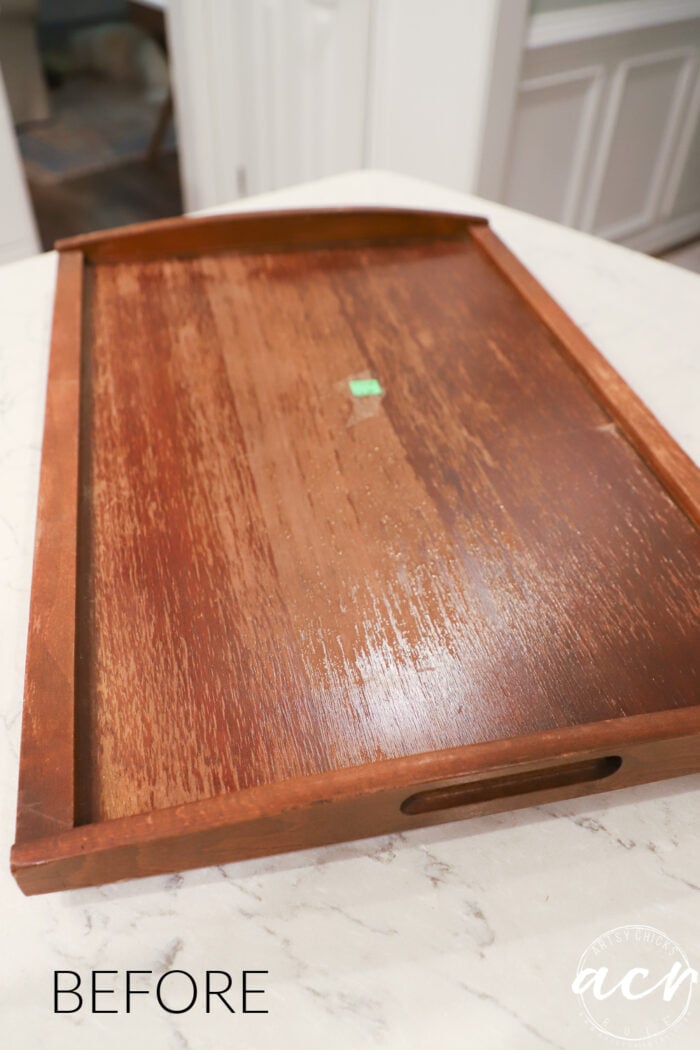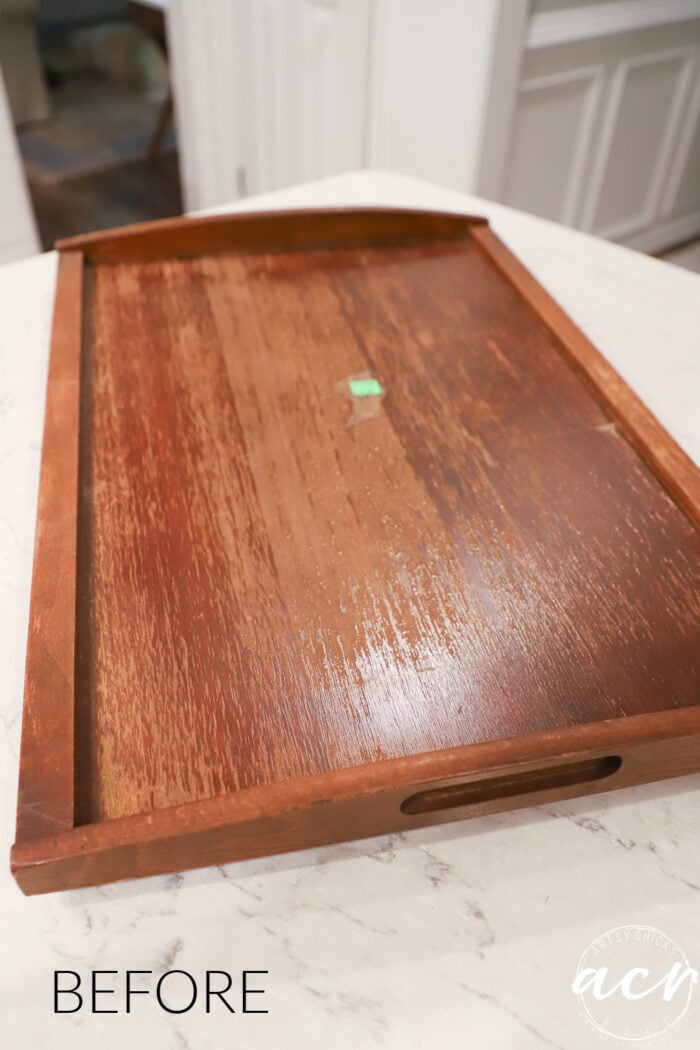 Do you spy Ryder over there laying by his daddy? :)
And look at these adorable little peg feet. Are they not the cutest??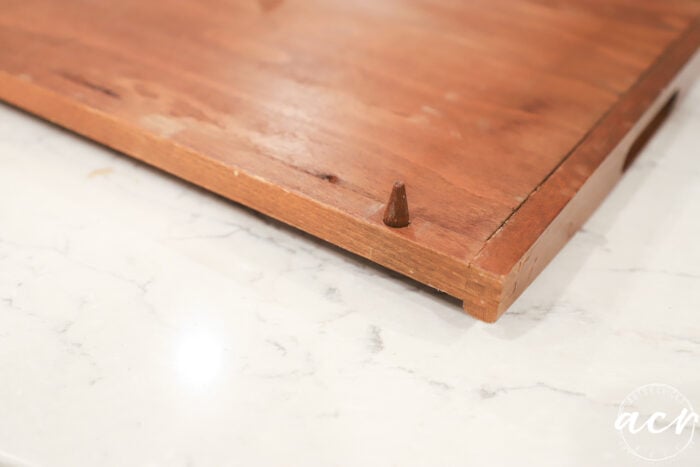 I add feet to a lot of my trays (as you'll see if you did the search I mentioned above) so this was a nice bonus!
I spent about 30 minutes in the garage sanding this. Not my favorite thing to do (at all) but hey, sometimes it's just necessary.
I considered just taking the "easy way out" on this one and painting it, adding a beautiful floral transfer, and done! And I do think that would have been gorgeous but this tray is for me and my kitchen island so I made it over in the way that I was planning to use it instead. I have a lot of "white" in my kitchen so I wanted a touch of wood.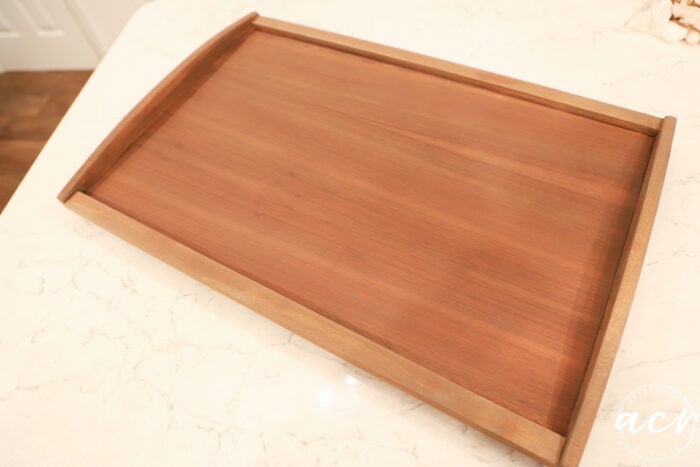 This is what it looks like wet from wiping all the sanding dust away. See how reddish most of the wood is?
And once dry.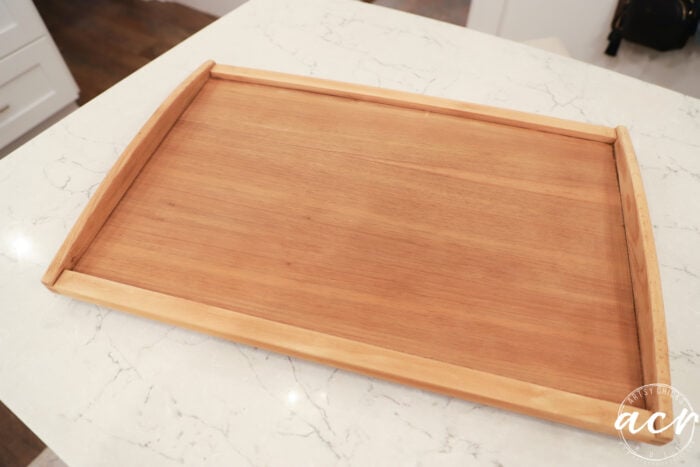 Still reddish.
Which led me to my decision to use a cool gray stain on it.
You might remember this one I used on my favorite coffee table here.
One coat wiped back and this is what it ended up looking like.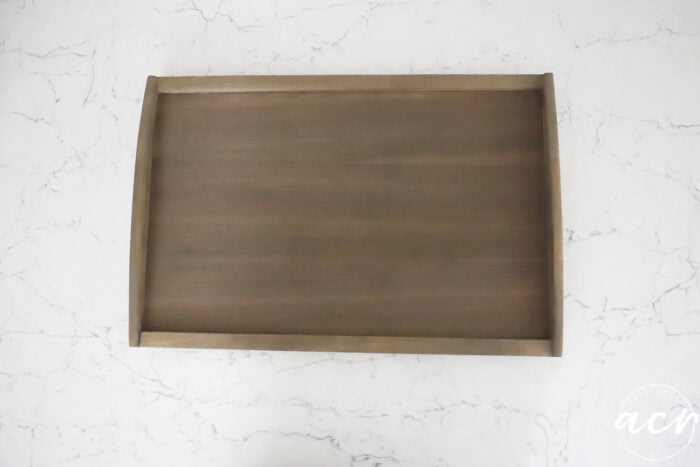 No more red!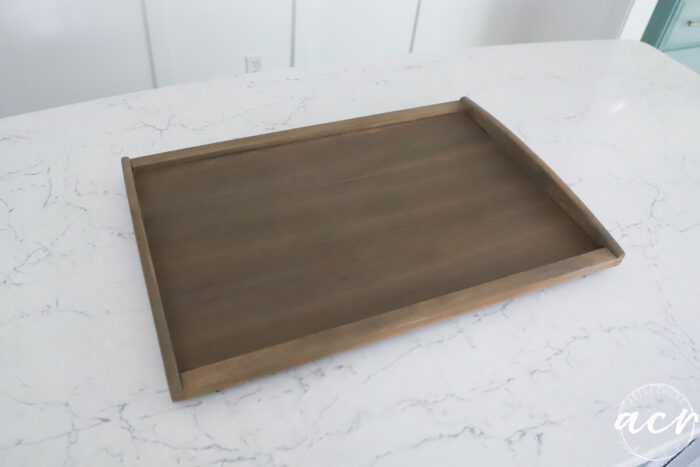 And it actually turned out to be the perfect shade of weathered wood I was after.
Just right for my coastal home.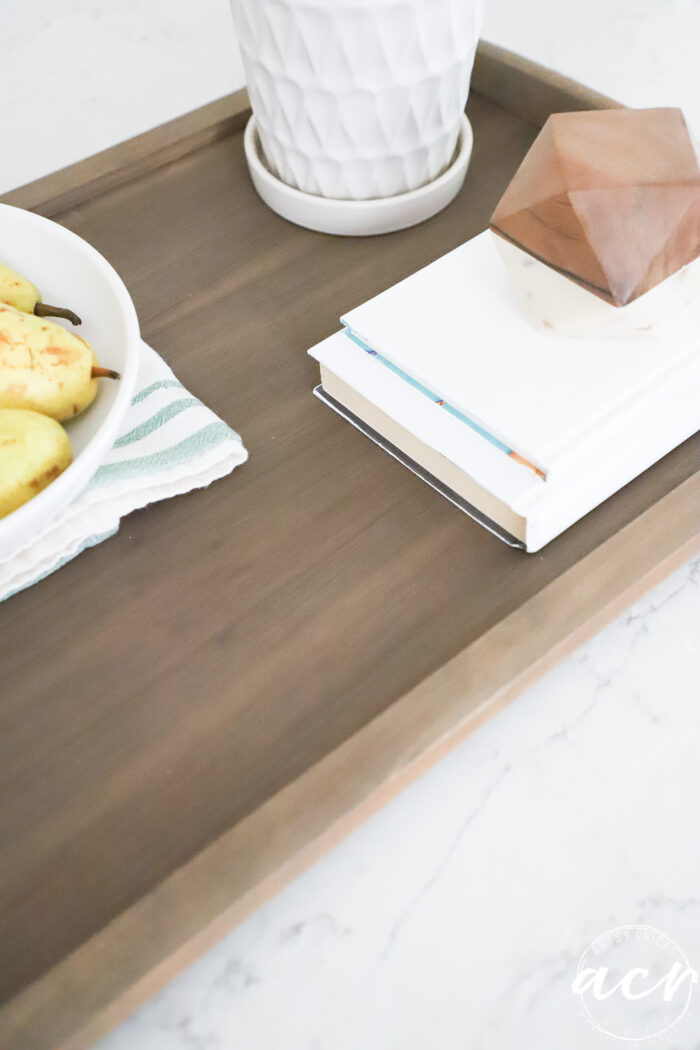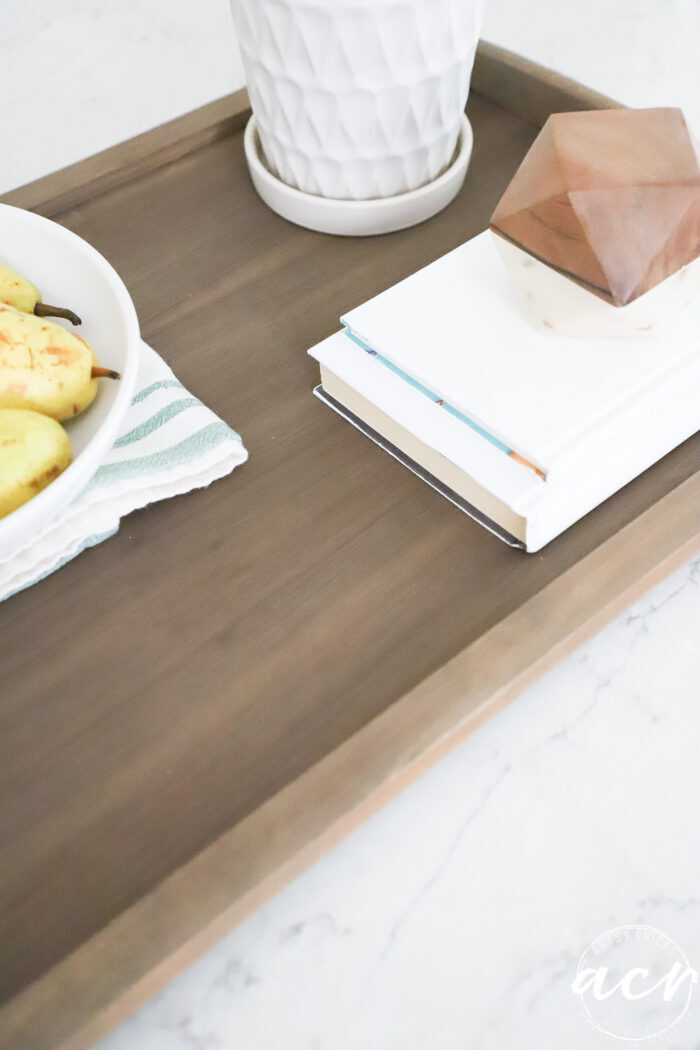 Okay, before you see the rest of the photos, just know that we are in the middle of dealing with the remnants of Hurricane Ian and it's really dark in our house today. So I had to lighten the photos up quite a bit which doesn't depict the color as well as the first two "after" photos I shared above.
The tray looks closer to the 2 undecorated photos in real life.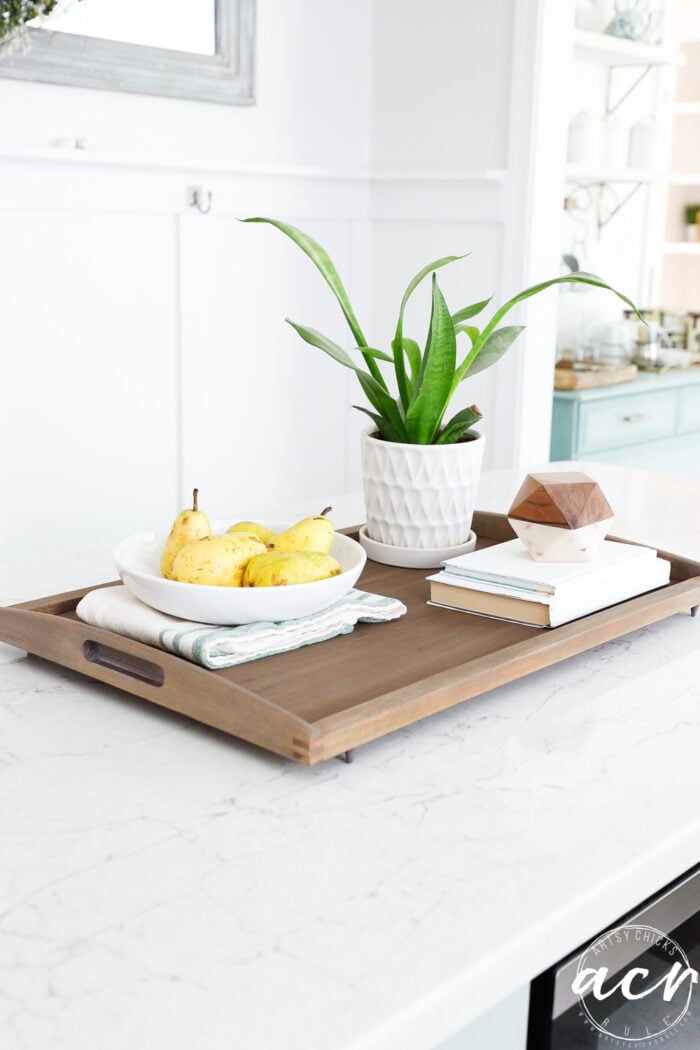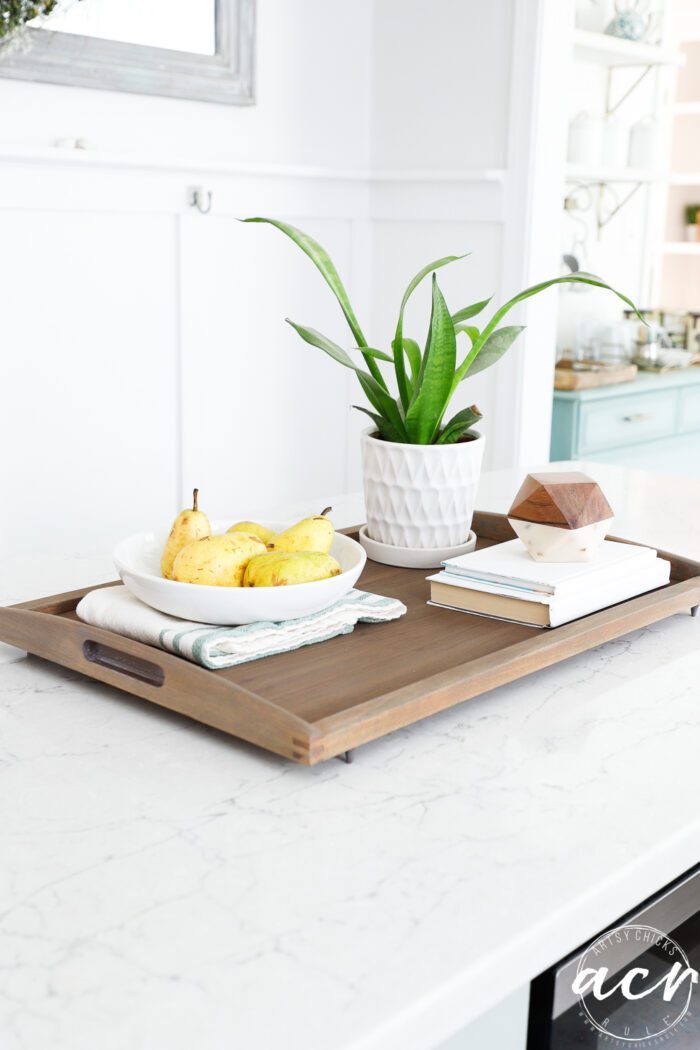 I love it and look forward to decorating it a little for the seasons. I kind of just threw together what I had so I could get it posted today but you'll be seeing more of it with the holidays coming up.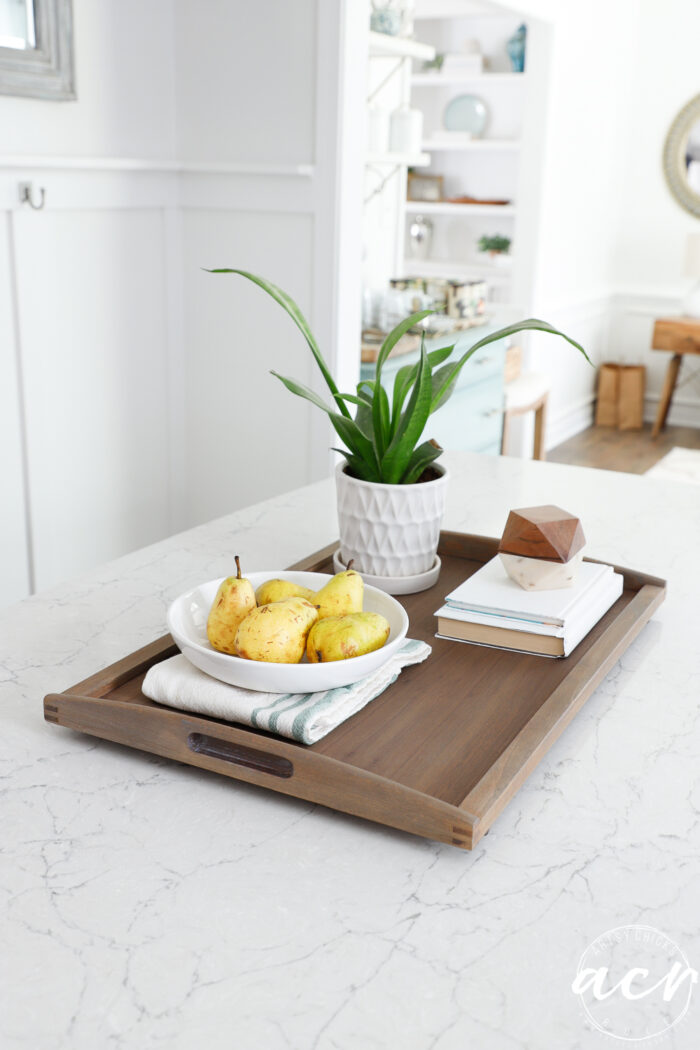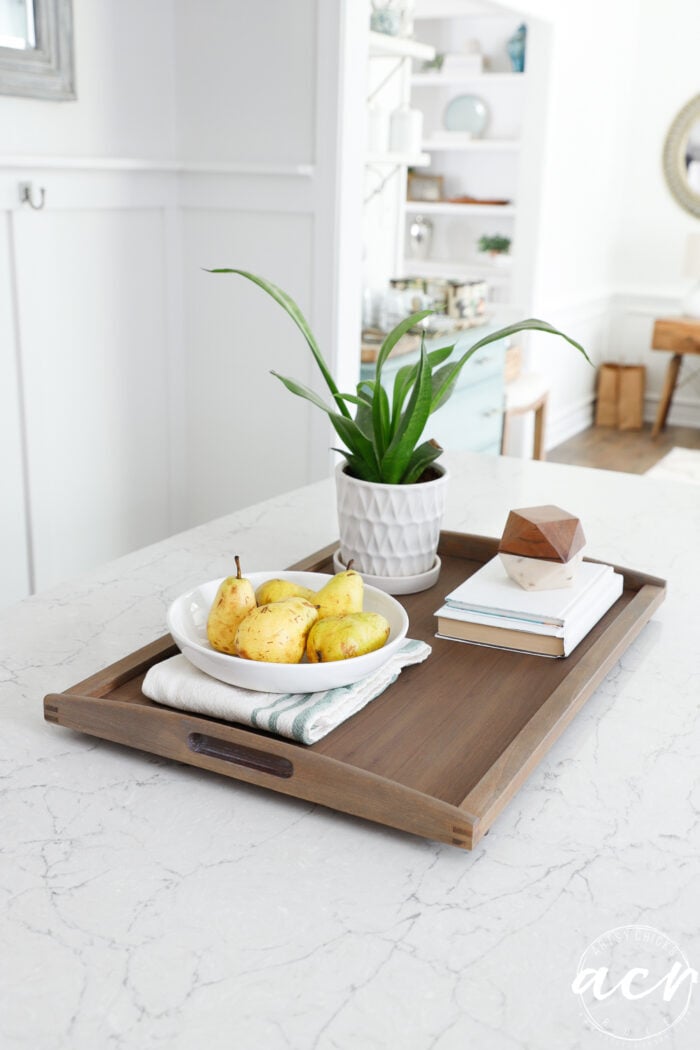 You can see the inset handle there. I left it stained dark because I thought the contrast might be cool.
AND because I didn't feel like trying to sand or even strip in there. It sort of ties in with the darker dovetail sides this way. (which I also like)
And aren't those little feet so cute?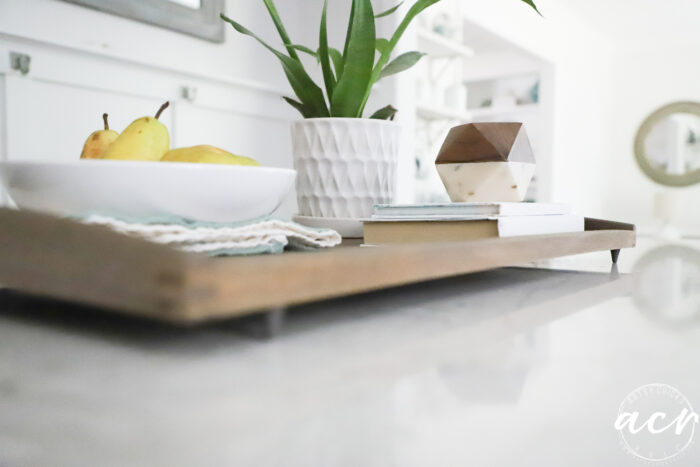 I didn't sand those either, by the way, I just wiped a bit of the gray stain on them.
I also haven't sealed it yet. I plan on using the same poly I did on our coffee table I shared in the link above.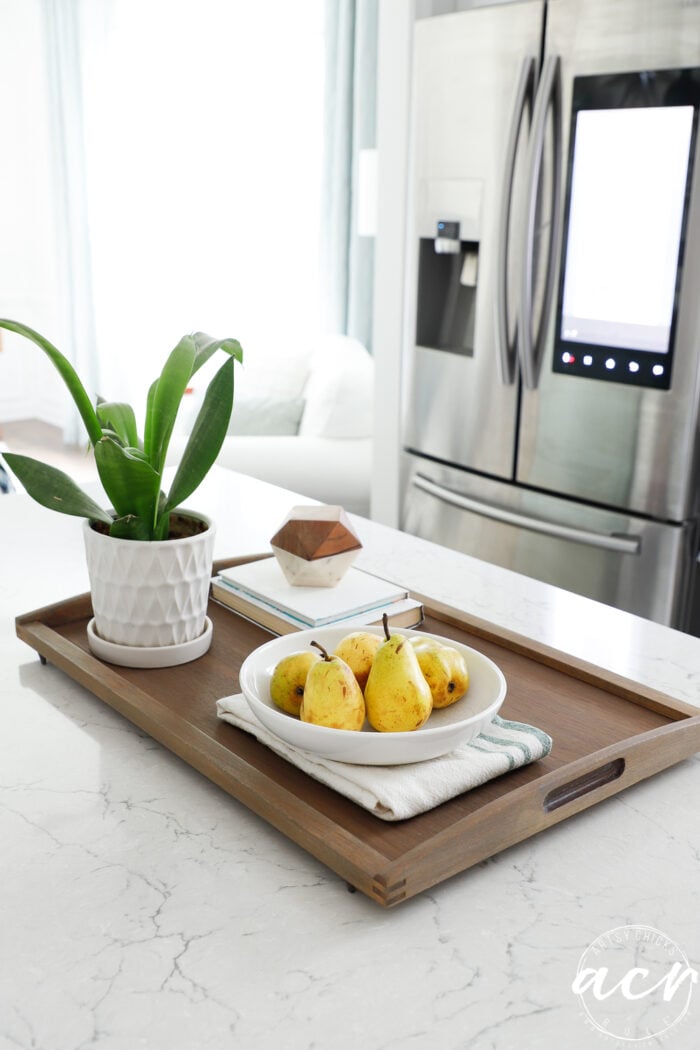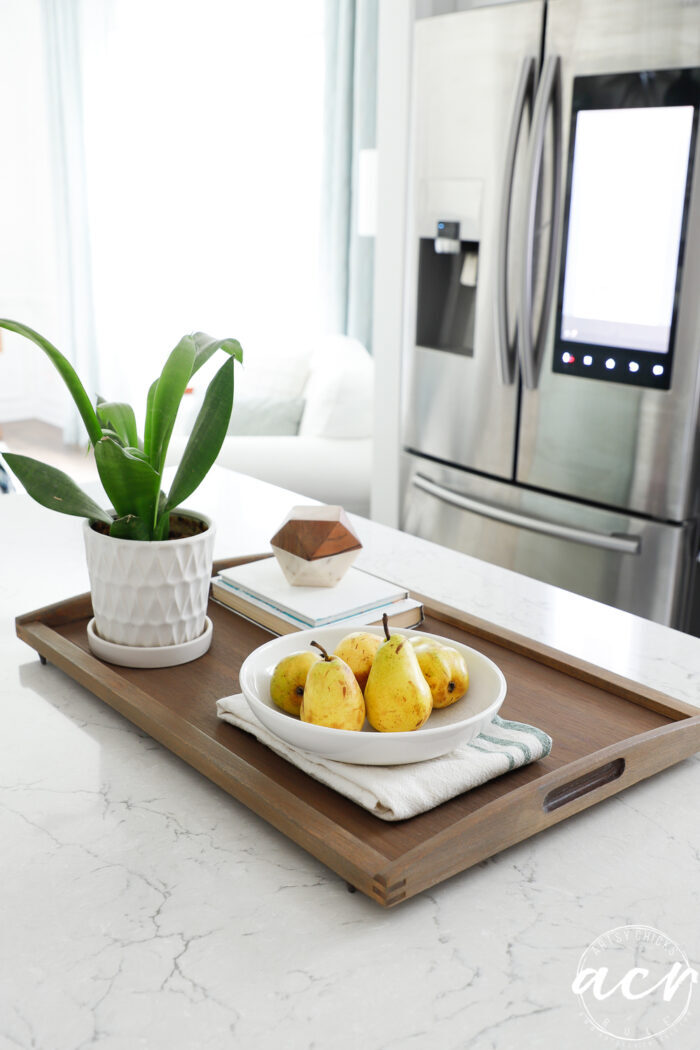 I can't wait to decorate it up a bit more. Do you use trays like this in your kitchen??
I love thrifting and finding things like this. It really is the perfect way to decorate your home on a budget! So many great finds to be had out there.
PIN it to save it!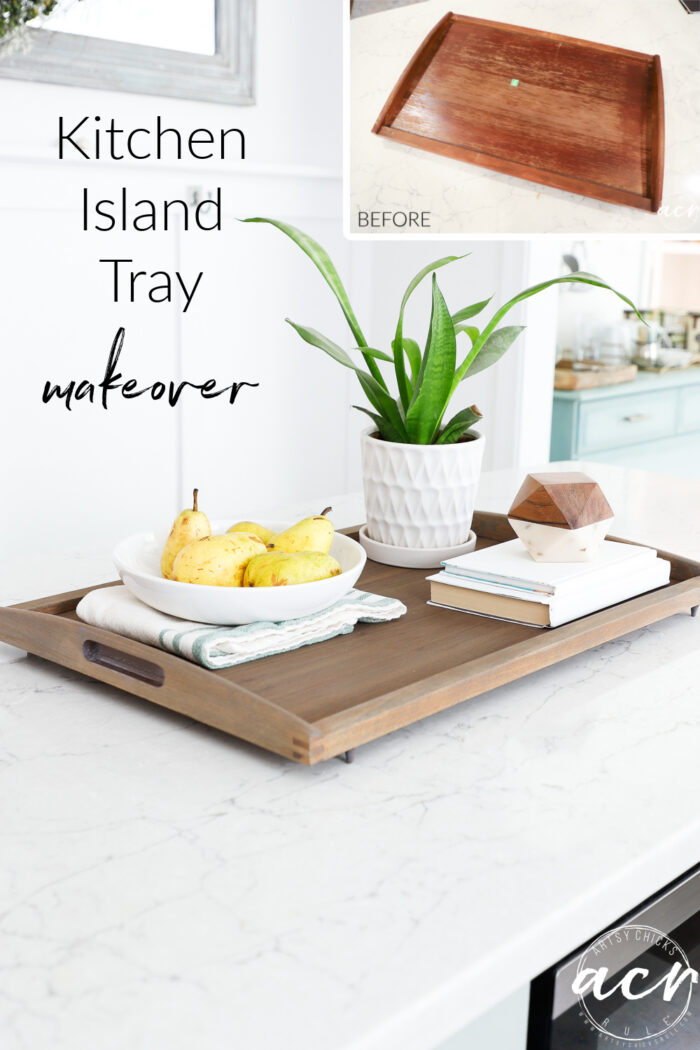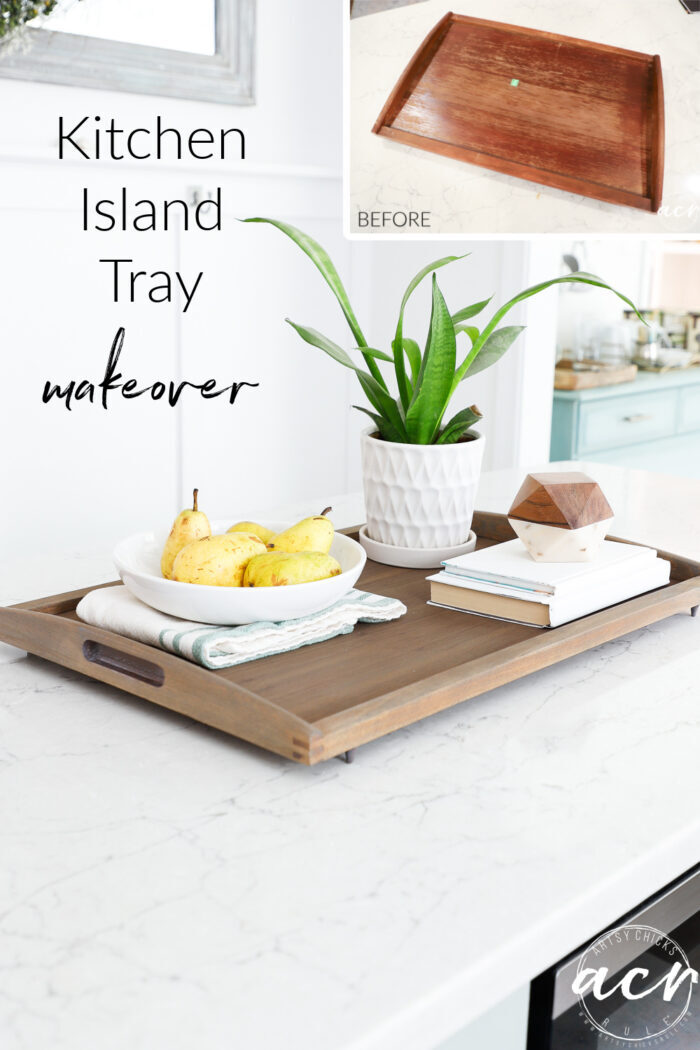 Hope you have a wonderful week! I'll see you next time with this!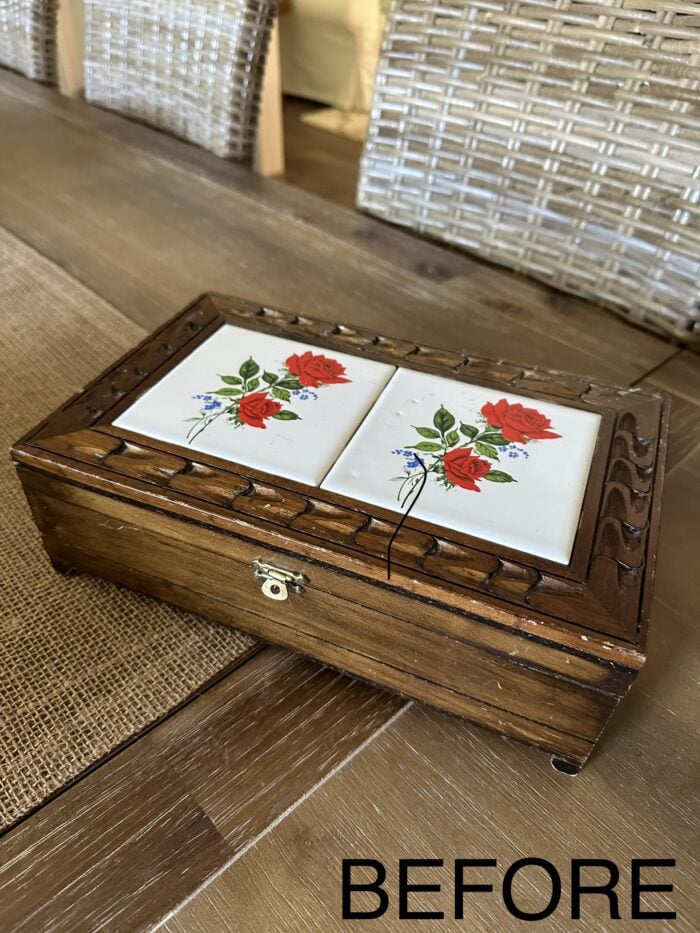 UPDATE! See this sweet box now here!
xoxo