DIY Kitchen Island Makeover (made with big box store cabinets!)
This post may contain affiliate links. Please see disclosures here.
This built in DIY kitchen island made with big box store cabinets has had several makeovers since it was first built. Sharing its latest makeover today!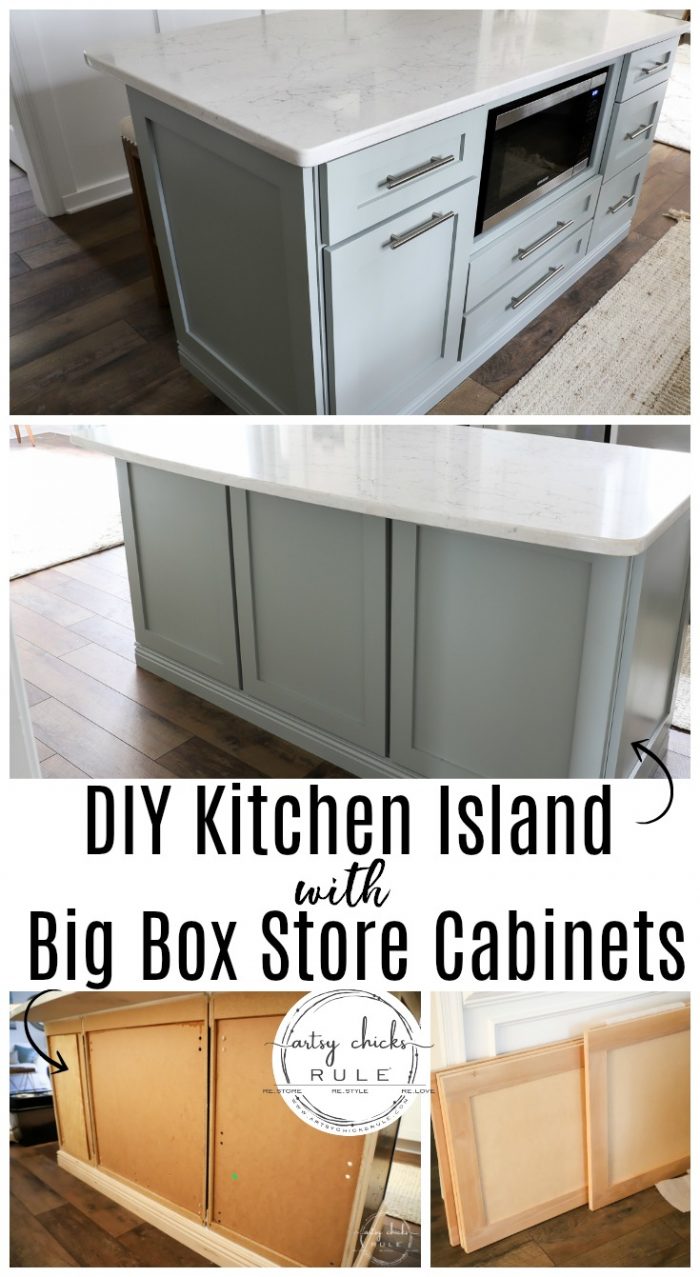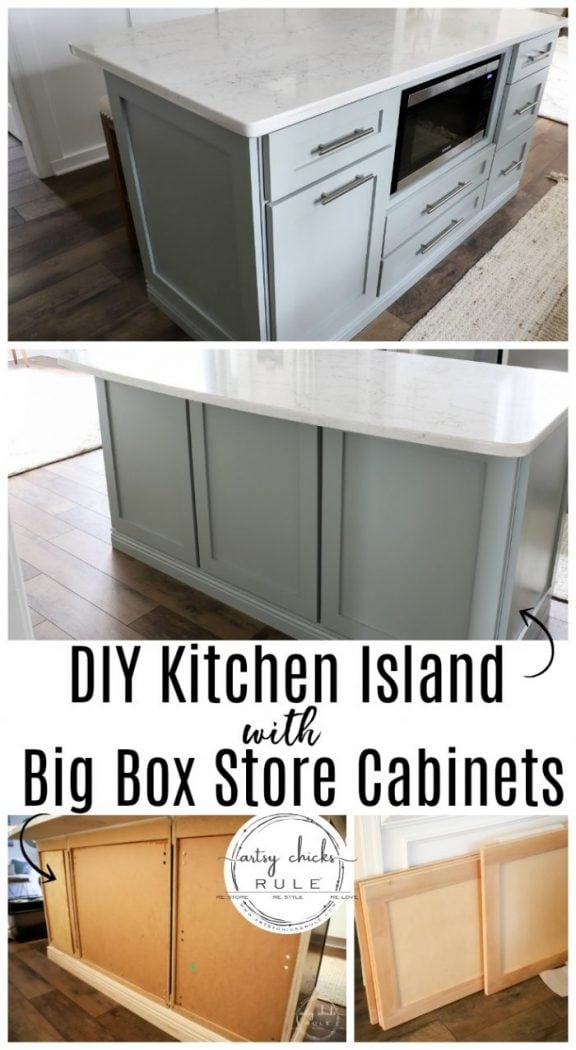 Yep, we made this built in DIY kitchen island out of ready to go, big box store cabinets.
That was pre-blog so unfortunately I don't have much in the way of a tutorial OR photos.
I am just so glad I thought to at least have taken the small amount of "before" photos of our house!
And a few along the way with the makeovers. I sure could've had more, though. Darn!
Oh well, who knew I'd have a blog at the time…I sure didn't.
So today I'm going to try to share a little bit about how we made the island with the few pictures I have to share.
AND our very latest makeover it got for our recent kitchen remodel.
If you missed it, I shared our DIY Coastal Kitchen Makeover (REMODEL) on Tuesday.
You can see it here >>> DIY Coastal Kitchen. (also, pop back over and take a read as I added a bit more info that I forgot to include…about the cabinets we used)
DIY Kitchen Island
Let's go through the evolution of the island and then we'll talk about how we put it together and the latest makeover.
As you know, this kitchen started out with full walls on each side and a little eat in kitchen….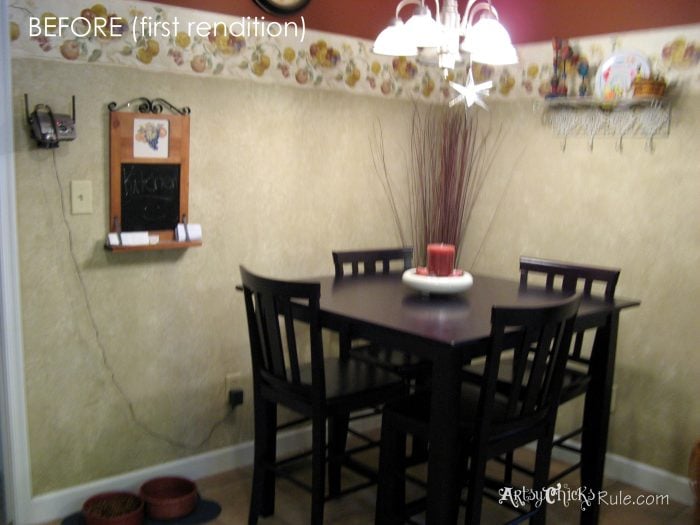 We proceeded to take the walls out on each side of the kitchen a few years after that first mini-makeover above.
And instead of having a table here, we decided to do a built-in DIY kitchen island.
Which originally looked like this…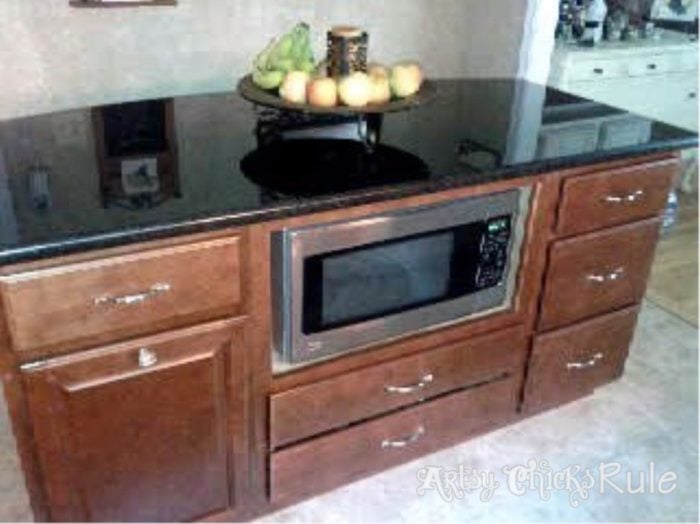 Terrible old photo but you get the idea.
These were off the shelf, ready to go in a cherry wood stain.
Since they were big box cabinets, they were not finished on the back so we had to come up with something there.
I tried to stain a piece of cabinet-grade wood to match but I wasn't having much luck with that.
So we ended up just adding beadboard and painting it black.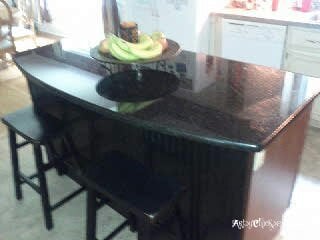 Again, no blog at this time so just sharing the photos I did have.
At some point, I decided to paint the entire thing black.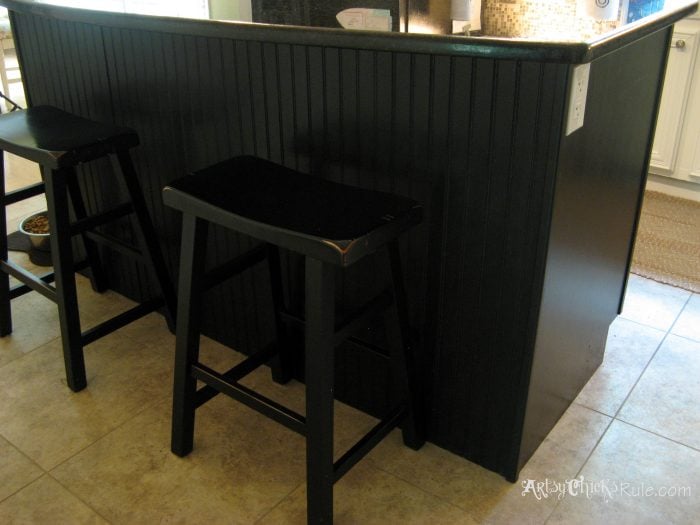 I actually really enjoyed it black for a time.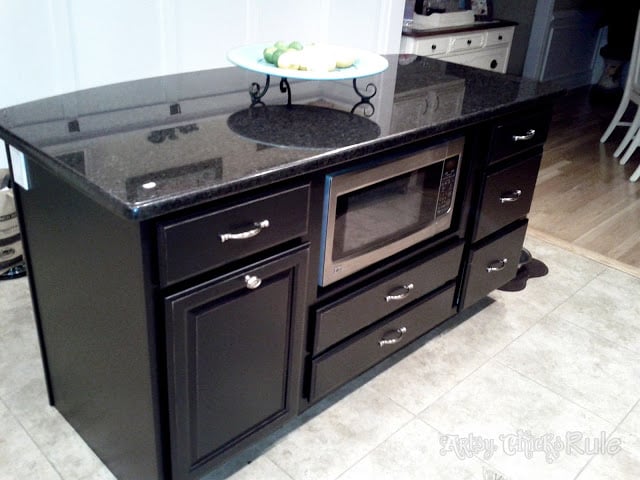 But soon after, (and now, blog time) I decided to give it some color in the form of Duck Egg Blue.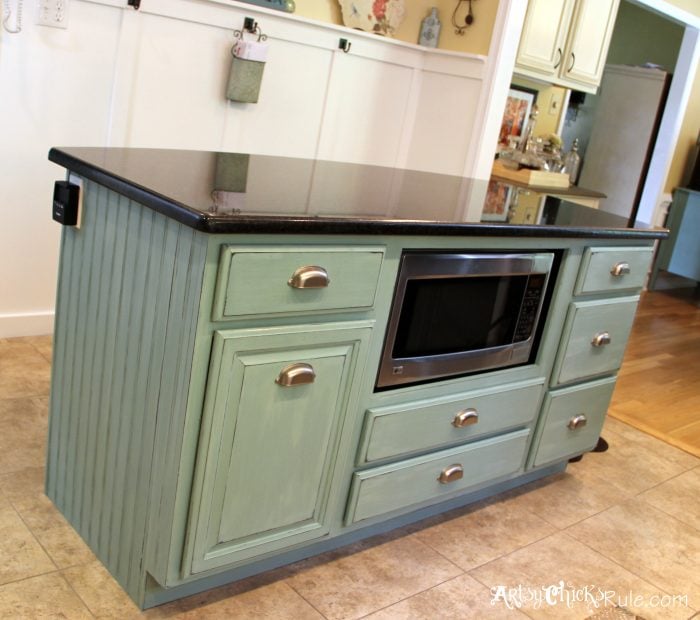 Fun.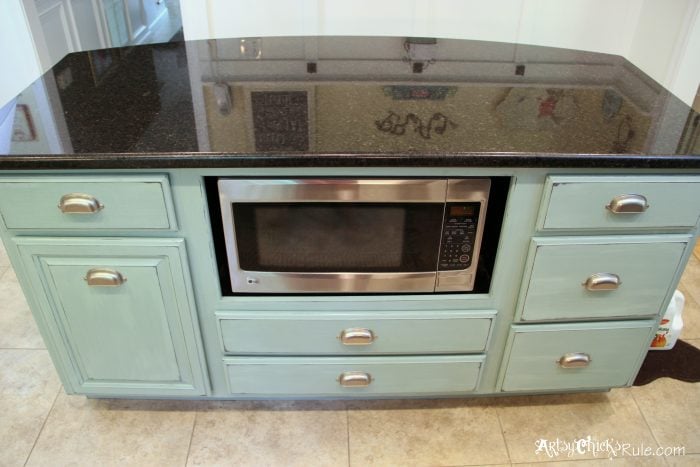 I really enjoyed this color for many years.
But as my decor style changed, so did this island.
To this, its latest rendition…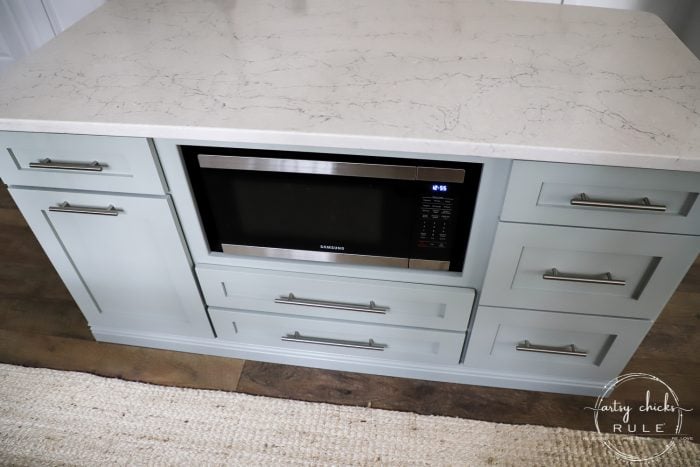 And I have to say, my favorite so far!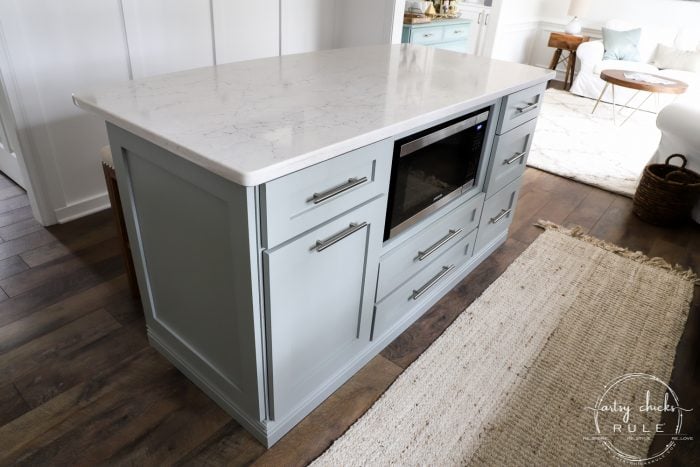 It got a major facelift this time with all new doors and panels going all the way around.
We found the shaker door panels online. There are many to choose from.
If you are looking for some, just do a search and try to get them as close to you as possible. (for shipping or pick up)
We considered making our own and certainly could have, but time was against us.
The holidays were fast approaching and we really wanted/needed to get this kitchen done.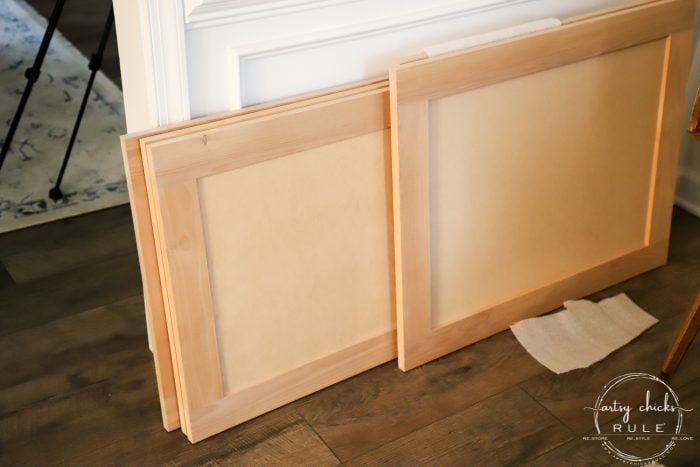 I absolutely love how the panels look going all the way around the island and the cohesive look with the rest of the cabinetry.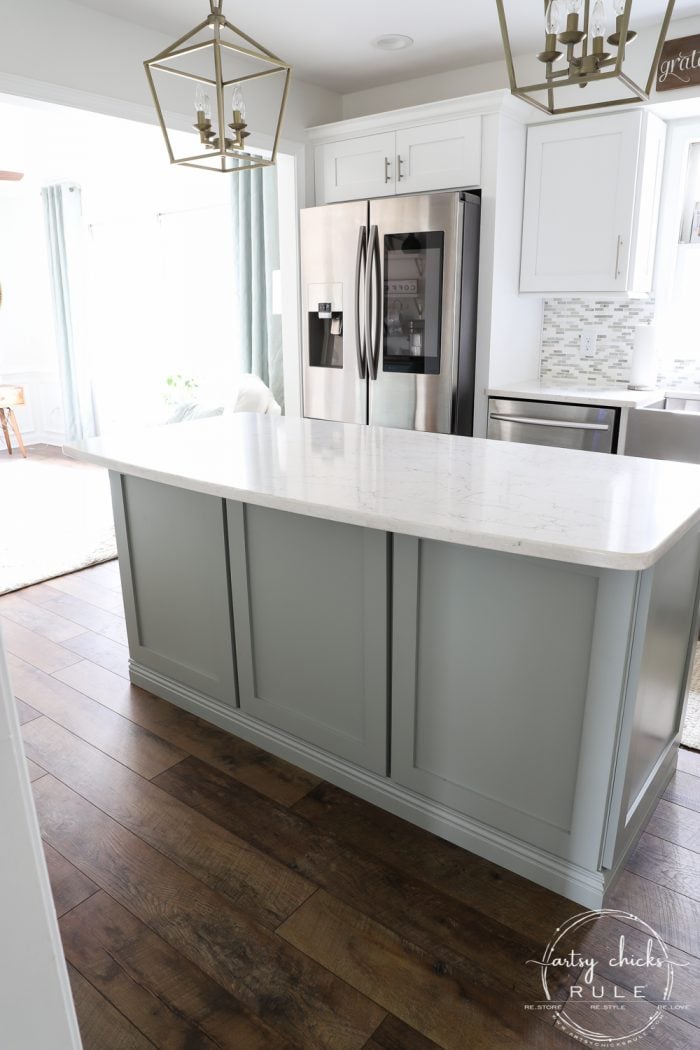 Just thrilled with how it turned out.
Info on the countertop can be found here >>> Quartz Countertop
Info on the flooring can be found here >>> New Flooring
To shop for any of the other items in the room (or in our home), click here.
Another thing we changed this go-round was adding that wood trim along the base.
We wrapped it all the way around the island and got rid of the lip on the front side.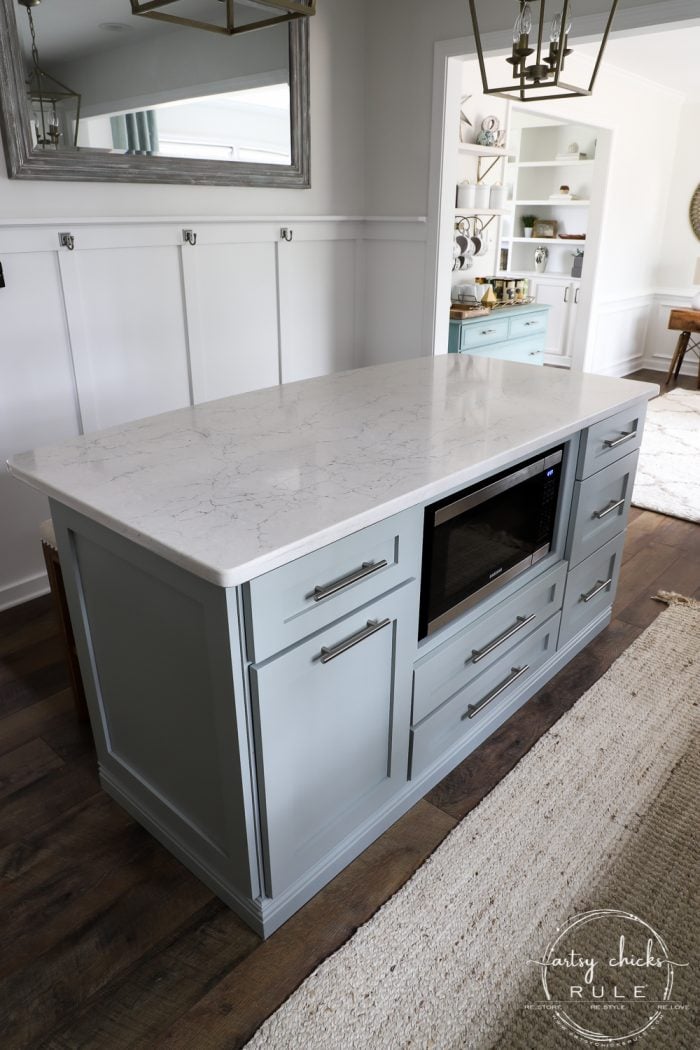 Love the new look!!!
Here are the paint details:
Oyster Bay by Sherwin Williams (ProClassic Waterborne Acrylic Enamel)
Sprayer (I sprayed the doors)
Bar Pulls
I love the Oyster Bay color. It's on the same paint card as Sea Salt and goes wonderfully with it.
Okay, before we get to the question I have for you (I mentioned in Tuesday's post) let's talk about how we made this DIY kitchen island.
We used 3 cabinets for our DIY kitchen island.
The one on the left had a door and an upper drawer.
The one in the middle was a little larger, double-door cabinet with an upper drawer.
The one on the right was, and still is, 3 drawers.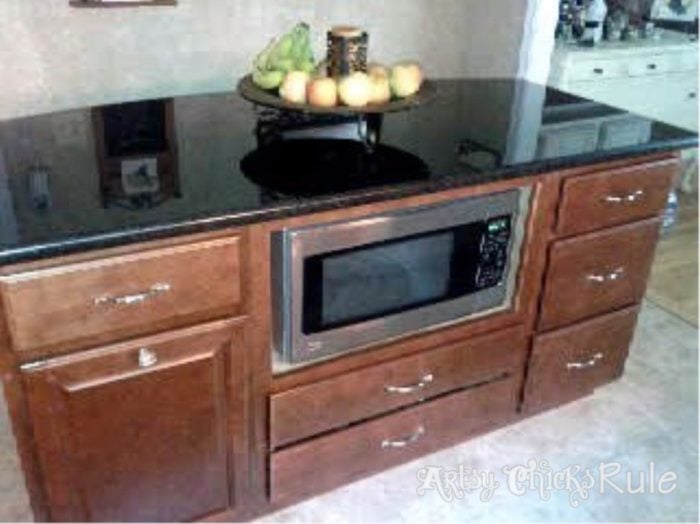 We took the hinges off the door to the left and added a waste receptacle that glides in and out.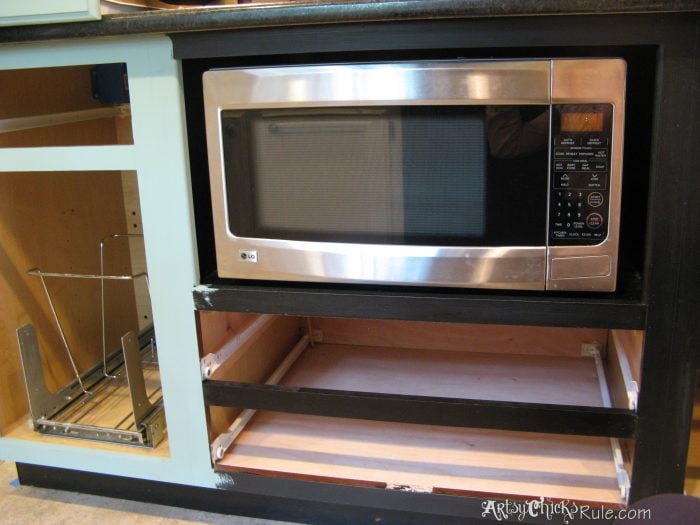 In the middle, we took the drawer that was at the top and moved it to the bottom.
Then my husband made another drawer to match it. (we were able to get a matching drawer front from the manufacturer)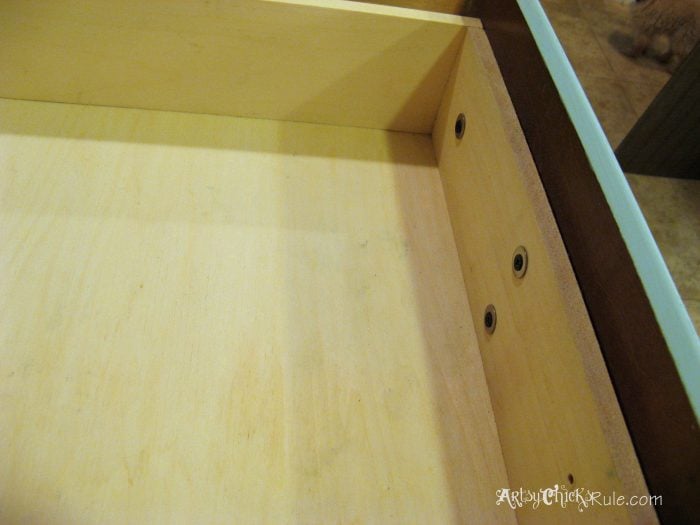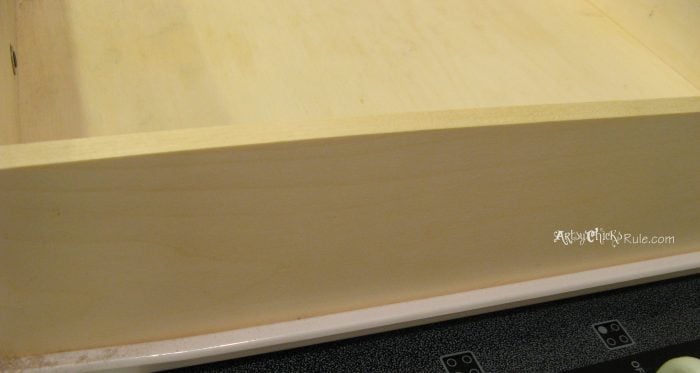 That drawer went in right above the drawer we moved from the top to the bottom.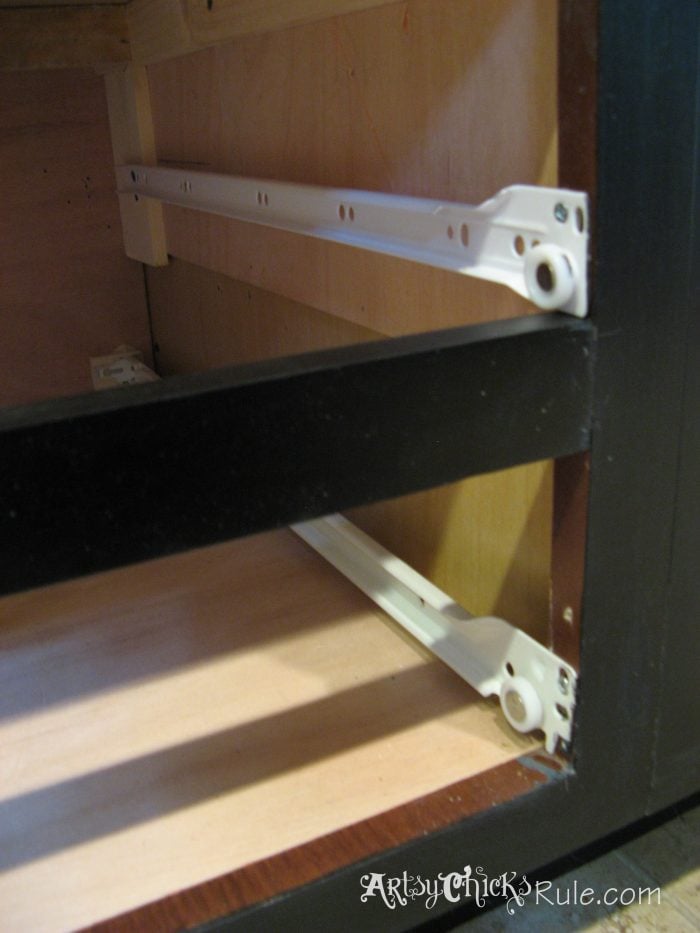 He added the wood piece in the middle of the 2 drawers to close that gap.
And then built a shelf for the microwave and added a trim piece on the front there as well.
On the two sides of the "box", he added small, flat, curved trim to make it look a little more finished. (these were originally finished trim pieces that can be purchased separately for finish work on these types of cabinets)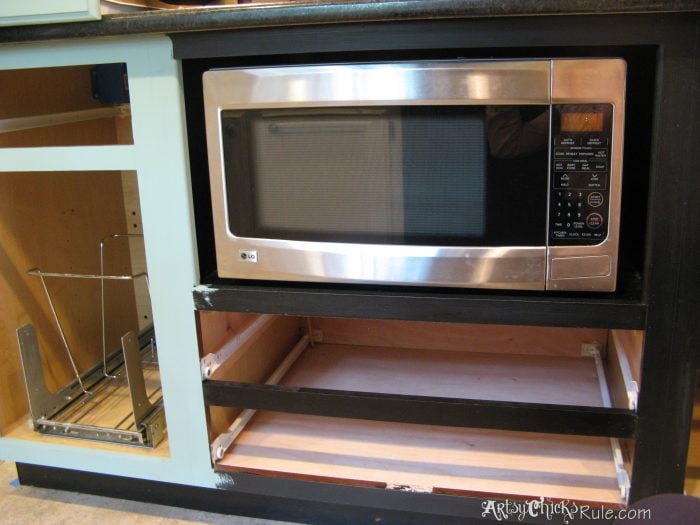 I painted the inside of the box, black, for the microwave.
You can see here, the 3 cabinets from the back.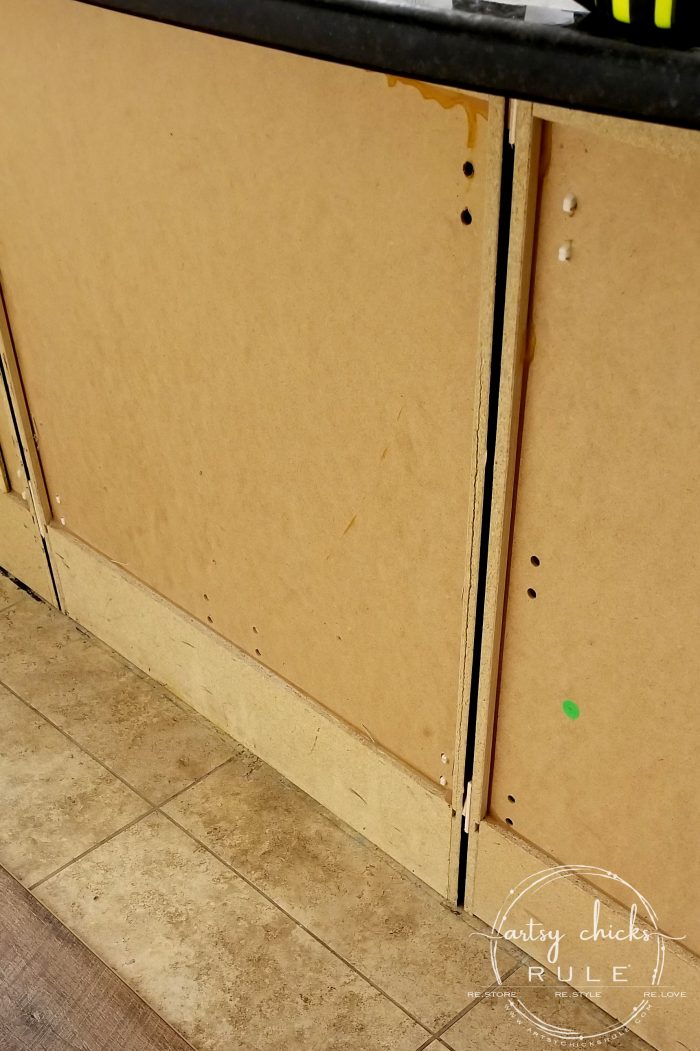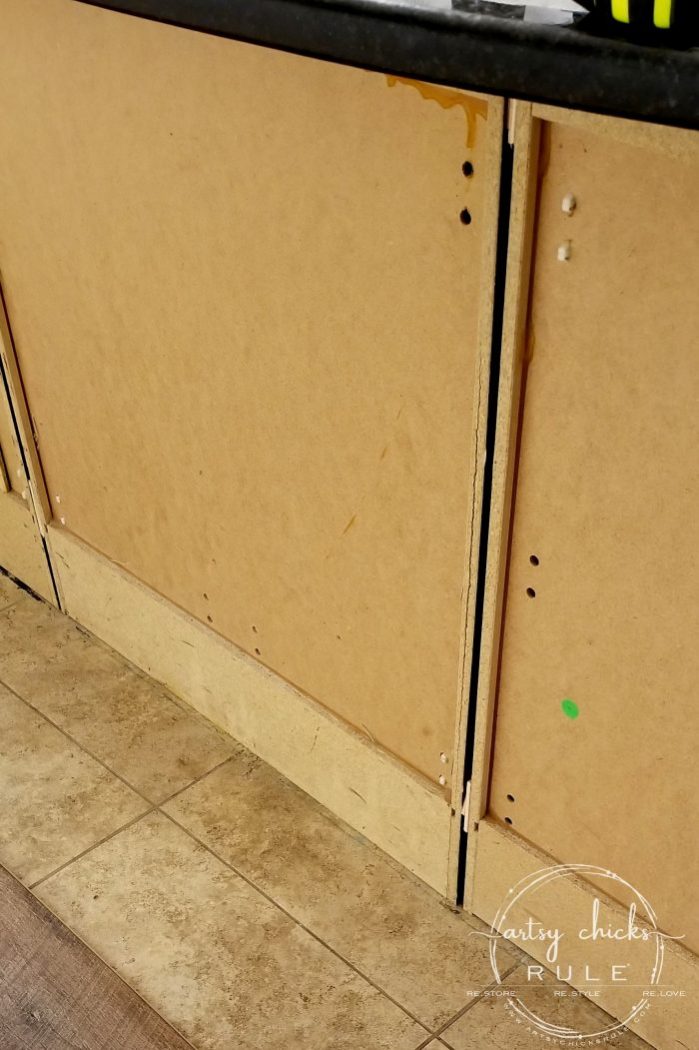 We then added the new trim all the way around. (for this latest makeover)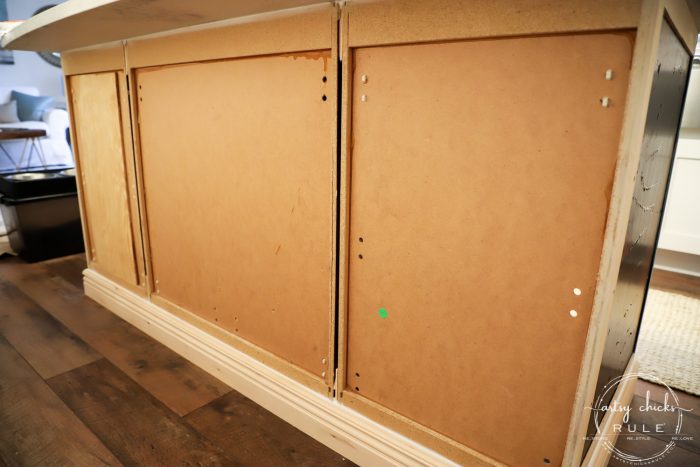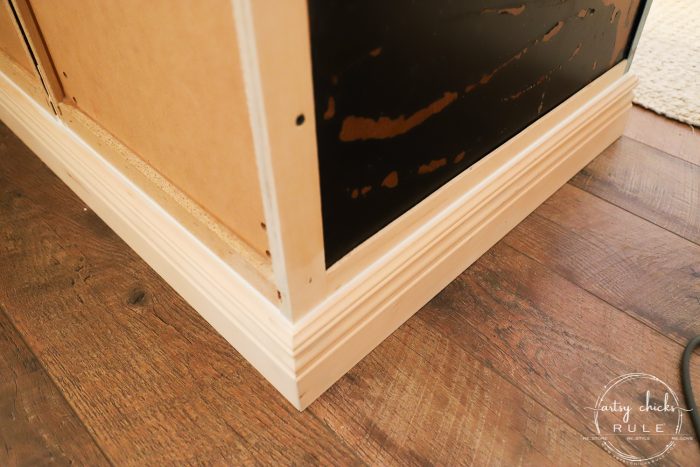 As well as some of the sides trim to attach the new panels to.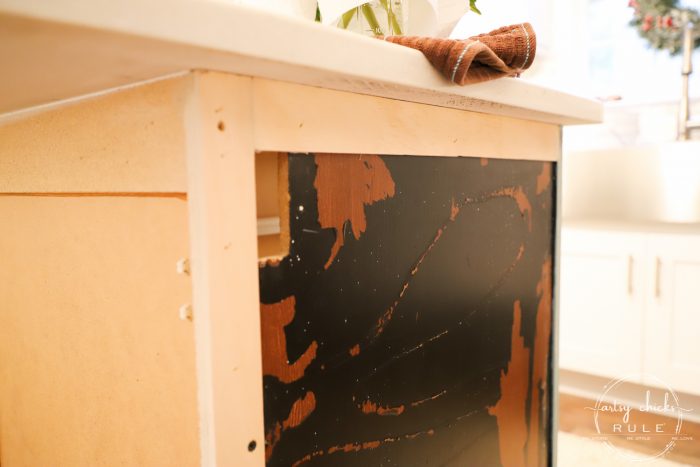 We had to add that extra trim because some of it will show afterward so I had to paint it to match.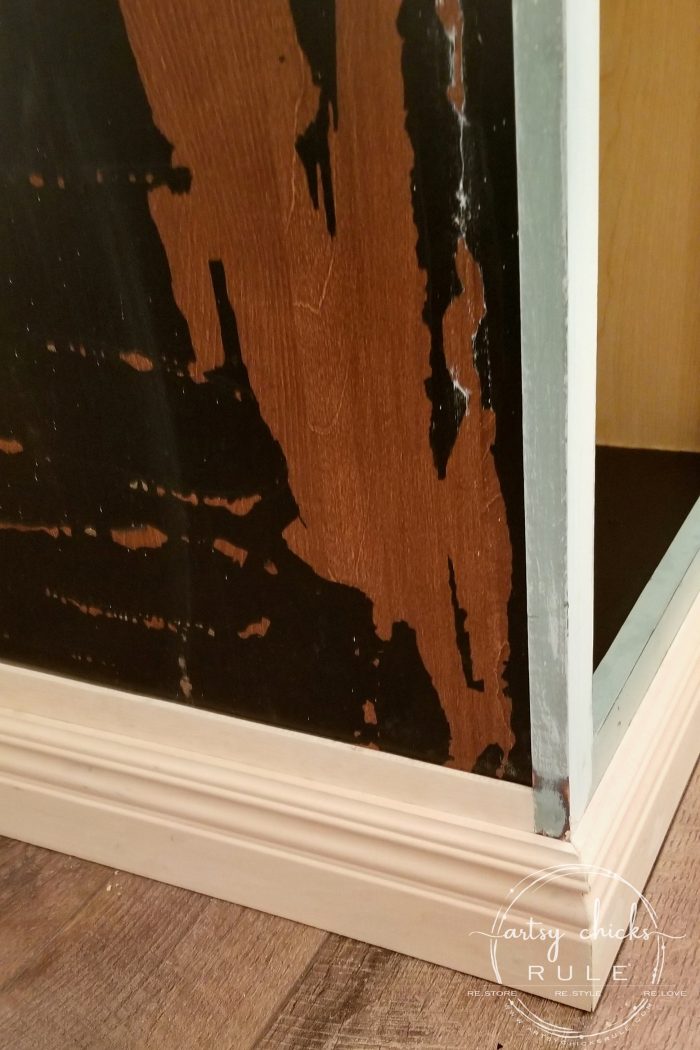 You can see here (above and below) where we carried the trim all the way around to close up that open area at the bottom in front of the cabinetry.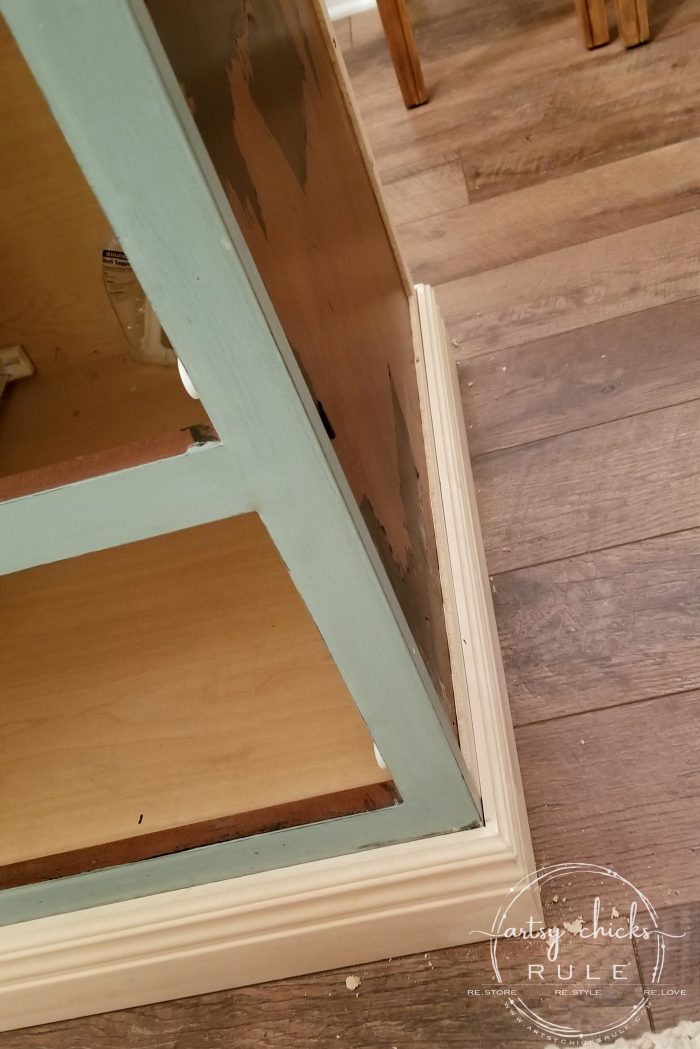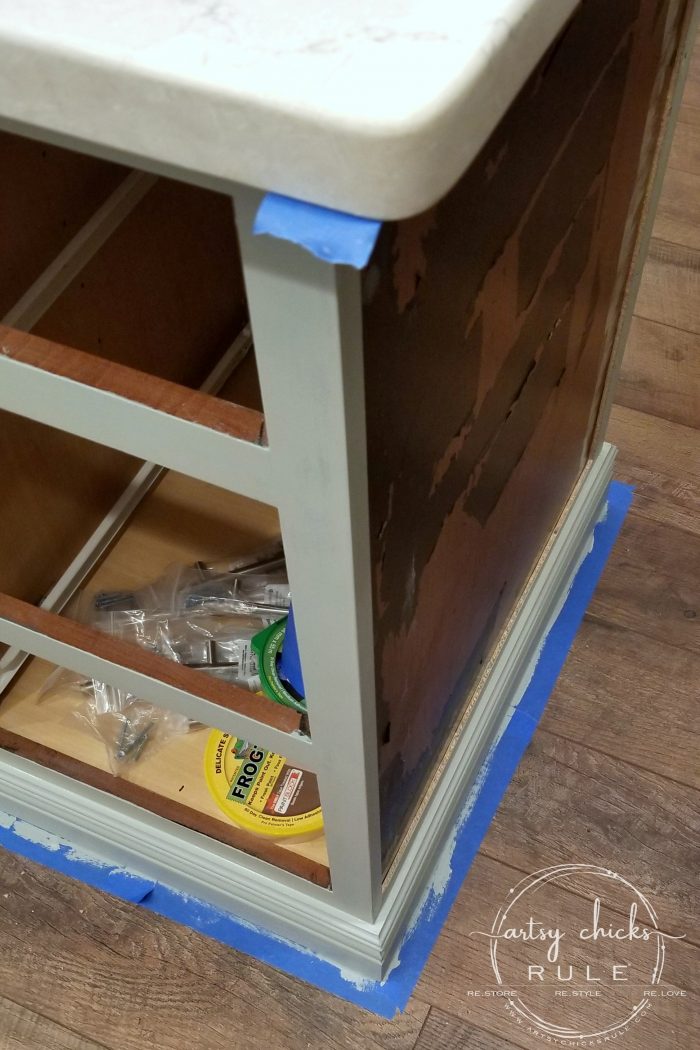 Caulked and painted, ready for panels and doors.
Here's a shot of the back to show the trim we added for support…and because some of it will show after the panels are in place.
And this is how we made sure they were all level and at the right/same height. (I held onto the outside while he screwed from the inside of the island)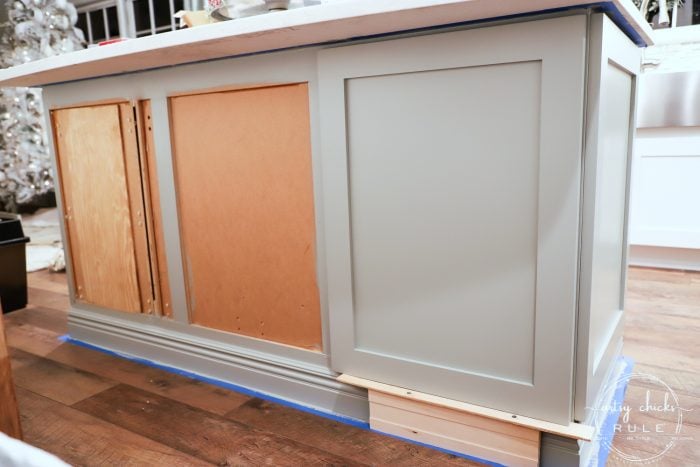 Everything is in place, pre-hardware…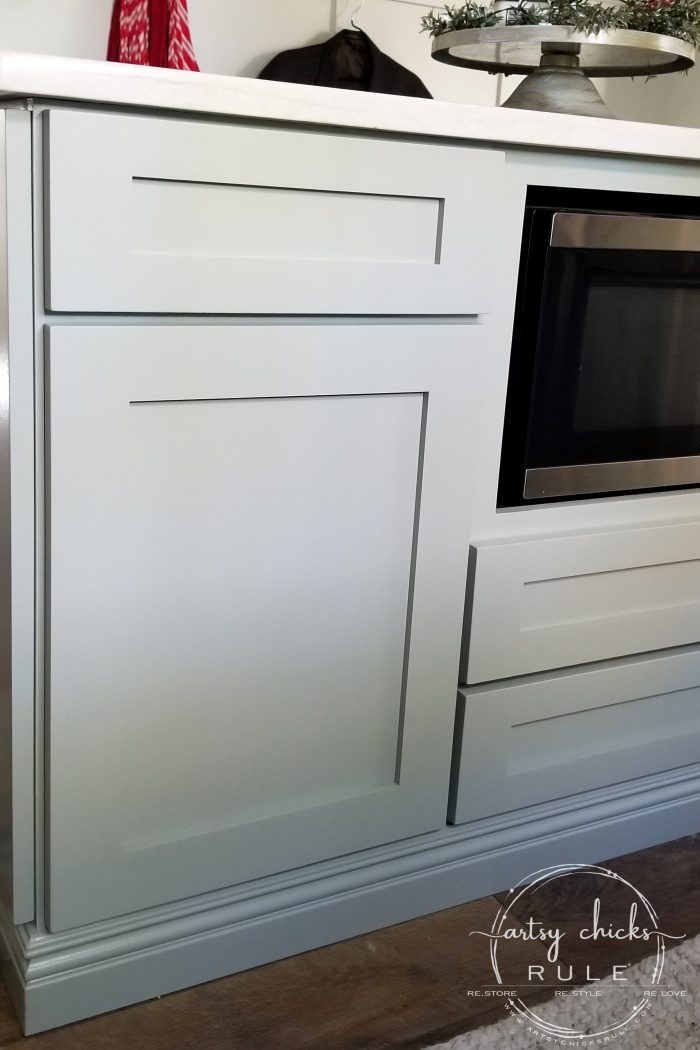 So thrilled with how this turned out.
Looks like a brand-new island!
Okay…here's the question I had for y'all.
My original vision for the island makeover was this…. (and I still love it…painted and finished, of course!)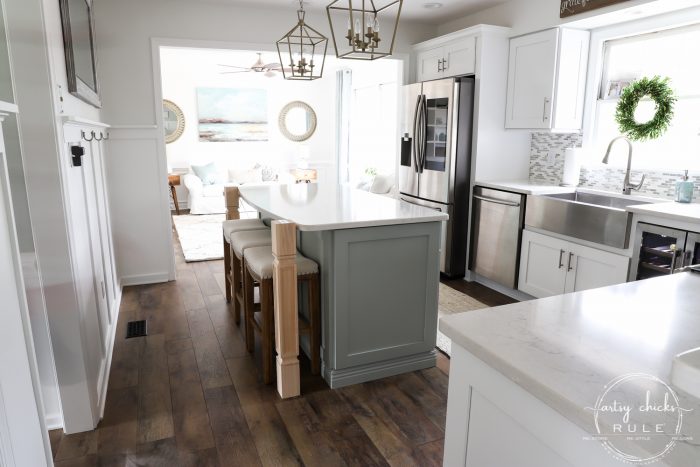 They will be painted in the same color as the island and obviously shorter, back further, and under the island top.
But I really, really wanted to put in columns on each side.
They would be more about here…. (location-wise)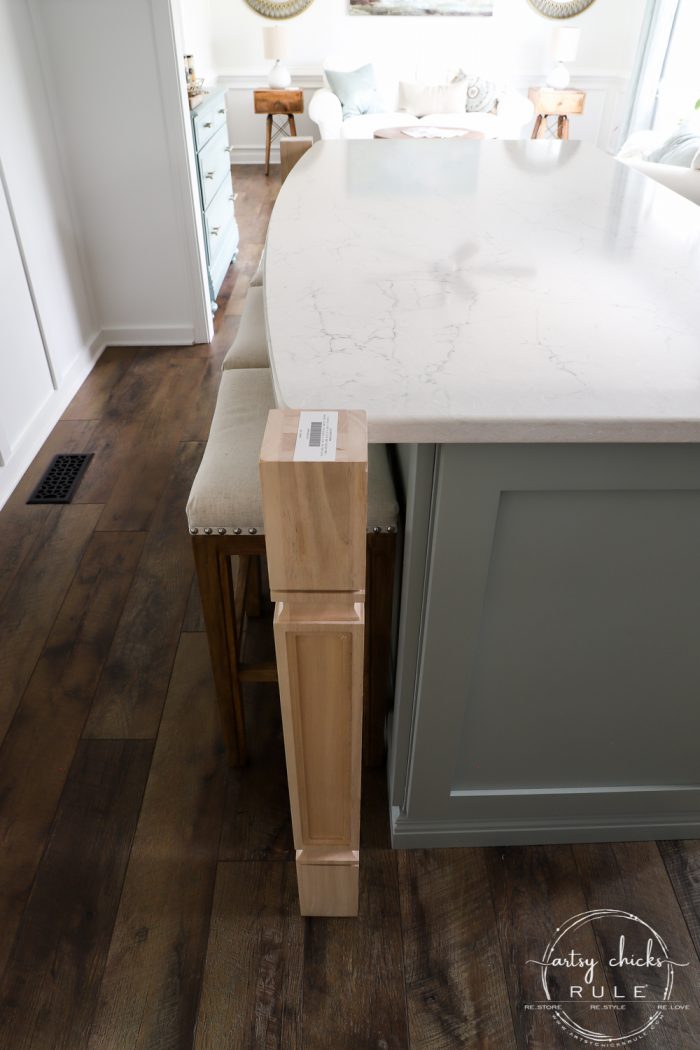 We found these columns >>> here, by the way.
Okay, so here's what happened.
We ran out of time to install them and we put them to the side until after the holidays.
In the meantime, we really enjoyed having 3 bar stools here. (we previously had 2 and had only planned 2)
The reason we have an extra bar stool is because one of them was damaged and Wayfair sent me another set. (they only came in a set of 2)
I just LOVE Wayfair. They have always been so good to me. Highly recommend them.
(here's the link to the bar stools)
Anyway, I used 3 as seating at the holidays and I do like how open and easy it is to sit there without the columns.
BUT I really like how the columns add a little design element to the island.
They may end up being back far enough that they might not impede the seating arrangement.
I'm just not sure what to do.
So tell me, what do you all think?
Yes to the columns or no to the columns?? Tell me your thoughts in the comments below, please!
Decisions, decisions. And you all thought we were done!! haha
Well, we are….almost. ;)
But again, when are you ever done?
We still have the upstairs master bath/closet to remodel. And the outside of our home this spring.
Quite a few plans out there. Plus new windows…new front and back French doors, etc etc.
We are a work in progress still. One day we'll be completely done!! Maybe, lol.
At least the inside is the closest it's ever been! Yay!
Every single surface has a fresh coat of paint, too. Doors, trim, board, and batten, ceilings, everything.
So it really helps to make everything feel super fresh in here.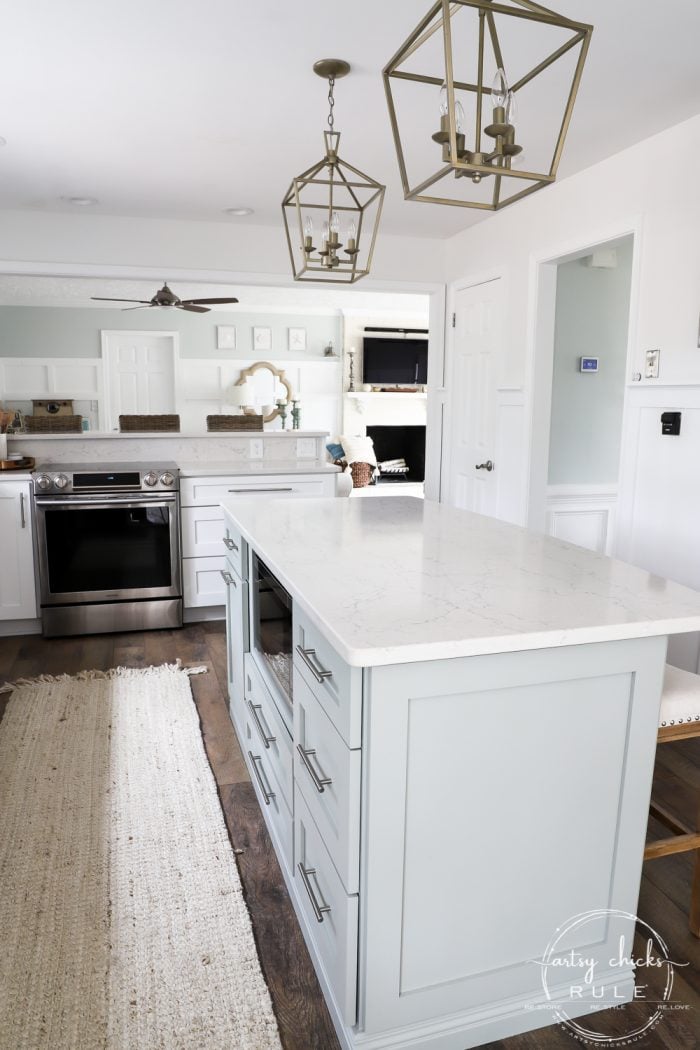 I'm ready to sit back and enjoy all the pretty now.
And we surely have been so far. It's like living in a new house without having to move.
(as long as you don't count all the "moving" we did to prepare for and do this remodel and flooring, of course!)
I kinda felt like we moved. lol
If you are considering a change, or maybe adding an island in your own kitchen, consider doing this.
It's a really great way to get a beautiful, "custom" built island for less!
More home DIY tutorials we have shared here:
PIN it to save it!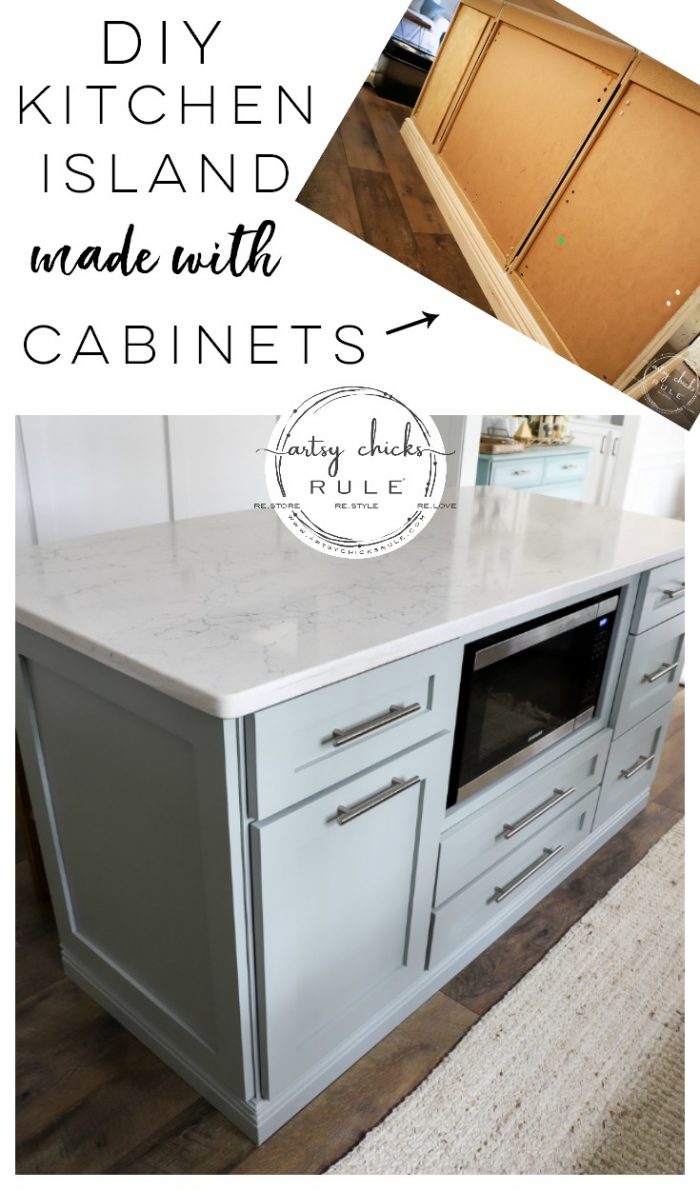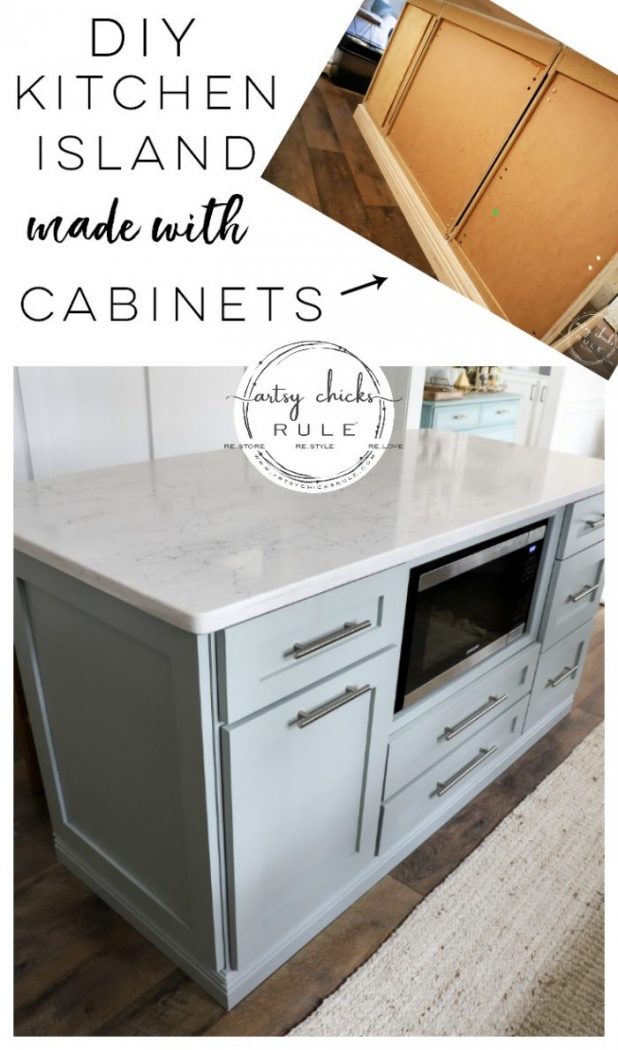 If you like this DIY, you might like this! DIY WIDE Crown Molding.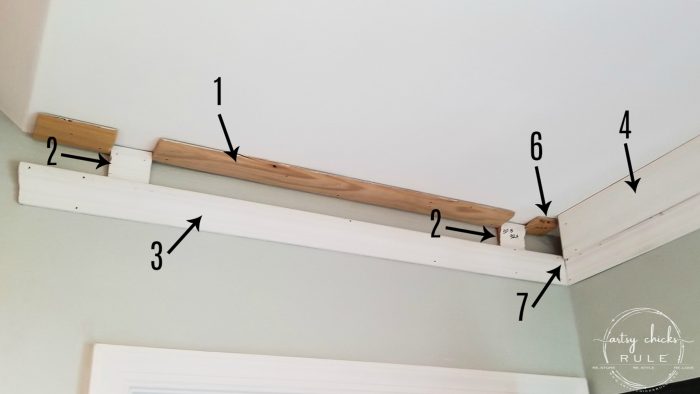 See it finished (and the how-to here!)
I'll be back next week with something other than house stuff.
I have NO clue what it is yet, but it will be something! I'm thinking it's time for a new furniture makeover.
I'm itching to do some painting…plus I have a new product I can NOT wait to try out. Stay tuned!
xoxo