Kitchen Countertop Reveal (Wilsonart Quartz Coastal)
This post may contain affiliate links. Please see disclosures here.
It's the long awaited, big reveal day for our brand new Wilsonart Quartz Coastal countertops!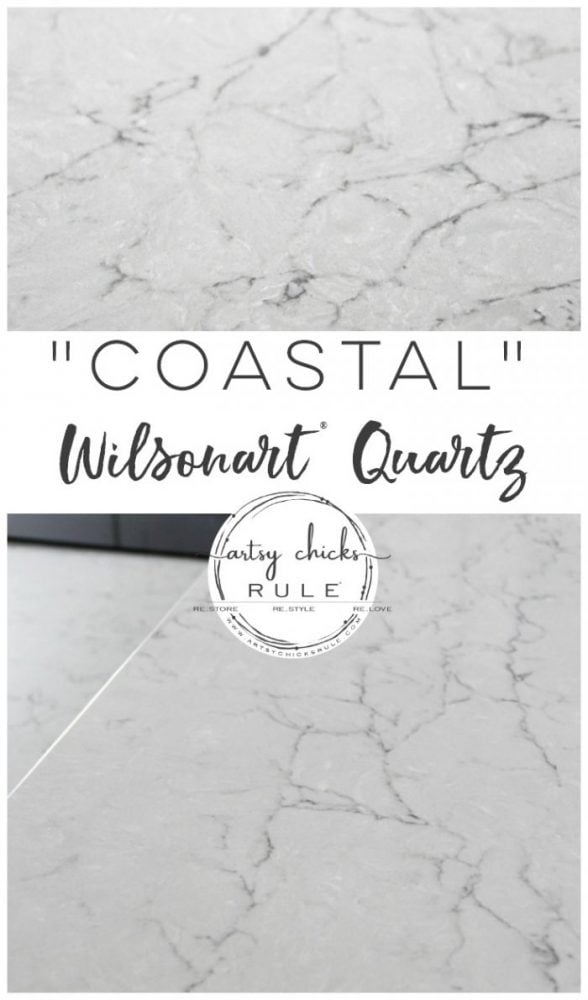 I am SO excited to be sharing with you today, our brand new Wilsonart Quartz Coastal countertops.
It's been a long time coming (or it just feels like it!! ;) ) but we are finally wrapping up all of the home remodel, which included a full kitchen remodel too.
All new cabinets, all new appliances, the new flooring which I've already revealed to you, and brand new countertops.
Which were so graciously supplied to us from Wilsonart! I am thrilled to be partnering with them on our remodel.
And let me tell you, they were wonderful enough to supply us with the material/labor for this project, but even if they hadn't, I wouldn't have gone any other way. We love and have used Wilsonart in several of our homes now.
And, well, once I saw the Coastal, it was a sealed deal.
I am in LOVE with these countertops. I mean truly, love, love, love them!
I looked and searched at design after design, etc.
None of them were ever just quite right. Until I found the Wilsonart quartz Coastal design. :)
I got several samples in from Wilsonart and I knew almost immediately, Coastal was the winner.
And what better name for my home, right??!! lol
COASTAL….it was meant to be, I tell ya!
Just like our flooring was named "Driftwood".
Funny how that worked out though, really.
So let's talk remodel for a minute.
We had planned to be finished with it all several months ago, but when you are doing 99% of it yourself, things tend to take a little longer.
Or a lot longer most times. ;) Plus, every single, little thing always takes longer than you imagine it will.
So today I'm sharing the countertop goodness, and little snippets of the kitchen, but not the FULL kitchen remodel.
We are not quite ready for that yet….but almost. VERY soon.
And now let's talk (and gaze at!) countertops.
Wilsonart Quartz Coastal Countertops
Here's the sample I received….on top of the installed countertop.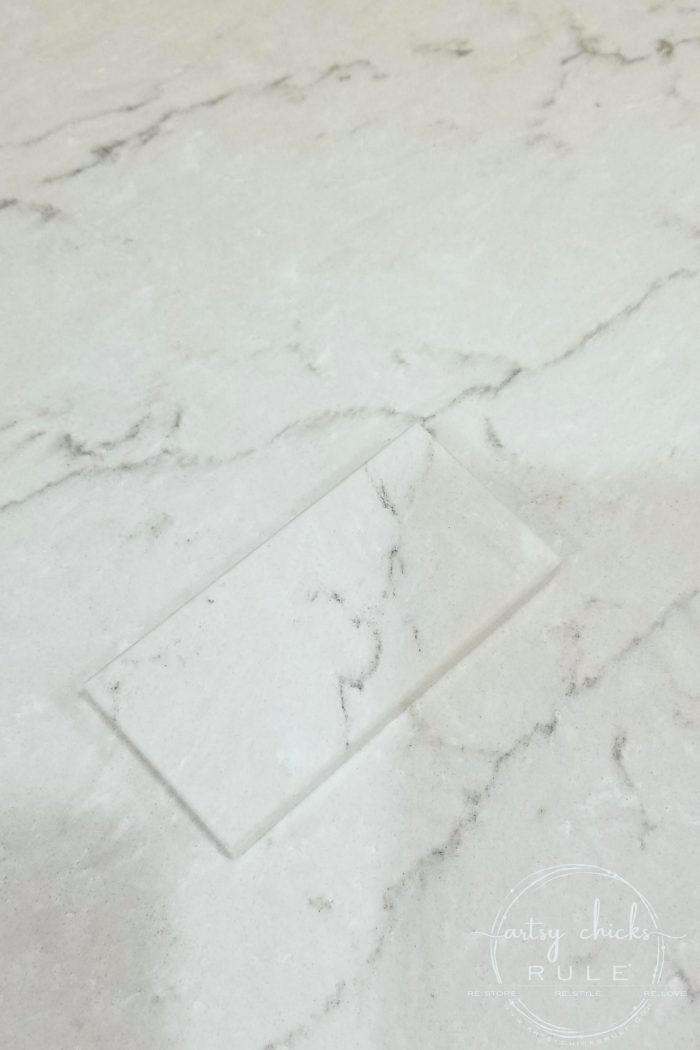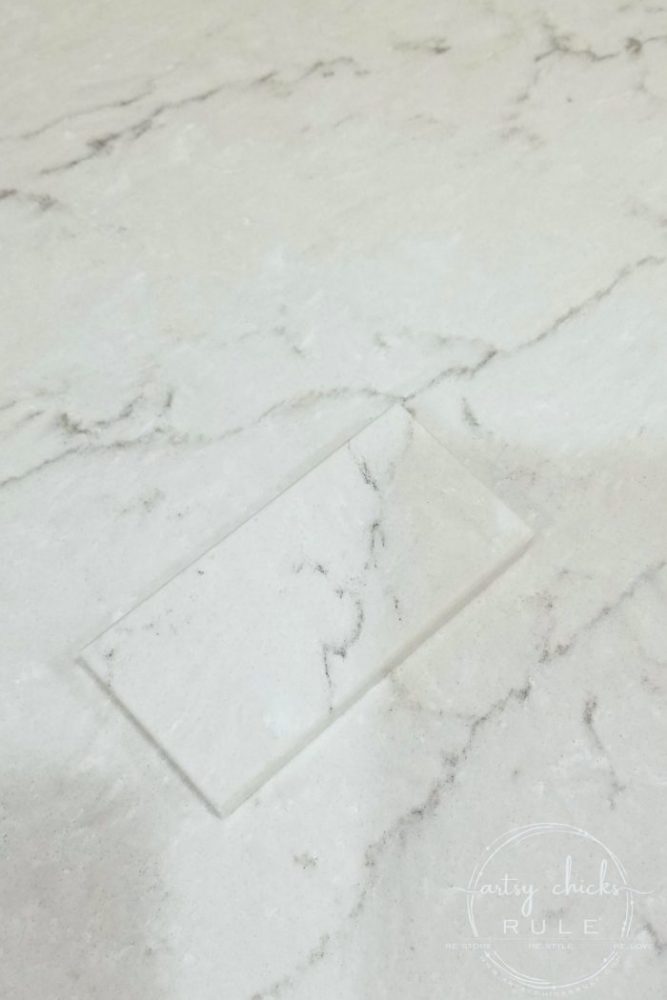 Isn't it beautiful??
I knew I didn't want plain white, I wanted some sort of variation but still keeping things light and bright.
This Wilsonart quartz Coastal Q4036 was the answer.
It has a slightly off white base, with bright white variations and pale to medium gray veining.
And here's how they describe it on their site… "Coastal features a mix of warm and cool greys creating a complex canvas backdrop for the dark grey branching".
I think they described it better than I!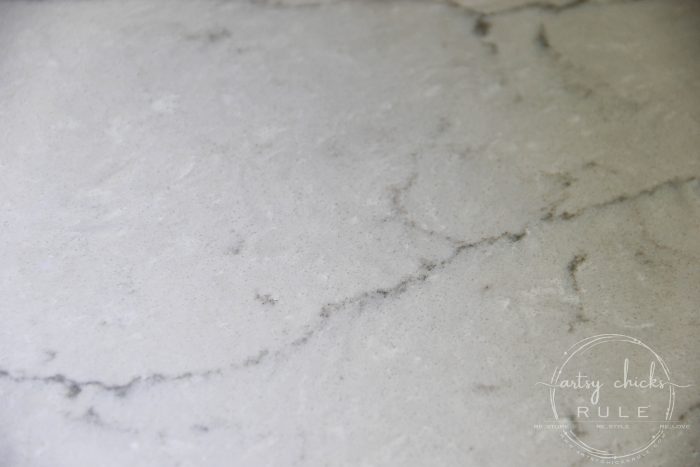 Trying to show you the colors in these photos, but photos just don't do it justice.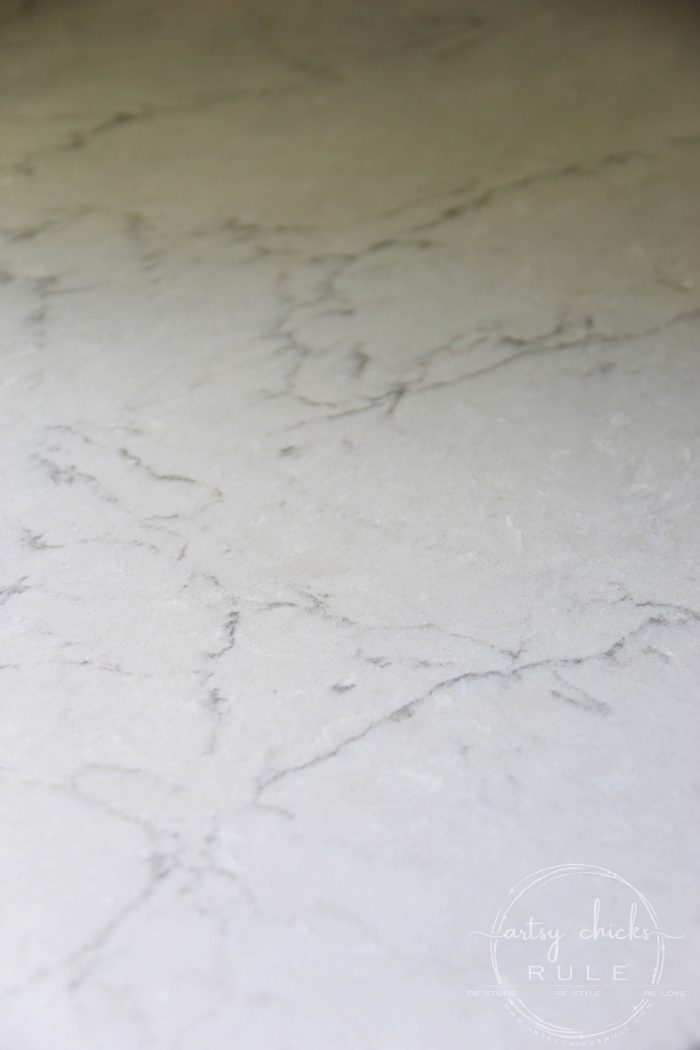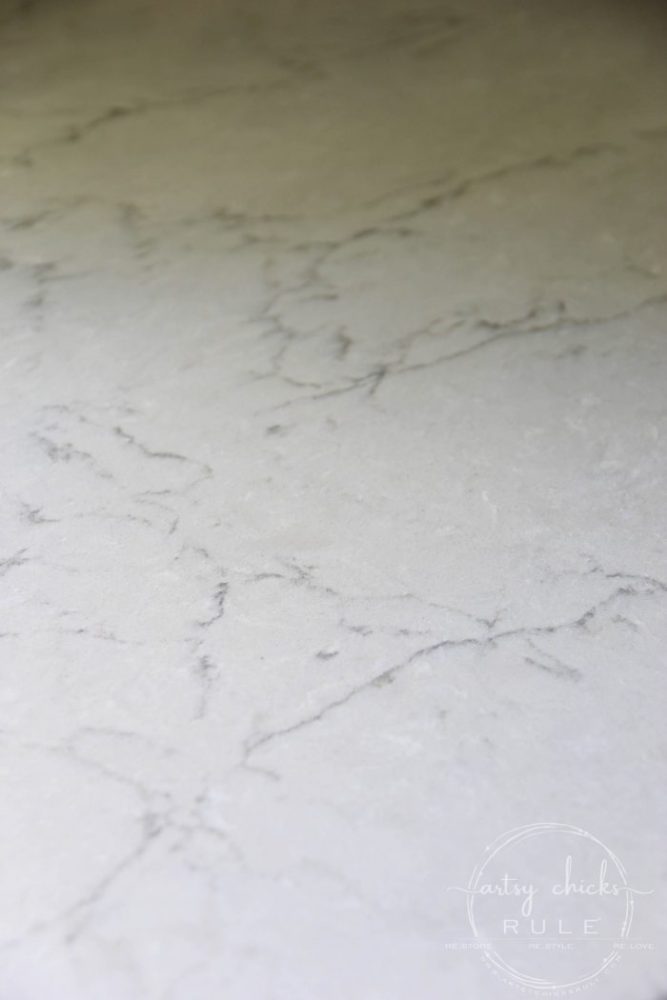 Install day was so exciting! (back there over the stove…before the quartz back splash was installed)
If you follow along on Instagram, you saw a bunch of this as it was happening in my stories over there.
I try to share things that are going on as they are going on, over there. And sometimes things that never even make it to the blog!
So if you do Instagram, I'd love to connect with you over there too!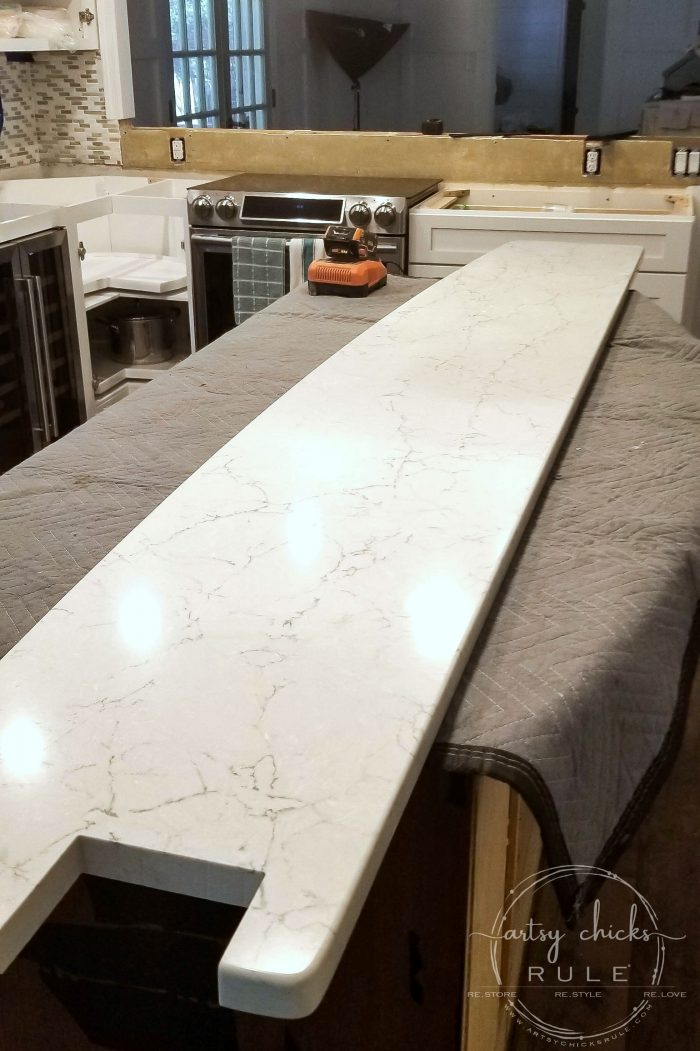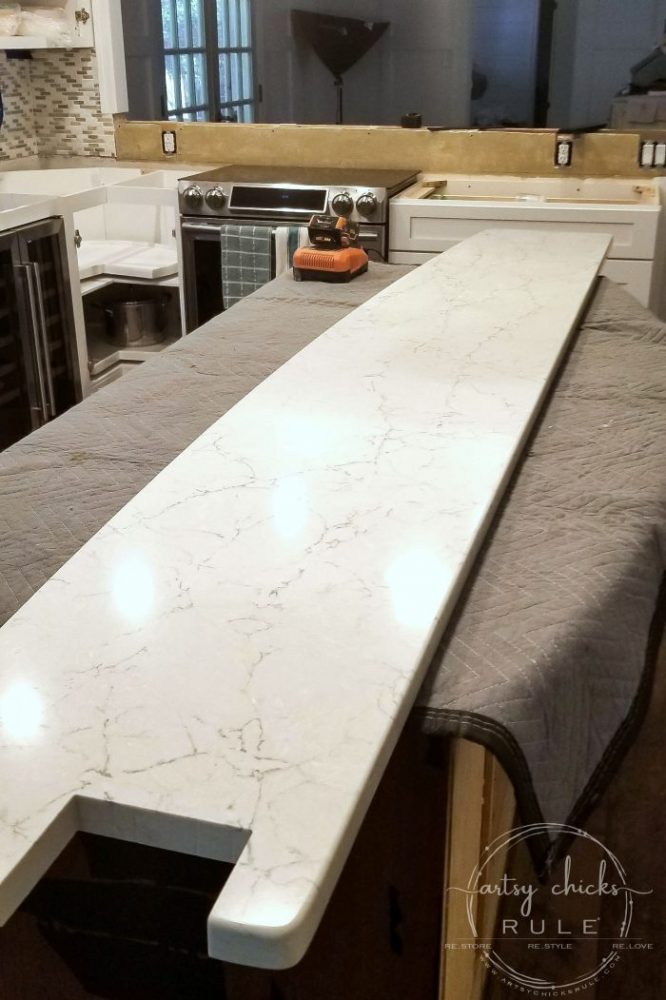 I can't even tell you how happy I was to see these beauties. (that's the bar top)
And installed….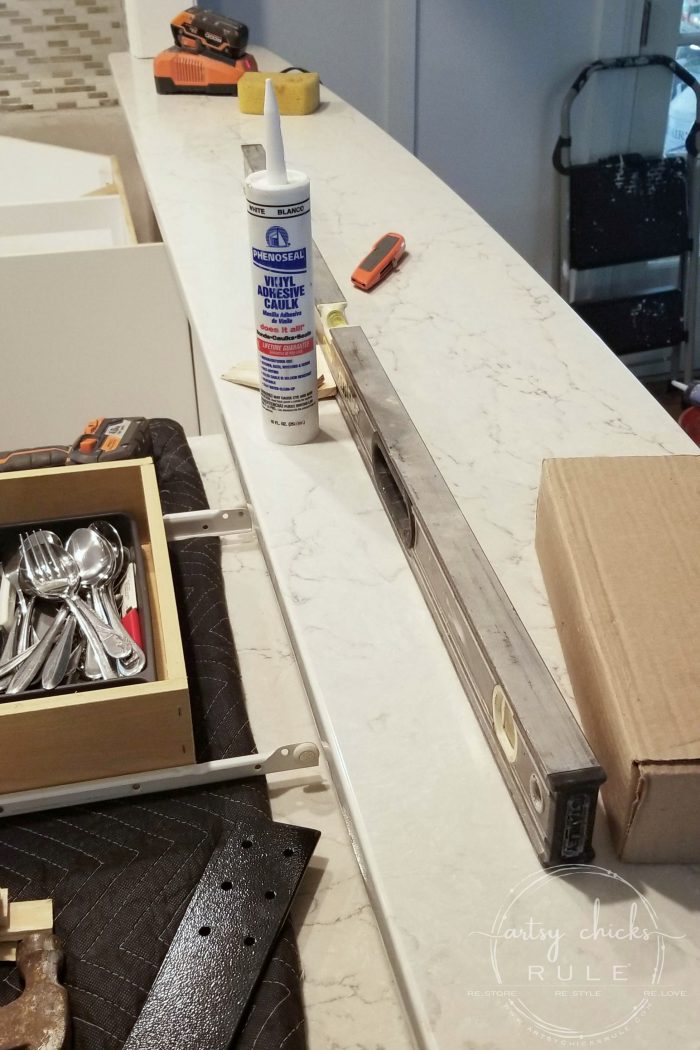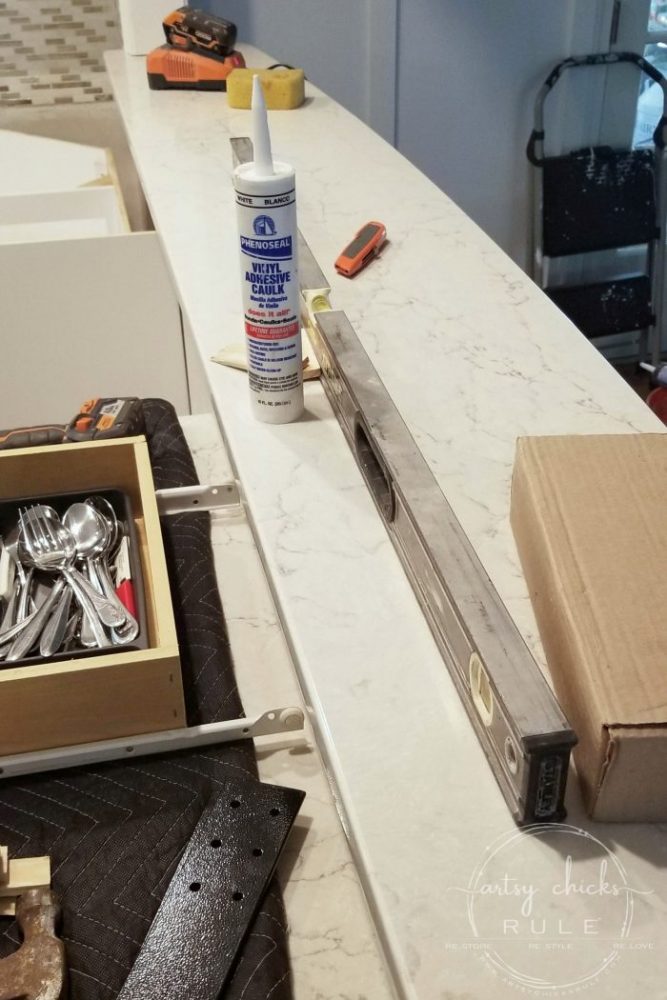 So light and bright ….without being just white.
Notice our old lighting taped up over there?? It was literally hanging from an electrical cord through a hole in the wall. (connected to the outlets) Well, it got removed, rewired (yay!!) and replaced with under cabinet LED lighting instead.
Oh my gosh, SO MUCH BETTER!
I loved having under cabinet lighting but kinda really hated those old lights and the way someone had wired them. (they were there when we moved in and were old).
The LED lighting is on a tiny little strip so you can't even see it. It's amazing.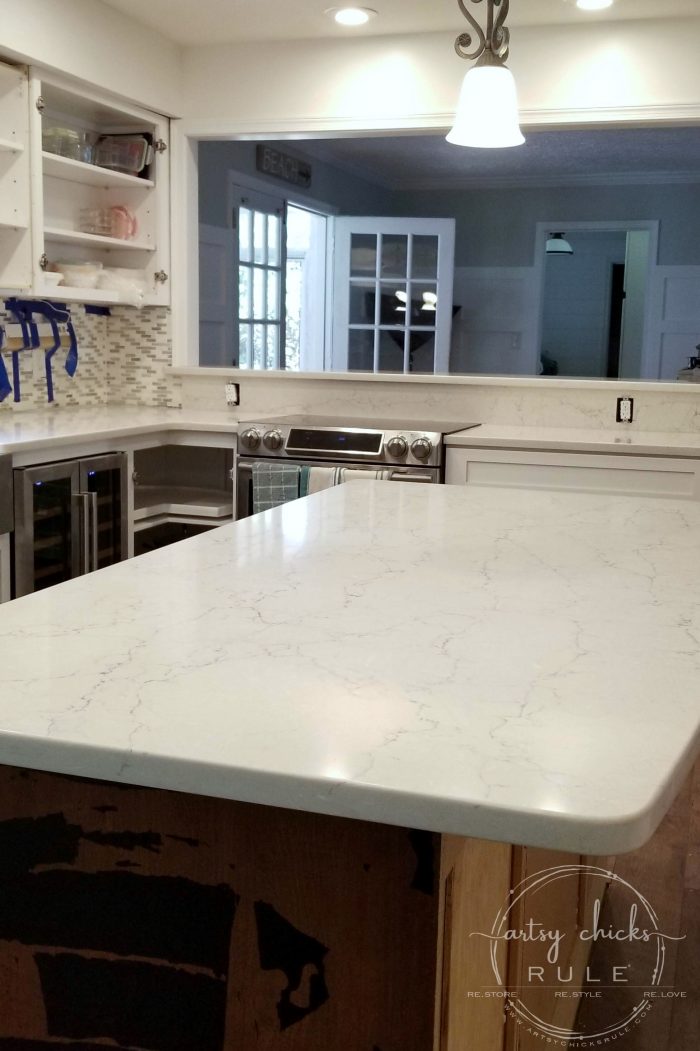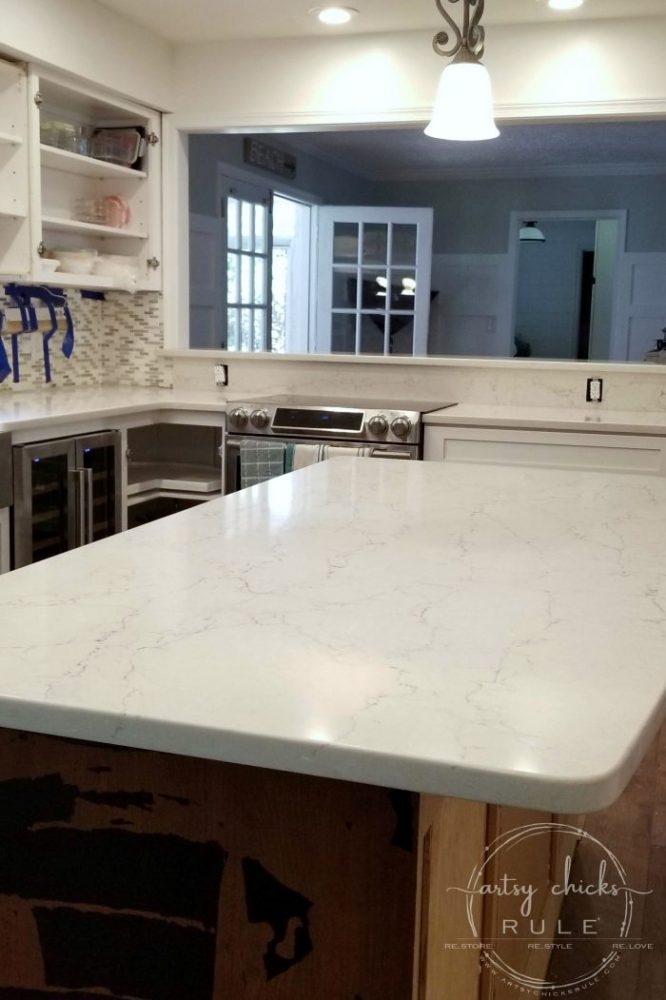 And take a look, that back splash is installed over the stove in this photo.
Such a difference!
OH…and ignore the island…it's in the works. It's getting a FULL makeover, too.
(and I'm painting it a COLOR again….stay tuned!)
And now with the new LED lighting…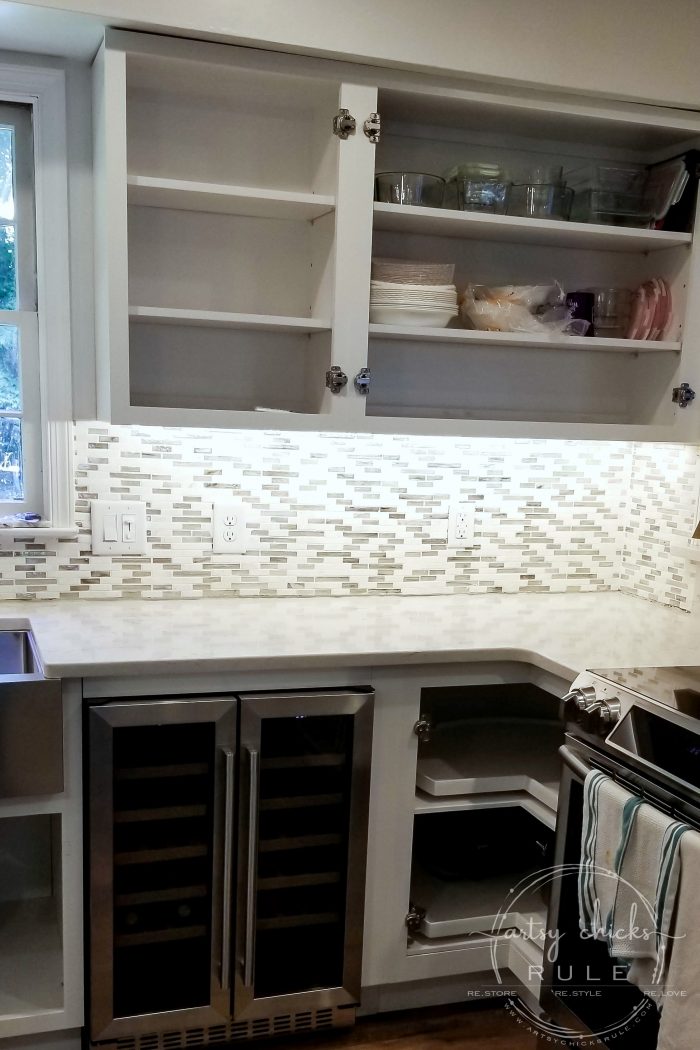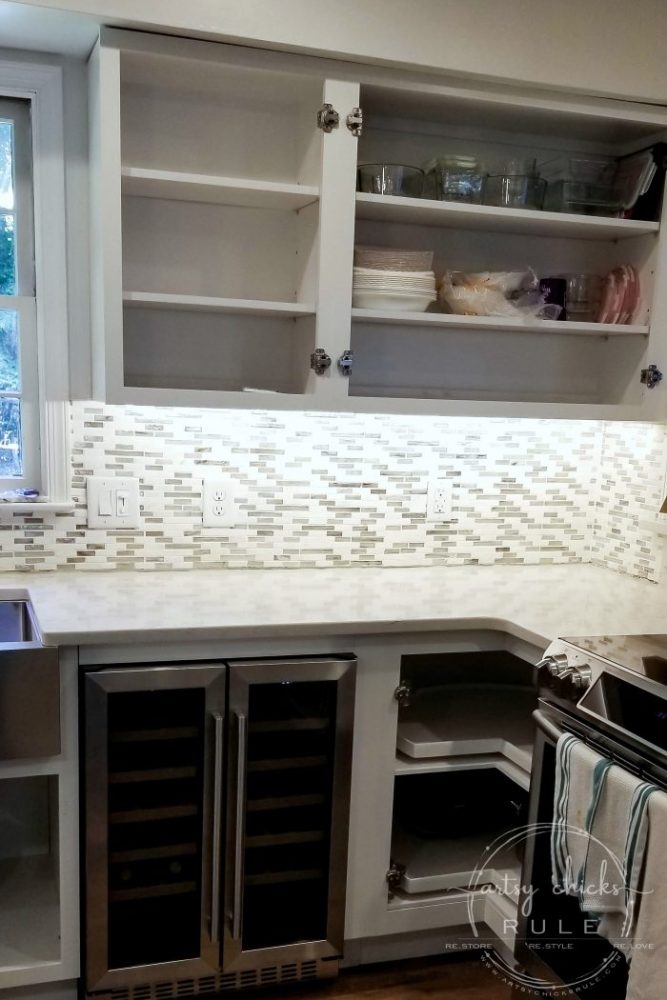 ….and it's on a dimmer, which is fun.
Ignore all the open cabinets, and just the basic "unfinished-ness" of the kitchen.
We are much farther along than when these photos were taken….almost done.
Let me sneak in a few "before" photos for fun….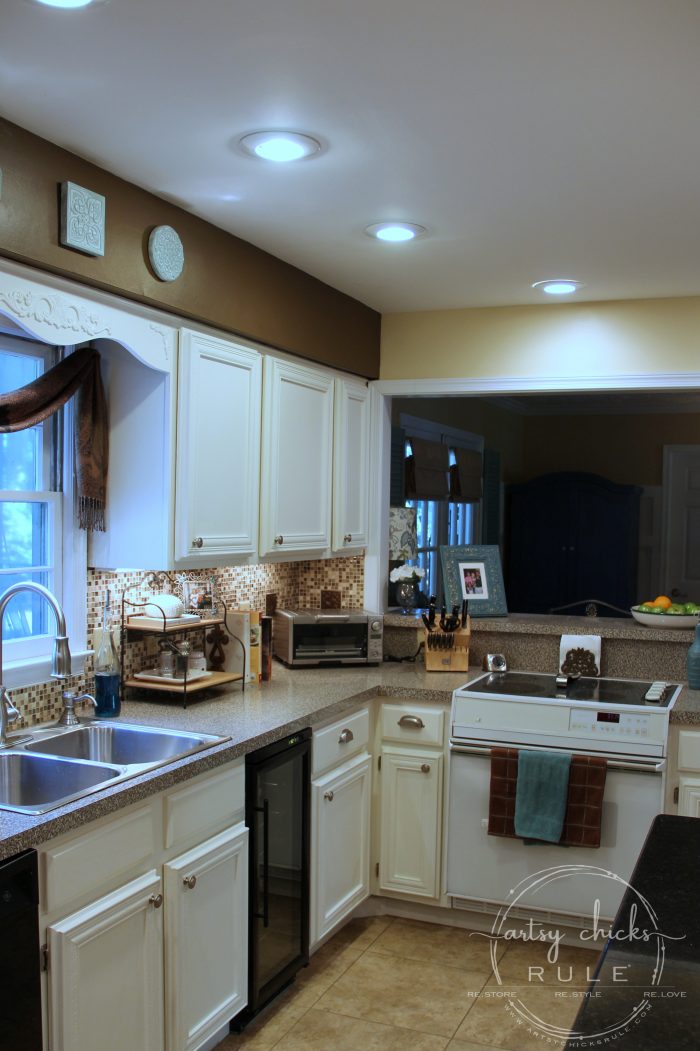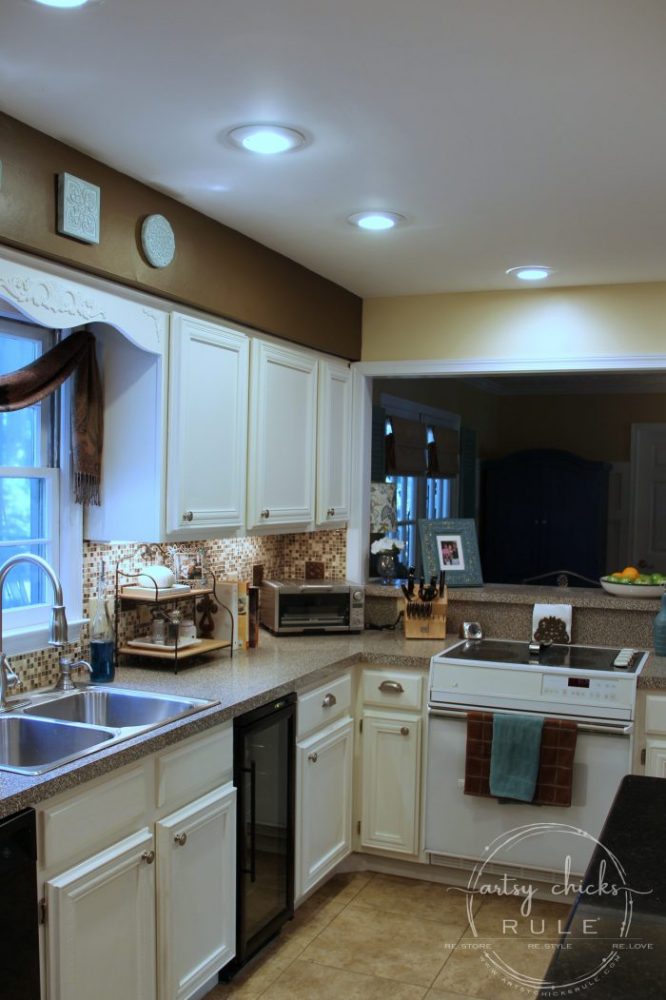 The countertop you see there is also Wilsonart (laminate) that we installed when we moved in.
We actually had Wilsonart installed in the home we had built previous to moving in here as well. (that home had the "Blackstar" Granite laminate and we loved it so much that when we moved here and redid this kitchen we used it again, except went with the lighter version, which was called just "Granite", if I recall correctly)
We have a long history with Wilsonart and have really enjoyed, and been very happy with, every product we've had.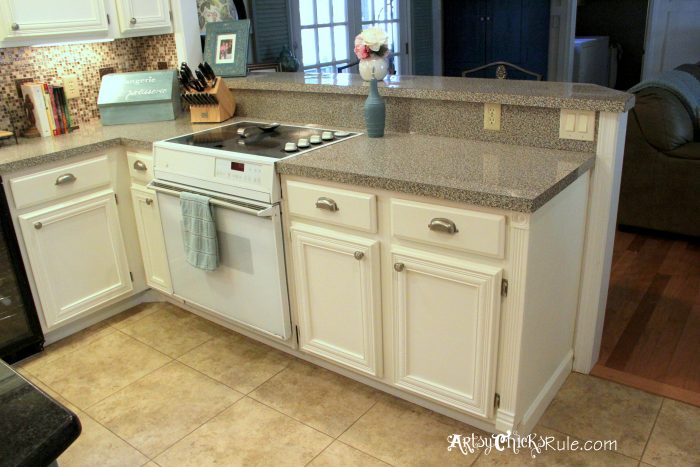 How about the REAL before, as in right after we moved in??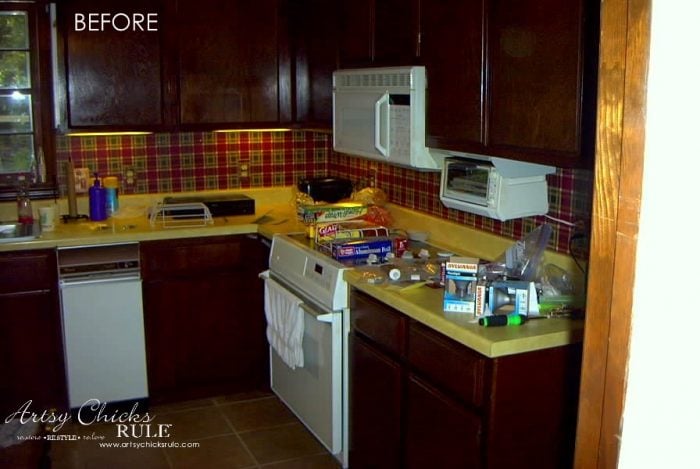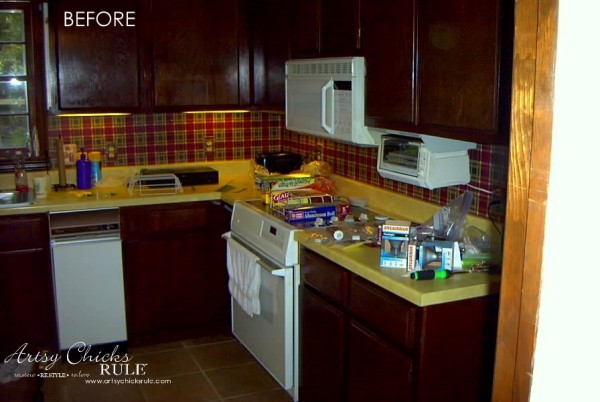 Yes, that is the same exact stove and countertops as in the photo above it!
Promise! ;)
We added wood trim to the plain door fronts, painted the cabinets, changed the countertop, removed part of the wall and so on and so on. ;)
And same area now…..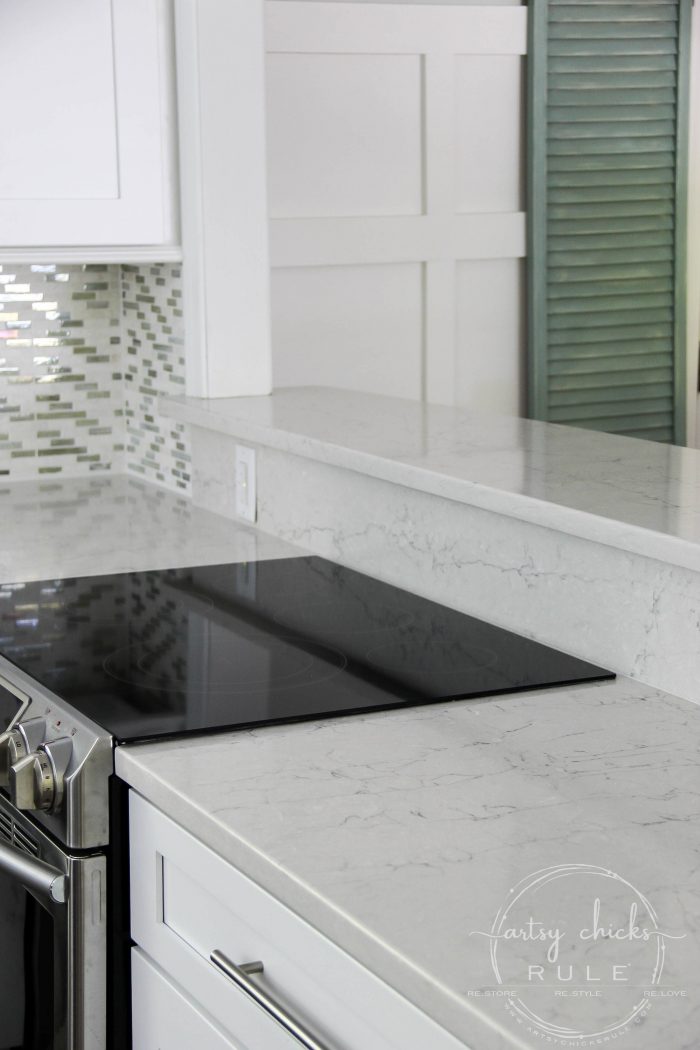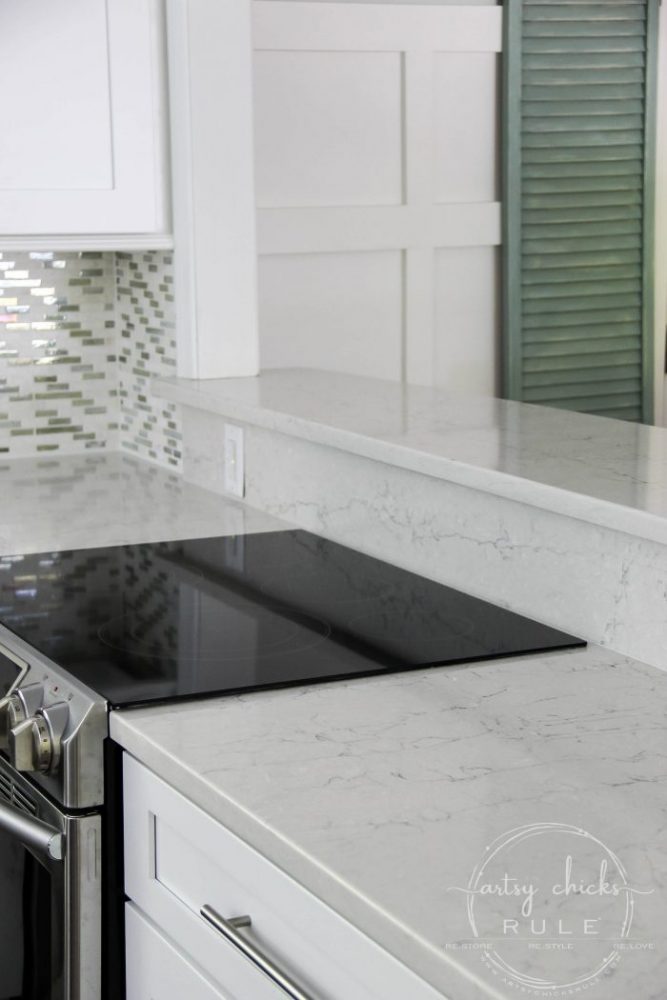 I mean you guys…..is that not a HUGE difference!!!
From dark and dated to light and bright and beautiful. (see the reflection of the upper doors on the stove top…they are on in this shot)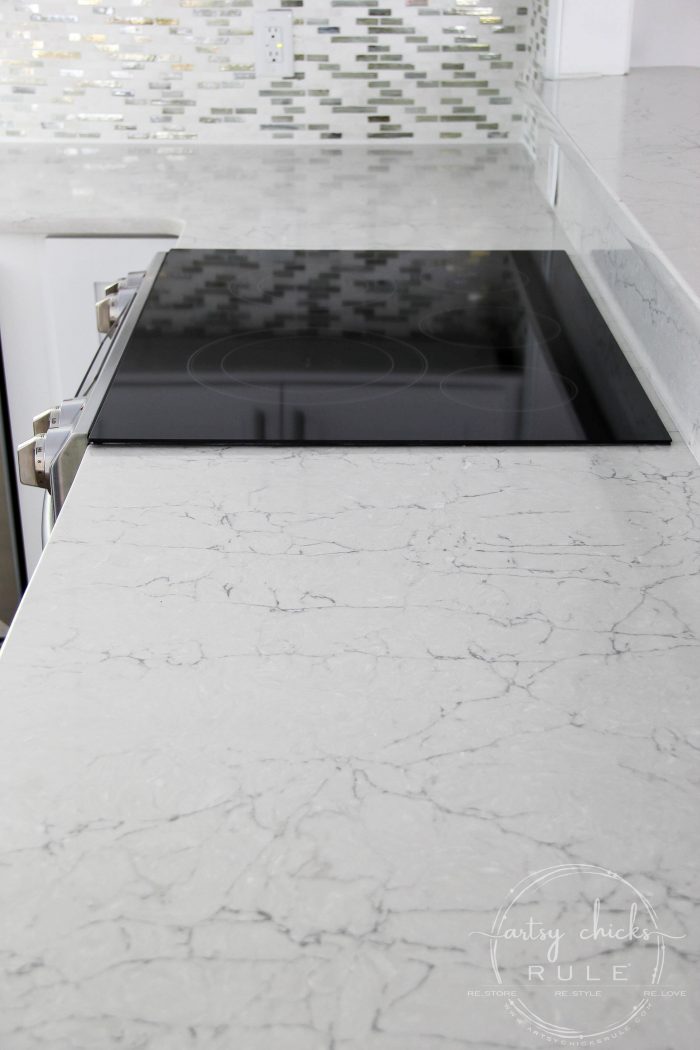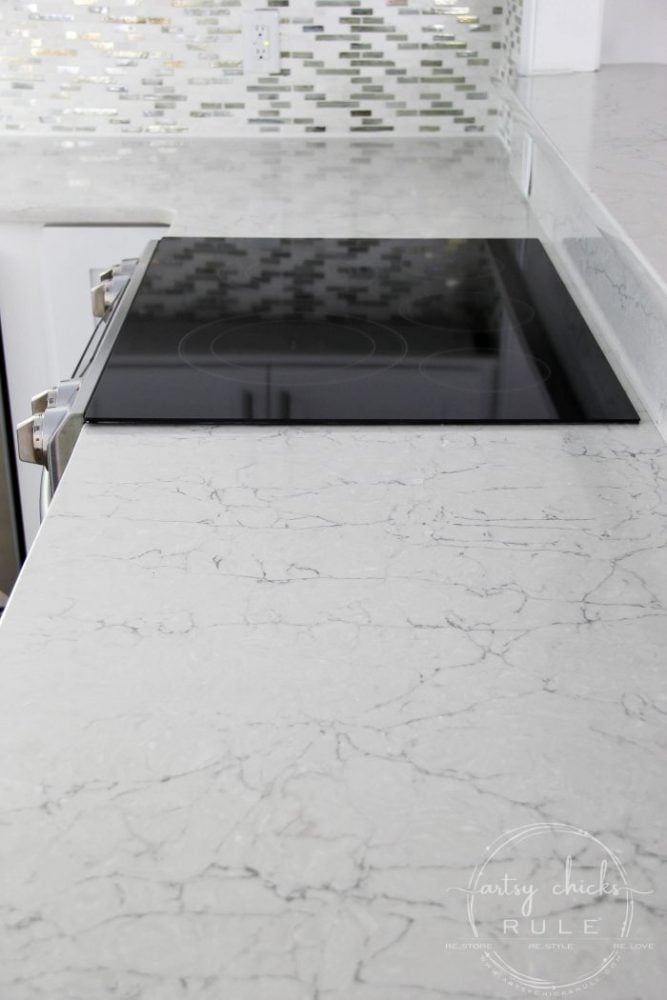 The new countertop makes ALL the difference in here.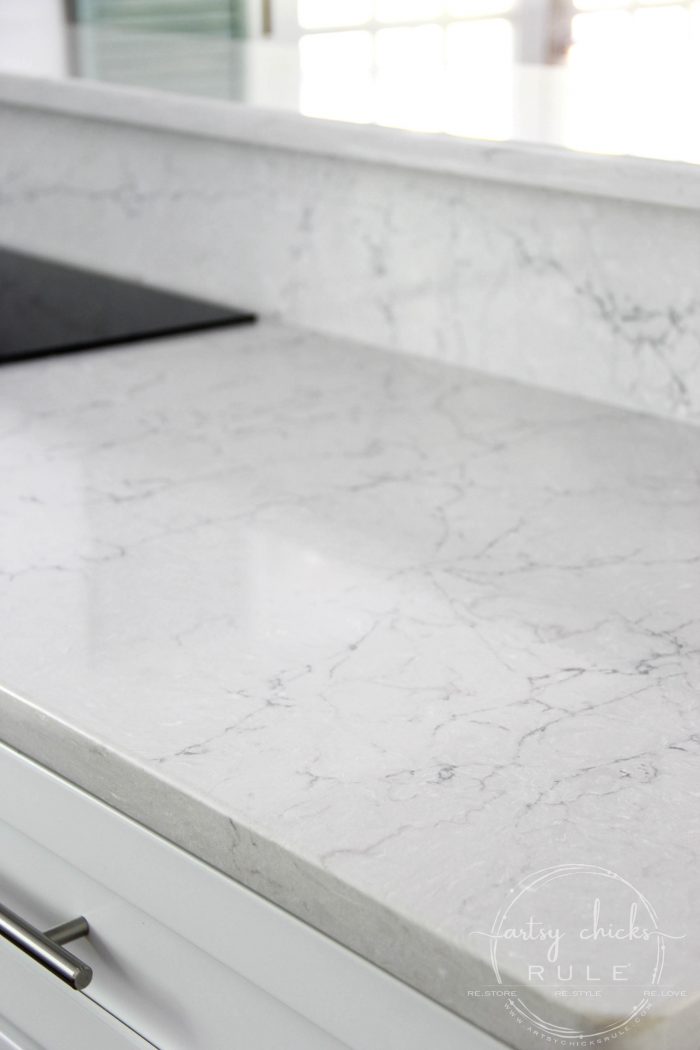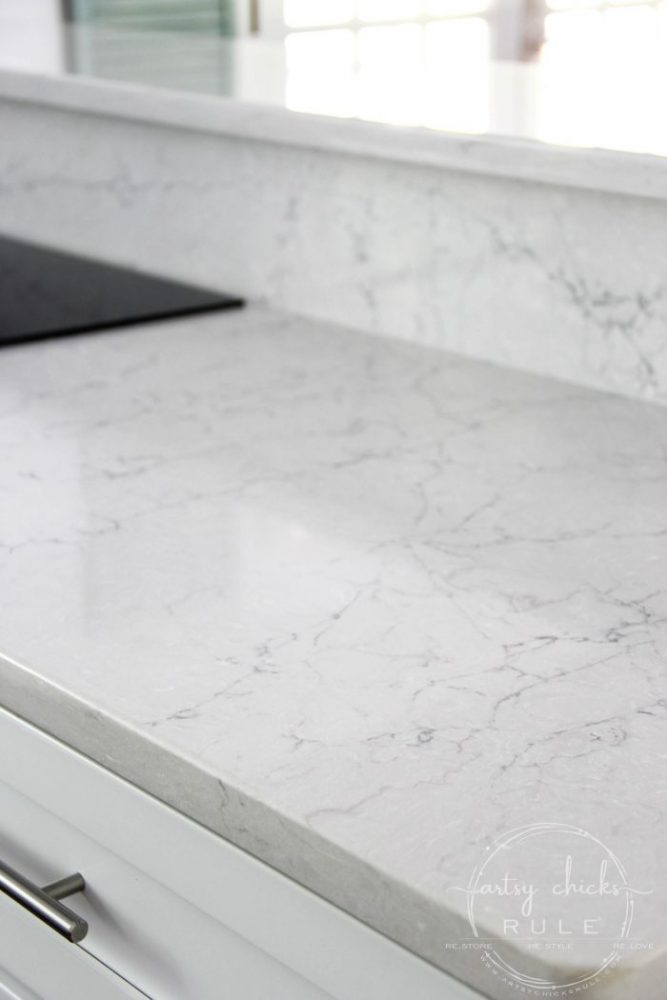 It's so beautiful to me.
I remember the day they installed it, I just kept swiping my hands over and over and over it. lol
It was so smooth like buttah! Really, I've never felt something so smooth.
I thought my old granite top on the island was slick and smooth.
But no, not compared to this, it's different.
I seriously could not get over that. haha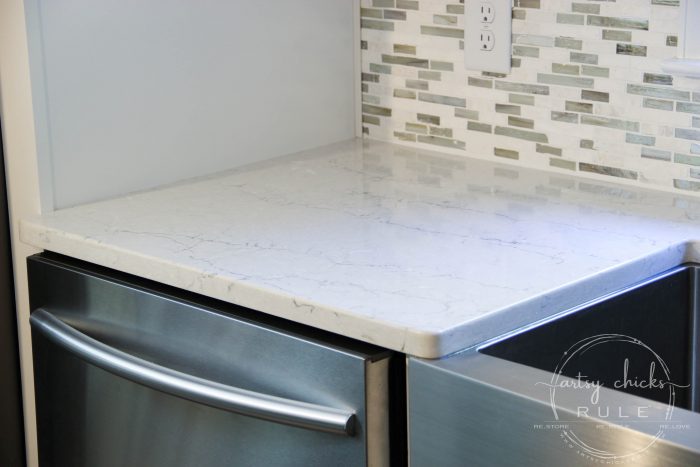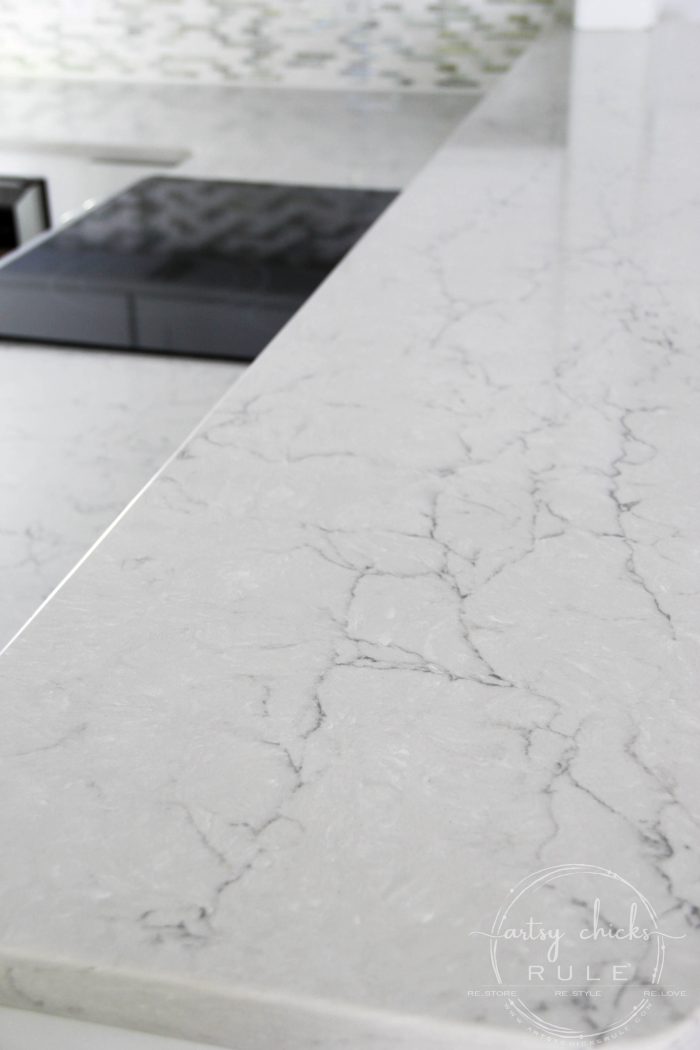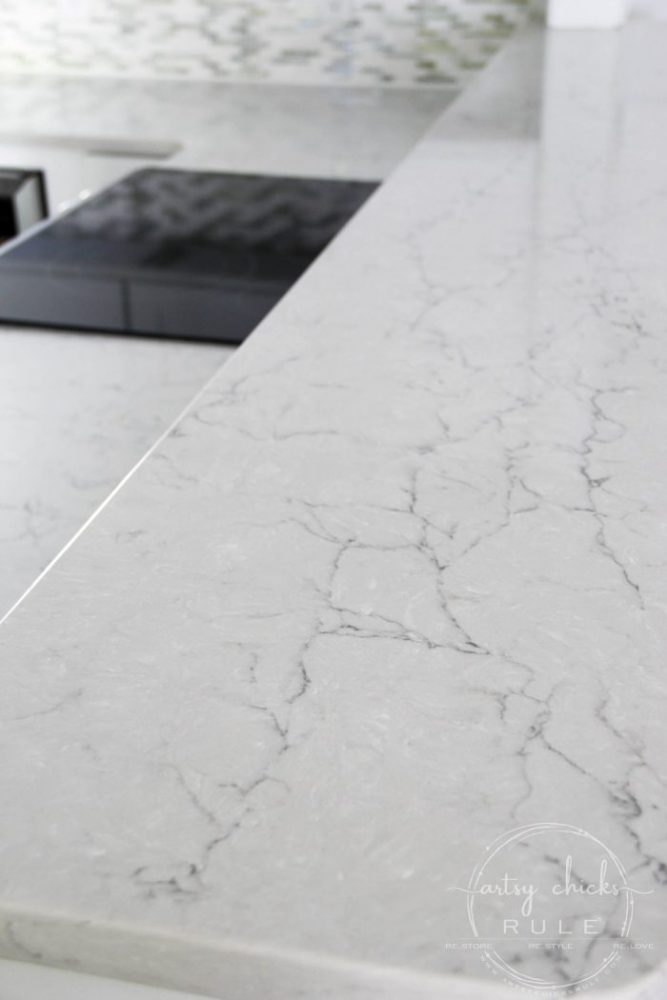 So there you have it. My Wilsonart Quartz Coastal reveal.
SO, so, so happy I went with this one.
They have a bunch of great options to choose from though.
You can find them, here.
Here's a few others I got samples of and considered:
Marrara Q4026 (very pretty and was my second choice, actually)
Haida Q4008
Tellaro Q4025
Coastal is one of their new designs for 2018. They created these new designs (there are several and can be found, here) to capture the beauty of natural stone while pairing them with neutral colors to go with endless color palettes and decor. They certainly achieved that, in my opinion.
PIN it to save it for later!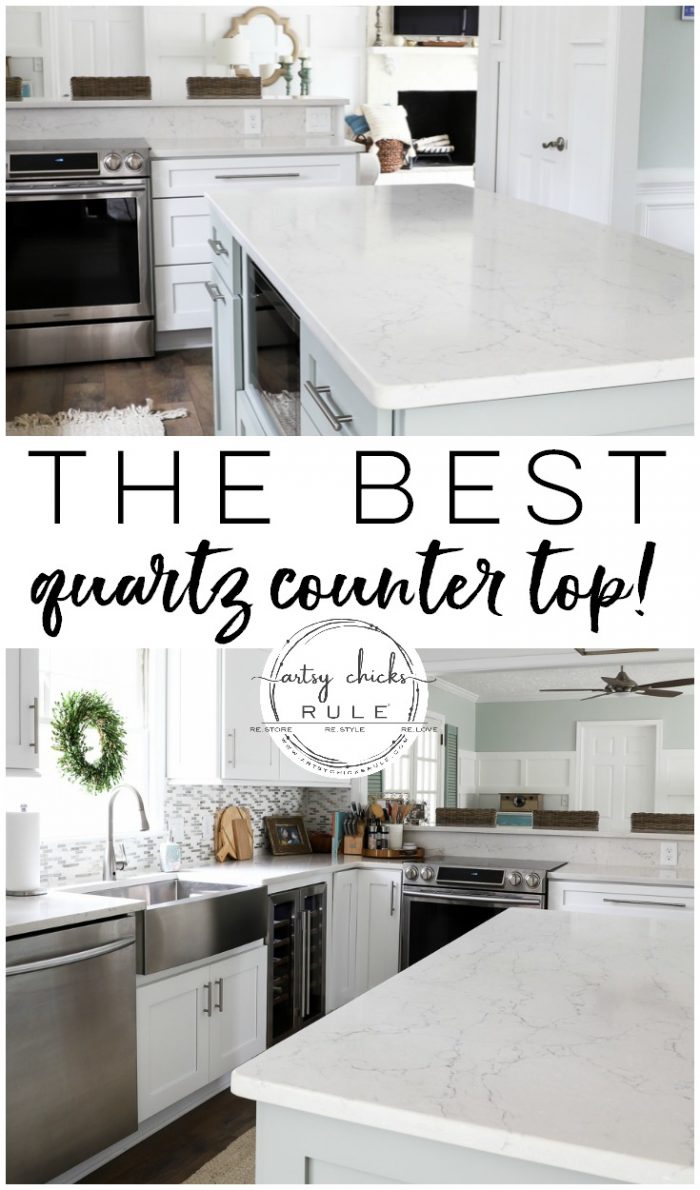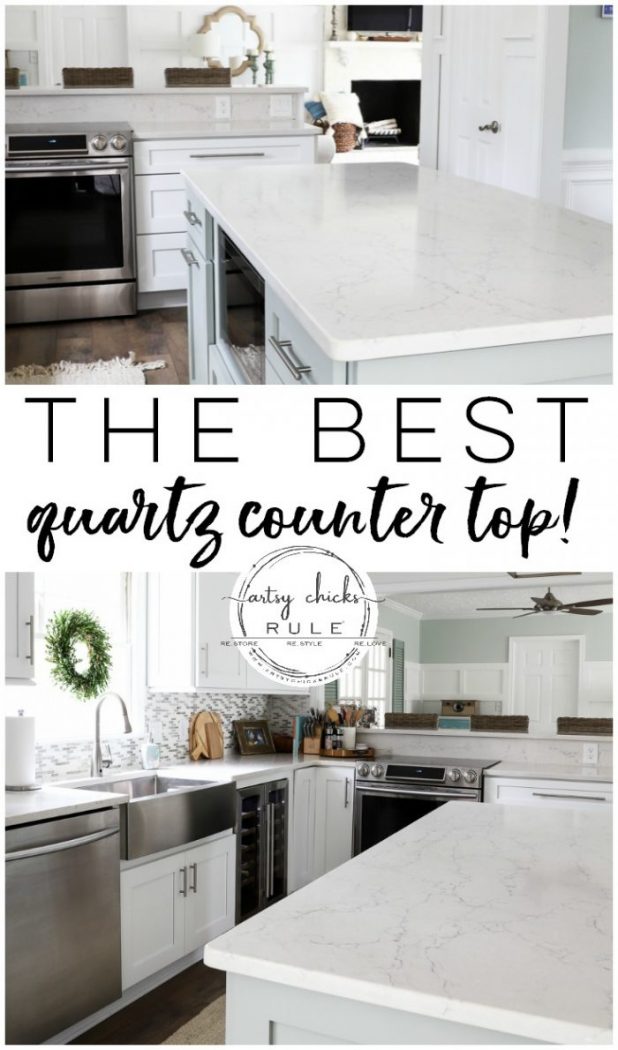 I would love to say I know what I'm bringing you guys next week but I have NO idea at this moment.
I'm starting to feel a major crunch with my house still looking a bit like a tornado went through it (but not like it has been, thank goodness), several projects still not all the way finished AND it's time for me to decorate for the holidays…. so more "stuff" to add to all this crazy mix. haha
Oh my, my head is spinning.
But I'll come up with something fun for you guys!
I had also planned to get a Black Friday gift guide of all kinds of goodies that I love and that I think you'll love put together, but we'll see.
I am quite sure I'll be sharing our FULL dining room reveal next week…finally. So there's that. :)
I'm so excited to get all these reaveals out of the way so we can back to business here at ACR, and so I can get to all that fun Christmas decorating, that I have to be honest, I am finally itching to get going on!
Have you started yet?? Or is it too early still? I used to always decorate Thanksgiving weekend but since the blog, earlier. I'm actually "behind" decorating in blog world. ;) I might start a little this weekend.
Have a wonderful weekend, friends!
Be sure to check back next week when I reveal our next makeover….the dining room!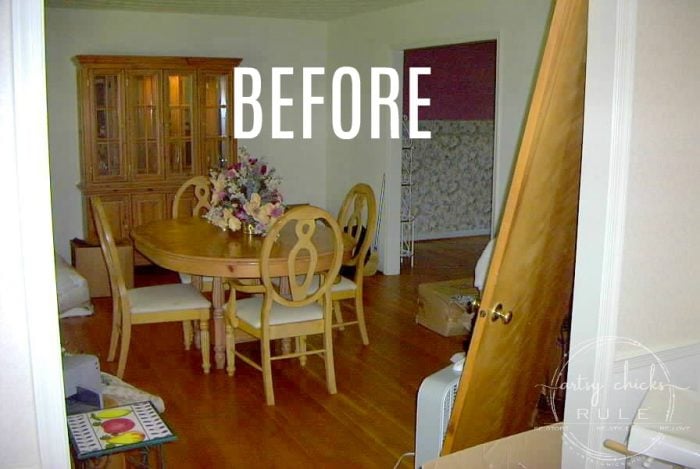 UPDATE!! See it now, here!!
xoxo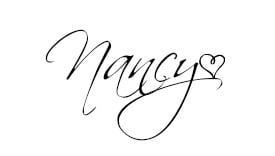 Thanks again to Wilsonart for sponsoring this project. They were amazing to work with and I am beyond thrilled with them and these beautiful countertops, too.