The 5 Top Ways To Seal Chalk Paint (or Milk Paint!)
This post may contain affiliate links. Please see disclosures here.
I love using Chalk Paint to paint furniture, and just about anything. So today I'm sharing the 5 top ways to seal Chalk Paint (plus pros and cons of each)!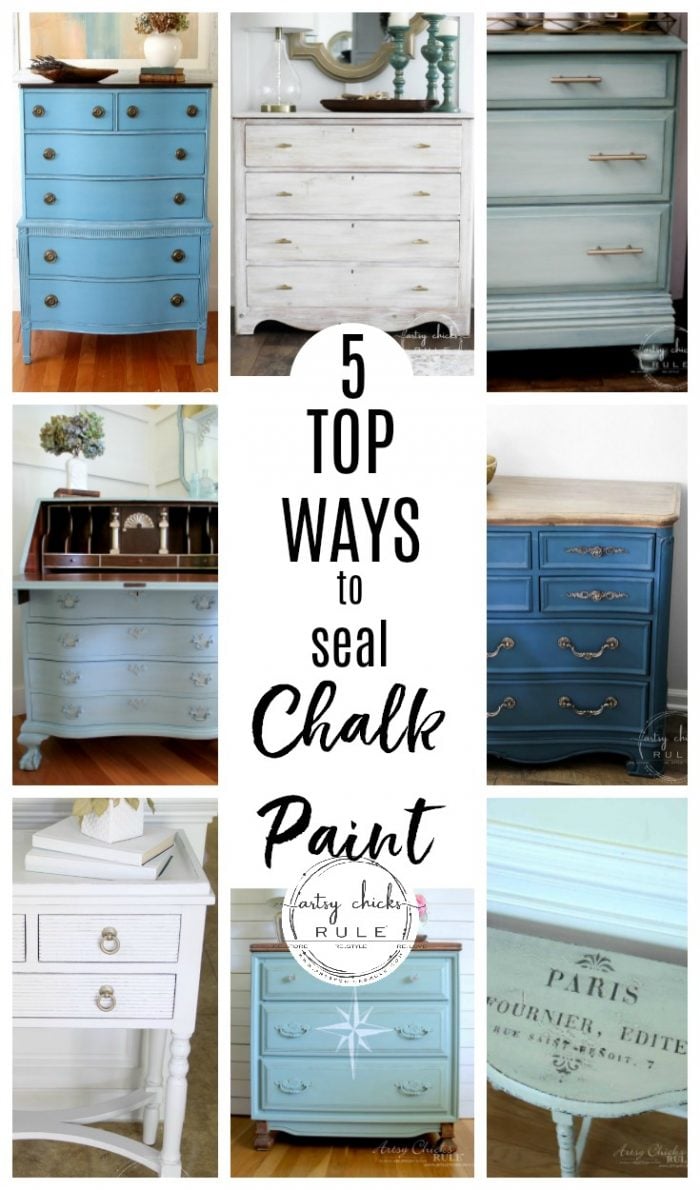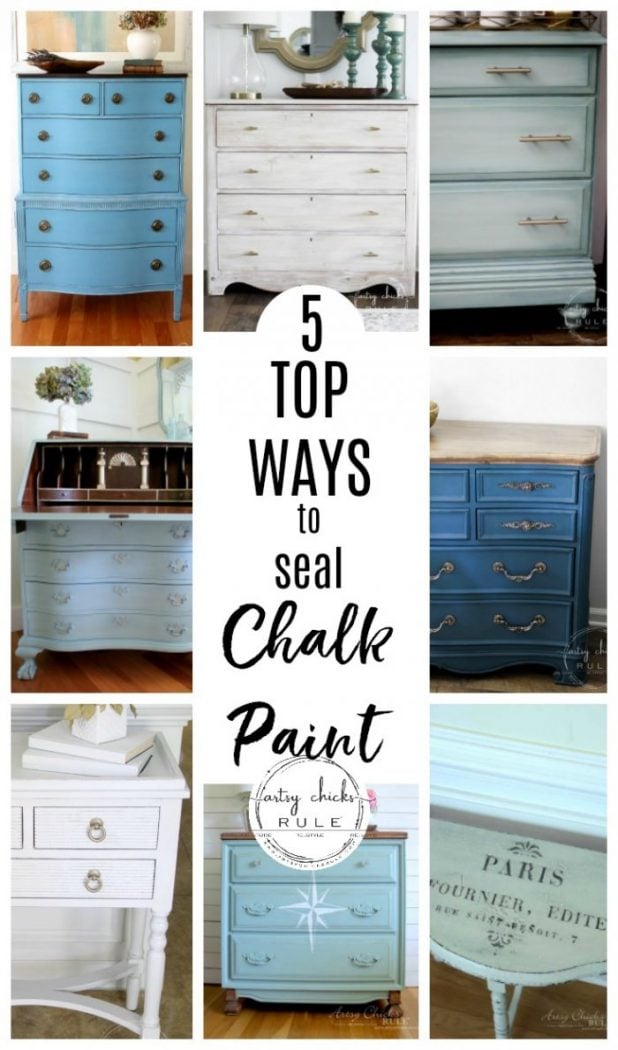 I've had a long love affair with Chalk Paint.
I've been painting and refinishing furniture (and just stuff) for so many years, I can not even count.
So when I first heard about this Chalk Paint stuff, I had to try it out. That was at least 8 or so years ago.
I mean, how fun is it to try something new when you've been using the same ole, same ole for years?
So much fun.
Well, the Chalk Paint led into so many brands and types, which then led into Milk Paint and so on and so on. But today it's all about Chalk Paint.
However, these tips for how to seal Chalk Paint can also go along with sealing Milk Paint, too.
So keep that in mind if you are a Milk Paint lover. I never really got on board with that much.
I do have a few pieces on my blog that are milk painted but I didn't fall in love with it.
Although, I do still plan to do a few more pieces with it! (I have more samples to use over here and want to try a few things)
Of course I started out using wax to seal Chalk Paint because that is how I was told to do it.
I quickly, very quickly, decided to try poly instead. I had good luck with it (and at the time, wasn't even sure if it was supposed to work or not because I hadn't really seen anyone using it as a sealer for CP)
Wax and I have not always had a love affair. ;)
It's a love/hate relationship, for sure. And for many reasons.
As I go through the top 5 ways to seal Chalk Paint today, I'm also going to give the pros and cons of each, that I've found along the way, plus a few product options.
You'll find there is no "perfect" sealer. They all have pros and cons.
It just depends on the look you are after, the durability you are after and the amount of work you'd like to put into it.
I hope this post will be helpful to you in your future makeover adventures!
I finished 5 boards with Chalk Paint and the varying sealers so you can see (somewhat anyway, it's hard in photos) what the different finishes look like. (AND how the different finishes change the look of the paint)
I really should be calling this 6 but one is not an actual sealer that I'm sharing today but it can be used as such…if you accept the cons that go along with it.
5 Ways To Seal Chalk Paint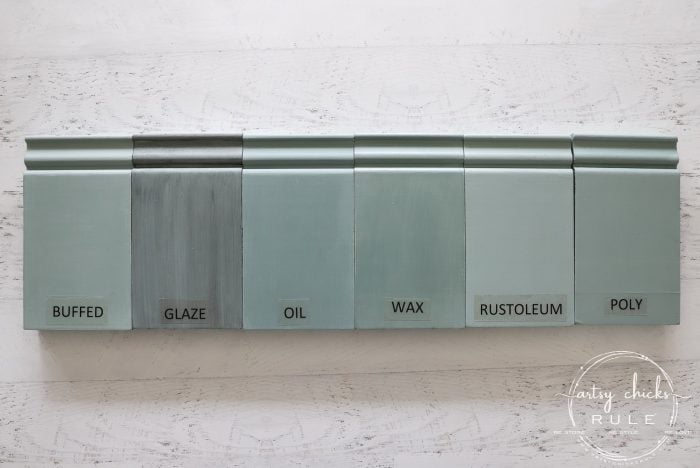 Isn't it amazing how each top coat gives the paint a completely different look?
That is something else to keep in mind when deciding on a top coat for your project.
By the way, I used Duck Egg Blue (Annie Sloan Chalk Paint) on the sample boards.
1 – Wax
Well, you know we had to start there, right?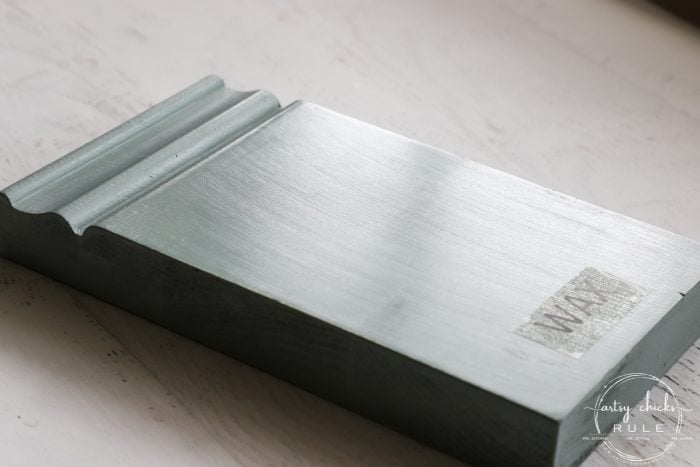 PROS-
gives a beautiful, unmatched sheen and lustre
feels so smooth
paint can be added for a variety of color options
resists water
fairly durable wear
usually won't yellow over time
CONS-
takes a bit of "elbow grease" to apply and buff
more time consuming to apply
needs touch ups and repeat applications over time
not impervious to heat
can not be repainted over, except with more Chalk Paint
Some waxes to try:
2 – Polyacrylic
I'm going to be talking about water based poly, not oil based. Oil based is similar but it has more of a tendency to yellow over time so I don't use it often.
You can use polyacrylic sprays or liquids.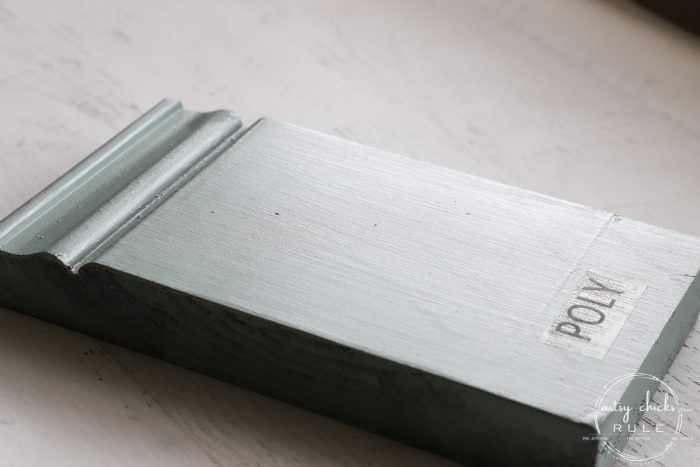 PROS-
multiple finish options, shiny to matte and even flat
very durable
you can spray, brush or roll the product
quicker application time
paint color can be added to create an array of finished looks
can be painted over
CONS-
even though it's water based, it can yellow over time changing the color of your paint
stains can sometimes appear in the underlying Chalk Paint
might need more than one coat
brush strokes are possible, if using a brush
Some polys to try:
3 – Glaze
Glaze is a fun finish if you want to change the color of your project, subtlety.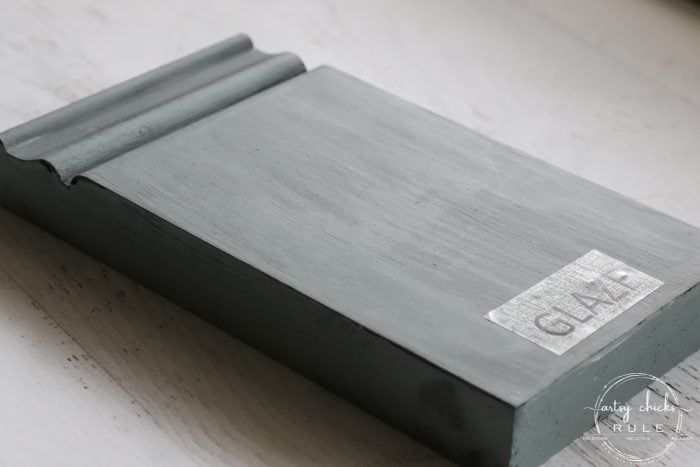 PROS-
a variety of colors are available
similar to apply as poly but a brush or rag can be used
adds dimension and interest
can be painted over
CONS-
doesn't give as durable a finish
glazes are usually colored, (white, brown, black, etc) so the color of the glaze will affect the final finish color
Some glazes to try:
4 – Oils
Oils work well with Milk Paint but they can also be used with Chalk Paint. I don't really use oils to seal Chalk Paint but it is a popular choice.
It works well on reviving old wood too!
PROS-
similar sheen as wax
not as durable as wax or poly
less toxic to use
easy application
can add extra coats for more sheen, durability
CONS-
painting over it can be a problem
doesn't have the same smooth, finished "feel" as wax and poly
the color of the oil can impart color onto your painted piece
oil can "age" over time and yellow
Some oils to try:
5 – Rustoleum Matte Finish
I gave this one it's own category because I find it to be a bit different from the other polys I've used.
To me, it's more of a blend, not fully poly-like.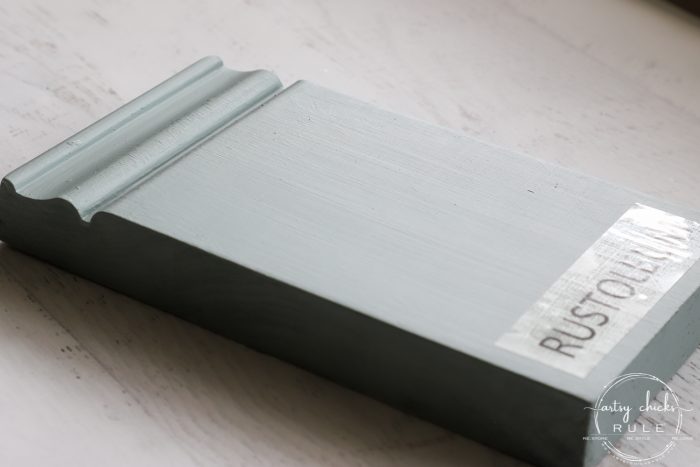 PROS-
easy application
durable
nice sheen, more like wax
quick dry time
CONS-
although durable, it doesn't seem quite as durable as regular poly
nice matte finish
additional coats may be needed
the jury is still out on whether this yellows over time
Get it here >>> Rustoleum Matte Finish
And last, but not least, number 6 which doesn't really count as it's not a "sealer"…but I'm including it anyway. ;)
6 – Buffing
Say what? Just buffed?
Yes, buffing. Not adding a sealer at all. Did you know that Chalk Paint buffs up really nicely without any top coat??
It creates a lovely, buttery soft sheen when buffed.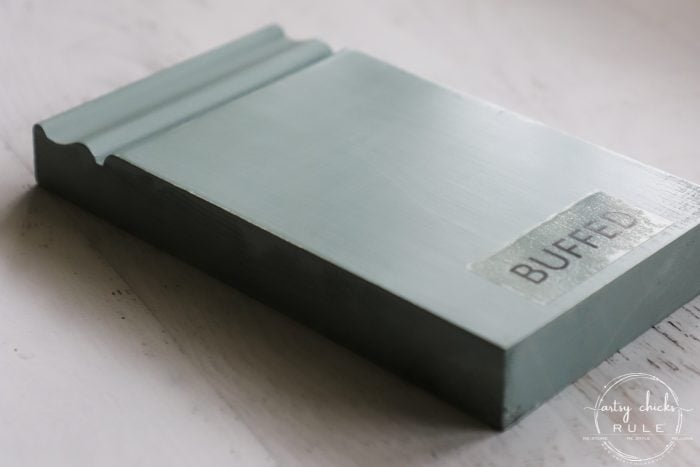 PROS-
easy to do
buffs to a soft sheen
more suited for outside items, weathered, etc.
keeps the color of the paint more "pure"
CONS-
not suitable for daily use
not durable like wax or poly
So there they are. The 5 top ways to seal Chalk Paint (or Milk Paint too).
I hope that you find this information helpful!
PIN it to save it!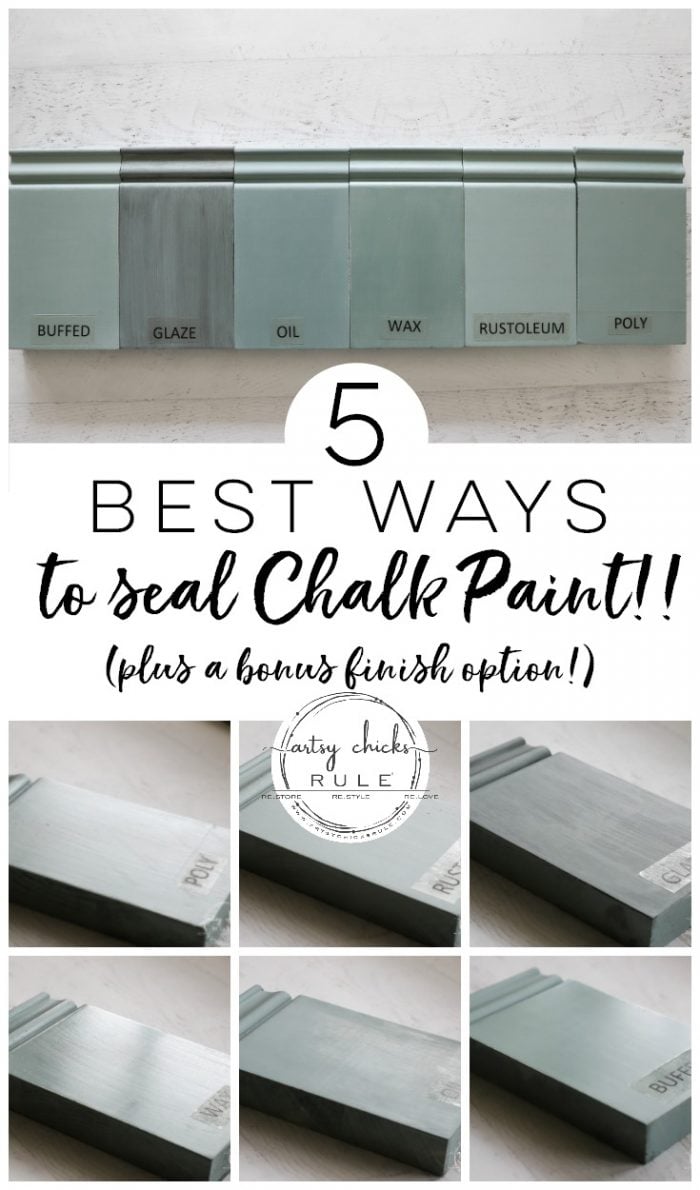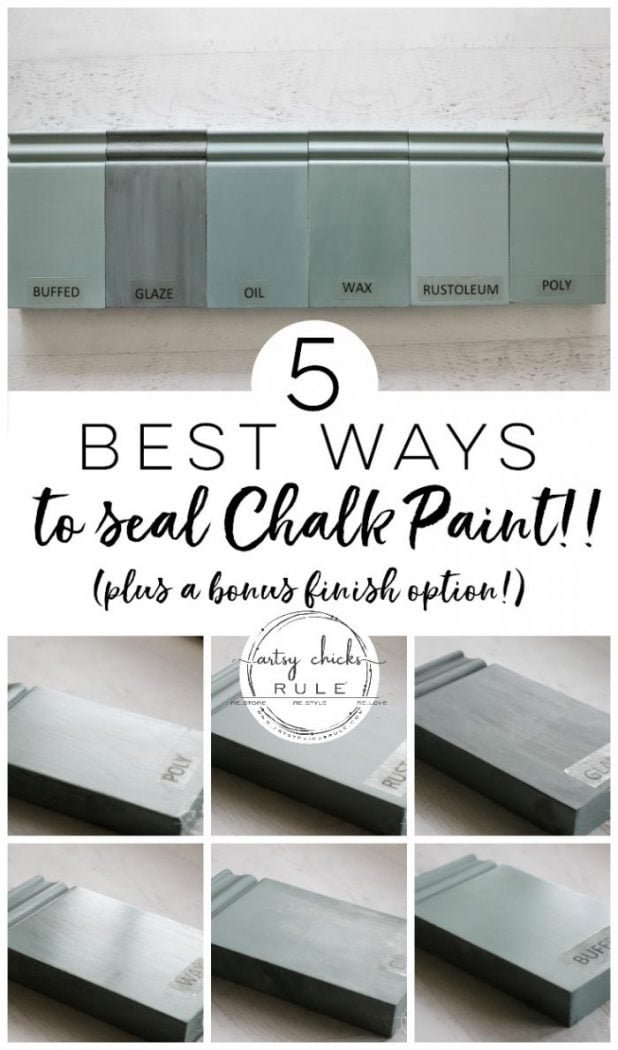 I'm working on getting back into my "back to basics" series I started last year. So be on the lookout for a few more in this series in the coming weeks/months.
I'll be adding these links to each post like this below so you'll be able to find them easier.
More posts in the "back to basics" series:
I'll be adding to these links as I add posts in this series.
I have at least 3 more planned as of now. So stay tuned!
Hope you have a wonderful weekend and happy painting! (and sealing! ;) )
xoxo