Welcome 2019 – Furniture Makeovers To Come
This post may contain affiliate links. Please see disclosures here.
Furniture makeovers to come in 2019!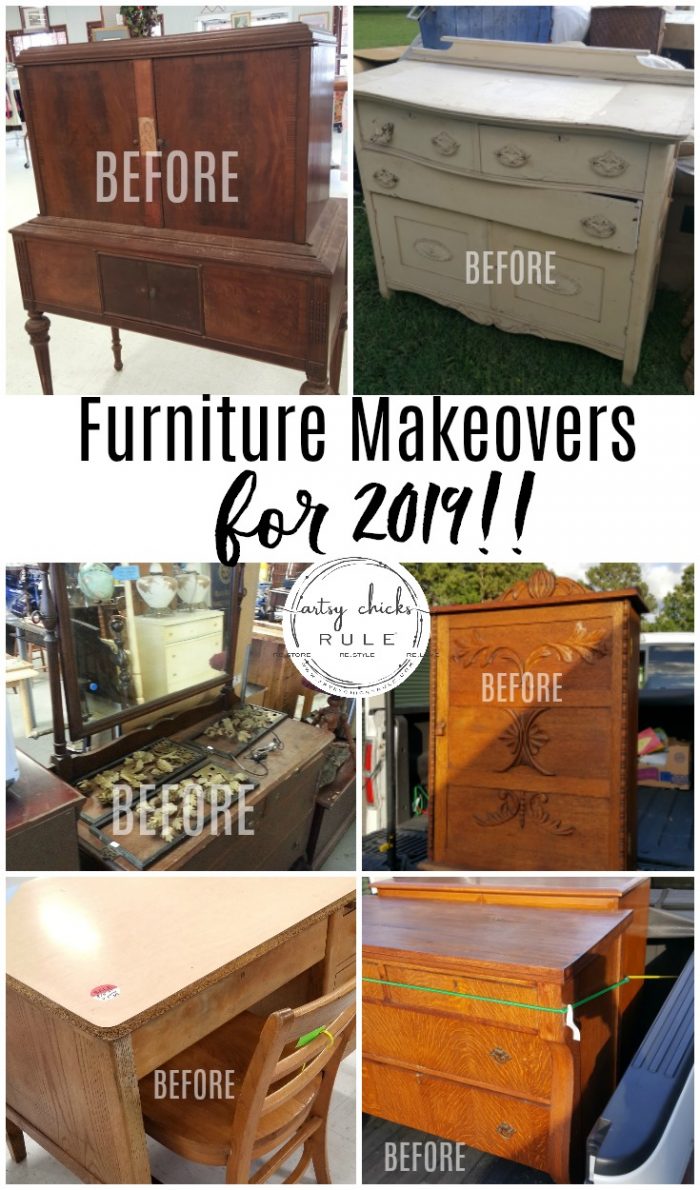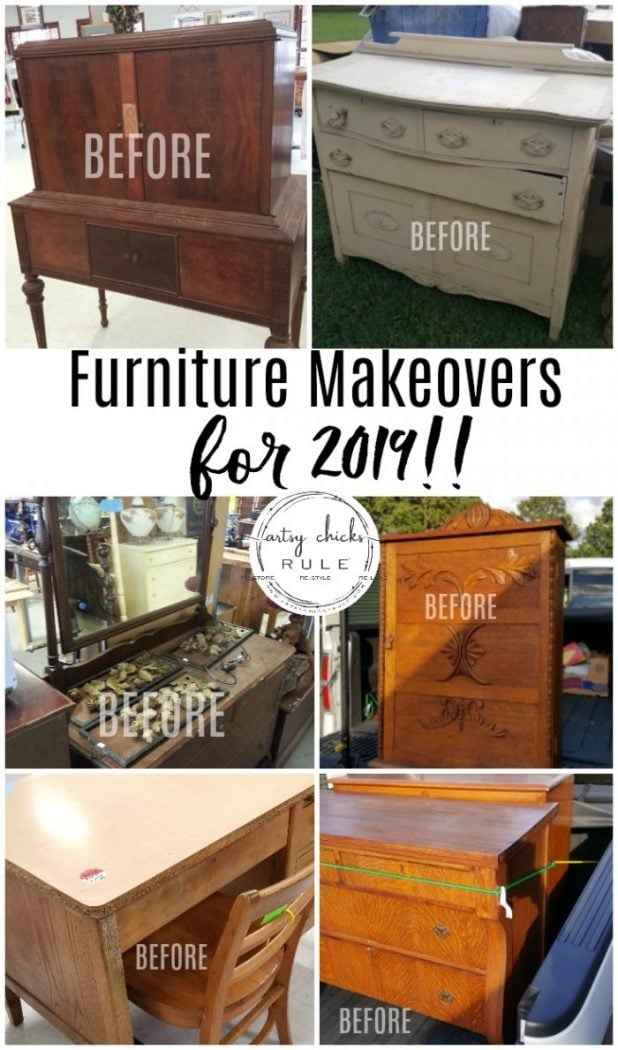 Yipee, 2019 is here.
A brand new year full of possibilities. Full of ideas and plans. Fresh and new.
I'm excited.
Truly.
I'm so excited about all the plans I have for this year, and this blog, and my other little food blog too.
Lots happening this year so hold on to your seat! ;)
Today I thought I'd welcome in the new year with all the makeovers that haven't gotten done in the past few years.
But ARE going to get done this year. And hopefully, early on this year. :)
It's just TIME.
No, it's past time.
Or maybe it's high time! haha Yes, that's it.
That's what my sweet hubby would say…"it's high time you got busy on those and got them outta here!" lol
So I'm going to.
Some of these furniture pieces have been with me for years…and years. Oops.
And these are not all, just the ones I had photos of.
I have a couple more in the storage units to redo besides these. (I have an old antique tv cabinet, a wine bar cabinet and more)
These are getting their long overdue makeovers and making their way out to their brand new homes. :)
Then maybe I can go back to ONE storage unit. (and then hopefully NO storage unit once we build our new shed)
Not enough time in the day, I tell ya! ;)
Let's start with this beauty…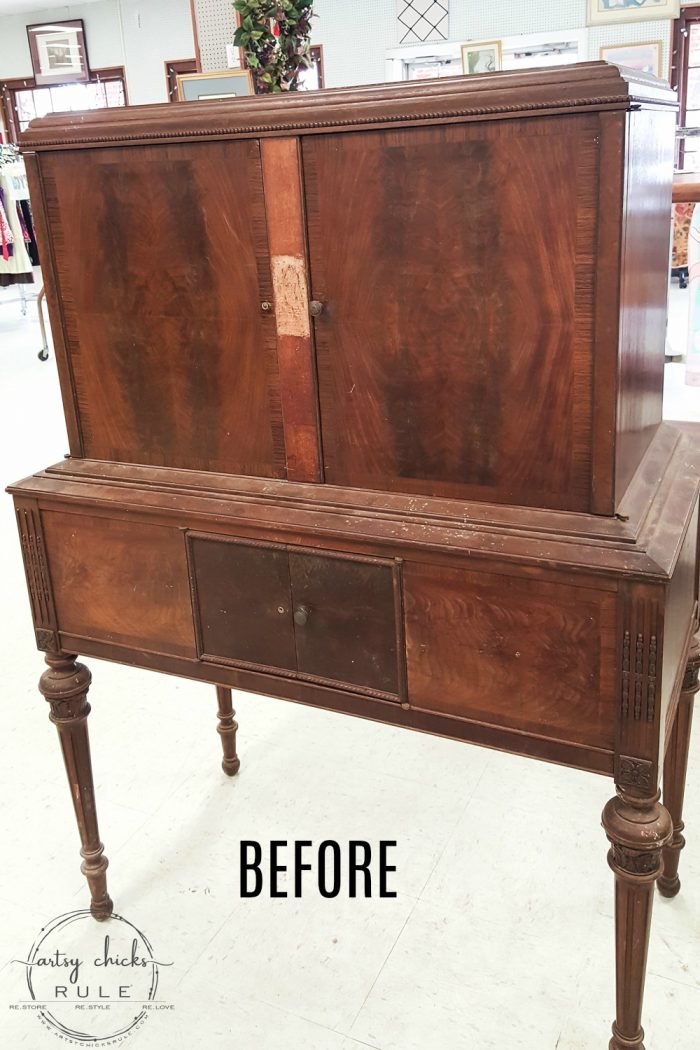 I paid $50 for this at our local thrift shop.
I couldn't believe it when I found it…isn't it amazing????
Yes, it's missing a few things, knobs, wood trim, veneer is peeling/missing, etc……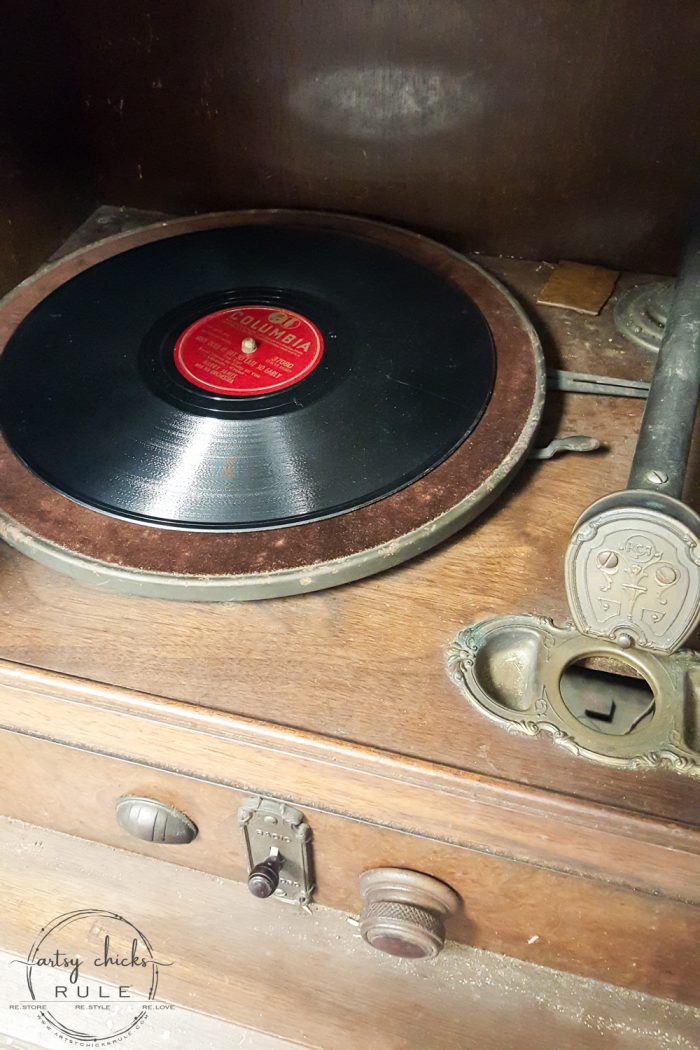 …but it still had a record from the 40's on there!! Isn't that something???
"Why Does It Get So Late So Early?" is the song.
Want to hear it?( you know you do! ;) ) >>> Click here to hear it, it'll take you right back.
Love, love it!
From what I can gather from a short bit of research, the cabinet/radio is circa Sept/1929. Wow.
And isn't that speaker lovely? So ornate with such detail.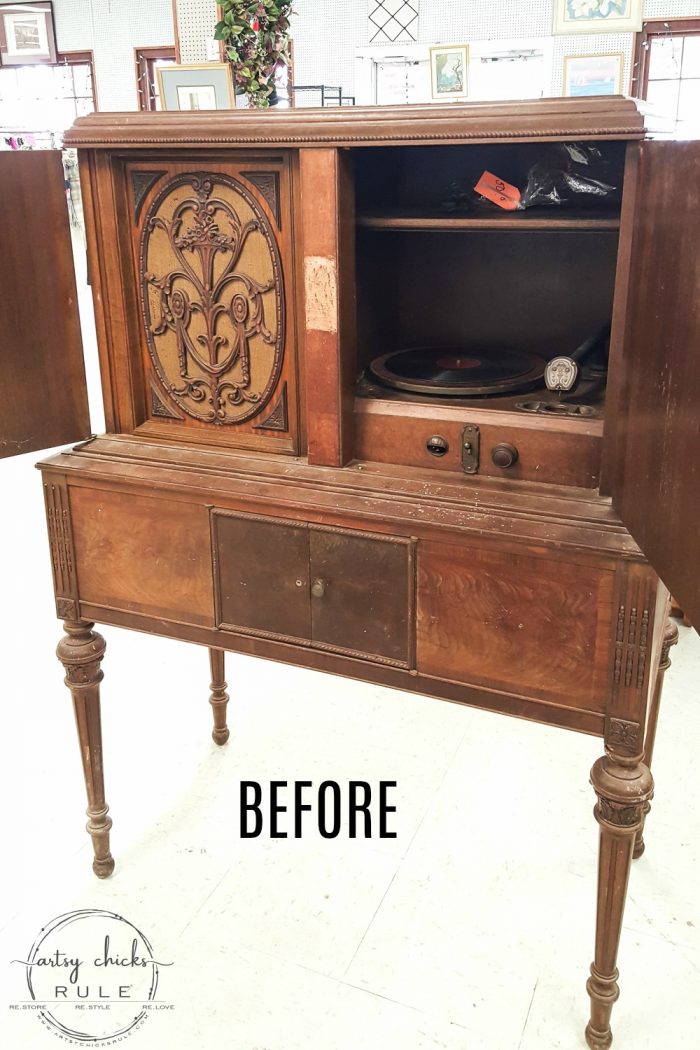 The bottom doors are where the radio is…. ( a little wonky as you can see)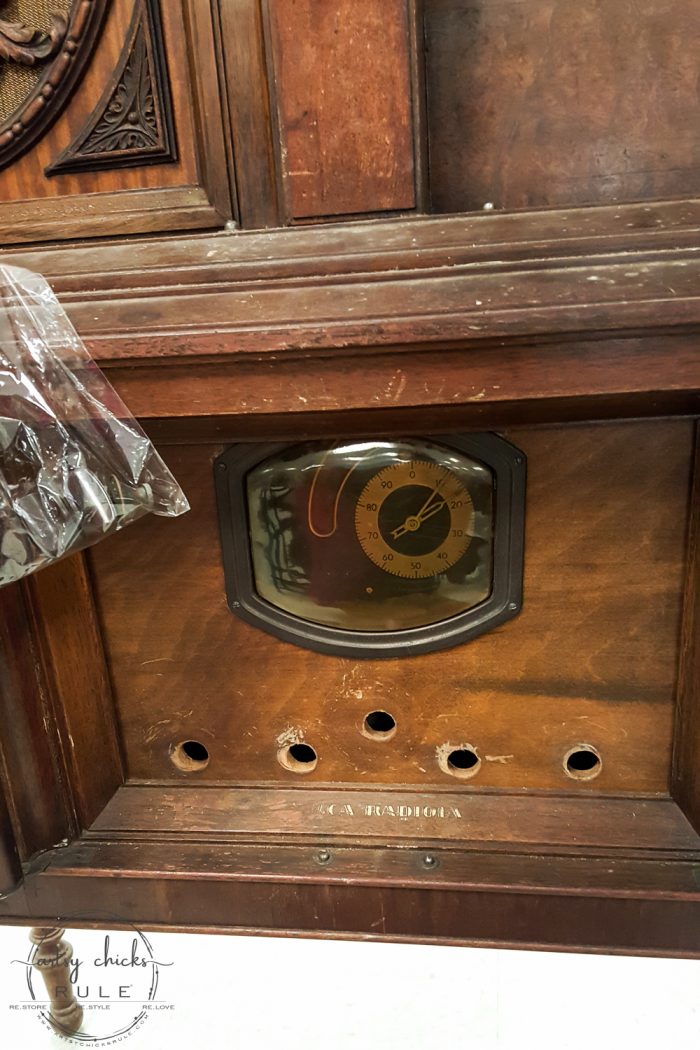 They did have a few of the knobs but not all.
The backside….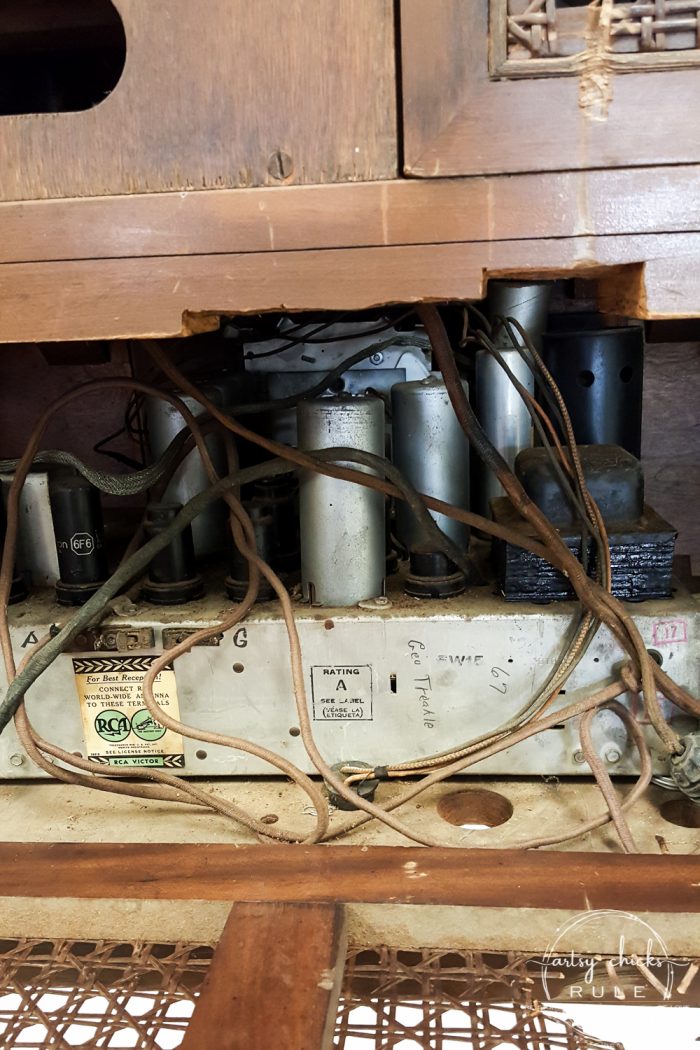 Apparently they had to cut that wood to get those tubes in.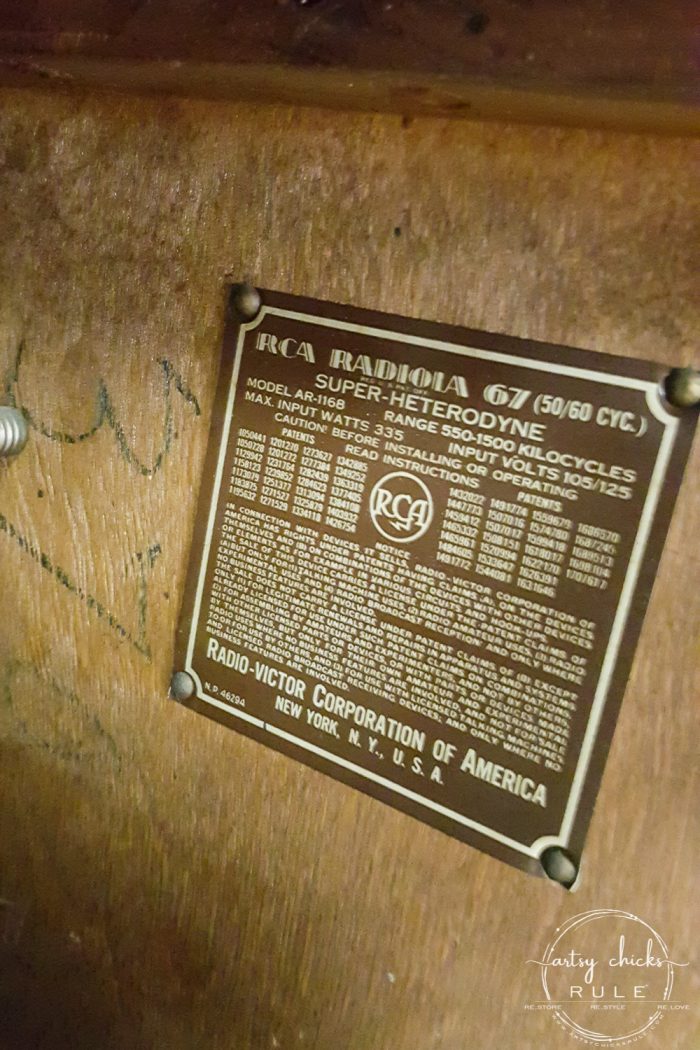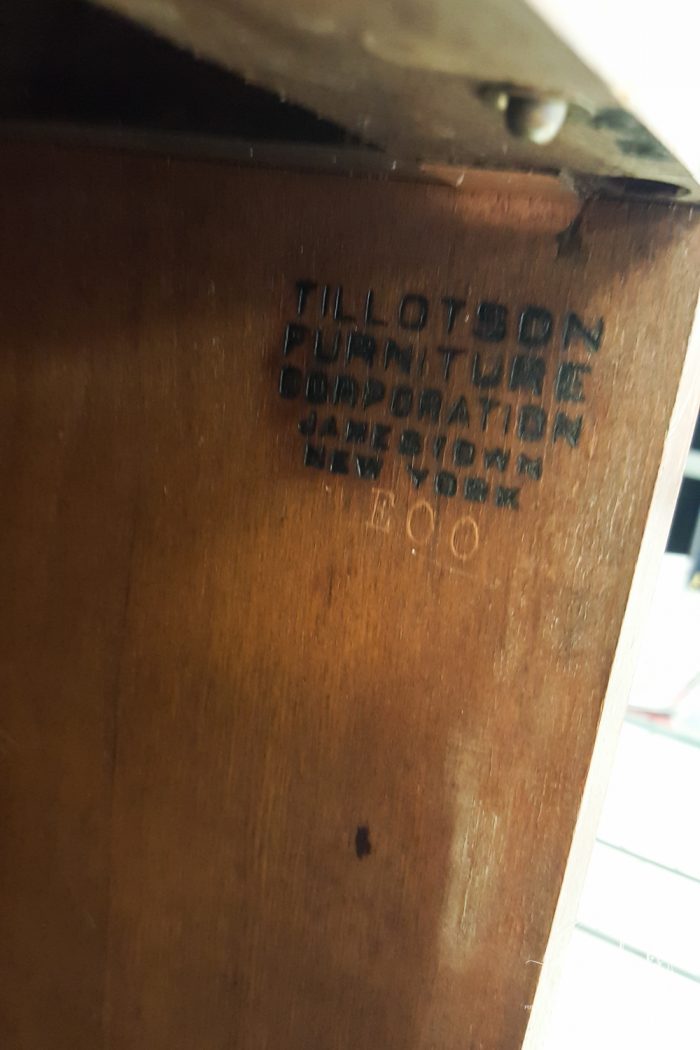 I mean, hello?
Intimidating much??
I think that is what my problem with this one was.
I was 100% completely intimidated with giving this one a "makeover".
To this day, I don't feel worthy to give it one! lol I mean, look at all those lovely old memories just there.
How do I change, tear apart, paint or whatever??
We did end up having to take the radio and speaker parts out of the back to move it because, wow, those parts are HEAVY.
We still have them but haven't put them back in yet.
I had considered taking out all the insides completely and making it a bar cabinet or something similar.
But I have this very sentimental side that makes it hard for me to do anything to it.
Especially since someone left that record on there! I can just imagine the days of this piece being beautiful, shiny and new, everyone sitting around listening to the radio or this beautiful song and I can't bring myself to take it apart. But what do to with it??
And look at it's sad state.
Honestly, I'd love to restore it. Every single thing in and on it.
But I don't have a clue how to do that with the insides…so it sits.
So, what do you think I should do with this one??
This dresser/mirror set is begging me to give it a makeover.
This is how I found it in the store….years ago.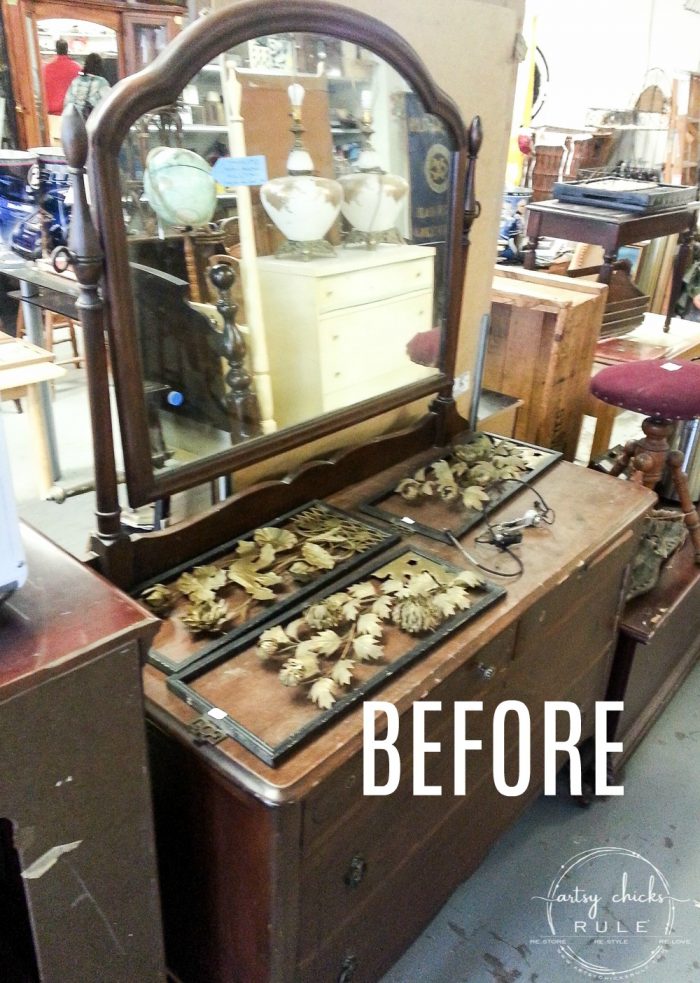 I have a few ideas on this one. Looking forward to getting it done.
I love that it still had the mirror with it.
I think I paid $35 for this set.
It's got a few drawers that need repair.
Then this one…that I have no clue what I paid at this point.
I think in that same price range (30ish). I found this one at one of our local Goodwill's.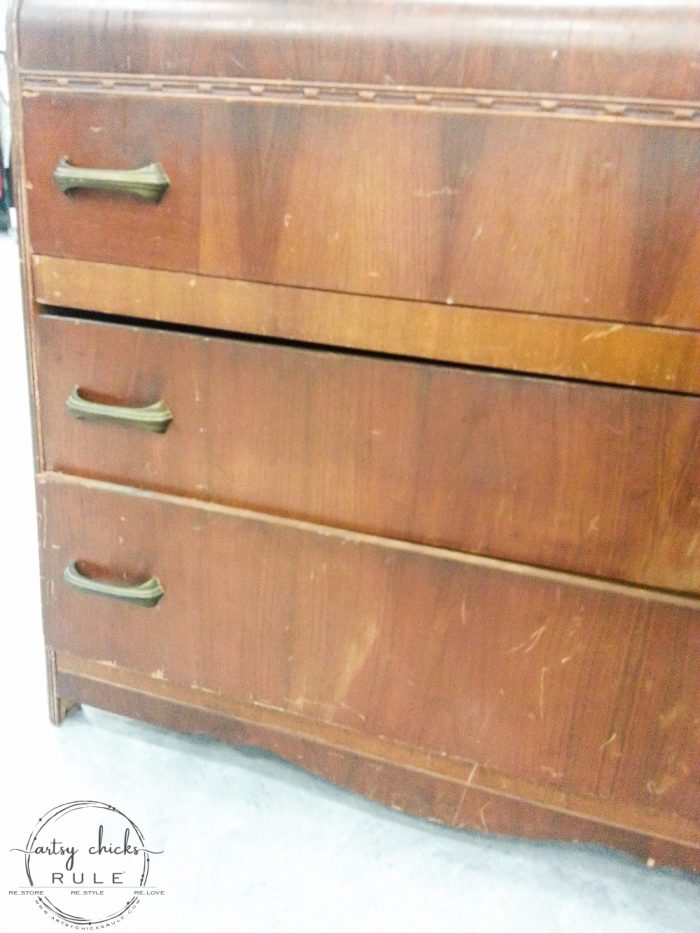 It's got a really wonky drawer or two and I think that kept me from tackling it before now.
Repair work before I can begin, ugh.
How about this goody?? Got this one for FREE. (it was in the trash pile!)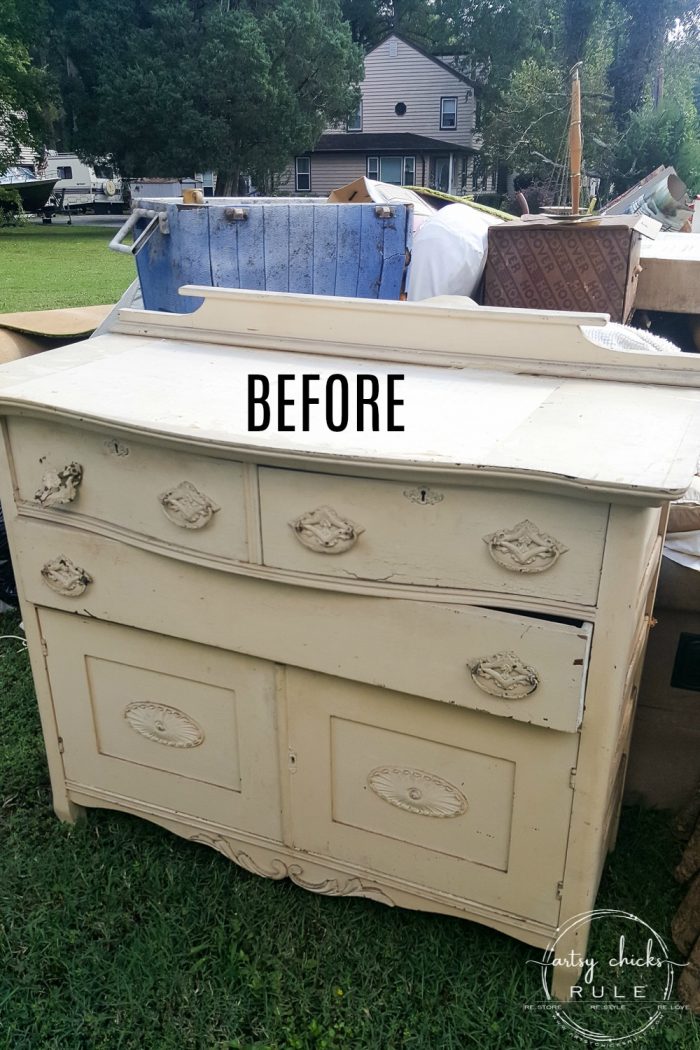 It was just down the street from me and I saw it as I passed by on my way home one day.
I usually never take home painted pieces but who can pass up free?? lol
I will have to do a lead test on this though as that paint job on it looks quite old.
And that's what kept me from tackling this one all this time. ;)
This is a newer piece. I think I found this one last year.
I got it at a fall or spring market type of thing.
I'm not sure what at all it is or is supposed to be because it's so short.
I think might have sat on top of something else, maybe? (the large door opens up to shelves)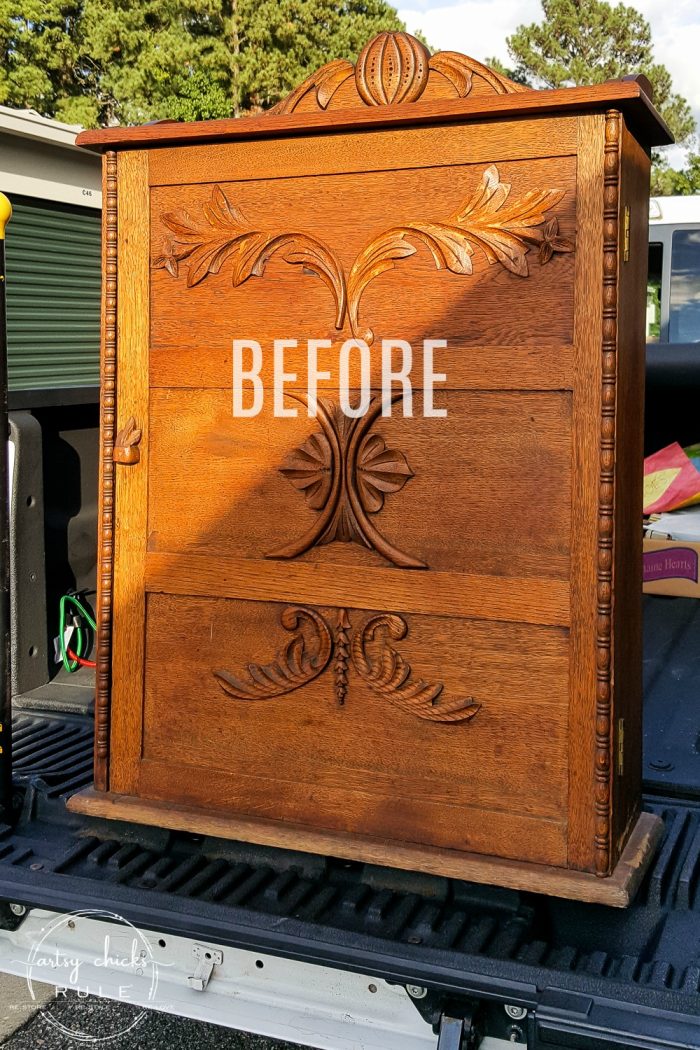 I love the detail on this one but don't have a clue at all as to what to do with it.
Any ideas??? I'd welcome them!
Another fairly new-ish one.
I thought this set would be cute made over for a child.
And remember this one I shared recently?? It's 1 of 3 that I got from a friend who was moving, for free.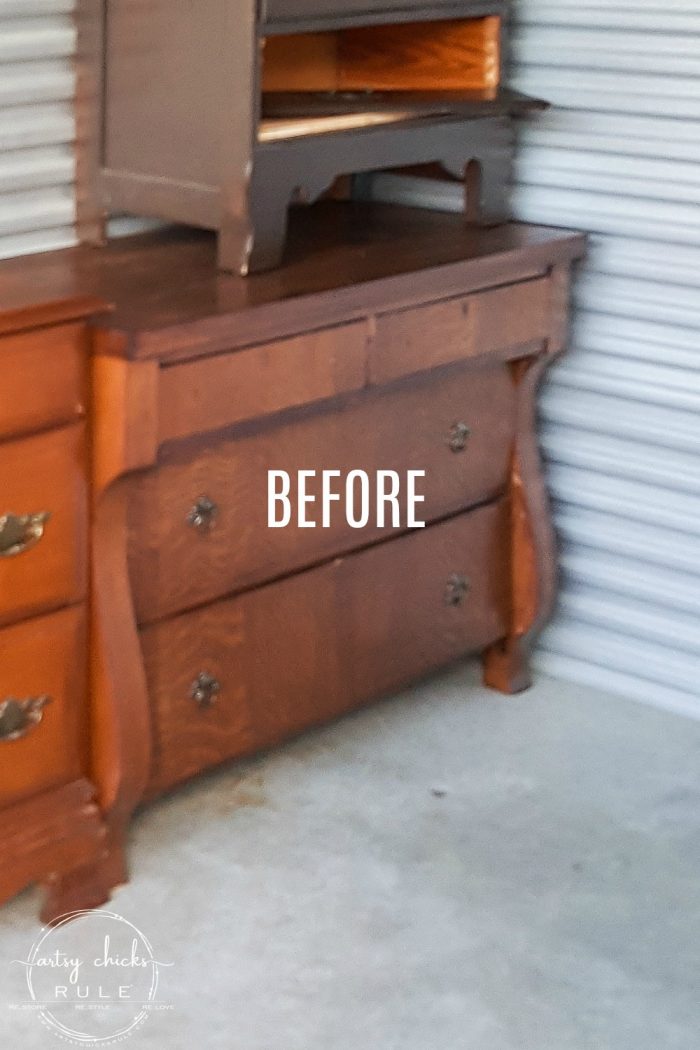 Here is is again…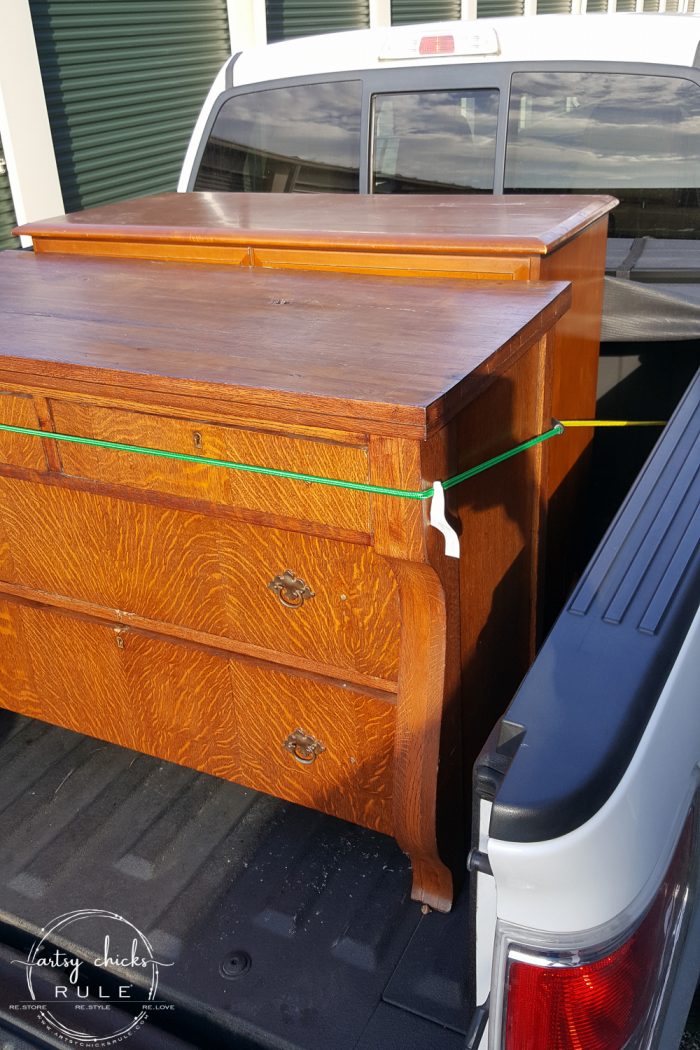 I've already given the other two makeovers already. As a matter of fact, the one behind this one in the truck is my new "coffee bar".
I had an idea for this one and I may still do it. It involves fabric. :) Stay tuned.
Lastly (well, not really, I have a few more pieces in my storage unit) this one….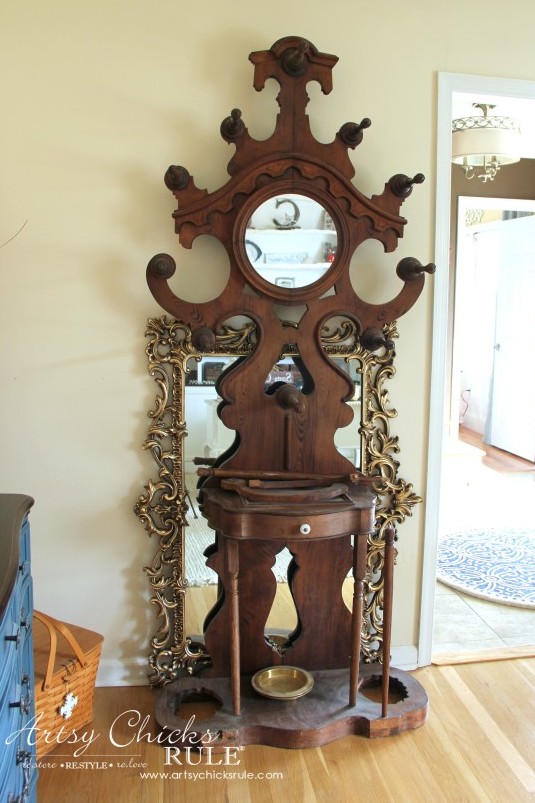 I simply wanted to restore this one.
It actually needs quite a bit of work. The sides are broken and a couple of the upper poles/? are broken as well.
Plus, I have yet to be able to find the original clam shell cast iron trays that were in the bottom. (someone had replaced them with those cheap metal ones you see there, that don't even fit correctly)
There was also something different in the tray section above the drawer as someone replaced that with a modern tile at some recent point.
It's just not right. I would love to know what was there originally. Maybe some other decorative tile or ceramic piece?
I'm not even sure as the trim around it looks new and not original. Quite confusing!
I do know that it's from the 1870's. (check out this one that is very similar…notice the clam shell drip pans)
I found it at an estate sale of a home that was originally a Civil War boat captain's home. (it was built in 1890)
I'm thinking this hall tree was original to the home. How cool is that?
I took it home with me for $85. What a find!
Okay, so that's what I've got going on and into 2019, among other things.
Tell me what you think of each piece and please tell me what you would do with each!
I would LOVE some ideas.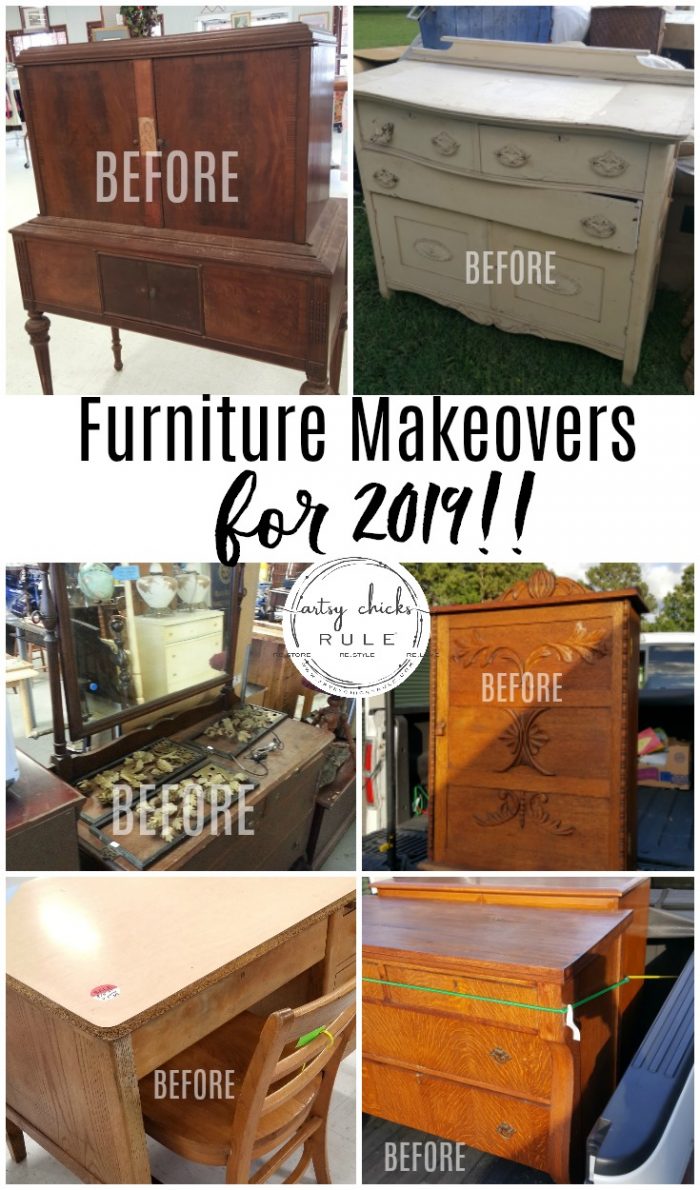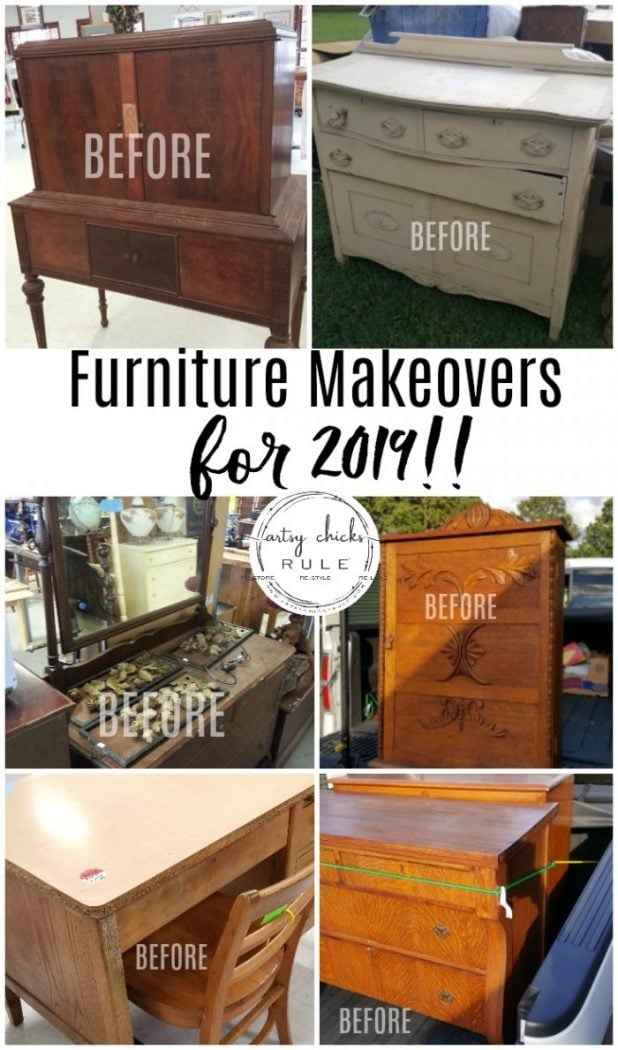 Happy New Year and I hope you have a wonderful New Year's Day, beautiful friends!!
xoxo