Old Frame Turned DIY Tiled Tray
This post may contain affiliate links. Please see disclosures here.
This old frame turned DIY tiled tray is perfect for any coffee table!
Hey Friends!
I hope you had a great weekend! If you were in the path of Matthew, I hope all is well.
We are on the coast of Virginia and got a bit more wind and rain than I think they originally forecasted.
Thankfully, no damage or loss of power.
Sadly that can't be said for many others.
Hoping that's the last hurricane we have to deal with this year!
It's so stressful and my daughter lives in South Florida now so I was a nervous wreck!
Whew…just so glad it's past and praying for all those affected.
Are you guys ready for another round of Trash to Treasure Transformations??
It's that time again!
I had a gorgeous big ole chest I've been working on that I was hoping to share today.
I didn't get it done it time……boo. :(
But you can go sneak a peek at the color I'm painting it over on >>> Instagram.
If you are on Instagram and don't follow me over there, I'd love it if you did!
I share all kinds of things plus little snippets of things I'm working on … in real time.
Plus, I love interacting with y'all in real time too. So fun!
I also try to share using Instagram's new "stories". The stories are only on there for 24 hours so it's easy to miss stuff!
I shared a bunch more about this dresser/chest and what I'm doing with it in some stories over the weekend.
But they're all gone now. Maybe I should share some more.
So, realizing that my pretty little chest makeover was not going to make it, I threw something else together for y'all.
I'll include some affiliate links to the things I used for your convenience. See my disclosure here.
This DIY Tiled Tray…..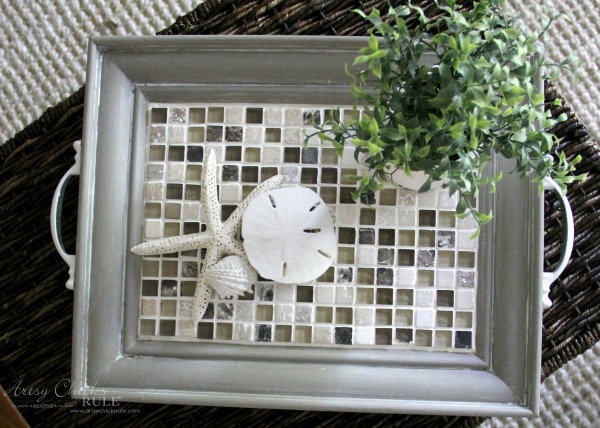 You might remember I made a DIY tiled tray previously. You can see it here >>> Thrifty Print Turned Coastal Tiled Tray
I did and I loved it so much I've been wanting to make another one.
I was going to make a much larger one but as I said, I threw this one together so had to use what I had on hand.
I had on hand this old frame (a thrifty find I had made over previously) and this little bit of tile from the kitchen backsplash project.
And of course, the handles are leftover from another project.
Here's the "BEFORE"… sort of.
I bought this frame from the thrift store about 5 years ago.
I took the old printout and painted the frame in Napoleonic Blue (Annie Sloan Chalk Paint).
I never ended up using it for what it was intended so it sat until I created this jewelry organizer with it.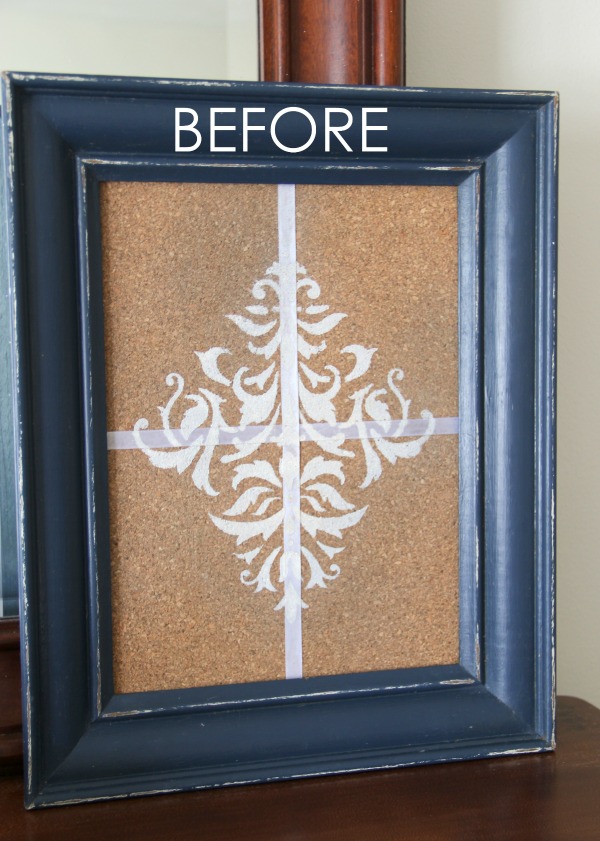 You can check out that post here >>> A Faux Weathered Sign, No Sew Pillow & Fancy Cork Board
Here's how it looked when I took it apart.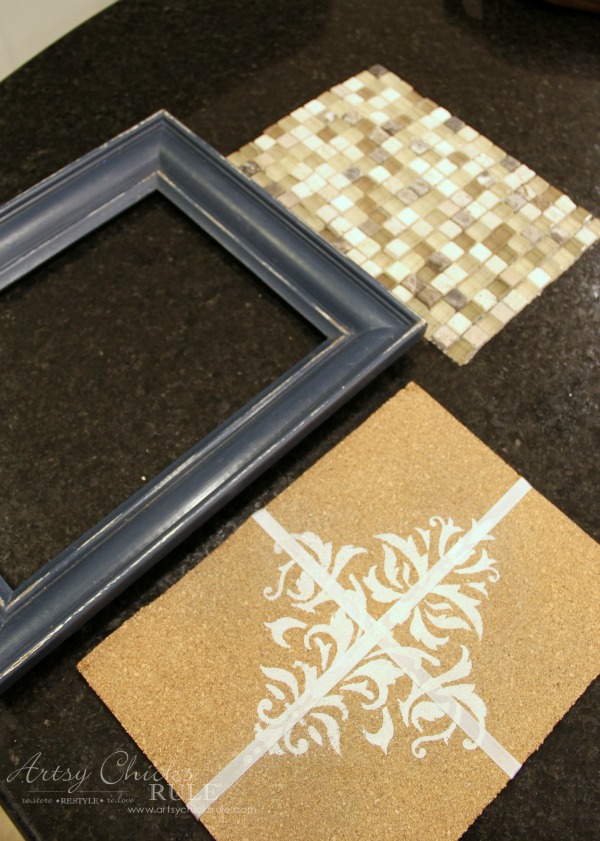 I decided to use the corkboard and the heavy cardboard it was glued to for the base of the tile.
I glued it to the frame with E6000 glue. (it's stinky but it holds like crazy)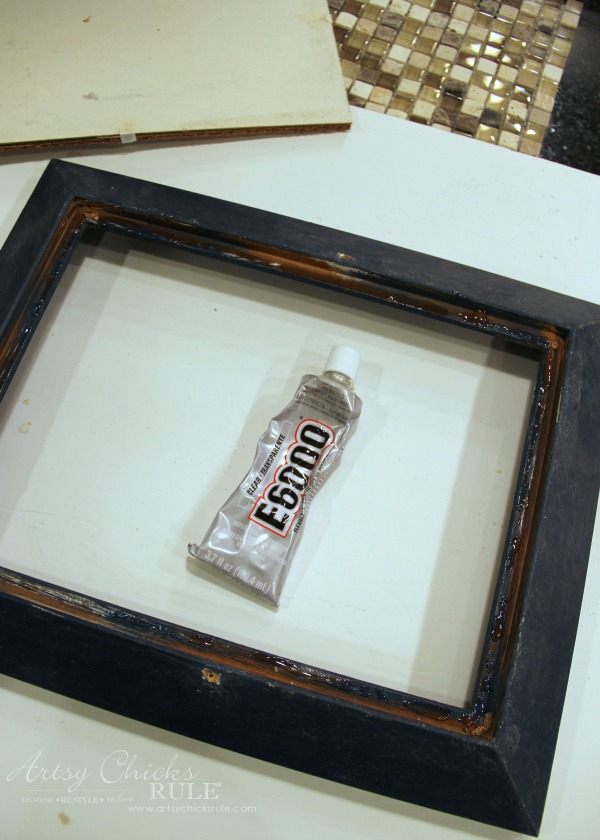 Then I turned it over carefully and glued in the tiles.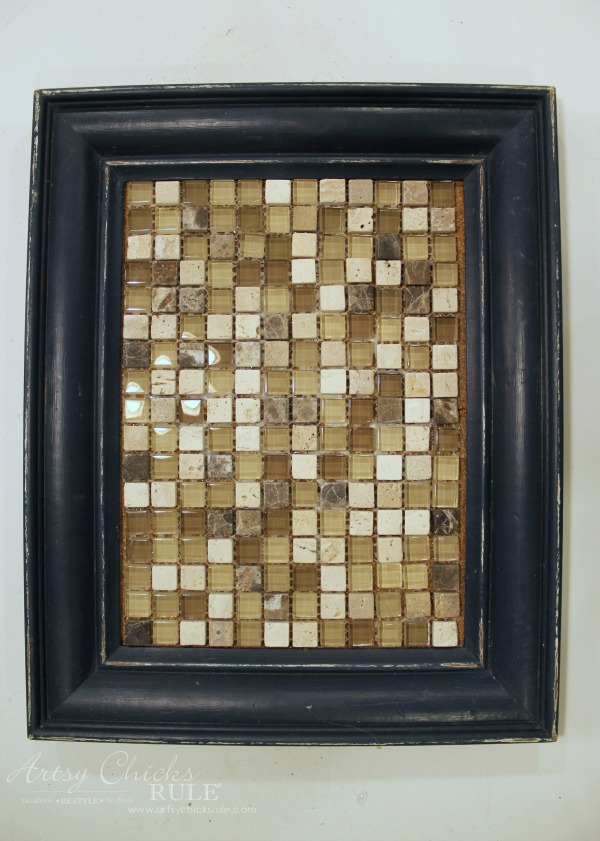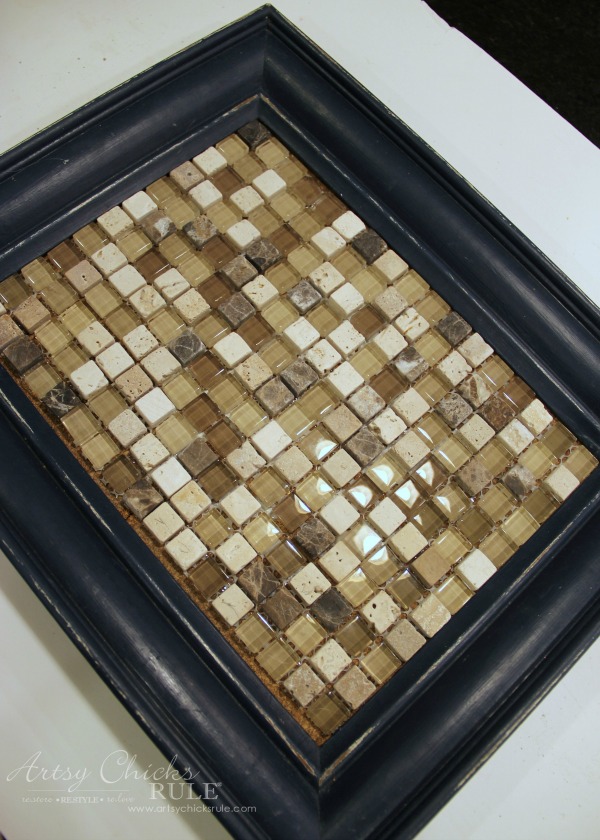 I let it sit overnight so the glue would dry well.
Then I taped up the tile with some Frogtape and painted the frame with Coco Chalk Paint.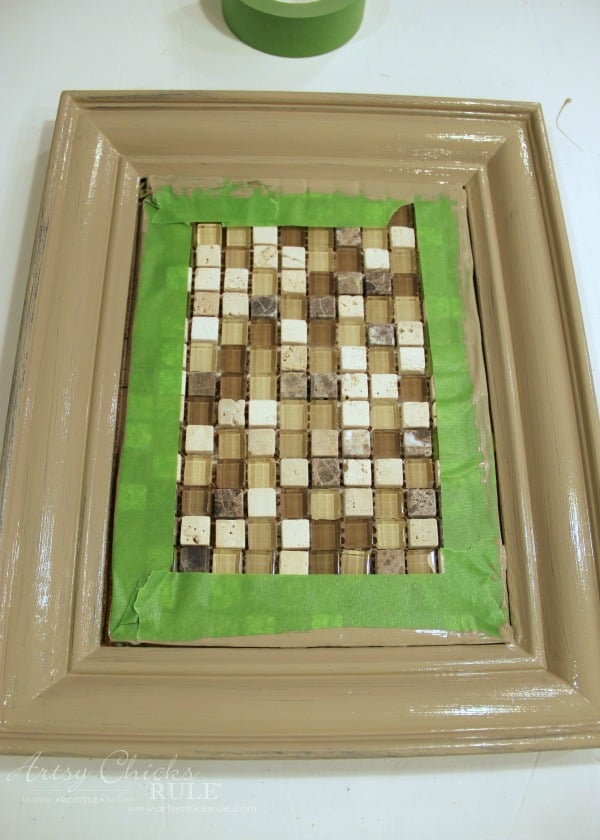 Once that was dry I filled in the tiles with some premixed grout I had on hand.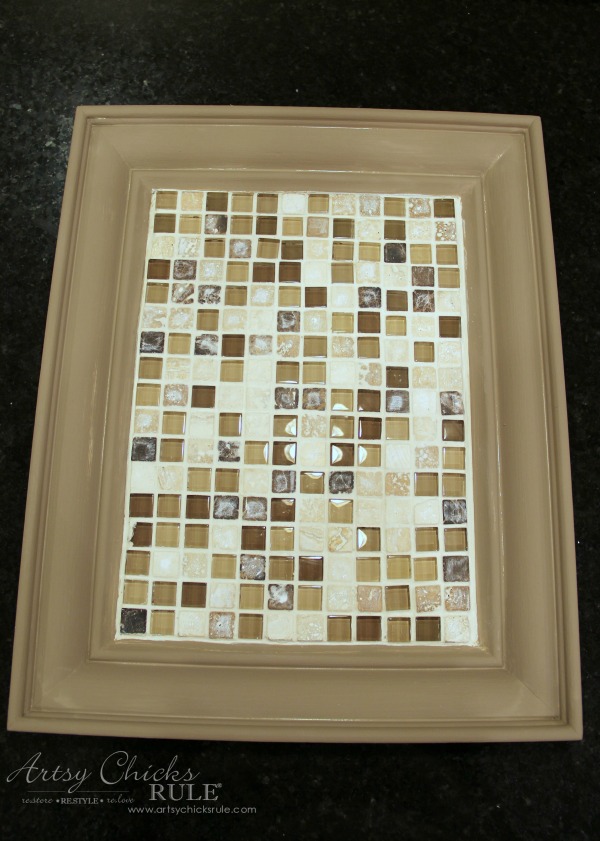 And finally, I attached the handles (with the same glue) and used some of Annie Sloan's new White Wax. (which I love!)
I'm using it on my pretty chest makeover too.
Just add glue, place the handles, and tape to hold until it dries. (Something like the green Frogtape I used above)
I set it up overnight and had planned to take a picture the next morning to show y'all but I got right to work on it instead….oops!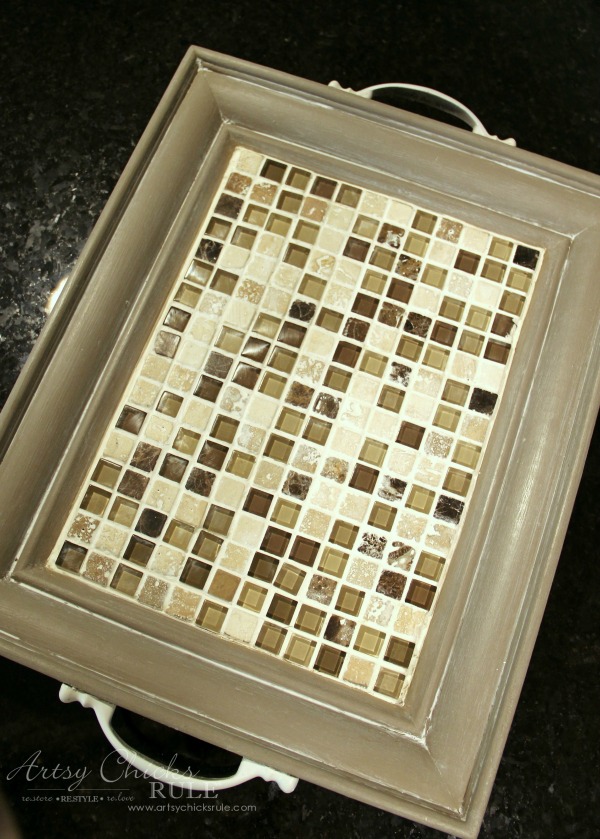 Do you see the crooked tile piece?? Somewhere in between gluing and setting…it got crooked.
Oops. There was no moving it after that glue dried so it had to stay crooked.
Oh well, character, right? Little booger wanted to stand out…and it does!! haha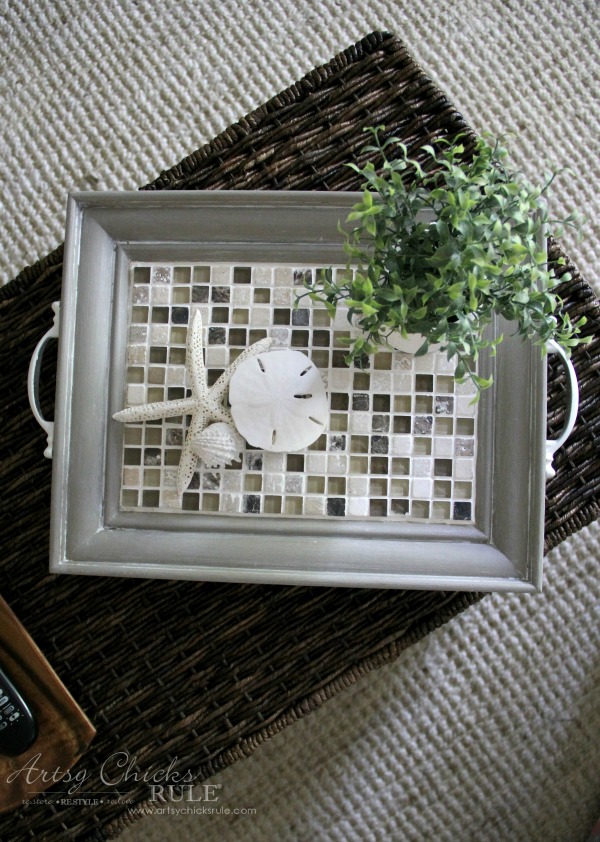 Ryder was curious.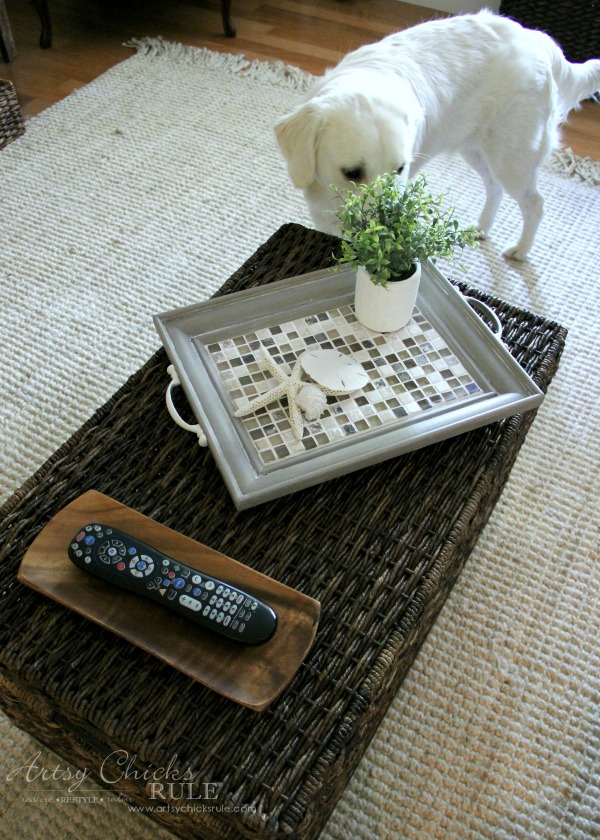 OH, that basket trunk is something new in my family room.
No more "thrifty coffee table – turned tufted coffee table – turned weathered wood coffee table"!
If you don't know what I mean, you can visit this post to see what I used to have here. >>> Coffee Table Makeover
I'll be sharing it, plus another new piece AND my new slip-covered furniture (and new paint too!) very soon!
The basket trunk was on sale when I got it (and I just checked, it's on sale again!).
Here is the link to it in case you are interested. >>> Basket Trunk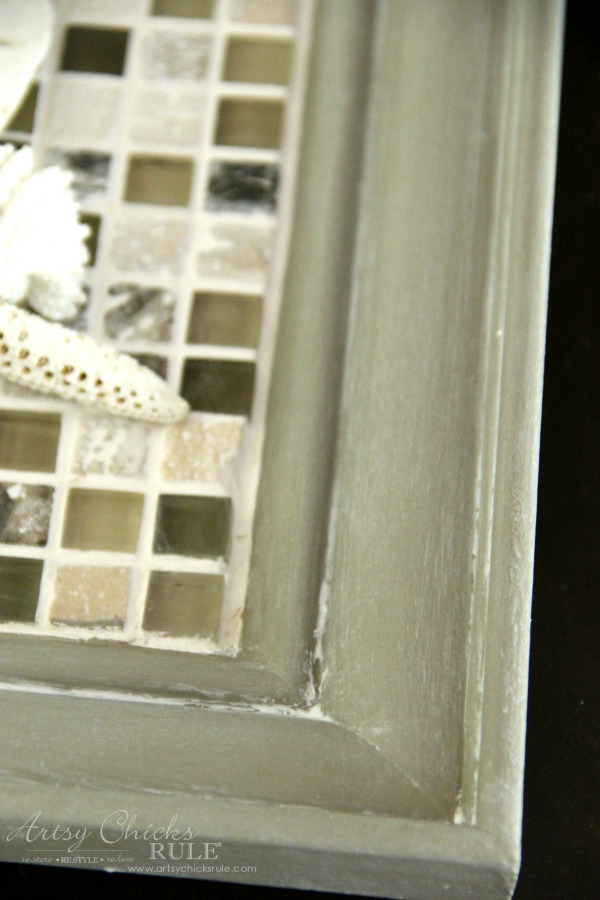 Don't you love how it leaves that white in the crevices?
The perfect look to go along with the tiled area, I think.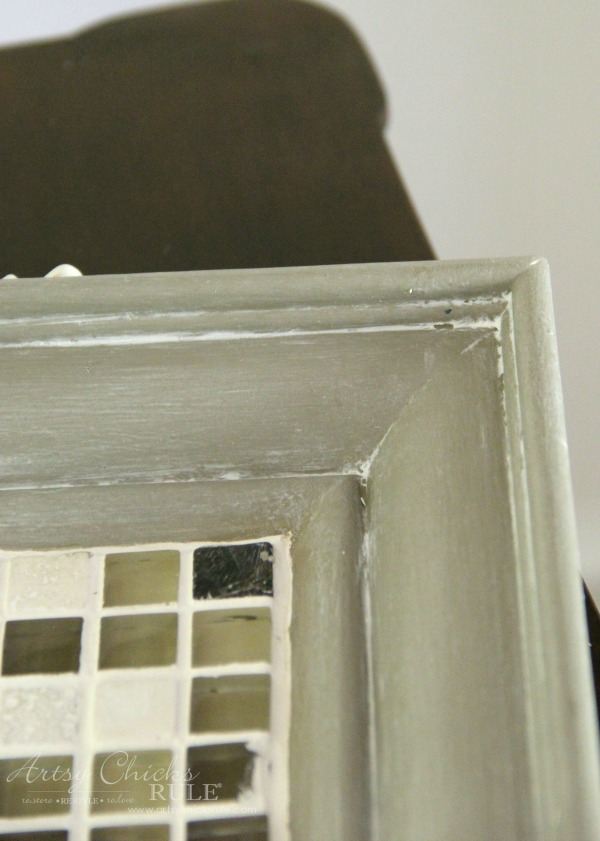 These little DIY tiled trays make cute serving trays too.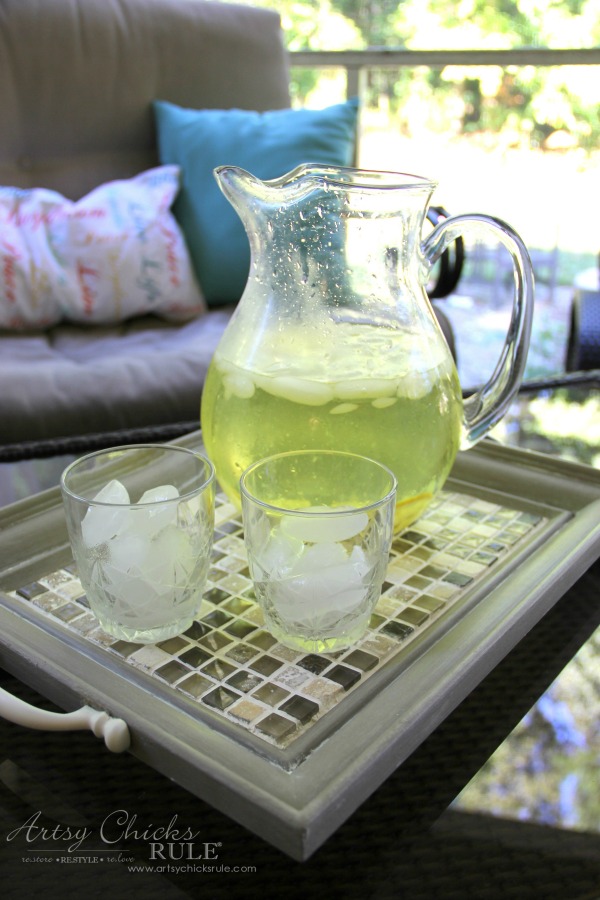 Lots of things you can do with it decor-wise.
Have you guys tried this yet??? You need to! It's a super easy project.
Make one for you or for a unique gift for a special someone.
Here's a MATERIALS LIST for some of the items I used:
I love these so much I've decided to make side tables for my new slip-covered furniture using frame tiled trays I will make!
I have the frames and the new tile already.
They will be coming soon too. I still have to make them.
Want to see even more ideas on simple updates with Chalk Paint (that aren't furniture??)
Check out this post, here!
In the meantime, PIN this so YOU can make a DIY tiled tray too!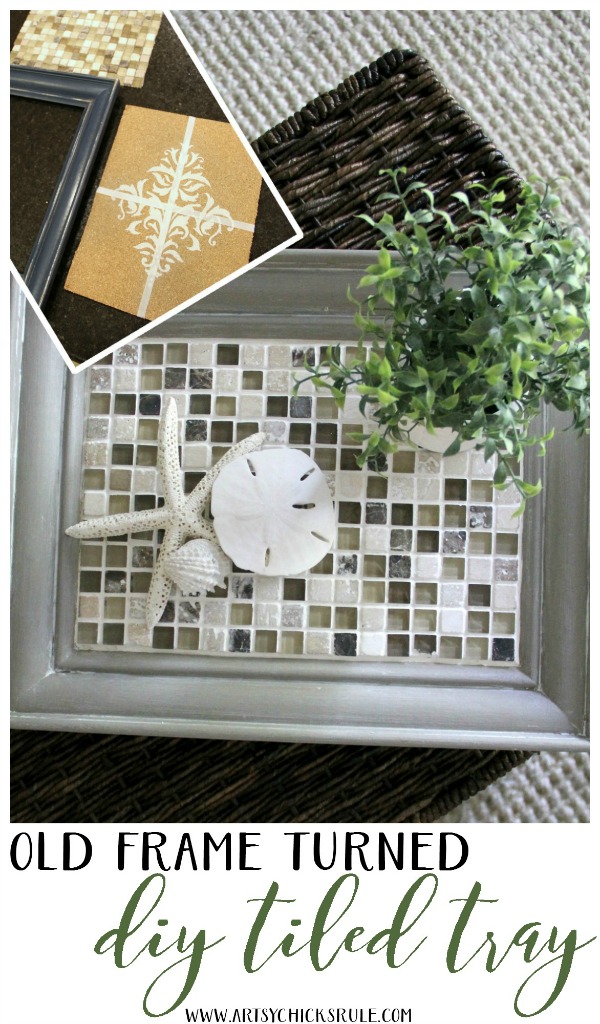 Now let's see what my friends were up to this month….
I'll be back on Thursday with a brand new DECOR post with my decorating buddies. (and another fun giveaway right here on the blog!)
See you then!
xoxo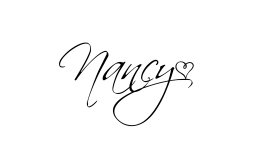 Here's a few more tiled trays…. (affiliate links, see disclosure here)