Jewelry Box Repurposed into Writing Box (Thrift Shop Shakedown #2)
This post may contain affiliate links. Please see disclosures here.
This jewelry box repurposed turned into a writing box instead!
Hey Friends!
I'm sharing a fun (repurposed) makeover today. >>>A Jewelry Box Repurposed into a Writing Box.
Fun, fun!
I LOVE taking something thrifty and old and giving it a brand-new makeover.
I also LOVE to take those same types of things and turn them into something else altogether!
Well, today Christy (Confessions of a Serial Do It Yourselfer) and I are sharing two thrifty makeovers.
If you've been around a little bit, you may remember the video series we started…..last year.
Since our blogs and projects are so similar (and since we live so close to each other!) we decided to share a bit of our thrift store shopping adventures with you guys.
….in a video series.
We had hoped to do it more often but we are all so busy these days. Boo!
Hopefully, we'll get more than one in, in a year, in the future.
Anyway, here's our last one if you'd like to take a quick look. >>> Thrift Shop Shakedown
But be sure to come back to watch the newest and see what we did today!
Here's what I'm sharing today…..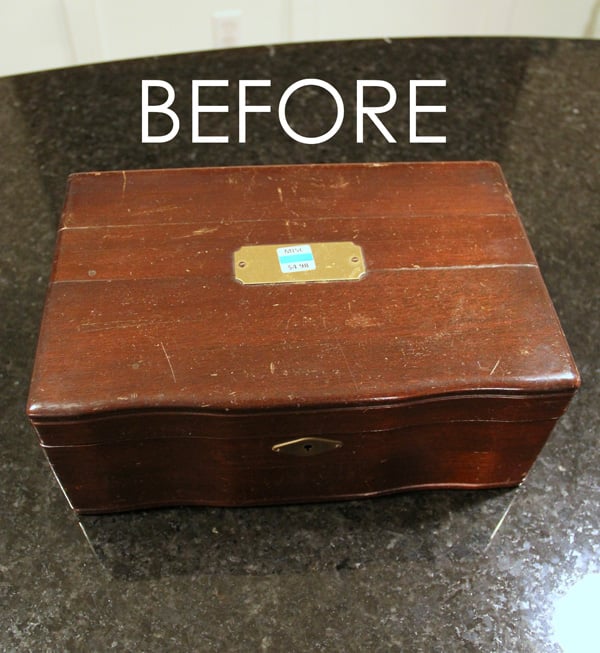 And here's our "adventure" in finding our goodies.
So, you saw the outside, now here's the inside…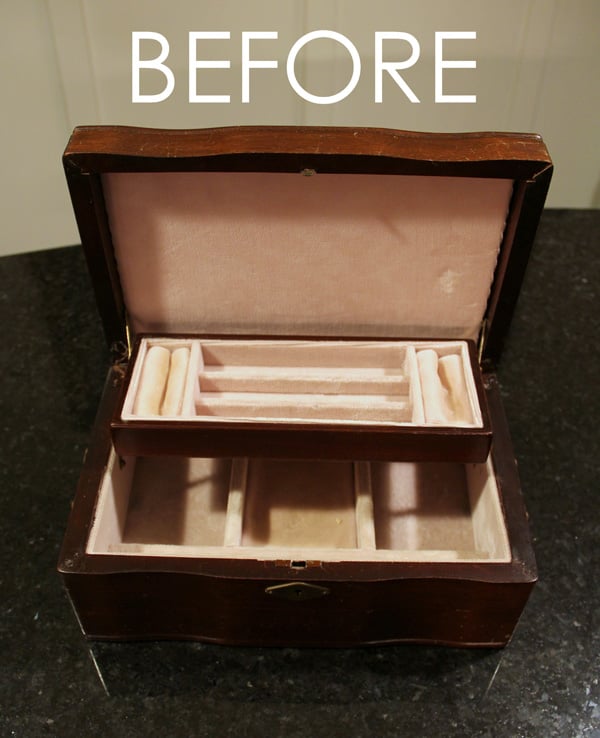 Icky, old, yes? Yes, but not for long y'all!
I had no idea what I would do with this when I first picked it up.
I was showing it to my husband, trying to get those creative wheels turning….and it hit me.
Why not use it as a note card/writing box? The smaller top area would be just perfect for pens/pencils, etc.
The bottom section would be perfect with note cards and/or writing papers.
And so, a writing box it would become.
Here's the materials list for this project:
(Some of these are my affiliate links to the exact/or similar products I used. See my full disclosure here)
I needed to pull that fabric out of the inside first.
That's sometimes a bit of a pain because they typically use ultra-strong glue inside these. (and flatware boxes too)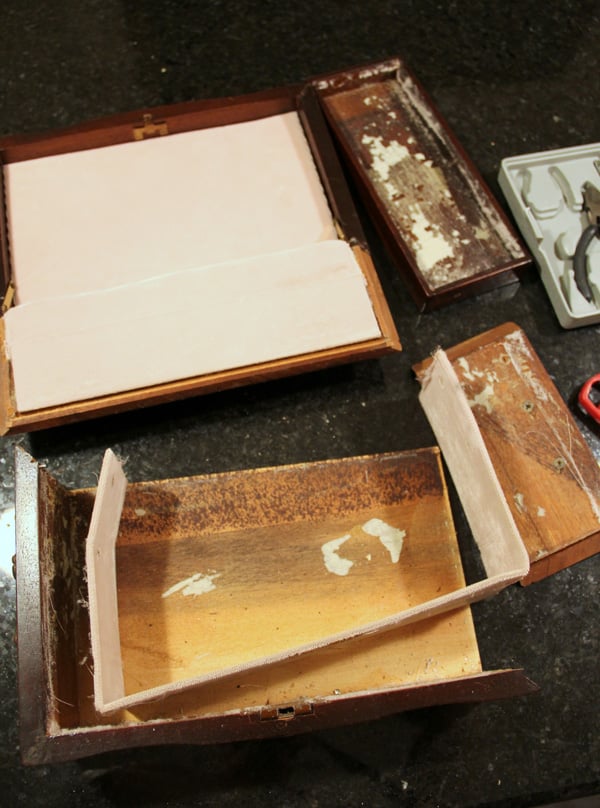 And as you can see, it was so strong it was actually holding this box together!
As I started to remove it, the box fell apart so I had to do a little gluing before I could get started on my project.
I removed the metal plate from the top and filled the little nail holes.
Then I gave that a light sand and since I was painting it white, I gave it a quick spray of Shellac first. (to keep the "red" of the wood from bleeding through)
Once that was dry, I gave it a spray with White spray paint.
Since I wanted to do watercolor on the top, I needed a porous surface for it to adhere to.
I gave it a coat of "Pure White" Chalk Paint and left it unsealed for the next part.
Here is the graphic I created with a quote I found that I loved…..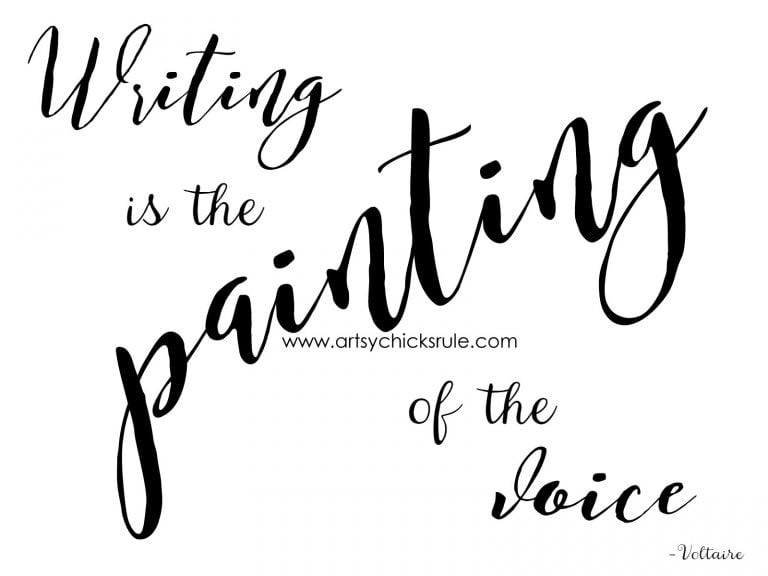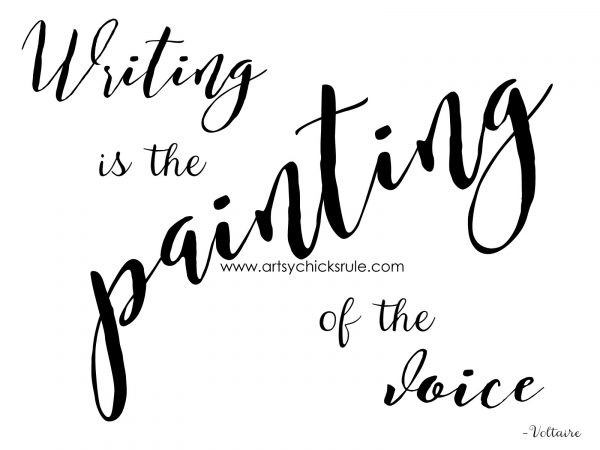 The watermark will not be on the downloadable version.
But really? Isn't that the greatest saying ever?
"Writing is the painting of the voice". Wow, yes, yes, it is! Just love that.
I knew that's what I wanted to use as soon as I came across it.
Perfect for me and this little jewelry box was repurposed into a writing box.
I used my Silhouette Cameo to create the lettering. I usually hand-paint them in but I've been going to the Silhouette more and more lately.
It's just so much easier and you can even give it the painted-on look. (see this project for an example of that >>> DIY Antiqued Laundry Sign)
And want to see how easy it is to use your own designs inside of Silhouette? Click here >>> How To Import Your Own Designs Into Silhouette Cameo.
Or you can also use any of these transfer methods to do it if you don't have a Silhouette machine.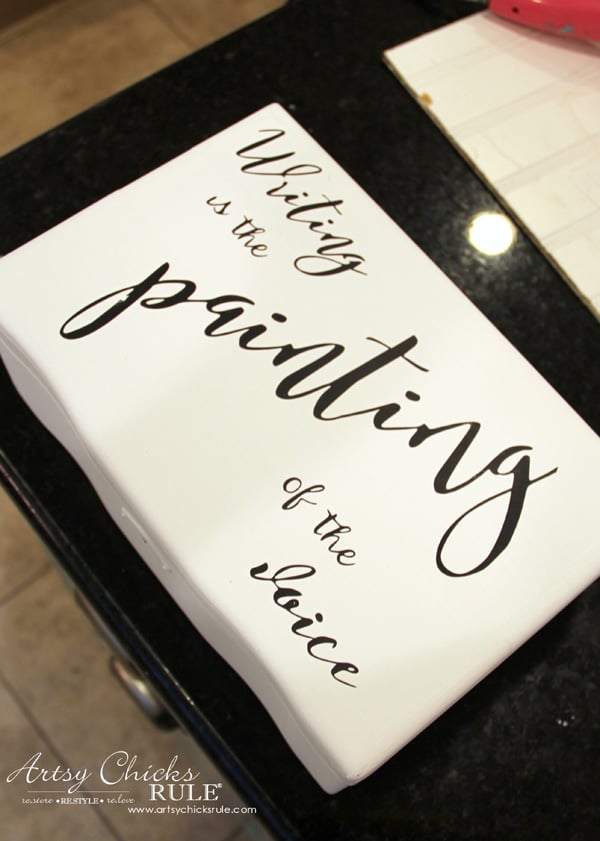 I could've just left it at that but I wanted it to be "artsy"!
I am an "artsy chick" after all, right?? ha!
So, we'll come back to that, let's take a look at what I did on the inside.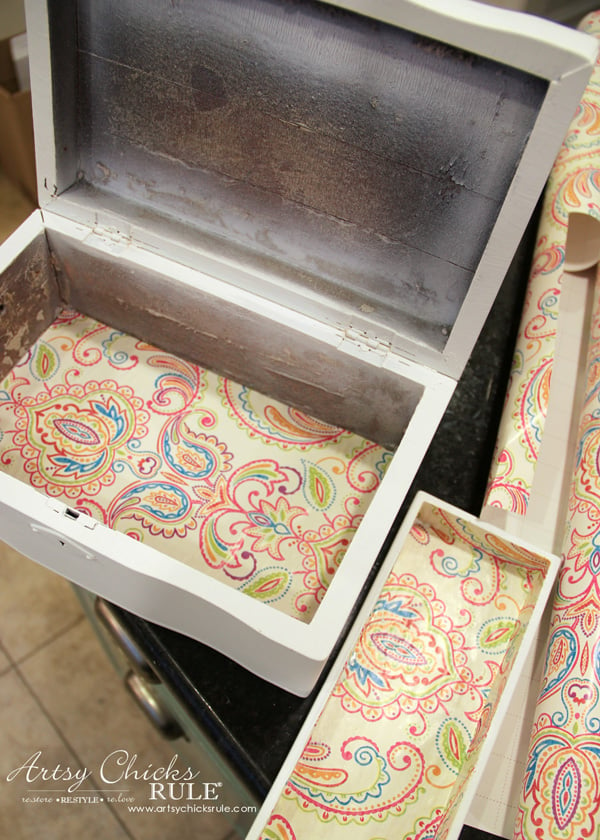 I bought this sweet (and colorful!) wrapping paper a while back and decided to use it for this.
The colors are PERFECT, as you'll soon see.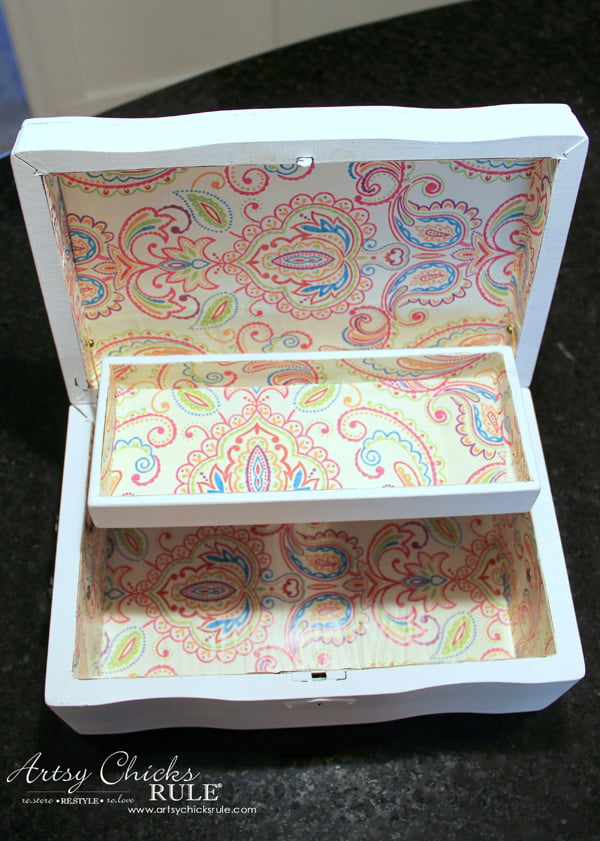 I used Mod Podge to apply the paper.
And for a quick and easy way to get perfect edges (my trick with sandpaper) around the box, see this post here. >>> Thrifty French Paper Decoupage Table
Now for the fun part!
I did a bit of watercolor around the word…. "painting"…..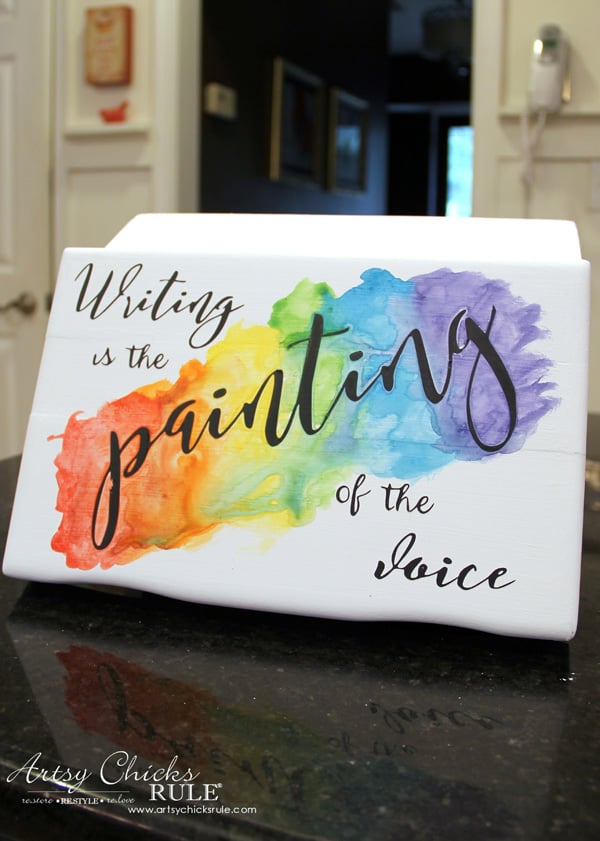 The watercolor paint would have beaded up and not "stuck" to the spray paint.
Adding a layer of Chalk Paint over top worked perfectly for this since it's so porous.
I almost left this "as-is" but after looking at it for a bit, I decided to remove the vinyl lettering and let the watercolor "spell" out the word.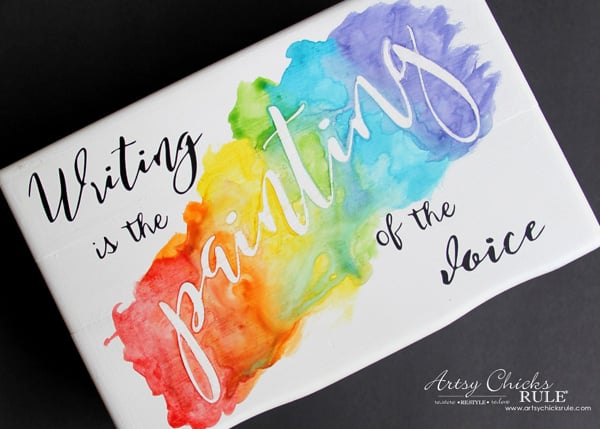 How fun?! That's even artsier!
My husband liked it better with the black lettering because he said it stood out more.
And he is right, it did. I liked it both ways actually but thought this went one artistic step further.
I was a little nervous because it probably wouldn't have been easy to go back if I changed my mind.
And as you can see below, I had a bit of "bleedy" edges with the watercolors.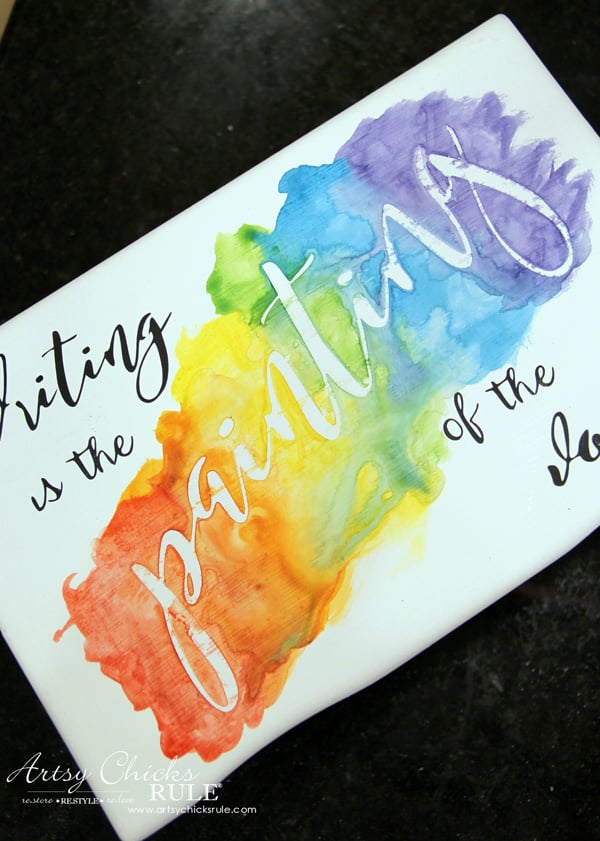 No worries at all! I did a quick little fix with some more white paint and a small artist's paintbrush.
I colored right over it and now crispy white lettering…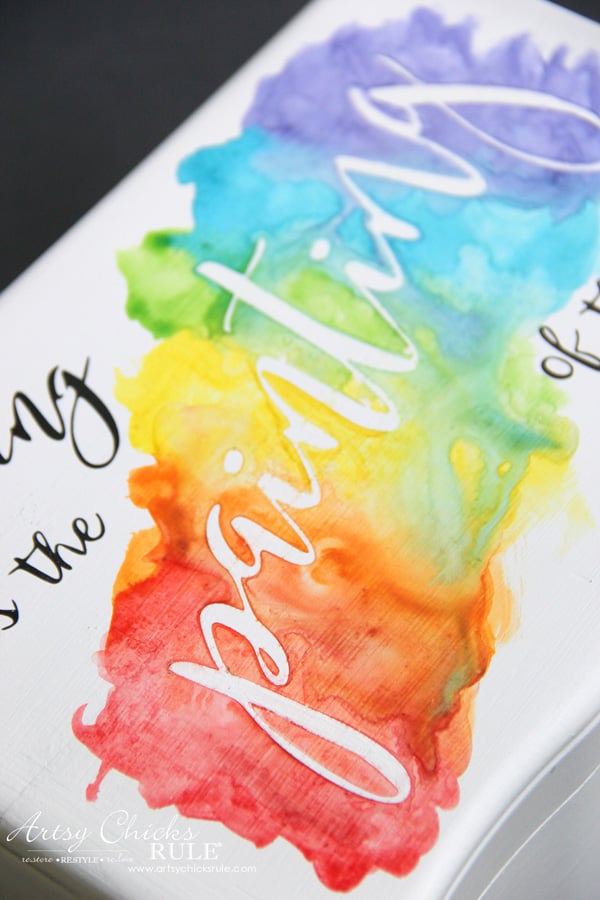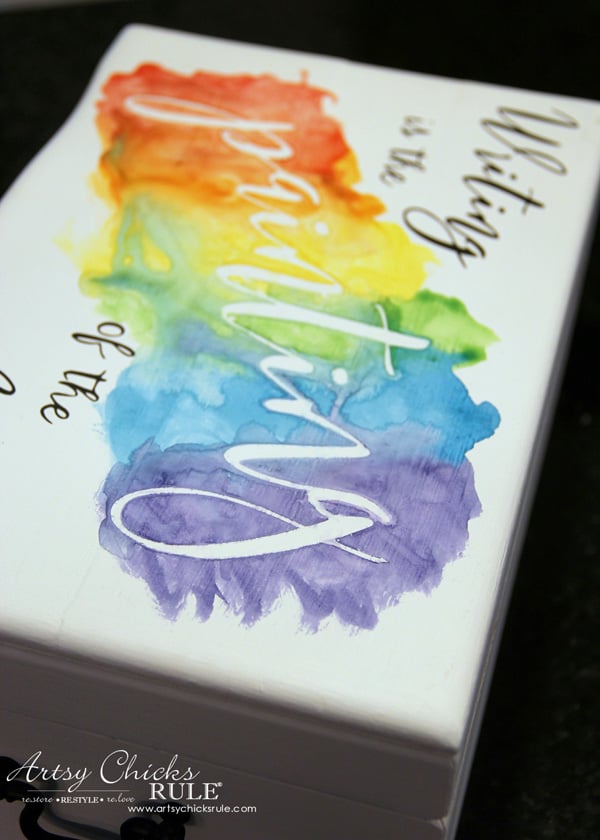 I love how the colors create the word now. :) Isn't that the coolest?
And don't the colors on the outside look so nice with the colors of the paper on the inside?
Now I have a sweet little note-writing box.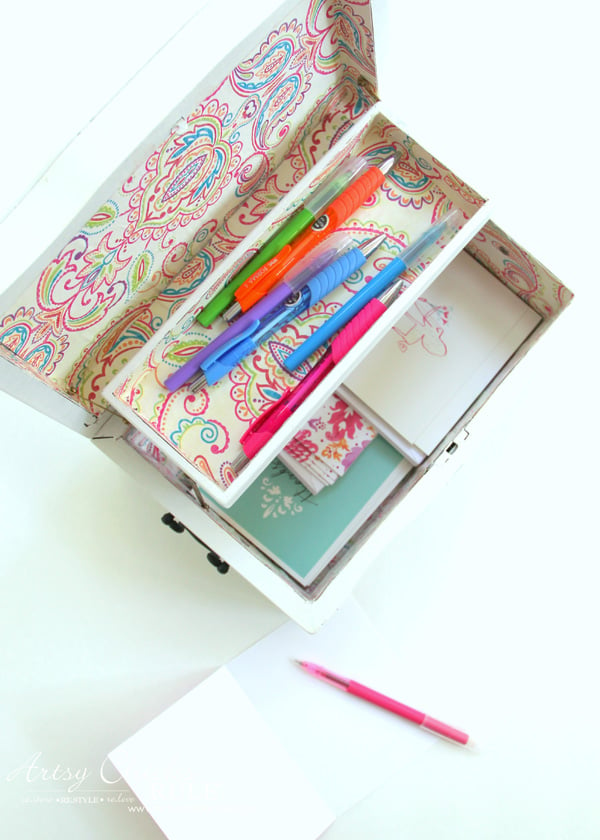 This would be great for gift giving too! Very unique and you can create whatever colors/wording you'd like.
I sprayed those metal handles black to match the lettering.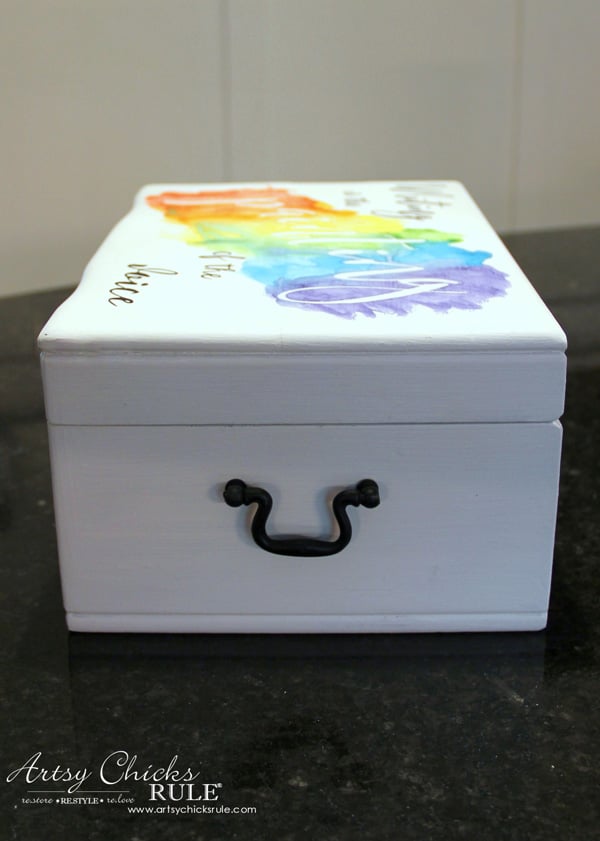 No distressing on this one, just a nice, crisp white.
To finish and seal, I gave the whole thing a quick spray with Matte Clear sealer spray.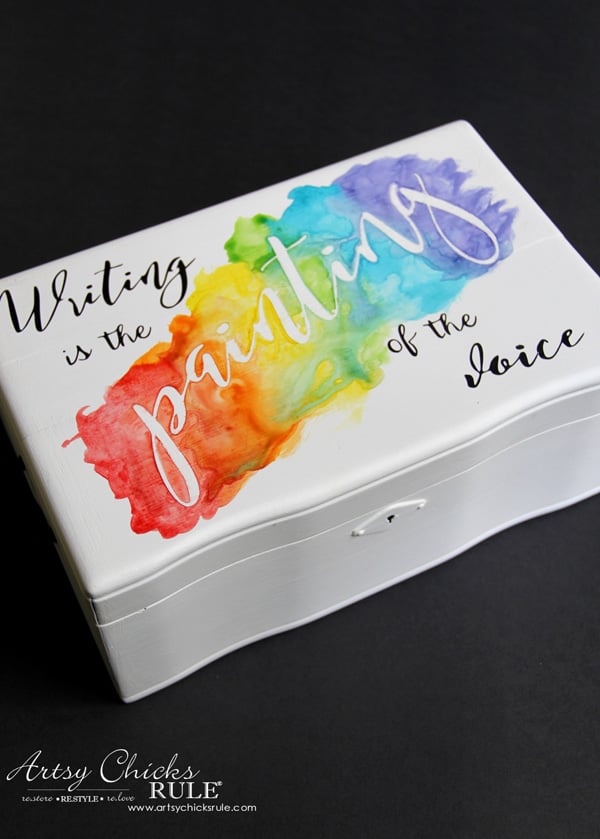 This was a fun one.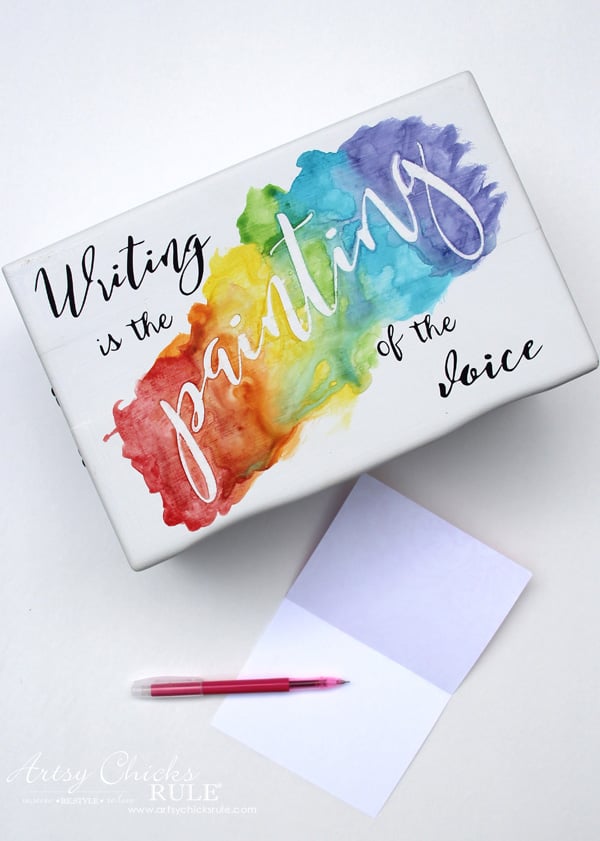 Be sure to PIN this for later so you can create a jewelry box repurposed into a writing box too!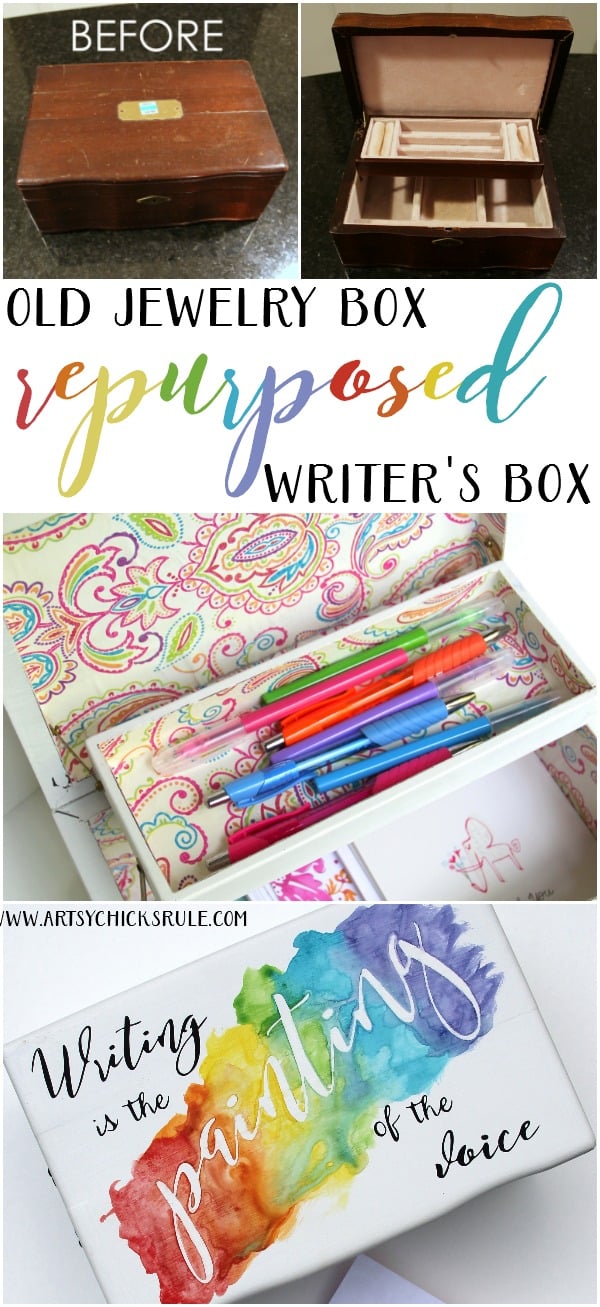 Now pop on over to see what Christy did with her find!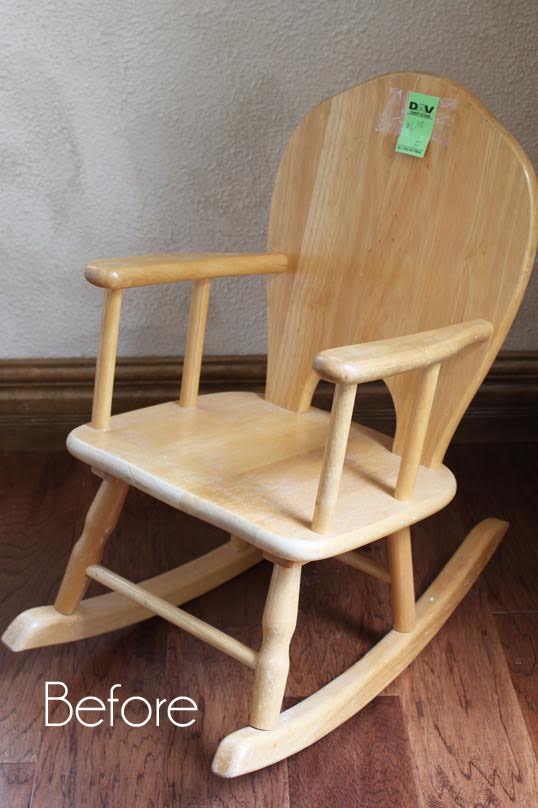 See it here >>> Rocker Makeover
……………………………………………………………
I've been a busy little bee over here.
My guest bath is getting a completely new makeover, family room got new paint, a few new furniture pieces AND new slip-covered furniture! Yay!
Do you remember my little tiled tray? I'm taking that idea and making 2 small side tables for the new couch.
The dining room furniture (buffet and table) got new paint and stain (on the buffet).
I am planning to make 2 benches for each side of the table and get rid of the 4 chairs on either side.
The kitchen is getting a new countertop and new backsplash tile. The kitchen cabinets are getting new paint and I think I'm painting the island again too.
I'll have lots to share in the coming weeks! Hoping to get it all done before Christmas. (not wishful thinking at all!! haha…we'll see)
UPDATE: See our 3rd, "Thrift Shop Shakedown", here!
xoxo