DIY Halloween Sign & No Sew Flag
This post may contain affiliate links. Please see disclosures here.
Hey you guys!!
I hope you are having a wonderful Fall so far. The weather is getting a bit cooler here….rainy, but cooler. ;)
Today my "Get Your DIY On" friends and I will be sharing "animal" themed projects.
I am not thrilled with this theme. I do adore animals but I always struggle with this one! lol
A recent furniture makeover in the theme "animal" was less than amazing here…. "Zebra Chair Makeover".
We won't mention that I created 4, yes, FOUR, different projects for this theme today.
My first "vision" did not really turn out well enough, my second was a little hokey, my third turned out pretty cool, and the fourth turned out pretty cool.
I'll be sharing numbers 1 and 3 today and numbers 2 and 4 another day (1 and 3 are similar and 2 and 4 are similar).
Are you confused yet?? Ha, sorry, don't worry, it will all make sense soon enough. ;)
I'll be including a few affiliate links below so you guys can easily find what I used. You can see my full disclosure here.
I'm sharing a DIY Halloween Sign and Halloween (no sew) Flag.
Here's the graphic I created using >>> Picmonkey.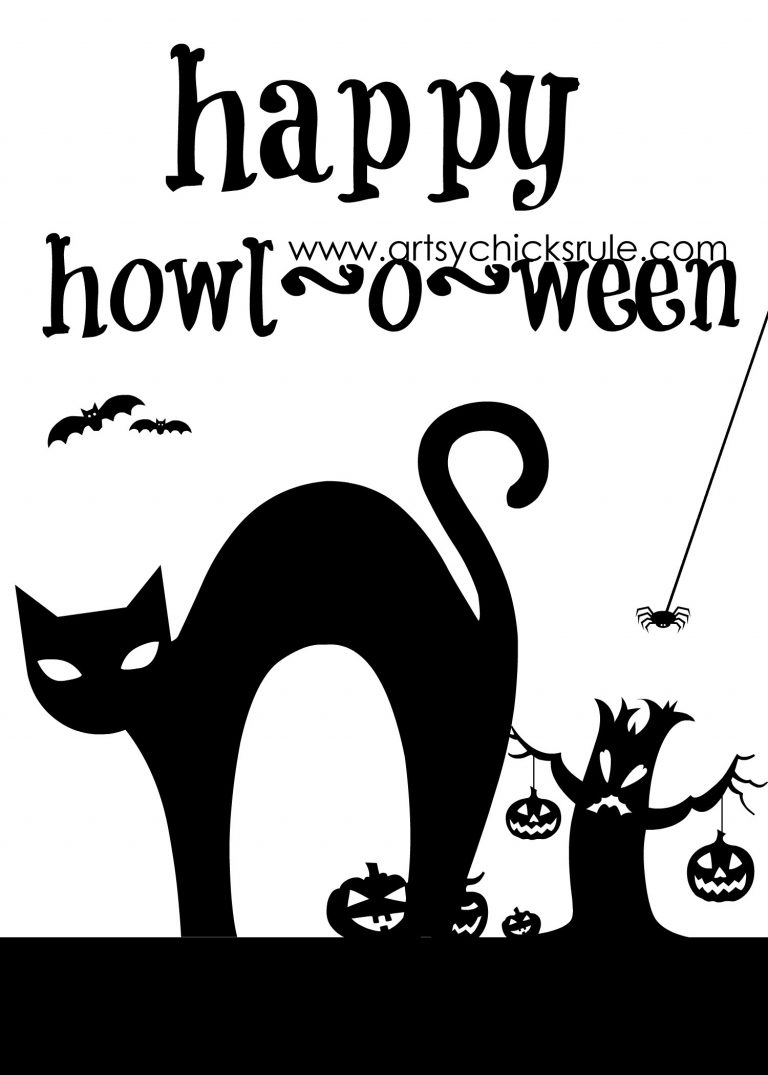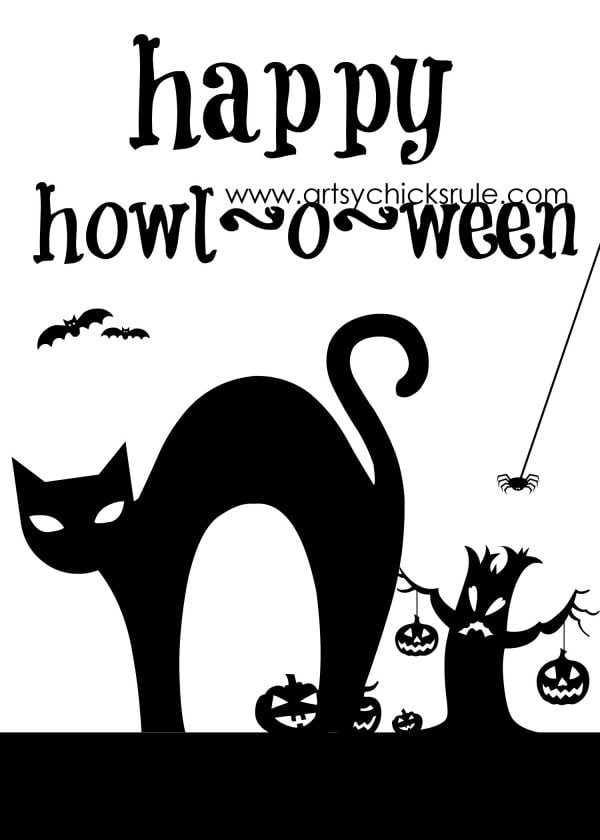 Personal use only please and as always, the watermark will not appear on the downloadable graphic.
Pretty cute and Halloweeny, huh?
Yep, and would look so cute on a little orange flag to hang in your yard, right?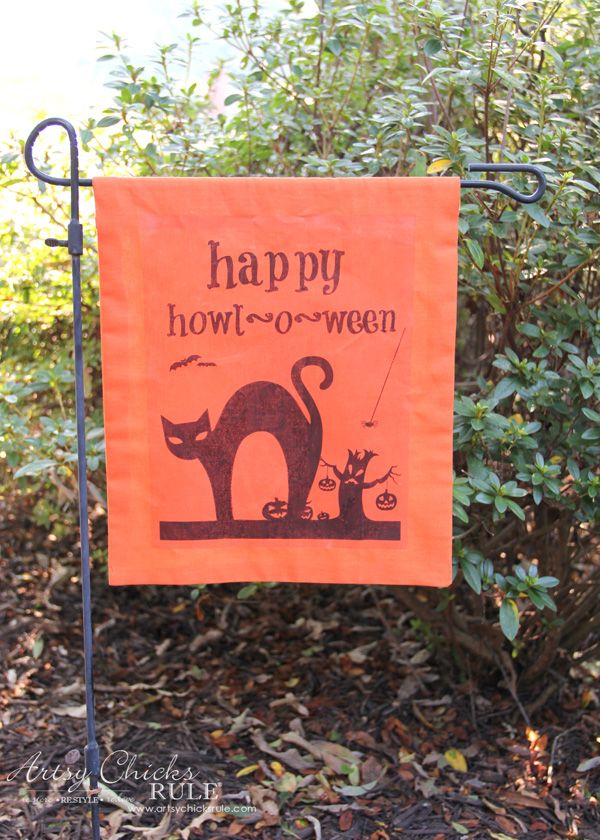 Right.
Sort of.
You get the idea anyway.
Maybe it's the orange? Maybe it's the transfer iron-on edge? I don't know but I don't love it.
Just in case you want to make one, here are the details.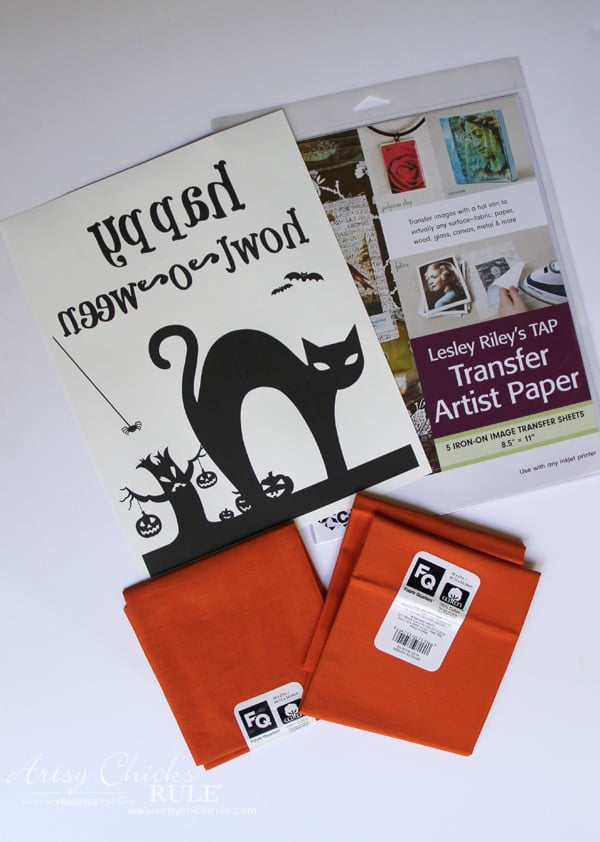 You'll need the following:
Orange fabric (I used the little sample squares from JoAnn fabrics
Artist's Transfer Paper
This is when you'd use the graphic in reverse.
Download it and print it out on the transfer paper.
Then "no sew" your flag as follows….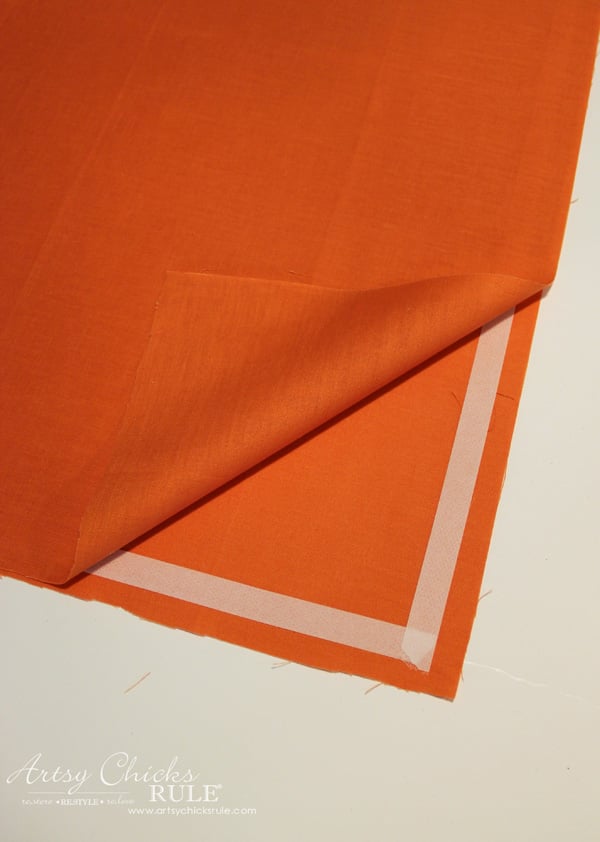 I measured the size I wanted and no-sewed like you see above, leaving one end open.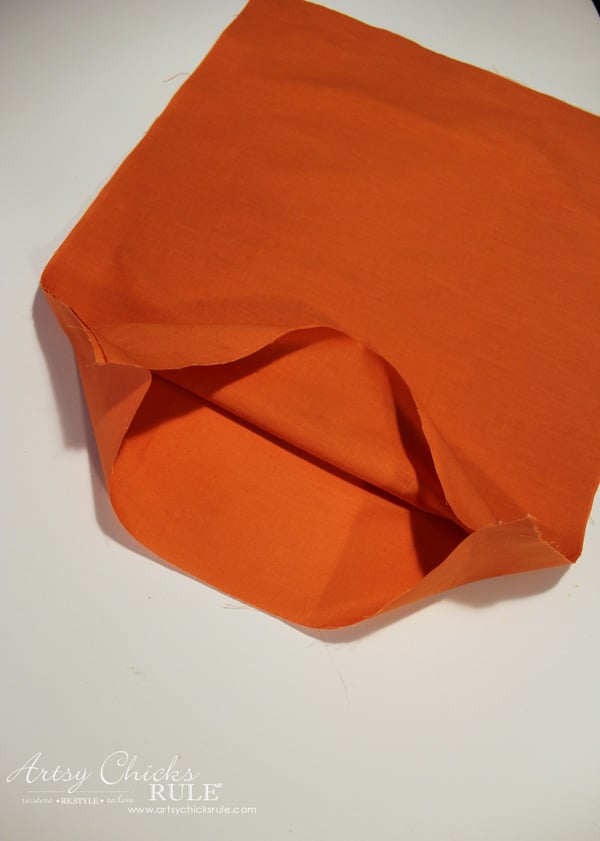 Sort of like making a pillow except you won't be stuffing it.
Or you could, if you want to make a pillow instead. :)
Next turn it inside out and then iron to flatten the seams.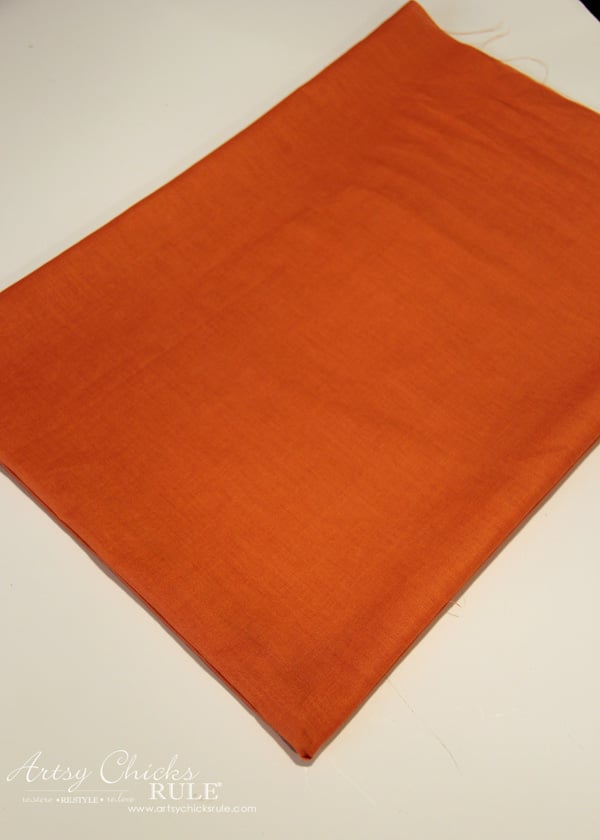 Next, align the printed transfer paper (I didn't cut it out because I thought the "square" edges might look best).
Maybe I should have cut it out?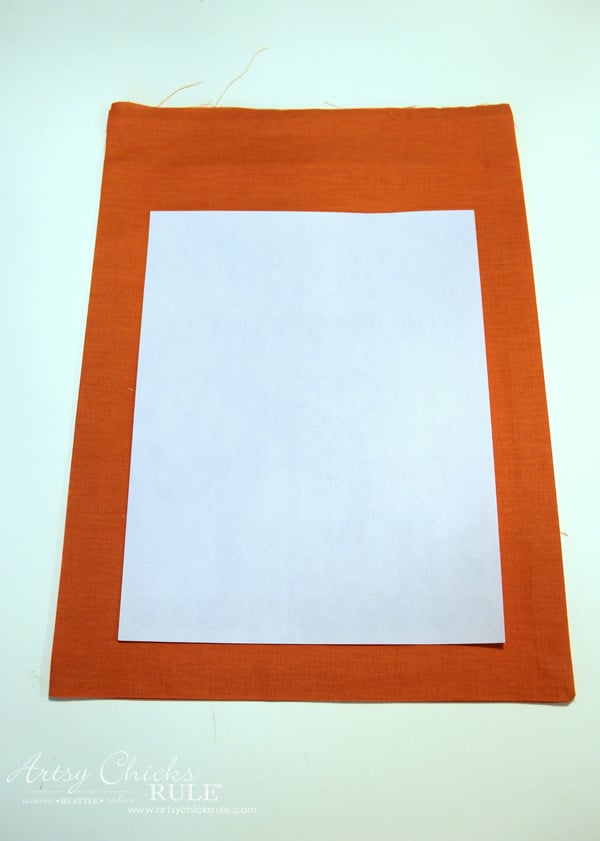 Iron on per directions.
And you have this……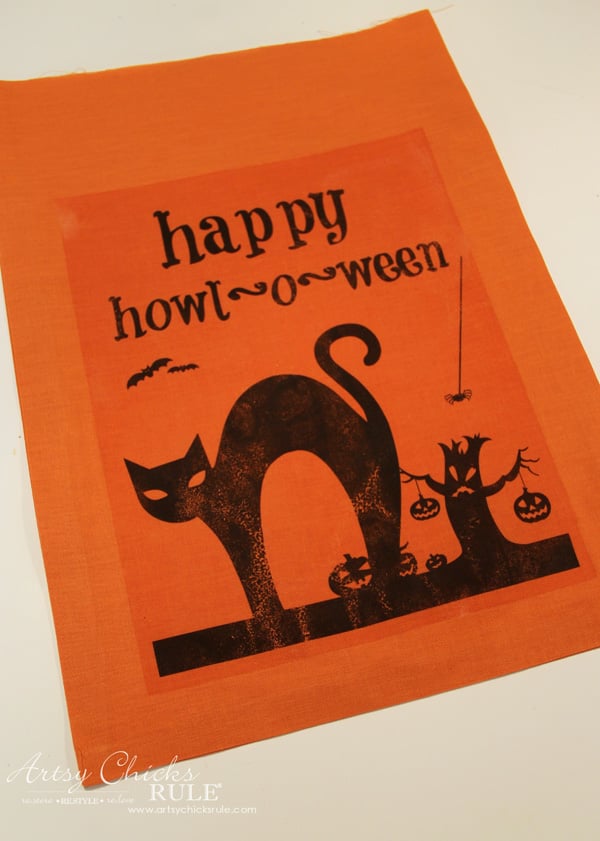 …yeah, no so much.
Ugh, I love that transfer paper but hate when I don't get it all transferred, which does happen occasionally.
Usually it's not a bit deal because I like the "distressed" look but for this, it needed to be black.
So I got out my black permanent marker and filled in a bit.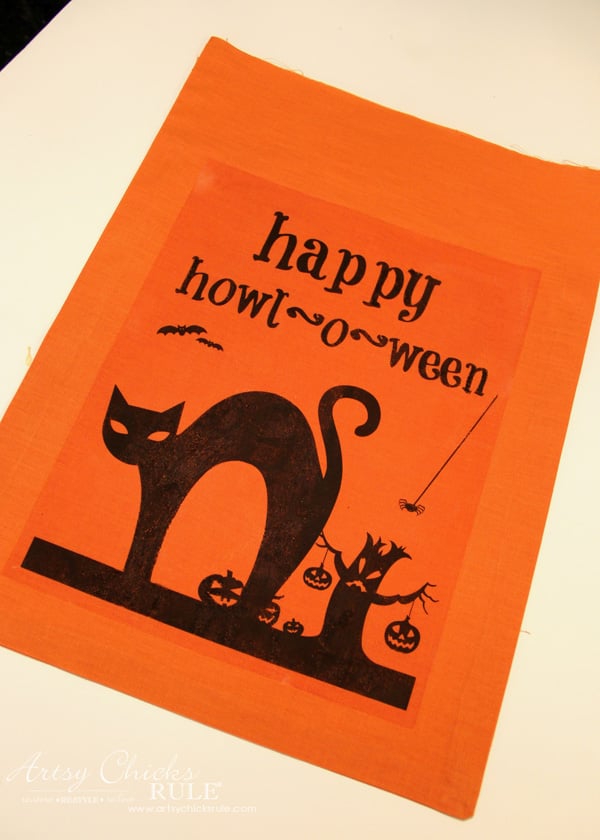 Next, I created the opening at the top….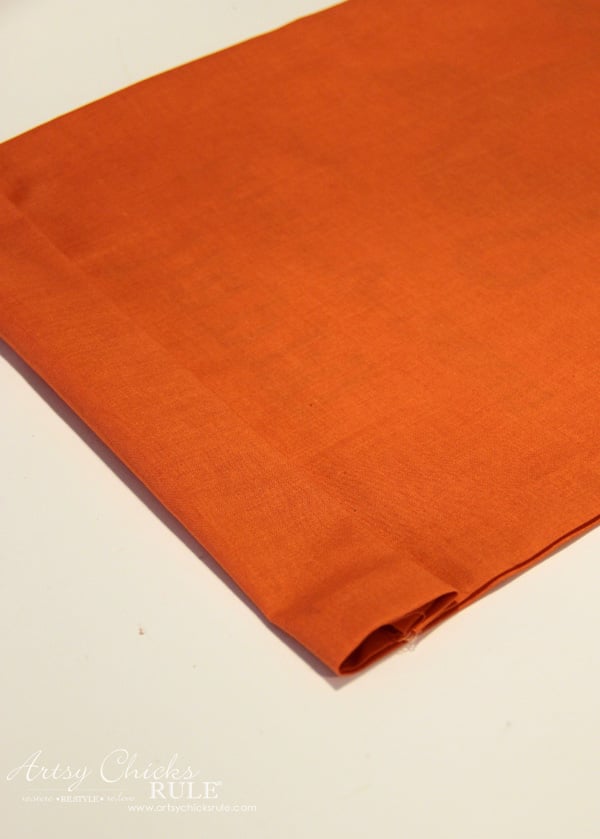 Done!
You can loop in a dowel rod or hang it like I have here….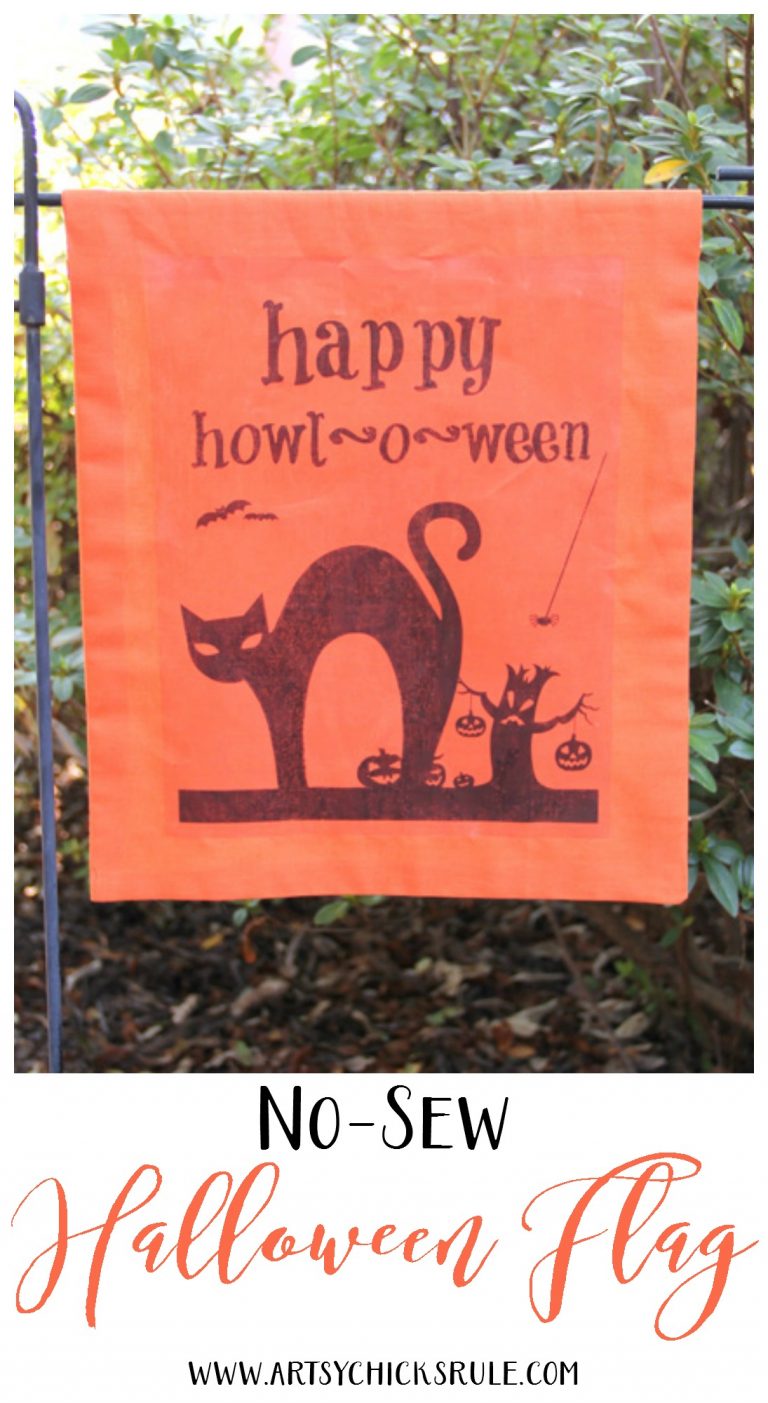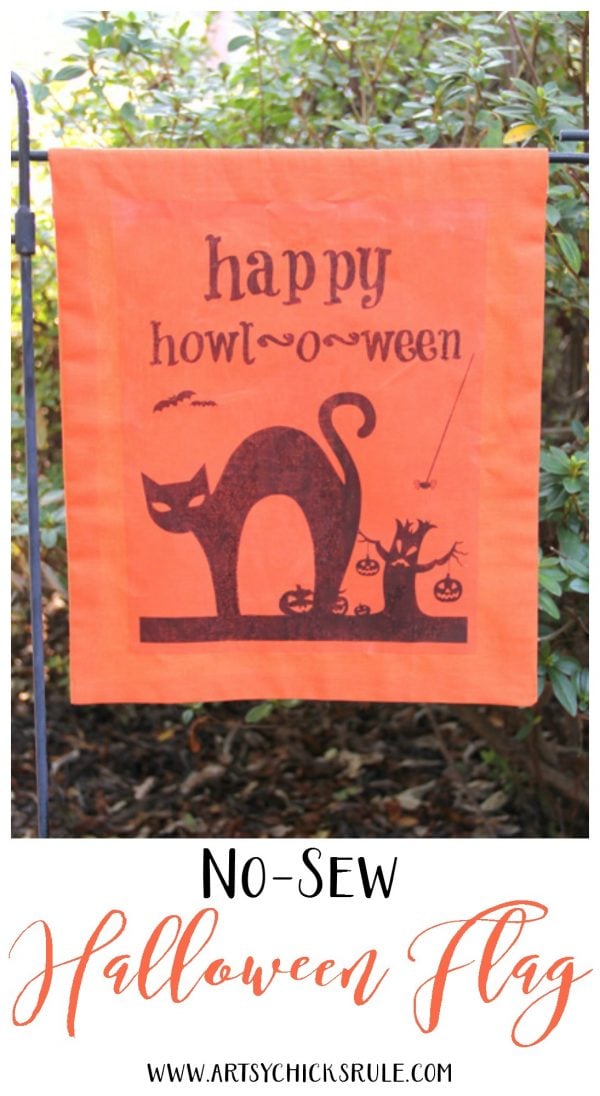 Okay, now onto the cute one. ;)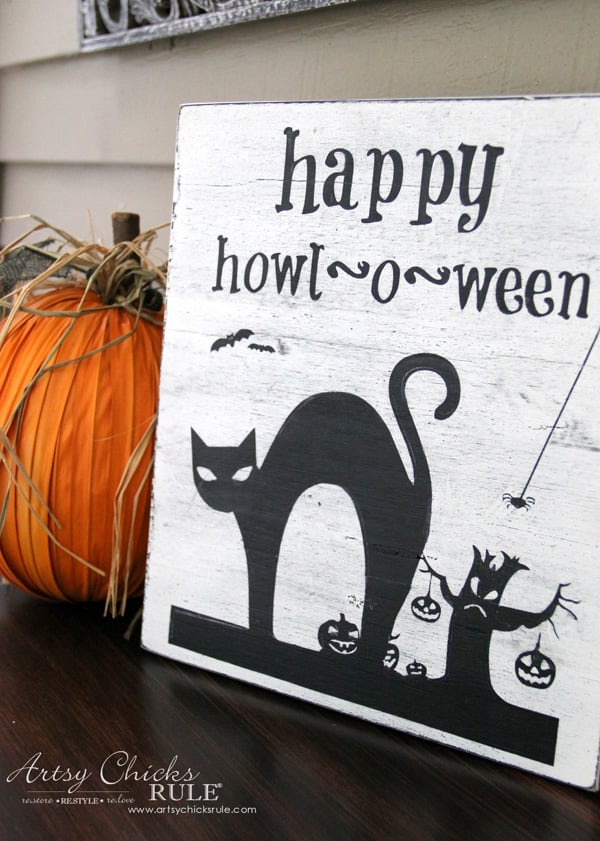 Maybe I like the black and white better?
I don't know, but this is the winner of the two….for sure.
I used a Silhouette Cameo for this one. I have grown to love it!
It makes things so much easier.
You can find a great bundle deal here if you are interested…. Silhouette Cameo Bundle.
I went searching in the garage for a scrap of wood….and found one!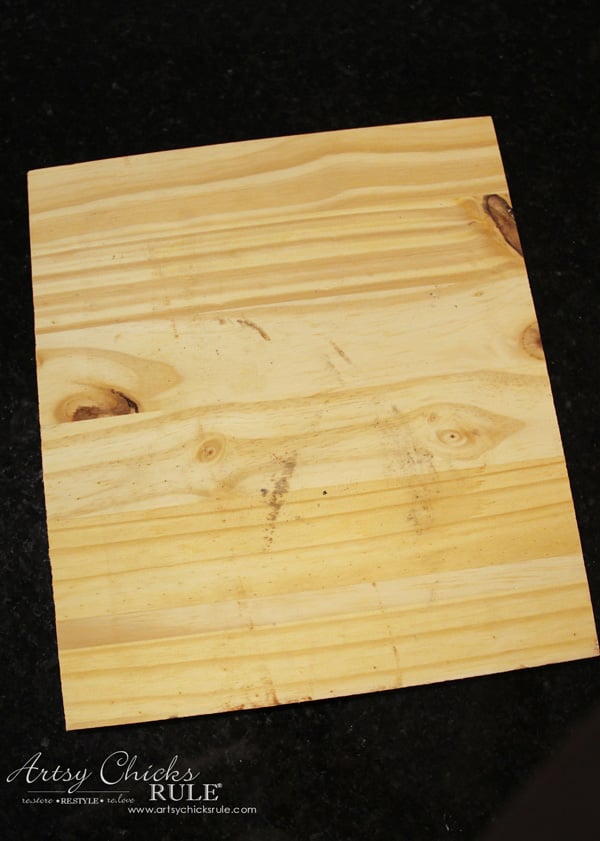 Yay, perfect size too. Love when that happens.
I sanded the edges and spray painted it in black.
I then transferred my graphic over to my Silhouette (GAME changer, being able to create elsewhere and transfer to the Silhouette!).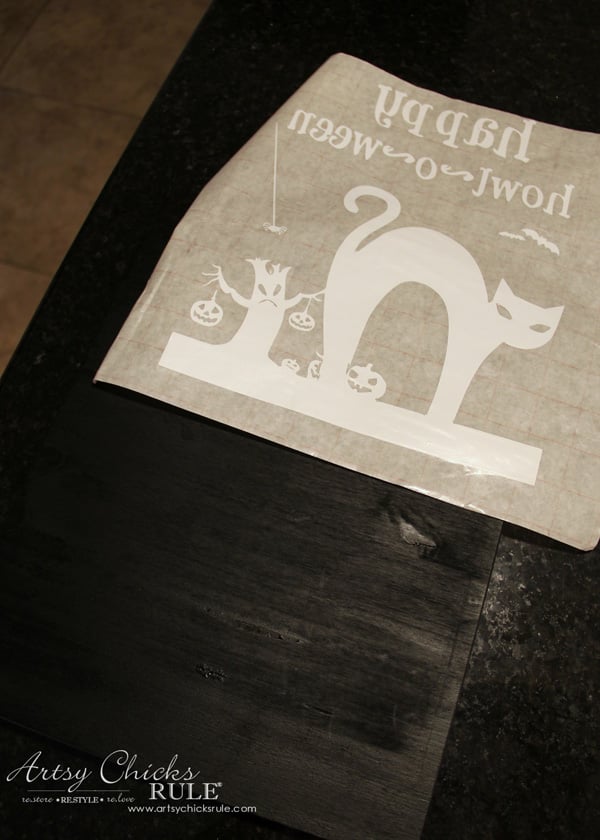 I applied the vinyl graphic to my wood.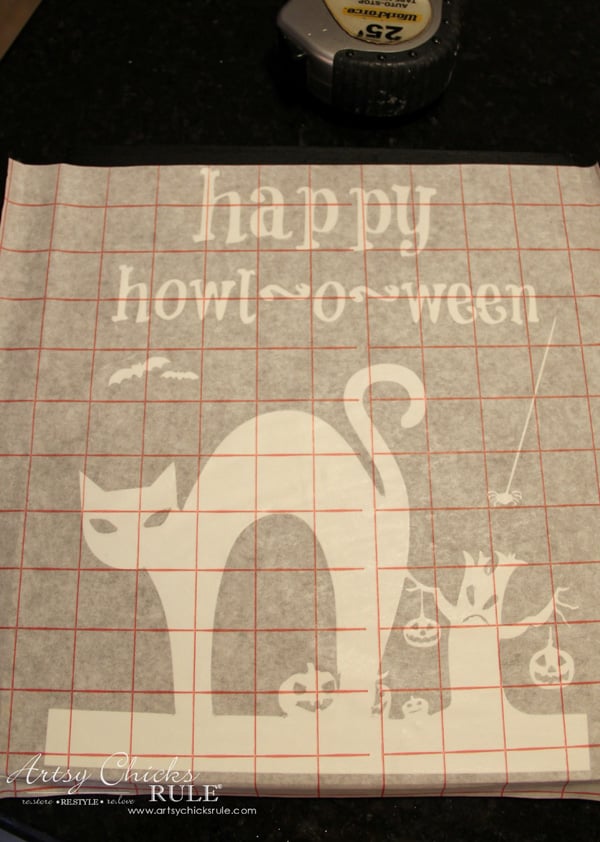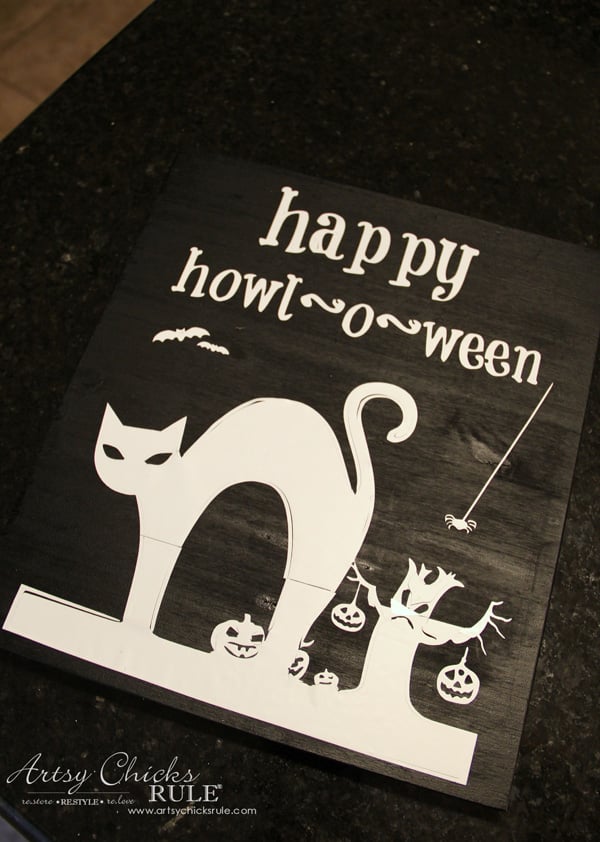 Then I lightly sprayed it in white.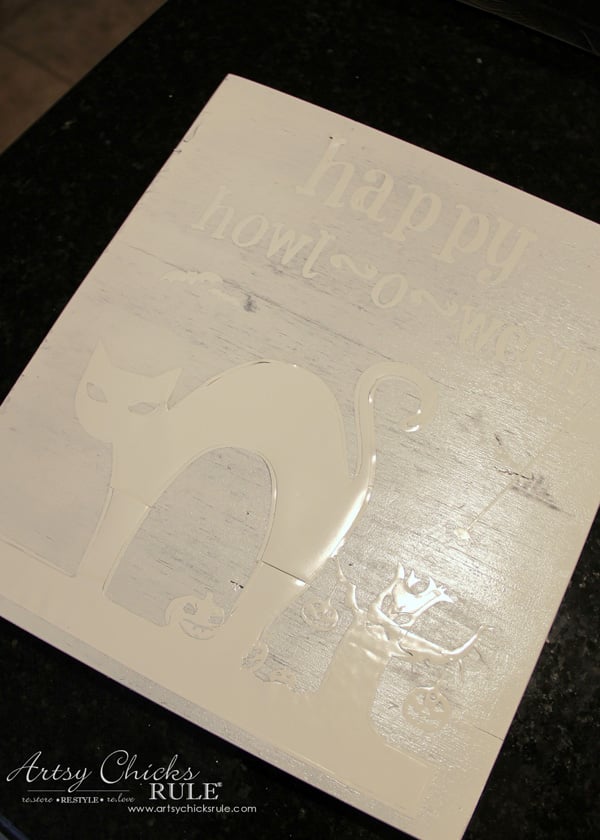 Before it became fully dry, I removed the vinyl.
You can see below I had to use the black marker to fill in a bit.
It shows up now, but won't once I put the final seal coat on.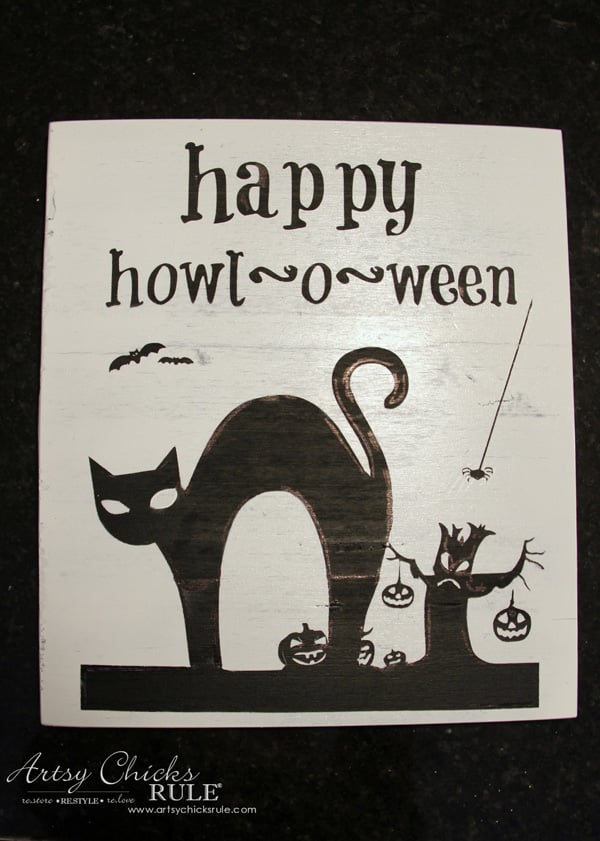 I gave it a light sand to distress…..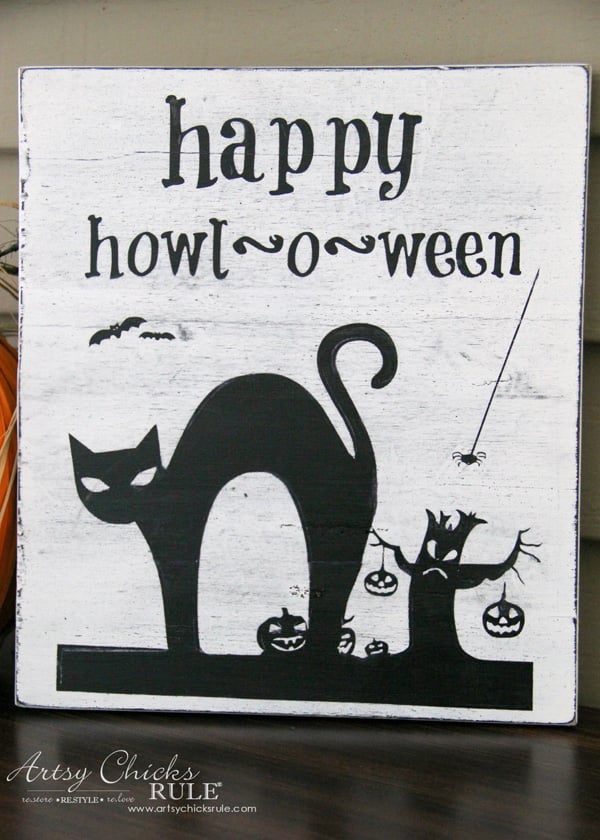 ….and sealed it with a matte clear spray sealer.
I think it's so cute.
I have it just "sitting" but had also considered drilled holes up top, adding hooks, and hanging it from the black iron flag hanger.(shown above)
I may still do that.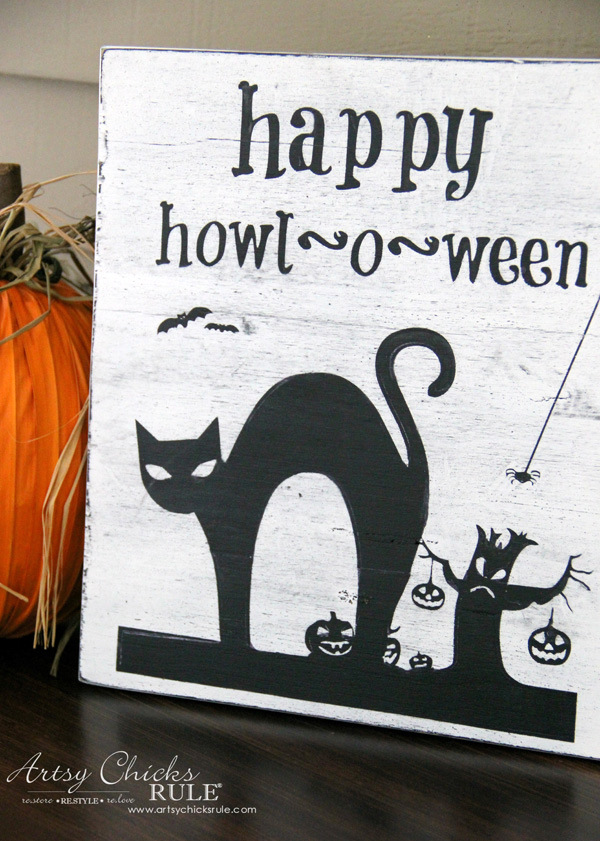 Pin it to save!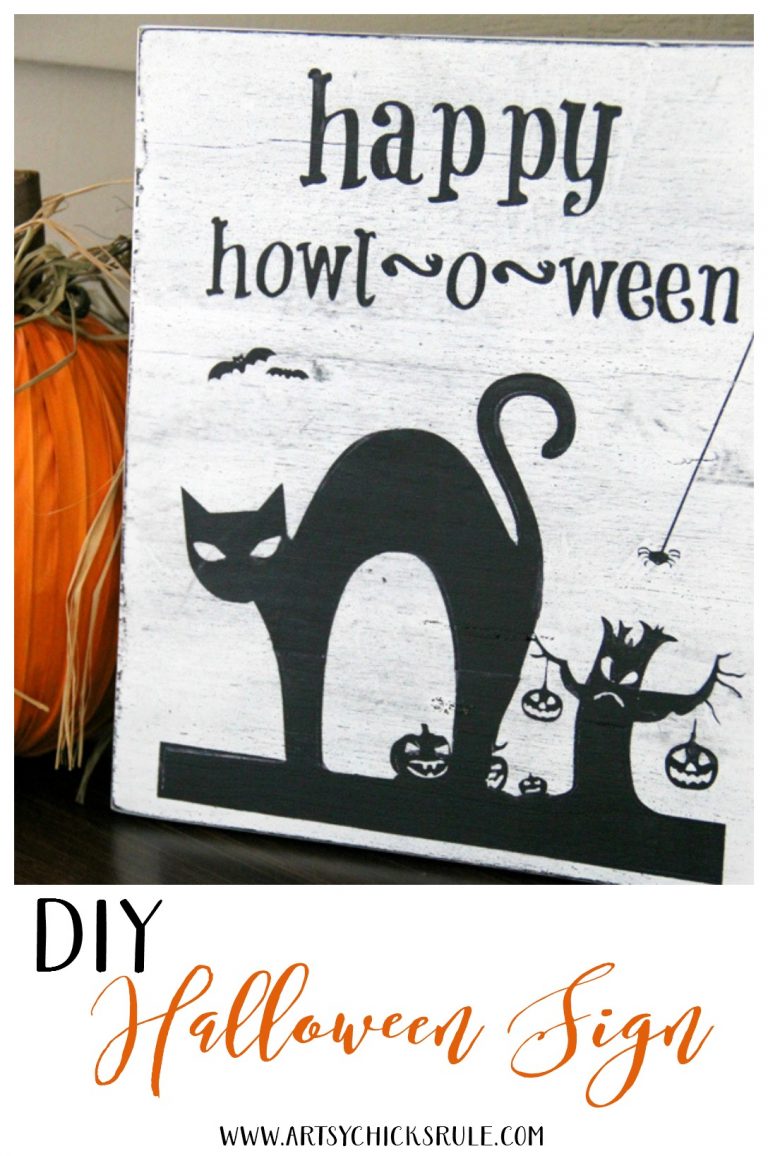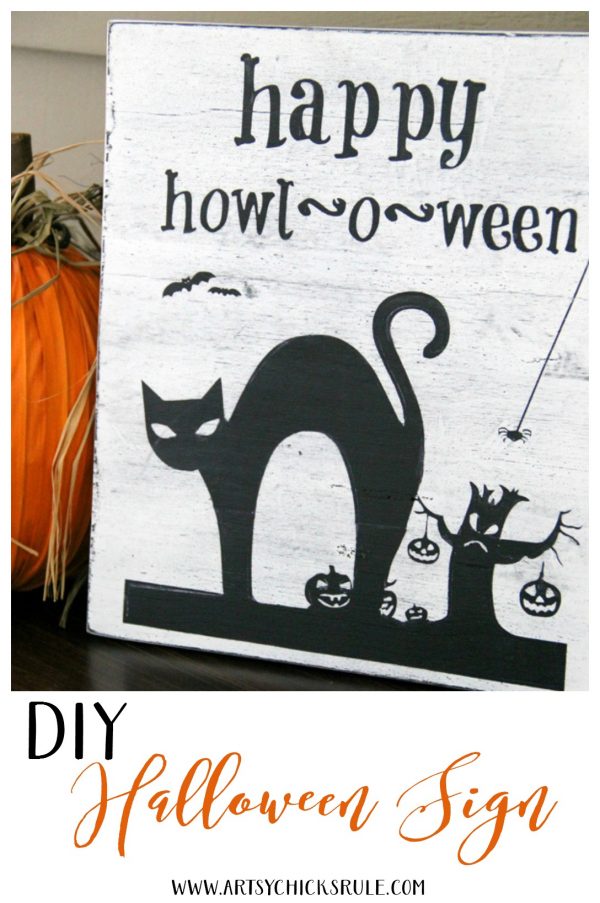 Let's see how my friends did with the "animal" theme…..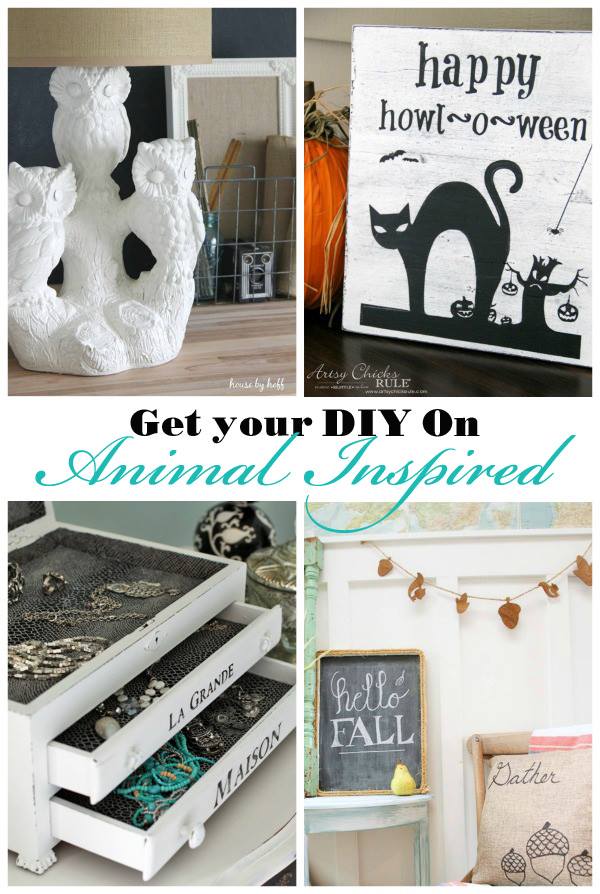 April at House by Hoff – Owl Lamp Makeover
Christy at Confessions of a Serial Do It Yourselfer – Paris Jewelry Box
Krista at The Happy Housie – Simple DIY Wooden Garland
Be sure to check back in on Sunday for the "Animal Themed" link party. (come by and link up your project OR get tons of inspiration for all things animal related!)


I'll be back next week with a fun new post and project.
You don't want to miss it, it's a thrift store adventure with one of my blogging besties. ;)
See you then!
xoxo